Salespeople are always looking for better software to help them close more deals.
But there are so many sales tools available today!
If you are a beginner, the sheer number of available solutions may be quite overwhelming. They range from simple apps for scheduling meetings to advanced CRM systems and sales automation platforms.
There are, however, some safe bets and popular solutions used by successful businesses all over the world.
We'll go through some of the most essential sales tools by their category:
If you are interested in specific sales strategies, here are some additional guides that may interest you:
Let's start with defining what we mean by sales tools.
What are sales tools?
Sales tools are a type of business software that helps companies manage and track sales-related activities, such as leads, opportunities, and contacts. It can also help automate certain sales processes, such as creating quotes, processing orders, and tracking customer interactions.
Sales tools can be deployed as on-premise, cloud-based, or hybrid systems. The majority of them are provided as SaaS (software as a service) solutions. The software is typically offered as a subscription, with different pricing plans based on the features and functionality included.
Our article will focus on some of the best tools available for sales professionals. These apps and platforms can improve productivity, increase efficiency, and boost sales. But there are many other areas where sales tools can make a difference. So, what are the types of sales apps?
The eight types of sales tools are solutions used for: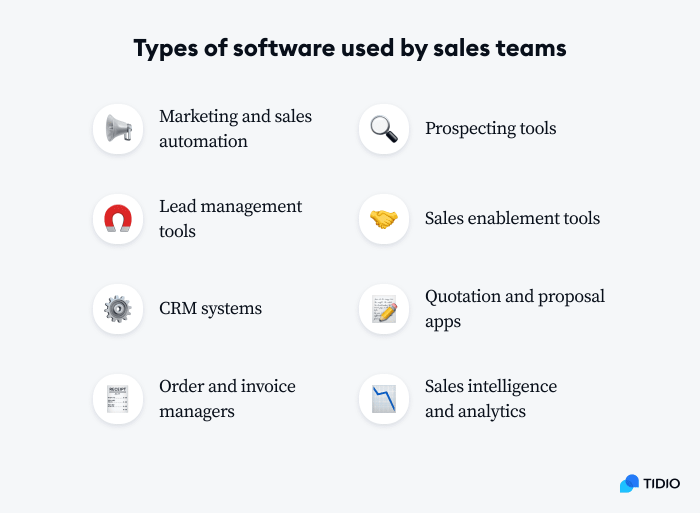 Each category of sales tools for sales reps offers unique benefits. You can pick tools that help improve specific aspects of your sales process or an all-in-one platform. This can be a great way to start off your digital marketing and sales efforts as you don't have to piece together a variety of tools from different vendors.
Let's take a closer look at what these types of tools do.
1. Marketing and sales automation
According to a report by McKinsey, companies can automate more than 30% of sales-related tasks. Automation software can help sales representatives speed up their sales and improve marketing processes. It can also assist them with things like lead generation, contact management, and pipeline tracking.
Automation is very useful in marketing campaigns too. It can help to set up and monitor campaigns, as well as save time by automating tasks related to email marketing and social media. For example, you can use Instagram bots for automated social selling. Sometimes the boundary between sales and marketing software is blurry and there are tools that combine both.
Prospecting tools
Sales prospecting tools help you find and qualify potential customers. By using these tools, salespeople can save time and energy that would otherwise be spent manually searching for leads.
The best sales prospecting tools will provide accurate and up-to-date information on potential leads, including contact information and firmographics. Additionally, some sales prospecting tools offer features that help salespeople research leads, such as social media integration and lead scoring.
3. Lead management tools
As the name suggests, lead management tools are used to manage potential and existing customers. They help you track and organize all of the information about a lead. These tools are also very convenient for managing the stages of the sales process.
Sales teams use software for lead management to automate and streamline the sales processes. It can also help you keep track of your customers, and nurture them through the sales funnel.
4. Sales enablement tools
Sales enablement is the process of equipping salespeople with the materials and knowledge they need to sell a product or service. This may include things like training on the product, how to pitch it, and how to overcome objections. Believe it or not, about 76% of companies that implemented a sales enablement strategy report a significant increase in their overall sales volume.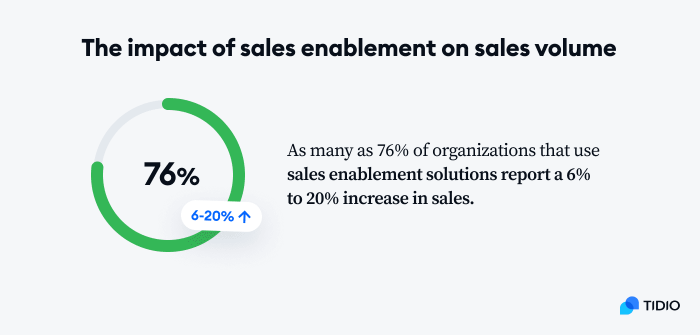 Sales enablement is a process, not a one-time event. It should be an ongoing effort to ensure that salespeople have the most up-to-date information and tools at their disposal. In some cases, sales enablement solutions are the primary sales training tools used by businesses. While training is frequently ignored, it can really make a difference to your bottom line.
5. Customer relationship management (CRM) tools
Customer relationship management software (CRM) can track customer interactions and sales data. These systems help sales teams keep track of their progress and understand their customers.
CRMs can also help businesses automate tasks such as follow-ups and email marketing. As a result, professional CRM software can be an invaluable tool for sales teams and marketers, providing them with the data and insights they need to close more deals and drive revenue.
6. Quotation and proposal tools
Quotation and proposal software allows businesses to streamline their sales processes by automating the creation and distribution of quotes and proposals. These tools can help save time and improve efficiency by eliminating the need for manual tasks such as creating documents, calculating prices, and sending emails.
In addition, quotation and proposal tools can provide valuable insights into the sales process by tracking customer interactions and providing analytics on sales performance.
7. Order and invoice management tools
Order and invoice management tools can help to improve the efficiency of the sales process by providing an easy way to track orders and invoices. This can help to ensure that orders are processed correctly and that invoices are created and delivered in a timely manner.
Some order and invoice management tools also provide features such as customer management, order tracking, and inventory management.
8. Sales intelligence and reporting software

Between 2022 and 2032, the global sales analytics software market is predicted to grow at an almost 12% compound annual growth rate. Just think about it—it's going to triple in size!
Sales intelligence, analytics, and reporting tools are important because they allow sales reps to see if they are reaching their goals and how they stand against the competition. When sales teams can get insights into their performance, they can adjust their selling strategies. Additionally, this software can help sales reps identify new opportunities and trends in the market.
35 best sales platforms and tools for sales by category
Some of the tools on our list are actually sales software suites which means that you get several tools bundled together. They fit into several of the categories mentioned above. Others are only meant for a specific task like contact management or email automation.
Marketing and sales automation
Prospecting tools
Lead management tools
Sales enablement tools
CRM systems
Quotation and proposal apps
Sales intelligence and analytics
Sales organization tools
To find out which sales tools are best for your company, read our detailed descriptions of each app.
Marketing & sales automation
Sales and marketing automation tools can help you close more deals faster. They can also improve your customer relationships by providing a more efficient and streamlined process for dealing with customers. In addition, These tools can help you save money on administrative tasks such as data entry, lead generation, and customer support.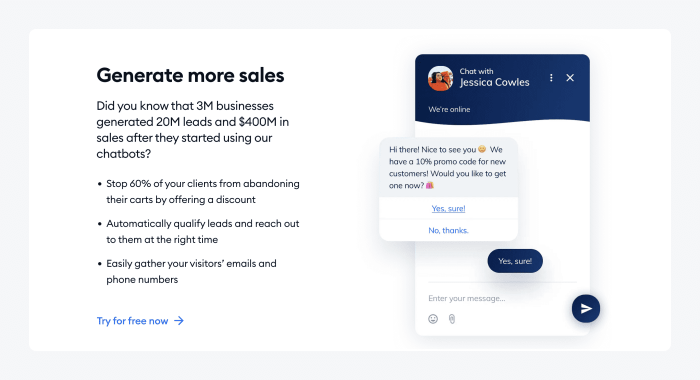 Rating: 4.7/5⭐ (based on 230+ reviews on Capterra)
We won't go on about how good Tidio is, although we're obviously huge fans ourselves. Instead, let's give the mic to our clients who tell their success stories better than anyone else.
Tidio is an all-in-one sales and marketing automation platform for small and medium businesses. It can help you close more deals faster and improve your customer relationships. It includes live chat software, AI chatbots, email marketing, and a CRM system. And the best thing is that you can use it for free as long as you want!
Features:
Website visitor insights
Live chat, chatbots, and auto-responses
Contact management with tags and filters
Mobile app for Android and iOS
Easy implementation with Shopify, WordPress, and Wix
Social media and Zapier integration
Free. Unlimited conversations and contact management tools
Communicator ($19/month). Additional customer insights
Chatbots ($49/month). Customer engagement bots and marketing automation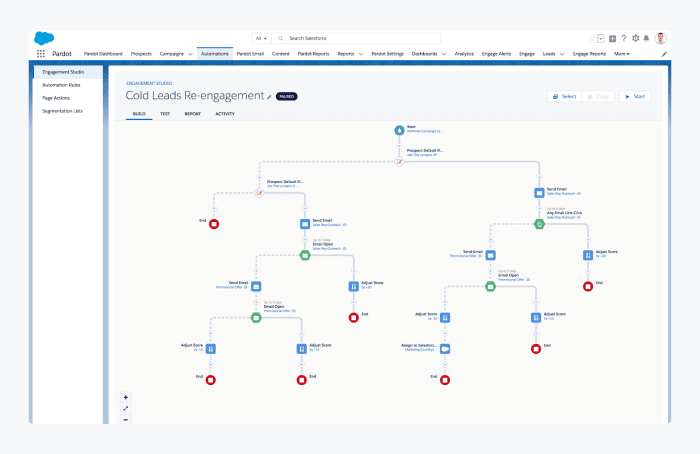 Rating: 4.1/5⭐ (based on 580+ reviews on Capterra)
Pardot is a marketing automation tool that helps businesses increase their marketing efficiency and effectiveness. It allows users to manage their leads and prospects more effectively, as well as automate email marketing and social media campaigns. Pardot also provides users with powerful reporting and analytics tools, so businesses can track their marketing progress and ROI.
Pros:
Powerful marketing automation capabilities
Email marketing and social media campaign automation
Robust reporting and analytics tools
Cons:
It can be hard to optimize your campaigns for the best open rates
Sometimes it's difficult to detect duplicate contacts
No free plan available
Growth ($1,250/month). Marketing automation for up to 10,000 contacts
Plus ($ 2,500/month). Additional reporting features for KPI metrics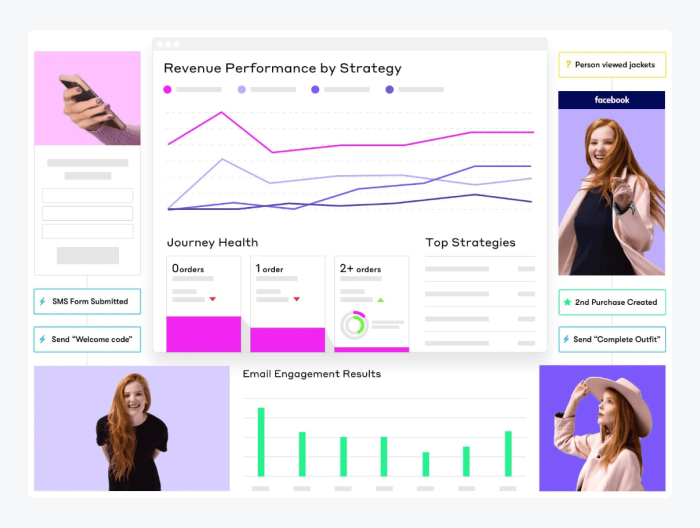 Rating: 4.4/5⭐ (based on 160+ reviews on Capterra)
This tool can be used to send out drip campaigns (hence the name), which are a series of automated emails that are sent to a customer over a period of time. Drip also allows businesses to track the results of their sales emails. You can use it to see how many people opened the emails and how many prospects clicked on the links.
Pros:
Campaigns can cover several different channels
Good integration with ecommerce platforms such as Magento or Shopify
Automatic customer segmentation features
Cons:
It's quite expensive compared to some other email marketing tools
The support can be hard to reach
14-day free trial. No credit card required
Basic (from $39/month). Email list of sales contacts up to 2,500 profiles
Premium (from $1,299/month). Dedicated customer success manager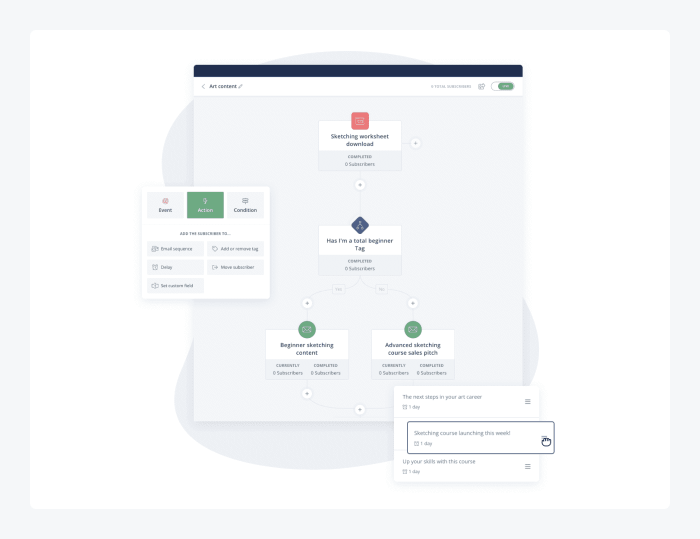 Rating: 4.7/5⭐ (based on 150+ reviews on Capterra)
ConvertKit is a sales automation and email marketing service provider that allows you to create and manage your email list, send newsletters, and track your results. You can add subscribers manually or through signup forms on your website. ConvertKit also allows you to segment your subscribers into different groups so that you can send targeted emails.
Pros:
The setup and onboarding process are very smooth
Very good email marketing templates for different industries
Extra tools for creating landing pages
Cons:
It can take days to contact the support team
Some users think that the interface is unusual
Free. You can use ConvertKit for free if you have less than 300 subscribers
Creator ($15/month). Automated email sequences and automation builders
Creator Pro ($29/month). Subscriber scoring and advanced reporting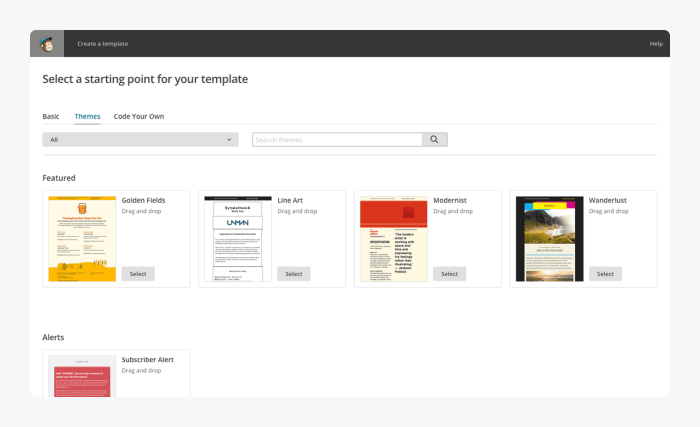 Rating: 4.5/5⭐ (based on 14,750+ reviews on Capterra)
If you're looking for an email marketing service provider, MailChimp is a great option. It offers a wide range of features and tools to help businesses grow their email list and send better sales emails. MailChimp is easy to use and has a great reputation for deliverability. Even if you've never used an email marketing service before, you'll be able to figure it out in no time.
Pros:
Great deliverability
Lots of segmentation features including advanced custom filters
Easy to use even for beginners
Cons:
Billing is based on the number of contacts and it can be difficult to estimate the total costs
No in-person onboarding
Free. Multi-channel tools available for up 1,500 contact
Essentials (Starts at $11/month). Customer journey builder and A/B testing
Standard (Starts at $17/month). Behavioral targeting and custom templates
Premium (Starts at $299/month). Advanced segmentation and reporting
Prospecting tools for sales teams
Sales prospecting is the process of finding and targeting potential customers who may be interested in what you're selling. When choosing your software, it's important to consider your specific needs and budget. There are a variety of prospecting tools on the market, ranging in price from free to hundreds of dollars per month.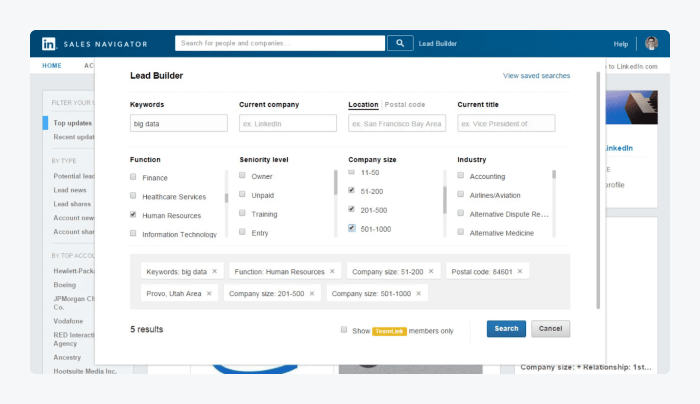 Rating: 4.6/5⭐ (based on 60+ reviews on Capterra)
Sales Navigator is a premium subscription service powered by LinkedIn. This tool provides sales reps with access to a more robust search engine to explore the LinkedIn database. It also includes features such as lead recommendations, profile insights, and advanced filtering options. LinkedIn Sales Navigator is particularly useful for B2B sales as it allows users to target their searches by job title, company size, industry, and more.
Pros:
Robust search functionality
Easy way to find new leads and connect with decision-makers
It leverages the potential of LinkedIn's massive user database
Cons:
For some companies the price may be too high for the delivered value
Sales Navigator requires a LinkedIn account and makes you dependent on their ecosystem
Free trial. You can try some of the features for 7 days
Sales Navigator Core ($79.99/month). Advanced lead and company search
Advanced/Advanced Plus (custom prices). CRM updates and data validation
Rating: 4.4/5⭐ (based on 17,100+ reviews on Capterra)
Salesforce is a cloud-based customer relationship management tool designed for businesses of all sizes. This tool includes features such as contact management, lead capture, and automatic data capture. With its specialized products and services, such as SalesforceIQ, this app is a good choice for sales teams that need software that can scale.
Pros:
One of the most popular customer relationship management tools with many integrations
Includes features such as contact management, lead capture, and automatic data capture
Can scale with businesses as they grow
Cons:
Some features may be unnecessary for smaller businesses
May be more expensive than some alternatives
Free trial. You can try Salesforce for free for 14 days
Essentials ($25/month). Account management tools
Professional ($75/month). Complete CRM
Enterprise ($150/month). Workflow automation
Unlimited ($300/month). Machine learning sales insights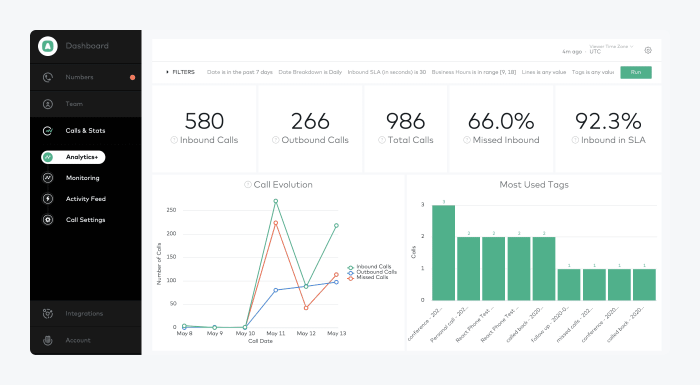 Rating: 4.3/5⭐(based on 295+ reviews on Capterra)
Aircall is a cloud-based phone system designed for sales teams. This tool includes features such as call recording, automatic call logging, and integration with CRM software. Aircall is one of the best sales platforms for teams that need to manage calls and improve their customer relationships. The app also offers many features that can be customized to fit the specific needs of any sales team.
Pros:
Cons:
The call log can be a little bit buggy
Analytics are very limited in the cheaper plans
Free Trial. You can try Aircall for 7 days withouth charges
Essentials ($30/month). Unlimited inbound and outbound calls
Professional ($50/month). Advanced tools for boosting sales team productivity
Tip: SMS systems and telephony have revolutionized the way businesses communicate with prospects. But there are even more channels that you should consider, such as push notifications or conversational chatbot interfaces.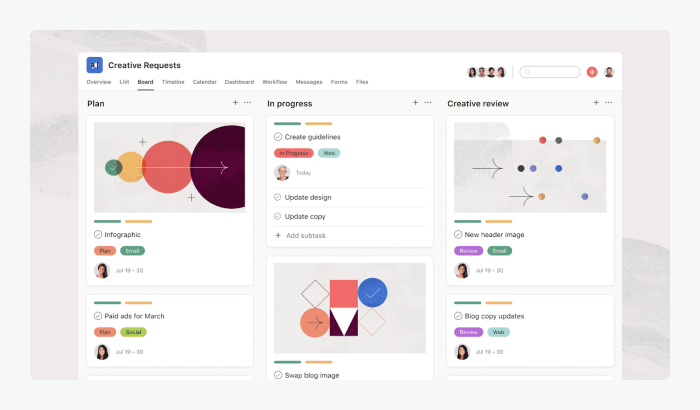 Rating: 4.5/5⭐ (based on 11,070+ reviews on Capterra)
Asana is primarily a project management tool designed to help sales teams stay organized and focused on their goals. This tool includes features such as task management, team collaboration, and file sharing. But you can also create great views for prospecting and customer database management. Asana is perfect for sales representatives who need a tool to manage their projects, contacts, sales pipelines, and tasks.
Pros:
The user interface is clean and easy to use
Team collaboration features are helpful for sales teams
Gamification features for completing tasks improve user experience
Cons:
Some users have reported that the customer support is not very responsive
Creating custom Gantt chart views can be difficult
Free. Small sales teams can use the basic version of Asana for free
Premium (from $10.99/month). Timeline and workflow builder
Business (from $24,99/month). Custom rules and advanced CRM integrations
Lead management
Lead management software is a critical tool for businesses that are looking to increase sales. By automating the process of managing leads, teams can improve their efficiency and reduce the amount of time it takes to turn leads into sales. Additionally, lead management software can help companies track the effectiveness of their marketing campaigns and identify which strategies are most effective at generating leads and conversions.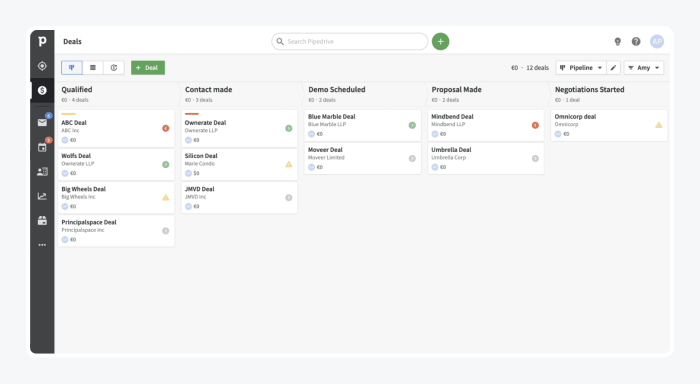 Rating: 4.5/5⭐ (based on 2,110+ reviews on Capterra)
Pipedrive is a sales and lead management tool designed to help businesses close more deals. This tool includes features such as contact management, deal tracking, and pipeline visualization. Pipedrive is a good choice for sales teams that need a tool to help them stay organized and focused on their goals. It's also a perfect sales tool for teams that need high customization features to address their specific needs.
Pros:
Amazing pipeline visualization features
Gmail, Outlook, and calendar app integrations
Tools for designing custom sales cycles
Cons:
Navigation between contacts sometimes involves extra steps
Many 3rd-party apps can be connected only with Zapier
Free trial. 14-day trial with no credit card required
Essential ($14.90/month). Pipeline and lead management
Advanced ($24.90/month). Email templates and basic automations
Professional ($49.90/month). Esignatures and document management
Enterprise ($99.00/month). Visibility settings and unlimited permissions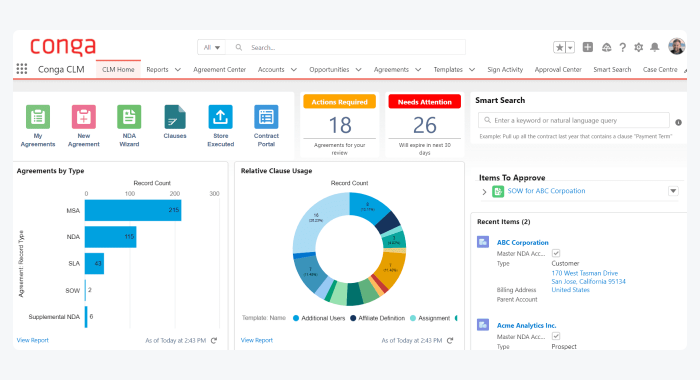 Rating: 4.3/5⭐ (based on 70+ reviews on Capterra)
Contract Lifecycle Management tool powered by Conga is a powerful sales software that helps businesses improve their lead management processes. This tool includes features such as lead capture, lead scoring, and lead nurturing. Additionally, Conga CLM provides users with the ability to create custom workflows to automate repetitive tasks. This tool is a good choice for businesses that are looking for a complete solution to their lead management needs.
Pros:
Scoring features help businesses identify and prioritize potential customers
Template customer profiles and documents available
The support team is responsive and helpful
Cons:
The app can be difficult to configure for the non-tech savvy
There aren't too many resources and training materials available
The pricing is not very transparent and you need to contact sales
No free plan or free trial available
You need to book a demo to discuss the prices, but they start from about $35 per month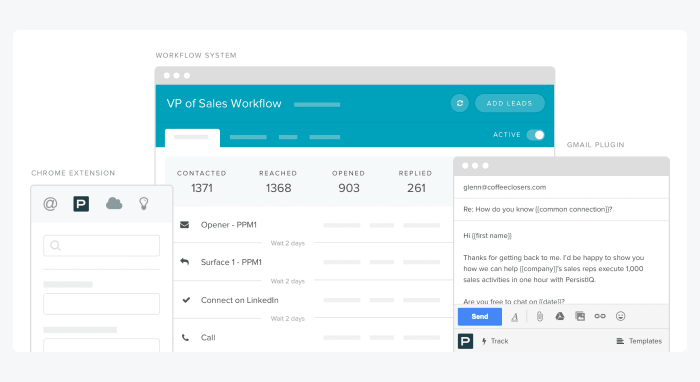 Rating: 4.0/5⭐(based on 20+ reviews on Capterra)
PersistIQ's Outbound Sales Solution allows you to personalize your sales outreach and turn more prospects into qualified leads with cold email campaigns. It has a Chrome extension that allows you to generate outbound leads and turn LinkedIn searches into email lists. PersistIQ also offers an editor for crafting custom email sequences that feel natural and personal. You'll be able to see which prospects are engaging with your emails, and score them based on their interactions.
Pros:
Easy setup and teams management
Outbound email personalization features
You can reach the support team via video conferencing apps, such as Zoom
Cons:
Email scheduling sometimes gets out of sync if you edit your campaigns
Generating detailed reports can be problematic
Free trial. You can try this sales tool for 14 days
Essentials (from $59/month). Up to 300 emails per day and basic reporting
Premium (from $99/month). Ability to close deals on social media with a social selling extension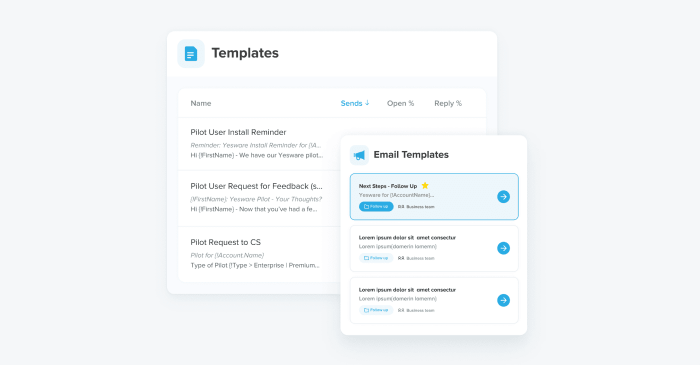 Rating: 4.3/5⭐(based on 165+ reviews on Capterra)
Yesware is a sales productivity platform that helps sales teams get more customers. With Yesware, you can track emails, set reminders, and get real-time insights into your sales pipeline. Yesware is the perfect tool for salespeople who want to be more productive and increase their performance. You can integrate it with your email client, LinkedIn, and external CRM for better lead management.
Pros:
Top-quality resources for marketers and salespeople
Email templates are responsive and very well-designed
Easy pipeline management
Cons:
The spam detection filter sometimes doesn't work as it's supposed to
Some users report that the app can be buggy at times
Free. There is a forever-free plan with a basic email and meeting scheduler
Pro ($15/month). Unlimited email tracking and engagement reports
Premium ($35/month). Shared templates, campaigns, and teams
Enterprise ($65/month). Salesforce integration
Rating: 4.5/5⭐ (based on 20+ reviews on Capterra)
LeadIQ is a sales intelligence platform that helps sales teams find and qualify leads. With LeadIQ, you can get data-driven insights into your target market, create custom lists of leads, and track your progress over time. You can also use it for filtering LinkedIn contacts and finding new prospects. LeadIQ is good sales software for teams who want to be more efficient.
Pros:
Impressive sales engagement features
Good integration with Linkedin Sales Navigator
An extremely useful Chrome plugin
Cons:
The user interface is slightly impractical and outdated
It's easy to accidentally create duplicate leads
Free. Up to 15 verified email contacts per week
Starter ($60/month). 250 emails and 25 phone numbers per month
Pro ($120/month). 500 emails, 50 numbers, and access to the LeadIQ database
Enterprise (custom pricing). Unlimited targeted prospecting
Sales enablement apps
Sales enablement is the process of providing sales representatives with the tools and resources they need to sell products or services. This can include anything from product training through sales collateral to customer relationship management software. Sales enablement can be a challenge for companies because it requires a lot of coordination between different departments. Here are the tools that can help you with just that—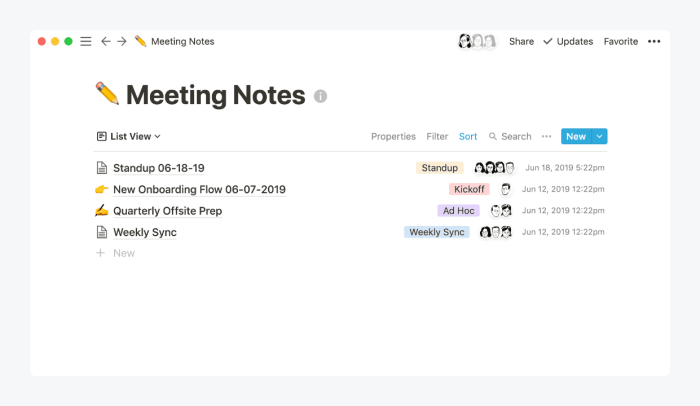 Rating: 4.8/5⭐(based on 655+ reviews on Capterra)
Notion is a powerful tool for organizing and sharing information. It allows you to create sharable notes, tasks, and to-do lists. Businesses and teams use it to manage projects and keep track of their work. It's a good option for building a knowledge base or wiki. These features come together to make Notion one of the best sales enablement platforms for managing resources—from marketing materials to customer service training ideas.
Pros:
Great for startups and mature companies alike
Highly customizable and versatile tool
Compatible with all sorts of files and media
Cons:
Some notifications are difficult to set up
Searching for specific resources can be difficult if you don't plan your folder structure ahead of time
Free. Unlimited pages and blocks
Personal Pro ($4/month). Unlimited file uploads
Team ($8/month). Collaborative workspaces
Enterprise (Custom pricing). Audit log and advanced security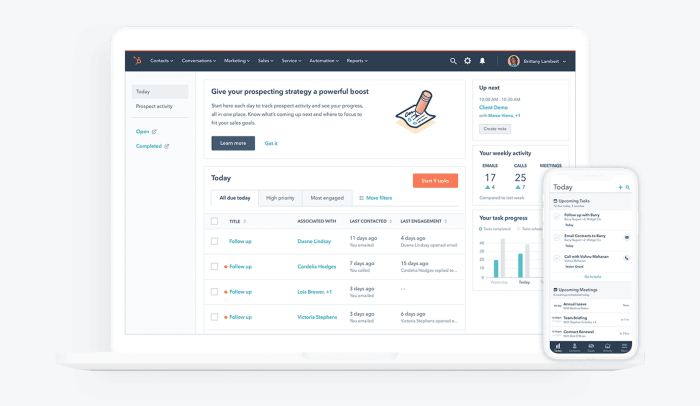 Rating: 4.5/5⭐(based on 320+ reviews on Capterra)
HubSpot offers a number of features that can be helpful for sales teams, such as lead management and CRM functionality. Additionally, it has robust reporting and analytics capabilities. They help sales teams to track their progress and identify areas for improvement. Overall, HubSpot can be a valuable tool for sales enablement, but businesses will need to evaluate its usefulness on a case-by-case basis.
Pros:
Very clean and minimalistic interface
Can be connected with other "hubs" for support or marketing
Mobile apps for Android and iOS
Cons:
It has many modules that you need to pay for separately to add some features
The Outlook integration can behave in an unpredictable manner
Free. No credit card required, basic features including the deal pipeline
Starter ($45/month). Simple automation and conversation routing
Professional ($450/month). Teams, sequences, and custom reports
Enterprise ($1,200/month). Playbooks and revenue tracking

Rating: 4.8/5⭐ (based on 500+ reviews on Capterra)
Gong is a sales app that helps reps by providing features such as meeting management, call recording, and lead tracking, among others. This makes it easier for sales representatives to keep track of their progress and stay organized while working on potential deals. Gong also allows sales reps to connect with their prospects and customers through its built-in CRM system. This gives agents the ability to manage their contacts, track their interactions, and sales pipelines all in one place.
Pros:
Many helpful insights and reports
Good tools for team management
Sales training features
Cons:
Some users find it difficult to use
Notifications can be difficult to set up correctly
Custom pricing proposals on a company-to-company basis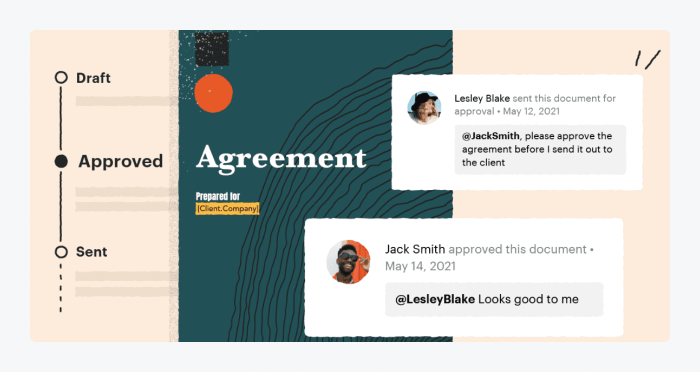 Rating: 4.5/5⭐ (based on 825+ reviews on Capterra)
PandaDoc helps sales teams save time and be more productive by providing them with a central location to manage all the documents. With PandaDoc, sales teams can create, edit, and track their resources and documents from one dashboard. Additionally, PandaDoc offers a number of features that help sales teams streamline their workflows, including document templates, eSignatures, and integrations with CRM platforms. With its easy-to-use interface and advanced features, it can be used as your primary sales enablement solution and a knowledge base for sales teams.
Pros:
Many features and sales tools for small businesses
Easy setup and user-friendly interface
You can connect PandaDoc to anything you want through the API
Cons:
Sometimes opening documents doesn't work for the first time
There are some problems with the deliverability of the documents
Free. Unlimited eSignatures and document uploads
Essentials ($19/month). Templates, drag-and-drop editor, and analytics
Business ($49/month). Workflows, CRM, and Zapier integration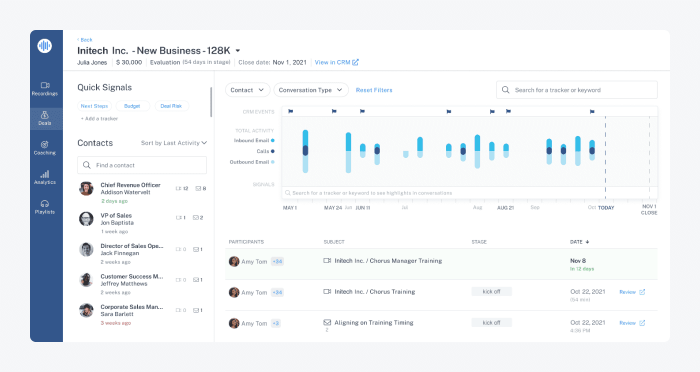 Rating: 4.5/5⭐ (based on 55+ reviews on Capterra)
Chorus.ai is a conversation intelligence platform that provides sales teams with tools to improve their sales performance. The platform offers features such as transcription, recording, and analysis of sales calls, as well as coaching and training tools to help salespeople hone their skills. It also helps to understand customer needs and identify opportunities for improvement. Chorus.ai provides a mobile app that allows users to access the platform on the go.
Pros:
The transcription and recording features of Chorus.ai can help sales teams analyze and master their sales strategies
Powerful solution to turn customer feedback into new sales insights
Good onboarding and training resources provided
Cons:
A steep learning curve associated with using the platform, as it takes some time to master all of its features
Editing recordings to export specific fragments is a little bit clunky
No free plan available
You need to contact sales to book a demo and get your individual proposal
Sales CRM solutions
One of the most important tools for sales professionals is a CRM system. A CRM system can help salespeople keep track of their customer relationships, manage their sales pipeline, and close more sales. There are many different CRM systems available on the market, so it is important to find one that fits the needs of your business.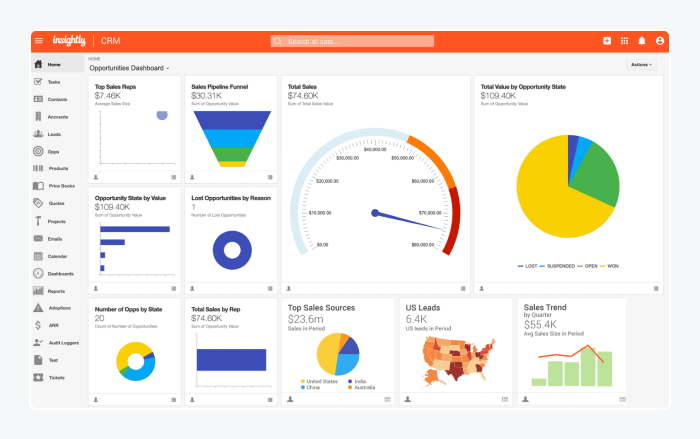 Rating: 3.9/5⭐ (based on 495+ reviews on Capterra)
Insightly is a powerful CRM tool designed to help businesses build relationships and get more out of their customer data. It's packed with features for tracking contacts, managing deals, and automating sales as well as marketing processes. Sales teams will find Insightly's flexible deal management features particularly useful. These functionalities can customize the stages of a deal to match their sales process, and add custom fields to track vital information.
Pros:
Many features for increasing team productivity
Easy tracking of interactions across the whole sales funnel
Seamless integration with third-party applications
Cons:
The customer support team can be slow to answer
Some users find the tool too complicated
Free. There is a free version of the app with limited features and a free 14-day trial
Plus ($29/month). Lead assignment and routing
Professional ($49/month). Complete workflow automation
Enterprise ($99/month). Custom validation rules, unlimited roles, and permissions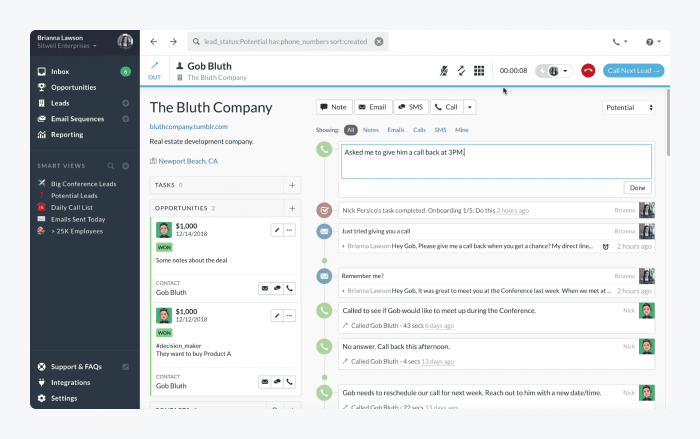 Rating: 4.7/5⭐ (based on 140+ reviews on Capterra)
Close.io is a cloud-based CRM software for sales teams. It's designed to help salespeople manage their relationships with customers and prospects, and track their interactions. Close.io CRM includes features such as contact management, lead management, opportunity, and activity tracking. It also offers a number of integrations with popular productivity systems and collaboration tools, such as Google Workspace, Dropbox, and Evernote.
Pros:
Text messages with click-to-dial functionality
Automated email sequences help with outbound prospecting
Assigning tasks to team members is fast and easy
Cons:
Call transferring available only in the highest plan
The support can be hard to reach
Free trial. 14-days, no credit card needed
Starter ($29/month). Pipeline, activity, and opportunity reporting
Basic ($69/month). Custom fields, sales leaderboards, and reports
Professional ($99/month). Email sequences and call recording
Business ($149/month). Unlimited users, custom roles, and permissions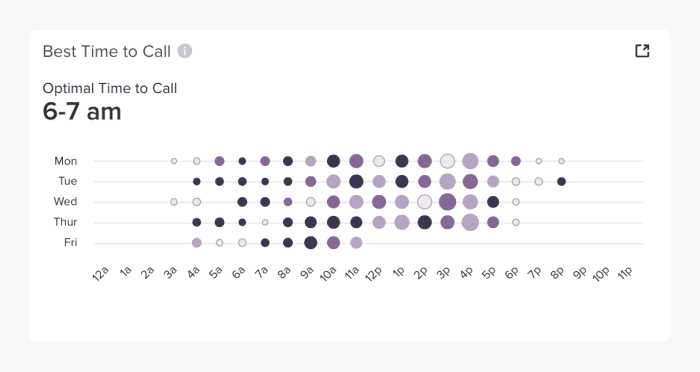 Rating: 4.3/5⭐ (based on 175+ reviews on Capterra)
SalesLoft is one of the best sales tools for teams who are looking to increase their productivity and close more deals. It provides users with everything they need to manage their leads, including sales pipeline and CRM integrations, as well as email templates, call scripts, and other resources. With SalesLoft, sales teams can save time and increase their overall productivity.
Pros:
Intuitive and easy to use interface
Good navigation across different customer touchpoints
Personalization options
Cons:
Some users find the app buggy
It doesn't integrate with all plans of LinkedIn Sales Navigator
No free plan available
You need to contact sales to request a quote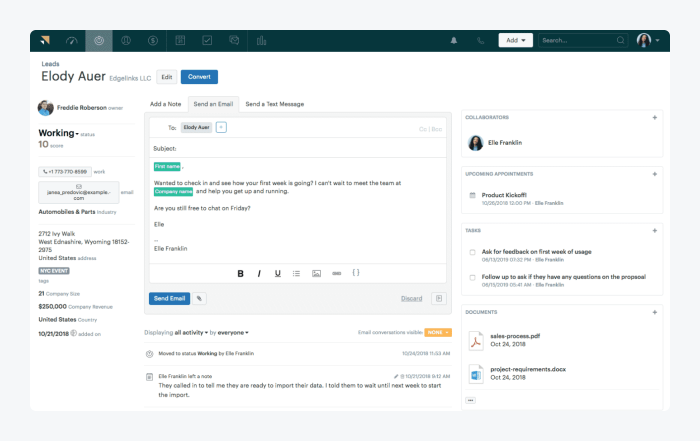 Rating: 4.3/5⭐ (based on 135+ reviews on Capterra)
Zendesk Sell has all the features you need to manage your sales pipeline effectively. The CRM system is highly customizable and you can easily add new contacts and companies, track your interactions with them, and set up follow-up tasks. The drag-and-drop interface makes it easy to organize your deals. And the built-in reporting tools help you track your progress. You can seamlessly connect Zendesk Sell with other solutions within the Zendesk suite. Additionally, it integrates with a number of third-party apps.
Pros:
Good layout of the interface
Many modules and integrations
Suitable for sales teams of different sizes
Cons:
Exporting and importing data can be tricky as some fields are merged automatically
Marketing features are not as powerful as in some of Zendesk's competitors
Free trial. 14-day trial with all Zendesk Sell features unlocked
Team ($19/month). Customizable sales pipeline and email integration
Growth ($49/month). Sales forecasting and activity reports
Professional ($99/month). Lead and deal scoring
Read more: Best CRM Software for Your Business
Quotations and proposals
Sales reps are constantly tasked with creating quotes and proposals for their potential customers. This can be a time-consuming process, and it's important to have a system in place that can help manage these documents efficiently. Quotation and proposal management software can help sales reps create and track deals. They also make collaborating with other team members easier.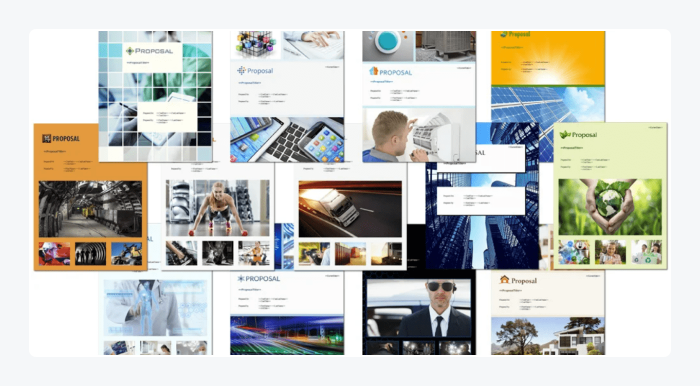 Rating: 4.7/5⭐ (based on 20 reviews on Capterra)
Proposal Kit is a good sales tool to consider if you're looking for proposal writing software. It can help you streamline the creation of professional business proposals—exactly what it says on the box. The software provides all the features and templates you need to create high-quality proposals that win more business. Plus, the easy-to-use interface makes proposal creation quick and simple, so you can get back to selling in no time.
Pros:
Many customizable templates for creating proposals that are unique to your business
You can buy thousands of documents with a single, one-time payment
Good source of inspiration for salespeople struggling with creating proposals for their clients
Cons:
Not a SaaS app, so there may be some problems with updates
The interface is a little bit outdated
You can download the document and software package for a single payment of $199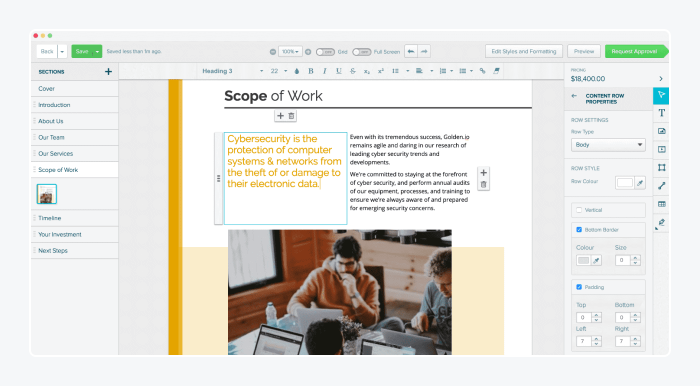 Rating: 4.5/5⭐ (based on 255+ reviews on Capterra)
Proposify is an online document automation software that helps salespeople and freelancers who need to create, manage, and deliver documents. The software provides a simple, yet powerful interface that makes it easy to get started with document creation and managing proposals. With Proposify, you can quickly create sales proposals, quotes, contracts, and other types of documents. The app includes a library of templates and a document editor for easy document customization.
Pros:
Great variety of proposal templates
Customization options for making proposals consistent with your branding
Pricing tables are easy to set up
Cons:
Searching for contacts within the platform can be tricky
Some users have experienced technical issues with the tool
Free trial. Proposify offers a 14-day trial with no credit card required
Team Plan ($49/month). Unlimited documents and custom forms
Business Plan ($590/month). Salesforce Integration, roles, and permissions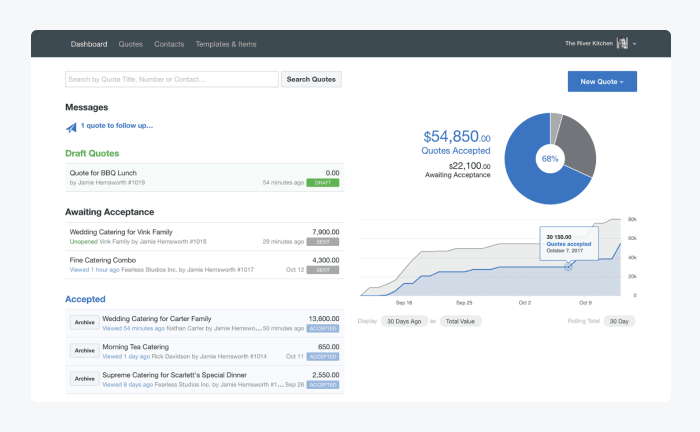 Rating: 4.8/5⭐ (based on 105+ reviews on Capterra)
Quotient is an app that allows sales teams to manage their quotes and sales pipeline in one place. It offers a variety of features that can help sales teams stay organized and efficient. These include the ability to create and track quotes, manage customer information, and set up automated workflow processes. Quotient also offers integration with many popular accounting software platforms, making it a good choice for sales teams that want to use a single platform to manage their entire sales workflow.
Pros:
Seamless integration with MailChimp and Quickbooks
Well-designed user interface
Customizable workflow processes
Cons:
The import/export feature is a bit clunky
Advanced formating of the quotes can be difficult
Free trial. You can try Quotient free of charge for 30 days
One Man Band ($25/month). Unlimited quotes and support
Business Time ($45/month). Extra user seats
Sales intelligence and analytics
As the competitive landscape shifts and buyers become more savvy and knowledgeable, sales teams need to find new ways to gain an edge. Sales intelligence and analytics tools provide sales teams with the ability to track and analyze customer data, understand buying trends, and predict future behavior. This information gives sales reps a significant advantage in both winning new business and retaining their existing customers.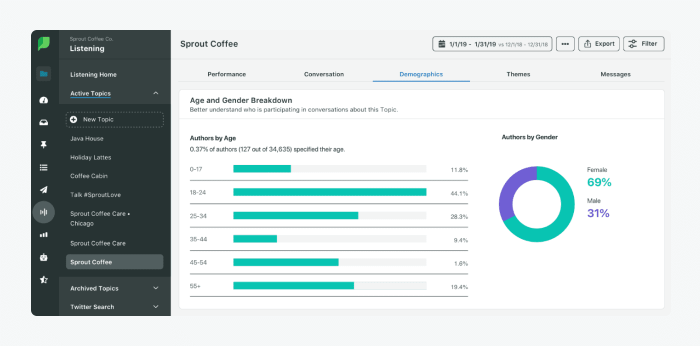 Rating: 4.4/5⭐ (based on 485+ reviews on Capterra)
Sprout Social turns social media into a sales channel with deep social media listening and analytics. You can use it to find new leads, nurture prospects, and improve your customer communication. This platform is a powerful sales solution that can also help you manage your social media accounts and engage with your audience. It has a wide range of features that can help you grow your business and measure your results.
Pros:
All-in-one social media management solution
Features for monitoring your competitors
Content scheduler is highly functional and useful
Cons:
The Chrome extension is buggy at times
It's quite expensive compared to other sales IQ apps
Free trial. You can try this app for free with a 30-day trial
Standard ($89/month). 5 social profiles and a shared inbox
Professional ($149/month). Additional social profiles, trend analysis, and CRM integration
Advanced ($249/month). Instagram and Facebook chatbots with automation tools
Rating: 4.3/5⭐ (based on 25+ reviews on Capterra)
SalesIntel is a powerful sales intelligence tool that provides users with the ability to gather data about potential customers, track their interactions, and identify key decision-makers within organizations. By leveraging the power of big data, SalesIntel gives users the ability to gain insights into potential customers and the ability to make informed decisions about their sales strategies.
Pros:
Accurate information about target audiences
Responsive customer success team
Research on demand
Cons:
Finding direct lines can sometimes be difficult
If you are operating in a niche sector the app may not have sufficient data
No free plan available
Individual ($99/month). Direct dials, business and personal emails
Individual Pro ($225/month). Competitor intel and sales playbooks
Teams (Contact sales). Intent data and integrations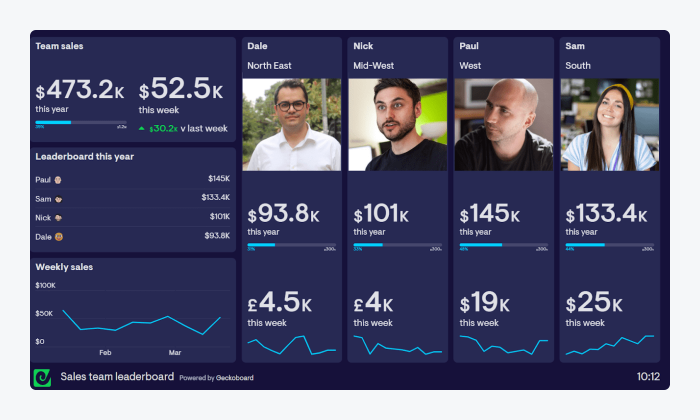 Rating: 4.5/5⭐ (based on 70+ reviews on Capterra)
Geckoboard is a web-based data visualization tool that helps you create interactive charts and graphs. It is perfect for data analysis, project management, and team collaboration. Geckoboard can help sales teams stay motivated and focused on their goals, as they can see their progress over time. Additionally, team leaders can use Geckoboard to monitor individual and team performance, identify areas of improvement, and give feedback accordingly.
Pros:
Easy way to set up KPIs and team performance boards
The user interface and dashboards look very appealing
Good tool for enabling data-driven culture in your company
Cons:
You are forced to use pre-defined data fields
The integration with Google Analytics is somewhat limited
Free. One dashboard with limited functionalities
Essential ($39/month). Core data sources and spreadsheet integrations
Pro ($79/month). Real-time data refresh rate
Scale ($559/month). Single sign-on (SSO) and unlimited dashboards
Rating: 4.5/5⭐ (based on 100+ reviews on Capterra)
Mixpanel's analytics platform is based on user behavior data that is collected from mobile devices and websites. This data is then used to generate insights into how people use these applications. The platform provides a range of features, including customer segmentation, retention analysis, push notifications, and A/B testing. You can use Mixpanel to create custom segments of users based on their behavior. This makes it easy to understand how different groups of users interact with your app, online store, or website.
Pros:
You can easily export data to spreadsheets
Works great with traditional Urchin Tracking Module (UTM) parameters
Offers a range of tools for managers, salespeople, and marketers
Cons:
Email tracking with this tool can be hard
Limited data range for tracking user flows
Free. Core reports and 100K tracked users
Growth (From $25/month). Data modeling, key reports, and cohorts
Enterprise (Custom). Retention and engagement reports
Order and invoice management
Order, invoice, and sales management tools can help you ensure that sales are processed in a timely and accurate manner. These tools can also help sales teams avoid mistakes that could result in lost sales or delayed payments. With the right software, you can automate many tasks associated with managing sales, including tracking customer orders and payments, managing inventory, and generating reports.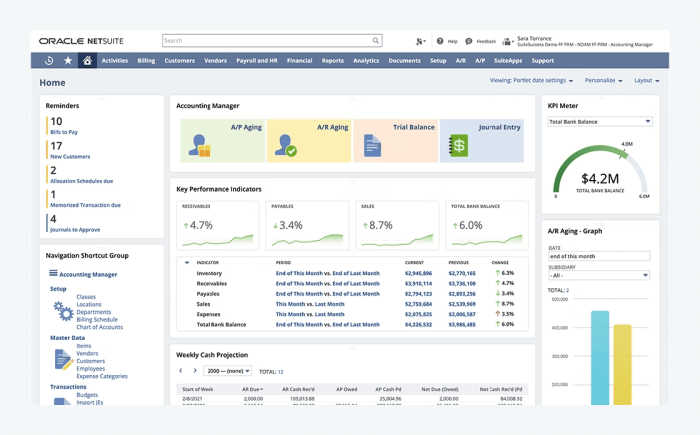 Rating: 4.1/5⭐ (based on 830+ reviews on Capterra)
Oracle NetSuite is a powerful and comprehensive cloud-based business management software suite. It enables companies to manage all key business processes in a single integrated system. NetSuite's financials, inventory and order management, ecommerce, CRM, and more are all managed in one place. This provides businesses with complete visibility into their sales and operations.
Pros:
Advanced solution for enterprise resource planning (ERP)
Resources, demos, and business strategy guides
if you are operating in specific sectors you can get access to premium plans without paying
Cons:
Lack of transparent pricing
Only for big companies
No free plan available
There is a $999 licensing fee and a monthly payment starting at $99/month
You need to submit a form and book a product tour before getting a proposal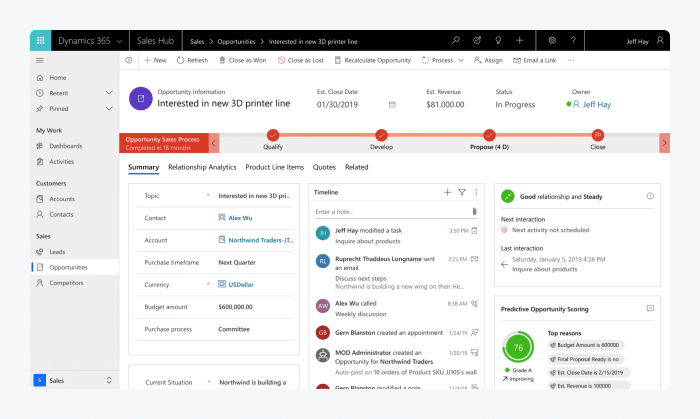 Rating: 4.3/5⭐ (based on 4,335+ reviews on Capterra)
Microsoft Dynamics 365 is a suite of intelligent business applications. It gives sales teams the tools they need to manage their entire sales process from start to finish in one place. It also offers tools and insights you need to forecast sales, plan territory strategies, manage orders, and track activities. The software provides a comprehensive set of tools that can be customized to fit the specific needs of each business.
Pros:
Fraud protection and multi-factor authentication
Good solution for sales, support, and CRM tasks
Easy integration with other products by Microsoft (such as Teams and Outlook)
Cons:
Data storage limits
Moving from a different solution can be difficult
Free trial. You can try Dynamics 365 Sales free for 30 days
Sales Professional ($65/month). Essential sales force automation (SFA)
Sales Enterprise ($95/month). Embedded intelligence and manual forecasting
Sales Premium ($135/month). Automations and predictive scoring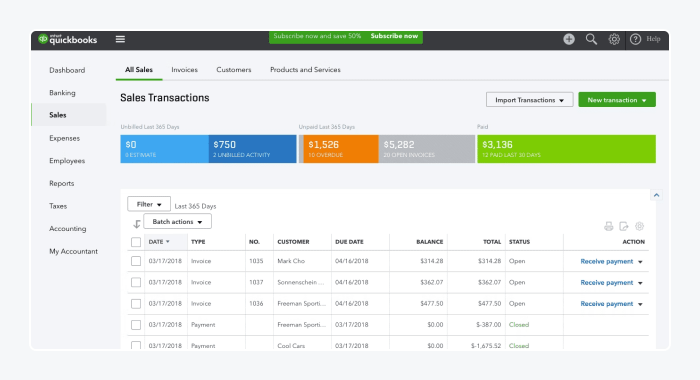 Rating: 4.3/5⭐ (based on 5,010+ reviews on Capterra)
Quickbooks is software that helps businesses manage their finances. It can be used to track income and expenses, and to create invoices and reports, alongside other functionalities. Quickbooks is available in both desktop and online versions. It's a popular choice for small businesses, as it is easy to use and relatively affordable.
Pros:
Reports are very easy to generate
Requires little to no training
Good value for money
Cons:
Some users don't find the app very intuitive
No bank reconciliation features available
Free trial. You can try this tool for 30 days
Simple Start ($17/month). Custom expenses, invoices, and quotes
Essentials ($26/month). Insights and reports
Plus ($36/month). Recurring transactions and inventory tracking
Rating: 4.6/5⭐ (based on 325+ reviews on Capterra)
Zoho is a CRM, cloud-based inventory management, and invoicing software that helps businesses streamline their sales process. It enables companies to track their inventory levels, manage stock movements, generate reports, and automate invoicing processes. It helps businesses to create and manage sales orders, track delivery status, and process payments. Additionally, Zoho provides users with a powerful dashboard that allows them to view their sales pipeline, manage inventory, and generate invoices.
Pros:
This solution is completely free and extremely adaptable
Tracking expenses and hours billed is very easy
Good customer service
Cons:
Changing currencies can be tricky
Sometimes the app will log you out for no reason
Free. All features are unlocked in the freemium plan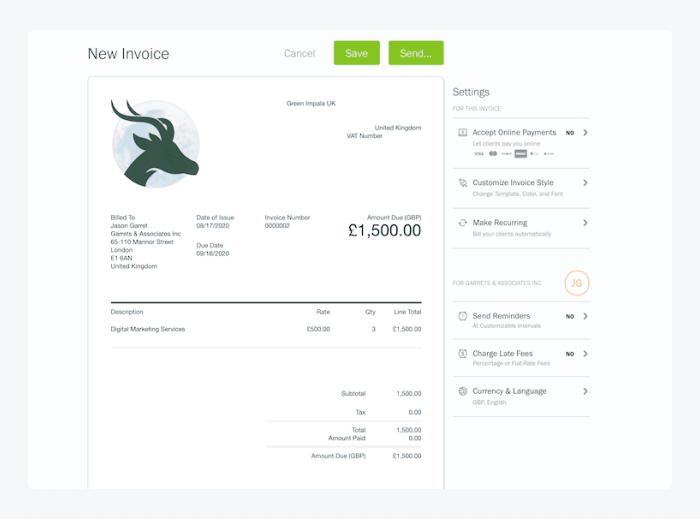 Rating: 4.5/5⭐(based on 3,700+ reviews on Capterra)
FreshBooks is a simple, easy-to-use invoicing and accounting software designed with small businesses in mind. With FreshBooks, you can easily track expenses, create and send professional-looking invoices and manage your finances from anywhere. What's more, FreshBooks integrates with a number of popular business applications to make your sales processes even easier. If you're looking for a comprehensive yet easy-to-use accounting and sales solution for your company, FreshBooks is definitely worth considering.
Pros:
Clean and user-friendly interface of the app
Helpful tools for sending invoices and proposals
Project profitability reports are very handy
Cons:
Electronic payments may not work with some banks
Managing data between your CRM and FreshBooks can be complicated
Free trial. There is a 30-day free trial with no credit card required
Lite ($15/month). Up to 5 clients, unlimited invoices, sales tax reports
Plus ($25/month). Up to 50 clients, business health reports
Premium ($50/month). Unlimited amount of clients, project profitability analytics
Select (Custom pricing). No branding and custom onboarding services
How to choose software for sales?
Sales software is a critical tool for any business that wants to increase its sales and customer base. The right sales software can help you manage your customer relationships, keep track of your sales pipeline, automate your marketing and selling processes, and close more deals.
But with so many different options on the market, how do you choose the right sales software for your business?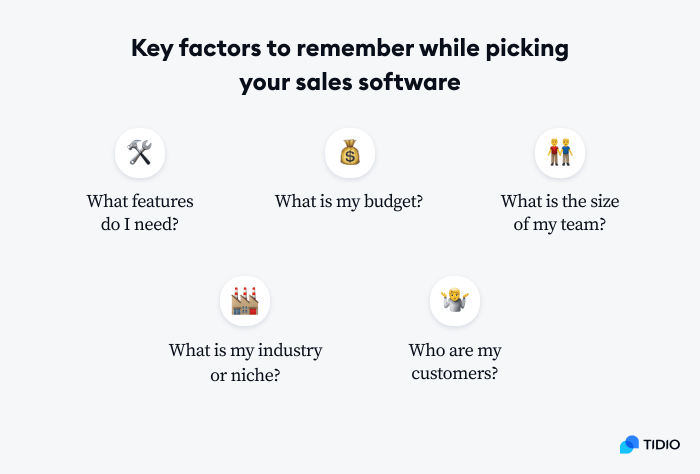 Here are a few things to consider when choosing sales software:
Your business needs. The first step is to assess your business needs. What kind of features and functionalities do you need from your sales software? Do you need a CRM system to manage your customer relationships? Are you looking for a way to automate your sales process? Do you need a tool to help you close more deals?
Your budget. Sales software can range in price from a few hundred dollars to several thousand dollars. Be sure to consider your budget when choosing sales software.
Your team. It's important to choose sales software that will fit the needs of your team. If you have a large sales team, you'll need a tool that can handle a high volume of sales data. If you have a small team, you may not need all the bells and whistles offered by more expensive software options.
Your industry. There are sales software options available for just about every industry. Choose a tool that offers features and functionality specific to your niche.
Your customers. Do you need a B2B sales tool or a B2C solution? When choosing sales software, be sure to keep your customers in mind. Choose a tool that will help you engage more customers and meet their needs.
When it comes to choosing sales software, there's no one-size-fits-all solution. The best sales software for your business will depend on your specific requirements. By taking the time to assess your needs and comparing your options, you can pick the right one for your business.
Conclusion
The best sales tools can help you close more deals and drive revenue by providing valuable data and insights, automating tasks, and streamlining your sales process. To find the right sales app for your business, consider your needs and budget, and read our reviews of the best sales platforms.
Some of the platforms that cover the broadest range of sales needs are:
Tidio
Salesforce
Zoho
HubSpot
Pipedrive
If you still can't decide on what you need, try the free plan/trial of one of the options above. It will help you get a feel for the software. After getting the first-hand experience you can decide if it works for your sales team before you make a commitment.