You set up an online store.
You offer great products and know your advantages over the competitors.
But the sales are still flat—
How to change that and boost your ecommerce store?
There are many ways to increase online sales for your ecommerce business and many tools that say they can do this for you. But which ones do ACTUALLY work and won't be a waste of effort and money?
Let's find out how to boost ecommerce sales and which tools to use to help you with this task.
In this article. we present 26 strategies to increase online sales:
If you want to find out more about the tools you can use to help you increase online sales, check out these articles:
1. Know your target audience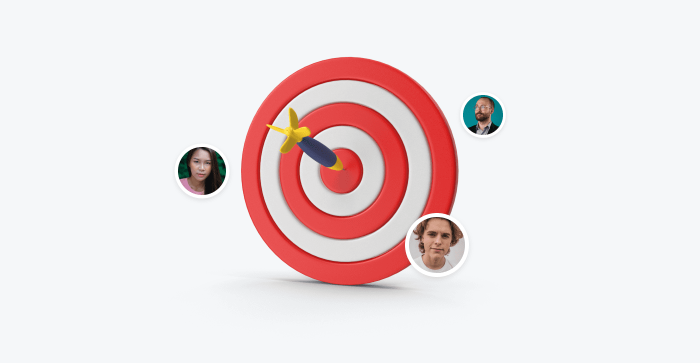 To grow ecommerce sales effectively, you should know who your shoppers are to be able to target them efficiently. That's where a buyer persona comes in handy.
An ideal buyer persona is a representation of your ideal customer. It helps companies to get a clear picture of who they're marketing to and focus their efforts on creating targeted content that speaks to the client's goals and challenges.
You can do market research and see who your audience is at the moment. Then align your findings with the ideal buyer that your products and services are meant for. So, dive into your audience and your goals to focus on the right shoppers for increased online sales and conversions. You can see how to do it on our step-by-step guide to product marketing.
Why do it?
Of all companies that exceed revenue and lead generation goals, 71% have a documented buyer persona. It also makes web design processes more efficient as using ideal buyer personas helps to improve the usability of your website by 2 to 5 times.
2. Pinpoint your unique selling point
A unique selling point is what differentiates you from your competitors. It can be your unique service features, committed customer service, or even the production methods you use. You should make your unique selling point clear and easy to understand for your customers. This will help you convince them that they should choose you over the competitor and help you increase sales online.
To create your unique selling point, follow these steps:
Start by understanding your audience's needs
Research your competitors' proposals
Brainstorm ideas within your company
Write down what your business offers that competitors don't
Make it is memorable
Include your unique selling point into your advertising copy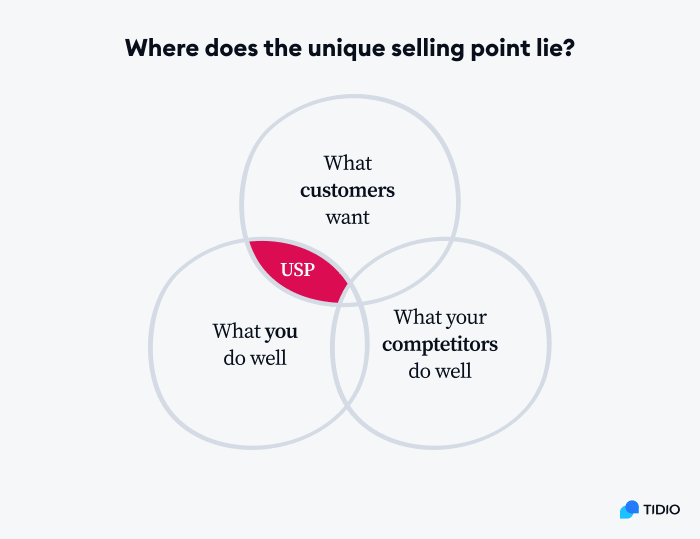 Why it's important for your company to have a unique selling point?
A powerful unique selling point can help you focus your business strategy around satisfying your customers, which can help you increase your position in the market. You should put your unique selling point forward in a value proposition for your website visitor to easily spot. This can help you demonstrate that you know who your shoppers are, and you know how to help them achieve their goals.
An example of a good unique selling point was created by Bee's Wrap in their preposition:
Small Swap, Big Impact. Ditch disposables and keep food fresh with Bee's Wrap reusable food storage.
3. Put CTAs on your website
A Call to Action (CTA) button is an instruction for the website visitor to encourage them to take a desirable action. This can help you engage customers and motivate them to interact with your business. You can use a CTA button to improve your conversion rate or increase your leads—or both! 
It's entirely up to your business needs what the CTA button will state. You can give instructions to your website visitors to "Find out more about your products," "Catch the sale before it disappears," "Subscribe to the newsletter," and so on.
Why use CTAs on your website and marketing campaigns?
Well—
Emails that include a call to action have 37% higher click-through rates and result in 16% higher sales. Adding a CTA to your Facebook page can result in increased click-through rates from your social media by 285%.
But how to increase ecommerce sales using your marketing copy?
Write an honest one—
4. Create an honest sales copy
Creating an honest sales copy can help you improve your credibility and trustworthiness of your brand. It can also increase your retention rate and improve word of mouth advertising, which will bring more sales to your ecommerce store in the long run.
So, don't use the buzzwords that don't mean anything. Make sure your copy states clearly and honestly what you offer and what your promise to the customers is.
Believe it or not, but you can even use to your advantage the fact that you're not the number one. Avis did it, and it was a huge success for them. Just look at their sales copy highlighting why being number two is better than being number one.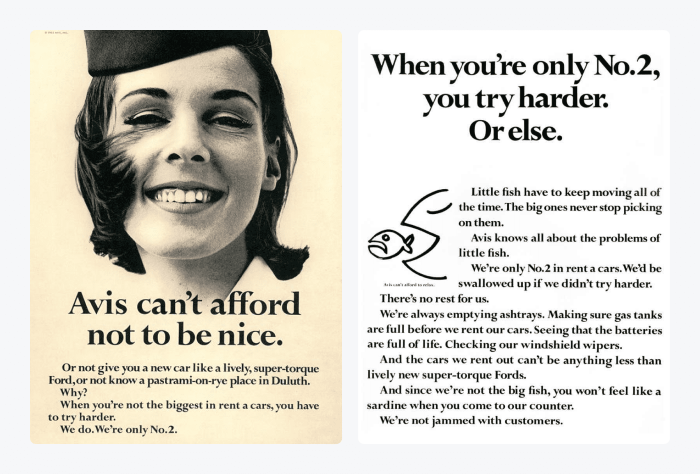 A study by Label Insights found that 94% of buyers are loyal to transparent companies. Also, about 73% of customers are willing to pay more for products and services from businesses that operate with transparency.
5. Display customer testimonials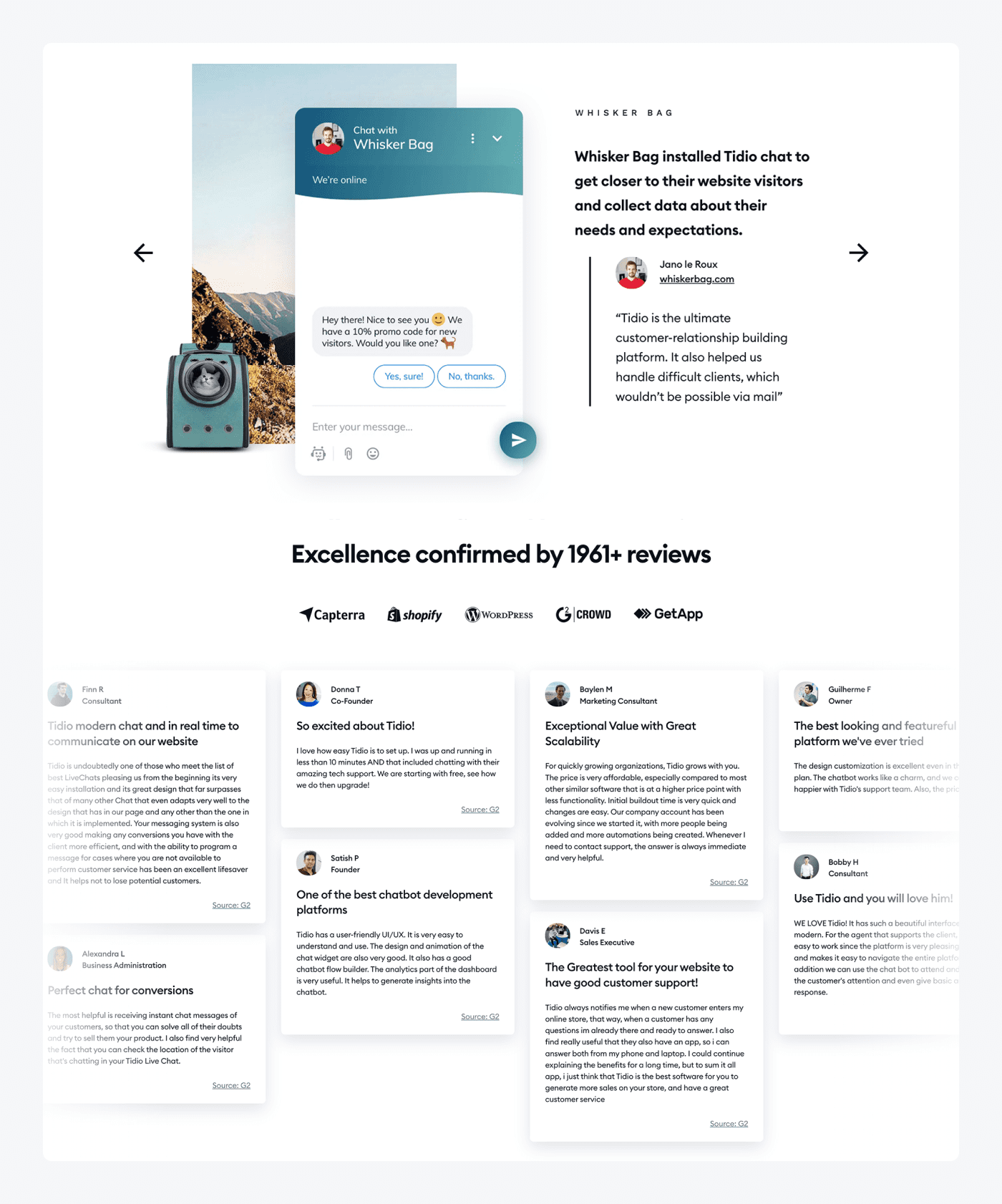 Showing customer reviews and testimonials on your website can add trust in your products and services, as well as give potential customers a final push to choose you. This is the best way to display social proof for your great services. Many companies, including us, find value in presenting customer feedback and product reviews on their website.
What's a customer testimonial? It's a review or recommendation made by a shopper about a company to show how the product or service benefited the shopper. Customer testimonials can take a variety of forms, for example, a review on a third-party website, a case study, or social media testimonial. No matter the form, the goal is always to show the benefits of choosing the brand.
You can collect and showcase testimonials in a number of ways, but the most popular are:
Create a separate testimonial page
Add testimonials to your homepage
Embed Instagram testimonials in the footer of your page
Add a chatbot on your website that encourages people to leave reviews and share feedback
It's important to show customer opinions about your business for two main reasons. First of all, nine out of 10 people trust other customers' reviews about the brand than what the company says about itself. And reviews are shown to influence purchasing decisions for about 95% of people.
6. Improve your customer service
Customer service is important for your business to increase sales because it can help you retain more clients and gain more value from them. Excellent customer service can increase the number of loyal customers that refer their close ones to your online store. In turn, this will help you save on acquisition costs.
Some of the benefits of a great customer service are:
So, train your customer service representatives, invest in multichannel customer service experience, and speed up your response time to improve your client support and enjoy its benefits.
Okay, let's look at some data backing up the importance of customer service—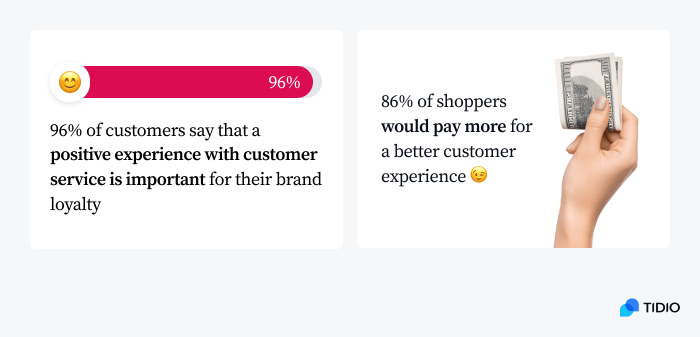 About 96% of customers say that a positive experience with customer service is important in the context of their brand loyalty. Also, over 86% of shoppers would pay more for a better experience.
7. Get chatbots
How to boost online sales straight from your website?
Put chatbots on it that greet visitors, give personalized recommendations, and answer FAQs within seconds.
A chatbot is computer software that simulates conversations with human users via text or voice. Chatbots can be used to engage with clients, and improve customer service through a variety of channels, such as website, social media, and messaging platforms.
Chatbots can help you get more leads, increase sales directly, and improve the shopping experience to encourage customers to come back to your store. They can also assist you to get more customer feedback and improve customer communication with your clients.
You can easily create chatbots and add them to your website using one of the best chatbot platforms that offer this solution. This shouldn't take you longer than a few minutes.
Why bother?
Using abandoned card chatbots can boost your ecommerce sales by 7-25% and on average chatbots can increase sales by about 67%.
Read more: Learn how a cat travel bag company grew into a $100K/year business with chatbots' help.
8. Create an omnichannel experience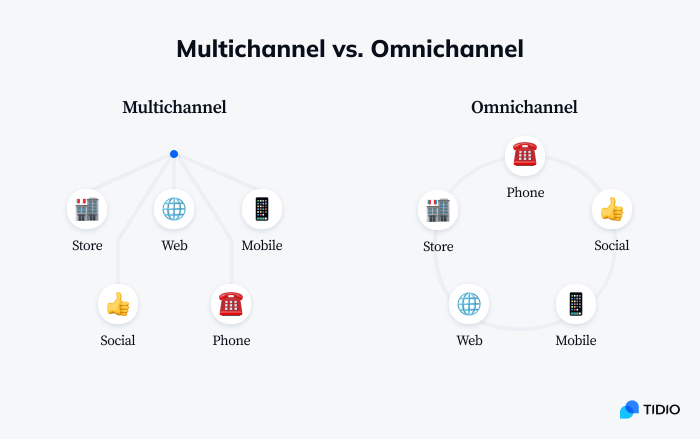 One of the best online sales strategies to increase website sales is to build an omnichannel customer experience.
Omnichannel experience basically means that your customers are getting the same experience from your company, no matter which channel they choose to interact with you. You should offer multichannel selling from your ecommerce store, Amazon, eBay, social media, and Etsy for the biggest increase in your online sales.
On top of that, you should increase the number of places you're visible and available to grow your reach for customers. This, in turn, will lead to a boost in buyers and leads.
And considering that about 73% of buyers use multiple channels during their shopping journey, you should be present in more than just one place on the internet.
Just look at Starbucks which engages customers through its website, app, and social media. It also offers different loyalty programs and encourages feedback or improvement ideas.
Read more: Discover some great programs that drive customer loyalty with tips and examples to do it effectively.
9. Write a return policy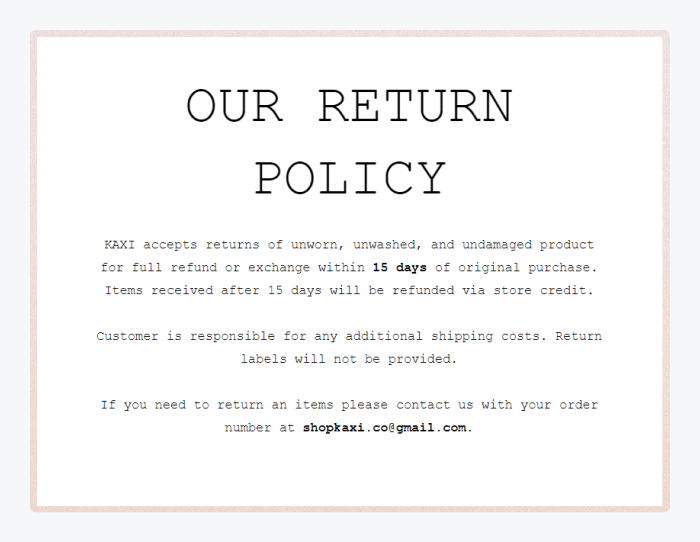 We know. We know. Returns don't provide more sales, they are the opposite. But, in the long run, having a good return policy and offering a seamless return process with a money-back guarantee, your company can increase sales.
Considering that accepting returns is part of the law in some countries and about 62% of shoppers expect online stores to accept returns within 30-days of purchase, it's important to provide a return policy for your clients.
It creates clarity between you and the buyer. It can make your website visitors more likely to click through to the checkout page with the reassurance that you stand behind the quality of your products.
Read more: Learn how to write a great ecommerce return policy for your online store, its benefits, and some of the best examples.
10. Offer free shipping on orders
Yes, maybe it will cost you a little to offer free shipping, but most people don't want to pay for it. And you don't even need to bear the price, you can increase the price of your product to include the shipping and offer free shipping.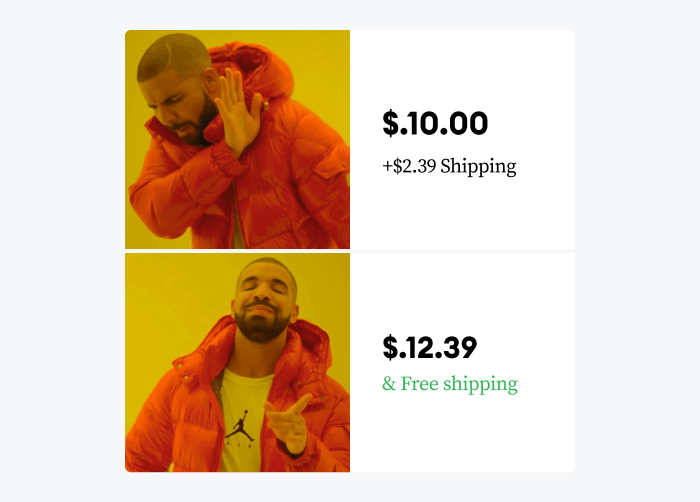 There was a lot of buzz about free shipping lately.
Customers are jumping on the trend because they can relate to not wanting to pay for shipping. So, make sure your company attracts clients who left the competitor because of paid delivery by offering a free option instead. This can quickly help you increase your sales online and grow your business.
11. Create ads on social media
If you're wondering "how to find new customers and increase sales?", we have an idea for you. Use social media! Here's why—
Out of the world population of nearly 8 billion people, 4.62 billion use social media.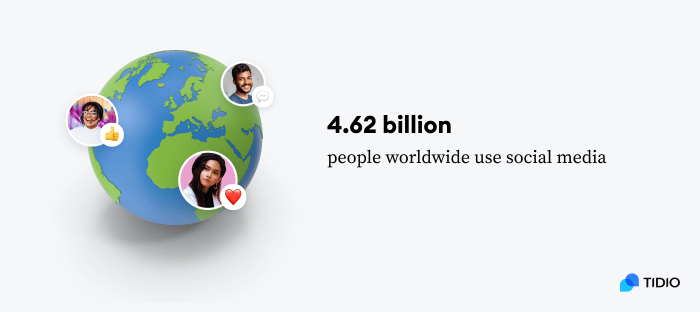 As you can see, you can reach many people on social media, promote your products, and increase sales through social media.
How to increase online sales through social media?
Start by finding your highest converting social media content, this can be video posts, reels, or opinion pieces
Focus on producing more of this content and include your products in it
Use conversational commerce to nurture buyers
Create ads on Instagram, Facebook, and other social media where you have the biggest following
Post at the right time
Create social media automation, such as Instagram bots to engage more customers
It's not difficult, but it can be a little time-consuming. Nevertheless, it will bring great results to your business if done right!
12. Increase your position on Google search results page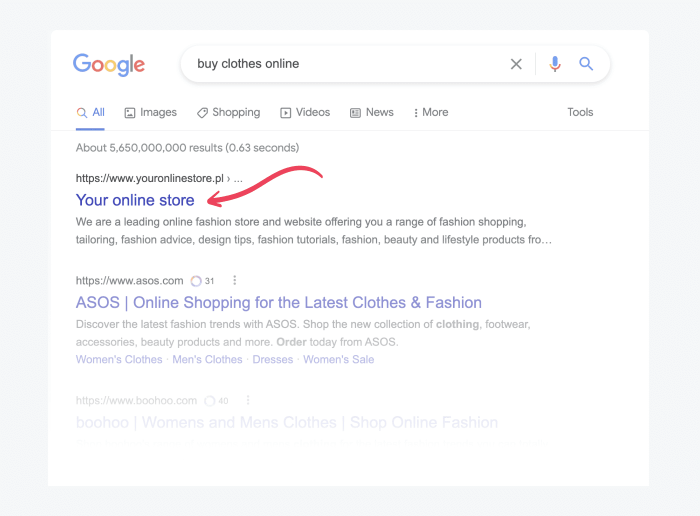 Google Ads are a great way to put yourself on the number one position on Google. But they can be pricey, and they only work as long as you pay for them.
SEO, on the other hand, brings long-term results without you having to spend anything on advertisements. Content marketing can improve your organic search ranking and provide more traffic to your website. More traffic brings more potential customers and first-time buyers to your site. And boosts ecommerce sales in the long run.
Improving your organic traffic also provides you a way to target the whole sales funnel with SEO.
Bottom line—
Ranking high on search engine results is important, as the first five organic results get about 67% of all the clicks for the keyword. Many marketers see its value and so should you. About 49% of marketers state that organic search has the best return on investment (ROI) of any marketing channel.
Read more: Learn how to improve your local ranking on Google straight from the source.
13. Produce quality product images
If an ecommerce website has blurry photos or pictures that don't really show the product you're interested in, what do you do?
You click the back button and go back to the search results page to look for a different brand to do business with.
Because let's be honest here, every one of us would prefer to see good photos when making a purchase decision.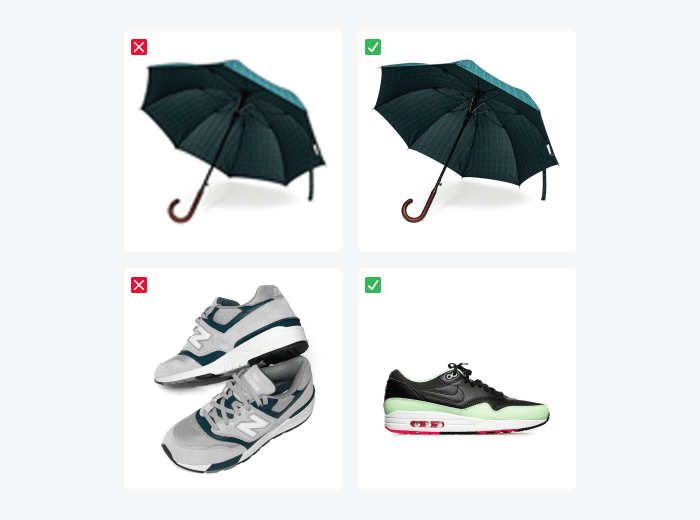 Pictures are very important for online shoppers. We are visual creatures and since you can touch and inspect the product when buying online, you expect the photos to be of great quality. That's normal since we buy online based on what we see.
Look through the common product photography mistakes to improve the quality of your photos and boost your online sales.
14. Increase marketing efforts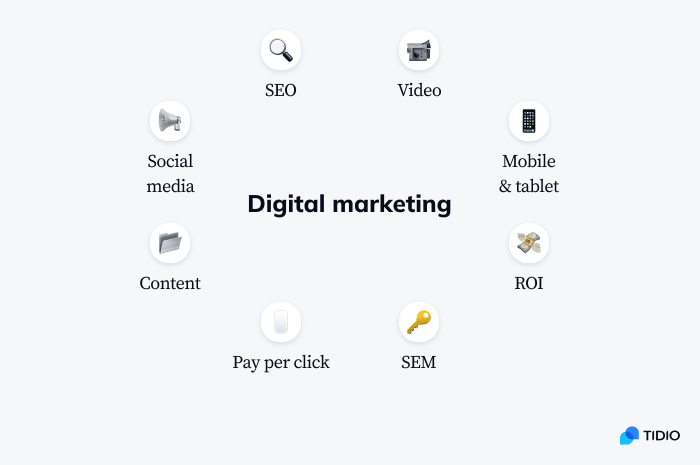 This one should be pretty obvious. The more you advertise your products and services, the more sales you should see coming in.
A lot of businesses already increased their marketing budgets. Between 2020 and 2021, there was a 14% growth rate in digital marketing budget spending across businesses. The biggest reason for this is that marketing brings effects. Notably:
The return on email marketing amount for $36 for every $1 spent
Using Google Ads can increase brand awareness as it did for Schmidt Naturals which had a 48% uptick in brand awareness thanks to Google Ads
You can use many marketing strategies, but the best ones out there are:
Google Ads (PPC and retargeting)
Facebook Ads
Email marketing
Mix and match, use one of them, or use them all. The choice is yours!
15. Mark popular products
Have you ever seen this before: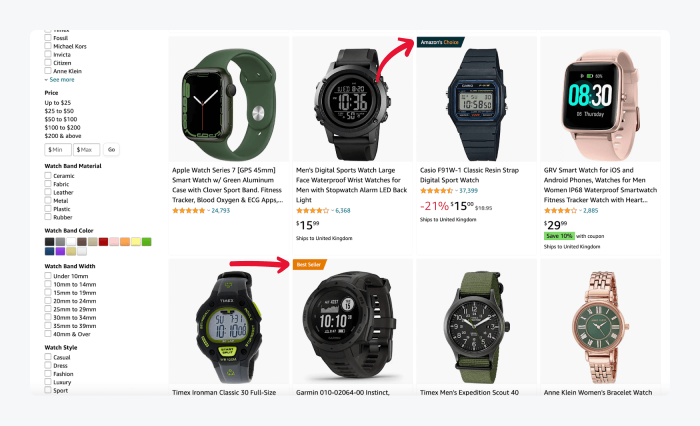 or this: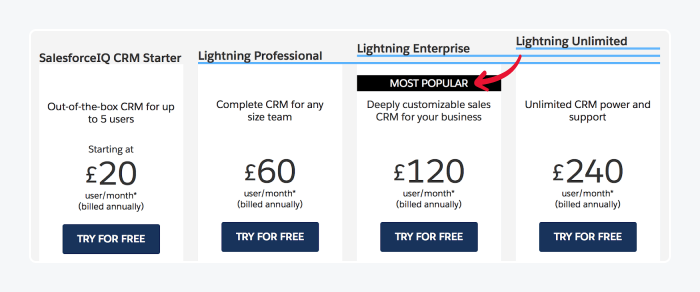 Yes, these are used to make the choice for the customer easier and for them to decide on the option that you want them to choose.
And they prove very useful as the shoppers feel like the best choices are presented to them and are more likely to click on them. So, if you want to increase ecommerce sales quicker, choose which of your products are most popular and highlight them to the potential buyer for higher conversions.
16. Reduce friction during checkout
Needing to register for an account and the checkout process being too long are among the top three reasons for shopping cart abandonment during checkout.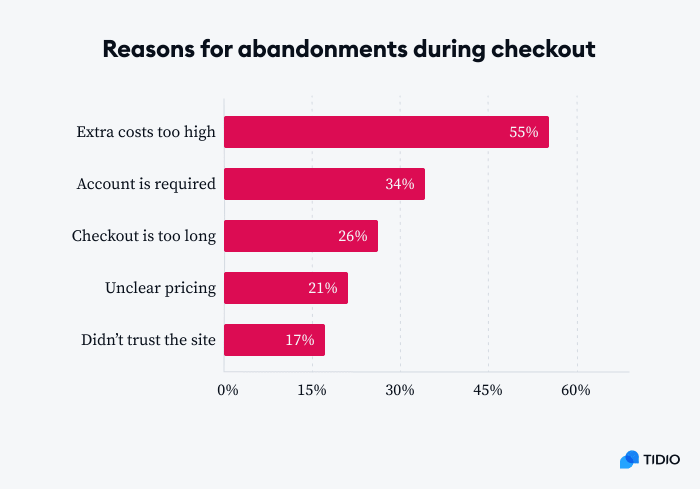 People don't have the patience or the will to go through 10 different steps just to purchase a product they want.
And you can change that easily by making the checkout process more straight-forward, quicker, and frictionless. Getting more leads from the needed checkout registration is really not worth the sales you're losing because of it.
Also, according to experts, you can increase conversions by a whopping 36% if you implement the right checkout optimization strategies.
17. Provide a variety of payment methods
There are so many payment choices out there! Here are just a few of the most popular ones: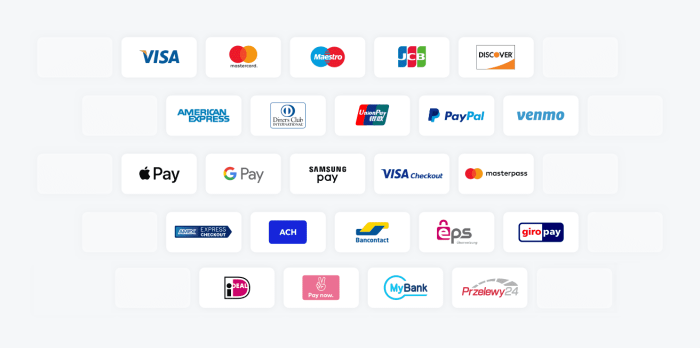 You don't need to include all the possibilities, but it will benefit your sales to have the most popular payment methods in your country.
It's a good idea to include these as payment options on your ecommerce website:
Visa
MasterCard
PayPal
Apple Pay
Google Pay
Maestro
Discover
American Express
Venmo
And if you can't include all of these payment methods, then stick to the top five on our list. This is because as many clients will leave your site if you don't provide these payment gateways. Visa, MasterCard, PayPal, and Apple/Google Pay offer ease-of-pay for the shopper, and they expect these payment methods from online stores.
18. Build winning landing pages
Did you know that implementing multiple landing pages on your website can increase your lead generation by up to 55%?
So, creating landing pages can bring you great results, if done right. Therefore, you should include CTAs, make the pages personal, and keep an eye on the loading speed.
How can these help you?
A personalized call-to-action button can improve conversion rates by 202%. It's the finish line on the customer journey, and you should encourage your website visitors to cross it.
Creating targeted landing pages can increase your conversions by up to 300%. So, tailor your product pages and landing pages to the audience that is interested in them.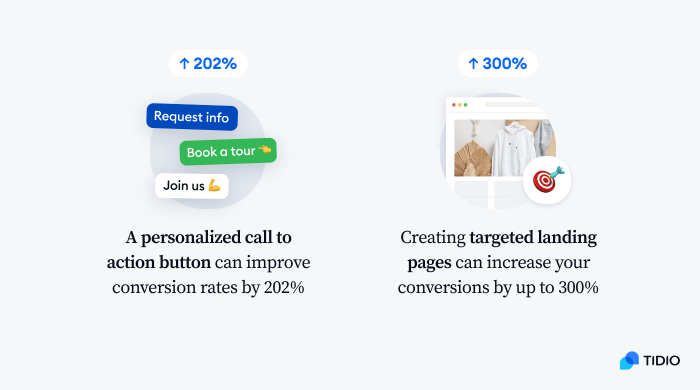 And last but not least, do not let your website loading time to be high. Make sure all the pages load quickly as, on average, customers expect to wait 2 seconds for a page to load. If yours takes just one-second longer, about 40% of potential clients will click the back button away from your site.
19. Act on customer feedback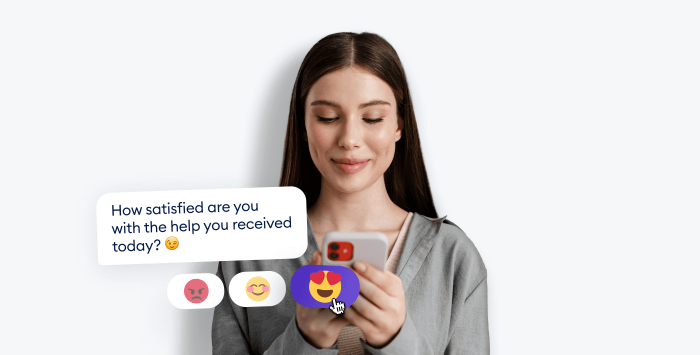 This online sales strategy puts your focus on the customers to drive online sale more effectively.
First, proactively collect it, ask for it, and encourage existing customers to give feedback. Then act on the data you collected.
You can collect customer feedback with:
Collecting customer feedback will clearly show you what are the pain points your shoppers have, and you can even find out what functionality they would like you to offer.
It's important in order to increase your sales, as 89% of customers want to have the opportunity to give feedback. And as many as 77% of shoppers will have a more favorable view of your brand if you ask for and accept their feedback.
Read more: See how you can use Tidio to collect feedback and boost your ecommerce growth strategy.
20. Give away free gifts
Who doesn't like free stuff?
Nobody.
And yes, giving away products for free might seem contradictory to making more sales, but including a small gift with purchase might do wonders for a large or small business alike.
How to get more online sales by giving away gifts? Let's have a look at an example of this, shall we?
You can make the giveaway into a competition, just like Lego does: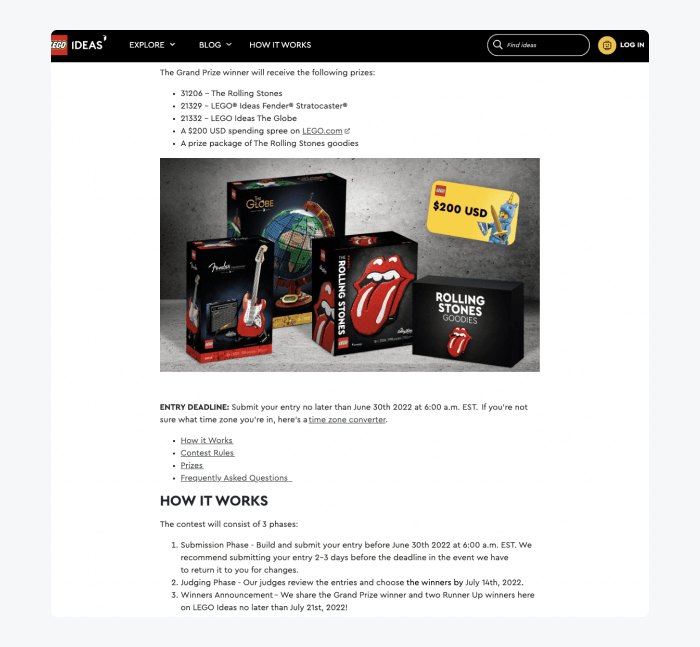 Lego frequently organizes contests with giveaways and receives thousands of participants for each one. This creates buzz about the company, and in many cases, encourages participants of the contests to purchase extra Lego parts to complete their creation.
21. Add pop-ups to your website
A popup is a box with information or promotional offer that pops up on top of your website's contents. It can help you capture visitors' attention quicker, and they usually include a CTA to encourage the potential customer to take the desired action.
You could create a sense of urgency with a one-time promo code or display some great deals you have at the moment. Pop-ups can be a quick and easy way to increase your conversion and grow online sales.
Remember, don't be too pushy. One pop-up that a visitor can easily close to go back to browsing your page is good. Pop-ups that visitors can't easily close or that jump at them every few seconds are annoying and push visitors away.
Check out this video to learn how to add pop-ups to your website:
Some of the results of embedding pop-ups on your pages include:
The average pop-up conversion rate amounts to 11%
Cart abandonment popups have the highest conversion rate of 17%
The lucky wheel pop-up has a 13% conversion rate
And it's good to keep in mind that pop-ups with images have higher conversions than those without the images by 84%.
22. Make sure your online store is fully responsive
About 61% of visits to online stores in 2020 were made from mobile devices and only 36% were done on desktops. This shows that ensuring your ecommerce is mobile-friendly is essential to your store's success.

In the future, searches from mobile phones will only go up. Let's face it—browsing on mobile devices is just easier and more convenient as you can do it from anywhere and at any time.
So make sure your website is responsive and looks beautiful, no matter what device your visitor is using to browse your pages. You can do this simply by ensuring that the theme of your website is fully responsive or mobile first.
Read more: Discover the 40 best WordPress ecommerce themes for your website.
23. Send out follow-up emails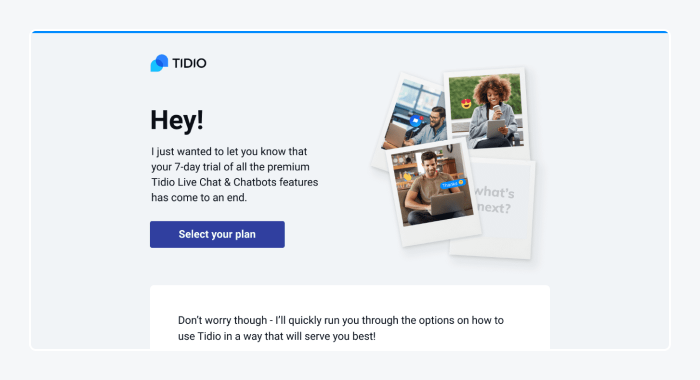 You can include an offer and personalized recommendations in the follow-up emails. Make them customized and speak directly to your potential customers. This can help you create a connection and encourage them to click through to your online store and place an order.
But if you don't get a response, don't give up just yet. Do a follow-up to your email. A study shows that sending 2-3 emails is the most optimal way to receive the result you want. A different research found an 18% response rate to the first email, 13% to the fourth, and about 27% to the sixth email.
We wouldn't recommend sending more than 3 emails as you might come out as pushy or spammy if you clutter your lead's inbox. This can decrease your contacts list quickly, and it's the opposite of the desired effect.
Read more: Discover the most effective follow-up techniques to increase conversions.
24. Improve customer relations
It's quite simple and straightforward. Make sure you stay in touch with your existing customers, create relationships with them, and show them that you value them. This will make them more likely to come back to your store again and again.
Right! But how to create customer relationships?
Well—You can build and maintain customer relationships by:
Learning who your shoppers are
Collecting feedback
Customizing the user experience
Building trust
Giving free resources to establish your expertise
Personalizing communication with buyers
What can customer relations help you with?
For starters, happy customers spend more than unsatisfied ones. About 140% more!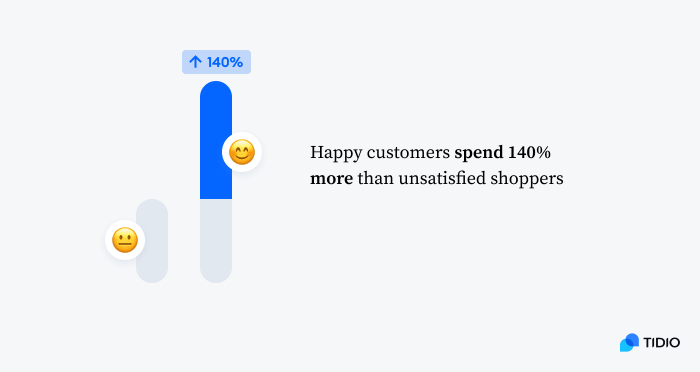 Establishing good customer relationships can also increase the customer lifetime value and the retention rates. It can help you gain more brand advocates and boost conversion rates.
Believe it or not, but a study found that as many as 88% of buying decisions are influenced by customer service reviews. So, your business will suffer if your potential customers read about rude support reps or poor customer care in the reviews about your brand.
25. Perform A/B testing
A/B testing (also known as split testing) is a marketing tactic that is based on experimenting with your content. You should first create different variations of an email marketing campaign. Then, divide your audience into as many groups as you have variations of the campaign. Send each of the groups a specific variant of the advertisement. Lastly, check which version performed the best to decide the one you should use.
For example, make two landing pages for the same product that will be slightly different from each other. Then, send the first landing page to half of your leads and the second landing page to the second half of your leads. After about 10 days check which landing page brought you more conversions and stick to this design for all of your products.
Some of the common goals for split testing include:
Increasing conversion rates
Improving website traffic
Lowering bounce rate
Lowering cart abandonment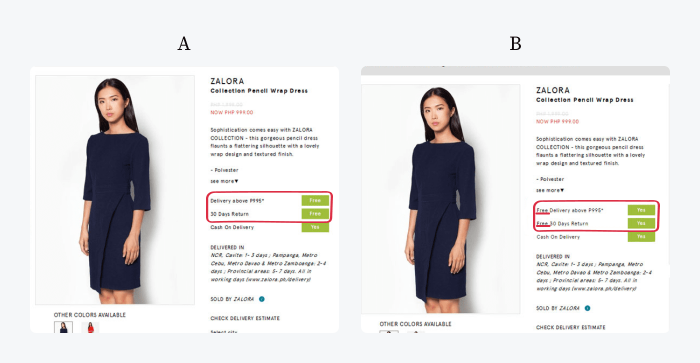 The A/B testing can include small as well as bigger changes. Zalora increased its checkout rate by 12.3% by optimizing product pages. And all they did was put shoppers' attention to their free delivery and free returns straight on the product pages.
26. Use Analytics to learn from data
Google Analytics can help you employ a data-driven approach to your strategy. It means that your decisions are made based on data analysis and interpretation. A data-driven approach can help you better serve your customers by examining your knowledge and previous results.
This can also help you review your team's key performance metrics, interpret the customer success metrics, and determine an effective strategy to move forward with. Some of the benefits of staying on top of using Google Analytics to stay on top of your data include:
Better customer targeting
Lower costs of operations
Improved solutions to the problems arising
New innovations
So, now you know the most important tactics to improve your online sales. But what are some of the tools that can help you boost online sales?
Let's find out—
Online marketing tools to increase ecommerce sales
Sometimes you need a little help when it comes to boosting your ecommerce sales and business in general. And that's when you could use some of the best sales software and customer service tools available for improving your ecommerce store and increasing sales. The top five online tools to increase sales productivity are:
Tidio—improve your customer service
MailChimp—enhance your email marketing
Hootsuite—increase your social media presence
HubSpot CRM—organize your customer communications
Google Analytics—stay on top of your data
Let's dive deeper into each of these.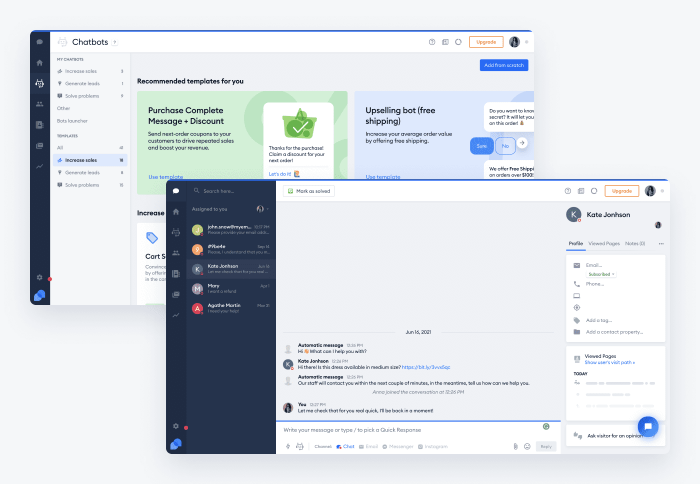 Rating: 4.7/5 ⭐️ (1,095+ reviwes)
Tidio is a customer service software that can help you improve your communication and relations with clients. This platform provides live chat as well as chatbots to aid your support team and ensure 24/7 support for your shoppers.
It can also help you boost your sales with recommendations on the chat, taking orders, encouraging client interaction, as well as collecting leads for your marketing campaigns.
Free plan available
Communicator ($19/mo/agent)
Chatbots ($49/mo)
Read more: Learn how to start collecting leads with Tidio chatbots.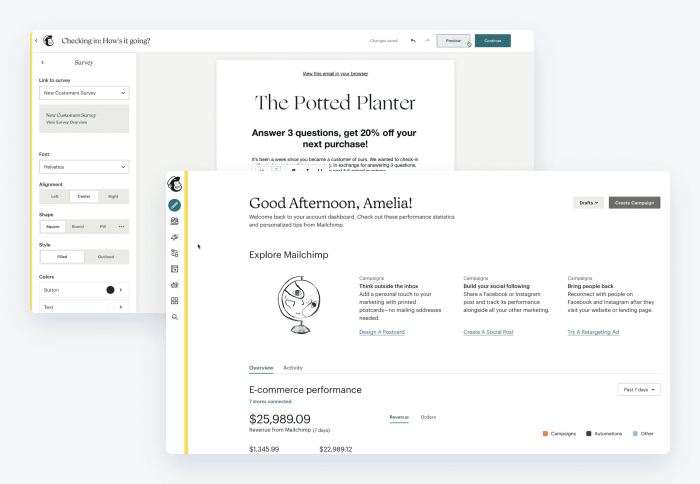 Rating: 4.3/5 ⭐️ (11,950+ reviews)
Mailchimp is an all-in-one marketing platform that can help your business put the audience at the center of your marketing efforts. This platform provides automations for a variety of emails, from abandoned carts to cross-selling.
You can use MailChimp for creating targeted email campaigns, facilitating reporting, and building landing pages. It also offers predictive customer segmentation, so you can create more personalized interactions with your shoppers.
Free version available
Premium ($299/mo)
Standard ($17/mo)
Essentials ($11/mo)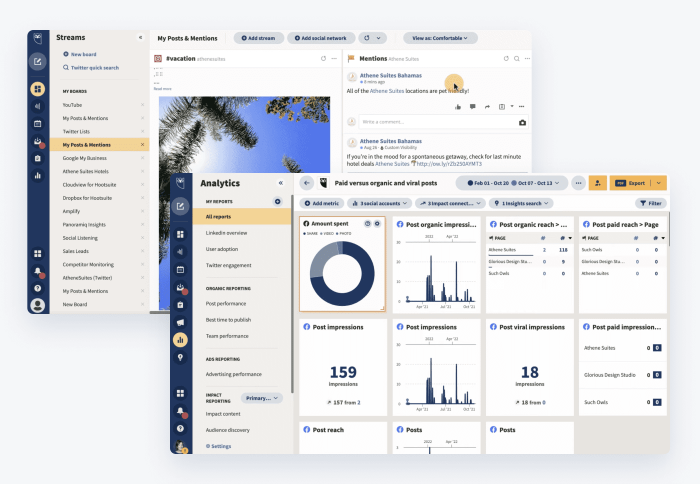 Rating: 4.1/5 ⭐️ (3,610+ reviews)
Hootsuite helps companies manage their social media and strengthen their connections with customers. You can schedule posts across multiple social networks, like Facebook, Twitter, LinkedIn, YouTube, and more.
It also offers management of organic and paid social content to make it easier for you to stay track of your social media presence. This platform also helps you keep track of customer conversations and gather actionable insights in real-time.
Professional ($49/mo)
Team ($129 /mo)
Business ($739 /mo)
Enterprise → contact sales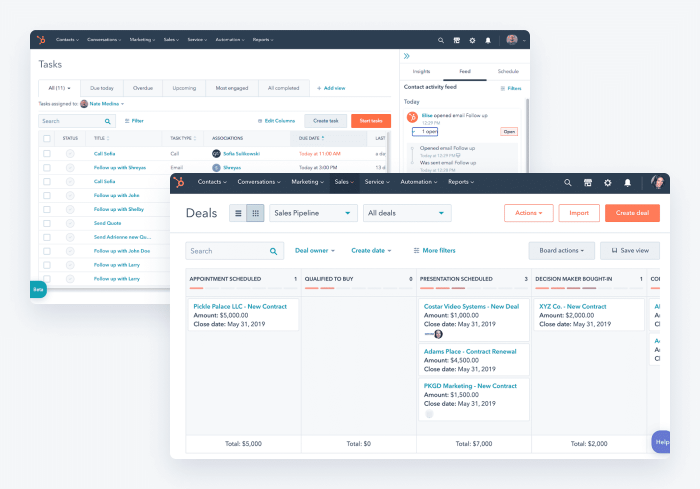 Rating: 4.4/5 ⭐️ (8,235+ reviews)
HubSpot CRM brings all your marketing tools and data into one easy-to-use platform. This software helps you improve the customer experience and convert the right shoppers at scale.
You can use it to personalize communications and improve your marketing campaigns for better results. HubSpot also offers a free CRM system for ecommerce businesses to improve their alignment with all the company's teams and increase sales.
Starter ($45/mo)
Professional ($800/mo)
Enterprise ($3,200/mo)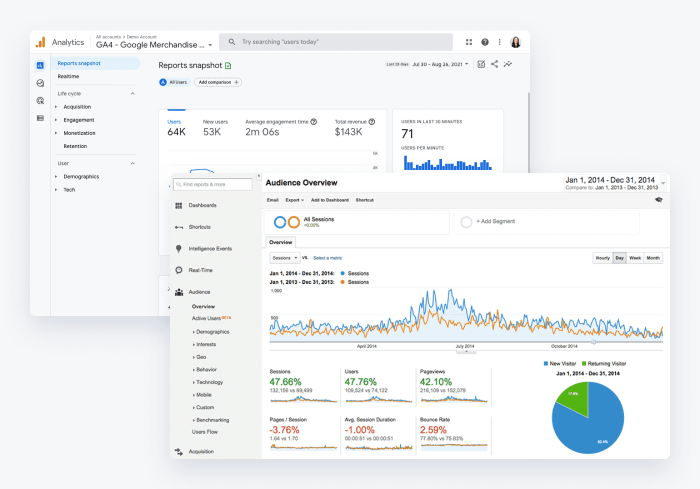 Rating: 4.5/5 ⭐️ (5,770+ reviews)
Stay on top of your customer and company data in one place. Google Analytics is one of the best platforms for customer insights, website's performance data, and digital campaigns' results.
You can use it to improve the shopping experience, increase your website traffic, and boost your ecommerce sales. This software also provides testing tools to help you maximize your digital strategy through testing and experiments.
Key takeaways: how to increase ecommerce sales
There are many different strategies to use when you want to increase your online sales. Many of them are connected to one another, for example, when you implement chatbots into your site, your customer service will also improve.
So, how to increase online sales fast?
Know your target audience
Find your unique selling point
Put CTAs on your website
Create an honest sales copy
Display customer testimonials
Improve your customer service
Get chatbots
Create an omnichannel experience
Write a return policy
Offer free shipping on orders
Create ads on social media
Increase your position on Google
Produce high-quality product images
Increase marketing efforts
Mark popular products
Reduce friction during checkout
Provide a variety of payment methods
Build winning landing pages
Act on customer feedback
Give away free gifts
Add pop-ups to your website
Ensure your online store is fully responsive
Send out follow-up emails
Improve customer relations
Perform A/B testing
Use Analytics to learn from data
Remember that you don't need to use all 26 strategies listed above to see positive results. Choose the ones that work for your business and focus on them. You can mix and match whatever brings the best results for your company. Also, experiment with different ways to find out what works for you.
Don't be afraid to use some extra tools that help to boost sales and improve the customer experience on your ecommerce. You might be able to see a big jump in growth if you use the right ones. And most of the best platforms offer a free plan or a free trial for you to test it before opening your wallet.
FAQ
What are 4 general ways to increase sales?
The four ways to increase sales are:
Attract more customers with marketing
Increase customer lifetime value by acting on feedback
Decrease abandonment rates by improving the checkout experience
Improve the shopping experience with great customer service
What is the quickest way to increase sales?
The quickest way to increase sales is to look for marketing opportunities and new leads. You can use ads to attract new customers and improve customer service to boost retention. These two combined will increase your sales quickly and efficiently.
How do you attract customers online?
To attract customers online you should:
Improve your SEO for higher organic traffic
Create an aesthetically pleasing and responsive website
Market your online store on social media
Send marketing emails to your leads
Provide a quick and helpful customer support
How social media can increase online sales?
Social media can increase your reach to obtain new customers. Once a person sees and likes your products on their Facebook or Instagram feed, they are likely to check out your website and complete a sale.
What makes a customer happy?
Getting value for their money, feeling appreciated by the company, and trusting a company make customers happy. They feel that your company is aligned with their goals and needs. Happy customers also trust that a brand is committed to helping them achieve their desired outcome.