With the rise of the customer-centric approach, both B2B and B2C companies started to see the product as their most significant asset. As a result, product marketing is becoming increasingly important.
The problem is, few people know what product marketing really is.
In fact, only 5% of product marketers themselves believe their role is fully understood, according to the Product Marketing Alliance Report on the State of Product Marketing.
Well, this explains why the internet is full of articles trying to explain what product marketing is all about.
So let them keep on trying, while we actually give you the only explanation you'll ever need.
In this article, you will learn:
Looking for more reads? Take a look at these helpful articles:
What Is Product Marketing?
Product marketing is a strategic process of promoting and selling a product to the customer. Product marketing is also a link between product development and increasing product awareness on the market.
Product-oriented marketing operates among various teams: product, marketing, sales, and customer support to enhance the product and ensure it meets the expectations among the marketed group.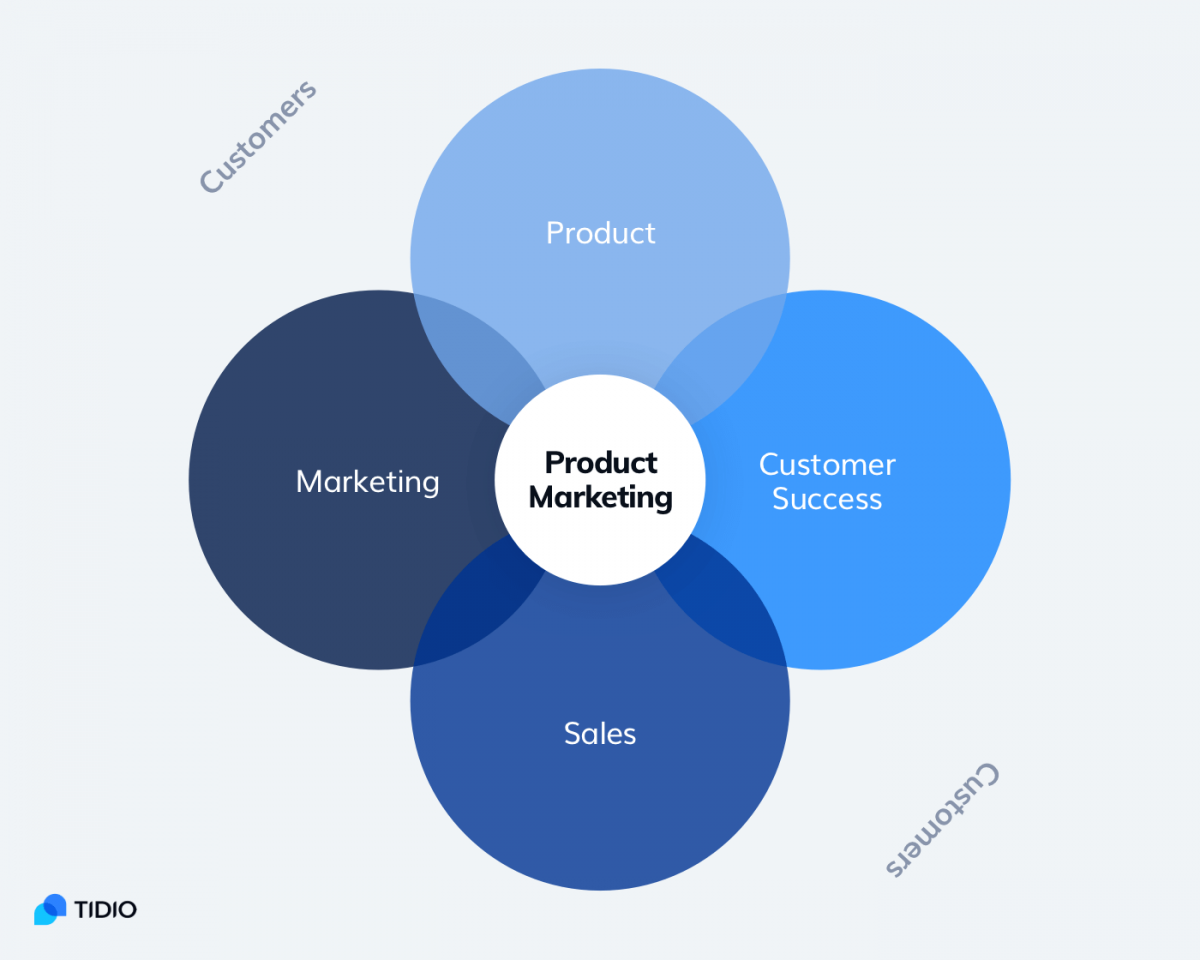 But how does it differ from "conventional" marketing and product management? Let's break it down.
Product Marketing vs Marketing
Why "product marketing", not just "marketing"?
It might be one of the most asked questions on the subject. How does it happen that one little word changes the category of marketing?
Michael Shipper, who spent 18 years working at Google as a Product Marketing Manager (PMM) for Mobile Ads, had this to say about product marketing definition:
Having already worked in software and digital for a long time, a product in that space is very much like a building that is constantly under construction. It's never quite finished, there are always improvements that could be made, and I think that's what separates product marketing from other kinds of marketing.

Michael Shipper
Now––
While "just marketing" is incredibly dynamic as well, it presents a more general view of the company's strategy to increase traffic and sales. Within the "conventional" approach, marketing campaigns always promote the company as a whole.
Product marketing, on the other hand, prioritizes the strategic process of product development and positioning to promote it and increase the demand among the target audience.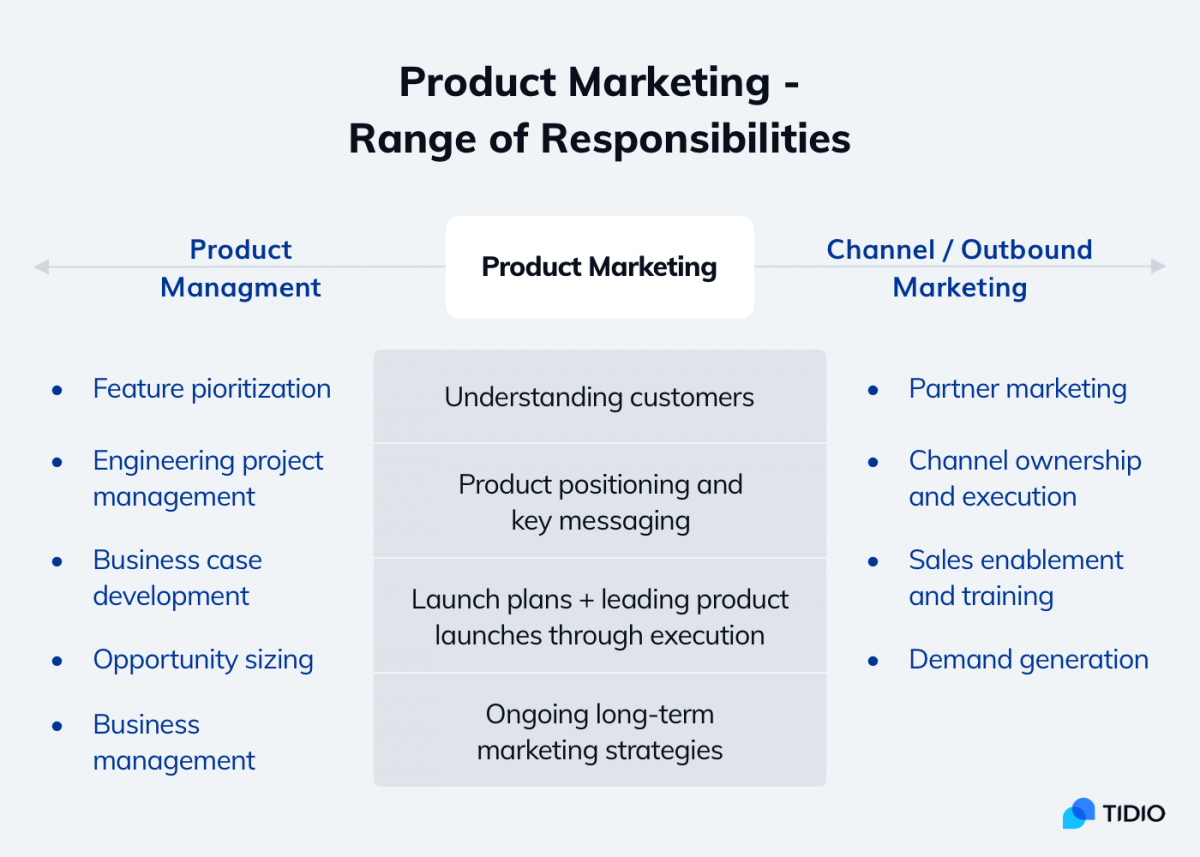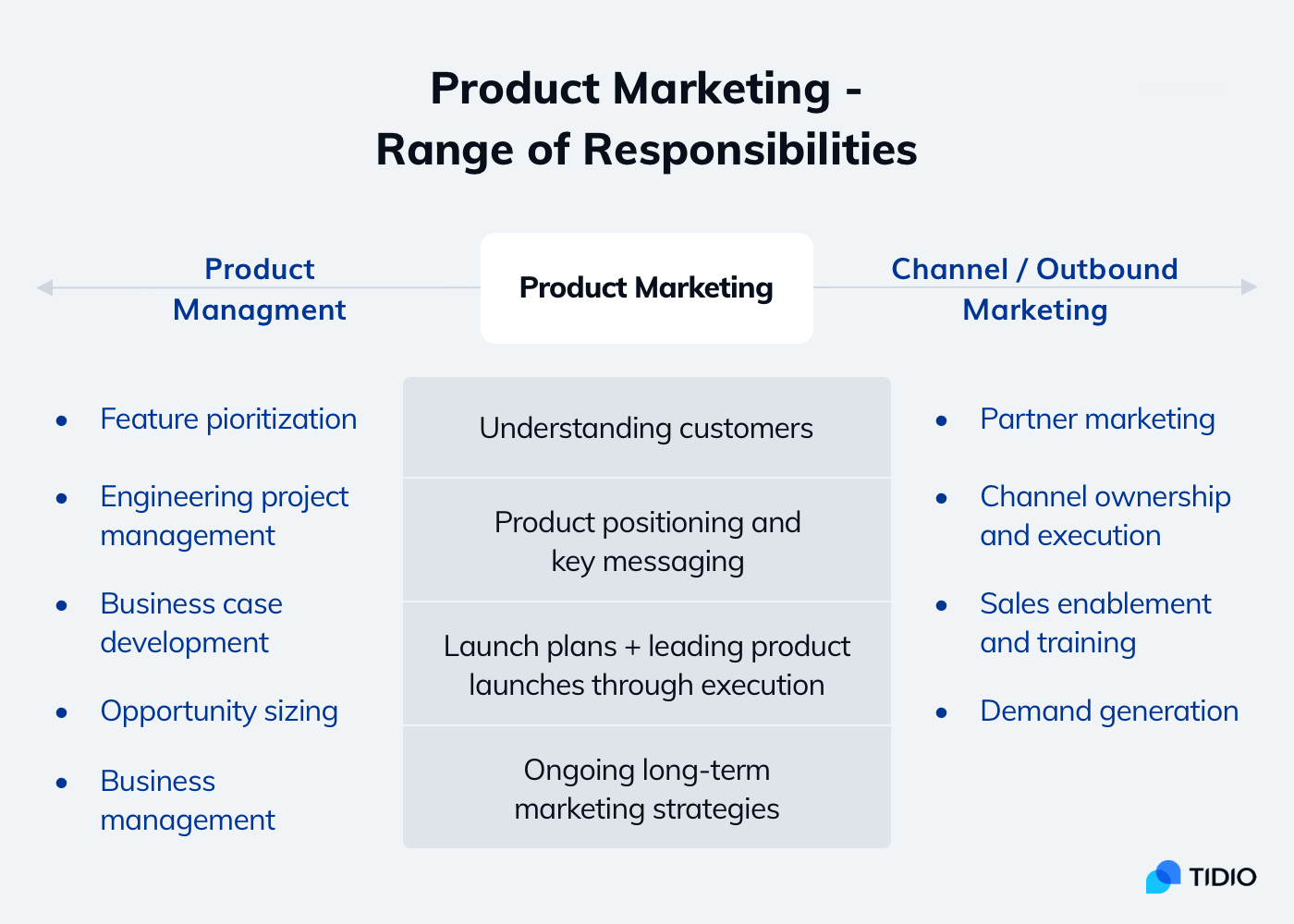 The scope of product marketing is much more specific and as a result, it's very closely tied with customer support and salespeople.
After all, it's the customer who decides whether you have a great product on your hands—or not.
Product Marketing vs Product Management
What about product management? If both product management and product marketing teams deal with the development of the product, what's the difference?
You can say that product management focuses on product engineering, while product marketing's main deliverable is customer success.
It's pretty simple to explain—
Product management overlooks the product growth by guiding it through the entire development process and providing regular advice to engineers and designers.
Product marketing, on the other hand, is more customer-facing in its scope. Product marketers always make sure that the company as a whole understands customer needs and models product positioning accordingly.
On top of that, product marketers create a unique launch plan for each product and monitor internal KPIs as well as external metrics to identify the product's value.
Why Is Product Marketing Important?
Let's imagine that your company spent a lot of time and effort, not to mention money—to develop an absolute gem of a product. The whole company is prepared for the big day. Finally, it arrives, the product goes live, and… nobody buys it.
Whose fault is that?
Well, if you organized a birthday party, and wouldn't send invitations to your friends, would you be surprised that no one came?
This is exactly what happened with the product in this scenario—it didn't reach the target audience it was intended for, hence, there was no interest in buying it.
This is why product marketing is important—it acts as the product's messenger. Without it, you simply risk a flop.
Your product will never reach its audience without a product marketing outline that determines:
What products do you offer?
Who are the target customers?
How to reach those customers?
What is the price of the product?
How should the product be positioned in the minds of the potential customer?
Answering these questions allows you to create a specific go-to-market (GTM) strategy that will allow the product marketing team to:
Quickly validate if there is a need for marketing a new product and determine product-market fit
Define and effectively target your buyer personas
Understand your future customers and their expectations
Prepare a sample marketing plan for a new product
Ensure that marketing, product, sales, and customer support teams are aligned
Increase the revenue of the company
If you put marketing a new product on the roadmap, the bottom line is that you need to have a specific strategy. This brings us to the next point.
How Product Life Cycle Intertwines with Product Marketing Strategy
A product marketing plan works across four different cycles—together they create a full marketing product life cycle. Let's break this down and explain what product marketing strategies do in each of them.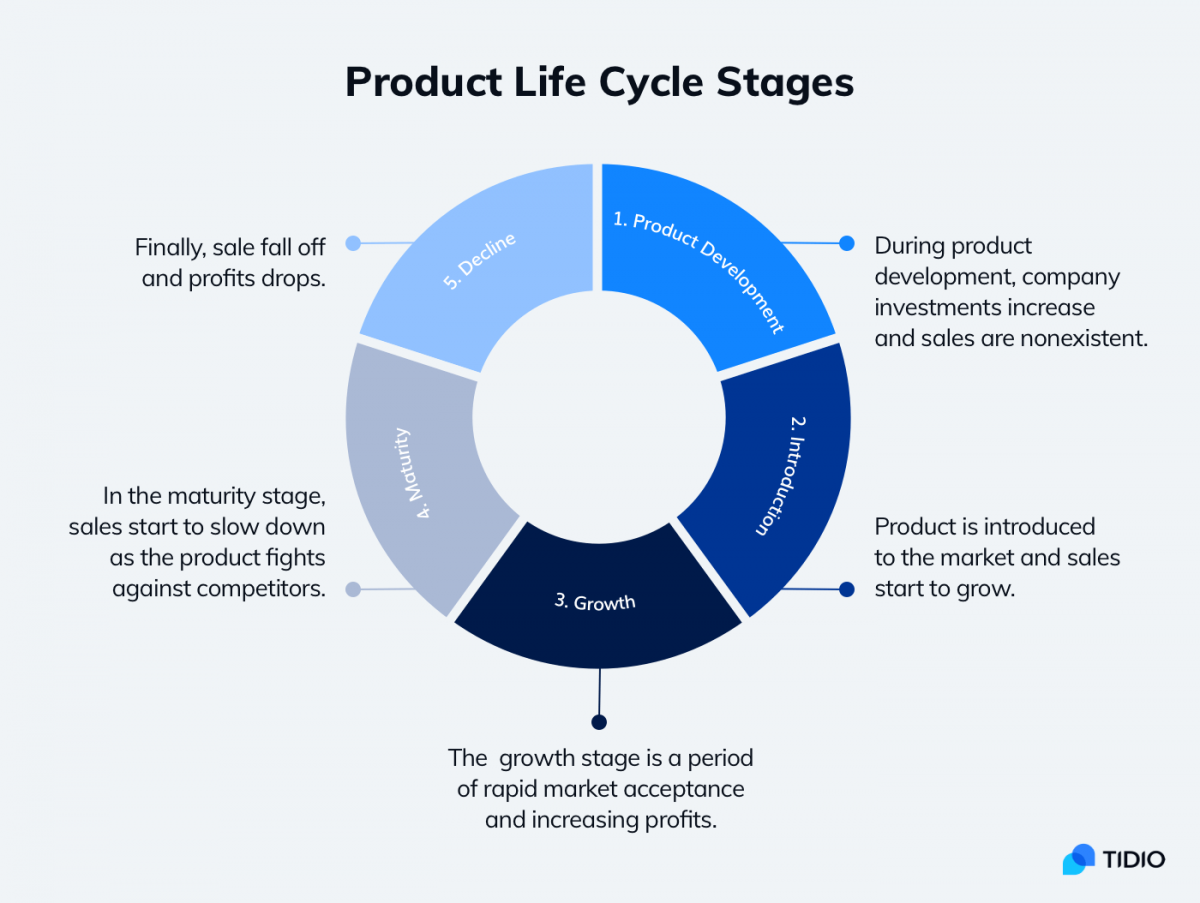 Phase #1 of Product Life Cycle: Pre-Launch and Introduction
The first, pre-launch phase consists of:
Doing the market research
Defining the target audience of a given product
Determining the product roadmap
Designing demand generation strategy
Testing the early stages of a product
In this phase, the marketing part in product marketing has a pivotal role to play.
At the pre-launch stage, the product marketing role is to shape the product in terms of its specific features and how to communicate them to new customers.
This phase includes a lot of research, so the primary role of product marketers is to test the pre-launched version of the product on a specific pool of users.
To do that, product marketing managers (PMMs) have to promote the product among the testing audience, supervise the tests and translate the results into constructive feedback.
Once the research is done, product marketers come back to the product team with information about the tested audience and their responses about specific features and functionalities.
Thanks to this process, it becomes clear which features of the product need to be refined and in which direction the product will evolve. At the same time, by planning the promotion and reaching out to new audiences, product marketers already increase awareness about the product.
Once the product is reiterated according to the initial feedback, product marketing focuses on the second phase.
Phase #2 of Product Life Cycle: Growth
This phase focuses on:
Expanding the pool of users
Gathering constructive feedback
Further reiteration of products' functionalities
Developing new features
Promoting new features across the target market
The second phase of the product marketing life cycle starts when you launch the product. Now, you work on expanding your user base as quickly as possible with the help of targeted marketing campaigns (it can be content marketing, social media, or webinars, depending on the product).
It's also usually at the beginning of the second phase that companies release white papers about the issue their product solves.
In this phase, the role of feedback becomes truly pivotal, because it comes from a bigger customer base. Once you have a large audience, you can quickly gather essential information that can provide the product team with useful insights.
Want to know how to use customer responses to your benefit? Read about the importance of customer feedback and choose the best strategy for your business.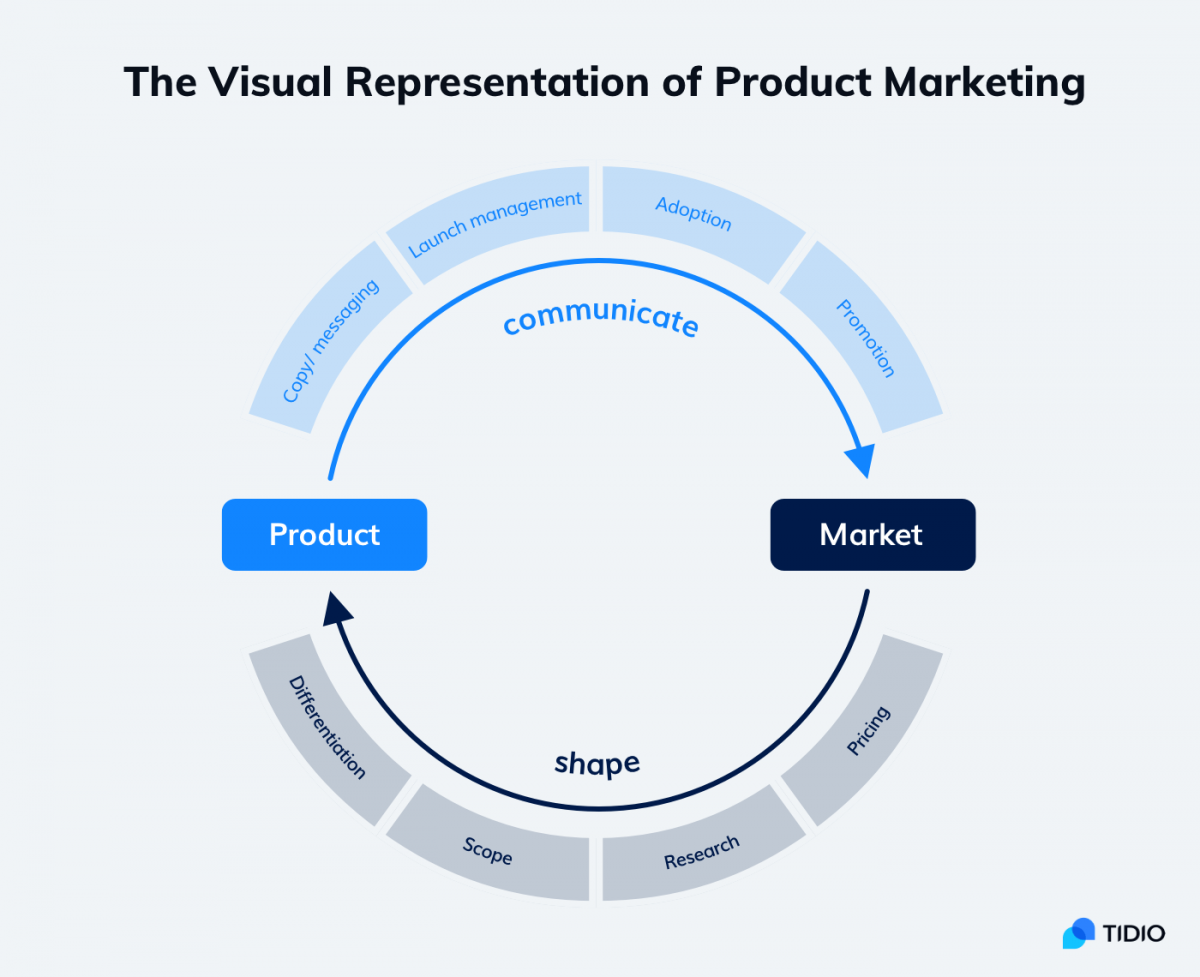 In a way, the second phase of the product life cycle reminds a never-ending loop.
More insights from the customers mean more reiteration. -> Reiteration causes more product development and promotion -> More promotion expands the product's target market and reaches more customers.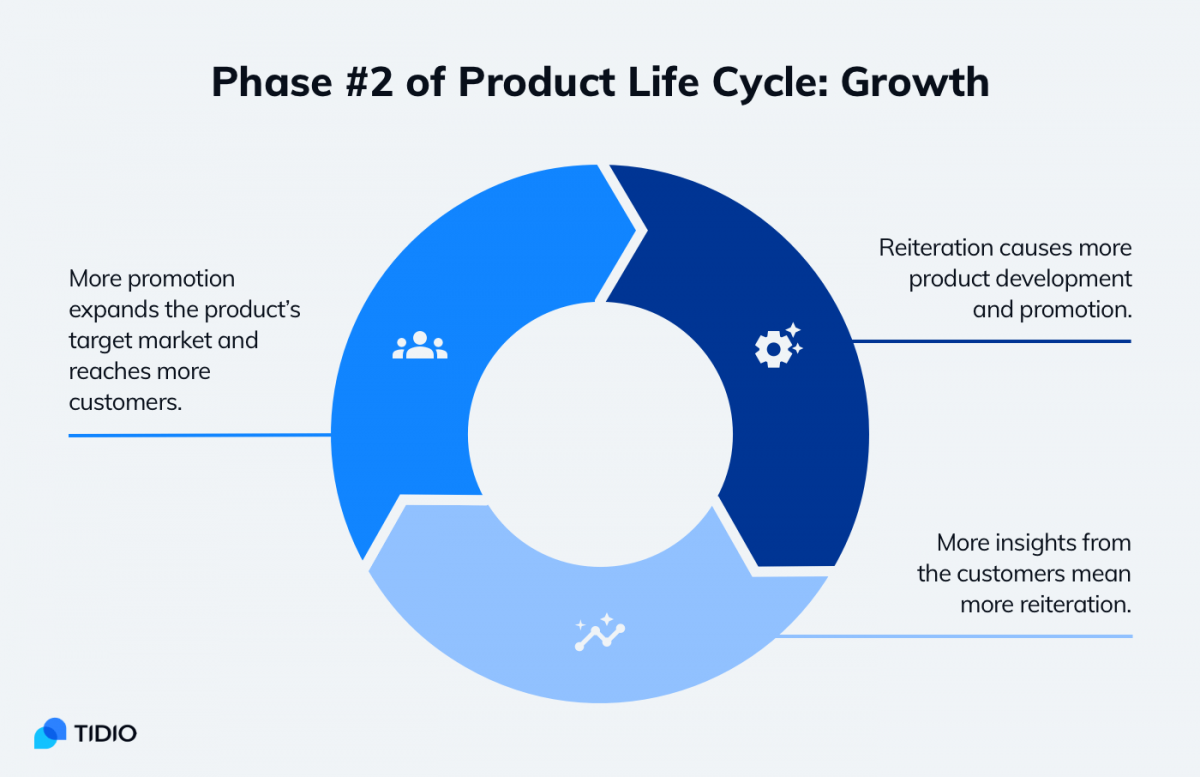 With all of these elements present, the product enters the third phase of a life cycle.
Phase #3 of Product Life Cycle: Maturity
This phase focuses on:
Reiterating marketing strategy
Developing optimal sales enablement strategy
Amplifying product messaging across particular target audience groups
At this stage, you already have a defined product and (hopefully!) a large pool of customers.
This doesn't mean that the fun is over—quite the opposite!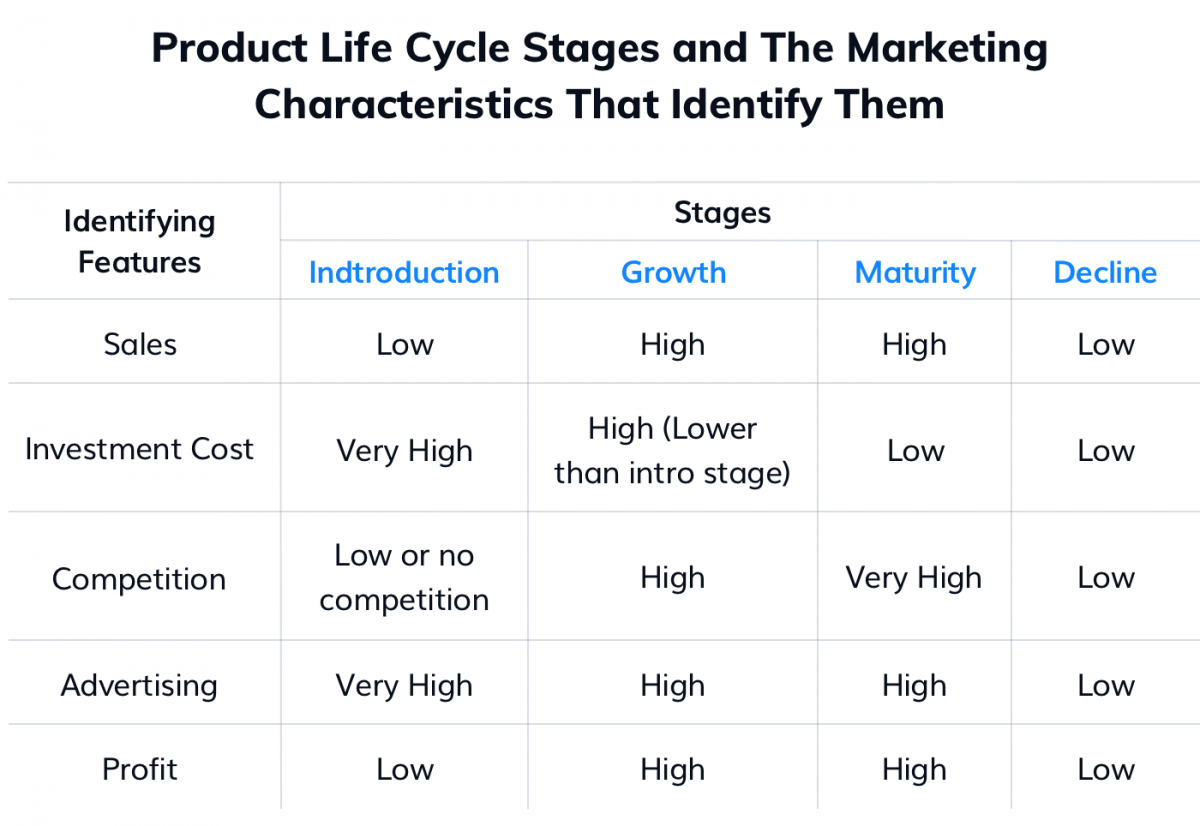 As much as your target audience may be content with your product, you have to keep yourself up to date with their needs. It's the phase where you deal with a lot of competition.
This means that you have to keep the marketing and sales activities on top of your game to constantly remind your customers that your product is best-in-class.
In today's market, customers who are not delighted, switch to your competition faster than you can say "product life cycle" out loud.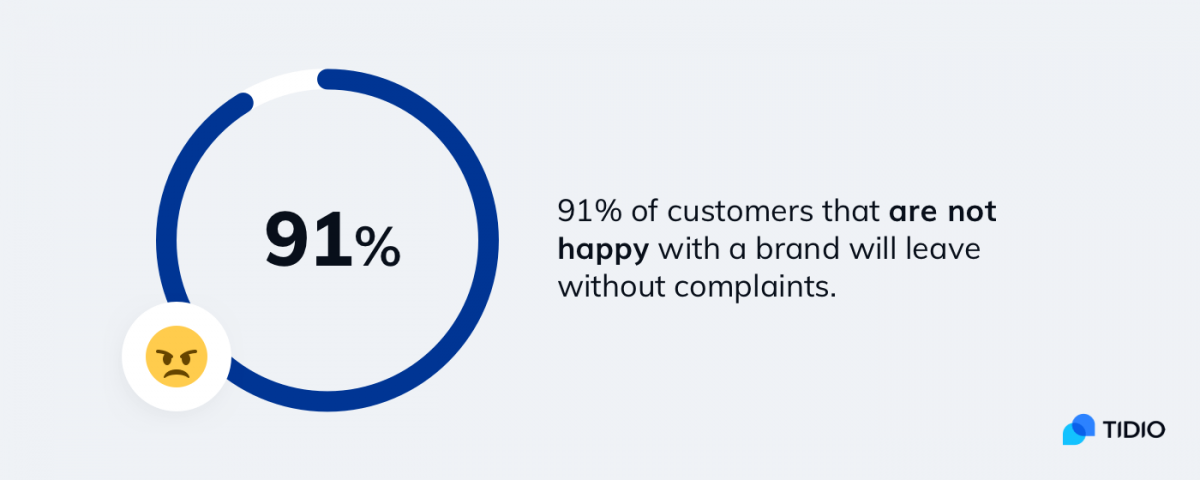 Phase #4 of Product Life Cycle: Decline
This phase focuses on the overview of cost structure and sales, as well as making a decision on one of three possible approaches:
Introducing new product features
Cutting prices and keeping the product on the market for the specific niche
Stopping the work on the project
The decline stage of a product's life cycle is the point at which sales begin to go down. At this moment, it might not be feasible anymore to work on a given product.
This, however, doesn't mean that this stage equals the "death" of a product.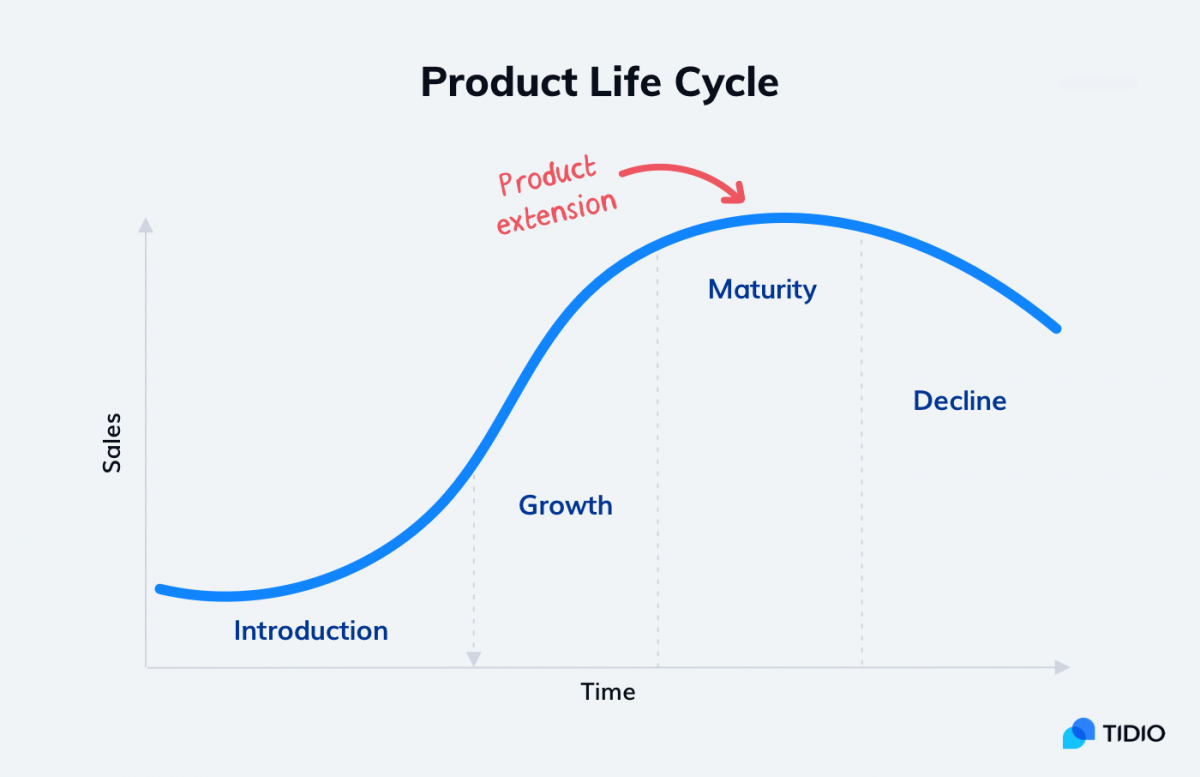 From a business perspective, it's rather a chance to see new growth opportunities, either by re-launching the product with new features or by investing time and money into more profitable products for your company.
As usual, customer response will be the key ingredient to any decision-making process.
Is Product Life Cycle Marketing a Recipe For Your Product's Success?
Given the competitive and economic circumstances, the product life cycle model can be used as a rough guide to forecasting how sales trends would play out. Overall, it's a useful model, but it's not a guarantee of any kind.
According to a Harvard Business School professor, Youngme Moon, the product life cycle concept has been widely successful for a reason, but it has led marketers to believe that there is only one direction for success.
As a result, product marketing teams follow similar strategies at each point of the product life cycle and miss out on chances to come up with original ideas.
This is why it's so important to set up a product marketing strategy that is tailored specifically to your product.
After all—
The definition of success will be different for a startup, SaaS company, or e-commerce.
How to Plan Product Marketing Strategy?
Product Marketing Strategy is the process of strategic positioning, pricing, and promotion of your product among its target audiences.
Creating a product marketing strategy will be different for every product. However, we can distinguish 5 main steps that are aligned with standardized product lifecycle marketing.
1. Define the Target Audience and Customer Personas
First, you have to recognize a target demographic and build unique customer personas. It's important to note that different products will likely have different target audiences.
To find your ideal customer, a.k.a. buyer persona:
Analyze your current customer base as well as prospective customers
Group them by most common traits: main pain points, motivation, demographics, career path, education
Group them by less popular traits like hobbies, art taste, preferred sports
Based on the grouping above, create a hypothetical description of 2-3 people that will represent your buyer personas
Give them names for an easier identification
Thanks to this process you'll be able to adapt all facets of your product marketing approach to your future customer base.
2. Determine Messaging and Positioning
You may have a fantastic product and a support team that is a definition of great customer service. None of this matters, however; if you don't explain what your product does for the customers. This is where messaging and positioning come into play.
To craft the messaging, start to build the narrative around these 4 points:
Who will use this product?
Which problems will the product solve?
Why will customers pay for this product?
What makes this product unique?
Once you have the answers to the questions above, you can work on the GTM (go-to-market) messaging and positioning of your product and share them with the product, sales, marketing, and customer support teams.
3. Set Measurable Goals
Once the messaging is in place, it's extremely important to set unique goals for your product. They will always vary depending on the product itself, company, and general marketing priorities, however, you can prioritize them based on the type: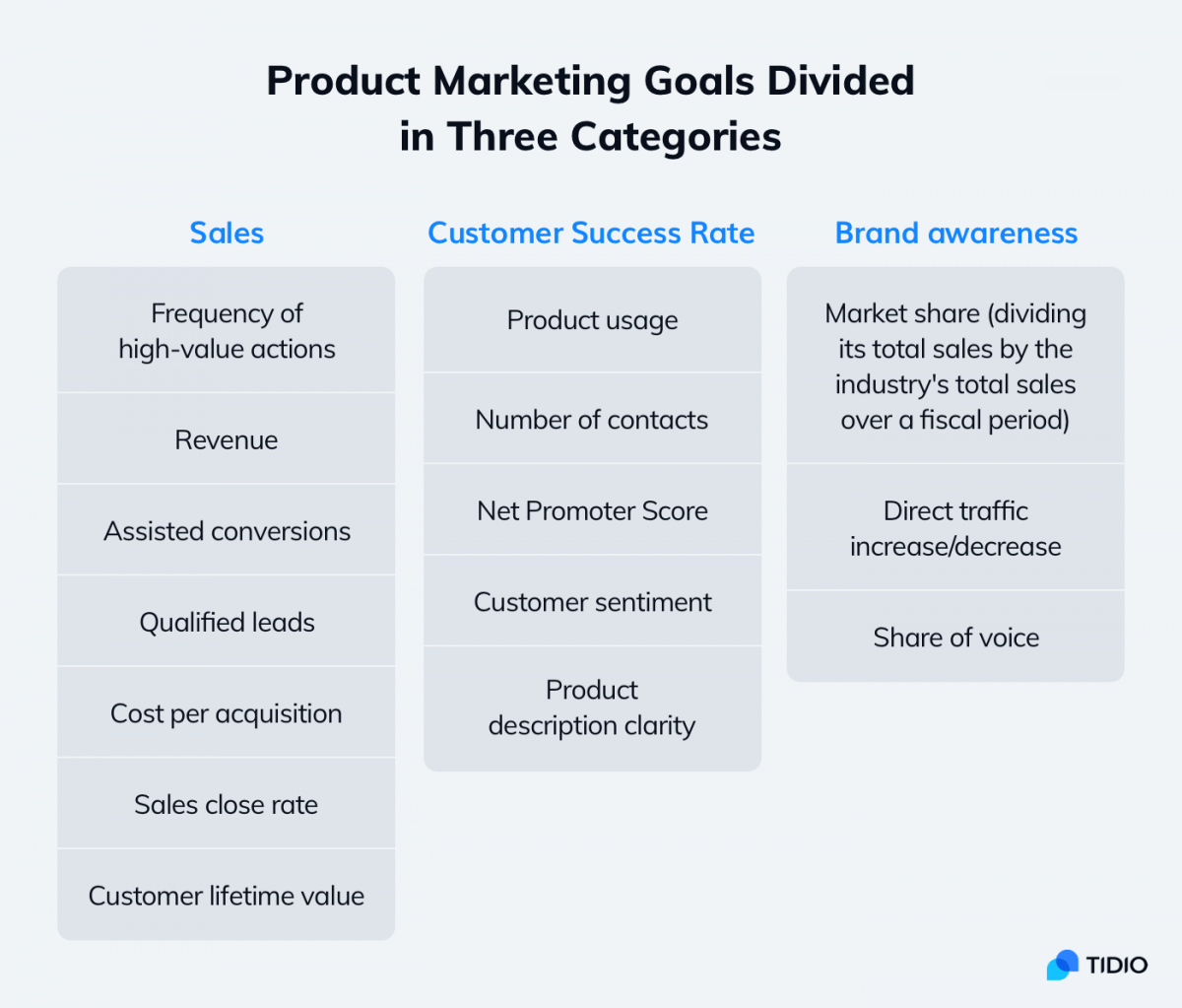 It's usually also during this step that the price of your product is determined, so you can calculate expected revenue and sales trends.
4. Have the Team Ready
It's important to realize that a product launch marketing plan usually demands undivided attention from all teams involved in its development. Unsurprisingly, it's the product marketer's job to make sure that all teams are prepared and ready to go.
To nail that step you need to confirm that everyone involved knows:
Buyer personas
Main pain points
Messaging and positioning
The price
And if your product launches in the digital space, you also need to make sure that the website and demo are up and running.
5. Develop a Detailed Product Launch Plan
Once you have your teams ready, you can focus on the external aspects of launching the product. It will not come as a surprise that creating a successful launch plan is vital for the product's success.
Think about it as putting all previous points in action!
To do that work successfully, you need to determine how you will reach your target audience; namely, which channels you will use.
Depending on the buyer persona and the product you can use:
Or all of them combined.
Once you set up this detailed plan, you can focus on the launch itself and first potential customers!
The Best Product Marketing Examples
To better illustrate what we've been talking about throughout this article, let's have a look at some of the best product marketing examples.
1. TOMS Shoes
Cause marketing or cause-related marketing is using cooperative effort for the mutual benefit of society and non-profit organizations as well as for-profit products or businesses.
TOMS Shoes used cause marketing to introduce their iconic One for One shopping model to the market. The model entailed that once you buy a pair of shoes, the company will donate another pair of shoes to the less fortunate, for free.
This is an optimal example of increasing product awareness among a very specific audience in the introduction phase of the product life cycle. In this case, a tailored product marketing plan based on cause marketing caters to an audience that cares about the social inequalities and wants their consumer choices to be as fair as possible.
But that's not all. Not long ago, TOMS introduced more products and a new concept of committing ⅓ of their profits to support people who build equities and drive progress locally in underdeveloped countries.
The same audience, who previously bought the shoes can now buy new models as well as different products and support another noble cause. This, on another hand, is a great example of prolonging the products' longevity in the third phase of the life cycle, product maturity.
Results? Positive company image, guilt-free shopping experience, increased sales, and helping a good cause.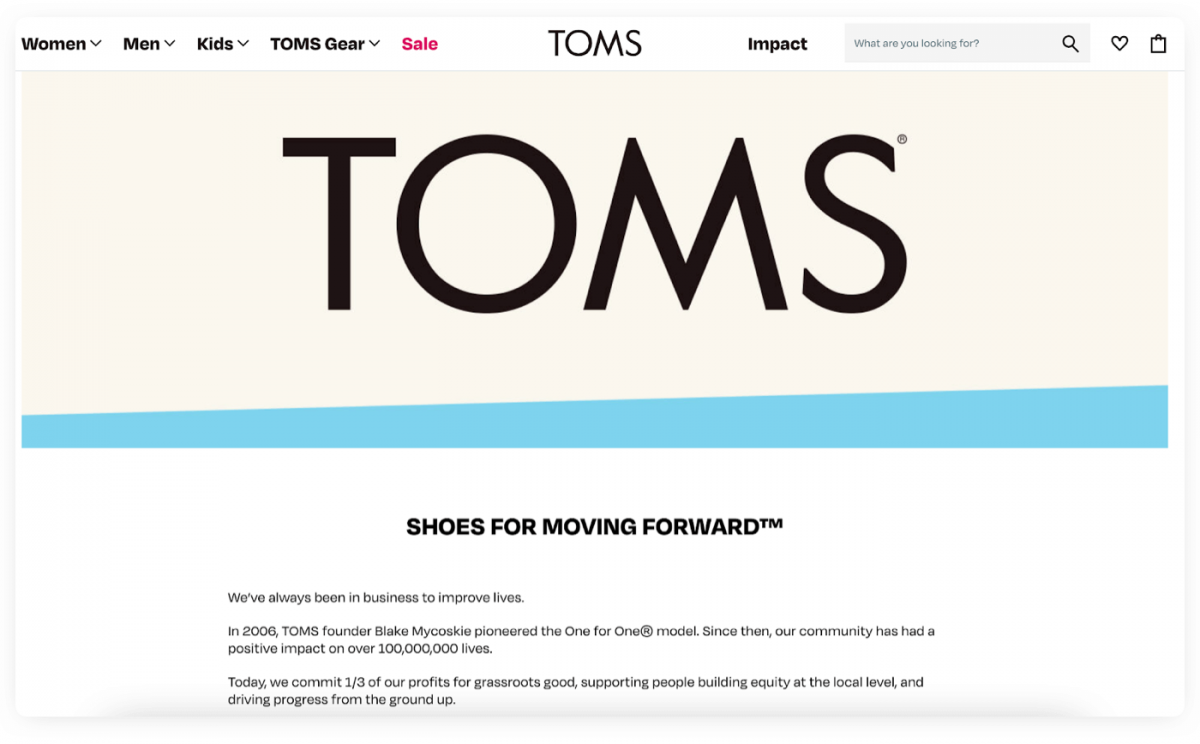 2. Netflix
It could seem that streaming services must have a limited product marketing scope since their services consist of streaming entertainment.
Let' think about it—a streaming service appears on the market, gains customers, and then… what exactly happens? Do they disappear as soon as their competitor has a better choice of TV series?
Or maybe they keep introducing new films over and over? One could think that this could be the product marketing strategy to delay the decline phase of a streaming service.
But that's not the case with Netflix.
Apart from nailing it when it comes to new title releases and social media marketing, Netflix invests time and money in the deep personalization of each user's account. This is a part of their tailored, elaborated product marketing strategy with the main goal of prolonging the maturity phase in the product life cycle.
As a result, every person not only has their unique platform look but also gets recommended personalized titles at the right time. This personalization tactic offers a unique streaming experience and keeps the customers coming back, keeping the product in the maturity life cycle loop and not slipping into the decline phase any time soon.
That's a way to hook your audience!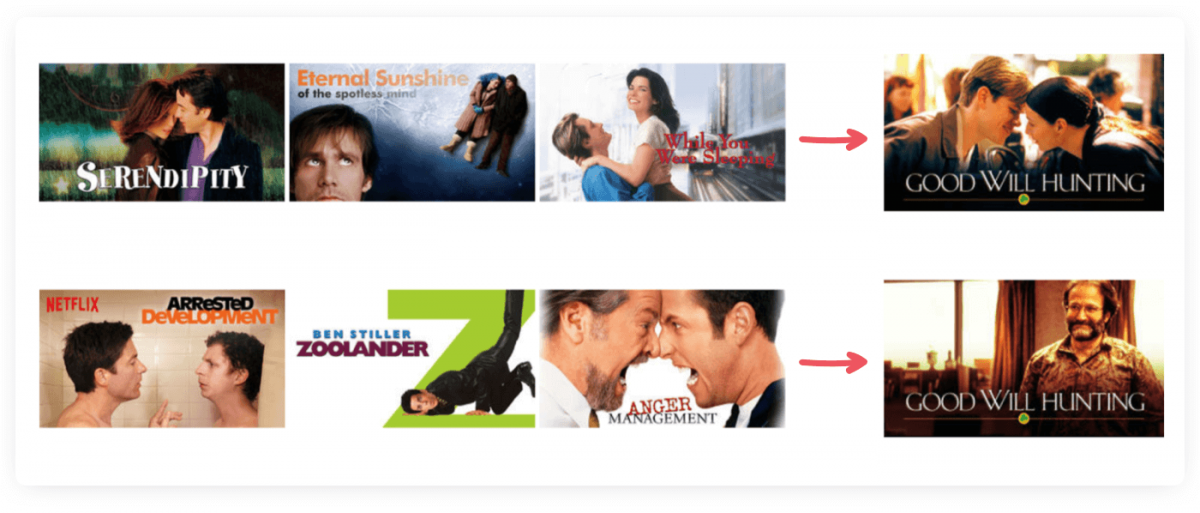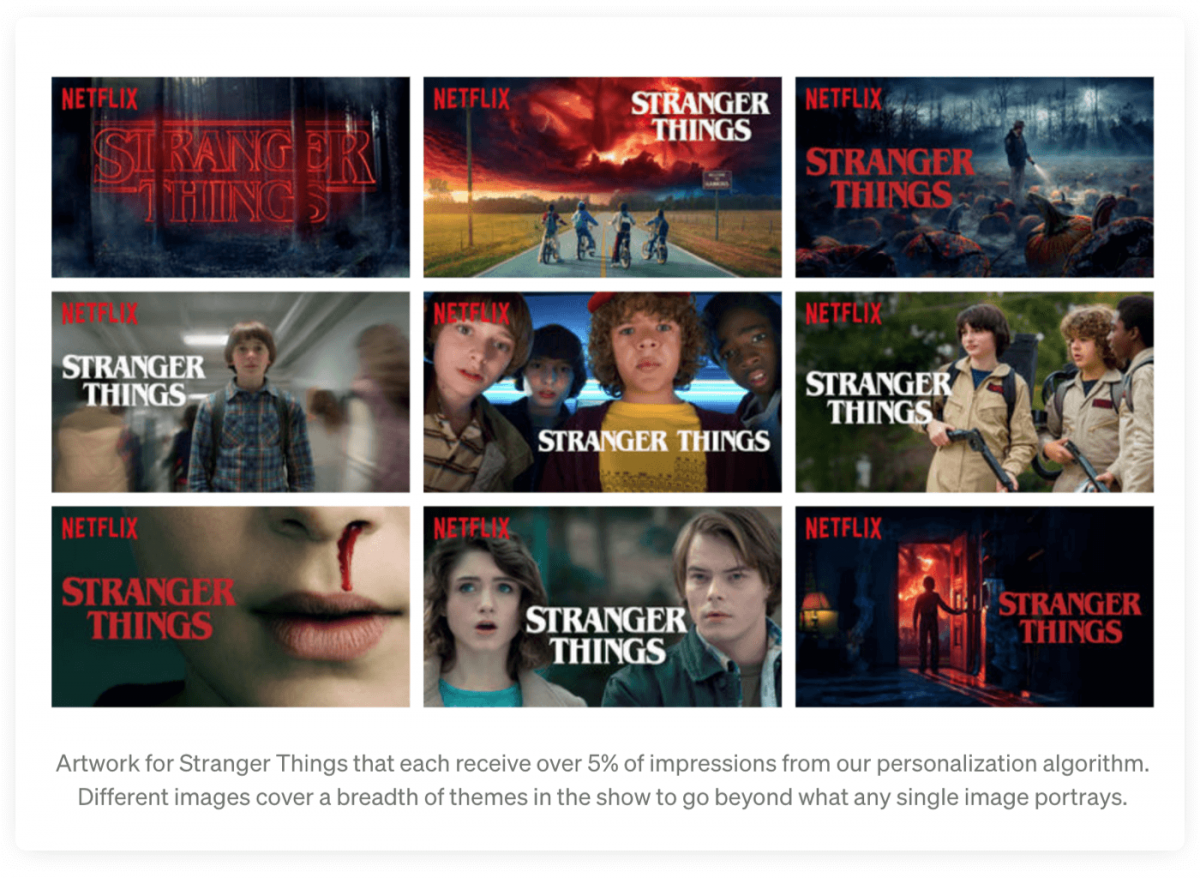 3. Tesla Inc.
Tesla's product marketing strategy goes against pushing its products onto consumers, but rather focuses on reaching an optimal, niche audience. It's very clear they made great efforts to understand their potential customers and introduce the product to the market with a loud bang!.
In order to reach their target audience, they analyzed numerous demographic, geographic, psychographic as well as behavioral indicators. Eventually, they created a perfect buyer persona: individuals between 20-45 years old, from middle-class and upper-class, who are environmentally friendly, purchase goods through boutique-style stores, and own a luxury car.
In their product offer, they speak to the buyer persona directly, clearly addressing their pain points and motivations: to have a more sustainable, electric, energy-saving car that gives them an eco-friendly experience and design, without sacrificing luxury, performance, and handling.
The car is, of course, Tesla.
Because Tesla targets this specific, niche buyer persona and then puts a lot of effort to provide extraordinary customer experience around purchasing their cars, the company's customers quickly turn into its best marketers.
As a result of effective audience targeting, their revenue reached $10.744B in 2020, noting a yearly increase of 45.5%.
Their sophisticated and consistent product marketing strategy can be perceived as the ultimate way to stand out in the crowd of competitors. After all, they are called "the Apple of the car industry" for a reason.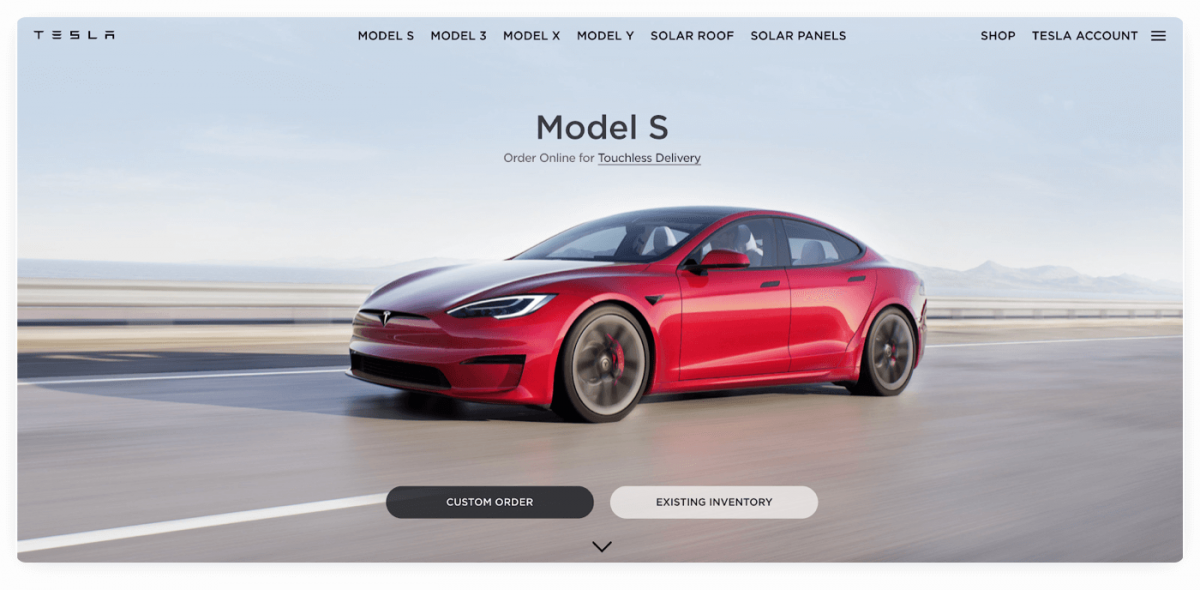 How to Nail Product Marketing in 2023: Summary
By now, you should have extensive knowledge about the subject and feel inspired to elevate your product marketing campaign 🙂
Let's quickly recap the most important info:
The role of product marketing is to determine positioning, advertising, and the overall go-to-market strategy for a product, prior to launch
Product marketing requires the alignment of product, marketing, sales, and customer support teams
Product marketers usually plan the strategy according to product lifecycle management marketing
Great product marketing puts the customer in the center of all activities
Is your product marketing customer-centric enough? Or maybe, you are reiterating your product marketing strategy and don't know where to start?
Begin by improving your website and making your company more accessible to your customers.
Add instant messaging to your website and see how real-time conversations with your potential customers can boost customer experience and sales at the same time!
And if you have any questions about starting a chatbot project and how it can elevate your product marketing strategy, don't hesitate to reach out—we will gladly help! 🙂