Truth is, there's never been a better time to start an eCommerce business.
According to Statista, the number of online shoppers around the world will reach an estimated 2.14 billion by 2021 – a more than 25% increase from 1.66 billion in 2016. For eCommerce businesses, this figure is more than exciting. With so many platforms, software, and devices at your disposal, reaching and engaging with consumers has never been easier.
Or has it?
More opportunity means more competition, after all. Additionally, according to Small Business Trends, 90% of eCommerce businesses fail within their first 120 days. That's pretty scary, isn't it?
However, considering the number of companies that succeed at growing their customer base and revenue, there must be a secret – an "X" factor that separates the haves from the have-nots, right?
The short answer: yes.
And lucky for you, you can discover these secrets thanks to the detailed case studies and success stories published online by proud business owners and marketing agencies.
For starters, check out these five eCommerce case studies and learn how to start replicating their strategies in your own business.
Look out for the bonus tips to supercharge your strategy with practical solutions!
If you are interested in more case studies, here are some of the best and most inspiring eCommerce stories:
1. Amerisleep's eCommerce Case Study: How Benefits-Centric Copy Increased Checkouts by 13.9%
Let's start with one of the most talked-about eCommerce problems: how to increase your conversion rate.
For online mattress brand Amerisleep, boosting conversions involved reworking the copy on its product details page. These changes ultimately led to a 13.9% increase in checkouts – a multi-million dollar surge in annual revenue.
What exactly did these changes entail?
Copywriter Brian Speronello retooled Amerisleep's copy using these three tactics:
Going beyond basic benefit statements. For Amerisleep, that meant going deeper than simply telling clients that its mattress would help clients "get more sleep." Specifically, Speronello connected good sleep to improved physical and mental performance. Thus, readers wouldn't simply see the value of an Amerisleep mattress as sleeping better – they'd equate it with getting a happier and healthier lifestyle.
Convincing readers against inaction. This tactic piggybacked off of Speronello's more detailed benefits statements. In short, he leveraged the psychological principle of loss aversion against Amerisleep's prospects by writing copy that explained why buying the company's mattresses would ultimately save them from current and future discomfort. This way, prospective customers felt they were losing out if they didn't buy from Amerisleep.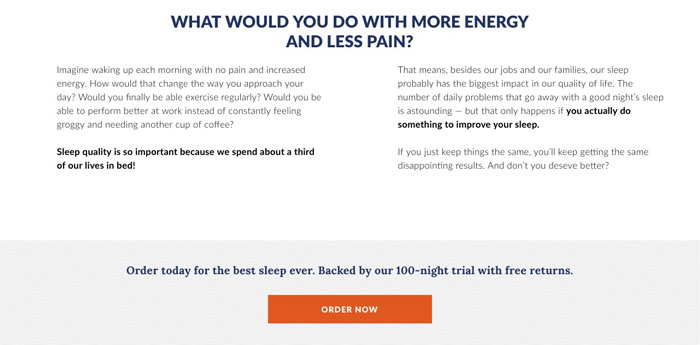 Why was this copywriting technique so effective? Speronello recognized that Amerisleep wasn't only losing potential customers to competitor brands; it was also losing them to inaction. Mattresses don't come cheaply, after all, so many users simply browse but ultimately choose not to buy one from anywhere. Speronello targeted these leads by explaining why it was in their favor to invest in a mattress rather than do nothing.
Positioning Amerisleep as an industry leader. Lastly, Speronello didn't just call Amerisleep's mattresses the "best" in their industry – he used absolute comparative statements that detailed what exactly made the brand superior to its competitors. For instance, he used phrasing like "most environmentally friendly" and "better than traditional memory foam" for more specificity.

However, Speronello acknowledges that businesses may not always be able to make such absolute claims, in which case he suggests using "faux comparatives." For instance: "No other mattress is more supportive than Amerisleep's Revere bed."

These statements may lead a reader into thinking a product or brand is the best, when in reality, the statement is simply saying "better or equal to." Though perhaps not the most transparent, this wording can help your business avoid receiving any claims of false advertising.
Bonus Tip #1: To make this strategy even more effective, you can create a separate, conversational landing page. Essentially, it's a website specifically designed to showcase a product or a feature where your audience can talk to you 1 on 1.
You can make such a page for free with Tidio and customized it to meet the needs of your customers. Moreover, you can either choose to communicate with your visitors via live chat or create a chatbot to do the job for you.
Here's an example of such a page.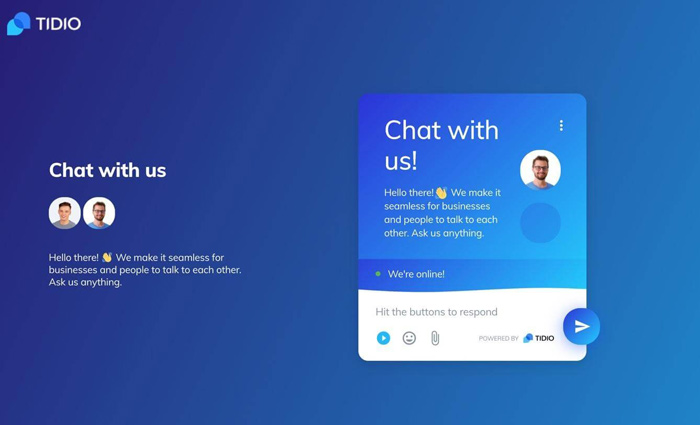 Create Conversational Landing Page
Key Takeaways
Don't underestimate the value of copywriting. Remember that it acts as your brand's voice, helping to persuade readers why your product is worth their time and money, and also build trust in your business.
When it comes to eCommerce copy specifically, there's more to it than simply touting a product's benefits – especially when these are the same benefits offered by your competitors. To distinguish your brand from the competition, dig deeper with your copy. Aim for specificity when comparing your products and services to rivals', and make a case for why not making a purchase will hurt readers in the long run.
Dive deeper:
2. Envelopes.Com Leveraged the Power of the Follow-Up to Net 65% More Checkout Conversions
Most of us have seen shopping cart abandonment emails before – the messages that urge prospects to complete their unfinished purchase. But what about other nurturing efforts? Is it possible to get someone who leaves a product page to return and then convert?
The Envelopes.com team wanted to find out – and they succeeded after leveraging follow-up emails for both B2B and B2C customers at different points of the shopping process. Specifically, their follow-ups targeted customers that exited at these three times:
While browsing product category pages
After adding items to the shopping cart
During checkout
Envelopes.com's marketing team realized that abandonment at each of these points reflected different ways of thinking – something that not all businesses take pains to address.
In other words, someone who exits a site after adding a few select items to their shopping cart likely has different reasons for leaving from someone who exits after only browsing a site's products page.
For more personalized outreach, Envelopes.com created three separate email campaigns targeting customers at each stage. As a result, it succeeded in reducing its checkout abandonment rate by 40%. What's more, Envelopes.com saw a whopping 65% increase in checkout conversions.
The emails differed not only based on the point of abandonment but also in terms of tone and timing, all of which Envelopes.com tested. For instance, its shopping cart abandonment campaign adopted a more casual and friendly tone, using language like:
"Your cart misses you"
"Rekindle the flame [with your cart]"
"Reunited and it feels so good"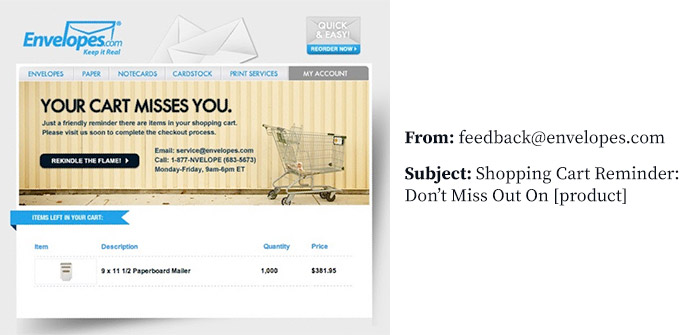 Meanwhile, Envelopes.com's checkout abandonment emails read less humorously, with a simple "Checkout today" message.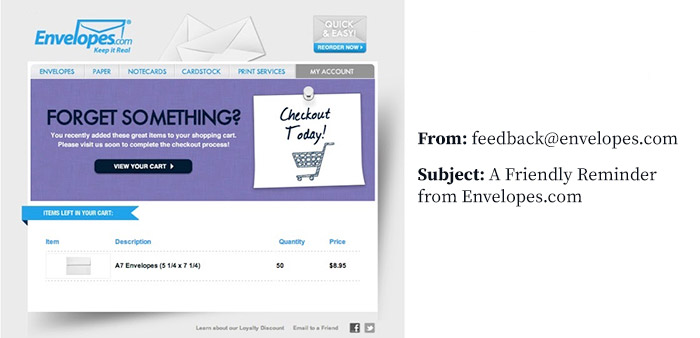 As for scheduling these messages, Envelopes.com noticed that email efficacy varied depending on send time, even between the three campaigns.
For instance, it found that product category abandonment emails performed best when sent at 11:30 am the day after abandonment; waiting three days after saw slightly lower open and conversion rates. By contrast, waiting 24 hours to send a checkout email resulted in significantly higher conversions (33.93%) compared to sending it the following morning (24.62%).
Bonus Tip #2: To prevent cart abandonment, you can consider making a chatbot for your website to encourage your customers-to-be to complete their transactions. Chatbots can guide your website's visitors through the checkout process, as well as monitor their behavior to tag and segment your customers.
Here's how you can tag and segment visitors based on their behavior – for example abandoning a checkout page, which you can later use to encourage them to come back or retarget them with emails or ads.
Track Your Visitors with Tidio
Key Takeaways
Shoppers can abandon their online purchases for any number of reasons, and a single cart abandonment email template cannot account for their different motives for leaving without converting. Rather than sending the same abandonment email template to all lost customers, take a more personalized approach, as Envelopes.com did.
Customized content can minimize the damage done by lost checkouts – especially with rigorous testing. Experiment with copy, design, send time, and more to find out what works best for your eCommerce company.
But besides stressing the value of personalization, Envelopes.com's case study also paints a bigger picture of why understanding your customer's journey matters. Step into your customer's shoes and try navigating your eCommerce site. How easy or difficult is it to use? Look for opportunities to tailor your buyer's journey for a smoother experience.
Dive deeper:
3. Edible Arrangements Focused on Promotion to Boost Same-Day Sales by 8%
While we're on the subject of messaging, another common eCommerce issue is awareness – that is, effectively communicating promotions, services, or features to potential buyers.
Got a special discount code customers can use at checkout? What about free shipping for purchases that meet a certain amount? Though these promotions aren't unique to any brand, they're still worth promoting to convert more customers.
That's what Edible Arrangements found with its same-day delivery service. Though the fruit arrangement company had offered same-day delivery for years, it noticed that customers seldom made use of it.
To solve this problem, Edible Arrangements launched a simple awareness campaign on select online channels. It was as effective as it was easy and ultimately led to an 8% increase in online sales.
Here's how the company pulled it off:
Standardizing its service. First, Edible Arrangements standardized its same-day delivery service with a 5 p.m. order deadline across all of its locations – more than 1,000 stores across the U.S.! While some stores could make even later same-day deliveries, not all locations had the capacity to. However, implementing a uniform standard for all stores was necessary in order to create consistent messaging.

Had Edible Arrangements not chosen a standard offering, promoting same-day delivery would have been troublesome and challenging. Just imagine: "Same-day delivery available for orders made by 5 p.m. for Texas panhandle locations. 7 p.m. for New England stores – except Hartford location."

By choosing one set time for its order deadline, Edible Arrangements was instead able to streamline its messaging.
Heavy website promotion. After standardizing its same-day delivery order deadline, Edible Arrangements went on to promote the service on its homepage. Specifically, it added a countdown timer above the fold, below the site's navigation menu, as well as a graphic advertising "Instant Gratification."
Before settling on these new website additions, Edible Arrangements tested variations to find out what performed best. For instance, it tested a digital format for the timer (e.g., "12:00") and in place of the "Instant Gratification" message, tried copy highlighting the company's refrigerated delivery trucks.
Targeted email promotion. Lastly, Edible Arrangements began highlighting same-day delivery as a major feature in all of its email campaigns. Knowing that other gift basket brands did not offer this service, it especially emphasized same-day delivery in its holiday email campaigns. Non-holiday emails did not focus so heavily on this service, but they still mentioned same-day delivery in their email headers.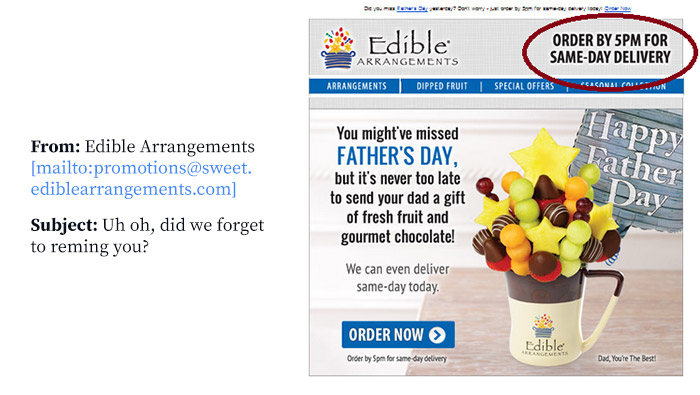 In addition to boosting Edible Arrangements' sales, these promotional efforts resulted in a slight increase in email open rate and order value.
Bonus Tip #3: With chatbots, you can supercharge your website promotion by delivering personalized offers to your website's visitors the moment they enter your page. You can easily segment the audience based on their behavior or preferences.
Here's the example of an eCommerce shop delivering a personalized offer for the 1st time visitor.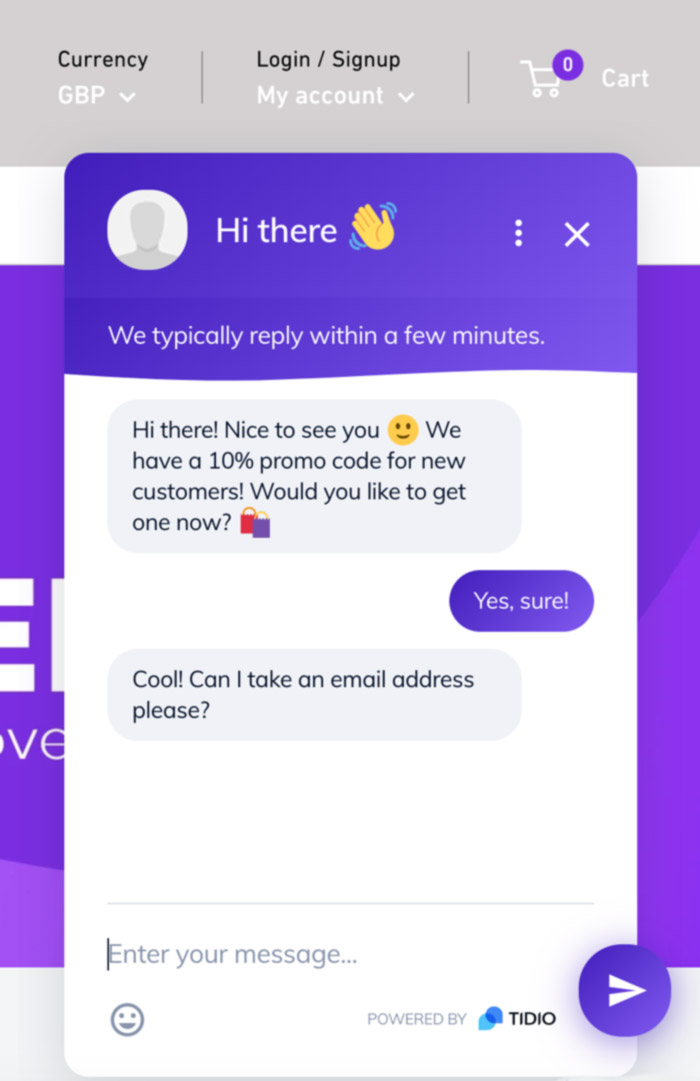 Key Takeaways
Don't assume that consumers will discover all of your valuable promotions and offerings on their own – or that advertising any such feature should only be executed on one channel. Anything worth spotlighting deserves extra attention. For Edible Arrangements, that meant advertising its same-day delivery service more prominently on its website and through its email campaigns.
In addition, just like Envelopes.com did with its emails, Edible Arrangements tested its website changes to pinpoint what had the biggest effect. Had the brand simply tried out one variation, it's possible it wouldn't have seen as large of an increase in sales. Similarly, you should also test any new copy or images – and variations – to see what works best.
Dive deeper:
4. Beardbrand's Unique Branding Led to Earning $120,000 per Month
Beyond simply landing sales, building a successful eCommerce business depends in large part on creating and growing a recognizable, trustworthy brand.
Not only will you attract and keep more loyal customers, but you'll also be able to lean on word-of-mouth or viral marketing, which costs – wait for it – exactly $0. That's what Eric Bandholz did with Beardbrand, a distinctive entity in the male grooming space.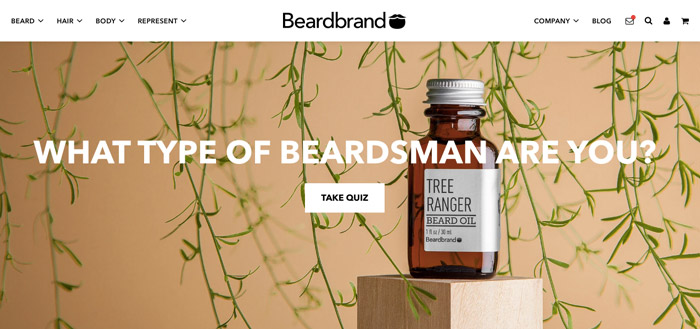 In less than a year, Bandholz went from $0 in business revenue to $120,000 per month in 2014 – and he credits strong branding for this impressive feat. In a post published on Reddit's r/entrepreneur channel, Bandholz shares two major reasons why Beardbrand was able to carve out a loyal following.
It made up a word to define its identity. According to Bandholz, Beardbrand coined the phrase "urban beardsman" to describe "a man with a beard who cares about their style, their grooming habits, and who has a plan and a vision with their personal life." This term ultimately became a central part of the brand's messaging and tagline: "We foster style for the urban beardsman."
Beardbrand prioritized brand consistency, even when it came at a financial cost. While trying to grow his business, Bandholz faced several marketing opportunities and recommendations with the potential to elevate Beardbrand's success. However, when they conflicted with his vision of the brand, he ultimately decided to forgo them. For instance, Bandholz ignored marketing professionals who advised discounting some of Beardbrand's products to get more sales. He reasoned, "Our product is fantastic, and when people are ready to buy, they will buy."
Similarly, Bandholz could have monetized Beardbrand's YouTube channel for additional revenue. With well over 1 million subscribers and dozens of popular videos, that would mean several thousand extra dollars in earnings. However, Bandholz opted not to, as he felt ads would make the video-watching experience less enjoyable.
Finally, Bandholz avoided following trends that did not align with Beardbrand's style. Case in point: memes. Though Beardbrand could have easily used beard memes to its marketing advantage, it refrained from doing so. To date, the company's Facebook and Instagram are focused on providing style inspiration rather than entertaining users.
Bonus Tip #4: You can also significantly strengthen your branding by providing excellent customer service. In fact, 77% of customers would recommend your company to a friend after having a single positive experience with your support team.
Installing a live chat on your website and providing 24/7 support (with chatbots) is what can make your business stand out in the crowd. Once installed, you can create a unique brand voice and design your chatbot to align with it while assisting your customers.
Here's an example of a creative chatbot design that could distinguish your company and highlight your branding.
Make Your Own Chatbot
Key Takeaways
Anyone working in eCommerce knows the challenges of standing out when the playing field is saturated with competition. So how do you actually make your brand one of a kind?
Through thought-out and consistent brand building – which in a nutshell, is what Beardbrand's case study demonstrates.
Sure, perhaps not every company can make up a word to define their brand or product. But you can still make extra efforts to separate your business from others, for example with excellent customer service. For Beardbrand, that meant sticking to Bandholz's vision: a polished product that knew its worth and did not cheapen its image with slasher sales or kooky memes. Brand building is a tedious, long-term process, but done right, the payoff can be tremendous.
Dive deeper:
5. Frank Body Achieved $20M in Annual Sales by Investing in Content Marketing
In eCommerce, business growth is often heavily driven by metrics, especially when it comes to paid ad campaigns. Traffic, cost per click, conversion rates – the list goes on.
But, as Australian beauty brand Frank Body shows, paid ads aren't the only way to successfully grow your customer base. The digital agency Core dna unpacks how exactly the brand's all-encompassing content marketing strategy enhanced customer relationships and skyrocketed sales.
For starters, though, here's a quick glimpse at some of Frank Body's accomplishments:
More than 700,000 followers on Instagram
Over 100,000 customer-generated images using its branded hashtags (#letsbefrank and #thefrankeffect)
Over $20 million in revenue in 2017
Cosmetics and skincare are hyper-competitive markets where the top dogs are known to swallow any newcomers whole – but Frank Body avoided that fate and created a community of engaged brand supporters. Here's how it garnered such a fanbase:
Frank Body's founders focused on quality first rather than quantity. The brand first got started when co-founder Steve Rowley noticed female customers at his cafes asking for leftover coffee grounds to use as an exfoliator. Sensing an opportunity, he, Bree Johnson, and Jess Hatzis developed a coffee body scrub that quickly took off on social media.

Though Frank Body now sells a wide range of skincare and beauty products, its initial focus on the scrub helped define the brand. Even today, the company features "coffee scrub" heavily in its meta information.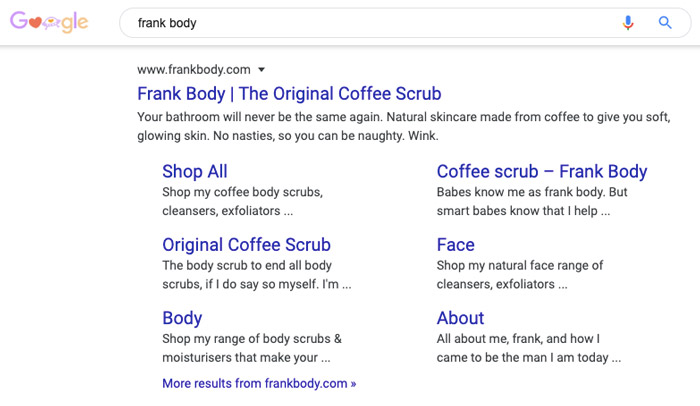 By launching with one unique product, Frank Body made a name for itself as the "coffee scrub company." Had it started off with a whole line of products from the get-go, it's possible Frank Body would have gotten lost as just another brand in the hyper-competitive beauty and skincare space.
Frank Body catered to its target audience. Beyond focusing on quality, Frank Body's founders also knew how to strike the right chord with their target audience – female millennials and Gen Zers. Compared to older generations, this demographic tends to prioritize social justice and acceptance; in fact, because they so often champion causes like climate change, Gen Zers have been labeled the "activist generation." Frank Body played to this by emphasizing how their coffee body scrub was cruelty-free and avoided using toxic synthetics.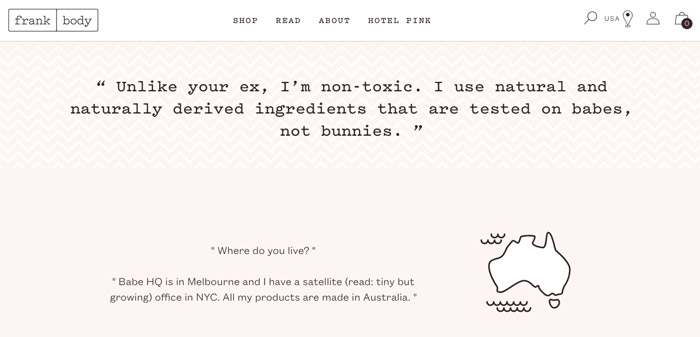 Moreover, the company embraced levity in its messaging, creating a "chill" and lighthearted brand voice that resonated with young women. Frank Body infuses its casual tone and sense of humor throughout its site, even its 404 error page.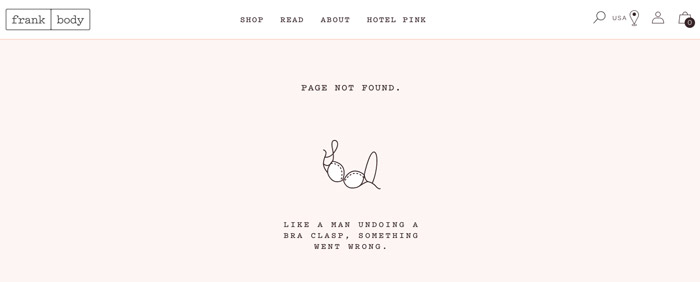 It incentivized user-generated content. Frank Body's employees weren't the only people creating content about the brand. The company challenged customers to create content as well and tag #thefrankeffect, offering various prizes in return for the best posts.
This ultimately became a means for users to become brand ambassadors, as their social media posts offered public customer testimonials. How does this form of content marketing benefit a business? Aside from providing prizes to a select few, this campaign for user-generated content costs nothing. Even better, it built Frank Body's credibility, with real-life pictures from users convincing family and friends to try its products out.
Bonus Tip #5: By using chatbots for customer segmentation you are able to better understand the needs and wants of your audience and deliver them personalized content.
That's also what Tidio is doing on the blog by offering content related to chatbots for people reading chatbot-related articles (you may have noticed a chatbot offering you a free ebook).
Chatbots can also help you gather user-generated content by collecting feedback that you can later leverage in your content marketing strategy.
Key Takeaways
The rewards of content marketing may not be as immediate as paid advertising. However, they're well worth it. Core DNA's case study of Frank Body case reiterates this fact and demonstrates how content can align a brand with its target customers' lifestyle.
Specifically, Frank Body capitalized on the strength of its first product to set itself apart. Then it created a fun brand personality that appealed to its target users and invited them to share their own experience with Frank Body products by way of social media. In short, it built a rapport with customers by using inviting, carefree content.
Dive deeper:
Conclusion
There is no one-size-fits-all approach to growing a successful eCommerce business. As demonstrated in their respective case studies, the companies highlighted above-achieved eCommerce success through various strategies. They can include revamping your copy, personalizing customer messages, focusing on brand building, or something else.
Yet for most of these brands, experimentation played a major role. Testing changes and tracking their results led most of these companies to find what worked for them – something you, too, can apply to your own business.
And though experimentation may be daunting, consider how your failures can point your business in the direction of growth. Whether you make small tweaks or large adjustments, the room for error also means room for opportunity.