Inspiration.
This word is often repeated by successful entrepreneurs when they're describing their way to the top. And it's a powerful word.
The best way to succeed in business is to learn from the ones who already achieved that. Get inspired by their ideas, ups and downs, and learn more about their approach to overcoming obstacles.
That's why we decided to gather 15 inspiring ecommerce case studies that every marketer should learn from.
Below, you'll find inspiring stories of successful online stores. Who knows, maybe one day your company will get on such a list.
In this article we'll go through the following case studies:
If you are interested in more insights about ecommerce businesses, be sure to check out the following articles:
Before we start exploring the best ecommerce case studies, let's take a step back and answer a simple question—
What is a case study in ecommerce?
In the context of ecommerce, a case study refers to an in-depth analysis of a particular company, project, or situation related to the online retail industry. It involves examining a specific scenario, identifying the challenges, exploring the strategies used to overcome the obstacles, and evaluating the outcomes.
Here's an example of a case study. This one is about the growth possibilities that Lyro, new conversational AI, can bring to small and medium ecommerce businesses.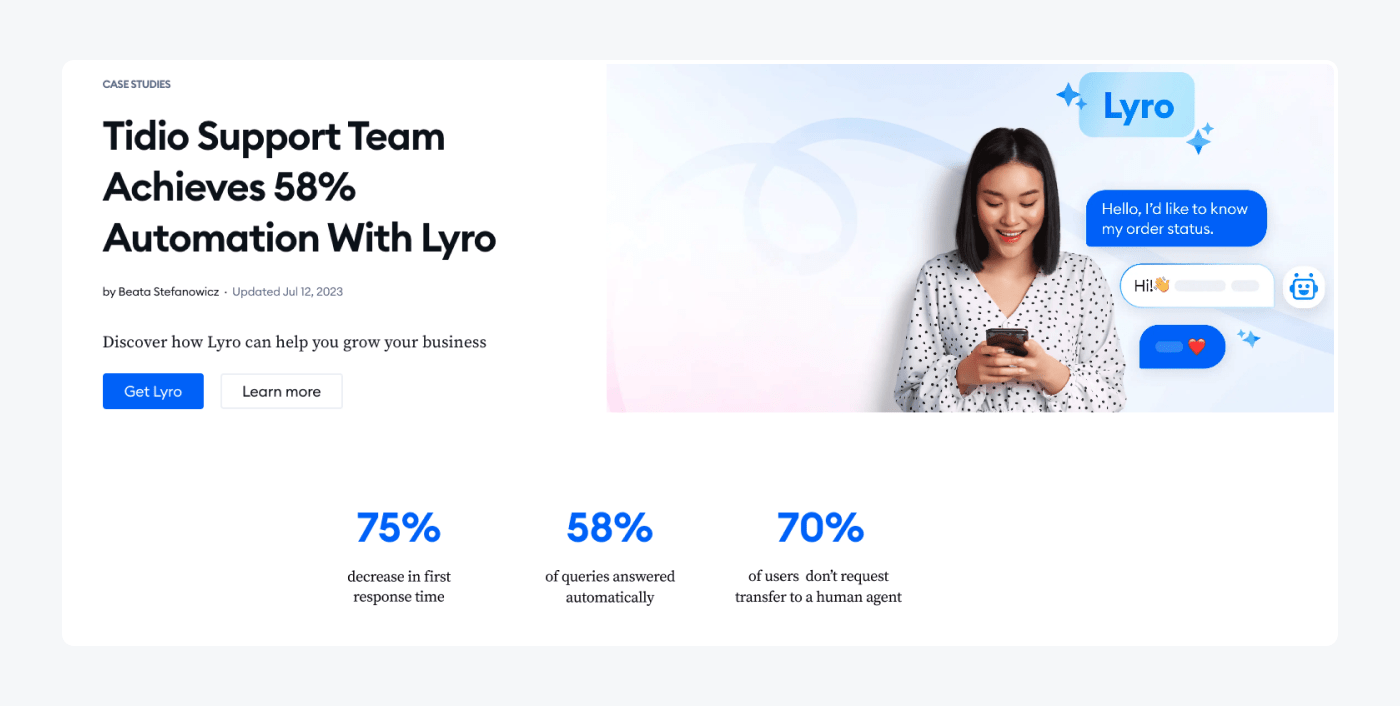 A case study in ecommerce typically focuses on real-life examples to provide insights into various aspects of an online business. These include marketing, customer service, logistics, technology implementation, and overall business performance. As such, these studies often highlight successful ecommerce companies or initiatives, showcasing best practices, innovative approaches, and lessons learned.
Having all the basic information covered, let's jump to the main topic of the article—examples of the best ecommerce case studies.
15 ecommerce case studies: examples and descriptions
Each of the ecommerce business cases discussed below offers unique insights into how to thrive in the ever-evolving landscape of the industry. So, prepare yourself for a series of enlightening experiences and transformative strategies that could very well inspire the next big thing in your own ecommerce venture.
These case studies on ecommerce brands showcase a wide range of achievements, innovative strategies, and effective solutions that have helped businesses attain tremendous success in their respective sectors.
1. How Ad Hoc Atelier boosted conversions using live chat
Ad Hoc Atelier is an Italian ecommerce platform offering exclusive clothing collections and accessories. The company was founded in 2011 and, during its development path, decided to use live chat tools to increase sales.
Results?
More than satisfying. With the help of live chat software, the company managed to increase the conversion rate from 0.35% to 0.9%. Moreover, they reduced cart abandonment rate from 83% to 73% and decreased the average response time from 3h to 1 minute.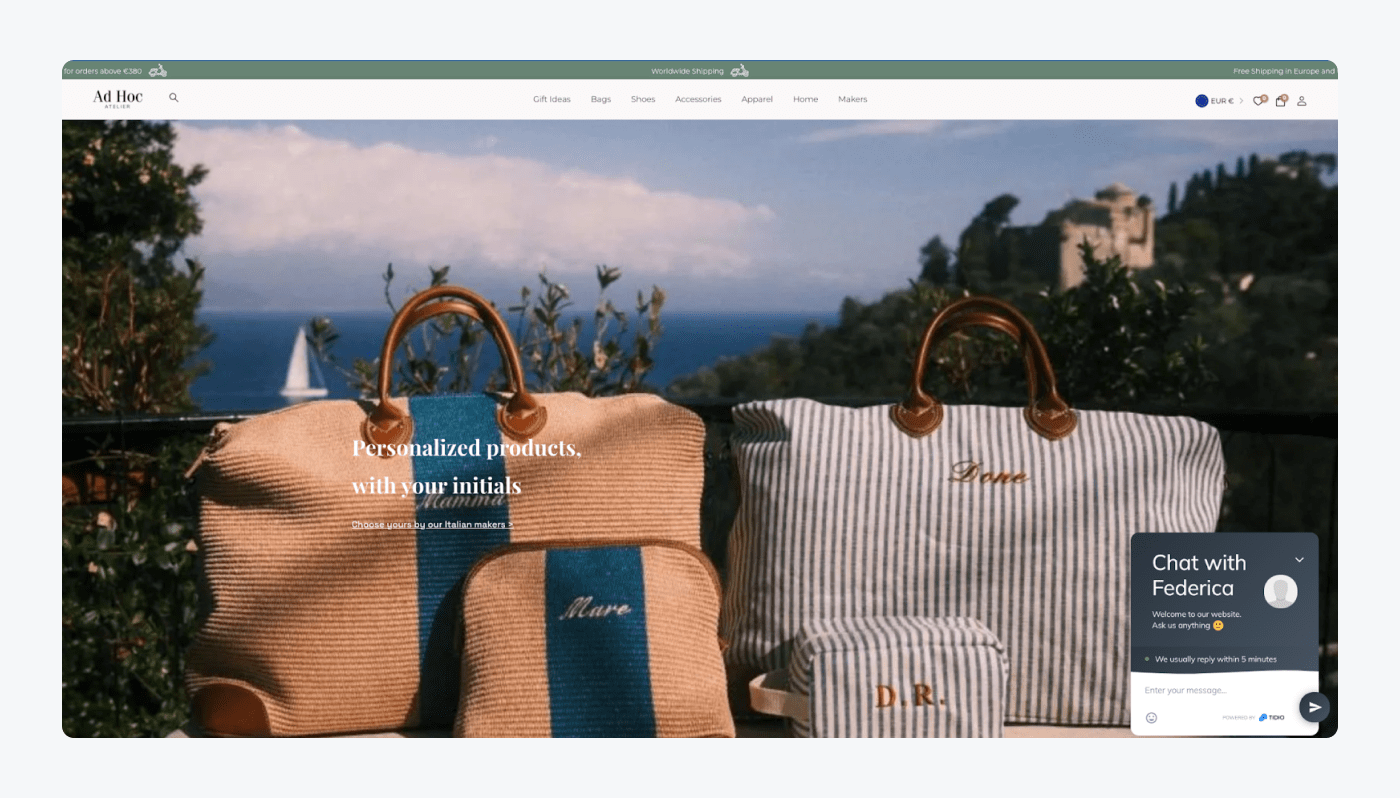 The biggest challenge that Ad Hoc Atelier had faced was that more than 4 out of 5 carts on the website were abandoned, which is higher than the industry average — 70%. This was caused by the long response times, cold and generic emails, and the fact that people didn't want to communicate through phone calls.
The company decided to change that and focus on a more personalized approach to customers, direct messaging, and short response time. What was the outcome?
Boost in customer engagement
The Ad Hoc Atelier team decided to add a live chat button to their ecommerce website to help visitors through their buyer's journey. Thanks to that, they were able to recreate the experience of an assistant coming over when you walk into the physical store to help with some suggestions.
This replication of the physical shopping experience in the online store led the company to improve their customer satisfaction and conversion rates.
Goodbye to abandoned carts
The team defeated the worst nightmare of every ecommerce owner — abandoned carts. And achieved that with the help of sales chatbots.
Result?
Their shopping cart abandonment rate dropped by 10%.
With the help of live chat tools, the team managed to respond to their customers within a minute at any time of the day. Thanks to that, the company makes the most out of the traffic on its website. Also, live chat helps them increase conversion rate, catch new selling opportunities, and maintain a high quality of every conversation.
Read more: This is only a short description of what Ad Hoc Atelier achieved thanks to Tidio tools. Be sure to check out the full case study to get details of how the company increased the conversion rate with live chat and chatbot solutions.
2. Dollar Shave Club—the secret behind their marketing success
Dollar Shave Club is a subscription-based ecommerce company that primarily focuses on providing men's grooming products. The company was founded in 2011 with the goal of offering affordable, high-quality razors and other personal care products directly to consumers.
The company is one of the most famous D2C (direct-to-consumer) brands in the world and surely deserves that status. Once they published the video "Our blades are f***ing great", it became viral within just a few days!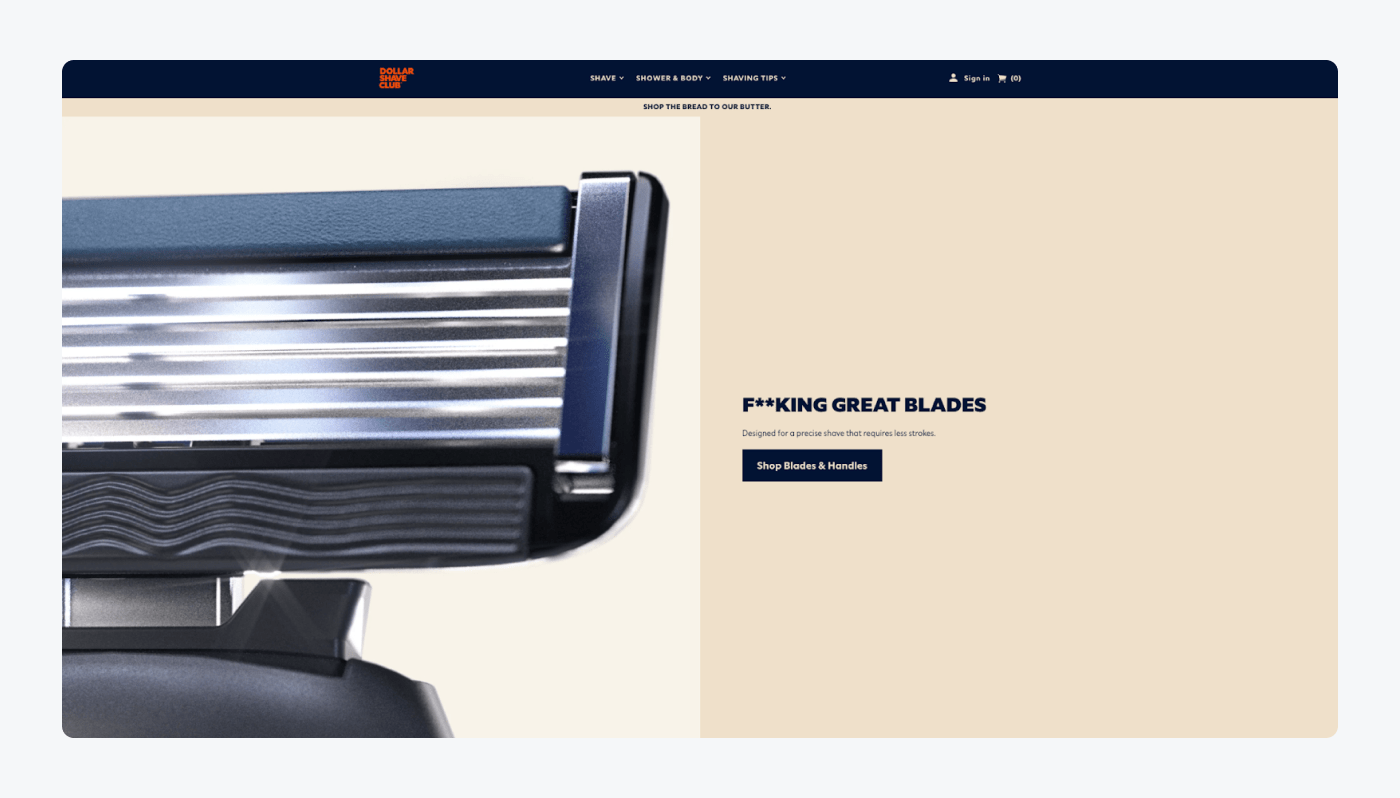 And, although the video is from 2012, Dollar Shave Club is still using this slogan. Just look at their website.
But only one catchy slogan won't make your company a successful business. So, what lies behind the massive success of Dollar Shave Club? Let's take a closer look at three essential points of this ecommerce marketing case study.
Perfectly prepared unique value proposition (UVP)
Dollar Shave Club emphasized its value proposition of providing high-quality razors at an affordable price, delivered conveniently to customers' doors. They addressed the pain points of their target audience by offering a cost-effective alternative to expensive razor brands and the inconvenience of in-store purchases.
Dollar Shave Club's subscription model allowed customers to conveniently receive razor refills on a regular basis, eliminating the hassle of remembering to buy new razors. This model not only ensured customer loyalty but also provided recurring revenue for the company.
The business also utilized data and analytics to optimize marketing efforts. This is essential while streamlining marketing or sales funnels—in fact, 77% of professionals say they track their acquisition and sales funnel performance as part of their analytics. The Dollar Shave Club team tracked customer behaviors, preferences, and purchasing patterns to personalize marketing messages, improve targeting, and refine their overall marketing strategy.
All these strategies helped the Dollar Shave Club team build brand awareness, attract new prospects, retain customers, and establish the company as a major player in the men's grooming industry.
3. Procosmet boosts lead generation after installing chatbots
Procosmet is a luxury brand offering haircare and beauty treatment products for a variety of needs. These include shampoos, conditioners, and vial treatments that are 100% natural and made with the purest of essential oils.
The business started with an idea of a blue glass vial for essential oils and active principles. Procosmet is now divided into two brands, Napura and MTJ, which create care products inspired by nature.
Thanks to chatbots and live chat solutions provided by Tidio, Procosmet managed to significantly improve its main success indicators. These include five times higher lead generation per month and a 27% increase in conversion rates. On top of that, one-third of their revenue is now made thanks to Tidio tools!
But how did they achieve that? Let's get into the details.
The main challenge the Procosmet team faced was managing orders. Such tasks as canceling, modifying, and refunding were very time-consuming for support agents. That's because they had to do it "manually"—ask for the order number, open the Shopify store, search for the order, and make the requested changes.
That's why the Procosmet team decided to let the automation tools help their representatives with repetitive tasks. And it turned out to be a great decision.
Before installing Tidio on their website, Procosmet used to gather about 10–30 leads per month. But, when they switched to Tidio as their customer service automation provider, the number of leads increased to over 100 prospects!
Also, with the help of the newsletter chatbot and Tidio's email marketing tool, the company achieved, just out of a one-off campaign, a return on investment of over a 1,000EUR.
Procosmet also struggled with a lot of spikes in the conversion metrics. That was problematic especially when planning sales goals for the next months, analyzing marketing campaigns, etc. But once they implemented Tidio+, the problem disappeared.
Read more: Be sure to check out the full story to learn about all the benefits Procosmet experienced using Tidio.
4. Glossier's way to become a $1.2 billion company
Glossier is a beauty and skincare brand that has gained popularity for its minimalist and inclusive approach to beauty products. Founded by Emily Weiss in 2014, Glossier aims to create a more personalized and simplified beauty experience for its customers.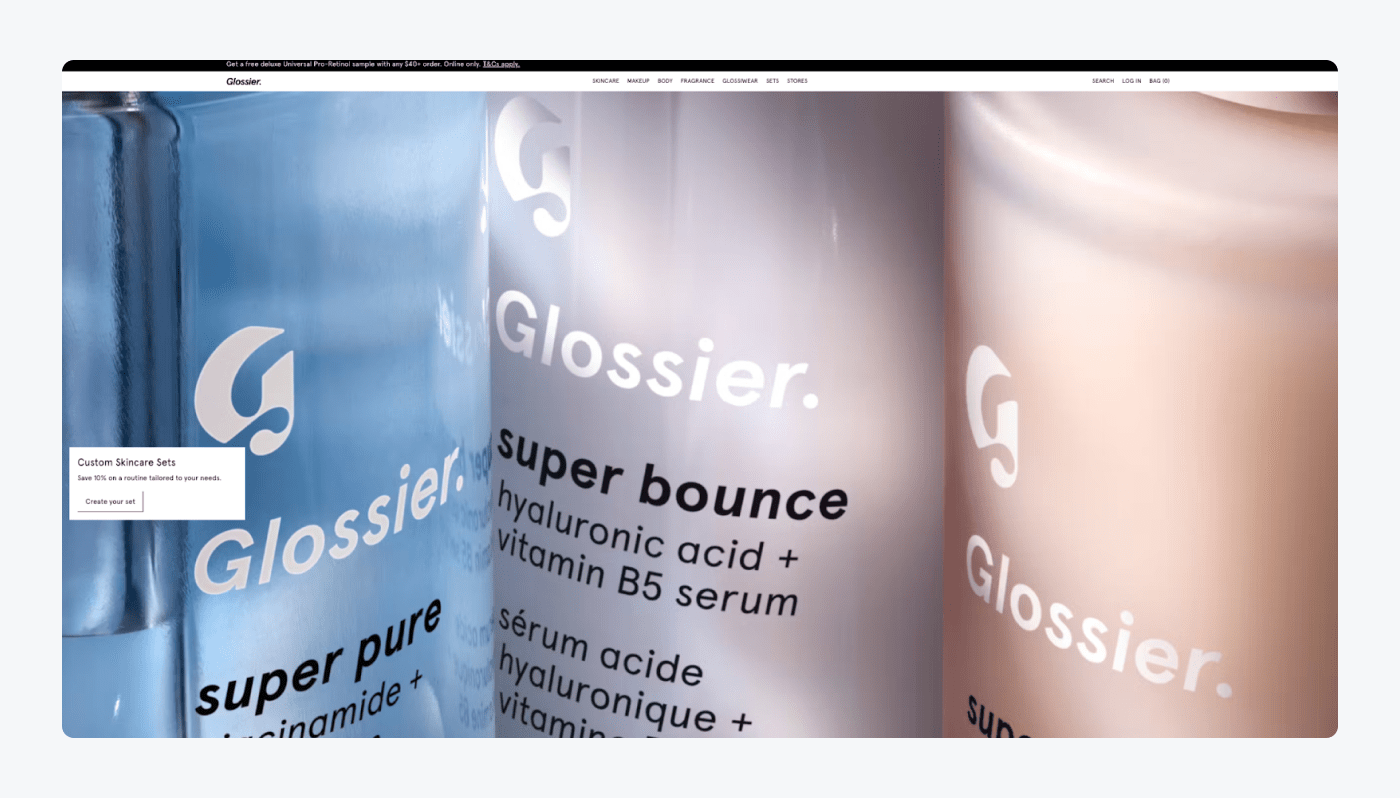 But how did Glossier manage to grow that much?
Let's get into details of one of the most inspiring ecommerce conversion rate optimization case studies.
One key factor in Glossier's success was its D2C model. This strategy was powered by cutting out traditional retail channels and selling directly to customers through its website and physical stores. Thanks to that approach, Glossier was able to maintain control over the entire customer experience and gather valuable data on consumer preferences.
Strong presence in social media
Glossier also prioritized building a strong online community and cultivating a sense of inclusivity. Through social media platforms, particularly Instagram, Glossier encouraged user-generated content and engaged with followers, creating a sense of authenticity and trust. This approach helped the brand to resonate with millennial and Gen Z consumers who were seeking a more personalized and relatable beauty experience.
Focus on customer feedback
Furthermore, Glossier emphasized the importance of customer feedback and product iteration. The company actively listened to its customers, taking their suggestions and needs into account when developing new products or improving existing ones. This iterative approach allowed Glossier to continuously evolve its offerings and maintain a loyal customer base.
As a result, Glossier successfully carved out a niche in the beauty industry and achieved remarkable growth, ultimately reaching a valuation of $1.2 billion. But it wouldn't happen if not for the masterly combination of a strong D2C strategy, a focus on community building, an inclusive and relatable brand image, and a commitment to customer feedback.
5. Shockbyte slashes response times with Tidio chatbots
Shockbyte is a leading game server provider known particularly for Minecraft hosting. The company provides high-performance server hosting services at affordable prices to gamers and server owners globally. Apart from Minecraft, Shockbyte also offers server hosting for games like ARK: Survival Evolved, Rust, and more.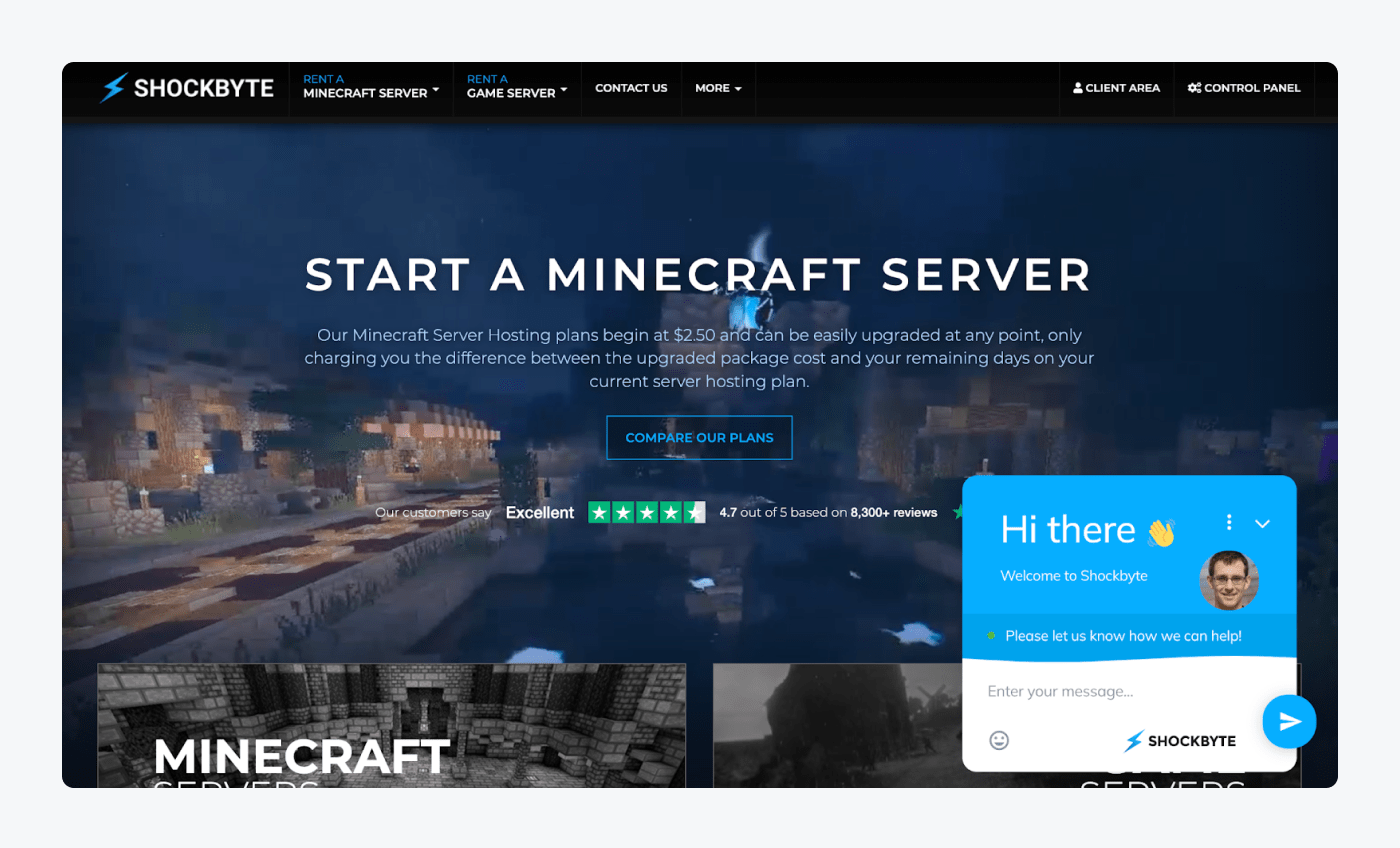 But how did Shockbyte benefit from using chatbot solutions? Here are the results of one of our own ecommerce digital marketing case studies:
Focus on increasing customer satisfaction
First and foremost, the Shockbyte team decided to put an emphasis on customer satisfaction. In fact, they managed to boost this metric by 16% within the first few months of using the tool.
"Our customer satisfaction saw a healthy 16% increase—this is despite us having some of our busiest months this year."
You won't build a positive brand experience if you make your clients wait hours for an answer. And Shockbyte knows that. By implementing a chatbot widget on their website, they managed to decrease the waiting times by a whopping 26%.
It was possible thanks to the "nature" of chatbots and support requests. Significant part of the questions applied to the same issue and could be solved with the same answer. And that's the place where chatbots come into play. They allow companies to respond to the most commonly asked questions automatically and within seconds.
The Shockbyte team decided to go further and use conversational bots to increase sales. With the help of chatbots, they managed to approach potential customers browsing specific product pages. Also, supported by AI chatbot automation, they tested out a variety of sales tactics powered by AI to find the most efficient way of gathering prospects.
And last but not least, by using sophisticated analytics tools, the Shockbyte team managed to categorize chats with their customers. Thanks to that, support and sales agents are provided with the essential customer information pack when they enter the conversation with them.
Read more: Read the full case study in which we describe Shockbyte's success story.
6. How Gymshark bulked up into a $1B+ brand
Gymshark is a fitness apparel and accessories brand that has gained significant popularity in the sports industry. Founded in 2012 by Ben Francis and his friends, Gymshark has become a global brand known for its stylish and functional activewear.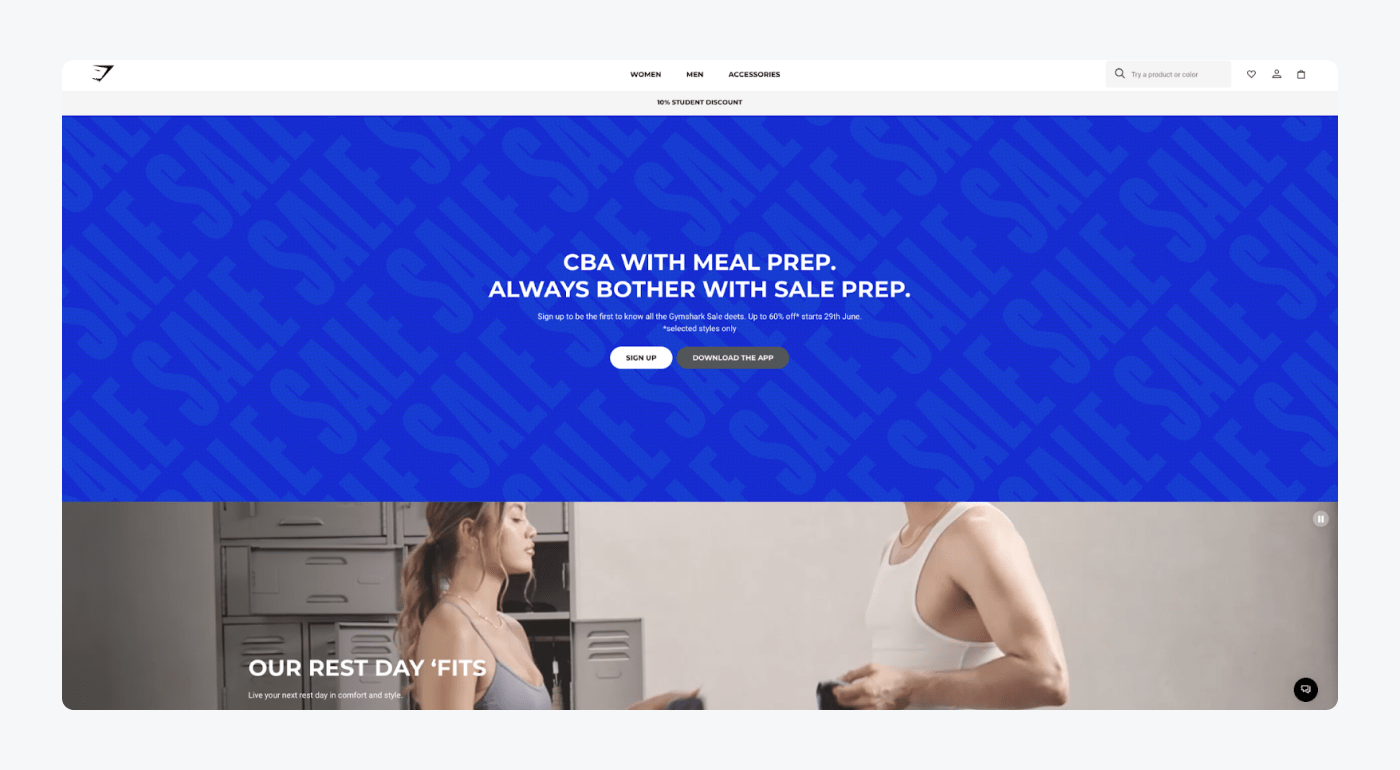 One of the key factors in Gymshark's success was its ability to tap into the fitness and wellness trend. The brand started selling gym apparel from Ben's garage but quickly gained traction by catering to the fitness community's needs for stylish, functional, and affordable workout clothing.
But what made them so successful in the competitive fitness industry? Let's take a closer look at one of the most intriguing ecommerce case study examples.
Perfectly tailored marketing strategy
Gymshark's marketing strategy played a crucial role in its growth. The brand leveraged social media platforms like Instagram and YouTube to showcase its products' functionalities and engage with its target audience.
Gymshark's user-generated content (UGC), featuring fitness enthusiasts wearing their clothing, created a strong sense of community and authenticity. This approach resonated with fitness enthusiasts who felt a connection to the brand and its values.
Collaborations with influencers
Influencer marketing also played a significant role in Gymshark's rise to success. The brand collaborated with fitness influencers and athletes who aligned with its brand image and target market.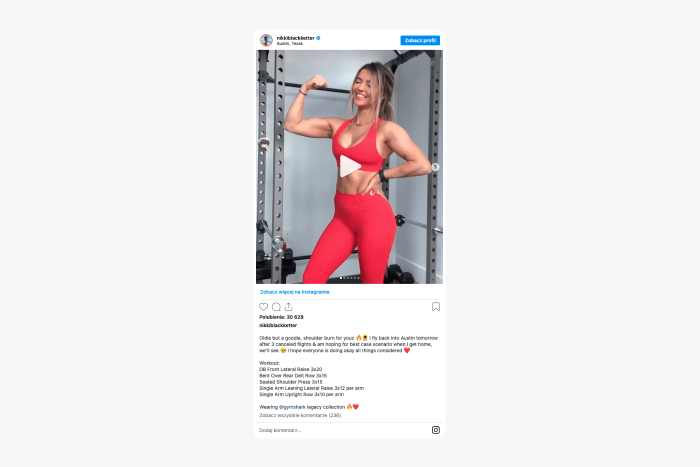 The partnerships with influencers helped Gymshark reach a wider audience and gain exposure in the fitness community.
Agility and adaptability of the brand
Furthermore, Gymshark's agility and adaptability were also key factors in its success. The brand consistently listened to its customers, actively seeking feedback and making improvements based on their input. This iterative approach allowed Gymshark to continuously evolve its product range, expanding beyond gym wear to include athleisure and lifestyle apparel.
Overall, Gymshark's success as a $1B+ brand can be attributed to its strategic marketing efforts, strong online presence, influencer collaborations, commitment to its target audience, and adaptability in response to customer feedback. By effectively tapping into the fitness and wellness market and creating a community-driven brand, Gymshark established itself as a prominent player in the industry.
7. Lunya, a luxury loungewear brand that achieved $25M revenue
Lunya is a clothing brand that aims to redefine comfort and style for modern women. Founded by Ashley Merrill in 2014, Lunya focuses on creating high-quality, functional, and aesthetically pleasing sleepwear and loungewear that can be worn both inside and outside the home.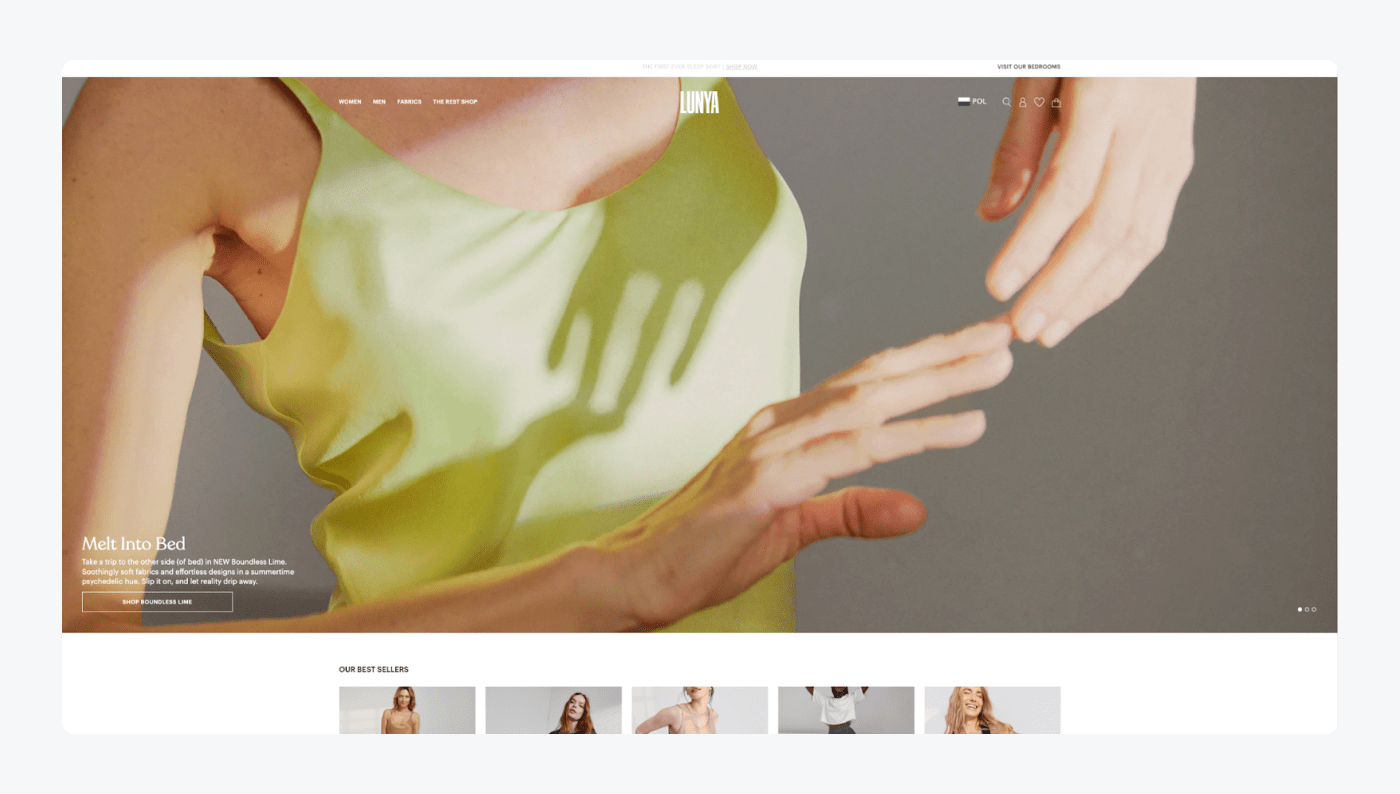 So, what makes Lunya's ecommerce store so successful? Let's dive into more details of this ecommerce case study.
Lunya's D2C model played a significant role in its revenue growth. By bypassing traditional retail channels and selling directly to consumers through its website, Lunya was able to control the entire customer experience. This approach allowed the brand to build direct relationships with customers, gather data on teams' preferences, and provide personalized shopping experiences. The D2C model also allowed Lunya to maintain higher profit margins to reinvest in product development and marketing.
Astonishing customer experience
Additionally, Lunya placed a strong emphasis on customer experience and engagement. The brand prioritized exceptional customer service, providing detailed product information, size guides, and responsive support. Lunya actively sought customer feedback, making adjustments to its products and services based on the insights provided. This customer-centric approach fostered loyalty and word-of-mouth recommendations, driving revenue growth.
Read more: Learn how to build an excellent customer experience strategy to provide the best possible shopping experience.
Effective marketing strategy
Lunya also leveraged digital marketing strategies effectively. The brand utilized social media platforms, influencer collaborations, content marketing, and SEO to build brand awareness and engage with its target audience. By partnering with influencers and leveraging user-generated content, Lunya expanded its reach and credibility, particularly among millennial and Gen Z consumers.
Read more: Read more about improving customer engagement with dedicated customer service chatbots.
Through a combination of the featured tactics, Lunya achieved $25 million in revenue. The brand focused on delivering a luxurious and elevated sleep experience, alongside ensuring a strong online presence and customer engagement. This allowed Lunya to carve out a niche in the sleepwear market and attract a loyal customer base.
8. Key factors of Sephora's online store success
Sephora is a leading multinational beauty retailer known for its wide range of cosmetics, skincare, haircare, and fragrance products. It was founded in France in 1969 and has since become a global beauty destination with stores in numerous countries. Sephora offers an extensive selection of beauty brands, including both established names and emerging, independent companies.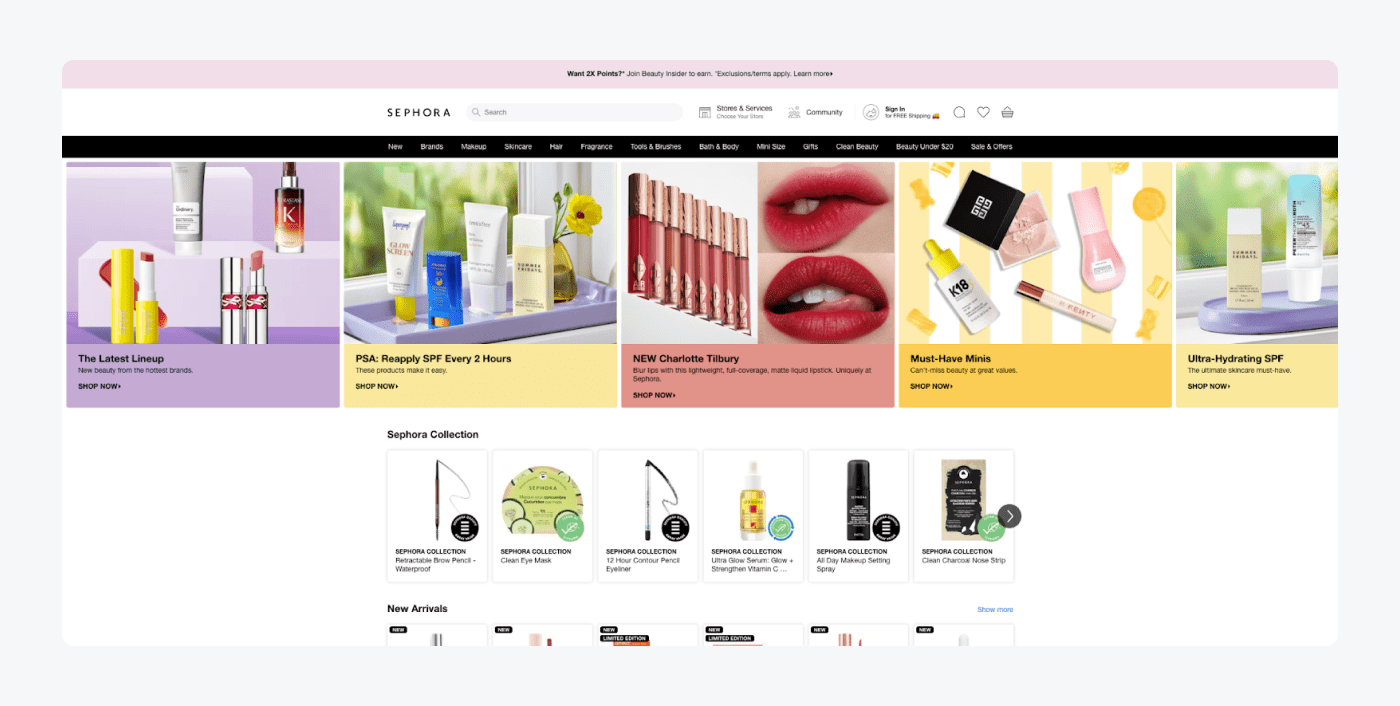 The story behind Sephora's online store success lies in its strategic approach to embracing ecommerce and catering to the needs of their beauty-savvy customers. Now, let's go through the three key factors that contributed to Sephora's online store success.
Sephora prioritized creating a seamless and user-friendly online shopping experience. Their online store was designed with intuitive navigation, comprehensive product information, and personalized recommendations. They optimized the website for different devices and platforms (iOS, Android), ensuring a consistent and convenient experience for customers.
The beauty giant's team actively engaged with their customers on social media platforms, creating a community of beauty enthusiasts. Sephora responded to customer queries, shared user-generated content, and provided real-time updates on promotions and new releases through social channels. This social media presence amplified brand visibility and fostered a sense of connection with the audience.
Read more: Learn how to automate customer service activities like answering product-related questions on social media with the help of conversational tools.
Continuous innovation and adaptation
The brand also consistently embraced technological advancements and market trends to enhance the online store. Sephora introduced features such as augmented reality, chatbots, and personalized product recommendations to stay ahead of the competition and provide a cutting-edge shopping experience.
And there you have it—multiple strategies Sephora used to successfully build a thriving online store.
The strategic approach has enabled the company to cater to the evolving needs of beauty enthusiasts, providing a convenient, personalized, and engaging shopping experience that sets them apart in the industry.
9. Allbirds's way to become a billion-dollar sneaker brand
Allbirds is a footwear company that specializes in producing sustainable and comfortable shoes. They are known for their minimalist designs and use of eco-friendly materials.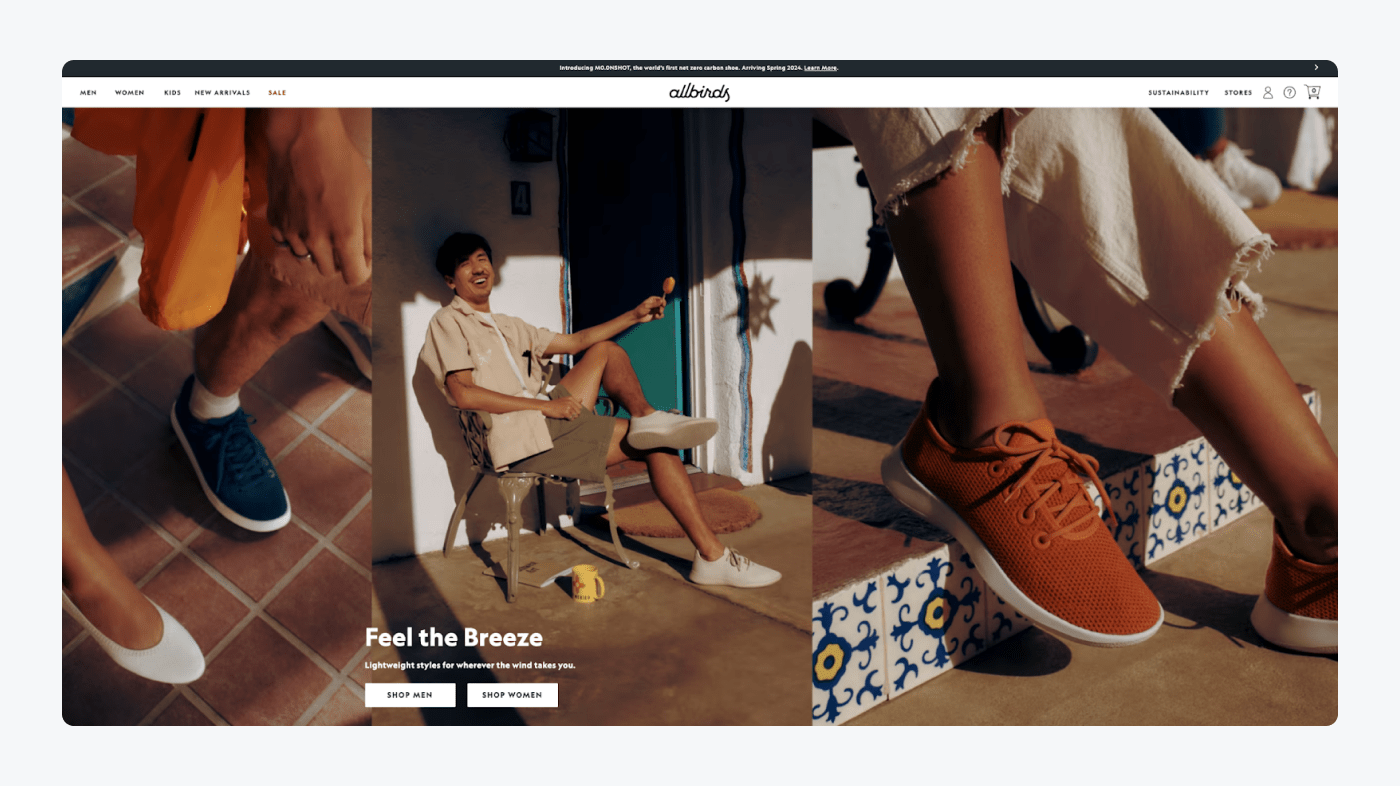 Allbirds achieved remarkable growth, going from a small startup to a billion-dollar sneaker brand in just four years. But how did they do it?
Let's take a closer look at the foundations of their huge blast.
Allbirds differentiated itself by creating comfortable, eco-friendly sneakers made from renewable materials like merino wool and eucalyptus fibers. The brand combined sustainable practices with minimalist design, appealing to consumers seeking both style and eco solutions.
Word-of-mouth marketing is a powerful tool for staying on top of the numerous ecommerce brands in your niche. And Allbirds knows that. The brand focused on creating exceptional products that generated positive customer experiences, leading to enthusiastic recommendations and social media buzz. Influencers and celebrities also played a role in promoting Allbirds, further amplifying its brand awareness.
Innovative marketing strategies
The company employed creative marketing strategies to stand out in a competitive market. For instance, they used humor and storytelling in their advertising campaigns (on Google Ads, social media platforms), highlighting the unique features and benefits of their products. Allbirds also leveraged social media platforms to engage with shoppers, share their sustainability mission, and showcase user-generated content.
And here we are. By combining the above strategies and tactics, Allbirds experienced exceptional growth, becoming a billion-dollar sneaker brand within a short span of four years.
10. How Warby Parker reached a $1.7B valuation
Warby Parker is an eyewear company that specializes in offering stylish and affordable prescription glasses, sunglasses, and contact lenses. The company disrupted the traditional eyewear market with a unique direct-to-consumer model, including a Home Try-On program. Also, this eyewear mogul seamlessly merges e-commerce with select physical storefronts, emphasizing both fashion and social responsibility.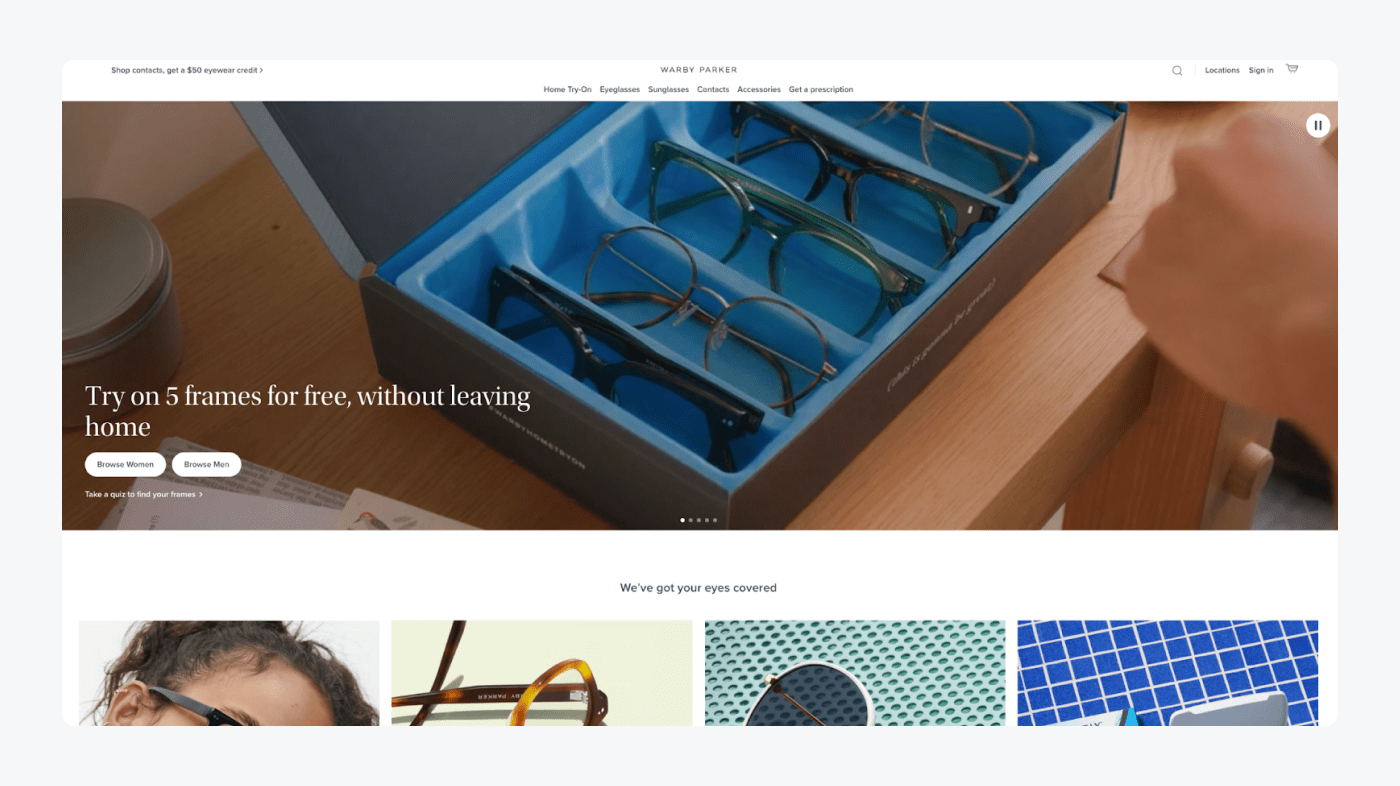 Here are the key factors that contributed to its success.
Seamless online experience
Warby Parker prioritized creating a seamless online shopping experience by investing in user-friendly website design. The brand also offered virtual try-on tools that allowed customers to verify multiple frames before making a purchase decision. The combination of convenience and a hassle-free shopping process contributed to its success as an ecommerce platform.
Customer-centric approach
Warby Parker revolutionized the eyewear industry with its customer-centric approach by introducing a Home Try-On program, allowing individuals to test frames at home before buying. They combined transparent, affordable pricing with a commitment to social responsibility through their "Buy a Pair, Give a Pair" initiative.
Even as a digital-first brand, they seamlessly integrated brick-and-mortar experiences, ensuring personalized service at every touchpoint.
Read more: Discover how to measure customer satisfaction in 6 easy steps.
Data-driven decision-making process
Warby Parker leveraged data analytics to make informed business decisions. The company collected and analyzed customer data to gain insights into client preferences, purchasing behaviors, and market trends. This allowed Warby Parker to optimize its product offerings, marketing strategies, and inventory management.
Read more: If you're looking for customer database software, be sure to check out our list of the best solutions in this category.
By combining an effective business model with a strong brand identity, a customer-centric approach, Warby Parker achieved a $1.7 billion valuation and established itself as a leading ecommerce site in the eyewear industry.
11. Story of Happy Box's online store success
This case study for ecommerce presents a story of Happy Box—a bespoke gifting company. They create expertly crafted gifts, sent in a few clicks. The company significantly increased its online store revenue by implementing various strategies that resulted in a tenfold growth.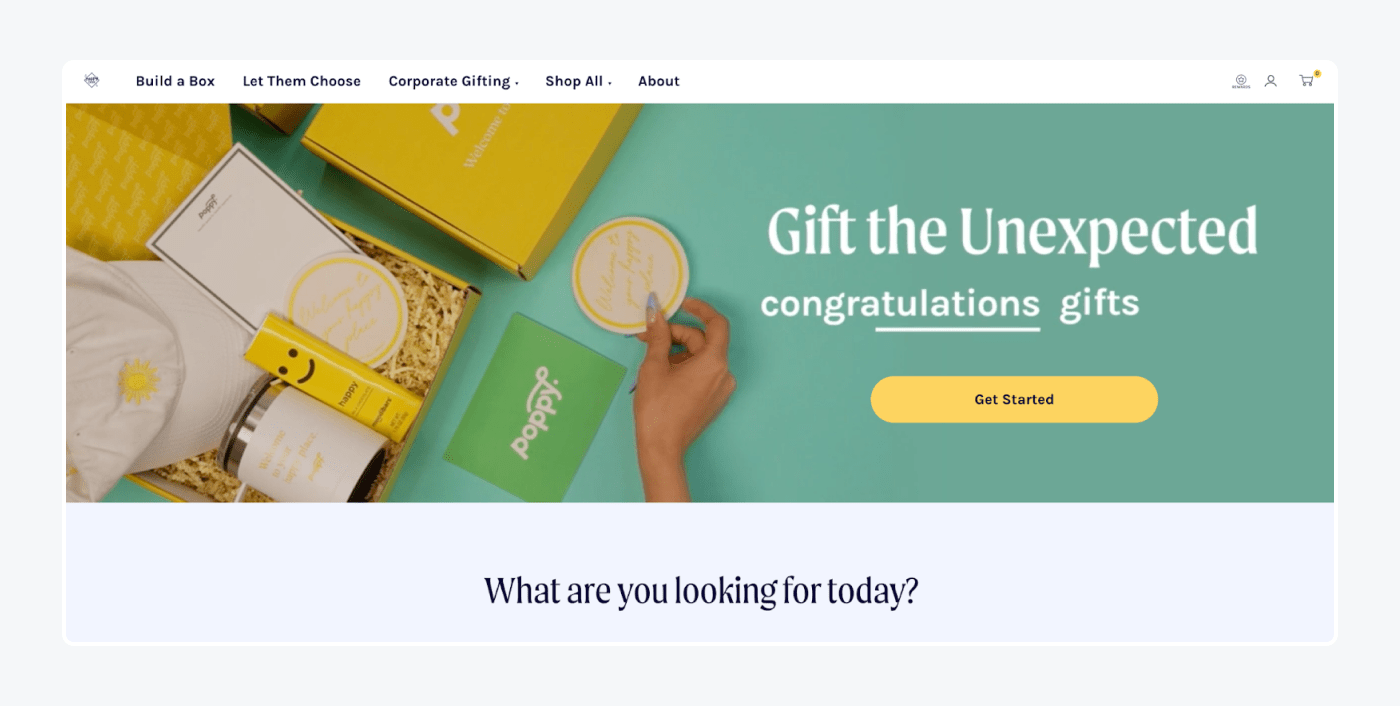 But how did they achieve it?
Enhanced customer support and communication
The company prioritized providing exceptional customer support. Happy Socks improved their response time to inquiries and ensured effective communication throughout the customer journey. This focus on offering quality support helped to build trust and loyalty, contributing to increased online sales.
Implementation of customer retention strategies
In addition, Happy Box implemented strategies to retain existing customers and encourage repeat purchases. They offered loyalty programs, exclusive discounts, and special promotions to reward customer loyalty. By prioritizing customer retention, Happy Box generated a consistent stream of revenue from repeat customers.
Continuous testing and optimization
The company conducted testing and optimization to improve its online store performance. They analyzed customer data, monitored their ecommerce conversion rates, tracked landing pages performance, and implemented changes based on data-driven insights. This iterative approach allowed them to continually enhance their website and marketing strategies to maximize revenue.
By implementing all these strategies and managing the omnichannel marketing project, Happy Box created a $100M dollar business. Their focus on improving the customer experience, expanding product offerings, and implementing effective marketing strategies contributed to their significant growth and success.
12. Amerisleep's approach to increase checkouts by 14%
Amerisleep is a well-known mattress and sleep products brand. They specialize in designing and manufacturing high-quality mattresses, adjustable beds, pillows, and other sleep-related accessories. The company is committed to providing clients with a comfortable and restful sleep experience by combining innovative technologies, eco-friendly materials, and a focus on customer satisfaction.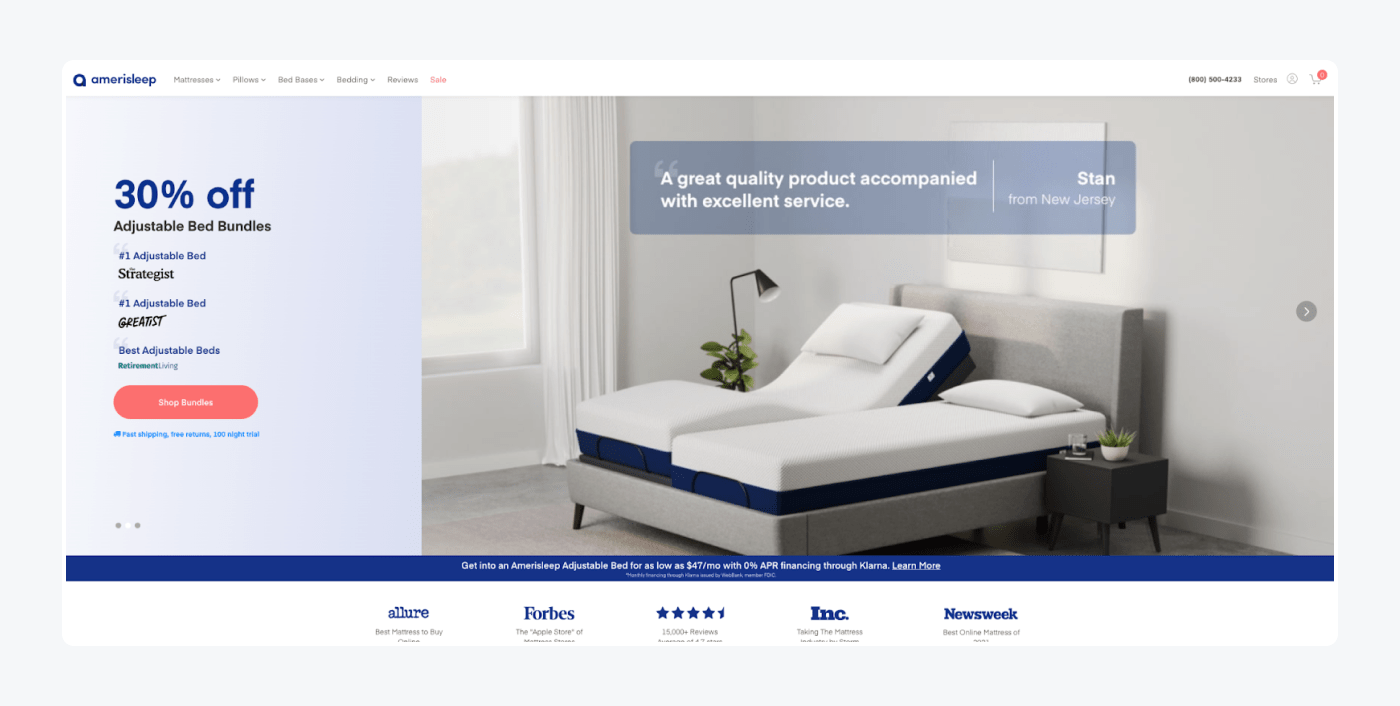 Thanks to their inventive approach to presenting the benefits of their products, they managed to increase checkouts in their online store by 14%.
But was it the only reason for their massive success?
Of course not. Let's dive into the foundations of Amerisleep's great results in the ecommerce industry.
Cart abandonment recovery
Amerisleep implemented shopping cart abandonment recovery strategies, such as sending automated email reminders to customers who added items to their cart but did not complete the purchase. These emails can include personalized incentives, such as discounts or free shipping, to entice customers to return and finalize their order.
Given the increasing prevalence of mobile shopping, Amerisleep also optimized its checkout process for mobile devices. They implemented a responsive design, ensuring that their website and checkout pages are user-friendly and visually appealing on smartphones and tablets.
A/B testing and conversion optimization
Amerisleep employed A/B testing and conversion rate optimization techniques. This involved experimenting with different design elements, popup ads, layout variations, copywriting, and pricing strategies to identify the most effective combinations.
It's important to note that without access to specific details of Amerisleep's strategies, the above points are speculative but commonly utilized practices in ecommerce to increase checkout rates. The actual methods employed by Amerisleep may vary, but these general approaches can serve as potential insights into their success.
13. How Envelopes.com leveraged checkout conversions
Envelopes.com is an online retailer that specializes in selling a wide variety of envelopes, packaging items, office supplies, and other related products. The company serves individuals, businesses, organizations, and event planners who require a wide selection of products.
Their offerings encompass both standard and special envelopes, along with customization services, to meet various mailing, packaging, and stationery needs.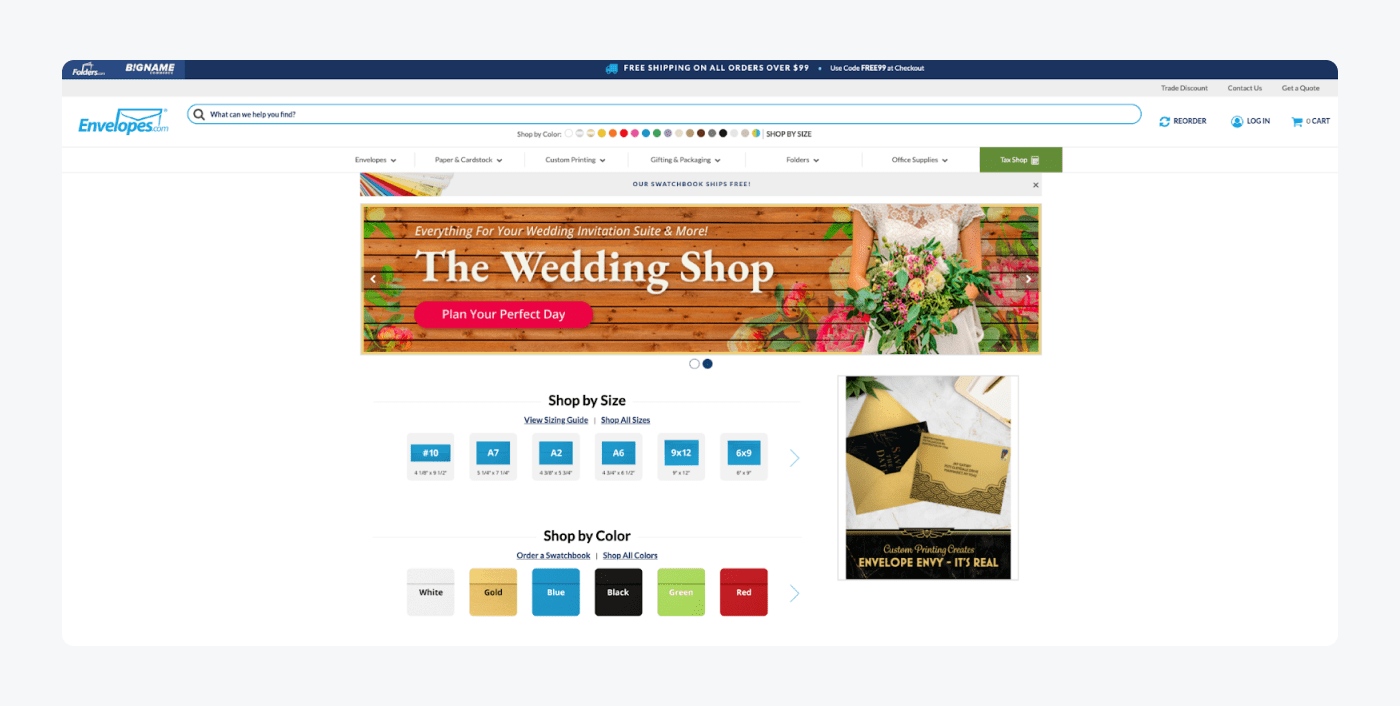 The company achieved a 40% increase in conversions. How?
Let's find out in this case study of ecommerce.
Envelopes.com implemented an effective abandoned cart email strategy. When a customer adds items to their cart but doesn't complete the purchase, the company sends follow-up emails reminding them of the items left behind. These emails include persuasive messaging, personalized recommendations, and sometimes offered incentives like discounts or free shipping to encourage customers to complete their checkout.
Personalized recommendations and cross-selling/upselling
The use of data to provide personalized product recommendations significantly improved the shopping experience, leading to increased conversions. Additionally, by implementing cross-selling and upselling strategies, Envelopes.com was able to boost the average order value (AOV), leading to increased revenue.
A/B testing and optimization of email campaigns
Envelopes.com continuously conducted A/B testing and optimization to improve their follow-up strategies. They experimented with different email templates, subject lines, incentives, and timing to identify the most effective approaches that would attract their subscribers and new customers. By analyzing data and implementing changes based on the insights, they refined their follow-up tactics to maximize conversions.
These strategies helped them recover potentially lost sales, foster customer loyalty, and drive revenue growth.
Read more: Check out the most effective follow-up email techniques you can use to increase your conversion and email open rate.
14. How Beardbrand established their earnings at $120,000 per month
Beardbrand is a grooming company that focuses on providing high-quality products for beard and facial hair care. They specialize in offering a range of grooming products, including beard oils, beard balms, beard washes, mustache waxes, and grooming tools.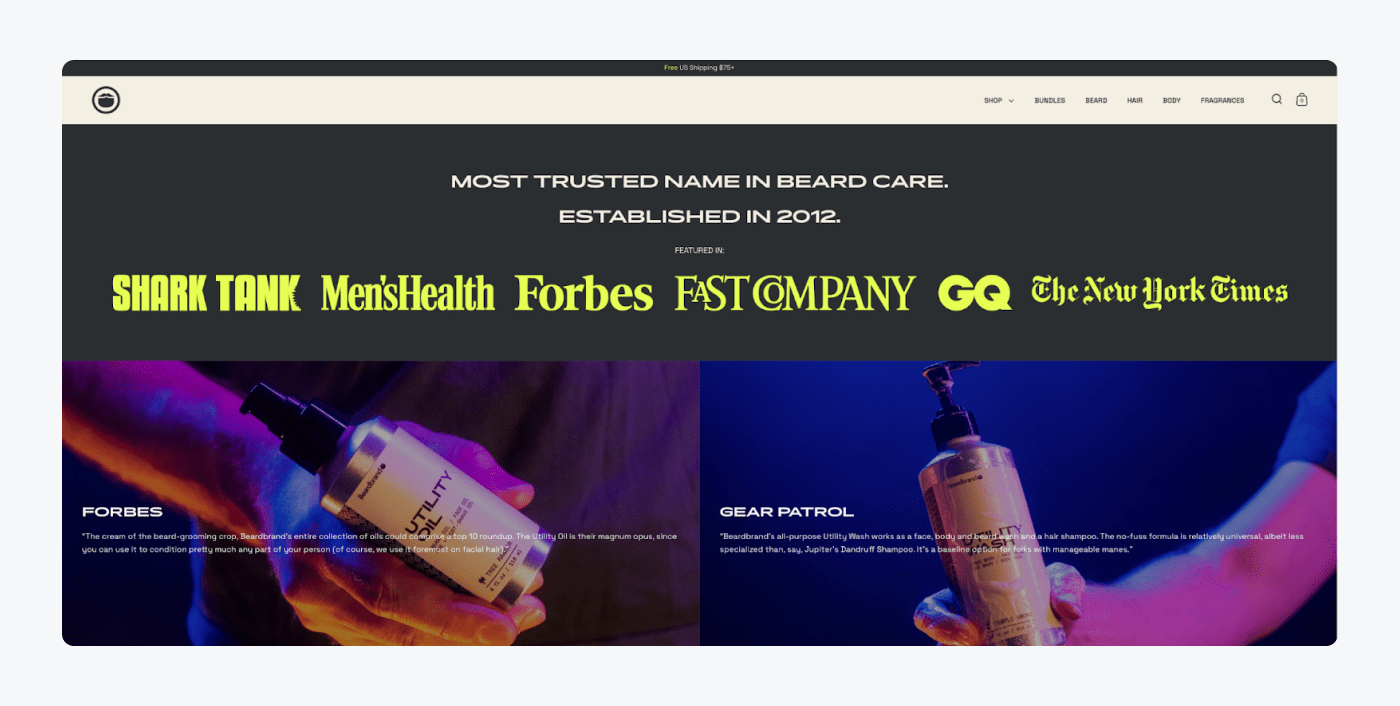 The company achieved a monthly revenue of $120,000 by leveraging its unique branding. Here's how their branding efforts contributed to their success.
Niche focus and embracing beard culture
Beardbrand found a unique niche within the grooming market and capitalized on it— beard care. By centering their brand around the celebration of beard culture, they positioned themselves as more than just a grooming product company. By doing this, the beardbrand team created a strong brand identity and connected with a dedicated audience on a deeper level.
Authenticity and storytelling
Beardbrand's branding emphasized authenticity and storytelling. They shared the personal journey and experiences of their founder, Eric Bandholz, in building the brand and embracing the beard lifestyle. This storytelling approach resonated with customers, creating a sense of connection and trust.
Engaging content marketing and community building
Beardbrand heavily invested in content marketing, creating engaging, informative, and entertaining content about beard care, grooming, and lifestyle topics. This not only positioned them as a trusted authority but also drove customer engagement. Simultaneously, they actively built a community around their brand, encouraging user-generated content, feedback, and social media interaction.
The above tactics and activities resulted in a loyal base of customers and brand advocates, significantly contributing to their revenue growth. All these different branding efforts coupled with quality products and engaging marketing strategies, contributed to their huge monthly revenue.
15. How Frank Body achieved $20M in annual sales by investing in content marketing
Frank Body is an Australian-based skincare company that gained popularity for its range of coffee-based body and skincare products. The company focuses on creating natural and cruelty-free products designed to exfoliate, hydrate, and nourish the skin.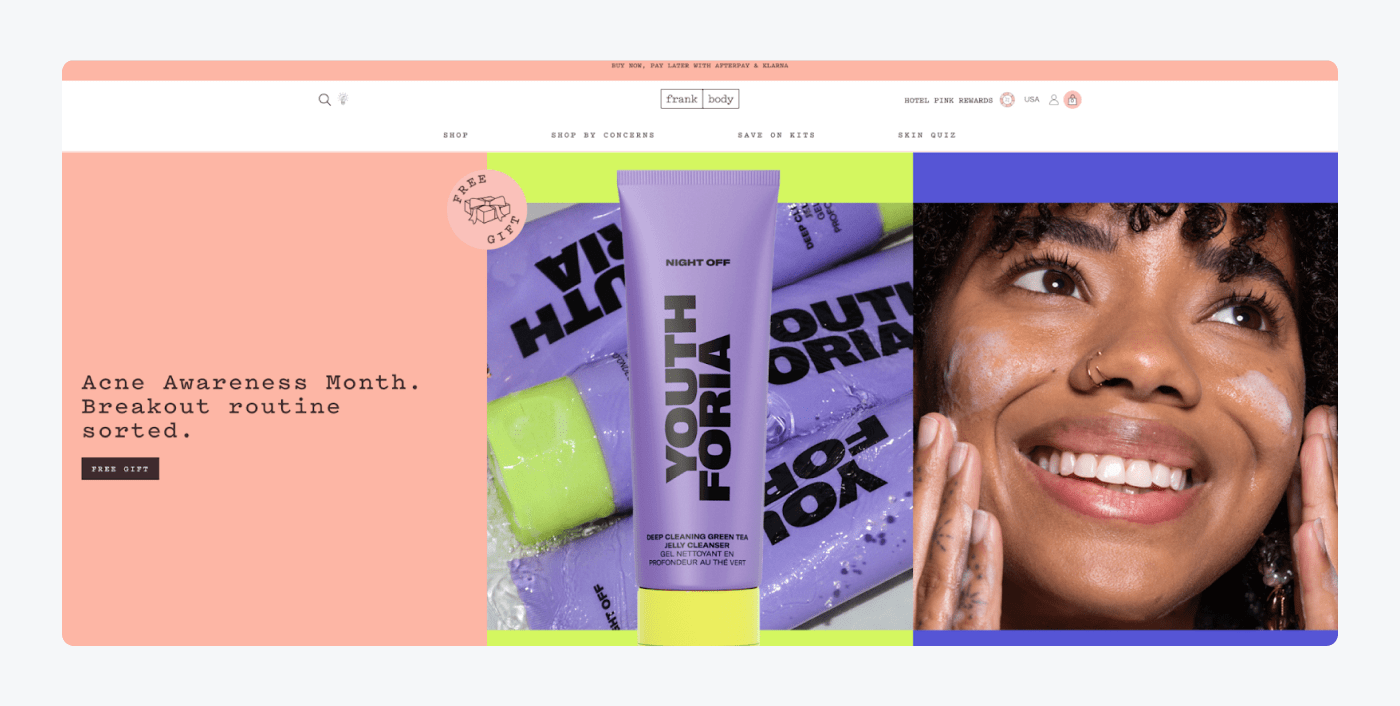 What's interesting is that they achieved a whooping $20M in annual sales by making significant investments in content marketing. So, what exactly did they do?
Engaging and shareable content
Frank Body created content that was entertaining, relatable, and shareable. They developed a distinctive brand voice that resonated with their target audience, primarily millennials. Their strategy included blog posts, social media content, and videos that focused on promoting self-care, body positivity, and natural beauty. These activities played a significant role in attracting and retaining their target audience.
Educational and informative content
The company also used content marketing to educate and inform its audience about the benefits of its products and the importance of skincare. They provided valuable tips, tutorials, and guides on topics such as exfoliation, skincare routines, and ingredient benefits. This approach positioned them as experts in the skincare industry, building trust and credibility among their customers.
User-generated content and influencer partnerships
Encouraging user-generated content and partnering with influencers greatly enhanced the brand's reach and credibility. By urging customers to share their experiences with the products and by collaborating with influencers, Frank Body was able to generate authentic engagement, social proof, and increased visibility among new audiences.
All in all, Frank Body's content marketing efforts not only generated brand awareness but also built a loyal customer base that resonated with their values and product offerings.
Ecommerce case studies—key takeaways
There is no one-size-fits-all approach to growing a successful ecommerce business. As demonstrated in their respective case studies, the companies highlighted above achieved ecommerce success through various strategies.
No matter if the strategies included revamping of copy, personalizing customer messages, or focusing on brand building, experimentation played a major role for most of these brands.. Testing changes and tracking their results led most of these companies to find what worked for them—something you, too, can apply to your business.
And though experimentation may be daunting, consider how your failures can point your business in the direction of growth. Whether you make small tweaks or large adjustments, the room for error also means room for opportunity.