No response? The customer is probably not interested.
That's the first thought that pops up in the minds of many entrepreneurs. It seems reasonable to just let it be. Sending another email does not even seem like an option. After all, nobody wants to be perceived as annoying, right?
The truth is, it's easy to give up and move on. The challenge is in being persistent and putting some thought into writing effective follow-up emails that manage to persuade readers to respond or take the desired action.
Mastering follow-up emails is not your issue yet?
If your business needs to level up the email marketing strategy first, take a look at these articles:
Speaking of follow-up emails, according to Yesware, if you don't receive a reply to the first email, you have a 21% chance of getting a reply to your follow-up email.
Surprisingly good news, isn't it?
With people getting bombarded with emails every day, there is a high possibility of yours getting lost in the noise. This is where a well-written follow-up email can serve as a reminder and increase your chances of getting your message across.
These are some common instances when sending a follow-up email can prove to be extremely useful:
After signing up to your blog/newsletter
To recover abandoned carts
When you want to activate dormant customers
After a product demo, trial or event
After purchase (to leave a review or feedback)
Have you ever sent an email and got no reply? It probably happens to you occasionally.
But have you ever sent an email asking someone to do something and received no answer?
If you run a business, there is a big chance that this happens to you A LOT. After all, some of the emails that you send are not supposed to be answered.
We've been there too. That's why we know exactly how frustrating it is to be left hanging when you expect a reply and (or get replies to automatic emails that you don't want). Say no more.
With well-crafted follow-up emails, your chances of getting a reply increase exponentially, along with your conversions. And that means money!
This is why today we will show you 7 killer techniques to write effective follow-up emails and win your audience back, without being annoying.
1. Craft Personalized and Relevant Subject Lines
Subject lines are a crucial element because that's the first thing recipients see. They need to be written so that they generate interest and make everyone want to open it.
Here's how you can make the follow-up email's subject line work for you.
Your objective of sending the email needs to reflect in your subject line. Are you:
waiting for more information?
requesting feedback?
wanting to set up a meeting or…
something else?
Be clear and upfront about the objective so the reader knows exactly what the email holds for them. Look at this one – it comes straight to the point with a compelling offer and entices you to open the email.

With that said, be mindful of space. Considering that most emails are opened on a smartphone, you don't want the subject to trail off and be left incomplete.
It's a good idea to stick to a 30-40 character limit with your main message coming across in the first few words.
In an attempt to make your subject seem interesting, don't make the mistake of misleading people because nothing frustrates recipients more than opening emails to realize that they've been deceived. So, make sure the subject line matches the email content.
Personalizing emails by adding the subject's name increased open rates by 2.6%. So, consider adding the recipient's or company's name to grab their attention.
If you've been referred by a mutual connection, you could also experiment with adding their name – it builds an instant connection.
Another tactic that works is complimenting the recipient on their work. It's another form of personalizing and shows that you've done your homework. You can keep yourself updated by following the prospect on social media or even set up Google Alerts for the company's name. Here's an example.
Don't hesitate to be creative. A fun subject line is more likely to stand out in a crowded inbox. It exudes personality and in many cases compels the recipient to open the email.
Here's an example of Food 52's creative cart abandonment email. Their subject line read 'Going fast: grab the treasures in your cart before they go poof.' It's to the point and manages to hook the reader.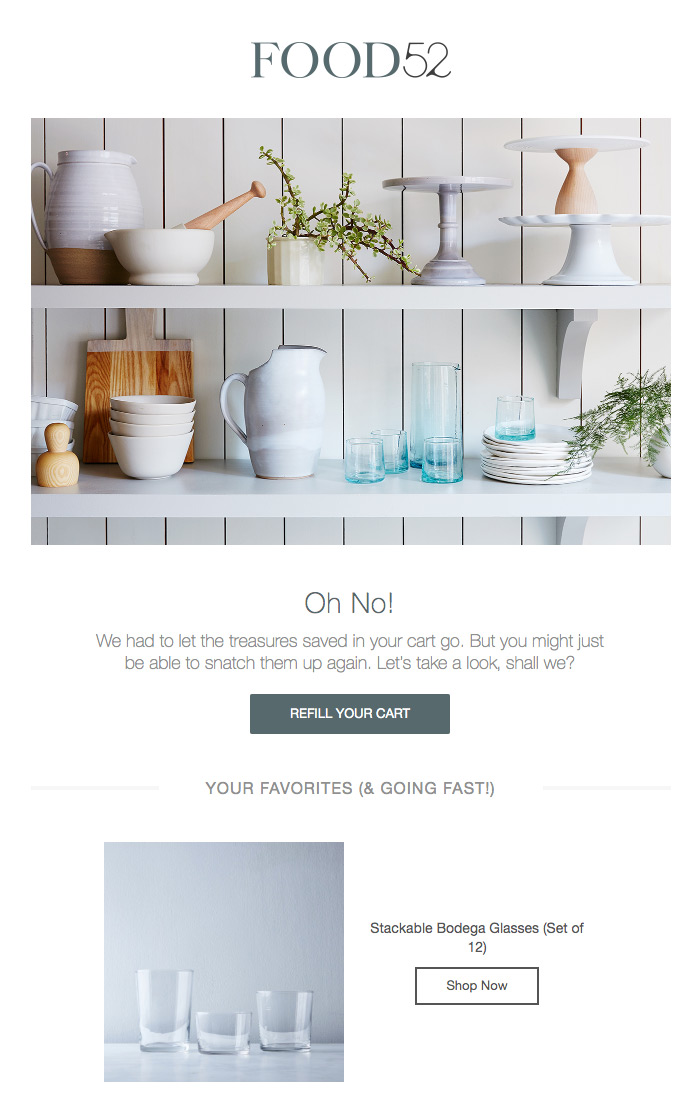 If you want to master the subtle art of writing irresistible subject lines to recover abandoned carts, take a look at our guide: How to Recover an Abandoned Cart: Best Subject Lines for Emails to Bring Customers Back to Your Store.
2. Keep It Short and Conversational
No one's got the time to read lengthy emails. It's best to get straight to the point and put across your message clearly.

Take a look at this example by one of Lead Genius' clients. This email saw a 28% increase in response rate.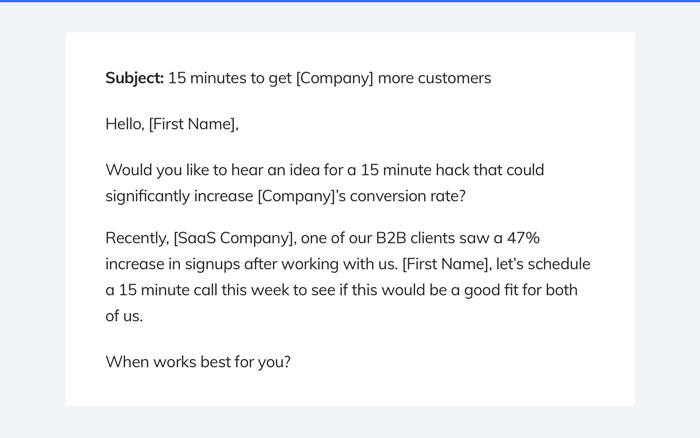 Here's why it worked so well:
it comes straight to the point
adds social proof
ends with a clear call-to-action.
No fluff.
Secondly, your emails need to seem like they're written by a human, for a human. Anything that's robotic and salesy is likely to get ignored. So, write the way you talk and keep it conversational. Add a human touch to it while keeping it in line with your brand's tone of voice.

In fact, a lot of brands are moving from beautiful email templates to plain text ones to make them seem more genuine and personal. While that's not a mandatory requirement, what's important is writing in a casual and conversational tone and keeping the jargon aside.

Here's a good example of a conversational email by Maple Motorcycle Jeans. Not only is their tone casual and colloquial but they've also opted for a plain text template, making it seem more personal.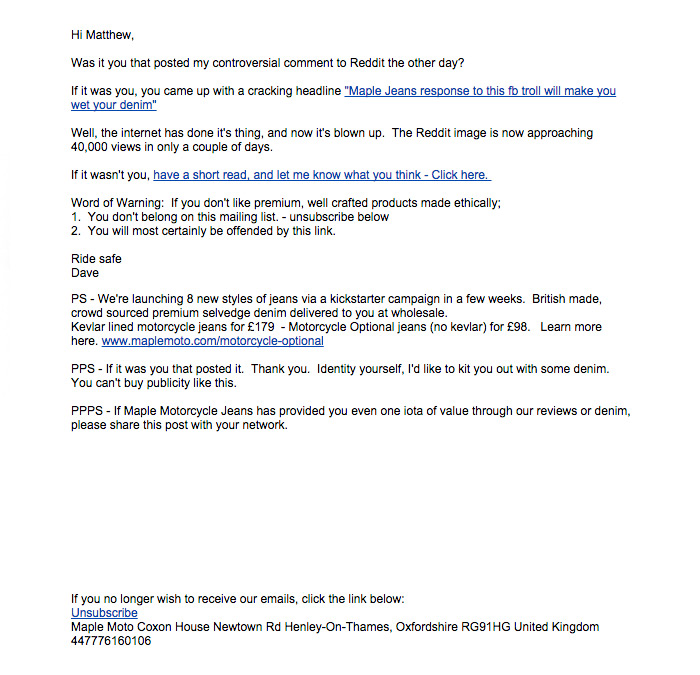 3. Offer Valuable Content
Nothing wastes your opportunity for bringing your customers more than sending a follow-up email just to "check-in" or "touch base". These run-of-the-mill follow-up emails mean nothing because they offer nothing new to the recipient.
On the contrary, they waste the time of the recipients and make you seem annoying.
In order to use follow-up emails to induce action, you need to make them meaningful and convince the recipient to go in that direction.
Now, how do you do that?
One way that works well is to offer valuable content – something that educates them, inspires them to take action, or helps them instill trust in your products or services.
Here's how you can add value to your follow-up emails.
Offer additional content that educates them and highlights your work. It can be a relevant blog post, case study, video, whitepaper, eBook, webinar recording or a podcast episode. This helps establish credibility and projects you as an expert in the industry/niche.
Take a look at this example that smartly seeds in a link to a relevant blog post. This email got the recipient a 25% increase in replies.

Another approach that works is offering them a discount coupon or a free trial, demo or sample because hey, who doesn't love a freebie?
Here's an example of an email sent by Survey Anyplace, encouraging users to leave a review. They offer an Amazon coupon as an incentive and that's worked very well for them.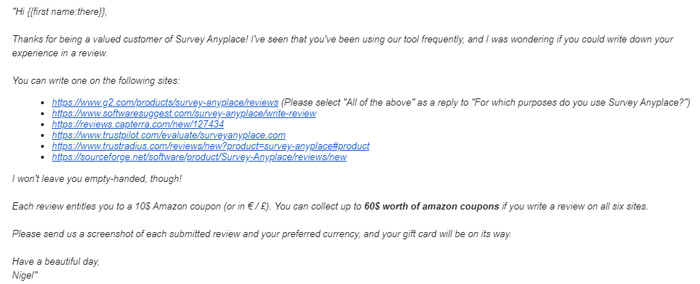 4. Insert a Specific Call to Action
Follow-up emails need to be sent with a specific purpose in mind which needs to be aligned with the call to action (CTA) button you insert.
Here's an example of a clear CTA button used by Tidio to get more subscribers after the end of the trial: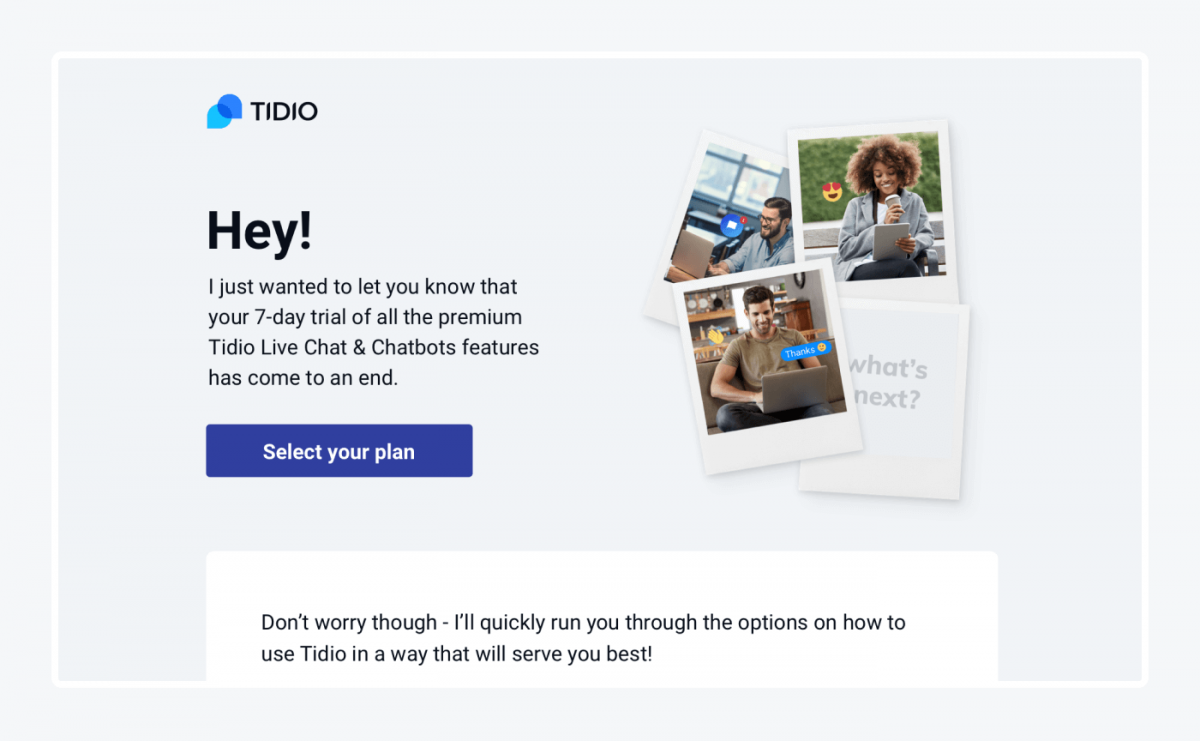 It's not enough to write "any updates?" or "we look forward to hearing from you". Instead, insert an actionable CTA button that's prominent, induces action, and attracts clicks.
You need to clearly define what you want the recipient to do after reading your email. For instance, if you are following up on a Skype call or meeting – be sure to insert the specific time and date along with a link to schedule.
It's always advisable to insert the call-to-action at the end of the email so you leave the reader with exactly what's expected of them.

The key to getting prospects to respond is to make it as easy for them as possible. For instance, if you're trying to set up a meeting, you can insert a link to your calendar so all they have to do is select the slot that works best for them.

You can send an open-ended question such as "What is the biggest challenge you're facing right now?" while teaming it up with some context that establishes you as the expert.
Alternatively, you can also send a close-ended question like "Is [XYZ] a pain point for [name of prospect's company]?".
5. Leverage Social Proof
Social proof is a powerful influencing tool. They're a great way to establish your credibility and build trust. So, why not leverage social proof in your follow up emails to make them stand out?
Sometimes customers or prospects need a little push and presenting them with relevant and appropriate social proof (for example, product reviews that customers leave on your website or video testimonials that you can record), could just be the perfect way to fuel their decisions in the right direction. 
The different types of social proof you can use are: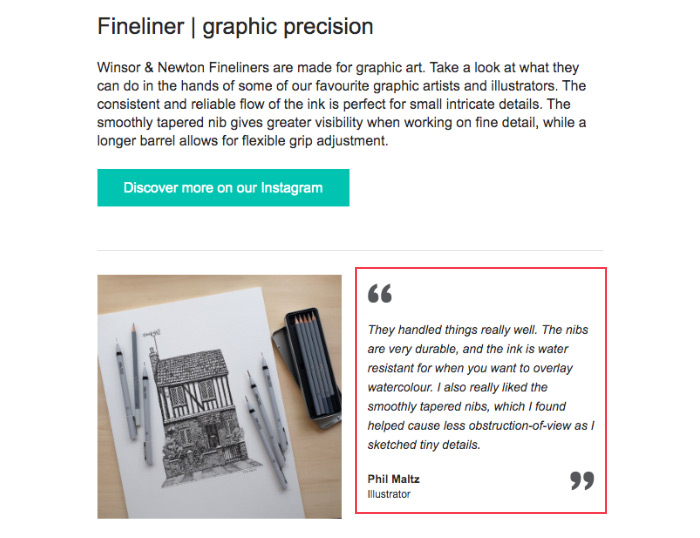 Product reviews and ratings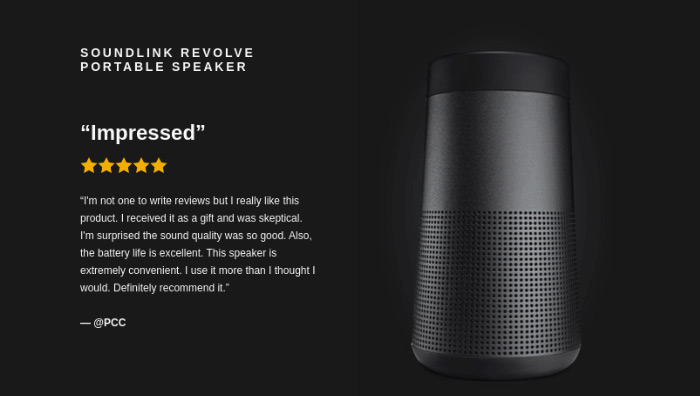 Promotions of your bestsellers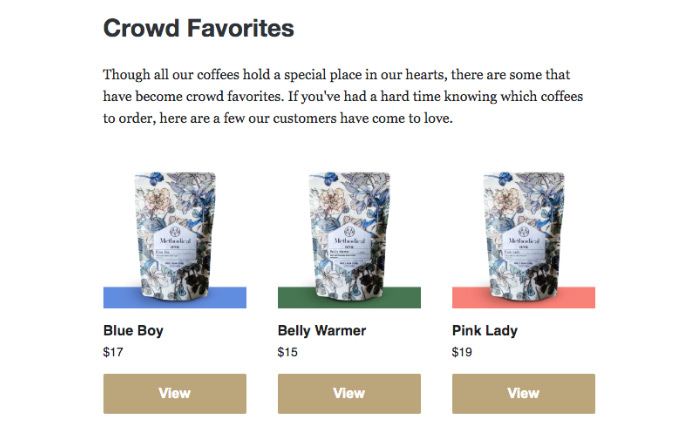 Milestones that demonstrate popularity: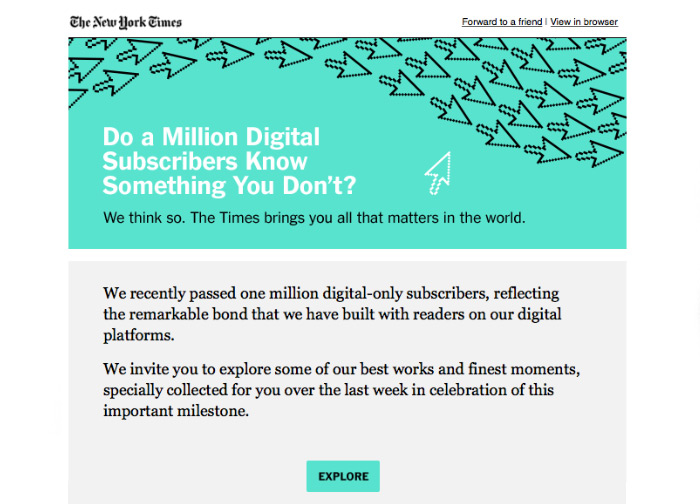 6. Automate the Follow-Up Process
As your brand grows, you'll agree that after a point of time it will get almost impossible to follow up with every lead or customer who doesn't respond to your email. This results in inconsistent follow-ups and missed opportunities.
The smart way to overcome this hurdle is to use email automation so you can invest your energy in doing strategic work instead. All you're required to do is set up triggers and emails. When a trigger is met, the particular email gets sent out.
Let's say a prospect fills a lead form for a free trial, indicating a clear interest in your product. Instead of waiting for them to take the next step, you can have a series of automated emails. You can send them to instantly take your customers further down the sales funnel.
You can send them a whitepaper or case study to demonstrate your expertise in the industry. If they haven't taken any action despite that, you can send them a follow-up email asking if they would like to speak to a sales professional.
Rhinov, an interior design brand, automated their follow-up texts and emails. Not only did they save plenty of time but this also led to a 26% increase in traffic and a 32% increase in conversion rates.
Automating the follow-up process lets you deliver the right email to the right person at the right time, nurture customers through the sales cycle and strengthen your relationship with them.
7. Know When to Walk Away
So you've sent four follow-up emails and have still not heard from the prospect.
While there is no recipe for success here, after your fourth or fifth attempt, you can consider calling it quits. By now, it's most likely certain that they aren't interested in your product or service, and it's best to walk away.
Your final follow-up email needs to be about letting them know that you've tried to follow up with them multiple times and as you haven't heard back, you're assuming it's not the right time.
Here are some tips to craft the final follow-up email.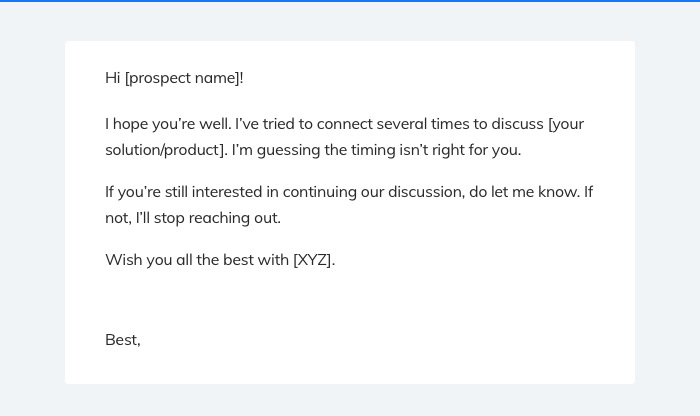 Make sure you're polite and leave a positive impression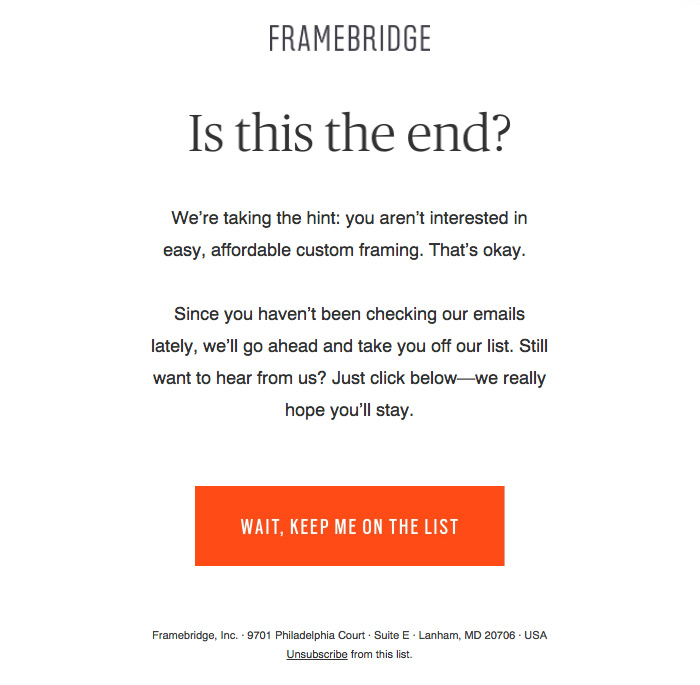 Reinstate the fact that you're available if they need you, in future
Add value by sharing a useful resource (that might just get them to respond)
Follow-Up Email: Summary
Following up is an art that is perfected by trial and error. Writing emails after emails (in spite of not getting a response) might not be the most pleasant experience but that does not make this practice any less important.
After all, follow-up emails are all about timing and catching the prospect or customer at the right time with the right message.
So, consider these seven follow up techniques to craft creative and meaningful follow-up emails that reiterate your message, stand out and help you win customers.