There's one thing in particular that all eCommerce entrepreneurs dread to even think about: Customers walking away from their online stores without completing the transaction.
And it's not just a bedtime nightmare, it's reality.
Almost three-quarters of all shopping carts are abandoned, leaving a staggering $4.6 trillion dollars on the table every year.
There's no way to prevent this, but one thing's for sure: you shouldn't just watch customers leaving your store without a "fight."
You need to remind them about what they're missing with a solid abandoned cart email campaign.
After all, automated abandoned cart emails generate $5.81 in revenues per recipient, says eCommerce Industry Benchmark Report. This KPI depends on the size of orders and the number of recipients and is certainly worth fighting for.
The first step to building such a campaign is to write attention-grabbing subject lines.
With 47% of email subscribers reading emails based solely on the subject lines, yours should be good enough to make customers go back and finish the purchase.
If they're not then well… you are just wasting your time and money.
Let's not let that happen, shall we?
By the time you're done reading, you'll be able to write killer abandoned cart subject lines to win your customers back and make more sales than you ever expected.
Sounds good? Keep reading to learn more about:
First things first, let's make sure that you know your enemy well enough.
What is Shopping Cart Abandonment?
Shopping cart abandonment happens when a customer adds a product to the shopping cart but eventually leaves without completing the purchase.
Your fellow entrepreneurs in all industries are struggling with this problem on a regular basis. As mentioned in the intro, the average shopping cart abandonment rate across different industries is almost 70%.
Do you know how many customers your store is losing? Take a minute and calculate your own rate with this easy shopping cart abandonment rate formula.
Needless to say, that's why shopping cart recovery email campaigns exist. But why exactly do online shoppers leave the products wanted to buy so much?
What Are the Top Reasons Why Customers Abandon Shopping Carts?
Fortunately for us, the most common reasons why people leave online stores mid-purchase are well-known.
Here they are, as described by Baymard.
So, customers tend to leave most often when:
they discover unexpected costs on the checkout page.
They don't want to create an account on the website.
They think that the checkout process is too long or complicated (find out how long is too long in the next section).
They perceive a website to be untrustworthy.
They can't calculate the cost of the order upfront.
By knowing the reasons why customers leave your store, you can make appropriate changes and prevent them from leaving. 
Read more: Check out essential shopping cart abandonment stats to learn more about the reason behind abandoned carts.
Why is it Important to Reduce the Shopping Cart Abandonment Rate?
Knowing why customers leave your site can help you understand exactly where they stop along the eCommerce checkout process.
If you know this, it becomes much easier to troubleshoot the issues and improve the process.
Here are some changes that eCommerce businesses make based on the research of their customers' shopping patterns.
Improve customer experience
As we know already, many walk away mid-purchase because of complicated navigation or checkout process.
According to Baymard's checkout usability testing study:
The ideal checkout should contain no more than 14 form elements, including 7-8 forms.
The average checkout in U.S.-based eCommerce stores has 23.4 form elements.
Shipping policies and fees
Checking for costs that customers aren't aware of right away could help to make the buying process clearer.
The Vault Pro Scooters shop, for example, lists all fees and costs before the customers reach the shopping cart in the "Order Summary" section.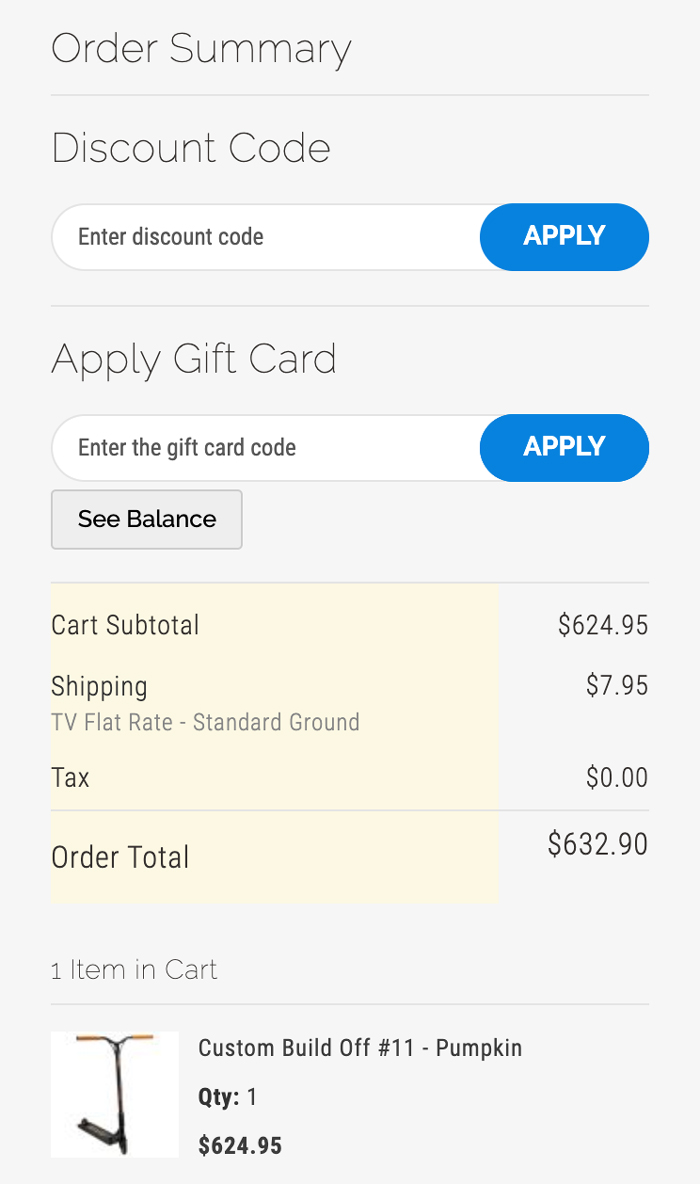 By taking a quick look at this info, the customer knows what goes into the total order cost, so they won't encounter any unexpected surprises on the checkout page.
Website performance improvements
About 15% of customers say they weren't able to complete the purchase because the website crashed or had errors. Testing the performance of your online store can help you find if this is the problem.
Mobile-friendliness of the website is also an important thing to keep in mind (by the way, shopping cart abandonment on mobile is much higher than on desktop: 85.6%)
Use Google's free PageSpeed Insights to test the speed, responsiveness, and other performance indicators of your website.
Another change that businesses make to bring down the shopping cart abandonment rate is installing eCommerce chatbots. For example, they install a chatbot on the checkout page to give answers (costs, shipping dates, etc.) and reduce customer hesitation.
By combining email marketing and chatbots to improve customer experience on your eCommerce websites, you'll have a better chance to increase sales.
Okay, let's now see why email campaigns are your best weapon against abandoned carts.
Why are Abandoned Cart Subject Lines so Important in Convincing Customers to Complete Purchases?
Reason 1: Abandoned cart emails act while the memory is still fresh
They are sent to a customer within an hour after they leave the checkout page.
This is the best time to send abandoned cart emails for the first time.
Yes, within one hour. Most website leads go cold in just 90 minutes, so you need to act fast. That's why 46% of companies follow up with leads within 24 hours.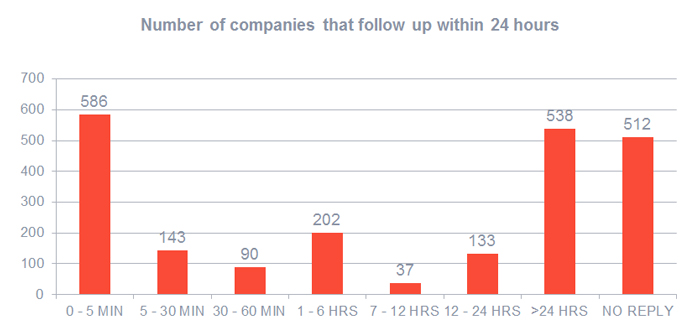 Reason 2: Subject lines are critical for making cart recovery email campaigns work
Think about it: a subject line is the first thing your customer sees, so it might be your only chance to attract their attention in an overfilled inbox.
As mentioned, as many as 47% of them judge the quality of the email by solely taking a quick glance at the subject line. The conclusion is obvious: to stand a chance to reach your customers, you must learn how to craft killer subject lines.
Lucky for you, that's what we are about to teach you.
Ready? Let's start with…
Best Abandoned Cart Email Subject Lines Examples to Increase Your Sales
Here are the common categories of abandoned cart email subject lines that you can experiment with when creating your email campaigns:
Funny
Informative/Brand related
FOMO-based (Fear of Missing Out)
Incentivized
Personalized
Follow-ups.
Let's now take a closer look at each one.
Funny Abandoned Cart Email Subject Lines
Many companies are trying to come across as funny and approachable in their marketing, and for a good reason: it works. If you use humor appropriately, you can:
That's why there are a lot of funny email subject lines in shopping cart abandonment campaigns that you can get inspired by.
Let's see some of the best ones.
Funny Subject Line Example: I did some investigating (Chubbies)
Starting with our favorite one – Chubbies, a men's short shorts seller, is known for humorous advertising, and this is the approach they take for writing abandoned cart subject lines.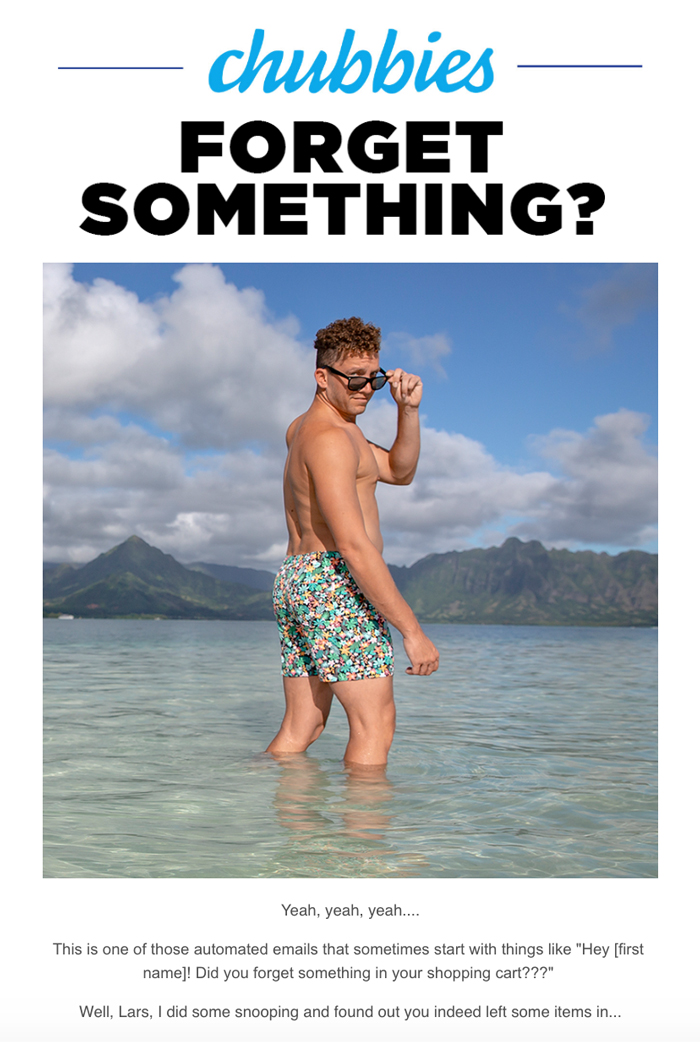 Even though a subject line like this doesn't mention the shopping cart or product, it engages customers by injecting some humor and a friendly brand personality to attract attention.
The sender address "detective@chubbies.com" makes it even more awesome.
The use of humorous language resonates with the fun-loving and positive approach that Chubbies takes to connect with their subscribers.
Not only does this work to grab attention, but it also keeps the brand communication and experience consistent across different touchpoints.
Funny Subject Line Example: ♫ Owner of a Lonely Cart ♫ (Timberland)
This example of an abandoned cart email subject uses funny and playful copy, which is a good idea to capture the attention of customers.
But look at those music notes!
The use of signs and emojis might be a great move to spice up a subject line and make it stand out in a crowded inbox. It's a fairly recent thing so many customers approve of them.
Also, they're great for saving space, which is important to make subject lines look good on small smartphone screens.
More ideas for funny subject lines:
Your cart has a hard time letting go (Shop Runner).
Going fast: grab the treasures in your cart before they go poof (Food52).
Your cart is sobering up (Whisky Loot).
Your Pretty Purple Boxes Are Waiting! (Stuart Weitzman).
You forced your cart to send this reminder.
Your Cart just Got Lighter! (ESQUIDO).
Your cart misses you like crazy 😭
Funny Abandoned Cart Email Subject Lines: A Word of Advice
Use humor in your shopping cart recovery emails with caution. The wrong joke at the wrong time can do more harm than good.
To avoid that, don't use humor just for the sake of it. If it's consistent with your brand image, do it. But try to brainstorm before sending something that could be perceived in a way you didn't intend.
FOMO Abandoned Cart Email Subject Lines
FOMO, or the Fear of Missing Out, is a common technique that appeals to the human need to not miss out on good deals.
Use it to motivate your customers to open your emails and see what they could be missing.
Here are examples from a few companies.
FOMO Subject Line Example: Your Man Crates Cart is Expiring – Save 10% Before it Does! (Man Crates)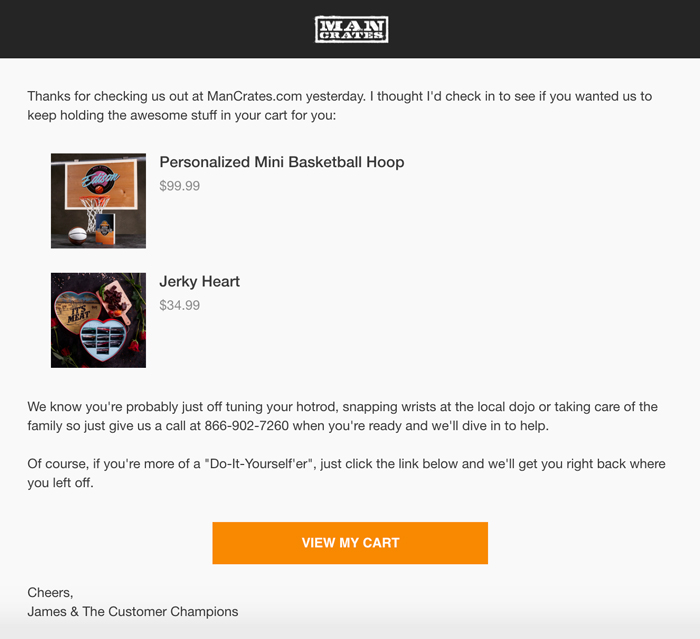 This time, the seller is ready to incentivize the customer by giving them a 10% discount. However, to get it, they need to act quickly.
By doing so, Man Crates uses FOMO as a motivational tool to convince the customer to complete the purchase.
The offer is perfect: just enough to make a customer interested and a bit uncomfortable about missing out the deal, but not too "threatening" or aggressive.
FOMO Subject Line Example: It's Still In Stock – But Not For Long" (American Giant)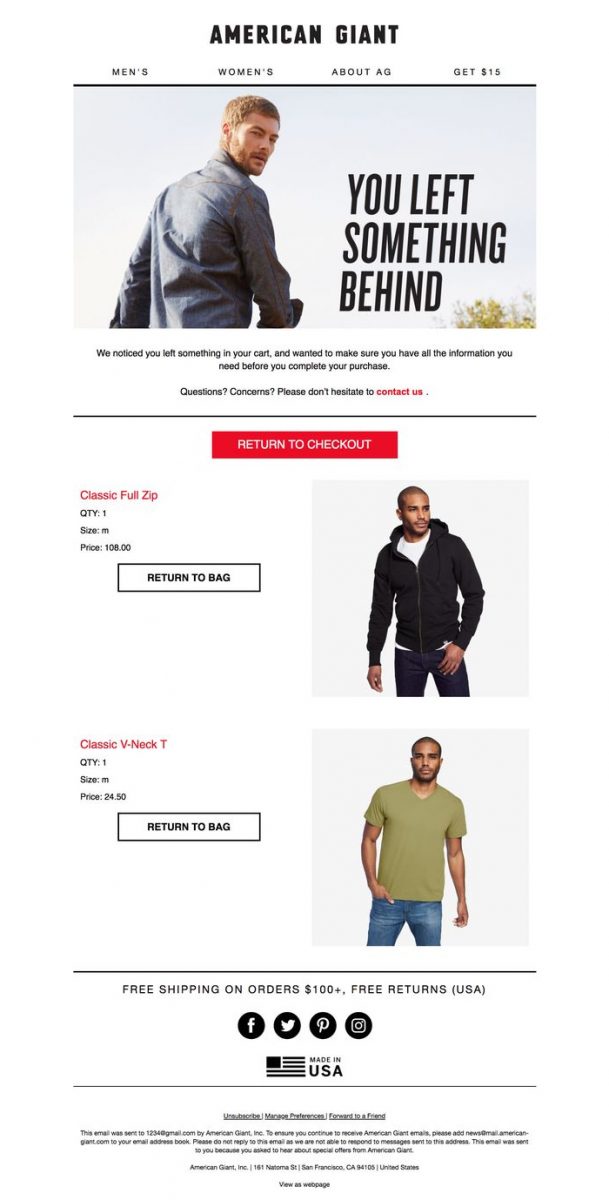 American Giant, a sportswear manufacturer, uses another straightforward FOMO-inducing abandoned cart email subject line.
It informs the customer that they forgot something and also tries to induce a sense of urgency by reminding them that the product won't be held in the cart much longer.
There are good reasons why this subject line is good:
It's short and sweet (less than 40 characters).
This makes it easy to read and view even on small smartphone screens (40 characters is a recommended length).
Not only does it give you a chance to get your message across faster, but it also makes it easier for mobile email users to read it (this is an absolute must, as almost 42% of emails are now opened on mobile devices).
To optimize your own email campaigns for most smartphone screens, keep the length between 30 and 40 characters.
Another good thing about "It's Still In Stock – But Not For Long" is that it generates curiosity.
It mentions neither the actual product nor the deadline, so it can spark some interest to open the email and check what's in there and how long the cart will be available.
Also, this subject line introduces a mild sense of urgency without being too pushy.
This abandoned checkout email subject line implies that the shopping cart will be emptied soon, so it's advising the customer to act soon.
At the same time, there are no pushy and boring phrases like "Return Now" or "Buy Now."
More ideas for FOMO subject lines:
Your cart is about to expire.
Your shopping cart is still waiting for you at [Business name].
The cart is expired (Products might still be available).
Get [Product name] while it's still available.
Get your [Product name] before it sells out.
Choose or lose! Your cart expires soon.
Cart expiring in 10…9…8…
We might be unable to hold on to your cart, final call!
Say goodbye to [Product name].
[Days] left: save your shopping cart now.
Don't let free shipping go to waste (Rudy's).
Informative/Brand-Related Abandoned Cart Email Subject Lines
Sometimes, the best way to remind customers about the products they left in a cart is a straightforward notification.
It can be as simple as a message that mentions the product or the brand to help the customer remember why they wanted to buy.
Informative Subject Line Example: You left a Steel HR Rose Gold in your cart (Nokia)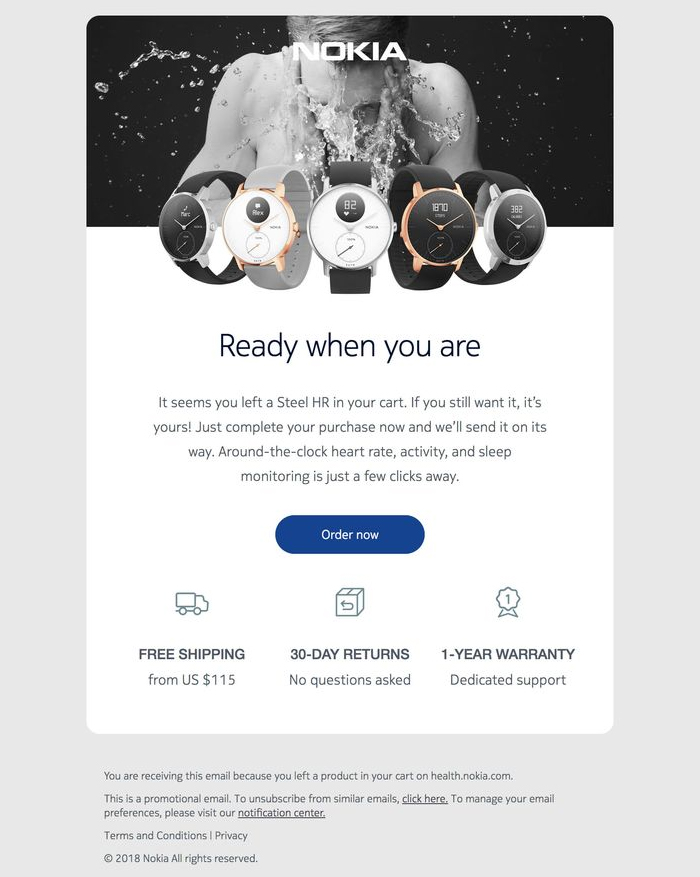 Okay, so why is this shopping cart recovery email subject line good?
It mentions the product to let the customer know exactly what they forgot. This is a good move because the customer who added the product to the shopping cart should remember its name.
There are more excellent reasons to mention a product in an abandoned cart email subject line:
Good old forgetfulness. This is something that most of us can relate to, so chances are that at least some of your customers may have forgotten about the products they wanted.
Multi-brand stores. If your store sells items from various manufacturers, it might be important for the customer to know the name of the product to decide whether they will resume their shopping or not.
You're respecting your customers' time. By including the name of the product in the subject line, you're getting straight to the point without wasting their time.
To summarize, by including the name of the product in the subject line, you can help the customers to recall what they were trying to buy.
Brand-related Subject Line Example: Still want us to hold your Man Crates order? (Man Crates)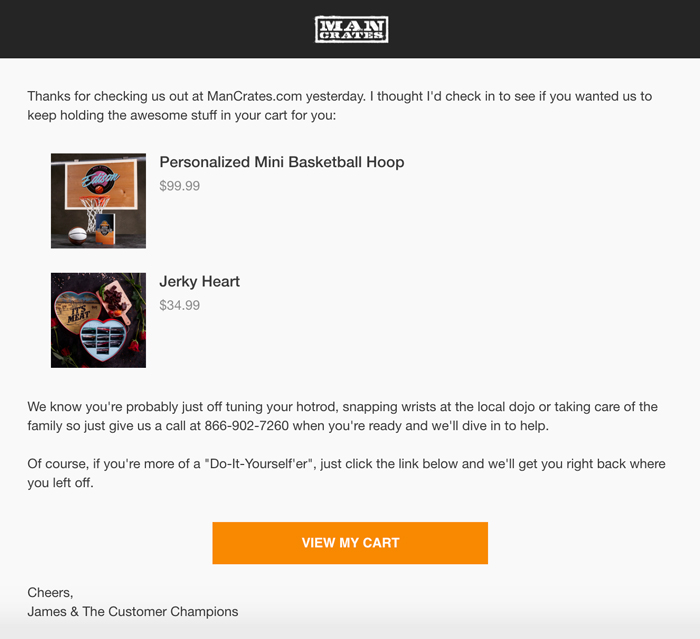 Man Crates uses an abandoned cart email template with a question.
By asking a question, you might push customers to think about the answer. That's how our brain works: when it hears a question, it immediately starts thinking about how to answer it.
If you include a question in abandoned cart subject lines, you can achieve the same effect. If the recipients would be unsure about the answer, opening the email would be an easy way to find it.
Besides, the question includes the name of the brand, too, which reminds them where they tried to shop earlier.
Another good thing about this subject line is that it doesn't make the email look too desperate or salesy.
Ideas for informative and brand-related subject lines:
Complete your purchase from Sneaker Standard (Sneaker Standard).
We saved your shopping cart for you.
Your [Product] is waiting for you at [Brand name].
You left some stuff in your [Brand name] shopping cart.
[Product] is still in your cart.
Do you still want to buy [Product]?
Your item's status (Framebridge).
Incentivized Abandoned Cart Email Subject Lines
As we know now, 53% of eCommerce customers leave products in shopping carts because they encounter some unexpected costs (shipping, fees, taxes, etc.).
However, only 44% of eCommerce businesses include offers in subject lines.
An offer like a discount or free shipping could provide that additional motivation needed for the customer to buy.
That's why you should definitely try mentioning incentives in your abandoned cart subject lines.
Here's how others are doing it.
Incentivized Subject Line Example: Hey, forget something? Here's 20% off (Bonobos)
Nice deal here. The subject line promises 20% off their order right away.
This is the most important thing to remember when writing incentivized subject lines: make your proposition clear.
This is done by getting straight to the point and mentioning the incentive right away.
Feel free to experiment with different discount percentages, free shipping, and other incentives to see what suits your customers the most.
Incentivized Subject Line Example: Free Shipping On Your Huckberry Order (Huckberry)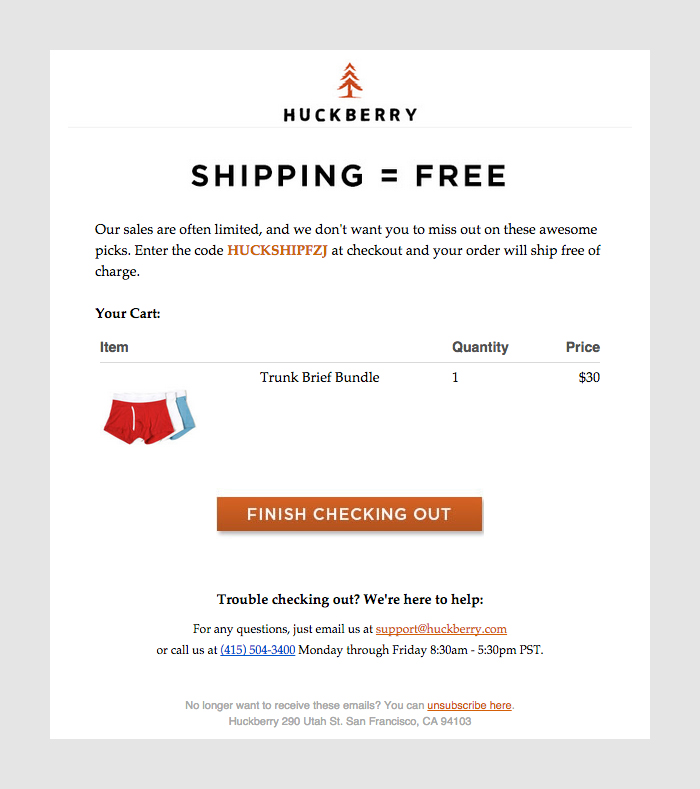 Huckberry is trying to make the customer return by offering free shipping. It's not a universal formula for attracting clicks and opens, but it's still a pretty good deal for many shoppers.
In fact, 91% of consumers say that free shipping is something that can make them a repeat customer. They even considered it to be more important than free returns and giveaways.
If you're wondering about which incentives to try for your business, here's what's out there right now.
Okay, if you have an idea for an incentive, here are more ideas.
Examples of subject lines for your abandoned cart emails:
X% off something in your basket.
Come back and save big. Discount inside!
X% off my shopping cart? Yes, please!
[Name], free shipping for your cart items!
Cold feet? Here's something extra for your cart items (this could be a discount or free shipping).
Hey [Name], come back and get a discount.
Complete the purchase and get X% off.
Take X% off your cart before it's gone.
Personalized Abandoned Cart Email Subject Lines
Try personalization to increase the open rate of automated cart recovery email campaigns. It's an essential marketing technique you can use to write more attractive subject lines.
Emails with personalized subject lines, for example, are 26% more likely to be opened, as many people expect brands to address them by name.
Here's how others apply this method.
Personalized Subject Line Example: Davis, the journey to London Kings Cross won't be the same without you (London North Eastern Railway, "LNER")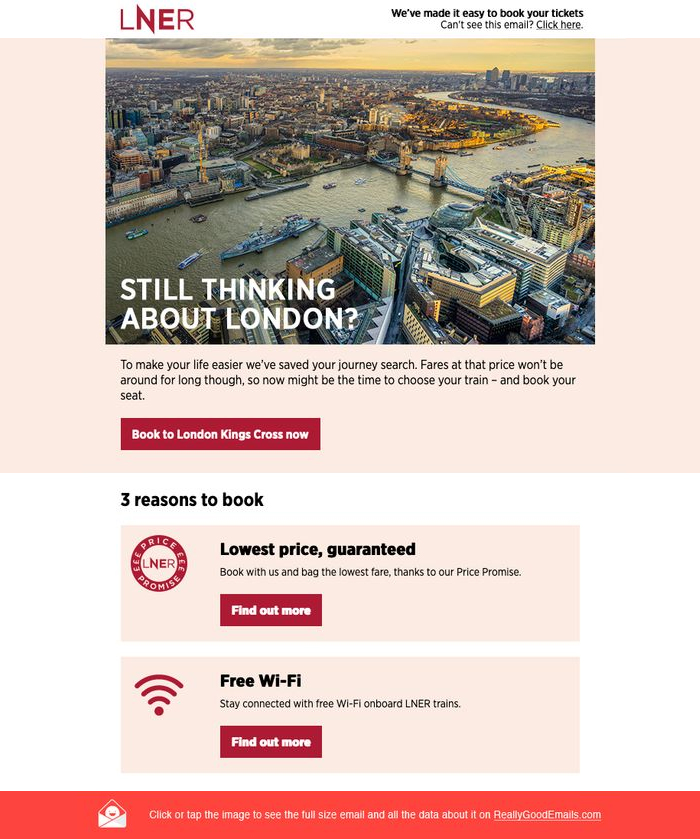 If a customer researches a destination, adds a product to a cart and walks away, LNER's website sends them a reminder with both the name of the customer and the destination.
In this case, the customer intended to buy a ticket to London but left the website.
To convince them to return and complete the purchase, LNER uses an excellent subject line mentioning Kings Cross, a local rail hub.
The email addresses the customer by his name and does so in an easy-to-read and friendly way.
Here are more ways to personalize abandoned cart email subject lines.
Personalized Subject Line Example: "Ummm Samantha… we gotta talk."
Things are getting a bit more personal with this subject line. It's basically a call for the customer to not give up on their dream to lose some weight and be healthier.
Even though personalization is limited to the customer's name, the subject line draws attention by generating some curiosity.
This email shows how well the brand knows the customer's intent – be healthier – and how to appeal in a way that engages on a personal level.
The email copy, too, sounds like a mini motivational speech by a personal fitness trainer and is pretty awesome to read.
More ideas to personalize subject lines:
[Name], your cart needs you badly.
Does this cart belong to you, [Name]?
[Name], don't get [Product] get away from you.
[Name], we heard you were interested in [Product name].
[Name], should we hold [Product name] for you?
Hey, [Name], where did you go?
You've come so far, [Name], don't give up!
Bonus: How to Write Follow-Up Abandoned Cart Email Subject Lines
The follow-ups include the second abandoned cart email and all subsequent ones sent with the purpose of convincing customers to complete the purchase.
A typical cart recovery campaign includes a few emails but can consist of as many as seven messages.
Why You Need Follow-up Abandoned Cart Emails
To reduce the shopping cart abandonment rate in your store, one email might not be enough. According to the Ecommerce Industry Benchmark Report, limiting your recovery effort to one email means leaving money on the table.
Here are the average abandoned cart open rates, along with the average revenue per recipient (RPR), as described by the report:
first email: 62.94%
second email: 48.65%
third email: 46.11%
Even though these figures don't seem very impressive, keep in mind that the returns for your store depend on the actual number of abandoned carts as well as the order values.
And here's the data for RPR, as generated by a 7-email shopping cart recovery campaign.
That's why a typical shopping cart recovery sequence includes not one, but three emails:
The first, sent within an hour after the customer abandoned the cart.
The second, sent in a couple of days after the first.
The third, sent two or three days after the second.
Now, let's see how to write great subject lines for these emails.
How to Write a Killer Follow-Up Abandoned Subject Line
Let's jump right into it:
Don't be annoying. Sending multiple emails might be a bit annoying for customers. To avoid that, try keeping the subject lines focused on the benefits for them
Get straight to the point. If the customer hasn't returned the first time, don't beat around the bush and give them your best offer right away
Make it clear that it's not the first email you've sent them. Indicate that the customer has been away for a while and you've been trying to reach out to them.
Here are some examples of follow-up email subject lines for you:
Your shopping cart is still full.
Are you still interested in buying [Product]?
Do you still want to buy [Product]?
This is the final reminder about [Product name].
[Product] is still waiting in your cart at [Brand].
Would X% off your cart seal the deal?
Clock's ticking…. Say the last goodbye to [Product].
Still thinking it over? Maybe this discount will help you…
Take 20% off your cart before it's gone forever.
Now that we're almost done, there's one last consideration to share with you: email subject line capitalization.
Capitalize the first letter and proper nouns only, to avoid making the impression that you're screaming at your customers.
You can also try a more casual approach and write everything in lower case, in the same way in which a good friend would reach out.
That's it. Time to try writing some subject lines now…
Read more: Discover the best practices and apps to reduce abandoned cart numbers on Shopify.
Almost There…
We hope that the examples you've just read gave you nice ideas on how to write subject lines for your email campaigns.
Remember: a shopping cart recovery email subject line is critical for bringing customers back to you.
If it fails to attract attention and motivate customers to open the email, it doesn't matter how fantastic the content inside is. The email becomes just one of the many unread messages in a customer's inbox.
The good thing is that you have a lot of options to make abandoned cart email subject lines as attractive and engaging as they can be.
Hopefully, this article made these options clear.