A shopping cart is slowly filling up, but the purchased items aren't going anywhere. They're left where they have been put, left alone, or – shall we say – abandoned.
The average online cart abandonment rate is as high as 79.17% and the primary reasons for customers to leave their baskets behind were expensive and unexpected shipping costs.
But, believe it or not, the cart abandonment problem can be combated once and for good.
Table of contents
Provide 24/7 customer service even when you sleep.
Create unlimited chatbots for your website without coding to engage more visitors.
Learn About Chatbots
What is Cart Abandonment
In the online business sphere, shopping cart abandonment describes the situation when after adding numerous items into the basket, customers leave the store's website without finalizing the deal (paying for the product).
Shopping Cart Abandonment Rate Formula
To measure the percentage of consumers leaving the store empty-handed, you need to divide the total number of completed transactions by the total number of shopping carts, and then multiply the result by 100%.

How to Calculate Cart Abandonment Rate Example:
For instance. Let's assume that in the last month a store finalized 50 transactions and products were added to 200 shopping carts. What you need to do now is to, first, subtract 50/200 from 1 and then multiply the result (in this case it's 0,75) by 100%. A cart abandonment rate in this particular case is 75%.
The higher the cart abandonment rate, the greater the financial loss for the company. Unless… you try to stop customers from leaving with push notifications, emails, chatbot messages or ads.
The range of possibilities is wide.
#1. Push Notifications – Bring Back Attention to The Products
The first solution to the abandoned cart problem are push notifications – messages that pop up in visitor's browser to bring back their attention to the products they were interested in just a few moments ago.
But don't worry, push notifications are nothing like the intrusive pop-up adverts – they don't drive traffic away from your website. In fact, the average open rate of a push notification is as high as 7.8% and 70% of consumers experienced their value firsthand.
The web push notifications will appear on users' desktop screens only after they allowed the opt-in prompt (forms asking for permission to send notification messages from a website).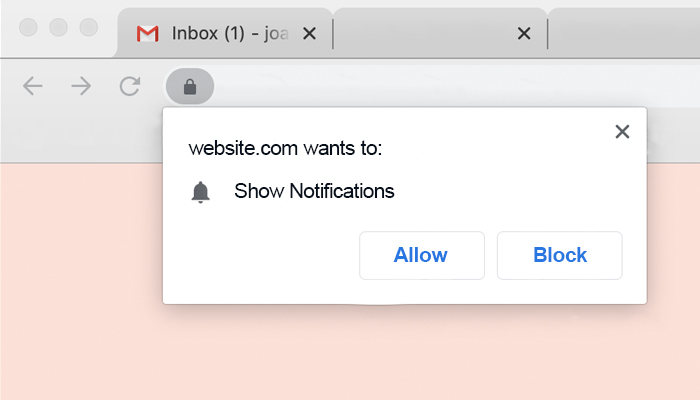 From then on, the alerts will be sent to customers' devices (mobiles, computers, tablets) and appear on the screens with browsers actively running.
How Do You Write A Good Push Notification
To craft a convincing and clickable web push notification, there are some things to consider – the time-delay, design, and content.
1. Create a Click-Worthy Copy
When it comes to design, push messages consist of: the title, the message, website's URL, an icon (company's logo) and an image of the abandoned product.
Textual tidbits created for the above-mentioned elements is what we call microcopy – a piece of optimized content created by UX writers to bring about a desired outcome, like e.g. clicking the CTA button.
Here is an example of how a push notification message should look like.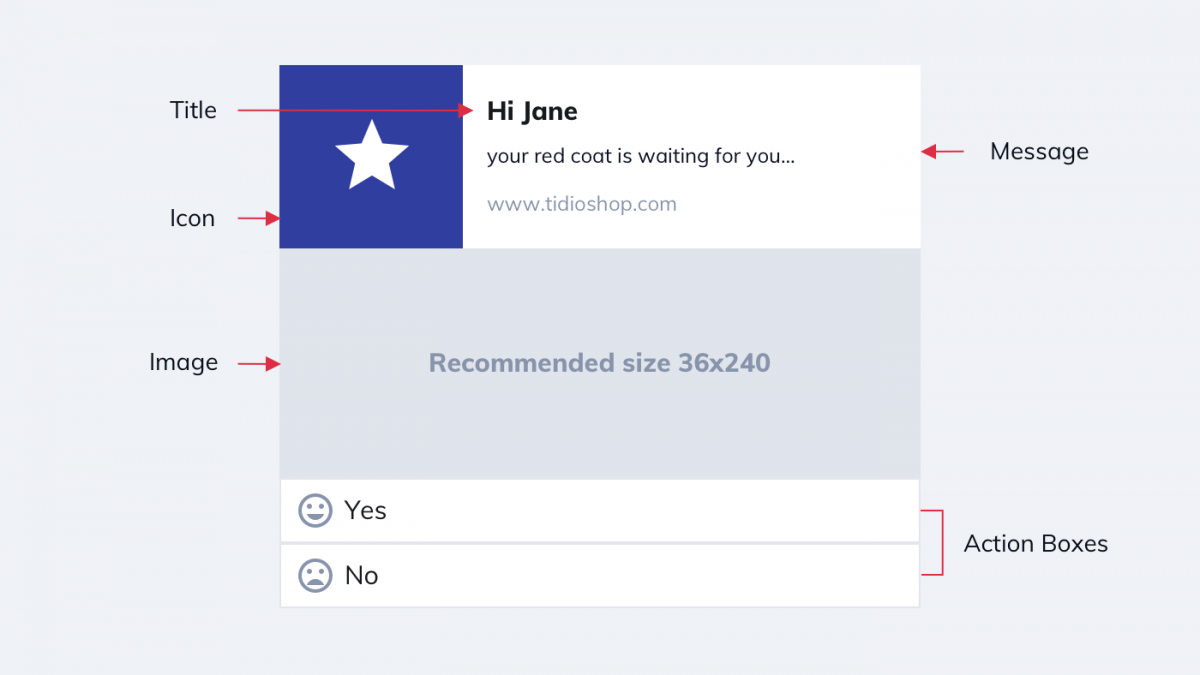 The title is much like email's subject – it must be short, catchy and to the point. Not only are these messages supposed to grab customers' attention but also wallets. Let them be intriguing and not too revealing:
Forgetting something?
Still interested?
You've left something in your basket
Complete your order
In the main body, you want to convince customers that the longer they wait, the lower the chances of the product being still available. If you decide to include an image of abandoned items (that is possible with dynamic notifications), it will encourage customers to make on-the-spot decision whether they want to proceed with the transaction or not.
In the icon field, you can incorporate the company's logo to signal who the message is from.
Naturally, you cannot forget about the CTA button. Showing a message to the customer is one, but if they choose to ignore it, there is little you can do about it. Short incentive phrases like "buy now," "don't wait any longer," "order now", as cliche as they may sound, do impact customers' behavior.
2. Set the Time Delay
Once the notification message has been prepared and is ready to be sent, it's time to consider when and for how long this notification should be displayed on customers' desktops. One thing is sure – sending alerts about cart abandonment immediately after customers leave the website is not the path you want to follow.
One of the main reasons why customers leave the e-stores, is because they're looking for better offers. When you start spamming them with alerts too soon, they're more likely to turn their back on your offer and your business as well.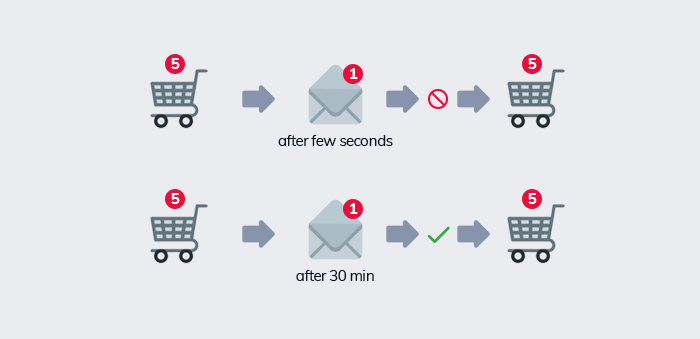 On the other hand, sending push notifications too late rises the probability of customers purchasing items they wanted from the competition.
And now what?
You need to find the balance. Typically, the messages should be sent 30 minutes after one has left the page. If, however, the customer is still not tempted by the offer, you can set a campaign and target them with a sequence of reminding messages in the following days.
#2. Retargeting Ads – Keep Reminding About The Brand
Retargeting ads are advertisements displayed on the web or social media platforms to keep reminding customers about the brand even after they left the page and didn't purchase anything. In this way, a visitor is less likely to forget about the store's offer and more likely to visit it once again.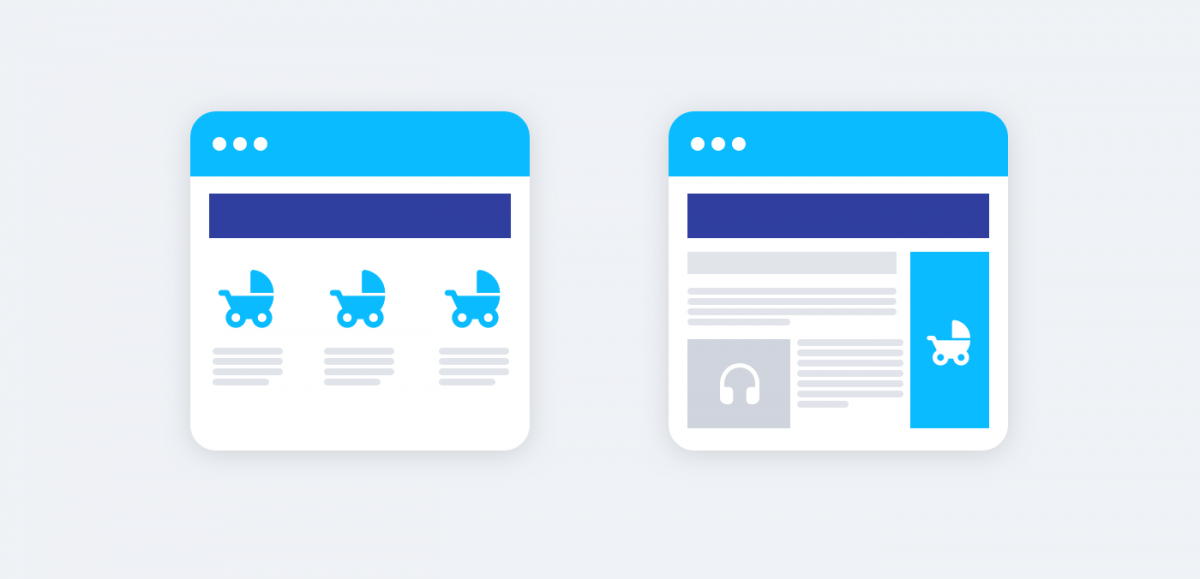 Targeting web users with customized banners, an action that is possible through website's cookies that track every user's online activity, is one of the most effective methods to encourage a shop revisit. In fact, 30% of consumers return to the before-visited websites after seeing the ads in the browser.
How to Create Retargeting Ads for Cart Abandonment
Complicated though it may look, setting up retargeting ads as a car abandonment strategy is easier than you think.
1. Write an Enticing Copy
Customers are constantly surrounded by adverts, whether these are huge street billboard posters or smaller online banners, they follow us everywhere. With the high number of products being advertised and delivered to us daily, you need to make sure that your ad won't be like the rest of them.
So, what contributes to a good advert?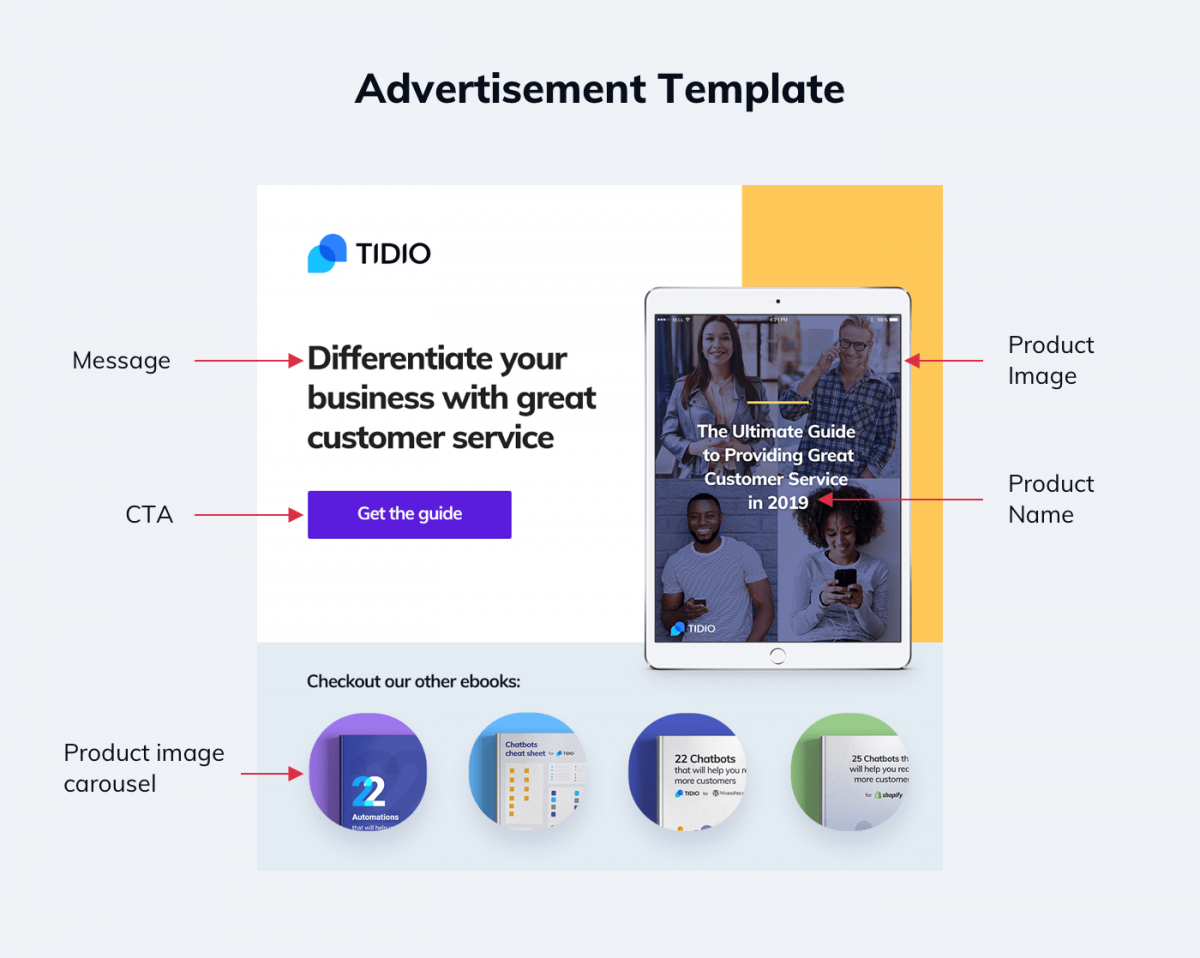 Based on products left in the cart, dynamic adverts can target users with custom images (product image) of the items abandoned in the shopping basket or display similar products (using product image carousel) next to them.
With dynamic creatives (ads), you can run several campaigns at the same time and test out which images, headlines or messages gain the highest CTR. Based on the result, you can optimize the ad and adjust to customers' needs perfectly.
2. Run a Campaign
Showing initial interest in the company's inventory (by adding products to a basket) doesn't give businesses permission to bombard their clients with hundreds of banners every day. There are limits to everything and overexposure is one of them – you want to intrigue prospects, not scare them away.
This is why, when running an ad retargeting campaign, you need to employ a frequency capping method and limit the frequency of ads being displayed to a user.
Retargeter, for instance, recommends serving 17-20 ads in a month and also cultivating ad rotation, that is showing customers different types of copies to preserve their interest on the highest possible level. In fact, a study has shown that the same set of ads, when propagated for five consecutive months, can result in a 50% decrease in click-through rates.
#3. Chatbots – Ask For The Reason Abandoned Cart
Chatbot messages act in a similar manner to push notification – visitors receive informational messages on their devices to which they can respond immediately.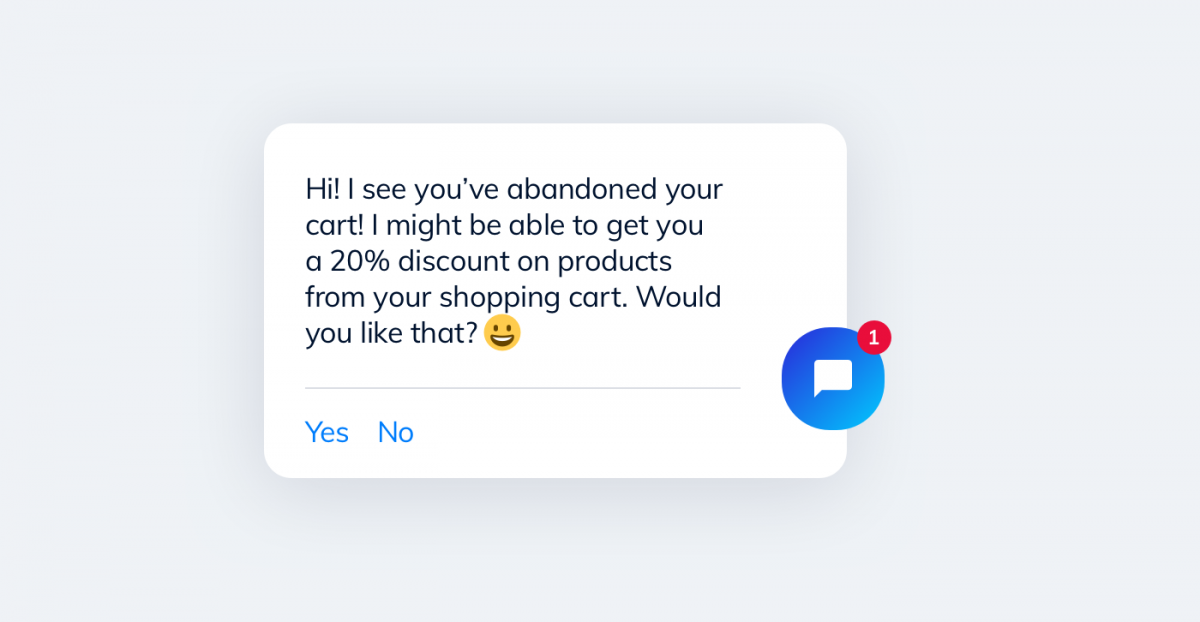 Why are chatbots, then, an effective car abandonment strategy?
Chatbots' strength lies in their ability to act upon a problem quickly. Very quickly. Not only will chatbots remind revisiting customers about the abandoned cart problem, but they can also ask for the reason and find a solution immediately.
Note: It's also a good idea to help your store visitors make informed choices when they're selecting a product to buy via live chat. If you have a WordPress-based website, have a look at our selection of the best chat plugins for WordPress.
How To Create Best Abandoned Cart Chatbot Messages
To adopt chatbot messages as a leading abandoned shopping cart strategy, follow the below-listed steps.
1. Build a Chatbot
First, you need to build a chatbot. There are numerous free chatbot building platforms that can help you create an abandoned cart chatbot without any professional coding knowledge.
With Tidio, you won't waste time on creating a chatbot from scratch, as we offer a ready-made Tidio cart abandonment chatbot that can start saving your lost sales right away. 
Save Carts with Chatbots
With a rule-based chatbot (less expensive chatbot type recommended to small businesses), you simply drag and drop nodes all over the template mapping out possible case scenarios. To address the problem of customers leaving a store's website without paying for the goods, you need to set an "abandoned cart" trigger and then match the action (an activity that a chatbot will do when they spot an abandoner), like e.g. sending a chat message reminding about abandoned products.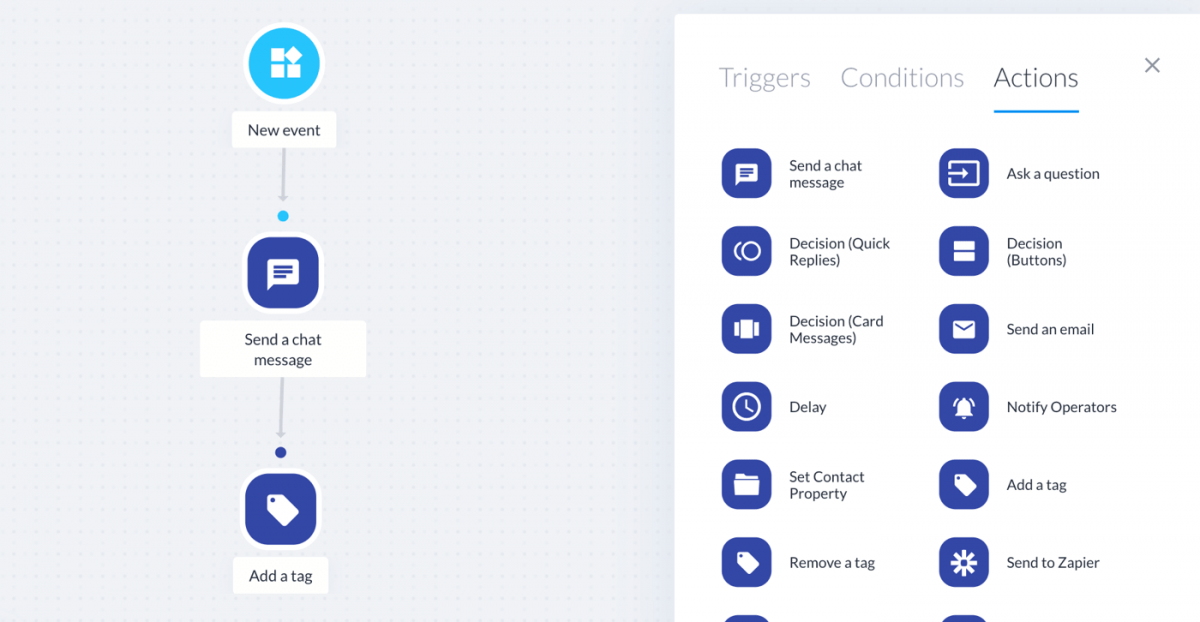 With this functionality, chatbots are quick to follow up customers and assist them every step of the way. When visitors resign from purchasing a product, a chatbot won't hesitate to stop them from leaving, e.g. with a special discount or a bonus gift.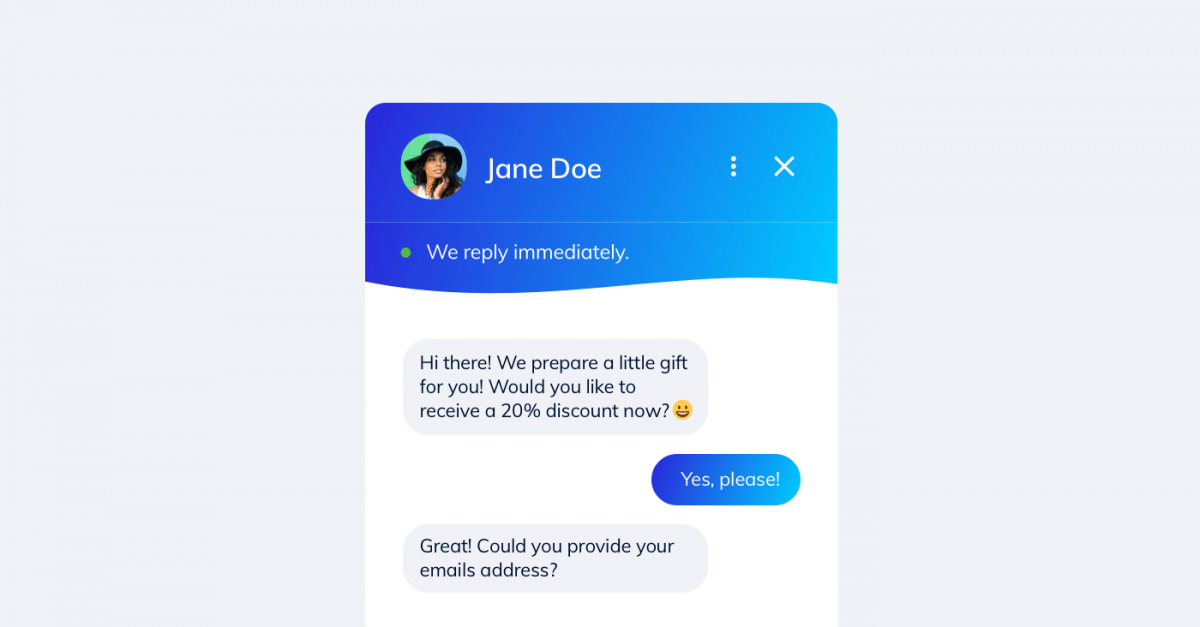 2. Prepare Messages
A standard chatbot message, which is very similar to a push notification, usually contains the following elements:
a welcoming phrase (e.g. Hi there, Hey!, Hello Jane),
a short message informing about the abandoned cart (see examples below),
an image of an abandoned item,
a CTA button (e.g. Resume my shopping, Go back to the cart, Go to the checkout)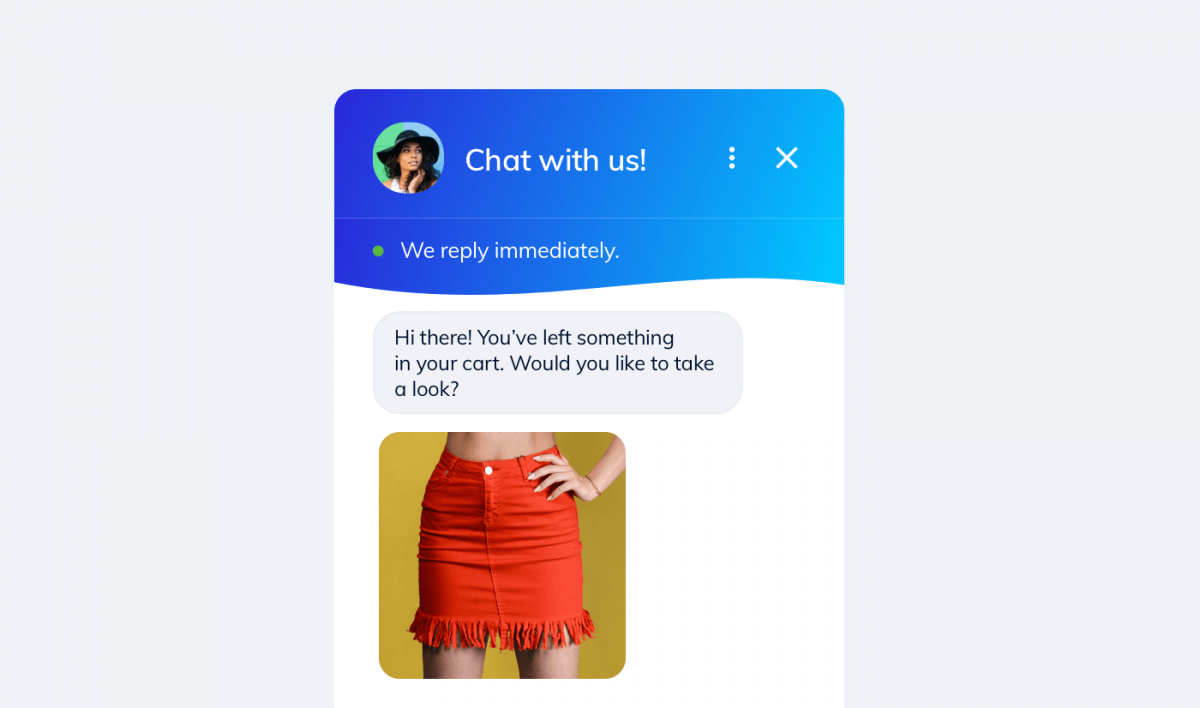 Some of the ready-to-use car abandonment phrases a chatbot could send include:
Hi there! We noticed that you left some items in your cart. Don't worry, though, we've saved them for you.
You've left something in your cart. Would you like to take a look?
Your order is almost complete. You're a step away from getting your dream [product name]
#4. Emails – Recover Lost Sales
Last but not least, you can also use emails to recover lost sales. An abandoned cart email is a type of an automated message sent to customers who added items to a cart but left before the checkout stage.
Emails' open rate might not be as high as the one of a push notification but they're still a preferred means of communication in the business correspondence.
How to Create an Abandoned Cart Email
Here are a few things to consider before sending an email campaign as part of the abandoned cart email strategy.
1. Write a Compelling Email Copy
As you can see from the copy shown below, the structure of an abandoned cart email is not that complicated. Usually, cart abandonment emails include the sender, subject line, an image of lost items, the price, and a CTA button.
As much as all elements are crucial in building a clickable email, the first two play a much bigger role in the consumer's decision-making process. A CMB survey has shown that the sender (64%) and subject line (47%) were far more important factors to open the email than the first lines of the message (14%) or the offer itself (26%).
When you're sending a business email to customers, make sure to send it from a company email address that sounds trustworthy and professional.
A subject line, on the other hand, should stand out of the crowd of other emails – it should be short but catchy, witty but not demanding, e.g.:
Oh no, you left something in your cart
Lucky you! We've saved the items you left
Your items are saved in a safe place. Go get them
It's a good practice to send clients images of products they have left behind. Why? Because they simply don't remember. In the crowd of incoming emails from thousands of other companies, it's natural that prospects don't associate your brand with the items you sell.
2. Set a Campaign
How long should you wait to send the first reminding message?
A good rule of thumb says that the first abandoned follow up email should be sent 20-30 minutes after the last interaction a consumer had with a company's website. In this way, they're given enough time to look through the competitor's offer and return to your web page if you offered a better deal.
However, one email can be overlooked.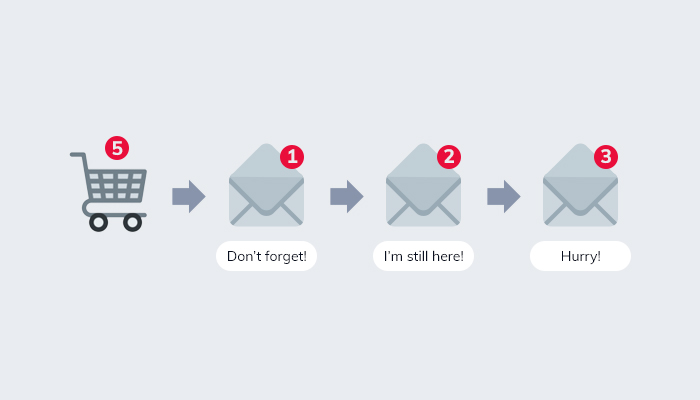 The most effective method would include sending a series of emails day by day (for a particular period of time) to maintain contact and nudge customers into completing the purchase.
The second email, then, should be sent a day after the interaction. With the third email, sent two to three days later, the likelihood of purchasing the cart items is much lower, therefore the message should include the final offer and give customers the last chance to recover the lost items.
What Strategy Fits Your Business Best
There are many ways in which you can try to recover your lost sales. However, to decide what type of remarketing will fit your target audience, you should run a series of tests and see which car abandonment strategy receives a higher response rate and translates into a decreased number of lost sales.
Provide 24/7 customer service even when you sleep.
Create unlimited chatbots for your website without coding to engage more visitors.
Learn About Chatbots