21 days.
That's the time it took me to research eCommerce platforms and write this article.
What took me so long?
Well, as you may have noticed, there are hundreds of platforms. Tons of features. And the pricing is complicated.
To get my head around the topic, I started following the news about eCommerce solutions. Talked to online shop owners. Read user reviews. I even set up accounts with platforms.
If you're struggling to decide which is the best eCommerce platform, save yourself the hassle.
This article is the very thing you need.
In this article, you get:
Pros and cons of top eCommerce platforms
An insider look into the platforms' back-end and functionalities
A list of eCommerce solutions' must-have features
Here's a list of top eCommerce platforms we reviewed:
Let's get started.
It's the easiest and the best eCommerce platform for beginners with limited resources and simple product lines or digital products. Even though you can upload a limited number of products (max 50,000), its multichannel functionality will satisfy the business needs of many entrepreneurs.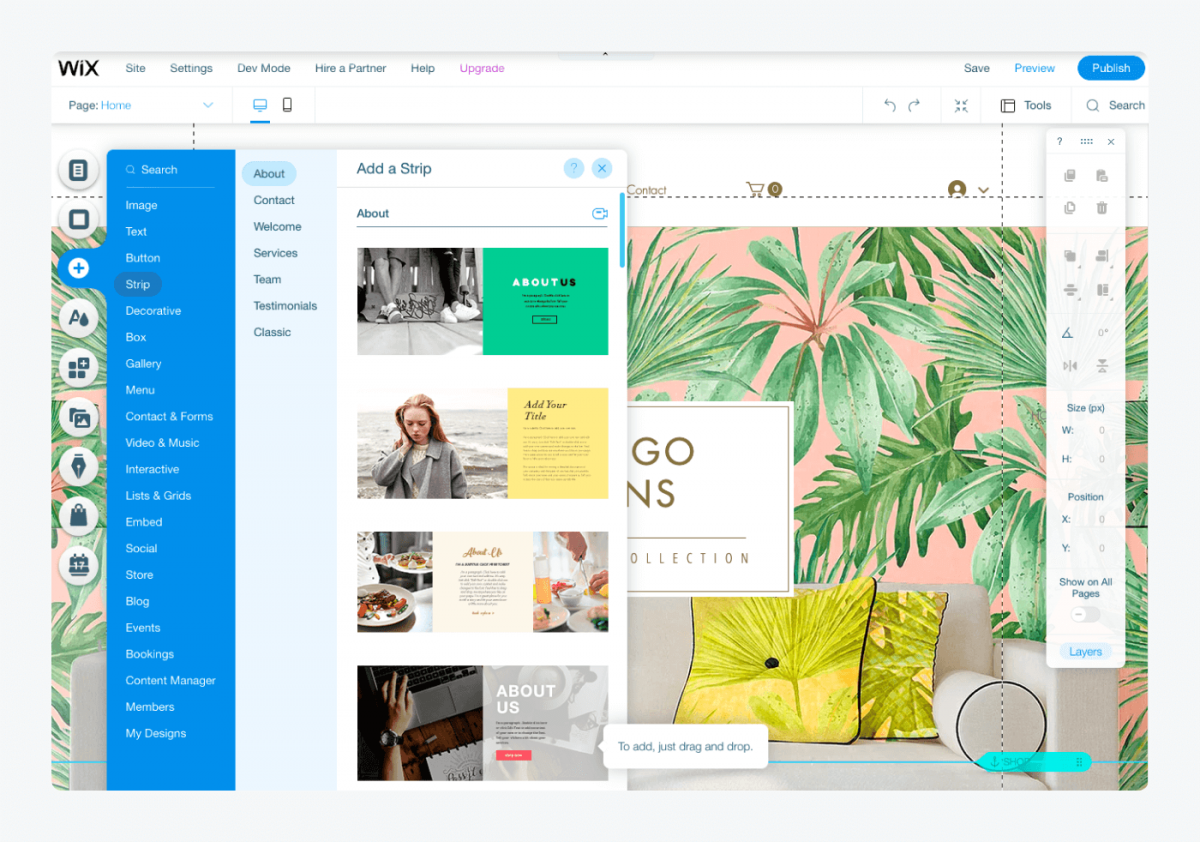 Pros
You can use 500+ customizable templates to produce professional, amazing-looking shops without a dedicated web development team
It automatically creates a version of a shop optimized for mobile and you can rearrange elements on the mobile version thanks to a separate mobile editor
It has a drag-and-drop functionality (image above) and unique artificial design intelligence, called Wix ADI (shown below) to easily customize your eCommerce website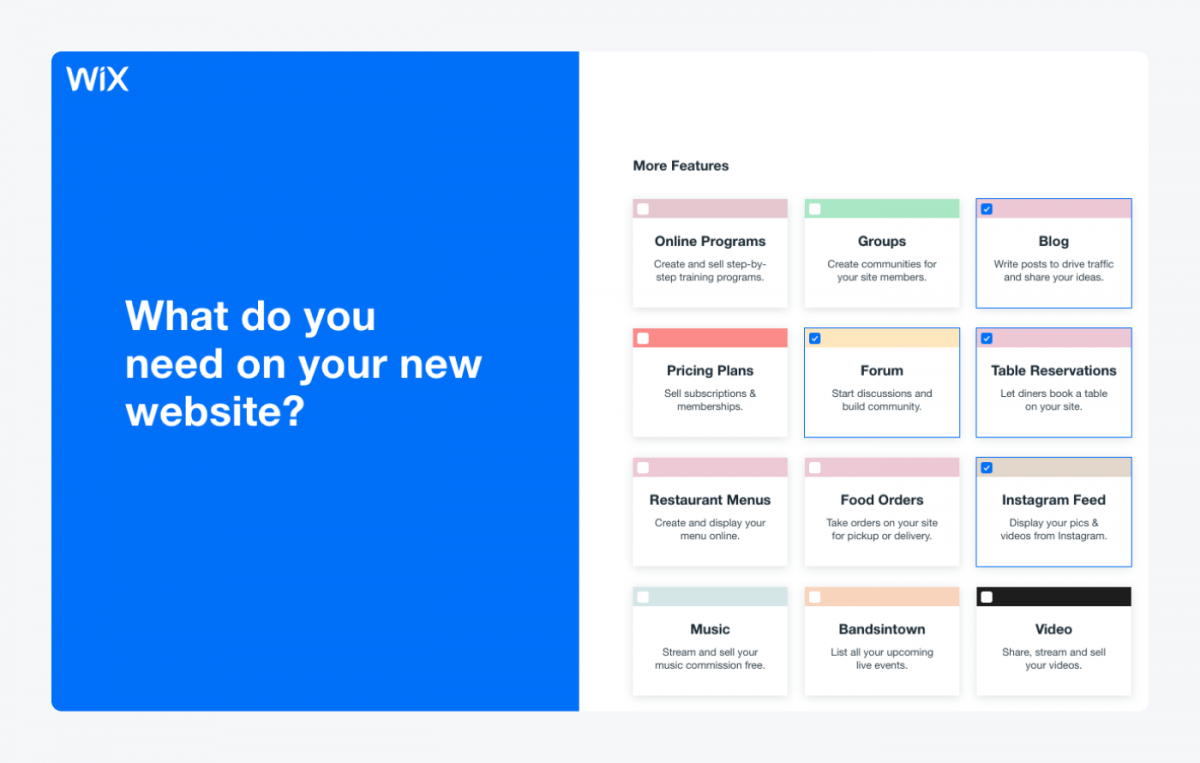 The website All Access Life, which empowers people with disabilities, was built using the Wix platform because it offered a wide range of out-of-the-box built-in accessibility features.
Read on how to make an eCommerce website accessible to people who use assistive technologies to browse the internet.
Cons
It doesn't scale as well as other eCommerce sites (e.g., no SEO, speed optimization, or customization options)
Limited functionality that can be extended to some degree with plugins
Wix puts its branding on your site and its logo in the browser bar on a free plan
Plans & Pricing
Free plan with Wix banner and no professional domain name—good for personal projects
Combo at $14/mo, Unlimited at $18/mo, and VIP at $39 plans for showcasing portfolios and professional sites—good for 2,000-3,000 visitors
Business Basic at $23/mo, Business Unlimited at $27/mo, and Business VIP at $49/mo for eCommerce with online payments
Check out some of the best Wix chatbots and top Wix live chat apps for your business and how to add one to your website.
Squarespace is a great user-friendly eCommerce platform for small business owners selling online or marketing a brand. It offers professional designs that satisfy creative minds.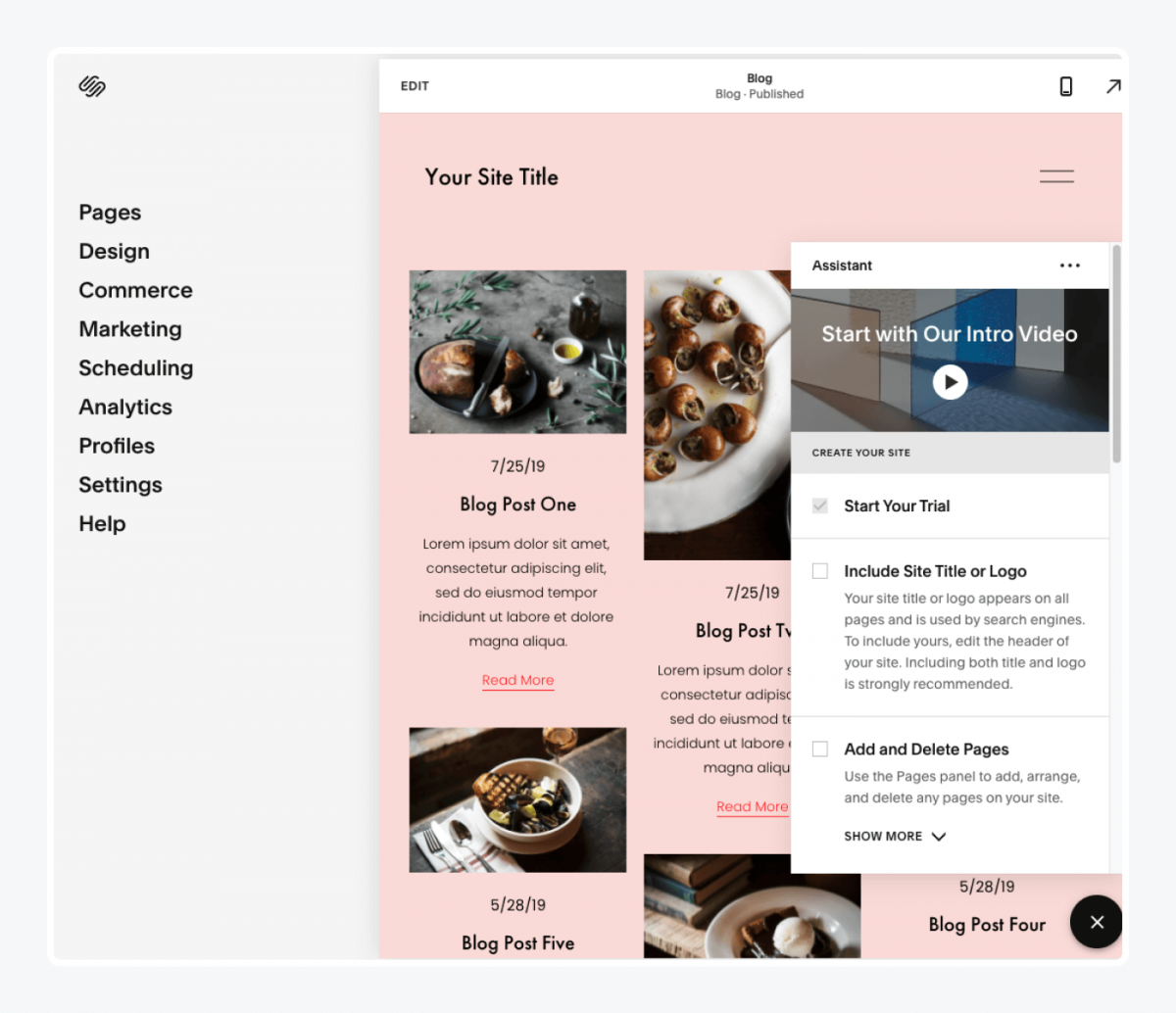 Pros
Every template has a full range of customization options, including the serch engine optimization settings
Ecommerce store owners can add pre-built sections to speed things up and visualize the results immediately
It has a podcast stream option that lets you submit it directly to iTunes and scheduling appointments add-on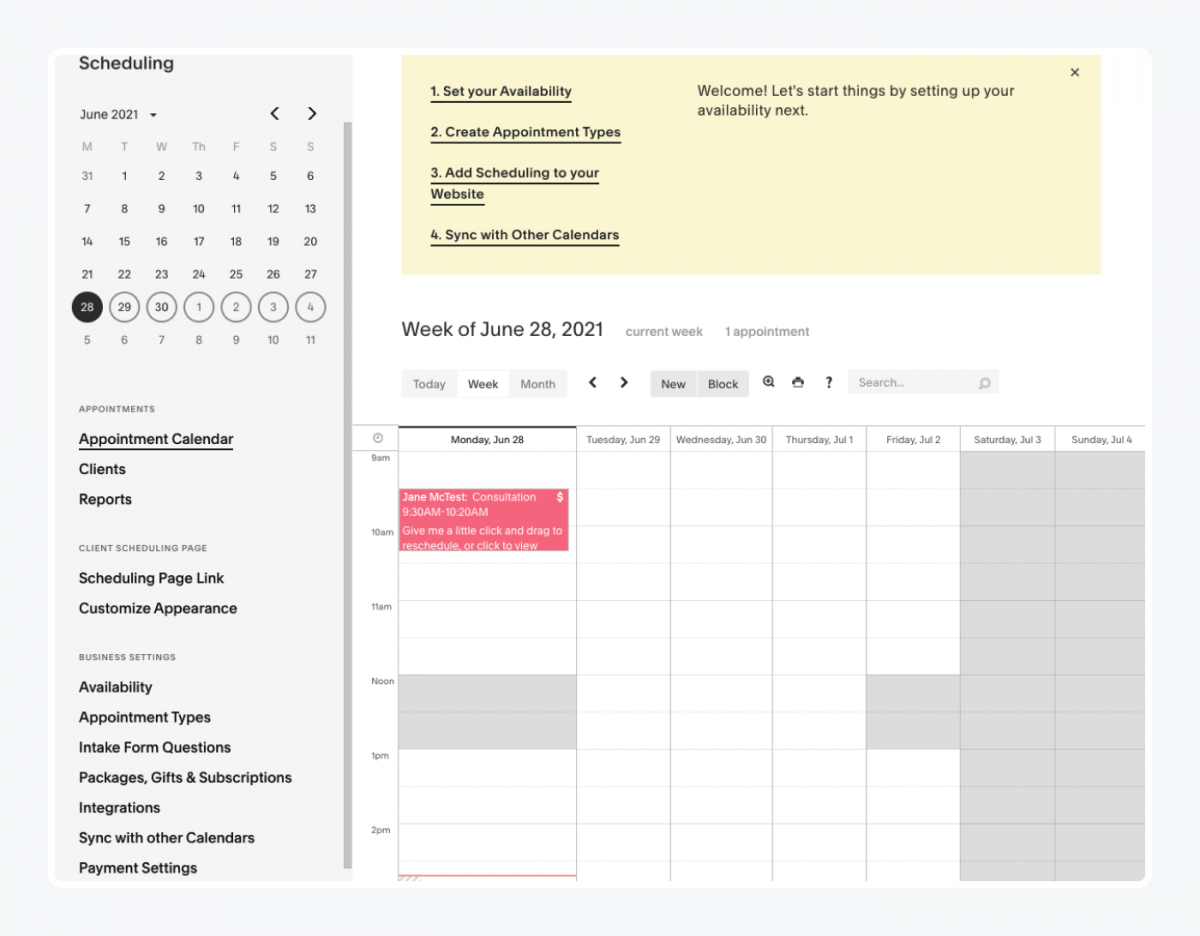 Cons
You can only build one sub-level to organize your pages which can be a problem for larger sites
Integrates with only two payment gatewas: PayPal and Stripe

Poor autosave functions
Plans & Pricing
Free trial available for 14 days
Personal plan without eCommerce features at $16/mo
Business at $26/mo with marketing and eCommerce features
Two plans for larger online stores—Basic Commerce at $35/mo and Advanced Commerce at $54/mo
Ecommerce platform solutions for enterprises with premium security and privacy evaluation. Plus, customization options including tailored dielines for packaging, custom contracting, and payment gateways. A bulk purchase package is also available upon request.
Suggested Read
Check out Top 10+ Mobile Commerce Statistics
Weebly is the easiest eCommerce platform to sell digital and physical products online thanks to a step-by-step onboarding process. It's a great choice for online businesses that need portfolios, blogs, eCommerce stores, and business sites.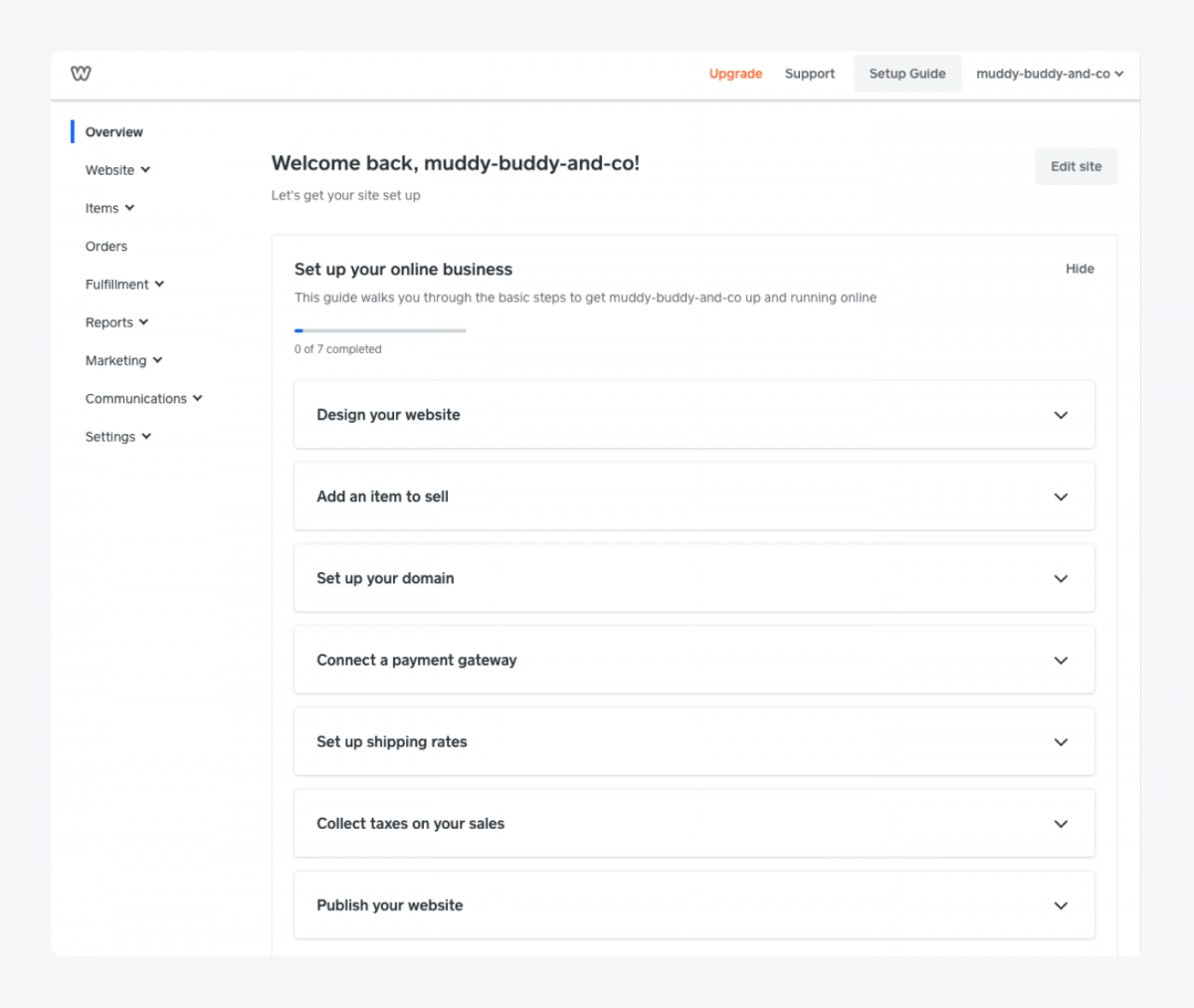 Pros
You can use drag and drop tool for a quick web design or HTML and CSS to customize your template
You can use all the levers to optimize your pages for organic traffic (page title, URL, metadata, etc)
You can create different logins and access levels with team management features
Cons
You can't customize the mobile version of your store separately and desktop themes could use more control in that department
Very basic analytics and tracking options, but you can integrate Google Analytics
Users complain it can get glitchy at various times
Plans & Pricing
Weebly pricing is when paid annually:
Pro at $12/mo for basic eCommerce shop functionalities
Business at $25/mo with a lot more features including inventory management and automatic tax calculations
Business Plus at $38/mo for abandoned cart emails and real-time shipping
You can create a website without a store for free and connect a domain name for an extra $5
BigCommerce is a cloud eCommerce platform for large and even international retailers to handle a large volume of orders, products, or customers in over 100 currencies. Its enterprise-grade marketing tools make it the right eCommerce platform for SEO.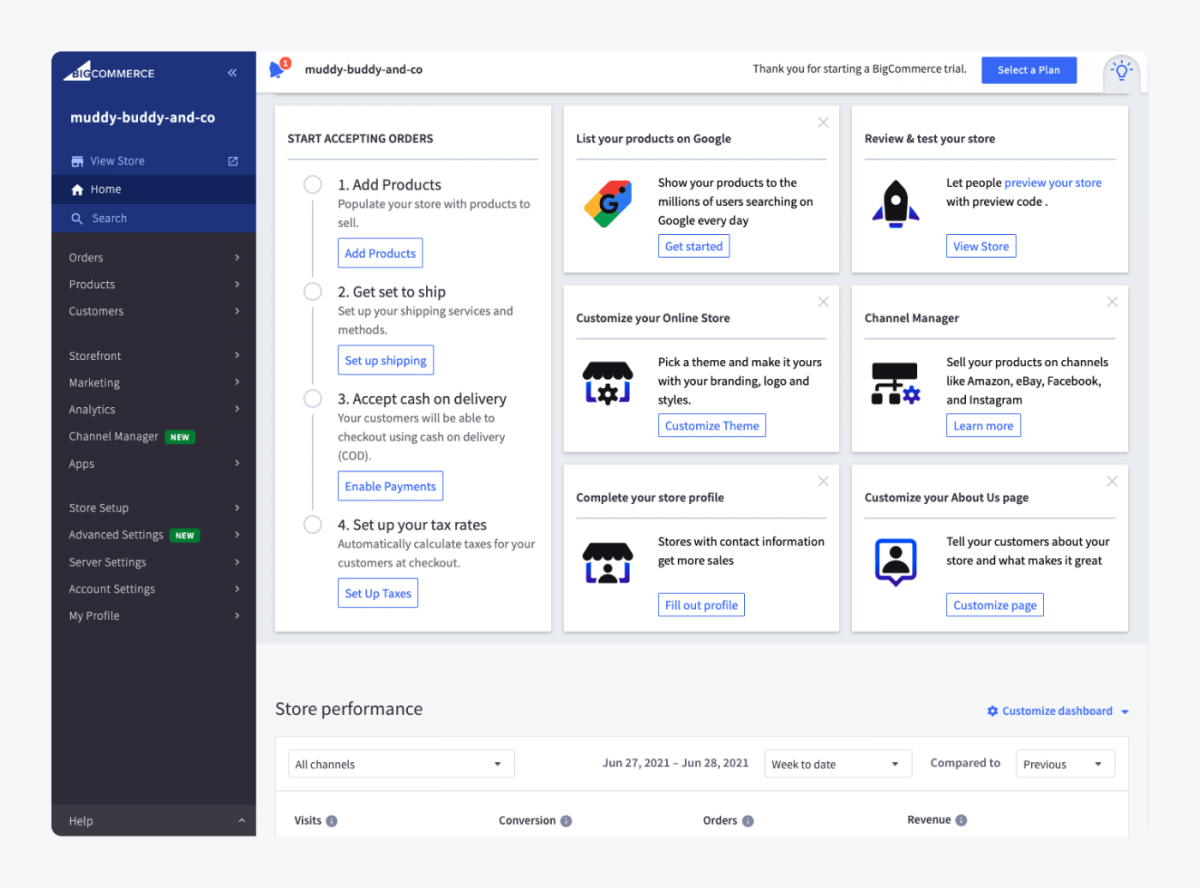 Pros
BigCommerce has more built-in features than any other eCommerce site so you don't need to add too many apps that slow down pages load time and speed (check out best BigCommerce apps)
You can customize every step of the checkout process with new Checkout SDK, or switch to Optimized One-Page Checkout
You can choose integration with 65 major payment processors at no extra cost (no transaction fees)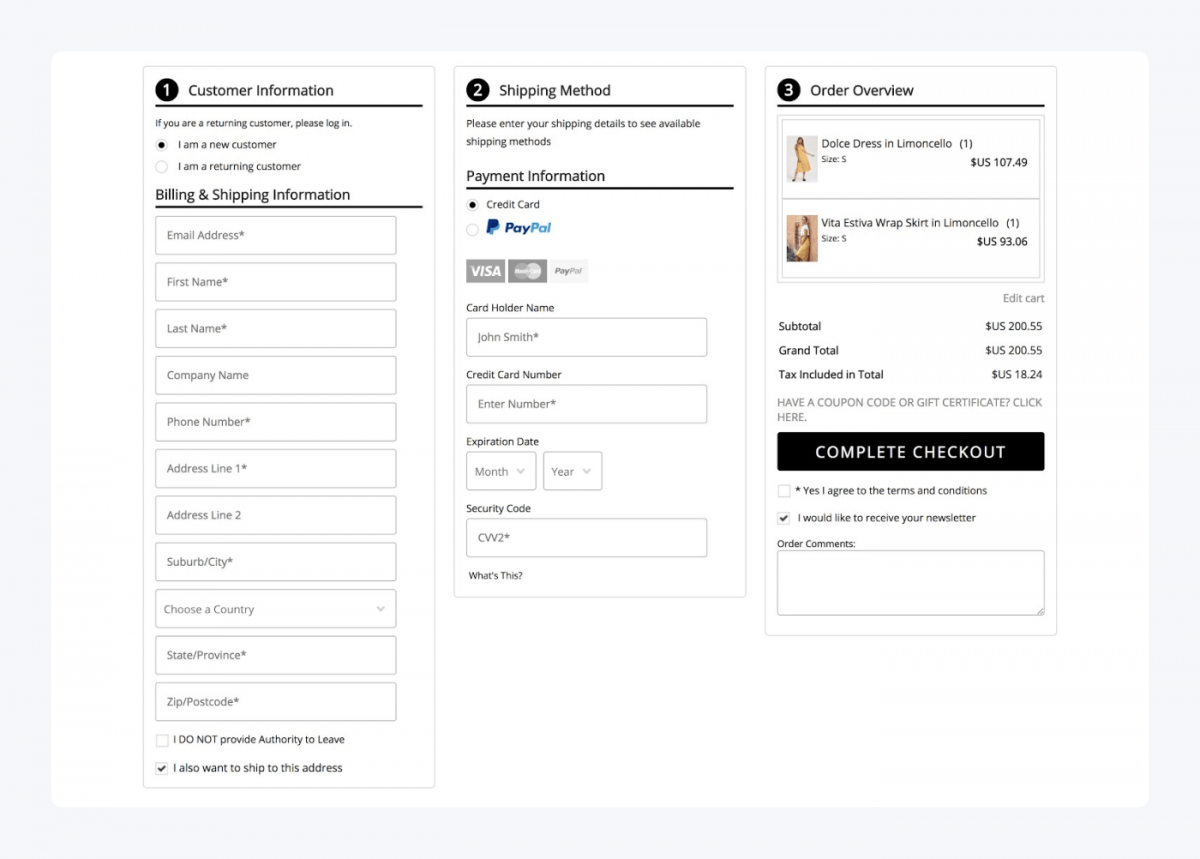 BigCommerce just released a Big Open Data Solutions product suite that provides pre-built integrations with Google BigQuery and Twilio to let merchants transfer their storefront data to a data warehouse or customer data platform for advanced analysis.
Cons
It could use more third-party apps—if you'd like to go beyond BigComerce's native features, your options are limited
Cheaper options available if you only want to sell on social media
The platform's capabilities can be an overkill for small businesses
Plans & Pricing
15-day free trial available
Standard plan at $29.95/mo, Plus at $79.95/mo, and Pro at $299.95/mo
BigCommerce's pricing is that stores will automatically be upgraded to a new plan if they reach certain sales milestones in a year (up to $50k, up to $180k, up to $400k, respectfully)
Enterprise plan has custom pricing based on online sales
Read more: Is Shopware Ecommerce a Good Alternative to BigCommerce?
Shopify is a very versatile and scalable SaaS solution known for its ease of use. It's therefore the best eCommerce platform for startups. It lets you sell anywhere and unify the shopping experience for your customers.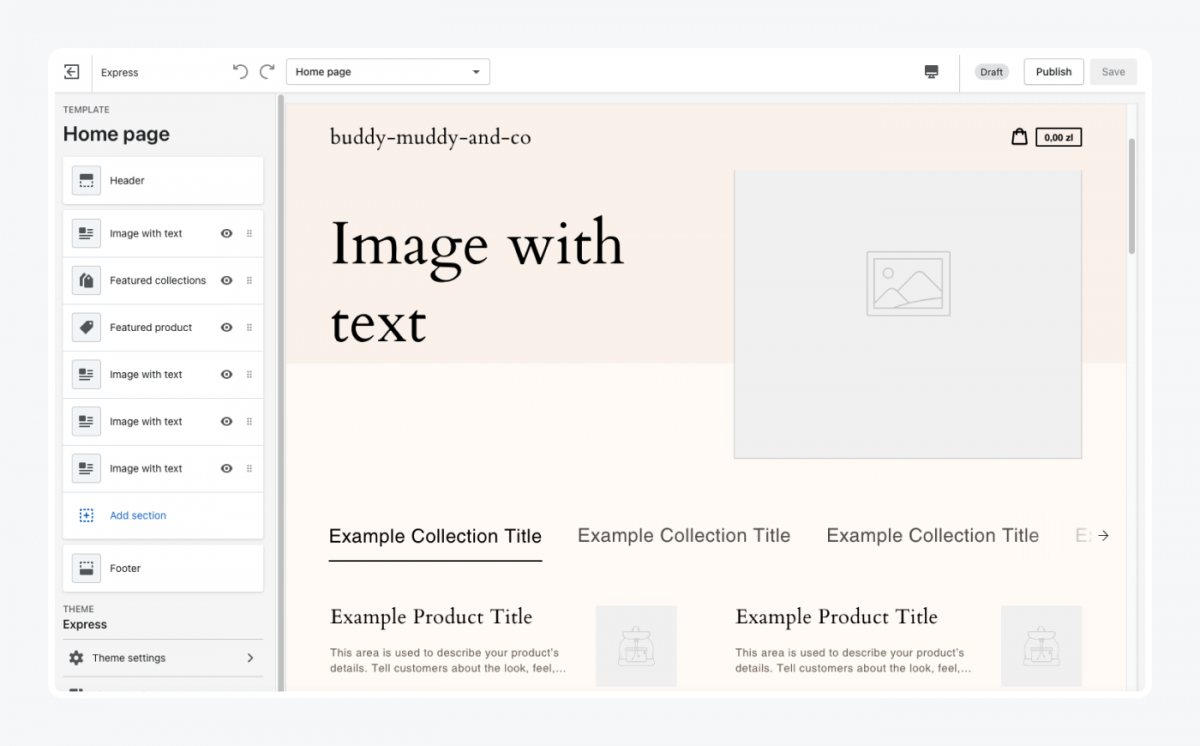 Pros
You can start selling anywhere—locally thanks to Point of Sale (POS) system (hardware available as well), on your website, or several other sales channels (e.g., Amazon or eBay)
And move your way up to use Shopify's suite of APIs that allow developers to extend the platform's built-in features like reading and writing merchant data or interoperating with other systems and platforms
Since acquiring the Oberlo plugin, Shopify's dropshipping works like a charm (e.g., you can automate importing products and order fulfillment)
Shopify is making its instant checkout engine, Shop Pay, available to non-Shopify merchants selling on Facebook, Instagram, and Google. Shop Pay lets consumers save their data to complete their transactions faster the next time they go to checkout and gives them an option to pay in four installments.
Cons
Adding Shopify apps to improve the platform's basic functionality can increase the monthly cost of using the platform and slow the site's load time
Limited frontend customization options and most of the themes are paid
It can be pricey for detailed customization options
Plans & Pricing
Free 14-day trial period
Shopify Lite at $9/mo for in-person sales and Buy Button
Three plans at $29/mo, $79/mo, and $299/mo for building a website
Shopify Plus for enterprises and custom pricing
Check out a detailed Shopify pricing
If you struggle to choose between Shopify and BigCommerce, here's a detailed comparison of both eCommerce platforms.
OpenCart is another open-source, downloadable shopping cart based on PHP that follows the core plus extensions model. It's one of the enterprise eCommerce platforms on this list for large companies with a global reach.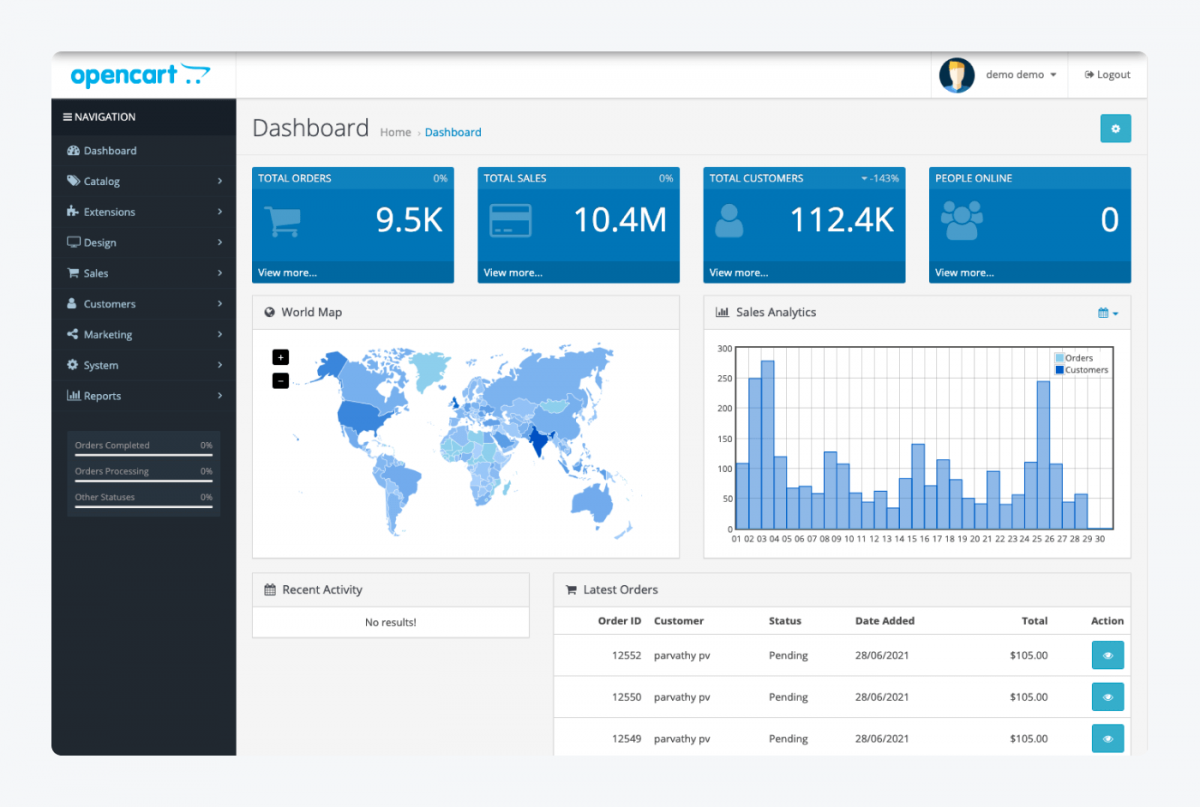 Pros
Available in 40+ languages and handles non-roman and character-based alphabets
It comes with a built-in affiliate system, where affiliates can promote your products and get paid a set percentage for this
You can manage multiple eCommerce stores from a single backend
Cons
It's light out-of-the-box so to get advanced functions you need paid add-ons
Limited support so you'll have to largely rely on your (or your teams') technical skills
It has limited built-in marketing features, e.g. no microdata on product pages, limited URL customization, no auto meta generation
Plans & Pricing
Free to download and use
Web hosting, maintenance, and extensions paid separately
Paid dedicated commercial support—one-time bug fix starting at $99 or monthly support at $99 per site
Magento is one of the most popular eCommerce platforms written in PHP code. It's designed for medium to large companies with unique customization needs. It has advanced inventory and order management features to manage unlimited products.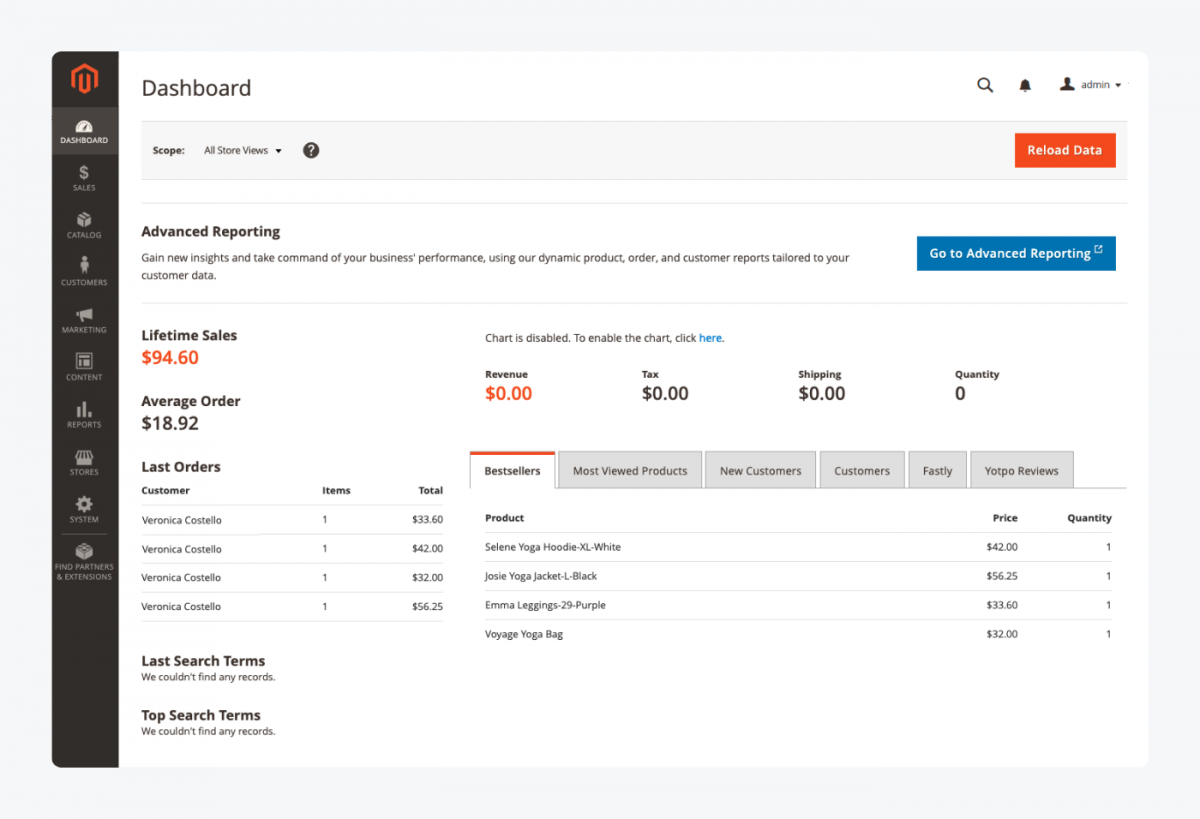 Pros
Magento gives you full freedom and flexibility in the look, feel, and functionality as long as you know how to code
A large user community can help intermediate developers get by
With Magento Commerce, you get more functionality, such as advanced marketing features, customer reward programs, targeted promotions, and 24/7 Magento's technical support
Cons
No free themes or builders (like Wix or Shopify)—to get a custom design, you need to use third-party providers
Magento Open Source does not provide customer support or mobile app
The process of manual installation of patches and security updates can require hiring a Magento specialist
Plans & Pricing
Basic Magento Open Source eCommerce platform offers a free software download to install on your own server
Premium Magento Commerce includes cloud-hosting services for enterprises, like Samsung and Nespresso. To get a quote, companies fill in a contact form.
Read more: Which is better: WooCommerce vs Magento or Magento vs Shopify?
WooCommerce is an open-source WordPress plugin that adds eCommerce functionality to your existing website. It might not be the best eCommerce platform for beginners unless you can afford to hire a developer or have enough time to learn how to use WordPress yourself.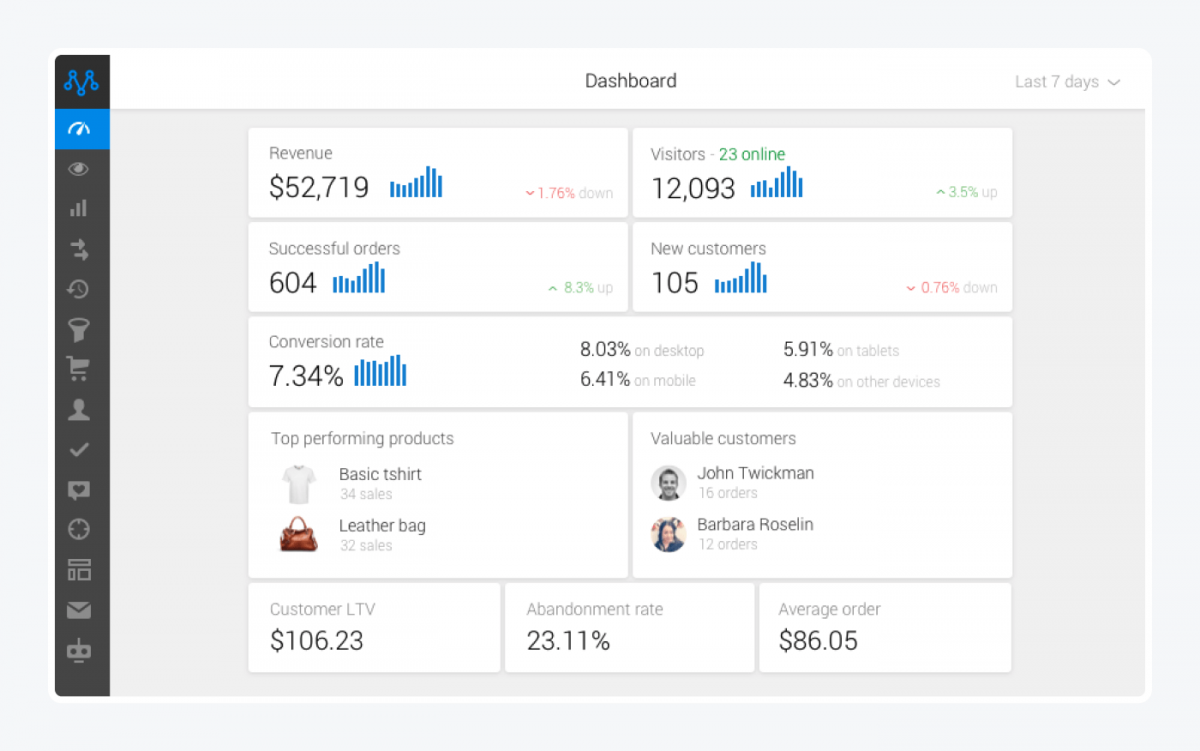 Pros
You get an entire WordPress plugin library and dedicated WooCommerce plugins with the necessary features to configure your online shop
No limit on how you want to design a homepage, menus, or site structure
It includes inventory management, coupons, and product pages integrated into your existing backend
WooCommerce partnered with Google to create Google Listings & Ads extension. You can get up to $150 in ad credit when you create a Google Ads account to help you get started—T&Cs apply.
Cons
WooCommerce requires more server space than regular blogs so you need to find the right web host and hosting plan
Not completly PCI compliant oput-of-the-box for credit card processing

You need to manage security maintenance and backups yourself which can be time-consuming
Plans & Pricing
WooCommere's plugin is free but the cost of hosting the platform, adding SSL certificates and extensions can be expensive
WooCommerce is included in the $45/mo billed annually eCommerce plan from WordPress.com
Check out detailed WooCommerce costs
Here's a detailed WooCommerce vs. Shopify comparison if you're deciding between those two.
Factors to consider when you compare eCommerce platforms
Jot down your priorities and, as you read this eCommerce platform comparison, see which one ticks most of the boxes. Consider the following factors: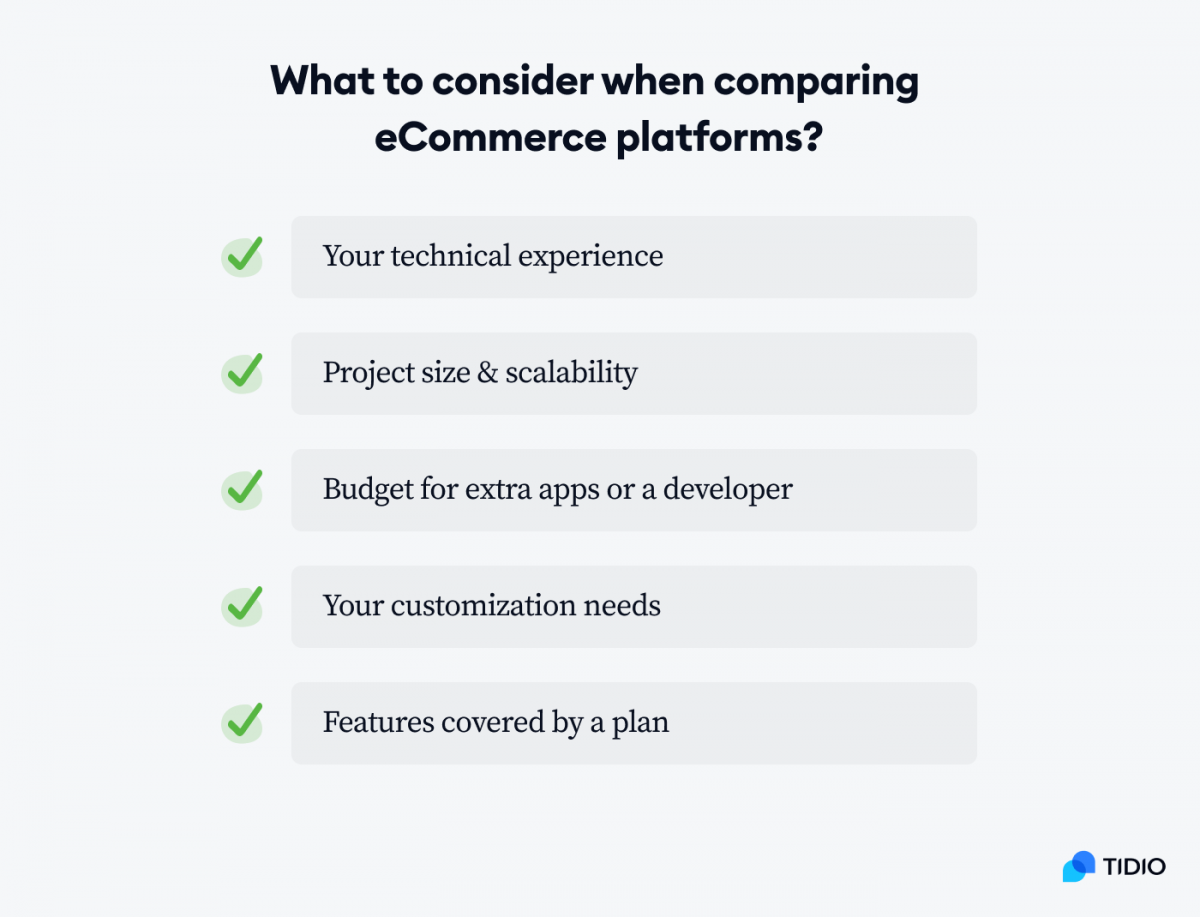 Your technical experience—some eCommerce sites require coding while others have a drag and drop functionality
Project size—not all eCommerce solutions are suited for complex product lines and large volumes of orders. If you start small, check which ones give you options to expand
Budget—calculate what hidden costs you'll have to cover to get your store off the ground, e.g., cost of extra apps, store templates, developer fees, or in the case of open-source eCommerce software, the cost of web hosting and updates
Customization needs—will you be satisfied with the level of customization and will the design reflect your brand?
Features—check out built-in tools and features covered by each plan and see what apps and extensions are available to extend your store the functionality
Key points to remember about eCommerce platforms
Whether you're selling t-shirts, digital courses, or real estate, you can find the best eCommerce solution to cater to your business needs.
There isn't one universal eCommerce platform that beats all the others.
It's hard to find a completely free eCommerce platform. But you can try most of the eCommerce sites for free before making the final decision.
Unlike self-hosted solutions, open-source eCommerce platforms are free to download, but you still have to cover the costs of domain registration, web hosting, SSL certificate, payment processing fees, extra apps, and extensions fees.
Wix, Squarespace, or Weebly—simple and easy eCommerce platforms for small businesses with an online store. For example, you want to showcase your portfolio and sell your work online.
Shopify or BigCommerce—online store-focused eCommerce platforms for startups that scale well and can also accommodate large eCommerce businesses. Their starting plans are higher than regular website builders' so you'll require an initial investment.
WooCommerce, OpenCart, and Magento—open-source eCommerce platforms that are a good fit for enterprise-level businesses with unique customization needs. They require web developers with technical knowledge and choosing a hosting provider.
What is the best eCommerce platform for you?