Shopify, Wix, Magento—these are all household names when it comes to ecommerce platforms.
But there's a new kid on the block that's starting to make waves in the industry: Shopware.
Well, about the "kid" part—
It is new to the US market. But it's actually been around since 2000. In Europe, it's one of the leading solutions for online stores. And now, it has a growing global presence too.
So, what should you know about Shopware ecommerce? Is it a good option for starting your online business?
In this article:
If you want to learn more about different platforms, you can also check out our other guides:
OK—
Let's start with the basics.
What is Shopware?
Shopware is an ecommerce solution that helps businesses create, manage, and grow their online stores. It offers a wide range of features to help businesses streamline their operations, including a drag-and-drop website builder, product management tools, order management capabilities, and more.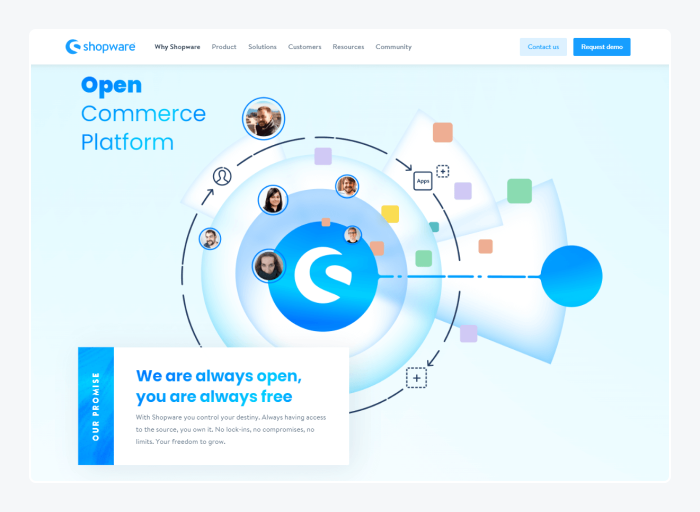 Shopware was founded in 2000 and is headquartered in Schöppingen, Germany. Interestingly, this solution is older than some of its competitors, such as Magento (2007) or Shopify (2006). However, until recently, it was not as widely known or used outside of Europe.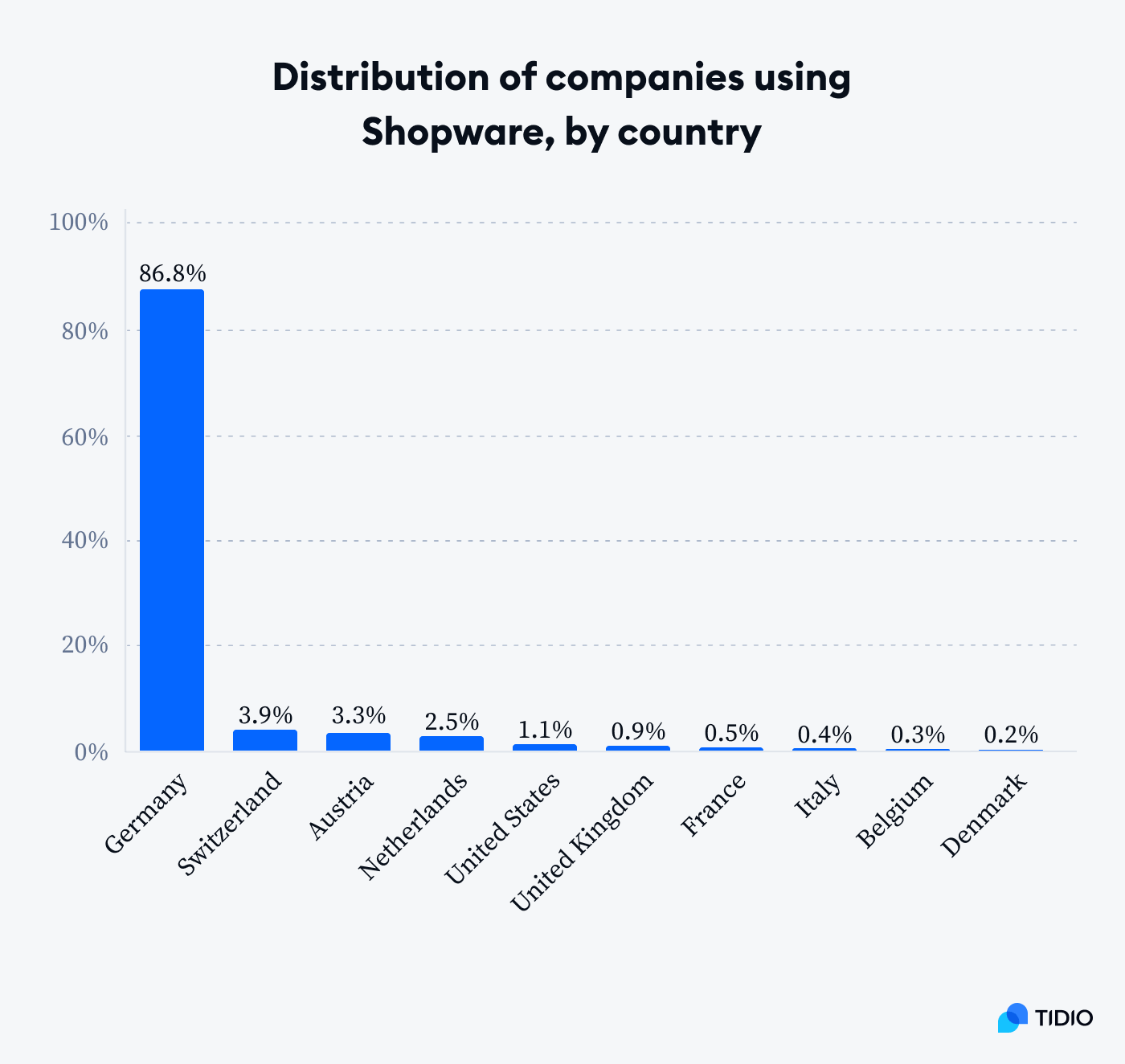 Now, Shopware is gaining popularity in the US and other markets as businesses discover its robust features.
Shopware raises $100 million via Carlyle and PayPal
Shopware's ecommerce platform has recently raised $100 million in Series A funding. The investment was led by Carlyle Group and PayPal Ventures. This is the first-ever outside funding for the company. Shopware will use the new funding to further invest in technology and expand its presence in Europe and internationally.
For years, Shopware has been Germany's leading ecommerce platform. With its intuitive interface, this software offers a user-friendly solution for companies of all sizes. Shopware's flexible extension system lets businesses tailor ecommerce shops to their specific needs and requirements. With over 2,000 plugins available, you can extend your store's functionality and add new features as you need them.
Some examples of popular brands using Shopware to power their online store include Haribo, M&M's, Jägermeister, Bijou Brigitte, and many others.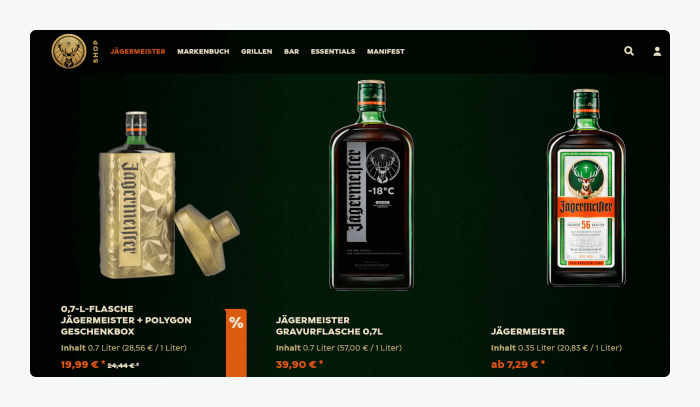 So, what made these brands choose Shopware over other, more established ecommerce solutions?
What makes Shopware ecommerce better than other platforms
Compared to the seven-digit user bases that ecommerce giants like WooCommerce or Shopify have, Shopware's market share is still quite small. According to SimilarTech estimations, there are only about 9,000 Shopware stores.
But don't let that discourage you.
While Shopware might not have the same name recognition as its competitors, it doesn't at all fall short of great features and functionalities. And you can also receive top-quality customer service from the Shopware team.
So, let's see why Shopware has thrived in recent years.
Shopware is built on Symfony, a battle-tested PHP framework. This makes it more flexible and extensible than many other ecommerce platforms. It's also more open and community-driven than, say, BigCommerce or Magento. You can access Shopware 6 source code via GitHub, which makes it a more attractive choice for developers.
Shopware also has a host of features that make it great for ecommerce businesses, such as:
A built-in CMS and website builder
Multi-currency and multi-language support
A powerful order management system
A user-friendly back-end interface
Robust security features
These are just some of the reasons why the platform is becoming so popular. If you're looking for a feature-rich ecommerce solution, Shopware is definitely worth considering.
Shopware
Shopify
Magento
Open solution with unlimited customization possibilities
✅
❌
❌
Multilingual features, localization & currency conversion
✅
Limited
✅
Playbooks, storytelling, and shopping experience templates
✅
❌
❌
Free version
✅
Shopware Community Edition
❌
✅
Magento Open Source
Trial
30 days
14 days
❌
Premium plans
From $69/mo
From $24/mo
Custom pricing in the range of several hundred dollars per month
Built-in accounting & tax management
✅
✅
✅
API access
✅
✅
✅
Official apps & plugins
2,000+
4,000+
3,000+
At first glance, it looks like Shopware is well positioned against the competition. But let's take a closer look at what makes this ecommerce solution so unique and attractive.
Shopware live chat
OK, we know this may not be the single most important aspect of Shopware. But, as a live chat company, we are really glad to be one of Shopware Technology Partners (and a featured "App of the Week" too!). Tidio provides seamless integration with all Shopware stores, so if you're looking for a free live chat solution make sure to check us out.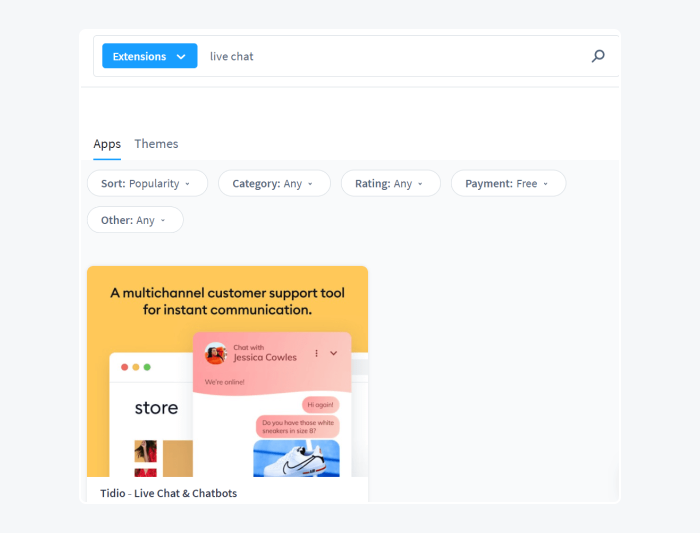 Live chat, especially when boosted with AI chatbots, can really increase your online sales and customer satisfaction. According to a study by Salesforce, 89% of customers say that they are likely to return to a store after a good customer service experience. And live chat happens to be one of the favorite support channels of online shoppers.
Read more: How to Install Tidio on Shopware

Extensions & plugins
Shopware has a huge ecosystem of plugins and extensions. As of today, there are over 2,000 of them available in the official Shopware app store. The library of extensions covers a wide range of categories and functionalities. You can use an extension for anything—from payment processors to shipping methods, from accounting software to live chat solutions.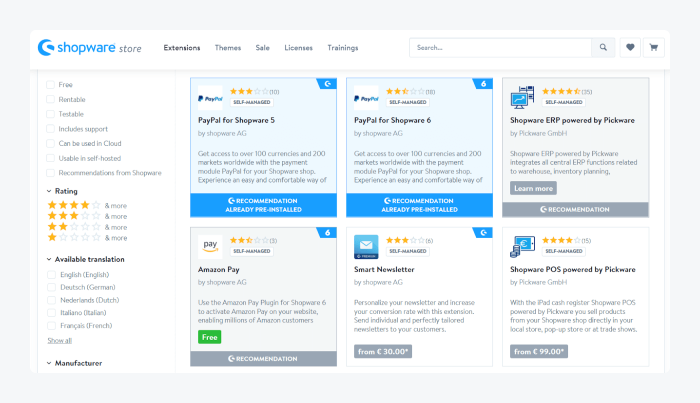 You can use both free and subscription-based Shopware plugins. If you can think of any ecommerce feature that you want, such as shopping cart abandonment recovery or product personalization, chances are there's already an official app for that.
And if you need a custom solution, you can always hire a Shopware developer to create one for you. Shopware's open architecture makes it easy to develop custom tools and functionalities.
Read more: How Our Virtual Customer Service Slashed Cart Abandonment by 25%
Localization & multilanguage
One of the greatest features offered by Shopware is its localization capabilities. Out of the box, Shopware provides a wide range of countries and currency options. Thanks to that, you can easily adjust both the language of your store and user interface as well as the currency in which prices are displayed.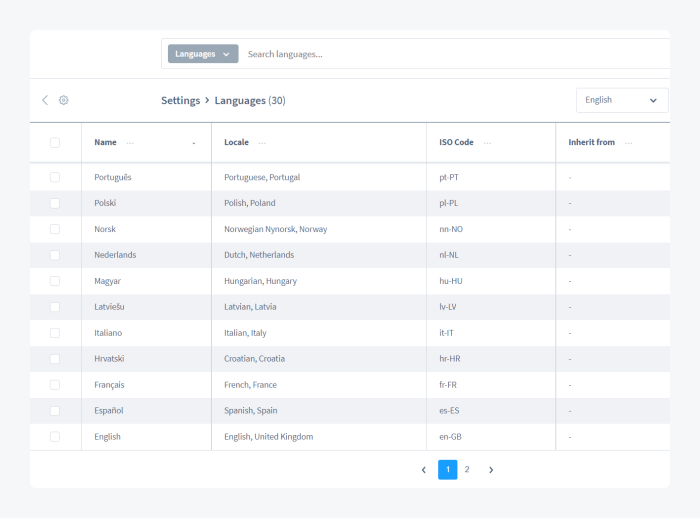 With the multilanguage panel and custom rules for displaying pages, you can also create multiple variants of your store pages for different countries. This is a really powerful tool if you want to offer a truly localized shopping experience to your customers. Additionally, the built-in SEO module lets you optimize your store pages for different countries and regions.
Store themes
Shopware comes with a wide selection of both free and premium themes. There are also many ready-made storefronts designed for specific industries. The themes are responsive, so they look great on all devices your website visitors might be using.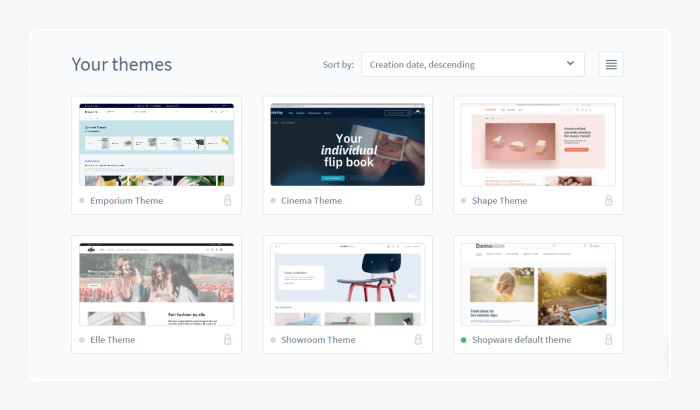 Shopware themes are also fully customizable. You can easily adjust them to match your brand identity. With just a few clicks, you can change practically anything about the look and feel of your store. And if you want to take things a step further, you can also use advanced development tools to create a completely new theme for your Shopware ecommerce store.
Page builder
Shopware's page builder is a really handy tool if you want to create custom product listings and landing pages. With the drag-and-drop interface, you can add and rearrange elements on your pages. The page builder also comes with a wide selection of pre-designed blocks and modules that you can use to add custom functionalities, such as product recommendations.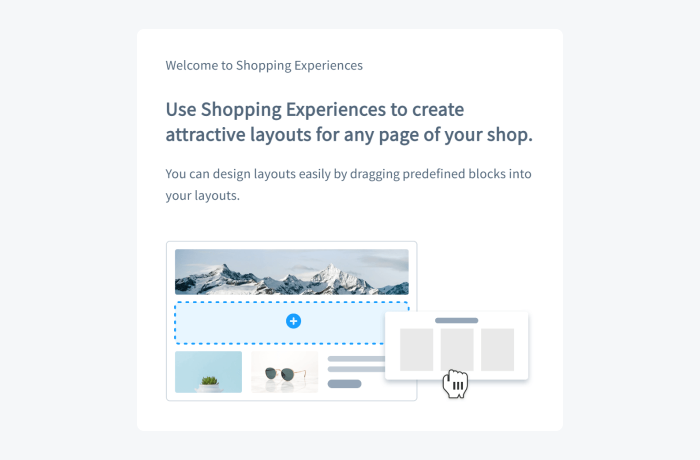 Some of the modules let you create custom rules based on different criteria, such as purchase history or items in the shopping cart. This way, you can create really targeted and personalized pages. In point of fact, the tool is not just a page layout designer but a tool for creating "Shopping Experiences," as they're called in Shopware. And, of course, they are all mobile-responsive.
Product and order management
Shopware has very advanced product and order management systems. There are dedicated panels that allow you to add and manage products, set up shipping methods, create promotions, and process orders with just a few clicks.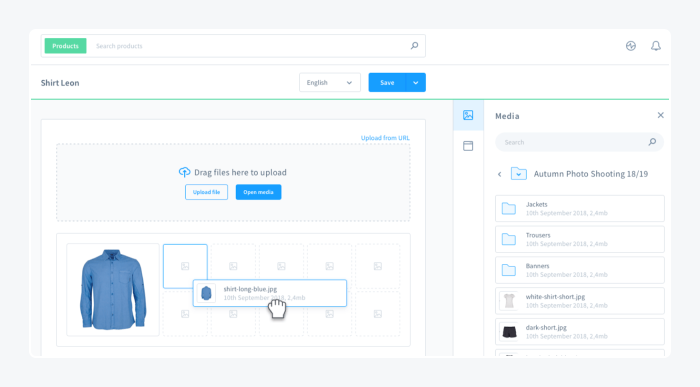 The product management and inventory interfaces are well-designed and let you submit all the necessary information about your products and their different variants. They cover everything, from descriptions, tags, SEO, and multimedia, to tax rates and discount options. You can also create dynamic product groups and categorize them based on custom criteria. For example, you can create a "Bestsellers" category that automatically includes your most popular items.
The order management interface gives you a complete overview of all your orders. You can filter them by status, customer, or date. The interface is very handy for keeping track of your orders and processing them quickly.
Shopware SEO
About 44% of ecommerce shopping experiences begin with using a search engine like Google. That's why SEO is so important for any online store. By optimizing your website for search, you can increase traffic to your site and, ultimately, boost sales.
Shopware is very lightweight and responsive, which in itself makes it SEO-friendly. But the platform also comes with many built-in SEO features that let you optimize your store pages.
You can add meta titles, meta descriptions, keywords, and alt tags to your store pages. This is particularly useful for your product pages, as it allows you to include all the relevant information that search engines need to index your products. The SEO module also includes a sitemap generator and support for structured data.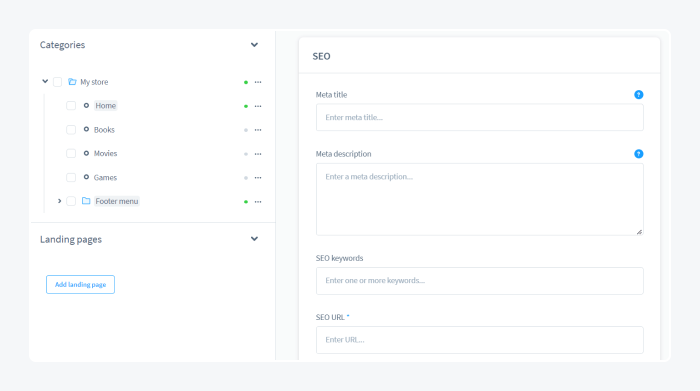 If you need more control over your SEO, you can also install one of many Shopware extensions that offer additional features for search engine optimization. For example, there are dedicated apps for SEO URL management, interlinking, and content optimization.
Training & resources
Shopware offers a wide range of training and resources to help you get started with the platform. You can find everything from video tutorials to detailed how-to guides. The Shopware Academy is a great place to start if you want to learn more about how to use the platform.
Some of the courses allow you to earn official Shopware certification. While the majority of advanced courses are available only to premium users, Shopware does offer a few free courses that are open to everyone.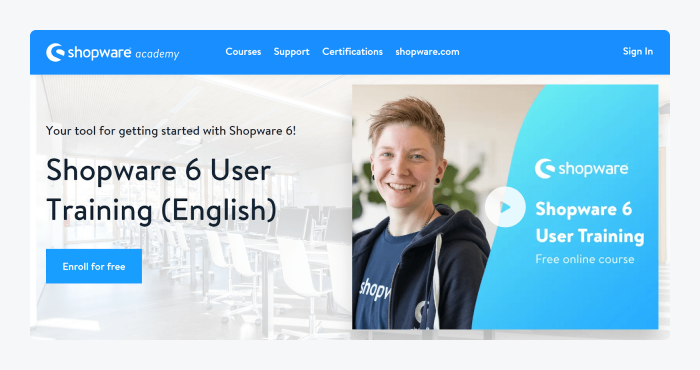 Shopware also has an active community forum where you can ask questions and get help from other Shopware users. With a professional plan, you also get access to priority support from the Shopware team, which can be very handy if you encounter any problems.
API, hosting & integrations
You can use Shopware either as a cloud-based solution or as a self-hosted platform. Keep in mind that if you choose the latter option, you'll need to find a suitable hosting provider.
Interestingly, the pricing plans are different for the two versions. Deciding on the self-hosted option allows you to pay once and use the platform indefinitely. With the cloud-based solution, you pay a fixed subscription fee and a monthly fee based on your sales volume.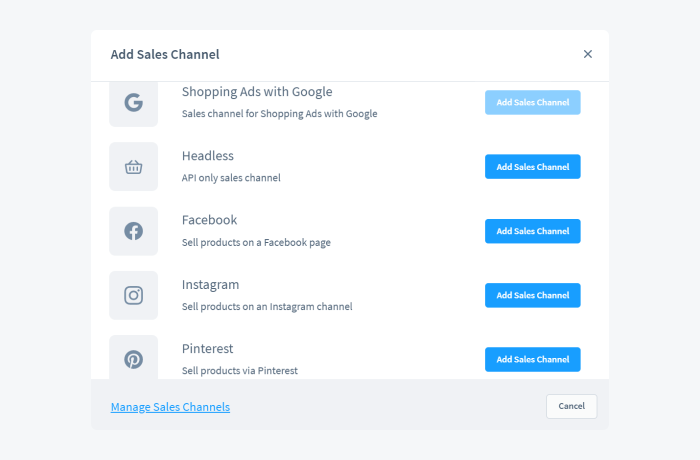 The Shopware platform comes with a wide range of built-in integrations. These include popular payment providers such as Stripe, shipping carriers like DHL, and many other useful tools and services. For example, you can create new sales channels and connect Shopware to your social media accounts or to Google Ads.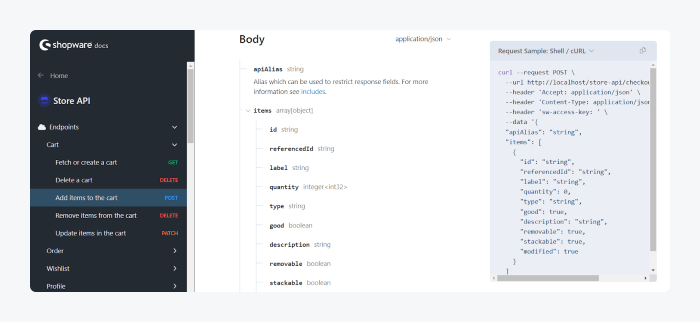 In case you need more integrations, Shopware comes with a Rest API that lets you connect your store to any external applications, databases, and systems. The API is well documented and easy to use. If you want to get full control over your store, the Shopware API is a great way to do it.
Pricing
Shopware has a simple pricing structure. There are four plans:
Free Community Edition
Professional Silver Edition
Professional Gold Edition
Enterprise Edition
The first option is fairly limited, but if you are tech-savvy you can still use it to build a decent store. Choosing the Community version also presupposes that you won't need the help of Shopware's support team.
The Professional Edition is the most popular option. It includes all the features you need to build a fully-functional online store. With the Silver edition, the price starts at $69 per month. The Gold edition, which adds some additional features and faster support, starts at $149.00 per month (with the annual billing model).
The Enterprise Edition is a custom solution that can be tailored to your specific needs. That's why the price for this option is quite high and starts at $2,495.00 per month.
Different editions can be cloud-based or self-hosted, which also affects the final price and additional fees.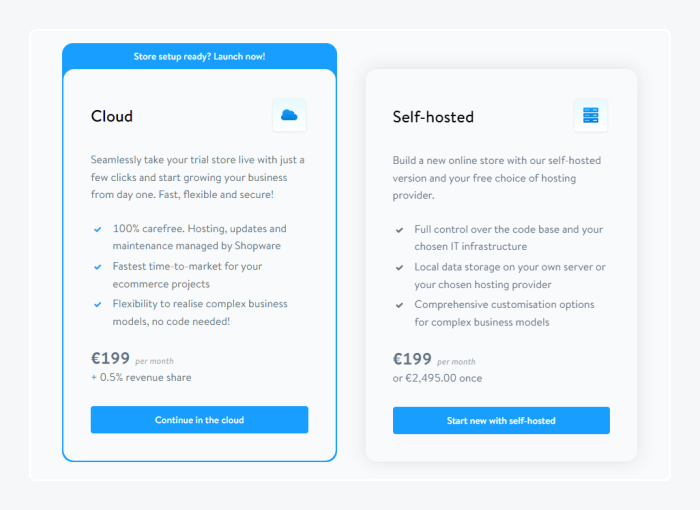 If you want to choose the most hassle-free option, you can also go with Shopware Cloud. You won't need to worry about hosting, updates, or backups—Shopware will take care of all that for you. All you need to do is focus on selling. This is also the default option if you want to try out Shopware. You can create a free trial store and upgrade to a paid plan when you're ready.
Now—
Let's go through the setup process of your first Shopware store.
How to set up and run a successful Shopware business
Shopware is a great platform for selling online, but it's not without its challenges. Before you get started, it's important to understand what you're getting into and make sure you have the time, energy, and resources to make your Shopware business a success.
Here's a quick guide on how to kickstart your first online shop using Shopware.
Step 1: Find the right product niche
The most important factor in any successful online business is choosing the right product. This is what will determine your target market, your branding, and how you position yourself in the marketplace.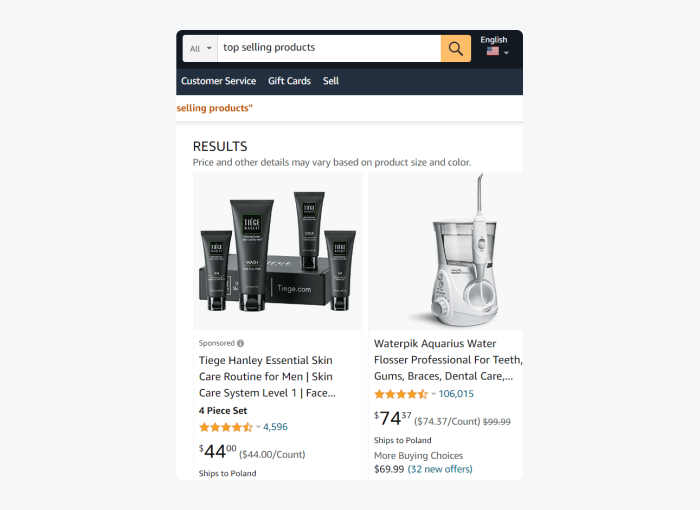 Try to spend some time researching different product ideas before settling on one. Look at trends in the industry, check Amazon, see what's selling well for other businesses, and try to come up with a unique angle that will make your store stand out. You don't have to limit yourself only to Shopware-based websites. There are many great Shopify stores that sell interesting products you can get inspiration from.
Read more: Popular Things to Sell Online & Trending Products
Step 2: Set up your online store with Shopware
Once you've decided on a product, it's time to set up your online store. If you're new to Shopware, don't worry—it's easy to use and there are plenty of resources to help you get started.
The first thing you need to do is sign up for a free Shopware account. If you're just starting out or want to test the waters first, we recommend going with the free trial.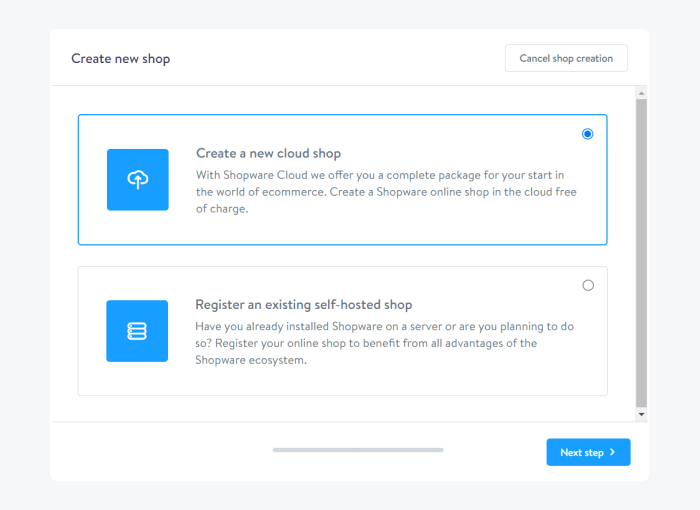 Unless you already have a store that you want to integrate with Shopware, you'll need to choose the cloud version. Just click the Create a new cloud shop option.
Alternatively, you can register a self-hosted store. But it requires finding a 3rd-party Shopware ecommerce hosting provider and some additional maintenance.
Next, you need to choose a domain name for your store. This is something you should spend some time thinking about, as it will be how people find your website online. Once you come up with a good name, you can check to see if it's available and then register it.
Step 3: Choose the right Shopware template for your business
One of the great things about Shopware is that there are many different themes available to help you create a unique look for your store. While you can always hire a developer to create a custom theme for you, there's no need to do that if you're just starting out. There are plenty of beautiful, professionally-designed themes available that will suit any business.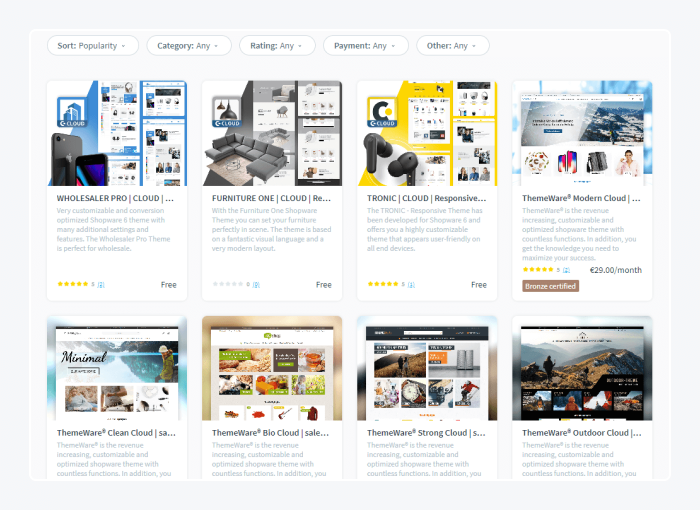 When choosing a theme, make sure to consider the overall design and whether it matches the products you're selling. And finally, take a look at the reviews to see what other users have to say about the theme. Once you've found the perfect match, you can install it on your Shopware store with just a few clicks.
Step 4: Add extensions to connect with your customers
Another useful thing about Shopware is that there are many extensions available to help you connect with your customers. For example, you can add live chat to your website to provide a better shopping experience. Interacting with your shoppers directly on your website is a great way to increase engagement and your sales.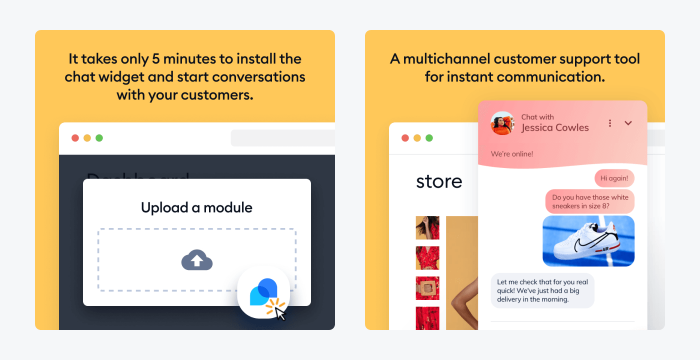 This extension will let your customers get help right away if they have any questions. Live chat support has a proven track record of increasing sales and reducing shopping cart abandonment.
There are also many Shopware widgets and extensions for social media, email marketing automation, and more. You don't need to install all of these right away. Start with the ones that you think will be most useful for your business and then add more when you need them.
Step 5: Add products to your store
Now it's time to start selling your products!
The first thing you need to do is add them to your Shopware store. Just click on the Products tab and then Add product. Here, you'll need to fill in some basic information about each product, such as the name, price, and description. You can also add photos, videos, and other media to help show off your products.
Remember to set up your payment methods and shipping options for specific products too. Shopware makes it easy to accept payments from all major credit cards and popular payment providers like PayPal. You can also set up automatic shipping calculations or create your own custom shipping rates.
Once you've added all of your items and assigned product categories, you can start creating collections and promoting them on your website.
Step 6: Use ads and marketing to promote your store
Once your store is set up, and you have products to sell, it's time to start promoting your business. There are many different ways to market your Shopware store.
You can start by creating a social media profile for your business and sharing your products with your followers. Facebook chatbots and Instagram bots are also amazing tools that help to connect with potential customers and promote your brand.
It may also be a good idea to use email marketing templates to reach out to your customers and let them know about new products, sales, and special offers. But don't forget about good old-fashioned paid advertising. You can use Google Ads or Facebook Ads to reach potential customers who are searching for products like yours.
Good luck!
Key takeaway
Shopware is a great platform for setting up an online store. There are many themes and features to help you create a store that looks great and functions well. And there are plenty of customer service and marketing extensions to help you promote your products and reach new shoppers.
If you're thinking about setting up an online store, Shopware is definitely worth considering. Just remember to take your time and start with the basics. Once you have your store up and running, you can always scale up and add more features as you need them by upgrading your Shopware plan, installing new plugins, or using the Shopware API.
Shopware FAQ
If some things are still unclear, check out this FAQ section. Here are the most common questions about Shopware.
What does Shopware do?
Shopware provides an online platform for businesses of all sizes to create and manage their own online stores. It allows you to add products, manage orders, build custom product pages, and add 3rd-party extensions for additional ecommerce features.
Where is Shopware based?
Shopware is headquartered in Schöppingen, Germany, but it has a global reach and a US office in New York too. Recently, the company has been getting a lot of international recognition, particularly in Europe.
How to make an ecommerce website with Shopware?
You can sign up for a free trial and then follow the steps described in this article. The process is quite straightforward and should only take a few hours to get your store up and running. You can also visit the official Shopware Academy to find additional online training resources.
Is Shopware open source?
Shopware provides a free and open-source community edition of their platform, as well as paid professional/enterprise editions. The community edition is released under the GNU AGPL (GNU Affero General Public License), while the commercial versions are available under proprietary licenses. Still, the platform allows a great deal of flexibility and customization.
Is Shopware a CMS?
Shopware is not a content management system (CMS) in the traditional sense. It does not provide a way to manage the contents of your website outside of the context of products and ecommerce. However, it does allow you to create custom landing pages and advanced website structures. If you want to use it for things like running a blog, you'll probably need to find a way to integrate it with a 3rd-party CMS solution.
What is Shopware 6?
Shopware 6 is the latest major release of the Shopware platform. It includes a significant rewrite of the code and a new front-end framework (Vue.js). This makes it easier to create custom integrations, updates some key features, and provides better performance and scalability. Shopware 5 may no longer be supported by some extensions, so always make sure to double-check tech requirements.
What is Shopware built on?
Shopware is written in PHP and uses the Symfony web application framework. The front-end interface is built using JavaScript and Vue.js.