Today, selling things online is a foolproof way to get some extra cash. It doesn't matter if you are just trying to get rid of some old stuff or starting an eCommerce business.
There are hundreds of places and platforms where you can sell your products or resell items. But you don't have to check them all one by one. We did it for you!
In order to succeed, online selling sites must be trustworthy and familiar to buyers. Given the choice, customers will always pick websites they already know and like. That's why popularity is one of the critical factors when choosing the best place to sell online.
Here is the list of the absolute best places for online sales, subdivided into platforms and online marketplaces:
Best eCommerce Platforms
Websites & Online Marketplaces to Sell Online
Not what you're looking for? Check out these instead:
Part 1: Best Platforms to Sell Online
Running your own store is the best way to sell things online if you want to turn eCommerce into your day job.
At some point, you'll need more control over your website. And choosing an eCommerce platform over eBay gives you exactly this sort of freedom.
You will be able to take care of:
Store management
Store customization
Customer service
Marketing
All these aspects are essential if you want to take full advantage of email campaigns or live chat.
What is the best platform to sell online?
Here are the best eCommerce platforms available today: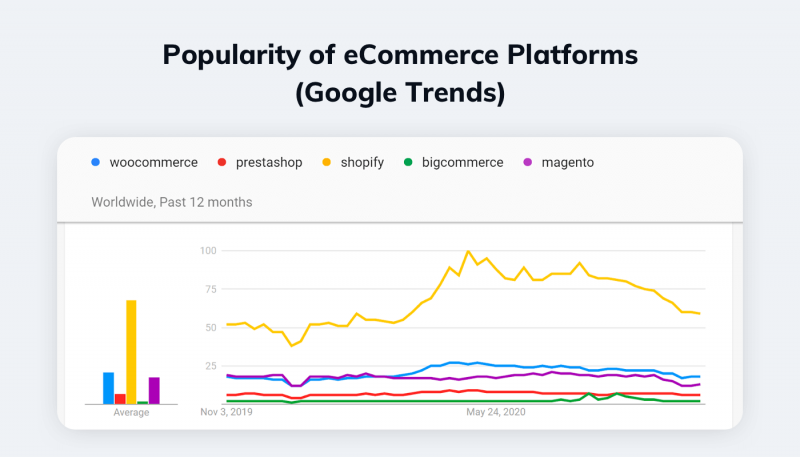 Shopify is significantly more popular than other online selling platforms. During the COVID-19 pandemic, many businesses were forced to move their business online. Shopify turned out to be their eCommerce platform of choice. You can see the boost that occurred between March-September 2020.
Shopify
As you already know, Shopify is arguably the most popular eCommerce platform in the world. It is an obvious choice, especially in English-speaking countries.
It has everything to get you started—that includes logo and business name generators. You can build and manage your store with several clicks.
You can start selling items online via Shopify in four simple steps:
Create a Shopify store
Find suppliers with Shopify Handshake or a dropshipping app of your choice
Install Tidio for lead generation, customer service, and email marketing
Count the money coming your way
If Shopify sounds to you like a good platform to sell online, check our guide: How to Use Shopify for Selling Stuff Online .
If you want to learn even more about the platform itself, have a look at this in-depth Shopify review.
Read more: Check out the best Shopify alternatives and competitors for your ecommerce store.
WooCommerce

Shopify is the easiest way to sell products online if you want to start from scratch. But, if you already have a WordPress website you can try WooCommerce.
WooCommerce is an open-source eCommerce platform created for WordPress. You install the free plugin and—puff!—your website turns into a fully functional store.
Currently, it is the second most popular eCommerce solution worldwide. In some countries, like Russia, WooCommerce is more popular than Shopify.
Benefits of WooCommerce:
Read more: WooCommerce vs Shopify: Who's Better? [2021 Comparison]
Magento

If you want to sell your stuff online for free, starting your own Magento store may be overkill. Magento is popular among eCommerce professionals who expect top-quality solutions.
In 2018 Magento Commerce was acquired by Adobe, the company that created some of the most important tools for web designers. It's only natural that Magento has the best drag-n-drop online store builder and awesome UX.
Magento Marketplace has almost 3,500 extensions that you can use to customize your store. The cost of the Magento Enterprise Edition is $22,000. But you can run a small business with Community Edition for free.
Read more: Magento vs. WooCommerce: Which One Is Better?
PrestaShop

PrestaShop, pretty much like WooCommerce, is an open-source eCommerce solution. You install the software to build and manage your store from one dashboard.
While the platform is free, you still need to pay extra for templates and add-ons. Watch out! Many of the modules on Presta Marketplace are in fact free services (but you pay for integration).
PrestaShop offers:
Advanced store customization
Over 3,700 modules to boost your online selling
A big selection of payment options for your store
BigCommerce

BigCommerce is one of the major competitors of Shopify. Recently, this company from Texas went public and it's been gaining popularity.
BigCommerce allows you to build your store from scratch. You can use many out-of-the-box tools for designing your website and managing sales. If the basic features are not enough, you can select from well over 800 apps available in BigCommerce App Store.
Here is a surefire recipe to quickly sell things online with BigCommerce:
Build your BigCommerce website
Add your products or install Spocket to dropship
Install Tidio to boost customer engagement and sell more
Advertise on social media to generate traffic.
Psst. Still not sure which eCommerce platform you should choose to sell things online? Check this comparison: BigCommerce vs Shopify—Which One Should You Choose?
Weebly eCommerce

Weebly is a free website builder. And one of the most popular in the world! It is easy to use and offers professional eCommerce solutions.
What's the catch?
There is no free plan for online stores. If you want to use Weebly for eCommerce you need to switch to Pro or Business plans.
Weebly eCommerce is an excellent place to sell online that lets you:
Choose ready-made online store themes
Use Weebly Promote toolkit for marketing
Manage your store with a mobile app
Integrate your store with 200+ apps from Weebly App Center
Wix Stores

There has been fierce competition between Wix and Weebly about which of them is the best page building tool. However, somewhere around 2017, the tables turned and Wix took the lead.
Wix has a good partnership with Modalyst. This means that it makes a perfect solution for dropshipping.
If you are interested in selling items online with Wix consider this method:
Build an online store with Wix Stores
Connect it with Modalyst to dropship products
Install Tidio with Wix App Market
Chat with customers to increase sales and generate leads
Send promo email campaigns to get returning customers
Repeat steps 4–5 and track your profits
Wix vs Shopify: What's the main difference?
Shopify or BigCommerce are eCommerce platforms with integrated page building tools. Weebly and Wix are page building apps that offer eCommerce functionalities and they are better for small businesses. On the surface, there might be little or no difference. But if your primary concern is selling rather than web design, choose an eCommerce platform.
Jotform
Jotform Store Builder is an online no-code app builder that allows you to sell products, services, and subscriptions.
It provides over 23 payment gateways with which you can receive payments and collect donations easily. You can build your store by simply choosing one of the 100+ ready-made templates and customizing it according to your preferences and business needs.
Jotform Store Builder also offers more than 80 ready-to-use widgets such as product lists, QR codes, and map locations.
Why you should choose Jotform Store Builder to sell things online?
You can customize your store according to your theme and liking
It offers a free plan
It is easy to use and speeds up the selling process
Part 2: Best Places to Sell Online
If you think starting your own eCommerce store is out of your depth, you can try some other ways to sell stuff online.
Have a look at the websites below to buy and sell items, especially if you:
Have little or no knowledge on how to sell on the internet
Are looking for websites to sell items online for free
Are familiar with websites like eBay
Want to resell things/sell used items online
Are searching for websites to sell stuff locally
Is it profitable to sell online?
Selling things online is very profitable and the number of digital shoppers keeps growing. However, starting your own online store is a far better long-term strategy than selling things on websites like eBay. It will allow you to customize your store and use external tools such as chatbots or abandoned cart apps.
Is it profitable to sell online? Selling things online is very profitable and the number of digital shoppers keeps growing. However, starting your own online store is a far better long-term strategy than selling things on websites like eBay. It will allow you to customize your store and use external tools such as chatbots or abandoned cart apps.
Here are the best online sales sites and marketplaces. Most of them will allow you to buy and sell items for free or for a small fee.
eBay

Before Amazon, eBay used to be the most popular online marketplace in the world. It is still the best option if you want to sell used or unique items.
Is selling on eBay worth it?
Definitely. You can list up to 200 items a month for free and you'll be charged a small fee only once you sell something (it's 10%).
To start selling on eBay you need to:
Download the mobile app
Take pictures of the things you want to sell
Write descriptions
That's it. Your listing is ready!
Occasional eBay sellers don't need advanced features. But if you want to run your business on eBay consider subscribing. You'll get extra benefits like managing your promotions and paying smaller fees.
What is the most popular eBay alternative?
Some of the best eBay alternatives are:
Amazon
Etsy
Bonanza
Craigslist
Ruby Lane
eBid
Amazon

Amazon is the most popular and successful eCommerce website right now. It could very well be the best place to sell things online because of the sheer number of buyers who visit Amazon.
23% of all online shoppers start their search on Amazon before buying anything.
Approximately half of the items sold on Amazon come from independent sellers. You can open your own store and list your products on Amazon for $39.99 a month. You'll also need to pay fees.
The main benefits of using Amazon include:
Etsy

Etsy is the best place to sell handmade items and personalized gifts online. If you want to open an online store to sell jewelry, clothes, or home decor accessories, it is the best choice.
Etsy is meant to be a place for creators and craftsmen who offer unique products of the best quality.
It is one of the best places to sell stuff online because:
The listing fee is only $0,20 per item
There are no monthly fees for running your store
You get access to many tools for store management and analytics
More sites like Etsy:
Aftcra
Amazon Handmade
ArtFire
Folksy
IndieMade
Storenvy
Zibbet
Facebook Marketplace
If you are looking for websites to sell stuff locally, consider Facebook Marketplace. It is the fastest and easiest way to sell used items online.
Listing your things on Facebook Marketplace feels like writing a Facebook post. Take some photos with your phone, add descriptions, and you are good to go. Facebook algorithms will take care of the rest and find local buyers.
Why should you pick Facebook Marketplace to sell your things?
You can add your listings to hand-picked Facebook groups
It is free! There are no listing charges or extra selling fees
It's a better and faster option than local selling sites

Instagram Shopping

Instagram is one of the best places to sell physical products online. You can turn your profile into a business account and use your posts and stories to tag products.
The process is very easy:
Connect the Instagram business profile to your Facebook catalog
Sign up in the Instagram Shopping app
Create posts and stories and tag your products (up to 5 per image/video)
Using the Instagram Shopping features to reach customers is very effective. You can show products in a very natural way and find the right audiences with hashtags. You can plan your Instagram feed and show products in a very natural way and find the right audiences with hashtags.
Still, you should treat Instagram primarily as a marketing channel. It should attract visitors to your online store but it cannot replace it.
ead more: Discover the best shopping bots available on the market with examples and a tutorial on how to build your own.
Bonanza

Bonanza is "the best place to sell online"—or so says their homepage. According to many annual eCommerce reports, it surely has been one of the top sites out there.
This online marketplace has some old-school internet vibe to it. Bonanza may look slightly outdated. Especially with their bragging about being the top buyers' choice… of 2016.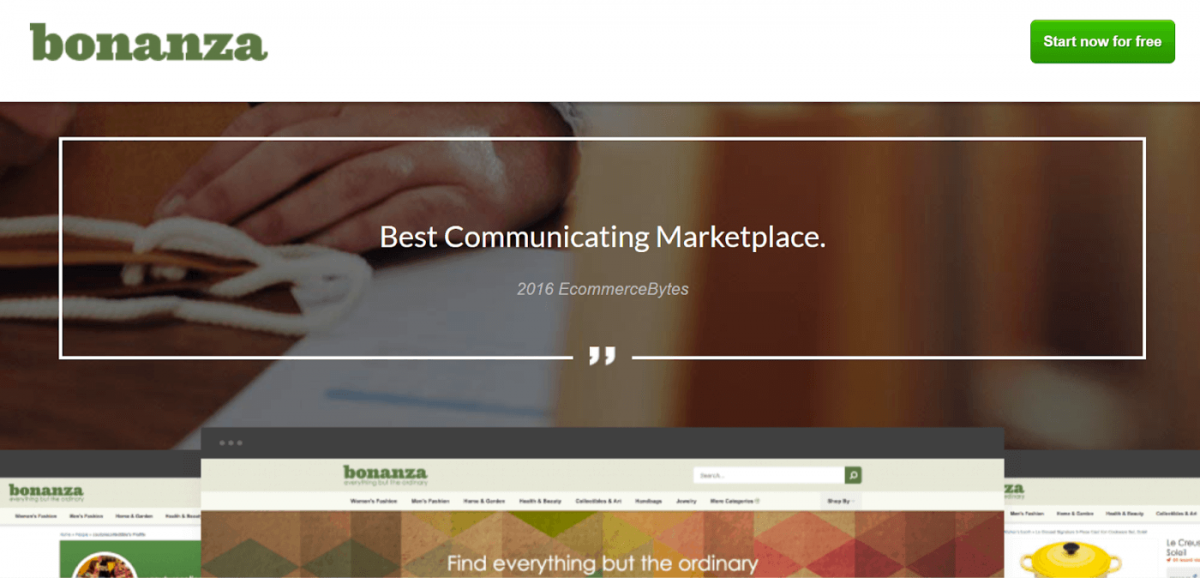 Even so, Bonanza is still alive and kicking and there are many reasons why you may want to choose it over eBay:
There are no listing fees
Final value fees are very moderate
Your listings never expire
Craigslist

At some point, almost everyone used Craigslist to find information, a job, or a date, or a place to sell stuff. It was like a combination of Reddit, Quora, Facebook, Tinder, and eBay.
If Bonanza feels slightly dated, Craigslist is full-on retro. It hasn't evolved much since its initial conception in the 90s and it is very resistant to change.
Thankfully, many internet users are creatures of habit. Craigslist still is one of the best websites to sell stuff locally. It is very popular and could work for you as an online marketplace.
Why is craigslist so bad? Because people don't seem to mind.
It is free
It has a vibrant community
It is "good enough"
Ruby Lane

Ruby Lane is the best place to sell vintage items, antiques, and collectibles. Want to sell a collection of creepy porcelain dolls you have found in the attic of your late aunt's house? Ruby Lane is the place.
Apart from being the best vintage marketplace online, Ruby Lane has a detailed physical shop directory. If you don't want to sell your old stuff online, you can try to locate a store that will be interested.
Ruby Lane pricing:
The monthly maintenance fee is $54
Listing of 50 items is included in the maintenance fee
The final value fee is 6.70%
eBid

eBid is an alternative to eBay. Its commission fees are competitive and there are many categories to choose from. It offers free listing, a 5% final value fee, and Google Shopping integration.
If you want to switch your marketplace website, you can import items from eBay to eBid with several clicks.
eBid is one of the best websites to buy and sell items if they are:
Books
Comics
Jewelry
Magazines
Music records
Sport memorabilia
Stamps
Vinted
Fashion resale has become a booming market and apps like Vinted are extremely popular among Millenials and Gen Z. Vinted offers you enough flexibility to take care of everything with just your mobile.
The idea is very simple—if you are not wearing something, you can take a picture and list it on Vinted.
For every sold item you pay a fixed amount of $0.70 and a 5% final value fee. You can also boost your item visibility for 3 days if you pay $0.95 extra.
Vinted is the best place to sell used clothes online but you can also use if to sell:
Shoes
Bags
Jewelry
Perfume
Makeup
Cosmetics
Gumtree

In a way, Gumtree is an alternative to Craigslist that became very popular in Europe and Australia. It is another classified advertisement website that has pretty much everything—from used cars to job offers.
Gumtree is one of the best local selling sites in the UK. If you want to get rid of an old TV set and some DVDs you can list the bundle on Gumtree and someone will pick it up at your place.
In general, Gumtree is free but there are several upgrades available. For example, you can pay to boost your visibility or add extra photos make sure you have a good camera for product photography.
Benefits of selling on Gumtree:
It is free and easy
Great for selling locally
Informal and suitable for direct pickups
Poshmark

As the name suggests, Poshmark is posh in every which way.
A popular alternative to Vinted, Poshmark is a social eCommerce marketplace where users can sell clothes and accessories.
Poshmark is very easy to use and trendy but the commissions are quite high. The final value fee is 20% and it can't be lower than $2.95.
While other second-hand fashion websites have categories like t-shirts, jackets, coats, and pants, Poshmark has popular brand names instead of categories on their homepage. That should give you a hint.
Preloved

Preloved is a UK-based classified advertising website with hundreds of categories. If you don't like Gumtree, try Preloved. It is the favorite website of many second-hand bargain hunters.
Preloved puts much emphasis on the community. There are different membership tiers. For example, some users get extra benefits like early access to selected advertisements.
Why should you consider Preloved for selling things online?
There are no listing fees
No commissions
Huge user base
Do you have any problems with finding the right place to sell your stuff online? Consider giving it away for free. Websites listed in this article have special categories just for that. For example, Preloved has a section with free items.
Key Takeaways
There is no "one size fits all" solution for selling products and items online. There are several factors like the amount of control you need, external tools you use, type of your products.
You can choose from countless resale sites, online marketplaces, eCommerce platforms, and websites to sell items online for free. Here is a short summary that will help you to find the right option for you.
Where to start your online store: Shopify, WooCommerce, BigCommerce, Wix Stores
Where to sell anything for free: Bonanza, Gumtree
Where to sell handmade items: Etsy, Folksy, Amazon Handmade
Where to sell antiques & collectibles: Ruby Lane, eBay, eBid
Where to sell second-hand clothes: Facebook Marketplace, Vinted, Preloved, Poshmark
Where to sell things locally: Facebook Marketplace, Gumtree, Craigslist
Remember that if you want to become a successful online entrepreneur it is best to start your online store. It is easier than you think and the most profitable solution. Connecting with your customers with tools like live chat is essential if you want to stand out and engage your buyers.