You want to build an ecommerce website for your business, and you're wondering if Magento ecommerce is the right choice for you?
Of course, it's best to discover as much as possible about the platform before making a purchase. But there's so much to go through—reviews, features, pros, and cons…
Let us stop you right there! We've already done all of that for you.
Let's go through all you need to know about Adobe Commerce, so you can make the right decision for your online business.
In this article:
Check out these articles for all things ecommerce:
Let's start by answering the basic question—
What is Magento Commerce?
Magento Commerce, also known as Adobe Commerce, is an ecommerce solution for larger online retailers, designed with developers in mind. It offers inventory and sales management for better organization of your ecommerce store. It also provides a page builder, so you can effortlessly create and design your web pages exactly the way you want.
Adobe Commerce is a part of Adobe Commerce Cloud (ACC) that provides an open-source platform to personalize, manage, and optimize an ecommerce store.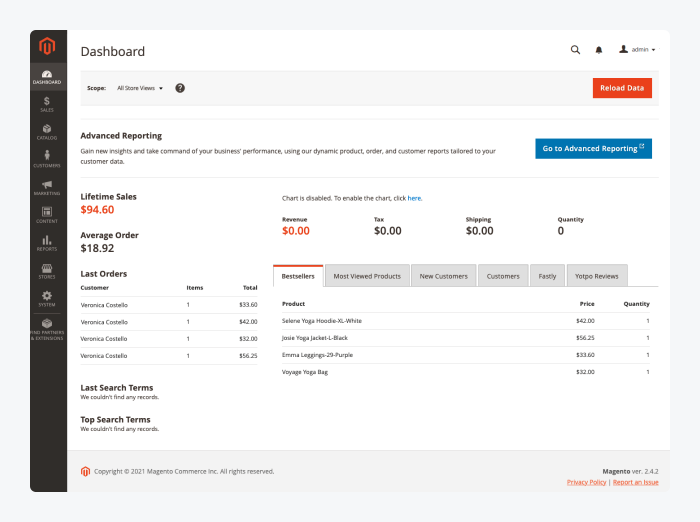 A little background check:
You might have read the news headlines "Adobe acquires Magento!" Yes, it happened. Adobe acquired Magento on the 19th of June 2018 and Magento ecommerce became Adobe Commerce.
You might have also seen two different versions of Magento online, Magento 1 and 2. So, what's the difference between the two?
What is Magento 2?
Magento 2 is an updated version of Magento 1. It is an ecommerce platform that is compatible with PHP7. This makes the loading time faster in comparison to Magento 1. It also allows for automatic updates of the users' ecommerce websites.
Magento 2 software makes your site more SEO friendly and optimized for mobile devices to improve the user experience. Also, Magento doesn't support Magento 1 since June 2020. Therefore, Magento 2 is the only version that is supported by the platform.
Another important aspects to address are the two versions of Magento and the differences between them.
Magento Open Source vs. Magento Commerce software
Magento Open Source is a free version of the platform, and then there is paid Magento Commerce software. Magento Open Source offers all the functionalities you need to get started on your ecommerce site. Magento Commerce, on the other hand, gives you more enhanced security and many more features to build and operate your ecommerce store.
In this article, we will only discuss Magento Commerce, so if you'd like to know more about Magento Open Source, check out this article about this software and its features.
Let's have a quick look at a comparison table of the main differences between Magento Commerce and Magento Open Source:
| Magento Open Source | Magento Commerce |
| --- | --- |
| Free platform | Paid platform |
| All the basic features for setting up and running the ecommerce store available | More advanced features available, such as live search customer loyalty tools, and machine learning |
| Basic reporting | Advanced reporting |
| Multiple stores management included | B2B quote, approval managing teams and hierarchy included in the multiple stores management |
Here's a video comparison of the two:
That's very general. Let's go into a bit more detail and discover what some of the most important Magento ecommerce features are.
Magento ecommerce feature list
As mentioned above, Adobe Commerce differentiates itself from the open-source version by the number of extra features it provides. Some of them include business intelligence dashboards, advanced marketing tools, and customer segmentation. You also get technical support and a dedicated customer success manager with this version of the software.
Let's look through the major Magento ecommerce features that will be helpful for your business:
Connecting multiple channels and enabling your customers to shop from wherever they want
Creating mobile-first websites
Creating and launching content on your business website using a page builder
Using AI product recommendations based on buyer's behavior, trends, and product similarities
Managing orders and inventory to ensure real-time product availability
Managing customer accounts with centralized order details from all sales
Custom catalogs, pricing, quotes, and self-service customer portal for a better B2B buying experience
Categorizing and cataloging of all products
Getting automated report updates, a range of data export options, and various user roles
Being PCI-compliant with a certified Level 1 Solution Provider (provider that stores and processes over 300,000 transactions per year)
Offering multiple payment services including local currencies, cloud-based infrastructure, and flexible payment methods for shopping cart checkout, like credit and debit cards, PayPal, and Venmo
These are just a few, hand-picked features of the platform. Check out the full list on the Adobe Commerce website.
Ready to move on? Let's look into why you should consider Magento ecommerce solution for building your site.
Why use Magento ecommerce?
With so many alternatives, you might ask yourself, "why should I pick Adobe Commerce for building my website?" Well—for starters, Adobe was named one of the leaders in the 2021 Gartner Magic Quadrant for Digital Commerce.
Also, there are about 200,000 business websites built on Magento as we speak. This translates to about 0.72% of the ecommerce usage on the entire internet. There must be a reason for it.
So, let's dive in to Adobe Commerce pros, cons, pricing and reviews.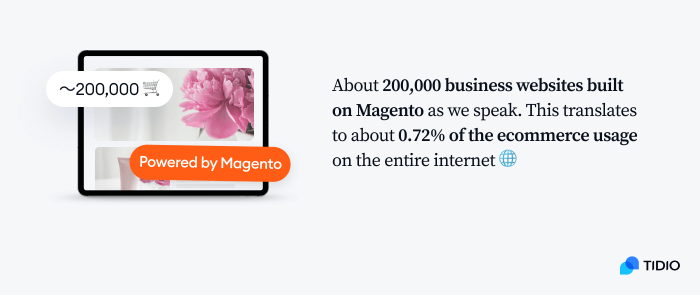 Pros and cons of Magento ecommerce platform
Magento for ecommerce is one of the most scalable building tools. But, it demands a developer's skills and significant investment. Let's weigh down the positives and negatives of the platform.
Here's a list of the major pros and cons of Magento e-commerce:
Pros:
3720+ extensions
Complete customization
Global Magento community of users
Many payment gateway options including PayPal and Venmo
Advanced security
Fast speed of page loading
Easy integration with Google Analytics and Search Console
Optimized for search engines
Multi-currency support
Rich on features
Cons:
Complicated for non-coders
Expensive compared to competitors
No point of sale (POS) support available
Only five themes available on Magento Marketplace (three free and two paid)
As you can see, there are many advantages to Adobe Commerce. The two major benefits are complete customization and rich features. The former lets you create a perfect website for your ecommerce store with the look and feel that matches your brand. The latter advantage ensures you can perform all the functions your business requires to be successful.
The two major drawbacks are its price and the difficulty of setting the platform up. This can be a problem for companies who are just starting up and online businesses that aren't tech-savvy. The pricing is too high for small and medium businesses. Also, the set-up of the platform is difficult for non-developers, therefore, you'll need to hire a professional to take care of that for you.
Another important question to ask when discussing the platform: how much is Magento Commerce?
Magento Commerce pricing
If you don't use the Open Source version of Magento, you need to contact the Magento sales team for a custom pricing plan for your company.
The Magento Commerce price normally ranges from $22,000 to $190,000 per year. The price depends on your revenue. For example, if your average gross sales revenue is between $1million and $5million, you'll pay around $32,000/year. But if your revenue is higher than $25million, then Adobe Commerce will cost you about $125,000/year.
Read more:
Magento ecommerce hosting
Adobe Commerce Cloud is, as the name suggests, a cloud-hosted model of Magento. Therefore, the platform provides hosting as part of their software license cost.
One aspect to keep in mind is that cloud-hosting puts the responsibility for making updates and handling maintenance on the merchant. So, you will have full control but also full responsibility to update and maintain your site. So, you will have full control but also full responsibility to update and maintain your site, whether you're launching a new website or migrating an existing online store.
If you don't want to handle the updates and maintenance, you can choose to pick a hosting provider that will take care of the hosting for you. The best ones for ecommerce Magento are: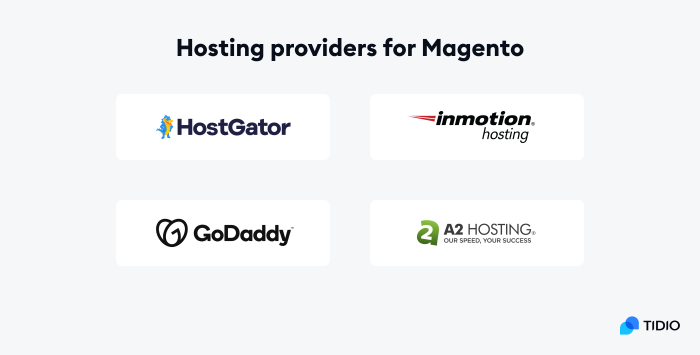 Magento ecommerce review
Let's see what Magento's users think about the platform. Here are the star ratings—
Magento Commerce ratings from some of the popular review sites:
Okay, so the average rating is about 3.9⭐️. Let's now dive into the reviews from Magento ecommerce users and see what their opinions and experiences are.
Magento is a successful web development tool for website creation. We can create a large website for business. We can update products images, and content and create product categories to manage several products easily.
Firstly, Magento is a cloud-based platform that is very popular, so we have more chances for fast improvement. Also, Magento is filled with high-performing features.
The main disadvantage of Magento is its price. The company offers a free version that covers our online store's basics. But we won't be able to do too much with it, so we will have to invest in the paid features.
Mainly, Magento has a complex and large system. Magento is costly, time-consuming and hard to customize.
Overall, reviewers like the functionalities of the platform. They also like that it's cloud-based and improvements are easy and quick to implement. The two disadvantages that are consistent in the reviews is the pricing and complexity of Magento Commerce making it costly and time-consuming to set-up.
Magento ecommerce design elements
A design of a website comes down to more than just its looks. It's about the user experience as well. To make this experience better, Magento works on two types of design elements that the users can utilize. These elements include extensions for various purposes and themes for different types of businesses. So—let's explore them!
Magento ecommerce extensions
Magento marketplace has about 3,255+ extensions available for ecommerce businesses. These include extensions for a variety of purposes, for example, customer communication and sales.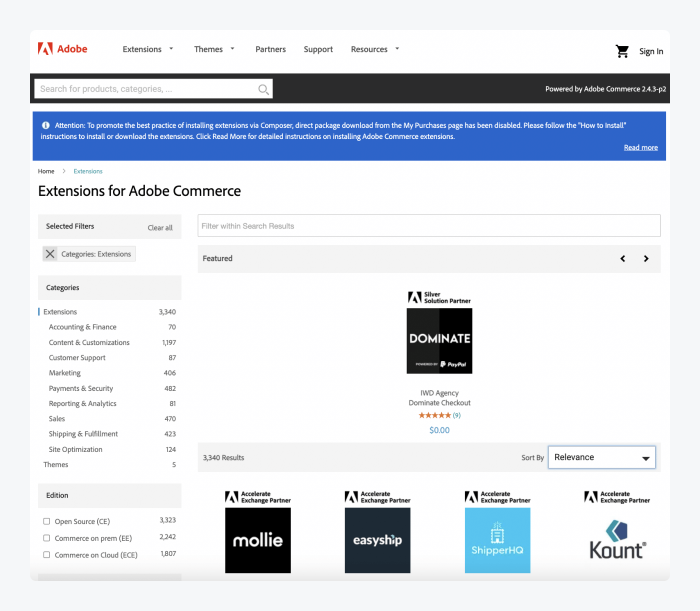 The categories for the Magento Commerce extensions are:
Accounting & Finance
Content & Customizations
Marketing tools
Payments & Security
Reporting & Analytics
Sales
Shipping & Fulfillment
Site Optimization
Make sure to list your needs and understand what's the task you want the extension to help you perform. You should also check how frequently the extension is updated and compare different add-ons' features and pricing. Remember to check the reviews and the Q&A section to find out what users think of the extension.
Find out what the best Magento ecommerce extensions are in this video:
The official marketplace is just the tip of the iceberg. There are countless apps and plugins that you can integrate into your Magento store manually. For example, you can add Tidio live chat on Magento and check out some of the best Magento live chat available.
Magento ecommerce themes
There are three theme templates that are free and two paid themes ($499 per theme) on Magento Marketplace.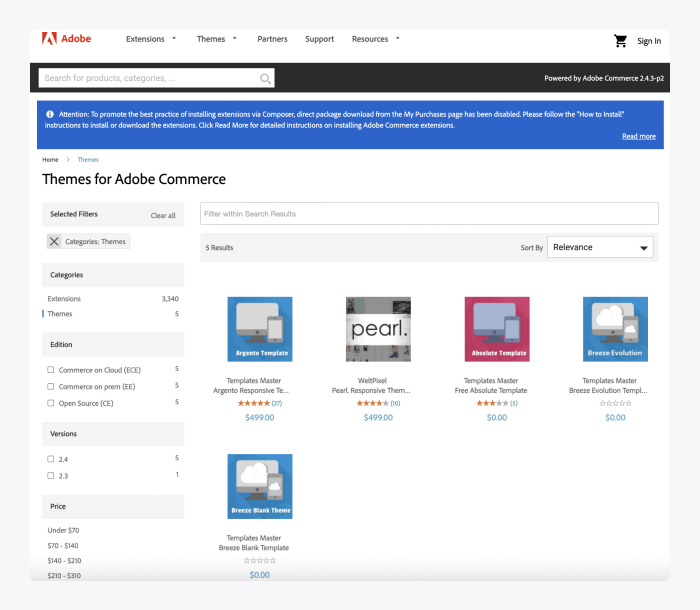 Themes provided on the Magento Marketplace are basic. You can customize them to your liking, but there aren't many choices there.
If you want something different, you can look at some additional themes from other sources. Some of the websites you can find alternative themes for your Magento ecommerce are:
Check out some of the best Magento theme options to make your store attractive to the customer. When you're finished with that, let's look through some of the best examples of companies that used Magento Commerce to build their site.
Magento ecommerce websites: examples
Wondering what a website built on Adobe Commerce looks like?
Let's check out five ecommerce stores that have used Magento Commerce to build and host their website.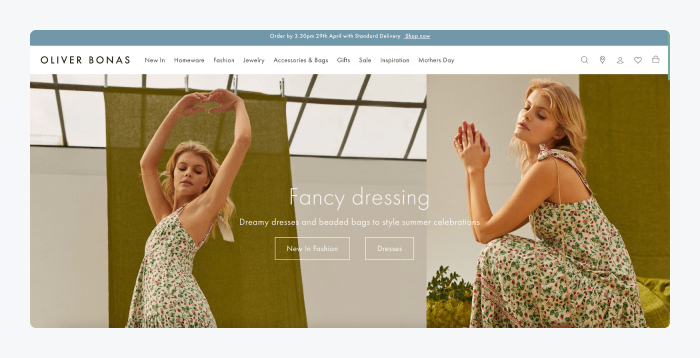 Oliver Bonas created a simple, yet enticing ecommerce website on Magento Commerce. This website is a great example of how Magento allows you to create easy navigation to improve customer experience on your store. You can press on any section you're interested in, like Homeware or Fashion from the upper menu to jump to the right page. You can also look through some of their new arrivals in a carousel of photos or get some suggestions for different occasions.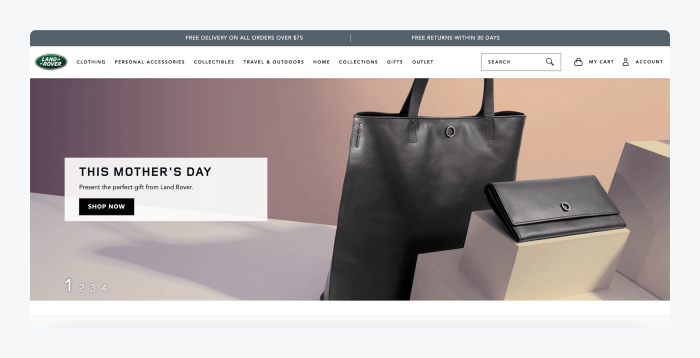 No, you cannot buy a car from this website. But you can get any other merchandise produced by Land Rover. This includes keyrings, car models, clothing, luggage, and much more. The website shows bestsellers and outlet products at a glance to attract visitors to click through to the product pages.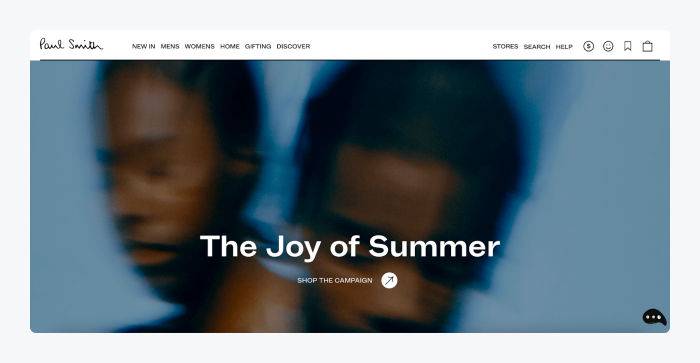 Paul Smith, a British clothing designing company, also used Magento Commerce to build their website. It's especially aesthetically pleasing as it includes many beautiful photos. You can hover on top of different sections and get products or looks from each one of them. This ecommerce store also has a pop-up when you enter encouraging visitors to subscribe which can help collect leads.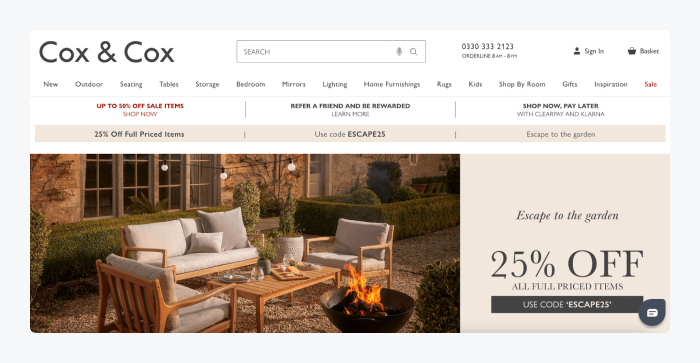 This ecommerce website offers discounts on top of their front page to encourage visitors to make a purchase. They also have a search bar for shoppers to find what they're looking for quickly and easily. Cox & Cox offer a clear number to call and a carousel of most popular products for visitors to browse through.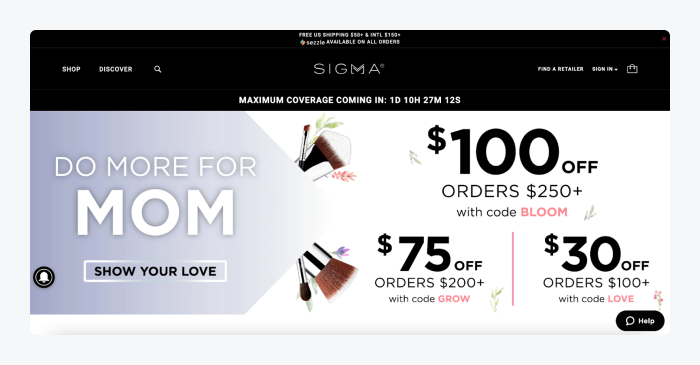 This vegan beauty company has two large photos that change every 10 seconds showing a discount page and the customized product page. They also have trendy #tiktokmademebuyit products that visitors can scroll through on a carousel-like section. This website has mostly black and white aesthetics and offers potential buyers to either shop or discover more about the products.
Check out this case study on tactics for increased product page conversion rates.
Magento ecommerce alternatives
There are over 400 different ecommerce platforms on the market at the moment. So, you do have a choice and many alternatives if you decide that Magento ecommerce solution is not for you. Let's look at the five best Magento Commerce competitors and see which one is the best ecommerce platform for your business needs.
Comparison table of Adobe Commerce alternatives
| Platform | Rating | Pricing |
| --- | --- | --- |
| Magento | 3.9/5 ⭐️ (465+ reviews) | $22,000 – $190,000/year 💸 |
| WooCommerce | 4.4/5 ⭐️ (940+ reviews) | Free 💰 |
| Shopify | 4.3/5 ⭐️ (3,995+ reviews) | $350 – $3,600/year 💸 |
| BigCommerce | 4.2/5 ⭐️ (420+ reviews) | $360 – $3,240/year 💸 |
| OpenCart | 4.3/5 ⭐️ (95+ reviews) | Free 💰 |
| SalesForce | 4.2/5 ⭐️ (310+ reviews) | Based on the gross merchandise value (GMV) and/or order volumes. 1% – 3% of GMV 💸 |
Five of the best Magento ecommerce competitors are: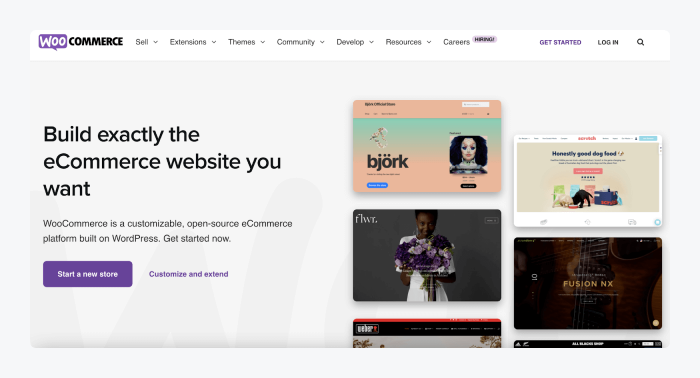 This is one of the free alternatives to Adobe Commerce. WooCommerce is an ecommerce plugin for WordPress websites. It allows you to sell anything with options for endless product variations, enables sale of subscriptions, single items, and bundles. And because it's integrated with WordPress, you have thousands of plugins to choose from and add to your site for more functionalities.
The only downside is that you can't build a website on it. It is an add-on, rather than an ecommerce website builder. This is probably not that much of an issue since you must already be using WordPress to obtain this plugin, but it's good to keep in mind.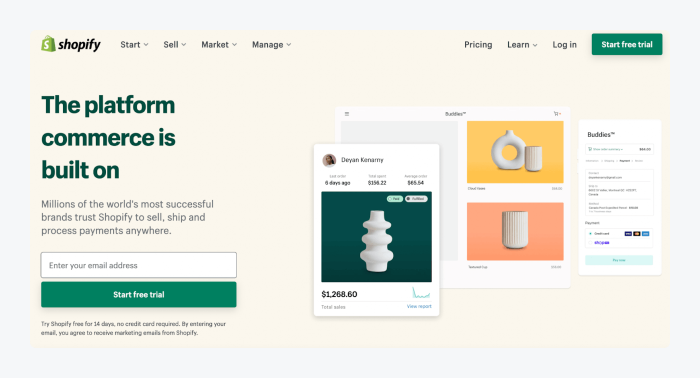 Shopify is an easy-to-use competitor to Magento Commerce. You can use the platform to set up and manage your store across multiple sales channels. These include your website, social media, and brick-and-mortar stores. In comparison to Adobe Commerce, Shopify is more accessible to non-tech users and offers more apps to choose from on their marketplace.
One aspect where Shopify loses to Magento is the SEO optimization of your business site. Magento offers more options and advanced built-in features to help you optimize for organic search without the need for additional apps.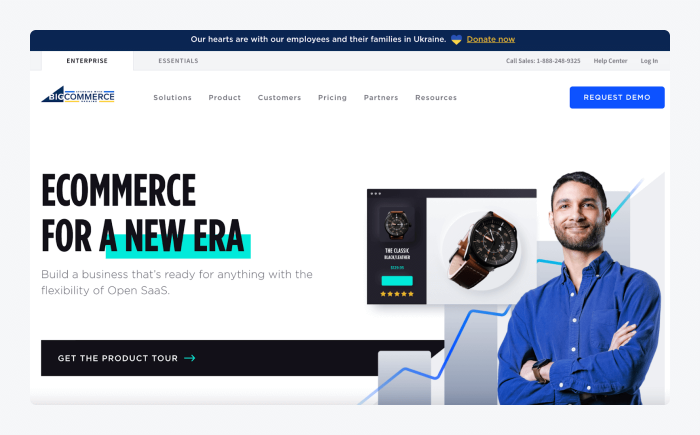 This Magento competitor offers a variety of themes to customize when setting up your store. BigCommerce provides over 170 different themes you can choose from, in comparison to five themes offered on the Magento marketplace. This platform is more suitable for businesses with revenue lower than $50,000/year and not wanting to break the bank on their ecommerce provider alone.
A winning aspect for Magento is the number of marketing features the platform provides for its users. Therefore, it makes the marketing efforts easier than BigCommerce.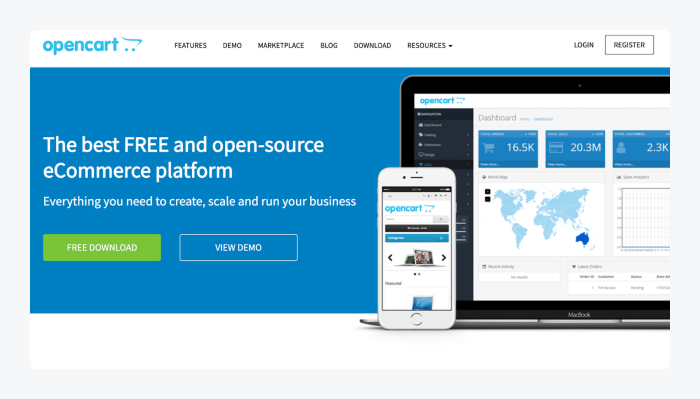 This Adobe Commerce competitor is free to use and enables you to manage multiple stores from a single backend. OpenCart also offers an inbuilt affiliate system, where you can promote specific products and get paid in payment methods such as check, PayPal, and a bank transfer.
A drawback of OpenCart is that it has a limited ability to integrate with third-party product providers, such as QuickBooks.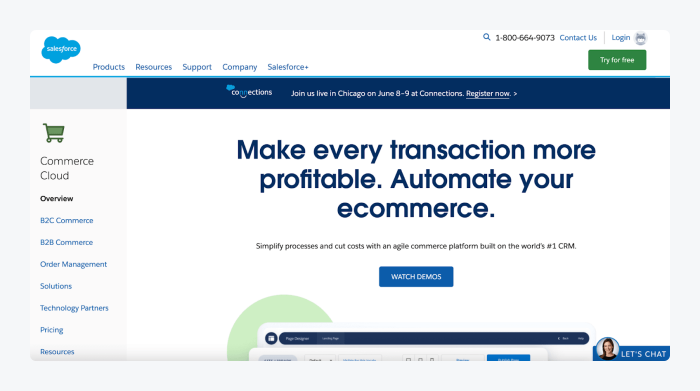 Salesforce Commerce stands out because of its great post-purchase support provided. You can connect your website to the SalesForce CRM to offer real-time customer service to your buyers. You can also use the platform for an omnichannel shopping experience and fulfillment delivery.
One con that should be mentioned is that the information on the panel can look messy because data and graphics are all shown on the same page.
Check out this more in-depth comparison of Magento ecommerce alternatives.
Read more:
Key takeaway
Magento, now Adobe Commerce, is a platform to build, personalize, and manage the online store. It supports merchandisers in optimizing the customer experience for their buyers across the entire customer journey.
Main points to remember about Magento ecommerce:
Rating of 3.9/5⭐️ based on G2, Capterra, and PCMag reviews
Main features include cross-channel shopping experience, multi-brand solution, optimization for mobile devices, AI product recommendations, and live search
Pricing varies between $22,000 and $190,000/year with custom pricing for companies
Magento marketplace has over 3,255 extensions available
There are only five themes on Magento marketplace, but merchandisers can install a third-party theme on their website
Main alternatives include WooCommerce, Shopify, BigCommerce, OpenCart, and SalesForce Commerce Cloud