Want to start an online business? So do many other aspiring entrepreneurs.
But the sad truth is—
About 90% will fail in the first 120 days…
And that's a good thing.
Why?
Because after reading this guide you'll know exactly what it takes to join the 10% of successful online business owners.
Let's get you ready to get it up and running.
In this article:
1. Find the right product
Before you start selling anything, you must decide on products and range. This is arguably one of the most important decisions to make before starting an online business.
And you must be quite specific, too. Why? An online clothing store can sell such specific items as shoes, underwear, cycling clothing, or maternity wear, for example. But it can also have multiple product categories and offer a wide variety of products. What you want to sell will impact all the subsequent steps.
Need product ideas? Since we have a dedicated article on the best things to sell online, here's just a couple to consider:
Bluetooth speakers
Pet products
Matcha powder and tea
Yoga & pilates mats and accessories.
Want to sell professional services rather than products?
Define the main value proposition for customers. Basically, come up with a goal that your online business helps with, e.g., "eCommerce store design without hidden costs," "Interior design services: transform any room in your home at your budget."
Need product ideas for your new online business? You'll find these guides useful:
2. Do a competitive analysis
Competitive analysis is a strategy where you define your most successful competitors, their products, and marketing strategies. The results will help to find market gaps and effective marketing methods for your business online.
To do a competitive analysis:
Find your competitors and products they offer
Research their marketing strategies and selling tactics
Determine their sales channels
Perform a SWOT analysis for each major competitor
Ultimately, you'll discover the best practices to sell your products. At this point, it's time to test them and get a website for your new online business.
Never done a competitive analysis before? Read these detailed guides:
3. Build your website
Starting a business online requires a good-looking website. One that sells, actually. To build it quickly, you might need a website platform.
These are the best options for both online stores and freelancers:
Each of these platforms gives you an option to start selling. Wix and WordPress are better for making online business websites for freelancers, while BigCommerce and Shopify are more suitable for shop owners. You can also set up a freelance recruiter contract template on your website.
If you think that starting your own online business website is complicated, you're wrong. Thanks to drag-and-drop interfaces it's dead easy. Plus, you can start your own business online with no money—WordPress and Wix come for free.
Get help with building an online business with the right platform:
4. Add plugins
So, you've chosen a website platform.
Now it's time to give your internet business a couple of enhancements (a.k.a. plugins, extensions, or apps). You'll need them to sell more, rank high on Google, generate valuable leads, and serve all your customers.
Must-have plugins for a new business website include:
Customer review plugin to add reviews to product pages
SEO plugin for website optimization
Live chat plugin for quick customer service
Abandoned cart plugin to recover sales
Chatbot plugin for lead generation and customer support
Upselling and cross-selling plugin for automatic product recommendations.
Wondering how to start eCommerce sales with plugins? Check out these resources for the best options:
5. Launch your website
At his point, you're literally one click away from your own online business. All you need to do to start selling is to launch it!
If you still need a bit of encouragement, here are several successful small business website examples:
An elegant Shopify-based store and an excellent example of a website-based business. Vivian Jokotade, the founder, says they were able to increase their sales from $8,000 to $30,000 thanks to live chat—a major takeaway for new online stores.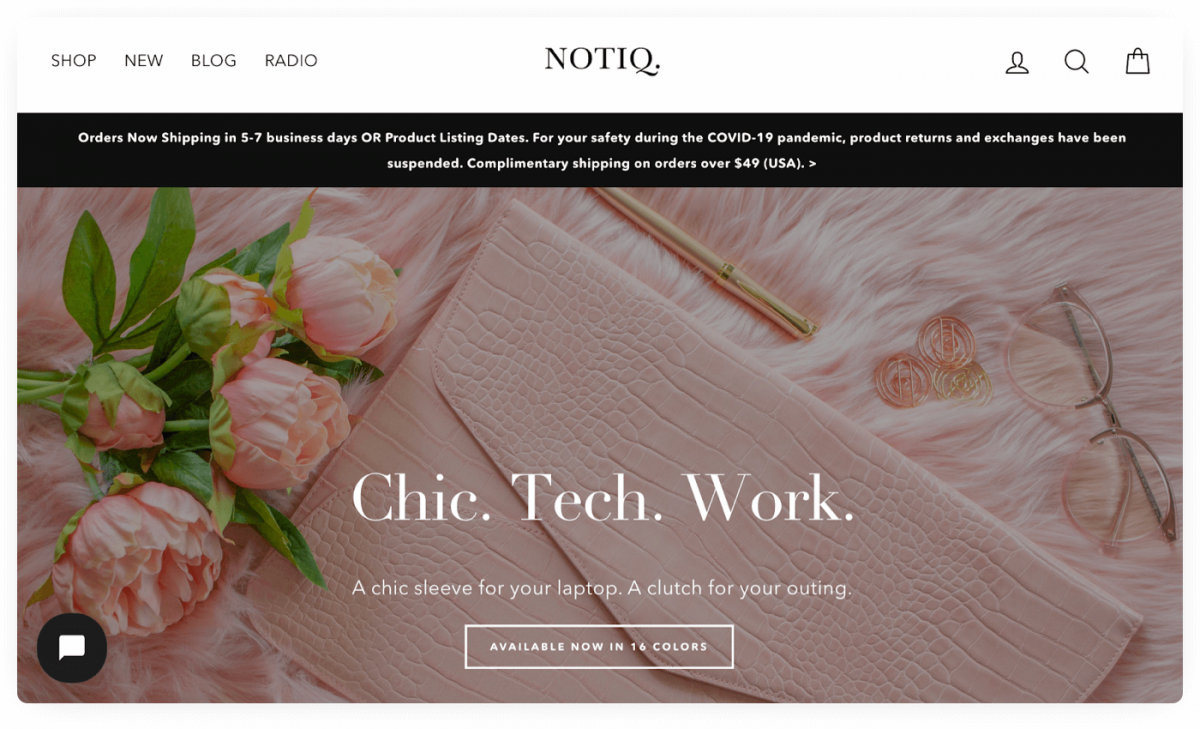 Want to create an elegant store with Shopify, too? This will help:
Whisker Bag combines easy navigation, stunning product photos, and superb customer service tools. It's a great source of inspiration for new business owners selling a limited range of products.
Read the full story behind Whisker Bag: How We Turned Cat Travel Bag Idea Into a $100K/Year Side Business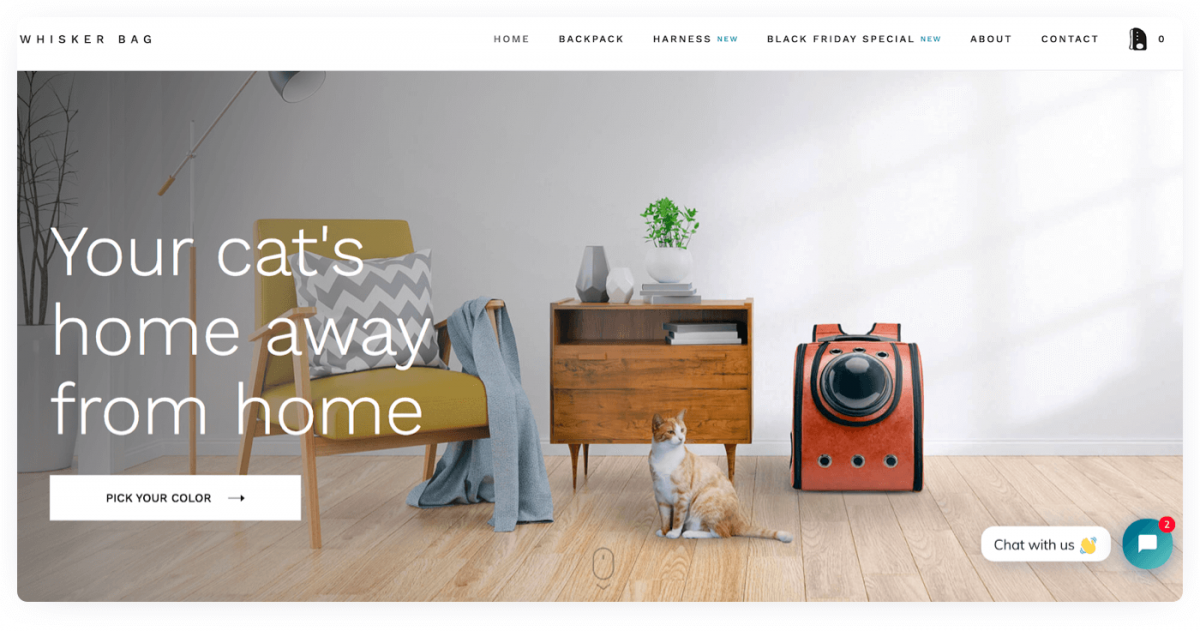 An excellent example of how to make an online business with a unique product and website. Pooch Bandana was off to a great start thanks to chatbots—an idea to answer more customer questions with a limited staff.
Read the full story: How My Dog Accessories Store Doubled Sales with Chatbots (in 7 Days)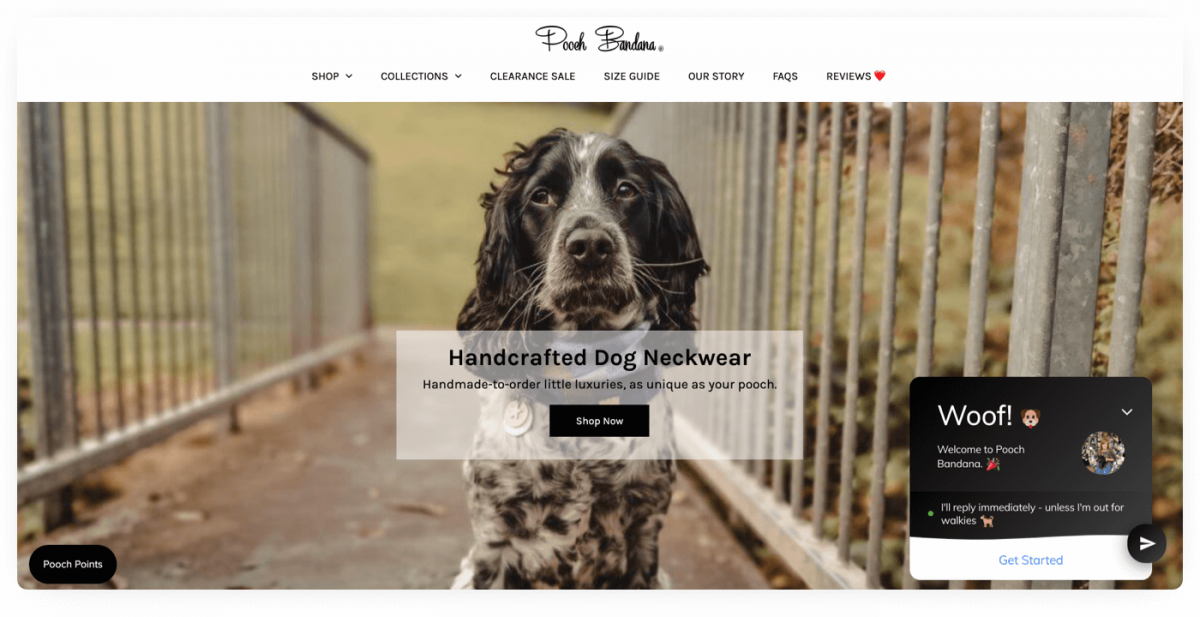 6. Make your first sale
As Notiq, Whisker Bag, and Pooch Bandana show, live chat could help you make the first sale via your online business.
How?
They allow you to be proactive.
You can easily interact with your website visitors in real-time and message them instantly. For example, you can offer them a discount while they're viewing a product page.
It's kind of like having a shop assistant nearby in an online environment.

Chatbots can take you one step further.
Imagine you have 100 visitors at the same time. One chatbot can serve them all. At the same time.
It's easier to score your first sale this way, isn't it?
A chatbot can share a discount, free shipping, or other incentives automatically.
For instance, this one offers a promo code for a 10% discount in exchange for a customer's email address.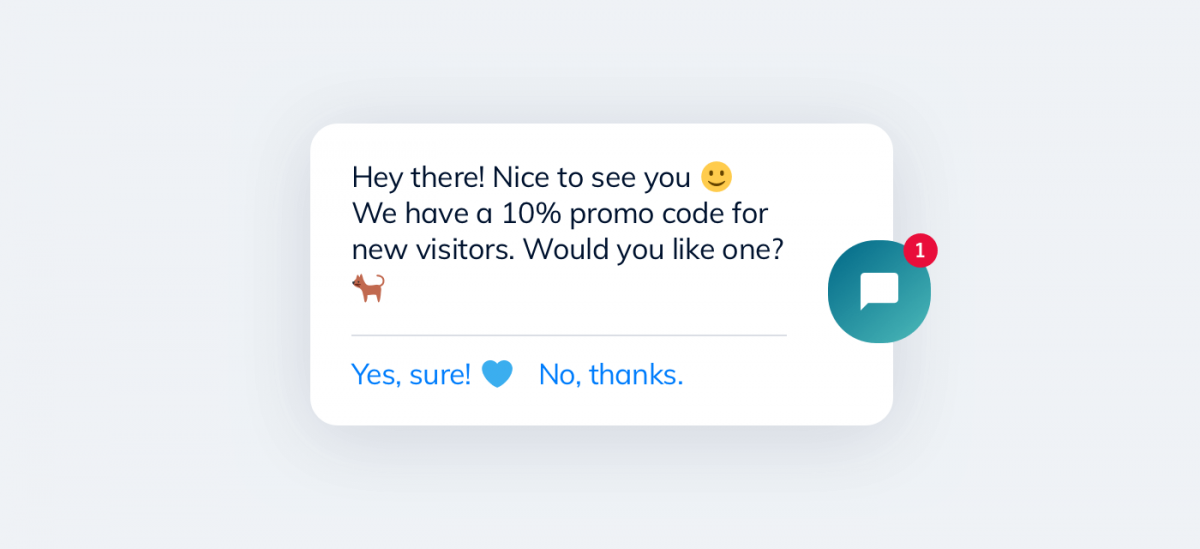 Plus, chatbots will help build an email lead base.
Even if a visitor doesn't buy anything from you initially, you can engage them later on with a newsletter! Another affordable and effective way to build your online business.
How to do online business with live chat, chatbots, and email marketing:
7. Market your new business
You've already researched marketing strategies at the competitive analysis stage. But there can never be enough marketing. The best strategies to try when starting an internet business include:
Email marketing. Send marketing emails to your existing customers to keep them updated on sales, discounts, special offers, loyalty programs, etc.
Facebook advertising campaigns. Advanced targeting options allow you to show ads to your target customers
Content marketing. Start with writing blog articles that have value for your customers—it'll be an organic way to build a reputation
Social media. Share product images, blog articles, customer reviews, and announcements on Instagram, Facebook, etc.
Free trial or consultation. A method to attract leads for freelancers and service-based businesses.
Remember that there's no magic strategy to making an online business. Each option can help your business grow if your marketing appeals to the right people. So knowledge of customer needs is essential.
You can start a blog with a free WordPress or YouTube account and blog or vlog about something that interests you (cooking, travel, small business, auto repair, you name it).
These resources can help you with marketing your online business:
8. Measure business success
How to start an online business and make it last? Monitor its health with metrics, and make the necessary adjustments. Regardless of the industry, business owners should have these metrics to measure success:
Conversion rate. This is the percentage of visitors on your website who end up taking the desired action, e.g. buying, subscribing for a newsletter, etc. The average conversion rate across industries is between 2% and 5%
Customer satisfaction score. Use surveys and reviews to check how many customers are satisfied (and not) after buying from your business
Customer acquisition channel performance. Keep track of where your leads and customers come from (social media, Google, email, ads, etc.) and focus on the best ones
Employee satisfaction score. Employee satisfaction translates into customer satisfaction, so survey your staff to find how to make the workplace better.
Know how your business is doing with these resources:
BONUS: 10+ Simple Online Business Ideas
Still wondering how to start an online business with no money (or not a lot) and what to sell? Head straight to one of our dedicated guides:
Here's a quick overview of business ideas with minimum investment and decent returns.
1. Dropshipping store
A popular way of starting an eCommerce business from scratch that eliminates the costs of storing inventory. The industry is booming: the global dropshipping market is expected to grow by 28.8% annually.
2. Web development
How to start an online business from home? Creating and designing websites is a popular way. Web development skills are in high demand, especially now with the rise of eCommerce due to the pandemic.
The Bureau of Labor Statistics says the employment of web developers will grow by 8% until 2029, suggesting a higher demand for their services.
3. Niche ecommerce seller
An online store selling clothes, dog accessories, luxury planners, vegan food—there's an audience for almost everything. You'll need to figure out a way of reaching it with relevant marketing, though.
4. Remote customer support agent
Answer emails or telephone calls to help your client's customers remotely. A flexible business option that helps to work from home and avoid commuting.
5. Social media consulting
Facebook statistics say that over 80 million small businesses are using the platform—many of them need consulting to reach specific audiences. So, setting up an online business that provides social media consulting services is a good idea.
6. Virtual assistant
Another good way of starting an online business from home. Virtual assistants help individuals like business owners manage their professional and personal lives remotely.
7. Blogging
Get a free WordPress or YouTube account and blog or vlog about something that interests you (cooking, travel, small business, auto repair, you name it).
You can earn between $500 and $2,000 in your first year if you commit part-time (with affiliate links and ads). Full-time bloggers make up to $200,000 per year.
8. Handmade goods seller
Consider yourself a crafty person? How about running an online business to monetize these skills, then?
Starting a small online business in this case means getting a simple website. Getting a website will help avoid the competition on handmade art marketplaces; Etsy alone, for example, has 46+ million sellers.
9. T-Shirt store owner
Been there, done that. But did you get the t-shirt? No? Well, maybe there were none available. Have you considered getting into the t-shirt business? The global custom t-shirt printing industry is forecast to reach $10 billion in five years from now.
Get blank t-shirts from a supplier, create designs, and start an online store!
10. App development
Here's how to start a business online for people with some coding skills: build a mobile app. The market of apps is booming—in fact, the average smartphone owner uses about 30 apps per month, so you can get paying users quickly.
11. Career coaching
Have some experience in HR? Start an online career coaching business and help people build their careers, prepare for interviews, and get better jobs.
More useful resources for business ideas:
Want to learn how to start an eCommerce business from the experiences of others?
Here are a few case studies to help you.
Key takeaway
Starting an online business is an exciting and challenging experience. In the upcoming months, you'll be learning how to make an online business profitable with different marketing strategies and techniques.
Find a product to sell at your online store
Investigate the competition to know how to beat it
Get an eCommerce website for your business
Add plugins to give your business website more functionality
Launch your website
Use proven sales tools to get the first order
Invest in marketing your business
Monitor your business's performance.
That's basically it!
And remember—you can start an online business for free. With so many free website platforms and apps available, there's no need to pay big bucks. Good luck!