Travel or food blog, enterprise website, art portfolio, review site, you name it. No matter what kind of website you need, you can build it with WordPress.
That includes online stores, too! You can combine a powerful WordPress CRM with eCommerce platform plugins (or extensions), such as Shopify or WooCommerce to set up your store.
Both of them are extremely popular. Together, they power up over 50 percent of all online stores. So if you're thinking about setting up an online business, you can't go wrong with choosing either.
Moreover, WordPress functionalities can be extended in many other ways by using various extensions (or plugins). Building an eCommerce site is just a fraction of what you can do with them. They are designed to make yours and your customers' lives much easier.
🚀 Read:
How to Use WordPress to Make a Website [Guide for Beginners]
What Is Live Chat? How Your Business Can Benefit From Using It
Not convinced that you can build an eCommerce business with WordPress? Or maybe you're looking for some inspiration for your own store?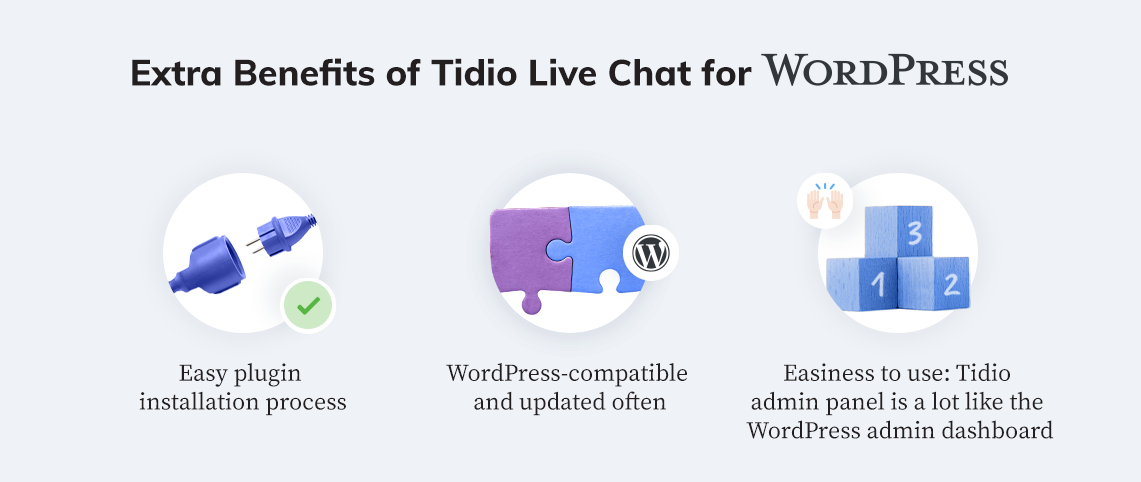 Then do take a look at the list of amazing WordPress online stores we have prepared for you. You'll see that you are not limited by this platform by any means to build an online shop of your dreams.
WordPress Store Examples
The WordPress shops we've chosen are small or medium-sized businesses from all over the world. But the venture size is not what matters. It's quality. And in the case of those sites, it is simply outstanding!
A small disclaimer: As you will see, all the WordPress eCommerce stores on our list are powered by the WooCommerce extension. However, WooCommerce isn't the only option you have. For example, the Shopify + WordPress combo is also a popular choice.
Now, have a look at the gallery and get inspired.
1. Project D
Project Doughnut is a truly engaging (and delicious!) site. The first thing the visitors to this WordPress store see is an animation composed of various shots of a doughnut from different angles. The animation is very dynamic and colorful.
This online shop also features a gallery of eye-catching high-quality photos of doughnuts. And, if that's still not enough to turn on the appetite of all the doughnut-lovers, the visitors are invited to become the taste testers.
This "welcome to my page" message is sent automatically by a chatbot via a live chat. This WordPress chat plugin has a very customizable UI. Thanks to this, the store owner could adjust the widget colors to blend well with the overall website design.
2. MyBrokenHead
MyBrokenHead isn't one of your typical WP eCommerce examples. This WordPress shop offers psilocybin mushrooms grown locally in Canada. Due to the nature of the goods they sell, the visitors need to confirm first that they are at least 19 years old.
The primary color of the layout is emerald green which is generally associated with nature and harmony. The hero image is minimalistic but gives a very clear idea of what kind of good this WordPress store sells.
The user experience is good. The website focuses on the products and all the information the buyer might need. No bells and whistles are needed.
Since all the goods that MyBrokenHead sells are not mainstream, the shop owner has also thought about adding a chat functionality to their store. It is there to provide top-quality chat communication skills and reassure the visitors they can speak with some real person (not a bot) before they place an order.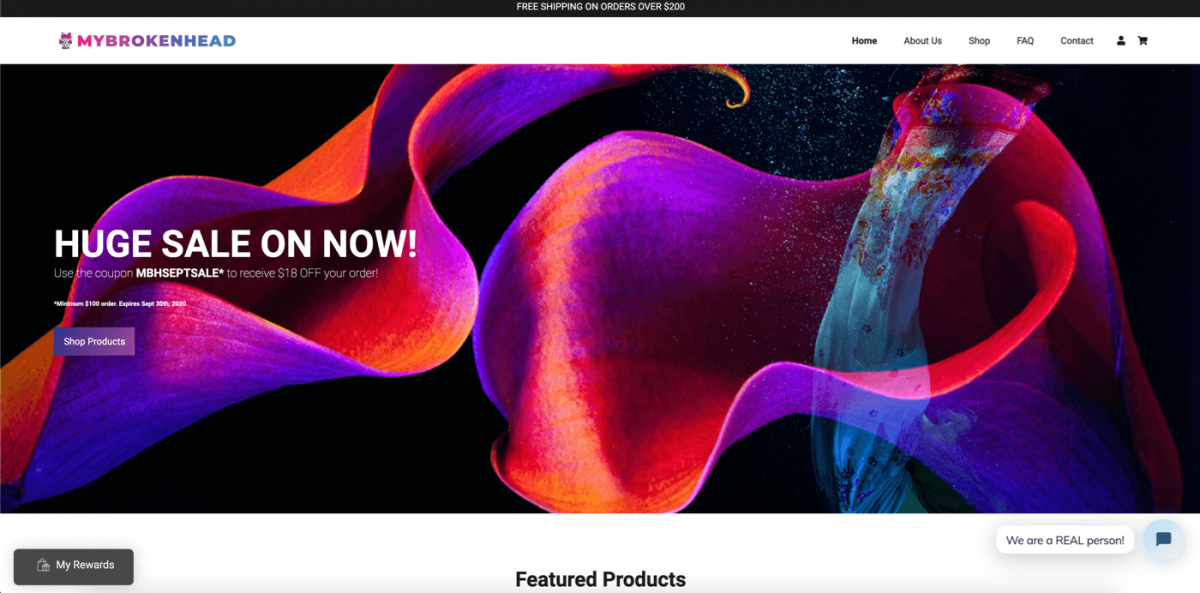 3. Crazy Lenny's EBikes
Electric means of personal transportation, such as e-bikes, are becoming very popular. And that's exactly what Crazy Lenny's WordPress webshop specializes in.
The guys behind the brand want to be perceived as trusted e-bikes experts. They communicate their authority through bold claims, testimonials, blog, explainers, and statistics.
Crazy Lenny's WordPress shop is very customer-oriented. First, the owners offer five different channels to reach them (they integrated chat into their website and use two email addresses). Second, they run a blog where they post articles related to electric bikes.
Apart from using traditional payment methods, Crazy Lenny's customers can pay through PayPal and Apple Pay. Very flexible approach for a WordPress online shop!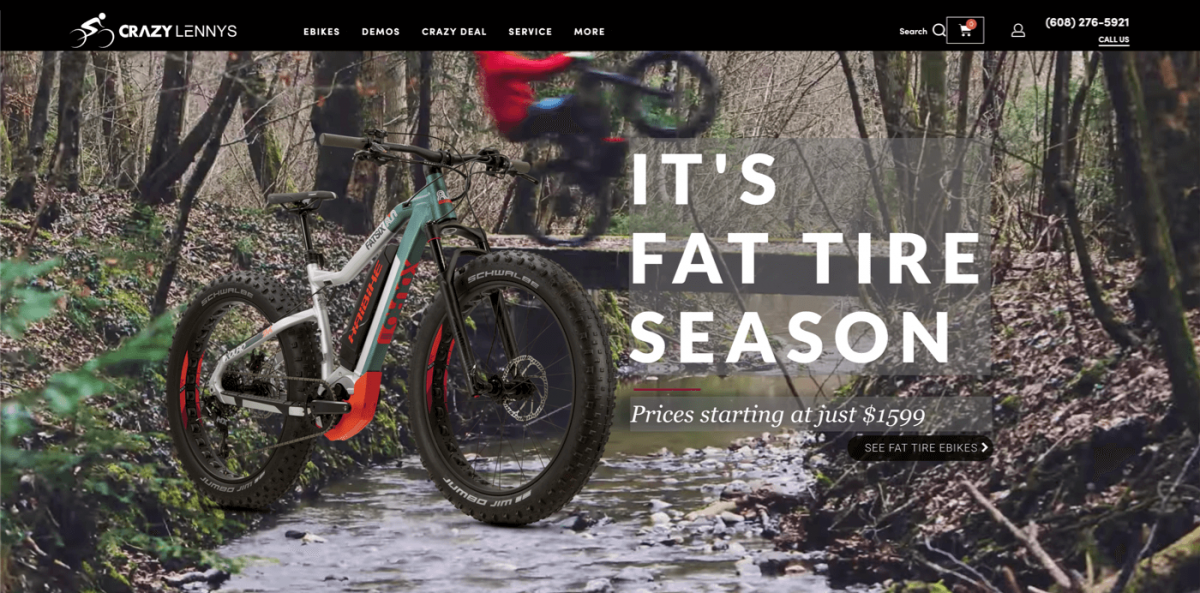 4. Friendly Fires
This WordPress online shop is all about fireplaces and BBQ. Friendly Fires' website is packed with large images of the product types they sell. The hero image is a classic slideshow that directs the visitors to where they need to go.
The store owner took care of having clear and direct navigation. The "Contact" page stands out on the menu so it's easy to notice it. Additionally, there's a live chat app added as well that visitors can use at any stage of their shopping journey.
Friendly Fires has also been running a blog since 2012 and sharing product-related articles, news, and insights.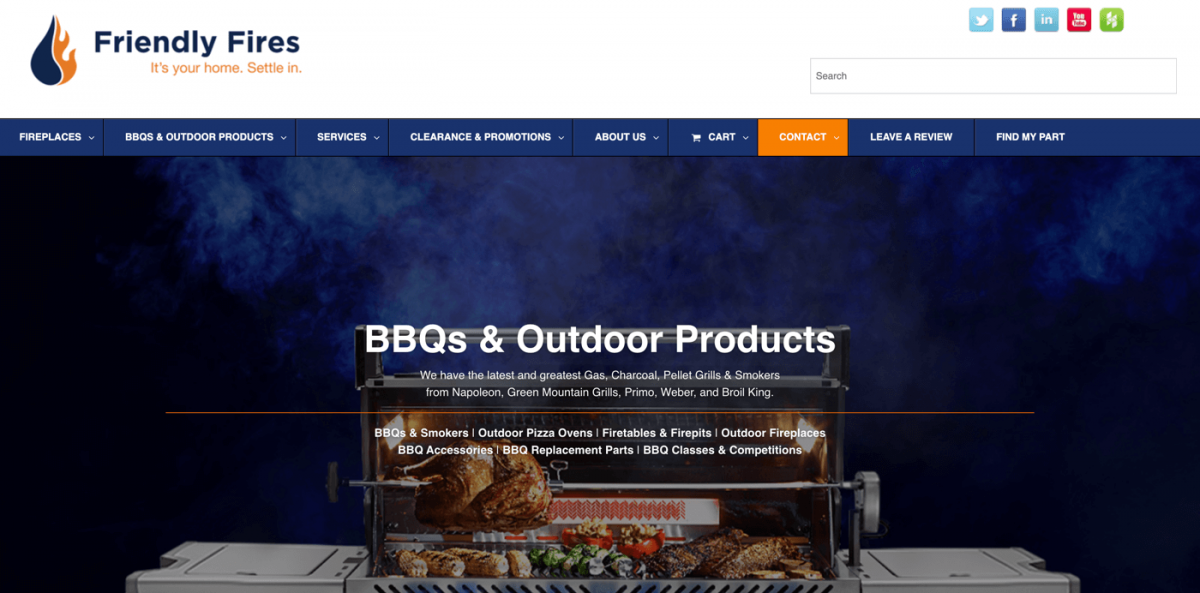 5. Solid Print3D
Solid Print3D is a SolidWorks reseller. The top of the homepage features a slideshow. As you scroll down, the content is gradually revealed by animated CSS slide-ins. The icons of their customers also animate when you hover your mouse pointer over them.
All of these make the Solid Print3D online store for WordPress look very "alive." This feeling is further enhanced by the presence of the chatbot. It sends a welcome message to all the new visitors and offers them some gifts to help them get to know the products better.
The website of their WordPress eCommerce store has all the information the buyer might need. You'll find a well-categorized product page with plenty of filters for a better search. The product images are large and high-quality.
All the elements of the design go well together. Even the live chat widget matches perfectly with the color of the CTA buttons.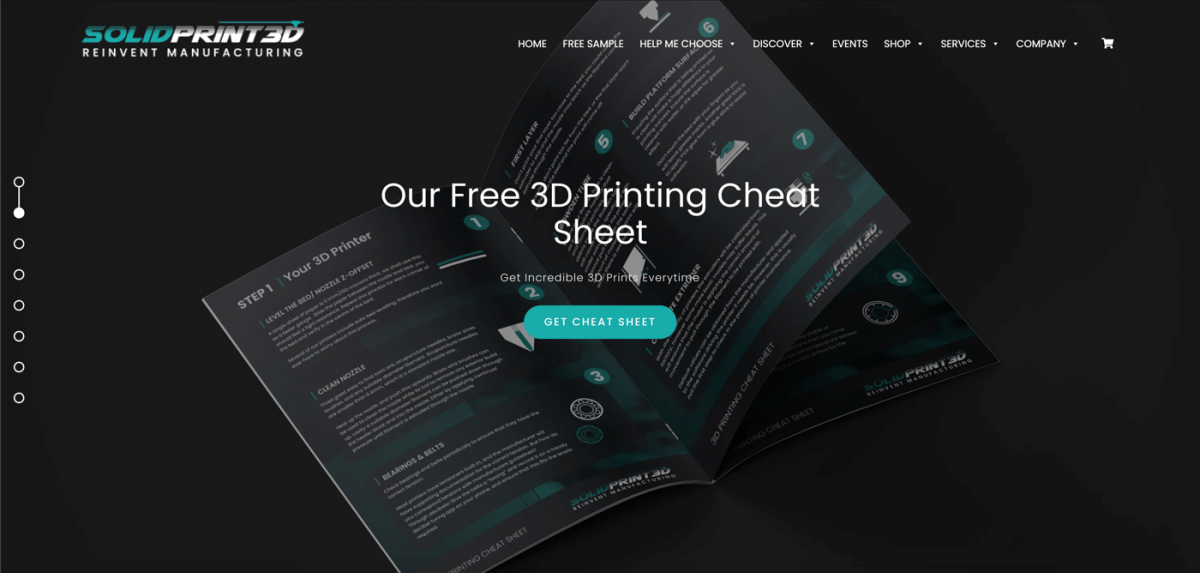 6. Little White Couture
Little White Couture offers handcrafted quality wedding accessories. Their online store homepage design is modern and uses pleasant and peaceful pastel colors. Since it's all about the wedding, the dominant color is white.
The top of the page is reserved for the store name and menu followed by a relaxed video featuring a bride. There's a CTA button in the middle inviting the visitors to browse the collection.
This WordPress online store uses a few popular extensions. Such as live chat, social media icons, and a slideshow with popular products starred and reviewed by the customers. Little White Couture is also one of those WP eCommerce examples of stores that took advantage of WordPress blogging ability to communicate with their audience via product-related articles.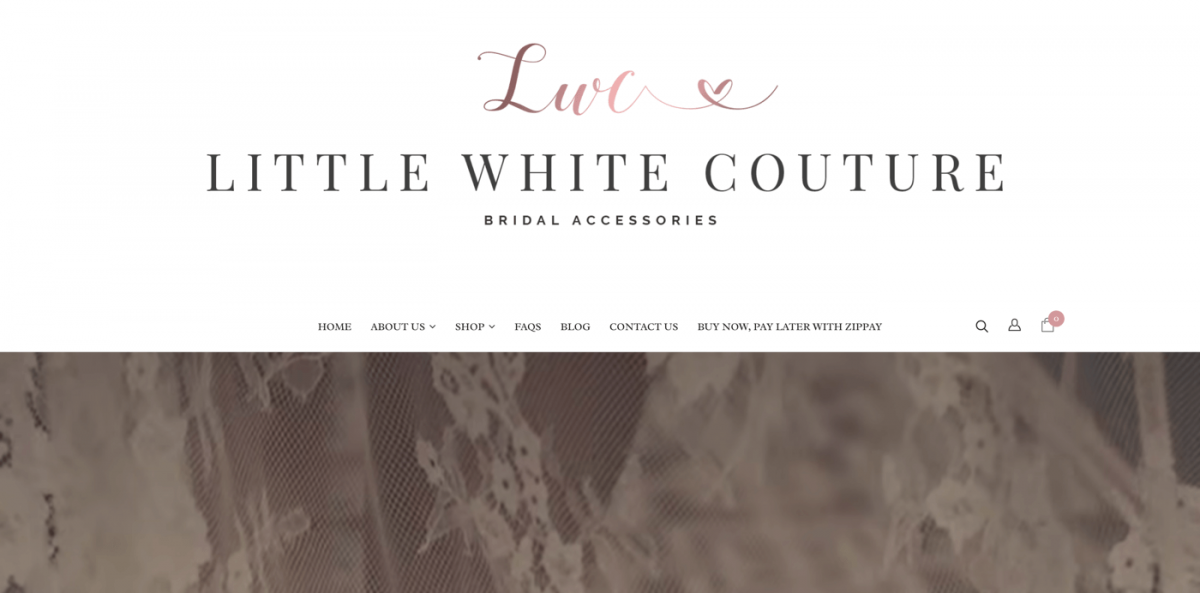 7. RingSource
RingSource company designs and crafts custom signet rings. The store website features high-quality photos of their signets. The shopping process is explained in four simple steps aided with colorful visuals. There's also a downloadable PDF brochure that explains the process in more detail.
On the left-hand side of the website, you'll find a live chat widget populated with a chatbot's automatic message. The chatbot welcomes the visitors to RingSource WordPress store with a simple "Hello, how may we help you." The same greeting you would normally hear in a traditional store.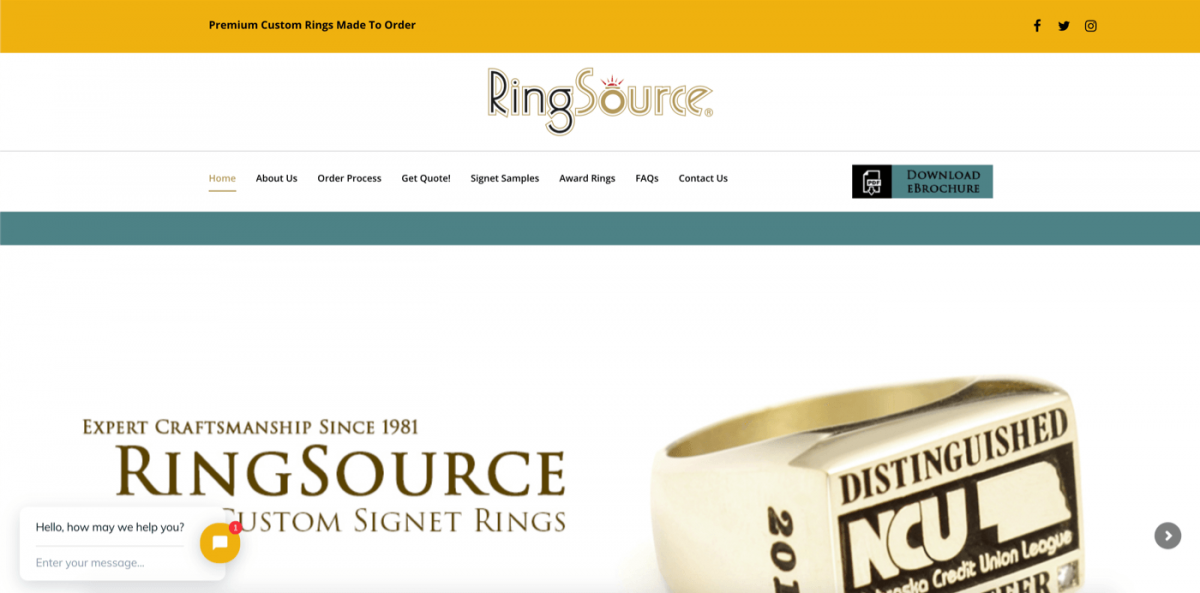 8. Canvas Etc.
Canvas Etc. is a WordPress online store specializing in fabrics and fabric printing. The hero image is a large photo of a close-up fabric. In the center, there's a convenient search bar along with a product category filter. The copy explains well what this WordPress shop sells.
The homepage has all the information the visitor might need upfront. That includes a summary of the fabrics being sold, short explainers, tutorials, and product categories. At the bottom, there's an FAQ section and contact details.
Visitors who are into DIY projects will enjoy free tutorials on sewing, as well as useful tips regularly posted on the blog.
The right-hand-side of the website is reserved for live chat. The left side accommodates two buttons that allow for quick access to fabric swatches. Another example of a convenient but not intrusive design element.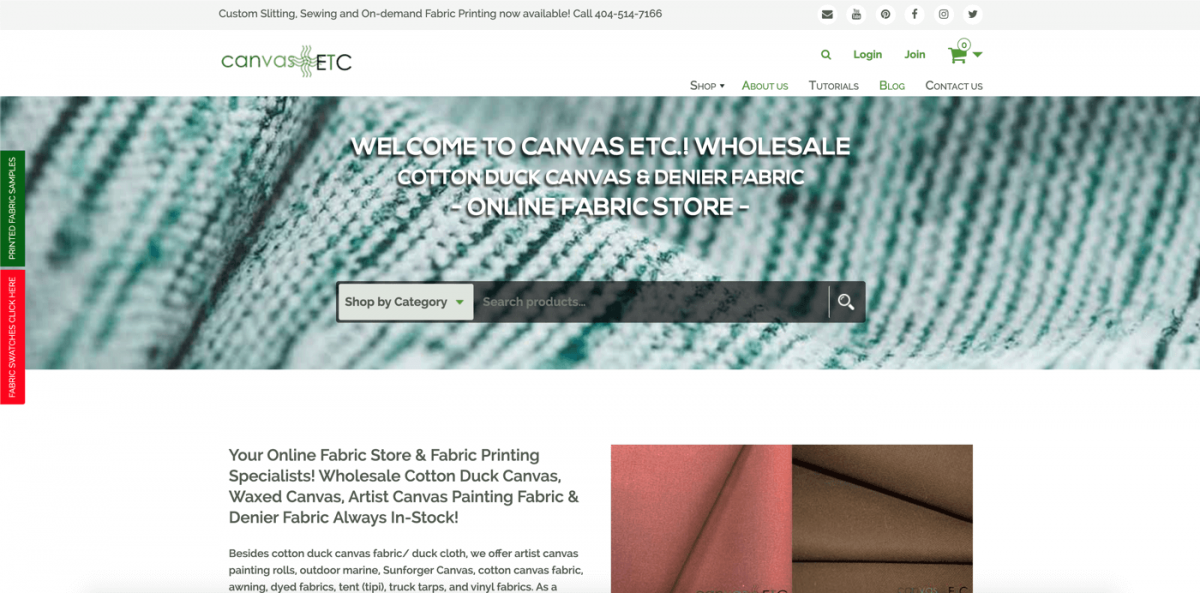 9. Reborn Masks
Due to the Covid-19, there's a strong need for wearing protective gear. Many online stores have begun to sell masks and turned them—to some extent—into a fashion trend. Reborn Masks in one of such stores.
Reborn Masks' WordPress store layout sports a modern and clean design theme. The hero image is static and includes a high-quality photo together with a contrasting CTA button.
The visitors might be surprised not to find products in the top menu. Instead, the product menu was moved to the middle of the homepage. Apart from product photos, visitors will also find a search bar and search filters.
Since the primary goal of the masks is to protect one's health, there're "How-to" tutorials on wearing and washing masks. All products are well-described. However, if any visitor is still in doubt, they may send a message to the company via a live chat to get an immediate response.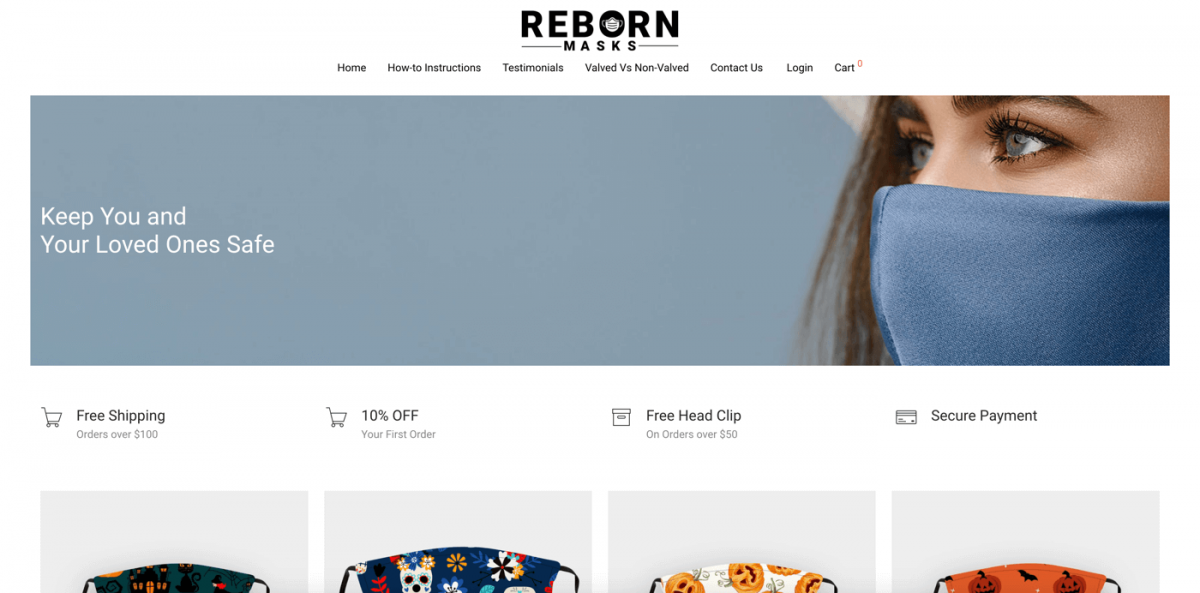 WP eCommerce Examples: Final Thoughts
Think of WordPress as a very capable foundation for your business. You can combine it with Shopify or WooCommerce to build your own online WordPress store. Add a few useful extensions on top of that, and you can start selling any products you want.
The common themes for all the stores we've listed are clear design, customer-oriented add-ons (i.e. live chat), high-quality photos, and good product descriptions. Pretty much the same principles you would expect from any online store, regardless of what it was built with.
Also, remember that no matter what technology you're going to use to build your shop with, the most important thing is to keep your customers happy.
Solutions that offer mobile live chat apps will help you resolve issues on the go and build strong customer relations. But not only that. Live chat apps will also enable you to easily generate leads and answer your visitors' questions even when you're away.
How? With the help of chatbots. So instead of asking yourself "What is a chatbot?"—simply try it out and see for yourself!
Tidio live chat for WordPress is free to start and free to use—forever. Easily add it to any CRM or eCommerce platform of your choice and enjoy all the benefits a live chat offers.