Online shoppers expect quick answers to their questions about products, services, and customer service.
To meet these needs of your customers, you should respond to their queries within minutes. On top of that, you should be able to offer uninterrupted 24/7 customer support, as it gives you a significant business advantage.
Challenging? Yes.
Impossible? Of course not.
We can help you achieve these standards of customer service, thanks to the latest update to the Tidio mobile Live Chat app!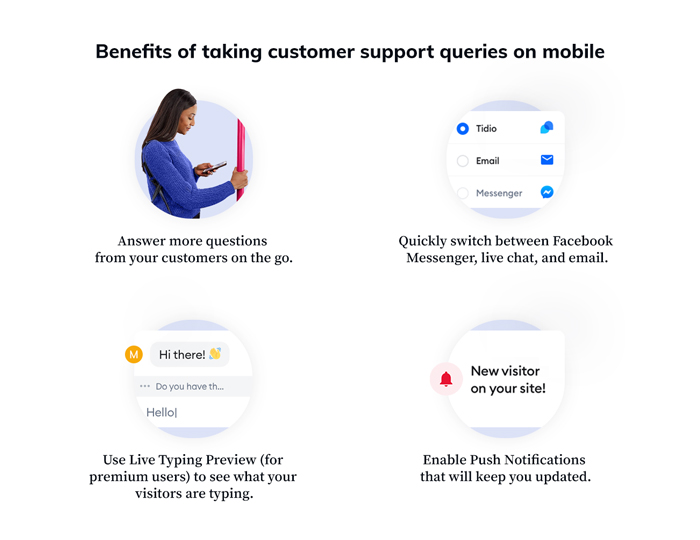 We're glad to announce that the app has a new interface as well as many useful design improvements, waiting for you.
Without further ado, here are the most exciting updates you need to know about.
New and Updated Mobile Live Chat Features in Tidio App
Not all live chat solutions offer full-fledged mobile apps. We compiled a list of the best live chat software for business to help you find the right one for your needs.
Upgraded Mobile Live Chat App
Thanks to you, our awesome Tidio users, we have received lots of feedback about the previous version of the app. We found it to be extremely helpful in improving the overall user experience and worked hard to make improvements.
To make Tidio Live Chat as helpful for you as possible, we tried focusing on what matters the most: the ability to provide quick answers to website visitors' questions. And not only the most common ones!
Save those for customer service chatbots.

1. See the Number of Incoming Conversations
The updated app's icon now displays the actual number of incoming unassigned conversations.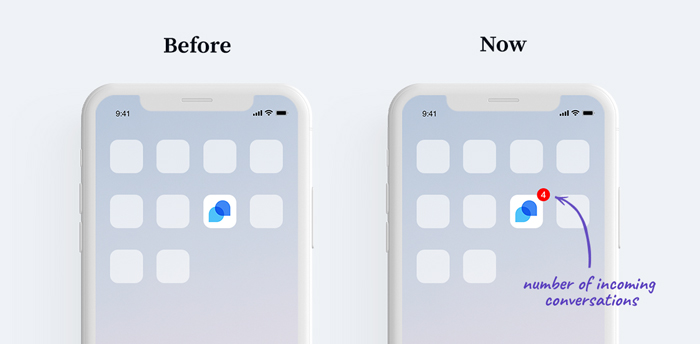 Incoming Conversations

| | |
| --- | --- |
| Old App | New App |
| A generic, static icon that couldn't provide updates on unassigned conversations and keep visitors waiting for answers. | An icon that shows the real number of incoming conversations in need of your urgent attention. Can change to update the user. |
Thanks to the dynamically changing app icon, you'll always know how many people are waiting for responses. Being aware of the situation helps to avoid losing potential customers who waited for a long time without you knowing about it.
Additionally, conversation updates can help with prioritizing your tasks and making proper time investments in customer communication.
2. Improved Design, More Comfortable Navigation
Now, you can enjoy a cleaner and elegant app design that greatly improves text readability and provides a more comfortable navigation experience.
There are more options for navigation, too, so you'll be able to find information easier.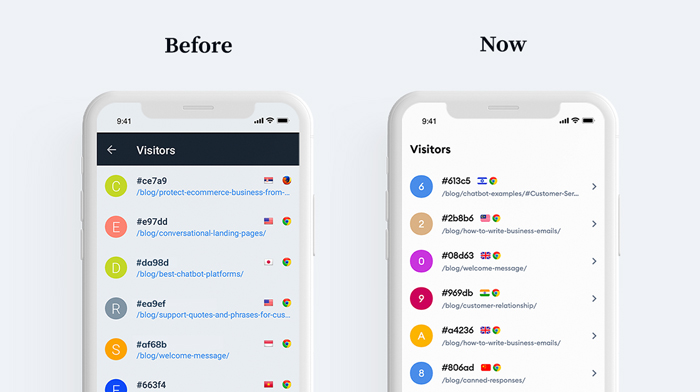 Improved Navigation

| | |
| --- | --- |
| Old App | New App |
| Basic Visitors list that looks outdated and doesn't allow finding details or initiating conversations. | New, high-contrasting design with improved text readability. Provides quick access to visitor details and more navigation options. |
A cleaner, eye-catching design removes the guesswork and makes it easier to find the way around the app. As a result, you'll be able to focus on the most important things and complete your tasks faster.
3. The Conversations, Visitors, and Settings are More Accessible
To access the list of conversations and visitors and view general settings in the previous version of Tidio Live Chat, you had to use the side menu.
Now, you can see these options in a new panel, which is visible at almost all times.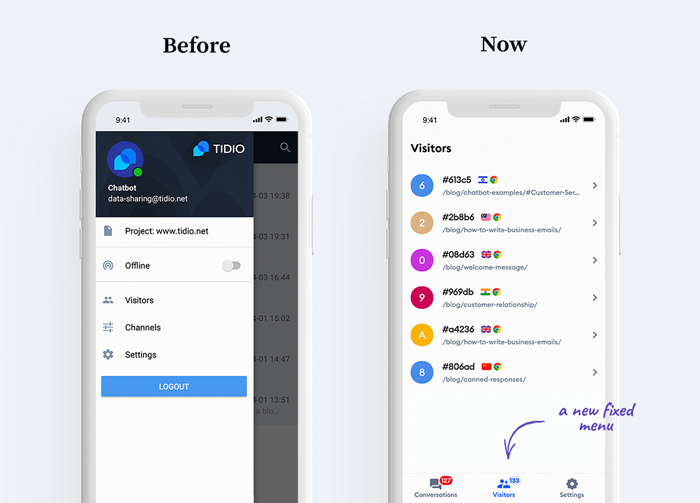 New Fixed Menu

| | |
| --- | --- |
| Old App | New App |
| The view of the Visitors, Channels, and Settings options in the side menu. | The panel at the bottom of the screen makes it easy to find and switch between these features whenever you need. |
The panel is displayed at the bottom of the screen. This position allows finding a conversation with the visitor, changing settings, and viewing visitors, without going to the left side menu.
Moreover, the icons in the panel show the total number of conversations and visitors to keep you updated.
4. Switch Between Projects Easier
The new mobile live chat app now offers quick and easy access to projects you're working on with Tidio.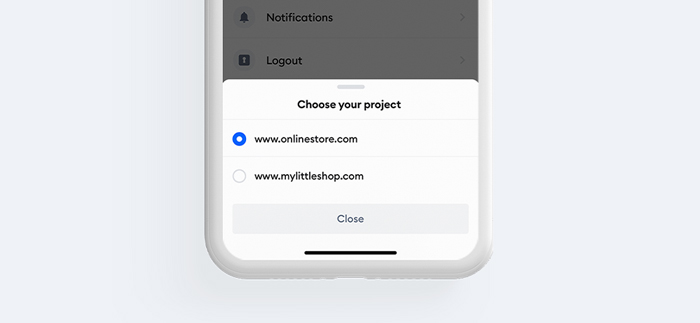 Switch Between Projects

| | |
| --- | --- |
| Old App | New App |
| Feature was not available | Access your projects in Settings, and switch to the one that needs your attention. |
To use this option, tap Settings in the bottom panel and choose Project. By switching between different projects you can take care of multiple websites.
5. New Notification Menu (+Incoming Visitor Notifications)
Now, the Notifications menu is more organized.
Instead of a long list of settings like previously, you'll find the Push Notifications feature and two submenus.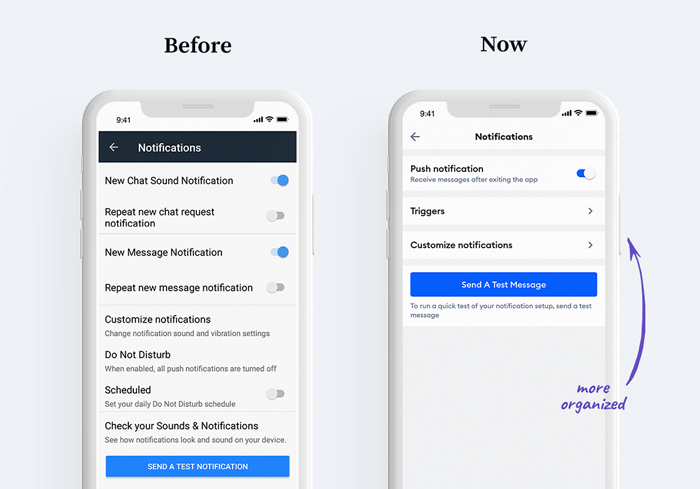 Notifications Menu

| | |
| --- | --- |
| Old App | New App |
| An advanced menu, but not very intuitive. | Simpler and more organized notification settings. Categories of settings available for intuitive search. |
The free version of the app has push notifications about incoming conversations. Thanks to this feature, you'll be notified about website visitors who initiated a conversation through the Tidio widget.
There are also push notifications about new visitors. They inform about incoming visitors to help you connect with more potential customers as soon as possible. Note that this feature is available in the premium version.
The two submenus offer categories of settings – triggers and customization – so you can find the customizations you need easier.
6. More Visitor Details Available
Thanks to the update, you can find visitor's data easier and say goodbye to limited details in this section.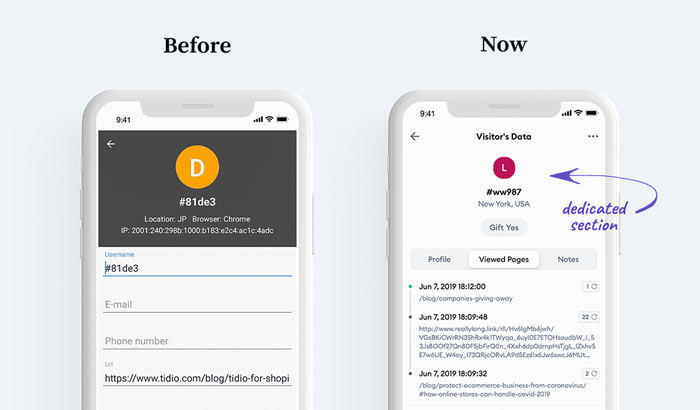 Visitor Details

| | |
| --- | --- |
| Old App | New App |
| Details about visitors were quite limited and difficult to find. | In the new Visitor's Data section, you'll find data to track your customers, see their tags, properties, visited pages, and view notes (more on notes below). |
The new visitor data section has more useful information for businesses in one place. In other words, you can get information to understand your visitors better and personalize your communication with them.
7. See Animated GIFs in Conversations
Your live chat conversations inside the app are about to get a lot more animated.
Thanks to the advanced support, GIFs will come to life automatically once posted in the conversation. Before, they were static until clicked on.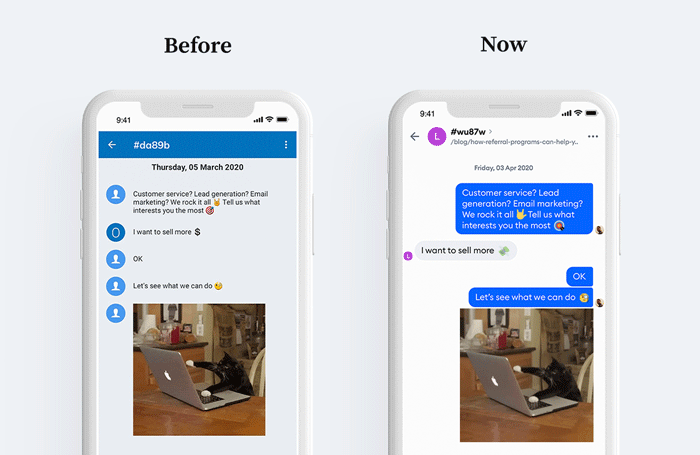 GIFs in Conversations

| | |
| --- | --- |
| Old App | New App |
| The app offered only previews of GIFs in the conversations panel. To activate them, the user had to click on the preview. | The GIFs are automatically animated inside the conversations panel. |
Surprisingly, people like to send GIFs to live chat operators while communicating with them, so now you can make it easier for them. By doing so, you'll make conversations more entertaining for your website visitors.
8. Easier Conversation Management with the Swiping Feature
Say goodbye to mark and delete.
Now, you can choose to either delete or leave the conversation by swiping.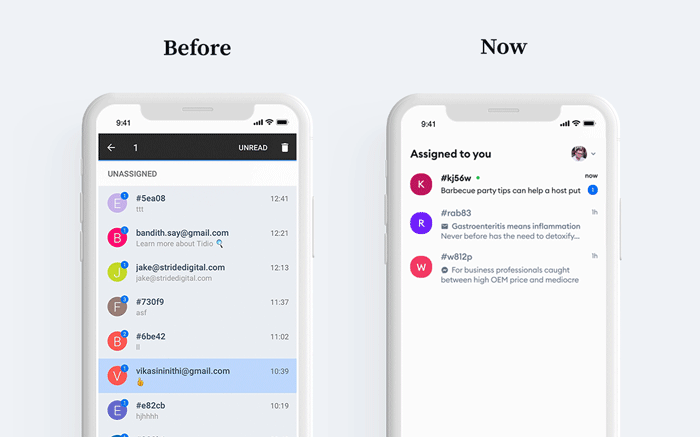 Conversation Management

| | |
| --- | --- |
| Old App | New App |
| The user had to mark the conversation to activate the delete function. | Swipe on a conversation to reveal two contextual features: leave and delete the conversation. |
The swiping feature makes conversation management easier for customer support professionals. Besides, it's much easier to use, as you can hold the phone and use the contextual features with one hand.
9. View Visitor Notes
Got a few notes about website visitors in the Tidio Panel? Or perhaps there's something you need to keep in mind to personalize your communication with them?
No worries. We got it.
In the Visitor's Data section, you can now view notes from the Panel. This gives easy access to ideas on how to provide better service as well as what products they might be interested in.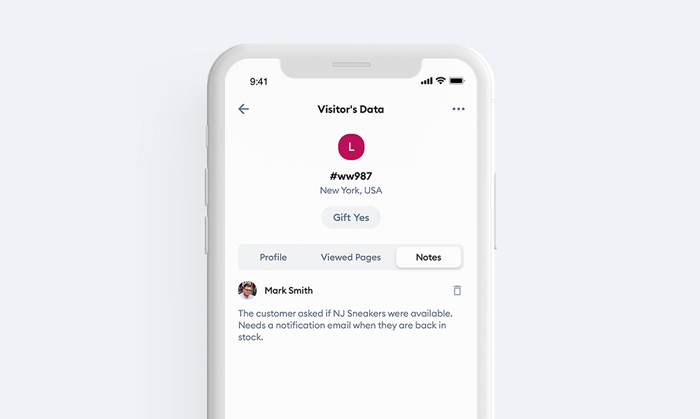 Take notes about customers with the most important information from your conversations in the Panel and view them later on mobile. Above all, they will help your sales team be more organized and therefore, more efficient.
Try out New Tidio Mobile Live Chat
Finally, let's summarize the most important benefits of installing or updating Tidio Live Chat app for you:
Never miss messages from website visitors and customers with a dynamic icon
Enjoy easier and faster management of conversations on the go
Switch between the online and offline mode (chat availability)
Reply to any device of your choice
Make conversations more entertaining with animated GIFs
Be available for your website visitors and customers when they message you.
If these sound like something your business can benefit from, then why not improve your customer service with our updated mobile app?
So, download Tidio and see what it can do for you! Ready?