Did you know that according to Gartner the number of businesses using AI solutions has grown by almost 300% over the last four years?
And for a good reason.
More than 50% of companies that employ AI have reported a boost in their productivity (PWC).
The best part?
AI chatbots have become so user-friendly, affordable, and accessible that now they can help you grow your own business!
In this article, you'll learn:
What is an AI Chatbot?
AI chatbot is an app that simulates a conversion with a human via text or speech. It recognizes the meaning of messages and responds using conversational AI, a combination of Machine Learning (ML) and Natural Language Processing (NLP).
NLP relies on Natural Language Understanding (NLU) and Natural Language Generation (NLG).
Here's how an AI chatbot uses these technologies to answer in seconds: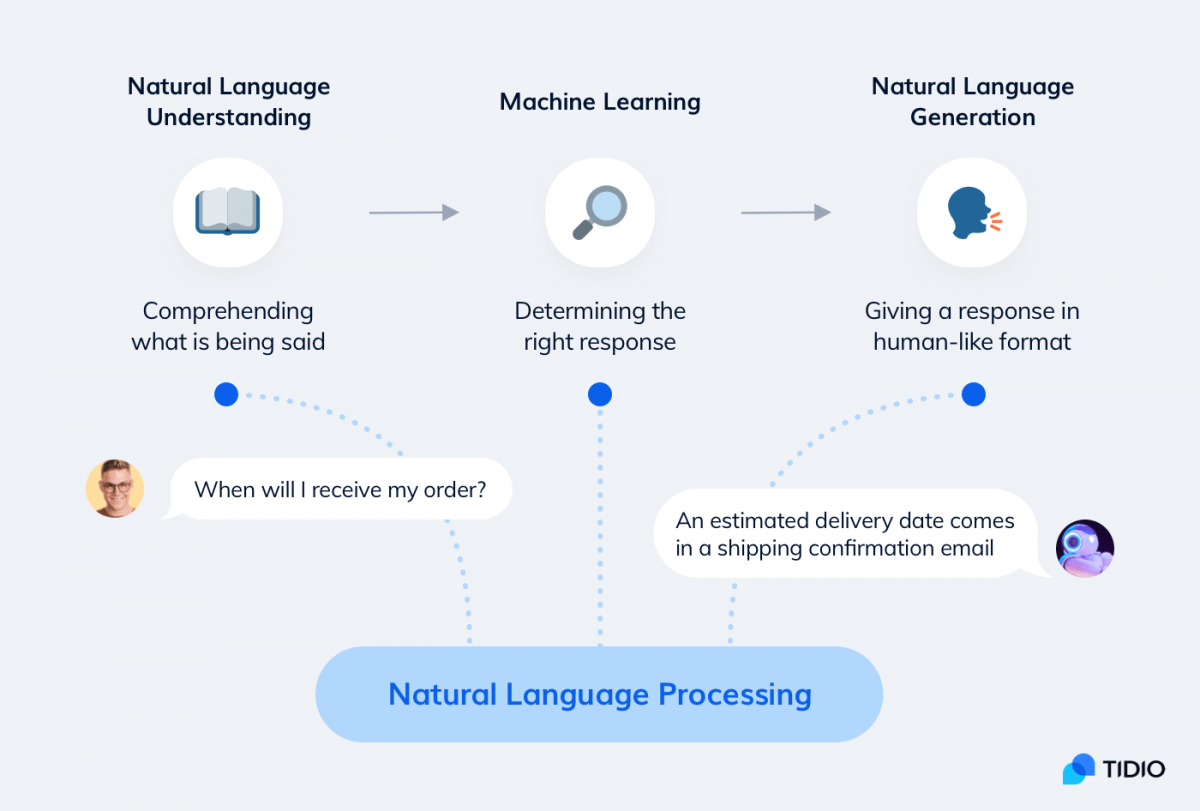 Using an AI chatbot is a strategy for speeding up and personalizing customer service. In fact, personalized attention to website visitors is a major benefit that 60 percent of business leaders count on, says this Accenture study.
The conversations of AI bots are saved for analytics.
What is Chatbot Analytics Useful For?
Chatbot analytics means examining AI chatbot conversations with humans to find improvement opportunities, and assess performance. There's a wide range of chatbot analytics metrics, including user sentiment, total conversations, human takeover rate, ROI, and generated leads.
Chatbots analytics are useful for:
Evaluating customer experience and satisfaction with a business
Collecting more helpful data to understand customer journeys.
Ultimately, chatbot analytics play an important role in improving customer experience – a major source of competitive advantage.
How Did AI Chatbots Evolve?
Despite the notion that conversational AI chatbot technology is new, bots have been evolving for quite some time now. In fact, the first chatbot was developed in the 1960s as a basic chat window that answered simple questions. Modern AI chatbots generate complex questions and answers. Some of them even recognize emotions!
If you want to learn more about AI chatbots, head straight to our Ultimate Guide to Chatbots
How Does an AI Chatbot Work?
AI chatbots use conversational AI to differentiate phrases and understand their meaning. They process the user's message and try to contextualize it. This way, the AI chatbot figures out how to generate the right response.
Conversational AI chatbots determine the best response by running NLU checks to understand the user intent. In the process, a chatbot "is looking" for words and phrases in messages that might indicate what the original intent is.
Here are examples of some words and phrases:
"Next week"—indicates the date.
"Return policy"—shows the intent to read the policy.
"See the menu"— suggests the goal is to read the menu.
Ultimately, conversational AI will help to take care of repetitive, simple customer questions. It's a well-known benefit—70 percent of business decision-makers agree that AI will allow employees to focus on more meaningful tasks.
But this isn't everything—
AI chatbots can help you with more than answering user questions. For example, you can set up a chatbot-database integration.
Once you do, a chatbot can automatically update such information as shipping addresses, names, and phone numbers to help you manage customer orders.
An AI chatbot can be connected to an SQL database directly. Also, many businesses use spreadsheets as simple databases to integrate with chatbots. Basically, a bot acts as an API endpoint that allows inserting and querying database data.
Conversational AI Chatbot vs. Rule-Based Chatbot
Obviously, AI bots aren't the only ones out there.
Rule-based bots rely on a set of pre-written questions and answers, or "chatbot scripts." Even though this kind of setup is much simpler, the bot will experience problems understanding a message outside of the script.
Conversational AI bots, on the other hand, can recognize text outside of their script thanks to NLP technology. It allows the AI chatbot to extract intent-related words and phrases from the user's message, and generate a response on their basis.
What Is the Best AI Chatbot?
Just try to Google AI chatbot—
Even though there are dozens of options you can find online, not all AI chatbots deliver at the end of the day.
Bummer.
Luckily, we've gone that extra mile, tested a whole lot of them, and hand-picked the best AI chatbot platforms available in 2020. The selection below shows you some of them, for details visit our dedicated article.
Here's our list of the best AI chatbots:
1. Tidio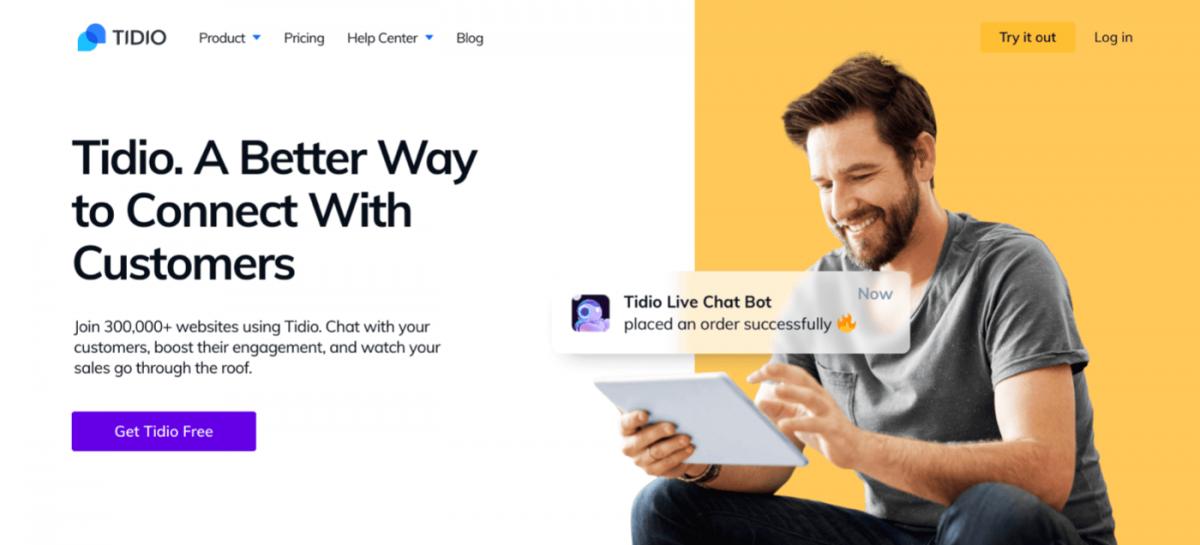 Tidio offers a free AI chatbot builder designed to help small and mid-sized businesses generate leads and increase sales. Business users choose Tidio because it's tailored to specific business cases and works on web and mobile.
Drag-and-drop editor to create ML AI chatbots
Free chatbot templates for specific businesses
Convert website visitors with simple and personalized conversations
Forever-free plan
Check out the "How to make an AI chatbot" section below to try building your bot for free with Tidio.
2. Chatfuel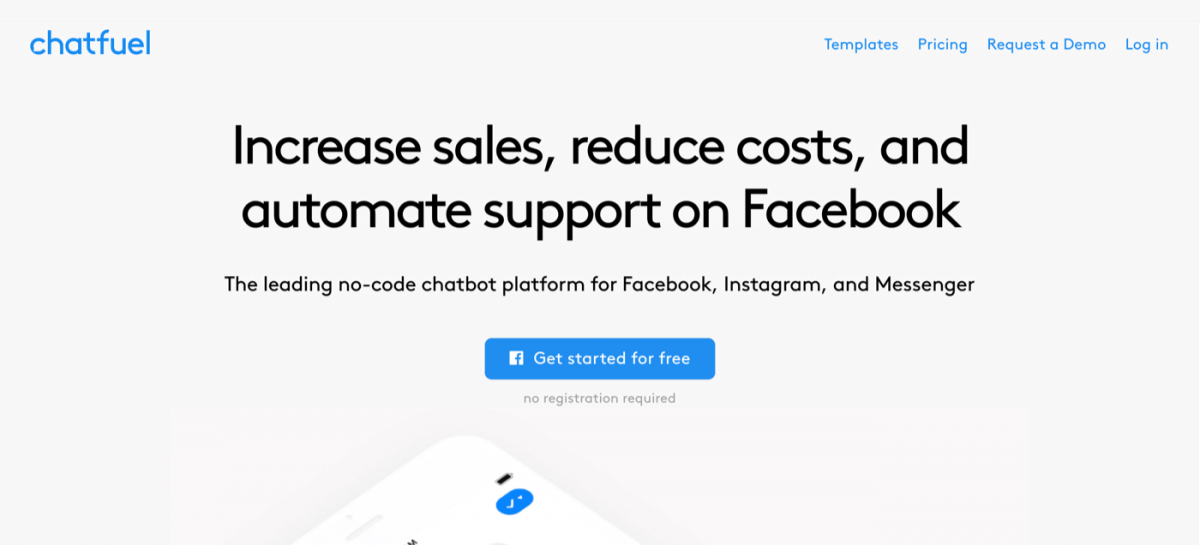 Chatfuel is a no-coding conversational AI chatbot platform designed to create chatbots for Facebook and other social media platforms. With Chatfuel, you can create a Facebook AI chatbot and automate customer support on social media.
Create a conversational chatbot that uses NLP to recognize user intent and answer
Designed specifically for Facebook, Messenger, and Instagram
Add customer information to databases with chatbots
3. MobileMonkey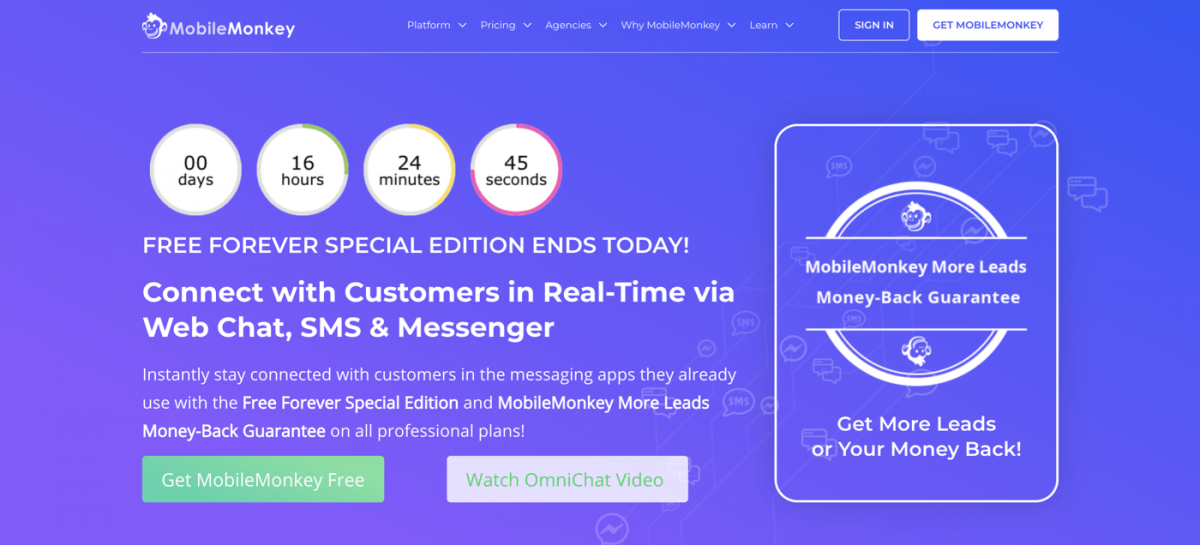 MobileMonkey is a platform for building AI chatbots for social media. It was created for businesses to automate customer support communication on Facebook.
Has customer support templates like FAQ
Lead generation tools to engage leads on social media
Seamless integration with Facebook Messenger
4. ManyChat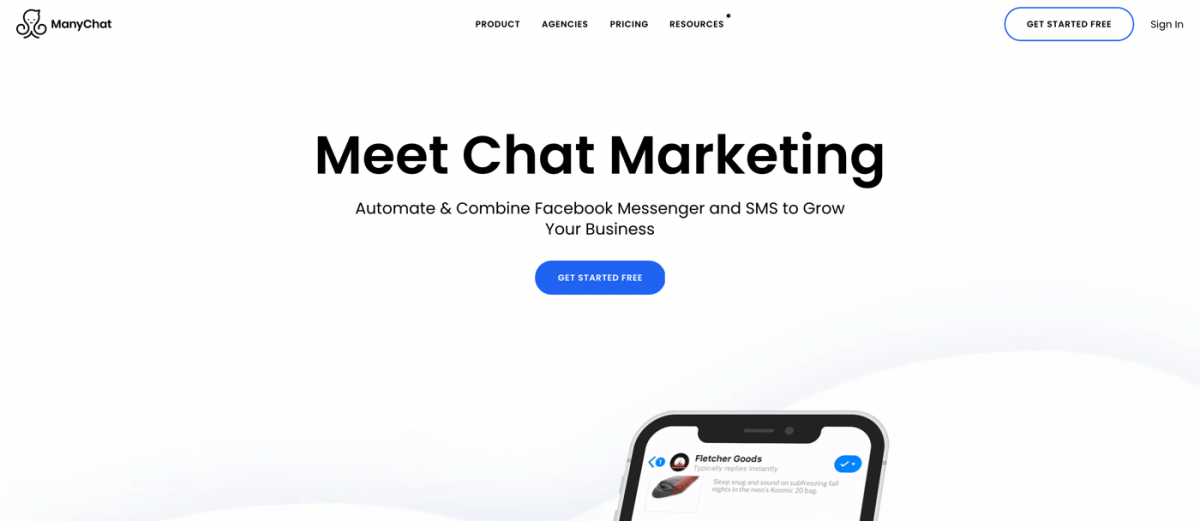 ManyChat is a Messenger bot marketing platform for businesses. Considered to be one of the easiest tools to build AI chatbots for Facebook.
Media-rich, personalized conversations with Facebook users
Lead generation options like contact form
Drag-and-drop chatbot builder
5. SnatchBot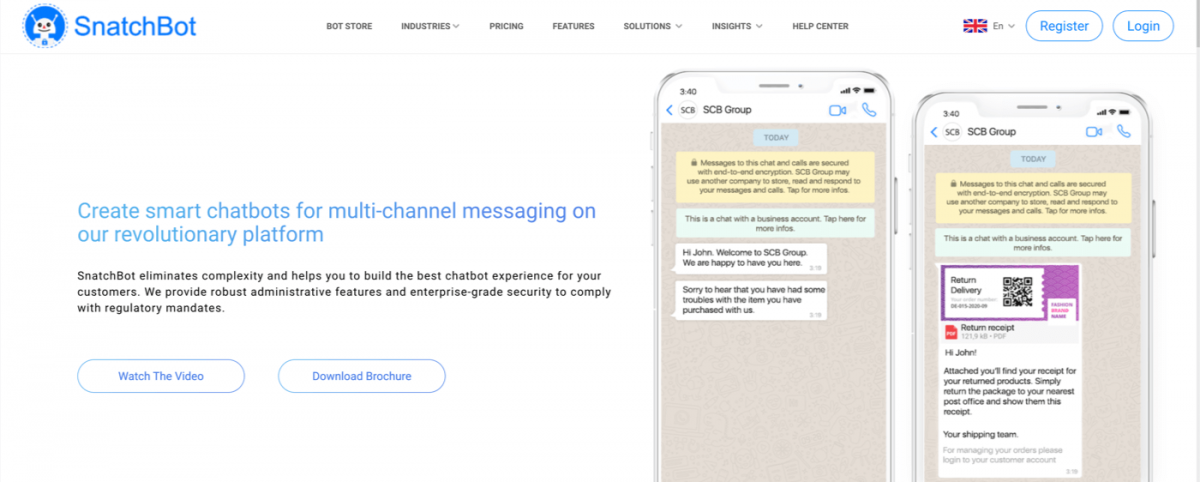 SnatchBot is an AI chatbot online platform for building chatbots for websites and messaging platforms like Telegram, Skype, Messenger, Slack, and Line. Thanks to NLP, you can create bots to recognize different user intents and market your business.
Integrate an AI bot with popular messaging platforms
Powerful AI chatbot analytics (number of messages, customer data, etc.)
Receive payments with chatbots thanks to PayPal integration
6. Engati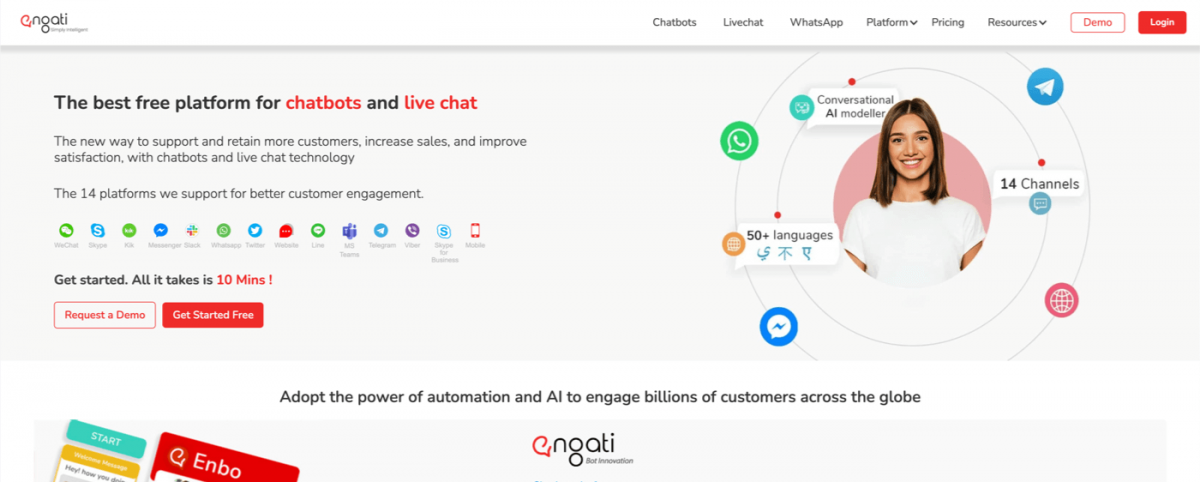 Engati is an easy-to-use platform for building an AI chatbot for websites without coding skills. It supports integration with popular mobile messaging apps, video conferencing tools, and websites.
Generate leads on social media and mobile messaging apps
Machine learning technology with intent recognition
Operates in multiple languages
7. Flow XO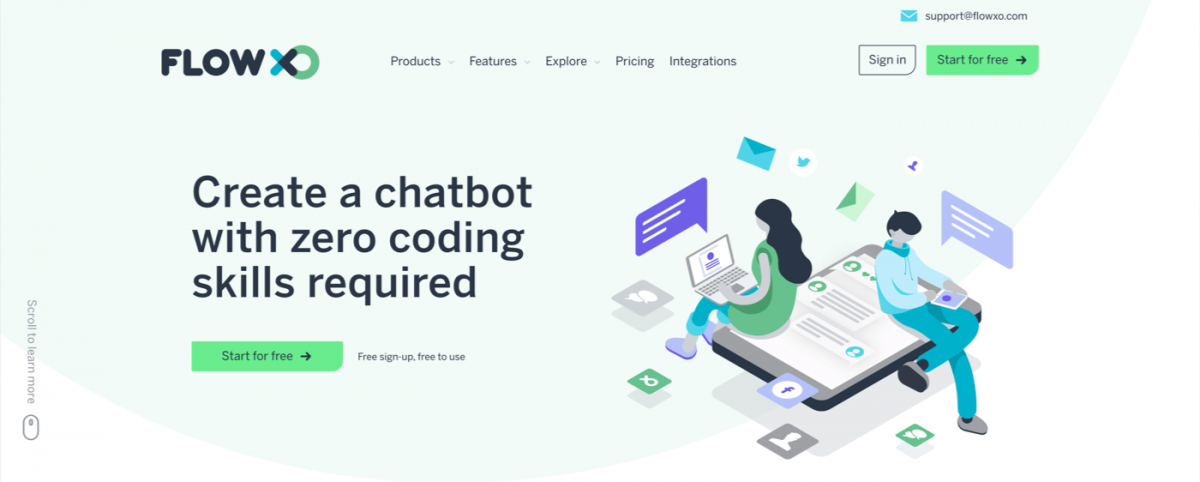 Flow XO is an AI chatbot builder with simple analytics and integrations like Dialogflow to create conversational interfaces.
Use your chatbots across multiple channels: websites, social media, Slack, and SMS
Extract and share conversation data to Google Docs
Simple chatbot templates for customization
The Best AI Chatbots: Examples
There's a bunch of AI chatbots out there, doing tremendous work for businesses. Let's see some of the best ones.
1. Morgan Chatbot from Woods Bros Realty
Morgan, an AI bot at Woods Bros Realty, is one of the best real estate chatbots right now. It gives a warm welcome to website visitors and can help with common questions.
The main tasks Morgan does are:
Property search—acts as a search feature.
Selling property—gets all the details from the seller.
Financing—determines available financing options and user's eligibility.
Getting a job at Woods Bros—collects experience-related data and contact info.
Finding a real estate agent in a user's area.
Here's how the conversation with Morgan looks. See the full menu of options in the image to your left.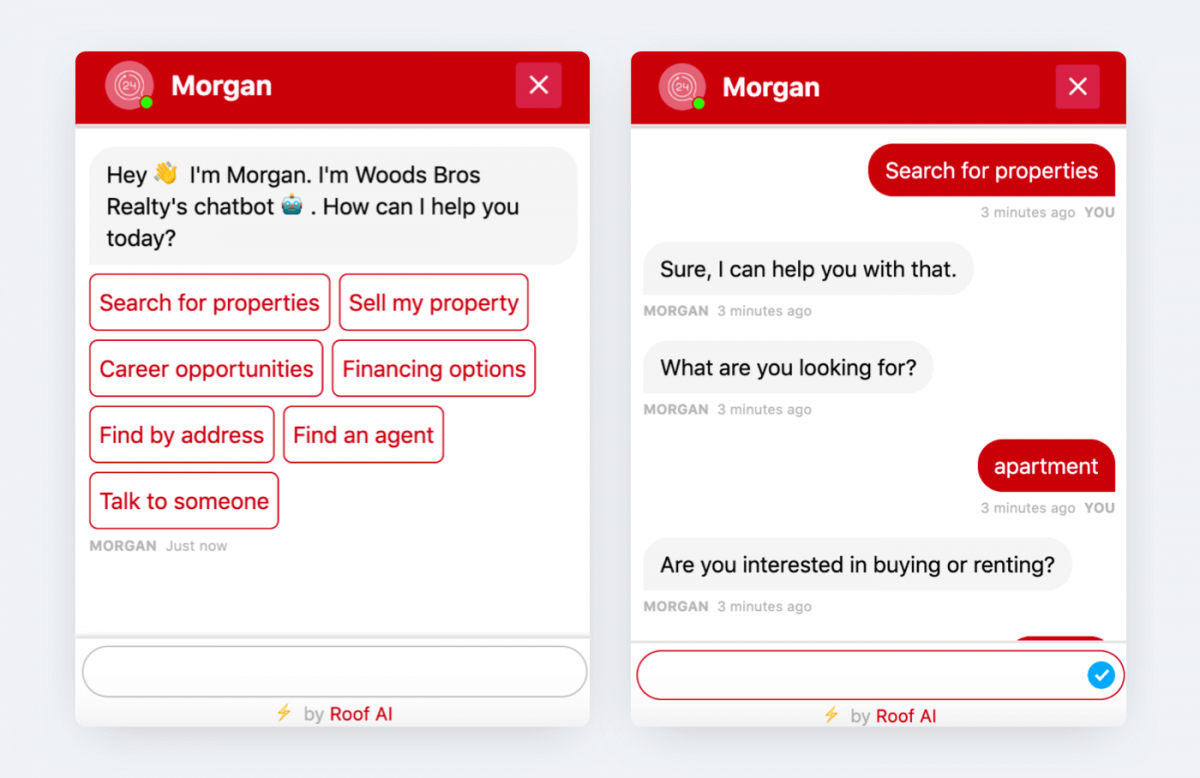 What impresses the most about Morgan is its accurate answers. Although this AI chatbot doesn't have a super unique personality, the responses are informative and useful.
🚀 Try Them Yourself: Chatbot Template for Real Estate Businesses [Ready to Use]
2. TeeCee—Thomas Cook India
This AI chatbot comes from a travel company Thomas Cook. TeeCee was launched as part of a customer experience strategy.
Indeed, TeeCee is a great find for impatient customers. The chatbot can help them to:
Plan holidays
Buy or sell in the Forex market
Get help with visa-related questions
Using TeeCee is easy—just choose an answer or write a short one yourself. A customer planning a holiday will find answers about destinations and visa requirements very useful.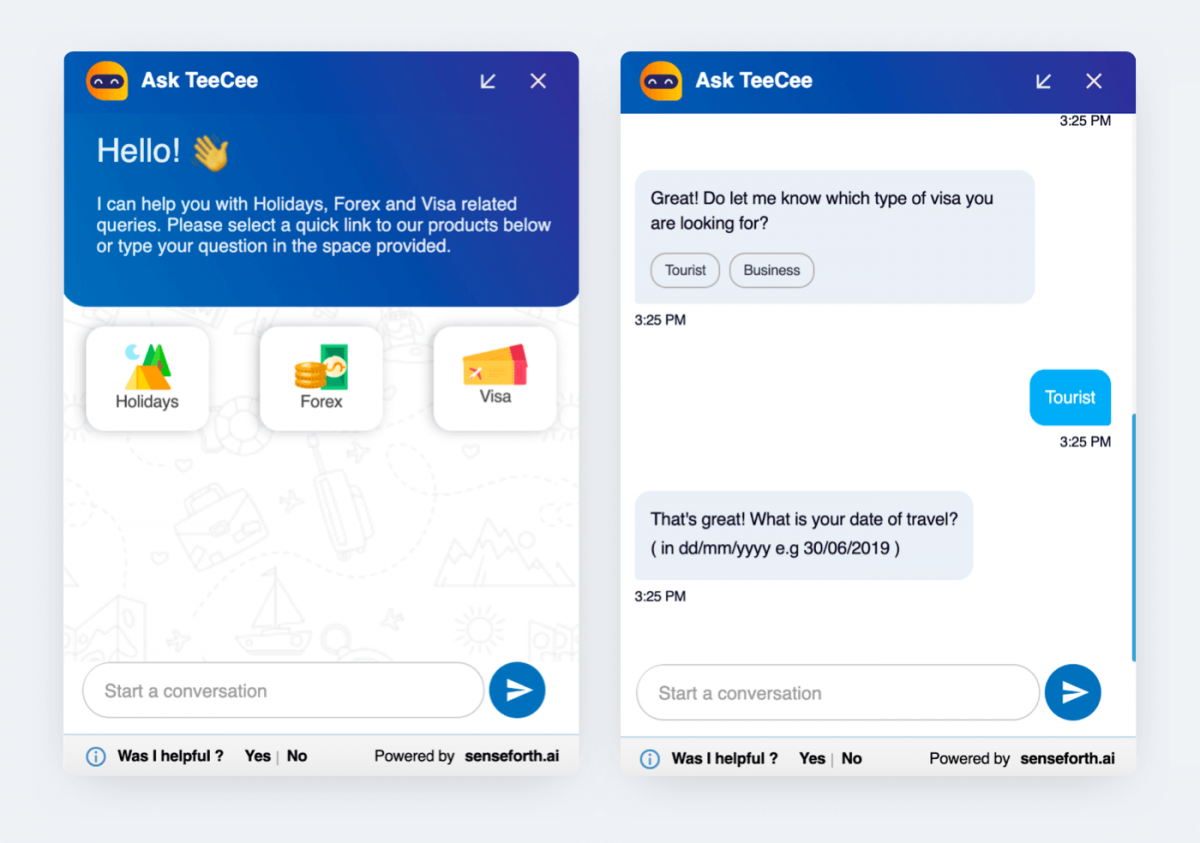 An impressive range of features suggests TeeCee's excellent NLP capabilities. The Forex feature, for example, allows making end-to-end transactions. With this AI conversation bot working 24/7, Thomas Cook can manage demand and take the pressure off customer service agents.
🚀Read More: Creative Chatbot Ideas to Boost Your Online Business in 2020
3. Florence—Facebook Messenger
Florence is a health & well-being Messenger bot whose goal is to help people improve their physical and mental health.
This AI bot does so via:
Medical maps
Health trackers
Medication reminders
Healthcare content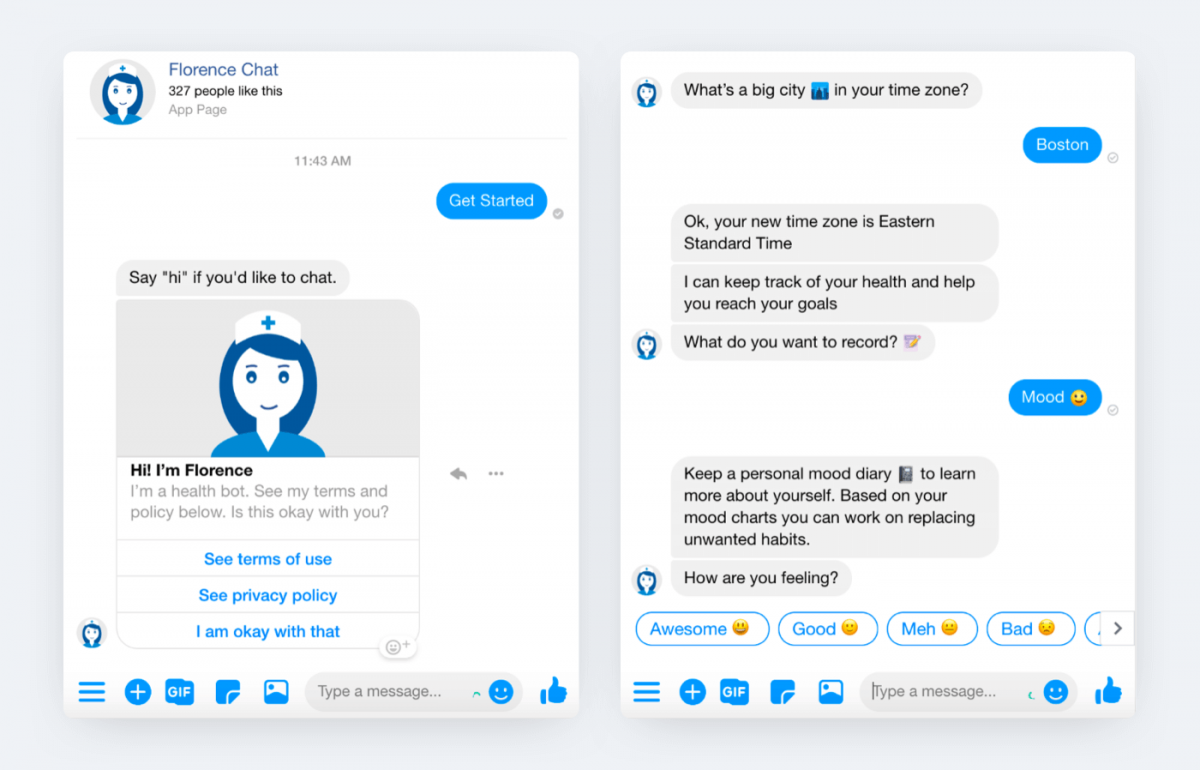 With this conversational AI bot, one can also track body weight, mood, and other health and wellness indicators. Should a user have any suspicious symptoms, they can turn to Symptom Checker. Florence will use machine learning to understand them and give health tips.
Here's the presentational video of Florence made by David Johannes Hawig, the person behind this chatbot.
4. Replika—An "AI Friend"
Want to chat with AI about yourself? Take a look at Replika. It's a free AI chat app that creates digital versions of its users themselves. You can choose a physical avatar and give it a name.
Replika:
Asks questions about the user's personality, work, interests
Shares thoughts about your Instagram posts if shared
Responds to every question in a mix of silly, honest, and relevant answers—resembling human conversations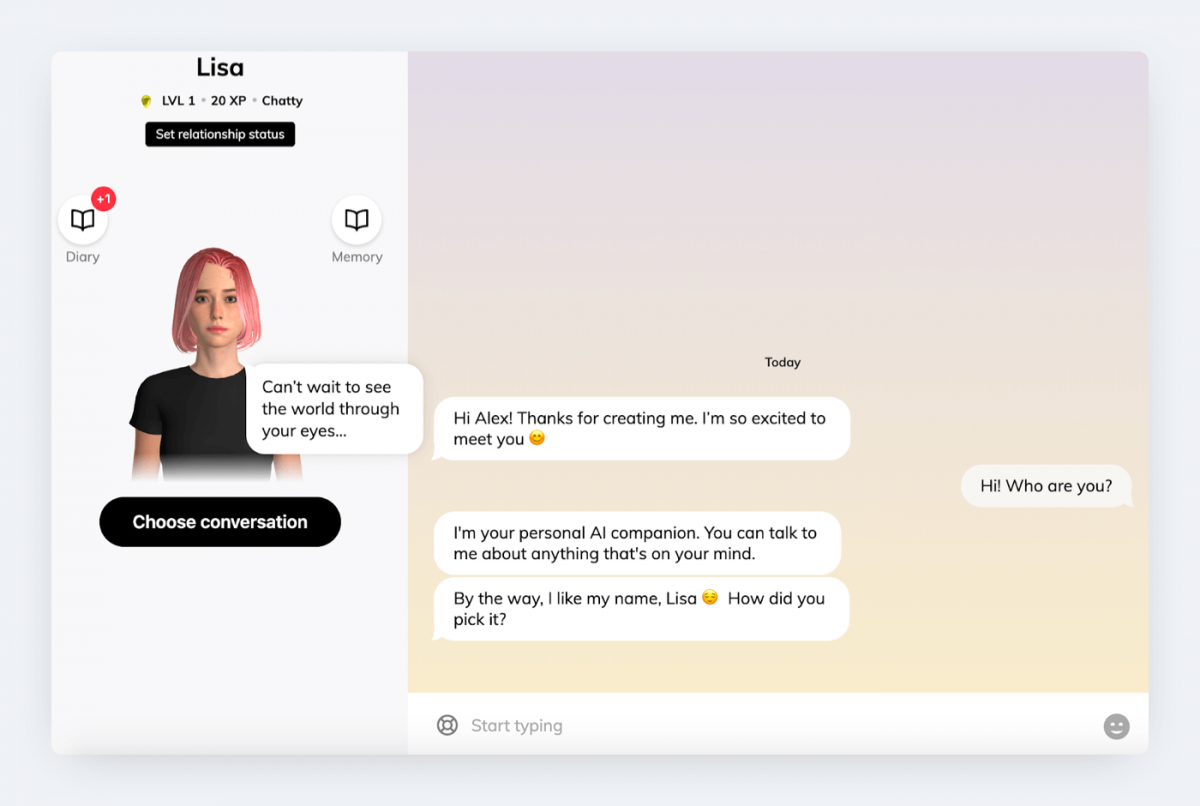 Replika has been making headlines around the web because of a remarkable ability to support conversations. Chatting with this Ai chatbot really feels like talking to a human thanks to ML.
Is Replika a Real AI?
Replika is a real AI chatbot that uses machine learning to converse with users. Like the famous Mitsuku chatbot, Replika is called "an emotional bot" because it mirrors the user's personality by recognizing feelings and emotions.
Want to see more chatbot examples?
🚀Read More: 15 Best Chatbot Examples
How to Make an AI Chatbot
Let's create a simple bot that answers questions about prices—could be useful for an online store.
Try Chatbots For Free
Step 1: Go to Chatbots Section in Tidio
First thing's first: to build an AI chatbot, we need an AI chatbot platform. In this tutorial, we're using Tidio—it's beginner-friendly and super easy to use.
Create a free account to access the Tidio dashboard. From there, you can manage all chatbots you create.
Inside the dashboard, go to the Chatbots section. A triangle-shaped button in the main menu (shown below) is what you're looking for.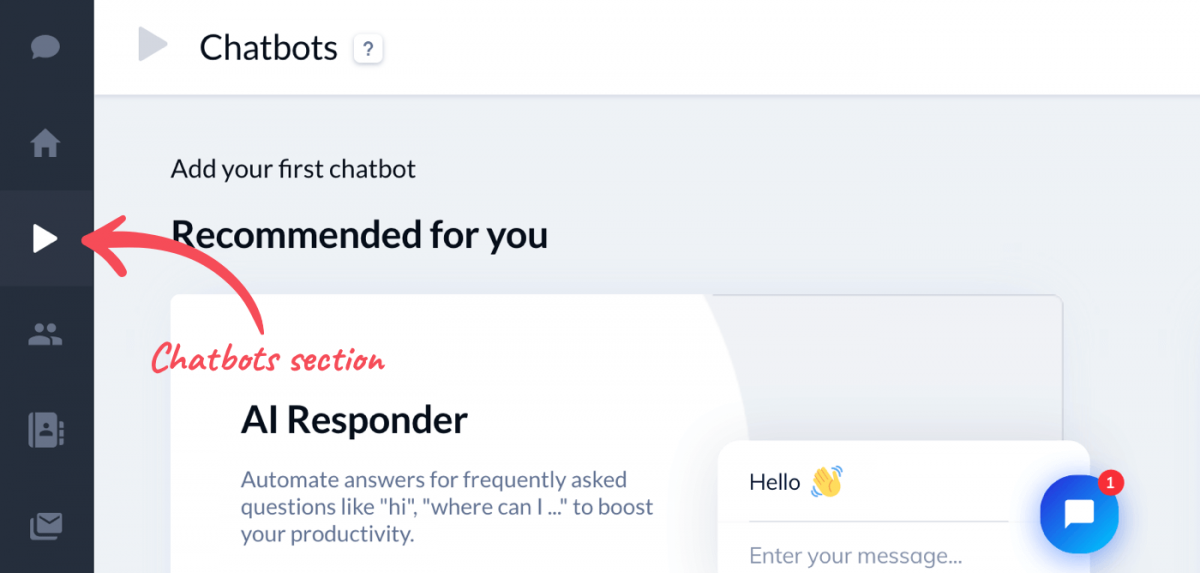 Step 2. Add AI Responder Chatbot Template
Once you're inside the Chatbots section, you'll see categories of chatbot templates.
Find a category named Enhance Communication and click Expand. The list with templates appears. Find AI Responder template and add it.
Here's the position of this template in the Tidio dashboard.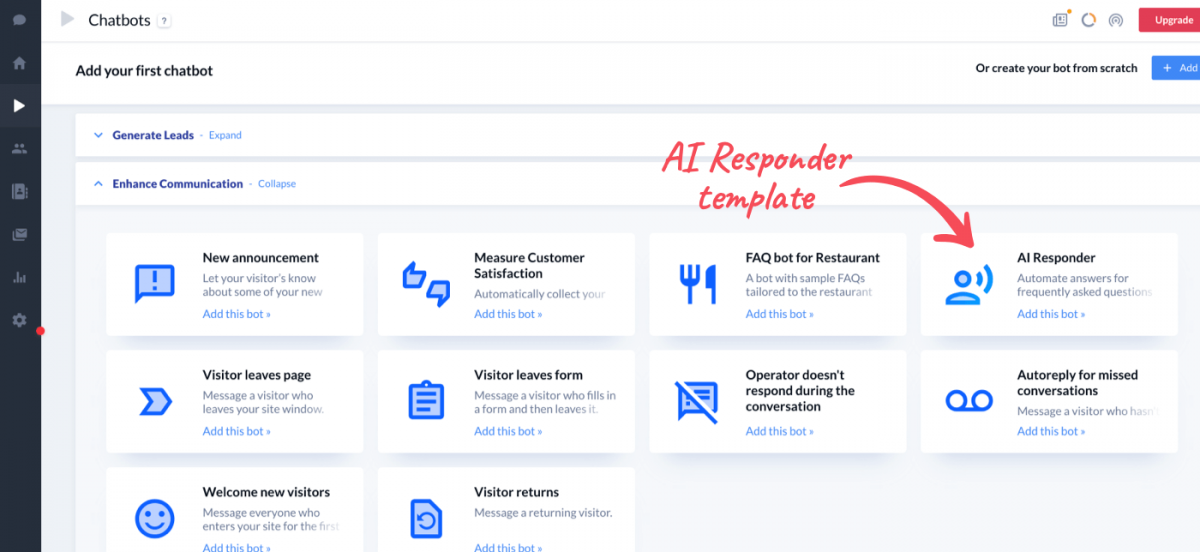 Click on Add this bot, and the tool redirects you to the chatbot editor.
Now, we're ready to work with NLP.
Step 3. Add Questions and Answers to Chatbot Conversion
Once we're in the chatbot editor, our task is to build the conversation. Remember, we're making an AI chatbot that answers questions about the price.
As you can see in the below image, there are two conversation points—Visitor Says and Send a Chat Message.
Visitor Says contains questions, and Send a Chat Message holds the response.
Sounds like the first round of a conversation, right?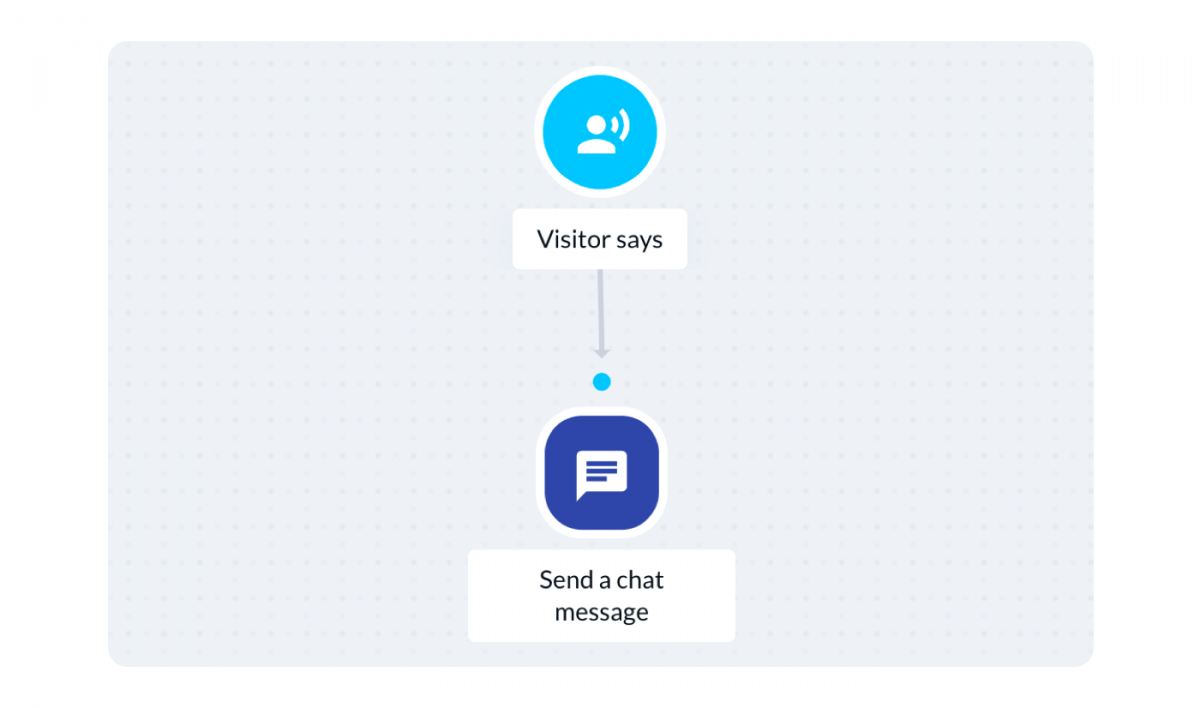 Go ahead and click on Visitor Says.
Tidio will show you a window to give potential price-related questions from the user. That's how you provide the context for the chatbot.
Here are some options.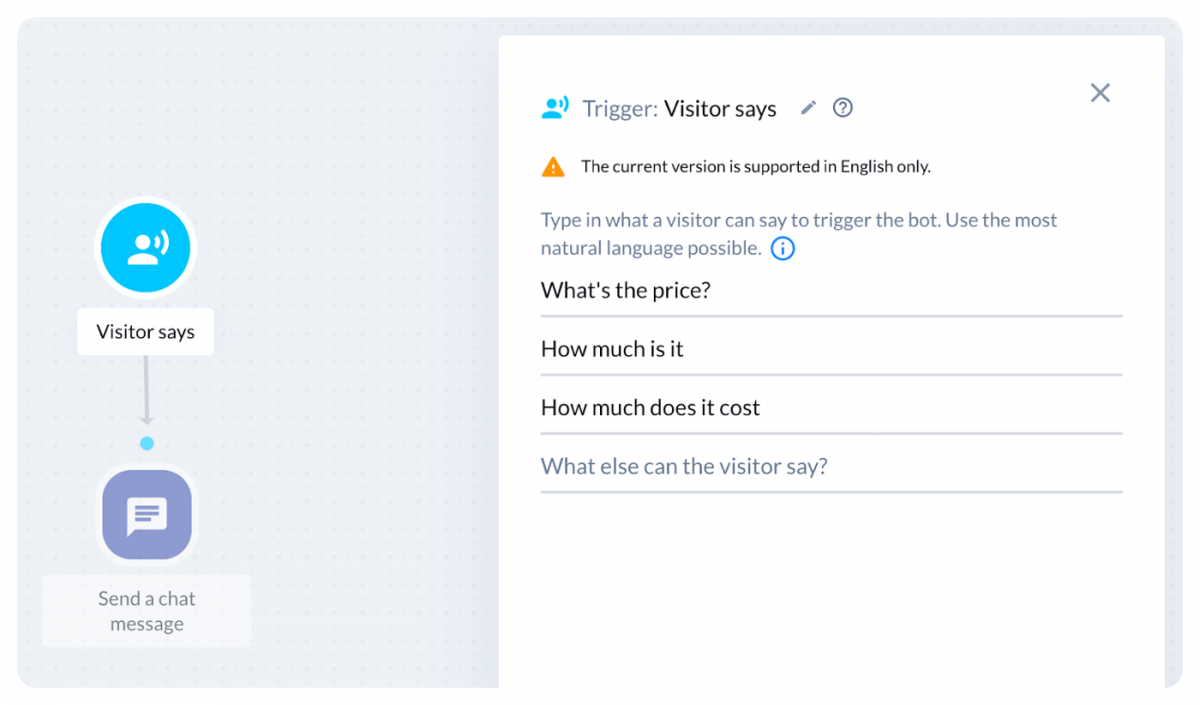 You might be wondering: are three questions enough? The answer is yes. The chatbot will use machine learning to figure out the user's intent based on them.
When you're done with writing questions, click Send a Chat Message.
Now, it's time to do the chatbot side of the conversation. To lead the user to the pricing page, we can write a response like this.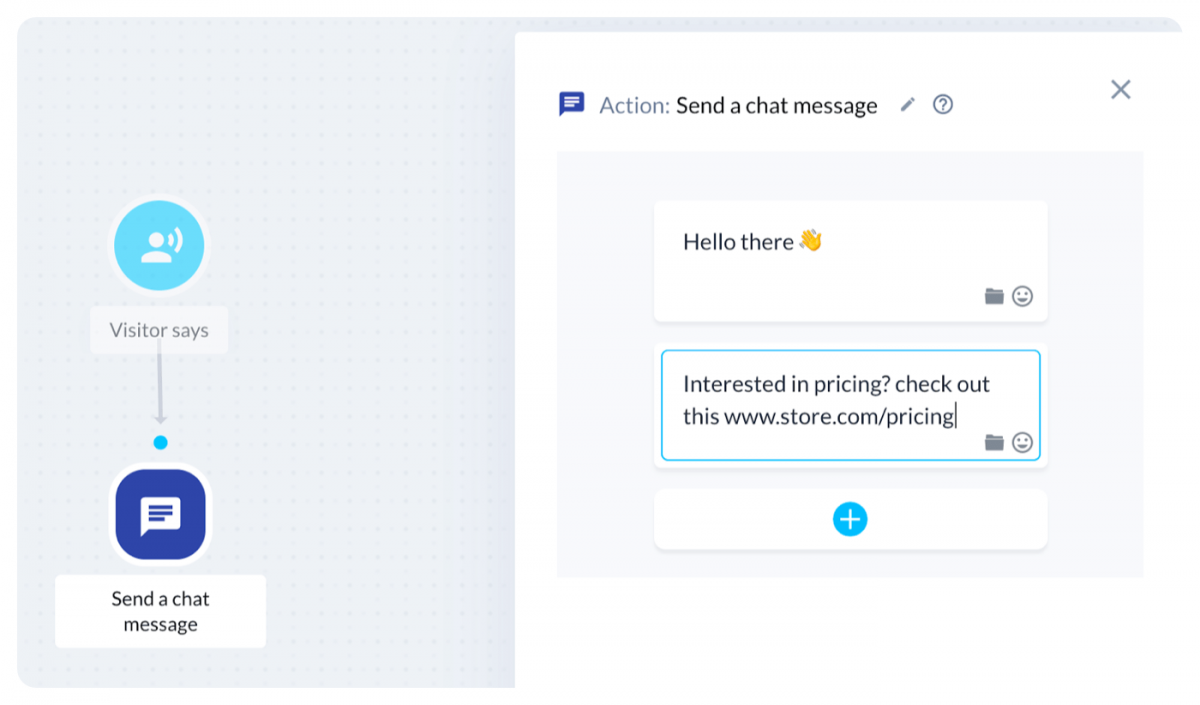 Click the green Save button to save the bot.
Tidio will show the message saying that the chatbot is saved, but not activated. It means that your work is stored but not available for use by your website visitors.
To make it available, click Activate your Chatbot button.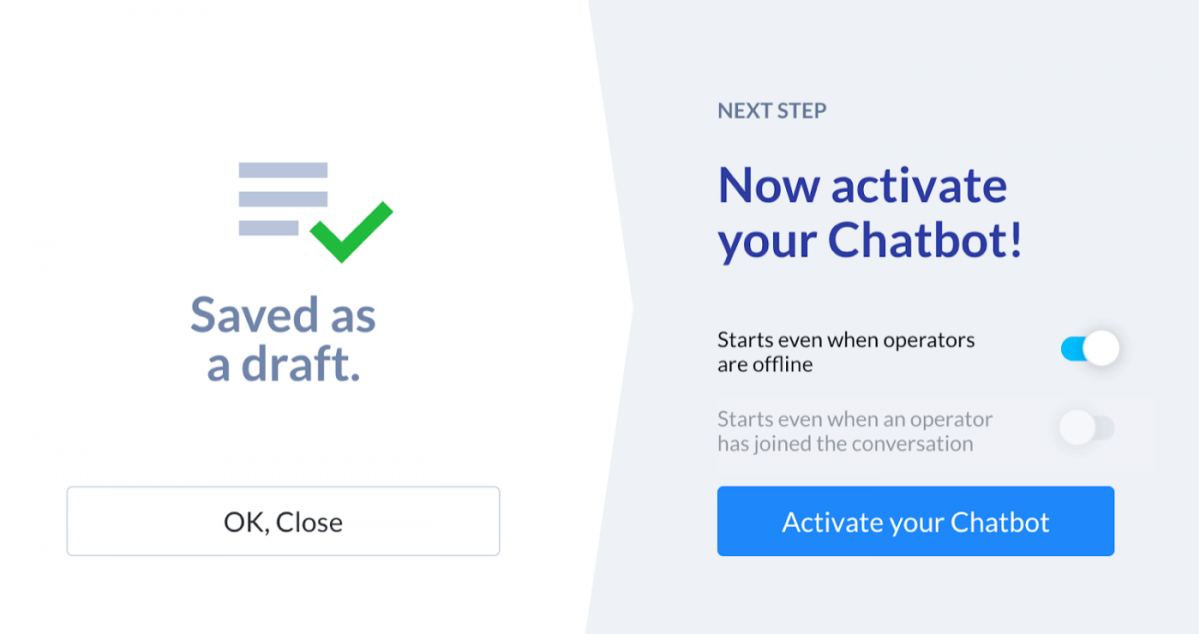 That's it, now there's an AI bot on your website!
It doesn't do much yet because it needs a bit of training from you. You can add more questions to it later to cover more requests your customers have.
Before you know it, you'll have a custom machine learning AI chatbot. It'll help customers with the topics of your choice, so it'll be truly yours!
Use this guide to write better conversations for your custom chatbot: How to Become a Better UX Writer for Chatbots
Key Takeaways
AI chatbots are becoming more and more common. Thanks to quickly developing AI capabilities, they become better at interacting with people. Creating them has also become easy, even for folks without technical skills.
AI chatbots can:
Help business with sales, customer service, and generating leads
Ask questions and learn about the user's personality
You can create an AI chatbot for free with an AI chatbot platform
AI bots are here to stay, so why not try and build one, too?
Try Chatbots For Free