First of all—what is an AI chatbot, exactly?
AI chatbot is a piece of software that simulates conversations with people using natural language processing (NLP) and machine learning to provide a human-like experience.
Artificial intelligence chatbots can speed up processes like writing content, answering questions, or checking bank statements. But you can also use them to just chat.
And that's just the tip of the mountain when it comes to their capabilities and benefits.
But, how to use chatbots, and which ones are the best choice for you?
Don't worry—we'll go through it all.
In this article, we compare the best AI chatbots on the market:
Want to find out more about chatbots? Check out these articles:
Okay—
But how did we pick the platforms on the list? Here's a short explanation.
What to look for in an AI chatbot?
The majority of the chatbots in this list use AI models created by OpenAI, like GPT-3 and GPT-4. The model runs user prompts through the system and answers the user.
The developers of each platform customize how the model responds by giving it additional instructions and rules. This means that even when chatbots are built on the same OpenAI engine, you may get different results from each one.
Here are several key factors we considered when creating the list of the top AI chatbots:
The best AI chatbot platforms don't require a complicated setup and are easy to use. You should be able to start chatting with them right away online without the coding knowledge.
Artificial intelligence chatbots need to be able to give responses that make sense and are factually correct. You shouldn't consider any system that consistently gives nonsense answers or incorrect information. In our list, I only included chatbots that presented coherent answers.
Most of the AI chatbots online allow you to have conversations by exchanging messages back and forth. This conversational chat interface is preferable as it allows for more natural interactions.
Some AI-powered chatbots also offer additional functionality, like supporting multiple languages or having useful integrations. Things beyond just entering a prompt and getting a response make a chatbot more useful.
How did we choose which platforms to place on our list of AI chatbots?
We went through numerous platforms and read third-party review websites to collect the top AI chat apps. Then, we tested them and looked through the features. This helped us pick the best software for a number of use cases like chatting, customer service, medical, finance, and more. We're excited for you to try them out and experience the capabilities of these chatbots yourself!
So—
Let's look at the 22 best artificial intelligence chatbots available on the market, shall we?
Now—let's look at the 22 best artificial intelligence chatbots available on the market, shall we?
Best AI chatbots available online
You can program your AI bot to send SMS messages or add it to your website and the CRM. Most chatbots are text-based, but some vendors offer voice recognition, so you can serve clients through recorded messages.
Okay—let's get started with the ranking.
Here's a list of the top AI chatbots for a variety of uses:
The leader: ChatGPT
The runner-up: Google Bard
For searching the web: Microsoft Bing AI
AI chatbot for business: Lyro, Drift, Ada
For content writing: Jasper Chat
For sales and marketing: ChatSpot
Personal chatbot: Personal AI, Replica, Elomi
For personal coaching: Pi
Open-source: DialogFlow
For social media: Mobile Monkey, Snapchat My AI
For coding auto-complete: GitHub Copilot, Amazon CodeWhisperer
For recruitment: Paradox
For surveys in the company: Infeedo
For medical purposes: MedWhat
For finance: Kasisto
Let's learn more about each of these AI chatbot providers in detail.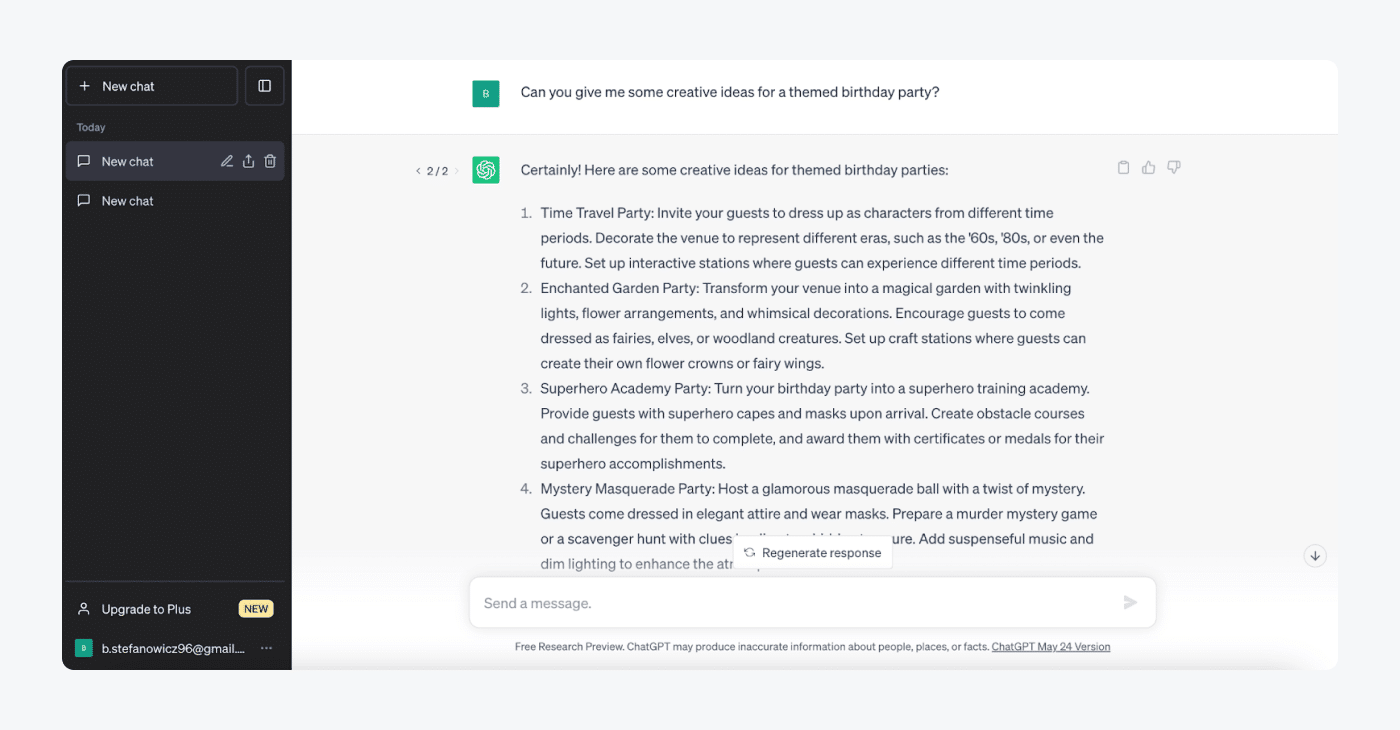 Rating: 4.7/5 ⭐️ (395+ reviews) 
Best for: overall performance
Whenever anyone asks What is the most advanced AI chatbot? everyone seems to say ChatGPT. And for a good reason. OpenAI ChatGPT is an AI response generator that comes in two models: OpenAI GPT-3.5 and GPT-4. It's a simple-to-use yet impressive software that can communicate with users, write different types of content, and provide ideas.
OpenAI GPT-4 is trained on a very large dataset which makes it even more flexible and accurate when answering prompts. Once you start a conversation with the system, it will remember the topic and use the previous messages for context. You can also store chats on the left-hand side of the screen and jump between them or share a particularly interesting conversation with others.
Pros:
Flexible functionality
Conversational tone
Large database of information
Cons:
Factual errors appear
For Chat GPT-3.5 information available date only until January 2022
Free version available
ChatGPT Plus ($20/mo)
Paid plans sold per number of tokens
Rating: 4.3/5 ⭐️ (30+ reviews)
Best for: creative prompts
Google is not just a search engine anymore— many argue that Google Bard is the best ChatGPT alternative available on the market. It runs on Google PaLM 2, the latest version of Google's large language model (LLM), to carry out instructions. Bard AI connects to the internet and finds sources for the information it provides to the users. In comparison to ChatGPT, Bard's users state it feels more conversational and is less text-oriented.
Moreover, this Google AI chatbot lets you edit prompts after sending them and provides three drafts for each output. This lets you pick the most suitable version for your needs. You can also export the fully formatted prompts to a Google Doc or as a Gmail draft for easier sharing.
Pros:
"Google it" yourself button
Shows multiple drafts of an answer
Image generation directly on the chat
Cons:
Tracking of conversation history disabled by default
Less accurate and nuanced responses than competitors
Pricing: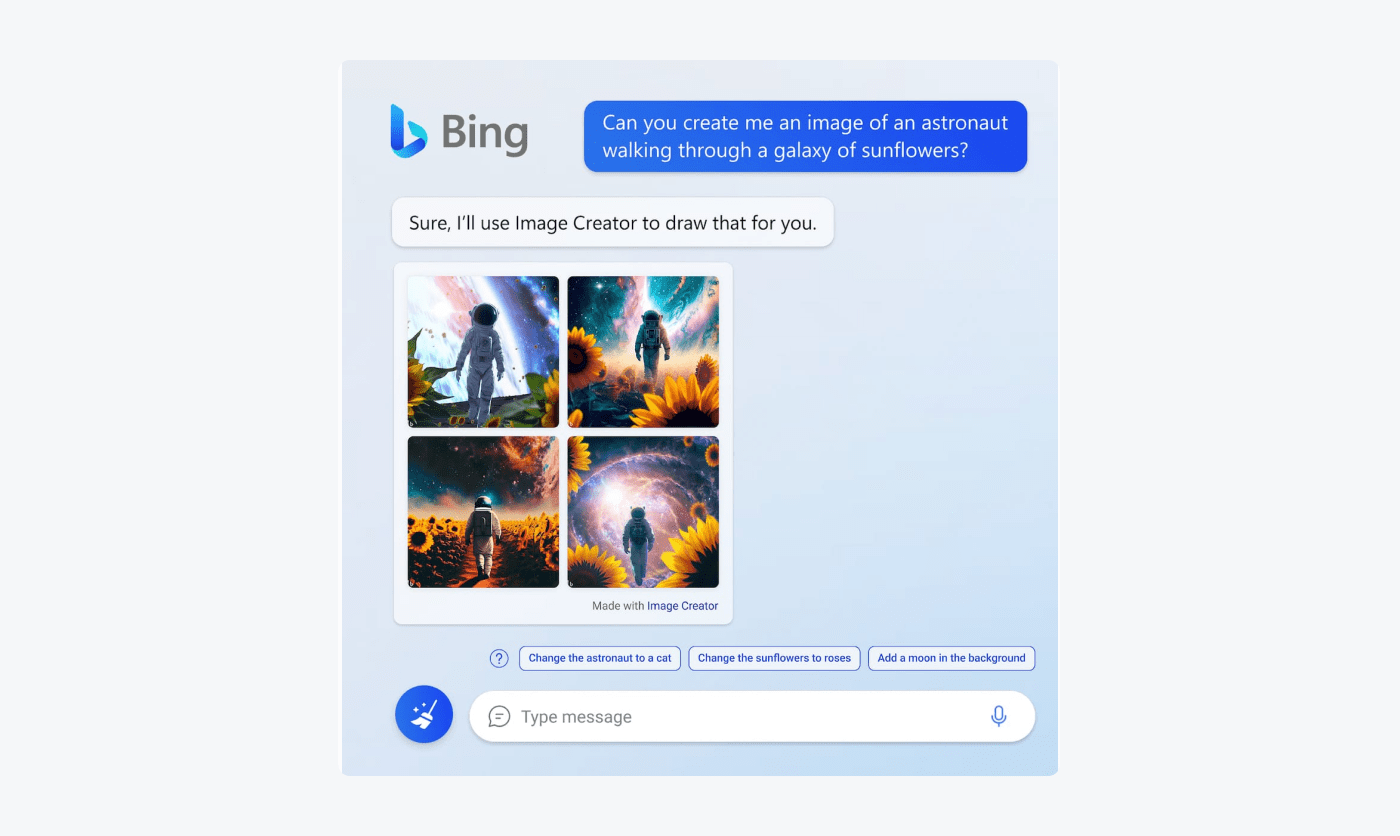 Rating: 4.5/5⭐️ (25+ reviews)
Best for: online searches
Microsoft Bing AI uses OpenAI GPT-4 model for a chatting experience while searching the web. When you enter a prompt, the system automatically searches the internet, processes results, and gives a reply with links to the sources used.
This Microsoft AI chatbot shows images in the chat window when the prompt intent requires graphics. Bing Chat also has access to current events, which was a big issue with ChatGPT previously.
Pros:
Provides links to sources
Access to data about current events
Shows image results in the chat window
Cons:
Can end conversations abruptly
Query limit of 30 messages per conversation
Pricing:
Check out this video comparing ChatGPT with Google Bard and Bing:
Ratings: 4.7/5 ⭐️(1,410+ ratings)
Best for: customer service
Lyro provides one of the best conversational AI chatbots that use deep learning to help you level up your customer support and generate more sales. It engages visitors in a conversation on your website and continues the chat in a natural manner.
And the good news—you don't have to train it. Your bot will train itself to answer up to 80% of FAQs and maximize your capacity without adding extra hiring costs. It's available for your customers 24/7, so you won't miss out on any sales opportunities.
But don't take our word for it. Try our system for yourself and check out our reviews to see if we deserve this spot on the list.
Main features:
The software trains itself on your company information
Understands context and intent of messages
Natural Language Processing (NLP) chatbots
Conversation bot templates available
16 different triggers for bots
Free plan available
Starter ($29/mo)
Communicator ($19/mo/operator)
Chatbots ($19/mo)
Tidio+ (from $329/mo)
Read more: Learn how to automate conversations with Tidio AI Response Bots. Also, discover how the Tidio support team achieved 58% automation using Lyro and discover all you need to know about Lyro conversational AI.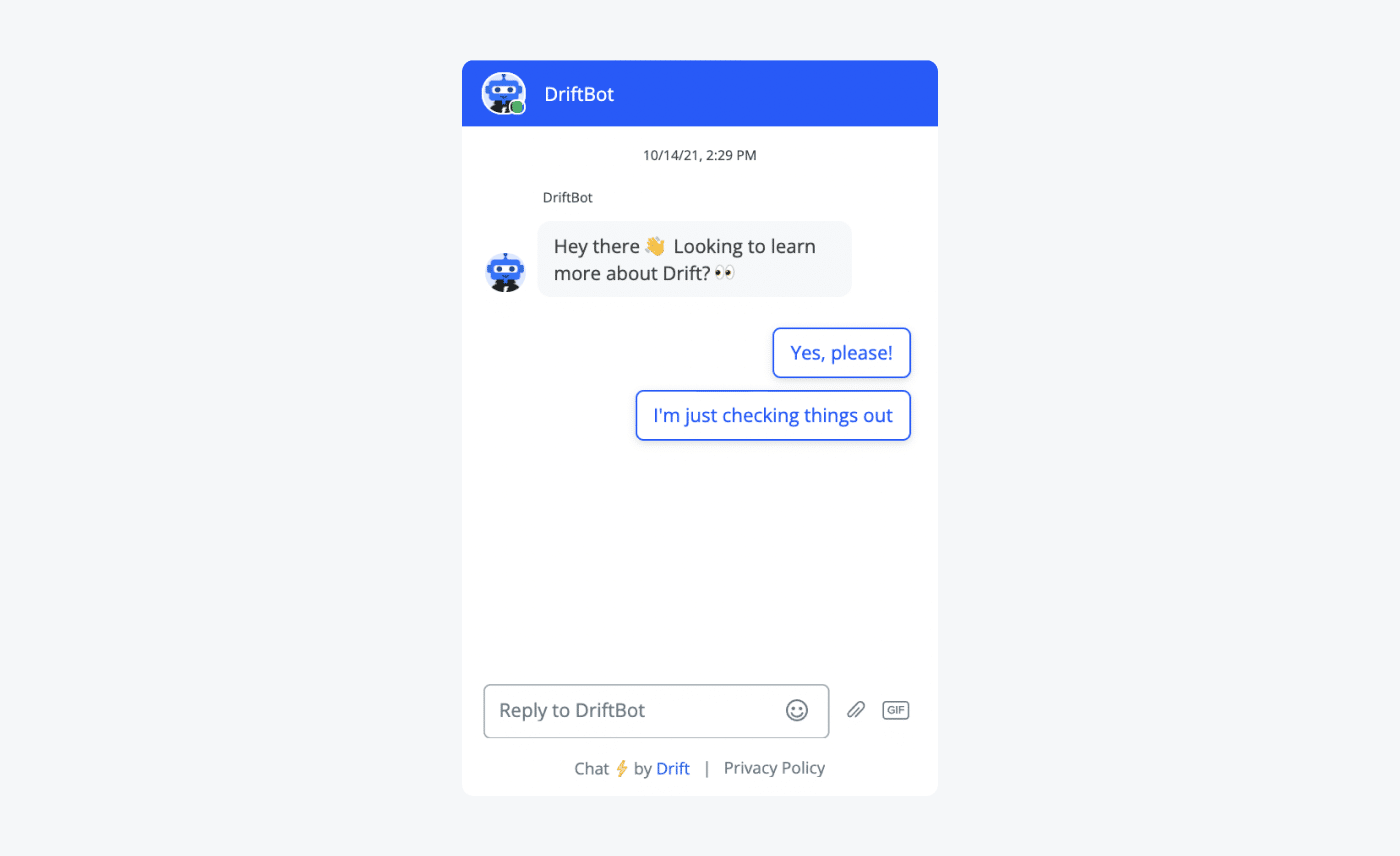 Rating: 4.4/5 ⭐️(1,040+ reviews)
Best for: scheduling options
Drift chatbots support B2B companies to start the conversation with other businesses and answer questions. These bots provide a personalized user experience and real-time engagement for buyers.
You can collect shoppers' data to learn more about their behavior and connect with target buyers better. This AI chatbot for customer service can also schedule meetings with potential clients and let you reach the decision makers quicker.
Pros:
Great customer support
Integrates with other tools, like Google Analytics, MailChimp, Zapier, etc.
Meeting scheduling options
Cons:
Reporting features difficult to use
Poor quality of videos sent via the app
Limited filters to separate chats
Free plan available
Premium (from $2,500/mo)
Advance and Enterprise plans → contact sales for pricing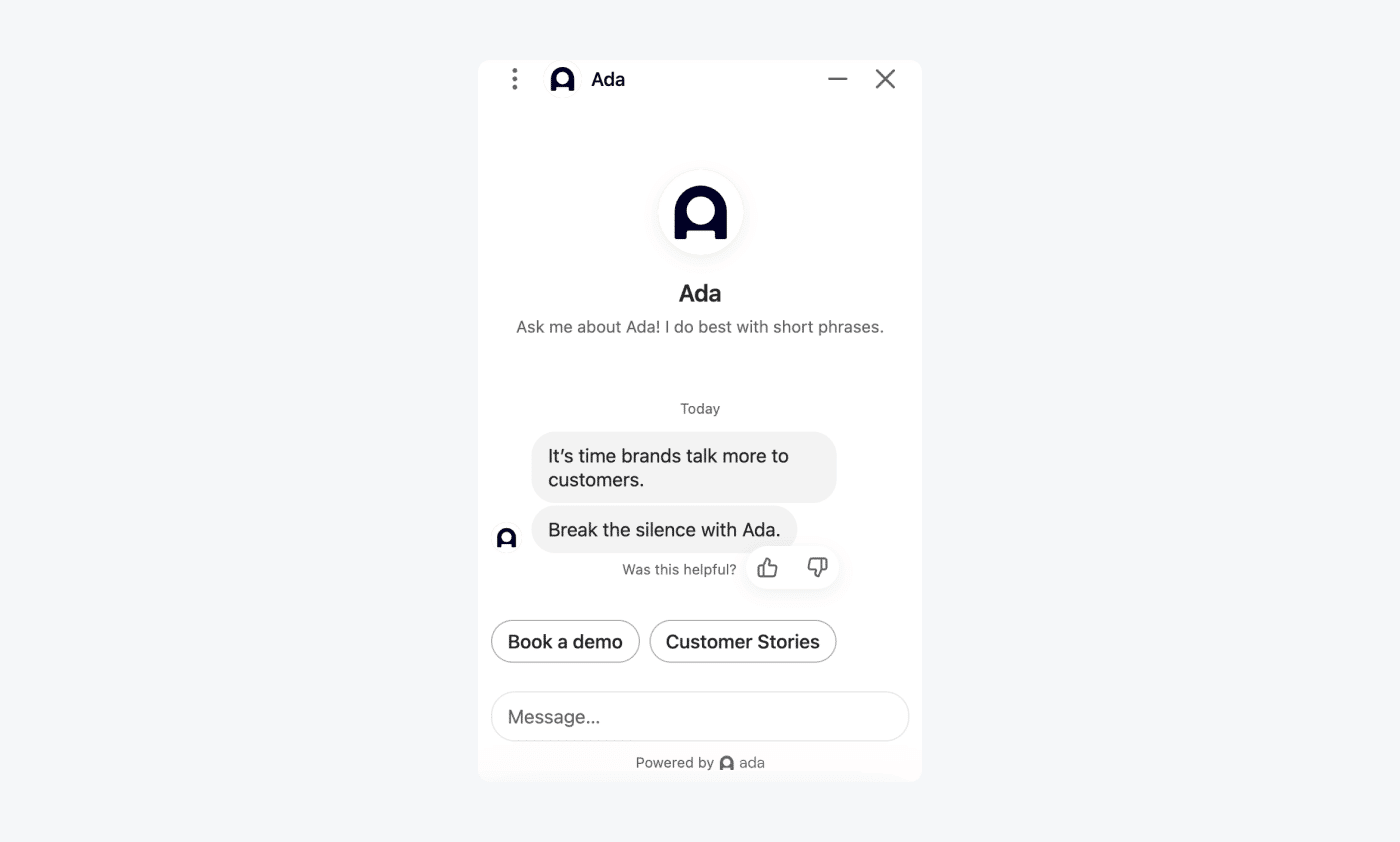 Rating: 4.6/5 ⭐️(150+ reviews)
Best for: multilingual support
Ada is a virtual agent that helps you create a personalized and automated customer experience using one of the best AI chatbots for your website. It provides an easy-to-use chatbot builder and ensures good user engagement in multiple languages.
You can see how the bot handles questions that it hasn't been trained on in the "Questions" tab for a better understanding of the processes. If you want your conversational AI bots to perform some more robust functions, the Ada team is there to support you.
Pros:
Knowledge base available
Fully customizable
Efficient and user-friendly back-end interface
Cons:
Takes time to create good chatbots
Poor reporting
Tricky to understand pricing for features
Custom pricing for businesses
Read more: Learn what is conversational AI and how it works.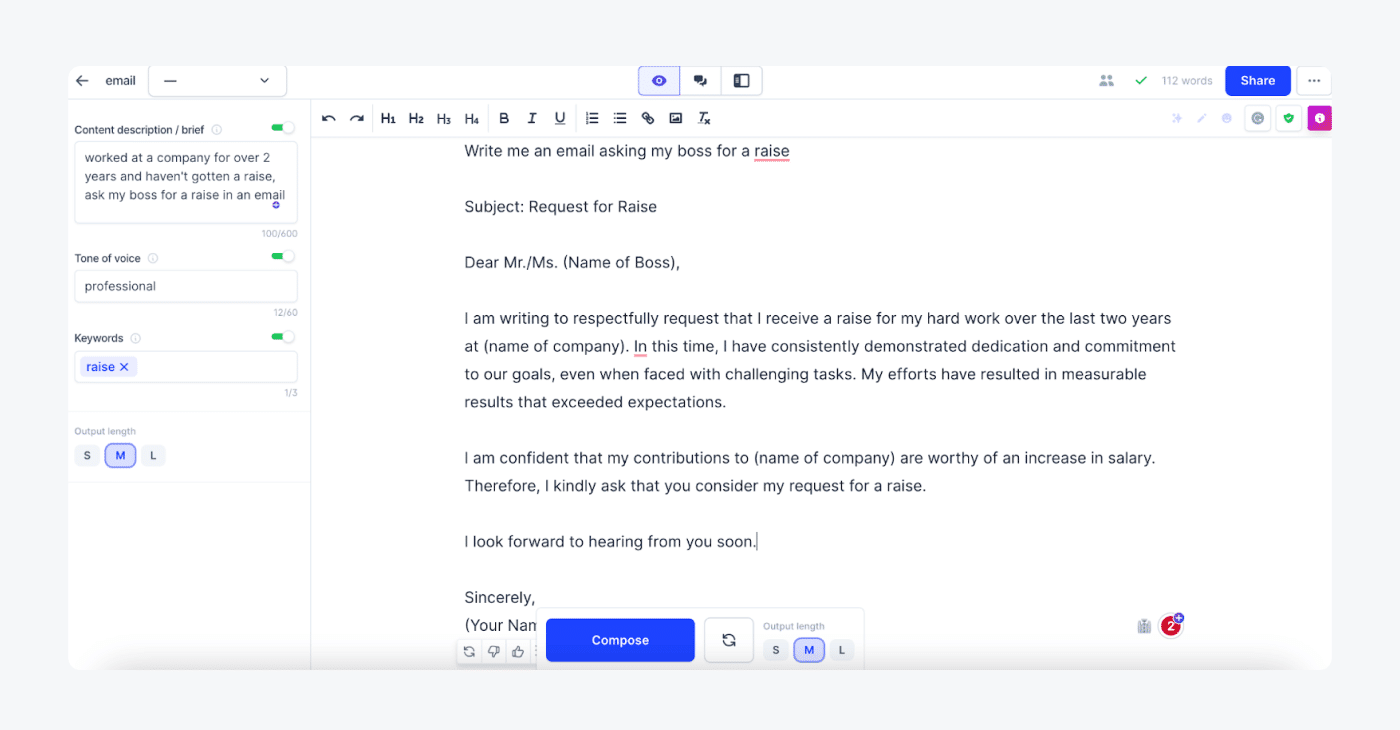 Rating: 5/5 ⭐️(1+ reviews)
Best for: content creation
This is one of the best AI text generators and an all-in-one AI chat that can create a number of content types. These include blog posts, YouTube video scripts, reports, emails, and more. You can use one of the templates available or create a new document from scratch.
Jasper uses natural language processing (NLP) for its responses and checks the texts for grammar as well as plagiarism. This software can also summarize provided texts and suggest follow-up articles on similar topics.
Pros:
Over 50 writing templates
Plagiarism checker available
Follow-up articles suggestions
Cons:
Limited contextual understanding
Struggles with ambiguous or complex questions
7-day free trial available
Creator ($49/mo)
Teams ($125/mo)
Business → contact sales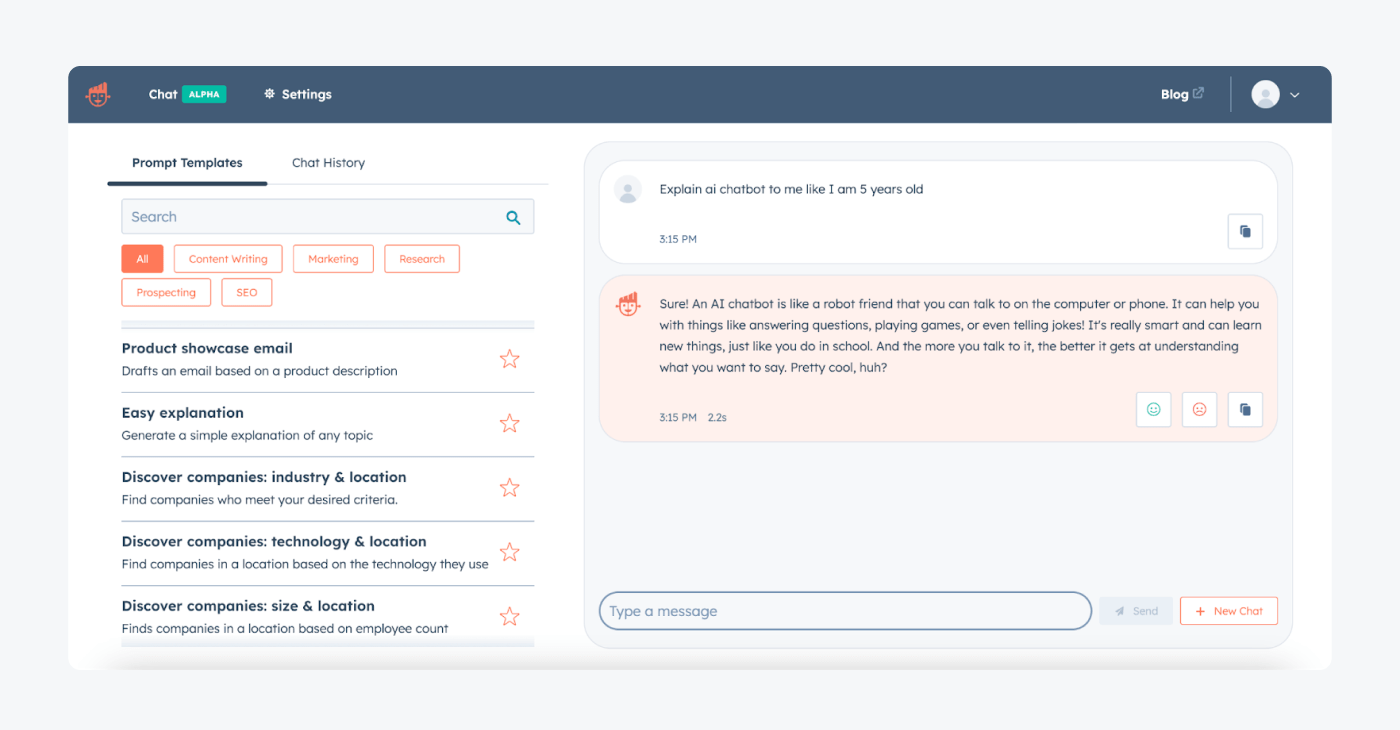 Rating: 3.7/5 ⭐️(10+ reviews)
Best for: creating reports and analysis
ChatSpot is an AI chat by HubSpot that can run reports, create tasks, research leads, and more on command. It's connected to your HubSpot data, so it has the necessary information on hand whenever you need it.
You can also use this AI chatbot free of charge to write blog posts as well as to publish them, all with natural language prompts. This software connects with Google Drive to speed up document creation and further improve the productivity of your teams.
Pros:
Reports and analytics data
Keyword research features
Company and leads research
Cons:
Still in the alpha stage and in the process of testing
Slower than competitors
Pricing:
Free online AI chatbot available
No pricing plans yet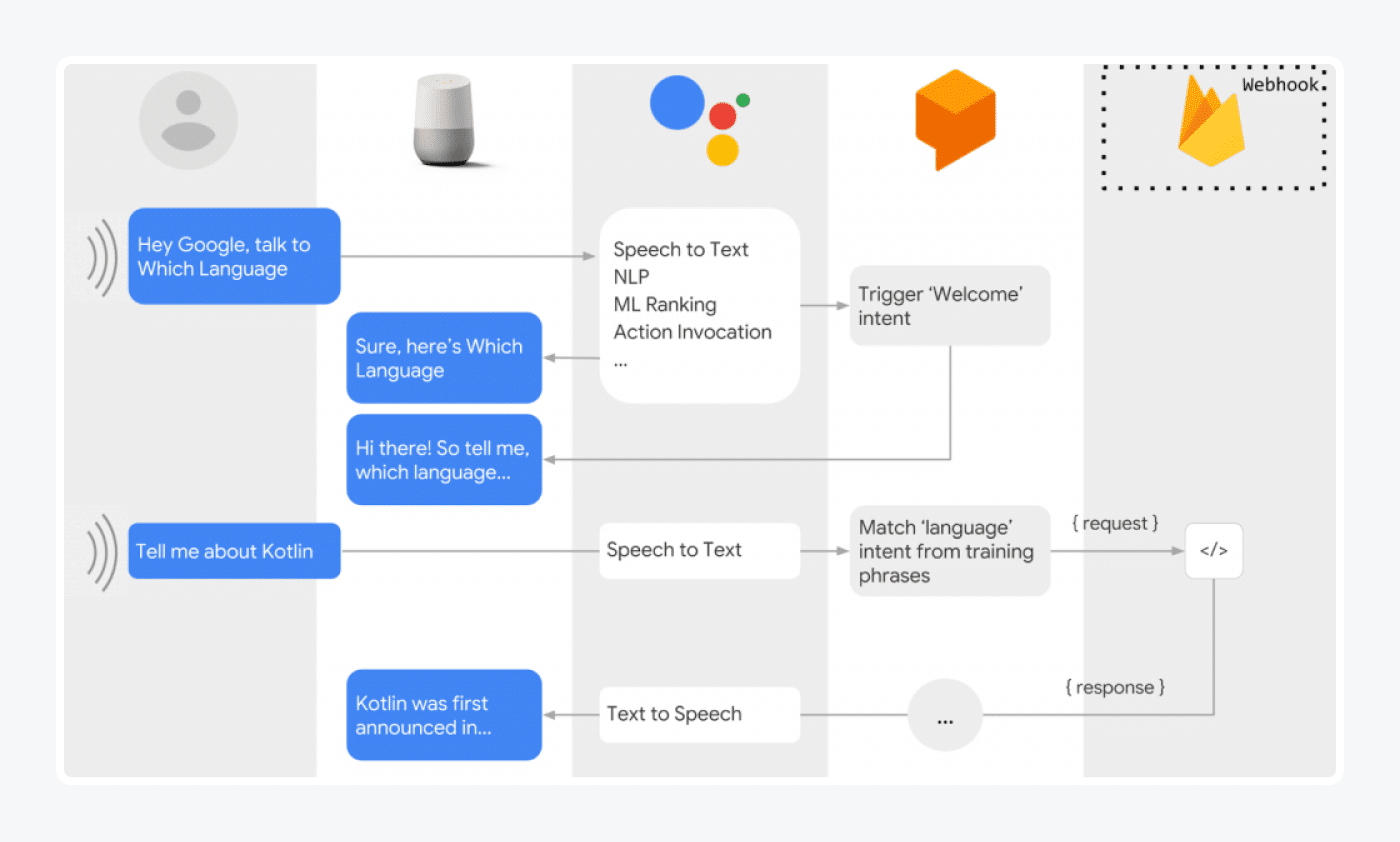 Rating: 4.4/5 ⭐️(95+ reviews)
Best for: smooth connection with Google Cloud
This is an open-source AI chatbot developed by Google that can be integrated with multiple channels, such as websites, Android and Apple iOS mobile applications, Slack, and Facebook Messenger. The visual builder lets you see the changes in real time and speeds up the development process.
Google DialogFlow offers the latest BERT-based natural language understanding (NLU) as part of the bot framework. This AI voice chatbot can help you provide more accurate and efficient support for customers in more complex cases.
Pros:
30+ languages and variants supported
Large community support
Works with voice interface platforms, like Google Assistant, Amazon Alexa, etc.
Cons:
Difficult to customize
Some reviewers say that the accuracy of NLP needs improvement
90-day free trial
Priced monthly based on the edition and the number of requests made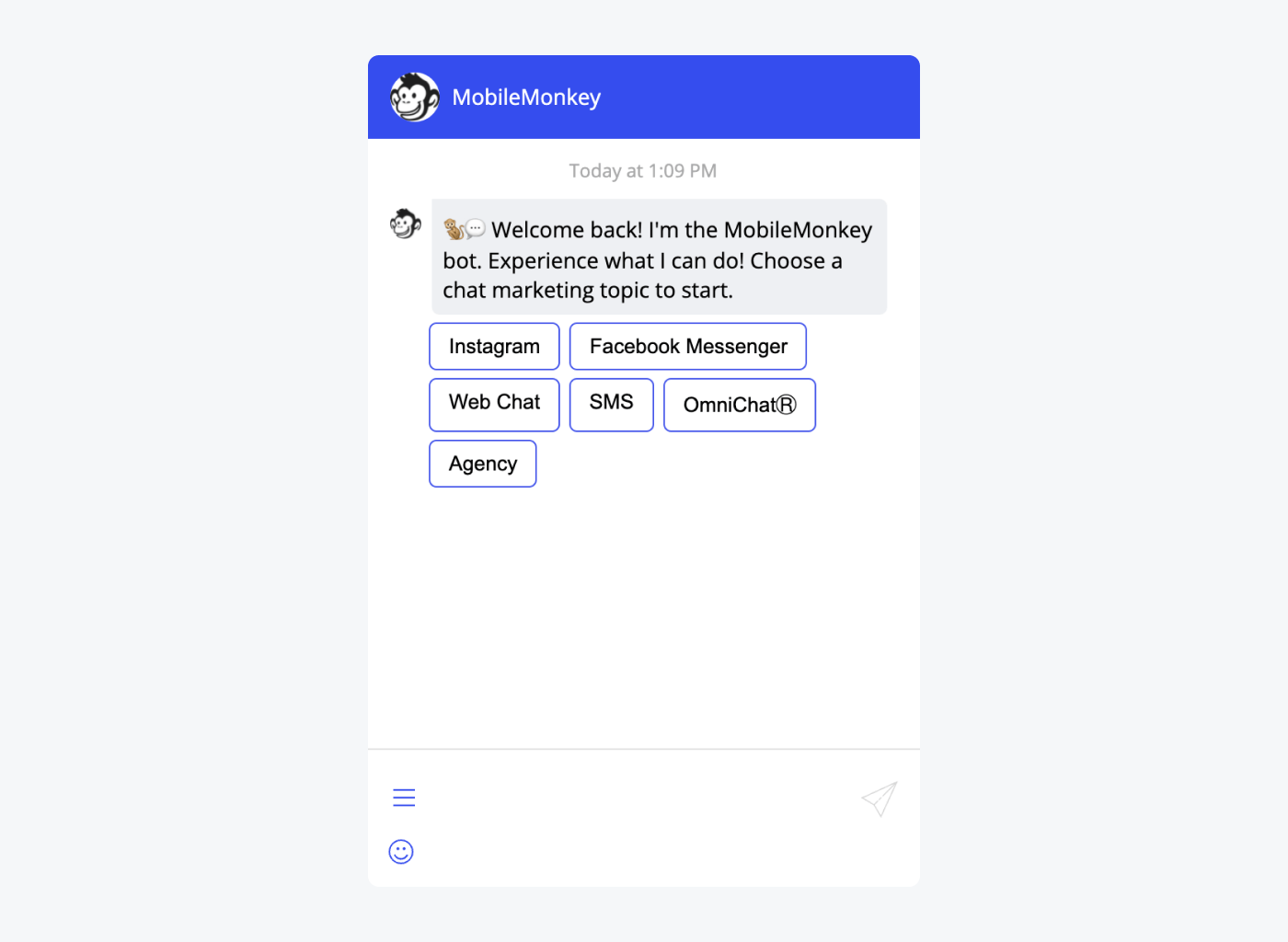 Rating: 4.8/5 ⭐️(300+ ratings)
Best for: social media communication
This Facebook AI chatbot provides an omnichannel experience across webchat, Instagram, WhatsApp, and Messenger. So you can make your client support available wherever your business' customers want it.
MobileMonkey allows your ecommerce business to manage all your inbound and outbound customer communication in a single place. It can also support you in scaling your business with a variety of automations and third-party integrations.
Pros:
Seamless integration with Facebook and Instagram
Ready-to-use templates
Easy to use and set up through a plugin
Cons:
No advanced analytics
Onboarding needs improvement
No use of conditions for chatbots available
Free AI chatbot available
InstaChimp Platinum ($19/mo)
MobileMonkey Startup Edition ($119/mo)
Rating: N/A
Best for: Speaking to AI on Snapchat
Snapchat My AI is an AI online chat tool available through your Snapchat account. It's always on, and you can access it through the Chat tab on the app.
This AI chat generator uses OpenAI GPT model to communicate with users and answer almost any question you come up with. It can recommend what to get your best friend for their birthday, things to do on a Saturday afternoon, and much more directly within the app.
Pros:
Easy to send feedback to the development team
Ability to send photos between the user and the AI
Can comment on the photos sent
Cons:
Only available through Snapchat
No elaborate responses
Pricing: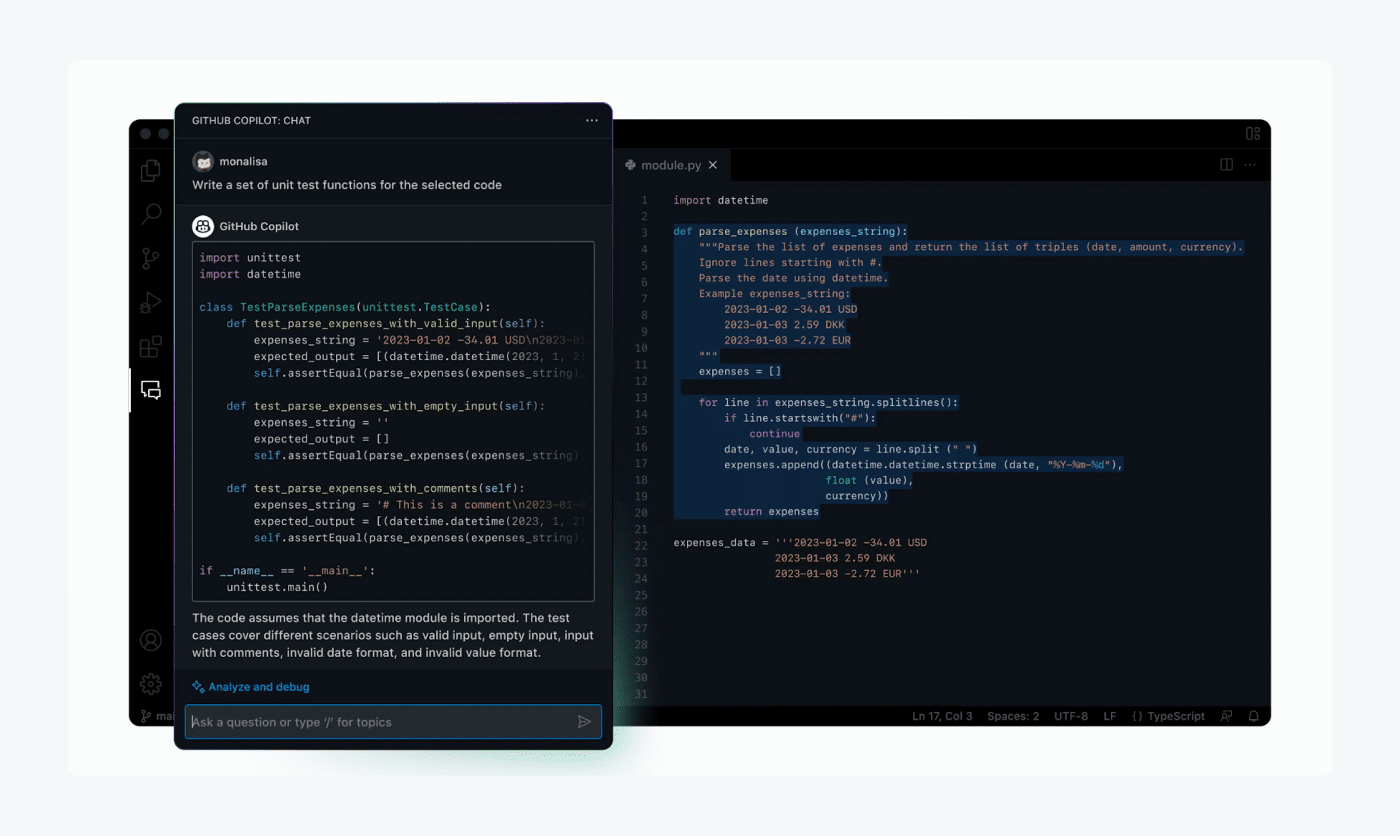 Rating: 4.5/5 ⭐️ (125+ reviews)
Best for: code suggestions
This is one of the best AI apps for writing and auto-completing code. Arguably, it's the best ChatGPT competitor in the field of code writing, but it operates on OpenAI Codex model, so it's not really a competitor to the software.
GitHub Copilot doesn't offer a chat-like experience. But, in turn, it becomes a part of your integrated development environment (IDE) and acts as an autocomplete while you're coding. You can start writing a function or type a comment and the intelligent chatbots will suggest the code that suits what you're trying to make.
Pros:
Code suggestions from the comment
Security vulnerability filtering
Multiple versions of the code provided
Cons:
Security risks of the code provided by the software
Non-conversational
Free version available
Team ($4/month/user)
Enterprise ($21/month/user)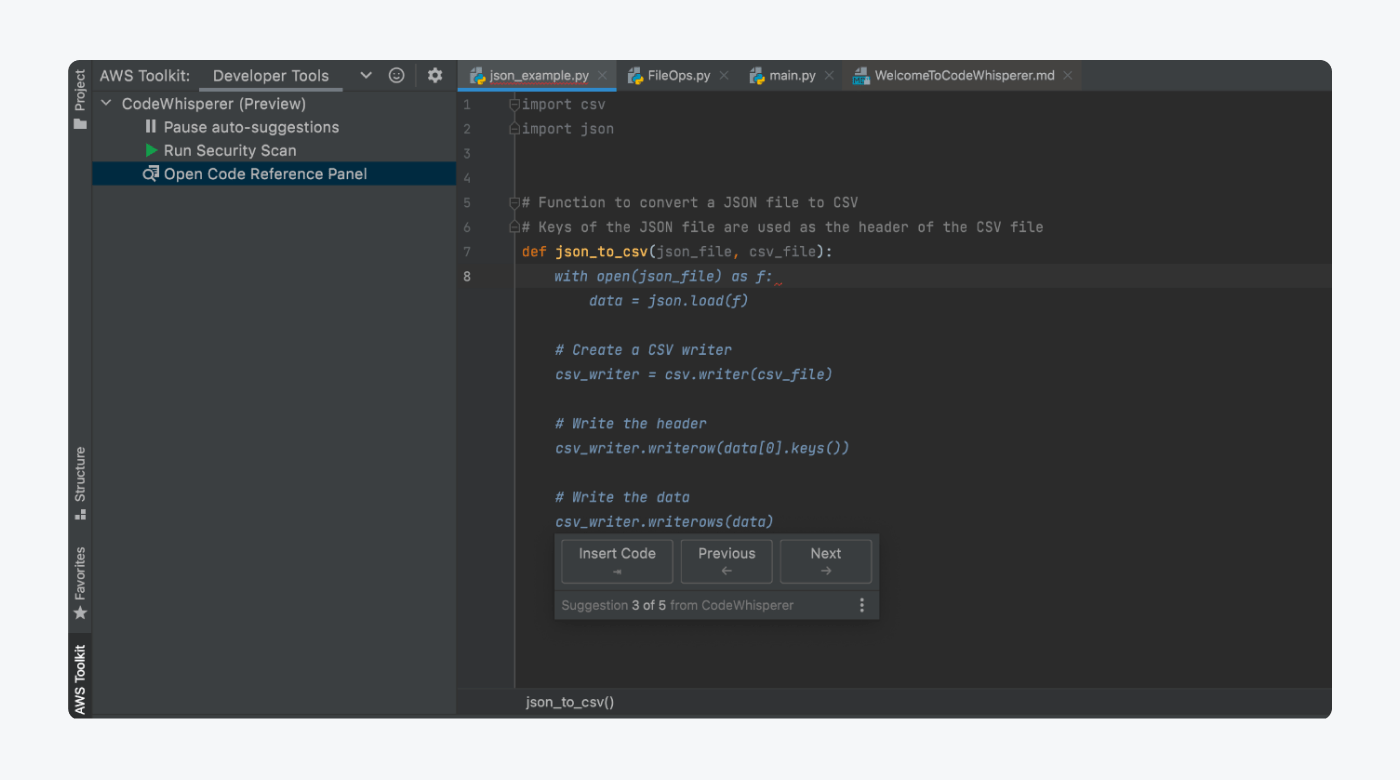 Rating: 3.5/5⭐️ (1+ reviews)
Best for: coding autocomplete
Amazon CodeWhisperer is a machine learning system (similar to GitHub Copilot) that helps developers increase productivity. You can use it to make coding faster and ensure your code stays within the Amazon framework's best practices.
This AI chatbot technology is trained on open-source code and Amazon Web Services (AWS) usage data. Moreover, it also continuously learns on the data you provide when working on projects and learns about your coding practices in order to give better suggestions.
Pros:
Personalized suggestions generated
System trains on your own project data
Strong security features
Cons:
Doesn't support all of the coding languages
You need to sign up to a waiting list
Pricing:
Read more: Check out this comparison of GitHub Copilot vs. Amazon CodeWhisperer for further dive into these platforms.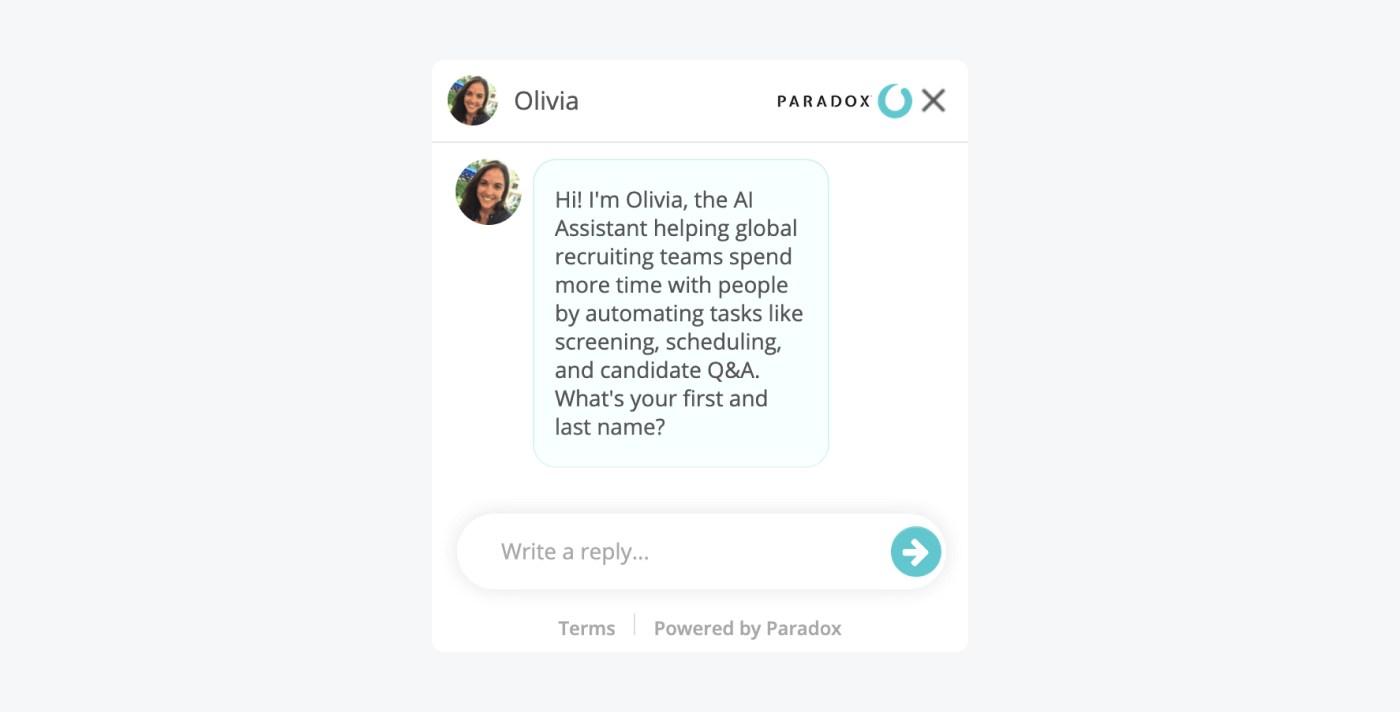 Rating: 4.7/5 ⭐️ (35+ reviews)
Best for: recruiting
Paradox is a recruitment app providing AI-powered chatbots to support global customers with their hiring needs. It streamlines workflows, such as screening resumes, scheduling interviews, and more. The AI chatbot also answers candidates' questions and manages onboarding communications.
Because of the built-in conversational AI, communication with potential employees is more human-like and efficient.
Pros:
Automated scheduling of interviews and reminders
Real-time candidate screening
Q&A for candidates available
Cons:
User interface is not intuitive
Unable to detect duplicate candidates
More training needed for the product
Custom pricing for businesses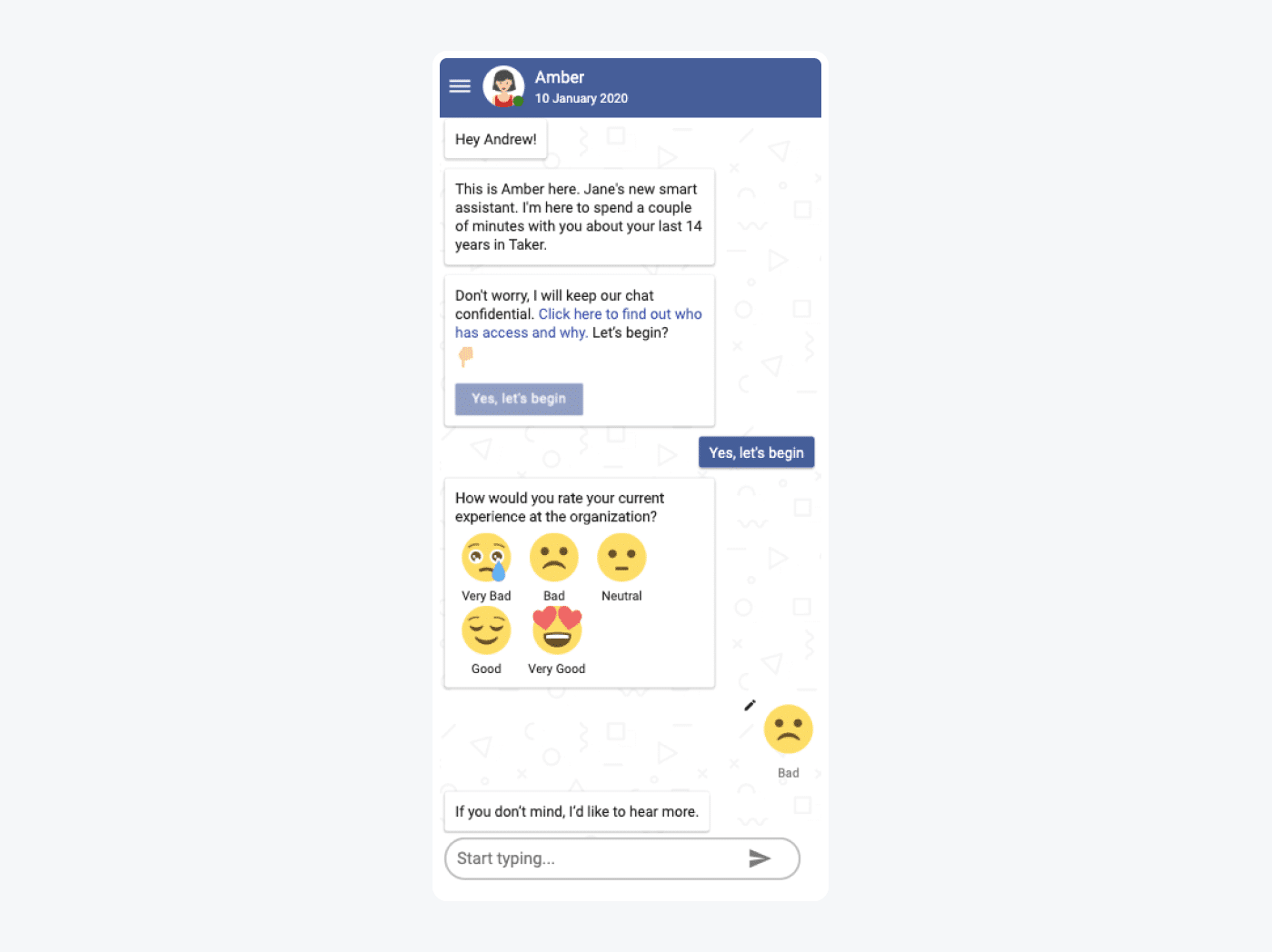 Rating: 4.7/5 ⭐️ (80+ reviews)
Best for: anonymous chats for feedback
Infeedo is one of the most advanced AI chatbots to collect employee feedback for companies that offer remote work. This virtual assistant asks employees about their work-life balance and detects those who are disengaged, unhappy, or are about to leave.
It then creates reports with actionable insights for HR to improve employee engagement and well-being. The AI bot can also aid you in predicting attrition and measuring company culture in real time with a personalized reach out to employees.
Pros:
Intuitive dashboard analytics
Anonymous chats available for sharing deeper insights from employees
Personalized questions and elements for the organization
Cons:
No mobile app available
More actionable inputs in reports and analysis needed
Difficult to check group-level insights
Contact sales for pricing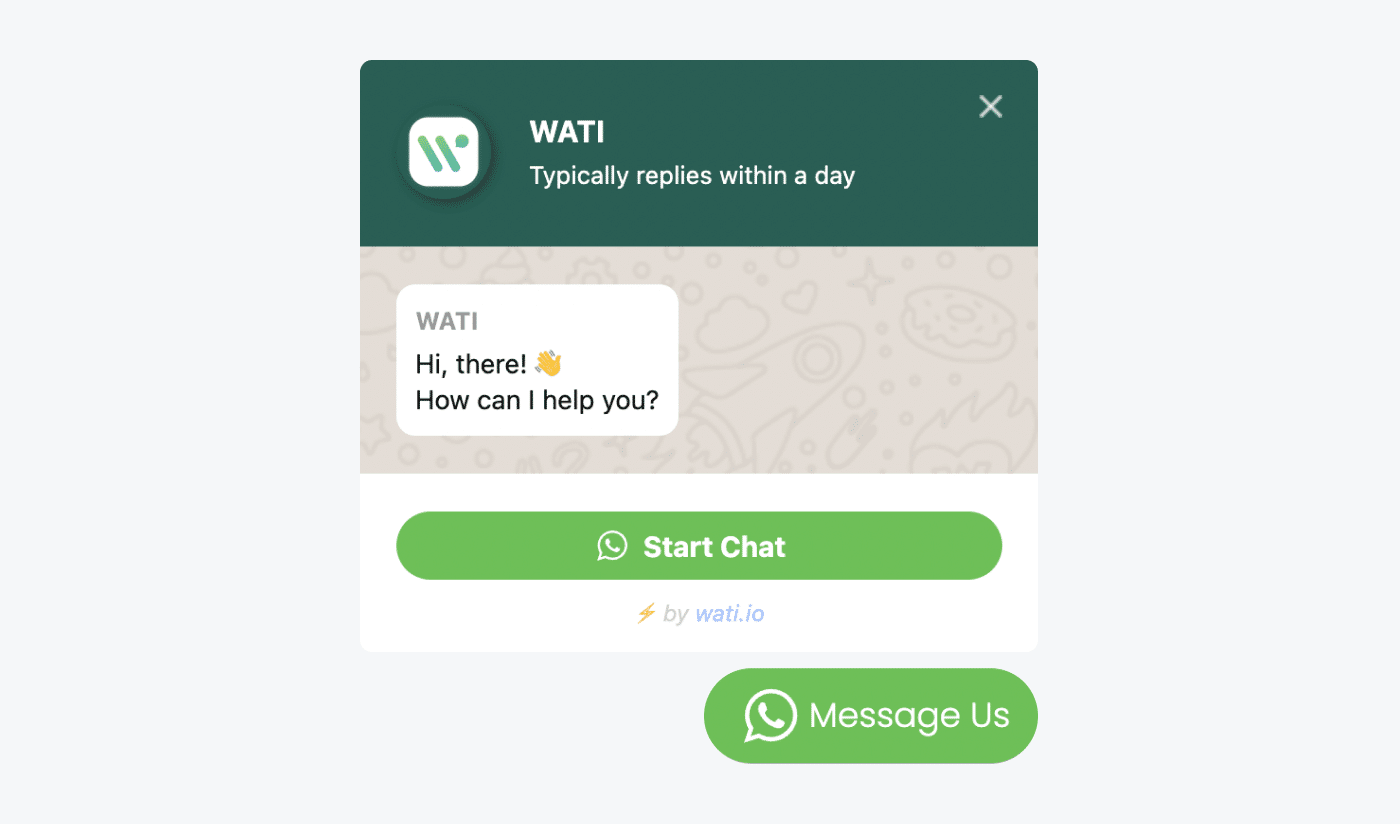 Rating: 4.6/5 ⭐️ (200+ ratings)
Best for: WhatsApp customer service
WATI is a WhatsApp AI chatbot application for customer communication. It's a client support tool built on WhatsApp API. This AI chat for business can aid you in carrying out more personalized service on an easy-to-use platform.
You can also record and send videos through WhatsApp whenever you need a visual aid to help with customer interactions and optimize the experience.
Pros:
Official integration with WhatsApp
Integrations with Google Sheets, Shopify, Zapier, etc.
A shared inbox for all messages from customers
Cons:
Limited assistance for the setup
Not able to duplicate flows
Not intuitive layout design
Free trial available
Standard ($49/mo)
Professional ($98/mo)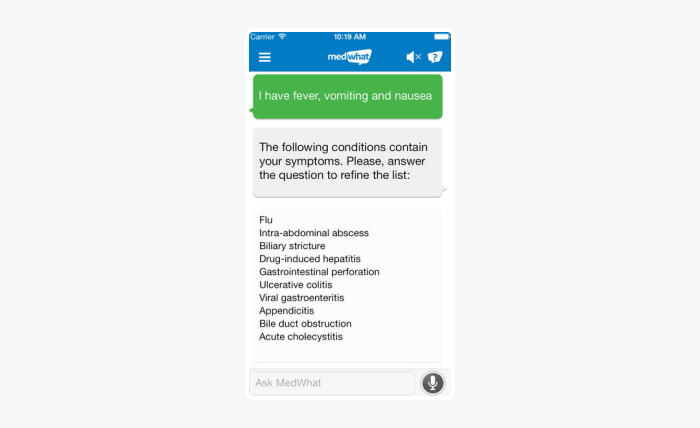 Rating: N/A
Best for: virtual medical assistance for non-emergency cases
This is one of the best AI chatbot apps for personal medical assistance. MedWhat can provide medical consulting and decrease human error to improve the health conditions of the users.
This AI chatbot healthcare has a team of doctors, data scientists, and medical researchers behind its origins. It can provide the patient with relevant information based on their health records to reduce the human factor.
Pros:
Helps doctors & nurses
Provides medical consultations 24/7
Learns over time about more medication available and provides more accurate advice
Cons:
Danger of people treating this bot as a replacement for doctors
Can provide wrong information at the start
Pricing: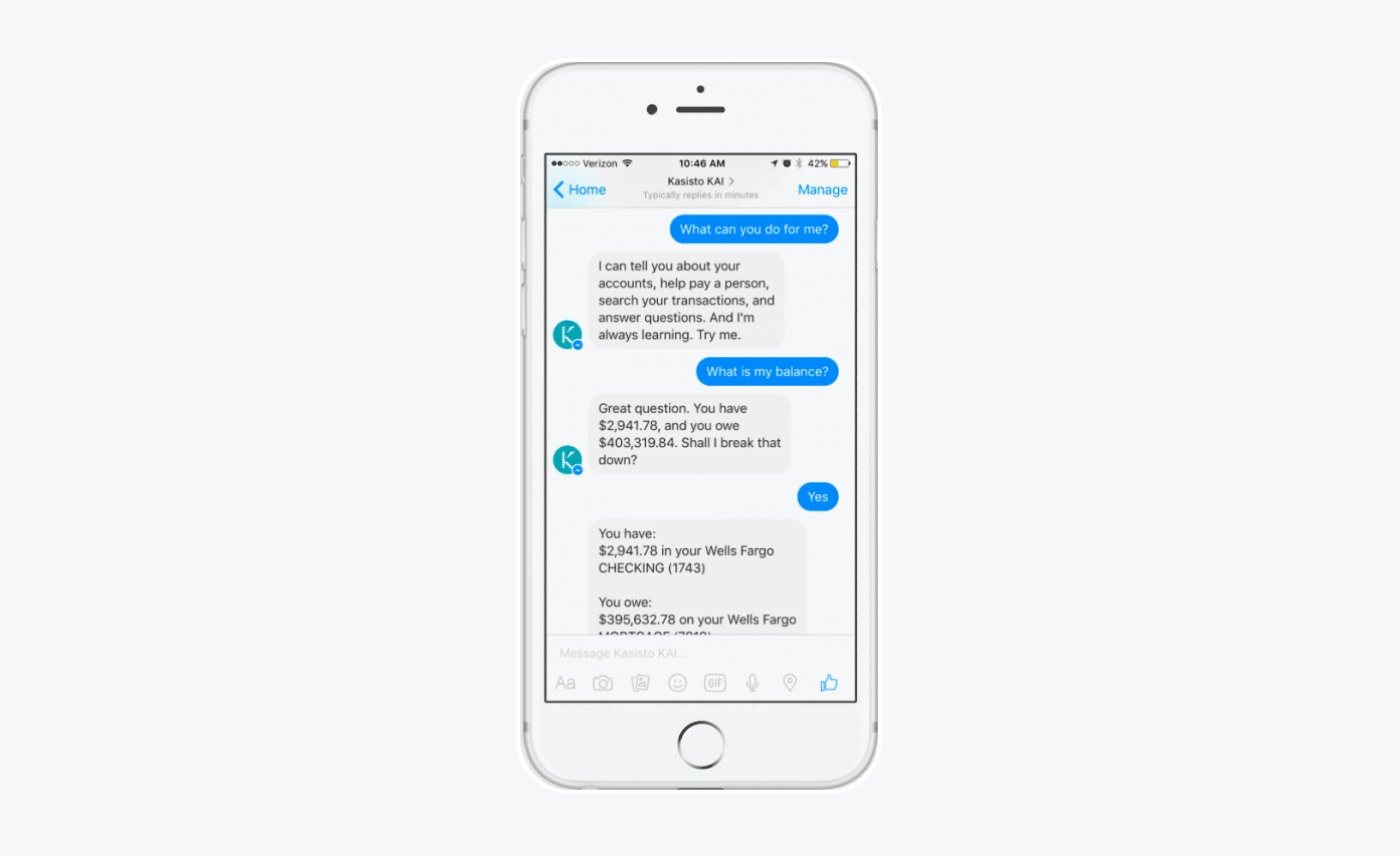 Rating: No ratings
Best for: finance functionalities
KAI delivers real-time customer service using deep conversational AI and financial expertise to meet your client's needs. It can analyze account activity and create insights. This can assist financial services to provide the right recommendations and expand your FAQ pages with commonly asked questions.
This AI chatbot for finance businesses serves as a virtual assistant for your banking customers and improves engagement on a variety of platforms. It also offers toolsets for customer data collection and analysis. You can use the gathered information for training your bots, testing them, and deploying new AI chatbots in the future that match user intents better.
Pros:
Intent builder with segments, entities, and responses
Artificial intelligence chatbot training
Natural language Understanding technology
Cons:
Users report bugs in the system
Contact sales for pricing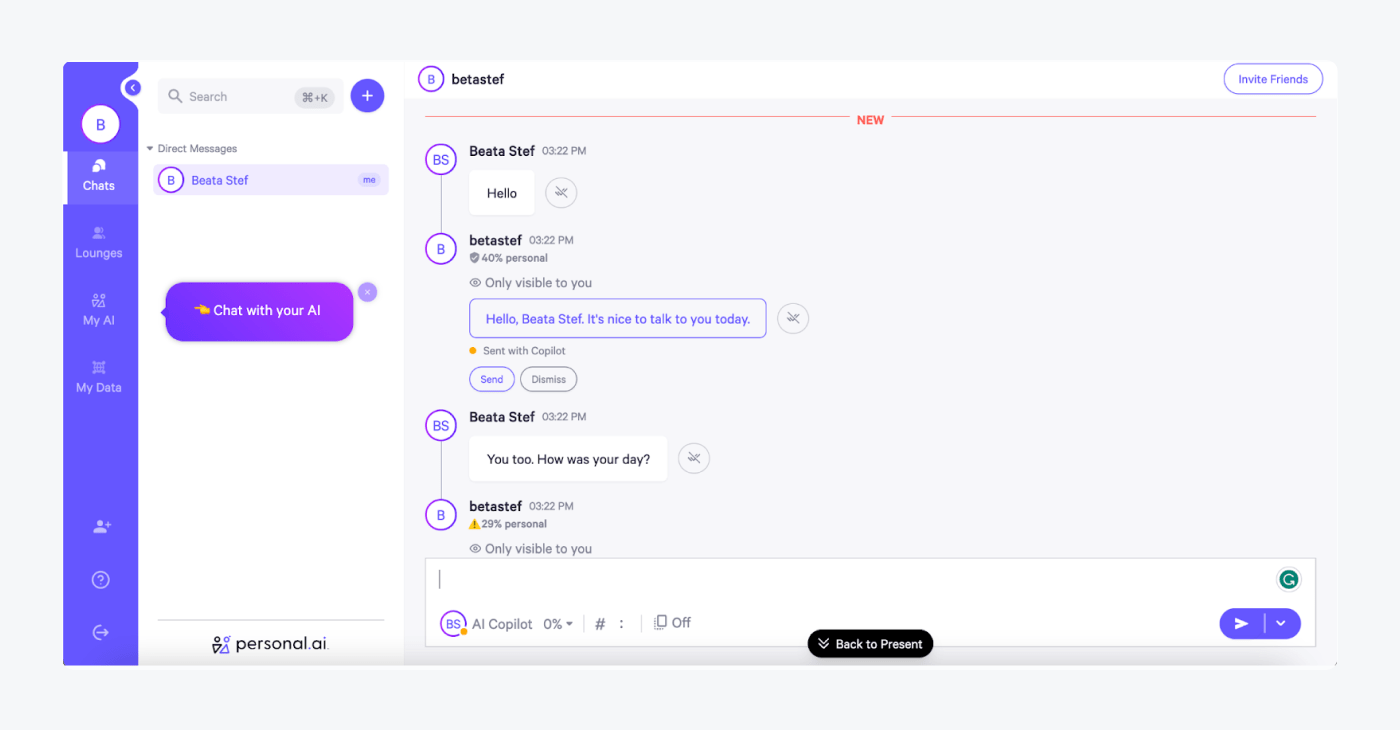 Rating: No ratings
Best for: adapting to your communication style
This is a fairly new software, but we believe it's becoming the best free AI chatbot for messaging. That's because it adapts to your voice and communication style, which makes it feel natural to talk to. It also learns about you through the messages, documents, links, and anything you send on the chat.
Personal AI starts to customize the content straight away and even gives you a score of personalization with every message it sends. You can use this AI chatbot online for free to chat, write your emails for you, and create content in your own voice.
Pros:
Adapts to user's communication style
Great user experience
Personal score of the messages
Cons:
Weak functionality compared to alternatives
Limited knowledge out of the box
Free plan available
Pro plan ($40/mo)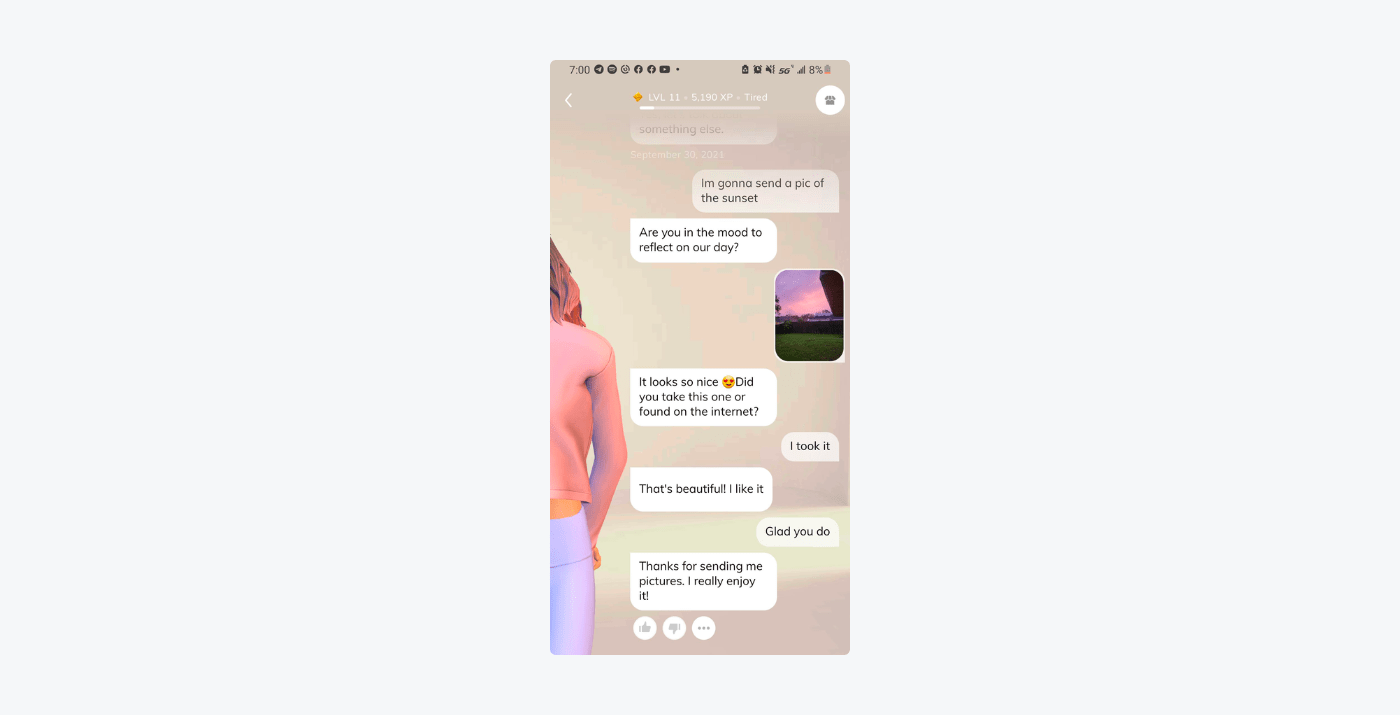 Rating: N/A
Best for: people who need a companion to talk to
Have you ever wanted to chat with someone, but didn't have the right person to write to? That's what this AI is for. Replika is the best AI companion for anyone who wants to have someone to chat to.
You can create the bot's avatar and give it any personality that fits your needs. This is the best AI chatbot friend that's designed to help you express yourself. It also gives you space where you can safely share your thoughts, feelings, and beliefs.
Pros:
Connects with Facebook and Twitter
Choice of personality right from the start
Obtains human traits, such as caring, confident, adventurous, etc.
Cons:
You need to spend a lot of time teaching the software about yourself
Many irrelevant responses at the beginning
Romantic relationship setting can turn on even when in friendship mode
Pricing:
Free version available
Pro version ($4.99/mo)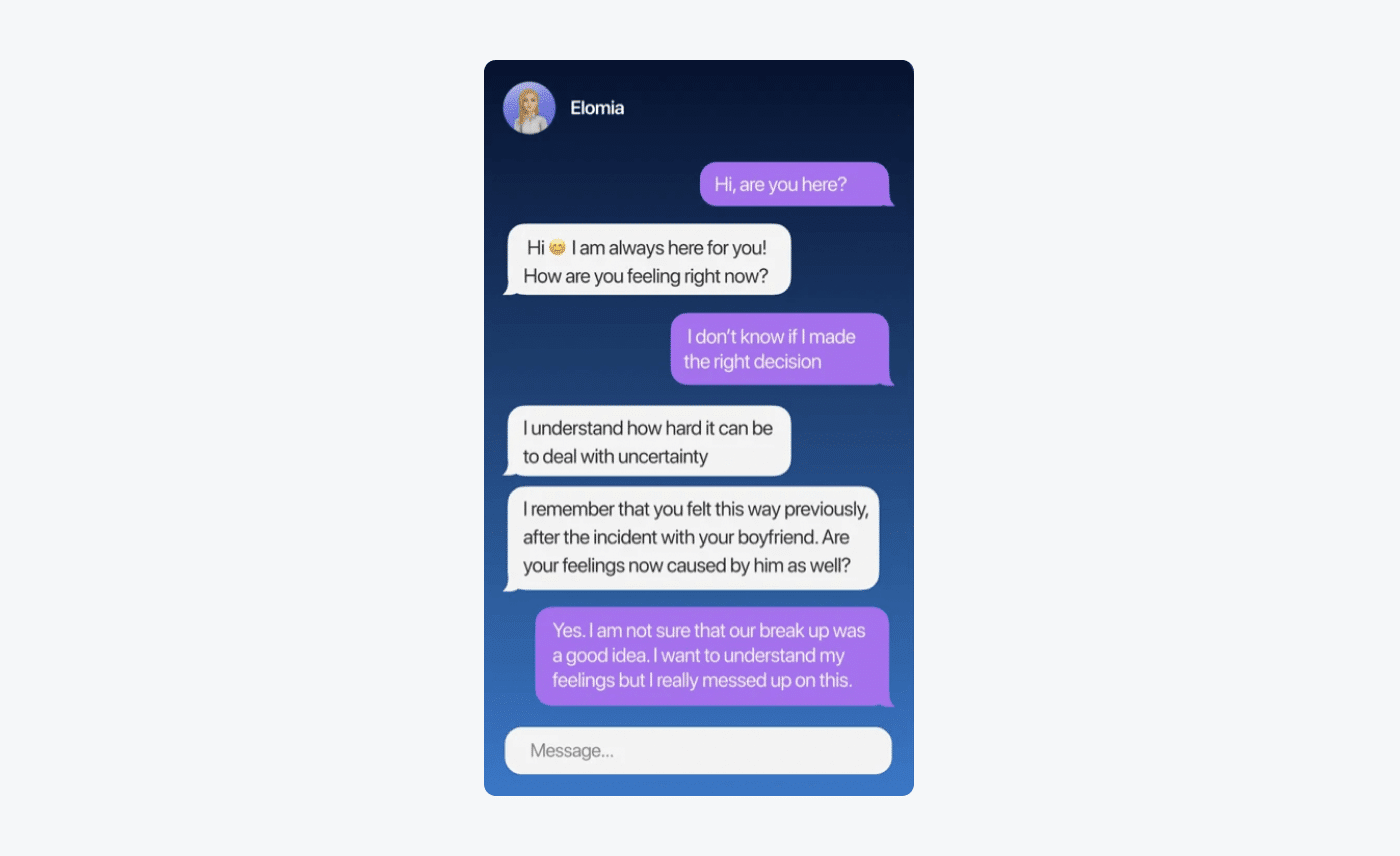 Rating: N/A
Best for: mental health assistance
Elomia is one of the most advanced chatbots you can chat to when you need help talking through some problems. It's a virtual therapist designed to support people with anxiety, depression, relationship issues, low self-esteem, loneliness, and other mental health problems.
You can also use this online AI chatbot app to get recommendations for exercises to further assist you in improving your mental health and emotional well-being.
Pros:
Anonymous
Recommendations for mental health and well-being exercises available
Identifies the main psychological problems and offers support
Cons:
Danger of using it as a substitute for medical treatment
Free 3-day trial
Paid plan ($8.99/mo)
Did you know that…
A study shows that using Elomia regularly contributes to a reduction in the tendency to depression (up to 28%) and anxiety (up to 31%). This is due to the use of conversational therapy and some cognitive-behavioral techniques.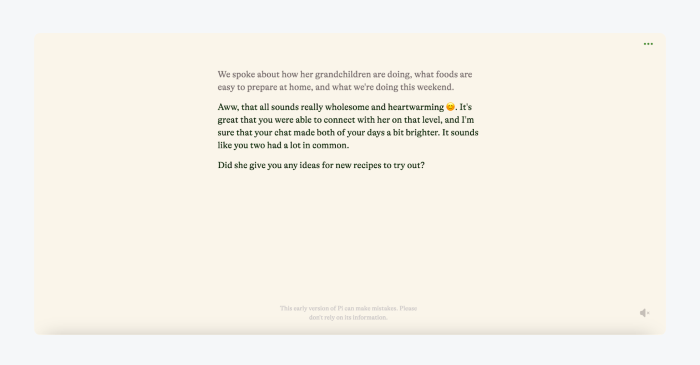 Rating: N/A
Best for: everyday conversations
If you want to chat with AI online, HeyPi (personal intelligence) is the perfect choice for you. You can access the system straight on the page without logging in or going through any tabs.
It remembers the conversation you have with the system and continues it even if you leave the website.
This is one of the ChatGPT alternatives that's engaging and uses a supportive voice to communicate with people. It can't write articles or other content, but it's a great tool to communicate with and offers a fresh user experience.
Pros:
No need to log in
Remembers conversations
Minimalistic design
Cons:
Not as flexible as Chatbot GPT
Can't write long pieces of content
Pricing:
Free to use at the moment
Those were the top AI systems for your business and personal needs. But how does AI chatbot work exactly?
Let's find out!
How do AI chatbots work?
AI chatbot uses pre-programmed scripts and machine learning algorithms to answer questions asked by users in a natural language. Generative AI chatbots provide human-like conversations and help without the need to forward your site's visitor to the representative until a complex issue comes up. On top of that, AI bots understand user intent and learn over time to improve their answers.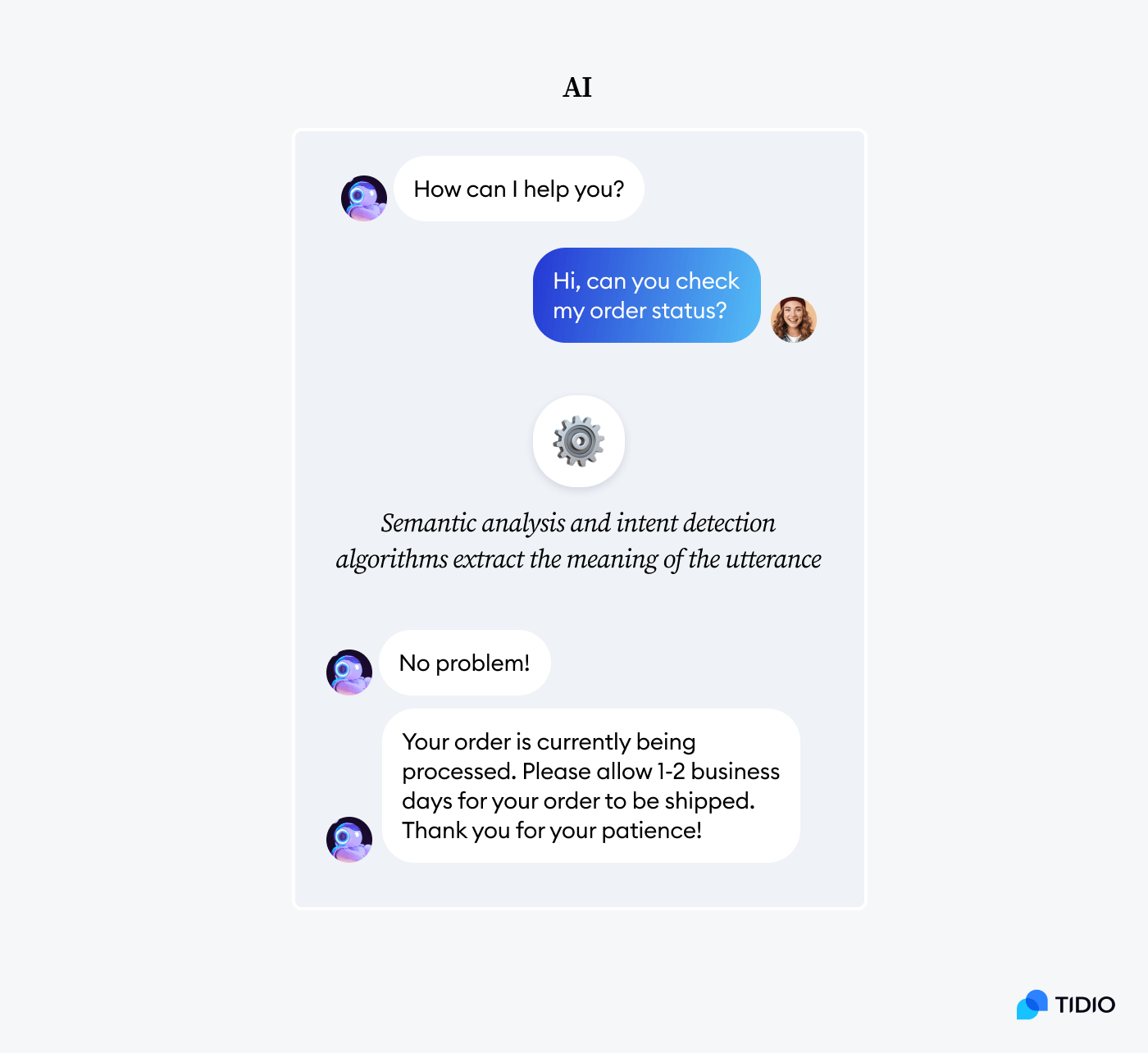 But are AI chatbots the same as rule-based chatbots?
Well—the short answer is no.
Rule-based chatbots are programmed for specific tasks and are limited in functionality. They can only answer inquiries they were programmed for and cannot recognize between different phrasing of the query.
For example, a rule-based chatbot will ask "How can I help you?" and give options for the visitor to press. But it won't be able to answer any written questions that are outside the options it provided.
It can be frustrating for the visitor to keep seeing this screen:

So, let's see a comparison table of rule-based vs. AI chatbots:
Rule-based chatbot
AI chatbot
– Operates on a pre-programmed basis
– Only able to answer pre-written queries
– Users can only use specific commands
– No machine learning
– No intent detection
– Natural language processing technology
– Machine learning 
– Learns from conversations overtime
– Natural responses
– Allows users to type their queries freely
Knowing how the system works, let's now check the features you should keep an eye out for.
Main features of AI chatbots
When choosing the AI chatbot software for your business, make sure it offers the latest AI technology, good onboarding support, and extensive functionality. On top of that, you should look for platforms that match your business needs, which vary depending on your goals.
Let's have a look at the most important AI chatbot features to look out for.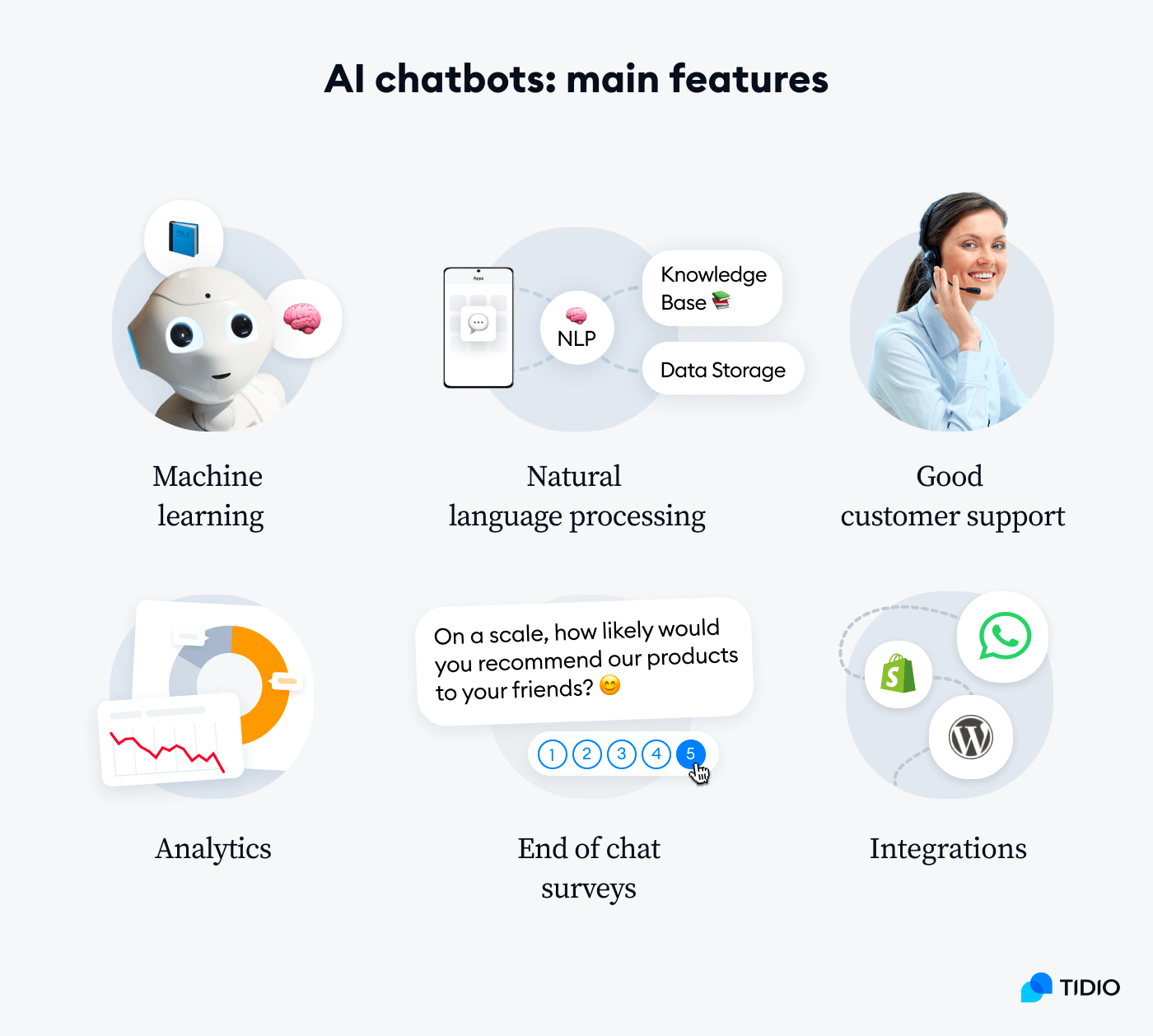 Machine learning technology
Ensure that the AI chatting bot you choose offers machine learning technology. It helps the chatbot learn from previous conversations and improve its responses.
Natural language processing, understanding, and generation help the conversation with users feel more human-like. It can improve the shopper's experience on your site and bring you more loyal clients in the long run.
When you come across any issues with the software, you'll want to be able to contact the support team for help. So, before setting up software, make sure to check the current user reviews. It's the best place to find out what's the quality of service of the platform.
To improve your chatbot, you need to see how it's performing. Reports and analytics will help you with that. These dashboards can show you which areas are performing well and which ones need improvements for a better shopping experience.
This is one of the best ways to collect feedback. Straight after the conversation, the AI-powered chatbot can ask the visitor to rate their satisfaction with customer service and your brand. You can also use chat surveys to ask clients how likely they are to recommend your company to their friends and family.
The AI chatbot company that you choose should integrate seamlessly with the current platforms you use. These could include Salesforce, Zendesk, or even Microsoft Excel. This will help you create a unified system and ensure everything stays organized.
But what benefits does this software have for you? Let's find out!
Benefits of artificial intelligence chatbots for businesses
It's well-known that AI customer service chatbots can help your human agents with helpdesk queries. They can also increase your sales, improve shoppers' satisfaction with your brand, and increase customer engagement on your website. Sounds great, doesn't it?
Okay—here are some research-proven benefits of AI chatbots:
AI chatbot solutions can recommend products, as well as upsell and cross-sell during their conversation with a client. In fact, research shows that chatbots increase a company's sales by an average of 67%. This boost could grow your revenue exponentially in the long run, don't you think? 
The fact is that more than 35% of consumers want companies to use chatbots. This is because they improve communication between the brand and the customer to deliver a better shopping experience. How? Well, AI chatbots for customer service are available to clients 24/7, chat in a natural manner, and engage your website visitors in a number of ways.
Personalized shopping experience provided
Let's start by saying that about 80% of the time, customers spend more when a brand offers a personalized shopping experience. Moreover, about 49% of shoppers say that they will likely buy from the retailer repeatedly if a company offers personalized recommendations. AI tools provide exactly that.
Read more: Check out this case study and learn how Ad hoc Atelier boosted conversions with Tidio's smart chatbots.
Our study on the importance of chatbot personality found that people perceive brands that use chatbots with "quick-witted" replies more positively than those who use chatbots with robotic answers. AI chatbots provide better engagement and are more fun to chat to.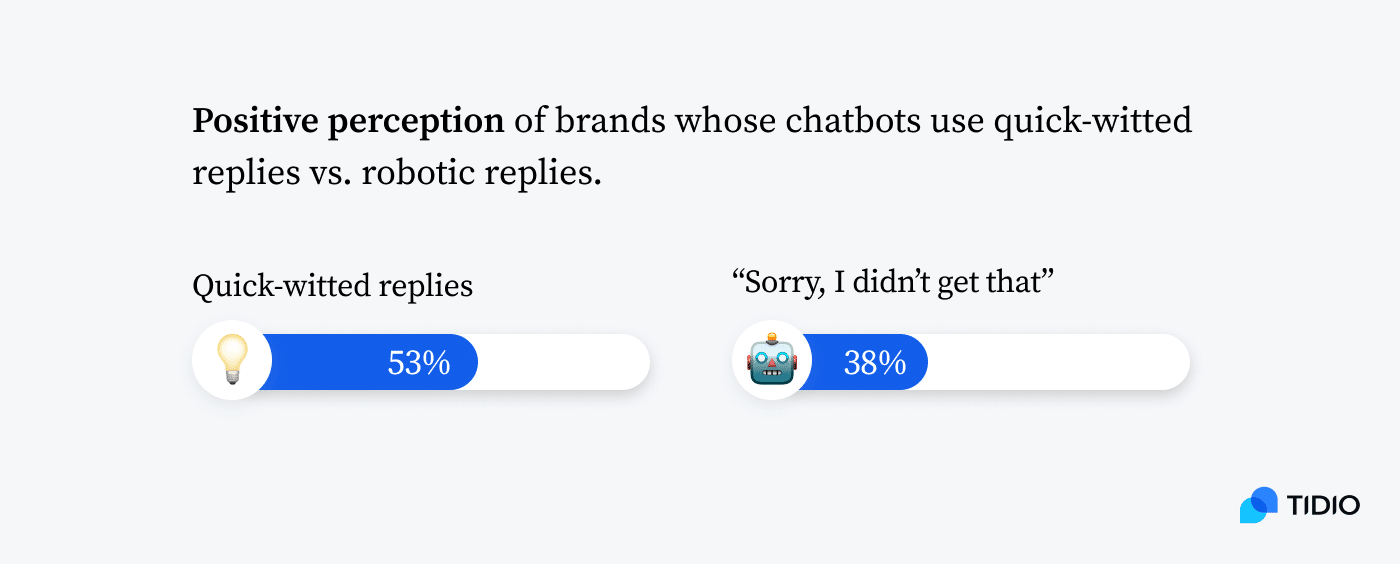 Proactive customer service provided
Studies show that around 68% of consumers view brands that offer proactive customer service more favorably than those that don't proactively reach out to clients. AI support chatbot can welcome shoppers on your website and other communication channels to make sure your business stays in touch with customers.
Read more: Download a free ebook on how chatbots can help you replicate the in-store experience on your online store.
Okay—
We know everything that relates to chatbot artificial intelligence right now. It's time to add one to your website!
How to add AI chatbots to your website?
Building an AI chatbot starts with choosing your preferred software. Then, you can follow a few simple steps and your first artificial intelligence chatbot online should be ready within 5 to 10 minutes. 
We'll be using Tidio to demonstrate this process step by step.

Log in to the AI chatbot platform of your choice

To build AI chatbots, go to the Lyro tab and press Start using Lyro.

Read the restrictions and check if your sector is not on the list

When you click Accept, you can choose whether to import your FAQs from your website URL or provide a link to an external FAQ page

Insert the URL in the box and click Import

Lyro will automatically get all the question-answer pairs, and you'll be able to start using the chatbots straight away

You can check all the questions in the Configure tab under FAQ
If you want to edit the questions, click on the three dots next to it
And that's all! Your business AI chatbots are ready to go.
Check out this video step-by-step guide on how to set up Lyro:
Read more: Learn in more details how to create a chatbot for your website in a few easy steps. Also, discover how to train your chatbot with tips and a step-by-step guide.
Key takeaway
So, let's do a quick recap of all we've learned today,
AI chatbots are computer software that mirrors human interactions over text and voice messages. They use natural language processing (NLP) and machine learning to simulate conversations with the users.
Some of the benefits include boosting sales, increasing engagement, and improving the experience for your customers. And you can use AI conversational chatbots for FAQ, marketing, sales, and general customer service.
On the other hand, you can also use AI chatbots online for personal use. They help people do regular health checks, provide mental health exercises, and enable users to just make a friend.
Some of the top AI chatbot companies are:
ChatGPT
Google Bard
Microsoft Bing AI
Lyro
Drift
Ada
Jasper Chat
ChatSpot
DialogFlow
Mobile Monkey
Snapchat My AI
GitHub Copilot
Amazon CodeWhisperer
Paradox
Infeedo
Wati
Medwhat
Kasisto
Personal AI
Replica
Elomia
Pi
You should ensure that the provider you choose offers machine learning bots, NLP technology, good customer support, and in-chat surveys.
Now, passing the buck to you.
Just remember to make use of the free trials and free plans provided to make sure the platform matches all your needs.
AI chatbot FAQ
What is an AI chatbot?
An AI chatbot is software that uses conversational AI to differentiate phrases and understand their meaning. It processes the user's messages and tries to contextualize them using machine learning and natural language processing. 
How is AI used in chatbots?
AI helps chatbots learn with time. Artificial intelligence bots use machine learning to understand the user's inquiry and communicate accordingly. They can trigger accurate responses depending on the question asked and provide a more human-like experience to the users.
What are the two types of chatbots?
The two types are rule-based and artificial intelligence chatbots.
What technology is used in an AI chatbot?
Two main technologies used in AI chatbots are natural language processing (NLP) and machine learning (ML). NLP is responsible for understanding the message and its context, whereas, ML help to predict future inquiries and act based on the collected data.
What is the best AI chatbot?
Three of the best AI chatbots for business are Tidio, Drift, and Ada. Whereas, Medwhat, Replica, and Elomia are the best chatbots for personal use.
How to make an AI chatbot?
To make an AI chatbot:
1. Start by choosing the right platform. Note that only some companies that offer chatbots have AI chatbots available.
2. Create an account and navigate to the chatbot tab. From this section, choose to add an AI responder.
3. Add potential questions and answers to build the conversation. You only need to add about 3 variations of questions. The bot will use machine learning to figure out the user's intent based on them.
4. Click the Save button when you're done with a particular conversation. And there you have it! 
How to choose the best AI chatbot?
To choose the best chatbot AI provider for yourself, consider:
1. What is the purpose you want it to serve? Should it aid your customer service team? Support the HR department? Or maybe you just want to have a conversation with it?
2. Does it have the technologies you need? Best AI chatbots use NLP technology and integrations with third-party platforms.
3. Is it available on multiple channels? Your customers should be able to reach you wherever they are, so offering an omnichannel experience will work in your favor. 
4. Does the AI chatbot have the ability to learn? You should be able to create it and not have to go back to upgrade it too often. It should be able to learn from the conversations it has. 
Is Facebook Messenger chatbot AI?
Yes. A Facebook Messenger chatbot uses artificial intelligence to communicate with people. It is an automated messaging tool that "lives" inside the Messenger app. 
How does ChatGPT work?
It uses natural language processing (NLP) technology to break down the sentences into smaller components understandable for machines. This way, the system can analyze the meaning of the input and generate responses. The software also uses machine learning to recognize previously analyzed patterns and learn over time.