You heard of chatbots and some of the great results they can bring.
Now you're curious about them and the question "what are chatbots used for, anyway?" arrives.
Well—
Chatbots have hundreds of different use cases. Some are used more often than others, for example, customer support bots. And each of the chatbot use cases depends, first and foremost, on your business needs.
So, let's dive in and find out more about the different uses of chatbots.
In this article, we'll go through what chatbots are used for in the following categories:
Want to learn more about chatbots? Check out these articles:
But first—
What are chatbots used for?
Chatbots are computer software that simulates conversations with human users. Chatbots can be used to communicate with people, answer common questions, and perform specific tasks they were programmed for. They gather and process information while interacting with the user and increase the level of personalization.
Deploying chatbots on your website, mobile app, WhatsApp, and other platforms can help different industries to streamline some of the processes. These include cross-selling, checking account balances, and even presenting quizzes to website visitors.
Now—
What is a common use case of chatbots? Let's learn more about that:

A list of best chatbot use cases
Chatbots have revolutionized various industries, offering versatile and efficient solutions to businesses while continuously enhancing customer engagement.
But what is a chatbot most often used for?
Here are the top chatbot use cases presented in this article:
Let's check them out one by one.
Ecommerce chatbot use cases
Do you have an ecommerce business? Then you'll be interested in the fact that chatbots can help you reduce cart abandonment, delight your shoppers with product recommendations, and generate more leads for your marketing campaigns.
But these are just the start. Wanna know what else bots can help your online store with?
1. Customer feedback collection
Customer feedback is important for the customers and your brand. In fact, about 77% of shoppers see brands that ask for and accept feedback more favorably.
And the easiest way to ask for feedback is by implementing chatbots on your website so they can do the collecting for you. This way, you'll know if your products and services match the clients' expectations. Also, you can learn if your clients are satisfied with your customer service. You can even discover what shoppers want to see improved.
Collecting feedback is one of the most common use cases for chatbots. They can encourage your buyers to complete surveys after chatting with your support or purchasing a product. You can generate a high level of engagement by using images, GIFs, and videos.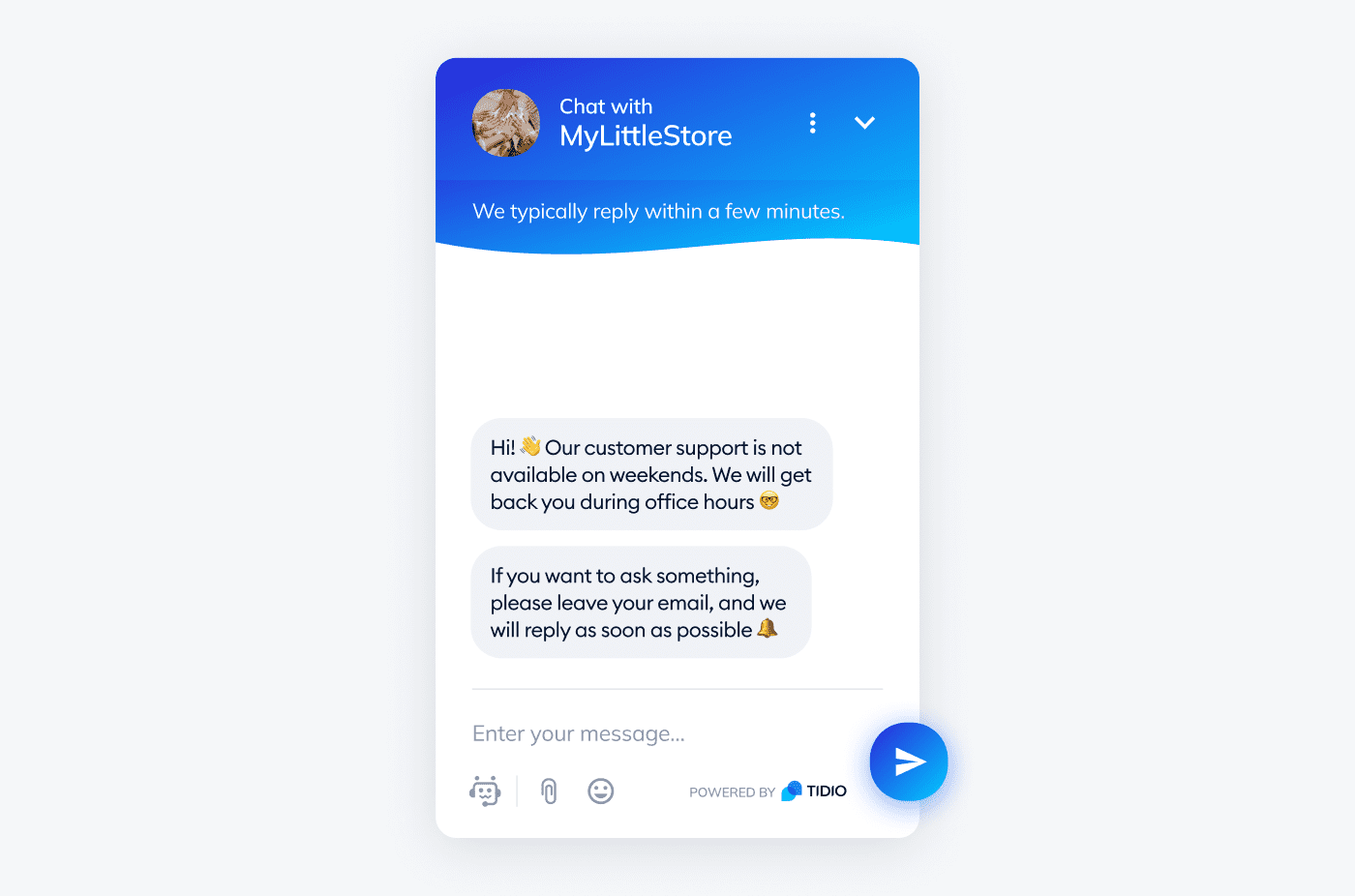 Just remember, no one knows how to improve your business better than your customers. Also, customer feedback is for your benefit. So, make sure the review collection is frictionless and doesn't include too much effort from the shoppers' side. Chatbots are a perfect way to keep it simple and quick for the buyer to increase the feedback you receive.
2. Order and refund processing
You can use ecommerce chatbots to ease the ordering and refunding processes for your customers. Also, if you connect your ecommerce to the bots, they can check the inventory status and product availability of specific items, help customers complete purchases, and track orders. Both of these use cases of chatbots can help you increase sales and conversion rates.
An example of this use case of chatbots is this return order chatbot: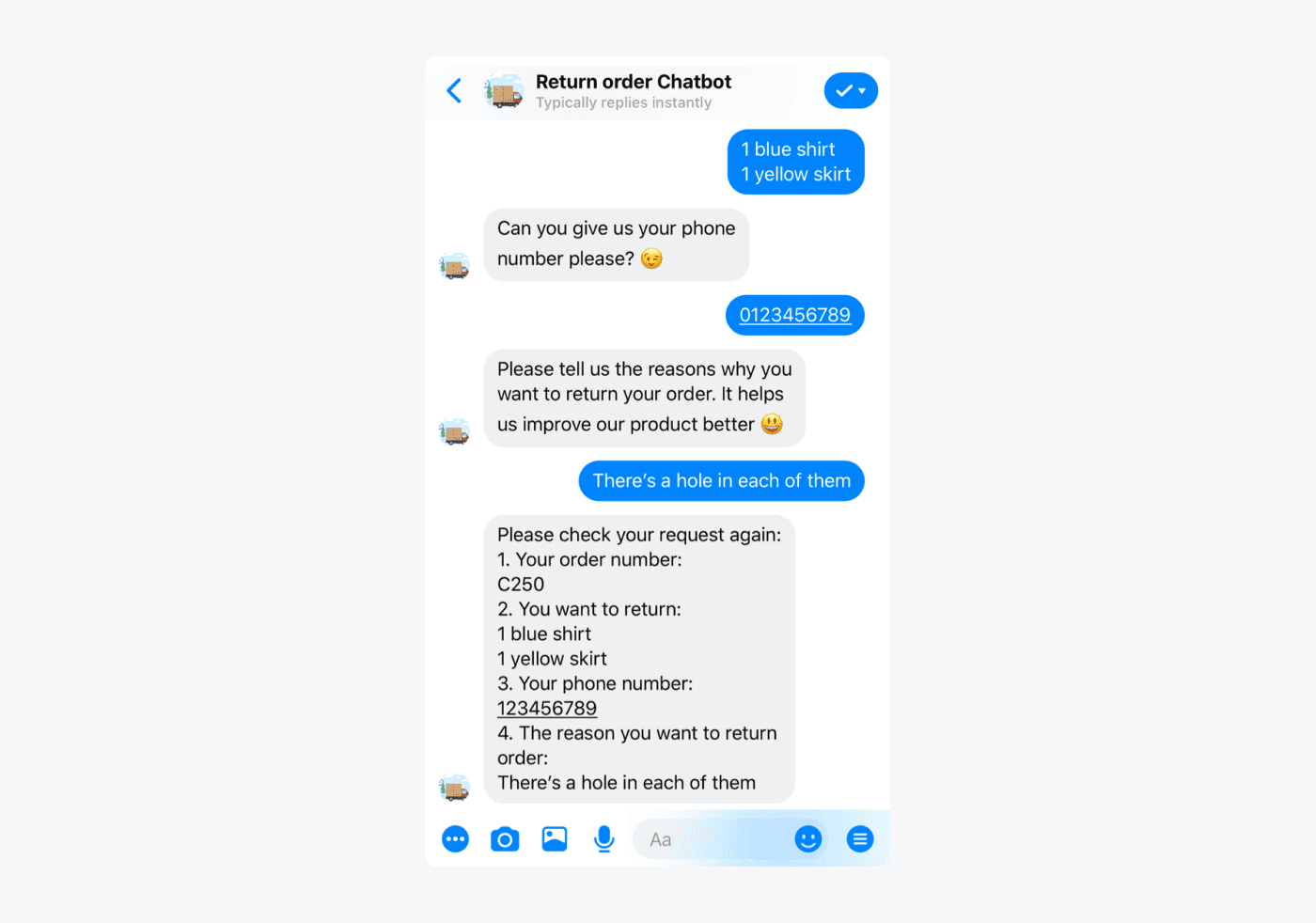 You can also use chatbots for easier refund processing. Bots will take all the necessary details from your client, process the return request, and answer any questions related to your company's ecommerce return policy. They can also give updates about the requested refund.
But that's not all! Chatbots can also push the client down the sales funnel by offering personalized recommendations and suggesting similar products for upsell. They can also track the status of a customer's order and offer ordering through social media like Facebook and Messenger.
3. Customer onboarding
About 80% of customers delete an app purely because they don't know how to use it. That's why customer onboarding is important, especially for software companies.
Teaching your new buyers how to utilize your tool is very important in turning them into loyal customers. Think about it—unless a person understands how your service works, they won't use it.
And chatbots can help you educate shoppers easily and act as virtual tour guides for your products and services. They can provide a clear onboarding experience and guide your customers through your product from the start.
Here's an example of a customer onboarding using chatbots: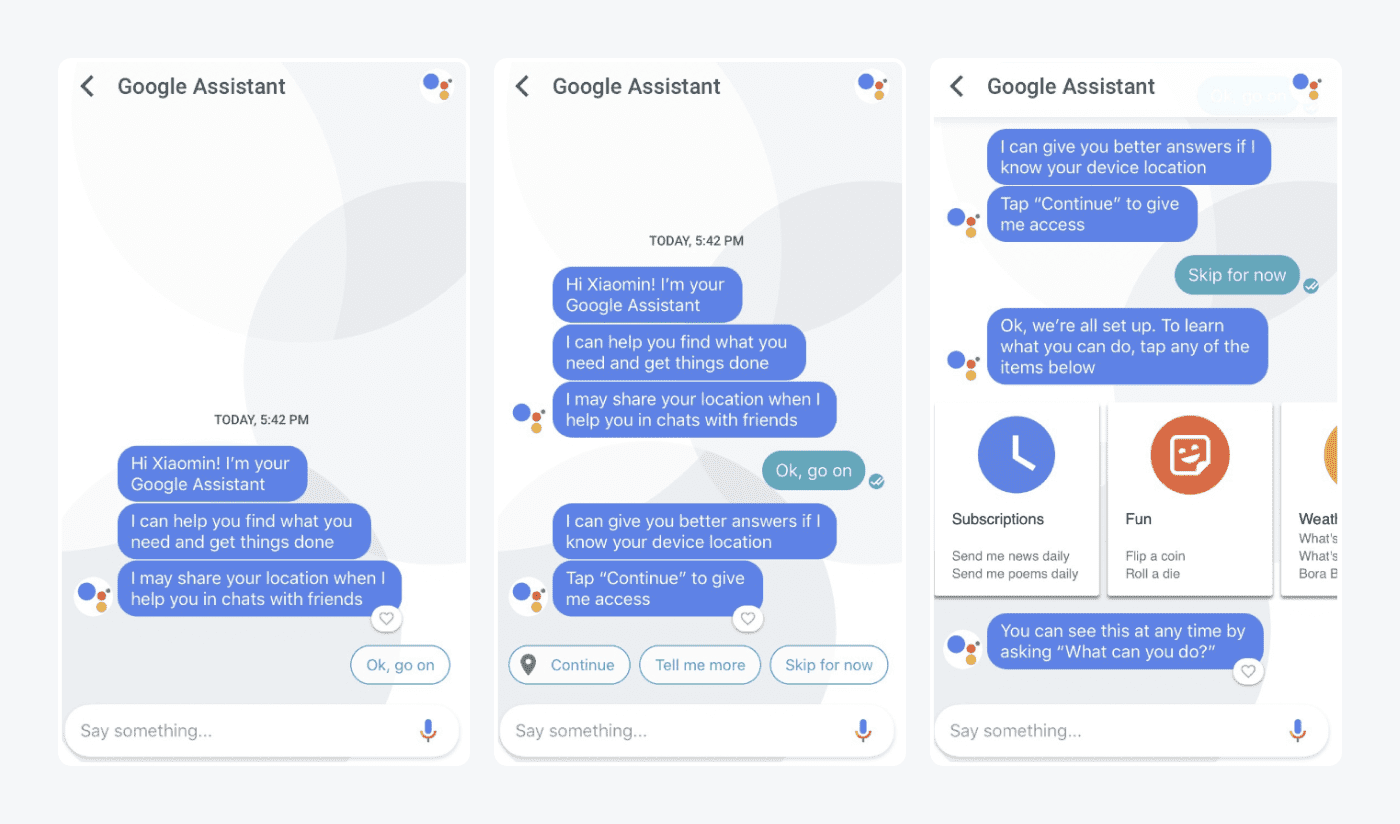 Chatbots can use text, as well as images, videos, and GIFs for a more interactive customer experience and turn the onboarding into a conversation instead of a dry guide. So, you can save some time for your customer success manager and delight clients by introducing bots that help shoppers get to know your system straight from your website or app.
4. Chatbot marketing
Don't keep your customers waiting!
Oftentimes, your website visitors are interested in purchasing your products or services but need some assistance to make that final step. This is a perfect opportunity to use chatbots. You can use bots to answer potential customers' questions, give promotional codes to them, and show off your "free shipping" offer.
You can use chatbots to guide your customers through the marketing funnel, all the way to the purchase. Bots can answer all the arising questions, suggest products, and offer promo codes to enrich your marketing efforts.
Check out how Lego used chatbots for marketing during the holiday season:
Your business can reach a wider audience, segment your visitors, and persuade consumers to shop with you through suggested products and sales advertisements. Chatbots can also track interests to provide proper notification based on the individual.
What's more—bots build relationships with your clients and monitor their behavior every step of the way. This provides you with relevant data and ensures your customers are happy with their experience on your site.
They can also collect leads by encouraging your website visitors to provide their email addresses in exchange for a unique promotional code or a free gift. And you don't even need to limit yourself to your website. You can market straight from your social media accounts where chatbots show off your products in a chat with potential clients.
Speaking of generating leads—here's a little more about that chatbot use case.
5. Lead generation
Chatbots generate leads for your company by engaging website visitors and encouraging them to provide you with their email addresses. Then, bots try to turn the interested users into customers with offers and through conversation.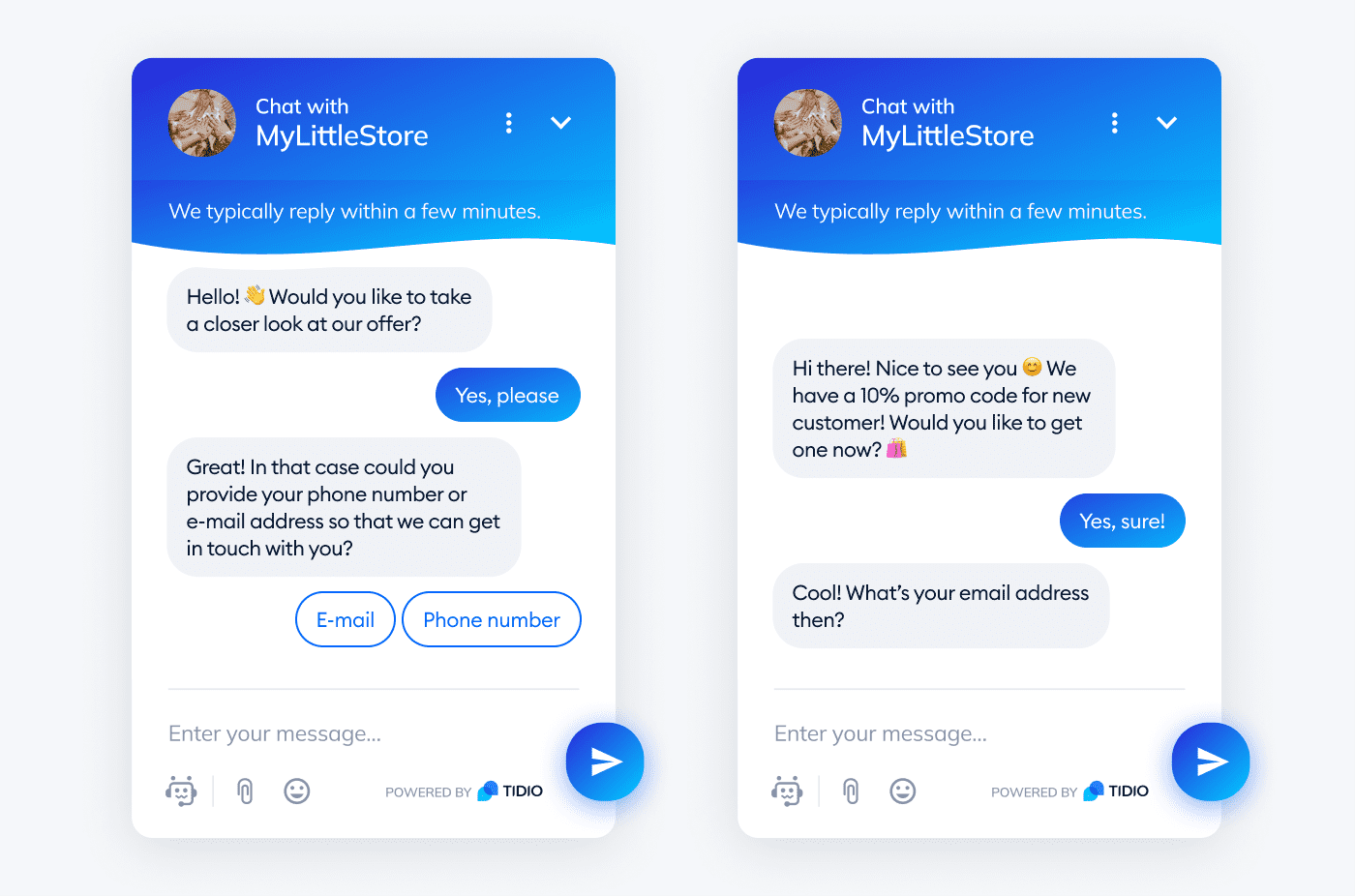 No more annoying pop-ups and full-page forms to fill out!
Sign-up forms are usually ignored, and many visitors say that they ruin the overall website experience. Bots can engage the warm leads on your website and collect their email addresses in an engaging and non-intrusive way. They can help you collect prospects whom you can contact later on with your personalized offer.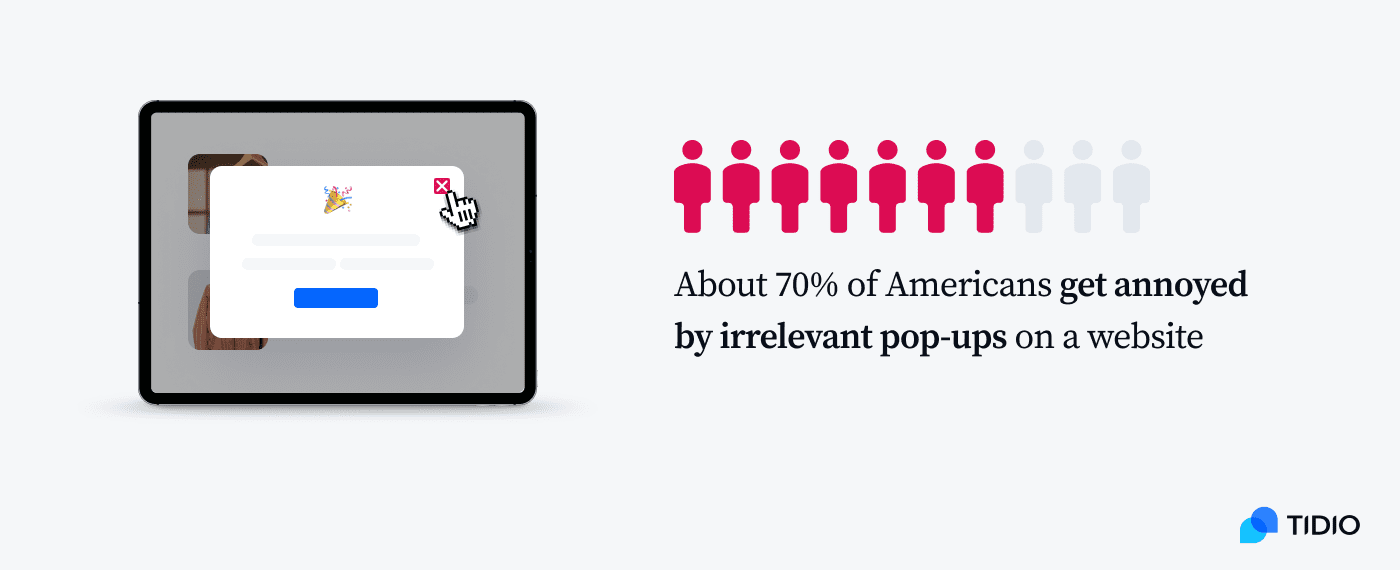 Let's say you run a business with online courses for a variety of professions. Someone interested in painting classes visits your website but can't find the course that would suit their needs.
That's when a chatbot comes up and offers to help. If it succeeds, then the sales process speeds up. If it cannot help, then the bot collects the visitor's email address and some information about what the prospect is looking for. This makes it easier for your customer success team to reach out to the lead with your offer and land that (otherwise lost) sale!
Customer service chatbot use cases
This is probably the most common role chatbots appear in. Bots can handle customer queries and improve their satisfaction with your brand. So, what are some of the best chatbot use cases for customer service?
1. 24/7 support
You probably want to offer customer service for your clients constantly, but that takes a lot of personnel and resources. Chatbots can help you provide 24/7 customer service for your shoppers hassle-free.
Just imagine—
You don't have to employ people from different parts of the world or pay overtime for your agents to work nights anymore. When your customer service representatives are unavailable, the chatbot will take over. It can provide answers to questions and links to resources for further information.
And it won't harm the customer satisfaction your online store provides as our study on the current chatbot trends found that over 70% of buyers have a positive experience using chatbots.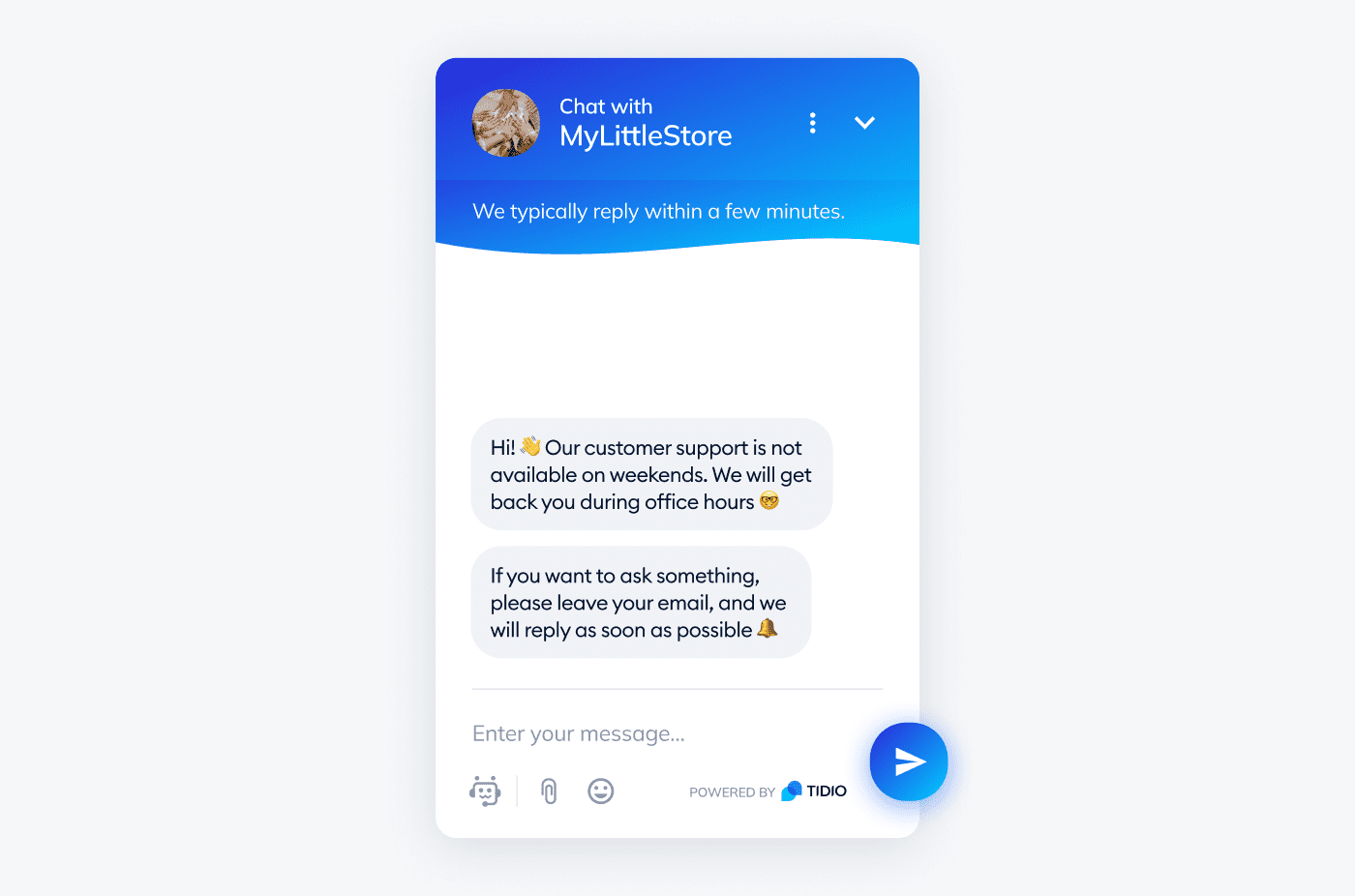 Sometimes a query will be too complicated for the bot to answer. But then it can provide the client with your business working hours if it's past that time, or transfer the customer to one of your human agents if they're available. Or maybe you just need a bot to let people know when will the customer support team be available next. This will minimize the shopper's frustration and improve their satisfaction.
2. Internal help desk support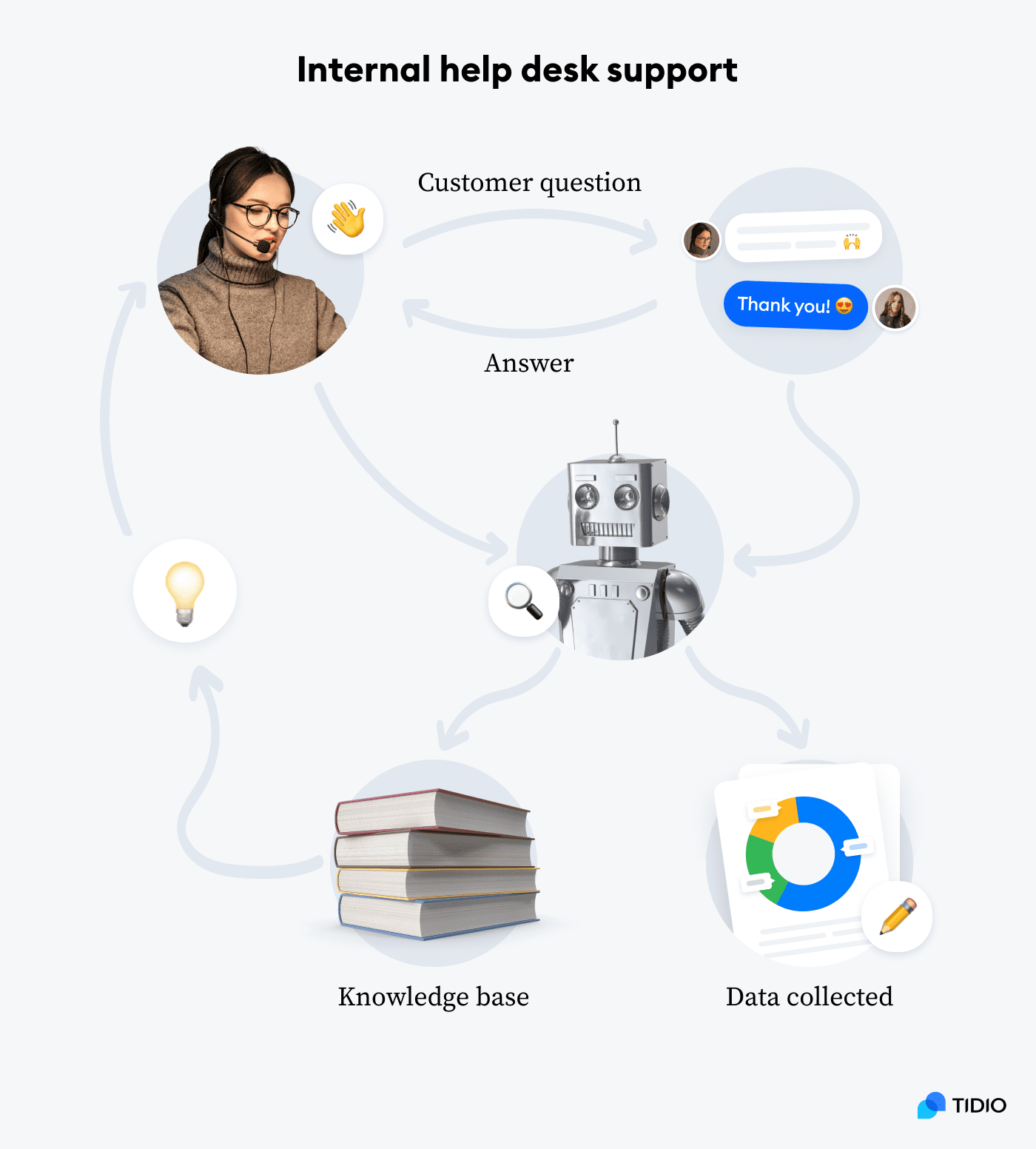 Chatbots not only help your customers but your agents as well.
AI chatbots with natural language processing (NLP) and machine learning help boost your support agents' productivity and efficiency using human language analysis. You can train your bots to understand the language specific to your industry and the different ways people can ask questions. So, if you're selling IT products, then your chatbots can learn some of the technical terms needed to effectively help your clients.
Chatbots can serve as internal help desk support by getting data from customer conversations and assisting agents with answering shoppers' queries. Bots can analyze each conversation for specific data extraction like customer information and used keywords.
Another way chatbots can help your reps is by getting some of the questions off their shoulders. They can handle FAQs by extracting intent keywords and providing the most relevant information with links to the knowledge base for full tutorials. Let's look at that use case more in detail—
3. FAQs answers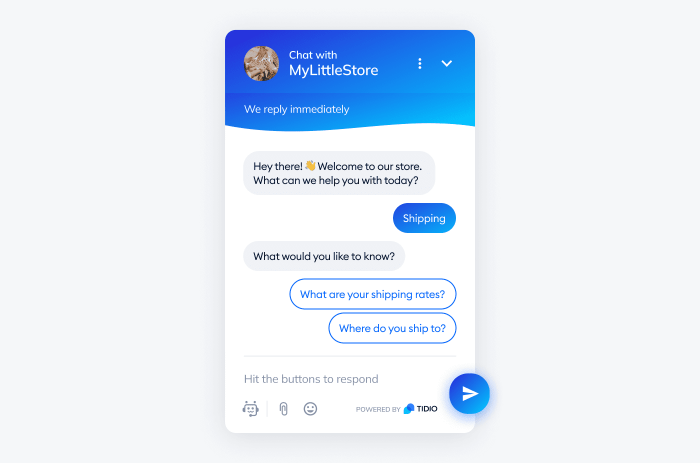 One of the use cases of chatbots for customer service is offering self-service and answering frequently asked questions. This can save you customer support costs and improve the speed of response to boost user experience.
For example, let's say your business holds a big promotional event to advertise your new product. You expect thousands of people and, therefore, there are bound to be many questions coming your way for the customer service team to handle. Answering 20 questions is not a problem, but what if 1,000 guests reach out asking about the event?
Your support team will be overwhelmed and the quality of service will decline. And that's when chatbots come in to help.
They can take over common inquiries, such as questions about shipping and pricing. Bots answer them in seconds and only route the more complex chats to specific agents. This way, the load on your staff will decrease, the quality of service will stay high, and you'll keep customers happy.
An event organization, Slush, used a chatbot for just that purpose. And it was a great success! About 67% of all support requests were handled by the bot and there were 55% more conversations started with Slush than the previous year.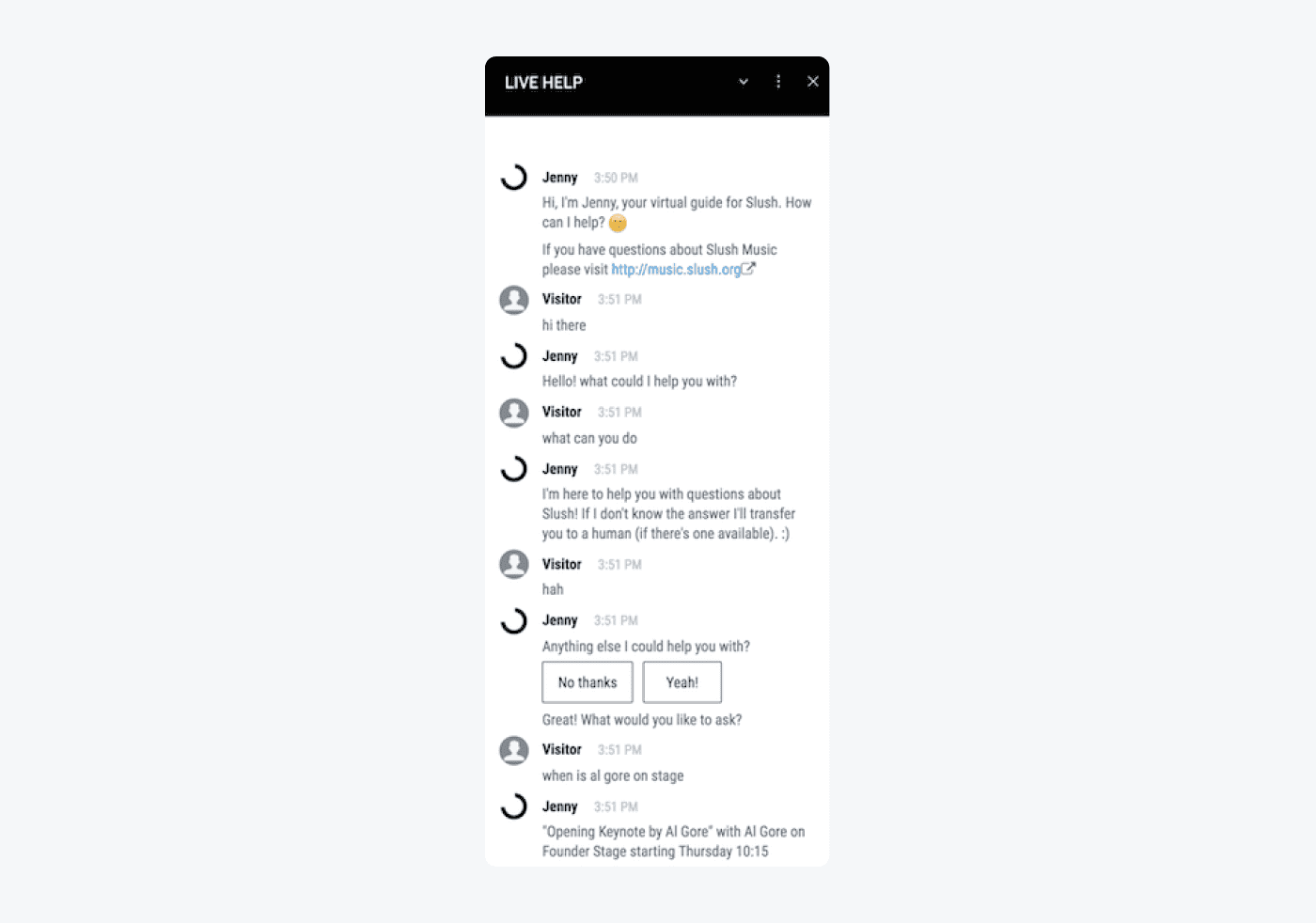 Chatbots can also help your visitors navigate your website. This way, the shopper can find what they're looking for easier and quicker. And research shows that bots are effective in resolving about 87% of customer issues.
4. Customer engagement
A case study shows that assisting customers with a chatbot can increase the booking rate by 25% and improve user engagement by 50%. This case study comes from a travel Agency Amtrak which deployed a bot that answered, on average, 5 million questions a year.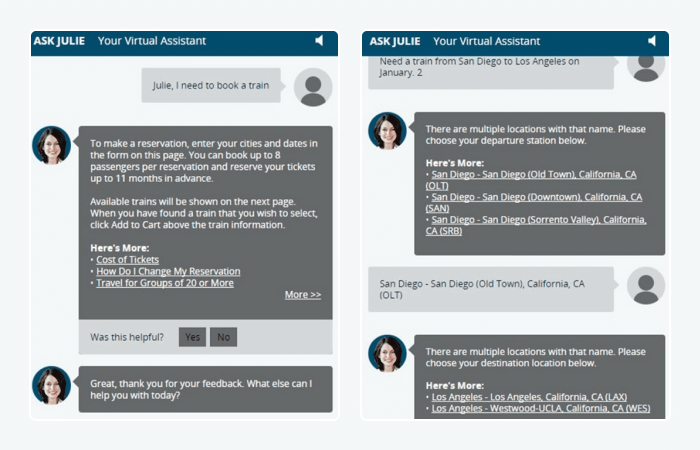 You can gain these results as well—
Chatbots are fun to chat with. They can engage the customer with personalized messages, send promos, and collect email addresses. Bots can also send visual content and keep the customer interested with promo information to boost their engagement with your site.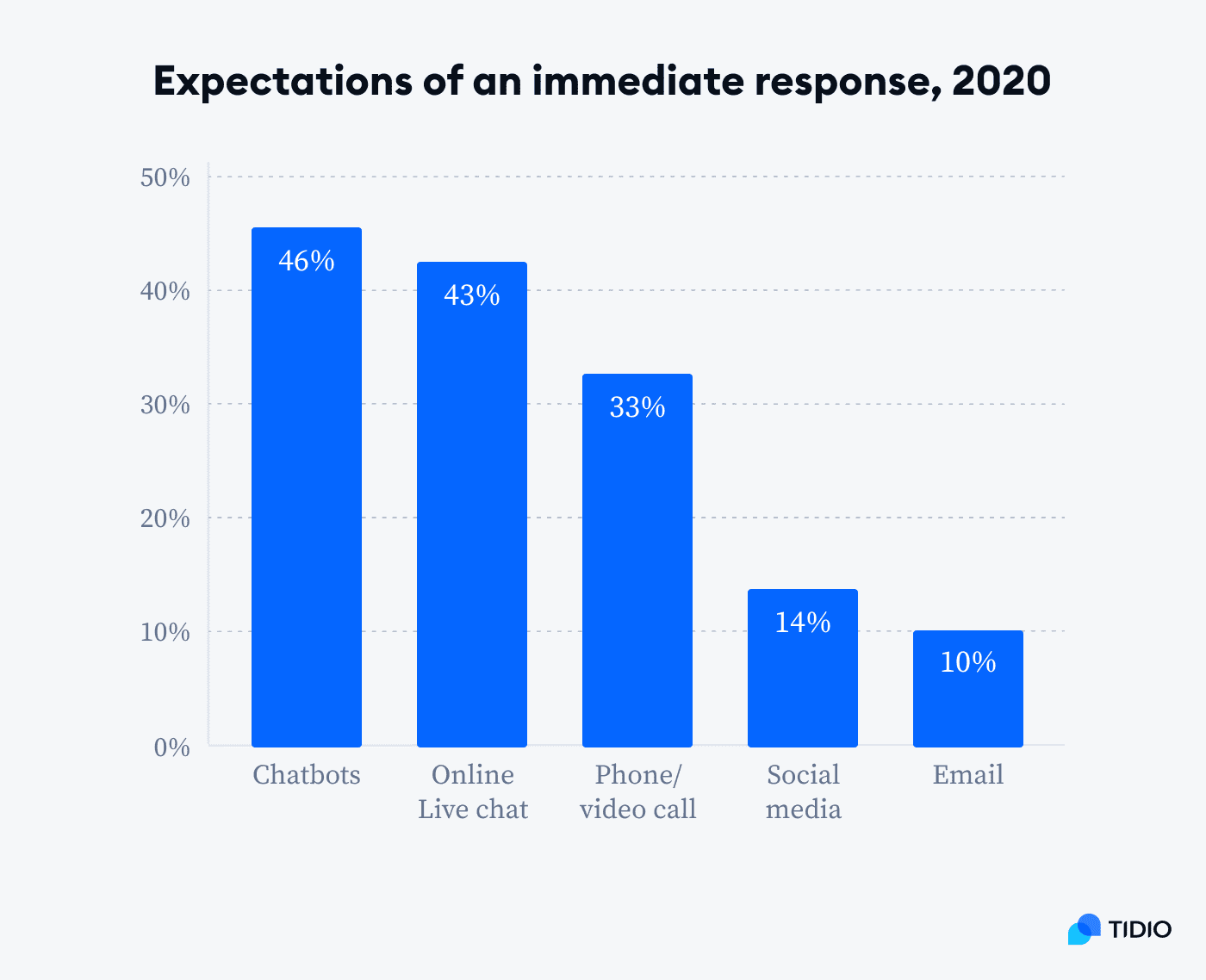 And now, shoppers expect chatbots to answer their queries immediately. In fact, nearly 46% of consumers expect bots to deliver an immediate response to their questions. Also, getting a quick answer is also the number one use case for chatbots according to customers.
5. Voice assistance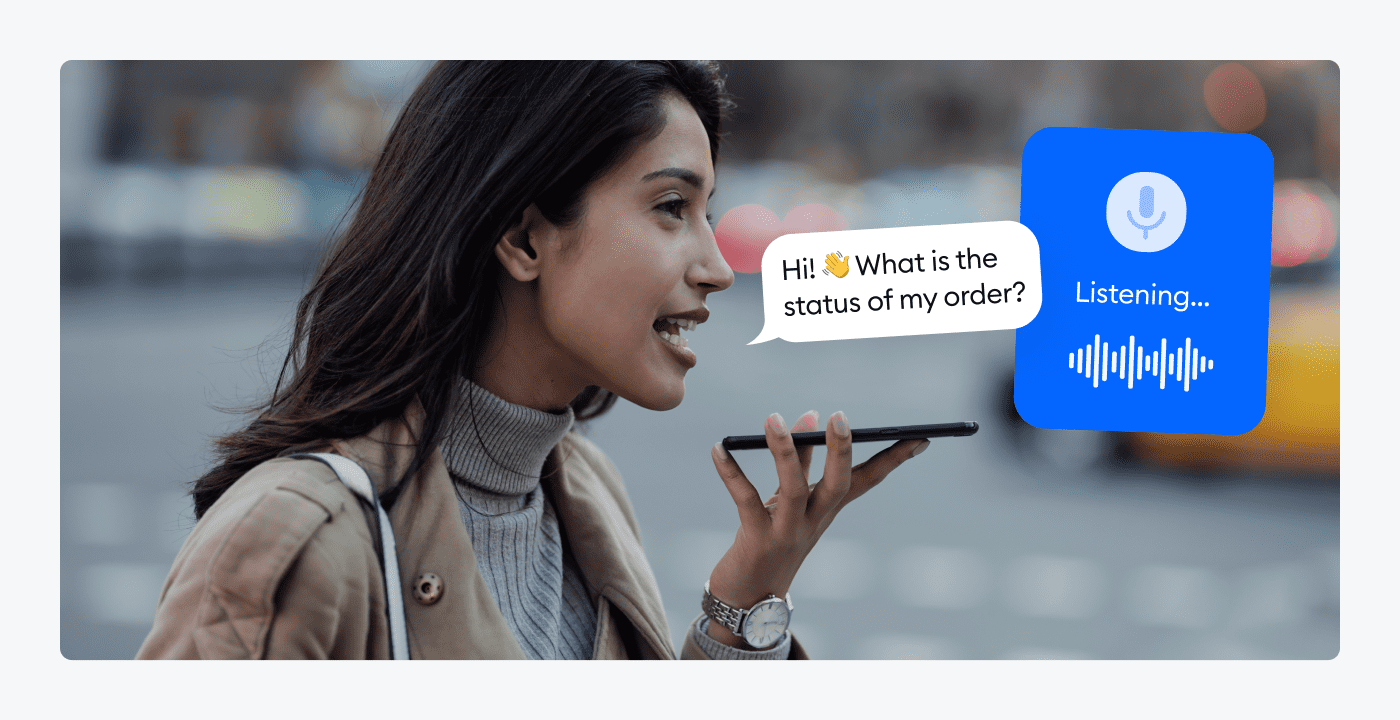 Everyone who has ever tried smart AI voice assistants, such as Alexa, Google Home, or Siri knows that it's so much more convenient to use voice assistance than to type your questions or commands.
Also, Accenture research shows that digital users prefer messaging platforms with a text and voice-based interface.
Voice bots facilitate customers with a seamless experience on your online store website, on social media, and on messaging platforms. They engage customers with artificial intelligence communication and offer personalized solutions to shoppers' requests.
And all your client needs to do is speak to their phone. Quick, easy, and very convenient. No wonder the voice assistance users in the US alone reached over 120 million in 2021. Also, ecommerce transactions made by voice assistants are predicted to surpass $19 billion in 2023.
Now—
What can chatbots do for retail businesses?
Chatbot use cases in retail
Retail includes many different stores, such as cosmetics, clothing, and jewelry. So, if your retail store has a website or even social media, you should consider adding a chatbot to it. They can help you speed up the processes, better engage with your audience, and so much more. So, what can you use a retail chatbot for?
1. Product recommendations
Chatbots can give product recommendations to your website visitors. They can track the customer journey to find the person's preferences, interests, and needs. Bots can base suggestions on the data they find.
Every customer wants to feel special and that the offer you're sending is personalized to them.
Therefore, product recommendations are very important for the retail sector. In fact, Amazon generates as much as 35% of its revenue through the recommendation engine. That is one of the big reasons Amazon boomed so much, becoming one of the top places to sell online.
What does a product recommendation chatbot look like in real life? An example of this chatbot use case is eBay's ShopBot: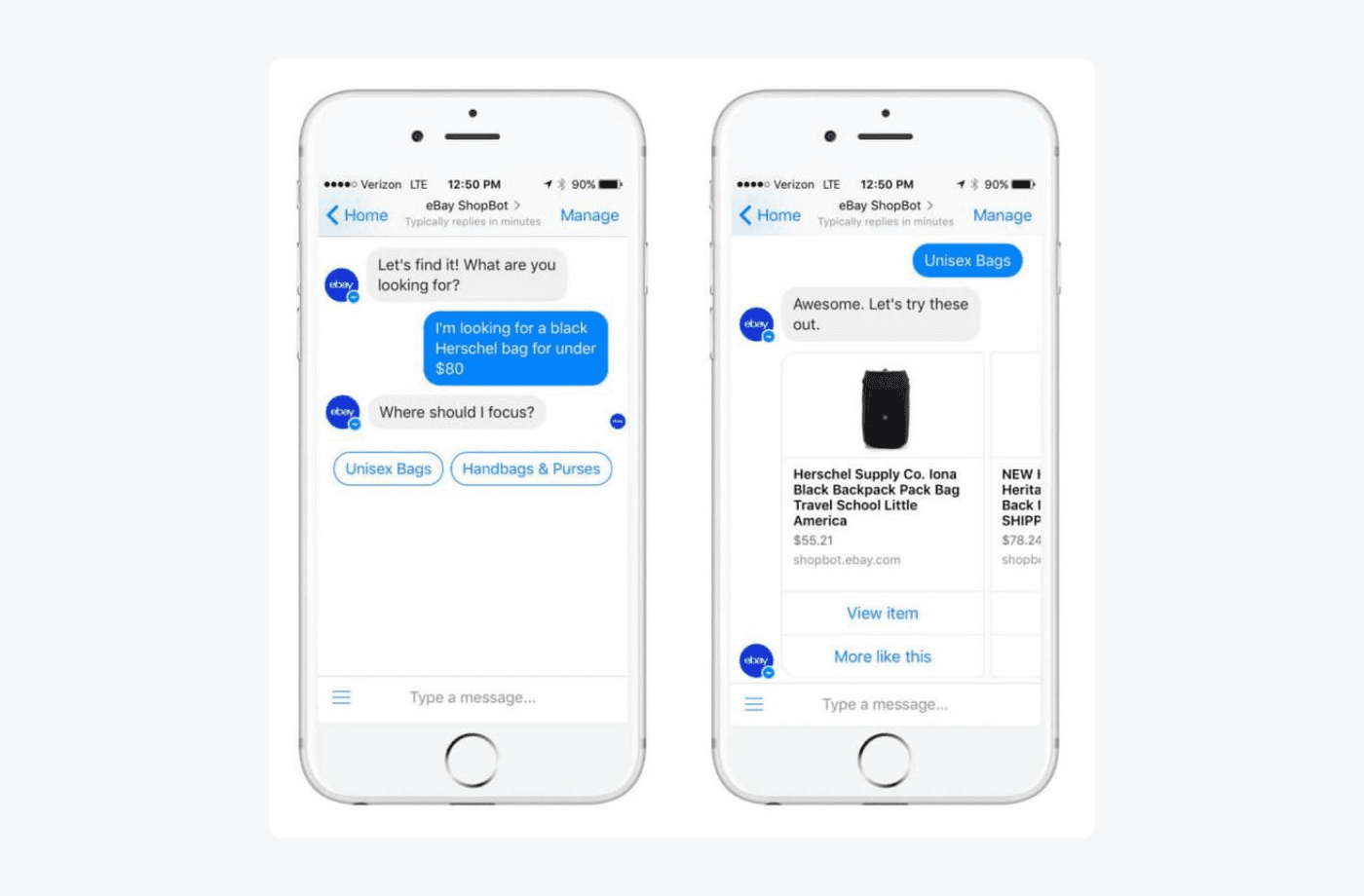 This ShopBot is powered by artificial intelligence (AI) and was first introduced on Facebook Messenger. It's a smart virtual shopping assistant that helps buyers find the best deals from eBay's listings.
2. Social media engagement
You can broaden your reach with chatbots on social media. They can answer reactions to your Instagram stories, communicate with your Facebook followers, and chat with people interested in specific products.
One example of this use case for chatbots is: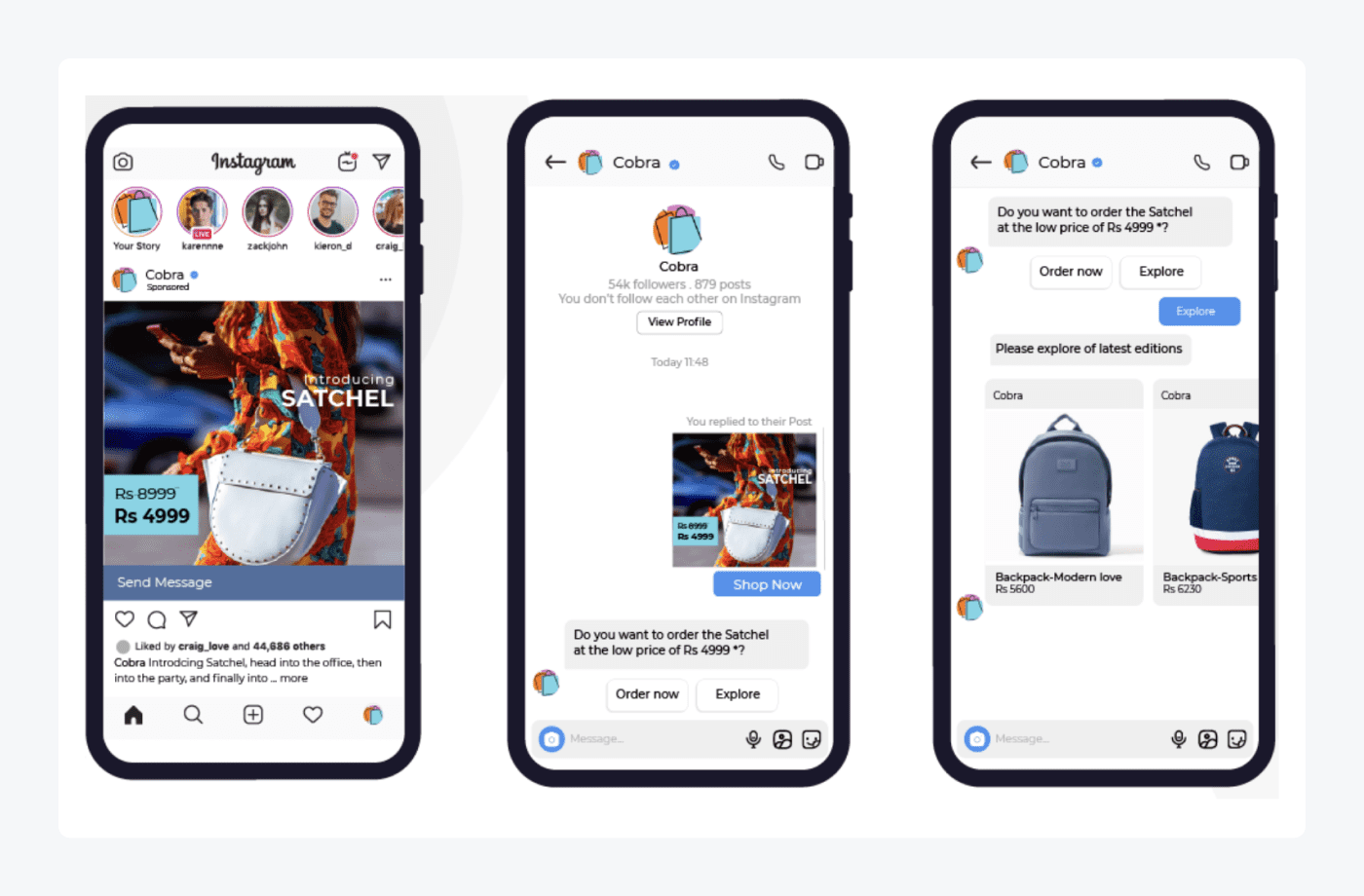 Bots can also reach out to a huge range of people through social media. And no matter how many employees you have, they will never be able to achieve that on such a big scale.
Consumers are present on four main social networks. You can probably guess them, can't you?
Facebook, Instagram, Twitter, and LinkedIn.
And chatbots boost user engagement on these social media platforms. They communicate with your potential customers on Messenger, send automatic replies to Instagram story reactions, and interact with your contacts on LinkedIn.
Instagram bots and Facebook chatbots can help you with your social media marketing strategy, improve your customer relations, and increase your online sales.
Another example of a chatbot use case on social media is Lyft which enabled its clients to order a ride straight from Facebook Messenger or Slack.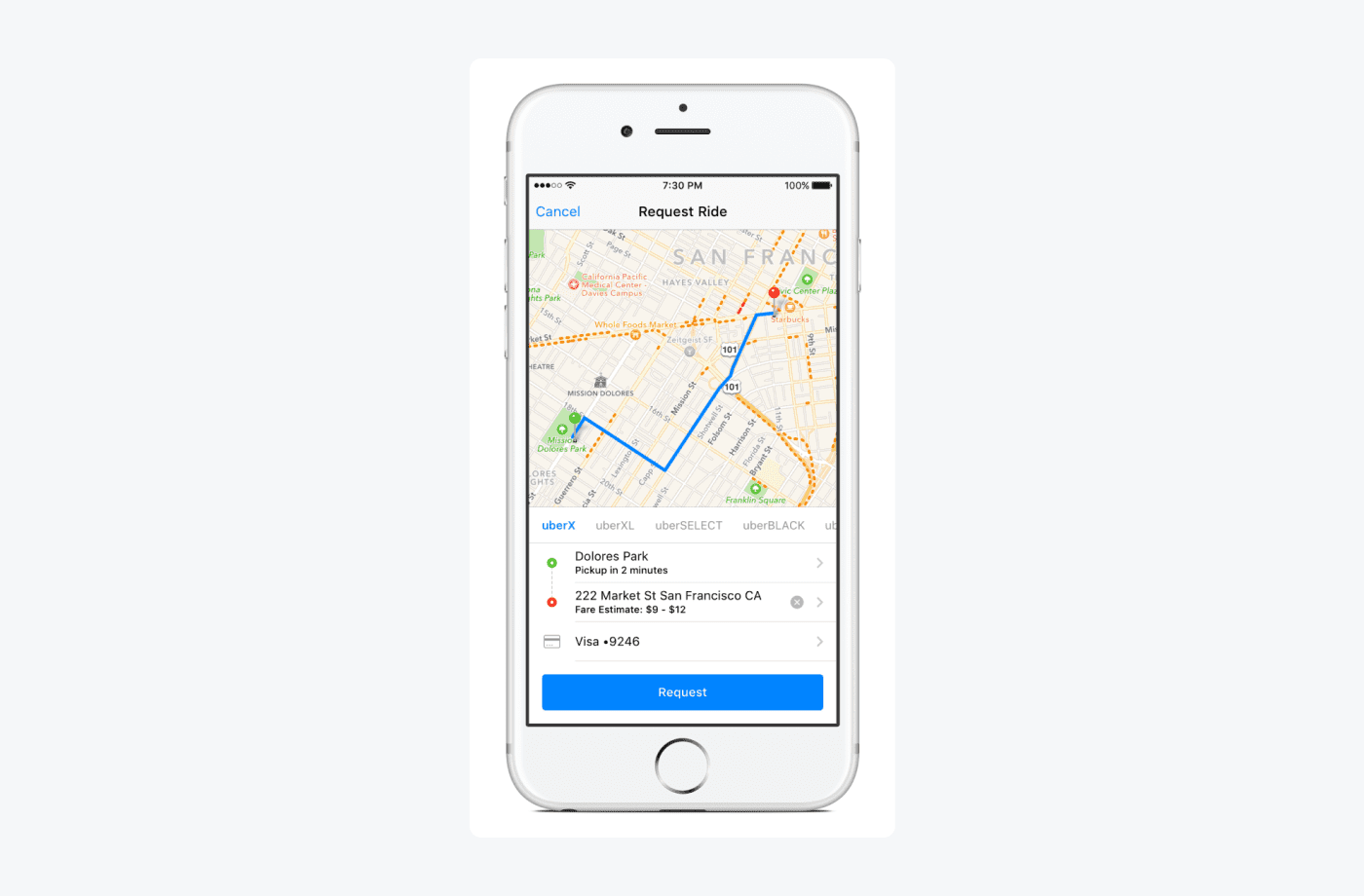 It's more convenient for the customer. Letting chatbots handle some sales of your services from social media platforms can increase the speed of your company's growth. This is because people nowadays want things to be quick and easy.
Read more: Discover our case study on how an ecommerce business used chatbots to grow their online sales.
3. Order confirmation & package tracking
The majority of customers want to stay updated about their package and shipping information. No wonder nearly 70% of buyers say that being able to track orders is one of the top three things they consider when shopping online. But won't the order tracking take a lot of your representatives' time?
Not if you use chatbots for it!
Bots can help your clients with order confirmation and shipment tracking. You can send the confirmation number to your client straight after their order is processed. It will be easier for them to find it later on.
Bots can also track the package shipment for your shopper to keep them updated on where their order is and when it will get to them. All the customer needs to do is go onto the company's website or Facebook page and enter their product's shipping ID. Voilà! The status update is on their screen.
The best part is that your agents will have more time to handle complex queries and your customer service queues will shrink in numbers. This will keep both your employees and your clients happy.
Check out how Zalando and UPS are using their chatbots for tracking customer orders: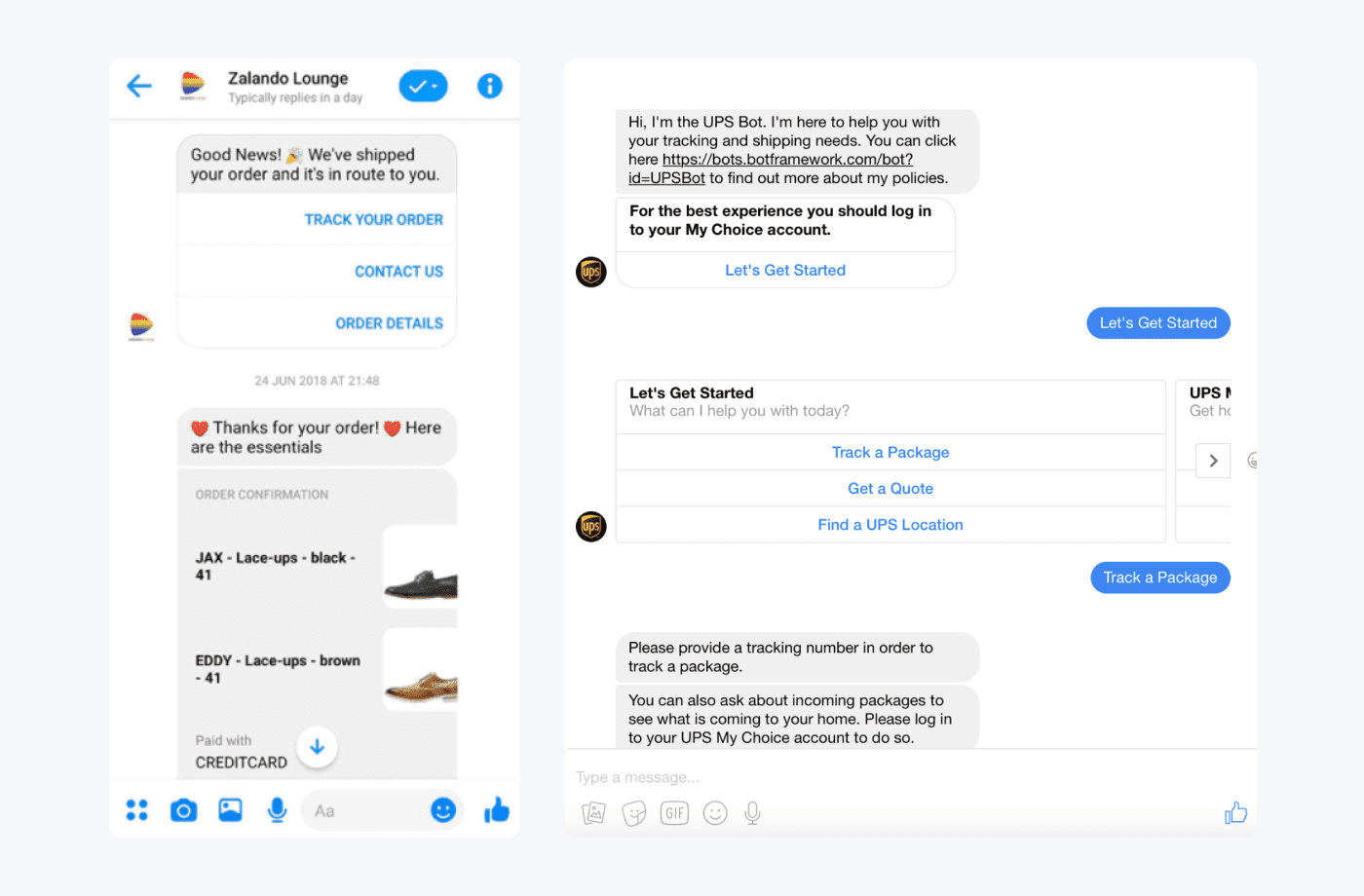 Zalando uses its chatbots to provide instant order tracking straight after the customer makes a purchase. And the UPS chatbot retrieves the delivery information for the client via Facebook Messenger chat, Skype, Google Assistant, or Alexa.
Okay—but how are chatbots used in medical institutions?
Healthcare chatbot use cases
Chatbots can help physicians, patients, and nurses with better organization of a patient's pathway to a healthy life. Nothing can replace a real doctor's consultation, but virtual assistants can help with medication management and scheduling appointments.
Just like Northwell Health. It used a chatbot to address misunderstandings and concerns about the colonoscopy and encourage more patients to follow through with the procedure. This shows that some topics may be embarrassing for patients to discuss face-to-face with their doctor. A conversation with a chatbot gives them an opportunity to ask any questions.
Some other use cases for chatbots in healthcare include:
1. Medication reminder
Florence chatbot can help your clients with that, so let's see how it works: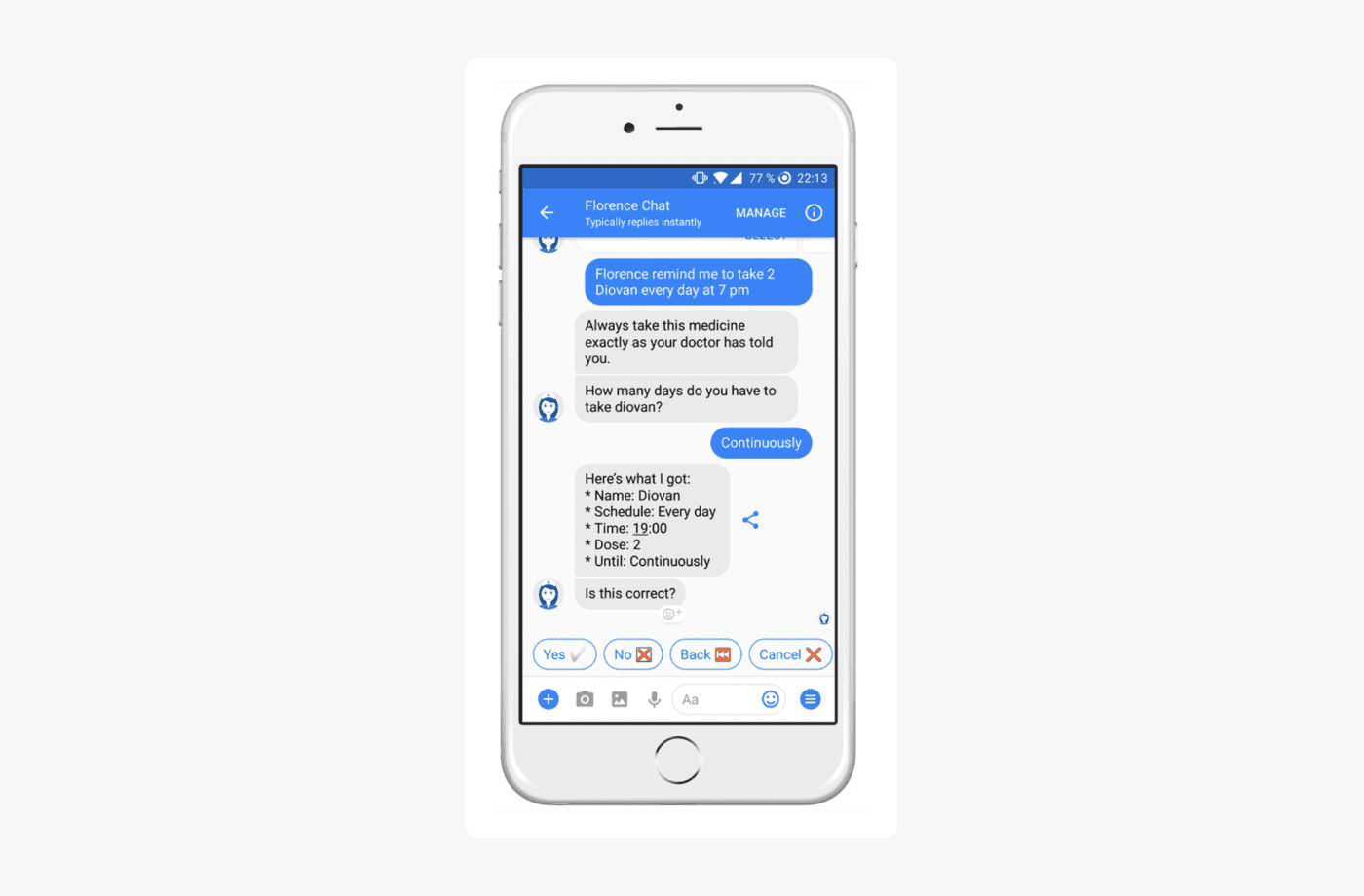 A lot of patients have trouble with taking medication as prescribed because they forget or lose the track of time. This can be a risk to their health if they do it over a longer period of time.
Reminding patients about their medication is an important chatbot use case. This can prompt users to take their birth control pills, vitamins, or heavier medications. It motivates them to adhere to the times to take the medicine and create a healthy routine for taking their medication.
It's also very quick and simple to set up the bot, so any one of your patients can do this in under five minutes. The chatbot instructs the user how to add their medication and give details about dosing times and amounts. Straight after all that is set, the patient will start getting friendly reminders about their medication at the set times, so their health can start improving progressively.
2. Appointment scheduling
This is one of the chatbot healthcare use cases that serves the patient and makes the processes easier for them.
Appointment booking on a chatbot can look something like this: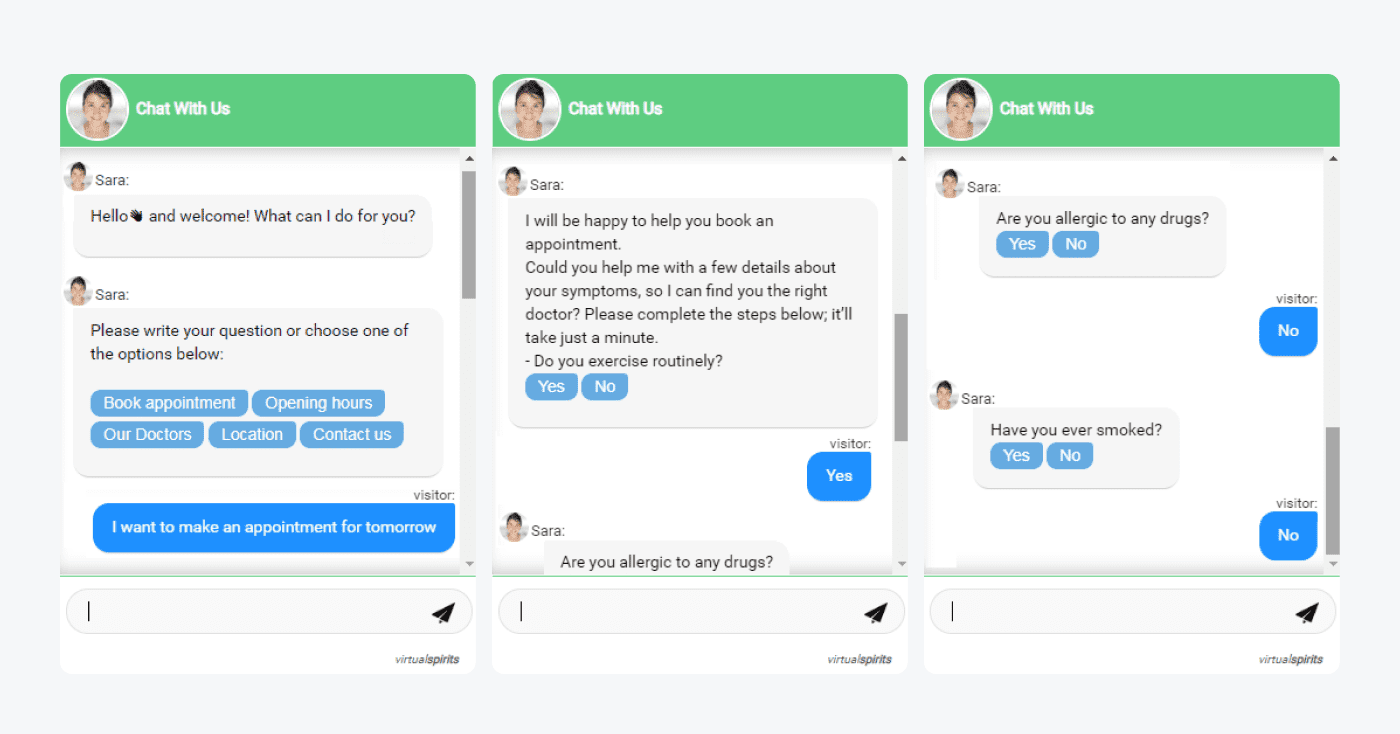 A patient can open the chat window and self-schedule a visit with their doctor using a bot. Just remember that the chatbot needs to be connected to your calendar to give the right dates and times for appointments. After they schedule an appointment, the bot can send a calendar invitation for the patient to remember about the visit.
Many industries connect AI chatbots to the company's calendar to use automation and offer appointment slots for website visitors. This way, your patients can book visits 24/7 without your assistant's help.
Some of the features that an appointment chatbot offers include:
Self-scheduling of appointments
Sending calendar invitations
Collecting patient information
Sending notifications to account executives about the visit
This chatbot use case can help you gain more clients, empower your patients, and free up your assistant's time, so they can focus on a high priority tasks.
3. Collect patient data
Chatbots can collect the patients' data to create fuller medical profiles you can work with. And this is one of the chatbot use cases in healthcare that can be connected with some of the other medical chatbot's features.
For example, if your patient is using the medication reminder already, you can add a symptom check for each of the reminders. Just keep in mind that this should be quick and easy to complete. So, for diabetic treatment, the chatbot can ask if the patient had any symptoms during the day. And for pain medication, the bot can display a pain level scale and ask how much pain the patient is in at the moment of fulfilling the survey.
Each treatment should have a personalized survey to collect the patient's medical data to be relevant and bring the best results.
Bots can collect information, such as name, profession, contact details, and medical conditions to create full customer profiles. They can also learn with time the reoccurring symptoms, different preferences, and usual medication. If the person wants to keep track of their weight, bots can help them record body weight each day to see improvements over time.
This will help healthcare professionals see the long-term condition of their patients and create a better treatment for them. Also, the person can remember more details to discuss during their appointment with the use of notes and blood sugar readings.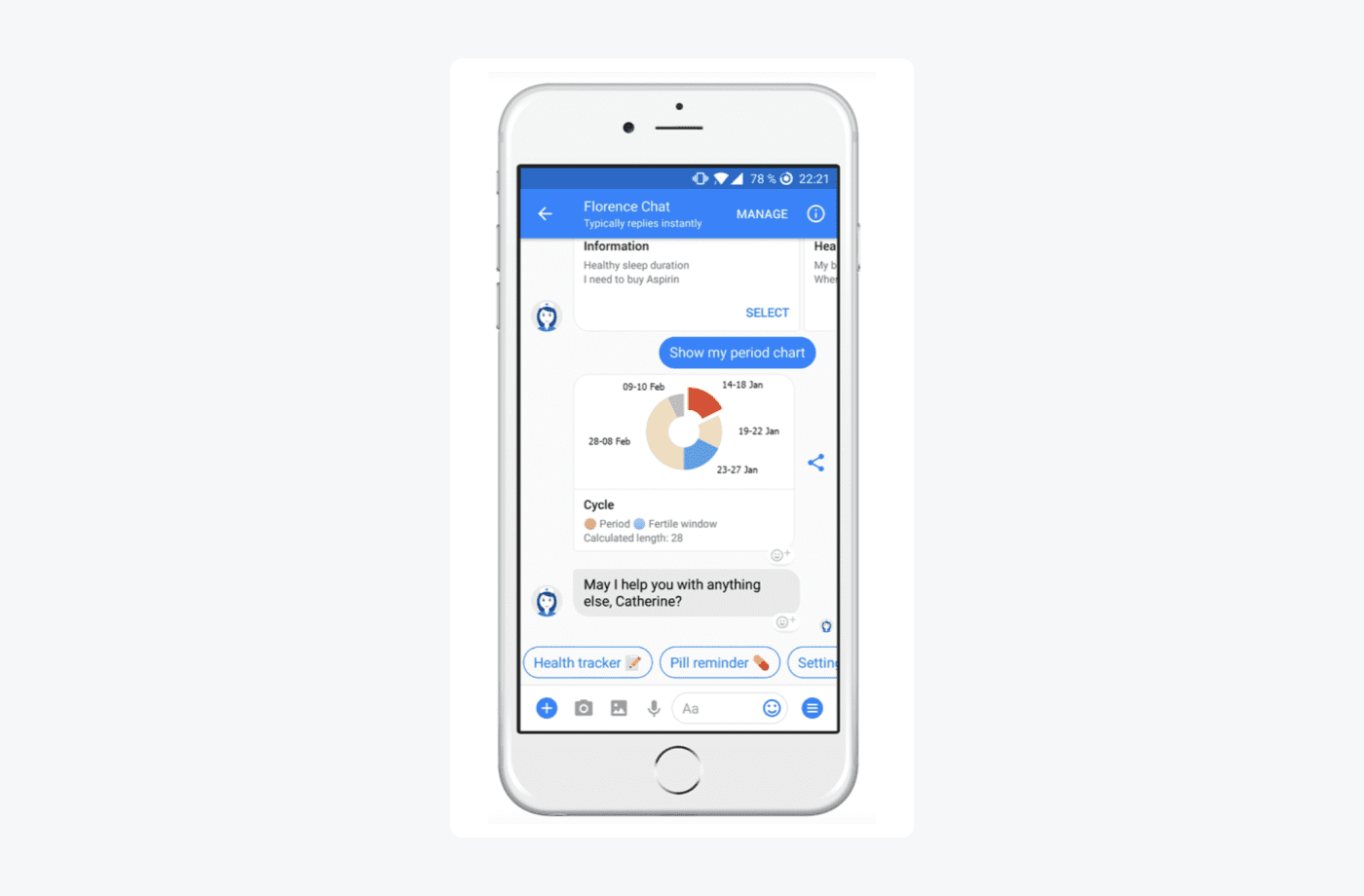 Chatbots can take the collected data and keep your patients informed with relevant healthcare articles and other content. They can also have set push notifications for when a person's condition changes. This way, bots can get more information about why the condition changes or book a visit with their doctor to check the symptoms.
4. Quick medical assistance
Conversational AI consultations are based on a patient's previously recorded medical history. After a person reports their symptoms, chatbots check them against a database of diseases for an appropriate course of action.
Imagine that a patient has some unusual symptoms and doesn't know what's wrong. Before they panic or call in to have a visit with you, they can go on your app and ask the chatbot for medical assistance.
But if the bot recognizes that the symptoms could mean something serious, they can encourage the patient to see a doctor for some check-ups. The chatbot can also book an appointment for the patient straight from the chat.
The National Health System (NHS) in the UK partnered with Babylon Health to offer this healthcare chatbot use case for the British people: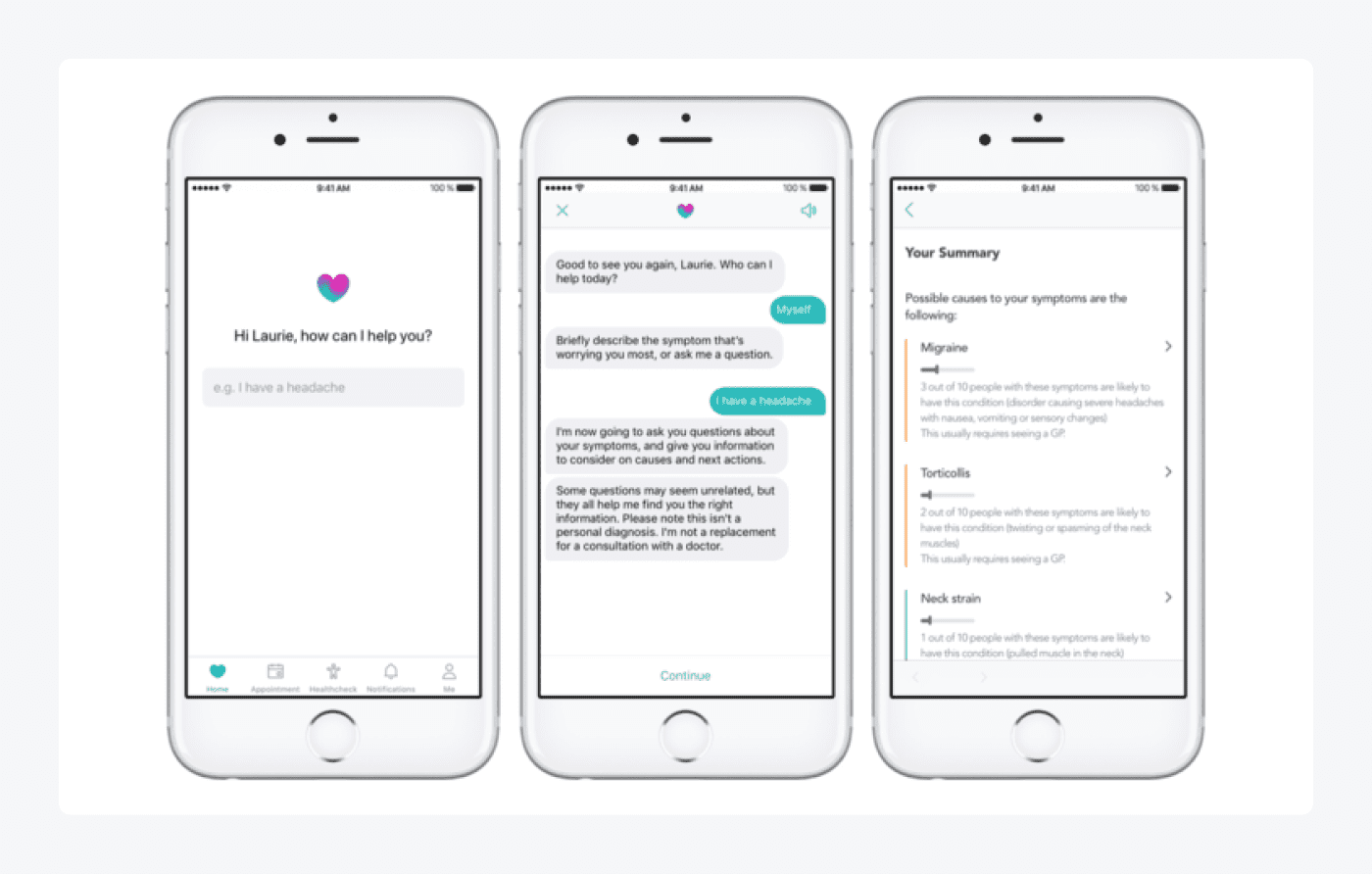 5. Mental health care
Chatbots for mental health can help patients feel better by having a conversation with the person. Patients can talk about their stress, anxiety, or any other feelings they're experiencing at the time. This can provide people with an effective outlet to discuss their emotions and deal with them better.
Bots can also monitor the user's emotional health with personalized conversations using a variety of psychological techniques. The bot app also features personalized practices, such as meditations, and learns about the users with every communication to fine-tune the experience to their needs.
One of the best chatbots for this is Wysa: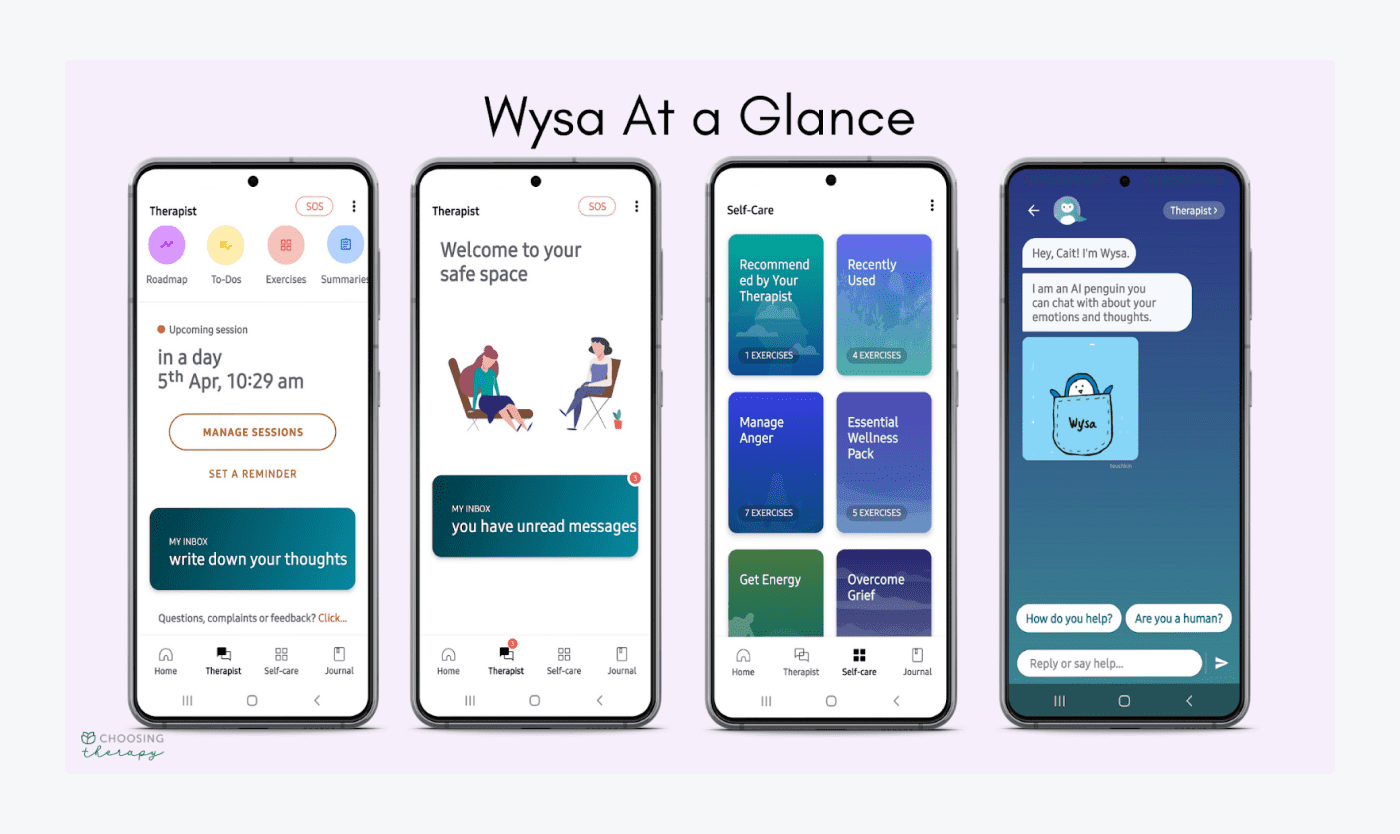 This chatbot use case also includes the bot helping patients by practicing cognitive behavioral therapy with them. But, you should remember that bots are an addition to the mental health professionals, not a replacement for them.
Chatbot use cases in banking
Believe it or not, only about 13% of mid-size banks offer chatbots on their website and apps. This is surprising as our study found that most customers and the majority of businesses are satisfied with chatbots. Will your financial services be ahead of the competition when it comes to implementing bots? Let's give you a better idea of what can you use finance chatbots for—
1. Financial advice and insights
This chatbot use case is all about advising people on their financial health and helping them to make some decisions regarding their investments. The banking chatbot can analyze a customer's spending habits and offer recommendations based on the collected data.
MyEva chatbot was designed for this: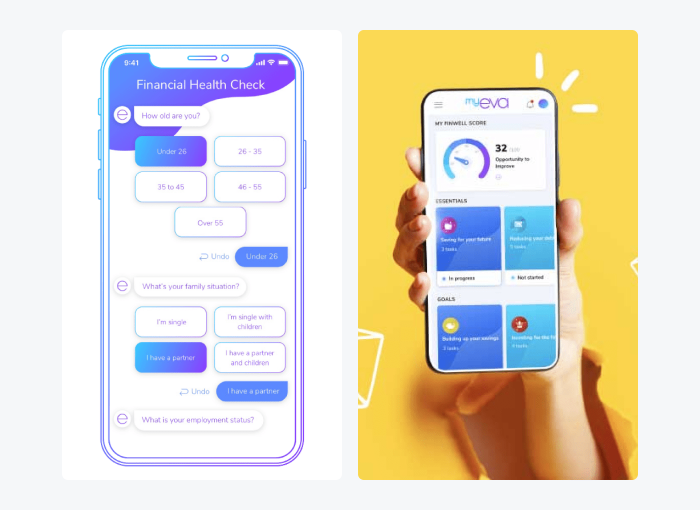 Bots can also help customers keep their finances under control and give clients quick financial health checks. Chatbots can communicate with the customer and give the most relevant advice based on the individual's situation and financial history. They can even provide credit scores, set budgets, and help to manage them.
2. Account analysis
This is one of the chatbot use cases in banking that helps your bank be transparent, and your clients stay on top of their finances. Chatbots can check account details, as well as see full reports about the user's account.
This transforms the banking experience for the clients and most of them want to have the possibility to use digital channels to interact with the bank. In fact, about 61% of banking consumers interact weekly with their banks on digital channels.
Here's an example of this chatbot banking use case: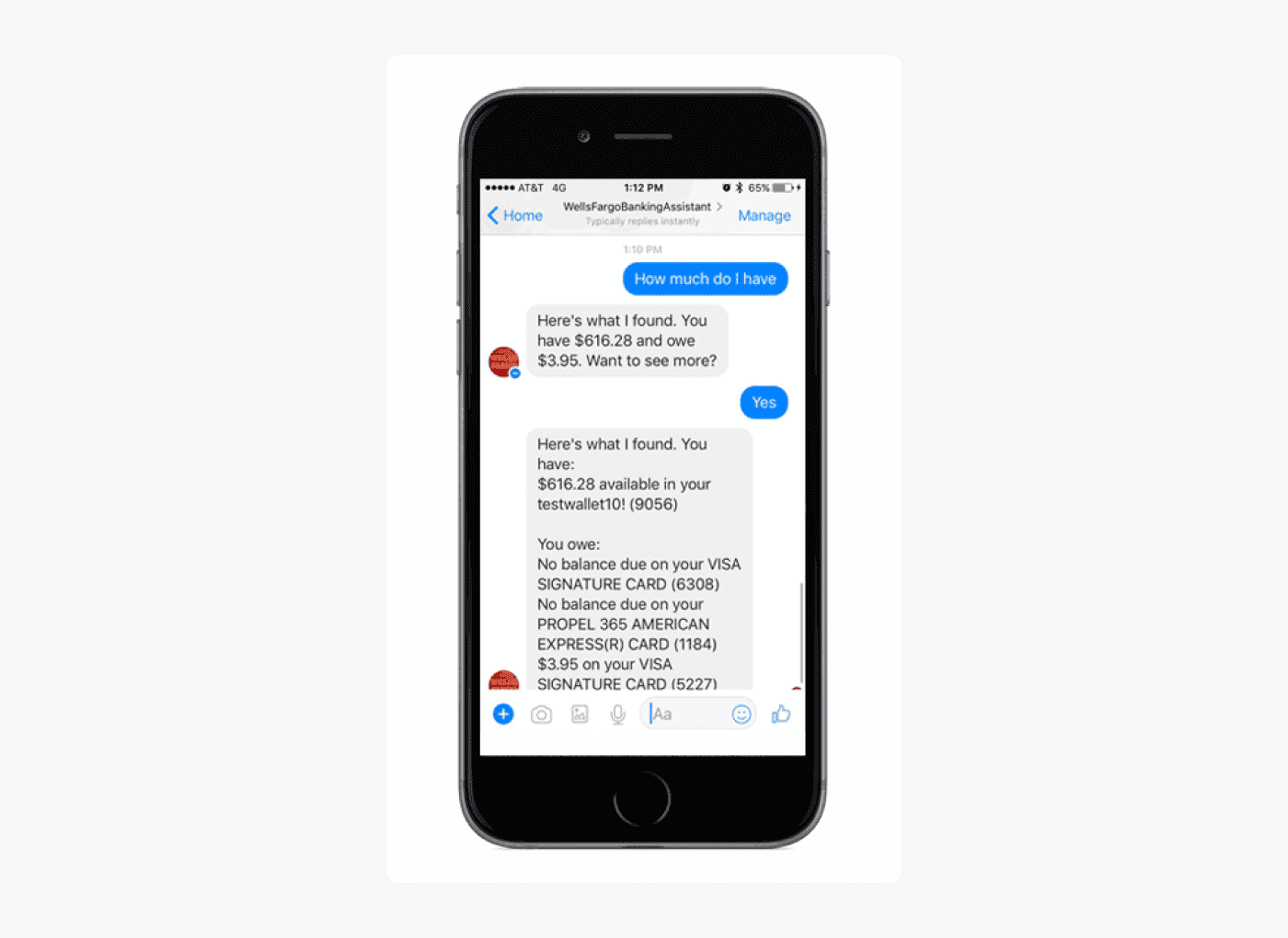 This chatbot simplifies banking operations and delivers great value to users. The bot performs banking activities, such as checking balance, funds transfers, and bill payments. It can also provide information about spending trends and credit scores for a full account analysis view.
3. Expense tracking
Another great chatbot use case in banking is that they can track users' expenses and create reports from them. Bots can help users add transactions and submit other expenses.
The virtual assistant also gives you the option to authenticate signatures in real time. This can speed up some of the banking processes for the users.
Mastercard takes advantage of this chatbot functionality: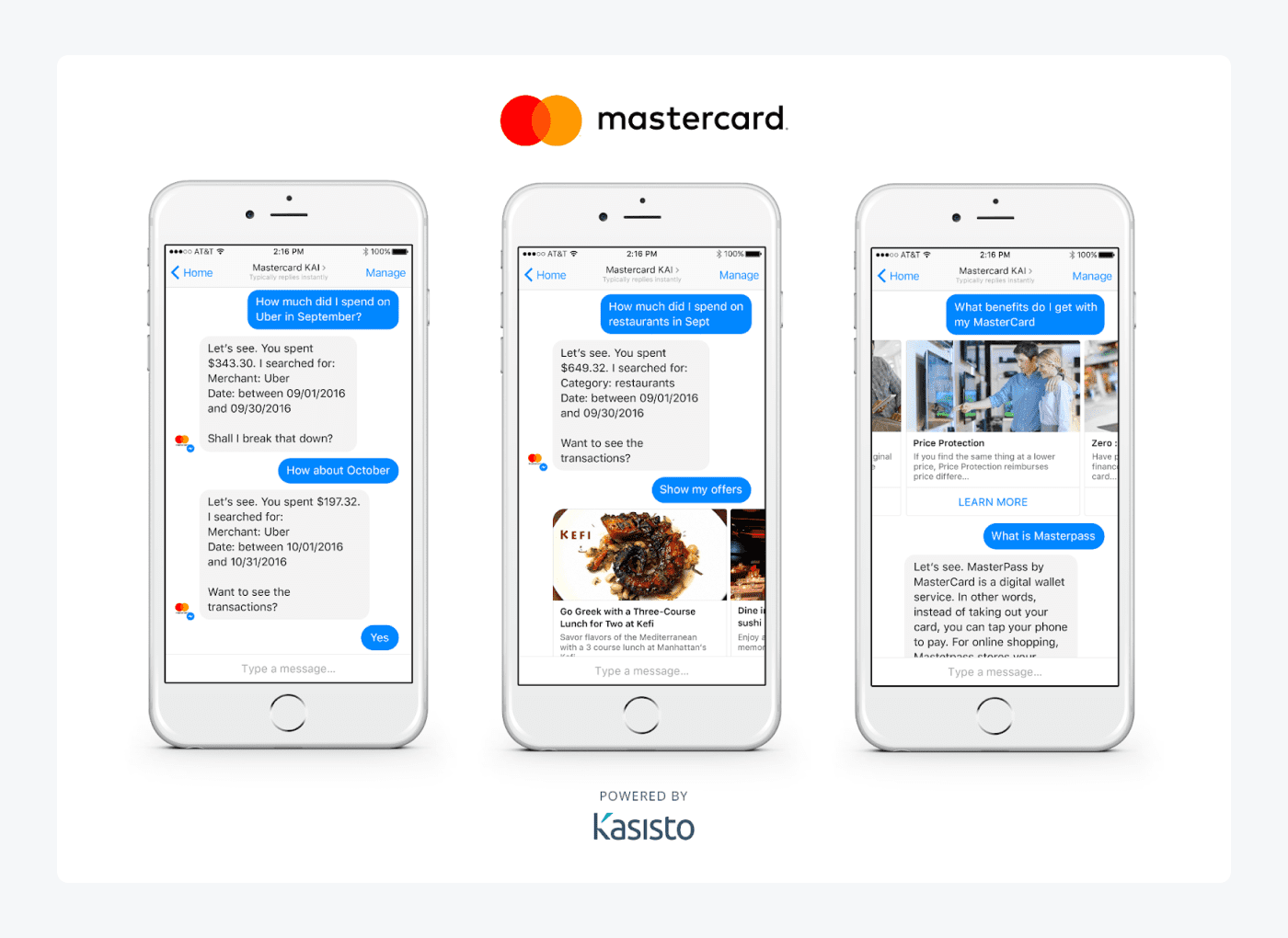 People can add transactions to the created expense report directly from the bot to make the tracking even more accurate. Depending on the relevance of the report, users can also either approve or reject it.
4. Balance notifications and bill reminders
You can get balance notifications and reminders for bills straight to your phone. Wouldn't that be useful? No more missing payments or going over your budget!
Some banks even offer chatbots that will remind you of your credit card payment, so you can grow your credit score more easily. Just like this one: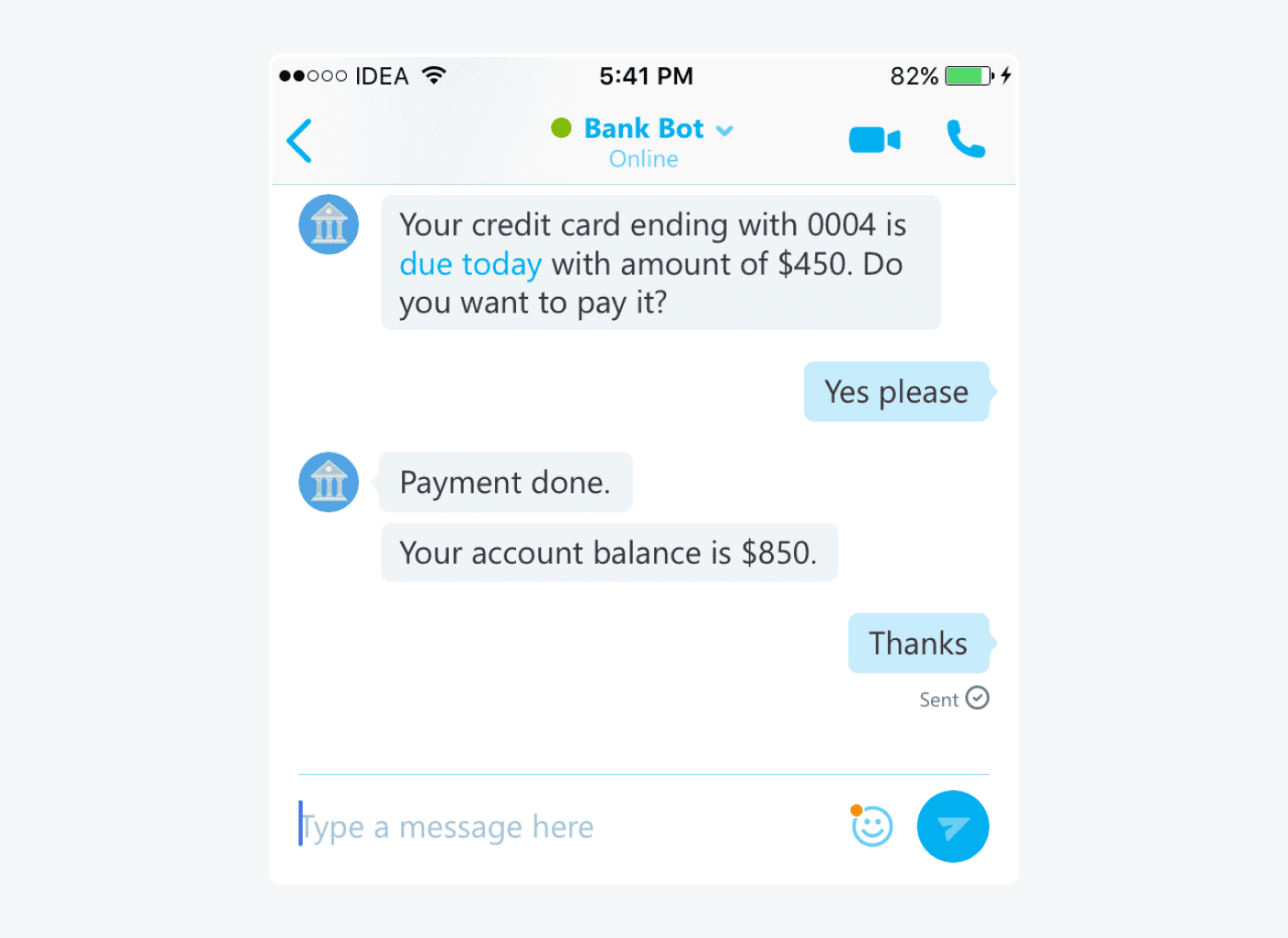 Chatbots offer a variety of notifications you can set, such as minimum balance notifications, bill pay reminders, or transaction alerts. You can improve your spending habits with the first two and increase your account's security with the last one.
Think about it.
Every time you make a purchase, your phone will buzz. So, if you haven't bought anything and your phone alerts you of a transaction, you can immediately contact your bank and report it. This way, your bank will be able to help you faster with the arisen issue.
5. Suspicious activities alerts
Data privacy is always a big concern, especially in the financial services industry. This is because any anomaly in transactions could cause great damage to the client as well as the institute providing the financial services.
That's why chatbots flagging up any suspicious activity are so useful for banking.
To stop routine fraud cases, more and more banks employ bots to keep an eye on their clients' account activities. This is one example of how this chatbot use case looks like: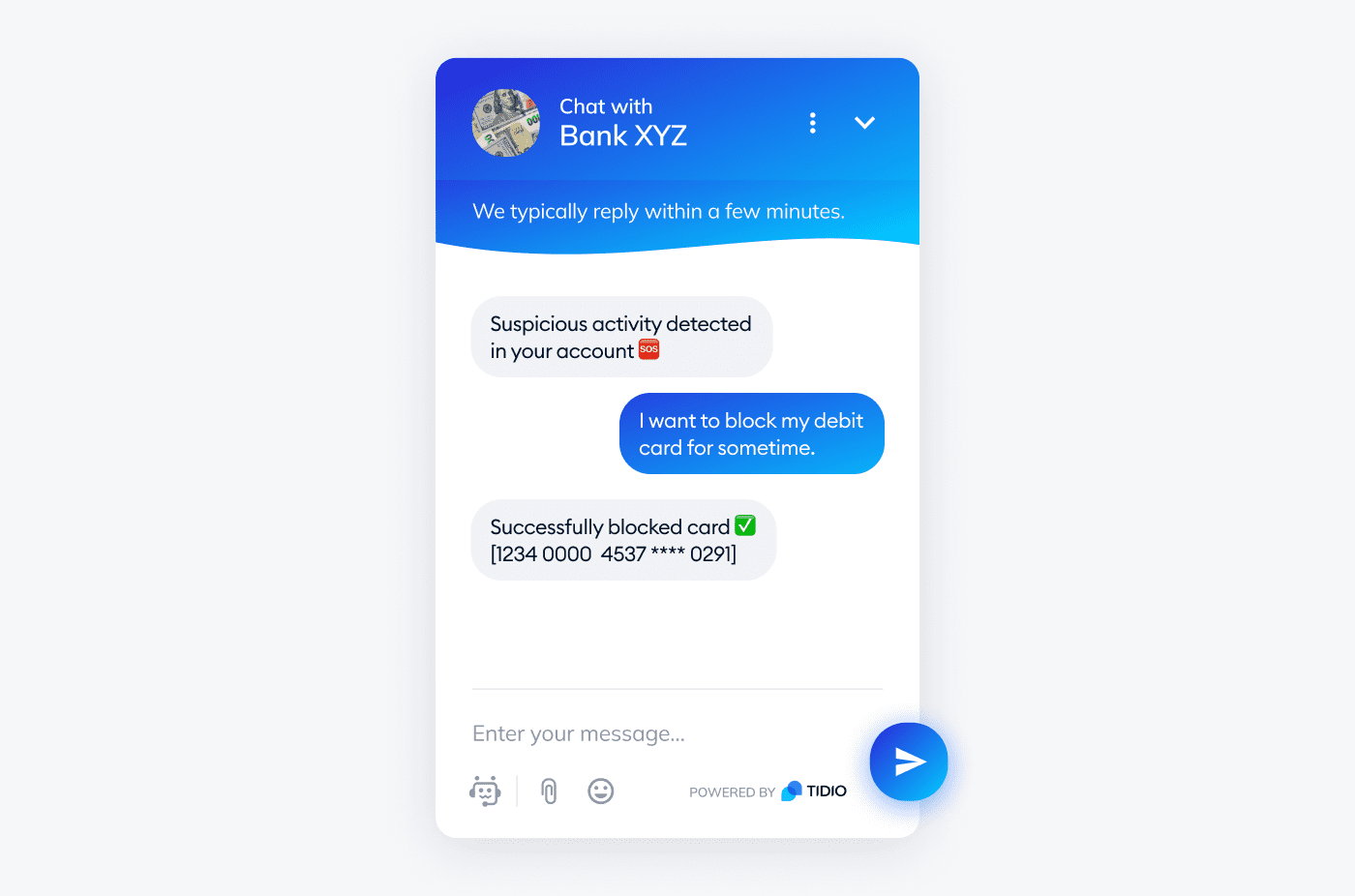 Finance bots can effectively monitor and identify any warning signs of fraudulent activity. And if an issue arises, the chatbot immediately alerts the bank as well as the customer.
Check out this video about chatbot uses for an additional visual representation:
Best chatbots for each use case
Every company has different needs and requirements, so it's natural that there isn't a one-fits-all service provider for every industry. Do your research before deciding on the chatbot platform and check if the functionality of the bot matches what you want the virtual assistant to help you with.
Here are the best chatbot platforms for each of the use cases:
These chatbot providers focus on a specific area and develop features dedicated to that sector. So, even though a bank could use a chatbot, like ManyChat, this platform won't be able to provide for all the banking needs the institution has for its bot. Therefore, you should choose the right chatbot for the use cases that you will need it for.
Speaking of—
Even if you do choose the right bot software, will you be able to get the most out of it? Let's check how you can do just that.
Read more:
How to get the most out of your chatbot?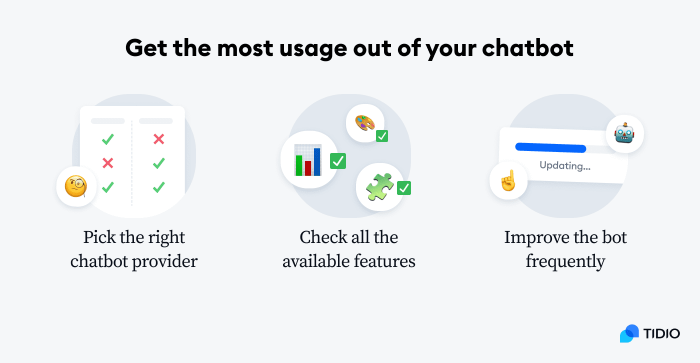 To get the most out of your chatbot, you should:
Pick the right chatbot platform for your needs
Just as we talked about above. No matter how much you try to use a bot, it won't satisfy your needs if you pick the wrong provider.
So, think about that first. Will you be using the chatbot for ecommerce purposes, for finances, or maybe to help your patients in between visits?
Pick the chatbot that has the right functionality for your business needs. This way, you will get more usage out of it and have more tasks taken off your shoulders. And, in the long run, you will be much happier with your investment seeing the great results that the bot brings your company.
Check all the available features
Once you choose your chatbot and set it up, make sure to check all the features the bot offers.
Let's be real here—
It's obvious that if you don't know about some of the features that the chatbot provides, you won't be able to use them. But you would be surprised by the number of businesses that use only the primary features of their chatbot because they don't know any better. So, if you want to be able to use your bots to the fullest, you need to be aware of all the functionalities.
Improve the chatbot frequently
For the bot to perform at its best, you need to keep improving it. You can't just set one up and hope for the best.
Just like with any technology, platform, or system, chatbots need to be kept up to date. If you change anything in your company or if you see a drop on the bot's report, fix it quickly and ensure the information it provides to your clients is relevant.
Also, make sure that you check customer feedback where shoppers tell you what they want from your bot. Then see if you can provide it. If the answer is yes, make changes to your bot to improve the customer satisfaction of the users.
Key takeaway
These are all of the common and best chatbot usages. But, these aren't all the ways you can use your bots as there are hundreds of those depending on your company's needs.
As a recap, this is the full list of top chatbot use cases:
Customer feedback collection
Order and refund processing
Customer onboarding
Chatbot marketing
Lead generation
24/7 support
Internal help desk
FAQs responses
Customer engagement
Voice assistance
Product recommendations
Social media engagement
Order confirmation and tracking
Medication reminders
Appointment scheduling
Patient data collection
Quick medical assistance
Mental health care
Financial advice and insights
Account analysis
Expense tracking
Balance and bill notifications
Suspicious activity alerts
Make sure you know your business needs before jumping ahead of yourself and deciding what to use chatbots for. Also, make sure to check all the features your provider offers, as you might find that you can use bots for many more purposes than first expected.