I have a confession to make.
You might want to leave after hearing that or… you might want to stay and learn a thing or two.
I'll go ahead and share it anyways.
Here you go:
This won't be an article about selling used panties on the internet 😉
"What the heck?" you might ask yourself. Why mention that at all?
You see, the internet is a funny place where everything can be bought—and sold.
But today's story is not about selling used panties—it's about a truly unique online store selling custom made bras, and the creative entrepreneur who launched it.
Ready to learn more? Here's what we'll cover.
1. Why I've Decided to Sell Custom Underwear Online
Now, let me present to you the story of Camille – a driven IT coder, turned entrepreneur, from the Philippines.
In June 2019, Camille launched Lily of the Valley – an online store offering custom underwear, namely – bras and panties.
(Say Hi! to Camille via her chatbot called "Lea" located on her website)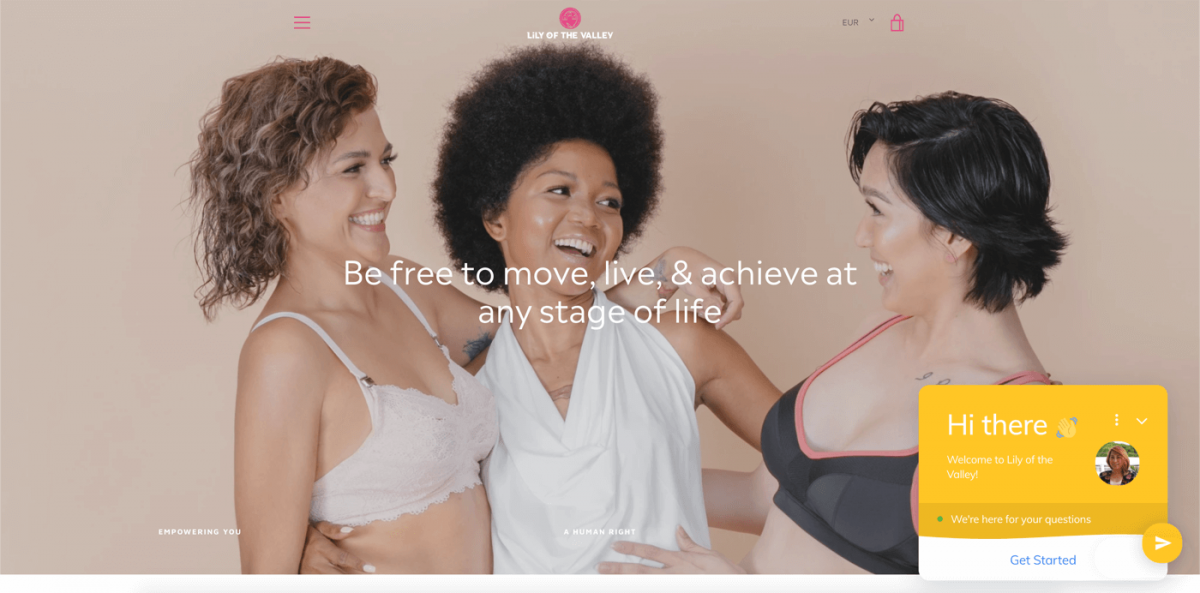 Prior to launching her own business, Camille has been helping friends and family with their projects.
Her IT background was very useful, and her close ones did not hesitate to ask for her services.
But one day Camille woke up thinking: "Why don't I start my own project?".
As she explained to me: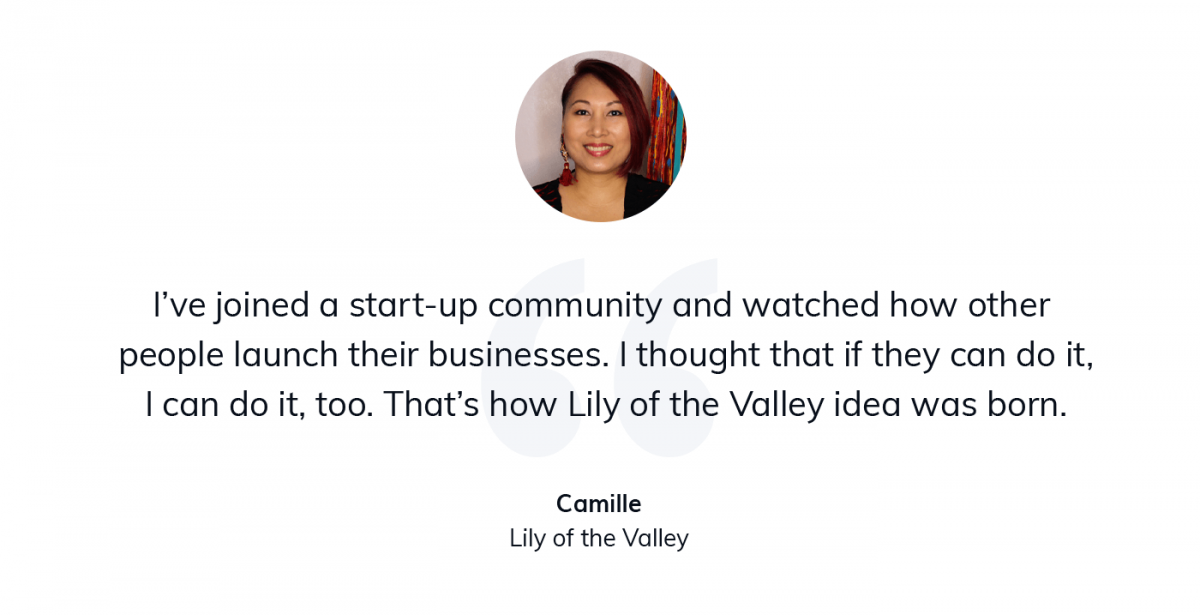 It was 2019.
Fast forward a few months, a few books and courses later, and Camille set up her very first Shopify online store.
Want to launch your own online store? It's simple! Here's a useful guide: Beginner's Guide to Building a Shopify Store from Scratch.
How did she find an idea for custom nursing bras and period panties?
Good question!
Well, she talked to women in her circles and did online research to learn about the products that Filipino women could benefit from but had little, or limited, access to.
And that's when Camille noticed a market gap in the women's underwear industry, specifically – a niche of bras for nursing mothers.
With previous background experience in the clothing industry (thanks to her family business), Camille felt drawn to exploring this idea.
She also defined the ideal customer profile and her audience.
Target market: Millennial mums looking for quality and custom made underwear that will fit their bodies perfectly, look fashionable, and last for years.
Then Camille set on a mission to design and manufacture the first pairs and test her assumptions.
All "Lilies", as named affectionately by Camille, follow the OEKO TEX and WRAP standards. Plus, they are made-to-order which eliminates the costs of storage and minimizes the risk of waste.
Alright, dear Reader…It seems that all she had to do next was roll up her sleeves, get to work, and turn her idea into a reality.
Right?
🚀 Read more: 6 Simple eCommerce Customer Segmentation Strategies to Increase Your Sales
2. My Challenges in Launching a Store Selling Custom Bras and Panties
But you see… selling underwear is a tricky business.
We all wear it and you can purchase panties and bras in places like 7 Eleven. Yet, it's not common to brag about your favorite pair, or latest trends, as you'd do with shoes, for example.
And well, there is also an issue with measuring your body correctly. 
With bras that are made-to-order, Camille needed the exact measurements of a customer buying it.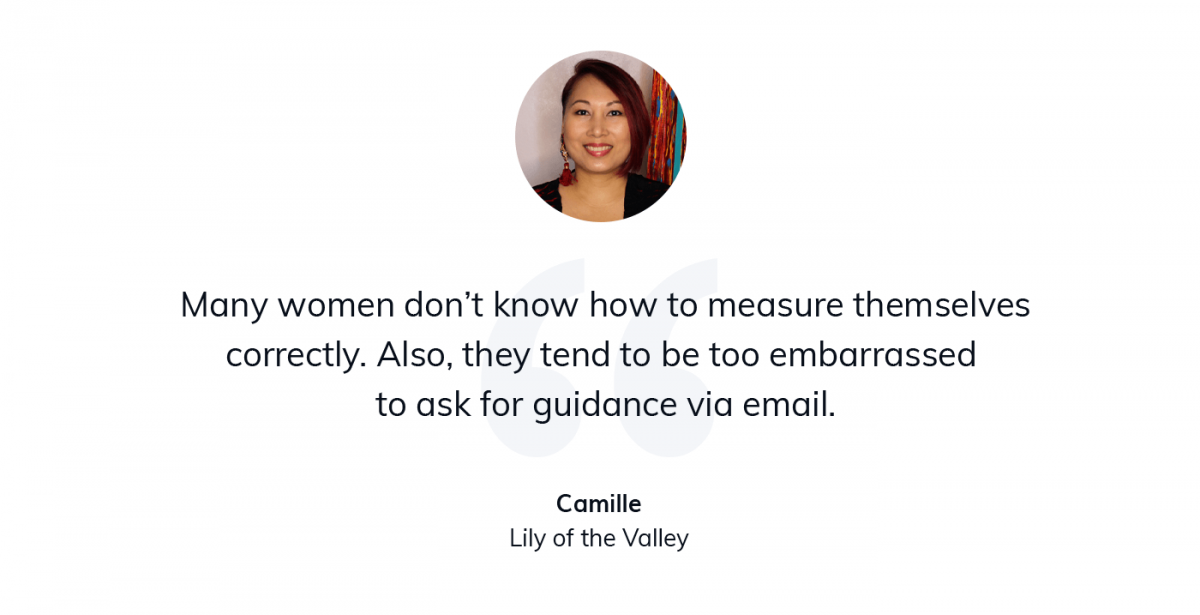 This brought the founder of Lily of the Valley to a question.
Challenge: How to connect with potential customers, build trust, and sell more by offering a highly personalized experience?

Camille knew that her customers were looking for knowledge and expertise—something she could offer only in one-on-one conversations. If they didn't get it, they wouldn't be convinced to make a purchase.
Identifying this roadblock helped her set a tangible goal.
Goal: Decrease bounce rate and sell more by proactively engaging with website and Facebook visitors via a chat.
And here's how Lily of the Valley worked towards making it a reality.
3. How I Built a Loyal Customer Base by Investing into Customer Experience
After launching the store, Camille set up Lily of the Valley's social media accounts.
She knew that most of her target audience would be hanging out on Instagram and in Facebook groups for mothers.
So, Camille started off by promoting her products with ads (which seemed logical).
And… It didn't work.
More than 95% of your site visitors leave without buying. Fix it by engaging them and answering their questions 24/7 using a chatbot. Here's how: Chatbot Marketing 101: Fast, Easy Guide and Steps
Being an analytical person by nature, she looked into data to find out why people did not buy.
It didn't take her long to realize that the business she was running required close contact with her potential customers.
Lily of the Valley had to actually talk to their target audience to better understand their needs and expectations. It was answering the direct messages on social media and emails that resulted in sales.
But there was also a better and faster way to connect with customers.
Step 1: Installing Tidio FAQ Messenger Bot
With new messages coming in via Instagram and Facebook private messages, Camille knew she needed a tool to help her manage the new situation.
She had experience using live chat and messenger bots while purchasing products from other brands. It only seemed natural to add a chat feature to her own store.
On June 11th, she researched the Shopify app store and noticed that Tidio offered an easy Facebook Messenger integration.
"That's exactly what I need" – she thought.
It was free, too, so she gave it a shot.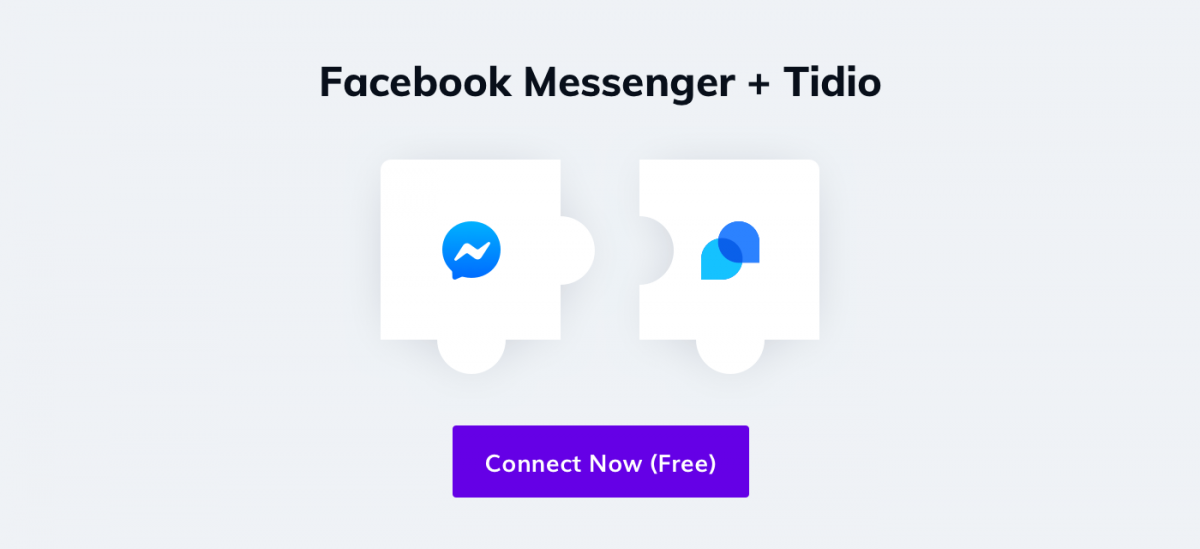 A few minutes later, her bot was up and running.
She received messages and could answer them easily from her Tidio panel on a desktop or mobile. It slashed the response time to seconds and improved customer experience exponentially.
It also helped to build trust and engage her audience more easily, resulting in increased sales and customer satisfaction.
And Camille didn't stop there.
🚀 Read more: How to Integrate Tidio With Facebook Live Chat App (Messenger)
🚀 Read more: Use Free Tidio Mobile App for a Faster and Easier Communication
Step 2: Adding Tidio Chatbots
Being an engineer, the founder of Lily of the Valley couldn't help but play around with chatbots, too.
Truth is, with more, and more requests coming in, and Camille running a business solo, she needed help in automating her customer support operations.
Hiring free chatbots seemed like a good idea (and it was!) 😉
Want to try out chatbots for your own website, too? Check out these 20+ Free Chatbot Templates and choose the right one for your business.
For now, Lily of the Valley uses a free plan and Camille decided to design 4 different bots.
Firstly, here's her welcome bot.
After clicking "Get Started", each chatbot fires up individually depending on the option chosen by the visitor. Here is how this looks like in practice.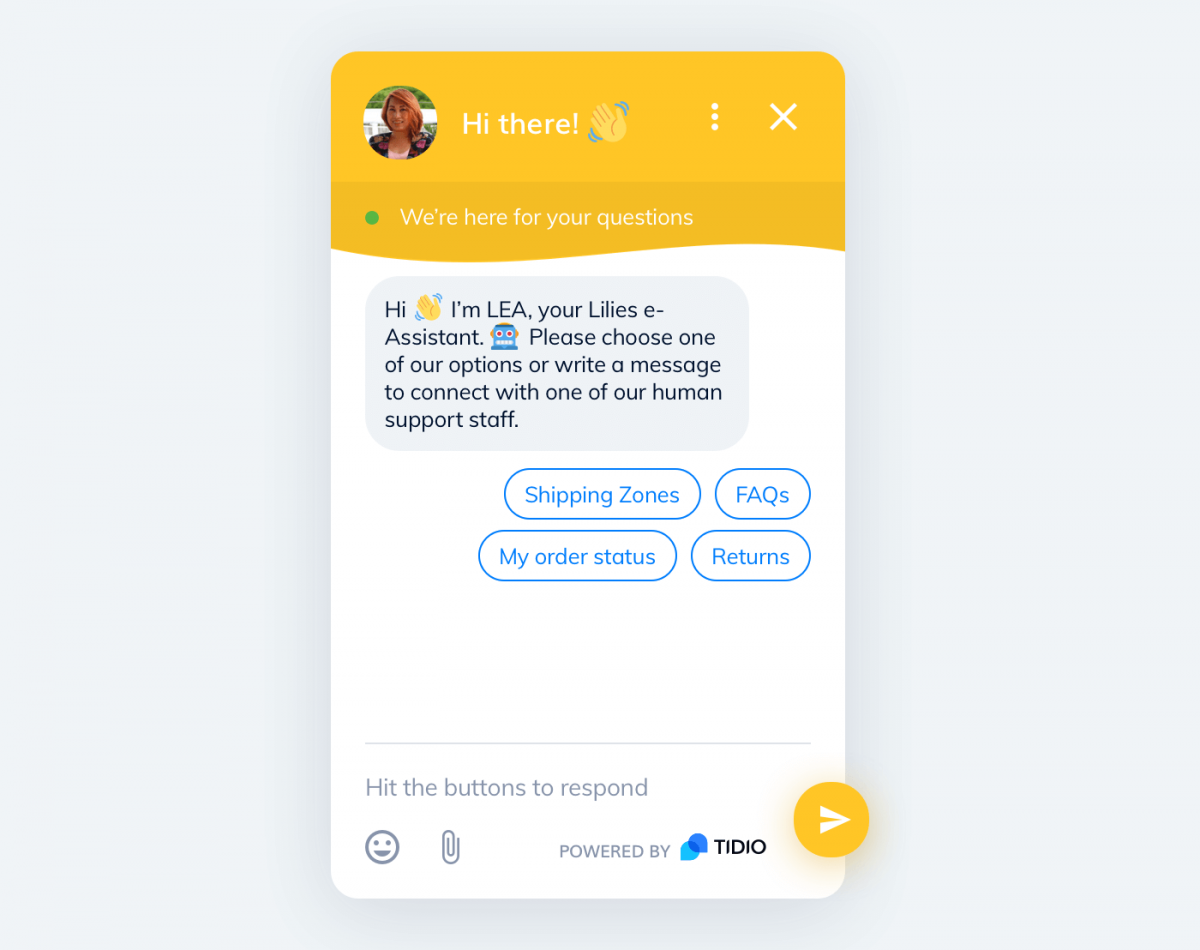 Notice the personalization elements:
Chat color (you can customize it to match your branding)
Chatbot's name
Use of emojis and a customized message
Now, let's quickly go through each of the chatbot flows that Lily of the Valley used to make the user experience seamless.
First, take a look at the FAQ bot she hired to answer the most common questions. It's a great way to automate customer support that helps to save time for both – the site visitor and customer service agent.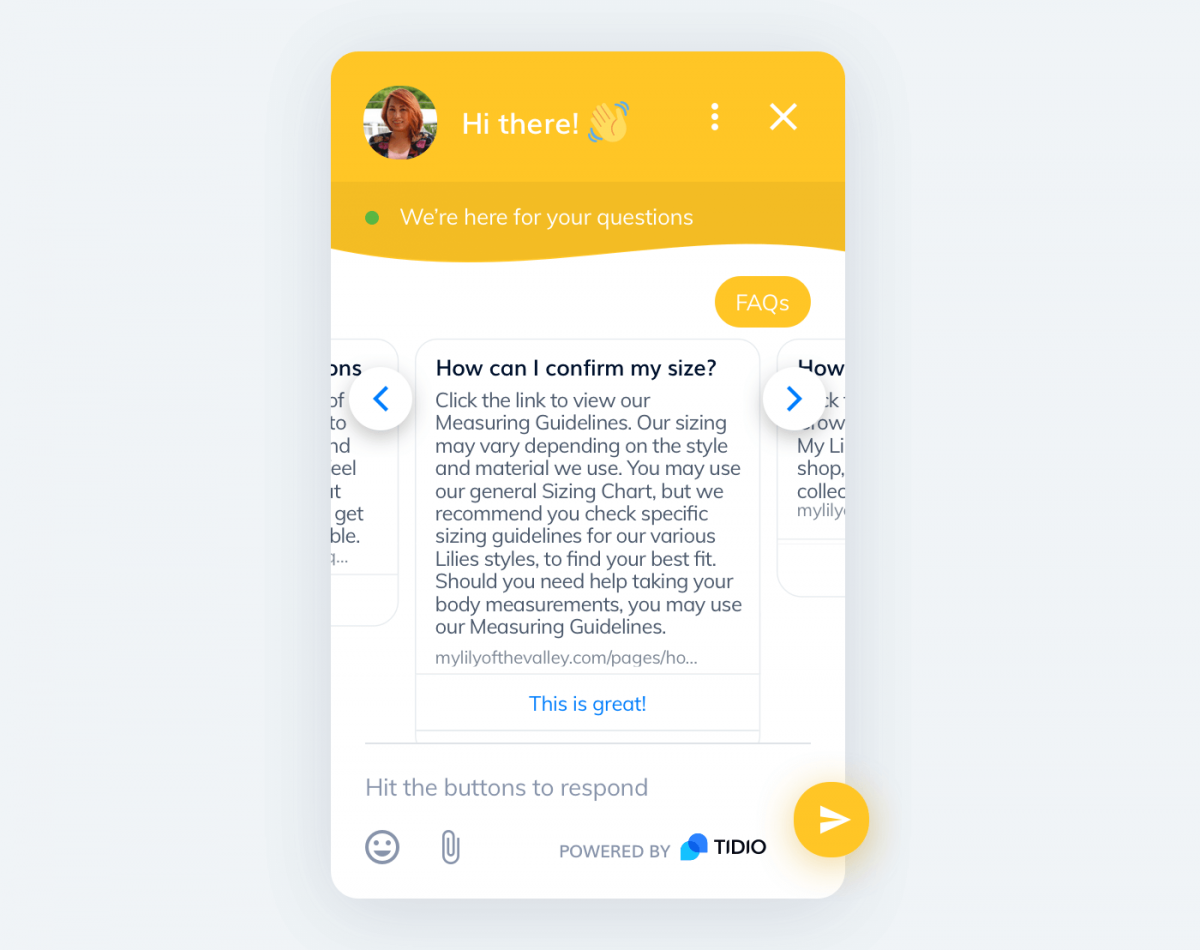 In building a FAQ bot, Camille has decided to use (an underrated) Tidio's feature called "Decision Cards". By swiping left or right, visitors can easily check out answers to other questions in one go.
🚀 Read more: How to Make a Chatbot Without Coding in Less Than 15 Minutes (Free)
Delivery Tracking Chatbot
Next up is a simple, yet incredibly important, bot that answers users' questions related to the delivery.
This allows Lily of the Valley to be seen as a trustworthy and responsive company that cares about their customers' experience to a T.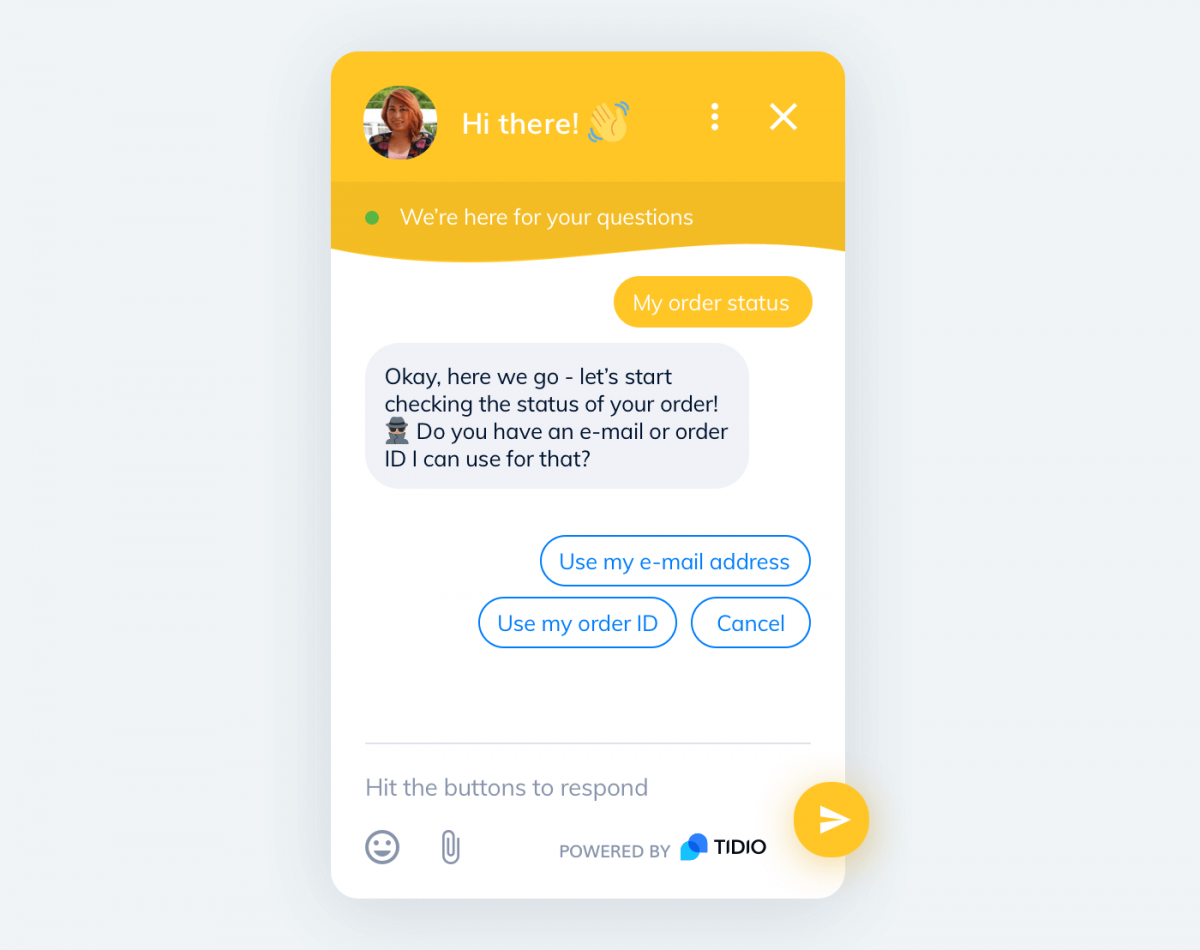 Adding this bot to your eCommerce site is great for improving customer satisfaction and for building trust.
After all, nobody likes to be left unattended when their ordered goods are yet to be delivered.
🚀 Read more: Creative Chatbot Ideas to Boost Your Online Business in 2020
Then, there is a simple chatbot that can help you handle returns like a pro. It engages the user and allows them to learn about the return policies, as well as the procedures to follow in case of returning a product.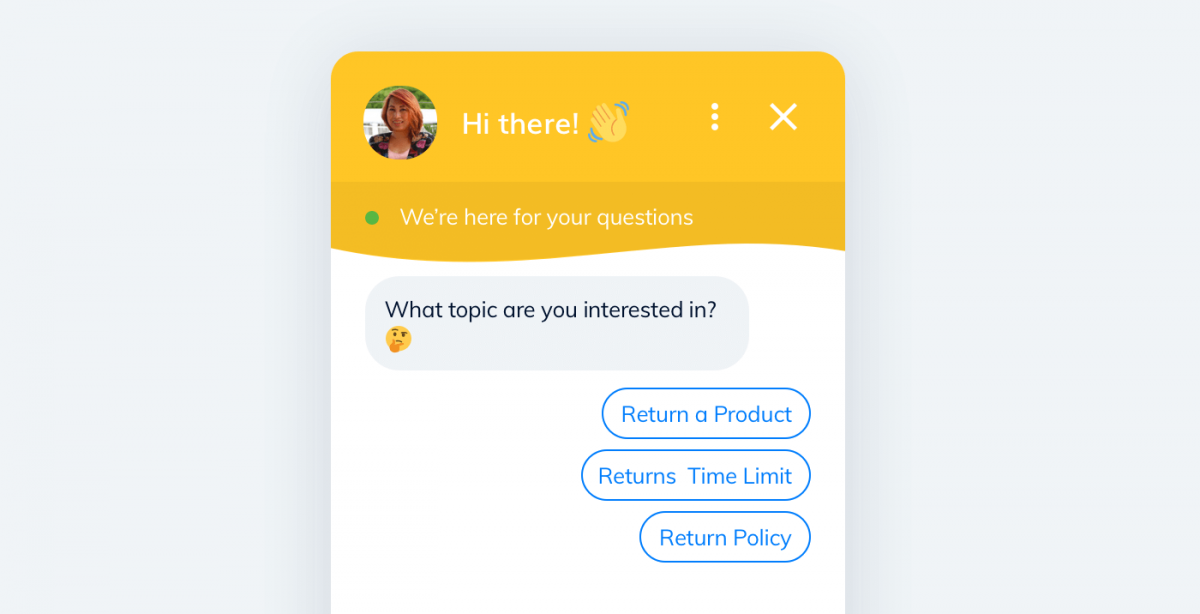 Save your customers' time and energy otherwise spent on going through your written documentation, and make it easy for them to make business with you. Trust me, they will love you for it (and come back again).
Lastly, Lily of the Valley added a "Shipping Zones' chatbot that helps her customers learn about the product shipment options to their country.
Step 3: Investing in Influencer Marketing
Finally, it's important to mention that after initial experiences with burning money on Facebook advertising, Camille found a better way to market her products—influencer marketing.
Building close relationships with influencers in her niche has become her main tactic for boosting brand awareness and bringing new people to her website.
Yes, it takes time. But it's proven to be effective and, as you can see, Lily of the Valley has built a strong presence on Instagram with almost 2500 followers who engage with the brand regularly.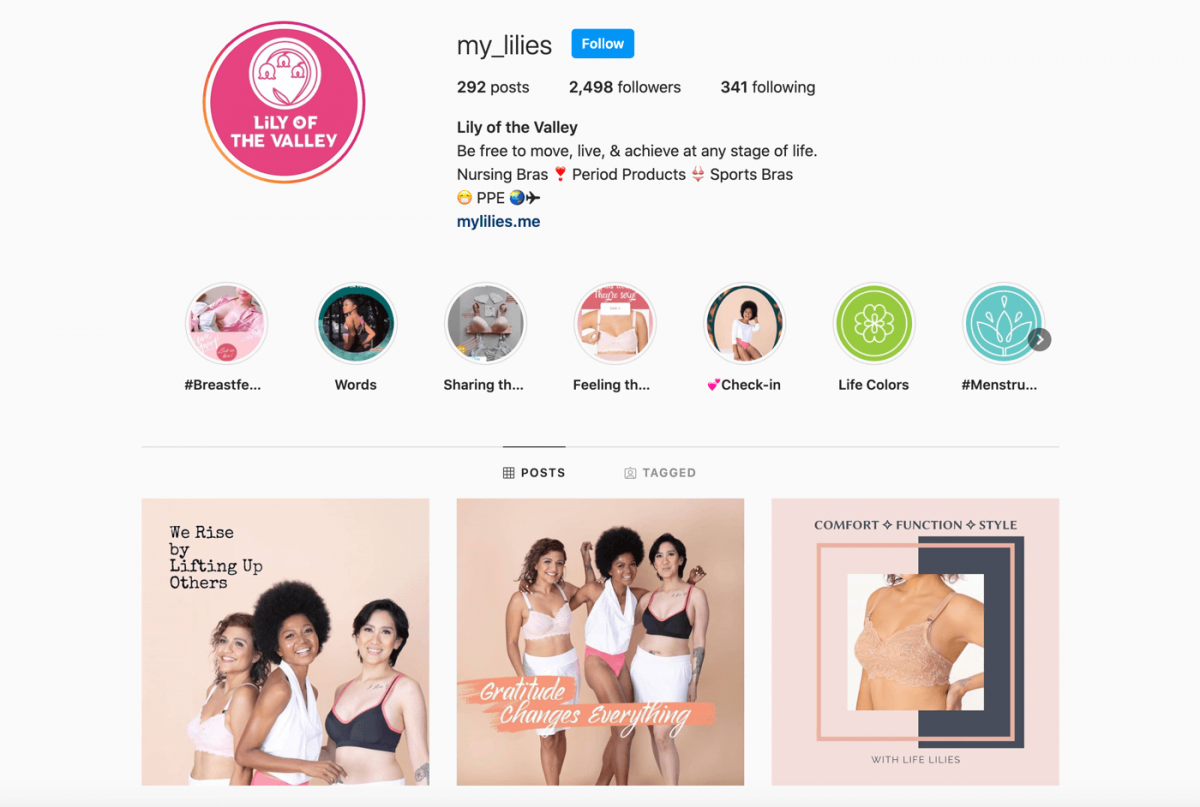 4. Results
Finally, let's talk about the results Lily of the Valley achieved after implementing Tidio to engage with her potential customers.
First, the sheer facts—conversion rate and the percentage of loyal, returning customers.
Camille shared this data with us:

She added: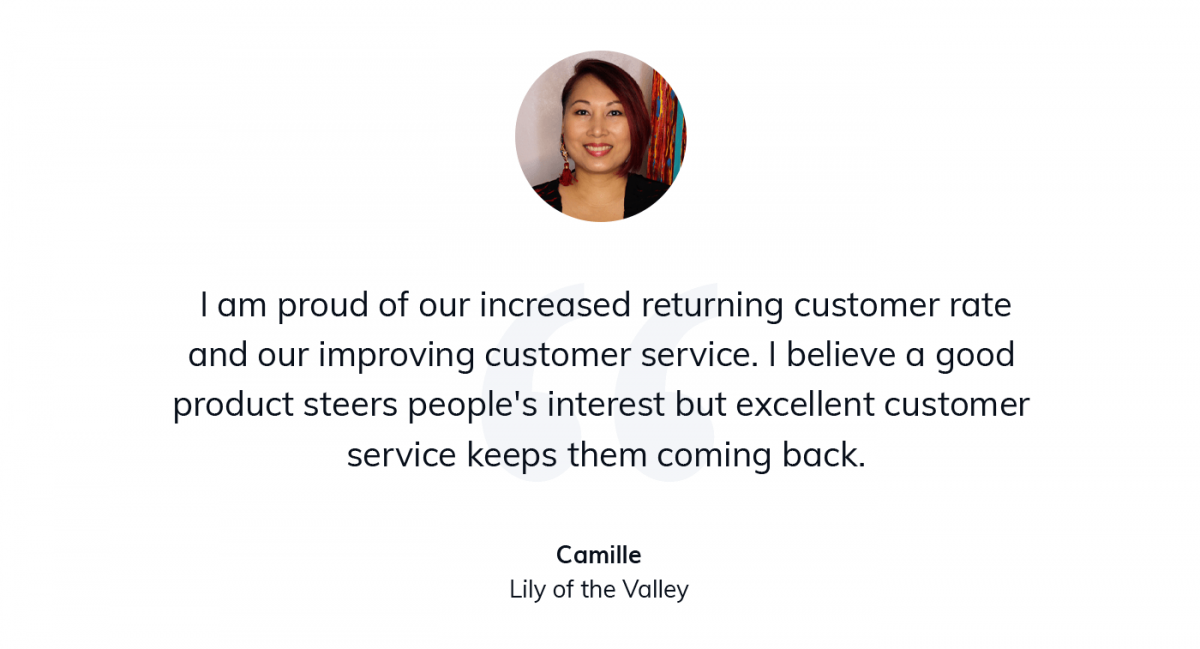 Did I mention already that Lily of the Valley uses a free version of Tidio to achieve that? 😉
Personally—I'm impressed.
And that's not all.
Apart from great financial results, Lily of the Valley regularly receives 5-star reviews from satisfied customers, such as this one: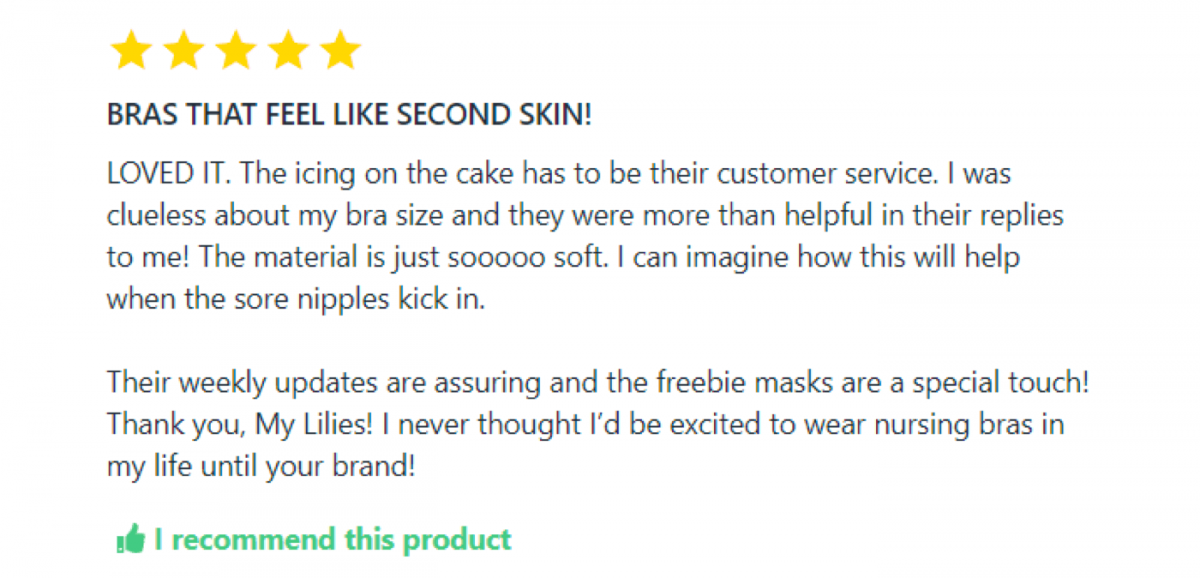 By being close to her customers and providing each of them with a personalized experience, Camille managed to build a small, loyal customer base that recommends her products to friends and family.
Here, at Tidio, we all keep our fingers crossed for her continuous growth and success!
And you?
Are you ready to delight your customers with excellent customer service, too?
Key Takeaways
If you made it that far – thanks!
Here's a short summary of the most important points from Lily of the Valley's story:
Have an idea? Conduct research and start small, using a made-to-order business model.
Don't burn money on advertising – analyze what channels for bringing traffic and customers have the most potential for your business first.
Get a free chat tool to connect with your visitors in real-time and get to know their needs better.
Add free chatbots to automate your customer service, especially if you run a business solo.
Take advantage of (free) customizable bot templates instead of spending hours developing a custom bot from scratch.
Start building trust and a loyal customer base by connecting with your customers personally.
Invest in customer experience, continuously.
Bonus: Customer Service Automation (FAQ Chatbot Tutorial)
The biggest advantage of one-person businesses is that you get all the profits. But, on the downside, you need to do all the work too.
🛑 STOP
Want to build a chatbot with me? You can do it now (and keep your bot forever). Register to get started in 3 minutes: Create Free Account
That's where chatbots come handy. Camille took a few minutes to build her bots once and now she has everything taken care of on autopilot.
She went for FAQ bot.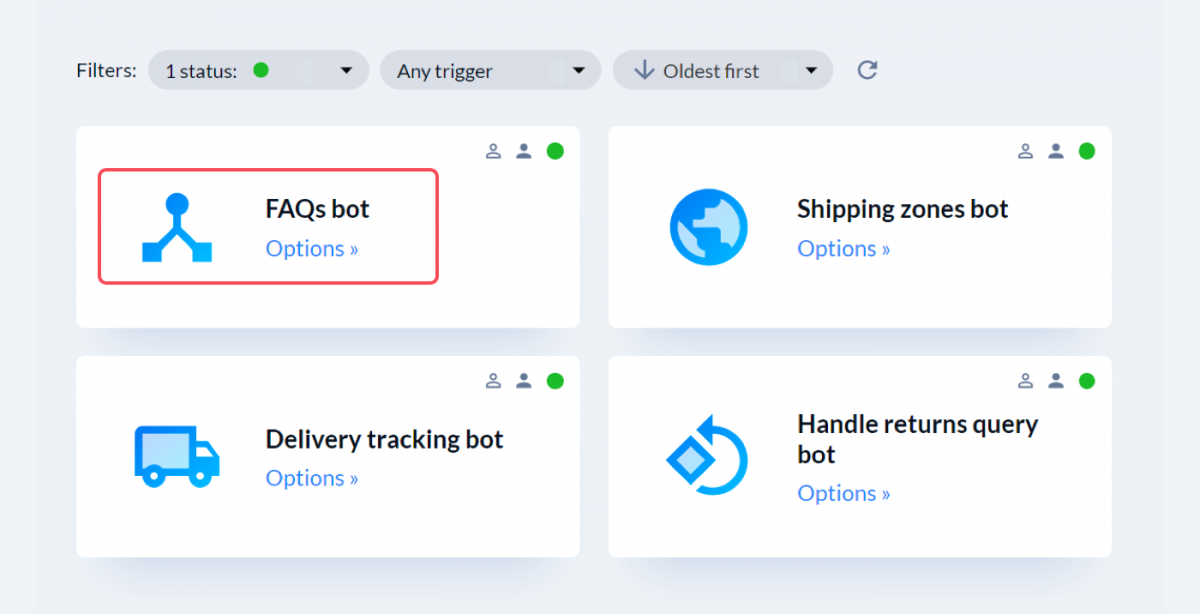 What's interesting, is that Camille created an FAQ bot that uses Decision Cards. You can browse questions and see the answers inside the widget.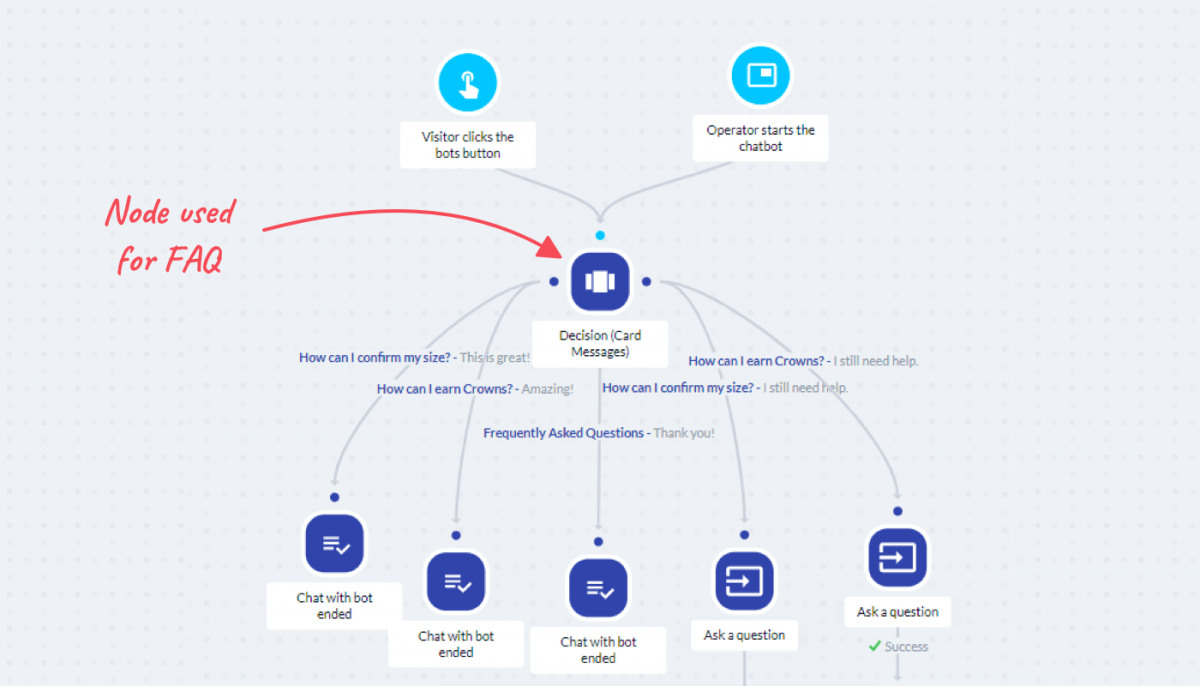 It is a very creative way of using decision cards. We dig it!
What other techniques you can use to answer FAQ:

Method 1: Suggest questions and topics with Decision Buttons
Method 2: Add several AI Responder bots (for individual questions)
Method 3: Add one AI Responder for all relevant keywords and suggest questions with Decision Buttons
Method 4: Add one AI Responder for all relevant keywords and send the link to your FAQ page
Camille uses a Decision Button to trigger Decision Cards. It is like the 1st method but you can immediately browse all questions and see all the answers.
The Thank you! the button is a good way to checking if customers are satisfied with their answer. You can add more buttons whenever you want.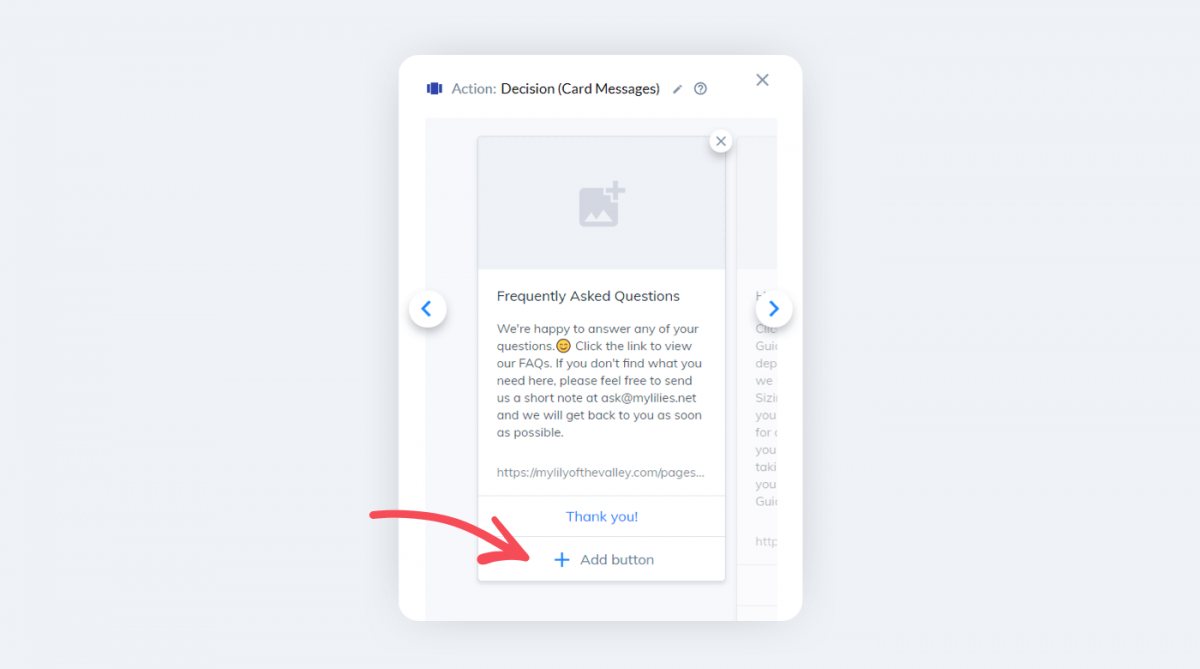 If visitors find the answer to their question, the conversation ends. They can also choose the I still need help option. If they do, the chatbot asks for an email address or phone number.
Right afterward, Tidio sends a notification to Camille. She sees it on her mobile and can write (or call) customers back. Chatbots handle 99% of conversations but she can still intervene when necessary.
Want to give it a try?