Born in Bologna, conquering the world.
Procosmet safeguards the Italian character of production, from the selection of raw materials to the elegant, distinctive, and recognizable design of the packaging.
And this is what makes the products stand out on the shelves.
The brand is also dedicated to transparency, honesty, and certified production processes while searching for the best raw materials that always meet customers' expectations.
From Bologna to the world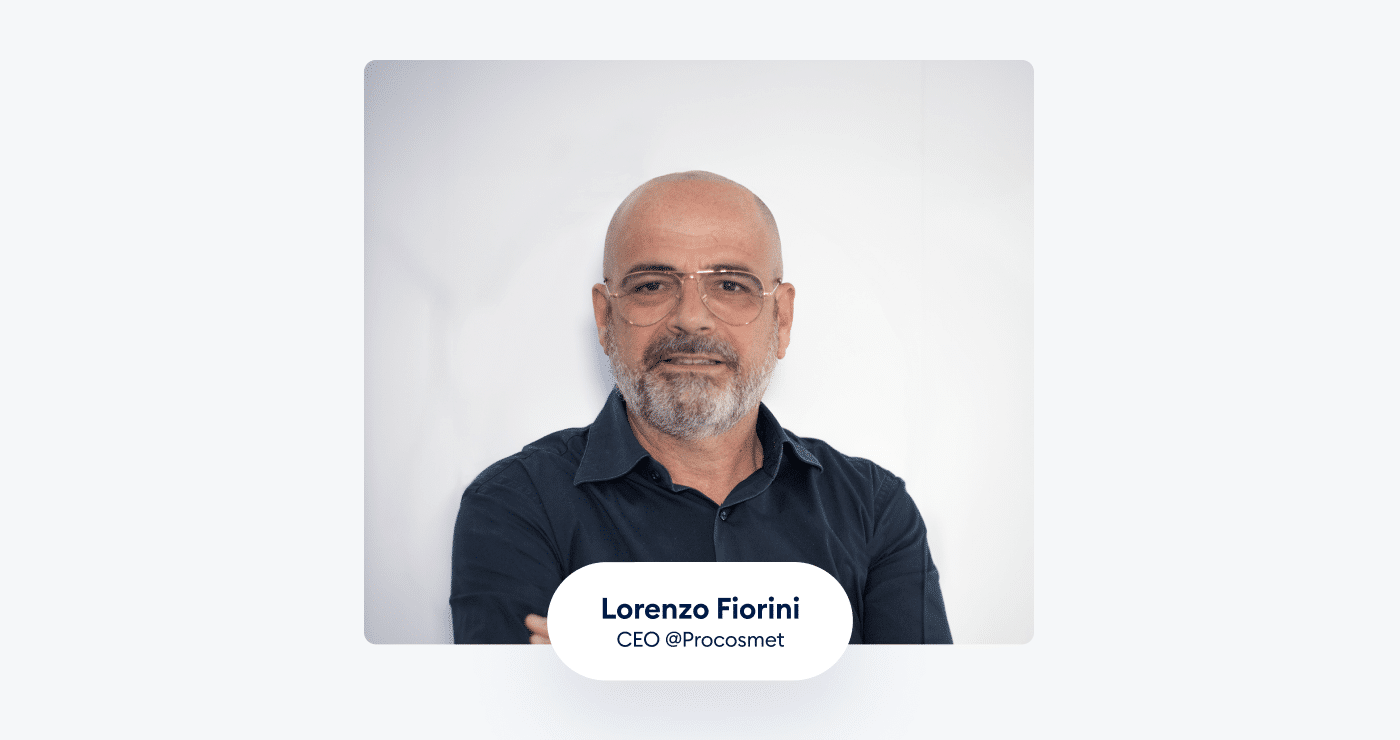 About the company:
Industry: beauty
Started year: 2001
Size: over 20 employees
Country of origin/headquarters: Italy
Tidio products/tactics used: live chat, chatbots, and analytics
Procosmet was born from the idea of taking hair treatment to the next level in beauty salons, in Italy and worldwide.
It's a luxury brand offering haircare and beauty treatment products for all needs. These include shampoos, conditioners, fluids, and vial treatments that are 100% natural and made with the purest of essential oils.
The business started with an idea of a blue glass vial for essential oils and active principles. Procosmet is now divided into two brands, Napura and MTJ, which create care products inspired by nature.
On top of that, Procosmet puts sustainability, ethics, and well-being first. The company is dedicated to making you and our planet feel better. It continuously carries out new and engaging projects for environmental protection, like the Plant a tree and breathe with us project in collaboration with the Tree Nation.
The challenges Procosmet faced
One of the biggest challenges that the company faced was managing orders—canceling, modifying, and refunding were some of the most time-consuming tasks that customer support agents were handling. That's because they had to ask for the order number, open Shopify, search for the client's order, and finally make the changes that the customer requested.
No more!
With the help of Tidio+ features, the company is able to manage orders directly from the chat window. So, say that a customer wants to cancel, modify, or refund their order. In that case, a representative can open the section of the conversation panel, and complete the desired task directly from there.
I wanted to change our previous provider because it was too complicated and too slow. I searched [for the solution] on the internet, especially the Shopify Store App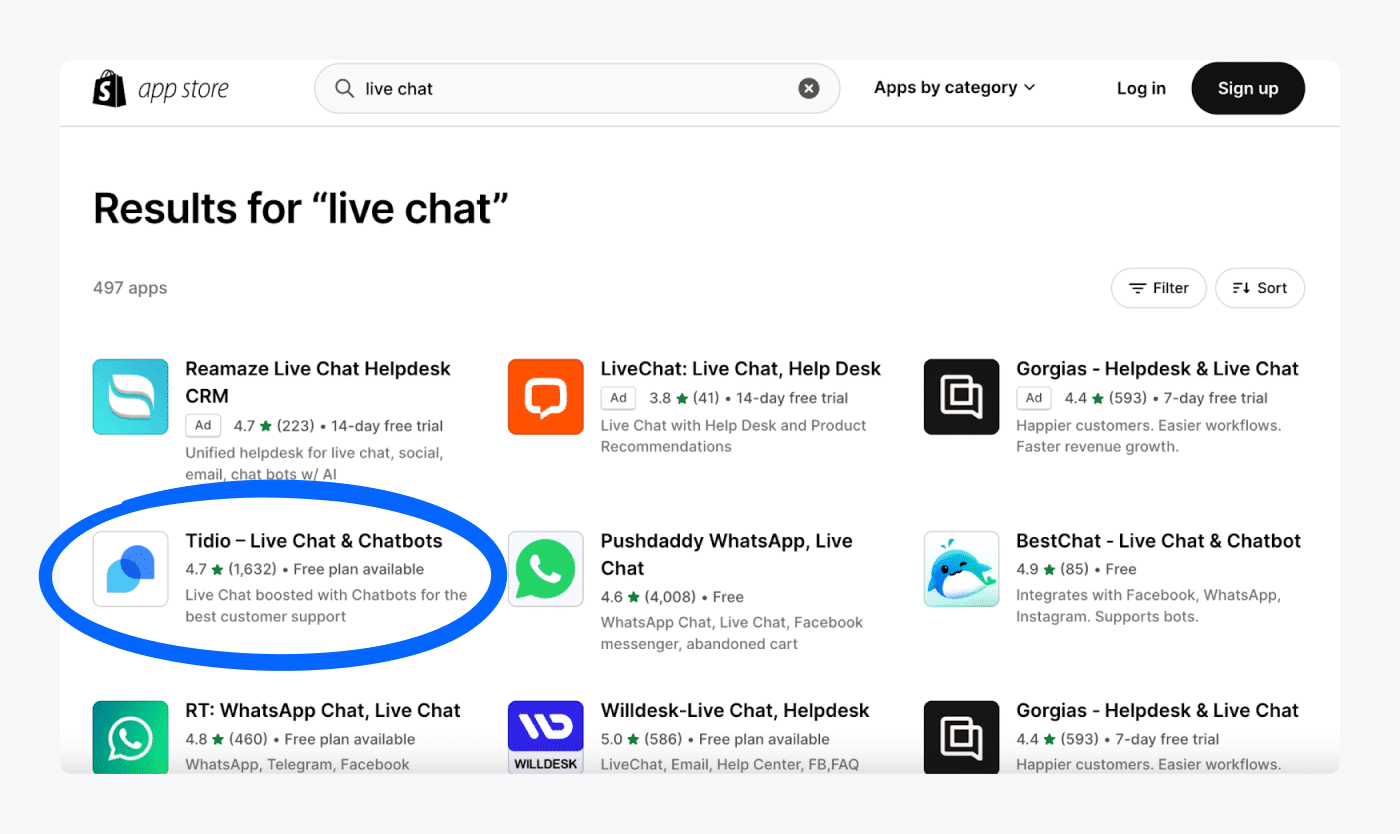 Tidio proved to be a simple yet complete option for Procosmet's needs. The beauty company uses chatbots for multiple purposes including greeting customers, gathering information, and answering users' questions.
My main goal was to find an easy-to-teach app that comprehended all the tasks needed for our customer service. Tidio, from the beginning, was the perfect one.
Tidio is easy to use, and the customer success managers are in clutch instantly if you encounter any problems. This includes the detailed analytics section that's useful for when you're looking at different types of data like sales and in-depth agent details. It provides more understanding about how many tickets are completed, from whom, as well as the operator's ratings.
So, let's discover, in more detail, how Tidio helped Procosmet grow its business.
1. Increase in sales
Procosmet used to have two apps for managing their customer service. And it was difficult to keep track of the sales made thanks to these tools. After switching to the Tidio+ plan, the company was able to perform the same tasks using only one tool. This made tracking and managing the processes much more efficient.
In fact, Procosmet saw an increase in sales by a whopping 23% only by switching and setting up the baseline activities at Tidio. The company used chatbots as one of the tools to achieve this result. Procosmet has bots that cover almost all areas the visitor might ask about, like the FAQ chatbot ready to answer all commonly asked questions.
Right now, more than a third of our ecommerce revenue is made thanks to Tidio.
2. Boost in new leads
After installing Tidio on the website, Procosmet began to obtain lots of new leads much faster than before. This was thanks to the friendly chatbots asking new users for their contact details and subscribing them to the newsletter.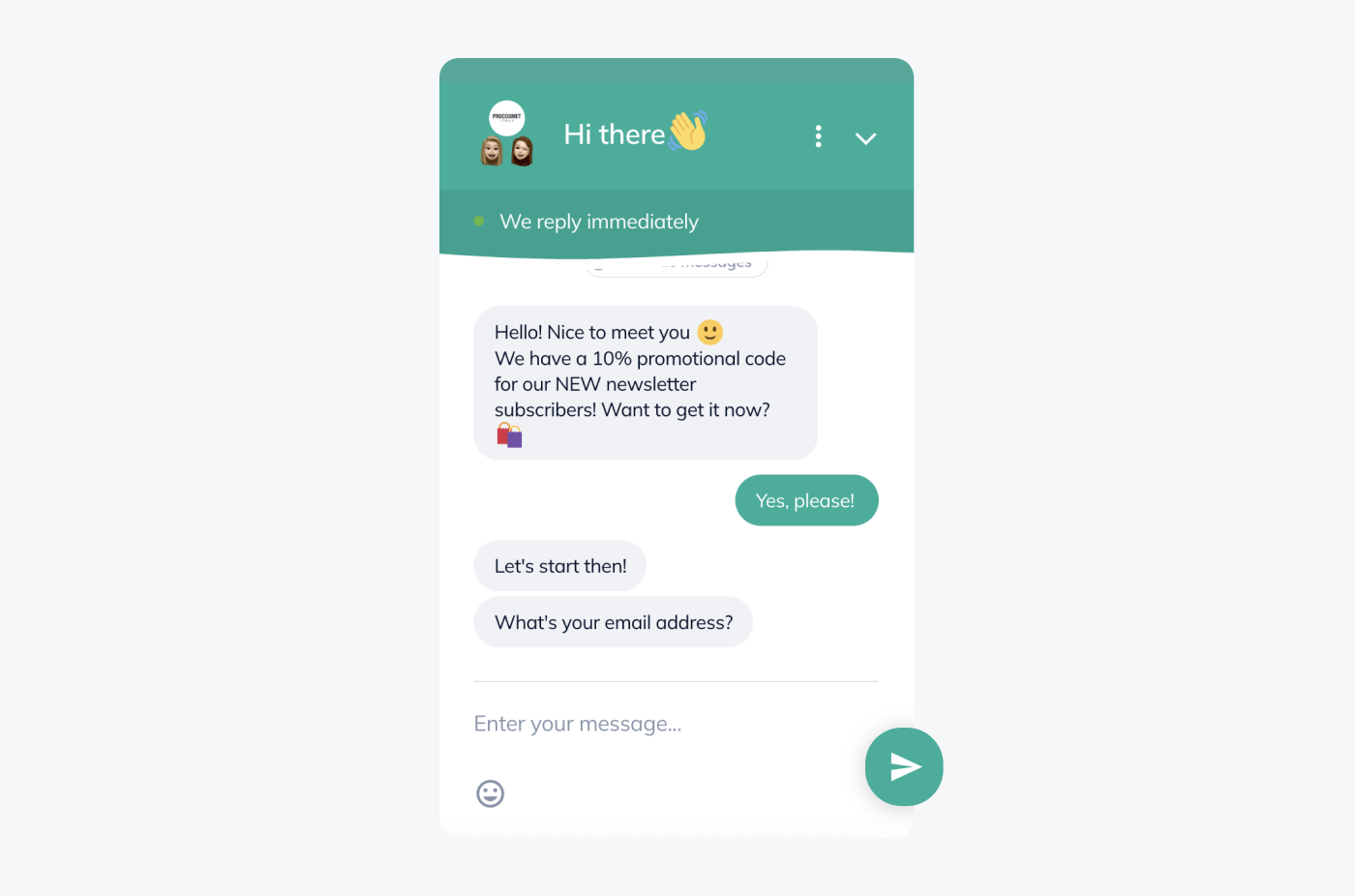 The company used to gather about 10-30 leads per month with the previous customer service software provider. This number increased to over 100 prospects on a monthly basis with an 18-22% email open rate.
Moreover, thanks to the newsletter chatbot and Tidio's email marketing services, Procosmet achieved, just out of a one-off campaign, a ROI of over a 1000EUR.
Our goal has always been to develop a healthy community and thanks to Tidio, we are getting closer, enriching our databases with healthy and interested new contacts, every day.
3. Say goodbye to unstable conversation rates
Conversions are crucial for a growing business. But does it matter if they're unstable? Yes, it does.
Procosmet used to have a lot of spikes in their metrics when it came to conversions. And this was the case throughout the year.
But once the brand implemented Tidio+ features on its site, the conversion rates stabilized. What's more, they're increased. Procosmet saw a 27% boost in conversions just this year.

One of the features that made this possible is chatbots. They're a real game changer when it comes to ecommerce stores, and Procosmet used multiple bots available from Tidio's panel to talk to different people at the same time.
The company has 5 chatbots running simultaneously on the website for greeting customers, gathering data, and providing support. The bot is always there to answer FAQs and make the shopper feel welcome, which is a big factor that helped to stabilize the conversions.
Satisfaction above all
Customer satisfaction is one of the most important metrics for growing businesses. And Procosmet puts its clients front and center ensuring their happiness with the brand.
And Tidio helps in this process. Thanks to our tool Procosmet increased their rating from 3.8⭐️ to 4.7/5⭐️ based on 704 customer feedback collected.

The mix of chatbots, thorough analytics, and live chat functionality allowed this boost in the customer satisfaction score. The analytics section is detailed, so representatives could learn more about the shoppers as well as from previous interactions. Whereas chatbots and live chat kept the visitors engaged and connected to the brand.
So, are you looking for tools to help you improve lead generation and boost conversions from your ecommerce store?
If the answer is yes, then reach out to our team and start growing your business today!