A live chat enables you to communicate with your website visitors in real time and quickly answer their questions whenever they need support.
Boost it with some automation features, and it can send your visitors a welcome message or answer repetitive questions for you.
Sounds like a great deal for anyone who handles an online business?
Well, that's because it is!
And it gets even better—
There are companies that offer free live chat software solutions. But how do you know which one is the best for YOUR business? We'll help you figure this out.
The best free live chat software out there are:
If you want to find out more about free live chat apps, check out these articles:
Okay—
Let's set some solid foundation for the incoming information and answer the important question.
What is free live chat support?
Free live chat software is a free version of a customer support tool that lets you interact with clients on your website and other channels in real time.
It's usually text-based, but companies can implement voice-based chatting on their website as an additional feature. The chat widget is placed in the corner of the page and allows shoppers to start a conversation with your business.
This is an example of free live chat software: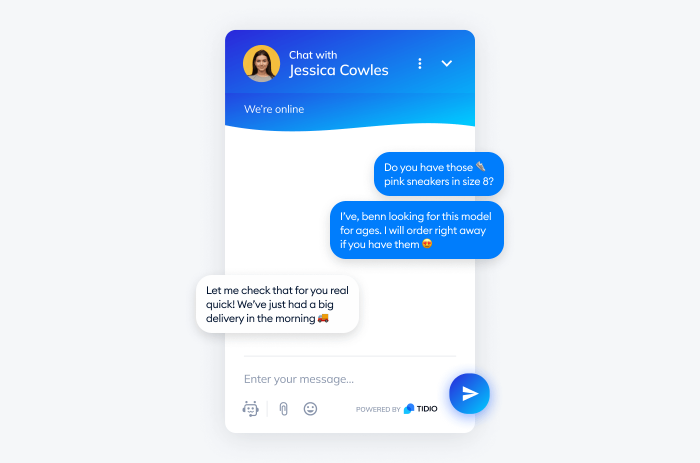 Read more: Find out more about what a live chat is and how your business can benefit from it.
So—
It's time to check out some of the best free live chat tools out there.
The 19 best free live chat software
Now that you know what a live chat for a website is, let's dive into the ranking of the best free live chat apps with forever-free plans. We put them in order of the best ratings and the largest number of reviews to make things clearer for you.
Here's a comparison table of the free live chat sites we reviewed for a quick view:
Now it's time to go a little more in depth.
Let's go through free live chat software reviews to compare the pros and cons, and discover what's included in the free version of the system.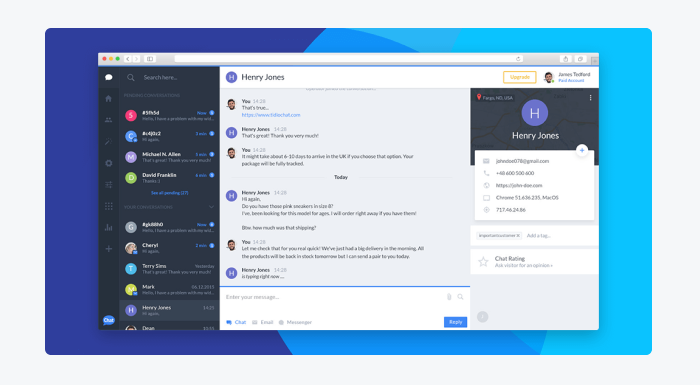 Ratings: 4.7/5 ⭐️ (1,400+ reviews)
Let's be clear—just because you are reading this ranking on our blog, it doesn't mean we will go on and on about how great our tool is.
So, we'll keep it short.
Tidio offers a free live chat tool boosted with AI chatbots, which makes customer engagement and sales generation easier for your ecommerce business. It also offers a multichannel system that routes all conversations to one panel.
But don't trust our word for it—check out the reviews of our users and try the tool for yourself free of charge!
Main features:
Customizable live chat widget
AI-powered chatbot templates
Free live chat app on a mobile phone
Easy installation under 5 minutes
Variety of integrations including Shopify, WordPress, HubSpot, Messenger, and more
Free version available
Starter ($29/mo)
Communicator ($19/mo/seat)
Chatbots ($19/mo)
Tidio+ ($329/mo)
Features included in the free plan are:
50 unique live chat conversations
Chatbot conversations with up to 100 users
Email support
Desktop and mobile app
Visitors' information
JavaScript API
Read more: Learn how Tidio live chat conversation panel works.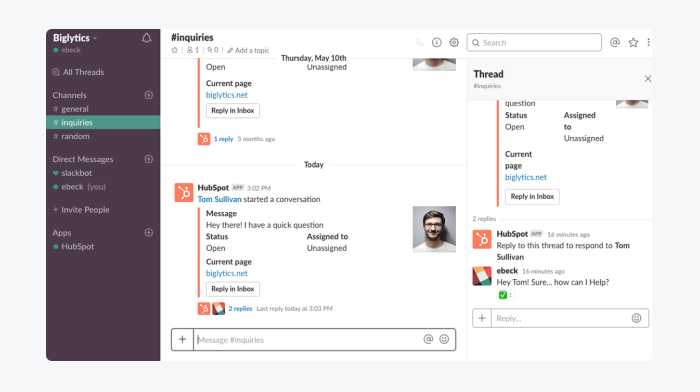 Ratings: 4.4/5 ⭐️ (1,870+ reviews)
An OG of inbound marketing provides a free live online chat feature that connects directly to their customer relationship management system (CRM). This is one of the best free live chat apps for websites with a great option for growing companies. It can help you to nail your pipeline management by integrating chat communication with a ticketing system.
Pros:
Customizable, free chat for website
Basic chatbot builder available
Numerous integrations for pipeline management (Slack, Outlook, Gmail)
Cons:
Email system is a little outdated
New conversations can be missed because of subtle notifications
Free plan available
Starter ($20/mo)
Professional ($490/mo)
Enterprise ($1,180/mo)
Included in the free live chat support software, you get:
One shared inbox
Mobile app for free live chat on phone available
One ticket pipeline per account
Up to 5 canned snippets
Up to 3 reporting dashboards (10 reports/dashboard)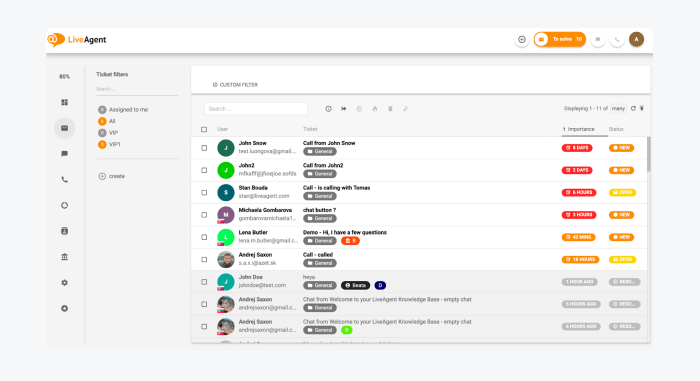 Rating: 4.5/5⭐️ (1,445+ reviews)
LiveAgent is a full-blown help desk software that offers a CRM, a ticket management system, and a call center. A free live chat solution is an additional feature, but it doesn't make it any less efficient. Packed with features, this tool is one of the best solutions for medium-sized businesses.
Pros:
Multilingual software with over 40 languages
Video chat rooms available
Mobile app for iOS and Android
Cons:
Some reviewers report issues with the setup and integrations
The platform deletes your account after 8 weeks of consecutive inactivity
Free plan available
Ticket ($15/mo/agent)
Ticket+Chat ($35/mo/agent)
All-inclusive ($59/mo/agent)
Included in the free plan are:
Seven-day ticket history
Three departments
Chat widgets customization
Ticketing system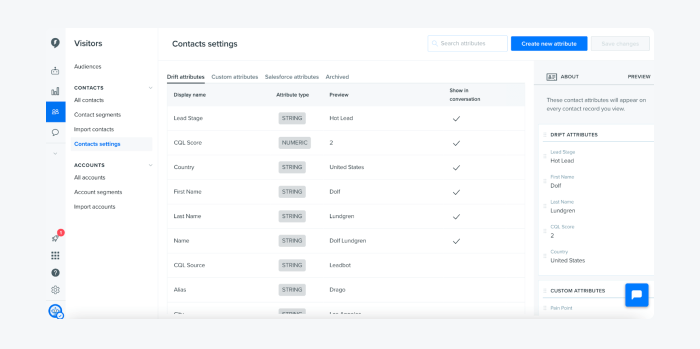 Rating: 4.4/5⭐️ (930+ reviews)
This free live chat app will be loved by large-sized companies that focus on omnichannel sales and account-based marketing. Drift definitely stands out from the rest in terms of unique, versatile features, each of which could be described as a highlight!
Pros:
Users and customers segmentation with target messaging
Built-in scheduling tool for calls and online conversations
Chat to call and chat to Zoom functionalities
Cons:
Some users complain about a confusing backend user interface
Limited customization available
Free plan available
Premium ($2,500/mo)
Advanced (price on demand)
Enterprise (price on demand)
Included in the Drift's free live chat software you get:
One operator
100 contacts
Real-time notifications
Conversational landing pages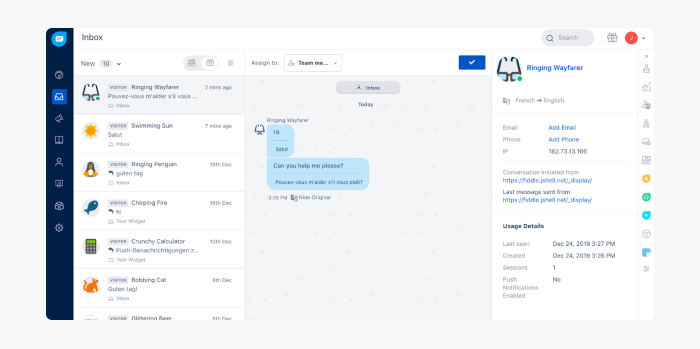 Rating: 4.4/5⭐️ (305+ reviews)
Similar to HubSpot chat, Freshchat is a part of a complex customer software suite, offering marketing automation tools, a CRM, and a cloud-based phone system. This free live chat website enables operators to see many details about the shopper, from custom event timelines to social media details.
Pros:
Visitor-context tools: event timelines, contact details, social media
Rich variety of integrations (Salesforce, Slack, Stripe, Zendesk, Chargify, Twilio)
Vast knowledge base
Cons:
Difficult to navigate user interface
Some issues with data synchronization
Free plan for 100 agents
Growth ($18/mo/agent)
Pro ($47/mo/agent)
Enterprise ($83/mo/agent)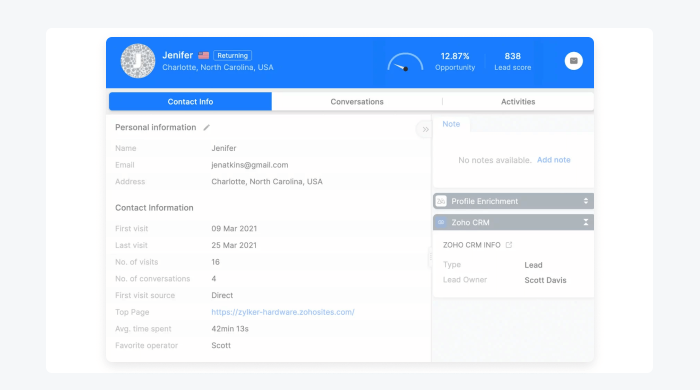 Ratings: 4.4/5 ⭐️ (260+ reviews)
Zoho Sales offers a free live chat for your website with a variety of advanced tools that are part of a larger ecosystem. Their live chat features are robust and functionalities advanced, which makes it a good choice for medium and big-sized companies focused on sales generation.
Pros:
Customizable, multilingual live chat
Web chat screen sharing option
Voice notes recordings available
Cons:
Sometimes there are UI failures
Customer support can be slow
Forever-free plan available
Basic ($10/mo/operator)
Professional ($17/mo/operator)
Enterprise ($25/mo/operator)
Included in the free version of this software, you receive:
Three operators
One brand
10K visitors insights per month
100 chat sessions/month
Basic visitor information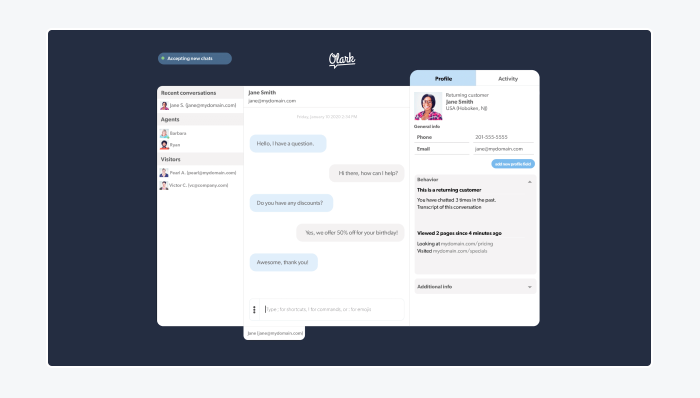 Rating: 4.3/5⭐️ (220+ reviews)
Olark live chat is the best option for companies with a large customer base. It offers outstanding analytics and reporting features that let you analyze chat volume, agent activity, and customer satisfaction scores. This can help you keep on track with your results and make better future business decisions.
Pros:
Customizable live chat and advanced chatbots
Advanced analytics and user monitoring in real time
CRM and email integration
Cons:
A little outdated dashboard
Technical difficulties with messaging occur sometimes
Free plan available
Live chat ($19/mo)
Pro (price on demand)
This free chat software for website includes:
20 chats per month
APIs
Visitor file sharing and uploads
One agent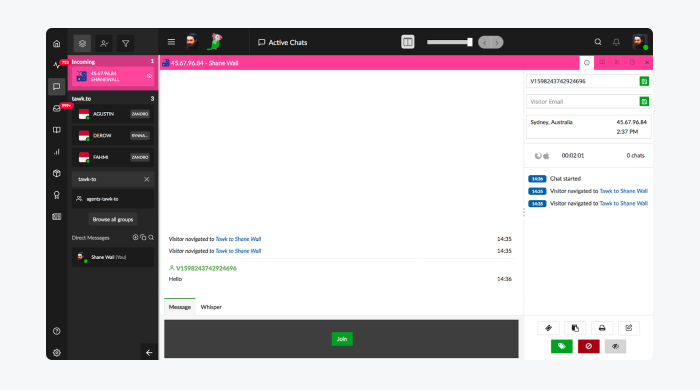 Rating: 4.5/5⭐️(170+ reviews)
This free live chat support tool offers features that are worthy of their industry-leading, expensive competitors. So, if you don't want to spend big bucks on the software but still want it to have great functionality, this might be the best choice for your business. On top of the main live chat features, you can enjoy a simple ticketing system, essential features, and a lack of the need to upgrade.
Pros:
Multilingual chatbot, available in 45+ languages
Unlimited chats available
Setting automated greetings based on customers' location
Cons:
Only basic reports and analytics
Delay between the offline customer's message sent and email notification
No plans, it's totally free for unlimited agents
Branding removal ($19/mo)
Hire support agents ($1/hour/operator)
What's included in the free plan?
You get every feature in the free plan as that's the only plan they offer. You only need to pay if you want to hire their support agents per hour.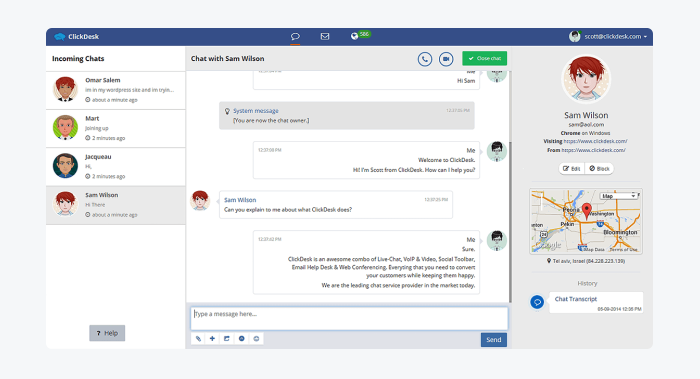 Rating: 3.8/5⭐️ (45+ reviews)
Apart from a live chat, ClickDesk also provides a ticketing system and advanced analytics, which makes it suitable for medium-sized companies that need scaling tools. Many of its features are designed to help you connect with customers and put yourself in their shoes.
Pros:
Showing the location of your customer
Advanced analytics and reporting dashboards
Chat transcripts for your client communication
Cons:
It can be complicated to use
Some reviewers say it needs more real-time notifications
Forever-free plan for 10 users
Lite ($14.99/mo/agent)
Pro ($24.99/mo/agent)
Enterprise ($39.99/mo/agent)
Features included in this free live chat software for websites are:
30 chats
25 tickets
Audio calling
Localization of chat widget
Customizable basic settings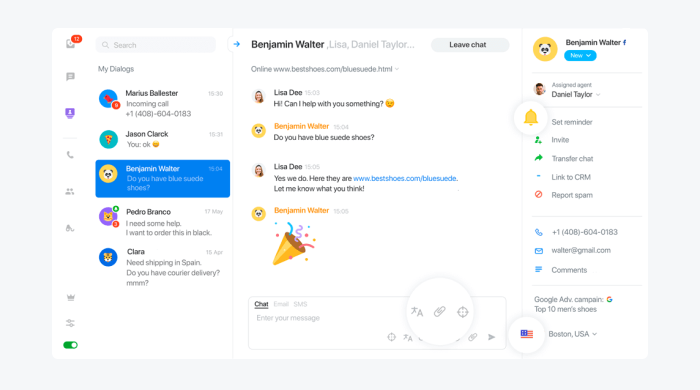 Rating: 4.8/5⭐️(45+ reviews)
Jivo chat is part of a large help desk solution that combines live chat, phone, and email messages in one panel. As the ultimate business multichannel communicator, Jivo's live chat enables agents to handle many conversations at once, easily segment customers, and track the messaging flow.
Pros:
Live chat with translation into 20+ languages
Color-coded chats, hotkeys, and canned responses
Advanced analytics and reporting dashboard
Cons:
Customer support can take hours to get back to you
No auto-messages available
Basic plan available for free
Professional ($19/mo/agent)
Enterprise ($38/mo/agent)
Jivo free chat software includes:
Five agents
Two-month chat history storage
Unlimited chats and websites
Customizable multilingual chat widget
Basic statistics on chats and reps' activity
Ratings: 4.2/5 ⭐️ (25+ reviews)
Reviewers say it's "pleasant to use," and for a good reason. On top of providing a live chat functionality, Chatra's features are designed to keep your customer happy by interacting with your support team in real time. As it doesn't include a ticketing system, this would be the best option for small and medium businesses.
Pros:
Multilingual live chat and chatbot tool
"Agent is typing" and "Message read" notifications for customers
Integration with email, Instagram, and Facebook
Cons:
Rarely any new features
Lack of automation for order check
Forever-free plan available
Essential ($21/mo/operator)
Pro ($29/mo/operator)
This free live chat support software includes:
One agent
Customization of online & offline chat widget for unlimited websites
SSL-encryption
Basic visitor information
Mobile and desktop app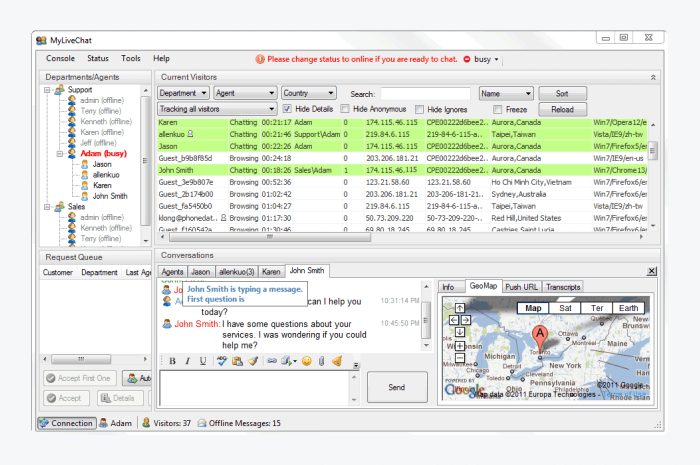 Rating: 4.3/5⭐️ (10+ reviews)
My LiveChat is a super simple free live chat software solution with basic features, such as chatbots that send greetings and collect customer feedback at the end of the chat. Although the design can be seen as slightly outdated, My LiveChat still gains customers, SMBs, and larger companies alike looking for an uncomplicated live chat experience.
Pros:
Automated greetings and feedback-collecting chatbots
Co-browsing: seeing what your visitors are seeing in real-time
Leading platforms and websites integrations
Cons:
Difficult to use and lacks onboarding material
No automation
Free plan available
Starter ($15/mo)
Basic ($29/mo)
Corporate ($59/mo)
Enterprise ($99/mo)
This free live chat system includes:
One operator
Unlimited depts
Unlimited websites
Unlimited chats
Three-year chat history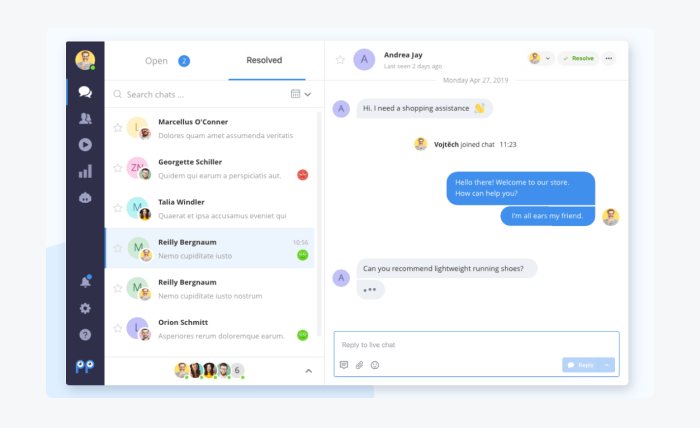 Rating: 4.6/5⭐️(125+ reviews)
SmartsUpp offers great core features such as multichannel management of live chat, email, and Messenger, as well as numerous ecommerce platform integrations. This makes it a great choice for online store owners. On top of that, SmartsUpp offers a recording feature thanks to which you can monitor prospects' visits and understand the customers' journey better.
Pros:
Video recordings of your customers' browsing
Multichannel for live chat, email, and Facebook Messenger
Numerous ecommerce integrations with industry-leading platforms (Shopify, PrestaShop, Opencart, and more)
Cons:
Poor offline mode functionality
Lag in receiving messages on the app
Forever-free plan available
Standard ($25.5/mo)
Pro ($60/mo)
Ultimate (price on demand)
In this free online live chat software, you get:
One agent
100 conversations/month
14-day conversation history
An unlimited number of websites
Mobile, desktop, and tablet apps
These were the software that offered a free live chat plan. Let's now have a look at the systems that have paid plans only, but provide a free live chat trial instead.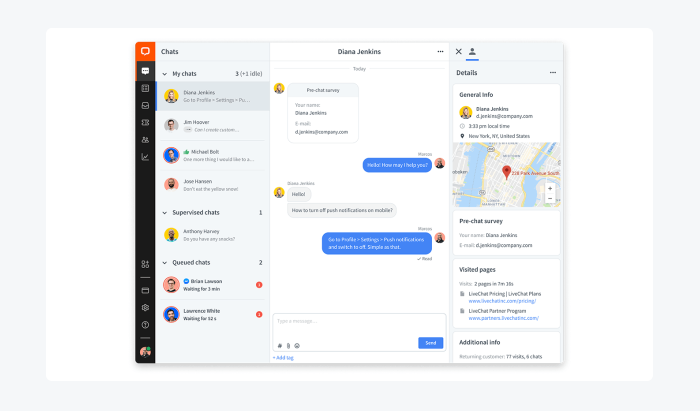 Rating: 4.3/5⭐️ (5,270+ reviews)
Zendesk is a leader in the customer service industry because it offers a large suite of customer support tools, and live chat is a crucial element of it. Zendesk's live chat feature includes custom chatbots, advanced visitors' analytics, as well as a variety of third-party integrations. It also provides a group messaging feature and a preview of your customer's location to help your support team even further.
Pros:
Customizable live chat and chatbots
Group messaging for team collaboration
Customer's live location preview
Cons:
Some reviewers report system crashes when running multiple chats
Sometimes data transfer issues occur
Suite Team ($49/mo)
Suite Growth ($79/mo)
Suite Professional ($99/mo)
Suite Enterprise ($150/mo)
Included in the free trial are:
Duration: 30 days
Includes all features from the Zendesk Suite Professional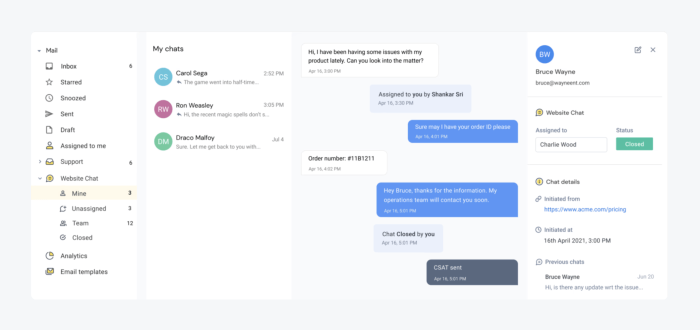 Ratings: 4.6/5 ⭐️⭐ (760+ reviews)
This is the best free chat service if you want to combine your email communication from Gmail with your live chat software. You can collaborate with team members, assign tickets as they come through, and prioritize the most urgent issues. Hiver also offers a mobile app so you can provide real-time support even when you're on the go. On top of that, you can use chat templates to respond to queries even faster.
Pros:
Integrates seamlessly with Gmail through a plugin
Simple and quick-to-learn system
Shared inbox and folders
Cons:
Only basic CSAT feature with limited customization
Clunky shared draft
Lite ($19/mo/user)
Pro ($49/mo/user)
Elite ($69/mo/user)
In this free live chat software, you get:
Access to all features from the Elite plan
7-day duration of the trial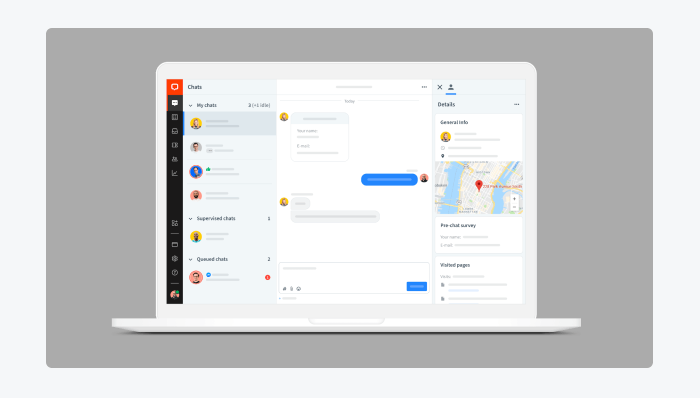 Rating: 4.5/5⭐️ (745+ reviews)
LiveChat tools are made for medium and big companies that have to be in constant touch with their clients. Multichannel covering WhatsApp, Messenger, live chat and emails, and integrated helpdesk only highlight this mission.
Pros:
Integrated helpdesk system
Integrations with CRM, Google Analytics, and email marketing services
Dedicated mobile app for iOS and Android
Cons:
Mobile app needs functionality improvements
Limits the number of clients in a queue and redirects additional customers to other support channels
Starter ($24/mo)
Team ($49/mo)
Business ($69/mo)
Enterprise (plan on request)
In the free trial, you get:
All the features from the Team plan
Duration: 14 days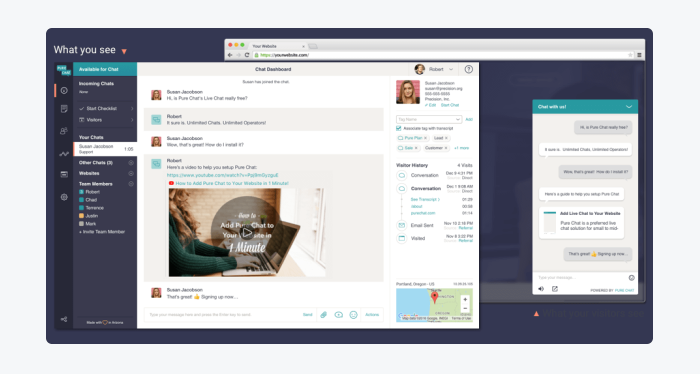 Rating: 4.3/5⭐️(200+ reviews)
This is the best option for businesses that want basic features, full transparency, and ease of use. PureChat combines simplicity with powerful effectiveness, so it's no surprise that this live chat solution will most likely delight medium-sized companies.
Pros:
Easy installation via one line of code
Real-time visitor analytics and reporting
Integrations with Google Analytics, Mailchimp, and Slack
Cons:
Some users have issues when connecting their email
Disconnects customers when they leave the chat to search for something on the website
Growth ($49/mo)
Pro ($99/mo)
Additional user/operator ($10-$15/mo)
In this free chat system, you get:
30-day trial duration
All the features from the Pro plan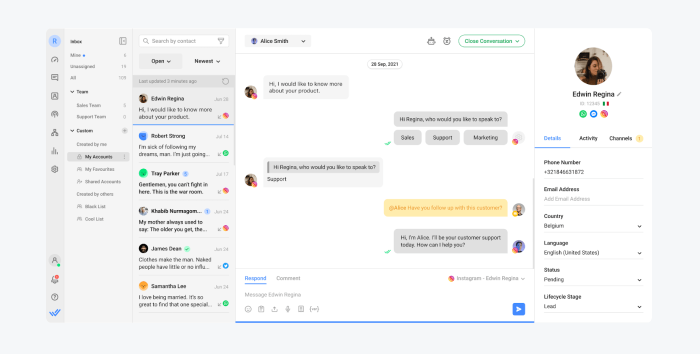 Rating: 4.6/5 ⭐️ (17+ reviews)
Respond.io is one of the free chat platforms that offer a tool that integrates with your website and social media channels. It also comes with a centralized messaging inbox with AI-powered chatbot features, which gives you a holistic overview of all customer communication. Because of these functionalities, Respond.io enjoys popularity among medium and large companies.
Pros:
Free live chat app for desktop and mobile
Centralized inbox for the whole team
Smart replies feature available
Cons:
Not possible to merge contacts through an API
Limitations on customization
Team ($99/mo)
Business ($299/mo)
Enterprise (based on your specific needs)
This free website live chat software trial includes:
Up to 1,000 monthly active contacts
Business plan features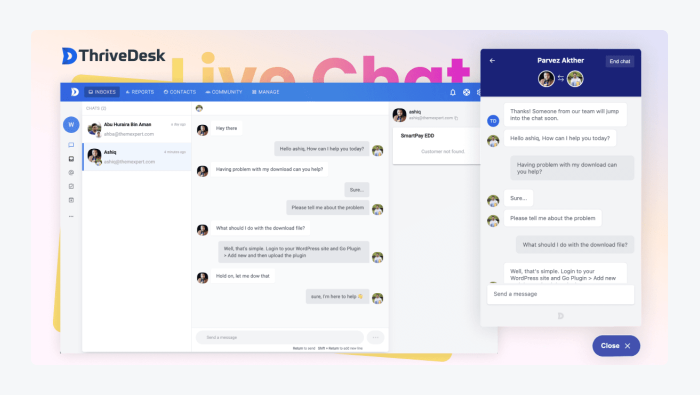 Ratings: 5/5 ⭐️ (12+ reviews)
Thrivedesk offers free web chats with pre-written transcripts, instant replies, and the ability to send attachments within the chat box. It also provides a granular access control system that manages what each agent sees and has access to. This is one of the best free live chat apps that allows great customization of the system including colors, notification sounds, logo, welcome messages, and more.
Pros:
User-friendly interface
Advanced ticket management system
Robust analytics and reporting
Cons:
Android mobile app needs improvements
No text autocorrect available
Basic ($8/mo/user)
Pro ($15/mo/user)
With this free live chat online trial you get:
Features from the Pro plan available
15-day trial period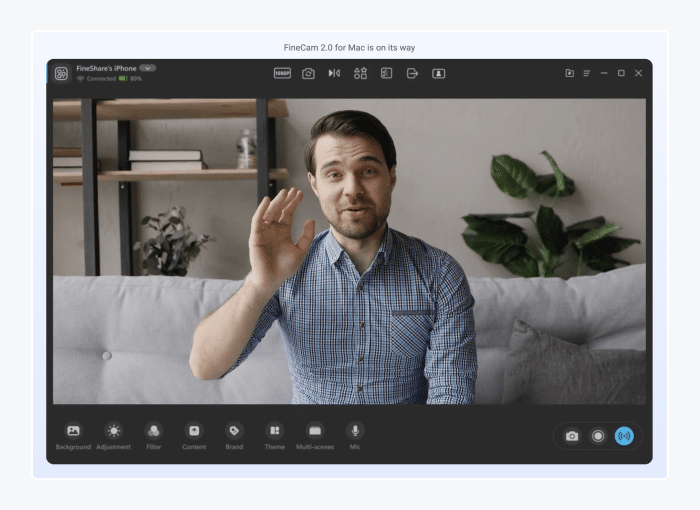 Ratings: 4.4/5 ⭐️ (15+ reviews)
This is one of the best AI virtual camera software for video recording and enhancing. You can use it to send video content to your customers with onboarding instructions, support step-by-steps, and more. With FineCam you can convert your phone into a webcam. Also, you can easily remove, blur, or change the background without the need for the green screen.
Main features:
Personal branding on the video
Multiple cameras enabled at once
Compatibility with other apps and platforms
Adjustable camera filters and lighting
Okay—

Now you're familiar with the top free live chat apps, as well as their features and pricing. So, let's go through some advantages of putting a free live chat tool on your website.oid apps too, so you can write to your customers on the go, on every device.
Benefits of using free live chat software
It's crucial to provide your website visitors and clients with excellent customer service. That's because good customer experience is one of the main factors when it comes to shopping and brand loyalty decisions.
As the PwC report confirms, customers will decide whether they'll stay with you or move to your competitors based on your support team's performance. Even if you offer an absolute gem of a product.
And that's where a proactive chat comes in.
It's the only customer service tool that enables your customers to contact you directly from the level of the landing page, in real time. Customers get the answers about your product quickly, and consequently, their customer satisfaction increases. You, on the other hand, have higher chances to increase sales.
Here are just a few data points that confirm it's worth installing free live chat on your website:
As many as 41% of customers prefer live chat to other contact channels, like social media and email
Live chat leads to a 40% increase in conversion rate and a 48% increase in revenue per chat hour
Free online chat support also speeds up your chat agents' workflows and improves their processes. And thanks to chat routing, your reps can assign the right person to the query and solve the customer's issue in no time. So, it's a win-win for your reps and customers.
Read more: Learn how an Italian fashion atelier used Tidio to boost conversion rates and decrease cart abandonment on their ecommerce store.
Features to look out for in a free live chat software
When choosing a free website live chat, keep in mind that your business' specific needs and processes will determine which software is best for you.
For example, a hip clothing brand that communicates with customers mostly through social media will have different needs to the small business selling children's toys that focuses efforts on their website. It makes sense, doesn't it?
Here are all the free live chat features you should look out for: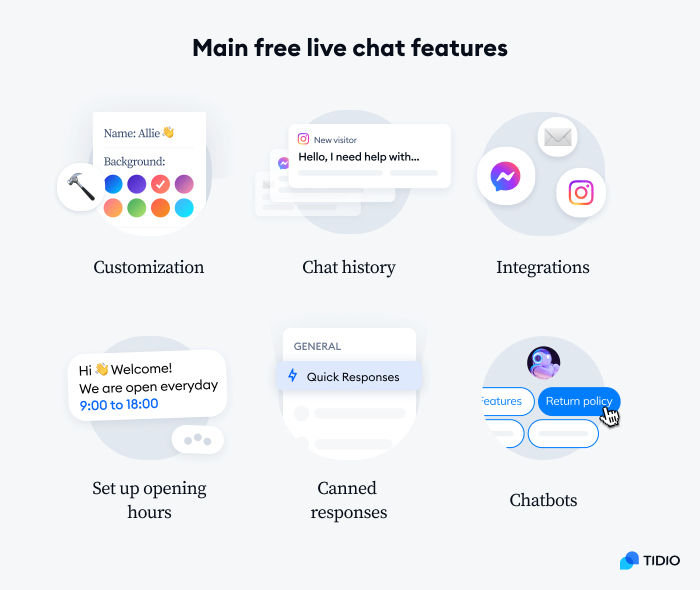 So, the main features that your free live chat service should include:
Ensure you can customize the free chat widget for the website, its icon, pre-chat messages, and the feel of the live chat. Match it to your brand as much as possible for the best user experience.
Flexible chat history available
The best free live chat software offers a couple of months of chat history that you can view and analyze when needed. So, when choosing your software, make sure it offers a long enough conversation history for your teams.
Think of the systems your customer service team is already using to communicate with your shoppers. Then, look for a free online live chat that will offer integrations with these platforms. These could include your CRM, social media channels, or communication apps like Telegram, WhatsApp, or Slack.
Ability to set up opening hours
To let your website visitors know when you're able to chat with them, you need to set up opening or operational hours. You should also be able to hide your chat widget from your website if you don't want users messaging your support team when it's unavailable.
Canned responses available
This feature will speed up your response time and reduce the repeating tasks that your support team handles. That's because you can write down replies to the most frequently asked questions (FAQs) and then just choose the right text when the client messages you, instead of writing the same response over and over again.
Automated chatbots at hand
When your sales team is offline, it's good to have a virtual assistant there to answer visitors' questions and help out their shopping experience. Chatbots can answer questions, give discounts, collect emails, and much more.
Free live chat on website: key takeaway
And that's all. Let's review what we went through today.
Free live chat software is a free version of a tool for real-time interactions with customers on a website or other communication platform. It includes a widget and a chat window where shoppers can ask their questions, get discount codes, and engage with your brand.
Free chat support tools can help you increase conversions, boost sales, and improve customer engagement while attracting more loyal customers to your brand. That's thanks to the real-time support, human touch, and convenience.
The best free online support chat tools are:
Tidio
HubSpot Chat
LiveAgent
Drift
Freshchat
Zoho Sales IQ Chat
Olark
Tawk.to
ClickDesk
Jivo Chat
Chatra
My LiveChat
SmartsUpp
Zendesk Chat
Hiver
LiveChat
PureChat
Respond.io
Thrivedesk
Choose the tool that best suits your needs and enjoy all the benefits it provides.
Frequently Asked Questions
What is the best free live chat software?
The three best live chat software are Tidio, HubSpot, and Tawk.to.
How can I create a chat website for free?
You can create a chat for your website for free by signing up for one of the platforms that provide a free plan. Then, customize the live chat to your needs and incorporate it into your website using a code snippet, a plugin, or an add-on.
Is live chat free?
Some live chat providers offer a free plan, and most of them have a free trial for you to test the software before the purchase.
What is a chat flow?
A chat flow is a builder that lets you design self-service conversations with customers.
Which live chat is best for websites?
It depends on your business needs but, overall, the best free live chat for a website is Tidio, HubSpot, and LiveAgent.