Statistics indicate that 219 million US consumers will shop online in 2023. Moreover, Nasdaq predicts that by 2040, 95% of purchases will happen online!
So, to get your ecommerce website ready and provide your customers with an efficient shopping experience, you need apps that seamlessly connect to your store.
You also need to use different solutions that include CRM platforms, payment and shipping systems, email marketing software, and more.
In short, you need ecommerce integrations.
But what are these integrations, exactly? And how do you learn which platforms to use to successfully streamline your business processes?
Let's find out.
In this article, we will cover the following topics:
If you are interested in more specific strategies on how to help your online business grow, then check out some of these articles:
Let's start from the very beginning—
What is an ecommerce integration?
Ecommerce integration is a collection and exchange of data that synchronizes your ecommerce platforms with other apps your business is using, including CRM, accounting, and inventory systems. This means that all the platforms are interconnected in a way that easily syncs or transfers important data from one software to another.
With ecommerce integrations, your team can see all the info they need to operate the business in a seamless manner. But apart from helping your team, these integrations are also useful for providing a better and faster experience to your customers.
How?
Let's take a popular website platform like WordPress and live chat software, like Tidio. By integrating the two platforms, you'll get an overview of visitors browsing your site and will be able to reach out to the right clients at the right time. You will also easily manage and keep track of all client interactions without having to monitor all this data using two different systems.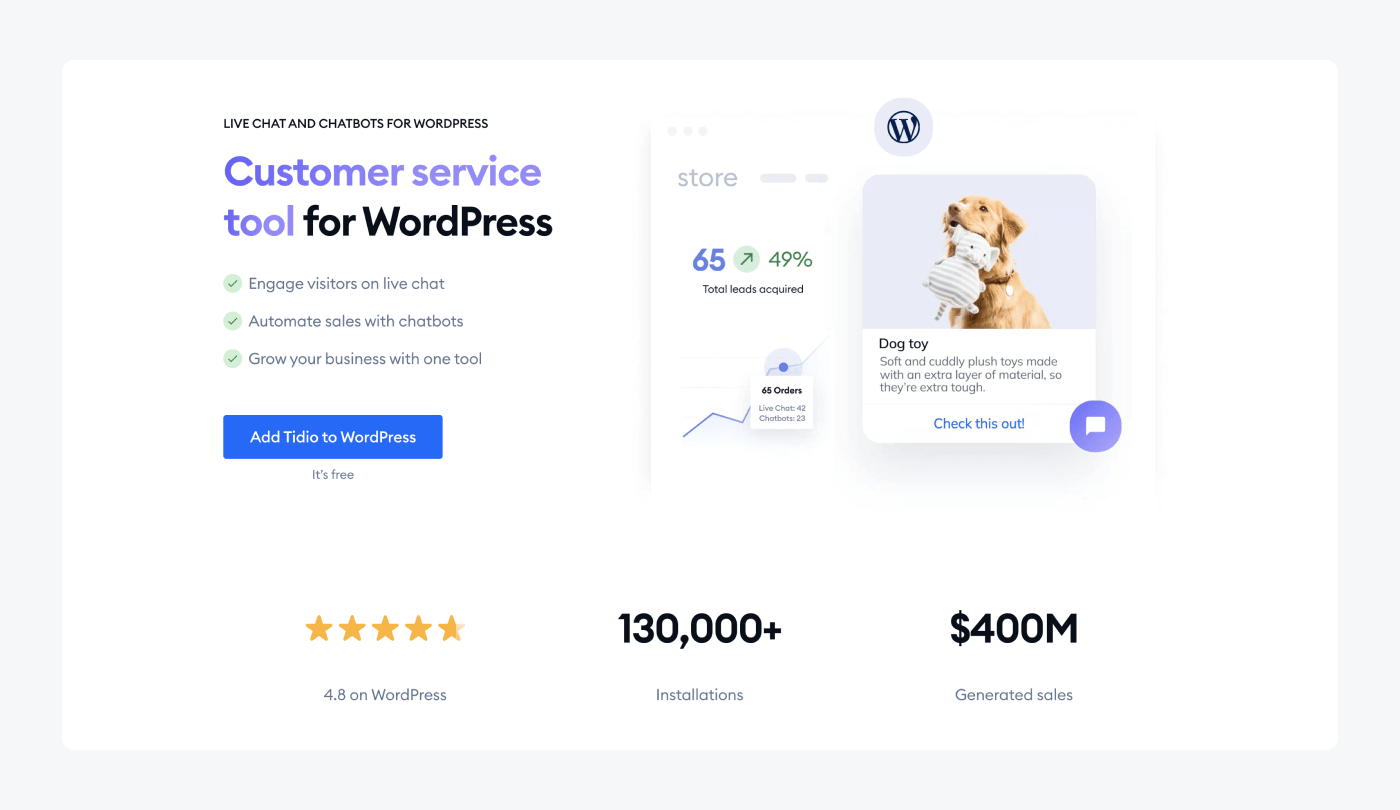 This is just one of the many successful ecommerce integration examples. And having such integrations is quite useful if you want your business to keep growing.
Read more: Check out some of the successful WordPress ecommerce store examples to gain inspiration in building your own.
But, let's dive even deeper—
Why is ecommerce integration important?
Okay, so we've established that ecommerce integrations represent synchronization between the two platforms with the purpose of making the data work together.
But what are the different ways in which integrating ecommerce platforms together can help your business grow?
Here are some of the benefits of using ecommerce integrations: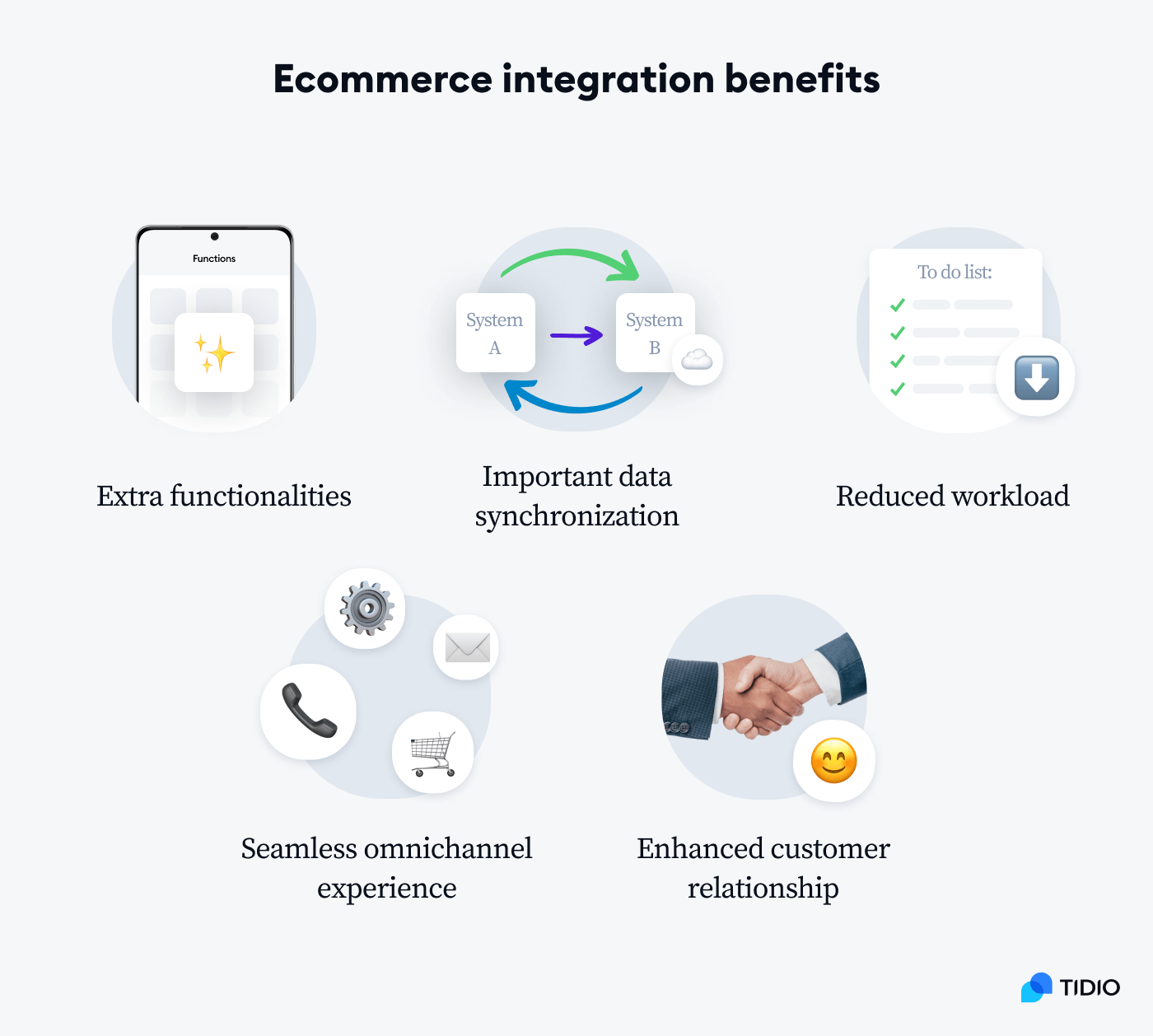 They add functionalities to streamline your business
This is quite self-explanatory, but it's important to emphasize nonetheless. By integrating different ecommerce platforms, you can add a variety of features and functionalities that are necessary for your business growth.
Say that you include a payment gateway into your online store, like a PayPal ecommerce integration. With PayPal, your customers will be able to pay and send money quickly and securely at the checkout.
Or, by integrating customer relationship management (CRM) software, you will get features that allow you to keep track of important customer data. This includes their previous behavior, interactions, etc. Using this kind of data gives you valuable insights to improve your customer relationships in the long run.
Throw in customer support software into the mix, and you get features that help you proactively reach the right customer at the right time. Moreover, you can even send them personalized, automated messages to improve customer experience on your site.
See what we're getting at?
Read more: Check out a full guide on customer service automation and learn how to make the most out of this system. You can also find out more about the importance of proactive customer service.
They help synchronize important data
Ecommerce integrations help to synchronize crucial data together. Depending on the types of platforms you integrate, you will be able to view all sorts of important data in one place.
This data can include your customer's location, the number of visits on your site, the platform they're using to communicate and/or buy from you, their conversation (and purchase) history, and more.
Often, you only need to insert this data once, and it gets synchronized across all platforms that you're using.
Therefore, by sheer logic, ecommerce data integration can help you run your business in a faster, smoother, and more organized manner—which brings us to our next point.
Read more: Learn all about ecommerce automation and how to make full use of it.
Less work for your employees (and your customers)
With appropriate ecommerce integrations, most data would be synchronized and updated automatically across platforms, so there would be fewer manual inputs required.
Moreover, if you integrate multiple platforms into one, your employees won't need to handle your customers from different places.
But, this means less work for your customers, too.
For example, for clients who need more info about your products, integrations make it easy to contact your support team directly on the website page.
Read more: Check out some practical design examples that will help you build a powerful ecommerce site.
They provide a seamless omnichannel customer experience
In the beginning, we've also stressed the importance of providing an omnichannel customer experience to your clients.
In fact, according to a study done by Harvard Business Review, as many as 73% of customers prefer to use multiple channels during their customer journey.
By incorporating omnichannel customer service, you can provide seamless support across multiple platforms. These can include online chat, email, social media, and so on. Using ecommerce integrations can help you connect all these channels. In turn, it can also help to increase customer satisfaction and boost your sales.
Read more: Check out this case study and find out how a leather wallet store recreated their in-store shopping experience and increased sales.
Ecommerce integrations enhance relationships with your customers
Last but not least, by providing a seamless, omnichannel experience for your shoppers, you can enhance your customer relationship in the long run. That's because these integrations can help you offer top-notch ecommerce customer service.
For example, they allow users to purchase products quickly and easily on a single platform. By doing so, you can improve the overall user experience from the moment they stumble upon your brand all the way to the purchase of your product.
And if they have a positive experience during their entire customer journey, they will more than likely become returning, loyal customers in the long run.
Okay—
Let's move on to the main part you came to this article for.
Read more: Learn all about how to build and optimize an excellent customer experience strategy for your business.
18 best ecommerce software integrations for your business
Now, all the benefits of ecommerce integration software that we listed above sound fine and dandy.
But we have to be realistic here for a second—
Not all apps are built to work seamlessly together.
Still, having an ecommerce platform that integrates well with most of the leading apps on the market is important, if not mandatory.
Luckily, choosing the ones that work well with each other can be easy if you know where to look for them.
In other words, you have to choose your software wisely—and we'll help you do just that.
Here are ten essential ecommerce integrations that every online business should consider: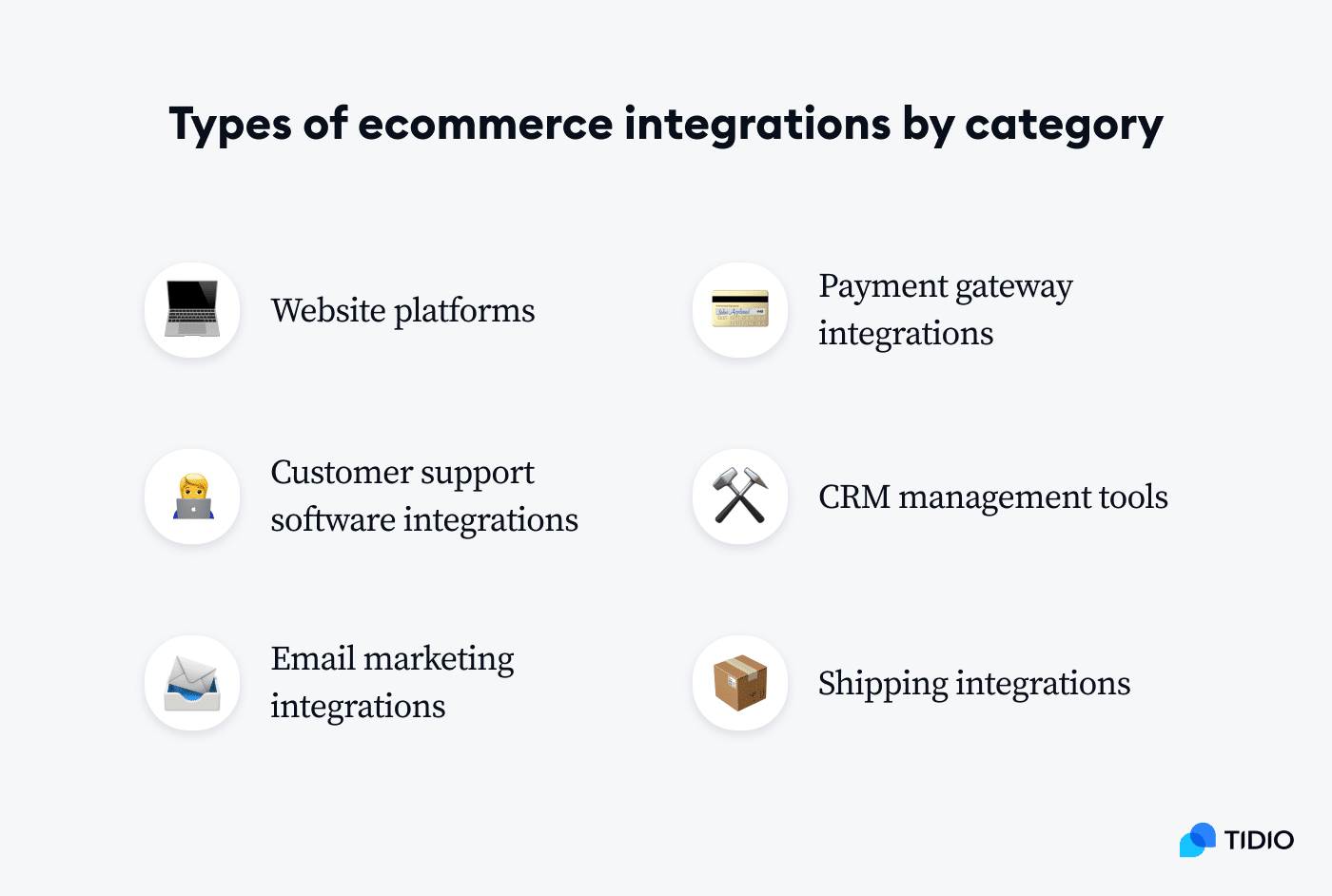 Website platforms
While website platforms can't necessarily be defined as ecommerce data integration software per se, it's important to mention them regardless. That's because site platforms are the foundation of any ecommerce business.
Simply put, the platform you choose to run your online store will be the pillar of all the ecommerce integrations you plan to add later.
For example, there are full-blown content management systems (CMS) out there like WordPress, Squarespace, and Wix. They offer all the tools and extensions needed to build a successful ecommerce store and keep scaling your business.
But there are also platforms created solely for the purpose of creating an ecommerce site. They come with built-in features that include easy product management, catalogs and listings, online payment systems, and more.
Most importantly, due to their popularity, all of these platforms can be easily integrated with other types of ecommerce software crucial for running your business.
Here are some of the most popular ecommerce platforms:
Shopify
WooCommerce
BigCommerce
Okay—let's discover each of them in more detail.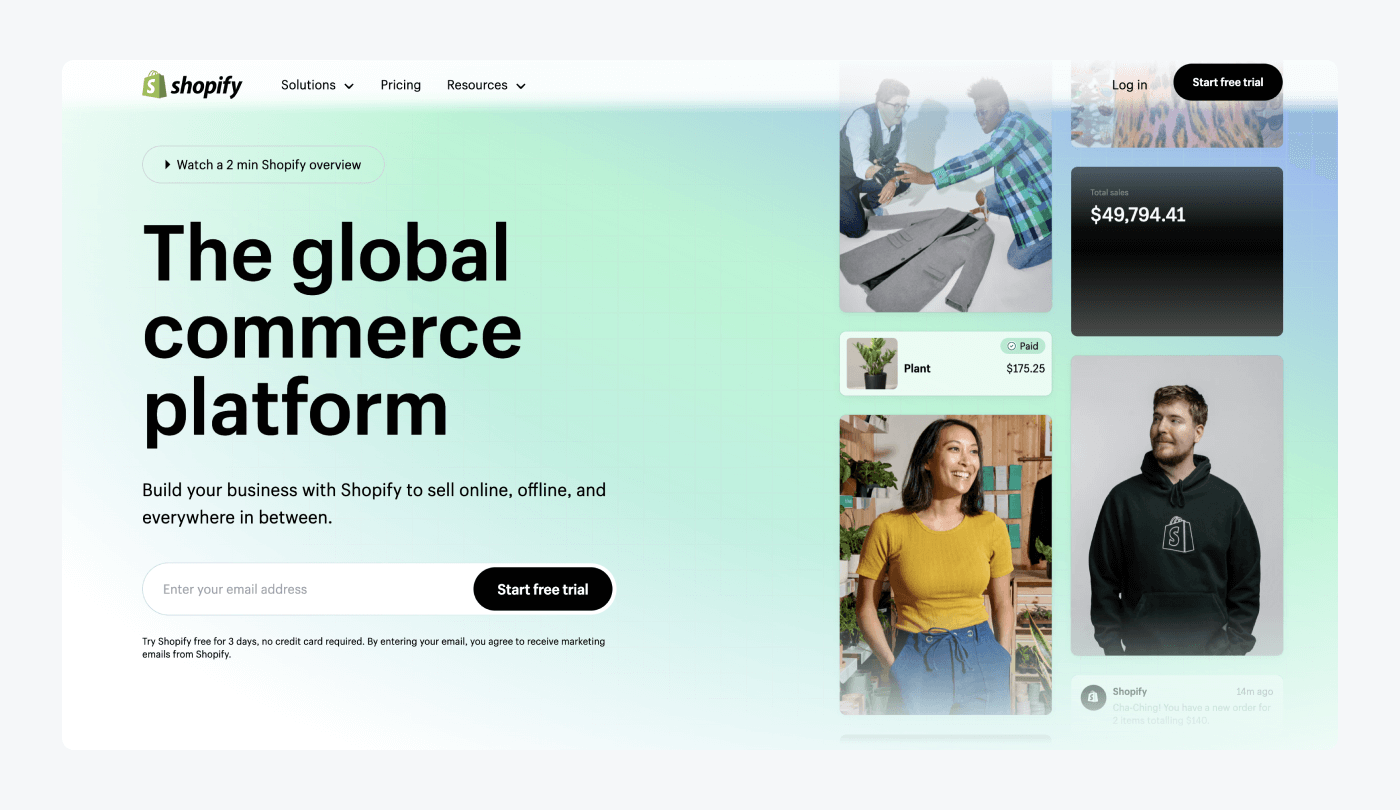 Rating: 4.5/5 ⭐ (based on 5,900+ reviews on Capterra)
Shopify is an all-in-one ecommerce platform used by millions of entrepreneurs to run their online businesses. It allows you to build your storefront with ease using the intuitive drag-and-drop storefront creator. It also integrates with over 6,700 apps. This also includes some of the leading ecommerce apps like social media platforms, email marketing software, etc.
Main features:
Fast and reliable checkout
Powerful point of sale (POS) system
Built-in marketing tools to reach new leads
Integrated inventory management
The ability to track payments
Free 3-day trial (then enjoy 3 months of Shopify for $1/mo)
Starter ($5/mo)
Basic ($24/mo)
Shopify ($69/mo)
Advanced ($299/mo)
Shopify Plus (from $2,000/mo)
Read more: Learn how to start selling on Shopify and build a successful online business. And while you're at it, you should also find out more about how Shopify works.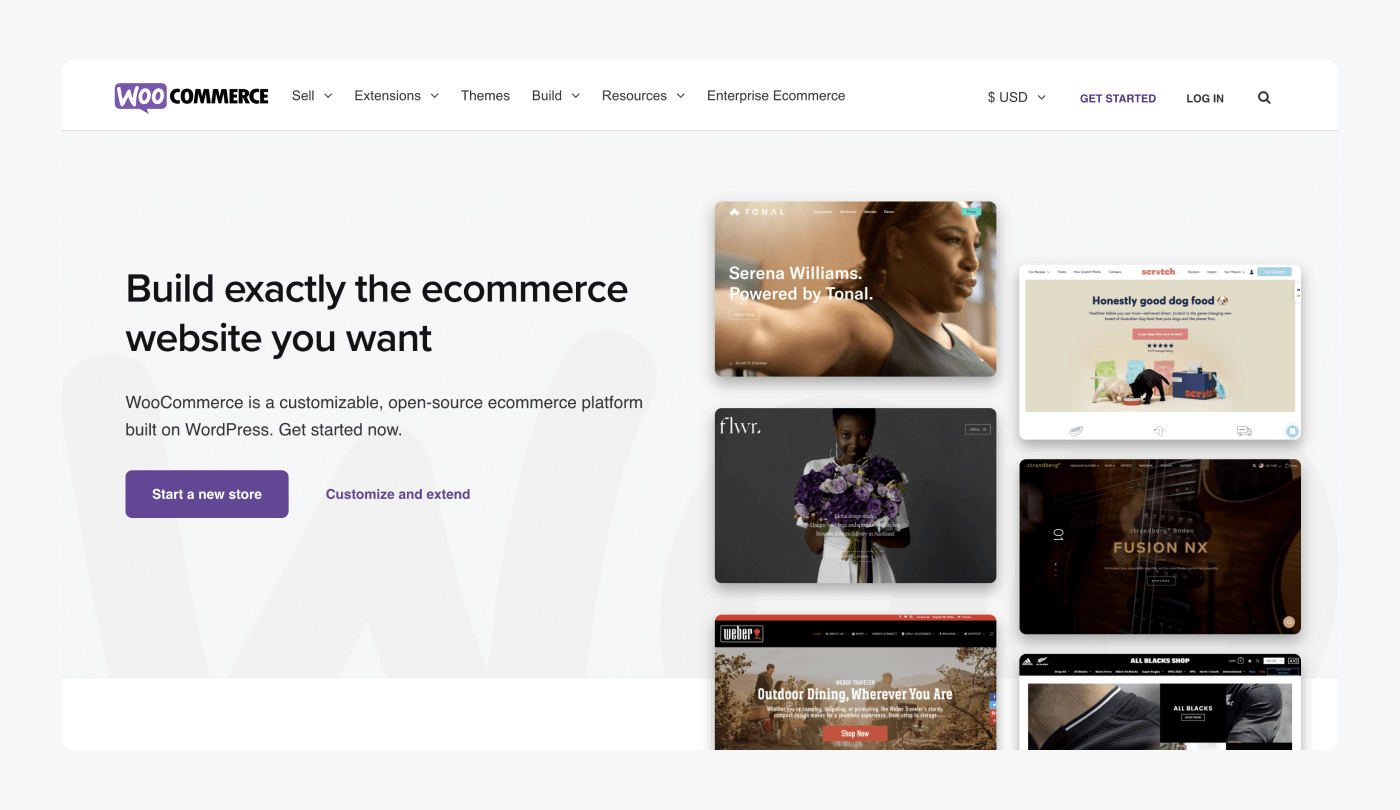 Rating: 4.5/5 ⭐ (based on 685+ reviews on Capterra)
WooCommerce is a fully customizable ecommerce platform built on WordPress. It's also open-source software. So, you can simply add a WooCommerce plugin to your WordPress site for free and set up your online store in no time. It contains many useful ecommerce features out of the box, like payment and shipping options, order management, and more.
What's also great about this platform is that it's fully scalable. It includes numerous WooCommerce plugins and extensions that allow you to add anything from shipment tracking and subscription features to quick view and product filters.
Main features:
Product blocks that make it easy to customize product pages
The ability to create and manage coupons
Express payment options like Apple Pay
Conditional shipping and payments
Multiple marketing, shipping, payment, and other extensions
Installing WooCommerce on WordPress is free, but you need to pay for domain and hosting
Read more: Check out the WooCommerce vs Shopify comparison and choose which one is better for your business. Also, head to our knowledge base and learn how to easily install Tidio on WooCommerce.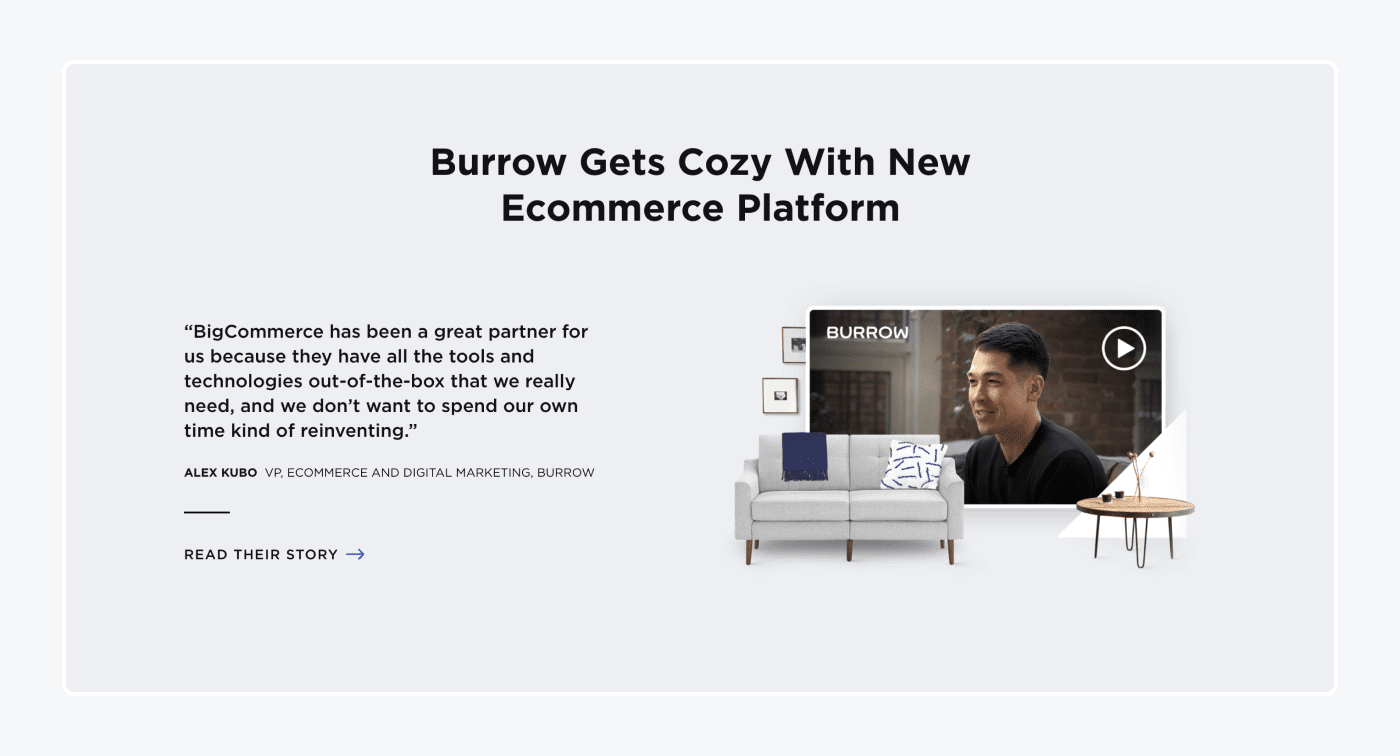 Rating: 4.4/5 ⭐ (based on 270+ reviews on Capterra)
If you run a huge ecommerce business and need a platform to help you manage a large number of orders and products, then BigCommerce is perfect for you. It comes with an open API architecture and pre-built tools and apps. All this allows you to create multiple storefronts for each facet of your business. As such, BigCommerce is easily one of the most powerful ecommerce platforms currently available on the market.
Main features:
The ability to create and manage multiple storefronts from a single dashboard
Easy management of customers and orders
Multi-currency and multi-language options
Powerful drag-and-drop page builder
Seamless integration with the WordPress platform
Free 15-day trial
Standard ($29.95/mo)
Plus ($79.95/mo)
Pro ($299.95/mo)
Enterprise → available upon request
Read more: Take a look at our BigCommerce vs Shopify comparison to decide on the one that works for you.
Customer support software integrations
To truly strengthen the relationship you have with your customers and boost their loyalty, having customer support software is practically a must. This means having software that offers technologies such as live chat support, chatbots, helpdesk and ticketing system, and so on.
For example, according to statistics, 51% of consumers are willing to buy again from a company that offers live chat support. And this can improve customer loyalty in the long run. And most live chat solutions also come with features, such as a live visitor view and the ability to easily personalize your messages and reach the right customer at the right time.
In short, with this type of software, you can offer messages specifically tailored for the shopper. These can be anything from product recommendations and special offers to simple welcome messages.
All this effort not only increases your chances of reducing cart abandonment, but it can also make your clients feel more appreciated and valued. In turn, this can lead to higher customer loyalty to your brand and increased satisfaction.
Here are some of the best customer support platforms:
Let's have a look at them more in-depth.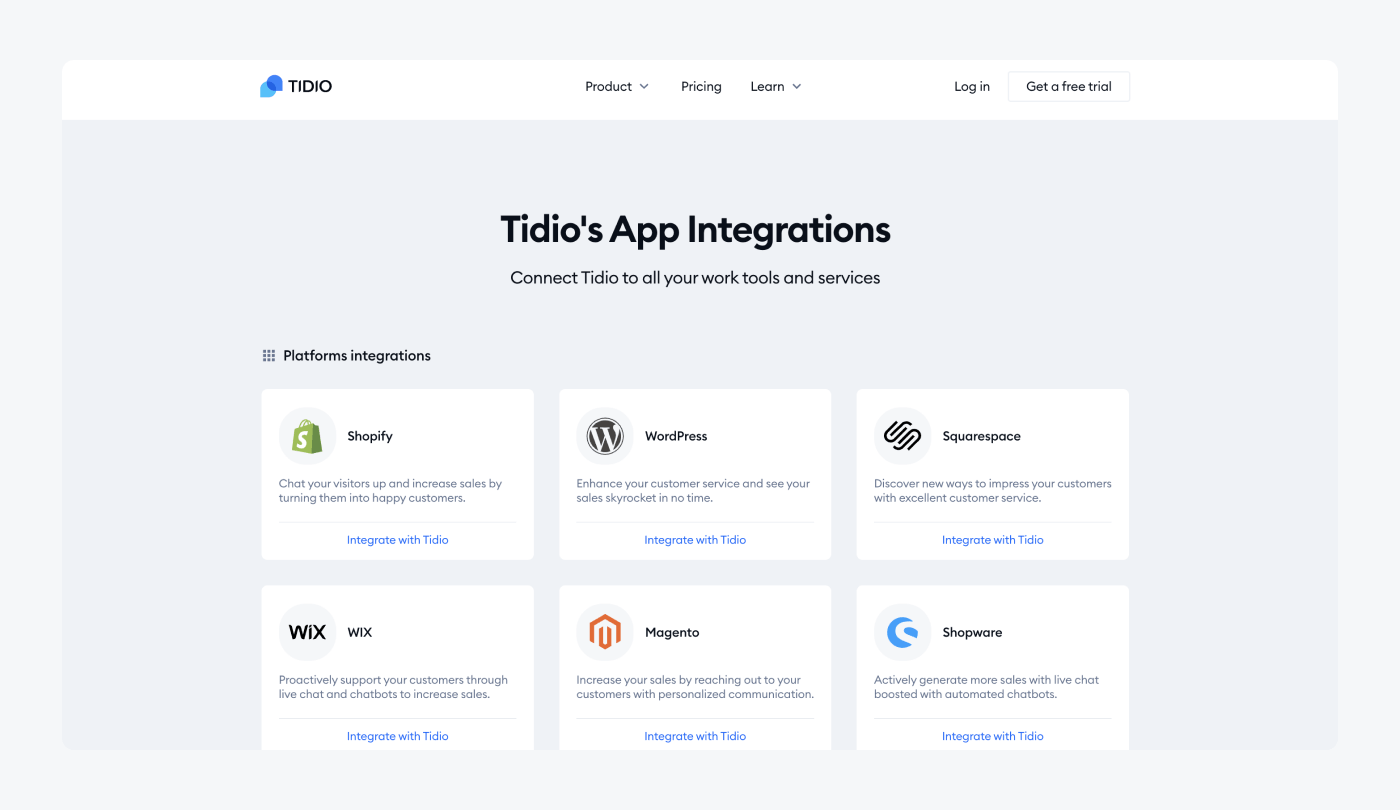 Rating: 4.8/5 ⭐ (based on 330+ reviews on Capterra)
We don't want to keep bragging about how our own tool is great. Maybe it's best to let our satisfied customers do the talking instead.
So, here are just a few key things you should know about it:
Tidio is an all-in-one customer service and marketing automation software suitable for small and medium stores. It comes with a powerful live chat widget and AI chatbot technology to help automate communication with your clients and take your customer service to another level. Many of its features are also available for free.
Main features:
Fully customizable live chat widget
Canned responses and automated messages
Chat triggers to send automated messages to customers
Live visitors list to see who is on your site in real time
The ability to easily assign chats to different agents
Multiple ecommerce systems integrations like email, Instagram, Facebook integrations, etc.
Free plan available (up to 3 operators)
Communicator ($19/mo/operator)
Chatbots ($39/mo)
Tidio+ (starting from $289/mo)
Read more: Learn all about how to use Facebook live chat integration for your business.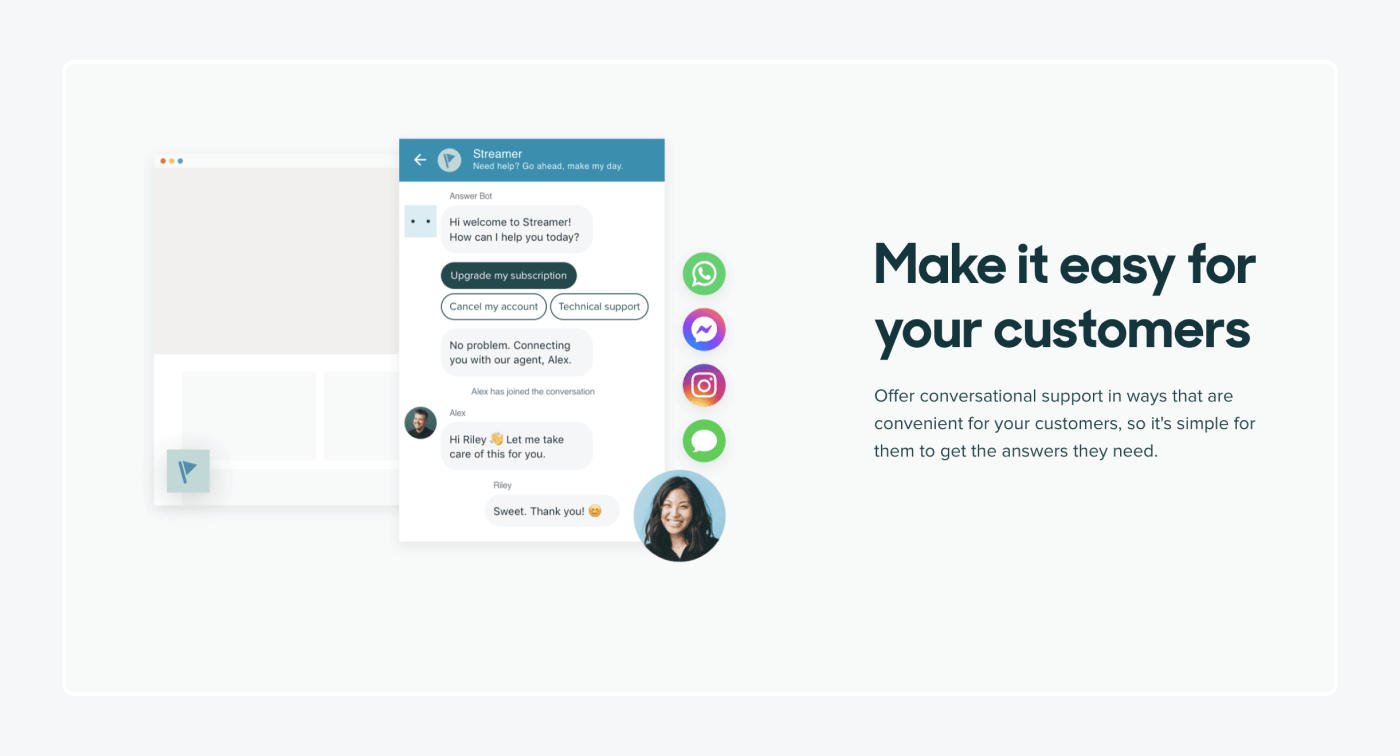 Rating: 4.4/5 ⭐ (based on 3,400+ reviews on Capterra)
Zendesk is a customer service suite that can be used by businesses of all sizes. It comes with live chat software a messaging tool, a ticketing system, and help desk software. The service is fully scalable and comes with awesome features to help you keep all important aspects of your business in sync.
Main features:
Variety of communication methods available, including messaging, social, email, and voice
The ability to build a help center and reduce your agents' workload
AI chatbots for quick answers to FAQs
Integration options to important customer data
Single customer view to personalize their customer journey experience
Free 14-day trial available
Suite Team ($49/mo/agent)
Suite Growth ($79/mo/agent)
Suite Professional ($99/mo/agent)
Suite Enterprise ($150/mo/agent)
Additional enterprise-ready plans (starting from $215/mo/agent)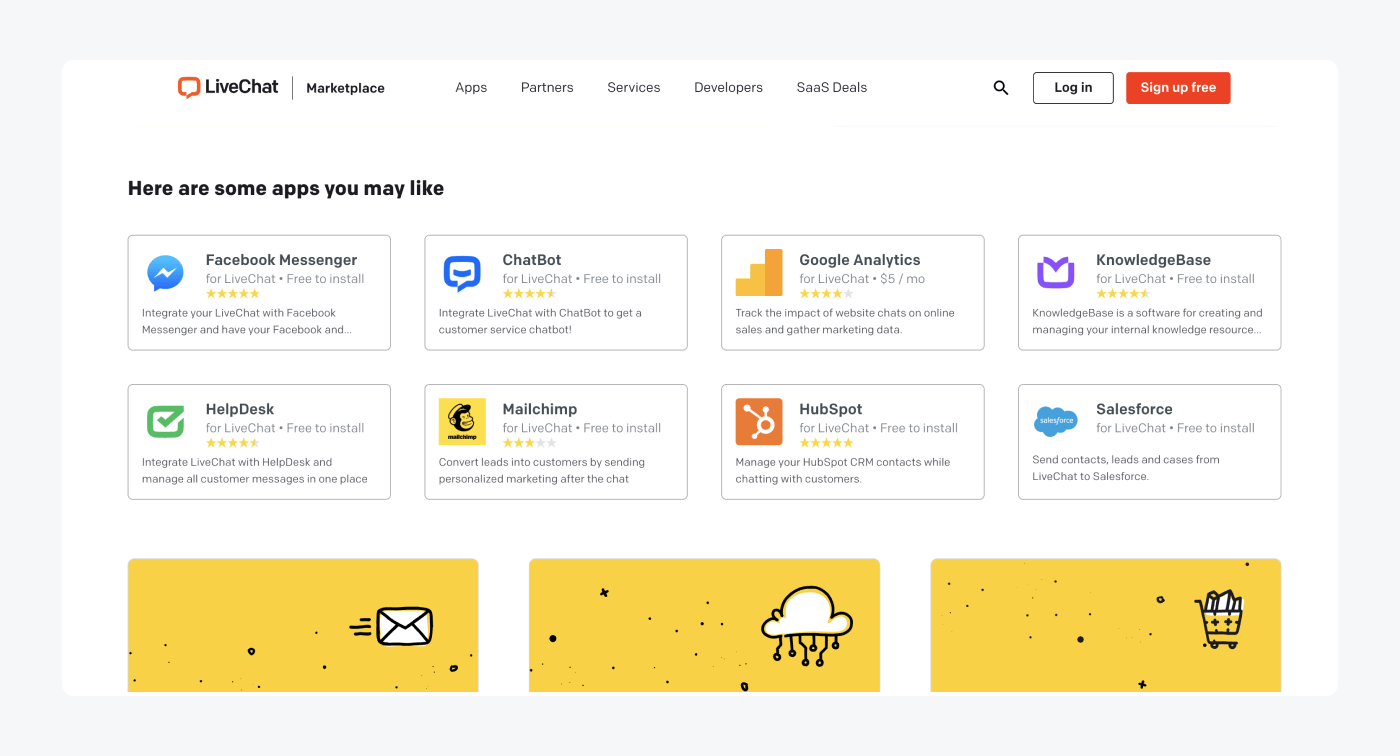 Rating: 4.7/5 ⭐ (based on 1,440+ reviews on Capterra)
LiveChat is a tool that will help you provide smooth real-time interaction with your clients. On top of a live chat widget, this company also offers chatbot integration, as well as helpdesk and analytics functionalities.
Main features:
A chat icon customers can use to ask about their orders
Custom forms and chatbot automation to qualify leads
Visitor segmentation based on what they do on your site
Targeted and rich messages for a more personalized experience
Over 200 integrations, including Shopify, Salesforce, and HubSpot ecommerce integrations
Starter ($20/mo/agent)
Team ($41/mo/agent)
Business ($59/mo/agent)
Enterprise → Available upon request
Free trial available
Email marketing integrations
When running an ecommerce business, the importance of email marketing cannot be stated enough. Solid email marketing integration software contains features that make it easy to gather and sync all important contact information and keep it in one place.
Moreover, you can build mail lists, promote your products, and send automated email campaigns and newsletters. You will also get to easily personalize your email messages, offer special deals, ask your customers for feedback, and plenty more.
Did you know…
According to HubSpot's research, some of the top email marketing strategies include message personalization (78%) and email automation campaigns (72%).
So, by using email marketing automation software, you can increase your chances of generating more leads, boosting sales, and increasing the number of loyal, converting customers.
Check out the top email marketing solutions available:
Mailchimp
Convertkit
Drip
Now, let's see what each of them has to offer.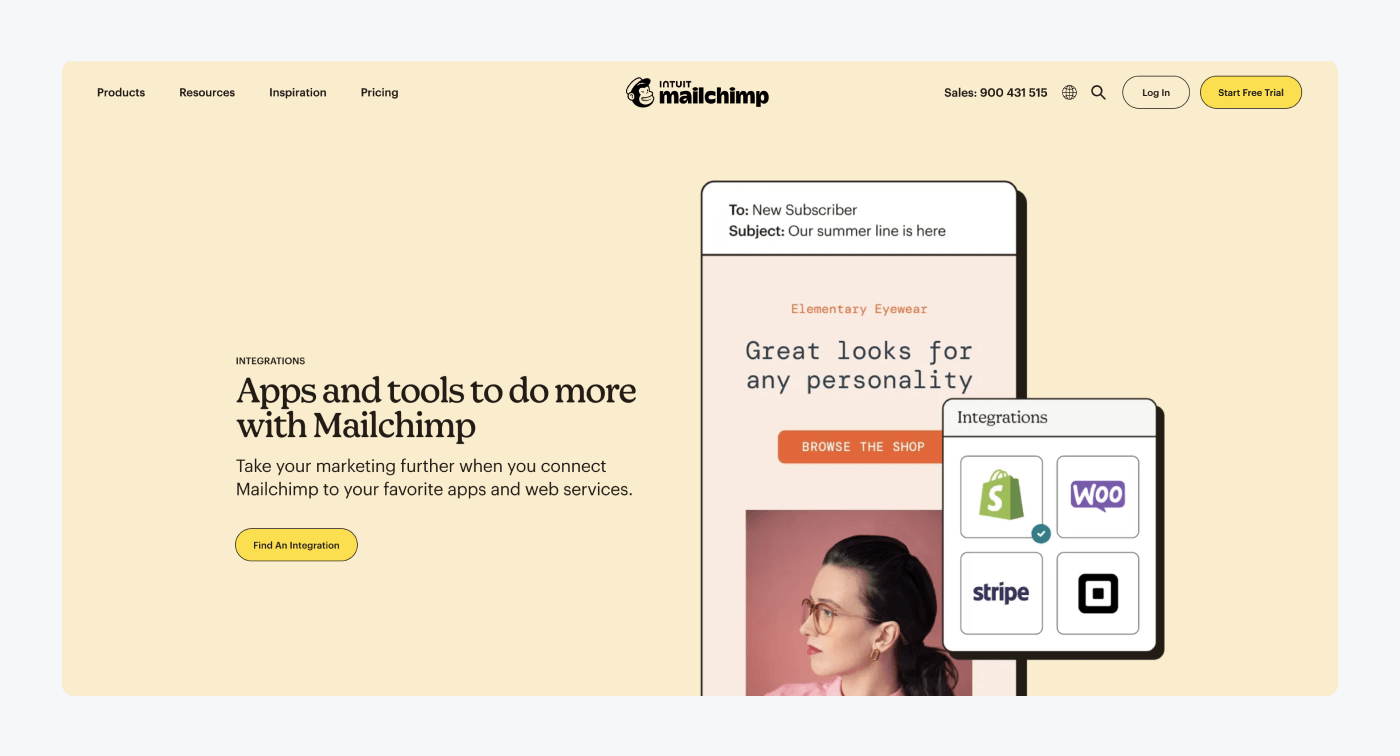 Rating: 4.5/5 ⭐ (based on 15,830+ reviews on Capterra)
Marketing, automation, and email platform all in one, Mailchimp is one of the most popular solutions in its category. Not only is it easy to use, but it also comes with numerous features meant to help you get more opens, clicks, and sales.
For example, you can use its audience management features to get to know your customers better. Moreover, you can segment the audience based on common traits, create automation workflows using a customer journey builder, use pre-made email templates to get inspiration, and more.
Main features:
Custom pop-up forms specifically tailored for your brand
Analytics and AI to make engaging email content
Targeting tools to boost customer engagement
Email automations to create personalized emails at the right time
Integrations with all major ecommerce tools available
Free plan available (limited to 1 user)
Essentials ($13/mo)
Standard ($20/mo)
Premium ($350/mo)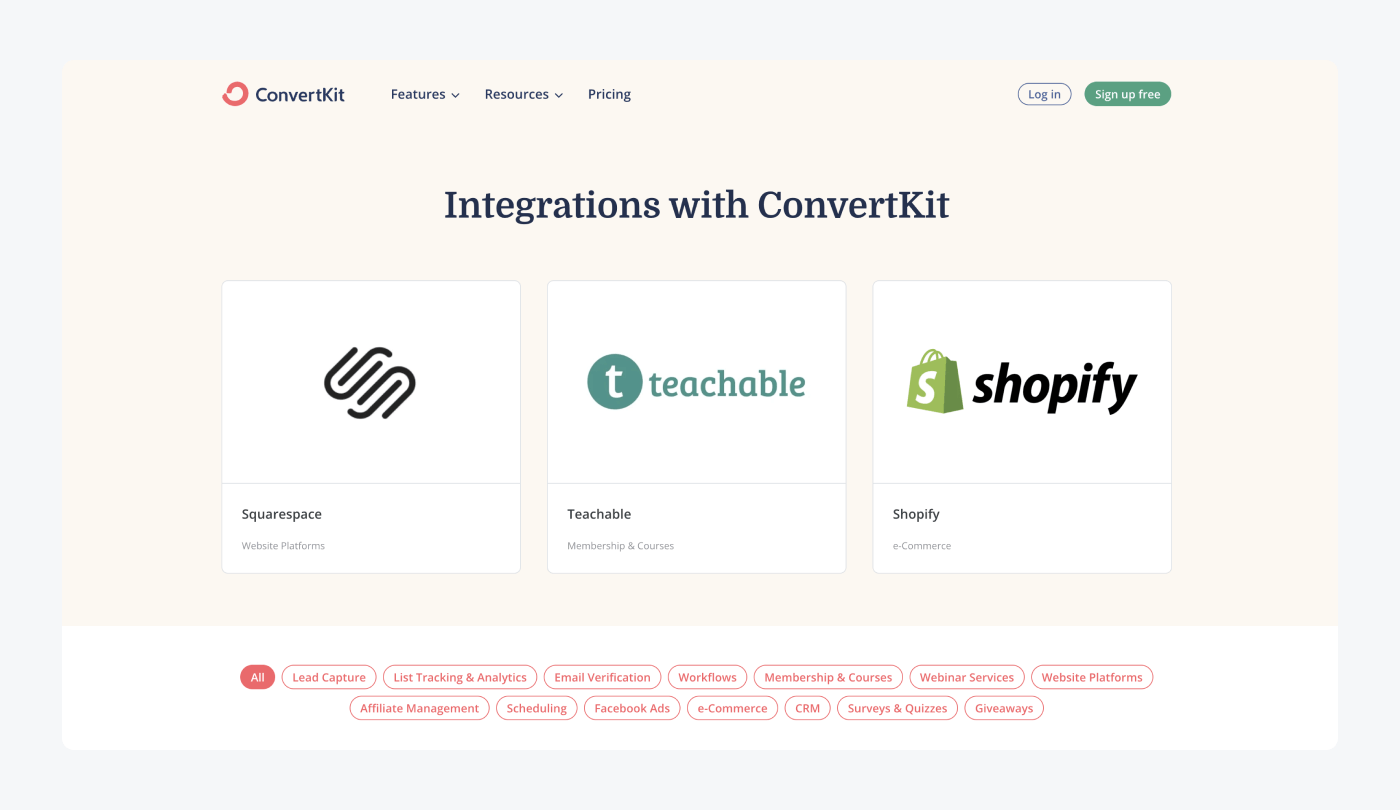 Rating: 4.7/5 ⭐ (based on 170+ reviews on Capterra)
ConvertKit is a sales automation and email marketing software that will help you grow your audience and drive more conversions. It also allows to write professional emails using templates, grow your email list with sign-up forms and landing pages, send newsletters, and more.
Main features:
Targeted emails using subscriber segmentation
Personalized email campaigns
Audience management based on the entry, interaction, and interests
Smart filters to exclude buyers from products they've already purchased
Integrations with Shopify, Squarespace, Zapier, and 100+ more
Free plan available
Creator ($15/mo)
Creator Pro ($29/mo)
Read more: Check out this practical guide with best practices when it comes to email design.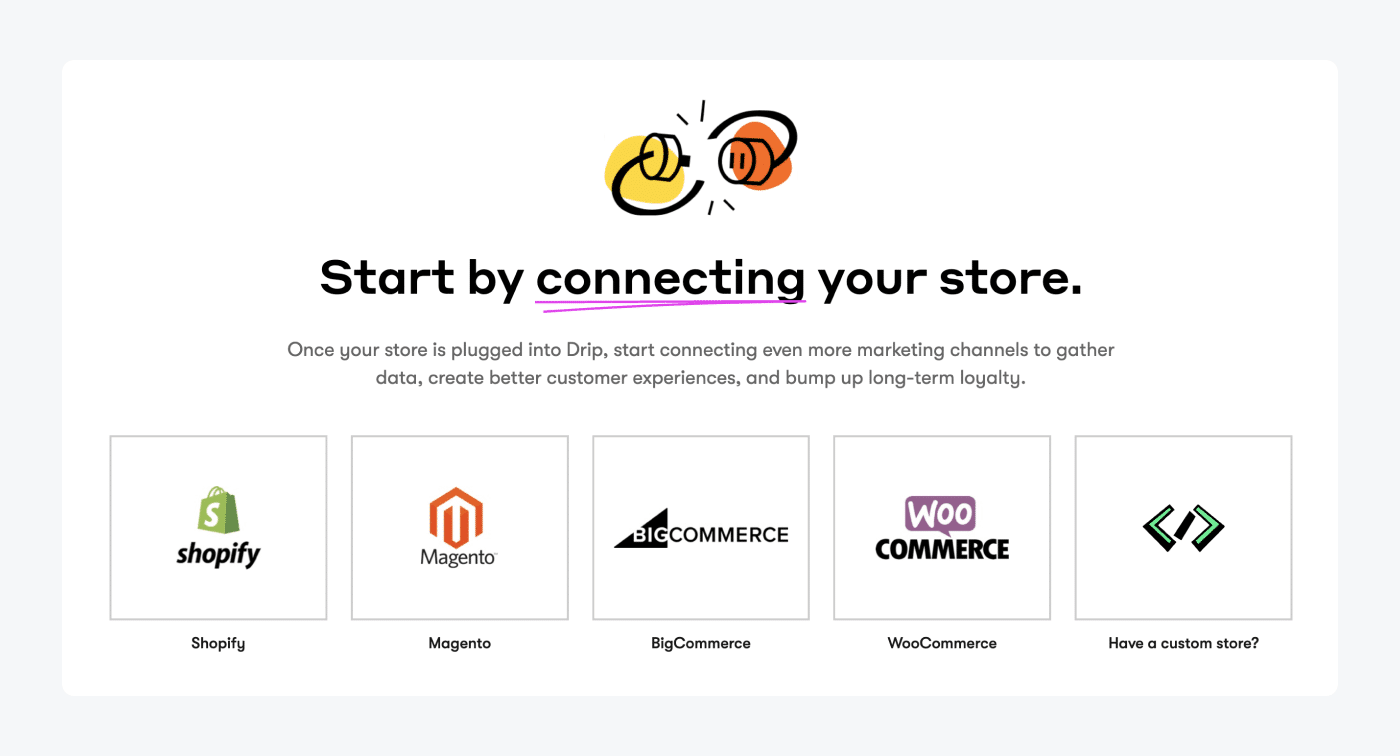 Rating: 4.4/5 ⭐ (based on 170+ reviews on Capterra)
Drip is yet another email marketing tool designed to help you boost revenue that lets you create automated emails and drip campaigns. It offers ready-made workflows such as welcome series, post-purchase, abandoned cart, and more. Plus, there are over 100 different integrations to choose from. These include popular website platforms like WooCommerce and Magento, an ecommerce Salesforce integration for easier customer relationship management, and more.
Main features:
The ability to send personalized, converting messages
Forms and popups to grow your audience
Built-in templates to create on-brand emails
The option to send perfectly-timed messages to customers using your store's data
Easy syncing of Drip with your social media platforms
A 14-day free trial available
Starts at $39/mo (for 2500 people)— pricing varies depending on the number of prospects
Read more: Take a look at some of the best email marketing templates and designs.
Payment gateway integrations
There would be no future for any online store if it didn't provide some sort of online payment to its customers. And this is exactly where payment gateway integrations come in.
These types of integrations allow clients to have a smooth and secure payment experience during their checkout.
While there is a way to integrate a payment gateway so that clients are redirected to a payment processor's website, we personally recommend integrating it directly into your site. By doing so, customers won't ever have to leave your site while making their purchase. This gives you more control over the checkout process and offers the smoothest possible buying experience.
Here are the top choices of payment gateway solutions:
Stripe
PayPal
Authorize.net
Synder
Now, you can read more about the top three solutions in this category: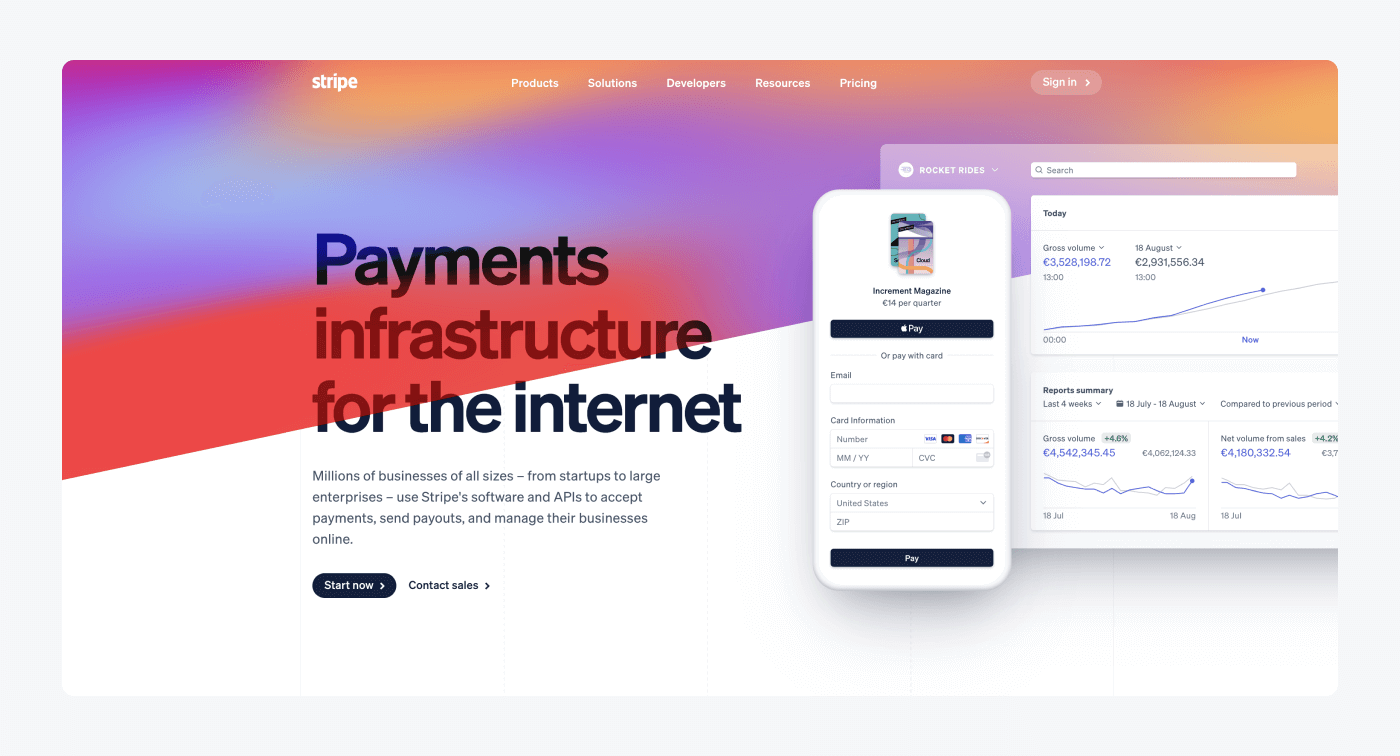 Rating: 4.7/5 ⭐ (based on 2,740+ reviews on Capterra)
Stripe is one of the most widely used online payment processors across the globe. You will be able to easily integrate Stripe payments into your existing ecommerce platform. Then, you can use its software and APIs to accept payments, send payouts, and more.
Main features:
A virtual and physical cards issuing system
Invoicing system to create invoices and send them to clients within minutes
Radar feature that will help to protect you against fraud
Stripe Billing API that is easy to integrate into websites, mobile apps, and CRM tools
Automated tax calculator for your transactions
A pay-as-you-go system starting at 3%
Enterprise → Contact sales for custom pricing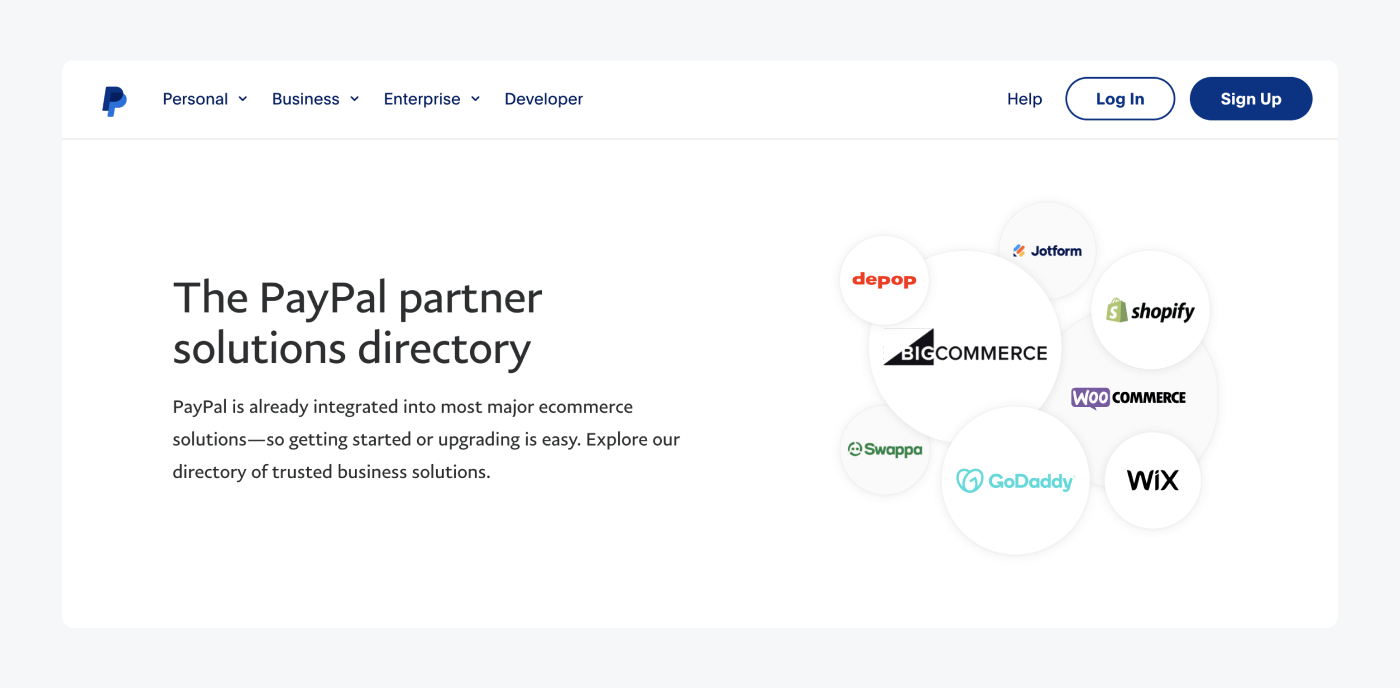 Rating: 4.7/5 ⭐ (based on 23,720+ reviews on Capterra)
PayPal is yet another popular online payment system you can use to offer a smooth and secure payment experience to your shoppers. Plus, it works well with different ecommerce, accounting, marketing, and operations tools, helping you make the most out of your sales.
Main features:
The ability to pay quickly and easily using QR codes
Integration with major ecommerce solutions, including WooCommerce, Shopify, and Bigcommerce
Accounting system to manage your billing, invoicing, inventory, taxes, and more
Forms to receive payments and donations, create surveys, etc.
Connected with top marketplaces like Etsy, eBay, and Storenvy
Variety of rates available for domestic and international transactions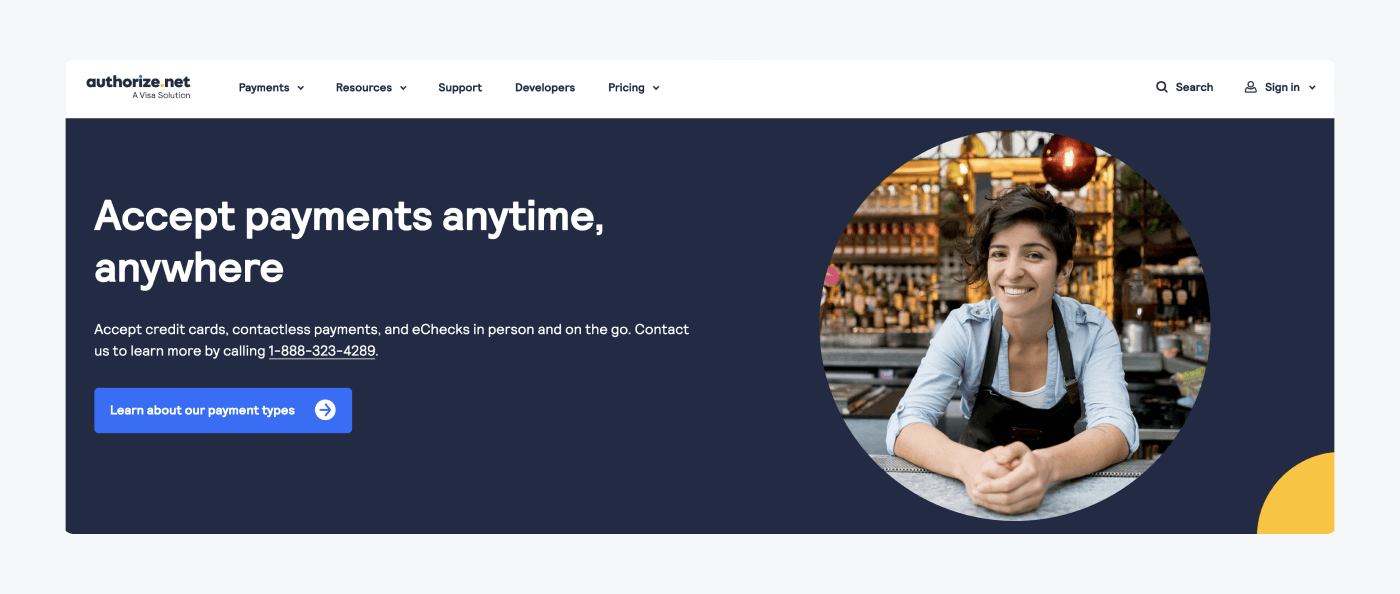 Rating: 4.4/5 ⭐ (based on 150+ reviews on Capterra)
Authorize.Net is an online payment system that allows you to accept payments anytime, anywhere. You will be able to offer a wide variety of payment options to your customers online, accept payments from mobile devices, and plenty more.
Main features:
The ability to integrate a simple payment button
Various payment options, like debit cards, credit cards, eChecks, and ApplePay
Partnership with platforms like WooCommerce, Chargify, BigCommerce, etc.
A developer center including tools such as APIs, SDKs, and documentation
Advanced fraud detection to help minimize risky transactions
All-in-one option ($25/mo, no setup fee 2.9%+ 30¢/transaction)
Payment Gateway Only—for those with a merchant account ($25/mo, no setup fee, 10¢/transaction)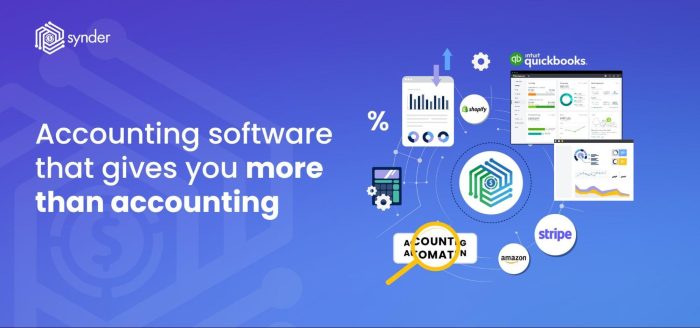 Rating: 4.8/5 ⭐ (based on 240 reviews on Capterra)
Synder is one of the top solutions on the market that helps ecommerce and subscription-based businesses bring data from all their payment processing systems (PayPal, Stripe, Square, etc.) into their accounting (QuickBooks Online/Desktop or Xero). This powerful software acts as a bridge between all the platforms a business has in use, making it easier to manage their finances and track performance in one place. Offering extensive customization, Synder simplifies the task of synchronizing multi-channel data, ensuring all your accounting and reporting requirements are met.
Main features:
Seamless data transfer between the platforms in two sync modes – Per Transaction or Daily Summary – with no cap on historical data import
Smart duplicate detection mechanism and Roll Back feature
Easy automated multicurrency management, requiring your attention only at the initial setup
Access to consolidated cash flow to see the full financial picture
Hassle-free reconciliation and flawless reporting, easy categorization with the help of Smart Rules, and much more
Free 15-day trial, no credit card required
Medium ($48/mo, billed yearly)
Scale ($88/mo, billed yearly)
Large ($220/mo, billed yearly)
Enterprise → available upon request
CRM management tools
When dealing with customer relationships and diving into their needs, there are no better tools to use than CRM software. These types of ecommerce integrations help you collect the most important client data and keep track of their interactions with your brand.
In turn, they can help you and your team understand the customers better and make use of all the data available to build better marketing and customer service strategy all around.
In fact, 85% of companies that use CRM tools report that they have seen an improvement in customer experience, which is a number that shouldn't be overlooked.
Here are some of the best leading CRM tools:
Now, let's find out more about each tool: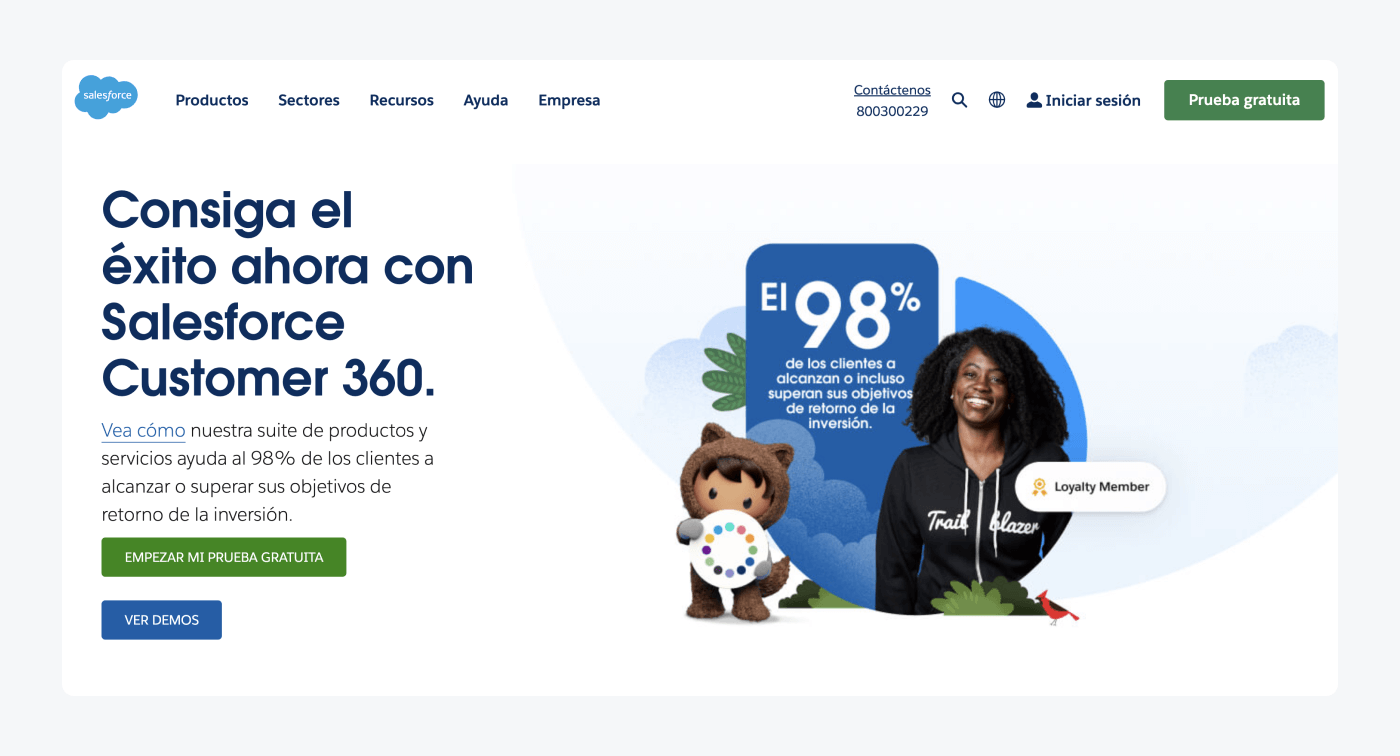 Rating: 4.4/5 ⭐ (based on 17,510+ reviews on Capterra)
Easily one of the most popular customer relationship management tools, Salesforce is a great choice for any business that wishes to expand. With Customer 360, you can bring your marketing, sales, service, and IT teams together and connect them around your customers with ease. You will also be able to get a single, shared view of your customers. This includes their history, interests, and even pain points, so you can help improve the way they see your brand.
Main features:
Multiple integrations to help you combine data from any system
Marketing cloud engagement to reach customers across preferred channels
Automation of daily tasks using activity tracking and workflows
Insights from social media platforms like Facebook, Twitter, and LinkedIn
Detailed reports and dashboards related to your business in real time
Essentials ($25)
Professional ($75)
Enterprise ($150)
Unlimited ($300)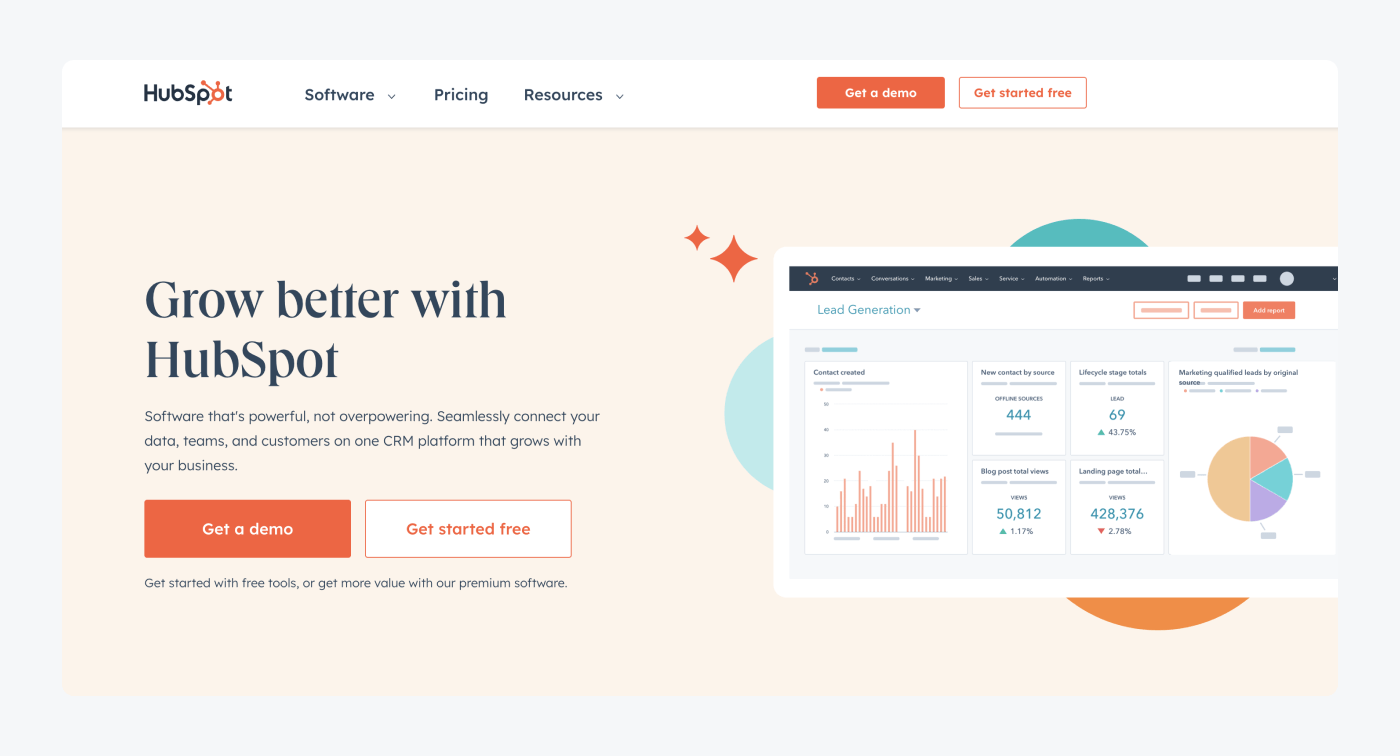 Rating: 4.5/5 ⭐ (based on 3,610+ reviews on Capterra)
HubSpot is an all-in-one CRM platform you can use to connect your databases, customers, and teams in a single place. It comes with great features and integrations that allow you to do marketing, sales, and customer service tasks in a seamless, professional manner. As a result, you will be able to automate your work while converting more visitors and gaining much-needed customer loyalty.
Main features:
Starter ($50/mo)
Professional ($1780/mo)
Enterprise ($5000/mo)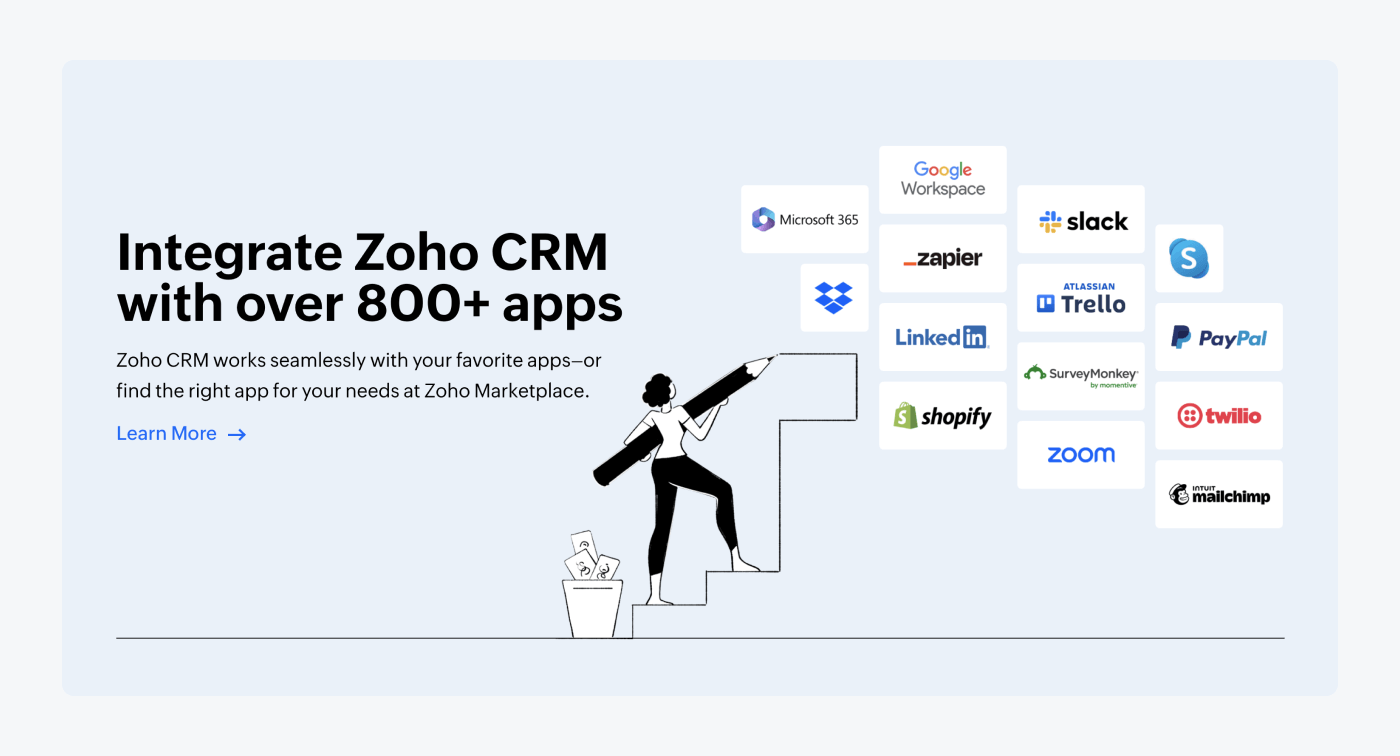 Rating: 4.3/5 ⭐ (based on 6,130+ reviews on Capterra)
Zoho is a CRM and cloud-based inventory management platform you can use to automate your sales and take them to the next level. Thanks to its ability to automate any workflows and campaigns, you will have more time to focus on building relationships with your customers.
Main features:
Advanced analytics tools to get actionable insights
Integration with 500+ third-party apps
The ability to manage invoices, inventory, and orders
Workflow automation to finish routine tasks in your stead
Contact management feature to get real-time insights about your customers
Free trial available
Standard (€20/mo/user)
Professional (€35/mo/user)
Enterprise (€50/mo/user)
Ultimate (€65/mo/user)
Read more: Take a look at some of the best free CRM software available on the market.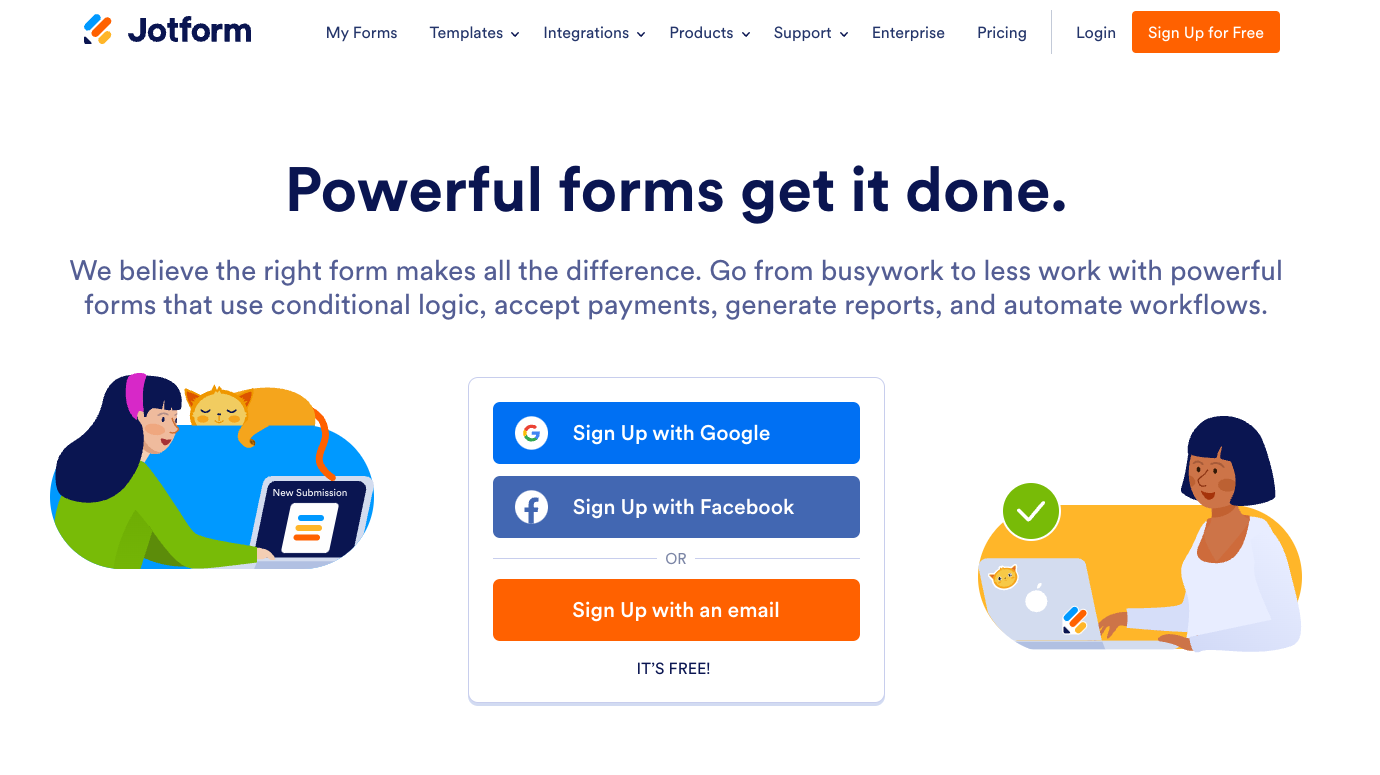 Rating: 4.6/5 ⭐ (based on 1567+ reviews on Capterra)
Jotform is a supercharged tool that offers a variety of features for businesses of all sizes. It allows users to collect and analyze data, generate automated reports, collaborate with teammates and create approval flows. Jotform is a great CRM choice for businesses looking to automate their workflows as it offers dynamic data collection and management all in one place, eliminating manual data entry and analysis.
Main features:
Automatically populated dashboards
Collecting legally binding e-signatures
Managing all data within the product
Countless integrations to automate other apps
Free starter plan available
Bronze ($34/mo)
Silver ($39/mo)
Gold ($99/mo)
Enterprise → Contact sales
Shipping integrations
Depending on the type of ecommerce business you own and the products you sell, shipping can play a key role in your online store's success.
According to a global survey, 83% of consumers expect support and communication during their buying journey.
Say that you offer products that you want to ship across the globe. It wouldn't be good for your store's reputation to offer a poor shipping experience to your clients, don't you agree?
And this is true for any online store that wants to maintain a solid reputation and have returning, loyal customers.
So, you need a solid shipping integration system set in place to ensure your products arrive safely to your customers—and in a timely manner.
Luckily, there are ecommerce shipping integrations out there that will help you streamline and automate the entire shipping process. This means from the moment the order is processed all the way to being shipped and transported to appear at your buyer's door. These tools should also help you manage orders and inventory. On top of that, they will allow users to track the shipment of their products.
Check out some of the best shipping integrations:
ShippingEasy
Shippo
OrderCup
And here's more info about each platform: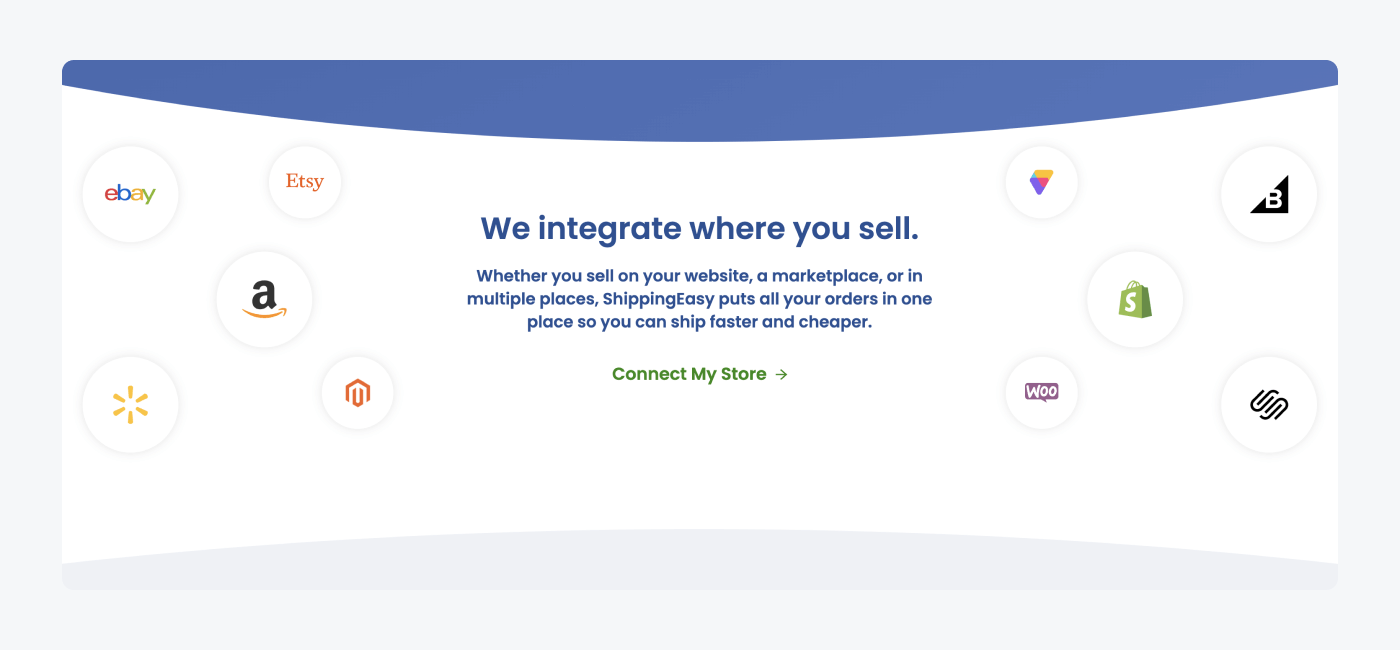 Rating: 4.8/5 ⭐ (based on 1,110 reviews on Capterra)
ShippingEasy is a shipping integration solution that will help you put all orders in one place for faster and cheaper shipping. You will also be able to automate the entire process with rules, as well as organize your packing, track shipments, and notify your recipients with ease.
Main features:
Integrations with all leading platforms and marketplaces
The ability to print labels, packing slips, and pick lists
Customizable rules related to weight, package size, etc.
Advanced reporting features to get the shipping insights
Settings to split, combine, and recombine orders
Free starter plan (up to 25 shipments/mo)
Growth (from $19.99/mo for 26-200 shipments)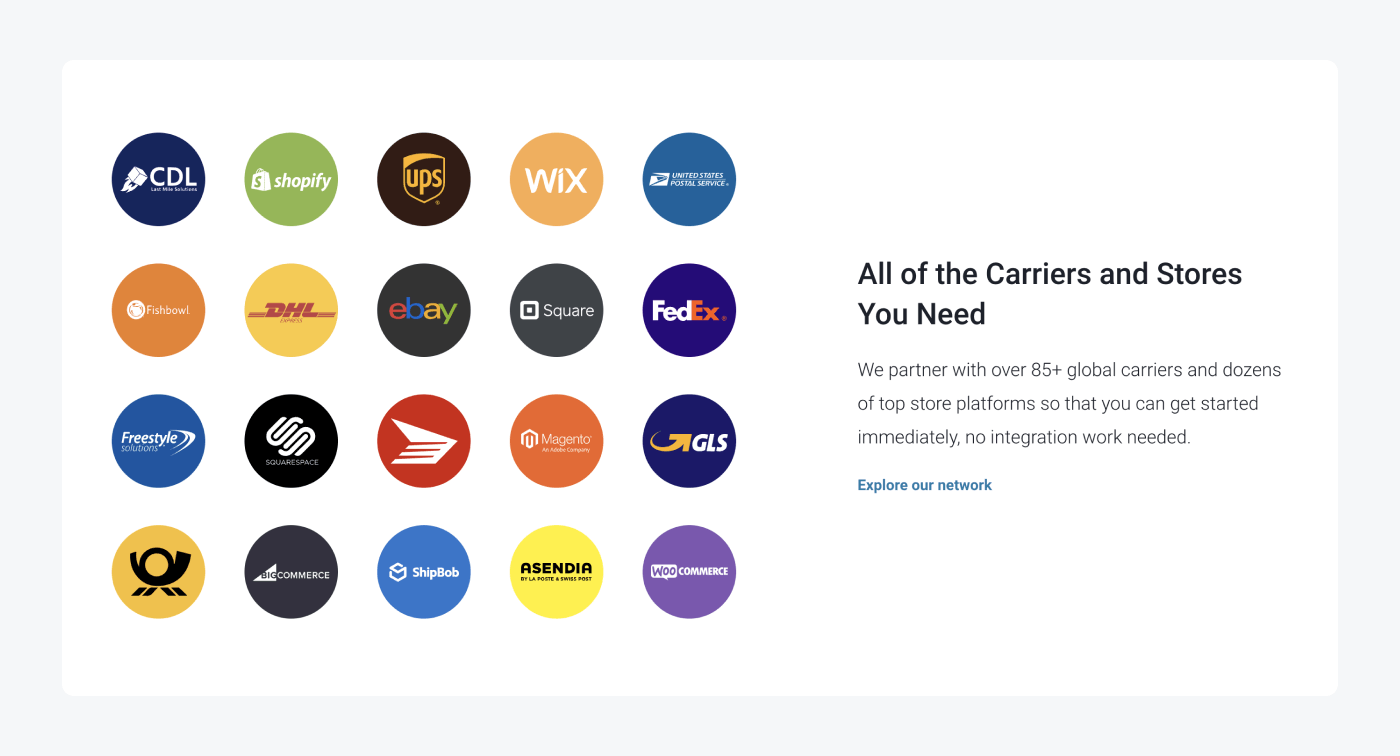 Rating: 4.9/5 ⭐ (based on 795 reviews on Capterra)
With Shippo, you get everything you may need for professional online store shipping. You can easily manage orders by syncing your sales channels, keep customers up-to-date with a tracking shipments feature, and more.
Main features:
Discounted shipping labels and access to the best discounts for USPS, DHL, UPS, etc.
Easy sync of your orders and tracking information
Personalized shipping labels for a more branded experience
Included partnership with over 85 global carriers and online store platforms
Shipping analytics and reporting to see in which areas you can improve
Free plan available
Professional ($10/mo)
Premier → Contact sales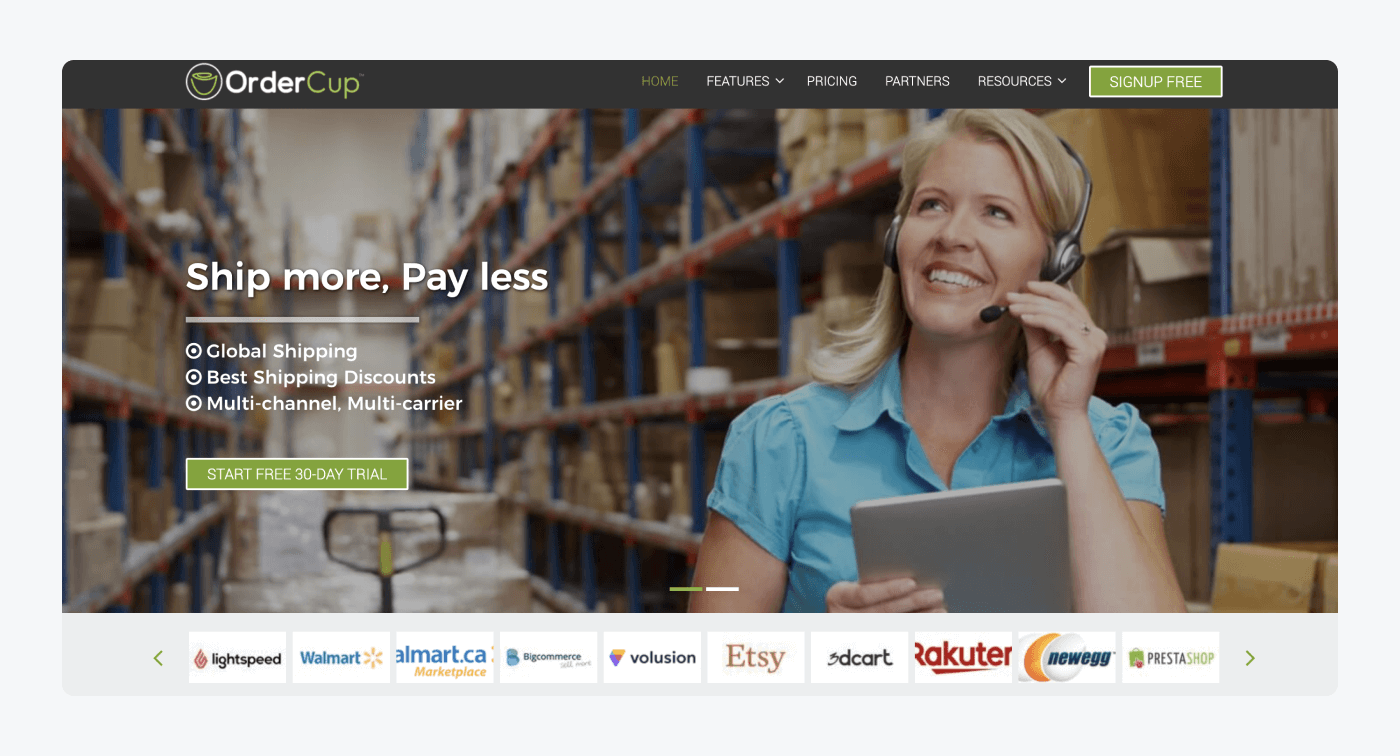 Rating: 4/5 ⭐ (based on 3 reviews on Capterra)
OrderCup is an innovative shipping system that helps you automate anything from order management and fulfillment to global shipping. Of course, this platform also integrates with some of the leading marketplaces and ecommerce platforms. This includes the likes of eBay, Amazon, Etsy, Magento, WooCommerce, Shopify, and so on.
Main features:
Shipping carrier support like UPS and FedEx, as well as carriers across Europe, Australia, and Asia
Built-in shipping discounts with USPS, DHL, UK Mail, etc.
Advanced filtering to help categorize your orders
Shipping rules to automate your order processing
A complete management of returns to attract more online buyers
Short ($25/mo)
Tall ($45/mo)
Grande ($65/mo)
Venti ($95/mo)
Trenta ($180/mo)
Ecommerce integrations: key takeaway
And there you have it—some of the most useful ecommerce integrations and the best platforms you can use to smoothly run your online store.
By synchronizing some of the most crucial ecommerce apps, you help streamline your workflows, automate the way you reach your customers, and reduce the risks of running into errors. You can expect to enhance customer experience, boost their loyalty, and develop a better relationship with them as the end result.
So, the must-have integrations you should use for your ecommerce store are:
Website platforms
Customer support software
Email marketing integrations
Payment gateways
CRM management tools
Shipping integrations
Just make sure to choose the platform from each category that works best for your business needs, and you'll be well on your way to achieving the benefits you expected.