Your customer support inquiries are outgrowing your capacity?
That's alright—customer service automation can be the answer to your worries.
It takes some of the common questions and repetitive tasks off your shoulders, so you can focus on expanding your business.
Before you know it, you'll start to celebrate the growing number of customer conversations, instead of dreading them.
But where to start and how to use an automated customer support system at your company?
Don't worry—
We'll answer all of your questions below.
In this article:
If you want to find out more about automations for your business, check out these articles:
From the top—
What is customer service automation?
Automated customer service allows your shoppers to resolve their issues without interacting with your support representatives. It automates customer support tasks, such as solving queries through self-service resources, simulated chat conversations, and proactive messaging. Businesses aim to reduce repetitive workload, speed up responses, and cut customer service costs using automation.
So, what are some of the most popular methods to automate customer support?
Customer service automation examples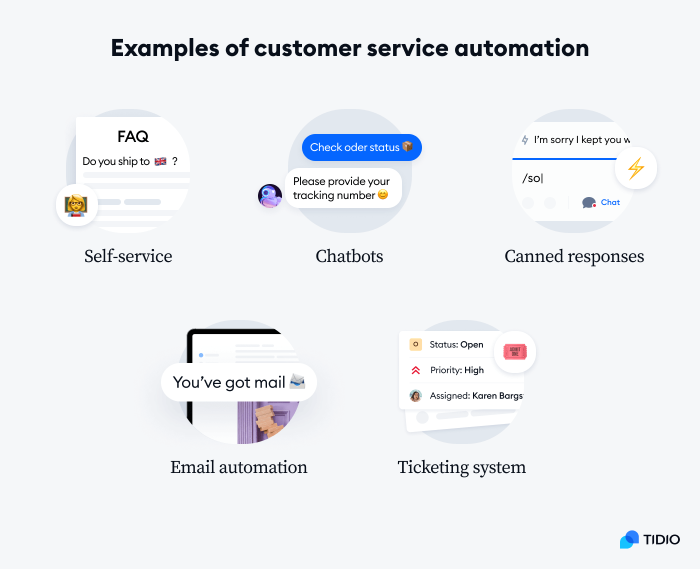 There are quite a few automations available to put your customer service on autopilot. Some of the automations require a human to keep an eye on them. Others can work independently once you set the flow up.
A couple of examples of customer service automation include:
Self-service facilities—this includes creating a knowledge base and FAQ page
Chatbots—embed a chat widget that can answer your customers' frequently asked questions in real-time and direct them to the appropriate resources
Canned responses—speed up your live chat agents' response time by writing up canned responses to use whenever a common question occurs
Email automation—set your email marketing campaigns on autopilot
Ticketing system—automate the organization of your support tickets to resolve each query in a timely manner
But it's worth noting that automating customer support has its pros and cons. Here are some of the pros of customer service automation.
Benefits of automated customer service
Customer service automation has many advantages for your business. It provides support to your customers when you're not available, saves you costs, and much more. So, here are the five biggest benefits of an automated support system.
Pros:
Provides 24/7 support
Saves costs
Increases response rate
Minimizes human error
Improves customer feedback collection
Provides 24/7 support
First of all—your customers expect you to be available 24/7 to answer their queries. In fact, a study shows that 51% of consumers say that they need a business to be available at any hour of any day.

But from a business perspective, it's not always possible. You can't always be on unless you spend thousands of dollars to hire agents for night shifts.
That's when customer support automation comes in. For example, when your shopper has a question around 1 o'clock in the morning, the bot can quickly answer the query. It can also redirect the buyer to a dedicated page for more information.
And if the shopper has a complex issue inquiry that chatbots can't handle, the client can leave their contact information for the representative to get in touch with them first thing in the morning.
Saves costs
Automated customer service can save you hundreds if not thousands of dollars per year. This was presented in a report that found chatbots will save businesses around $11 billion annually by 2023. This sum is an increase from $6 billion in 2018.

How?
Well—automated helpdesk decreases the need for you to hire more human representatives and improve the customer experience on your site. Automatic welcome messages, assistance within seconds, and personalized service can all contribute to a positive shopping experience for your website visitors.
Boosts speed
Being on hold for a long time frustrates about 66% of customers. That's not very surprising considering that waiting in a queue wastes the customer's time. None of us wants to wait for support when we have a problem. We want it solved right there and then.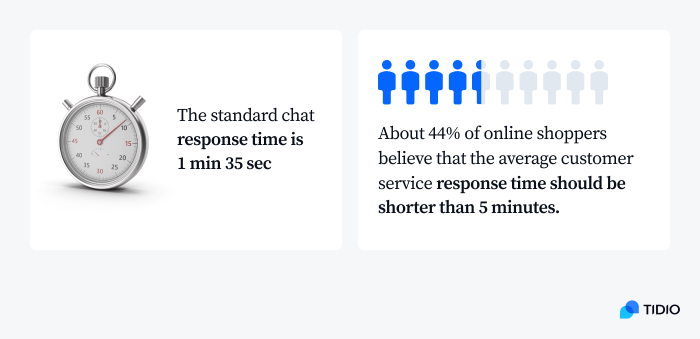 Call center automation helps to solve this issue. You can set up automatic replies for common questions and a queue system to let customers know how long they have to wait for support. An automated call center decreases the number of clients on hold and improves customer satisfaction with your support services.
Read more: Check out the list of ecommerce case studies to find out how the best online stores boosted their response speed with customer service automation tools and how they benefited from it.
Minimizes human error
People sometimes make mistakes. It's normal. But when you have a business, your representatives' errors can lose you customers and decrease the trust shoppers put in your business.

In fact, incompetent customer support agents irritate about 46% of consumers. The good thing is that you can solve this problem pretty easily by implementing support automation. By automating some of the processes your clients will get accurate information to their questions on every occasion.
Increases customer feedback collection
Study shows that 89% of customers want to be able to give feedback to the business. Also, about 77% of shoppers have a more favorable view of brands that ask for it.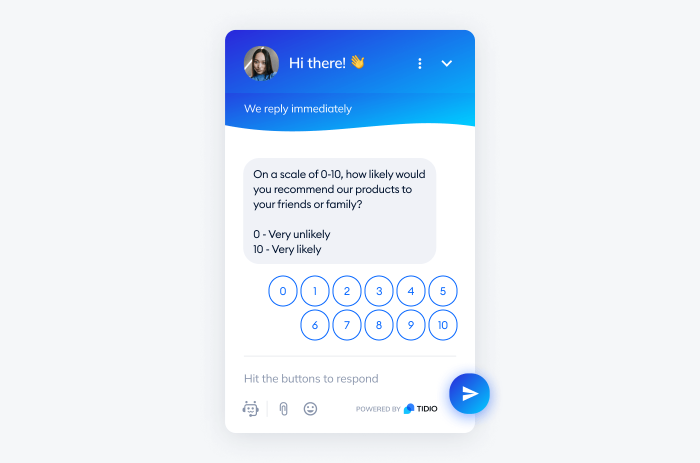 Email automation and simulated chats can make the job of collecting feedback more efficient. For example, you can set a rule to automatically send an email to customers who recently purchased a product from your online store and ask them to rate their shopping experience. You can also ask for your customer reviews about the service provided straight after the customer support interaction.
Moving on to the disadvantages of automation in customer service—
Cons of automated customer service
Although automations have many benefits, there are also a few downsides. Here are some of the things you should keep in mind when automating customer service.
Cons:
Lacks the human touch
Only able to handle simple queries
It takes time to set up
Might frustrate some customers
Lacks personal touch
Some shoppers don't want to use support automation when they contact customer service because they feel it's impersonal.
Yes—chatbots, automated contact centers, and other methods may sometimes lack the human touch and empathy. So, to be on the safe side, always give your website visitors an option to speak to a human agent. This is easy to do as most of the chatbot platforms also include a live chat feature.
Only able to handle simple queries
Automation can only handle simple tasks, such as answering frequently asked questions, sending email campaigns to your leads, and operating according to the set rules.
For example, the bot can answer a "What are your opening hours?" question, but won't be able to tell the user how to deal with their more specific issue. When that happens, it's useful for the chatbot to redirect your shopper to the live chat agent for help.
Takes time to set up
Let's not pretend that all automations are something quick and easy to implement. Some of them are, but the majority will take time to set up and learn how to use them.
Making the emails, creating the answers to the questions, and setting the rules are all on you. This might be a lot of work at the beginning, but will save you a lot of time in the long run.
Self-service irritates some customers
Not being able to speak to a human can frustrate your customers. Not everyone is tech-savvy, and some people want human interaction. This is especially important when a shopper has an issue and wants to be heard and understood. Human empathy is also unmatched when dealing with angry customers.
You can avoid frustrating your customers by giving them multiple options for customer support. And remember to mix automated systems and human interaction. For example, offer support chatbots and self-service automation, but also allow your shoppers to chat to your human reps via live chat and email.
How to automate your customer service?
Since you know what the advantages and disadvantages of automated customer services are, you know if it's the right choice for your business. And since you're still here, it's a good time to look at how you can automate your support services.
Here are seven of the best customer service automation strategies.
1. Add live chat to your website
You can use live chat for customer care, enhance your marketing, and use a conversational sales approach. First, you need to find the best live chat software for your business, add it to your site, and set it up.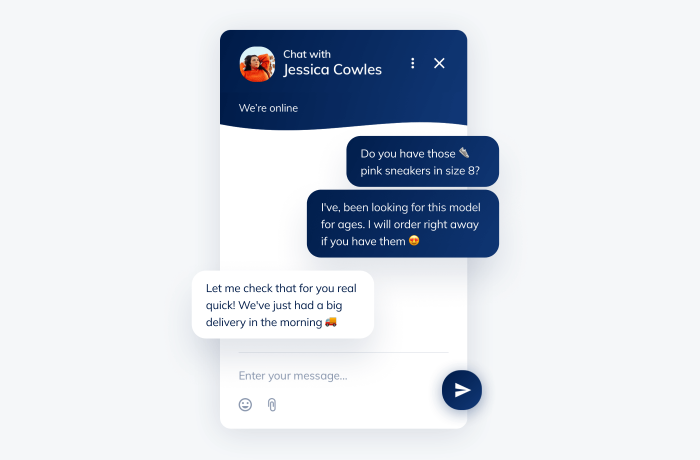 Once you install the platform, your customer service reps will be able to have a preview of your website visitors, your customer's data, and order history. All on one dashboard. And representatives who have more insights about the client can provide better support.
You can also use live chat to identify common inquiries. This will help you set up AI (artificial intelligence) chatbots with machine learning capabilities to answer frequently asked questions and get some workload off your agents' logs.
Read more: Learn how to add live chat to your website in 4 easy steps.
2. Use canned responses
When you know what are the common customer questions you can also create editable templates for responses. This will come in handy when the customer requests start to pile up and your chatbots are not ready yet. Canned responses can help your support agents to easily scale their efforts.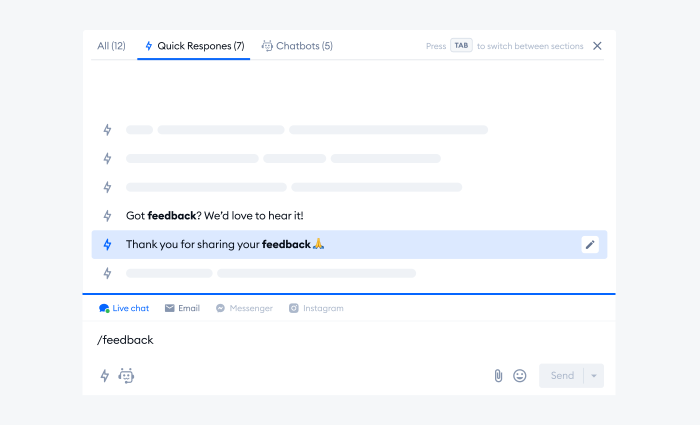 But remember to train your customer service agents to understand a customer's inquiry before they reach for a scripted response. This will ensure the clients always feel that the communication is personalized and helpful. Canned responses enable more efficient human work instead of automating the whole process.
3. Offer chatbot support
Once you collect some of the common customer service questions with your live chat tool, you can start setting up your bots. Take every common question with a few of its permutations. This way, the bot will recognize different ways of asking questions and respond to them appropriately.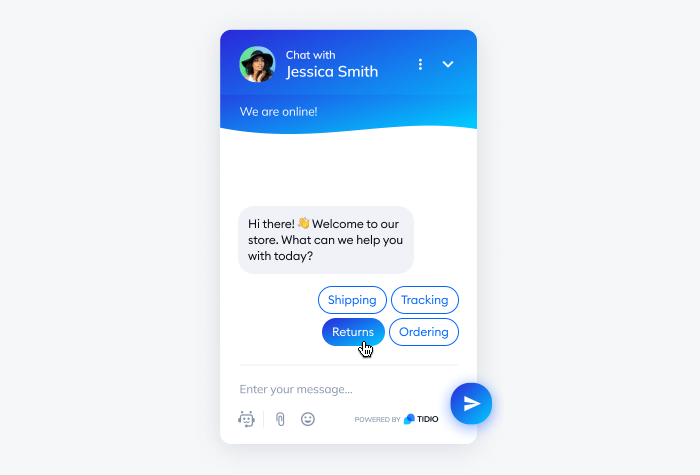 Chatbots can handle inquiries outside your business hours, welcome all of the visitors to your website, and answer frequently asked questions without human involvement.
This will increase your response time and improve the proactive customer service experience. And if the query is too complex for the bot to handle, it can always redirect your shopper to the human representative or an article on your knowledge base. 
Read more: Check out our case study to learn how Suitor automated up to 85% of its customer service using Tidio.
4. Provide a knowledge base
Help center articles are a great help to your new customers as well as the loyal ones who need support. Yes—it might take you some time to gather all the necessary information. But afterward, your shoppers will be able to find answers to their questions without contacting your agents.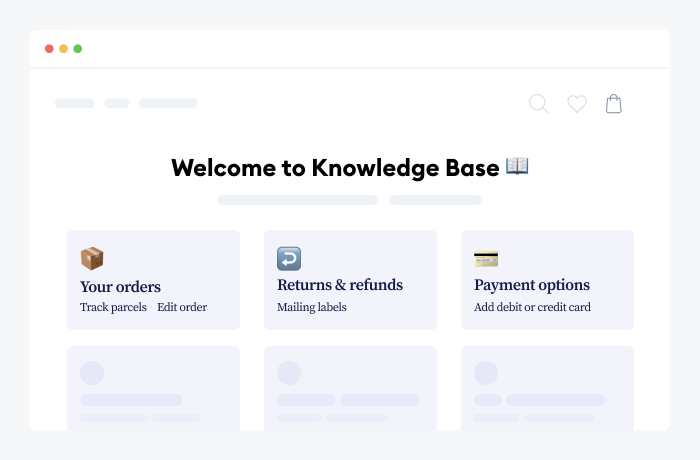 To make sure your knowledge base is helpful, write engaging support articles and review them frequently. This will ensure that all the information is up to date. You can also include onboarding video tutorials or presentation videos to show your customers how to use your product instead of just describing the process. It's more helpful and adds an element of interactivity to your knowledge base.
We did that to show our users how to edit their chatbot:
5. Automate your CRM
Let's put it this way—when a shopper hasn't visited your page in a month, it's probably worth checking in with them. You can automate your CRM to send them an email a month or two after not visiting your ecommerce. Proactive customer service can go a long way and win you back an otherwise lost client.

Especially since most customers like proactive communication and about 87% of them want to be contacted proactively by the business. This can help you find out what's the issue. Maybe the buyer just forgot their password, and it's preventing them from shopping at your online store.
Read more: Check out how a care package company grew its business using customer service automations.
6. Collect customer feedback
Ask your customers for feedback and reviews. It's the best way to learn what issues they have with your products and services.
But also, customer reviews can increase the trustworthiness of your website and improve your brand image. So you should provide your shoppers with a chance to leave feedback and reviews after their customer service interaction and after a completed purchase.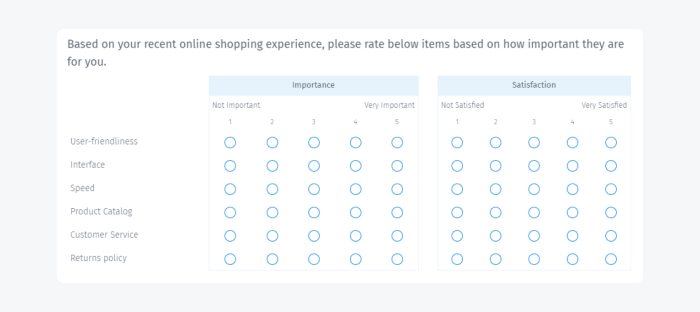 You can do this by sending out an automated email asking for customer feedback or embedding a customer satisfaction survey at the end of the support interaction. This helps you reduce churn and increase customer loyalty to your online store.
7. Automate your email communication
Email automation sends newsletters, updates, and special offers to customers for you. You can use customer service tools, such as MailChimp, which are simple to set up for you and your team members
This requires your marketing team to set up the automation and write the emails. But, in the long run, it will save time and effort for your employees while achieving significant gains for your business.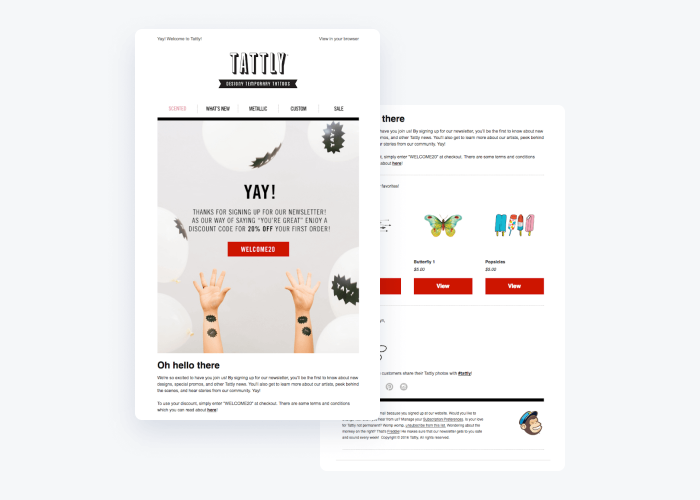 Make sure the material you send out is tailored to the audience and that your shoppers will find helpful and enjoyable. Automate the emails to be sent out frequently, but don't send them too often to avoid spamming your leads.
Now—
When is the best time to start using automated customer support? Let's find out!
Is your business ready for automation?
It's good to know what customer support automation is. But you should only start using it when your business is ready for it. So, should you start using automation for your customer service?
The number of customer inquiries and your service tasks becoming too much for you.
Let's be honest—running a business is a lot of work.
Are you spending most of your days doing repetitive tasks with not much time left to focus on growing your business? Or do your support reps spend most of their time trying to catch up on the ever-growing number of customer queries?

If the answer is yes, then it's time for you to look at some automation tools for your customer service strategy.
You don't have many inquiries yet, and you can easily handle all the customer service by yourself.
At the start, human-to-human interactions are vital so try to be personal with your shoppers to gain their trust and loyalty. So, if you can handle both your customer service queries and growing your business, stick to communicating with your clients personally. This will help you boost your brand and customer experience more than any automation could.
Best customer service automation software
Whichever tasks and customer service processes you choose to automate, you'll need to use software for it. But which tools are the best for your business? Here's a quick comparison table for the best automated customer service software—
Let's look at these tools more in-depth with pros, cons, and pricing comparisons, shall we?
1. Tidio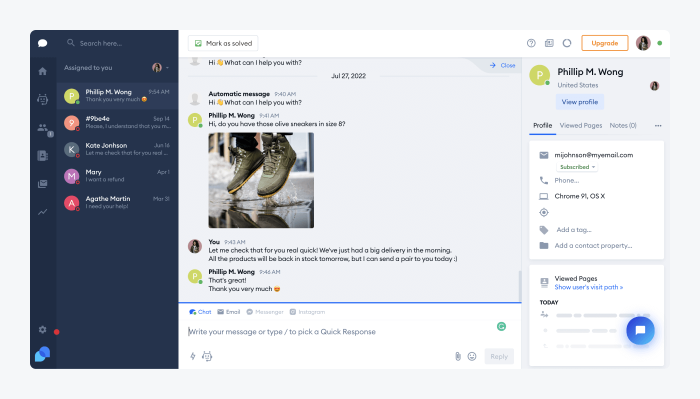 Ratings: 4.7/5 ⭐️ (1,220+ reviews)
This is our software, and we are fully aware that a blog post is not the best place to advertise ourselves. So, let's keep it short and sweet.
Tidio is a customer experience suite that helps you automate customer service with live chat and chatbots. You can use canned responses and chatbots to speed up the response time. This platform also provides customers' data including their contact details, order history, and which pages the client viewed, straight on the chat panel.
Main features:
AI chatbots with NLP
Visitors' live view
Customer's message preview
Canned responses
30+ chatbot templates to choose from
Variety of deep integrations including Shopify, MailChimp, and social media
16 different triggers for bots
Free plan available
Communicator ($19/mo/operator)
Chatbots ($39/mo)
Tidio+ ($289/mo)
Read more: Learn how to create an FAQ bot with Tidio that answers all of your customers' common questions.
2. Zendesk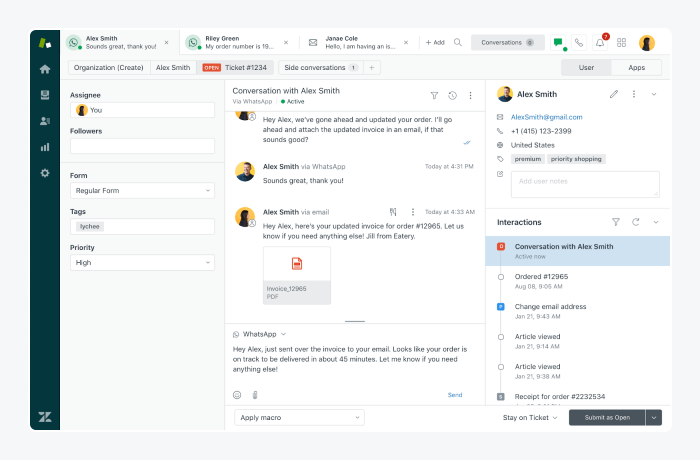 Ratings: 4.3/5 ⭐️ (4,800+ reviews)
Zendesk Support Suite is one of the largest customer service management companies in its market segment. It combines a simple helpdesk ticketing system with an omnichannel functionality. You can use this platform to automate your interactions through communication channels such as Twitter, Facebook Messenger, WhatsApp, and SMS messages. This can help you streamline some of the workflows and increase your support agents' productivity.
Pros:
Multichannel communication
Self-service portal
Customizable alerts
Cons:
Reviewers complain about crashes of the system when running multiple chats
Data transfer troubles
Free 30-day trial
Suite Team ($49/agent/mo)
Suite Growth ($79/agent/mo)
Suite Professional ($99/agent/mo)
Read more: Discover what are the best Zendesk alternatives and choose the right platform for your business.
3. Intercom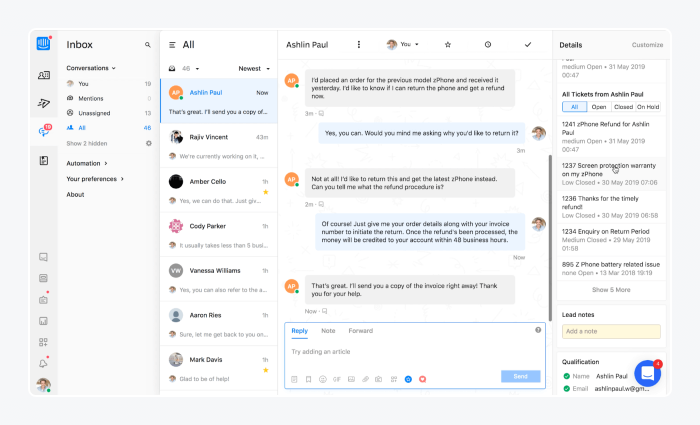 Ratings: 4.4/5 ⭐️ (2,350+ reviews)
Intercom is one of the best helpdesk automation tools for large businesses. It's highly customizable and adaptable to specific businesses. This customer service automation platform lets you add rules to your funnel and automatically sort visitors into categories to make your lead nurturing process more effective in the long run. It also offers features for tracking customer interactions and collecting feedback from your shoppers.
Pros:
Multilingual
Ticket management system
Collision detection for customer service requests
Cons:
Steep learning curve
Quite expensive in comparison to competitors
Starter plan (from $74/mo)
Custom pricing for most businesses
Read more: Check out the best Intercom alternatives out there with pros, cons, and pricing comparison.
4. HubSpot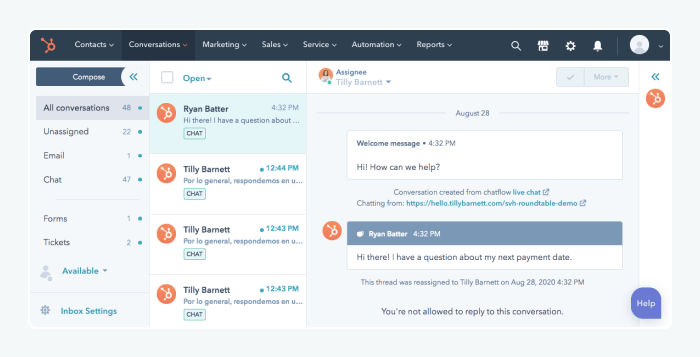 Ratings: 4.4/5 ⭐️ (1,465+ reviews)
HubSpot is a customer relationship management with a ticketing system functionality. It helps you manage your customer communication and track interactions. You can easily categorize customer issues and build comprehensive databases for more effective interactions in the future. It also provides a variety of integrations including Zapier, Hotjar and Scripted to boost your customer support teams' performance.
Pros:
Highly responsive calendar bookings
Mass email campaigns available
Ticket routing and automation
Cons:
HubSpot ecosystem can be seen as quite complicated and difficult to learn
Poor customer support on the free plan
Free plan available
Starter (Starts at $50/mo)
Professional (Starts at $500/mo)
Enterprise (Starts at $1,200/mo)
5. Salesforce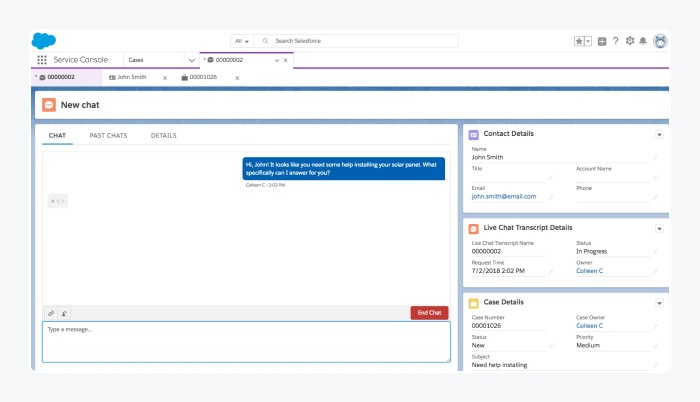 Ratings: 4.2/5 ⭐️ (2,200+ reviews)
This is a cloud-based CRM software that helps businesses track all their customer data on a single platform. Salesforce provides features such as contact management and automatic capturing of leads and data. It can also help you with pipeline management and automating your email marketing campaigns. This platform can assist your teams and boost the efficiency of your work.
Pros:
Variety of integration including Zapier and G-Suite
Contact management
Automatic data and lead capturing
Cons:
No official Shopify or WordPress integration
The categorization of cases can be difficult to understand
30-day free trial
Essentials ($25/user/mo)
Professional ($75/user/mo)
Enterprise ($150/user/mo)
Unlimited ($300/user/mo)
Summary
So, to wrap it up—
It's best to start using automation in customer service when the inquiries are growing quickly, and you can't handle the tasks manually anymore. It's also good to implement automation for your customer service team to speed up their processes and enable your agents to focus on tasks related to business growth.
You can automate your customer support by adding live chat and chatbots to your website for a quicker response time to queries. Also, you can automate your email communication and CRM to improve customer satisfaction with your brand.
The best customer service automation solutions include Tidio, Zendesk, Intercom, HubSpot, and Salesforce. Make sure the software you use has all of the features you need and matches your business. Remember to try the platform out on a free trial and see how you feel about it before committing to a subscription.
FAQ
What is customer experience automation?
Automated customer experience (CX) is the process of using technology to assist online shoppers in order to improve customer satisfaction with the ecommerce store.
How does automation help customer service?
Automated customer service helps customer service by cutting costs and empowering the shopper to find answers to simple questions on their own. In turn, customer service automation slashes the response time for customer support queries and decreases the workload for your representative.
What are service automation examples?
Some examples of automated services include chatbots, canned responses, self-service, email automation, and a ticketing system.
Do customers like automation?
Yes. Most customers expect business websites to offer self-service and provide 24/7 support. However, they also want to be able to speak to a human representative. So, it's best to provide both and give customers a choice between self-service and a human agent to ensure a great customer experience with your brand.
What are the benefits of using customer service automation in business organizations?
One of the biggest benefits of customer service automation is that you can provide 24/7 support without paying for night shifts. Other advantages include saving costs, decreasing response time, and minimizing human error.