"Wouldn't we all benefit from a bit more joy in our lives?"
Sure we would—if you ask me.
All the more so as the spread of the COVID-19 pandemic has become part and parcel of our reality. A reality where fear, anxiety, and uncertainty dominate…
But you know what? There is always the light at the end of the tunnel.
And this story will show you how to find great opportunities even in the midst of chaos.
So, have you recently wondered how to make a few extra bucks online?
Read on because you are in for a real treat! Our heroine of today's story—Kelly, will teach you how to:
But first, take a quick look at this timeline to get a feel of how the story of her business unfolded.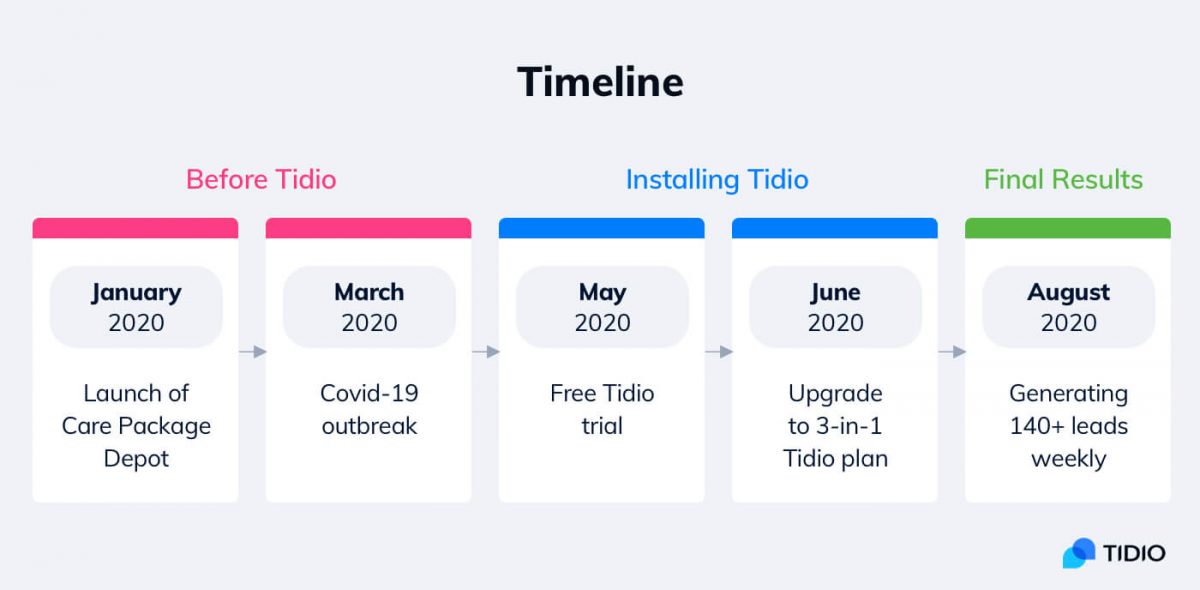 Now, let's dive into the details. Ready?
1. How I Started a Personalized Gift Business During COVID-19
Meet Kelly—an aspiring entrepreneur and the creator of Care Package Depot—a booming eCommerce business offering personalized gift boxes.
When asked why she decided to start CarePackageDepot, she simply said: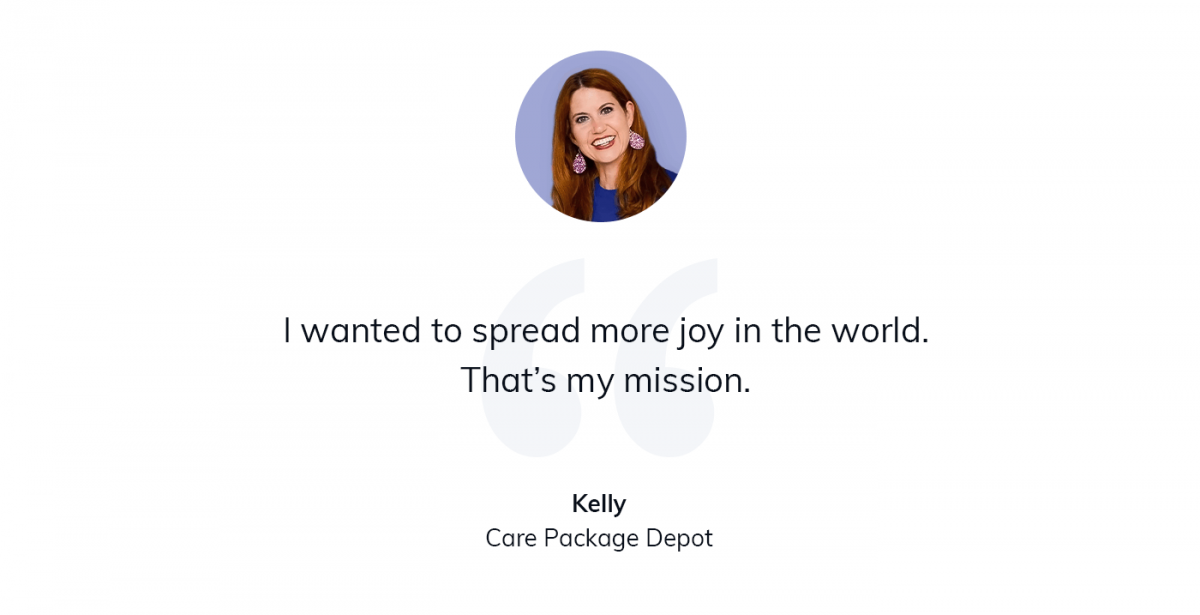 Having a background in the medical field, Kelly has witnessed many heart-breaking situations—the illnesses and accidents tearing apart families and friends, loved ones anxiously awaiting the news in the hospital, the tears, the fear…
She also knew that being close to your loved ones in difficult moments is not always possible. However, she believed there could be something to lift up the spirits—at least a little.
Something that adds a bit of "joy" and sweetens up someone's day.
That's how the idea for Care Package Depot was born in January 2020.
A few weeks later she set up her online store.
(Click below to check out Kelly's vibrant website and say Hi! via Tidio live chat)
Unlock Premium Chat Features
By offering personalized gift boxes for various occasions, Kelly addressed the needs of people who want to brighten the day of their loved ones—often staying in hospitals or senior houses.
To make her business both unique and profitable, Kelly built relationships with local suppliers of quality products, and worked long hours in the evenings. She kept her full-time job, too.
We think it is both incredible and yet doable—if you have the right mindset and tools at your disposal.
Just in a few minutes you will learn how Kelly built a thriving business in the midst of COVID-19 pandemic, but before that…
Have you thought of launching an online store before? If so, here is a helpful resource to help you choose the right platform and get started easily: 🚀 WordPress vs Shopify and BigCommerce [Guide + Tips]
Now, without further ado—
Let me present to you Care Package Depot's recipe for success.
2. Identifying Main Challenges and Setting Business Goals
From the start, Kelly understood that the kind of business she created requires close contact with each customer. After all, suggesting a personalized gift box based on the occasion, discussing dietary requirements, or size all demand special care and attention.
That meant getting to know her potential target audience very thoroughly—their needs, doubts, and expectations.
The right timing for launching a personalized gift business idea was of the essence, too. After all, "Luck is what happens when preparation meets opportunity," as the quote goes.
In fact, when the COVID-19 pandemic broke out and social distancing restrictions appeared, the interest for Care Package Depot skyrocketed.
Kelly said: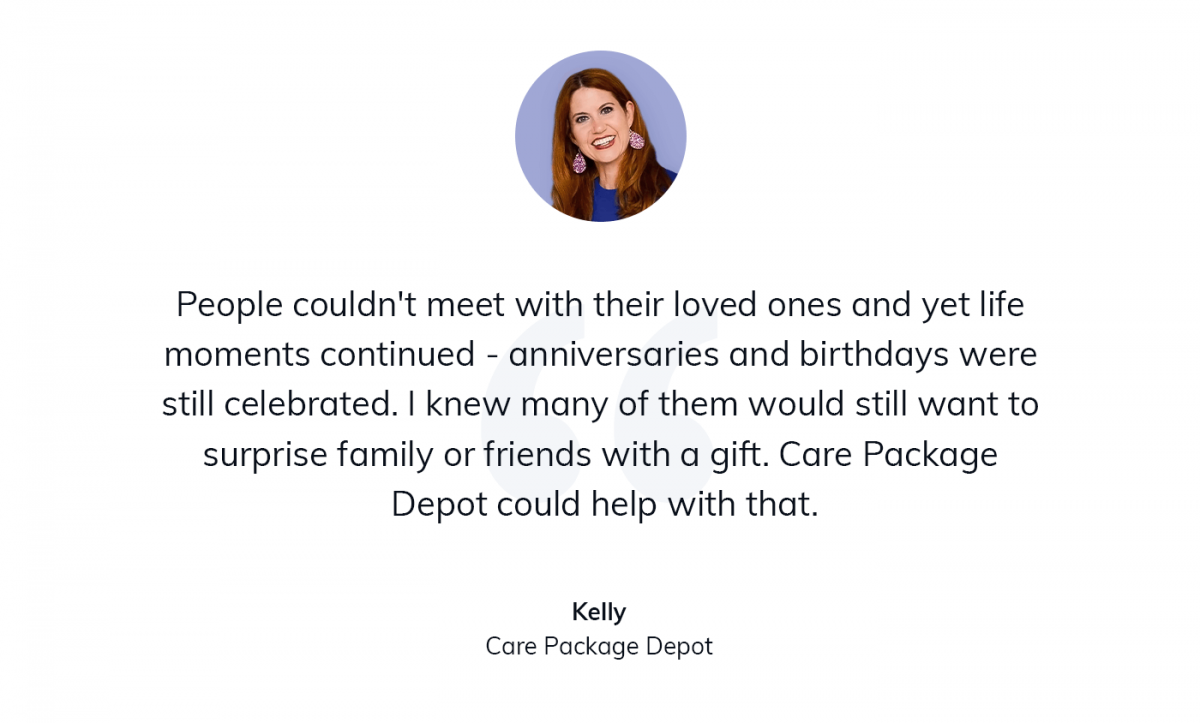 Makes sense, doesn't it?
However, let's not forget the potential threats, too:
Highly saturated market
Low entry barriers (meaning fierce competition)
Lack of the audience's trust
COVID-19 restrictions
Kelly had to sit down and brainstorm the answers to the following question.
Challenge: How to win customers in a highly competitive market and build a strong brand?
With "joy" being the leading theme for her business venture, she also set a clear goal to strive for.

Goal: Build trust and loyalty through personal approach in order to create a business that spreads more joy in the world.
Did she achieve it? You bet she did! Here's how the process looked.
3. Process
Let me start by saying that within eight months, Care Package Depot went from a handful of orders and 2k sessions per month to over 10k sessions and hundreds of satisfied customers.
Wow, right? And… How did she manage to do it?
Truth is, Kelly had been familiar with online chat solutions and it was natural for her to add live chat and chatbots to her own store. She wanted her visitors to feel seen and taken care of from the moment they land on her page.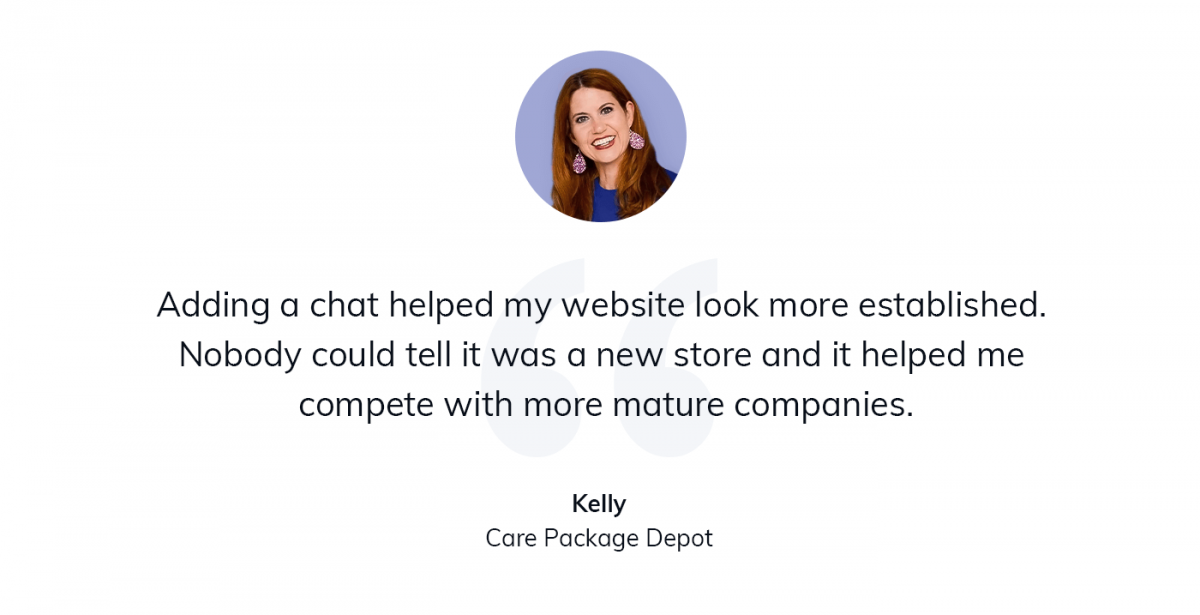 🚀 Read more: What Is Live Chat? How Your Business Can Benefit From Live Chats With Customers

🚀 Read more: What is a Chatbot and How Chatbots Are Changing Everything

Now, let's see how Kelly used Tidio to grow her business, shall we?
Step 1: Installing Tidio (May 2020)
Remember the timeline from the beginning of the article?
Initially, Kelly decided to try out Tidio because she wanted to talk to her visitors in real-time and answer them immediately.
Why?
Well, it's no secret that email customer service sucks (most of the time).
Kelly knew it—and she made it her mission to focus on providing the best customer experience possible.
She found Tidio and decided to try it out. It was a free plugin anyways.
Fast forward a few days, and Kelly noticed that having a live chat helped her slash the response time to mere seconds. This, in turn, brought many positive reviews from her customers and made her store look more substantial.
Here's what her chat box looks like now: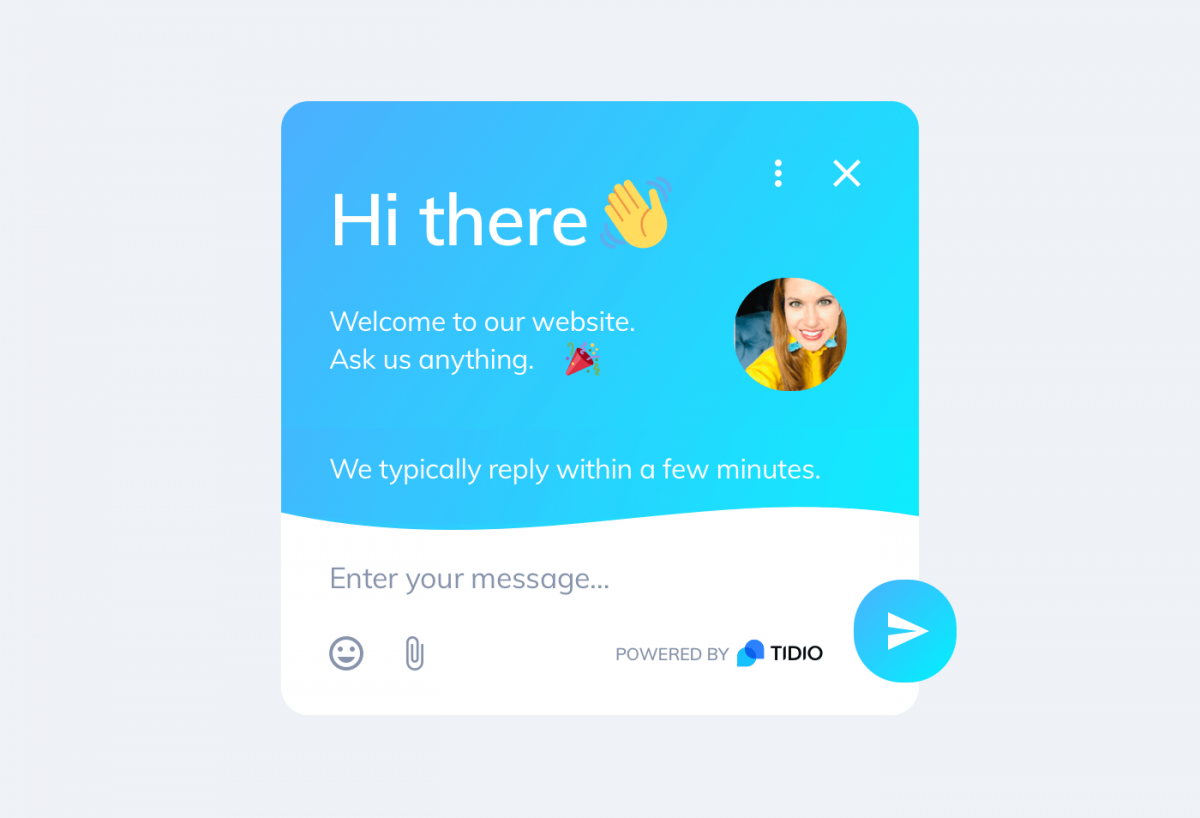 Personalize Your Chat
Have you noticed the color?
Yay! Kelly customized it to match her brand perfectly.
But this doesn't end here—
A freemium version of the app came with chatbots and mailing. This inspired Kelly to:
Generate leads by offering a discount with chatbots
Get valuable insights into her target audience's needs and their on-site behaviors
Answer her potential customers immediately using a mobile app and Messenger bot
Engage visitors automatically with a welcome message
Personalize her chat box to match Care Package Depot brand
She told us this: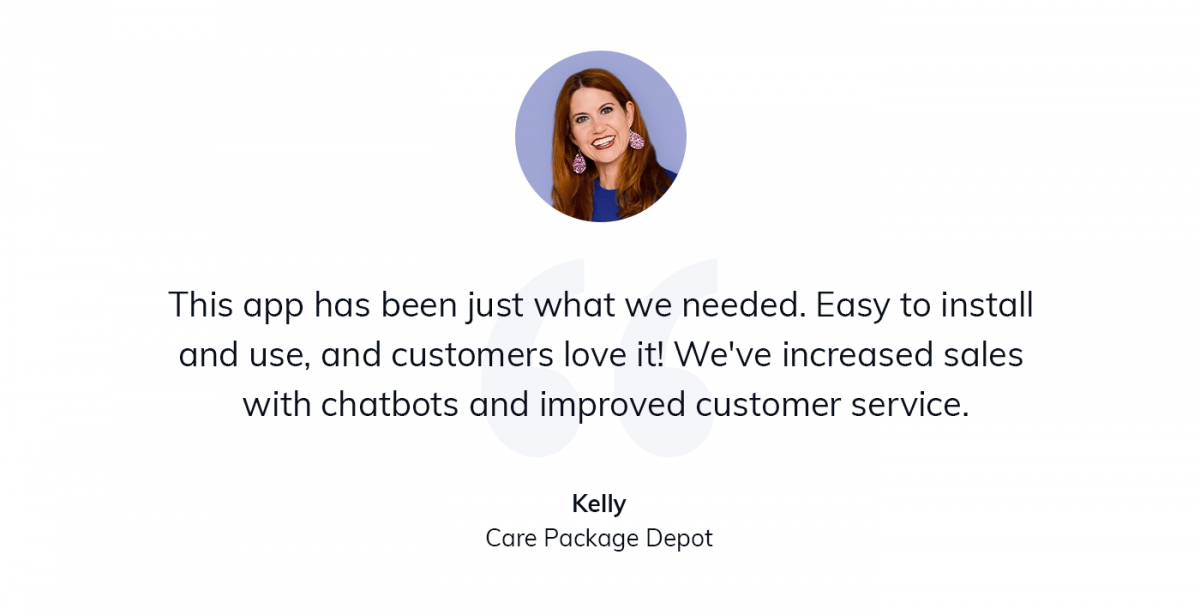 The free version was great, however, the rapid growth have eventually prompted her to consider an upgrade.

🚀Check out: Tidio Pricing

Step 2: Adding Communicator plan
One day, a customer told Kelly the following:
"I wasn't sure if I'm going to buy but after reaching out and getting connected with a real person I completed the purchase."
Bang!
She got a final confirmation that connecting with customers via a live chat was the key. The "To buy or not to buy" dilemma was solved immediately after a website visitor was able to talk to Kelly in real-time.
Care Package Depot's sales started growing!
That's why, on June 2nd Kelly upgraded from a free plan and subscribed to the Tidio Communicator plan. She needed a little more help handling all the incoming interactions.
With premium features she could also:
Monitor viewed pages in detail (who saw what page and when)
Get new incoming visitors notifications
Have access to live visitors list and engage with them right away
Use a live typing preview to answer her visitors even before they send the full message!
🚀 Read more: Top 10 Live Chat Features That Speed Up Your Work
Step 3: Adding Chatbots and Email Marketing
Talking to visitors in real-time was great but don't forget that Kelly kept her 9-5 job! Answering 20 messages via a mobile app was still doable, but soon the notifications about new visitors in her store were coming in every few seconds.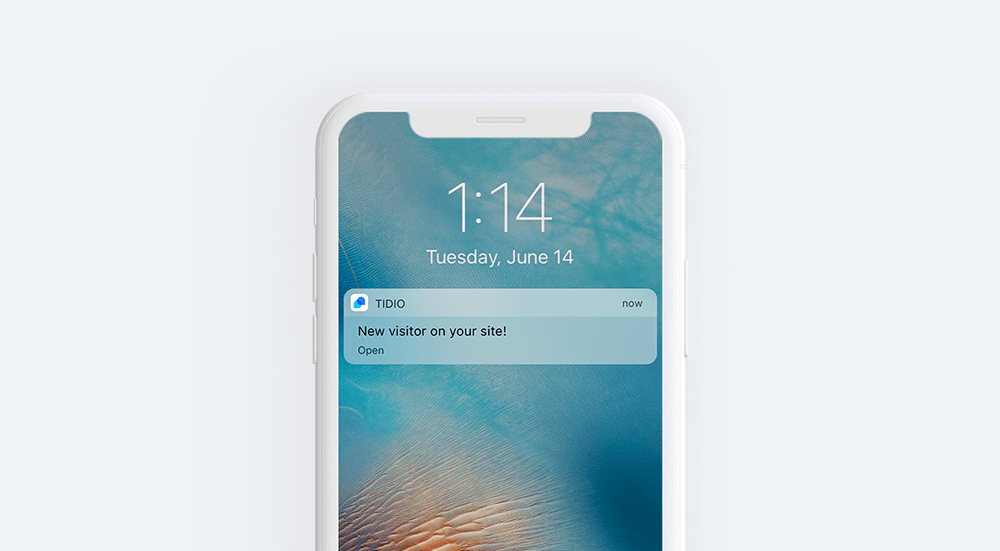 That left her with a choice: "hire a customer service agent to take care of a live chat or… hire a chatbot to automate the process?"
You guessed it— Kelly went with (a more efficient) option B, and decided to upgrade to Chatbots and Email Marketing plans in July 2020.
With Tidio being an all-in-one solution for:
Customer service
Lead generation
Sales
Email marketing
Care Package Depot could run efficiently without paying for any other app.
In fact, Kelly uses only one other app (for customer reviews) and said that running all marketing and customer service operations from one place is extremely convenient.
It's only been a couple of months but Kelly has already started automating her customer service and sending first email campaigns. The initial results have been really satisfying.
We won't go into details today but we promise to follow up on Care Package Depot's case in a few months and come back with some updates! Until then, see what happened with Kelly's business in the last few months.
🚀 Check out: Tidio Chatbots
🚀 Check out: Tidio Email Marketing Software
4. Results
Ready? It's time to analyze Care Package Depot's results.
Below you can see how Care Package Depot has been growing its traffic and interactions with customers since April 2020.
Over 10,000 interactions with visitors in August 2020. Crazy, huh?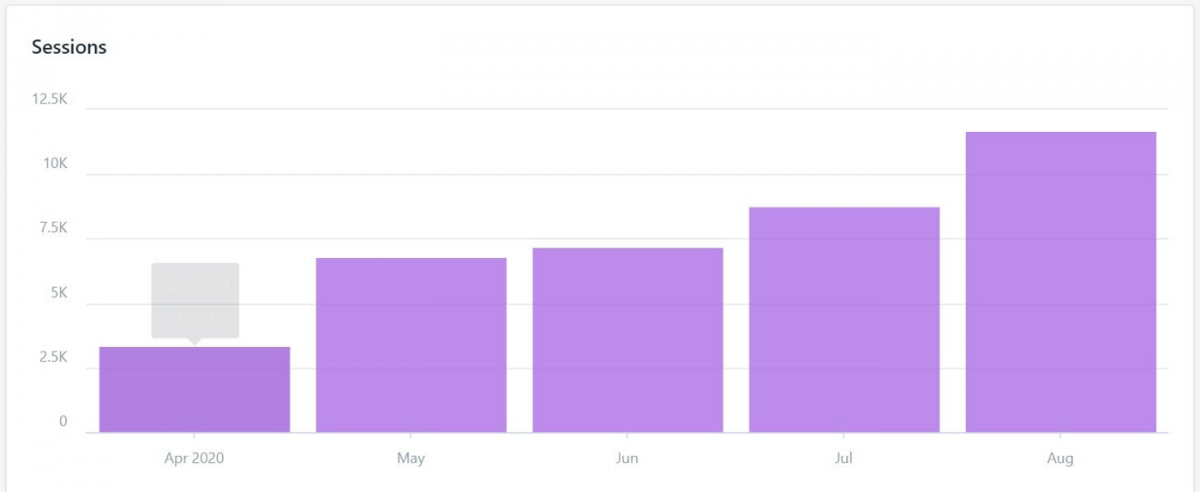 Next, look at the graph showing leads generated by Care Package Depot using Tidio's chatbot and a pre-chat survey.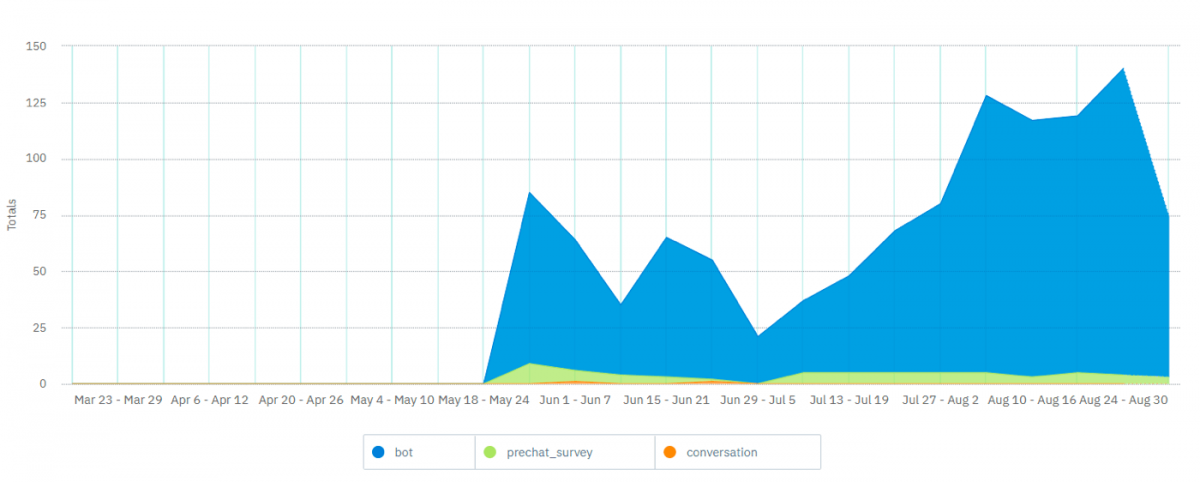 As you can see, scaling up and combining chatbots and a communicator plan has really boosted Care Package Depot's lead generation strategy and consequently—sales!
🚀 Check out: 20+ Free Chatbot Templates

Lastly, let's not forget about the most important aspect of any successful business—Care Package Depot's customers, and their experience shopping at Kelly's store.
After all, without clients, you are doomed to fail. Positive customer experience, word-of-mouth marketing, as well as a social proof have been essential in helping Care Package Depot grow.
Just take a look at these two reviews that Kelly has received from her satisfied customers.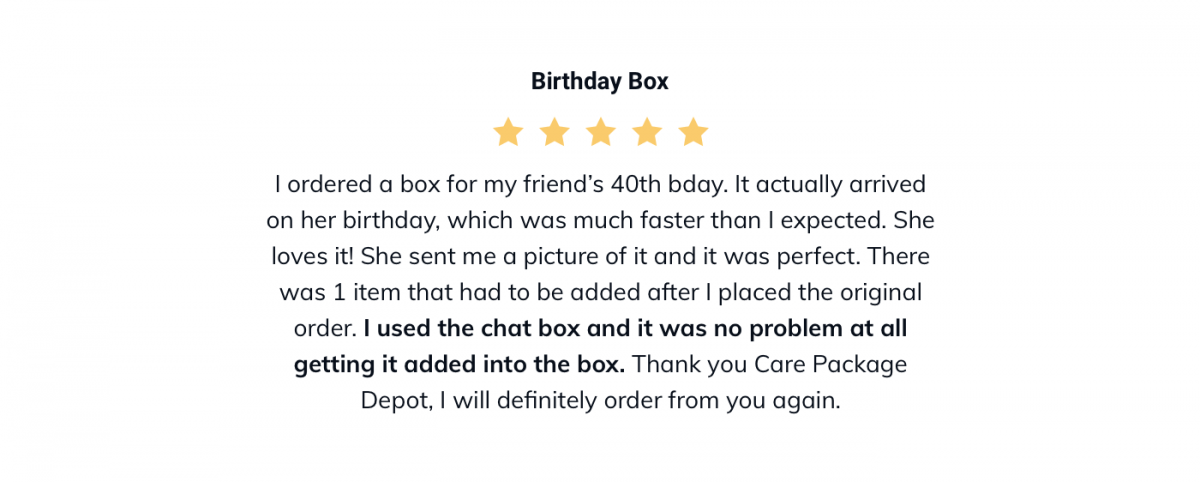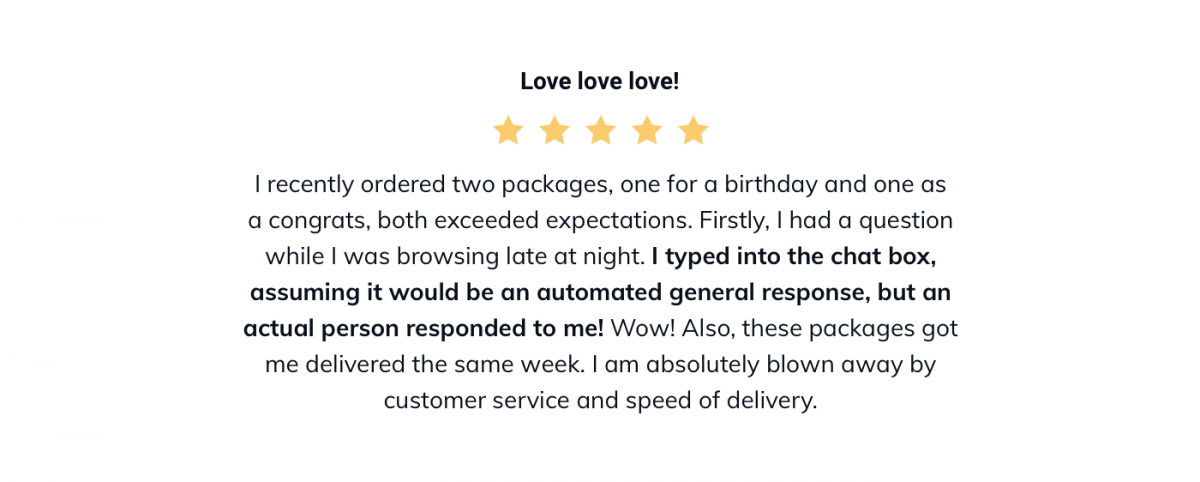 We can only wish her more of these!
5. Key Takeaways
Finally, here are a few main takeaways from Care Package Depot's story:
Match your mission to your brand voice
Build trust through one-on-one conversations to create loyalty
Add live chat and chatbots to make your business look established and credible
Grow your small businesses through customer loyalty and referral marketing
Personalize customer experience as much as possible
Lastly, let's take a look at how you can replicate Kelly's success and build a similar chatbot that she uses to engage with her own customers.
6. Tutorial: Care Package Depot
It may come as a surprise but Care Package Depot uses only one custom chatbot for lead generation.


Kelly chose the Discount for New Visitors bot during the initial configuration. The only thing she had to change was the first message.
If you didn't choose this template but would like to try it now, don't worry! Go to the Chatbots panel and add the template manually—it's in the Boost Online Sales category.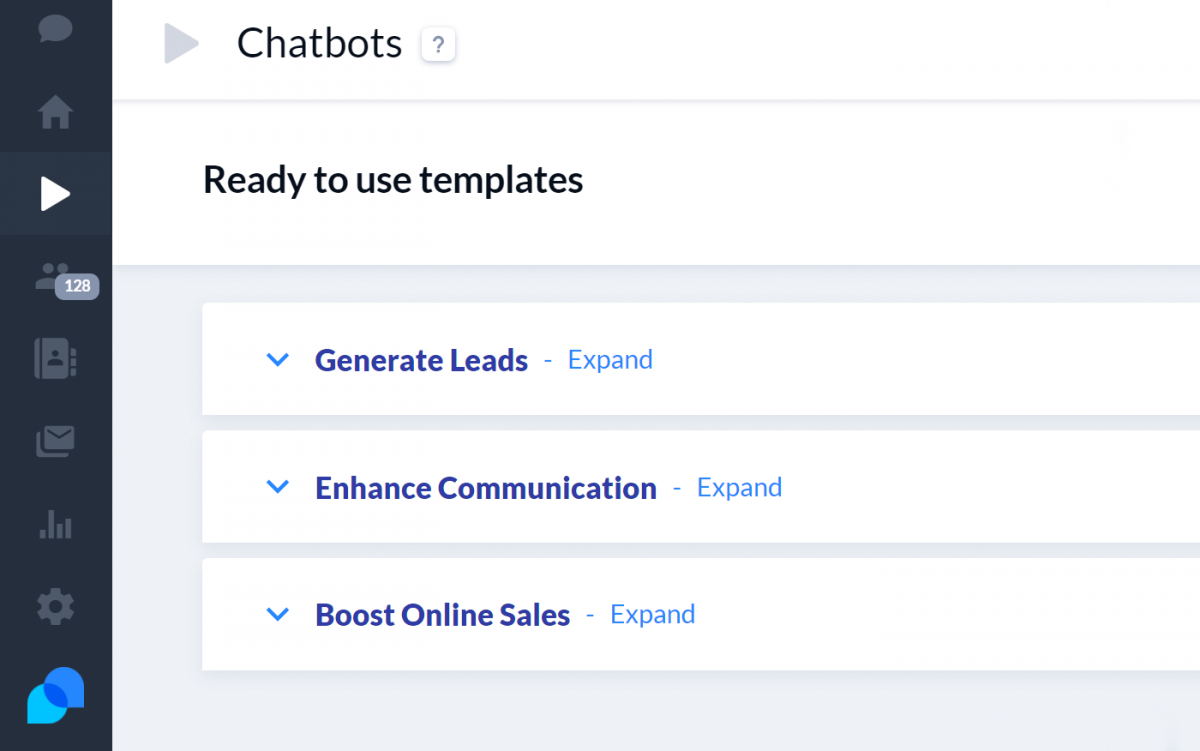 You can edit the messages right after selecting the template.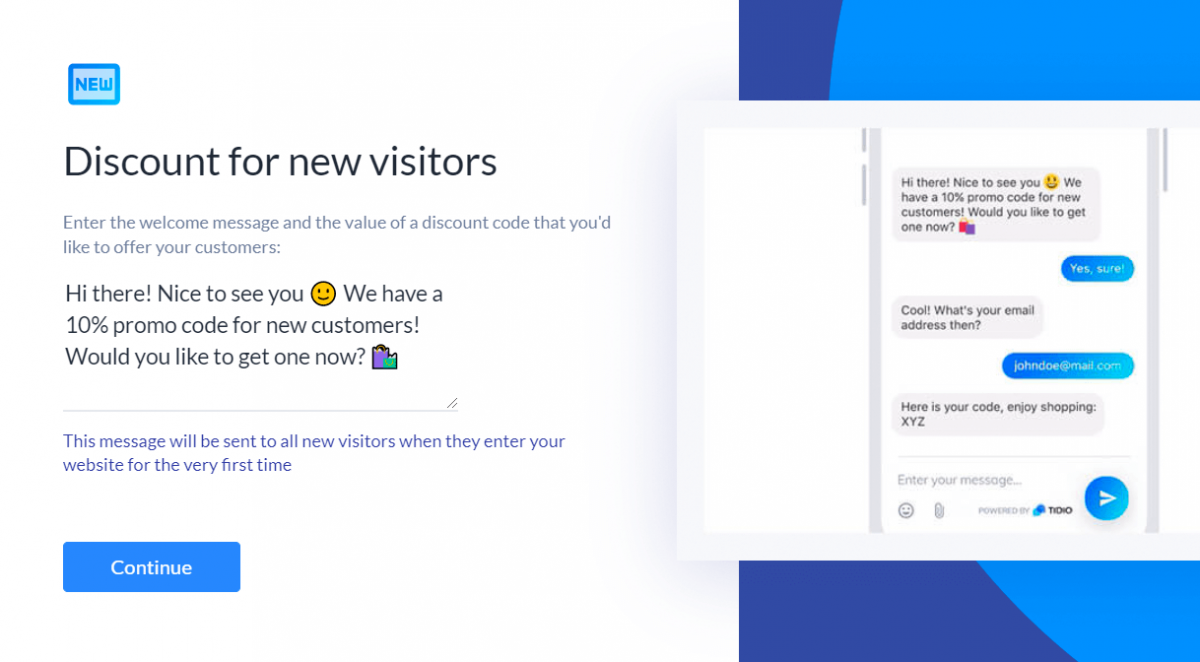 After you set it up, you can check the Chatbots panel again. The chatbots that are active have a green dot in the upper right corner.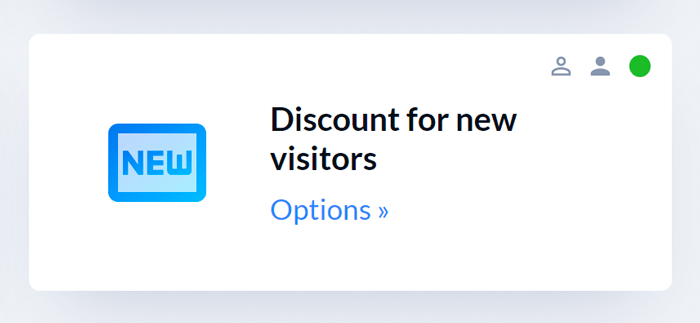 If you want to experiment with different variants of the message, you can change them anytime. Click the Edit button that appears when you hover over your chatbot.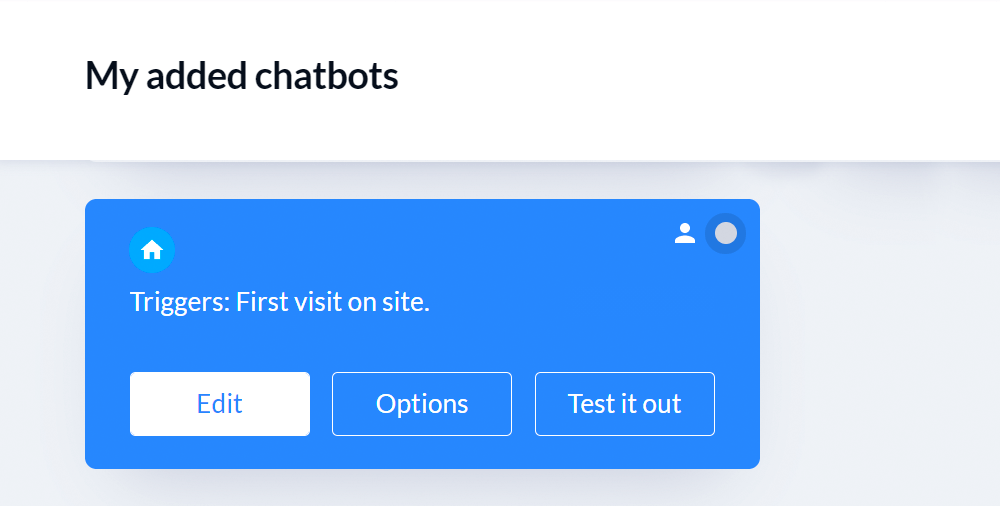 It will open the editor. Select the Decision node, edit the message, and save the bot.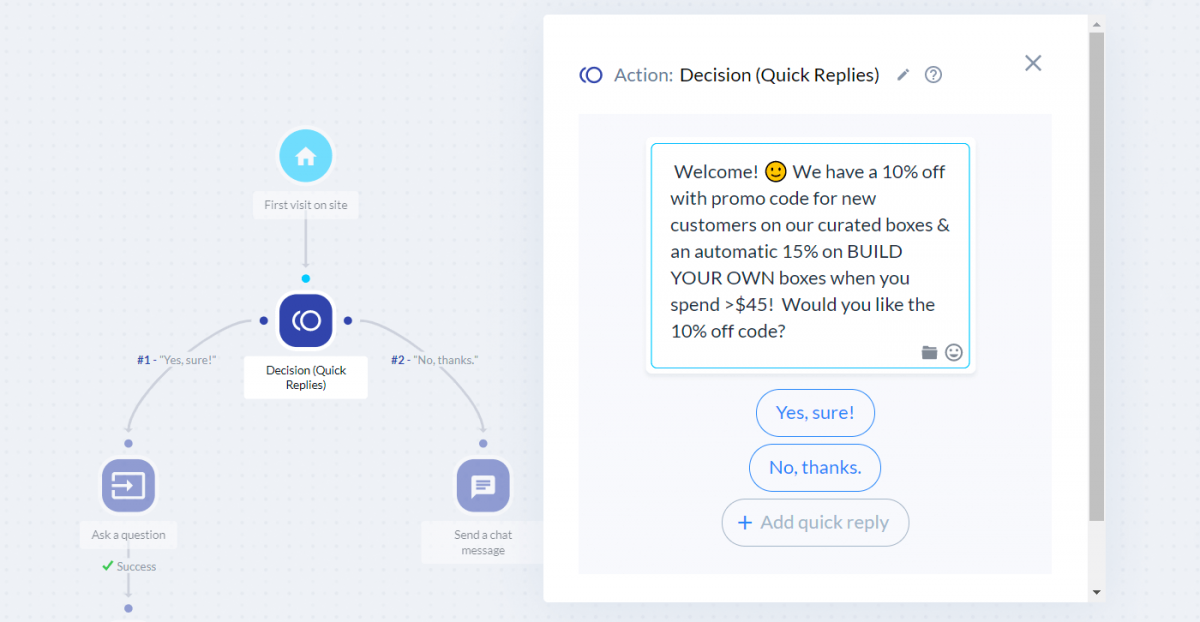 After adding this chatbot on your website, you'll collect hundreds of emails without any additional effort.
Add Chatbot Now
What else could Kelly do?
To activate more customers Kelly could send marketing emails to her contacts. She actually started experimenting with it.
Tidio has built-in email marketing tools. Using it Kelly could use email newsletter templates to inform her customers about special deals (or send cart abandonment emails).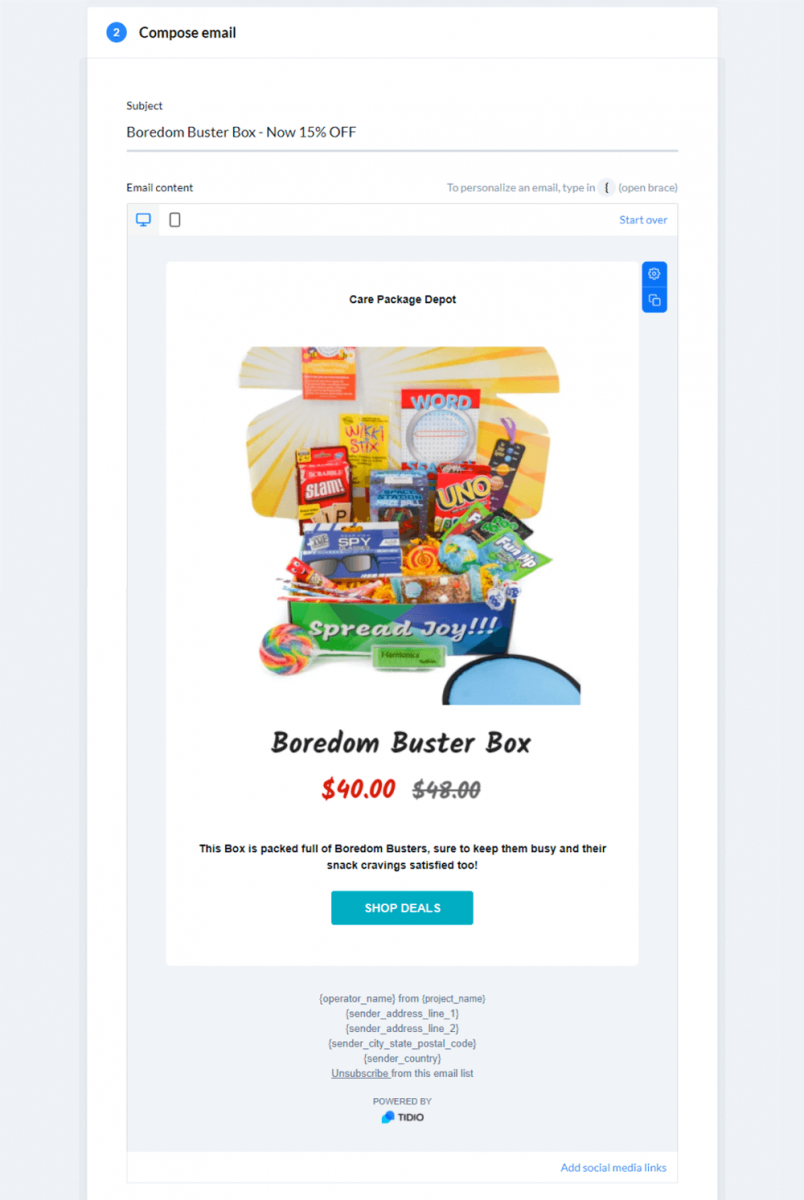 The average click-through rate of this kind of emails is about 3–5%. With 1,000 leads that gives us approximately 30–50 users who visit our product page with high purchase intent.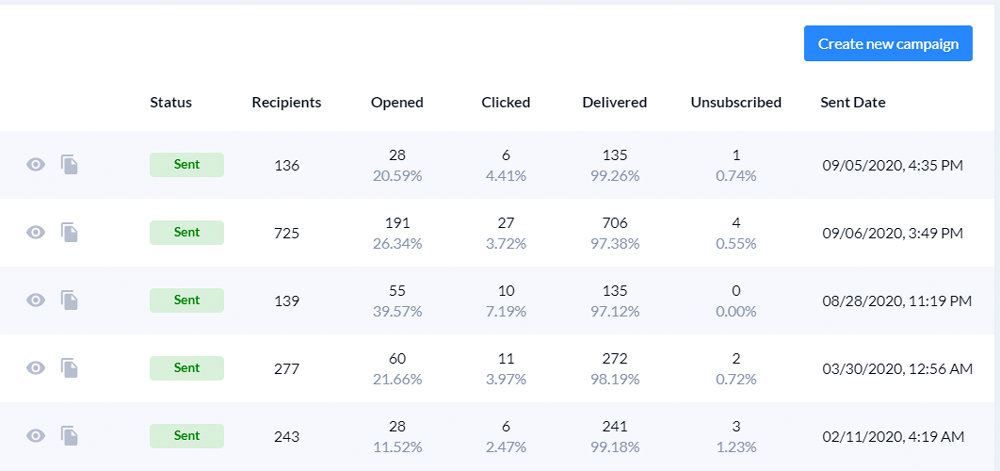 You can send different variants of the email several times. After sending your first email campaigns, you should be able to determine what is the optimal frequency for your business.