In today's digital age, customers have more choices than ever before. And they are quick to take their business elsewhere if they don't receive the level of service they expect.
That's why providing excellent customer service is critical to your business success. To make it happen, though, you need professional customer service software.
But there are so many options to choose from—
Which solution is right for your business? And, to begin with, what kind of software are we talking about?
We've got you covered.
In this article:
Customer service software definition and types
Top customer support apps compared and reviewed
How to choose the right solution for your business
If you are interested in a specific type of customer support tools, you can also check out:
Let's dive in and take a look at the different types of customer service software that your business might need!
What is customer service software?
Customer service software is a type of software that helps businesses manage customer interactions and support. It usually includes features like ticketing, live chat, and knowledge base management. Customer service software can help businesses improve customer satisfaction and reduce operating costs.
There are many benefits of using customer service software for businesses:
It allows you to keep track of customer service requests, conversations, and feedback.
You can also use it to automate customer support tasks and workflows.
You can improve the customer service quality and efficiency of your departments.
You get access to powerful dashboards for performance analytics. This means that you can make more informed decisions about where to focus your efforts.
OK—
This all sounds really cool. But what kind of apps are we exactly talking about?
What are the common types of customer service tools?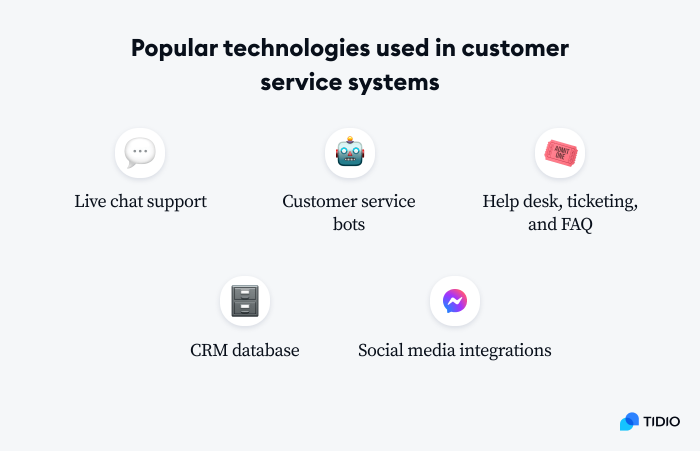 Popular software and online customer support systems include:
Live chat software. It allows you to chat with customers in real-time. You can utilize it for sales, troubleshooting, or simply for general customer service. With 47% of customers using it, live chat is the second most important support channel after email.
Chatbots. They are AI-powered software that simulates a human conversation. Chatbots can be used to provide customer support, answer questions, or promote products and services.
Help desk software. It helps you manage customer support requests. Help desk solutions can be used to track tickets, resolve issues, and provide customer self-service options.
Customer relationship management (CRM) software. This type of software helps you manage your customer relationships. It can be used to track sales, marketing, and customer service interactions. About 65% of new businesses implement CRM technology within the first 5 years.
Social media management (SMM) software. It's useful for managing all your social media accounts in one place. It can be used to track posts, monitor interactions, and respond to customers.
The list of technologies used in online customer service runs quite long. Thankfully, you don't need to implement them one by one or spend time connecting solutions developed by different providers.
Most customer service platforms offer all-in-one support suites. You can choose one company and get access to everything that you need. This gives you a centralized place to manage all of your customer interactions, making it easier to provide excellent customer service.
Best customer support software
The global customer service software market is expected to grow at a compound annual growth rate of 23% between 2022 and 2030. It's already valued at $24 billion.
Currently, the market has been mainly dominated by companies operating in the online customer service arena for many years, such as HubSpot or Zendesk.
On the other hand, new alternatives offering similar services at a fraction of the cost, such as Tidio, are growing in popularity.
Here is our comparison of the best online customer service solutions.
Let's go through them one by one and compare them to find out which provider suits your needs.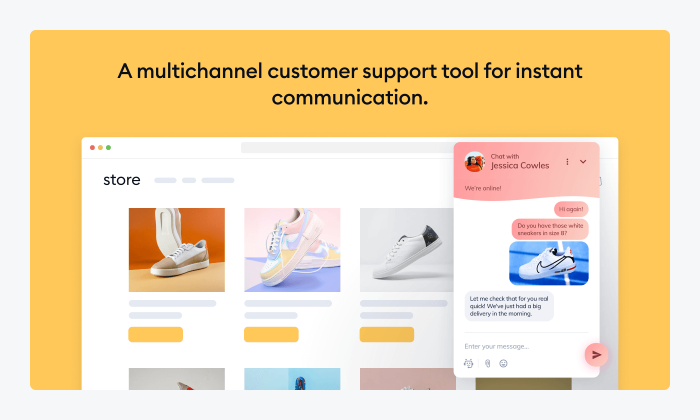 Rating: 4.7/5 ⭐️ (based on 1,085+ reviews)
We are not fond of false modesty. On the other hand, this is not the best place to toot our own horn. Either way, we are very pleased that hundreds of thousands of users trust our app. If you want to learn more about Tidio, just check out our reviews.
Tidio is a web-based customer service platform that helps businesses communicate with their customers through live chat, email marketing, social media, and automated messages. It also provides users with detailed analytics on how their customers interact with the websites.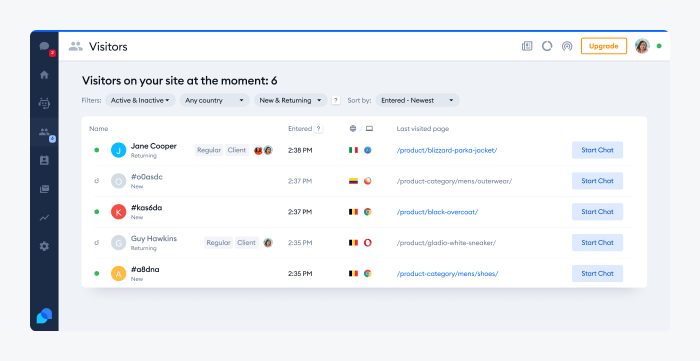 Key features:
Free. Unlimited chats and a limited number of chatbots
Communicator ($19/month per agent). Live typing preview and visitor insights
Chatbots ($49/month). Unlimited chatbots and chatbot templates
Read more: How to Add Live Chat to Your Website for Free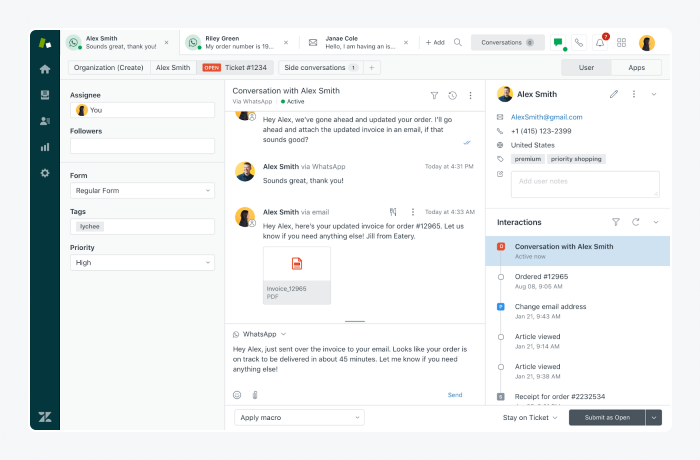 Rating: 4.3/5 ⭐️ (based on 4,120+ reviews)
Zendesk's customer service management software is used by businesses of all sizes, from small businesses to large enterprises. It's a popular choice for companies and teams that are looking for a cloud-based solution that is easy to use and scale.
Zendesk Suite for customer service is one of the best complete customer support systems. It includes a ticketing system, a knowledge base, and a live chat tool. Zendesk also offers a number of features that help businesses improve customer experiences, such as the ability to create custom forms, auto-responders, and workflows.
Pros:
Easy management of customer support tickets and customer interactions
Robust reporting for measuring the effectiveness of your customer support efforts
A large user community that you can draw on for best practices and advice
Cons:
By default, Zendesk sends you far too many email notifications
The system can be a little overwhelming for some users
Some of the basic features require a plan upgrade
Free trial. Zendesk offers a 30-day free trial option
Support Team ($19/month). Basic ticketing, customer details, and interaction history
Suite Team ($49/month). Help center, automation workflows, and reporting
Read more: Best Zendesk Alternatives [Ranking]
Rating: 4.5/5 ⭐️ (based on 6,020+ reviews)
Freshworks is a suite of cloud-based software for customer support, sales, and marketing. It includes help desk software, a CRM, and marketing automation tools. The company's goal is to make it easy for businesses to delight their users and customers with an affordable customer service SaaS solution.
Freshworks offers a whole infrastructure of products ranging from IT service management to marketing automation, and HR workflows. Freshchat and Freshdesk are products designed to increase customer satisfaction and engage users in meaningful conversations. They are among the very best online customer support tools.
Pros:
It's a customizable platform, so teams can tailor it to their specific needs
It integrates with a variety of other apps, and it's easy to connect Freshworks with other tools your team uses
Cons:
Their customer support team can be hard to reach if you are just a regular user
The user interface can be challenging for some users to navigate
AI chatbot assistants available only in the Enterprise plan
Free. Core email/social ticketing and a knowledge base
Growth (from $15/month per agent). Automation and custom ticket fields
Pro (from $49/month per agent). CSAT surveys and average handling time reports
Enterprise (from $79/month per agent). Skill-based routing and support bots
Read more: Best Free Freshworks & Freshdesk Alternatives [2023 Comparison]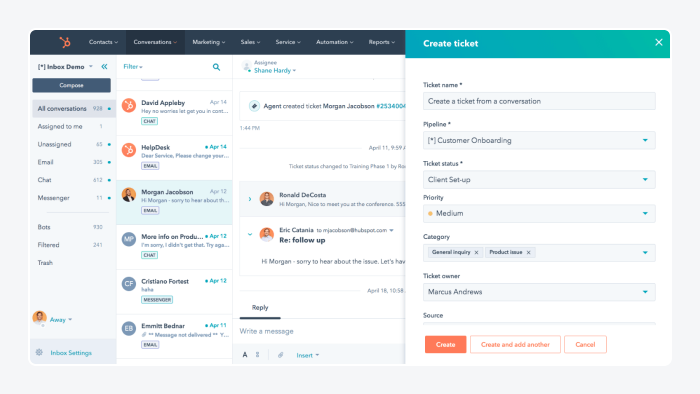 Rating: 4.4/5 ⭐️ (based on 1,135+ reviews)
HubSpot is primarily a marketing and sales software company. It offers a set of tools that help businesses grow their website traffic, convert leads into customers, and measure their marketing efforts. HubSpot's Service Hub is one of the products that allows you to manage your customer relationships and track your interaction. With its advanced tracking features, it is a great choice for customer success managers too.
HubSpot offers a free CRM solution and a live chat widget that you can add to your website. If you're looking for a comprehensive suite of tools to help you grow your business, then HubSpot is a good option to consider.
Pros:
HubSpot's free CRM is packed with features and is suitable for teams of all sizes
The live chat widget is a valuable addition that can help you engage with your website visitors in real-time
The company offers a wide range of marketing and sales tools like landing page builders and mass email campaigns
Cons:
The whole ecosystem of different Hubs is quite complicated and difficult to learn
It can be difficult to navigate between tickets and your message inbox
Email reply system is a little cumbersome
Free. Basic bots, live chat, CRM, and shared inbox
Service Hub Starter ($46/month). Additional templates, reporting, and removed branding
Service Hub Professional ($460/month). Customer feedback surveys and help desk automation
Service Hub Enterprise ($1,104/month). Custom playbooks, team goals, and additional operators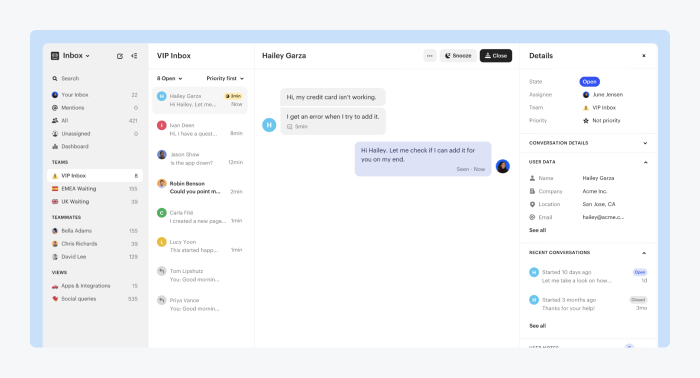 Rating: 4.4/5 ⭐️ (based on 2,230+ reviews)
Intercom is a suite of support, engagement, and messaging tools that helps businesses communicate with their customers. Their live chat enables you to send messages to people who have interacted with your business online and turn more first-time visitors into customers.
Intercom also lets you see and track who is using your product and how they are using it. This can help you find out what your customers need and provide them with the best possible support. Interactive bots help with boosting customer engagement and proactive customer service.
Pros:
Advanced chatbot tools for conversational marketing and FAQs
Omnichannel messaging and shared inboxes to organize your team's work
Sleek design and very good user interface
Cons:
Intercom is quite expensive, and its price depends on the number of customer interactions
The tool forces you to subscribe to additional utilities to access some of the essential features
Starter (from $74/month). Lite version of the tool for very small businesses
Support/Engage/Convert. Different modules are sold separately, and the prices are calculated on a customer-to-customer basis
Read more: Best Intercom Alternatives You Can Try for Free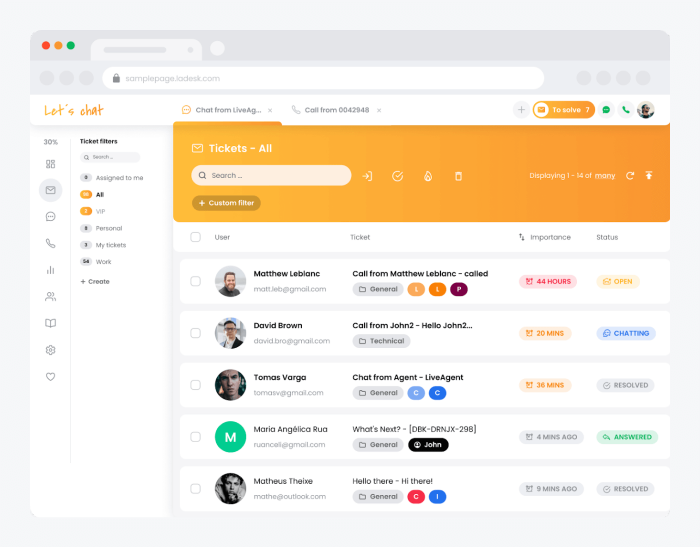 Rating: 4.5/5 ⭐️ (based on 1,375+ reviews)
LiveAgent is a powerful customer service tool that can help businesses improve their customer support processes. It has help desk and ticketing systems, live chat, knowledge bases, and social media management tools for omnichannel communication.
If you're looking for an all-in-one customer service software with a universal inbox, hybrid ticketing system, and call center integration, LiveAgent is the perfect system for you. With configurable chat widgets and an easy-to-use interface, LiveAgent provides an excellent platform for customer service.
Pros:
Compared to some other customer service platforms, call center software especially, it's quite affordable
It's a very user-friendly system—the functionalities are easy to learn and navigate
It offers configurable chat widgets and a well-designed chatbot interface
Cons:
The mobile live chat apps for Android and iOS is somewhat limited
No first-party WhatsApp Business integration
Free. Limited ticket history and basic reports
Ticket ($15/month). Advanced reporting, API access, and integrations
Ticket+Chat ($29/month). Chat satisfaction surveys and real-time visitor monitoring
All-inclusive ($49/month). Call center support, video chats, and call recordings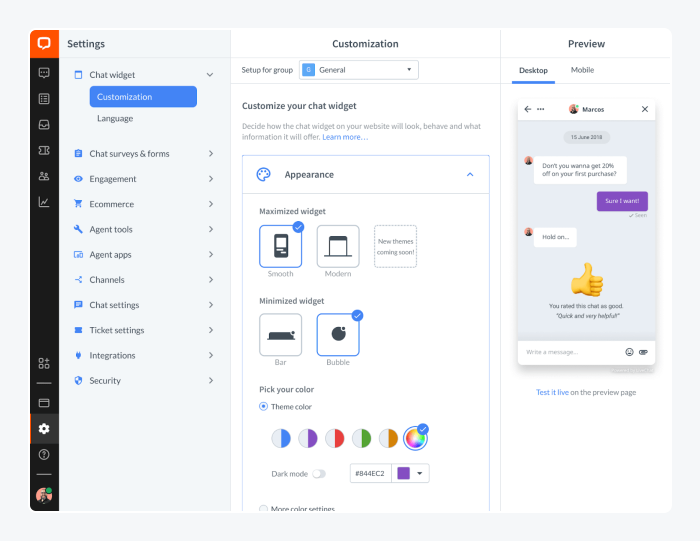 Rating: 4.5/5 ⭐️ (based on 730+ reviews)
LiveChat is precisely what it says on the box—a customer service software that helps businesses interact with website visitors in real-time. It offers a chat icon that customers can use to ask questions and get help with their orders.
Apart from the live chat feature, this support software also provides helpdesk, web analytics, and chatbot capabilities. Overall, it is one of the top customer service management solutions. The tools are sold as separate modules that allow companies to track customer behavior on their website and collect data for customer segmentation.
Pros:
The desktop app is very functional and offers a smooth experience for users
A variety of additional tools for customer engagement such as ecommerce chatbots
Many integrations available out of the box and an official app marketplace
Cons:
You need to subscribe to several different services to take the full advantage of the LiveChat system
Setting up different chat triggers and automation for multiple URLs can be problematic
Notifications can be inconsistent and difficult to manage
Free trial. You can try the Team plan for 14 days for free (no credit card required)
Starter ($19/month). Basic widget customization and limited chat history
Team ($39/month). Ticketing system and reporting features
Business ($59/month). Staffing prediction and work scheduler
Read more: How to Recreate In-Store Customer Experience Online and Boost Sales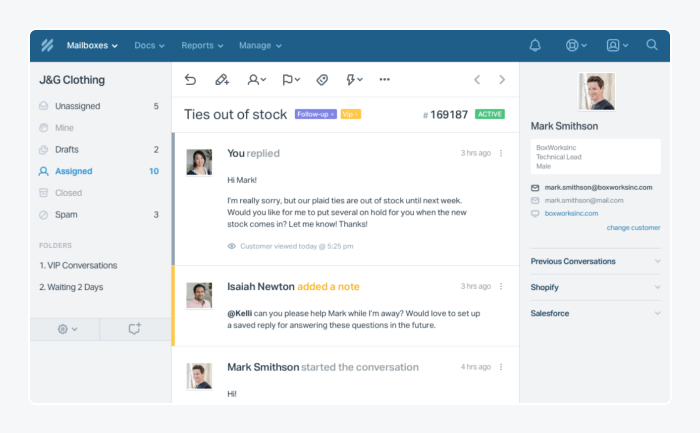 Rating: 4.4/5 ⭐️ (based on 355+ reviews)
Help Scout is a company that provides software for customer support via email and other online support channels. Their platform features live chat, phone systems, CRMs, and email marketing tools. Help Scout also offers a feature called Docs, a self-service knowledge base for customers to find answers to support questions.
Help Scout is a great customer service solution for businesses that want to provide a streamlined, efficient customer service experience. Their website offers many interesting resources such as video tutorials and articles that explain how to improve your customer service workflows.
Pros:
Great ticket management for customer requests
Uniform experience for customer service teams across different communication channels
Advanced features for reporting and monitoring customer service agents' productivity
Cons:
Occasionally, the spam filter doesn't work, and your support agents can get unwanted emails in their inboxes
Offline/online modes of the live chat widget can be confusing and reduce the number of potential customer conversations
It works mainly as online tech support software and doesn't have too many features for marketing automations and customer engagement
Free trial. Help Scout provides a free 15-day trial
Standard ($25/month per agent). Live chat, CRM software, and automations
Plus ($40/month per agent). Custom fields for your customer base list and advanced API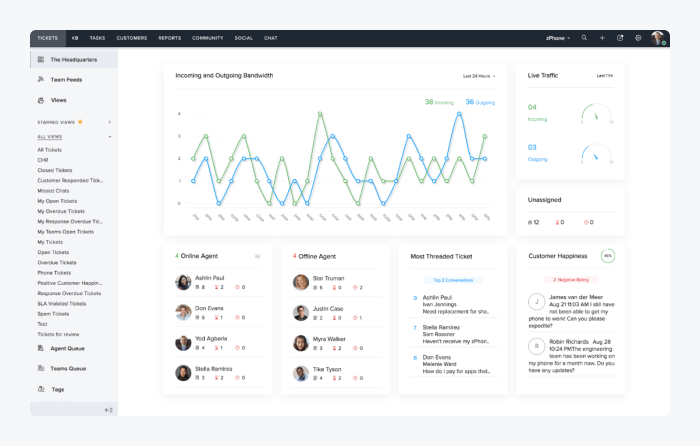 Rating: 4.4/5 ⭐️ (based on 3,770+ reviews)
Zoho Desk is a cloud-based help desk support solution that enables businesses to streamline their customer support operations. It offers a host of features such as ticketing, knowledge base management, asset management, and more. Zoho Desk has a multi-layered security architecture with multiple controls that help with protecting customer data.
In addition, Zoho Desk has a robust reporting and analytics engine that helps businesses track and improve their customer support performance. It comes in handy if you want to track things like the average response times of your customer support reps. If you are looking for cheap help center software with advanced features, Zoho is one of the best options.
Pros:
Interactive Voice Response (IVR) features for call centers
Easy ticket routing and management of phone calls
Good system for setting up automation workflows and rules
Cons:
There are many reports, but some of them could be displayed in a more visual way
Some users don't like the way email ticket notifications work
Free. Predefined service-level agreements (SLAs) and mobile apps
Standard ($20/month). Knowledge base and product-based tickets
Professional ($35/month). Agent collision and team management
Enterprise ($50/month). Live chat and artificial intelligence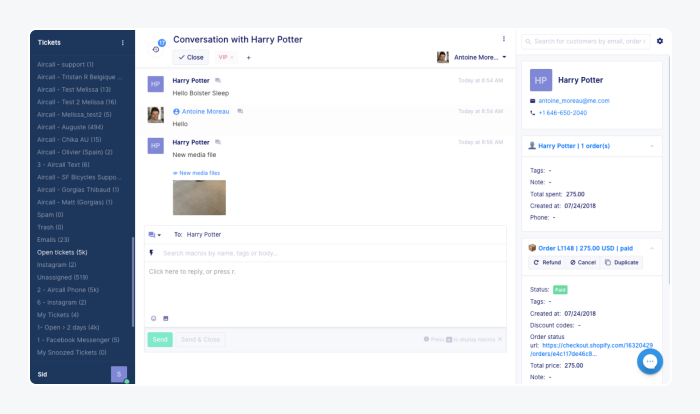 Rating: 4.6/5 ⭐️ (based on 335+ reviews)
Gorgias wants to empower ecommerce businesses with the tools they need to deliver an exceptional customer experience. Their helpdesk software was built specifically for online stores. It provides a host of features that make it easy to address customer needs and convert inquiries into sales.
If you are looking for a customer service app with a Shopify live chat plugin, Gorgias is one of the key solutions to consider. Additionally, Shopify chatbots powered by Gorgias have many interesting use cases.
Pros:
Gorgias Academy, a training program for users
Intents and sentiment detection tools powered by AI
Order management integrated with your store
Cons:
Spam filters work in an unpredictable manner, and sometimes you can miss incoming messages from real users
No free plan available and the prices are quite high and connected with customer volume
Basic ($60/month). Includes 300 tickets per month for live chat, email, and phone calls
Pro ($360/month). Includes 2,000 tickets per month and revenue statistics
Advanced ($900/month). Include 5,000 tickets per month and full onboarding
How to choose the best customer service platform?
When it comes to choosing customer support software, there are a few key factors you'll want to keep in mind. There is nothing worse than to implement a full customer service solution only to switch to a different platform in several months.
Here are a few of the most important things you should consider when making your decision.
Ease of use
The last thing you want is for your customer support software to be so complicated. If your agents can't figure it out, it's not a good sign. Look for a solution that's easy to use and understand, with a user-friendly interface.
Ease of use also means easy implementation, which is another great reason to consider using an all-in-one solution. Instead of connecting several tools developed by different providers, you can implement one tool with a single account.
Read more: How to Install Tidio on Your Website
Customer support features
Some apps may seem more feature-rich, but you have to ask yourself if you'll actually use all of them. Focus on the essential functionalities first.
What kind of features do you need in your customer support software?
Some of the most important include:
Ticketing. Ticketing systems are essential for any customer support team. They allow agents to keep track of customer issues and requests, and ensure that each one is addressed in a timely manner.
Live chat. Live chat is another critical feature for any customer support software. It allows agents to communicate with customers in real-time, which can help resolve issues more quickly.
Reporting and analytics. Reporting and analytics features allow you to track key metrics, such as customer satisfaction levels and average resolution time. This information can be invaluable for identifying areas of improvement.
Shared inbox. A shared inbox for teams is a central repository for all customer communication, such as emails, chat messages, and social media posts. This allows multiple agents to collaborate on resolving customer issues.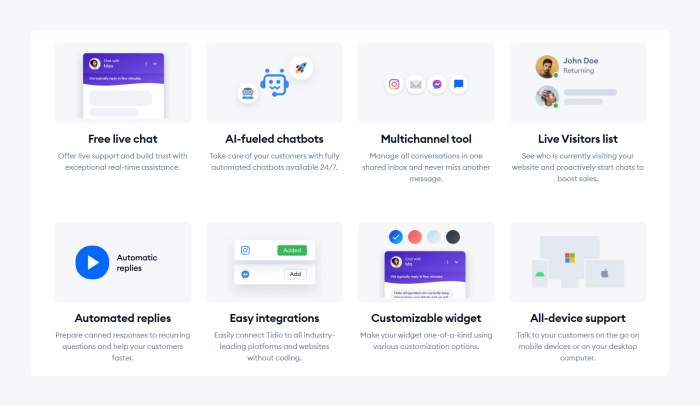 Integrations
Does the customer support software you're considering integrate with other applications? Integration is important for ensuring a seamless customer support experience. Make sure to double-check if your customer support teams and agents want to integrate the platform with other apps.
Some of the most useful integrations for customer service software are:
It's worth noting if your customer service platform offers an API or integration with Zapier. These solutions open up virtually unlimited possibilities for combining different technologies.
Read more: How to Integrate Tidio With Zapier
Pricing
Of course, you'll also want to consider pricing when choosing customer support software. Make sure you have a clear understanding of the costs involved, as well as any discounts or deals that may be available, before making a purchase.
Pay attention to whether companies tie their pricing to the number of customer interactions. For example, you may get charged for exceeding your monthly ticket quota or adding extra agents. Some pricing plans may seem favorable, but the additional fees can add up to a substantial amount.
Conclusion
Customer service is essential for any business, whether you are selling products or services. In order to provide the best customer experience possible, it's important to use the right tools.
The help desk software reviewed in this article can help businesses of all sizes deliver exceptional customer service. All of these solutions offer a variety of features that make addressing customer needs easier and more efficient.
So, what is the best customer service solution on the market right now?
Free customer service software:
Tidio
Freshdesk
HubSpot
LiveAgent
Zoho Desk
Best support app for ecommerce stores:
Best customer service platform for startups and small businesses:
Tidio
Zoho Desk
LiveAgent
Best all-in-one support and marketing solution for enterprise:
When choosing a help desk solution, it's important to consider your requirements. If you are looking for a solution with live chat support, make sure to check out the offerings from Tidio, Zendesk, and Gorgias. For businesses with a larger customer base, Freshdesk and Zoho Desk offer robust ticketing and knowledge management features.
Just remember, the best help desk solution is the one that fits your specific business needs. Not the most expensive one.