WhatsApp is the most popular mobile messaging app in the world. It has over two billion users!
If you think about it, that's a lot of people.
Many of them also happen to use WhatsApp to connect with businesses in real-time. And, if you are a business owner, that's where the "pro" version of the app comes in handy.
But, you may wonder—
Do I really need WhatsApp Business?
If you're still unsure whether to switch to a business account, this guide is for you! We'll discuss the most important WhatsApp Business features and why they work.
In this article:
If you're eager to improve your customer interactions, then you may also be interested in other tools:
Now—
Why do people use WhatsApp?
WhatsApp is used by people of all ages and backgrounds for a variety of reasons. In fact, one in every five US adults sends messages via WhatsApp. Some want to stay in touch with friends and family, while others use it for work or to keep up with the latest news.
WhatsApp is a great alternative to Facebook Messenger because it offers more privacy. It provides end-to-end message encryption, meaning that only you and the person you're communicating with can access the conversations.
And WhatsApp business takes it to a whole new level.
What is a WhatsApp Business account?
WhatsApp Business is a version of WhatsApp designed, as the name suggests, specifically for businesses. It includes all of the features of the regular app, plus some additional functionalities and messaging tools.
WhatsApp Business comes with a more advanced interface that is tailored for managing large volumes of customer conversations. For example, you can create quick replies and automated messages to answer repeated questions from customers. Or, you can set up your business profile and add a separate phone number for your WhatsApp Business account.
So—
How much does WhatsApp Business cost?
The good news is that WhatsApp Business is free. You can download the app from the App Store or Google Play. There are no subscription fees or other costs associated with using the core features. However, if you want to use WhatsApp Business to send marketing messages, you will need to pay for your ads.
WhatsApp Business: benefits
WhatsApp Business is one of the most popular apps for business messaging. It has been downloaded over 8 million times for Android devices alone. And there are a few very good reasons for that.
Benefits of using WhatsApp Business
Automated messages to deliver 24/7 support and improve customer experience
Upgraded version of the app for both Android and iOS/Apple devices
Integration with social media and conversational marketing through Facebook and Instagram
Ability to use message templates and quick replies to save time
Verified businesses can connect WhatsApp to their CRM via 3rd party WhatsApp business solutions
There are many more advantages of using the professional version of WhatsApp. And, with a business account, you can also get direct access to the WhatsApp Business Platform (also known as WAB API) to unlock additional functionalities.
WhatsApp vs WhatsApp Business: comparison
Take a look at the table below to find out the difference between WhatsApp and WhatsApp Business.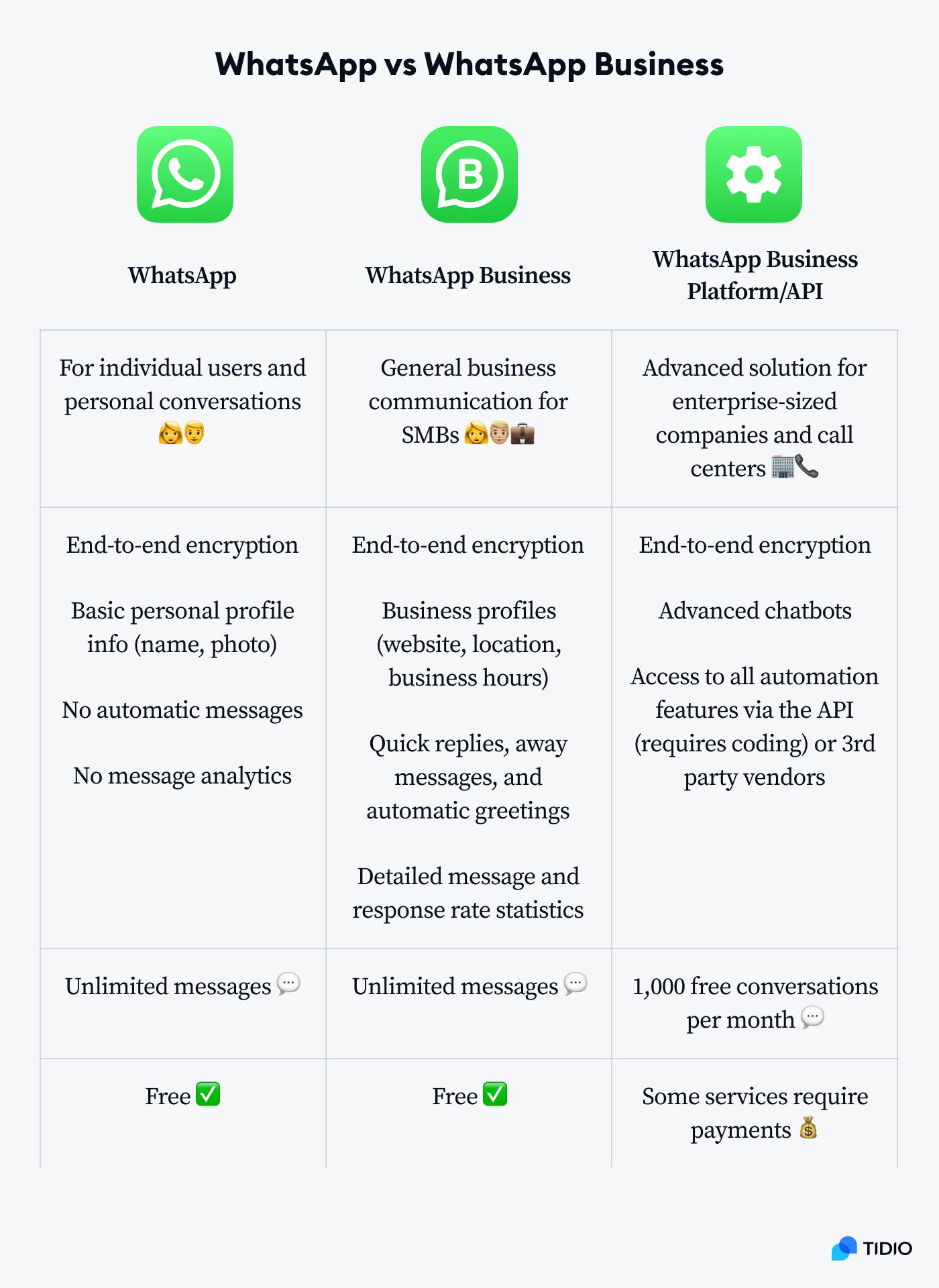 OK—
But what's the deal with the WhatsApp Business API? Is it a better version of WhatsApp Business, or something different entirely?
So, here's a thing—
Many companies and call centers need to use omnichannel customer service tools and advanced bot automation.
In fact, only 2% of customers in the US choose WhatsApp as their primary customer service channel. It may come as a surprise, but most users still prefer phone calls or live chat support over WhatsApp. That's why switching to a WhatsApp Business account may not be enough.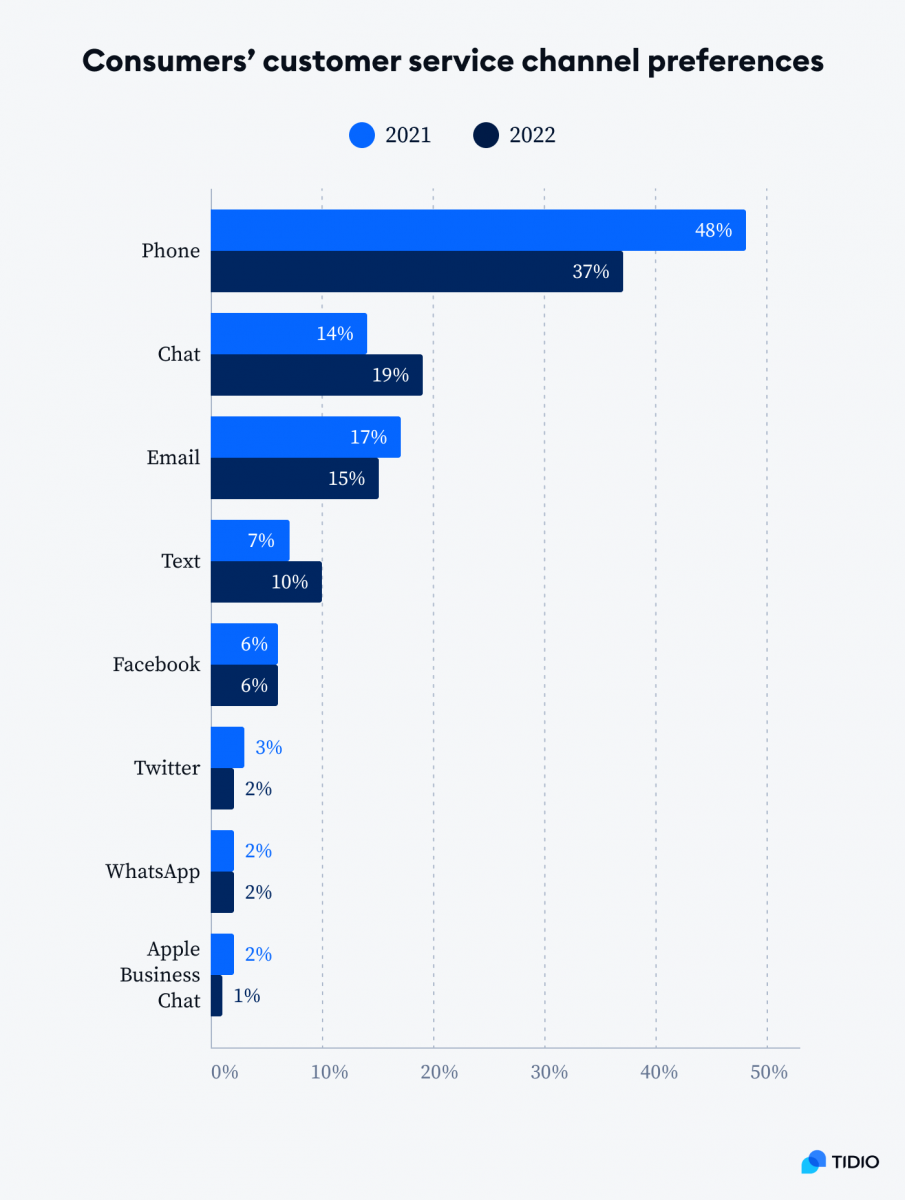 For this reason, customer service departments in bigger companies use WhatsApp Business API—it allows them to use the WhatsApp "engine" for multichannel service.
WhatsApp Business is awesome, but it doesn't give you full, streamlined control over your customer support. The WhatsApp API unlocks some additional features, but it is way more complicated and difficult to implement. That's why it is mostly used by large businesses.
Now—
Let's see what switching to a WhatsApp business account means in practice.
Top WhatsApp Business features
Communicating with your customers directly and providing them with a personalized experience is the key to success. This is especially true for ecommerce businesses. Using WhatsApp Business will give you a better understanding of your customer base and what they want.
If you want to improve your customer communication, here are nine best WhatsApp Business feature that you should try:
Read on to find out how each of the features can help your business. Most of them are explicitly meant to increase your customer engagement and sales.
1. Add Business Profiles
A WhatsApp Business profile can help you create a more professional image for your company. It is like an online equivalent of a business card.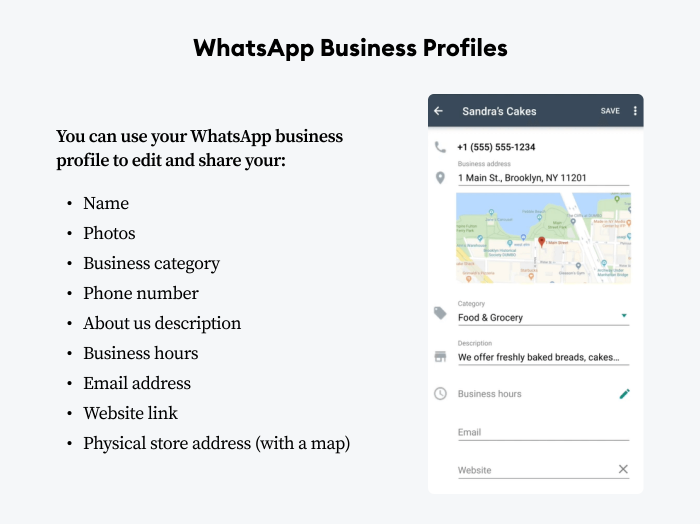 Your customers can view your profile and find all necessary information such as your contact details, business hours, and location. It's a great way to build trust and show that you are a legitimate company.
To create your profile, just download the WhatsApp Business app. It is actually one of the very first steps of the tour right after you open the application. After you provide your number, WhatsApp will ask a series of questions regarding your company. You can change or add more information later in the Business tools section of the panel.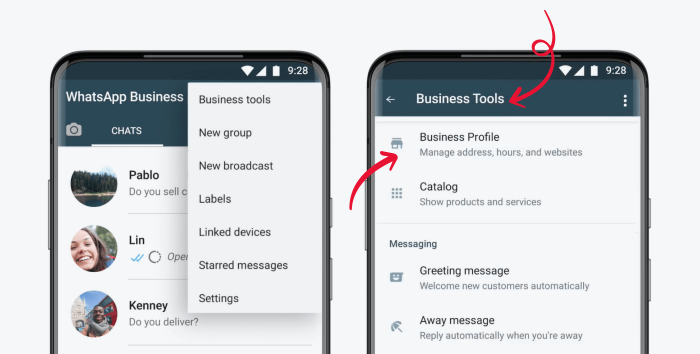 2. Create product catalogs
The catalog feature in WhatsApp allows businesses to showcase their products and services to potential customers in a visually appealing way. This can be a great way to promote your featured or new products too.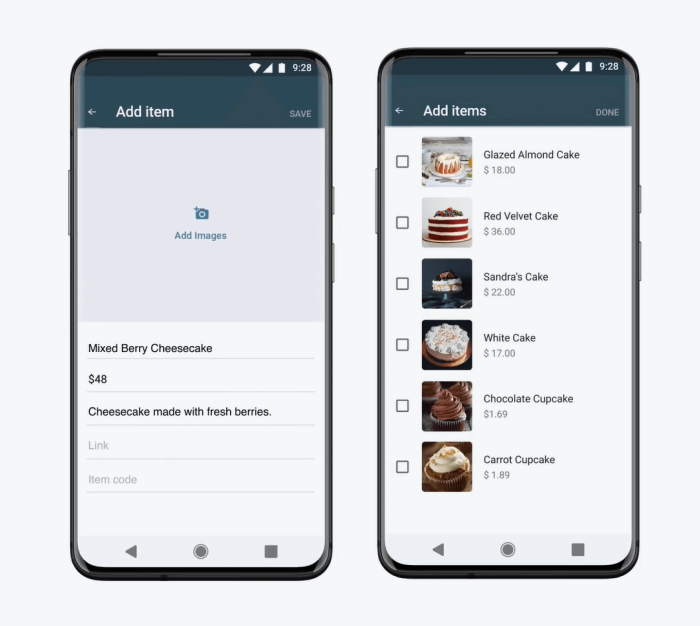 Catalogs can be created using photos, videos, or text. You can choose to make your catalogs public or private. Customers can browse through catalogs and add items to their shopping carts. And store owners can use the feature to track customer engagement and sales too.
Keep in mind that the catalog feature is available to WhatsApp Business customers who have verified their business accounts.
3. Send quick replies
If you have an online store then you know that customers tend to ask about the same thing over and over again. WhatsApp Business quick replies are a way to reply to messages without having to type out a full response.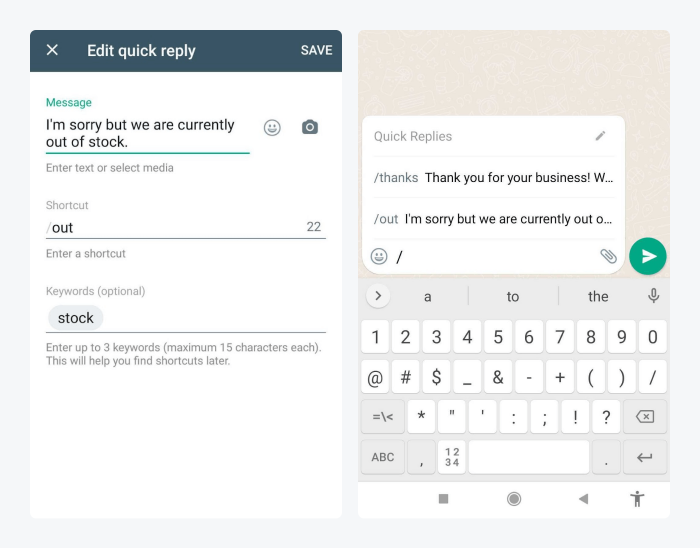 You can add up to 50 quick replies and assign shortcuts and keywords to use them during conversations. Just press "/" and the list of your quick replies will appear. It's a good idea to prepare a list of canned responses for frequent questions and situations such as sending thank you for your order messages.
4. Set up greeting messages
Greeting messages can increase customer loyalty and engagement, which are essential for the success of any business. It should be your way of saying "hello" and showing appreciation for your customers' patronage. Using WhatsApp for business lets you create custom welcome messages for your customers.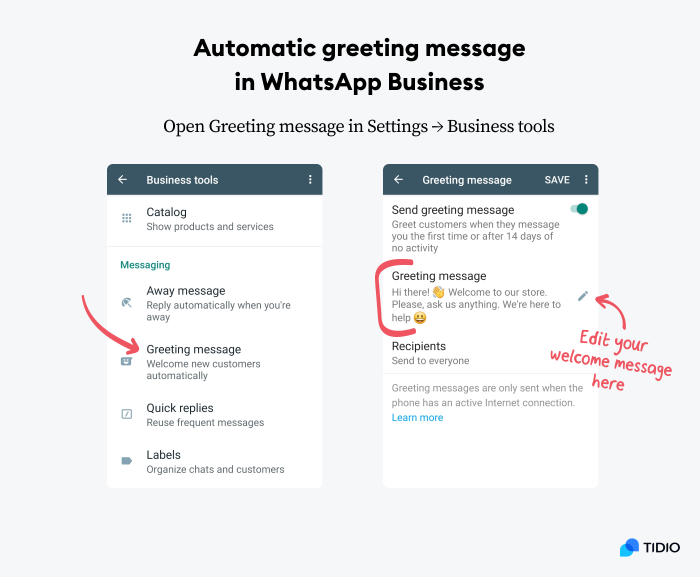 Greeting messages are sent automatically when someone starts a new conversation or sends a message after 14 days of no activity.
5. Automated messages
Greetings are not the only WhatsApp Business messages that you can send automatically. You can create automated responses for other situations too.
By default, WhatsApp Business account allows you to send Away messages when you are not available. Just set up your business hour in the Business profile and pick the Outside of business hours option for triggering away messages.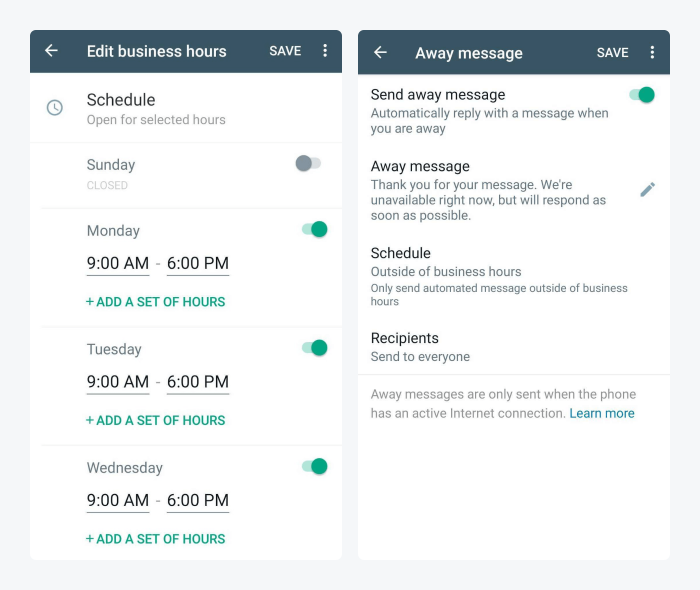 Now, every time someone tries to reach out to you when you are not available, they will receive an automatic message. If you need other types of automated WhatsApp messages, you can design whole conversation flows. Or even use AI to recognize the meaning of messages that customers send with WhatsApp chatbots.
6. Multiple users
It's possible to use WhatsApp Business on several devices. But you need to configure your WhatsApp Business API account to use this feature first. Just remember that the API doesn't have any conversation panel or chatbot interface of its own. That's why it's a good idea to pick one of the vendors who offer WhatsApp Business API solutions and have shared inboxes and multiagent features.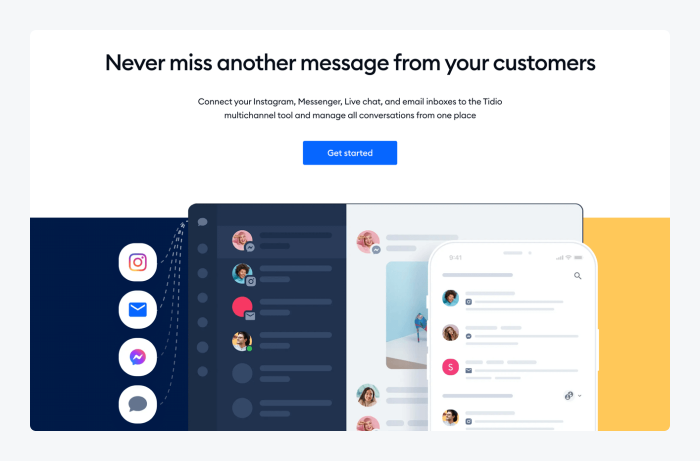 For the time being, you can integrate Tidio with Messenger and Instagram. The WhatsApp integration is under development and will be available to the users soon.
7. Contact labels
Labels allow you to organize your customer conversations in a simple and convenient way. You can create different categories of customers, for example, related to their order status or how much of a priority they are for your business.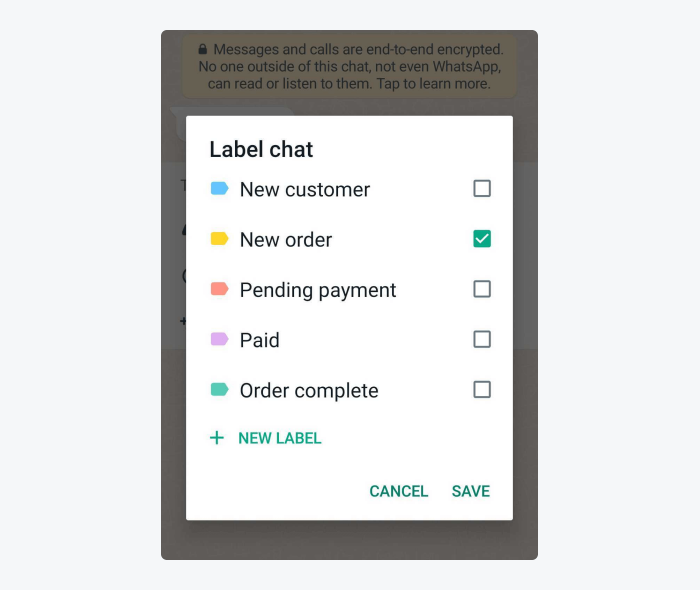 Clustering your chats and adding contact labels will help you get a better picture of your customers. It's closely related to your KPIs too. Companies that research motivation and customer needs through customer segmentation are 2.3x more likely to exceed their revenue goals.
8. Message analytics
WhatsApp Business Statistics is the feature that lets you check the number of messages that are sent, delivered, read, or received. Although this data is not presented over time or broken down by different contact groups, it should give you some insights about the effectiveness of your chats.
Some third-party tools are much more thorough and provide detailed insights about individual chats, effectiveness of live chat agents, or the success rate of specific chatbot templates.

9. WhatsApp Business API
The WhatsApp Business API is a fast, secure, and reliable way for businesses to reach their customers all over the world. The API allows customer service teams to send and receive messages, as well as manage their customer interactions on WhatsApp.
The WhatsApp Business API is built on the same infrastructure as WhatsApp Messenger, so it is highly scalable and can handle large volumes of messages.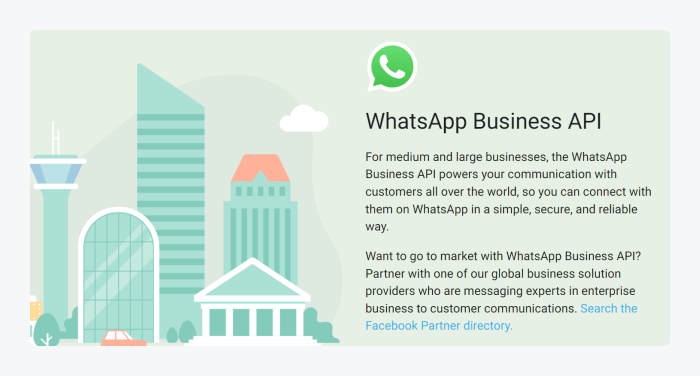 While WhatsApp Business API (also known as WhatsApp Business Platform) deserves a spot on our list, it's actually more than a feature. It's a gateway to new possibilities, as you can freely fiddle with the inner workings of the application. However, if you don't want to build everything from scratch, you should find live chat software or a chatbot platform that is an official WhatsApp Business API partner.
How to create a WhatsApp Business account
You can create a WhatsApp Business account in just a few steps.
To set up your WhatsApp Business app:
Visit Google Play or App Store
Download the WhatsApp Business app
Open the app and verify your phone number
Restore your data or create a new account
Set up your business name and profile
In a nutshell, just go to the app store on your mobile phone, download WhatsApp Business, and open the app. Then, follow the instructions in the app itself.
You will be asked to provide some basic contact information about your business, including your business name, phone number, email address, and website. Once you have filled in this information, you will be able to create a profile for your business and start using WhatsApp Business to chat with your customers.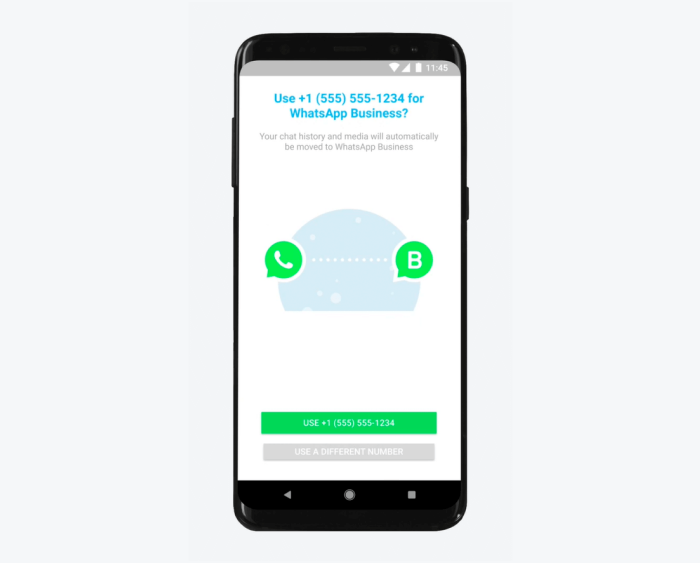 It is best to use a separate phone number for business purposes. This way your personal and business messages won't get mixed up. However, you can use your personal WhatsApp account and upgrade it to a business account too if you have only one device. All media and conversation history will be imported.
Read more: Learn all about the top WhatsApp chatbot platforms and find the right one for your business
Conclusion
We hope that this article has given you a better understanding of what WhatsApp Business is and how it can be used to benefit your business. It's a powerful tool that can help you reach your customers where they are, and it's constantly evolving with new features and capabilities.
If you are looking for a way to improve your customer care or marketing strategy, WhatsApp Business is definitely worth considering.
WhatsApp Business FAQ
If you still need a little more information, here are some common questions from WhatsApp users who are considering a business account.