What is your favorite thing about running a store using WooCommerce? Free plugins? Good store themes? Easy configuration?
All of the above are part of the same goal—creating a professional store with minimal effort.
And now you can also add a WooCommerce chatbot that will run your store and handle your customers for you.
That's mind-blowing!
But which solution is the best?
We checked all ratings, rankings, and reviews to find the best chatbot app for WooCommerce.
Drumroll, please—
The best WooCommerce Chatbots are:
If you want to explore more options, you can also read:
Here's a quick overview of all WooCommerce chatbots:
WooCommerce chatbots developed by different companies offer unique functionalities. Let's examine each solution one by one.
It's worth getting acquainted with all of them to decide which set of features would be most suitable for your online store.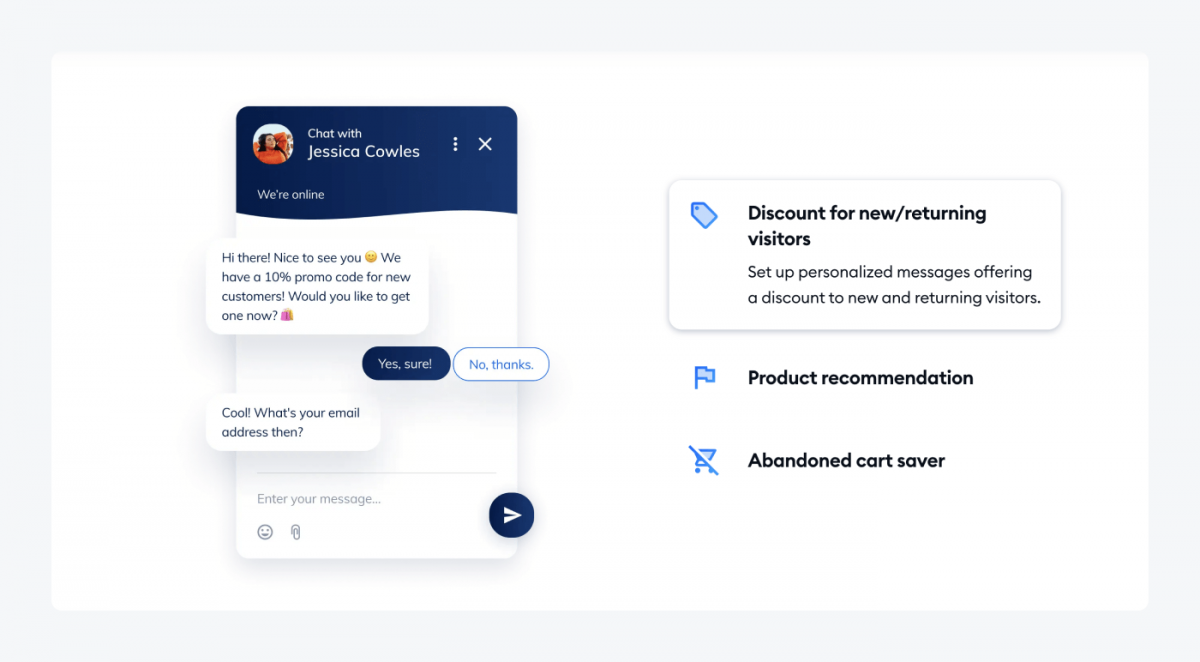 Developer: Tidio
Rating: ⭐ 4.8 out of 5 stars (313 reviews)
With over 100,000+ active installations, Tidio is the most popular no-code chatbot solution for WooCommerce and WordPress stores. It has its own live chat widget that you can add to your website and advanced chatbot design features.
Key features:
One-click installation for WordPress and WooCommerce stores
Out-of-the-box solution with no additional configuration and bot training needed
Ecommerce chatbot templates for common customer service scenarios
Artificial intelligence and NLP message recognition engine
Designing custom conversation flows with a visual bot editor
Discount, lead generation, and abandoned cart workflows
Integrated CRM features and customer database management
Omnichannel chatbots for your website, Instagram, and Messenger
Messenger bot for Woocommerce without coding or using Dialogflow
Unlimited configuration options through its JavaScript API or Zapier
Helpful customer support, many online resources, and tutorials
Tidio is one of the best chatbot options for WooCommerce and you can use it to make chatbots from scratch in a matter of minutes.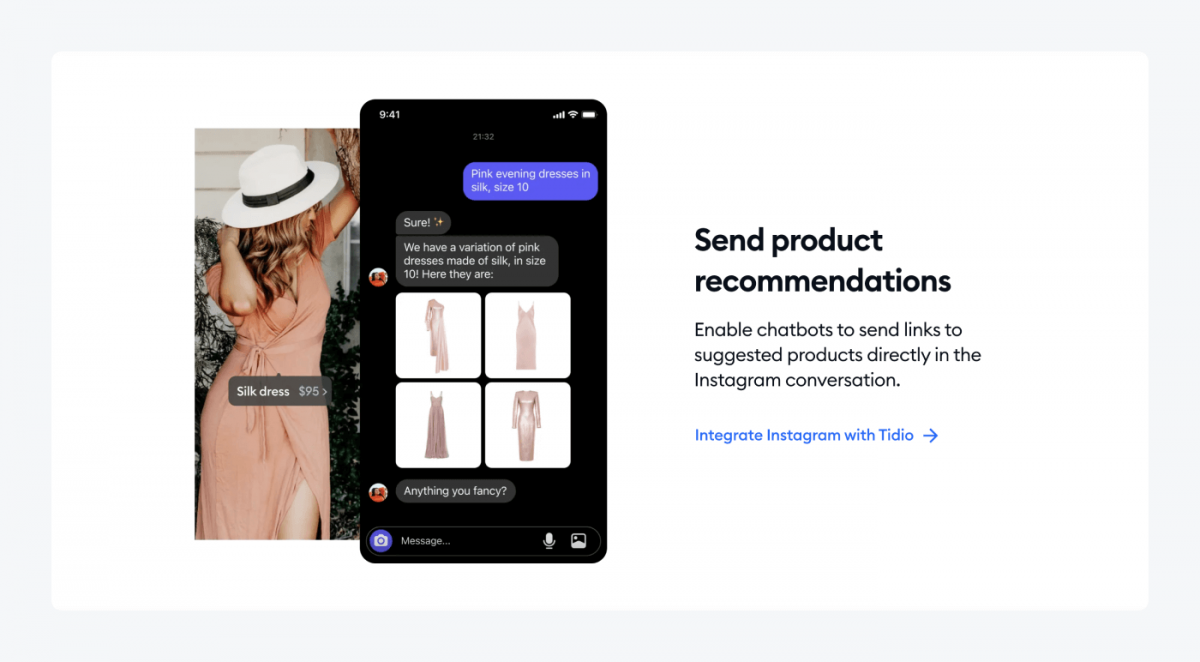 Pricing plans:
Free. Unlimited conversations but chatbots can reach 100 unique customers per month.
Paid. 2000+ chatbot responses and additional premium features starting at $49 per month.
You can integrate chatbots and your WooCommerce website. All you have to do is find and install a dedicated WordPress plugin from Tidio. The installation process is the same as installing any other WP plugin.
If you need more information you can also read the full instruction in the knowledge base.
Read more: How to Install Tidio on WooCommerce Websites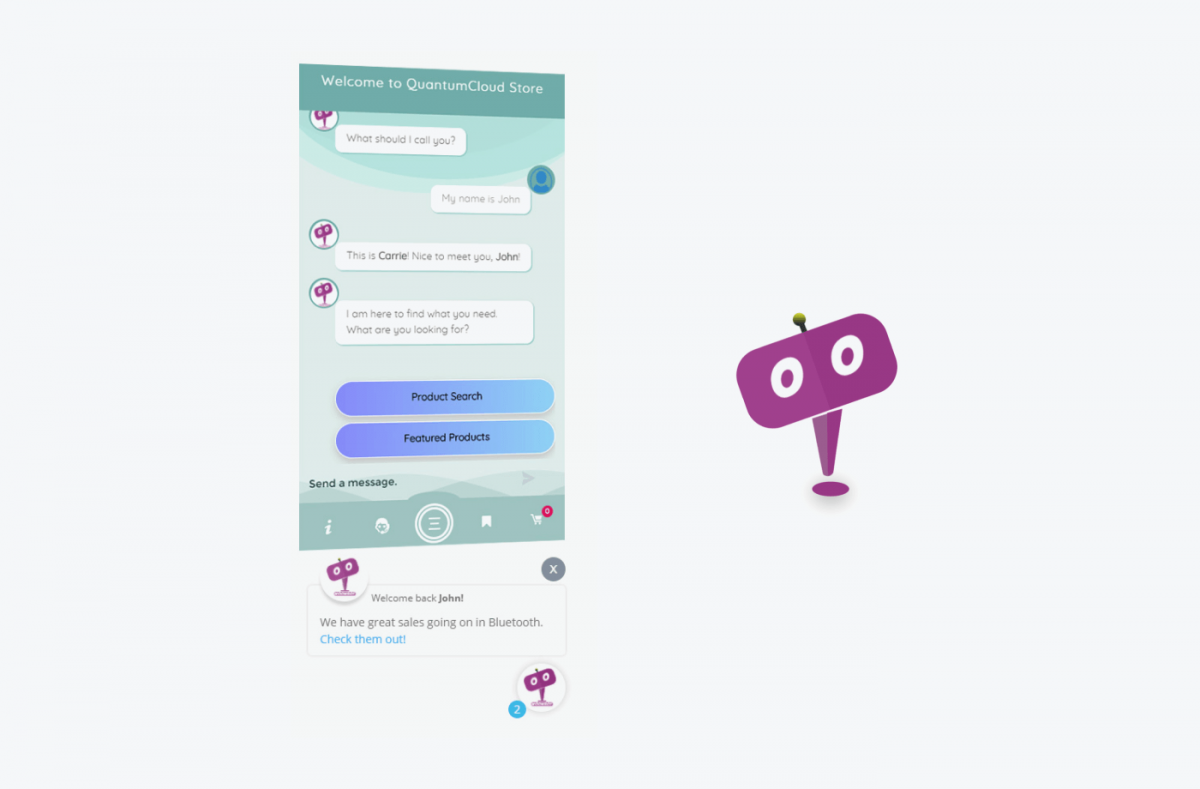 Developer: QuantumCloud
Rating: ⭐ 4.8 out of 5 stars (16 reviews)
This WooCommerce chatbot solution is much less popular. Only 800+ users look pretty suspicious. But there is no need to worry. In fact, WoowBot is the good old WPbot and their combined numbers of installations are much higher. WoowBot just comes in a new "packaging" geared towards WooCommerce users. And there is nothing wrong with good packaging design.
Key features:
Conversational product search engine
Abandoned cart recovery and exit intent triggers
Integrated with Google's natural language processing services (NLP)
Popups for informing about special offers and featured products
Facebook Messenger and WhatsApp integration available
Customizable chat icon and CSS
WoowBot is a great choice for ecommerce stores that want to automate their customer support. It's worth noticing that about 40% of businesses that use bots employ less than 10 people (in the whole company). Solutions such as WoowBot are designed to take over some of your repetitive tasks and questions about products. This allows your understaffed business to use the saved time for solving more complex issues.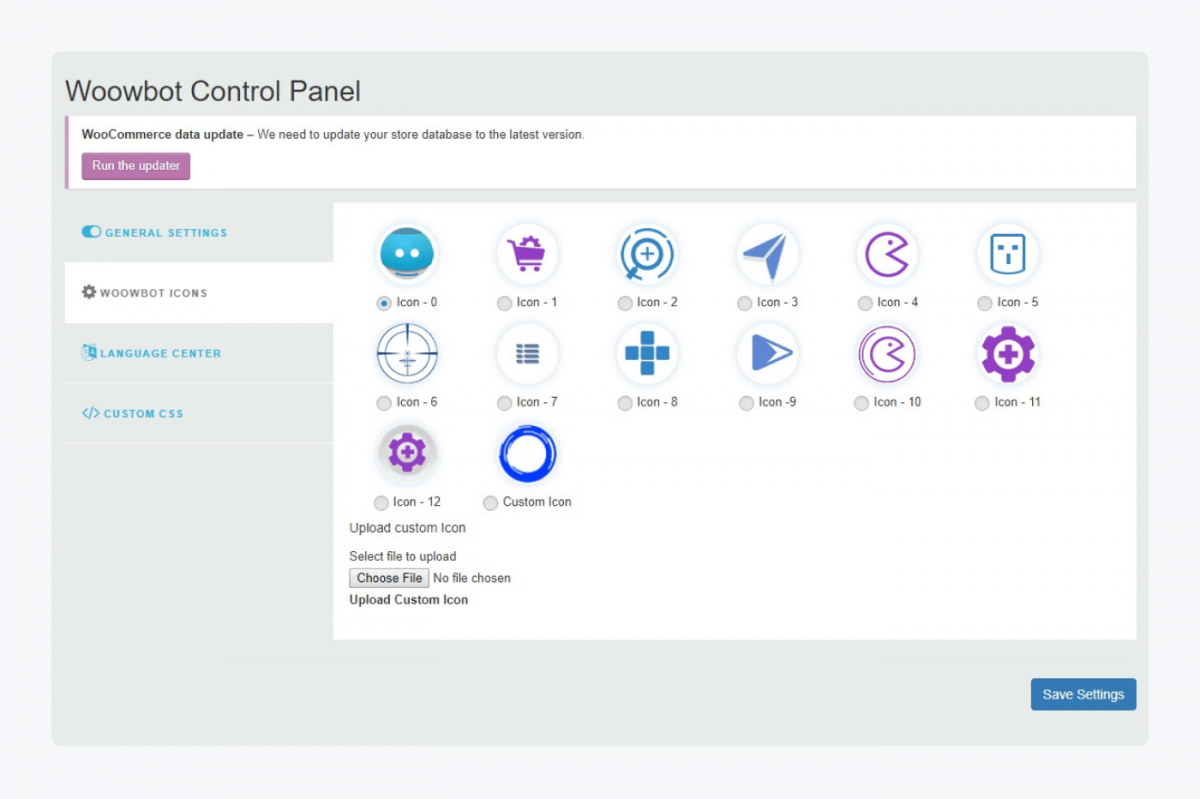 Pricing plans:
Free. One chatbot template.
Paid. A yearly WoowBot Pro license starts from $33.
Developer: Collect.chat
Rating: ⭐ 4.4 out of 5 stars (28 reviews)
Just as the name suggests, Collect.chat offers plenty of features related to lead generation. If you want to collect your customers' contact details and phone numbers through a chat window—rather than a popup—it is a viable option. This WooCommerce chatbot also offers many conversation templates for getting more insights about user experiences and collecting customer feedback.
Key features:
Lead generation templates and custom surveys for collecting feedback
Appointment booking through chatbot conversations
Real-time notifications through email and other channels
Integration with Google Sheets, Hubspot, FreshDesk, and other CRM tools
SMS verification for collected phone numbers
Collect.chat is a popular live chat and chatbot solution, not only for WooCommerce stores. For instance, while it doesn't make the cut as one of the best Shopify live chat apps, it does offer a Shopify integration.
Pricing plans:
Free. Limited to 50 chatbot responses.
Paid. Different tiers with premium features and more automatic responses starting from $24/mo. Unlimited chatbot responses for $299 per month.

Developer: Drift
Rating: ⭐ 4.1 out of 5 stars (10 reviews)
This is another chatbot for WooCommerce that may get some people raising their eyebrows. This plugin hasn't been tested with the latest 3 major releases of WordPress. And there aren't too many positive reviews. Sounds shady, right? To be fair, Drift is a very advanced tool and their WordPress plugin page probably does not receive enough love and attention. However, it is among the best free live chat software in general, and not just for stores powered by WordPress.
Key features:
Slack integration with real-time notifications
Virtual Selling Assistants that use patented AI
Lead-qualification tools and booking meetings with customers
A/B testing and marketing conversion tracking
Drift describe themselves as a marketing and sales acceleration platform. Their software offers much more than just chatbots but the price tag is also slightly more prohibitive.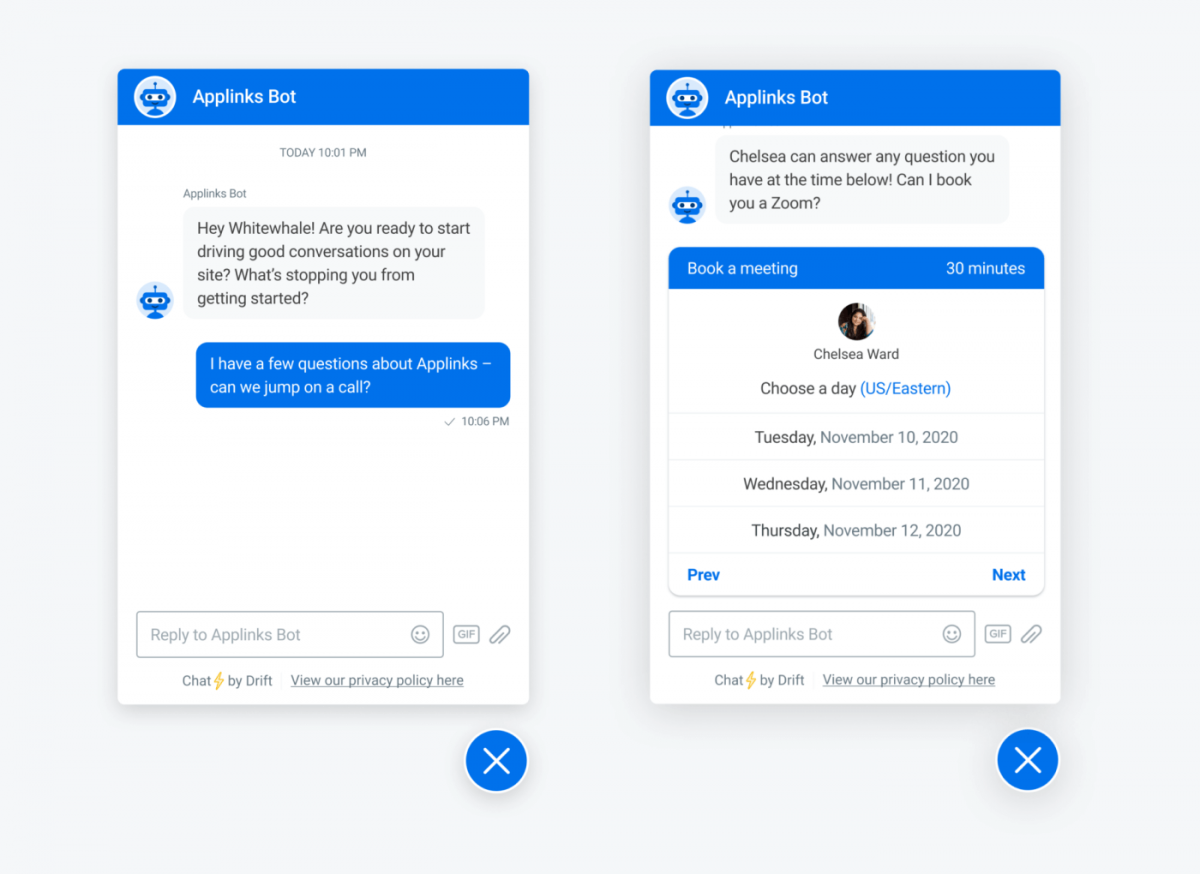 Pricing plans:
Free. No custom chatbots—only live chat.
Paid. Prices are determined individually after reaching out to representatives. To create custom bots you can expect to pay a triple-digit sum each month.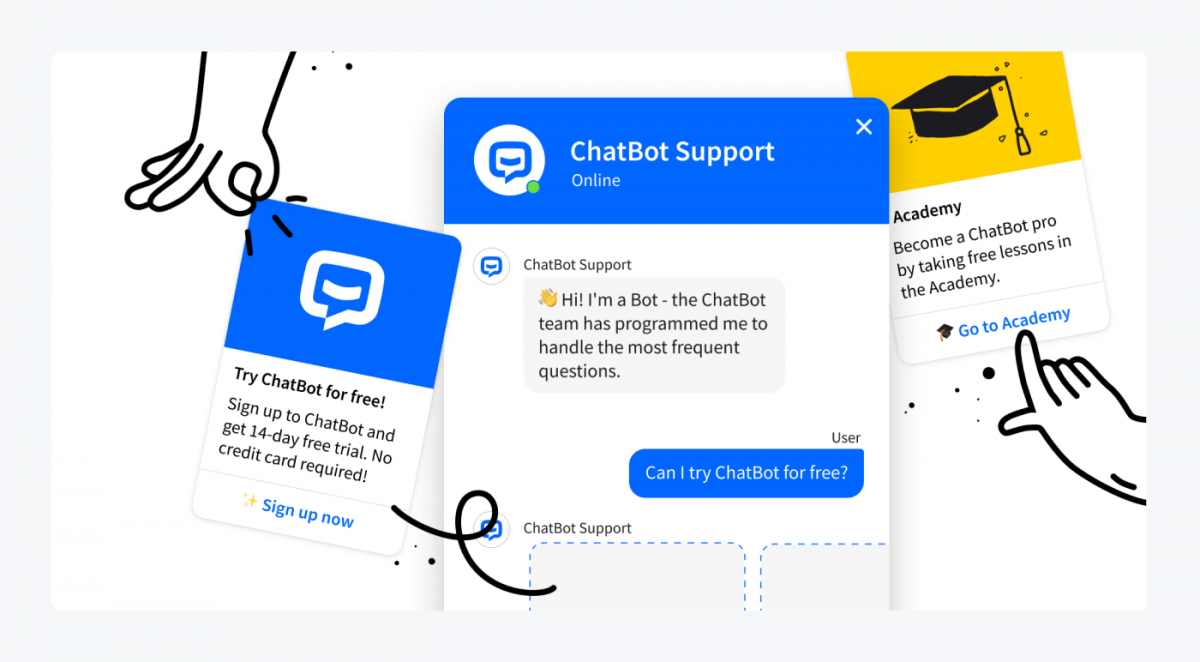 Developer: ChatBot
Rating: ⭐ 4.6 out of 5 stars (15 reviews)
ChatBot is one of the LiveChat modules. It is sold separately and offers many advanced features. Just like in Drift, these tools create a complex ecosystem that automates all of your marketing activities.
Key features:
Visual chatbot flowchart builder
Artificial intelligence and NLP engine
API, webhooks, and Zapier integrations
Seamless integrations with Messenger and Slack
Rich messages including buttons and media
Widget customization options
WooCommerce ChatBot is not an all-in-one app. It is a professional solution for experts. We recommend it to medium and large stores that know exactly what they want and are willing to pay for it.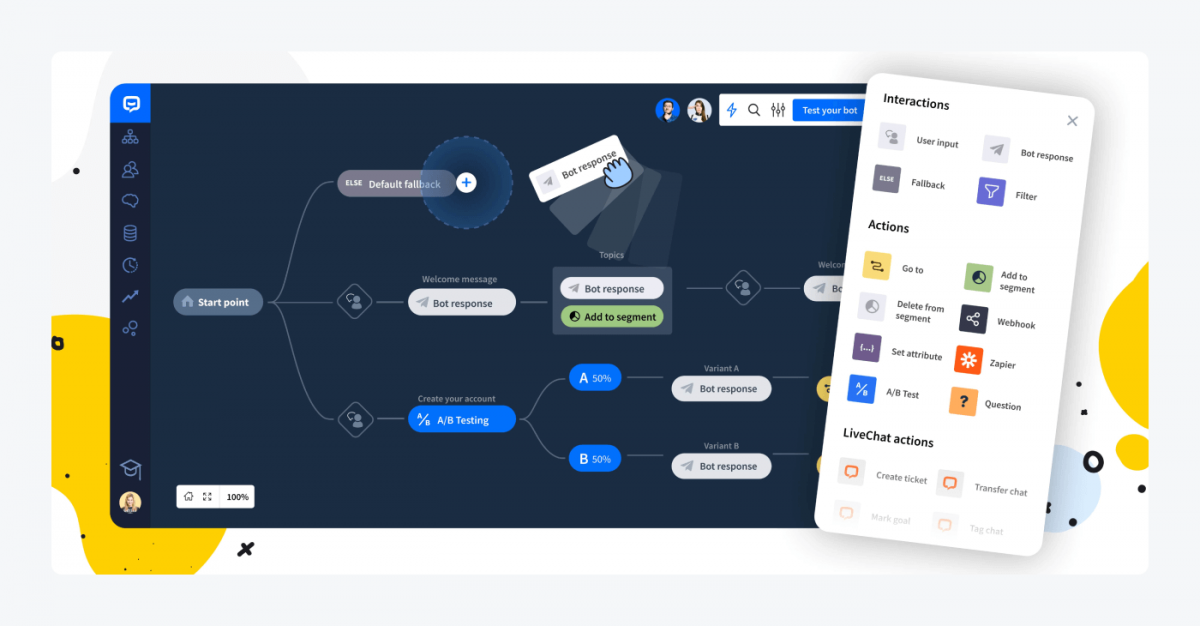 Pricing plans:
No freemium plan. But you can test this solution for 14 days without the need to unsubscribe.
Paid. The Starter plan with 1 active chatbot, 1000 chatbot responses, and limited AI training options history costs $50 per month.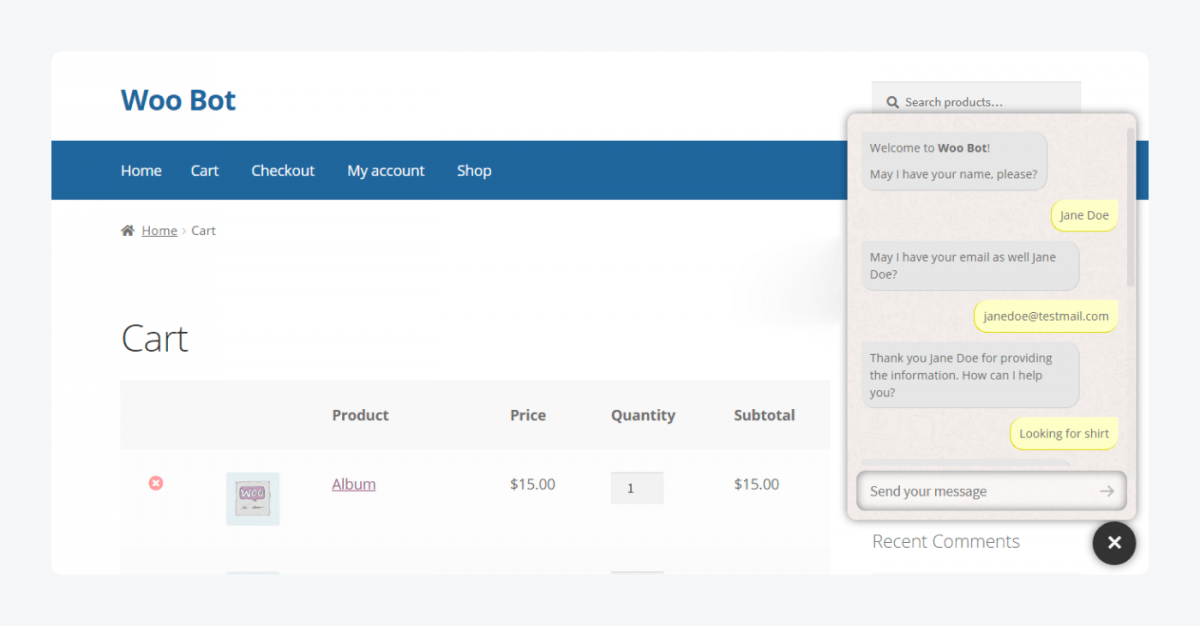 Developer: WP1
Extension Requirements: Minimum PHP version: 5.6
Rating: N/A
This WooCommerce chatbot is slightly different from the others. It is a native WooCommerce extension developed by WP1, while the other solutions in this article are WordPress plugins. Woo Bot offers good integration with WooCommerce product inventory, so it is quite useful for product searches. However, there aren't too many additional features.
Key features:
Product search options via the chat window
Automatic responses available in your WooCommerce back-end panel
Chat icon and popup behavior configuration
If you need a very simple bot for WooCommerce, this solution may work for you just fine.
Pricing plans:
Free. Not available.
Paid. $29 per year.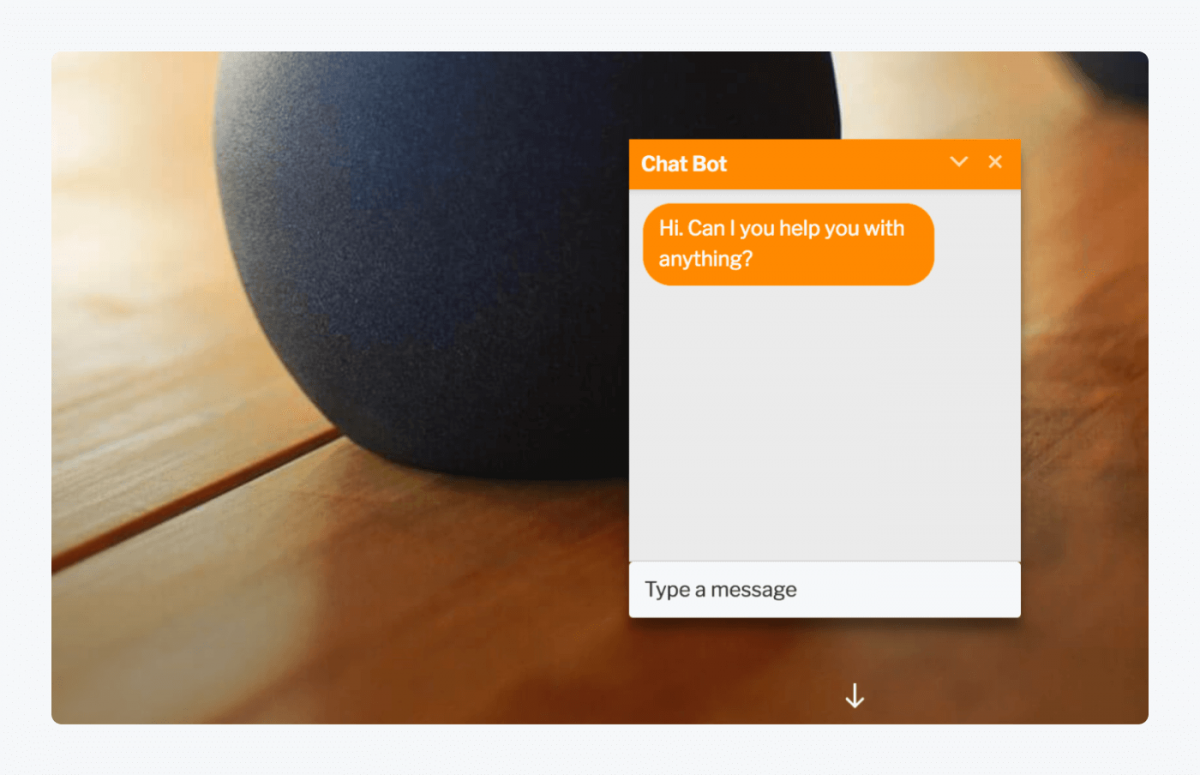 Developer: IBM & Cognitive Class AI
Rating: ⭐ 4.6 out of 5 stars (24 reviews)
This WooCommerce chatbot combines two technologies: IBM's cloud-based conversational AI and a pre-configured chatbot in the form of a simple chat widget. In other words, you get state-of-the-art technology offered in an easy-to-use format.
Key features:
VoIP is available through a simple Twilio integration
Customizable chat window and chat icon
Resources on building your AI bot
To use this solution you need to create a separate IBM Cloud account and connect it with the widget. IBM Cloud services are free but there are some limits. You may want to upgrade to a higher tier if you want to process many queries from customers.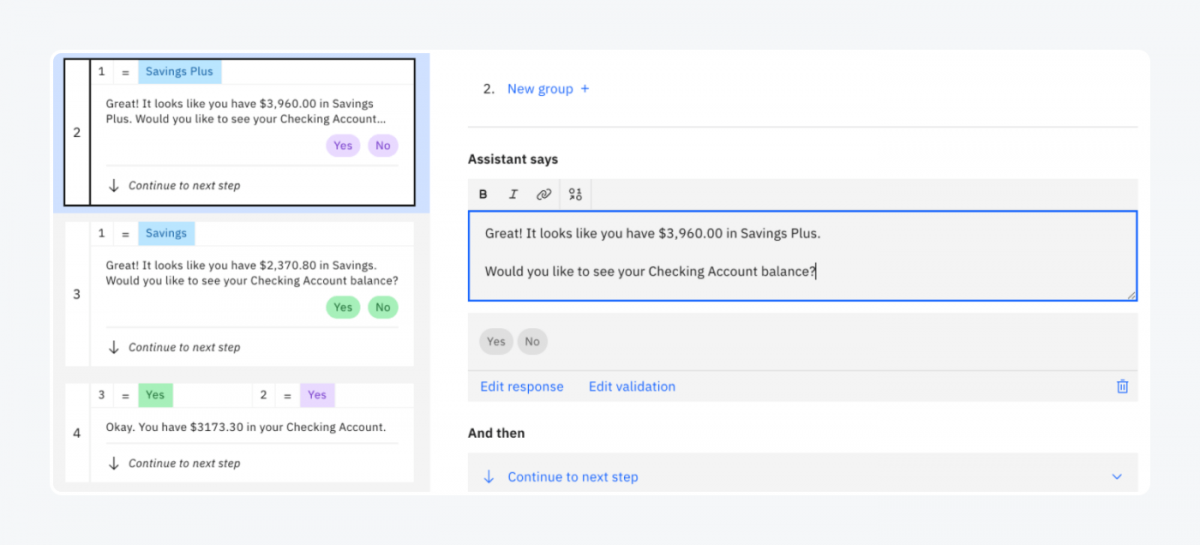 Pricing plans:
Free. 10,000 API calls (such as messages) per month.
Paid. The Plus plan will cost you about $140 per 1,000 active users per month.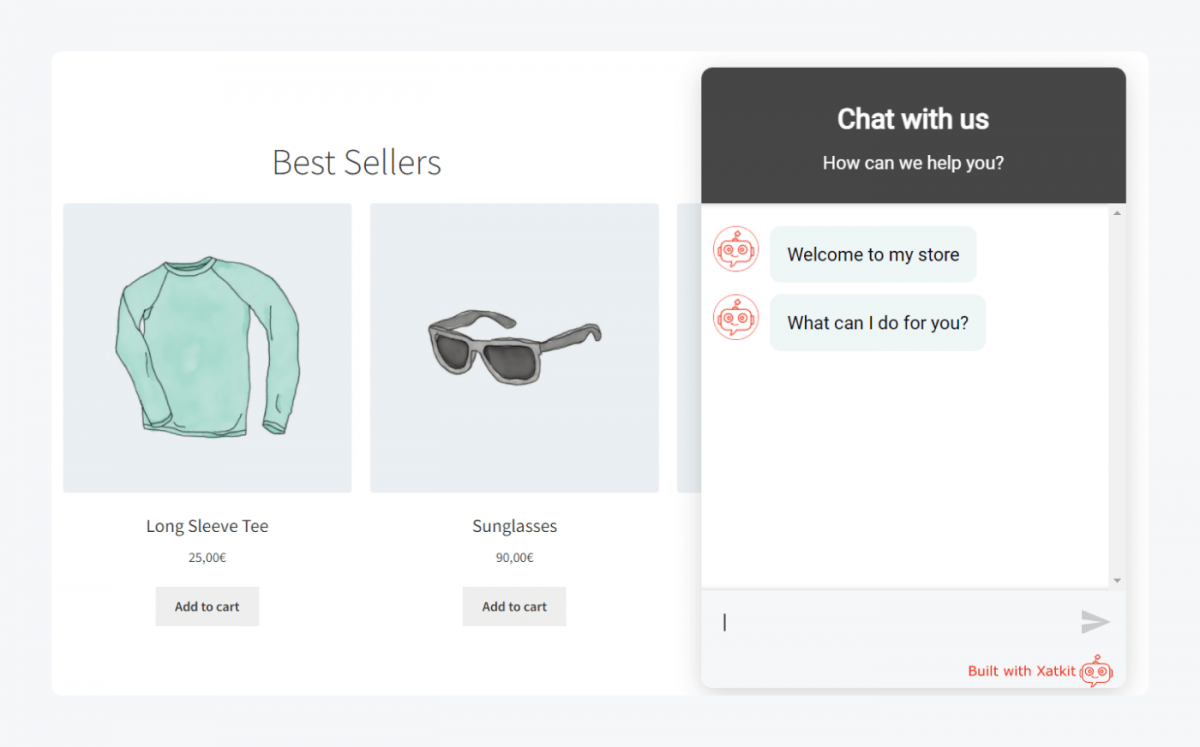 Developer: Xatkit
Rating: ⭐ 5 out of 5 stars (2 reviews)
Xatkit is a nice and simple add-on for creating interactive FAQs for online shoppers. And answering questions through a bot gives your users a much better customer experience than contacting a traditional customer support team (or scrolling through pages of a lengthy FAQ). You can also expand its functionality to connect the bot logic with your inventory.
Key features:
Custom bot icon and position
Order status and cart saver
Featured products and product search
This WooCommerce chatbot is quite similar to WoowBot and you can use it as a good alternative, especially if you are interested in features related to searching products.
Pricing plans:
Free. No freemium version but there is a free trial available for a month.
Paid. Q&A plan for building basic FAQs starts from $19/month.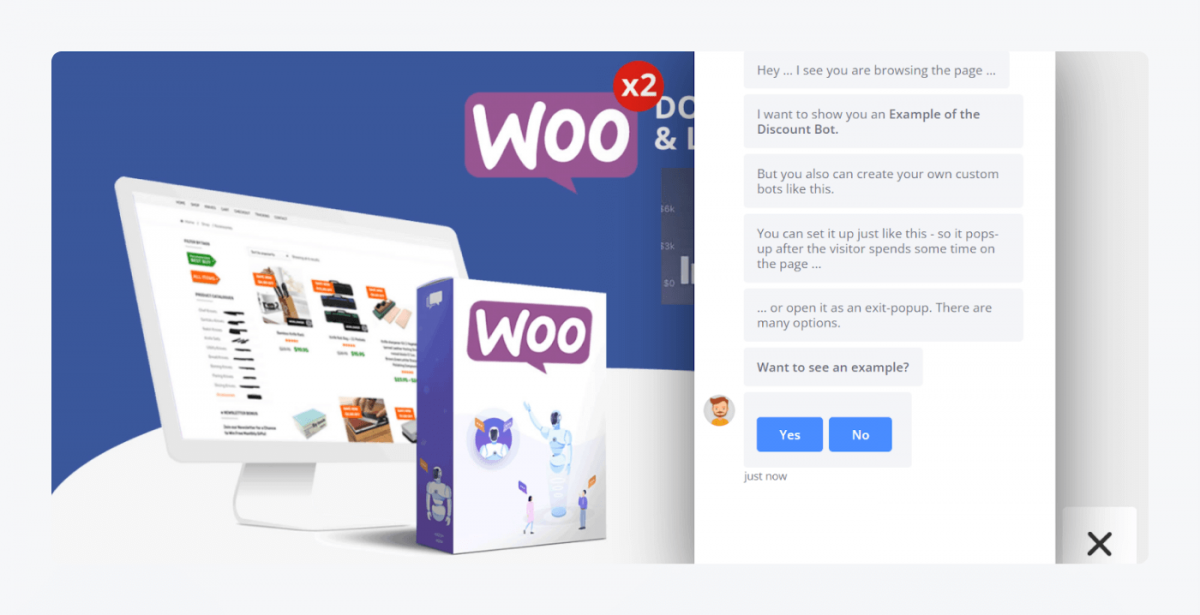 Developer: ConversioBot
Rating: ⭐ N/A
This WooCommerce chatbot is not available in the official WordPress plugin repository. However, it is still easy to install and add to any page on your website. This solution is more rudimentary than the majority of platforms or plugins described above. But it is quite popular nonetheless.
Key features:
Add to cart and exit intent discounts
Integrates with Google Analytics and Facebook Pixel
Multipage option with a single license
No monthly payments
If you are not interested in subscription-based solutions, ConversioBot can be a nice training ground. Paying for something one time sounds nice, doesn't it? On the other hand, there are many free chat widgets that offer bot-related features.
Pricing plans:
Free. Not available.
Paid. One-time $38 fee to use it without limits.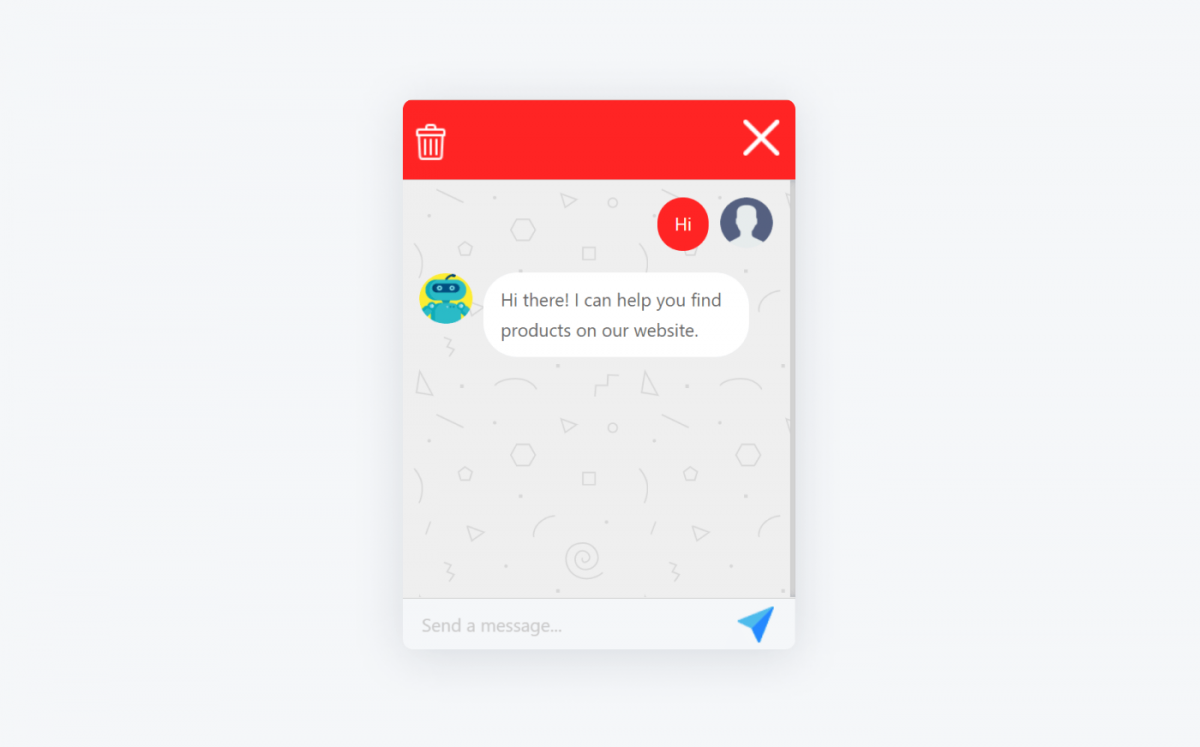 Developer: Jawad Ilyas
Rating: ⭐ N/A
WooSmartBot offers just the bare essentials and is meant to be used as an alternative to your store's search engine. Digital shoppers and users find bots more engaging because of the novelty effect of this technology. This WooCommerce chatbot talks with shoppers and sends them links to product pages that match their queries. It doesn't get much simpler than that.
Key features:
Custom bot behavior for selected pages
Unlimited conversations
Editable welcome messages
One template
Product search
Pricing plans:
Free. It is a new project without any premium features and too many users. But you can probably get in touch with its developers to give them some feedback.
Key takeaway
A good WooCommerce chatbot should be easy to install and offer features related to searching products and customer support. A perfect bot would send relevant messages, product recommendations, and understand your shoppers' questions.
The most popular and useful chatbot WooCommerce plugins are:
If you want to install the best-rated and most popular option right away, just click below.