Customer feedback refers to information customers provide to describe their experience with a product or service. Thanks to such information, businesses can gain insights into their customers' satisfaction level, and learn how to improve their products or services.
But there's more to it.
Customer feedback is based on fast-changing experiences and reactions. That's why collecting it should be part and parcel of day-to-day business operation and a larger strategy.
The question is—
How to do it right?
In this guide:
The definition and importance of listening to customer feedback.
Seven proven strategies to collect and manage consumer feedback.
Tools for quick feedback collection to give you enough time to act.
Looking for more reads? Take a look at these helpful articles:
What Is Customer Feedback, Anyway?
Before we move on, let's reiterate the customer feedback definition.
Customer feedback includes all the information, suggestions, complaints, and reviews that customers leave about a product or service. Thanks to collecting, managing, and analyzing such feedback, companies can learn about the ways in which to improve products and services, as well as become more competitive.
Easily collect customer feedback after each interaction
Our AI-powered chatbots gather CSAT surveys for you
Try Tidio Chatbots
The benefits of customer feedback include a better understanding of customers, greater customer satisfaction, more referrals, and higher revenue. Plus, customer-centric companies are up to 60% more profitable than product-centric ones, owing much of their success to improving thanks to customer feedback.
Now—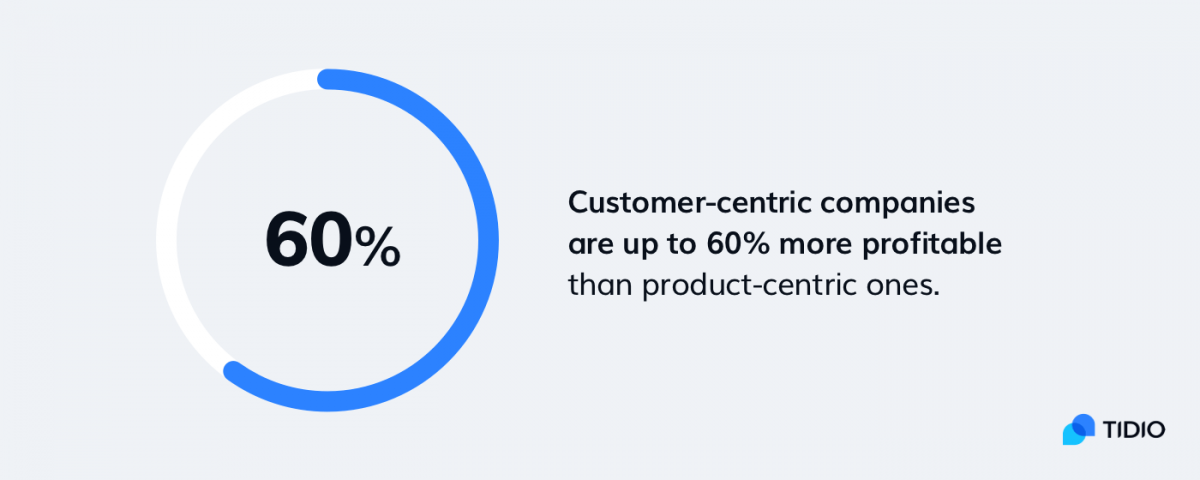 There are different types of customer feedback and different customer feedback methods. For example, in the past, it was pretty popular to learn what your customers thought about you on the phone.
Times have changed, though, and conversations on the phone aren't a good call (pun intended). In the section below, we'll show you how to get feedback from customers effectively in the 21st century.
But first, let's see why customer experience feedback is something you should be bothered with.
Importance of Customer Feedback: Should You Even Care?
Michael LeBoeuf, a business author, once wrote: "A satisfied customer is the best business strategy of all."
This couldn't be more true. Customer feedback can be the North Star that guides companies towards their goals and gives ideas for better products and services.
Here are just some stats that will help you see the importance of customer feedback: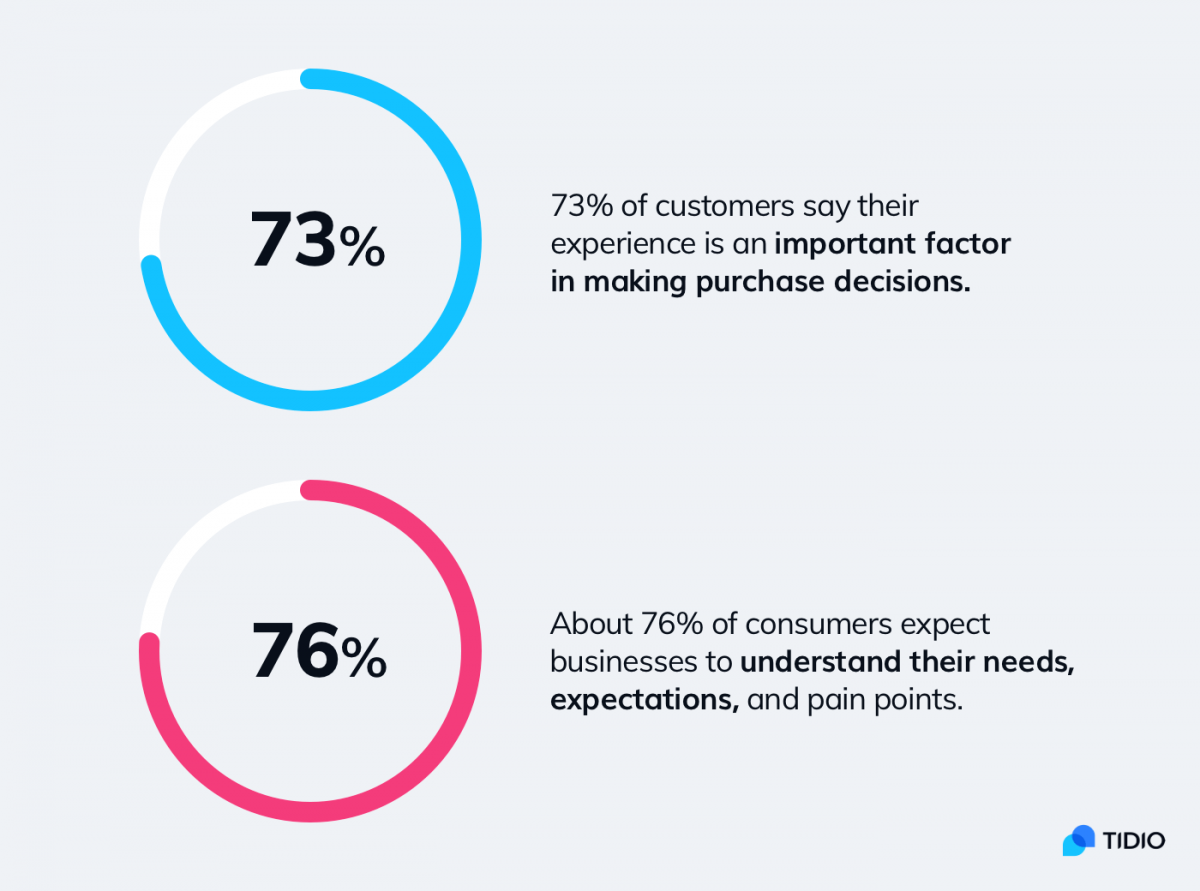 More than ever, customer feedback is important to discover customer needs, anticipate them, and gain a competitive advantage. As you can see, customers are more interested in brands that understand their needs than those offering lower prices.
The first step to becoming such a brand is to try to understand customers, which means you need to ask for their input.
How to Ask for Feedback From Customers and Where to Find It Online
So, what's the best way of getting different types of customer feedback?
Ask for it.
But do it in a non-intrusive and meaningful way.
What if you don't get feedback from customers even after you requested them?
Do some online research.
But don't browse all of the Internet as this will take you ages. Go straight to the places commonly recognized as treasure troves of customer insights.
Our overview of the best customer feedback methods will help you get your bearings right away:
1. Send Feedback Emails
Emails are a direct and personal way to ask for feedback from both existing and new customers. Plus, more than 80% of shoppers would rather receive emails from businesses, which means they are likely to respond to them.
Holo Taco, an online seller of nail polishes, is an excellent example of a business that collects customer feedback with emails. The brand's marketing team gets feedback on three things:
Product reviews
Willingness to recommend the brand to others
Quality of customer support
Let's now see these emails.
The first one in the sequence is a customer feedback request to review the purchased products.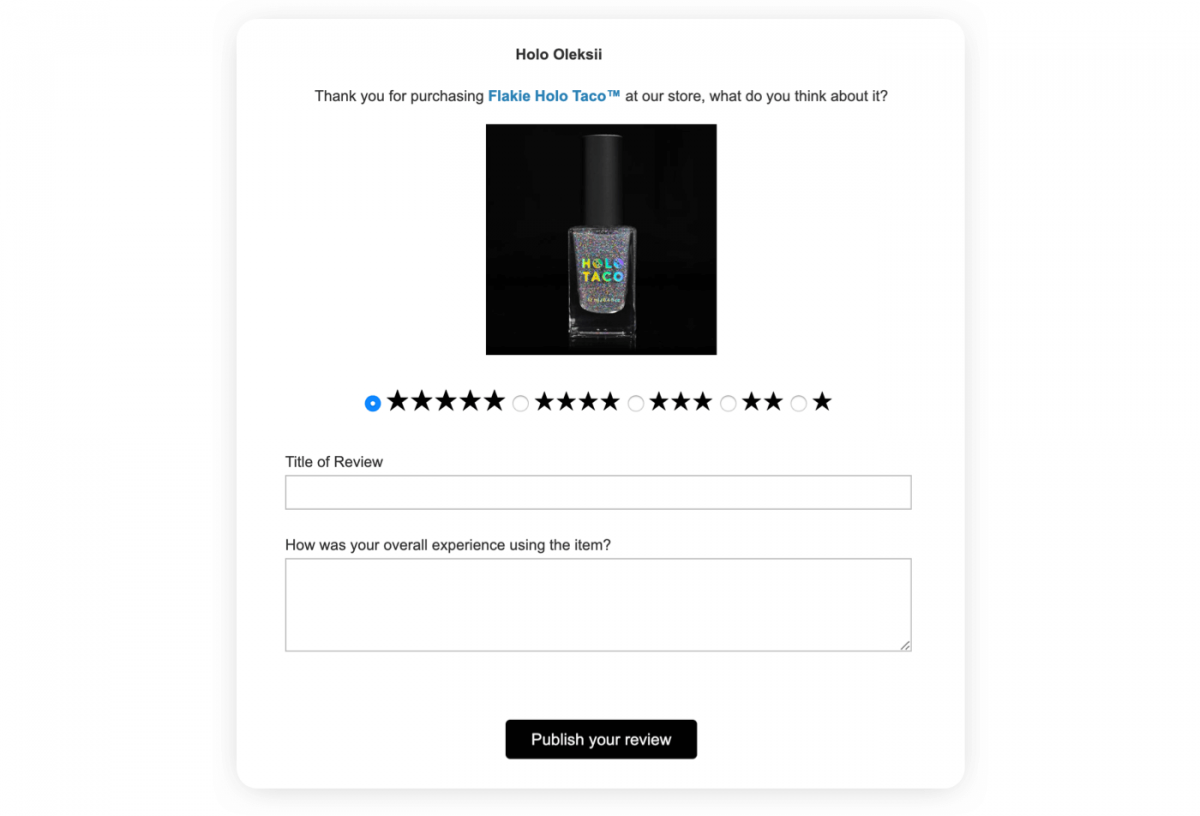 In the second one, the company asks how likely the customer is to recommend the company to others. There is a simple rating scale and a text box for describing the reasons for your score. But overall, the email is short and sweet.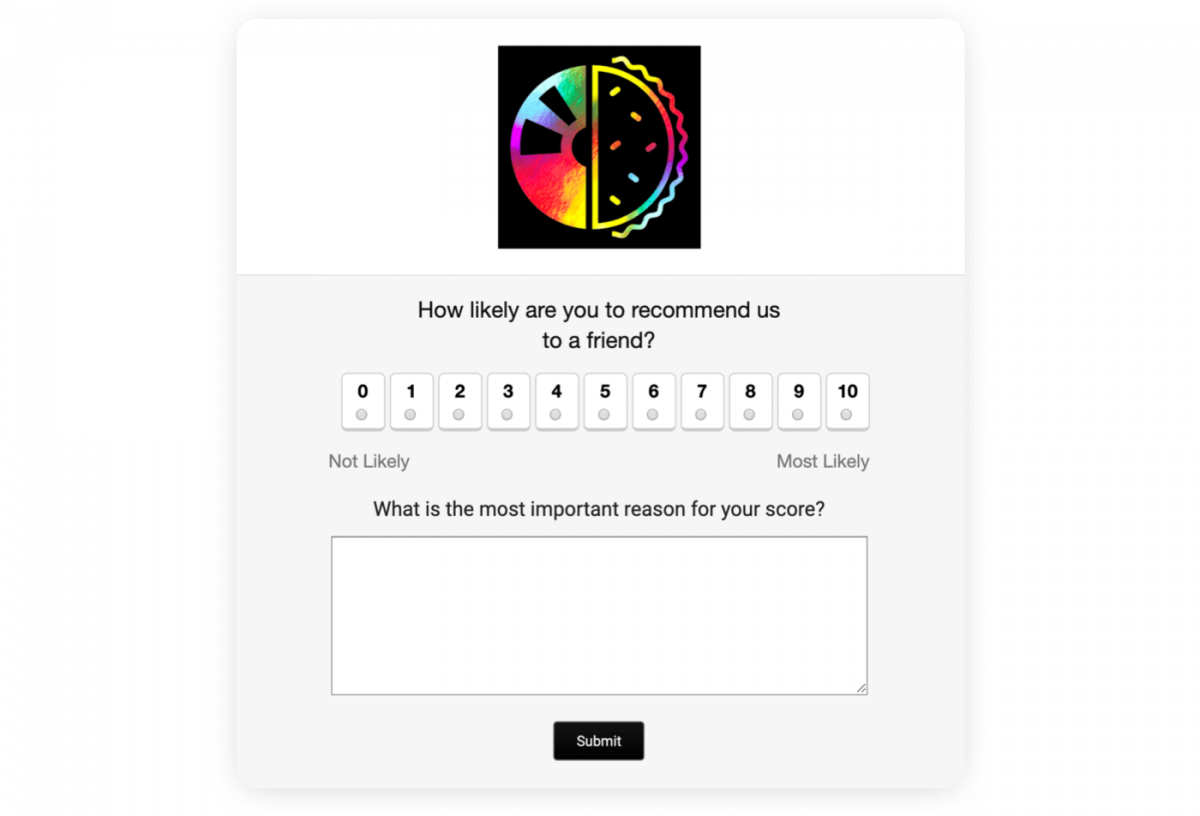 The final email collects customer feedback on interactions with the brand's support team. Specifically, the email asks to rate the quality of support provided by support team members.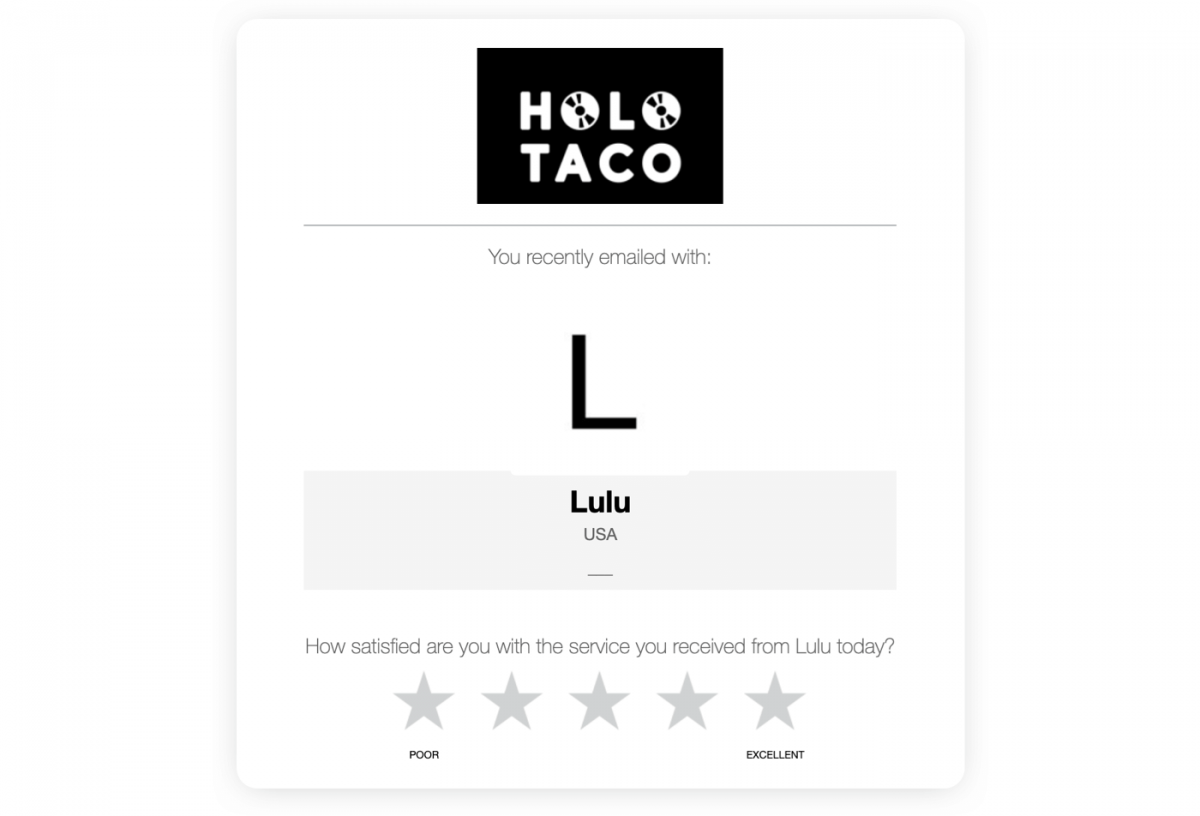 Tips for Better Customer Feedback Emails
If you'd like to try a similar strategy with the three emails, keep these practices in mind to improve response rates:
Write simple and to-the-point email subject lines.
Keep email surveys short and sweet to minimize distractions for respondents.
Make sure that giving feedback is easy and fast (provide multiple options where possible).
Don't have a lot of emails to send surveys to? Here are five steps to building an email list from scratch and collecting more feedback with email surveys.
2. Share Online Customer Survey Forms
Customer surveys are a popular way to gather customer feedback. You can get any form of feedback with surveys, including text, ratings, and reviews. Also, a single survey can combine different types of questions.
Paysend, an international payment platform, uses a general feedback survey form with two collection methods: a rating scale and an open-ended question.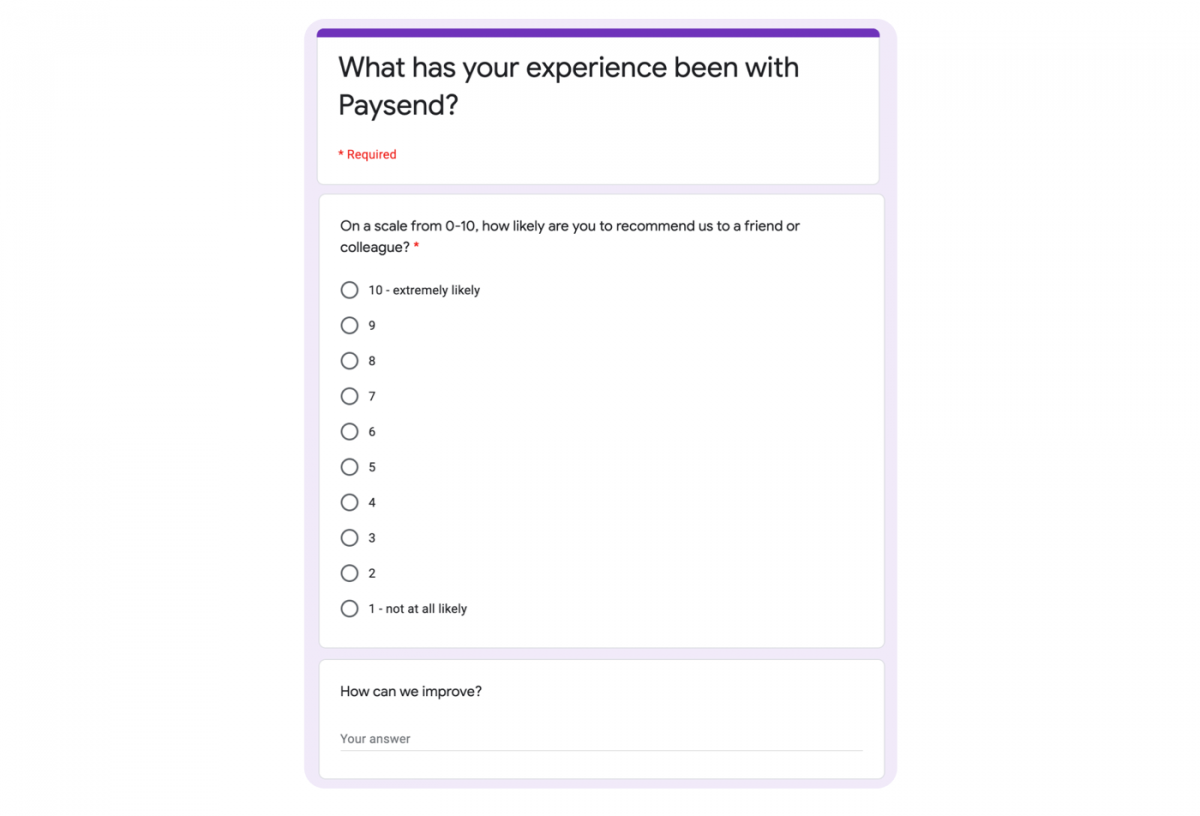 The beauty of online surveys for collecting consumer feedback is their versatility. With the best services like Google Forms or Survey Monkey, you can create just about any survey to collect any data you need.
Tips for Online Customer Surveys
Ways to get more answers with online customer surveys:
Add rating scales. They require no typing, so they make survey completion faster for customers.
Ask simple questions. Ensure that each survey question asks only one thing to avoid confusing customers.
Use more closed-ended questions. Those questions could be answered with "yes" or "no" and they reduce the effort needed to complete the survey.
Check customer surveys help understand shopping experience, brand perception, and customer loyalty—major customer satisfaction metrics. Here are 6 Steps to Measure Customer Satisfaction + Metrics (CSAT, NPS, and CES)
3. Send in-App Feedback Surveys
In-app surveys are the best way to get customer feedback for SaaS companies and retailers that have branded apps. In-app surveys are short pop-up survey requests displayed to app users to ask them to share their experience using them.
Example—
UberEats asks users to rate the app on the App Store. The user chooses how many stars the app deserves and gets automatically redirected to the review form.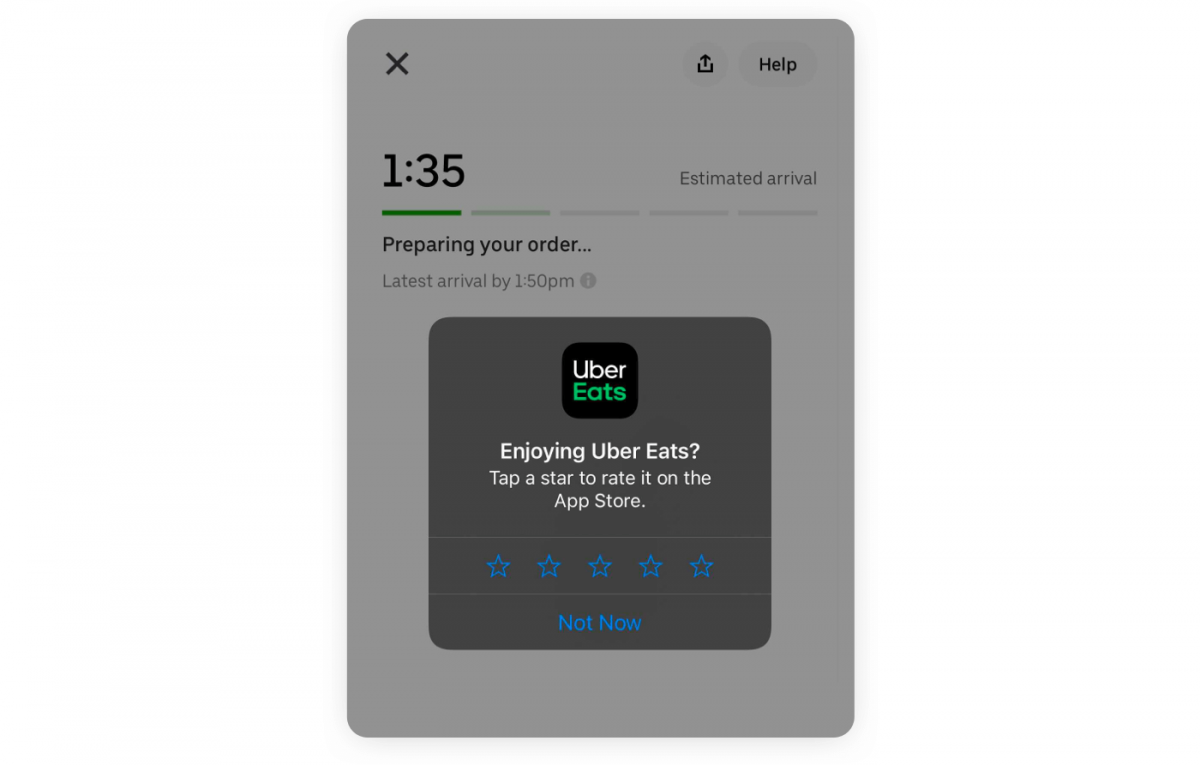 A slightly different example—
Amazon Kindle sends in-app feedback requests that take users to this page. Here, they can leave their textual feedback and send it directly to app developers.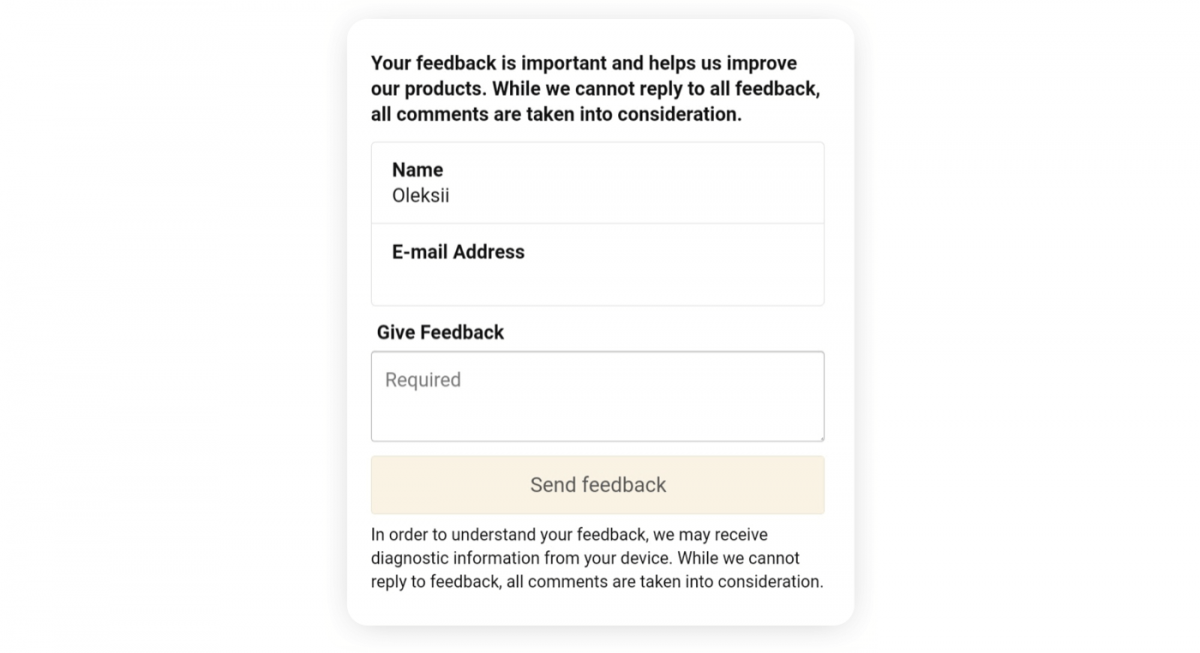 Tips for in-App Customer Surveys
To collect more customer experience feedback with in-app requests:
Use star ratings and scales for easier feedback giving.
Add a question and two answer options, e.g. "Enjoying our app?"—"Yes"/"Could be better."
Enable attaching screenshots on app feedback pages to allow users to submit feature requests and provide more detailed explanations.
Apart from surveys, you can simply ask users to rate your app in an app store. Studies show that app store reviews give fantastic insights into the user interface, pricing, notification frequency, sign-up experience, and other product features.
4. Review Live Chat Conversation Scripts
Have a live chat app on your website? Great. The purpose of live chat is to help customers and visitors to learn about your products and make purchases easier. In the process, live chat operators gather a lot of valuable customer service feedback.
A live chat conversation could have "hidden gems" and other insights about both unhappy and happy customers. Every live chat interaction is an opportunity to get insights, so having this feature can supply businesses with continuous customer feedback.
Like here, a chat operator can find out feedback about the store's delivery policies.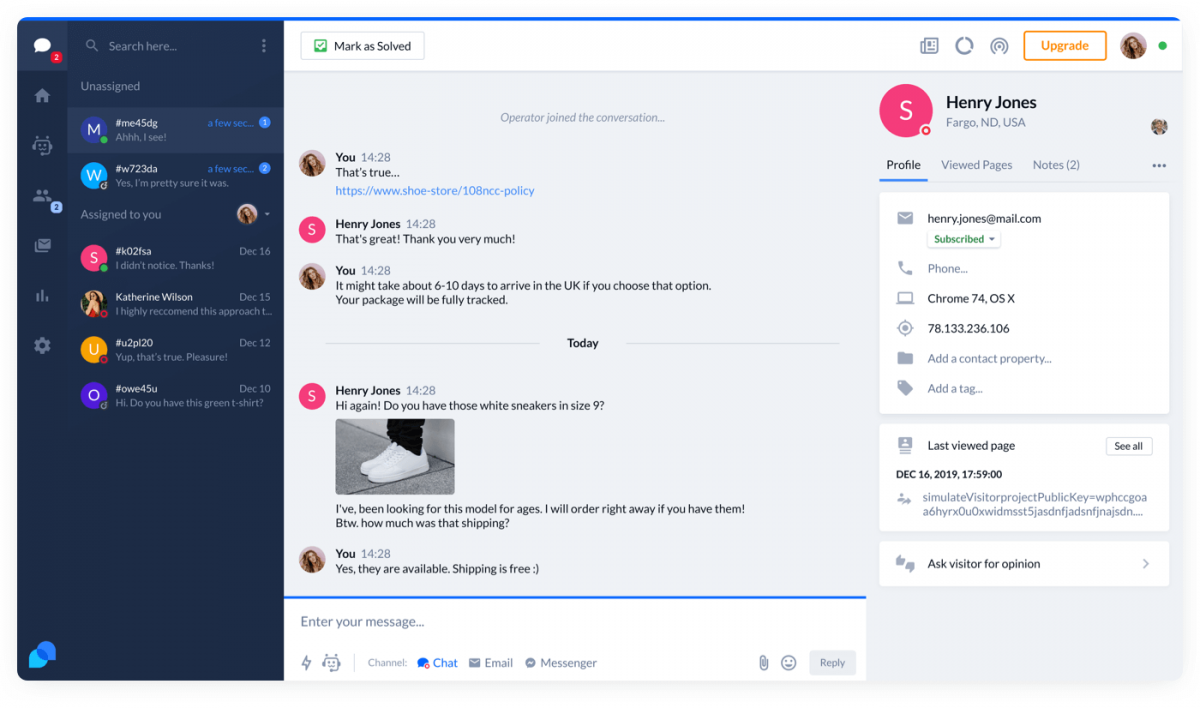 That's why analyzing live chat conversations like this is one of the best customer feedback methods.
Tips for Analyzing Live Chat Conversations
Look for these information points while analyzing live chat transcripts:
Repetitive issues with products or services
Order processing and shipping issues
Factors that contribute to customer success
Quality of customer service
Feedback on pricing, plans, and discounts
Website usability issues
Live chat offers more than collecting customer feedback—it has the highest customer satisfaction rate in customer support. Here are the 17 best live chat software apps to try in 2021.
5. Conduct Customer Interviews
No other customer feedback collection method can let you get into the mind of your customers to the same extent as interviews. They offer rich, detailed information about customer experiences and will help you discover what drives purchase behavior.
Interviews help collect customer feedback about almost everything—from vegan product development to eCommerce company website design.
This Journal of Marketing Channels study used interviews to find two groups of specific factors that drive eCommerce customer loyalty—pure gold for online stores.
Tips for Effective Customer Interviews
Consider these tips to collect useful customer feedback with interviews:
Prepare interview questions and goals. A list of questions and goals will help allow the conversation to unfold naturally. Jennifer Rowley, a research expert from the School of Management and Social Sciences, recommends novice researchers start with 12 well-chosen questions.
Ground your questions in reality. Customers are likely to give useful answers when they talk about specific experiences, not hypothetical scenarios.
Ask indirect questions. Scholar literature suggests that they help reduce bias. Try to focus on current behavioral habits and problems, e.e. "When you last purchased [product]?" or "Why did you buy that product?" rather than direct questions like "What do you need?"
The most important customer feedback takeaways from interviews will help draw conclusions and ideas for marketing and product development.
Customer interviews are an effective way for a company to build relationships with existing customers, but not the only way. Here are seven more ways to build strong relationships with customers.
6. Monitor Social Media Conversations
Social media monitoring is the process of using an app to automatically collect company or product mentions on social media. Listening to social media conversations this way can be a huge help with collecting and using customer feedback to maintain a reputation.
And there could be a lot of feedback to get.
This Microsoft study found that one in two Millennial customers have complained about a brand or its customer service team on social media. If a Millennial customer is frustrated with a company, Facebook is likely to be the first place where they share their feelings.
That's why such examples of negative feedback from unhappy customers can appear here and there. These pieces of feedback can easily scare away potential customers.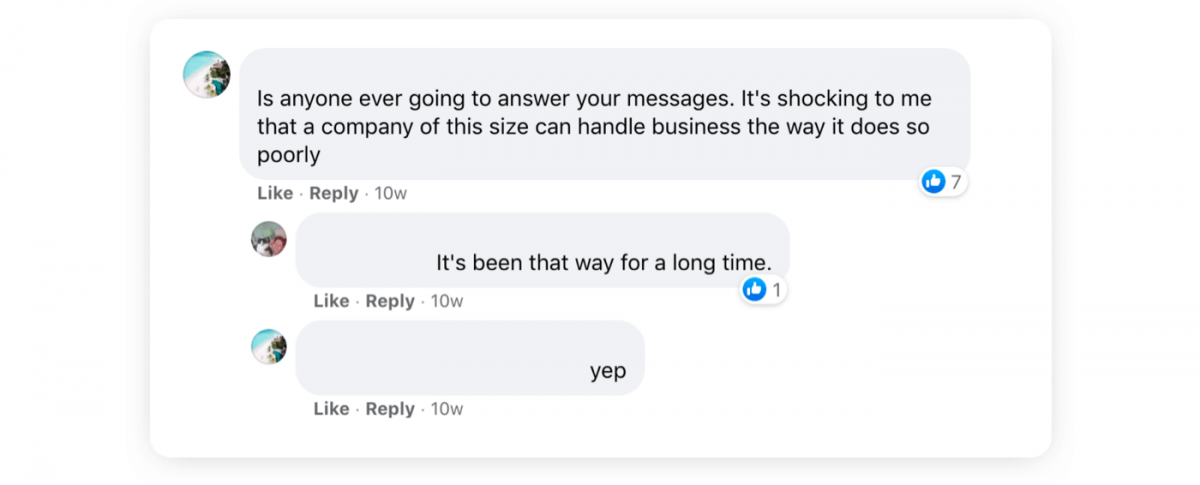 There's no way businesses can track all customer feedback on social media manually, which is where a social media monitoring tool can be a godsend.
Tips for Effective Social Media Monitoring
Social media monitoring can help you find out more about your customers' attitudes towards:
Customer support quality
Quality of products and services
Speed and quality of order delivery
Pricing
Your brand in general
The most popular customer feedback tools when it comes to social media monitoring are Hootsuite, Agorapulse, and Sprout Social. They can collect information on all major social media and improve your decision-making processes.
Note: We've prepared a handy list of the top 10 customer feedback apps that you can find towards the end of this article.
7. Check Third-Party Review Platforms
Third-party reviews are customer feedback and ratings collected by platforms like Google, Yelp, G2, or Capterra. You can think of them as "electronic word of mouth." If your business has a profile on any review platform, you can use it to check feedback from customers.
Third-party company reviews are often detailed, which makes them a source of consumer feedback insights. Besides the overall experience, platforms also ask customers to rate specific aspects like the quality of a company's customer service or onboarding process.
Tidio Live Chat Capterra page, for example, displays the overall rating + customer reviews related to "ease of use" and "customer service." The first indicator shows how easy the service is to use while the second evaluates the quality of support given by Tidio's team.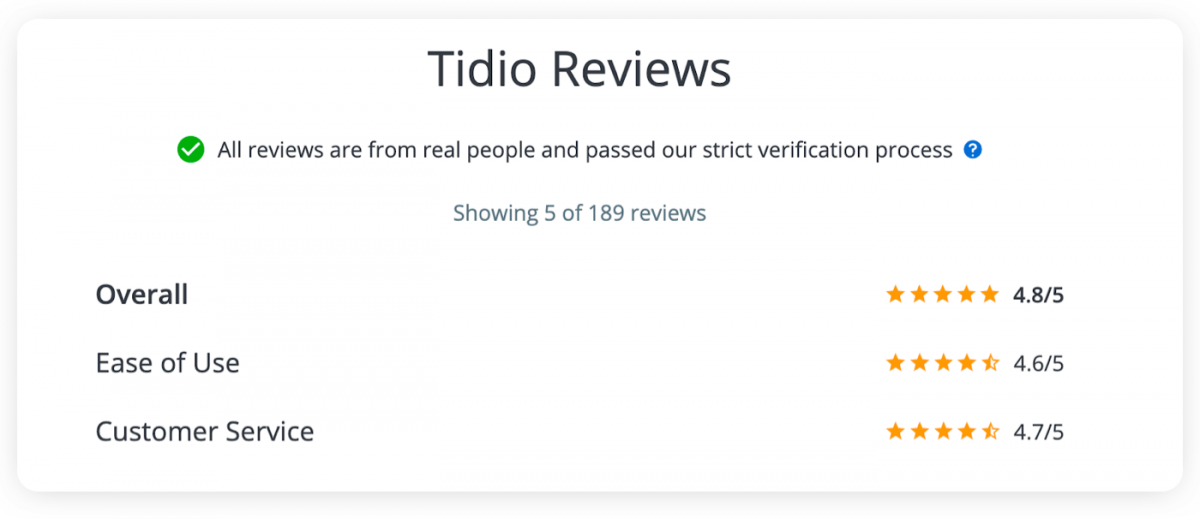 Keep an eye on third-party company review platforms in your industry and analyze the customer experience feedback they provide.
Having a high rating on these platforms is a major trust signal for your customers (63% of them check Google to find reviews before trying a business).
Tips for Finding Useful Feedback on Third-Party Websites
Consider these tips to collect helpful customer feedback:
Read customer reviews in all categories (1-star reviews, 2-star reviews, and so on).
Find out the reasons to switch to your product.
Learn what people think are your product's most helpful/useless features.
Check out your competitor's reviews and see how you can improve your product/service.
Customer Feedback Tools
Software tools are pretty handy when it comes to dealing with continuous customer feedback collection. Plus, they allow you to get the feedback quickly so you can react instantly and keep your customers happy.
Consider these tools to feed your customer feedback strategy with the best quality data and take your customer feedback management efforts to new heights.
Handy List of Customer Feedback Tools
Customer Feedback: Summary
Customer feedback helps businesses to understand customers better and improve retention. This knowledge makes product innovation, marketing, and, ultimately, achieving sales goals, easier. That's why businesses invest in proper customer feedback collection and management.
Wondering where to start your customer feedback strategy?
Consider these essential steps as a roadmap to guide your team:
Collect. Get a couple of customer feedback tools (say, a chatbot and website review plugin) to begin collecting reviews from customers
Analyze. Go through the collected feedback and try to find issues, suggestions, and the best service improvement opportunities
Build knowledge. Ensure that customer feedback "routine" is continuous and your business gets a clearer picture of your customers.
Last thing—
The value of feedback from customers changes fast, along with their perceptions. Start collecting feedback from your customer base and work towards a continuous strategy of keeping you updated on customers' perceptions, reactions, and experiences.
Provide 24/7 customer service even when you sleep.
Create unlimited chatbots for your website without coding to engage more visitors.
Learn About Chatbots