Customer feedback probably makes you think of all the reviews shoppers leave after they purchase something.
Honestly—
There's much more to client feedback than this.
Just consider all the ways in which you can ask for it: sending out customer surveys, creating platforms for ideas, or popping up a quick in-app question, to name only a few.
But why ask for customer feedback in the first place?
Because it can show you directions for growth you may not have imagined in your wildest dreams.
In this article:
If customer feedback isn't exactly your cup of tea, check out these articles instead:
What is customer feedback?
Customer feedback is what customers share about their experience with your brand's products and services. For customers, it's a way of voicing their opinions. For businesses, it's an opportunity to gain unique insights and keep improving the customer journey within your company.
The customer feedback loop is a strategy that focuses on continual brand improvement based on users' suggestions and opinions. It can help you pinpoint what needs to go and what you need more of. This way, you can learn to listen to the voice of your customers, focus on their needs, and implement positive changes.
A strategy to manage your feedback loop consists of four stages:
This way, you'll be able to start the change in your organization and become more customer-centric. And knowing what people want can make it easier for your brand to provide the right products and increase sales. More on how to manage customer feedback later in the article.
For now, let's look at some examples of companies that cracked the customer feedback code.
Customer feedback strategies with examples
First of all, no matter how you decide to gather customer feedback, remember to always be polite and not pushy. Make sure the way you reach out is friendly, and reviews bring value to your company while at the same time your clients feel that their comments are appreciated. 
1. Ask for feedback after the customer service interaction
When your customers contact you, make sure your support team solves their issues and then asks the client for feedback.
Customer service feedback is just as important(if not more important) as reviews of your products. Especially, since 96% of clients say that customer service is important when choosing a brand they'll do business with.
So, implement surveys and forms to collect customer feedback automatically with Tidio Live Chat at the end of customer interactions.
You can also look through the support conversations with clients. Operators gather a lot of valuable customer service feedback during the communication that you can use. A live chat conversation could have "hidden gems" and other insights about both unhappy and happy customers.
But for clients' insights to be truly valuable, you need to analyze them. Some tips for analyzing transcripts include looking for:
Repetitive issues with products or services
Quality of customer service
New feature requests
Tidio: example of feedback collected right after interaction with the customer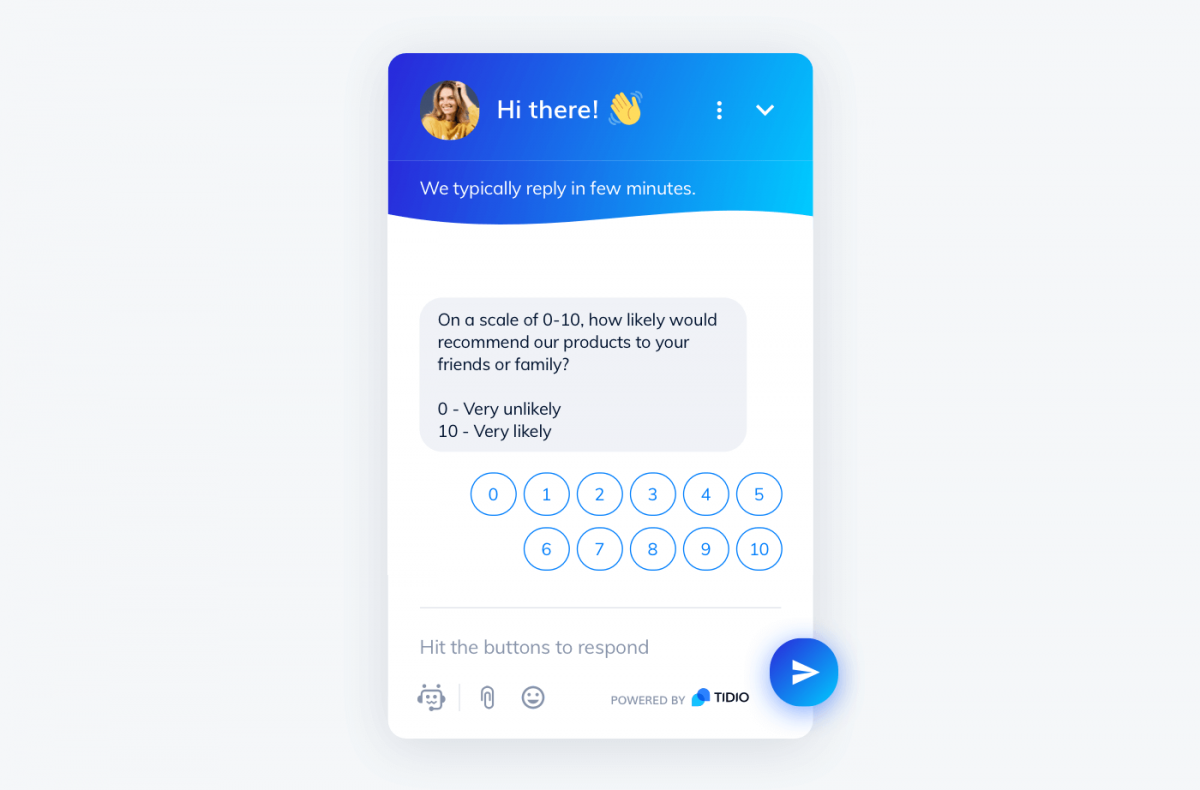 This is an example survey our customers get after the interaction with customer support. At Tidio, we focus on collecting customer feedback by implementing surveys that ask one simple question and give clients a rating scale. We also encourage consumers to review us on third-party platforms, such as G2 and Shopify if they have any further comments.
The main benefit of using this method of collecting feedback is getting to know our customer's needs, such as exporting chat transcripts, advanced analytics in bots, NLP for more languages, and integrations with WhatsApp and Instagram. This allowed us to improve the customer experience and helped us grow in accordance with our customer's needs.
Suggested reading:
2. Send in-app feedback questions
In-app surveys are short pop-up requests displayed to app users asking them to share their experiences using a rating scale. This is a good way to get real-time responses and a lot of them.
Your business can send in-app consumer feedback for services as well as products. If your ecommerce store has an app available, then after each purchase, your clients can receive a question about how likely they are to recommend your brand.
Just don't ask them about their experiences using the product straight after they purchased it— they haven't used it yet, so how would they know if it's good or bad?
Simple tips you can implement into your in-app surveys to get more replies:
Use star ratings and scales for an easier process
Enable attaching screenshots and a textbox for a detailed explanation
Let shoppers skip open-ended questions
Apart from surveys, you can simply ask users to rate your app in an app store. A study shows that app store reviews give fantastic insights into the user interface, pricing, notification frequency, sign-up experience, and other product features.
Let's look at how Uber mastered this type of customer feedback.
Uber: example of feedback collected in-app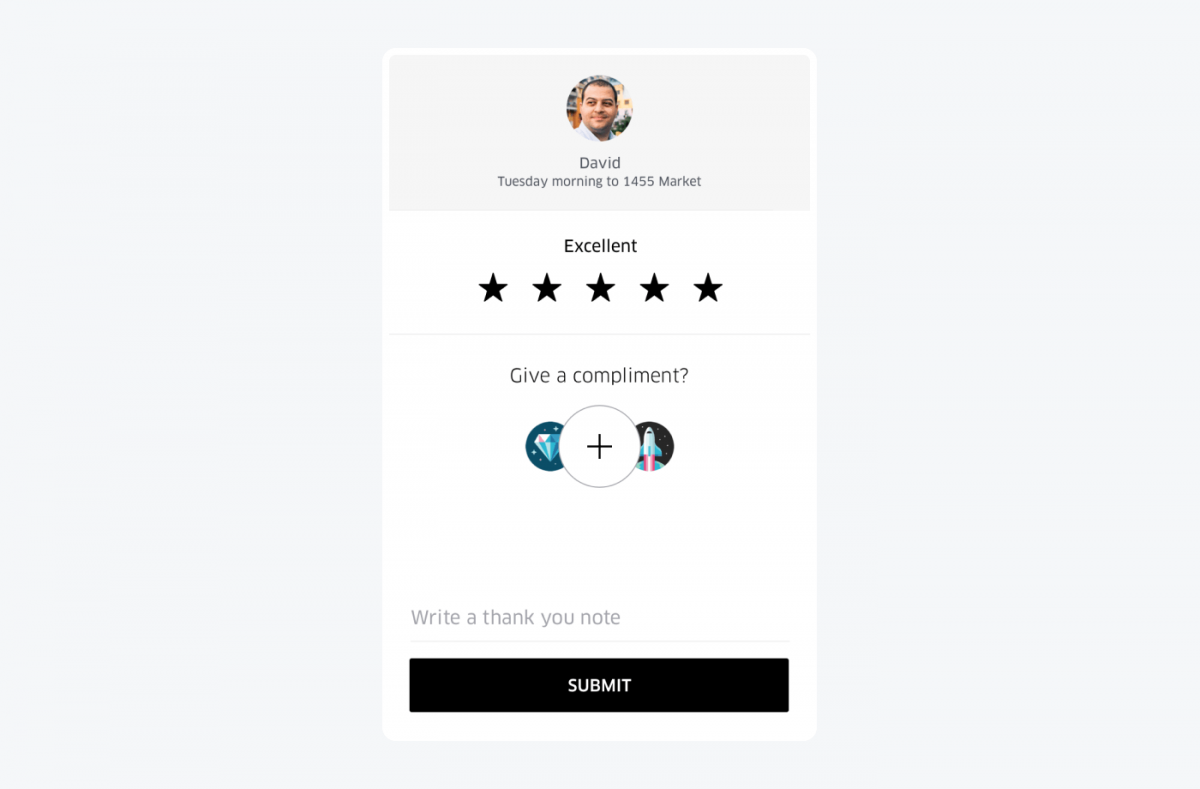 After each trip or during your ride, you get to rate your experience and your driver. And that works both ways as your driver can also rate you. This is the way Uber created a feedback culture that puts the power in the hands of buyers and protects employees at the same time.
You can rate the driver on a rating scale and provide more information about your experience. When getting into the car, clients know the driver's name, their car, and average ratings. This way, people feel safer when using the service. It allows transparency and informs the company of any problem drivers in good time.
The mutual rating also protects Uber drivers from problem customers. If a client is misbehaving, the driver can rate them poorly and warn their colleagues about this customer.
3. Send feedback emails
About 83% of shoppers prefer email as a way of communication with a company. But make sure that you make your emails personal and direct. Whether you're writing an onboarding email to a new customer or interacting with existing clients, see to it that:
Your message is simple and to the point. People are busy, and they don't have the time to read an essay whenever you need reviews.
Don't contact customers too often. If you send them an email after each purchase or customer interaction, that should be okay. But don't email them every week if they didn't interact with your brand first.
Send emails at the right time. According to research, 3-4 am is the best time to email customers, but you need to tailor the communication to your shoppers.
Now, take a look at the feedback requests below—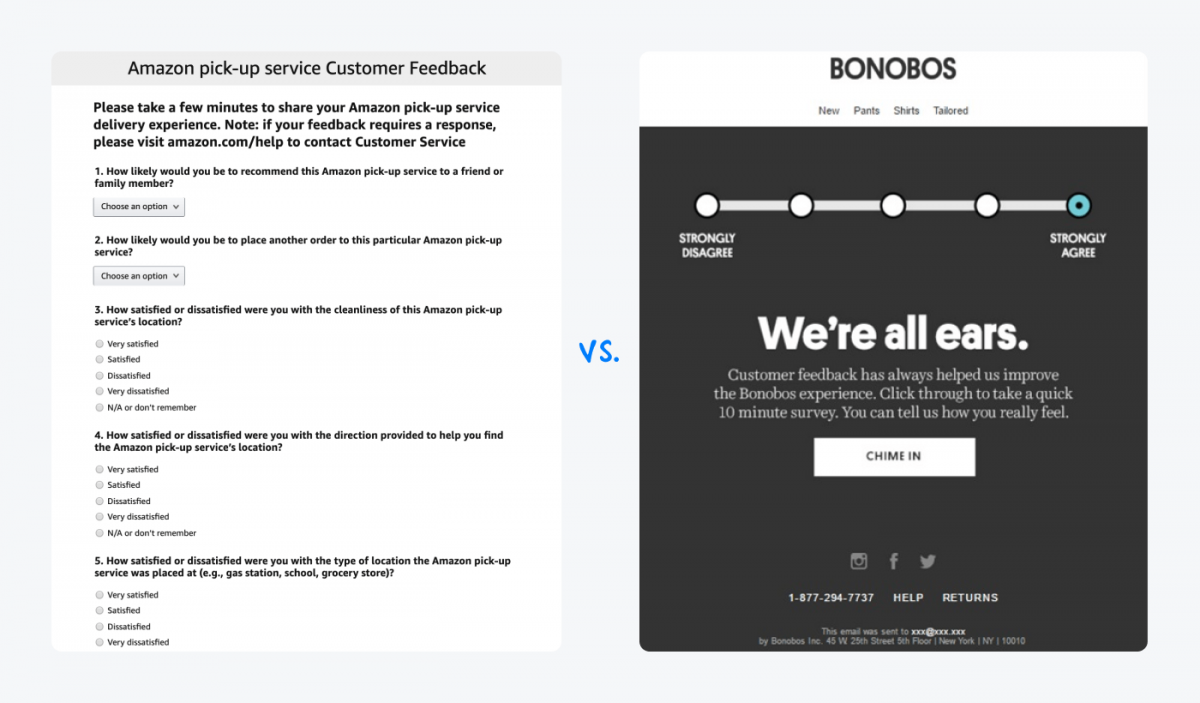 Which email are you more likely to answer? The one with basic formatting and blocks of text or the creative one which lets you click the button and provide quick consumer feedback about your experience?
Most likely the latter, and it's probably the one your clients would prefer too. So when you ask for feedback from customers via emails, make sure they are short and sweet.
Apple: example of a feedback email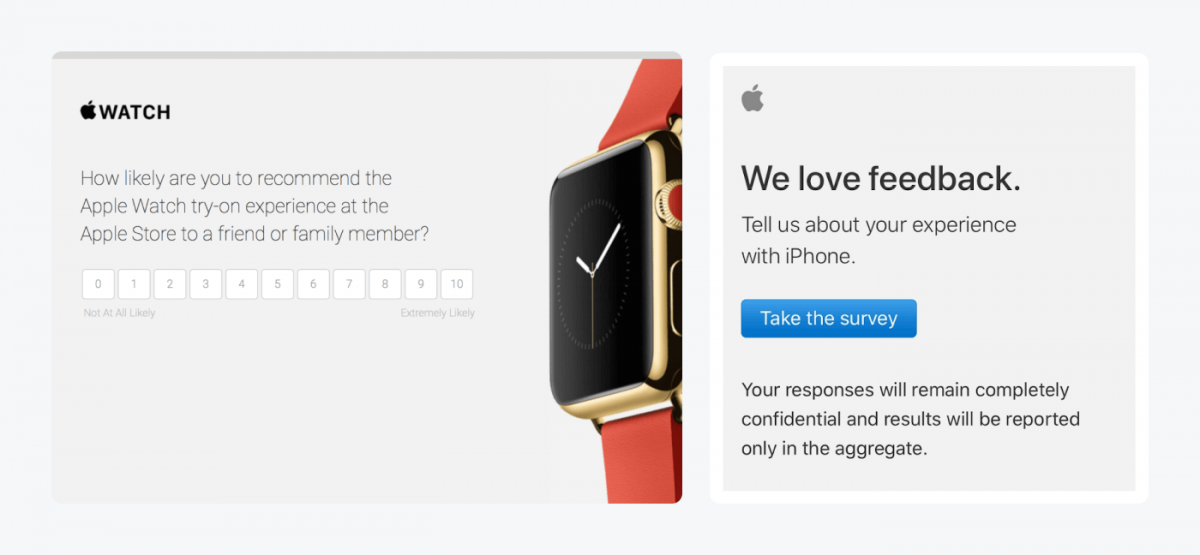 When you purchase an Apple product online or from an iStore, you'll get an email from the company. They'll ask you about your experience and how likely you are to recommend the product to a friend or family member.
This is one of the customer service feedback examples that use a metric called Net Promoter Score (NPS). This score is important to Apple's growth because it is related to customer loyalty and customer retention. The metric shows how many clients promote the brand in comparison to detractors who discourage others from purchasing Apple's products.
4. Collect ideas and use social media to engage customers
Think about the number of your customers.
That's the number of brains you can pick for ideas on how to improve your business. They are the ones who know what your brand needs, and they're also the ones you should focus your improvements on.
The best way to get shoppers' ideas is by asking. The most efficient ways to ask for shoppers' thoughts are:
Implementing a platform to collect them
Sending out forms to shoppers
Having a page on your site dedicated to them
For extending the process, use social media and let people decide which ideas to implement into your business. Let them vote, comment, and share each other's ideas and see which ones get the most engagement.
That's what Starbucks did, and it worked very well.
Starbucks: example of collecting ideas from customers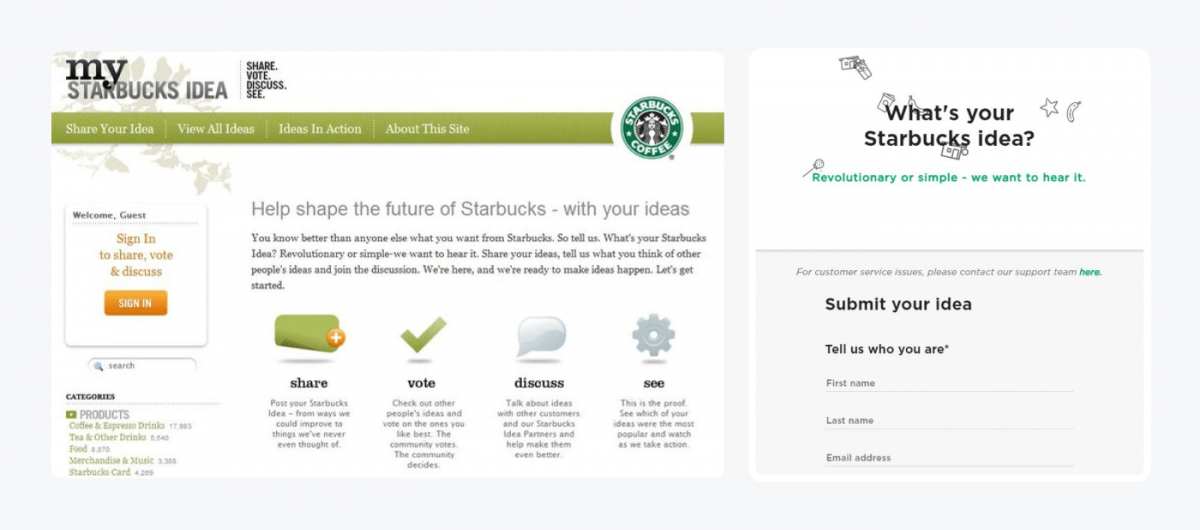 Share. Vote. Discuss. See.
That's Starbucks' customer feedback strategy.
"My Starbucks idea" portal lets Starbucks crowdsource ideas from their customers and create products that their clientele really wants. This way, the company taps into the brainpower of tens of thousands of its customers.
For free!
It first asks consumers to suggest ideas on a website. People then vote on them, and the ten most upvoted ones are posted on social media and discussed. The most popular ideas get implemented in Starbucks' stores.
5. Provide incentives for customer feedback
Everyone likes getting something for free. Your clients are no different and they will be more likely to provide customer feedback in return for a little gift. It doesn't have to be big. A discount code or points on buyers' accounts will do just fine.
How to not fall into the trap of customers becoming biased because they want to get something instead of being honest in their reviews?
Shoppers will recognize if someone's review is fake or overly positive. So, to encourage more authentic reviews, try sending your products to influencers. If you have a great product, they are the best people to review it and convince the public about its benefits.
You can also make a hashtag campaign on social media. Offer a prize in exchange for reviews. First, get people to review your products and put their names in a jar or a bowl. Then, draw the name of the client who wins the prize at the end of the campaign. This can blow your brand's name, drive user engagement, and your popularity through the roof. Just like Coca-Cola did with their #ShareACoke campaign.
Best Buy: example of giving incentives for feedback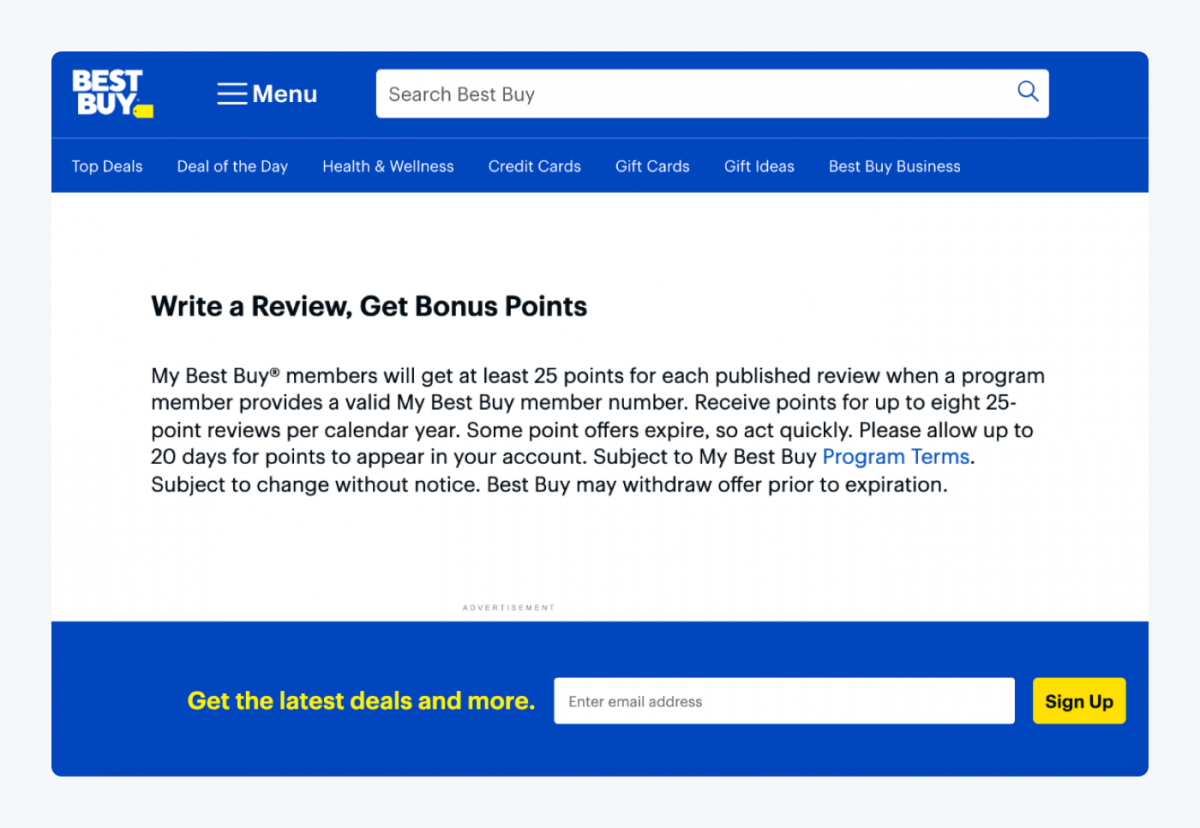 The Best Buy Reward System applies to My Best Buy members. They give points as a token of gratitude to their members after the client leaves a review about a purchased product.
It is effective and the reason behind Best Buy having millions of verified product reviews on their website. It gives them transparency and authenticity so new clients can be reassured about their buying decisions.
Find out what the best types of customer feedback incentives are and when to best use them.
6. Show customer reviews on-site and do online research
You should also give your customers the opportunity to review products on your site and stay on track with reviews on third-party sites.
Reviews provide transparency and credibility. And about 87% of people look at online reviews for local businesses before they buy from the brand. And if they can't find any, they won't trust your company enough to purchase from you. And this type of customer marketing will work long after being posted.
Think of these review sites as "electronic word-of-mouth." Some of the sites you can look up customer reviews at are:
To show your reviews to your website visitors easier, you can use TrustBox. It lets you embed Trustpilot reviews directly on your site. On the TrustBox widget, visitors can see your most recent review, TrustScore, and star ratings.
You can also use social media to find out what people are saying about your brand. Use a social media listening tool that can scan the platforms for you so you can stay on top of customers' reviews. And 55% of customers have a more favorable view of brands who respond to complaints and questions on social media.
SiteGround: example of online research on clients' reviews
This brand lets you rate your interactions with the support agent, and once you do, the site gives you an option to also leave a review. If you click that button, it will redirect you to a third-party review site where you can share your experience.
This method provided the company with more visibility and allowed it to collect an impressive number of reviews on Trustpilot. Also, the company displays some of the customer feedback on their own site.
Right, let's move on and learn how to manage customer feedback effectively.
Managing customer feedback professionally
Once you collect all the feedback, the next step is to manage it. Because if you don't, you'll end up with heaps of useless data and lost resources. And that would be a loss that neither you nor your company can afford if it happens repeatedly.
Customer feedback management is the process of interacting with collected reviews from different channels and using them to improve your product or service. It breaks down the overall consumer feedback into actionable customer insights and helps you focus your efforts on making better-informed business decisions.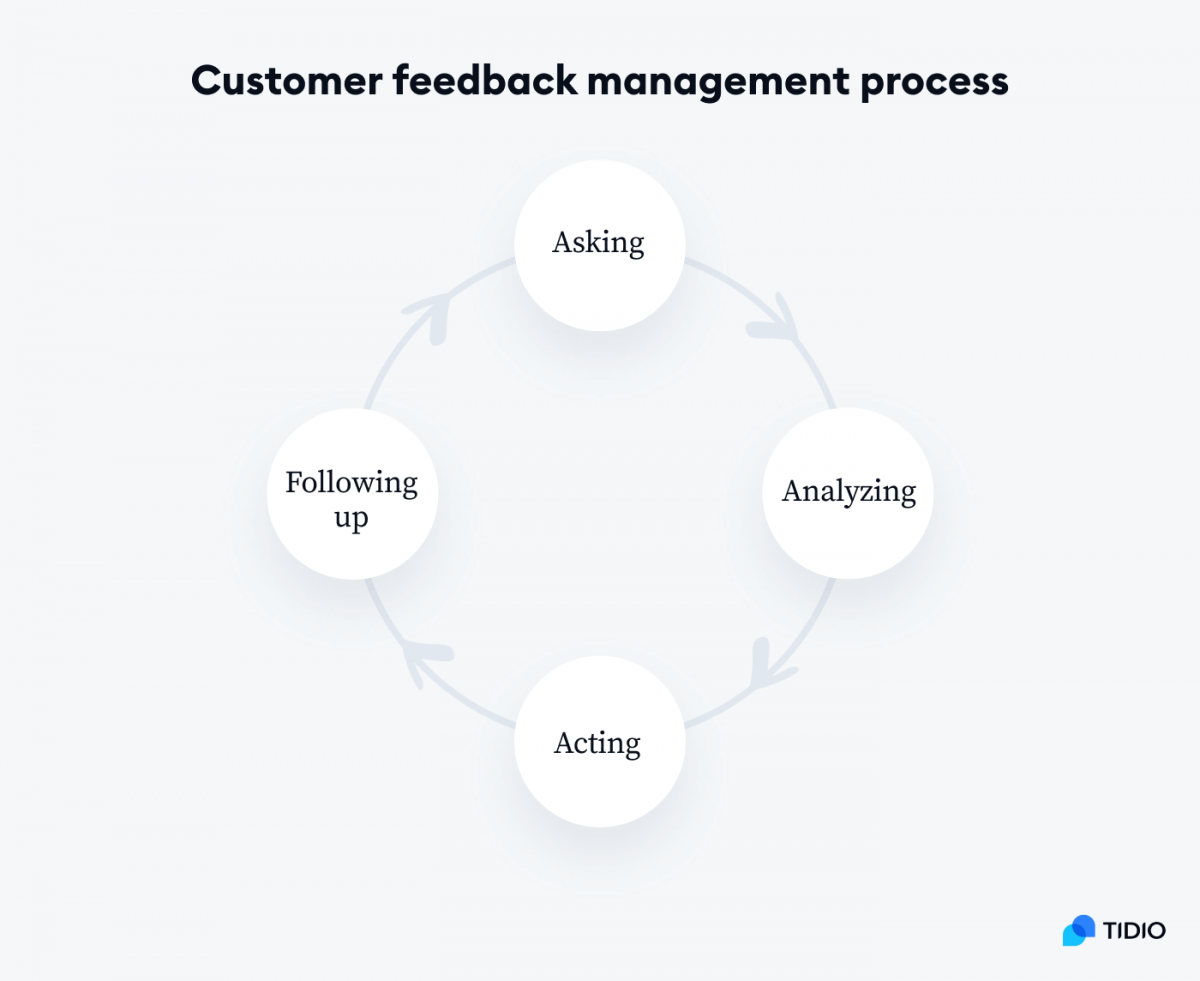 A successful customer feedback strategy centers around four steps:
1. Asking
So how to ask for customer feedback effectively?
Start with defining clear objectives for your customer feedback. What do you want to gain from it? Improving your products and customer service? Revamping your brand? Or is it a part of your strategy to become customer-oriented?
To ask for client feedback:
Use the strategies we listed above when asking for customer feedback.
Ensure you focus on your key customers and ask the right questions.
Use clear and understandable language when creating surveys and questionnaires.
Construct your questions to gain the most out of your shopper's answers.
Look into which customer success metrics provide the most value for your business. This will help you ask the right questions to measure results easier. Is it Net Promoter Score (NPS), Customer Satisfaction Score (CSAT), or maybe Customer Effort Score? You can always mix and match metrics to fit your needs.
But remember that respondents will provide diverse comments, and you need to have a clear goal to not get overwhelmed. Keep in mind what you want to gain from the feedback and stay open-minded. Sometimes clients can provide valuable insights into areas you didn't think about. This might give you the upper hand over the competitors in the future.
2. Analyzing
It's time to start analyzing your data. First, let's focus on quantitative data.
Use tools such as Qualtrics and Data Studio to visualize and analyze the data you collected. These platforms will show you the results of your surveys and questionnaires in the form of graphs. They are easier to analyze and see the results than a table of numbers.
Okay, analyzing numerical data is quite straightforward, but how to manage your qualitative data?
These are all the results that cannot be displayed as numbers. It includes all the written and detailed feedback your clients provided you with. To analyze it:
Look through the reviews and try to find the ones that are similar to each other. This will let you segment the responses by their type and allow you to see patterns of what your clients love and hate about your brand.
Then, look at the unique ideas. Write down the ones that seem like a great advantage for your company. One of these ideas might make a breakthrough for your organization in the future.
Voyant Tools is one of the customer feedback tools you can use to analyze written feedback. It is a web-based text reading and analysis platform that helps you with interpreting the digital text.
Another tool you can use is Chattermill. This software can help you analyze customer feedback from various platforms and give you better insights and client understanding.
Once you analyze all your customer feedback data, move on to acting upon it.
3. Acting
How to start acting upon all the feedback your customers provide?
One by one. First, look at what needs to change now and set it as your priority. Implementations that can wait will go to the backlog for now. But, remember about them and start putting them into action as soon as you can.
Make sure you are prepared to make the changes. There is no point in spending resources and time on collecting and analyzing reviews if you're not willing to adjust your brand to fit what the clients want.
Interpret the feedback constructively and with empathy. Focus on resolving customer complaints or identifying root causes of negative feedback. The only way to improve customer satisfaction is by listening to what their customers have to say and do something about it.
Use customer feedback to provide clear guidance to different teams. Each one of them will play a part in improving your business. So, make sure that they are aware of the changes, understand why they're happening, and know the end goals you want to reach.
4. Following up
Now that you know your customers better and listen to their voices, you can create more targeted experiences. They made that improvement possible, so acknowledge that and follow up on their feedback.
A few ways to follow up on customer feedback:
Answer any reviews posted on online platforms.
You will see the improvement of the brand image just by doing so. Especially, since over 55% of clients have a more favorable view of companies that respond to customer service questions and complaints on social media.
Remember to respond to customer feedback, especially negative comments. Angry customers need to know that you listen to and acknowledge them. So to turn the situation around, answer the bad reviews publicly and message the client privately to see how you can improve their experience.
Your most unhappy customers are your greatest source of learning.
If you have the customer's email address, reach out to them by writing a customized follow-up email. You can greet them by their name, address their feedback, and make the interaction more personal.
This will show that your brand is dedicated to making things right. It also keeps the line of communication open for any future outreach to these customers.
Offer help & free resources for consumers.
Remember to check if a client knows how to use your product correctly when they reach out to you with a complaint. Sometimes that's all it takes to ruin their experience.
Answer all and any of their questions, provide guidance and offer free resources. Create a knowledge base and a blog to refer to and send links to clients so they can discover the true value of your products.
Learn more about how to deal with customer complaints.
The importance of customer feedback for your business
Finally—
Why is customer feedback important, you may ask?
Because if done right, customer feedback can become the North Star that guides you towards your goals and gives ideas for new products and better services. Let's look at some of the benefits:
It helps you discover customer needs
Customer feedback is important to discover customer needs and anticipate them. And since about 76% of consumers expect businesses to understand their needs, expectations, and pain points, you can easily gain a competitive advantage by getting to know your clients.
You're not a mind-reader. None of us are. So, the only way to get to know your customers' needs is to ask them for feedback, ideas, and reviews. Then, make sure you listen and deliver on their expectations.
Only when you know your clients can you become customer-centric. Putting the consumer at the center of your business is a popular approach. In fact, a recent report states that 95% of companies claim to be customer-centric. But are they really?
No. Since only 50% of brands tailor their products and services to the needs of customers, and about 30% of them focus on delivering exceptional customer experience. But thanks to customer feedback, you can ensure to put the clients at the center of your business. And you'll get a competitive angle as a bonus.
A whopping 73% of clients say experience is an important factor in making purchasing decisions. And by collecting feedback, you can stay on top of the customer experience and what to do in your brand to improve their satisfaction.
And the sales will be more informed on what your clients want, and therefore you'll have fewer returns and more happy customers.
It improves brand reputation
You might be surprised to discover how important asking and accepting customer feedback is to improve clients' opinions about you. Well—as many as 77% of consumers have a more favorable view of brands that ask for and accept customer feedback.
But about 53% of customers think businesses disregard their feedback. Show that you're not one of the brands that don't pay attention to clients' reviews and feedback. This will help you improve your brand's reputation in the long term.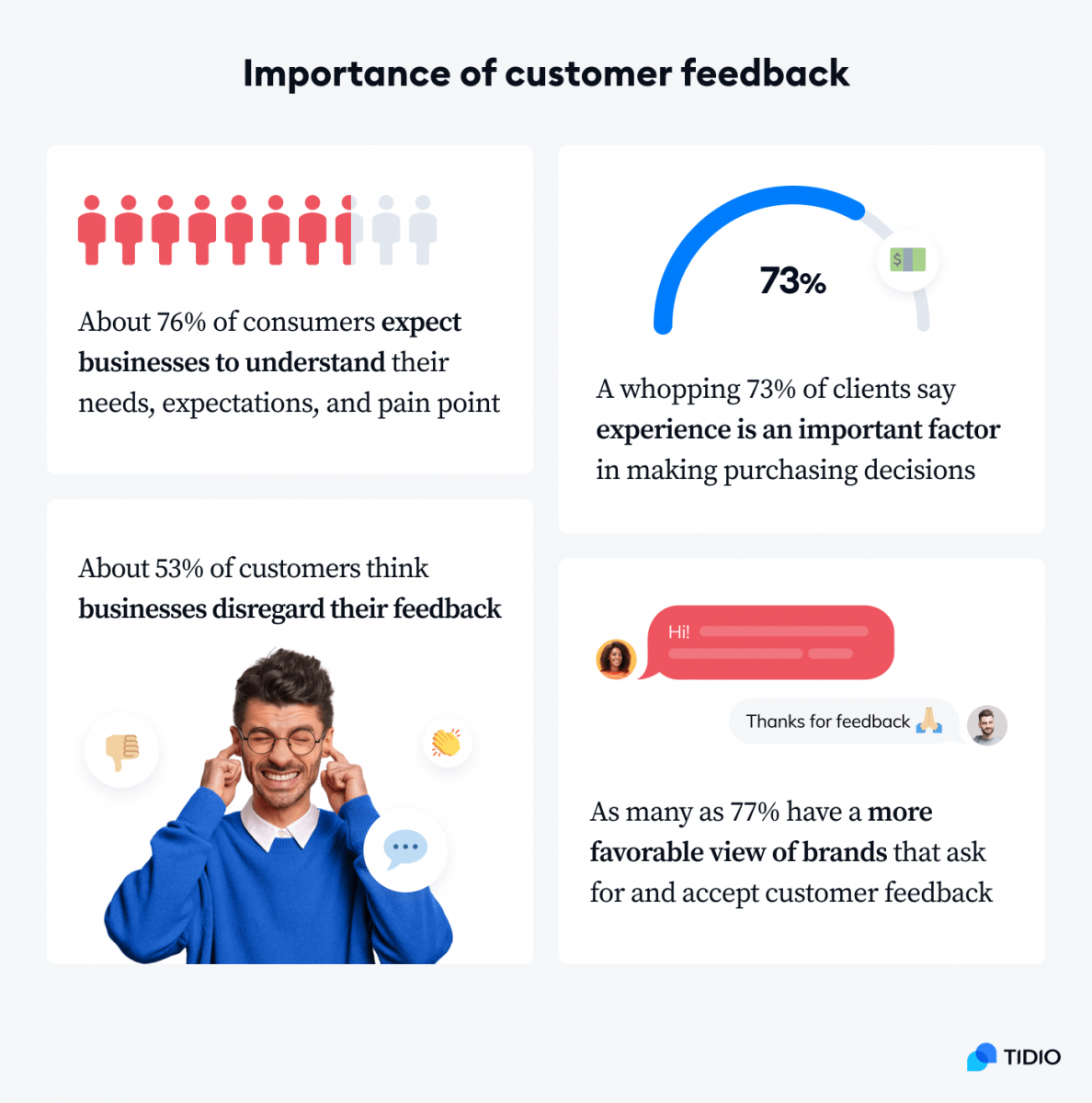 It helps you better budget your expenses
This is because product feedback will show you which products and features people care about. And it will help you learn how to target your clients.
This way, your business will only spend money on what brings results and a good return on investment. No more products and features that cost you a fortune and your customers don't really care about.
It provides ideas for new products
Client feedback will also provide ideas for new products and product developments that your team might never have come up with. No matter how innovative your product team is, they'll never beat the brains of thousands of your users.
So, these are the reasons customer feedback is so important for your business. Some even claim that customer feedback is more important than positive word of mouth. Yet, it's used much less frequently. Positive word of mouth encourages referrals, but you get very limited power in action. Whereas asking for customer feedback provides more benefits, such as recapturing a client, improving brand image, and creating more loyal customers.
Using both would be the ideal scenario, but if you have to put your budget in only one of them, then customer feedback will have more return on investment for your business.
Read more: Discover how to build an effective customer experience strategy.
Key takeaway
Customer feedback is a vital part of your business because it helps you become customer-centric, improve your service, and develop new products.
You can ask for reviews and comments from clients:
After customer service interaction
With an in-app questionnaire
By sending emails
With a platform for collecting ideas
By providing incentives
With links to review sites
All the above can work well, but you have to choose the one that works best for your business. Your team will then have to implement a feedback loop into your brand's strategy.
You can manage customer feedback by following a few simple steps:
They are equally important to ensure that you pay attention to each of them for the best results. Since they are like a closed-loop, if you remove one, the rest will stop working. So, stop wasting your resources and put them into discovering what clients truly care about. Your customers, alongside your product development team, will thank you later.