Have you heard the tire-refund legend at Nordstrom?
An old lady rolls a tire into a Nordstrom store and asks for a refund.
The customer service rep says they never sold any tires at Nordstrom. The lady insists and gets the refund without a receipt.
Doesn't make sense, right?
It does for the co-presidents for the Nordstrom retail stores who said this about the rep's reaction:
"He used great judgment."
The story (true or not) captures the essence of the customer orientation philosophy—
The customer is always right, even though they're probably wrong.
Let's see if this makes sense business-wise.
In this article:
Not what you're looking for? Try these:
What is customer orientation?
Customer orientation is an approach to running a business that prioritizes customers and their needs over those of the business. The goal of customer-oriented companies is to satisfy customer's needs to retain them for longer. Customer orientation also helps companies attract customers to their offer naturally.
In customer service, customer orientation means delivering supportive, personalized, and holistic results to customers.
Customer orientation gives a whole new perspective to the process of setting business objectives and delivering results. It means going away from sales-oriented business models (focused on sales or discounts) and moving towards inbound marketing tactics. By getting to know their clients and answering their needs, companies build long-lasting customer relationships.
Is it worth it, though?
Make no mistake: prioritizing the customers' needs doesn't happen at the expense of the company's profitability.
Companies that implement customer-oriented strategies don't go bankrupt because of that.
Here's the trick:
Satisfied customers spend more money with your business for longer, which translates into higher customer lifetime value, and a better bottom line. So your business needs are also taken care of.
Amazing, right?
Other benefits of tuning in with customers include higher customer engagement and customer satisfaction. People love telling the world about brands they love and identify with, so you're getting free marketing.
Speaking of which—
Word-of-mouth marketing is now more valuable than any other form of advertising—customers practically hold the reputation of brands in their hands. Haven't we all judged a brand based on online reviews?
Customer orientation: examples from top companies
Nordstrom's tire return allegedly happened in the 70s. The story definitely supports the retailer's brand known for its exceptional customer service. But how would Nordstrom play it out if someone tried it in the 21st century?
We simply don't know.
We do know, though, many modern brands with a consistent and sustainable consumer-oriented approach to marketing. And we can share their best practices.
Here's a look into some of the best modern-day customer-orientation examples:
Zappos
You can't discuss customer orientation without mentioning Zappos. The company relies more on customer service than any type of advertising.
Why?
The customers do the marketing for them—through word-of-mouth.
Zappos believes that phone calls can build close, familiar relationships between customer service agents and customers. Chatting with customers satisfies their need to be taken care of, cements their loyalty, and gets them talking about the Zappos brand.
This is what differentiates Zappos from, e.g., Amazon, where people are looking for a "few clicks experience."
The retailer's core value is to always try to wow their customers and has a unique way of tracking it. Their call center has a board with "flower stats" that tracks small gifts sent out to customers.
One month, the board showed 380 gifts sent. What for?
One bouquet was sent to a lady who phoned Zappos to return shoes she had bought for her father, who died unexpectedly. The customer service agent empathized with her and said she needn't return them to get a refund. After that, the customer service rep felt moved by the conversation and sent the customer flowers.
You'll find more examples of customer orientation by Zappos all over social media and the news. Here's the most recent tweet on Zappos' account from a customer who had a meaningful interaction with the brand.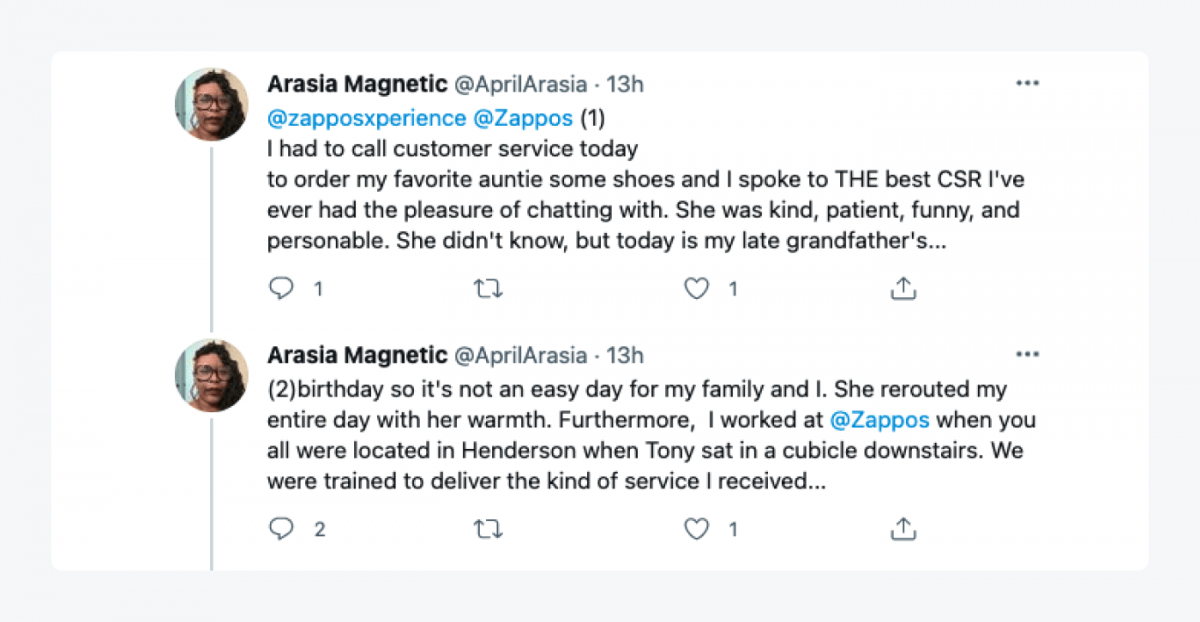 Key takeaway?
Shower your customers with free gifts? Well, no.
Show them that you care about them and are focused on them, not only on short-term financial gains from each sale.
How?
It depends on your type of business and—again—your customers' needs.
Slack
This is a cloud-based communication company that grew ultra rapidly. Their consumer-oriented thinking is reflected in their organizational structure. Their employees specialize in certain areas of the product instead of learning all about it.
Such an approach helps improve user experience because when customers contact Slack with a technical question, they are quickly taken to the best customer service agent in that area.
As part of its consumer-oriented marketing, the company regularly collects customer feedback to adjust its product accordingly. Take, for example, integrations with new tools and improved workflows.
Slack's consumer orientation strategy creates an innovative and collaborative environment. It allows flexible teams to distribute the work between themselves and create unique solutions that help customers.
According to research, customer orientation increases the awareness that you can complete a task in different ways. What matters is the outcome—customer satisfaction. So to improve the performance of departments, managers need to focus on the role of customer orientation in generating constructive conflicts—the authors conclude.
Your takeaway?
Encourage your staff's autonomy and ownership of their work. Include front-line staff's feedback and customer complaints into product development processes.
How?
By creating a company culture based on trust and internal collaboration. Hire for attitude, and train for skill.
Patagonia
Patagonia is an outdoor apparel company that takes environmental actions to lower its industry's impact on nature. The commitment to green initiatives pulls in customers who care about sustainability issues and are willing to pay for more expensive, quality products that last a long time.
Patagonia includes customers' feedback into their future environmental programs. For example, there's the Worn Wear Wagon. It's a program to mend busted zippers, tears, and pulls in Patagonia clothing for free. They also educate people on how to fix their own gear.
The company even goes as far as letting its customers resell their used Patagonia clothes on the company's website or trade them in at any Patagonia location to receive a credit to buy new or used products.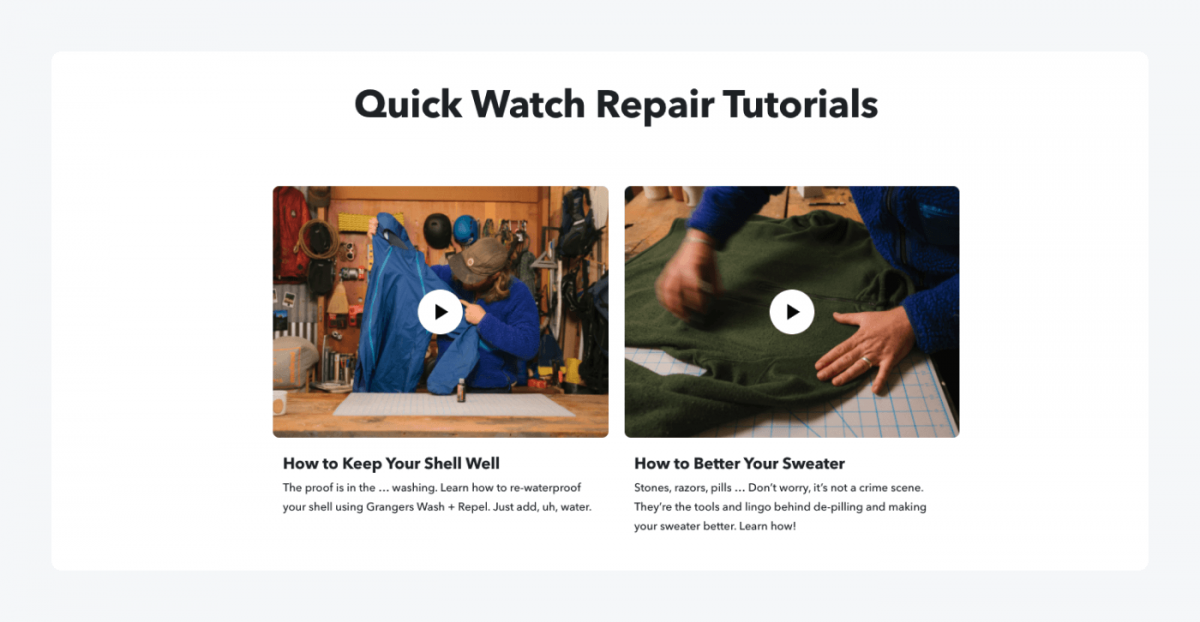 Kingfisher
Kingfisher is a home improvement company with brick-and-mortar stores across Europe. In June 2020, they went away from a one-size-fits-all strategy.
Instead, they started to recognize and address diverse customers' needs in different countries. They decided to build customer value propositions for every country to serve their customers better.
In the same vein, the new strategy included expanding their eCommerce presence in a short time. It reflects recent trends in online shopping due to Covid-19 lockdowns. Their customer-oriented strategy involves implementing click and collect options for customers, cheap home deliveries, and their website optimization for mobile devices.
As a result, they served around 10 million new online customers.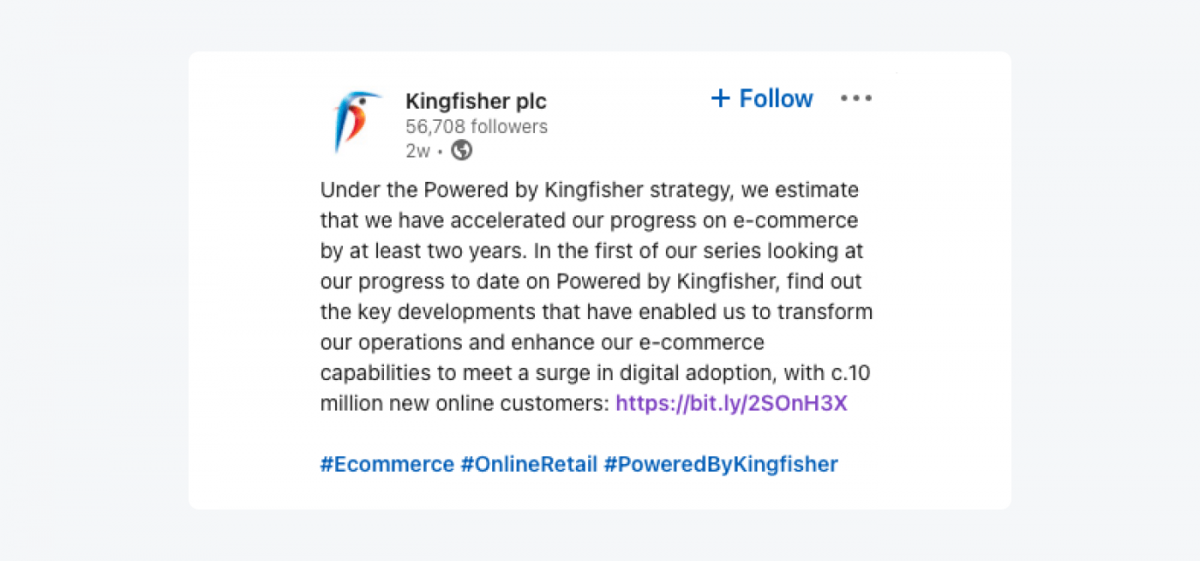 Your takeaway?
Decide what initiatives will benefit the customers and find ways to bring them to life.
How?
Research your market, check industry trends, create a customer's journey map to find new opportunities.
How to implement customer orientation?
How did you feel reading about all those fantastic examples of customer orientation marketing in actual organizations?
Does it make you wonder if you stand a chance to be a part of the next legend, like Nordstorm?
It certainly won't happen overnight.
Implementing a customer orientation strategy takes a bit of planning to ensure the changes aren't superficial. There's actually research evidence that the presence of customer-oriented employees alone isn't enough to drive customer-oriented behaviors. There has to be an organizational climate that supports the workers in paying attention to what costumes require.
But worry not.
Here are nine things that will set you on the right course towards becoming the next customer orientation superstar.
Drum roll…
1. Let customers reach out to you
Never miss a chance to listen to your customers, whether via phone, email, or live chat. Your contact details should be easy to find on your home page and product pages. Customers won't play detective to find it when they need help or extra information. They will simply move on to your competitor.
Live chat is becoming the leading contact method for US online customers—42% of them prefer chat vs. email (23%), and businesses that use them notice a boost in sales, revenue, and customer loyalty.
2. Hire friendly, solution-oriented people
The list of desirable skills for customer service agents is long. So instead of searching for a perfect candidate who has them all, "hire for attitude, and train for skill." Building a customer-oriented support team is about finding people happy to hear from customers, glad to help, and genuinely engaged. Unlike skill sets, the attitude can't easily be copied in the market.
3. Encourage your staff's autonomy
Here's a reality check for you. Do your customer support staff need managers' approval to resolve non-standard customer interactions? If you curb the initiative like this and don't empower your support agents to provide the solutions they deem appropriate, I've got bad news for you. It gets both customers and employees frustrated. I wrote more about it in our article about modern customer support.
4. Treat your employees as the most valuable asset
People are your most important asset. The way your employees feel about their daily work has a massive impact on how they respond to customers. Satisfied and committed employees work more efficiently and have better customer interactions. They can focus on building ever-important customer relationships and solving problems rather than on how mistreated they feel.
5. Train your team
Make sure all members of your organization understand the company vision and what's expected of them. Provide customer-focused training on who your customers are, how they use your product, and how to solve customer wants—from no-nonsense, time-efficient complaints resolution to personalized, empathetic customer care support.
If you're in a SaaS business, the sales team might push the support for upselling to clients who don't need the solutions. But if all teams know where the company is heading and believe in its values, they align their goals around the company's objective.
6. Lead by example
Customer service orientation should not be limited to support teams. It applies to a whole organization—from CEO and top management down to salespeople. The thing is that the entire company culture should be supportive of customer-centric behaviors.
For example, if helping one customer takes an unusually long time, support agents might get frustrated and rush to end the conversation without fully satisfying the client. But if employees know that management and peers appreciate the effort and assist with non-standard requests, it creates an ideal environment for excelling at customer orientation.
7. Capture the voice of the customer
Voice of the customer helps companies understand and meet their customers' expectations and make data-driven decisions about virtually every aspect of running the business—from where it's heading to how to structure pricing to what products or services need to be developed along the customer journey.
At Tidio, we're syncing with our live chat users to enhance customer experience. We surveyed them and found out that online shop owners want more automated conversations. Nearly half of them need chatbot templates about shipping, order status, and discounts. As you can imagine, this became one of the top priorities for our product team.
8. Create customer value proposition (CVP)
Decide at a broad level what benefits your customer base expects from your business in return for their loyalty. Then break it down into deliverables at different levels of the organization. Next, come up with actionable ways to deliver what you promised to the consumer by asking yourself these essential questions.
Take Apple's CVP, for example. In 2019, they started to emphasize protecting users' privacy to differentiate from other tech companies. And that's exactly what they deliver—a safe ecosystem that makes people want to be a part of it.
9. Follow up and optimize your processes
First of all, it's hard to get things right the first time. Second, customers' needs change, and it's essential to monitor them and adjust your strategies accordingly. When you've implemented the customer-first approach, be sure to check the results. Are people more satisfied with your customer-oriented service and offer, or do they need improvements? You can check customer satisfaction metrics like net promoter score or customer lifetime value.
Customer orientation skills
Finally, customer orientation is only possible to achieve if your organization fosters the right skills. Here's a selection of abilities you can master yourself or develop in employees and managers to build a truly customer-oriented culture.
1. Empathy
Empathetic people are more willing to show interest in other's needs. They are also more committed to finding tailored solutions than quickly ticking another box on a to-do list.
A study published in the Journal of Counseling Psychology indicates that teams can improve their understanding of people's needs and feelings with the right empathy-building exercises.
2. Open-mindedness
Open-minded employees tend to listen to co-workers' new ideas and arguments. They can assess problems from different perspectives. It helps everyone work in teams and come up with business strategies that prioritize customers.
Being open-minded doesn't always come naturally. But you can work on a more receptive attitude. This LCSW-approved guide is an excellent resource if you want to find out more.
3. Adaptability
Adaptability and agility are essential to keep up with the industry trends and ever-changing customer needs. After all, customer orientation is all about catering to customer wants.
That's why it's so important to recognize what holds you back from quickly responding to changing trends. Transformation consultant, Jennifer Jones, talks about how you can improve adaptability on an organizational level.
4. Conflict resolution
Allowing people to challenge each other's ideas to find unique solutions rather than follow strict procedures builds customer-oriented culture. But it can also create workplace conflicts.
Remember to set the ground rules about what behavior is acceptable and when the situation becomes unhealthy. Also, teach the employees different strategies to resolve conflicts to set them for success from early on.
5. Thinking outside the box
Sometimes the tried and tested methods don't work. This is where creative thinking can make a difference. Creativity is like a muscle. If you exercise it regularly, you'll get better results.
If you're not confident in your ability to think outside the box, read Entrepreneur's research-backed tips to become more creative. And if you're hungry for more ways to develop your imagination, read this guide from a cognitive expert.
6. Decision-making
So, does customer orientation mean constantly coming up with original ideas, discussing different points of view to no end, and looking out for changing circumstances?
It sounds nightmarish and isn't true.
You must be able to decide which outcome is the best course of action after considering all the options. That's why decision-making is such an essential part of customer orientation.
Fortunately, you can learn that too. There are plenty of decision-making techniques for managers and ways of involving teams in the process.
Key things to remember
Adopting a customer-oriented business model is an essential piece of the puzzle to succeed in the competitive marketplace. Here are the main points to remember:
Customer orientation boils down to aligning your business goals with those of your customers.
The approach involves a deep understanding of customers' needs and wants. Satisfying them pulls customers in organically and increases the company's profitability and competitive advantage.
It contrasts with sales orientation in which business needs take priority.
Customer orientation culture must be shared by all the employees who contribute to achieving set goals.
Some companies set the bar high, but there are customer-oriented strategies that enable you to match it.
You can introduce customer orientation thinking into your organization by developing essential skills in your employees.