First off, look at this:
"You are incredible, I'll be recommending you to all of my friends!" Delighted Customer
Now, ask yourself—
Do you deserve such a review?
Hesitated?
Well, regardless of whether you're a business owner or customer support agent, brushing up on the importance of great customer service skills will surely do you good.
In this article, you'll learn:
What great customer service is
The principles of excellent customer service
25+ best customer service skills and how to develop them
Plus, you'll see real-life examples of exceptional customer service
Turn your website visitors into delighted customers.
Set up the Tidio live chat app in 5 minutes and watch your sales grow.
Learn About Live Chat
What is Customer Service?
Customer service is the advice and assistance a company provides to its customers. By delivering timely, helpful, and easily accessible customer service, companies can retain customers and get more value from them.
Great customer service is synonymous with constant availability to solve customers' issues while exceeding their expectations.
4 Principles of Great Customer Service
Great customer service relies on four fundamental principles:
Speed—Minimize the response time to improve customer satisfaction
Accessibility—Make it available via channels customers prefer (social media, live chat, etc.)
Understanding—Know what your customers call "good customer service"
Empathy—Put yourself in the shoes of your customers to understand their pain points and make them feel heard. 
These four customer service principles make customer service convenient, competent, and personalized. Together, they govern quality in the customer service industry.
Businesses provide customer support by phone, email, live chat, and… Read about 7 Common Types of Customer Service.
Why Is Customer Service Important?
Globally, 90% of customers consider customer service before choosing a brand and making a purchase, according to Microsoft. In the US alone, 60% of customers cut off their relationships with businesses after a poor customer service experience.
That's why companies are so actively looking for good customer service skills among the people they plan to hire. These skills can give a business a major competitive advantage. Especially now that many companies offer products and services that don't differ dramatically from each other.
Planning or using live chat for customer support? Then you'll want to read these 10 Customer Service Skills for Live Chat Customer Support Agents.
25+ Skills for Customer Service
To bring you this selection of top customer service skills, we've reviewed studies from such sources as Microsoft, The Northridge Group, PwC, or McKinsey. We've found that regardless of the industry or business size, employers are looking for these customer service representative skills.
1. Communication
What is the most important customer service skill? Communication. Customer service people should be able to help customers efficiently and concisely—both verbally and in writing. This is where communication skills come into play.
A person with good communication skills gives clear, on-point instructions without mumbling and repetitions. That's why it's one of the most sought-after customer service resume skills.
Resources to learn communication:
2. Empathy
Empathy is the ability to understand another person's views and feelings. 76% of customer service leaders consider empathy to be one of the top qualities of a good customer service representative.
Empathy is one of the best customer service skills because an empathetic attitude shows customers a true interest and commitment to helping them. Often, customer service interactions aren't as much about the speed of reaction as about being heard and supported.
Until recently, empathy was considered a quality. But as many studies, including this one from the Journal of Counseling Psychology, show that you can learn it. That's why many companies hold empathy-building exercises to improve customer service representative skills.
Resources to learn empathy:
3. Attentiveness
Attentiveness is one of the good customer service qualities and refers to listening to customers, following the conversation, and answering appropriately. To practice attentiveness, a service representative must focus on the customer and avoid distractions.
This customer experience report from The Northridge Group found that 57% of customers had to repeat information to agents. This issue undermines quality customer services and affects loyalty to businesses.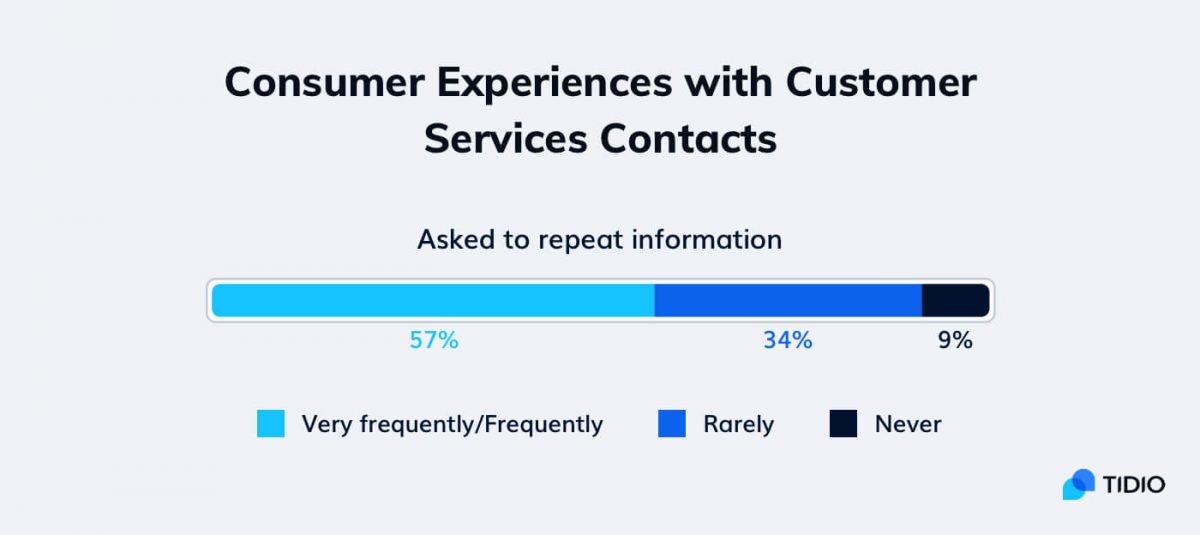 Resources to learn attentiveness:
4. Patience
People call customer service because they need to solve the issues they're having. In other words, they need to talk—sometimes even after customer agents have already found a resolution. The job of a customer service agent is to listen patiently and let the customer finish.
Agents with excellent customer service skills know this. That's why they'll listen and handle every customer with patience to help them feel appreciated and heard.
How to become more patient as a customer service agent:
5. Product knowledge
Seems like an obvious skill for customer service, right? Yet, 32% of customers in Microsoft's State of Global Customer Service survey complained about speaking to support agents who had no knowledge to resolve their issues. This finding was similar for different customer ages and countries.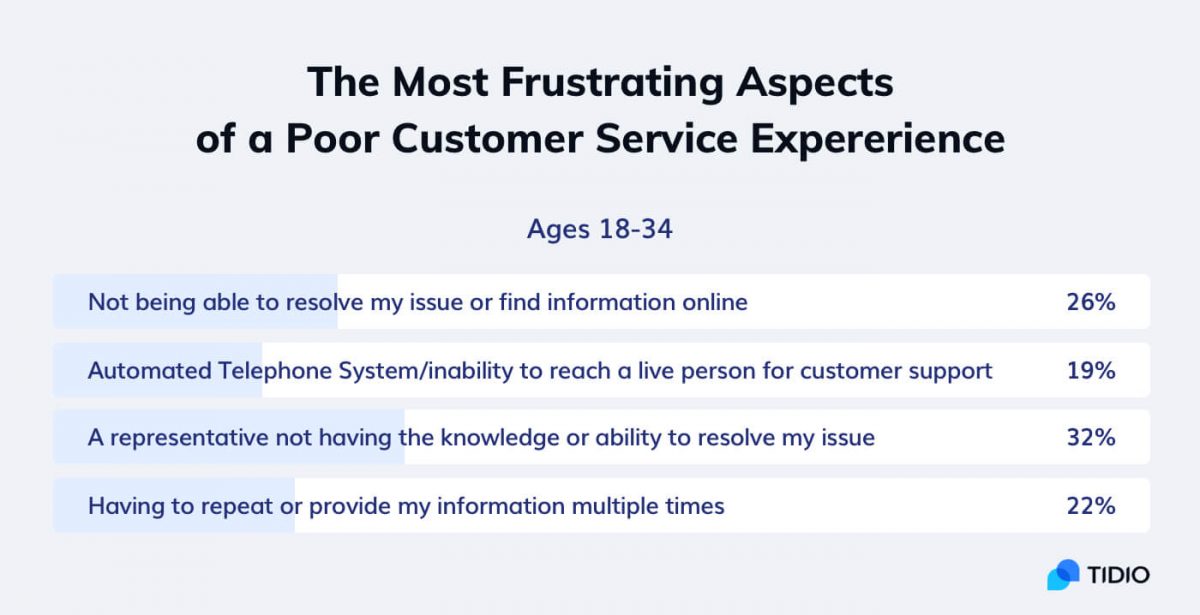 The best way to build a positive experience with support is to have knowledgeable customer service representatives. That's why "willingness to learn" or "ability to learn quickly" are great customer service skills to put on a resume.
6. Positive outlook
Customer service departments have the power to reinforce a positive brand image. In fact, 65% percent of customers find a positive brand experience more influential than advertising and marketing, says this PwC report.
Unsurprisingly, many companies teach customer service agents to adopt a positive attitude. By helping to recognize factors driving bad mood and eliminating them, companies help agents practice courteous manners.
Learn how to be more positive:
7. Time management
There's never enough time—this hardly rings more true for other professionals than customer service agents. To provide quality customer service, they need to have good time management skills.
Employers prioritize time management on the list of customer service resume skills. With this skill, agents can solve customer problems efficiently and know when to move on to another request. Ultimately, time management helps get through a busy schedule with less stress.
Become better at time management:
8. Open-mindedness
Open-mindedness is often at the top of any customer service soft skills list. It refers to the willingness to listen to other opinions and ideas to expand your own perspective.
Recruiters see open-mindedness as a good customer service attribute. They want to know if a person is willing to learn new approaches to solving customer problems. Such employees are more adaptable to work conditions and ready to work in a team.
Resources to help become open-minded:
9. Consistency
Personal consistency is about the ability to stay responsible, dependable, and reliable. In the customer service industry, consistency also shows a full dedication to providing positive customer experiences. That's why it's among the good qualities of service agents.
Companies earn customer loyalty by consistently providing excellent service. To achieve this goal, they need people who are ready to commit themselves and stay engaged without distractions.
Take a look at these resources to learn this skill:
10. Persuasion
Persuasion skills are a good sign of an agent's customer service experience. They enable them to reduce the time spent dealing with customer requests and retain them through connection and engagement.
Mind you—persuasion doesn't mean manipulation. A skilled customer service agent can convince customers to accept certain solutions by relying on an appropriate choice of words or tone of voice.
Become more persuasive:
11. Adaptability
A person with advanced customer service skills is better equipped to work in different work environments and with different communication tools and channels.
About 51% of 18-to-35-year-old customers make a second contact using a different channel if their issue isn't resolved (Northridge report). Since competence in various channels (live chat, phone, email, etc.) is one of the important areas of customer service, employers are looking for highly adaptable agents.
Learn adaptability with these resources:
12. Ability to handle unexpected situations
Taking customer service to the next level requires dealing with occasional unexpected and unusual requests effectively. Unreasonable product questions, family drama, or even personal attacks—customer service folks should be ready to deal with all of these.
This is why companies need representatives who can handle difficult customers and remain respectful. No amount of customer service skills training can prevent surprising situations, so this ability is priceless for employers.
Improve your skills in handling surprising situations:
13. Tenacity
Customer service representatives sometimes face issues that aren't so easy to solve. For example, explaining a technical solution to a non-tech-savvy person might be quite a challenge. That's where their tenacity can make a difference.
Tenacity is one of the superb customer service skills that differentiates okay-ish and excellent support quality. A tenacious customer service agent puts in extra effort and doesn't stop until the problem is solved.
How to learn tenacity:
[Podcast] Grit/Tenacity in Customer Service. A free episode from The England Logistics Podcast Network with customer service representatives sharing their experience.
14. The ability to admit not knowing
Trying one's best to find a solution is one of good customer service skills. In some cases, though, the agent must not continue wasting a customer's time if they don't have a solution.
Admitting not knowing something might be an uncomfortable customer service experience. Yet, it's a better idea than hiding a lack of knowledge or keeping someone waiting for hours.
15. Conflict resolution
Let's be honest—many customer support interactions involve conflict. That's why conflict resolution is part and parcel of basic customer service training.
Having good conflict resolution skills is a huge plus. People with such skills practice optimism, positivity, and empathy in conversations with customers. Also, conflict resolution means knowing when to terminate conversations with manipulative and angry customers.
Learn conflict resolution skills:
16. Creativity
Sometimes, even good product knowledge and customer service agent training aren't enough to solve a customer's issue. That's where creativity can make a difference. This skill is important for quality customer services to come up with solutions in different situations.
Being able to think of creative solutions ultimately allows serving more customers in less time and with less effort. Combined with empathy, creativity can be a customer support soft skill for increasing customer satisfaction.
Need help with learning how to be creative? Take a look at these:
17. Dependability
What is the key to excellence in customer service? Dependability is certainly one. Having a team of dependable service representatives is a blessing for employers.
Dependable service agents respect deadlines, pay attention to training, develop client-facing skills, and constantly build their customer service skills list. But, more importantly, they understand their role as a team player who works toward a bigger goal.
18. Decision-making
A customer service representative needs to choose the best course of action in every interaction with a customer. They need to gather details and decide which outcome will be the best in that particular situation.
Customer service instructions and scripts don't always provide options for every issue customers are facing. Plus, the representatives must be quick in their responses to avoid keeping customers waiting. That's why decision-making is a big part of a customer service skill set.
Learn decision-making with these resources:
19. Listening
For 57% of customers, "being listened to and heard" is a sign of great customer service, according to The 2020 Customer Expectations report. This customer service agent skill goes a long way in helping customers feel comfortable and valued.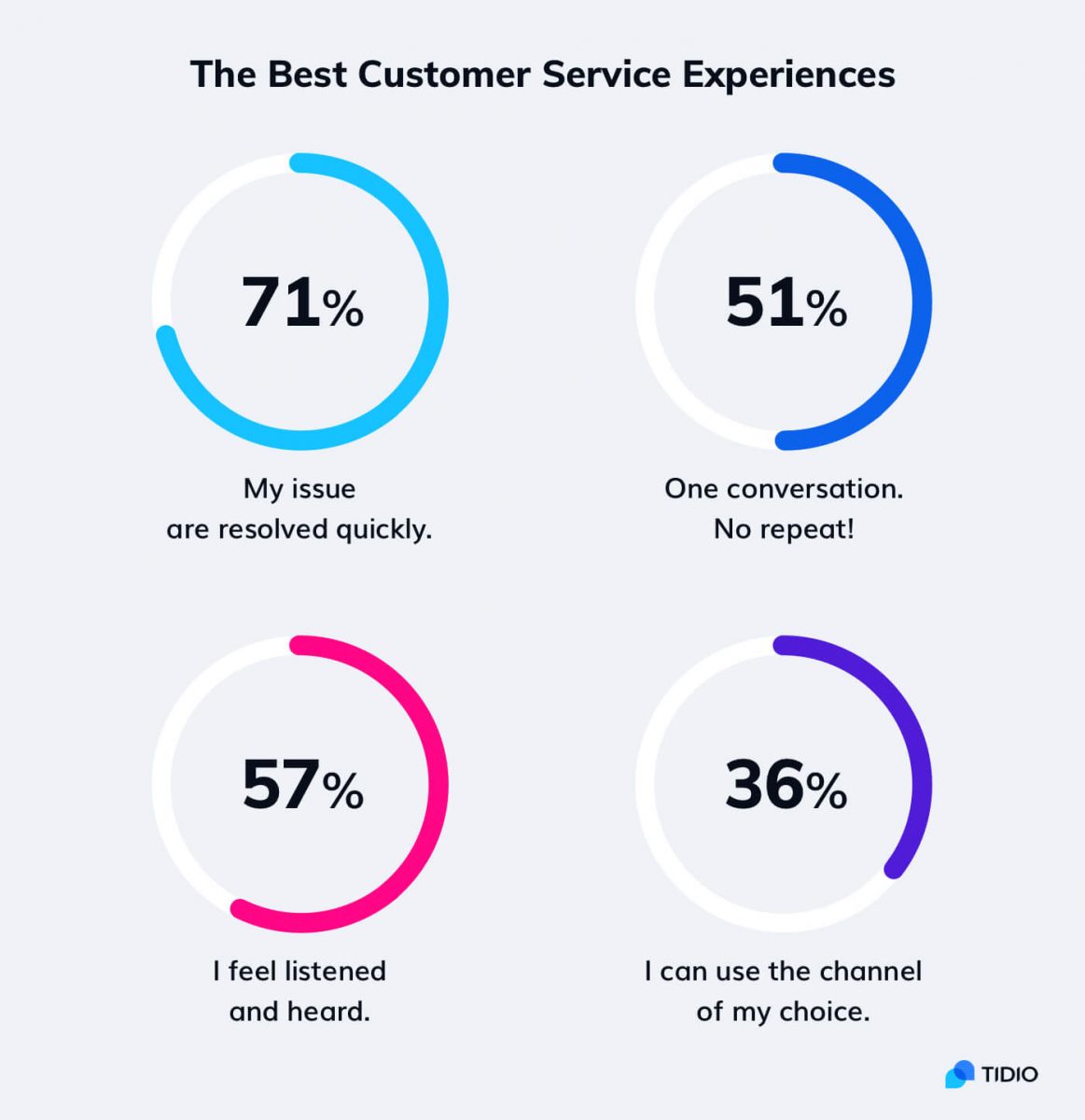 Although customers want their customer service agents to be skilled listeners, 57% of them are "often asked to repeat information," said the Northridge survey we mentioned before. That's why listening to every customer is essential for alleviating frustrations and helping agents avoid making false assumptions.
Improve listening skills:
20. The ability to let it go
It's not a secret that customer service agents often encounter verbal abuse. When these unwanted situations happen regularly, it's easy to feel down and even depressed.
That's where the ability to let go comes in. It's one of those good customer service skills that help to reduce stress and keep moving forward. So, agents who know how to let a stressful situation go succeed in their roles.
21. Acting ability
The ability to "put on a happy face" is also among top customer service skills. Every agent must have basic acting skills to maintain a positive persona, especially when dealing with difficult customers.
That persona should remain the same regardless of how well or poorly a customer is treating the agent. To help agents develop these skills, employers teach how to put aside biases and feelings.
22. Politeness
Politeness means being consistently respectful, welcoming, and interested in helping customers. Seems like a must skill for customer service, doesn't it? Yet, many customer experiences with support agents suggest a different picture.
The Northridge Group found 30% of customers often speak to impolite customer service agents. Such experiences result in low customer satisfaction—that's why appropriate courtesies and manners are a part of communication skills training.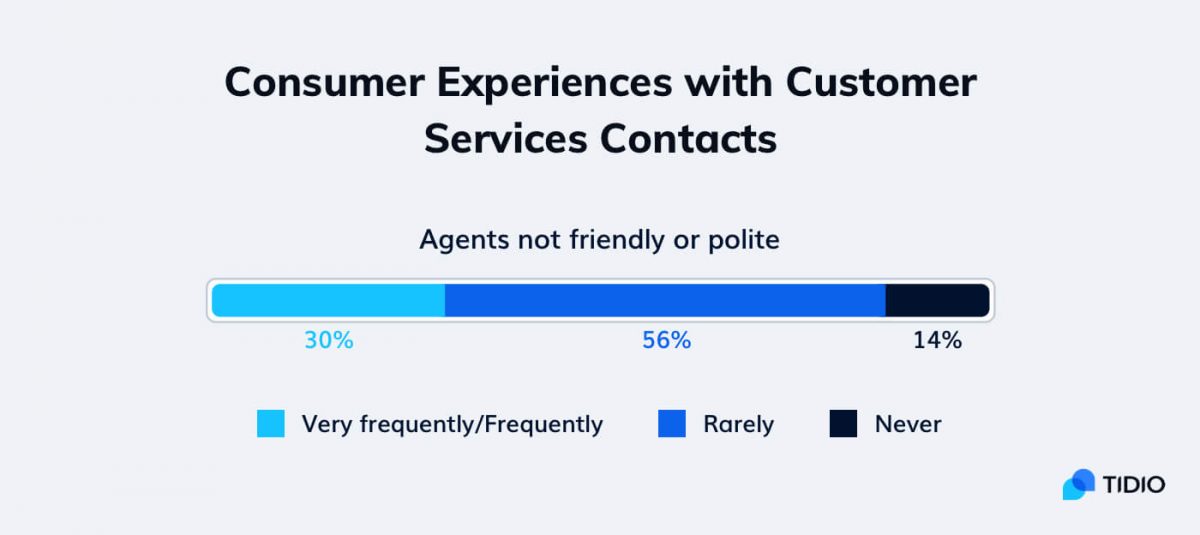 23. Stress tolerance
Frustrated customers and constant calls often cause stress in customer service agents. In fact, stress is in the top five reasons why they leave their jobs, says this survey from McKinsey. That's why stress tolerance is one of the top skills for a customer service resume.
A high stress tolerance—the ability to handle a lot of stress without getting overwhelmed—is a major customer service skill set advantage. Employees with a high stress tolerance threshold are more likely to provide good customer service despite numerous stressful interactions.
Learning stress tolerance is easier with these skills:
24. Confidence
Confidence is also among the customer service resume skills you need to get a job. To employers, an agent who sounds confident is a positive reflection of their company. To customers, a confident agent makes an impression of a person who knows what they're doing.
That's why customer service soft skills training often consists of exercises to perfect the tone of voice. A confident voice will signal customers that they're dealing with a knowledgeable and honest person.
Confidence is something you can learn from:
Building Self-Confidence [from Mind Tools]. An in-depth guide to increasing and maintaining confidence + instructional videos.
25. A sense of humor
Customer service rep: "Click Add and then click Go." Customer to her husband: "Mike, click Add and then go!" Her husband: "Go? Go where?"
Funny situations are common in the customer service industry. Sometimes customers make jokes or even ask to say hello to their pets. An agent with a good sense of humor knows when it's okay to make jokes or laugh with a customer.
Develop your sense of humor:
26. Memory
A person with excellent customer service skills can memorize a lot of information fast. It's like an actor getting ready for an audition and trying to memorize many things quickly.
Besides scripts and instructions, a customer service agent also needs to remember common solutions to specific problems, product information, and company policies. That's why memory is one of the must-have customer service skills to succeed in the industry.
Need to improve your memory? Check out these resources to get helpful tips:
Customer Service Examples
Here are five examples of good customer service from real-world companies.
1. Small Wallets: Personally respond to customer questions in real-time
Small Wallets responds to every live chat message from website visitors. Even the brand's founder has a live chat mobile app to reply to customer requests (that's him in the photo below).
2. Payoneer: Ask for customer service feedback with emails
Payoneer sends a post-survey email asking customers for feedback. This way, the company identifies areas of customer service that could be improved.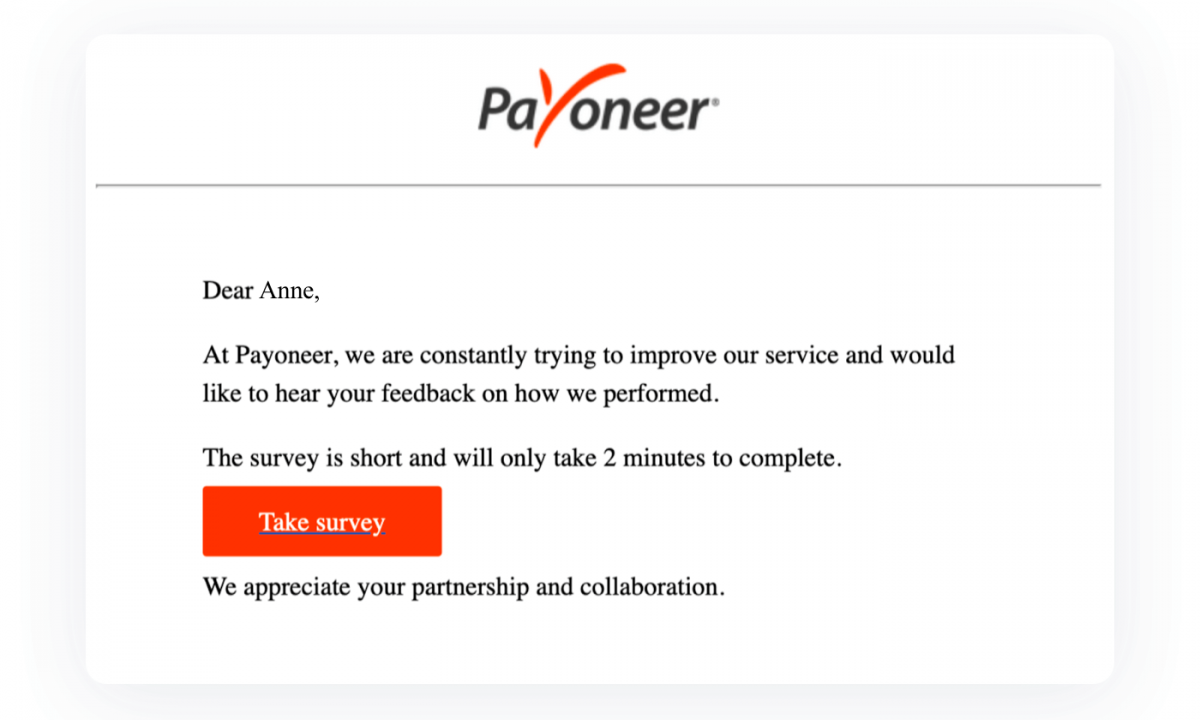 3. Illy: Apologize when necessary
Some orders made with Illy were delayed, which led to customers waiting longer for product delivery. To explain the situation and apologize for the inconvenience, the brand shared this message.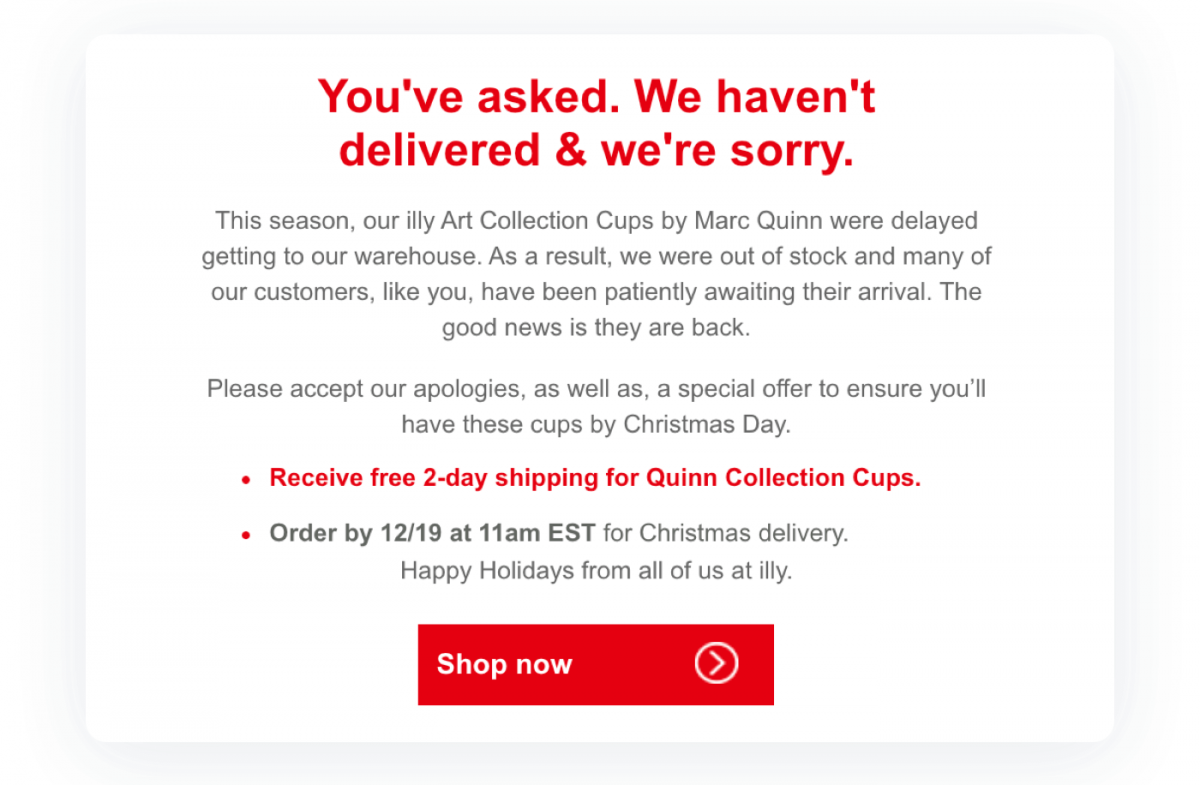 4. Pooch Bandana: Use an engaging greeting
Instead of generic "Hi, can I help you?", Pooch Bandana uses a website chatbot as an opportunity to personalize greetings and grab the attention of customers. This will go a long way to make every customer feel more comfortable and engaged.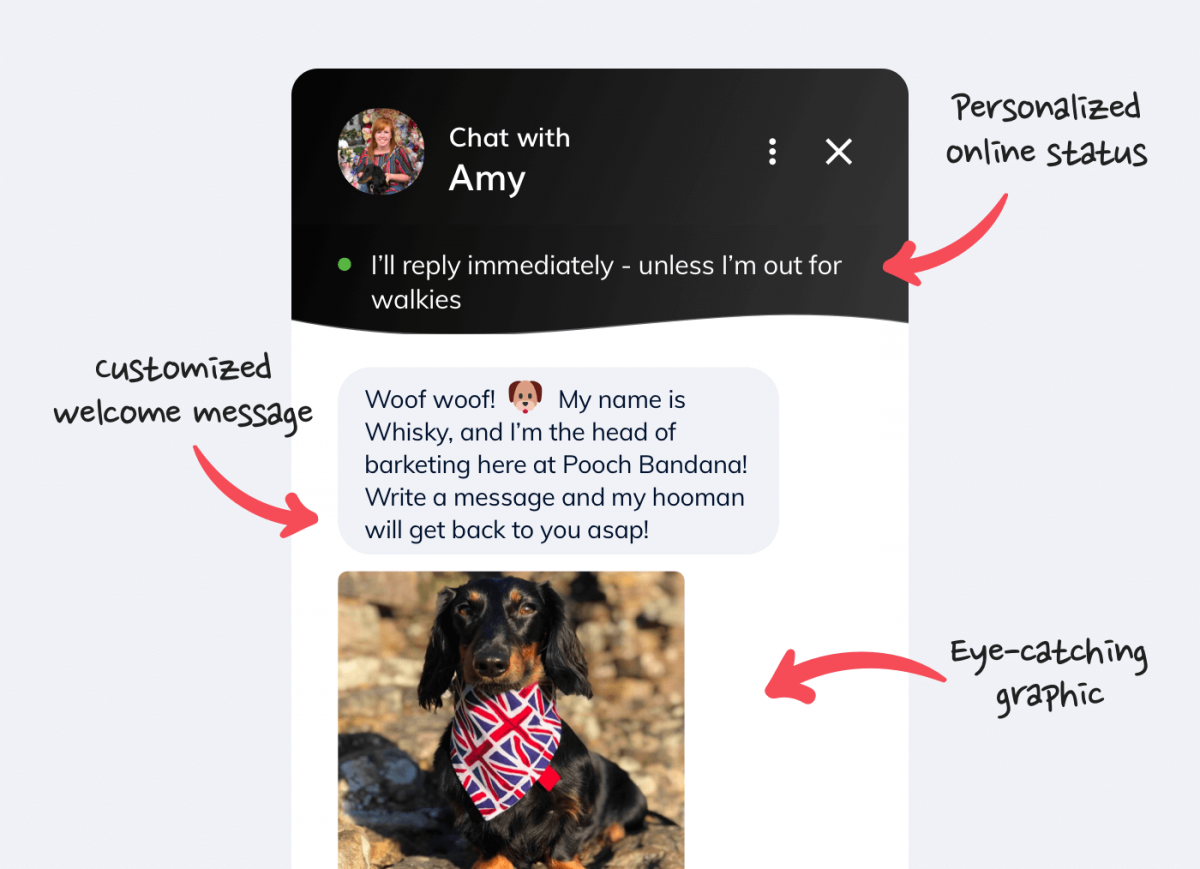 5. Skips Barbershop: Be responsible and dependable
Skips Barbershop takes care of customer safety and health by following the recommendations of health authorities. Many people, including the person who wrote this review, appreciate such dependability, responsibility, and excellent customer service skills.

6. Breads Bakery: Learn from every customer
Responding to negative feedback and making changes is a must for outstanding customer service. Here, the business demonstrated a willingness to learn from the experience and maintain high customer care service standards.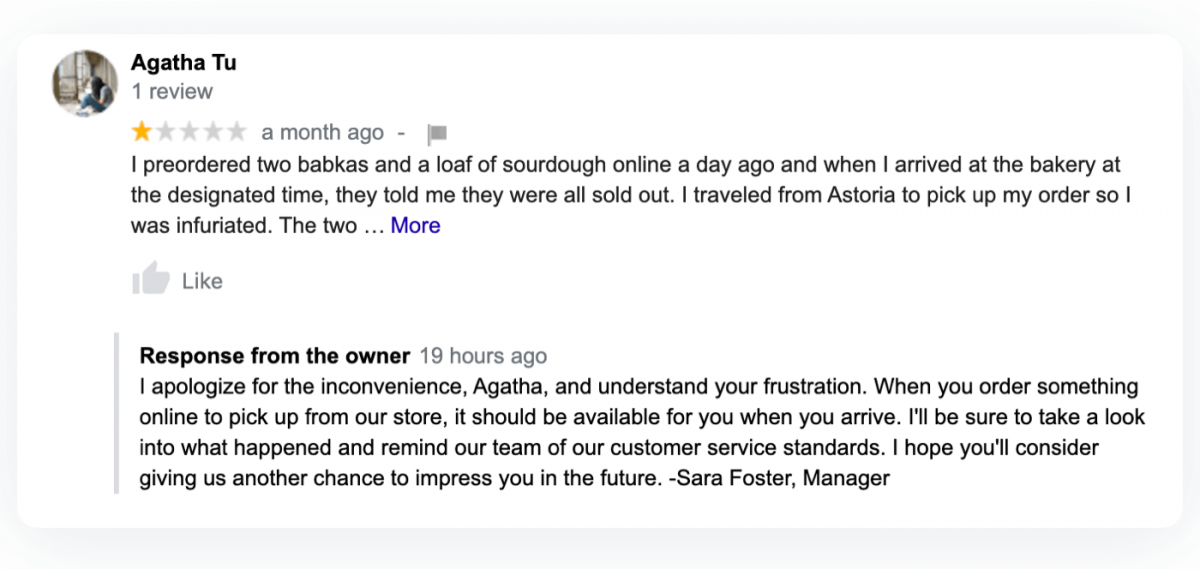 Key Takeaway
Customer service skills can make or break a business. That's why it's important to nurture both basic and advanced customer service skills. Once again, here are the best customer service skills:
Communication
Empathy
Attentiveness
Patience
Product knowledge
Positive outlook
Time management
Open-mindedness
Consistency
Persuasion
Adaptability
Ability to handle surprising situations
Tenacity
Ability to admit not knowing
Conflict resolution
Creativity
Dependability
Decision-making
Listening
Ability to let go
Acting ability
Politeness
Stress tolerance
Confidence
A sense of humor
Memory
Getting good at all these customer service skills doesn't happen overnight. But if you commit to creating positive customer experiences, these skills will make a lot of difference in your career or business.
Turn your website visitors into delighted customers.
Set up the Tidio live chat app in 5 minutes and watch your sales grow.
Learn About Live Chat