Everybody's unique.
But if you catch a common cold and visit a doctor, they will be able to treat you even if they see you for the first time in their life. You are unique, but your illness is quite typical.
The same is true about customers.
Even though they're all unique individuals, you can identify several types of customers based on their behavior patterns.
Why even bother?
To be like this doctor and treat each of them right.
In this article:
Different types of customers
Tips on how to approach each type
Examples of how other brands handle them
Not quite what you're looking for? Try these!
What types of customers are there?
Well, the number of types is not written in stone and there are several ways of customer classification.
One study distinguishes 5 types of customers with regard to the way customers complain. Another suggests a customer typology based on shopping needs and preferences. Some frameworks analyze the connection between purchase intention and brand attitude.
In this article, we're covering the most common customer types that visit your website or store. We grouped them based on where they are in the sales funnel. Sometimes the boundaries between them are blurry, but it helps understand how each customer type thinks and behaves. Then approaching customers to assist their conversion and retention is child's play.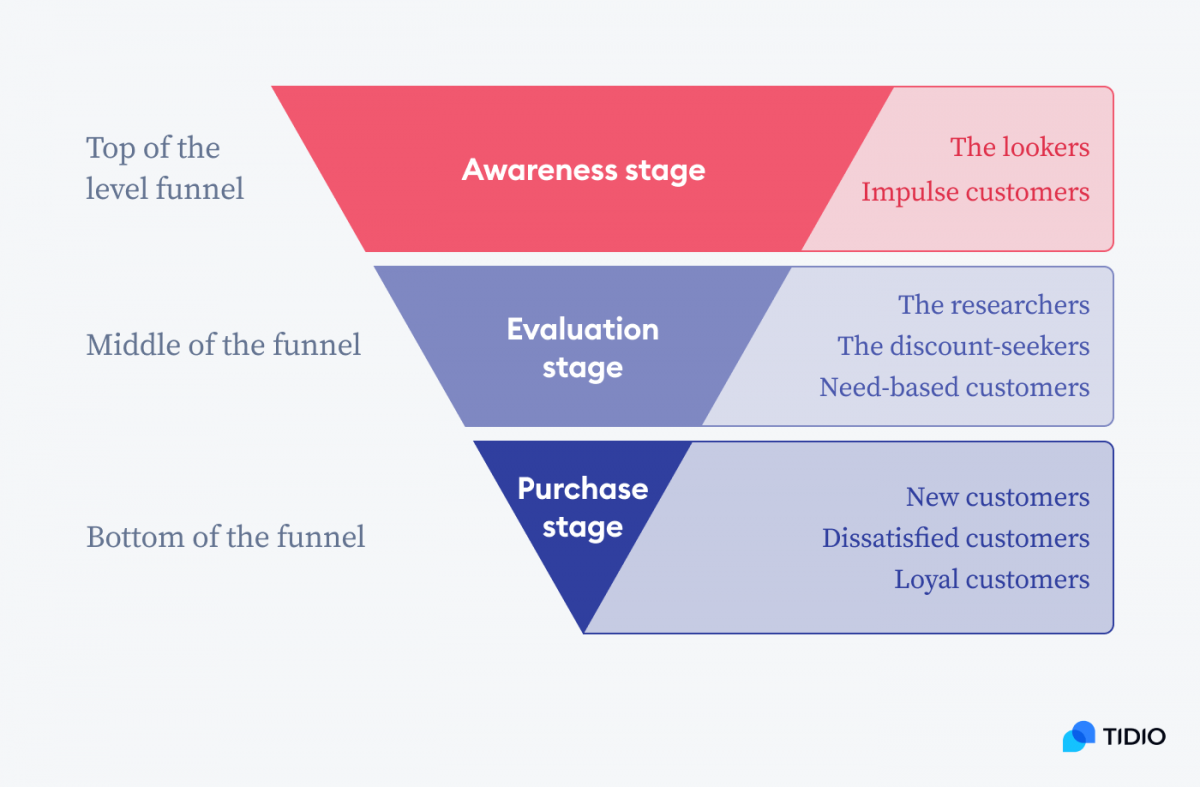 A regular customer's needs are different from those of a new client. That's why you can't treat all of them in the same way. If you're not trying to satisfy different types of consumers, you're risking losing even the most loyal ones. As many as 33% of customers leave brands after a single bad experience.
Don't let that happen to your business and learn the basic characteristics of customer types.
1. The lookers
Meet the lookers. They are at the top of the sales funnel. If you handle them well, it's the first type of customer who can potentially become your buyer.
The lookers browse through your products/services but don't intend to purchase anything yet. They are trying to solve a problem and do competitive research to see if you offer the best solution.
Some of them might have landed in your shop for some inspiration. They more or less know what they want and hope to find the answer in your online store. But they probably won't buy anything now. They may be back later on if you make a good first impression.
You need to catch the lookers' attention and convince them that YOU have the right solution to their problem without any sales pressure.
How to sell to the lookers:
Make your website attractive. You need a beautiful design and a good UX on your landing page. The goal is to guide the lookers down the funnel and keep them engaged.
Remove any obstacles. Pop-ups, ads, confusing navigation, or lack of quick customer support can make them look away.
Be proactive. Proactive customer service means that you are the first one to reach out to your website visitor to offer help. Some lookers may say "No, thank you," while others will appreciate the help.
Take Netflix, for example—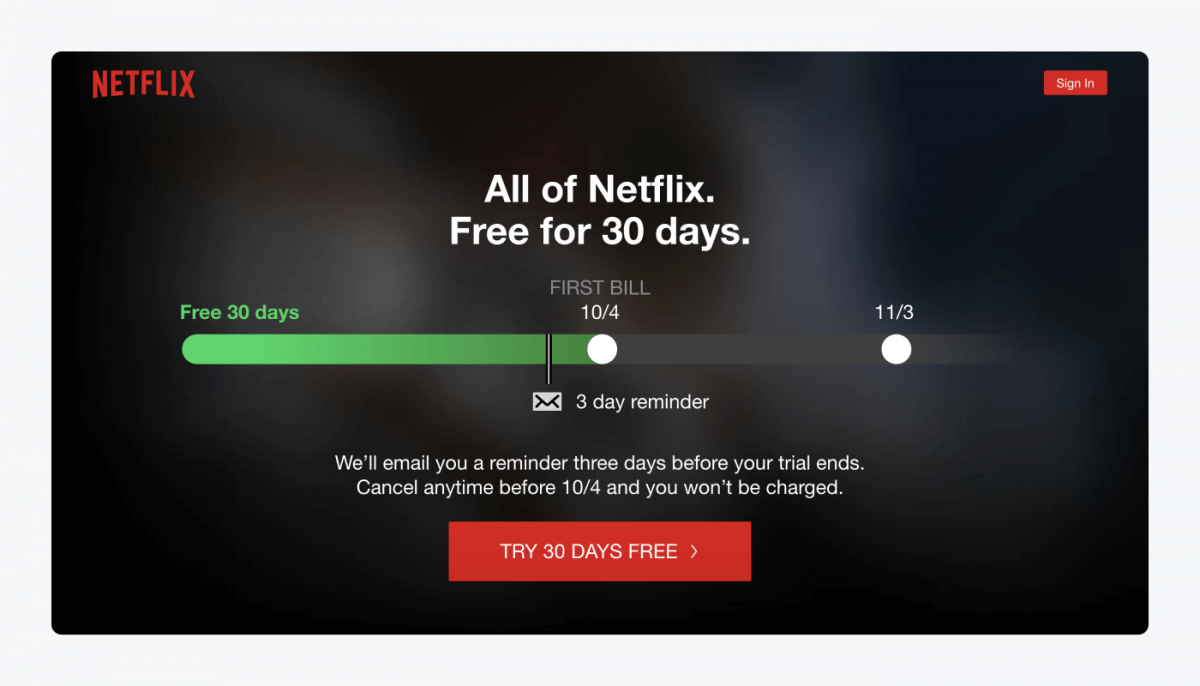 It's the most used paid subscriber video streaming service with thousands of movies and shows. At the same time, it's very simple to navigate, and the copy is easy to grasp.
They offer a risk-free 30-day trial with no commitment, a clear pricing structure, and multiple payment options. They answer most of the questions lookers may have on their homepage. All this is to turn prospects into paying customers.
2. The discount-seekers
We're all discount-seekers at some point in our shopping experience—in a study by Forrester Consulting, 77% of shoppers admitted that discounts influence where they shop. Two-thirds of surveyed shoppers looked for a discount before even beginning to shop.
This customer type has an interest in your product only because you reduced its price tag. It's pretty unlikely that the discount-seekers would buy it at the regular price.
They're analytical and look for the best deals they can find. They are good researchers and could buy a product they didn't plan for only because they can grab a bargain.
There are also deal-takers—they will accept a deal offered but won't actively seek one out.
Discount customers can be tricky to approach. But you can convince them to stay loyal to your business if you handle them the right way.
How to sell to the discount-seekers:
Explain the offer's benefits. Discount-seekers want to know that by buying from you, they are saving money and getting real value. 
Segment and target. Target this group of customers with the right deals at the right time. Only some discount-seekers sit and wait for offline events like Black Friday or Christmas marketing season. You can send them personalized email campaigns or reach out via social media.
Highlight the sale items. This type of customer wants convenience over anything else. Make sure your promos are easy to spot. You can often get the prospect's attention with a discounted item first and then try to upsell it.
A researcher is another customer type. They compare products like the lookers and hunt for the best value for money like the discount-seekers. To win them over, you need to highlight your credibility and show off the product's value.
To convert bargain hunters, you can use a couple of strategies, depending on your business goals.
For example, when you visit Timberland's website, you can get 10% off your order if you sign up for a newsletter. It's placed in the bottom right-hand corner and impossible to miss. And if you're not interested, you can easily close the window.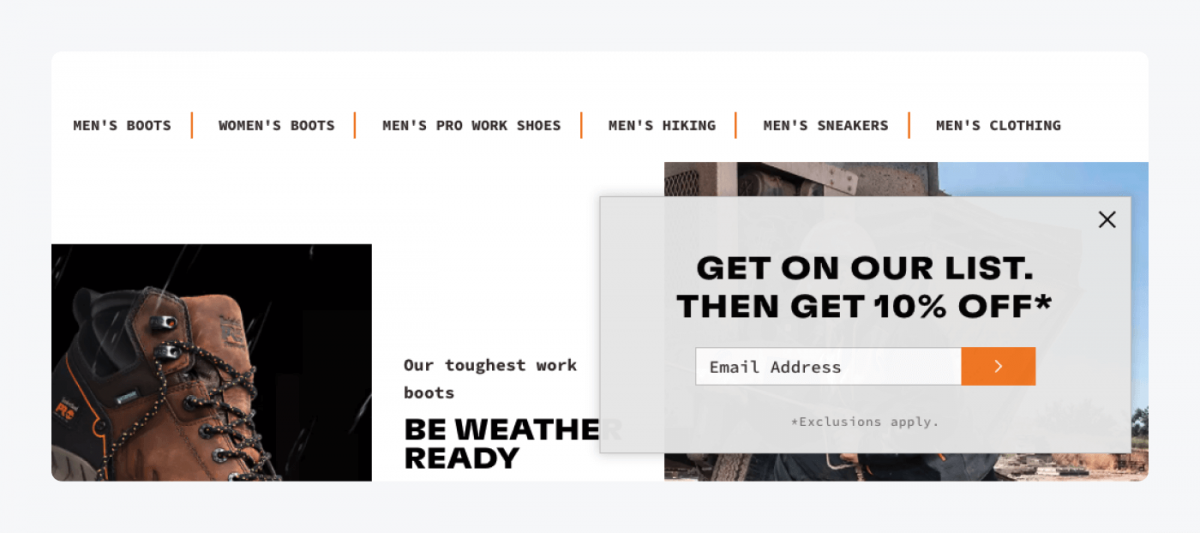 It is a great strategy to generate leads. You can then save customers' emails in your database to send more personalized offers. Another way of reaching out to this type of consumer is to use chatbots to reduce cart abandonment. You can fire up a customer service bot after some inactivity on the checkout page that offers a discount.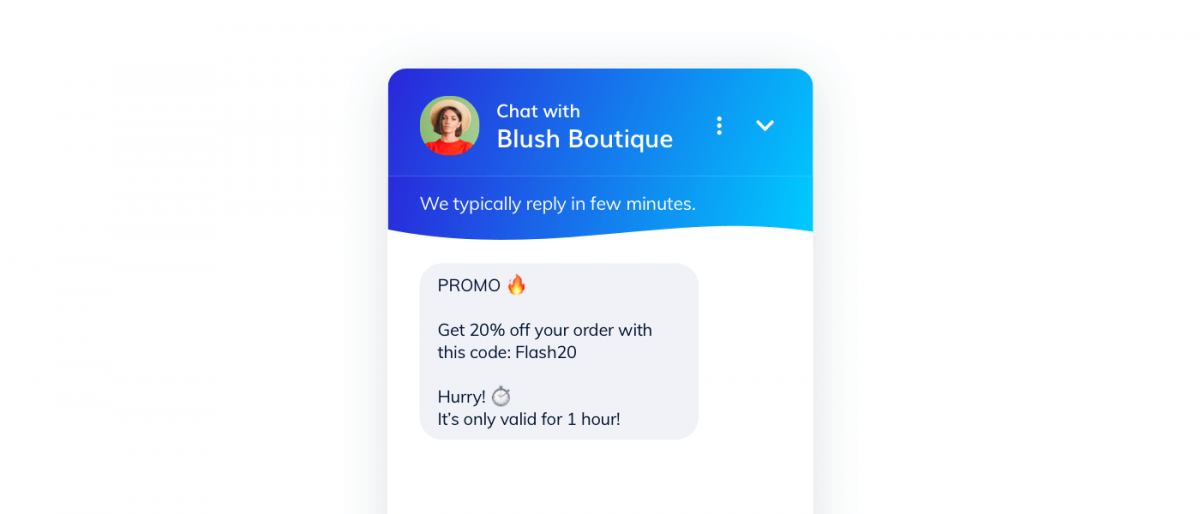 3. Impulse customers
Impulse customers can make a buying decision in an instant. They aren't looking for a specific product, so it doesn't matter how much you will brag about the product benefits.
Customers acting on impulse don't shop for anything specific. Emotions influence their decision-making. The bottom line? They are receptive to product recommendations. That's why this type of customer is the best type to upsell and cross-sell to.
Impulse customers are one of the most valuable segments that bring in revenue. Many eCommerce stores that sell novelty items, especially dropshipping businesses, depend on them.
How to sell to impulse customers:
Clear the way. Get rid of any distractions this type of customer may face. You must ensure you're not wasting that buying impulse when it strikes! Reduce the steps required to place an order before they change their mind!
Stay in touch. Email marketing campaigns will keep the impulse customer type in the loop. They aren't the most loyal customers, so nudging them with a reminder of all the great stuff you have won't hurt.
Add some urgency. Time-bound offers work best with impulse buyers—they love the thrill.
Limit the number of choices. All types of customers can be overwhelmed with too many options. And when that happens, they are likely to push their purchase decision to another time and place.
You can turn impulse customers into loyal fans with these customer engagement strategies.
To close the deal on impulse buyers, you can make product suggestions—imagine a brick-and-mortar shop's checkout counters with sweets, small toys, and seasonal products. Usually, products with the lowest prices upsell best but make sure it matches the customer's interests.
Amazon is particularly good at it—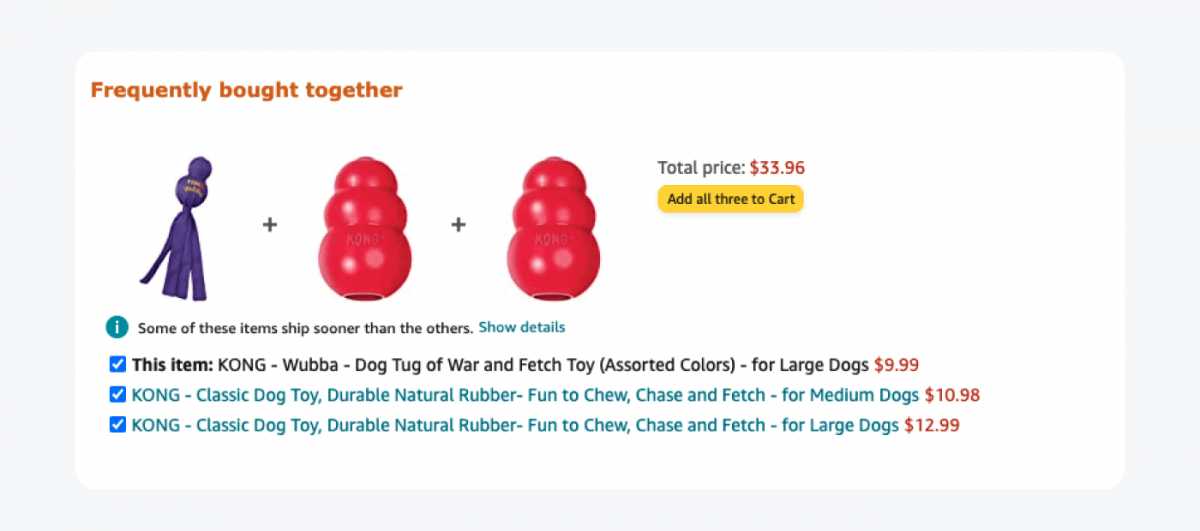 You can also incorporate social media to trigger impulse buying. Sites like Instagram and Pinterest make it easy to appeal to this type of buyers' emotions. If they like what they see, you've got yourself another sale.
4. Need-based customers
The need-based customers are driven by a specific need—obviously. They land in online stores, get what they look for, and leave—nothing beyond that. That's why they're hard to upsell to.
But, they've already made up their mind about purchasing. Need-based customers may consider one or two other options, but they are very close to the bottom of the sales funnel.
Imagine this type of consumer as the lookers who visited your website some time ago, learned about your products and services and returned when they needed them.
How to sell to need-based customers:
Build a personal connection. Start with consistent communication to build strong customer relationships. The need-based customers want to be sure that you've got whatever they need.
Provide top-notch customer service. Great customer support is what can differentiate your brand from others. Make sure you train your customer service reps to help them deal with even the most difficult types of customers.
Guide them through every step. Optimize your website for mobile, allow guest checkout, and a variety of payment options. Also, remove navigation options from the checkout page!
Some eCommerce platforms give you more customization options or integrations with payment providers than others. One-page checkouts are particularly appealing to customer types who don't hesitate.
They are simple, efficient, and speed up the process. It only takes three clicks to go to Adidas' checkout page, and with the auto-fill feature placing an order takes a few minutes.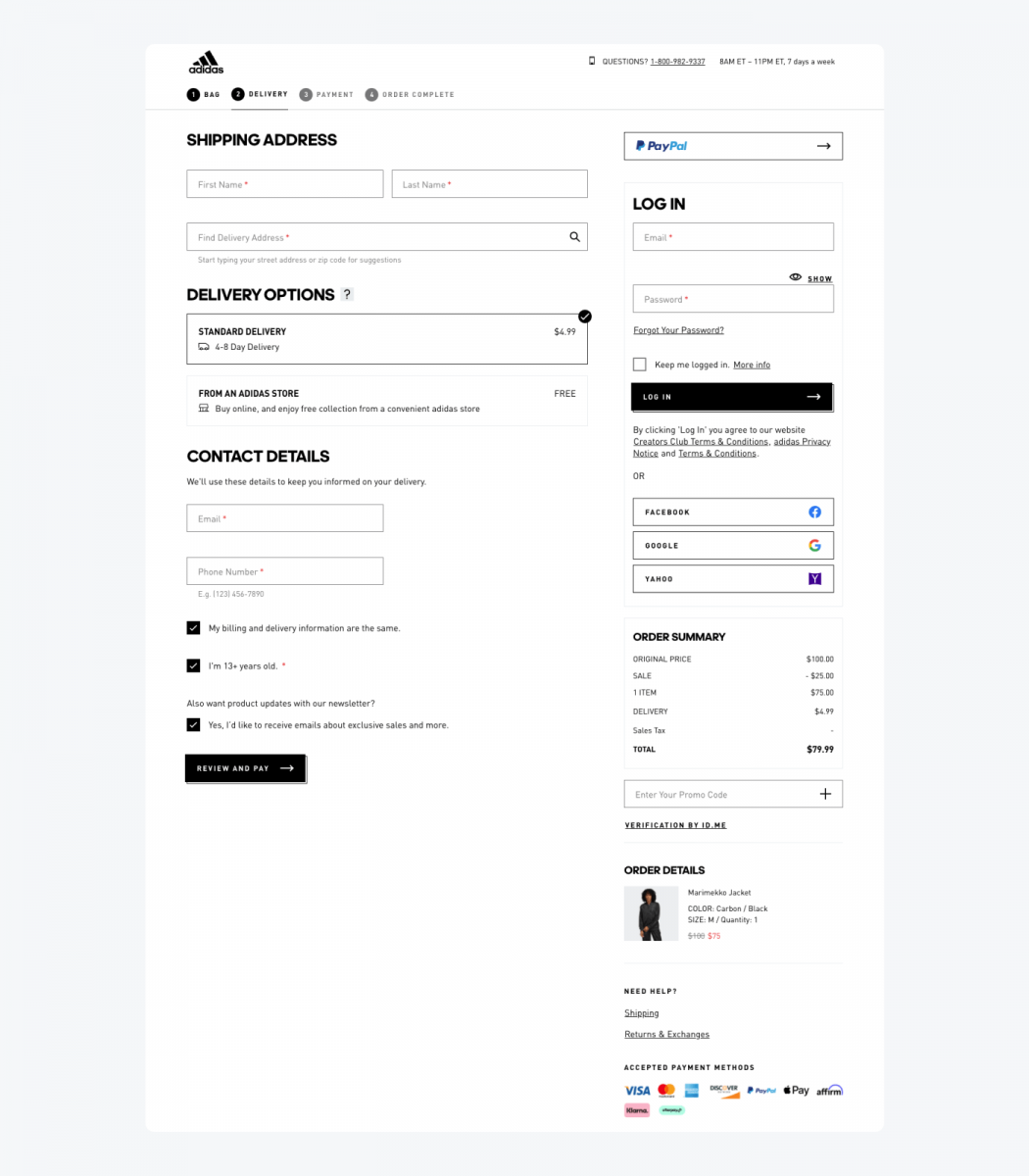 5. New customers
A new customer is a person who bought something from you for the first time. They are trying out your product or service. Or they're learning how to use it.
They have the potential to strengthen your customer base—so your job is to retain them for as long as possible and increase their customer lifetime value.
To do so, it's important to create an excellent post-purchase experience. Customer satisfaction is key to turn this type of shopper into a repeat customer.
In retail, focus on omni-channel customer service. In the SaaS industry, new customers need onboarding to use your product successfully.
How to approach new customers:
Be part of their success. You can keep a customer by explaining how your product works. You'll also have to make sure the customer knows how to use it. Try educational resources such as onboarding emails, demos, tutorials, or blog posts.
Allow for contact. There are many types of customer service—with digital channels taking the lead. Make sure you're available to answer new customers' questions.
Appreciate and build relationships. Customers leave brands when they feel unappreciated. So provide the best customer care and nurture them via email campaigns or customer satisfaction surveys.
To help new customers feel good about your business and their decision to stay with you, you can build a social proof for your business. People often mirror others' behavior and unconsciously seek validation from the outside.
Many businesses leverage this by creating case studies, providing testimonials, inviting existing customers to review products and rate services. At Nordstrom and many other online retailers, you find star reviews on every product page. Additionally, real customers can upload pictures of the product they bought and a detailed description of their experience.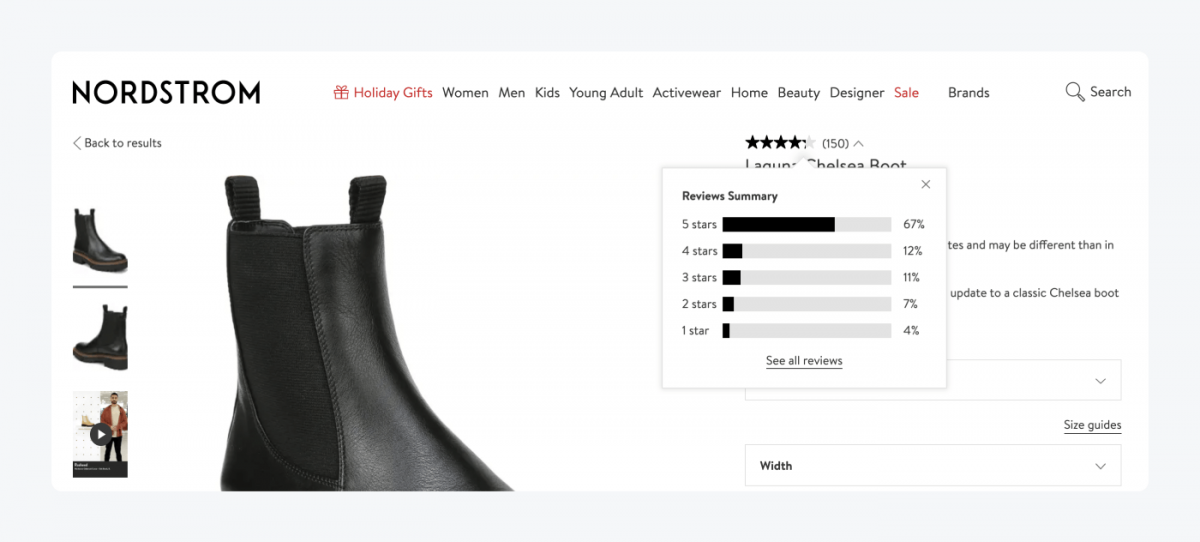 6. Dissatisfied customers
If you're an entrepreneur, you'll encounter frustrated, disgruntled, or angry customers sooner or later. The way you deal with them will have a lasting impact on your business' reputation.
Your customers can forgive you a lot, but they will not tolerate negligence or being ignored. With all the communication channels that exist today, not handling customer complaints is a plain lack of effort on the business' part.
Dissatisfied customers are an invaluable source of feedback. When they complain, they reveal the areas you may have to see to immediately. For example, it may turn out you have bad customer service issues you haven't even been aware of.
How to approach dissatisfied customers:
Acknowledge their feedback. The smartest thing you can do about dissatisfied customers is to hear them out. Then, your customer service can try to remedy the situation. Tidio chatbots help you collect feedback automatically.
Be quick to react. Bad reviews spread fast and deter potential customers. Send an apology letter to the customer to offer a satisfying solution before they vent their frustrations online.
Prepare customer service agents. You need to examine your training program for client-facing staff so that they're not caught off guard in difficult situations. It's a good idea to incorporate customer service scenarios for role plays.
It's one thing to collect feedback from happy customers, but a whole different thing to reach out to those who turned you down.
Dissatisfied customers have nothing to lose, so they may as well tell you how it is. It's a great opportunity to gather honest and blunt feedback—similar to conducting exit interviews.
In the example below, you can see an example of such a survey provided by Survicate. It's simple and doesn't require much effort from the customer. But if you'd like a more detailed response from a loyal customer, you can reach out via email or personally.

7. Loyal customers
Loyal customers are hands-down your best customer segment. They produce most of your revenue with repeat orders and by referring your brand to others.
The representatives of this customer type can also become your advocates and strengthen your brand awareness and trust.
One of the best ways to continue the relationship with loyal customers is to recognize and reward them. You can prepare customer loyalty programs and other incentives to show how much you appreciate them.
To retain this type of customer, stick to your core values and maintain the quality of your products and services.
How to approach loyal customers:
Put them in the spotlight. Feature your loyal customers in your business case studies, get their testimonials or reviews. If you run a B2B business, such exposure will help your customers reach a wider audience with their brand. And you will build your brand credibility. It's a win-win situation.
Learn from their success. Connect with your customers and learn how your product helped them become successful. Use their experiences and try to replicate the same for all your other customers.
Give them something in return. Not every loyal customer will be willing to make a referral just like that. But you can encourage them to do so with some incentives.
You can use chatbots to automate your efforts to keep loyal customers happy. They can increase customer loyalty and are one of the best customer retention tools.
Taco Bell and other major restaurant chains are competing over customer loyalty with digital rewards and convenience. They've invested in upgrading their loyalty programs on digital channels. Having access to customers' purchase history via an app helps them deliver personalized experiences.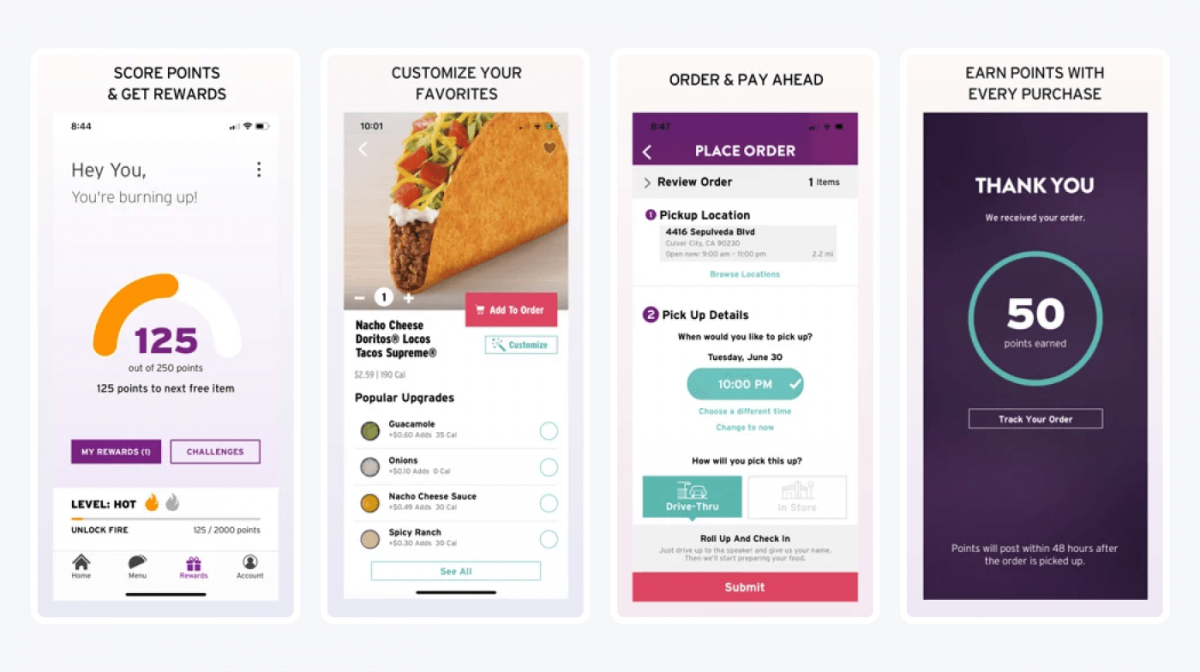 And the strategy seems to be working—the share of consumers using a loyalty program increased by 12% from January to April 2021.
Key takeaways
No customer is the same. This goes without saying. But identifying and getting to know them will help you convert and keep them happy.
It is unlikely you'll meet customers who perfectly fit a single type of customer. Most of them will be a mix of different types.
Here's a quick roundup of things to remember about types of customers:
Customers have different personal characteristics that determine how you should support and sell to them
You can distinguish various customer segments based on the buyer's journey
Each customer who lands on your website or in your store has their own needs and goals
You can tailor your communication and support to turn all types of customers into loyal ones
And finally, personalization, good customer service, clear product value, and laser focus on your customer success—are the top factors that will keep your customers satisfied and loyal.