It's official—
The holiday season has begun!
It's a time of festivities, love, and joy! But Christmas is also a competition, with both big and small businesses rushing to beat one another in impressing the customers.

And it's only natural that you would want to attract the attention of shoppers and get them to buy their gifts from you. This is where Christmas marketing comes into play.
But the true question is—
How do you go about it to get the best results?
Stick around to find out.
In this article:
Do you want to learn more about different marketing strategies that can help you increase sales? Check out these articles:
First things first—
What is Christmas marketing?
Christmas marketing is the promotion strategy during the holiday season with the intention to make a profit. It can include anything from Christmas-themed email marketing campaigns and limited-time offers to Christmas social media posts and coupon codes.
If done well, it can bring significant value to your business.
Some Christmas marketing statistics indicate that consumers in the United States have significantly changed their shopping behavior. This is especially true in comparison to previous years since the start of the coronavirus pandemic.
In fact, around 57% of US consumers intended to shop online during the holiday season in both 2021 and 2022. This is a considerably higher number compared to 43% of shoppers who wanted to do so in stores.
Therefore, it's easy to see how planning out a holiday marketing campaign across all relevant online channels can prove to be fruitful for your business.
Now, you must be wondering —
What are some of the more specific benefits of Christmas marketing that will help your business grow?
Let's jump into that.
Christmas marketing benefits
Let's take a look at some of the benefits this strategy can bring to your business.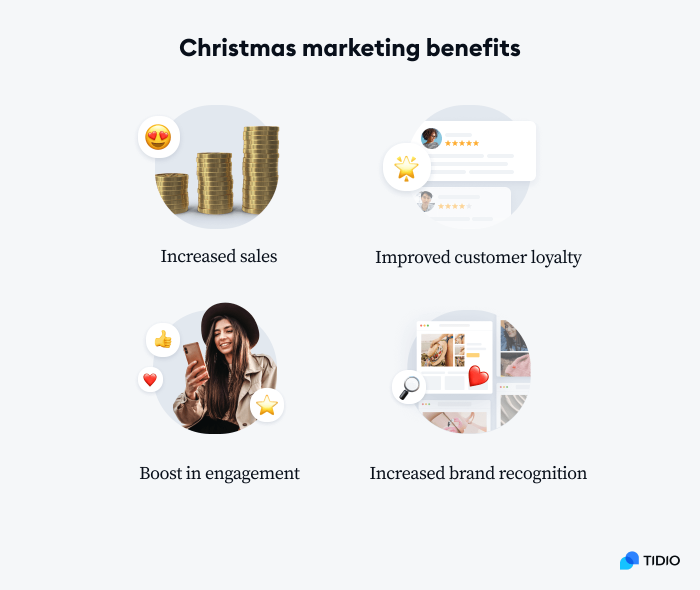 Christmas is the time of giving. This means that people are more likely to buy gifts for their friends, family, and loved ones during this time than at any other time of the year.

According to Adobe, online holiday sales in the US are expected to hit $209.7 billion from November 1 to December 31, which is a 2.5% growth year-over-year.

So, if you do your Christmas marketing strategy well, it's only natural that you can expect increased profit.
Apart from being more likely to purchase goods online during Christmas time, people are also in a much better mood when it comes to engaging with a brand.
According to SproutSocial's holiday retail data, retailers can expect 18% more social messages this Christmas compared to other months in 2022.
Increased brand recognition
During the Christmas season, people will look for physical and digital products online more than ever. This is a great chance to attract an audience that wasn't even aware of your brand's existence!
Ecommerce and retail owners confirm this claim:
The holidays present the perfect opportunity to test-drive marketing campaigns and strategies you wouldn't typically use during other times of the year. This allows you to generate content that is not only eye-catching, but also raises brand awareness and engages customers on a personal level.
It can improve customer loyalty
People are sentimental beings—and that's especially true during the Christmas season. If you provide a great experience, the shoppers will remember that for the future and come back to buy from your brand again. Spreading the cheer and earning some loyal customers is the best way to go into the New Year, don't you think?
Now you know in detail what Christmas marketing is, and you are also aware of some of its benefits. So, it's time to give you some tips on how to make your own!

15 best Christmas marketing ideas
Here are useful ideas that will help take your Christmas marketing to another level:
Without further ado, let's dive right in!
1. Install a chatbot to automate your sales
One of the best ways to get your Christmas marketing strategy up and running is to add a chatbot to your website.
Christmas is one of the busiest times of the year for online stores and their customer support teams. And chatbots can come in handy.
Chatbots come with useful features that make things more convenient, both for you and your shoppers. Plus, they can take a bit of weight off your shoulders by automating your Christmas sales process.
For example, you can use a simple Christmas chatbot to give discounts, special offers, and promotions to your website visitors. This can help you engage your customers, boost your sales, and increase your store's conversion rate.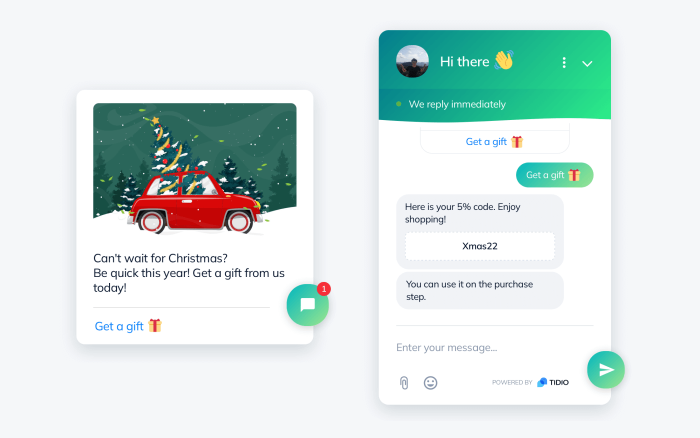 Chatbots can also be used for setting up automatic product recommendations. That way, when a user clicks on a specific item, they can instantly get suggestions to buy similar products.
Let's say that someone wants to buy a Christmas sweater. Your chatbot can send them automatic recommendations for a scarf or a hat in a similar style right after they add the product to the cart.
You can even use FAQ chatbots that allow users to ask whether you guarantee delivery before Christmas. And your customers can easily ask questions about their order on the chatbot widget to get a quick answer.
Here are other practical FAQ chatbot use cases during the Christmas season:
Will you remove the price if the product is a gift?
What does your gift wrapping look like?
Do you offer gift wrapping?
Are there any holiday offers or discounts?
You can use different chatbot templates, create custom conditions, and even adjust your chatbot design to match the festive spirit.
Finally, you can decorate your chatbot with simple but effective festive visuals, like a Christmas emoji. All this can take your Christmas marketing possibilities to a next level.
Read more: Learn more about what a chatbot is and how it works. Also, discover how to create FAQ chatbots using Tidio in mere minutes.
2. Give a Christmas-themed makeover to your website
There's no better way to introduce your Christmas marketing campaign than to sprinkle your web presence with some holiday décor.
During the Christmas season, everything is flashy, lit up, and decorated with reds and greens. Try and do the same to your website or landing page design to match the spirit.
For example, you can enhance your logo with little Christmas decorations, like Santa hats. Or, you can add festive imagery like snow, Christmas trees, or presents to your header and other website elements. A simpler way? You can even create holiday-themed banners and place them across your social media channels, product pages, and the rest of your website content.
Just make sure to incorporate festive elements into the already-existing brand imagery. While you can let yourself a bit loose during the Christmas season, it's still important to maintain your brand identity and website performance. Make sure to adjust and optimize image quality and plugins to ensure your website speed is still in the top-class level.
Here's a simple but effective way in which Bath & Body Works did it this year: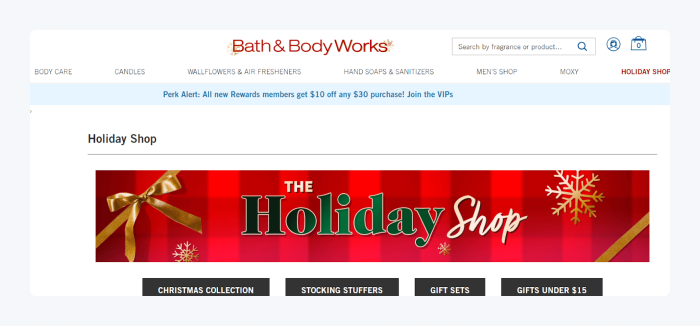 3. Incorporate Christmas marketing into your social media
Communicating with your audience through social media can help you boost brand engagement like no other channel. And there are tons of things you can do to enhance your Christmas marketing efforts through social media platforms.
You can create a Christmas post with an offer that includes a festive copy related to your brand along with some appropriate hashtags. Also, you can promote special offers, run contests, and ask some relevant influencers in your niche to promote your products.
Another great idea is to encourage your followers to get involved and ask them to create user-generated content.
For example, you can get them to create some brand-related posts with catchy captions or share pictures or videos that involve your products in exchange for a gift voucher or a free item. This way, you will create a more interactive experience with your customers, while user-generated content can only help boost your brand loyalty.
Coca-Cola is a brand that's quite famous for its Christmas marketing campaigns. Here's an example of a contest they did on Twitter during one of the previous holiday seasons: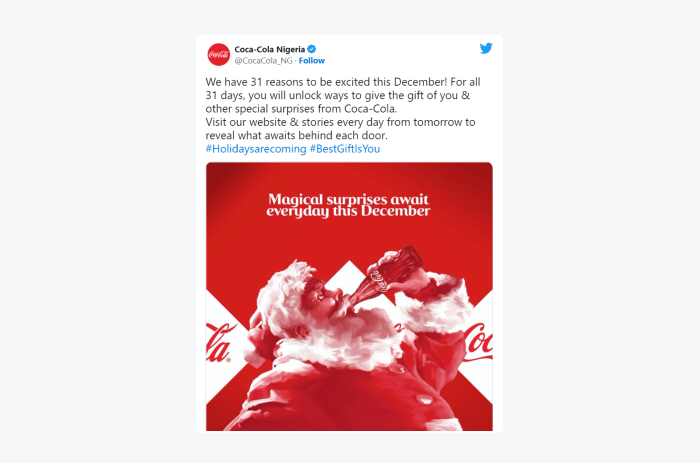 Finally, make sure each platform you're using is decorated in a festive style. So, feel free to add holiday season-based graphics and banners, and decorate your social media icons with holiday elements.
4. Make the most out of Christmas email marketing
Email marketing is another important element you can incorporate into your overall Christmas marketing strategy. The good old emailing system makes it easy to share some crucial information about your products, special offers, and any other holiday-related info.
Your goal should be to attract the attention of the customers you have in your email list in the best way possible. So, remember to use captivating email subject lines when describing your offers, like "Merry Christmas! Here's a free gift!" or "Happy holidays! Check out this awesome discount." Also, include festive imagery in your holiday-themed newsletter for a more visual message.
And don't forget to instill a sense of urgency in your emails with a countdown or a compelling call to action like "Your final chance for 50% off!."
You can even throw in a Christmas-related emoji—like a Christmas tree or Santa—in your email copy. It's simple, fun, and gets the message across quite nicely. 🎄
Read more: Discover different Christmas newsletter ideas and learn how to create a successful Christmas email marketing campaign.
5. Offer gift cards to your customers
Some people know exactly how to get a perfect gift for their loved ones. Others want to surprise them but aren't sure what to buy. This is why it's a good idea to have some gift cards ready for those shoppers. Gift cards are simple, cost-effective, and have the potential to increase your sales while attracting new clients your way.
Just make sure to promote your gift cards somewhere where it's easily visible to your visitors. You can add a link in your navigation menu or make a separate post about them on your store's social media page.
Here's how Starbucks is doing it this year: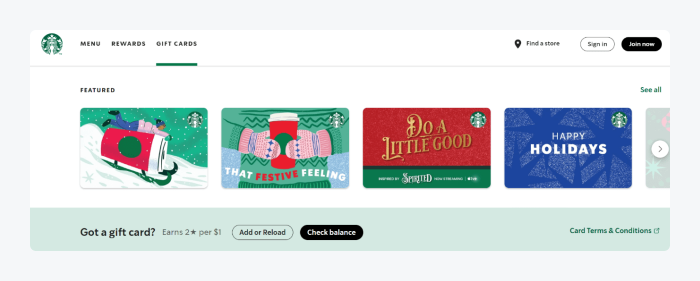 6. Use a countdown clock to increase excitement
We've mentioned creating a sense of urgency earlier, and adding a countdown clock to your online store is exactly what you need to highlight your limited-time offers.
Countdown clocks are great because they can enhance the so-called fear of missing out, otherwise known as FOMO.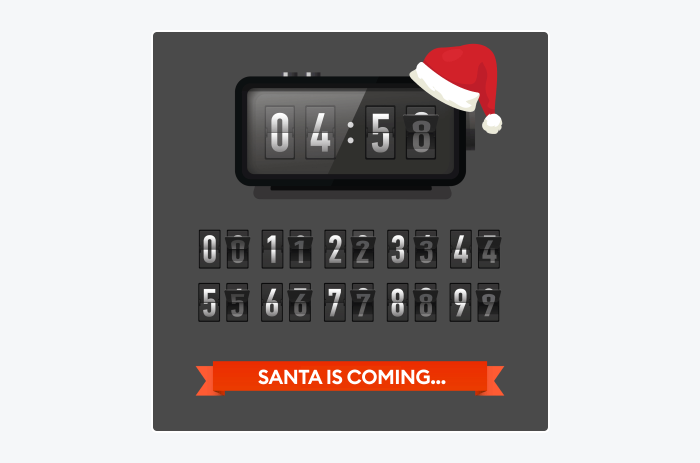 Apart from setting up a countdown, you can also add a CTA button that reads "Last chance" or "Shop now!" right next to it. These elements can help increase excitement and push customers to make their shopping decision as soon as possible.
7. Add a free gift
Christmas or not, people love getting free stuff. You can use this in your campaigns by including a free product to go with their purchase (a so-called buy one, get one free or BOGO.) This Christmas marketing idea can help you increase click-through rates because your clients are more inclined to click the Buy button if they get two products at the price of one.
There are two popular ways you can do this. The first is to offer a free item every time a person makes a purchase over a certain amount. The second is to include a free item when they decide to add a specific product (or products) to their cart.
No matter which way you decide to go, you can be sure this Christmas marketing strategy will help you boost sales and conversions.
For example, Chewy is having a "Buy 2, get 3rd free" offer this season:

8. Host a Christmas giveaway
Giveaways are always a great way to attract the attention of your target audience and increase brand engagement. Try running a special Christmas giveaway both on your website and online profiles to watch as your social following and website traffic increase.
There are many ways to make a giveaway campaign—
You can get users to like your Facebook or Instagram post or share it on their feed. The prizes can include anything from free product bundles to Christmas marketing gift cards. You can even entice your followers by increasing the value of the gifts each day as Christmas approaches and motivating them to get involved.
With giveaways, your options are truly limitless, so get creative!
Hip2Save is doing 25 days of Christmas giveaway this season: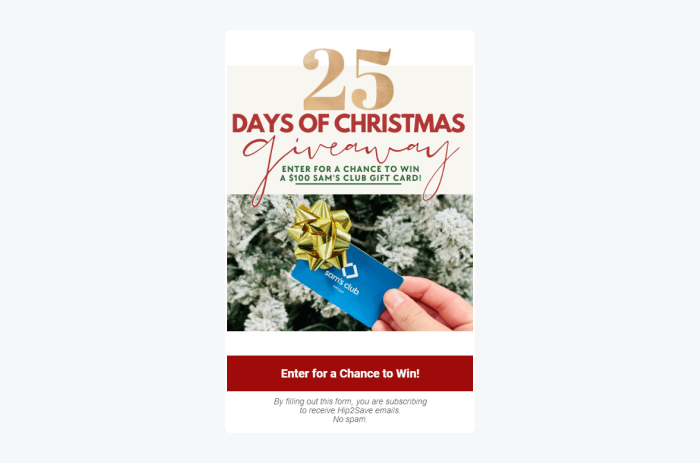 9. Bundle your items
Pretty much everyone enjoys getting their Christmas gifts in a bag with a nicely decorated gift wrapper. So, this is a perfect opportunity to group similar items available in your store, or just items that go well together, and sell them as a bundle.
Also, throw in a discount or a BOGO offer there as well, and you can be sure to see an increase in your sales. This is because your shoppers will be purchasing a number of your products at once instead of just one.
As for the gift ideas, it all depends on what you're selling, of course. For example, these can be skincare routine products or even complementary clothing items that would make a great outfit.
L'occitane created these stylish gift sets: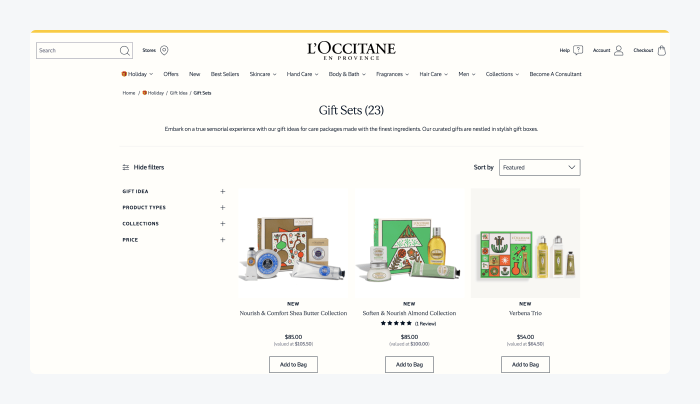 10. Include free shipping
Believe it or not, most people expect to get free shipping nowadays. So, there's no reason not to include free shipping during the festive season.
You should include information about free shipping on your website and make sure it's easily visible. You can also add it to your header, create a pop-up, or place it on your landing pages. And ensure you offer fast shipping to remove your clients' fears about their Christmas gift purchases not getting to them on time for the celebration.
For example, Sephora made sure to offer free shipping to each member that subscribes to their free Beauty Insider membership program. And it showcases that throughout their website: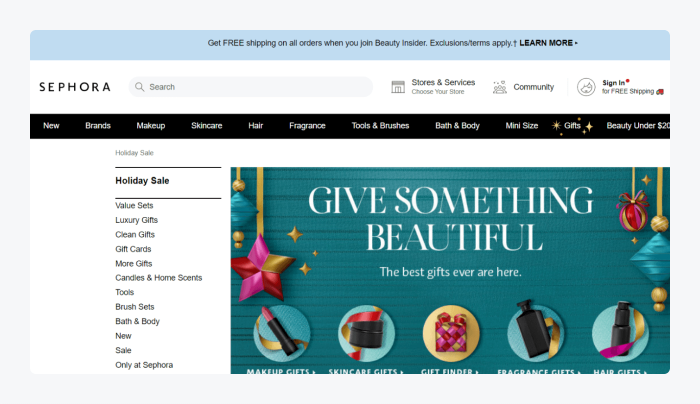 At the end of the day, you can offer products that are more expensive but still offer free shipping. Shoppers who are rushing to buy products at the last minute won't mind the prices, but will appreciate the free shipping offer regardless.
Another great strategy you can implement is to offer free returns. This way, your customers will know they can return their items in case their loved ones end up not liking the gift.
11. Offer coupons and discount codes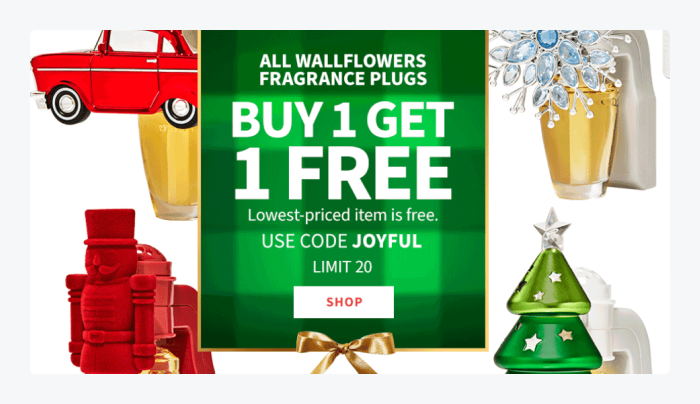 It's safe to say that coupons and discount codes are trump cards of online shops during the holidays—and the Christmas season is no exception.
In fact, research shows that online shoppers who use coupon codes spend 24% more than those that don't.
Be sure to make the most of this strategy by adding coupons and discount codes in your ecommerce store. You can also let potential customers know about special offers using your social media and through a newsletter. Whichever option works best for your brand.
Also, don't forget to decorate your coupons with Christmas visuals and include catchy phrases like "25% off!" or "Save up to $X" to properly grab the attention of your customers.
Read more: Stay up-to-date with the latest online shopping statistics and trends.
12. Run 12 days of Christmas marketing campaign
You can combine multiple strategies mentioned above into one with 12 days of Christmas promotion. It's simple—on each day, you can offer something special to your customers.
For example, 12 days before Christmas, you can offer a free gift to go with their purchase. On the 11th day, you can run a giveaway. On the tenth day, you can add discounts on specific products in your store—you get the idea.
Running 12 days of Christmas campaign can help you make things exciting for your shoppers while they're counting down the days to Christmas. Plus, you can also attract a bunch of new customers while you're at it.
13. Join forces with a local charity
Christmas is a time of giving and sharing. And it's a perfect opportunity to include the act of giving in your Christmas marketing campaign.
Try joining forces with a local charity or non-profit organization. By doing so, you can motivate people to not only buy your products, but also get involved and make a good deed.
For example, you can advertise that a specific percentage of your Christmas online sales will get donated to a local charity or spent for a good cause. And if you've already done similar Christmas campaigns in the past, you can share how your brand has helped others already.
Bauble Stockings makes sure that 5% profit of each sale goes to the Joan Rose Foundation in Haiti and provides meals, tuition, housing, etc. to those in the community.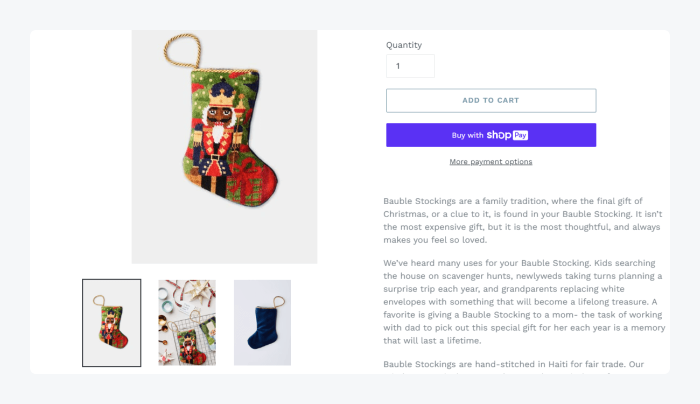 14. Use Black Friday and Cyber Monday to start the Christmas marketing frenzy
It's no secret that Black Friday and Cyber Monday are among the most important days in the world of ecommerce. In fact, Black Friday traditionally signifies the beginning of the holiday shopping season in the US.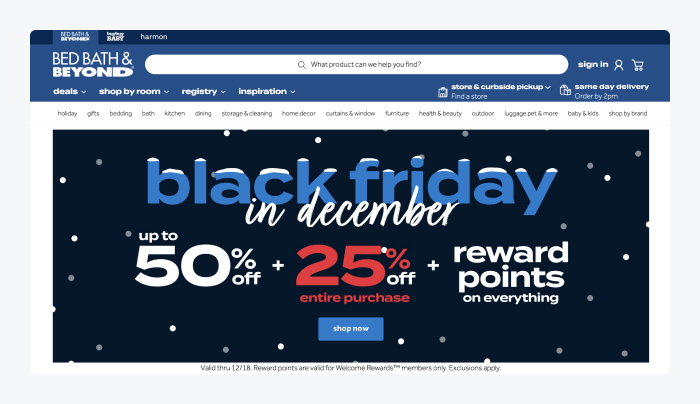 Therefore, it's important to use your Black Friday and Cyber Monday strategies to attract as many people to your brand as possible. Just in time for your Christmas campaign.
You can use these two days to start promoting Christmas-related items. Or you can work towards expanding your brand visibility and customer engagement by having some awesome discounts and offers on your store.
Read more: Get informed about the latest Black Friday trends.
15. Don't forget about your after-Christmas sales
Finally, your marketing efforts shouldn't stop even after the euphoria of Christmas shopping ends.
Right after Christmas, most people will be happy while spending time with their loved ones. This could be a perfect opportunity to run another huge sale on items that are still left in stock or launch new products and start a New Year with a Bang!
Christmas is the time when many new shoppers get introduced to your brand. Ensure that they see you are committed to keeping them around all year long. This will help you boost customer loyalty and increase your chances of getting them to buy from you again.
great customer experience will create a positive impression of your brand and increase customer loyalty. This is because statistics have it that 81% of consumers say a positive customer service experience increases the chances of them making another purchase.
Bonus: captivating Christmas marketing slogans
To finish off with festive vibes, here are some examples of catchy Christmas marketing slogans you can use during your holiday campaign. Feel free to use them when writing your email subject and chatbot opening lines, or place them anywhere else on your website!
Christmas just got merrier
Our bells are jingling!
All we want for Christmas are these jolly gifts
New Christmas arrivals!
It's not too late to be good!
It's beginning to look a lot like Christmas
X Days of Christmas deals start today!
Buy one of these gifts and show how much you care!
Incorporating one of these slogans can contribute to the overall festive spirit and make your offers appear even more attractive to potential customers.
There are all sorts of catchy Christmas slogans and phrases out there you can check out in case you need more inspiration.
Christmas marketing ideas: key takeaway
And there you have it—some of the most practical marketing ideas for Christmas you can leverage during the busy holiday season to increase your sales.
To recap, the 15 best Christmas sales ideas are:
Installing a chatbot offering seasonal discounts and gifts
Adding a festive design to your website, social media, and landing pages
Nailing your email marketing campaign
Making sure to use social media marketing, too
Offering holiday gift cards
Creating a gift bundle
Adding a countdown clock
Including a free gift
Running a giveaway
Adding free shipping
Including seasonal coupons
Running 12 days of Christmas marketing campaign
Joining forces with a charity
Using the power of Black Friday and Cyber Monday
Running after-Christmas promotions
Try to combine more than one of these Christmas promotion ideas or use them all together—it's entirely up to you. This will help you increase your chances of creating stronger brand awareness and winning over the loyalty of your customers.