We head towards the most magical time of the year. Soon, we will decorate the Christmas trees, light the candles, open the presents, and kiss under the mistletoe.
Some of us will sing Carols, run away from Krampus, play with Yule Lads, admire giant lanterns, and roller-blade in Caracas.
And when we get hungry from all the fun, we will sit down to eat turkey, goose, fried chicken, carp, and pudding.
Well, that's not the whole story. There are still plenty of other things to do, and if you're a marketer, blogger, or online retailer, you know what I mean – the Christmas newsletter.
To sprinkle your marketing job during that busy time, we have put together some great Christmas newsletter ideas shared by experts from different industries.
Moreover, we have included in each section a list of Christmas email subject lines you can use in your campaign. You may find them useful since a lot of them can work as promotional chatbot Christmas messages as well.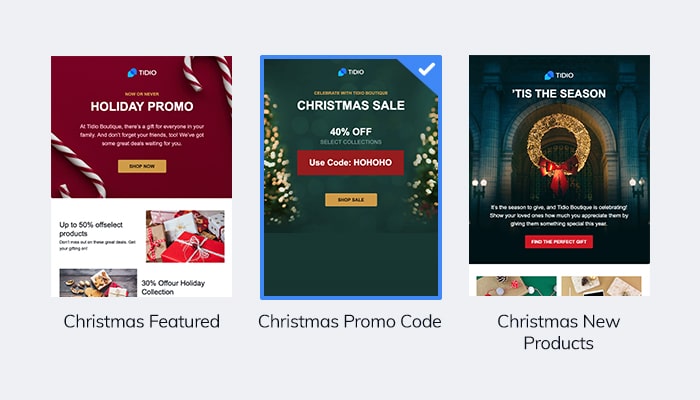 Also, if you're looking for a free and easy tool to create a professional Christmas newsletter, then we have good news for you – you can now do it with Tidio.
Want to send beautiful newsletters, email marketing campaigns, and abandoned cart emails? Try our free email marketing software to design your emails, segment your contacts, and track email analytics.
Design & Send Emails Now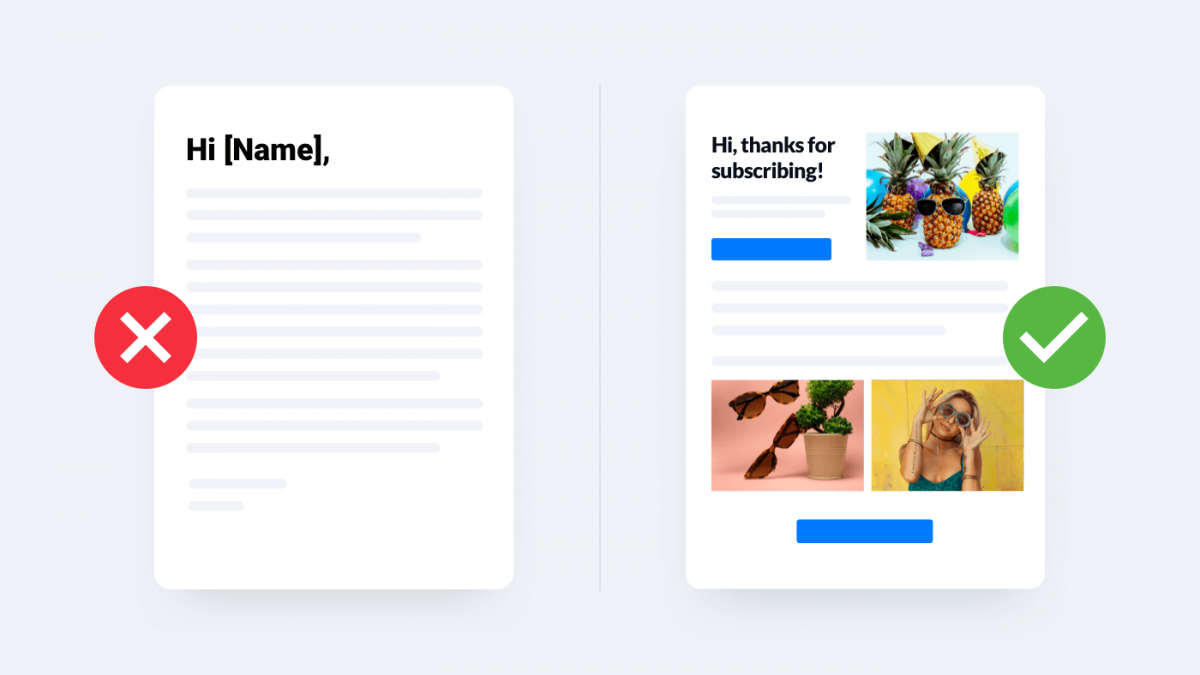 Discover 250+ templates—Design and automate your email campaigns.
One of our users, Kate, had this to say:
I'm not a technical person but I could use my contacts and send a bulk email campaign in no time.
Sign-up for your Tidio account, choose your free Christmas newsletter template or create your email from scratch using our intuitive drag & drop builder.
In this article, you will make the most of your campaign with tips & tricks shared by marketers and online retailers.
Christmas Email Newsletter Campaign: According to Experts
Christmas, or any other large-scale event, offer opportunities that can be easily wasted. One of the solutions to avoid future mistakes or get inspired to try something new is to hear about other people's experiences.
You might learn a thing or two and try whether an approach they found successful will work for your business as well.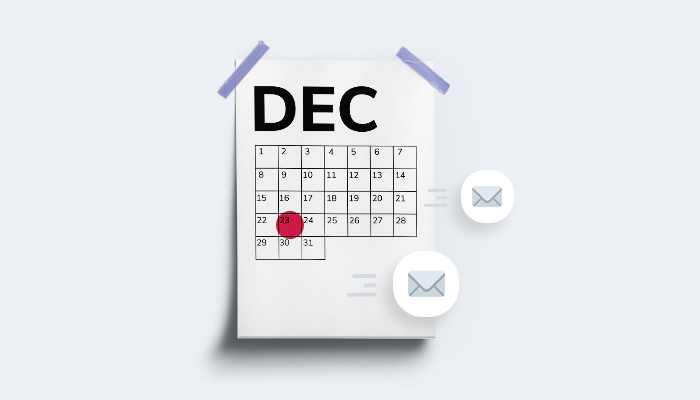 When Should You Send Christmas Emails and How Many?
Can you get away with a single Christmas email? Probably. But bear in mind, that you are not the only one who will be fighting for your subscribers' attention.
Your subscribers are likely to receive plenty of Christmas offers within the coming weeks so you want to increase your open and click rates.
Naturally, if you send two or three emails, your chances the customer notices and clicks your CTA grow higher.
So what's the magic number and dates? What approaches in newsletter sequence can you adopt?
Jeff Moriarty (marketing & web development at Moriarty's Gem Art), shared with us that their company sends two emails during Christmas time.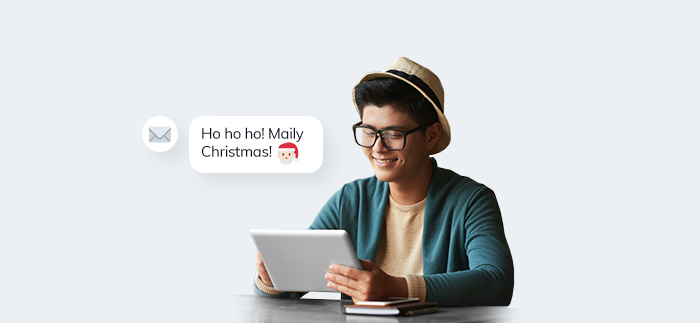 They send their first email on Christmas Day to thank their customers and wish them Happy Holidays while the second email goes out on the Day after Christmas. The second email informs the customers about their big sales.
The "thank you email" is a nice touch and helps with strengthening the relationships with the customers.
What didn't work for them? The company initially sent their first sale email on Christmas Day but soon realized that it was too intruding so they moved it to the day after. A small change that resulted in greater success.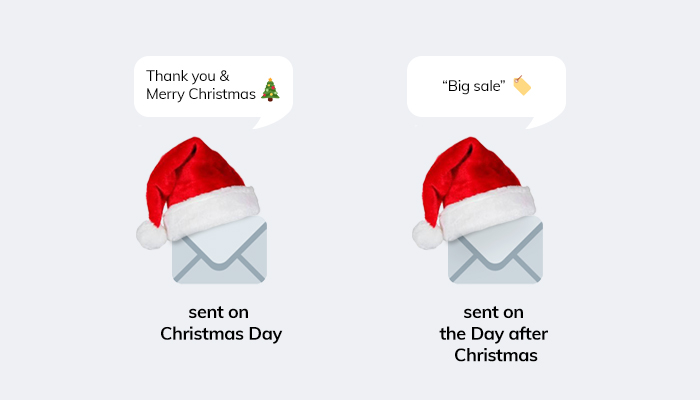 What other Christmas email sequence can you try?
Anna Caldwell (Content Marketing Manager at The Loop Marketing) offers a different approach.
She suggests starting sending out emails to promote your campaign a week (or more) before the Holiday begins. The goal is to "prime your audience" before you start sending your sale emails.
Moreover, Caldwell highlights the importance of your audience's vacation habits. The time you send your regular emails may not work during Christmas so schedule your emails to be sent on the 23rd or 24th.
Also, avoid sending anything on Christmas Day as your email will most likely receive very low click rates (unless you intend to send Christmas wishes or thank you messages and do not mind that they will be read later).
Key takeaway
Do not send your sale emails on Christmas Day. They will likely be ignored or opened a few days after.
Pre-Christmas and Christmas, and Post-Christmas Email Subject Lines
Get [product]. Joy is added for free
Best wishes from all of us at [company]
Santa is WATCH-ing! (watches store)
Sana called he's not gonna make it. But we will
Flowers and beauty… of giving (florist)
Your best Christmas present this year
Merry? Good. How about getting merrier?
That smells divine. And it ain't the candles (perfumes, bakery)
It's time to get yourself what you've been wanting a whole year
It's cold outside. So here's our warm email
Been naughty? It's ok, we don't mind
It's time to PURR-chase some gifts! (pet store)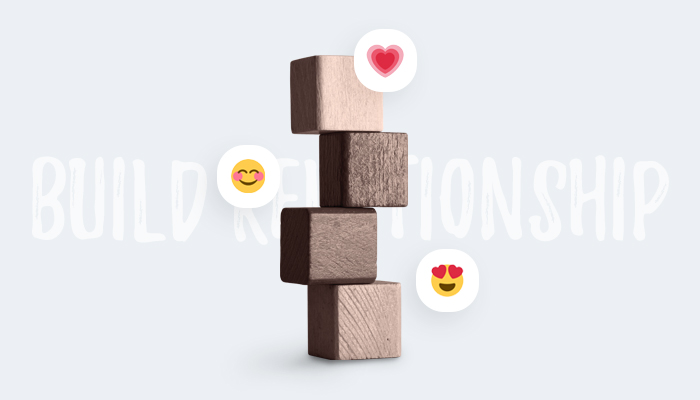 Build and Reinforce the Relationships with your Subscribers
Solid customer relationship is a must. Good relation with your customers impacts your brand recognition, your customers' loyalty, and the likelihood your business will be recommended.
Adam Hempenstall (CEO and Founder of Better Proposals) also believes in building strong relationships. What he warns about, however, is sending Christmas newsletter emails at the end of December in case 0 emails were sent beforehand.
As a result, such "out of the blue" emails will not only hardly receive any clicks but may also harm the sender's reputation. What's Hempenstall's advice? "Stay on top of your email marketing game all year round if you want to succeed with your Christmas campaigns."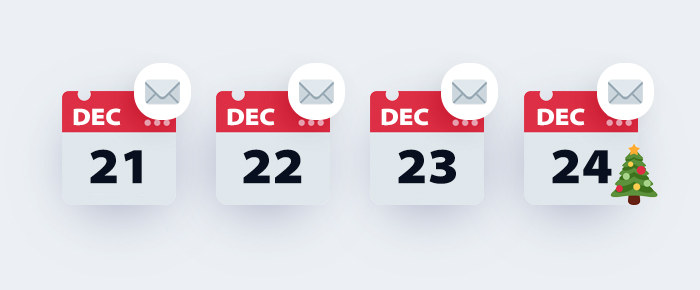 When you manage to build up some relationships with your subscribers and customers, you still need to work on your presence in their inboxes.
Celeste Huffman (Digital Marketing Specialist at Rogers & Hollands) keeps in touch with the customers until as late as Christmas Eve.
Her company sends out emails each day to their customers and prospective customers. Each day they have a different sale, promotion or product line push.
Such an approach allows them "to test many different strategies to see which types of products or promotions resonate with the customer."
With such a method, Huffman has not only plenty of room to test the best content for their Christmas newsletter but also keeps the presence of their company fresh in their recipients' minds.
And just a few cents from us. What else you can do is to send regular emails that would keep your subscribers posted on the latest popular products.
By using social proof your customers will be more willing to consider certain products and at the same time, you will spare them some hassle of choosing a gift.
Key takeaway
An email campaign is a process. Build your trust and brand recognition all year round. Keep providing your subscribers with helpful content that delivers value.
Customer Relationship Email Subject Lines
Celebrating Christmas since [year]. Thank you!
Weekly Update [#number]: [number]th Day of Christmas at [company]
Thank you for another amazing year!
Daily bestsellers to keep you on top of the game
Last Christmas you gave us your trust (preview text: And we didn't let you down)
Get [product] and we donate $1 to [noble cause] from each sale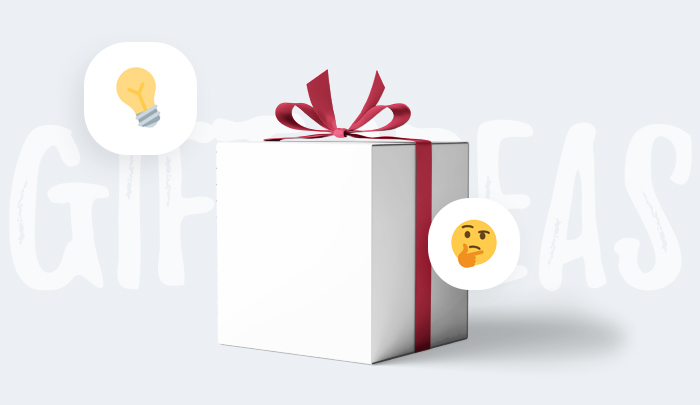 Send Your Subscribers Gift Ideas
The Christmas period is when we massively hunt for presents. But the bottom line is that we do not look for items for ourselves but for others.
What that means is that the data you managed to gather and the customers' profiles you have built so far are not so useful for your Christmas emails.
To make matters even more complicated, a lot of your customers will struggle to determine the perfect present for their family and friends.
There are plenty of online stores and not necessarily too much time left so you want to make the customers' job as easy and as fast as possible.
How can you help your customers achieve their goals?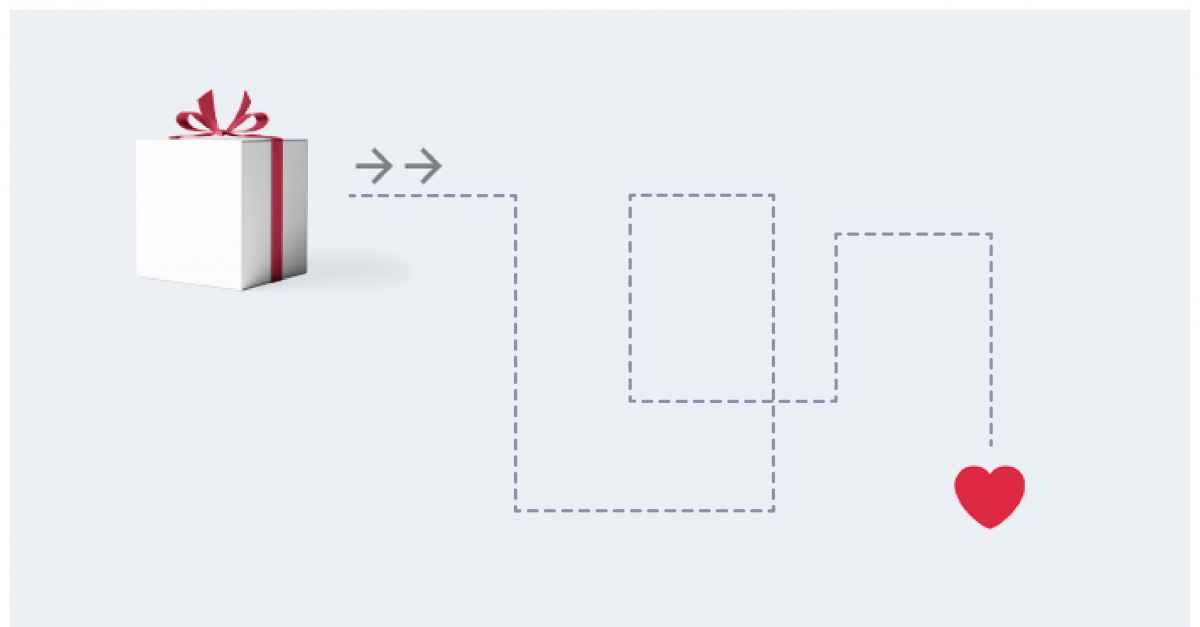 Ryan Scollon (SEO & PPC Consultant) suggests preparing a gift guide for your customers. It is "a great way to get your readers engaged and clicking through to your site."
A gift guide can be split into different categories to help your subscribers navigate to the goods sections of their interest.
For instance, gifts for a specific person (Mom, Dad, Grandma), gifts aimed for specific age groups (tweens, teens, seniors), or gift ideas arranged according to the price range ($5-15, $25-35).
On the other hand, Hannah Mongiat (Founder & Senior Strategist at Speakeasy Social83) does not recommend gift guides in case they would not work in your niche (e.g. you sell products or services that aren't something that people would normally gift).
What she recommends instead is to look at the buyer individually and use the "buy something nice for yourself" approach. You can push it even further by offering those products as a limited edition Holiday Bundle.
This way you encourage your customers to leave your shop with the products that were not intended as presents for their family or friends.
Key takeaway
Gift guides help your customers to save time on present hunting. If a gift guide idea does not make much sense in your business niche, focus on the customers themselves.
Gift Ideas and "Treat Yourself" Email Subject Lines
Run out of space under the tree? We got plenty (storage)
Delicious sweets, pastries, and cookies to leave for Santa (bakery, confectionery)
[number] presents to keep you motivated (sports)
Best gift ideas for [target audience]
Inside: Ultimate [product or brand] Gift Guide
Long Christmas shopping list? We've got what you need
[product name] for everyone. Limited offer
It's boring to play alone. Take this! (gaming)
Our holiday [industry] gift guide. St. Nick approved
Got Christmas fever? We go meds (pharmacy)
Christmas minus snow and chill? Yes! (travel agency)
A selection of romantic Christmas travel destinations (travel agency)
We need to talk about this year's gifts
Best [product]. Our recommendations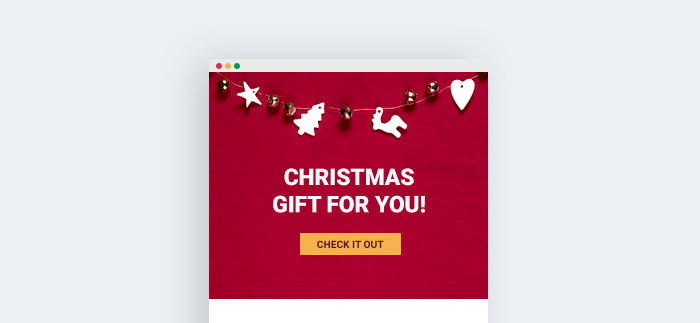 Send Your Subscribers (Free) Valuable Resources
Free resources? Hey, it's Christmas after all. Show your customers that the gift-giving tradition works both ways.
What sort of gifts are we talking about? Discount coupons, giving access to the gated content, adding downloadable digital goods (blog posts, guides, Christmas recipes), games, quizzes, etc.
If you are worried that you do not have such content or can't afford to offer too many (or any) discounts, don't worry. There are other ways you can give valuable intangible presents to your customers.
According to Olivia Newman (Social Media Manager at Giraffe Marketing Group Ltd), the value you can provide does not need to be monetary (i.e. discounts).
If you can't provide a giveaway or a discounted price, then think about providing your Christmas opening times, news happening around the festive period, or share some piece of advice related to the event or your industry.
You can also think about sharing some bits of your brand's history. As a result, you keep your subscribers engaged and show the human side of your company.
Key takeaway
During Christmas time, you can be the giving side as well. Offer discounts, access to the gated content, or any pieces of information your customers will find valuable.
Send Valuable Resources Email Subject Lines
We got a merry Christmas game for you!
Who and what [brand] is made of
What's new at [company]
Christmas decor | Free e-book inside
Holiday DIY Guide
Christmas art & craft ideas for kids
Holiday opening times at [company]
End of the year video
Printable coloring book for kids and grown-ups
That blouse looks gorgeous with your 25% discount
Santa remembered about your pets (preview text: Pet grooming services Christmas discount)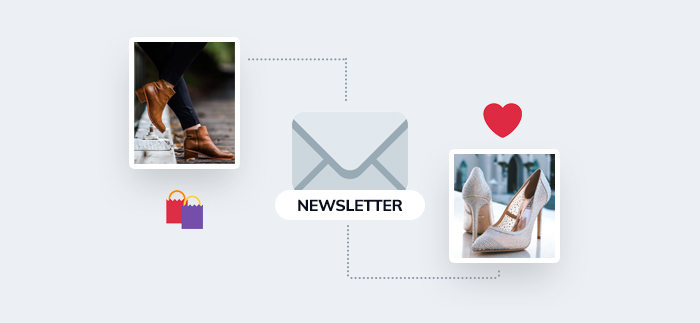 Promote Your Christmas Goods or Services
Whether you are a business with plenty of goods or sell just selected items (or services), you want to make sure that the products you have on Christmas sale are visible.
Pick a few items you care about the most and include them in your Christmas newsletter. Remember, the less is more. If there's too much information in the email, your readers will feel overwhelmed and lost.
When it comes to the "bait" part (making your customers eager to click the CTA button), John Frigo (Digital Marketing Lead at MySupplementStore) has some tips for you.
He found that BOGO (Buy One Get One) deal, unlike during Black Friday or Cyber Monday, does not perform well during the Holiday season.
So instead of offering your customers BOGO Free or BOGO 50 percent off, try another incentive such as free shipping or x percent off site-wide discount. This way your customers can buy what they want and save some money on a gift.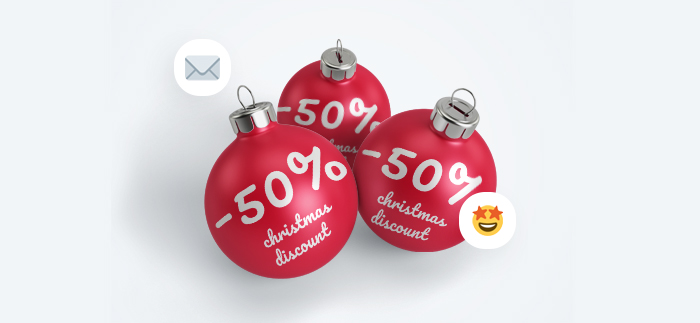 Frigo also adds, "according to survey after survey and study after study people want site-wide discounts, then free shipping, then free gifts, in order of importance."
There's one more simple thing you can try with your Christmas newsletter. Test whether or not your discounts convert better as either percentage off sales or dollar amount sales.
Shaan Patel (CEO and Founder at Prepexpert) noticed that during specific holidays, "percentage off" sales work well, while at other times, "dollar off" sales convert better.
Key takeaway
It's always a good idea to A/B test your email creatives and the types of the deal you offer. Try different discounts and the way you name them. The devil is in the detail.
Promote Your Christmas Goods or Services Email Subject Lines
FREE week of [service]
Site-wide discounts | Sale ends at [date]
Free shipping this Christmas
Order by [date] and get some gifts from us!
Last-minute Christmas gifts at $15 discount
We know you've been good. Get 15% OFF on [product/service]
Ho-Ho-Whaat? Deals so good that even Santa can't beat them
You order your gifts. We deliver — for FREE
Christmas Newsletter: Conclusion
Christmas season can be merry for your customers and profitable for you. Put your Christmas spirit to work well ahead of the main event.
Your subscribers will love your newsletters if they bring them any value.
Remember to:
Start building an interest early and keep in touch with your subscribers. Tell them what you've been up to, inform them about your deals, and remind them about you (not just once or twice a year)
Test your creatives
Thank your customers and reward them with some small gift
Respect the Christmas Day and do not send any sales emails on that day
Help your subscribers with presents-hunting by sending them recommendations and gift guides
And if you're looking for a free email tool to kick-off your holiday (or any other) email campaign, Tidio will help you with that.
PS. We have awesome chatbots, too!
Create an email campaign or chatbots