Christmas is just around the corner!
The preparations are in full swing—you can see the lights coming on, start to smell the turkey, and hear the carols in the distance.
It's also time to start sending out your Christmas newsletter campaigns. That's the best way to spread the holiday cheer and say thank you to employees for their hard work and customers for loyalty.
But where do you even start?
Here!
We'll give you Christmas newsletter ideas and show you how to write a successful holiday campaign.
In this article:
If you want more help with improving your marketing efforts, increasing sales, and generating more leads, check these out:
First things first—what to put in a Christmas newsletter?
Let's start with some ideas and examples, shall we?
Christmas newsletter ideas for better engagement
Before we get to the great templates with beautifully designed backgrounds, you should remember one thing. And that is: your "Happy Holidays" newsletter campaign will be a flop if you don't fill it in with great content.
So, here are six of the best Christmas newsletter ideas to ensure your holiday campaign is a success.
1. Pick a catchy call to action 
But first—decide what do you want to get out of this Christmas newsletter campaign?
Ask yourself why you are sending out this holiday newsletter. Do you want a high click-through rate? Conversions? Or increased customer satisfaction?
Decide what's the most important outcome for you and optimize your holiday newsletter to reach that goal. For example, if your aim is to have increased sales, you'll need to optimize the campaign for mobile devices, send your email at the right time, and make sure you include a clear call to action (CTA).
Here are some examples of Christmas CTAs you can include in your Holiday newsletter: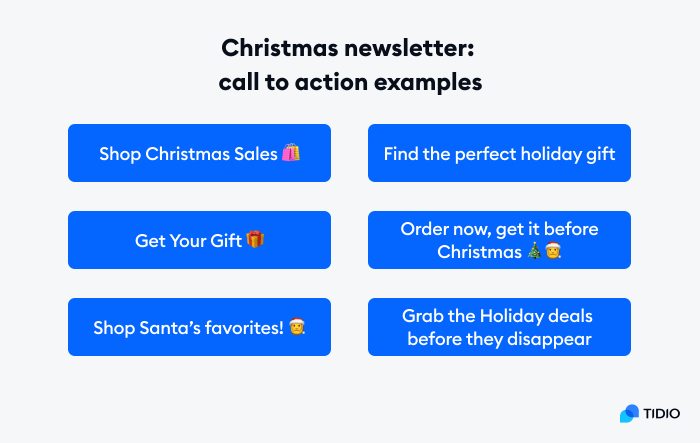 Read more: Discover some tips on how to improve your email open rates. Learn the best ways to improve your click-through rate and check out some of the best tools to increase email marketing conversions.
2. Get shoppers to open your letter
Engaging subject lines and great content are a must! But your subscribers need to see your email come through fist. So keep in mind that the time you send your Christmas business newsletter campaign matters.
A lot!
Especially since the open rate drops from 12.6% on December 22nd to a mere 3.4% on December 25th. 
Think about it. Who's going to scroll through emails on Christmas Day? Nobody.
So, make sure you send the email earlier on to give yourself an advantage when it comes to your subscribers opening the campaign.
3. Include gift ideas and playful poems
Another one of the December newsletter ideas for business is to repurpose the "12 days of Christmas" by putting your products into the song's lyrics for this purpose.
For example, if you have a clothes store, this could go something like:
On the first day of Christmas
my true love sent to me:
A Dungarees in a Fur Scrip

On the second day of Christmas
my true love sent to me:
2 Purple Gloves and a Dungarees in a Fur Scrip

On the third day of Christmas
my true love sent to me:
3 French Berets
2 Purple Gloves and a Dungarees in a Fur Scrip
You get the point.
You can also match some of your products to your customers' family members, partners, and friends. This way, you relieve the shoppers from the stress of not knowing what to buy for their parents and siblings. At the same time, this can increase your sales as all the gift ideas will be coming from your store.
It's a win-win situation for you and your clients!
4. Make a countdown
You should consider adding a countdown as an addition to your email. It can truly make the click-through rate go through the roof!
Why is that?
Because this is one of the Xmas newsletter ideas that play on the FOMO effect. As studies show, people make impulsive purchase decisions when they feel like they're missing out on something. And about 69% of Millennials admit they experience this fear. 
So, simply add a clock that counts down the days until your sale is over, or until the shopper can be sure to get their products on time, or any other date of your choice.
One of the Holiday newsletter examples comes from Thorntons: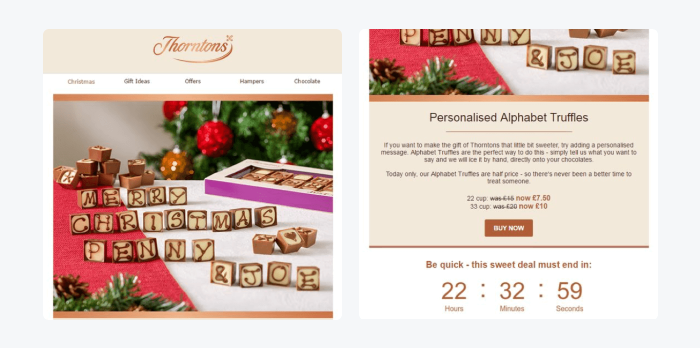 Don't you think that this email will persuade at least half of the recipients to get the alphabet truffles for their loved ones?
5. Provide free and fast deliveries
Free and fast deliveries are important aspects for shoppers all year round. But especially during the Christmas season! This time, people worry that the presents for their family and friends won't arrive on time for the Christmas party.
Moreover, research shows that 62% of customers expect their order to arrive within 3 days of the purchase. Our study into Black Friday trends confirms that. We found that fast and free delivery are the two most important factors when it comes to shopping for online deals.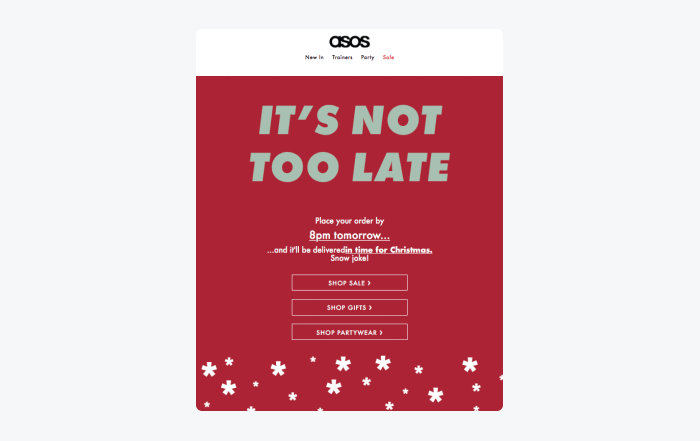 What you need to do is to remove the fear of late deliveries for your clients by putting forward a message that their order will arrive on time for Christmas.

You can even go a step further and tell your subscribers what actions you put in place to get their products delivered faster.
So, simply say "We're working 24/7 tirelessly to get your order to you on time!" or present more details. If you increased the number of delivery trucks and got more "helping elves" on board for the period, then state it in your Christmas holiday newsletter to increase the customers' trust and confidence.
6. Add a game 
Another holiday newsletter idea is to include games and use social media to spread the word.
You can do this by sending a Christmas trivia, scavenger hunt, or other games attached to your Christmas email newsletter. Let your clients enjoy it during the Merry season.
You can also prepare a Christmas competition. For example, if you choose to do a scavenger hunt for your clients, then join the game. Make the hunt about your company and put your Christmas products into the checklist. Then, give your clients a few days to send you photos of themselves holding the products and a checked list back. The first few people win a prize.
This is a good Christmas newsletter idea to show your company is a fun place and attract your customers to interact with you. They'll also have to go into your store to pick up the items from the list, and once they're there, you have a great chance of making a sale.
7. Use a playful tone for your offer
When writing Christmas newsletter greetings to your customers, staff, and business partners, ensure you use a light voice. You might think that it doesn't match your brand voice—but here's where we'll stop you.
Light and playful tone in a Christmas message to clients is perfect for everyone from the law firm, all the way to the kids' store.
That's because it's the time of the year when everyone wants to feel a little bit like a kid again, forget all their worries, and have a cozy time with their loved ones.
So, whether your December newsletter topics are aimed at your employees or clients, you should make them heart-warming and cheerful! Look at this example from Rifle Paper: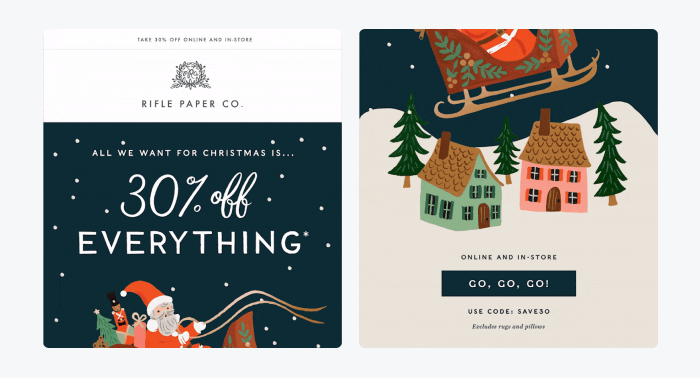 8. Beware of Grinches 
Be careful who you're sending your "Happy Holidays" newsletters to. Because some of your customers and subscribers might not be big fans of this holiday.
How are you supposed to know? Well—that's tricky. Because you can't be sure. One Christmas newsletter idea is to make your email fun. Try to make the recipients smile and engage with your brand through happy, all-inclusive content.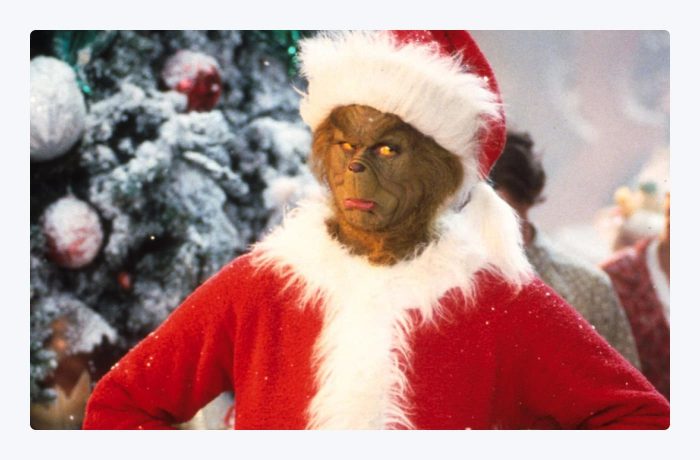 Also, remember that even Grinch came to love Christmas in the end! So ensure your email brings joy to everyone, even if they're not in a cheerful mood YET.
Now you know what you should include as your Christmas newsletter content. See what works best for your company, and don't be afraid to mix and match the ideas. Something unique and very effective might come out of that!
But how to start a Christmas newsletter?
Let's find out!
How to write a Christmas newsletter: tips & tricks
For your newsletter to be effective, you need to keep your goals and your target audience in mind. Ensure you personalize it for the receivers and put your message across in a fun way.
Okay, but where do you start?
In creating great Christmas subject lines!
Write an engaging holiday subject line
First of all, what do you write in your subject line for customers to actually open your email? It's very important as that's the first step for them to see your beautifully crafted Christmas-themed newsletter.
Contrary to common belief, you should not use emojis in the subject line.
We know. We know—it's Christmas!🎄🎅🤶
But it can really do more harm than good. A study shows that emails that have emojis in their subject line have a 6% lower open rate, over 40% higher unsubscribes, and a higher abuse complaint rate.
A better idea would be to just wish them a Merry Christmas and briefly say what they should expect from your email campaign. So, if you send them offers or games, include that in the Christmas newsletter subject line.
For example:

Read more: Find out more about email subject lines, how to write them effectively, and what to avoid.
Personalize your Christmas newsletter header
Put on a big "Merry Christmas" or "Happy Holidays"—it's a Christmas newsletter campaign, after all!
And make it more personal by including the recipient's name in the header. A study found that personalized emails generate six times higher transaction rates than general newsletters. Don't miss out on that opportunity.
What better way to personalize your holiday newsletter idea than by addressing it directly to the person reading it?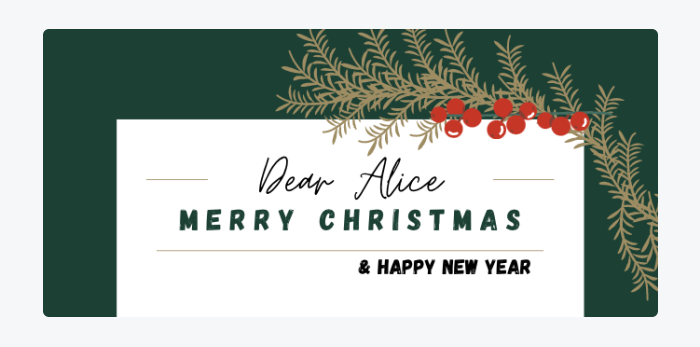 Your email Christmas newsletter header is your virtual first impression, so make it good and engaging. That way you can get the customer to keep reading the holiday newsletter you prepared for them.
Read more: Learn how to write a professional email header with tips and examples.
Use an eye-catching Christmas newsletter layout
Your Christmas newsletter background should be focusing on your offer and what can you do to make your shoppers' holiday extra merry.
But don't forget that this is a Christmas newsletter email! So, don't just reuse one of your other email marketing campaigns. Make something special for the occasion. This will increase the effectiveness of your emails.
Speaking of the layouts, let's look at some of the top templates you could use for your background.
Christmas newsletter templates
The best way to start a "Happy Holidays" newsletter campaign is by researching template ideas and getting inspiration from them. You can then use the Christmas newsletter samples or create your own email by mixing and matching the examples together on tools such as designmodo, Photopea, or Canva.
Some of the best Christmas newsletter template examples include:
Okay, let's go over the Christmas newsletter ideas for business one by one, starting with some free options—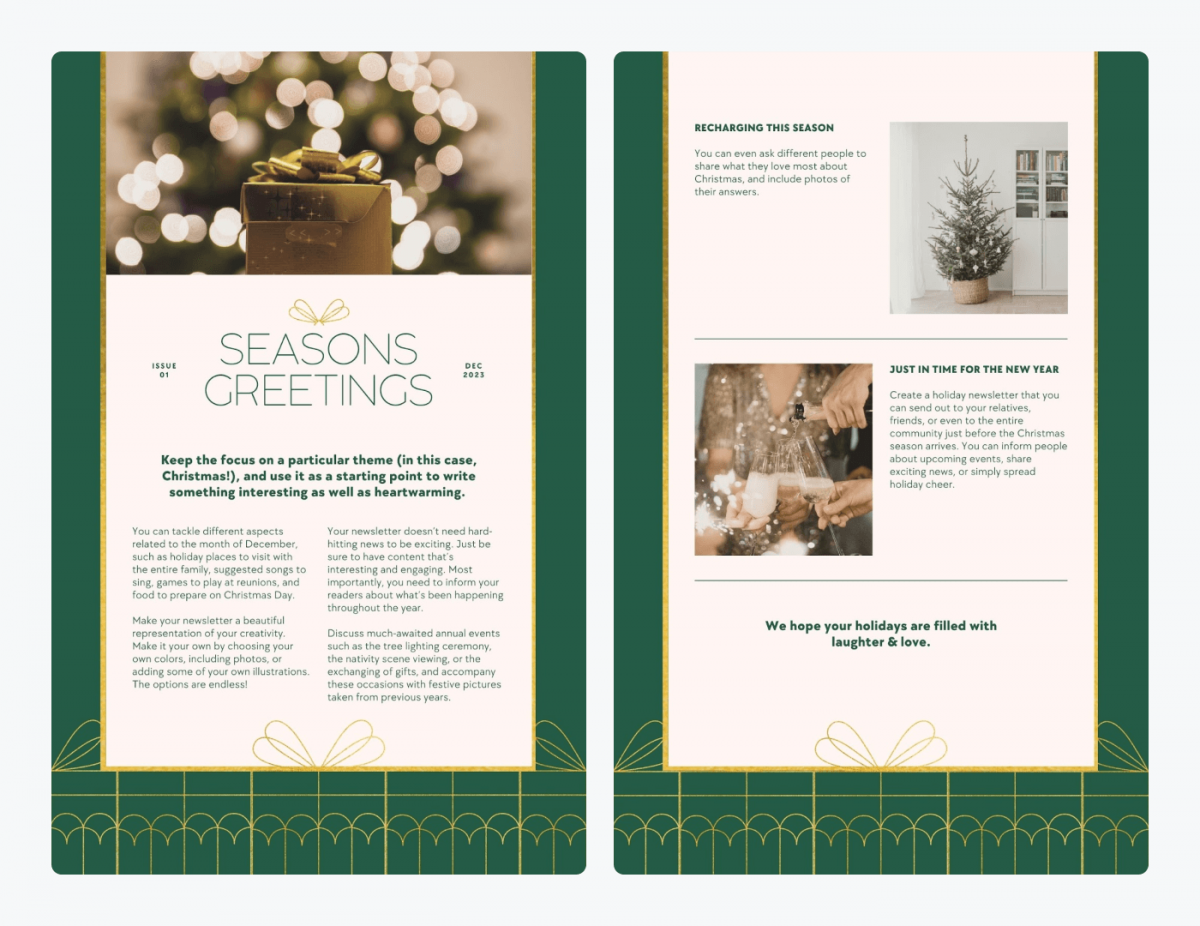 This is a free Christmas newsletter template that is minimalistic but elegant. You need to log in to Canva to use it, but the process of signing up shouldn't take longer than a minute or two. You can customize it to your needs by changing, removing, or adding any of the elements, like graphics, video, music, and text.
And once you finish personalizing the newsletter, you can download it in the file type that suits you best. Available file types include PNG, JPG, PDF, GIF, and MP4 video. You can also freely share this holiday newsletter idea with any of your employees, so they can view or even edit it.
Canva is also available on mobile devices, so you can edit, download, and play around with this Christmas business newsletter on the go.
Recipients: 
Best for sending to employees and partners of your company
Main benefits:
Fully customizable
Share & publish on any channel
Millions of images, icons, and graphics available 
Downloadable in JPG, PDF, GIF, and other file formats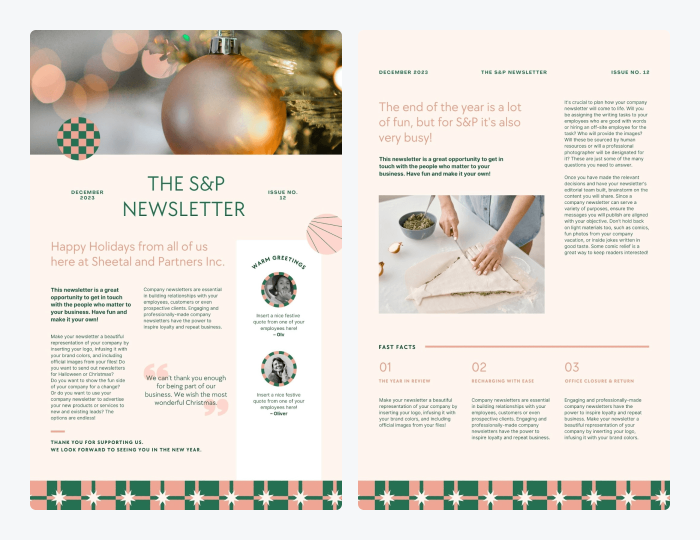 With this free holiday email templates, you can include some tips for Xmas preparations alongside the "Happy Holidays" wishes. You'll need to learn how to use Canva to make the most out of it, but the platform is straightforward, so you can quickly understand its functions.
After signing up for a free account, you get instant access to this holiday newsletter example as well as many other layouts.
You can fully customize it with thousands of different elements, such as images, icons, and graphics. This holiday newsletter idea also lets you share some recommendations for Christmas decor, meals, and other preparations.
Recipients:
Best for small businesses who want to show how their products can help customers with preparations
It is also a great family Christmas newsletter template when you want to include some great DIY holiday tips and ideas for your close ones
Main benefits:
Edit and download on any device
Share and publish on any channel
Wide variety of graphics, photos, and videos
Collaborate in real-time with other team members
Price:
Read more: Learn how to use Tidio chatbots to collect email addresses from your site's visitors and save them into segments automatically.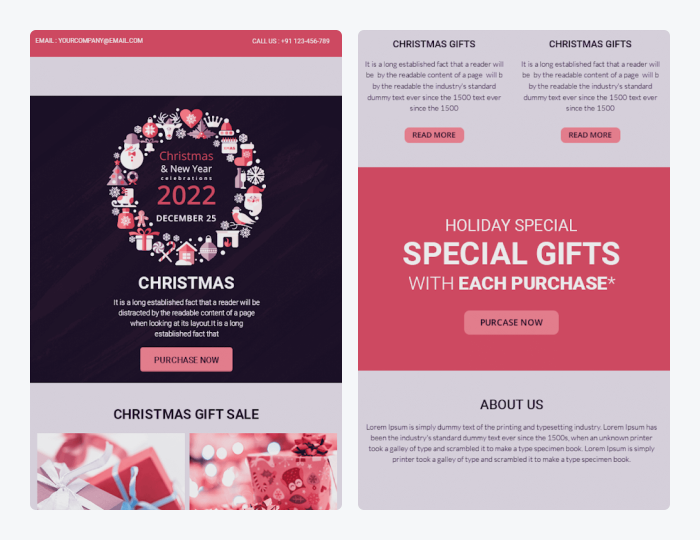 This is one of the best holiday newsletter ideas because it helps you share the festive spirit with your customers and attract the churned clients back to your doors. You can download this Merry Christmas newsletter straight away and personalize it on Photoshop, in HTML, or in Outlook.
It's a modern Christmas newsletter template with a dark background and beautiful design. It's clear but captivating to help you attract customers to click through to your store and use the special offers you have in stock.
You can fully customize the look of this free Christmas newsletter example to match your needs. So, if you prefer to go with a different color scheme because your company's primary color is blue, then go ahead and tweak it, so your subscribers get a familiar look when they open your email.
Recipients:
Best for attracting churned customers back
You can also send it to your existing customers and include a special gift for them
Main benefits:
Fully customizable
Useful suggestions for the text input
Easy to use for beginners
Download in PSD, Outlook, and HTML
Price:
Read more: Learn more about what customer retention is and strategies to build stronger relations. Check out some of the best retention software and what it can help you with.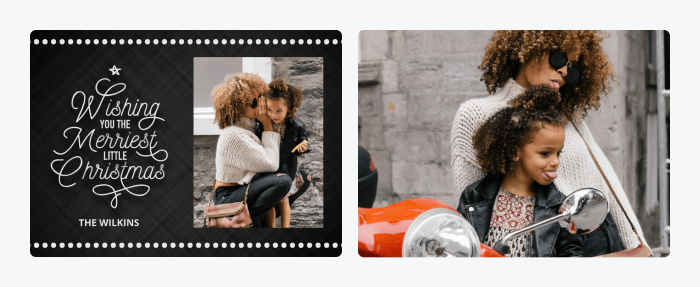 It's more of an addition to your December newsletter. This template is in the form of a Christmas card and adds an extra personalized touch for your clients.
Depending on your brand's image and personality, you can make it fun and quirky or heartwarming and uplifting.
It brings modern twists to the classic Christmas card and includes an editable template for the front and back. You need to sign up to be able to use this free holiday newsletter example. But once you do, you can change the photos by simply double-clicking on the images, and the same goes for the text. This saves you time because you create the card in mere minutes.
Recipients:
Everyone you're sending a Christmas letter to
Best for sending alongside your newsletter to add an extra personal touch
Main benefits:
Easily customizable
Simple design
Double-sided
Printable version available for download
Price:
Moving on—
Those were the free Christmas newsletter templates you could edit and use for your campaigns. Now let's go through some of the best paid options out there.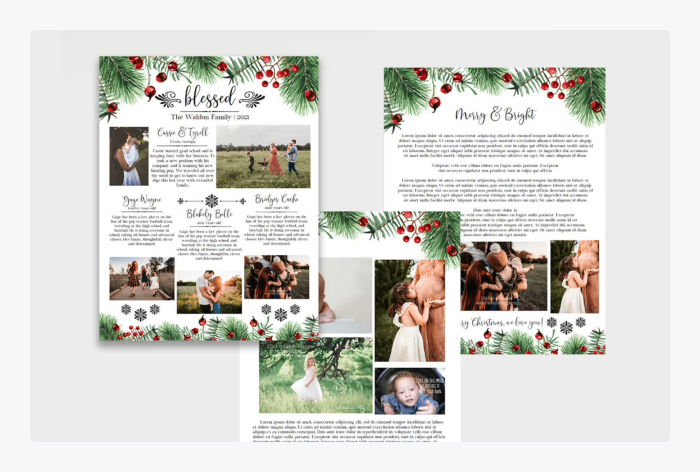 This is one of the Christmas work newsletter ideas is perfect for an end-of-the-year recap and lets you celebrate and share the big accomplishments.
You get an email with this holiday newsletter template, instructions on how to use it, how to crop photos, and general information about printing it right after your payment. There are three layouts included in the email, and you can use any of them.
All the photos and text are customizable, but the font stays the same. You'll need seven landscape photos (6×4 format) and three vertical photos (4×6 format). The photos can be in BMP, PNG, JPG, and GIF files for your convenience and freedom of personalization. This sample holiday newsletter is available as a digital download in PDF and is designed to look best in letter size (8.5 x 11 inches).
 Recipients:
Best for sending to employees
Perfect as a family Christmas newsletter with family photos and family members' milestones
Main benefits:
Instructions and advice provided
Designed for both print and digital format
All text and images customizable
Only PDF download
Price:
You need Adobe Reader to be able to use this template. You can use the free version of the software to enter information and photos.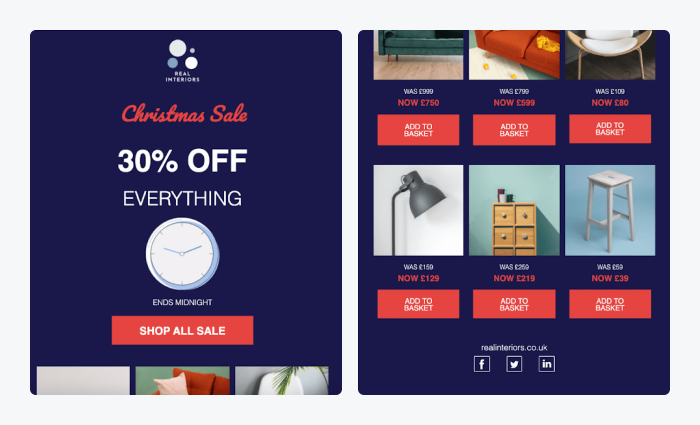 Santa already arrived at your store and brought some Christmas sales in his bag? This holiday newsletter example is the perfect solution to display your products. And you'll get instant access to this one and many others on the website after signing up for an account.
The design of this Merry Christmas email template with the ticking clock will create a feeling of, a last-minute chance to get your products. It can also engage a type of customer that fears missing out.
You can drag and drop elements to edit all the text and photos. It is fully responsive for mobile devices, and it can aid you in showing your products clearly and effectively without distracting the potential customer.
This fun Christmas newsletter idea works on most email service providers, such as Outlook, Gmail, MailChimp, etc., so you can send your campaign faster and easier. It was tested on 57 email services, and you can export it to HTML email builder, Outlook, Gmail, and MailChimp.
Recipients:
Best for sending to your customers who abandoned their shopping carts
Main benefits:
Drag and drop editor
Fully responsive
Exports to Gmail, Outlook, MailChimp, etc.
Simple design
Price:
Pricing plans for unlimited templates from $15 to $99/mo
Free 14-day trial available
Read more: Learn how to write effective abandoned cart emails, why people abandon their carts, and how to increase your cart recovery rate.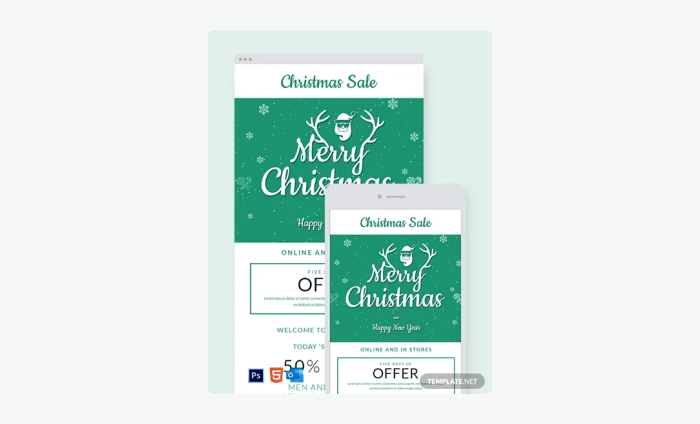 Sales are common and popular in this Holiday season. To jump on that trend, you need a newsletter. But not just any newsletter. You need a funny Christmas newsletter template to engage customers to click through and start their holiday shopping with your sales.
That's what this sample holiday newsletter is all about. It's not classy or chic, but it will bring a smile to the faces of your clients.
You can customize the text on the template, but the design will stay the same. It's easy to print out and use as a digital product. So you can send your Christmas holiday wishes to customers as a physical copy and an email campaign.
Recipients:
Best for sending customers to easy-going businesses
Main benefits:
Easily printable
Customizable text
Simple to use
Price:
Read more: Check out this case study on how a dog accessories store doubled sales in a week by using chatbots.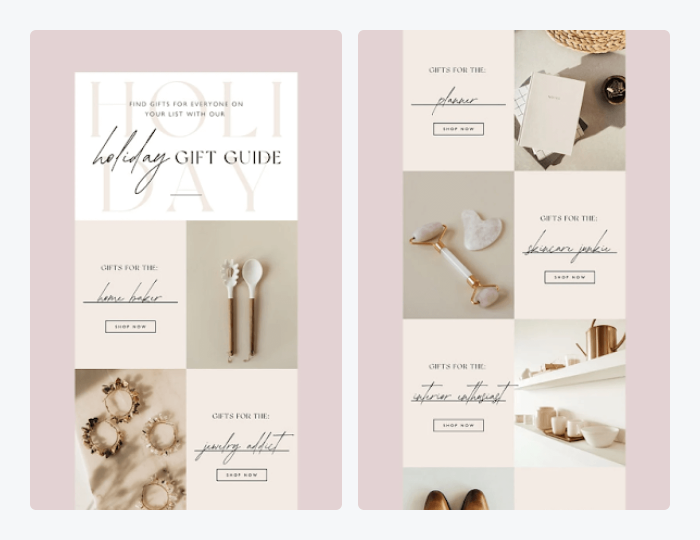 It's an elegant and stylish way to present your products as gift ideas to put under the Christmas tree for your customers' loved ones. You get an email after making the payment. It includes link to the template available in Canva and instructions for accessing it.
You can edit this unique Christmas newsletter by changing the colors, text, images, and other elements. Then download the finished work to send out or share with colleagues to gain their opinions first.
This gift guide is not directly compatible with Mailchimp or other email marketing platforms. The file must be exported from Canva and then uploaded directly to the email marketing campaign.
Recipients:
Best for ecommerce boutiques to showcase the products to customers as perfect gift ideas
Main benefits:
Fully customizable
Easy export as a PDF file
Instructions for accessing the template included
Price:
You need basic knowledge of how to use Canva to edit the file. The template is editable on that platform, and no support or instruction on how to use Canva is included with the template. You can use this step-by-step guide to get you started.
Read more: Check out some more templates from Etsy and Canva. Also, get inspired with ideas from Pinterest on how to make your Christmas newsletter unique.
Summary
And that's all for now—
Look through the templates again and pick the right one for your business. Think what kind of feeling you want your letter to have—are you aiming to be funny, modern, chic, or helpful to the subscribers with your newsletter?
Then, look through the Christmas newsletter examples and ideas to fill your email to the brim with great content.
A few quick tips for how to write a good Christmas newsletter:
Keep it light and cheerful
Send it at the right time
Add some character with games, ideas, or a yearly review
Handing it over to you. Good luck and Merry Christmas!