"Water, water, everywhere,
And all the boards did shrink;
Water, water, everywhere,
Nor any drop to drink"

– Samuel Taylor Coleridge: The Rime of the Ancient Mariner (1798)
Now, let's rephrase the poem a bit and replace: "water" with "abandoned carts", "boards" with a "revenue", and the final sentence with… Well, something along the lines of "no high income to enjoy."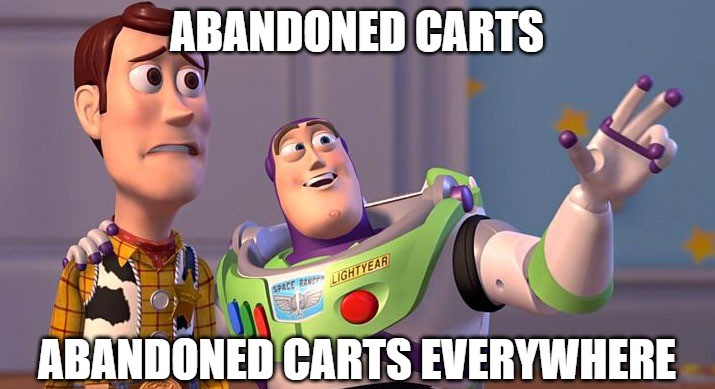 Sounds exaggerated? Not necessarily.
In fact, the average worldwide cart abandonment rate in 2019 is 75.6% (that's over $5 trillion worth of merchandise that doesn't make it through the checkout). If we look at the statistics from the past years, we can notice that the rate was fluctuating between ~57% and ~81%.
What you're going to learn:
Depending on your business size, abandoned shopping carts can cost you hundreds (or even thousands) of dollars… each month.
This also means that all the effort and money you put in your marketing strategy, campaigns, web design, and many more, do not convert the way you expected. 
But… Not everything is lost. You can recover part of the abandoned carts. The trick is to get the customers back on your website to make the sales actually happen.
How can you achieve it?
You need a cost-effective and personal way to grab the customers' attention and convince them to pick up their cart and proceed to the checkout.
How Do You Recover An Abandoned Cart?
There are a few recommended solutions to cart abandonment problem. For instance, you can try:
Push notifications – sending personalized push notifications to customers who've abandoned their carts and even offering discounts
Retargeting ads – presenting your customers the exact product(s) that they've just abandoned
Emails – a form of personal outreach that can also effectively bring the customers back to your website
This article focuses on the last cart recovery strategy – abandoned cart emails. You will learn what elements of the email structure you should keep in mind and understand how they will help you to decrease your potential profit loss.
Learn how to track an abandoned cart using Tidio chatbots.
What Is An Abandoned Cart Email?
An abandoned cart email is a follow-up email sent to someone who has added items to their cart and taken some of the steps leading to the checkout but (for some reason) left the site without completing an order.
For example, a customer added a pair of shoes to their cart and started the checkout process, but at some point left the website leaving the cart behind. Afterward, they receive an email to remind them about the items still sitting in their cart.

Abandoned cart emails are an effective cart recovery solution but require some effort. To make conversions happen, you need to come up with eye-catching copywriting to make your subject line and preheader stand out in the inbox.
Secondly, once you decide on the content, emails need to be skillfully designed not only to please the eye of the reader but to convince them to click the CTA button and complete their shopping.
Reach for various weapons to combat cart abandonment among customers. Automated conversational agents (aka "chatbots") are one of the great methods to save more carts and increase sales. Shopify abandoned cart apps can help you if you happen to have a shop on this ecommerce platform.
Do Abandoned Cart Emails Work?
Yes, they do.
Email statistics #1
More than 40% of cart abandonment emails are opened 50% of these emails' CTAs' are clicked (that's ~21%) 50% of customers who clicked CTA placed an order.
Key takeaway: at least 10% of abandoned carts can be recovered with emails.
"Strike while the iron is hot" principle works pretty well here.
The reason for this is because a sequence of abandoned cart emails sent shortly after the cart abandonment ensures that your online store (and the shopping cart) aren't forgotten.
When Should I Send an Abandoned Cart Email?
Abandoned cart emails rely on the initially expressed interest in the products and services your business offers – and the longer you wait, the lower the possibility that the customers will resume their shopping.
The recommended time for sending the first email is 20-30mins after the customer's cart abandonment. The first abandoned cart follow-up email should be sent after 12-24hrs and the second one after 2-3 days.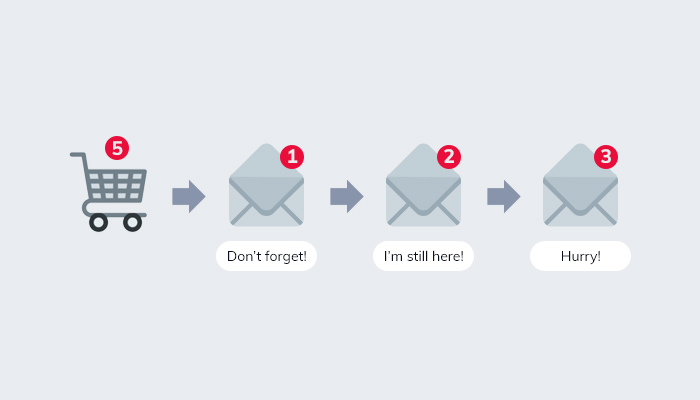 The main focus of the final email should be placed on creating a feeling of urgency. The message saying that the items in the cart may be soon out of stock may do the trick.
Additionally, you may try to offer a discount on the total shopping that would be valid for a short period of time.
Why Do People Abandon Shopping Carts?
There can be numerous reasons for shopping cart abandonment – some are related to the website and overall shopping experience (and those reasons may vary slightly across the industries), but there could be also very prosaic ones, for instance:
The browser crashed
Customer switched from mobile to desktop and vice-versa
Some emergency came up that required immediate attention
The shopping took place at work and couldn't be continued because the boss entered the office… 😉
Customers were just browsing
As you can conclude, some of the customers who have not made it to the checkout with their items were actually intending to place an order.
What that also means is that such customers are more likely to resume their shopping and all they need is a little nudge from you to help them finish what they have started.
And that nudge is an email.
Abandoned Cart Email Structural Elements & Examples
To increase your chances of bringing back your potential buyers to your shop (regardless of their reason for cart abandonment), there are a few elements of the abandoned cart email structure to keep in mind.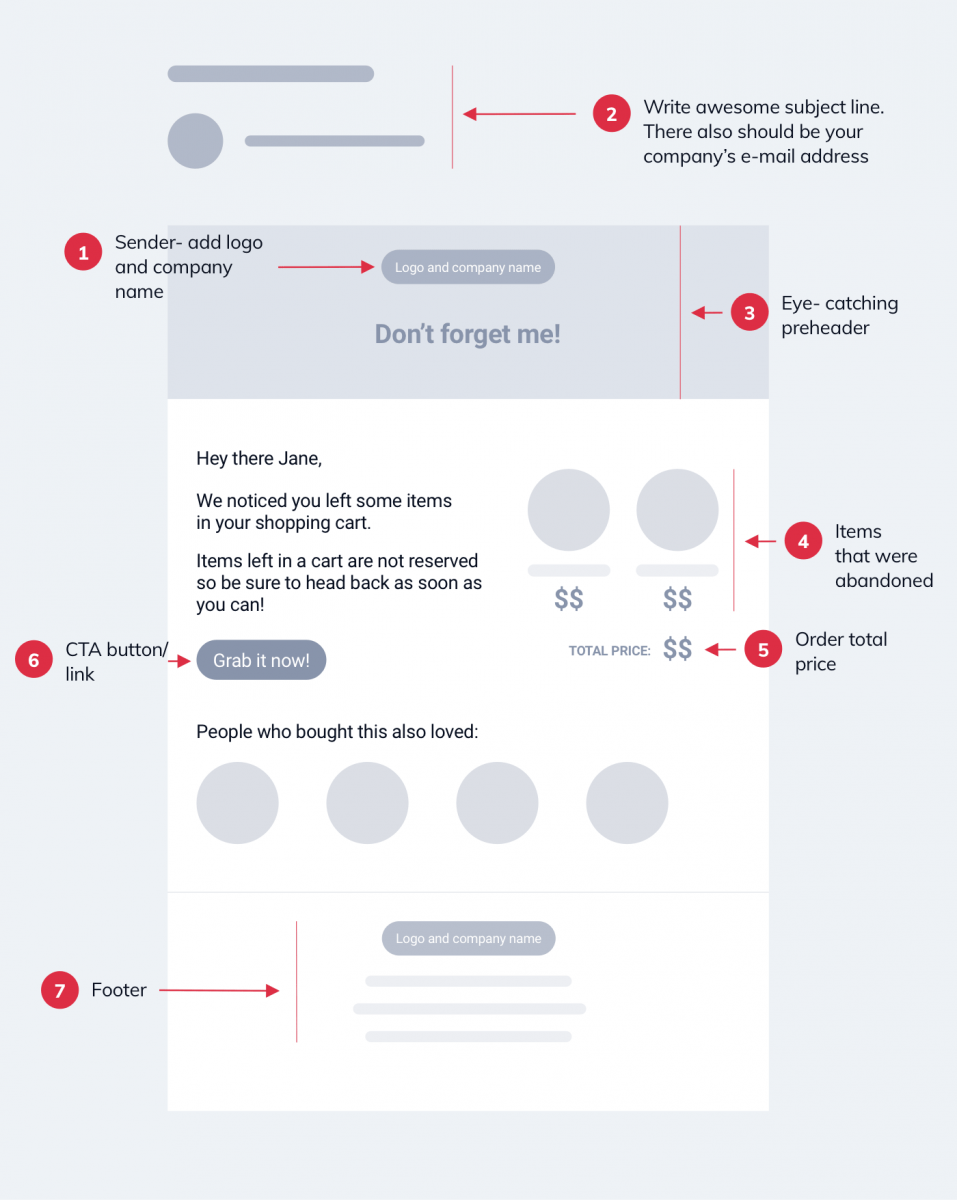 Those elements will not only help you to convince the customers to resume their shopping but will also increase the chance that your email will be opened and read.
Sender
Subject line
Preheader
Items that were abandoned
Order total price
CTA button/link
Footer
Email statistics #2
The average email open rate is 17.92% across all industries. The best day for sending an email (on average) is Thursday!
People receive plenty of emails so your priority goals are to:
Make your email stand out in the customer's inbox
Convince your customers to grab their virtual carts and push them to the checkout
#1 Sender
One of the very first elements that will immediately attract the attention of the customer is the sender and subject line.
Email statistics #3
64% of respondents indicated that the most important reason for their opening of an email is the sender.
The sender should be trustworthy and well perceived. After all, none of us wishes to open an email with some malicious software or waste time on a message from a company we do not recognize.

That is why it is so crucial to send the initial cart abandonment email within 20-30mins, while the memory of the customer is still fresh.
The company's name and logo inside an email are located always at the top. It is a visual element that will help the customer to recognize you so make sure it is neatly incorporated into overall email design.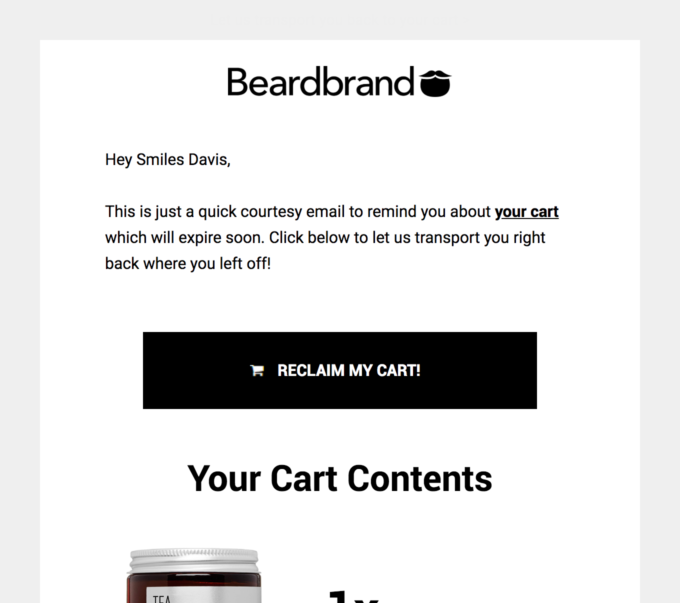 #2 Subject Line
The abandoned cart email subject line is one of the most critical factors of the email open rates. This short line decides whether your email will be opened or deleted immediately. The optimal number of characters for a subject line should be somewhere between 30-40 (for mobile devices).
The email subject line follows the sender.
Email statistics #4
47% of respondents indicated that the subject line is the reason for their opening of an email.
Good subject line examples to use in abandoned cart emails:
Can we help you with your order?
Knock knock! Are you there?
Any issues? Let us know!
Dang! You almost had it
Ooops… What did just happen?
Your cart didn't forget about you…
Oh-oh! You left some items in your cart!
Pheew! That was close but we saved your cart
What did just happen?
Did your browser crash?
You can also include an incentive:
Shhh… Just between you and us – discount code for your shopping
Looking for a better deal? How about [your better deal]
Ok, ok… Let's make a deal
Ideally, the subject line of your abandoned cart email should be short, witty, friendly and conversational.
What else works well? Nice words, such as "Please", "Thank you", "Thanks."
And of course, a dash of humor.
The subject line should not be demanding (speaking in "do something now!" manner. People generally hate exclamation marks). The initial abandoned cart email should rather just check whether everything is ok with the customer (their browser/wifi/account).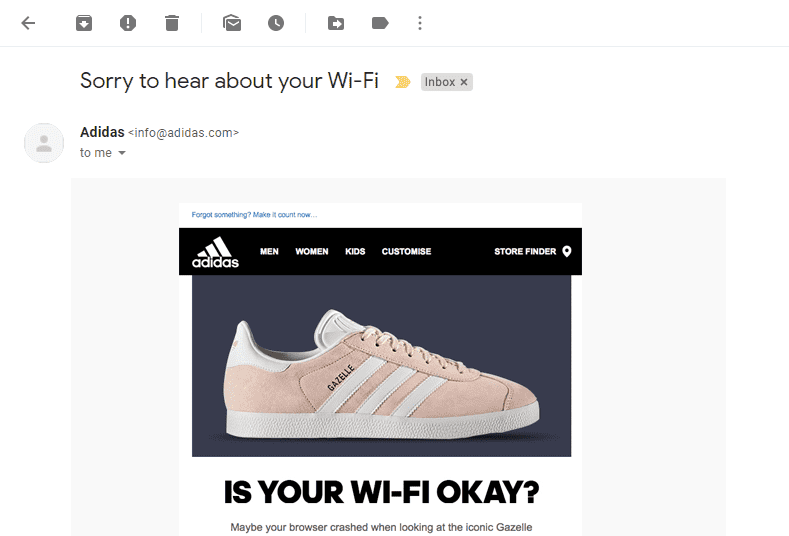 Subject Line Tip:
How to decide which subject line works the best?
Conduct A/B tests.
You may also consider adding the name of the customer to the subject line to make it more personal:
Don't worry Jane, we've saved your cart
Your cart sent us to you to tell you how lonely it feels, Jane
Jane, you left your cart unattended. Did you forget about it?
Jane, you almost had it!

#3 Preheader
Preheader is the short summary text that follows the subject line. You can see it before you open an email. It should flow smoothly along with the subject line.
On mobile devices, the preheader can make the difference between someone opening your email and deleting it, so you really want it to be meaningful.
The optimal number of characters for a pre-header should be somewhere between 85-100.
You surely have seen one of those emails that had a classic line "Unable to see this email? Click here to view." That line is not particularly compelling, don't you think?
Do you want to see a great example of how you can use the preheader space to your advantage? Check the screenshot below: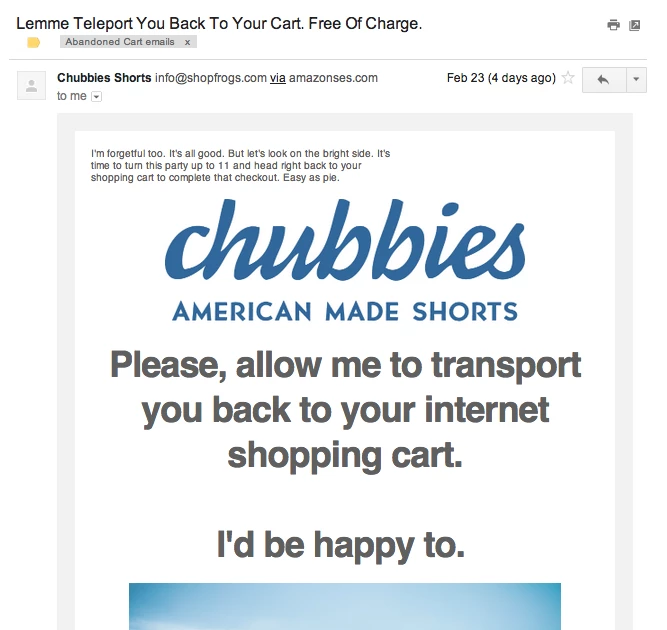 "I'm forgetful too. It's ok. But let's look on the bright side (…)"
– doesn't it sound so much better?
The preheader text isn't a requirement but it is considered a valuable part of an email message.
It allows you to add an extra eye-catching line to your email – the more attractive the email looks before it is opened the better.
After all, you do want your customers to open your emails!
#4 Items That Were Abandoned
Show the customers what items they put in their cart.
Why?
Simply because they might not remember what was in the order they wanted to place with your shop (and it is quite possible that your store was not the only one they have visited lately).
And secondly, they may second-guess their decision of abandoning their cart after seeing the item(s) once again.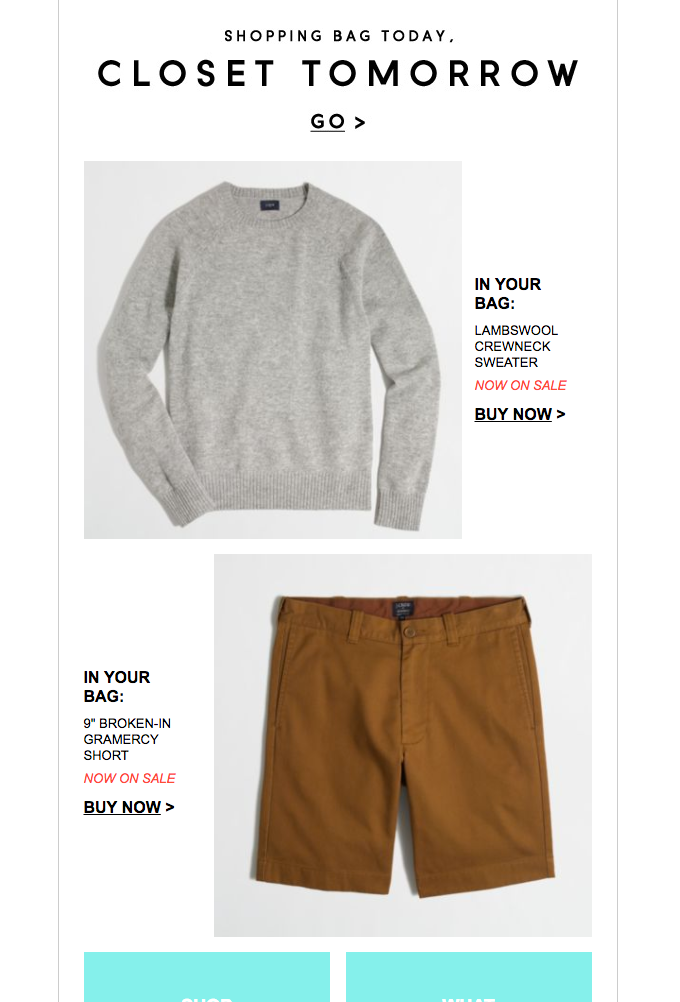 #5 Order Total Price
Cart abandonment emails should have a clear shopping total price displayed or at least there should be a price given next to each item. Your customers are too busy to remember where they were a few days ago, what they put in the cart and how much it was.
Inform your customers upfront about the items they have put in their cart and was the total so they can decide whether they want (or can afford) to proceed to the checkout.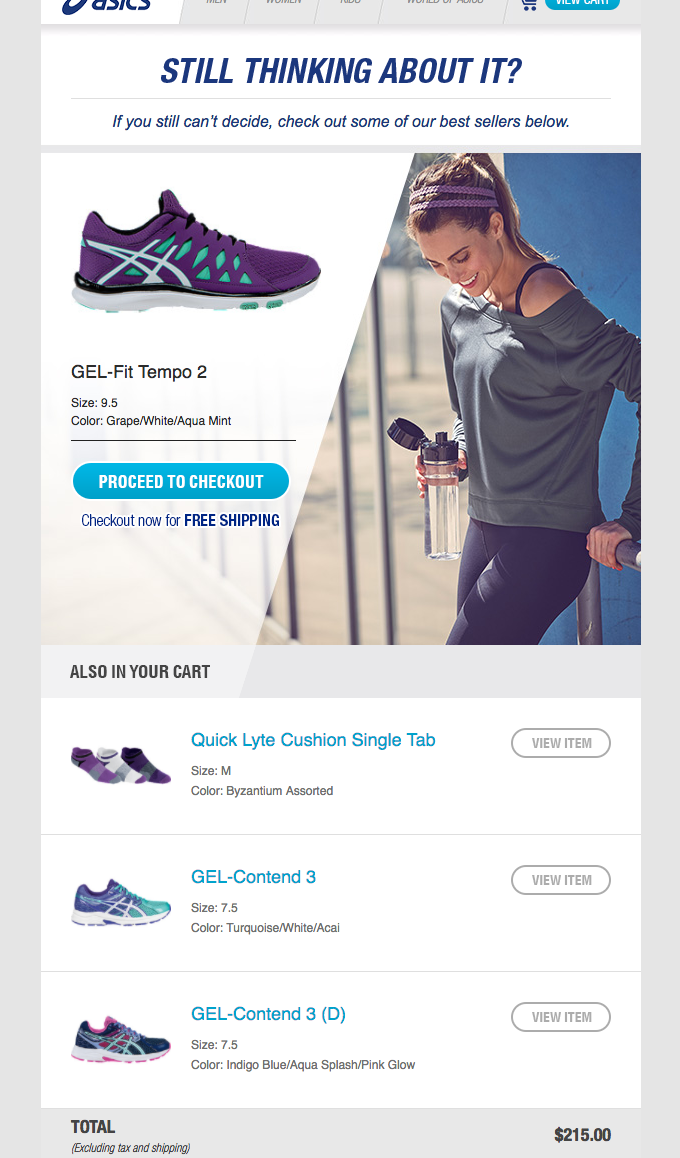 #6 CTA Button/Link
A CTA (Call-To-Action) can be presented as a button or a link. As the name suggests, CTA's goal is to prompt the reader to click it and take some action (action means to buy, to browse an offer, to proceed to the checkout, to shop, to fill in a survey, etc).
Verbs like "Buy", "Shop", "Order" cause "high-friction" and may put off some of your customers so try to stay on the neutral side – use action words that do not suggest anything that the customer may not be ready for yet.
For instance, you may try:
"Return to your cart"
"Proceed to checkout"
"Continue your shopping"
"Let's finish it!"
Make sure that the CTA button/link is visible – play with contrast and/or size. The best will be if it is not located anywhere near similar items – if there are too many buttons or links close to each other the CTA will be hard to notice.

In the example above, the CTA button is easy to notice in terms of positioning and color contrast (blue button against a white background).
It is ok to include more than one CTA in your email but be sure not to overdo it otherwise the customer may be confused about which button they should actually click.
#7 Footer
The footer is the closing section of your email. It contains all the information that is not directly related to the content of your abandoned cart email.
It should not be confused with an email signature.
The bottom section of an e-mail message contains all the information that remains unchanged from one e-mail marketing campaign to another. You may add the following information to the footer:
Sender
The company's mailing address
Email address
Website link
Unsubscribe link
Other links (e.g: Privacy Policy, Terms & Conditions, Help, Contact Us, My Account)
Directions
Helpline telephone no. and availability hours
Social media buttons
You do not need to include all of them, but the company's mailing address and unsubscribe button are a must. Why is the unsubscribe button/link so important?
It is mandatory in anti-spam legislation across different countries (e.g: Canada – CASL, USA – CAN-SPAM)
It is mandatory in GDPR – article 17 of GDPR (the "Right to be forgotten") protects data subjects with the right to request their data to be erased
It prevents your customers from getting frustrated with your company – if they wish to leave then you should let them. Sending emails to someone who does not want to receive them will do more harm than good to your brand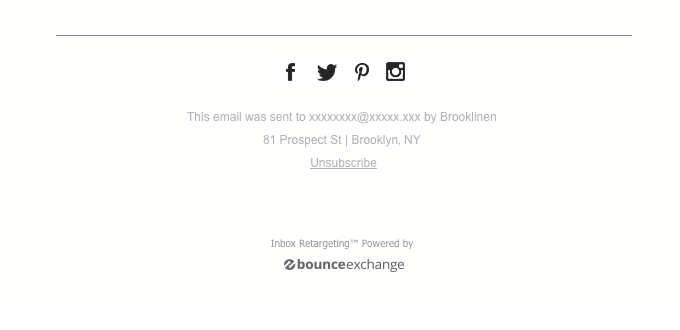 Abandoned Cart Recovery Through Email: Final Thoughts
The high cart abandonment rate is high so it's only natural that online retailers are worried about customers disappearing from their e-stores.
But regardless of the reasons for this issue, you still have a chance to bring the customers back to your website to finalize their shopping.
One of the valuable tactics used for shopping cart recovery is a sequence of well-written and designed abandoned cart emails.
Yet, many online e-stores miss potential profit because they don't send their customers any reminder that they left something behind.
Don't be that store. Instead, take any necessary steps and help your customers make it through the checkout.