François de la Rochefoucauld, a 17th-century French poet, said that "to listen closely and reply well is the highest perfection we are able to attain in the art of conversation."
This quote is 400 years old…
But—
It perfectly portrays the approach marketers should take when planning acquisition strategies.
Nowadays, people are overwhelmed with tons of commercials and advertisements.
Therefore, it's essential to look deeper into their buying habits. Understand when and how people may look for your products or services and what moves them to make certain buying decisions.
And here is where the customer journey comes into play.
In this article:
If you are hungry for more knowledge about customer experience, be sure to check out these articles:
Now—
Moving to our main topic of today, let's answer the big question:
What is a customer journey?
A customer journey is a path of interactions a customer has with a brand on their way to buying a product or service. It describes actions your clients take before and after they make a purchase, as well as their emotions and feelings during the buying process.
Understanding the customer journey is essential if you want to nurture your leads through a positive customer experience.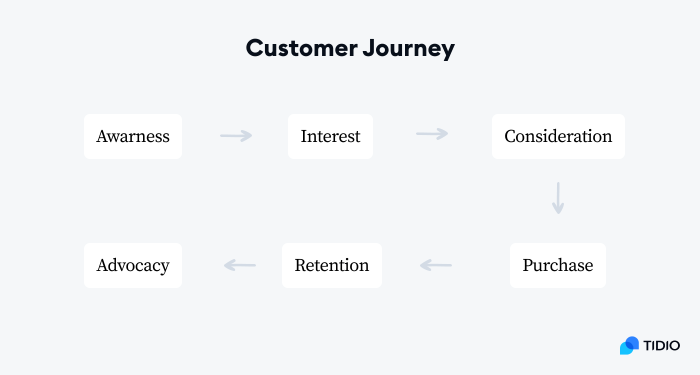 This path consists of six customer journey stages:
Awareness—a customer has a problem, begins to seek a solution and, as a result, becomes aware of several companies offering what they need. This is their first interaction with the brand.
Interest—customer narrows down the search by picking organizations that offer the most value for the price.
Consideration— a customer is weighing the previously chosen offers in order to pick the most suitable one.
Purchase— a client makes the decision and purchases a product or service from a certain organization.
Retention— after the deal is done, the company's team responsible for customer experience (CX) attempts to keep the customer engaged and satisfied (by loyalty programs, discounts, etc.).
Advocacy— when the organization delivers positive customer service, the client may advocate for the company to other people (through social media, word of mouth, etc.) which builds a strong customer loyalty to the brand.
Seems simple, doesn't it?
Well—it's much more complex than it might appear at first.
It's a long journey in which customers encounter a lot of factors, such as multiple ads, sales representatives from different companies, and inner objections that may prolong their decision-making process.
The key here is to understand how each part of the journey influences the customers' interactions with a brand, and what guides them when making decisions.
Remember the quote from the introduction? Understanding customers' journey is like listening to them, getting familiar with their needs, motivations, and pain points. Having all that in mind, it will be easier for you to respond to their needs.
But why is it so important?

Simply put, positive customer experience drives the revenue, whereas the bad one can break your business. According to research conducted by Emplifi, 86% of consumers would leave a brand after as few as two poor experiences.
Also, the usefulness of customer journey is battle tested by many companies. According to Think with Google, "89% of successful businesses say anticipating customer needs and providing assistive experiences along the customer journey are critical to growth."

The best way to visualize a customer journey is to create a diagram. Like this, each department involved in customer acquisition could rely on it.
This visual representation of a customer journey is called a customer journey map.
What is a customer journey map?
A customer journey map is a visualization of the interactions a customer has with your brand at every part of the customer journey. It defines the customer touchpoints, needs, concerns, and what moves them towards making a decision or stops them from doing so.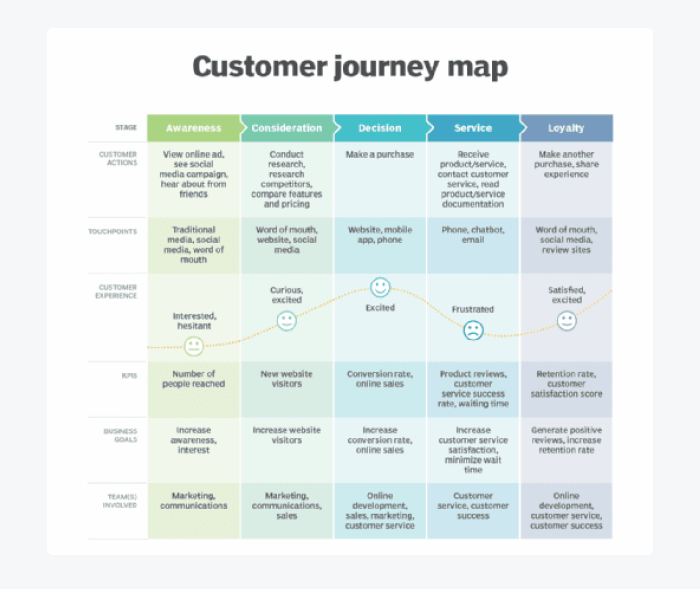 Thanks to these insights, in-depth research, and standard operating procedure checklists, companies can improve and adjust their marketing communication, brand awareness, sales strategy, and the customer experience in accordance with their target group's needs. This results in an increase in their advantage over competitors. 
But —
Customer journey map brings much more to the table than "just" advantage over competitors. It has a huge impact on every department in your company, allows you to discover and implement the latest CX trends, and sets up a clear client-oriented mindset all across your team. It's crucial to stay competitive on your market. According to Forbes, "83% of executives feel that unimproved CX presents them with considerable revenue and market share risks."

Benefits of a customer journey mapping
While creating your customer journey map, you'll have to take a look at your business from the customer's perspective. It's a great opportunity for your team to better understand your ideal customer expectations and analyze their point of view.
By listening and analyzing the voice of the customers, you can get tons of valuable insights on how to build a great customer experience strategy, increase conversion rates, or create perfect inbound marketing campaigns.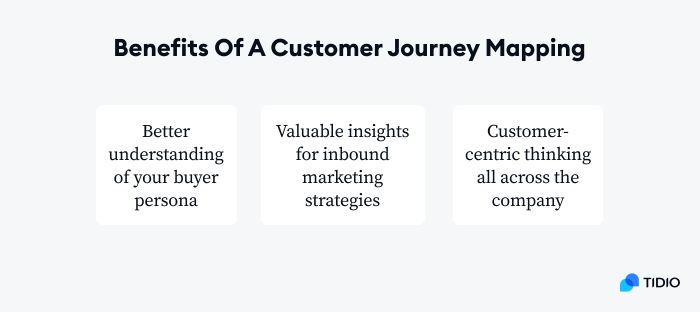 Now, let's dive into details of the benefits of customer journey mapping for your company.
Better understanding of your buyer persona
Mapping your customer journey will help you to understand the motivations, emotions, and pain points of your customers. Thanks to that, you'll be able to create acquisition and customer support strategies perfectly tailored to your clients and prospects needs.
By doing this, you'll set yourself on a path to boost your customer satisfaction score.
Valuable insights for inbound marketing strategies
As Salesforce says, "52% of marketers adapt their strategies and tactics based on customer interactions and feedback." By mapping your customers' journey, you'll get a detailed description of their buying habits, decision-making process, and channels they use.
The knowledge gathered from customer feedback and your in-depth market research can be a milestone while planning your inbound marketing campaigns.
Customer-centric thinking all across the company
At the end of the day, your clients are the ones who pay your bills. That's why your customer's satisfaction should always be the apple of your eye. Creating a customer journey map provides you with valuable insights for many departments, including sales, marketing, and customer success.
Thanks to that, you'll be able to create a truly customer-focused mindset within your organization, from the new hires during their onboarding process to the "old rouges."
What's more, the great power of customer-centric mindset is proven by data. According to research by Deloitte and Touche, "customer-centric companies were 60% more profitable compared to companies that were not focused on the customer, and 64% of companies with a customer focused CEO are more profitable than their competitors."

Sounds interesting, doesn't it? Let's find out how to prepare your own customer journey map.
How to create a customer journey map?
If creating a customer journey map seems very complicated to you, then—
Yes, you're right. It's not a piece of cake.
But, if you follow the most important steps, you should succeed. In this paragraph, we'll go through the 7 steps you need to take in order to create a well-prepared customer journey map.
These steps will help you to determine
What you want to achieve
What your target group is
Where and how people interact with your brand
What emotions accompany shoppers while interacting with your company
Let's dive into the details.
1. Set your goals
Before jumping into designing your potential customer path, you have to know what you want to achieve at its end. I think we can agree that creating any strategy without a clear goal is pointless. Before jumping into the whole process of customer journey mapping, sit down and think about what you want to achieve by doing so.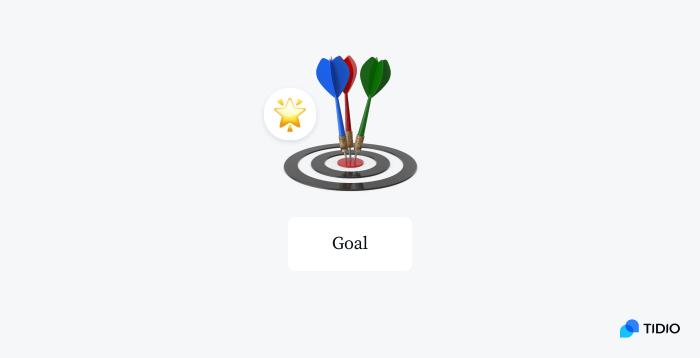 To help you figure out the final goal, we've prepared a list of questions that can be helpful.
So, at the beginning, ask yourself:
What is the goal of making this visualization?
What do I want to achieve—is it better conversion, reduced churn, or maybe improved customer retention?
What kind of problem does my product/service solve?
What is special about my brand that distinguishes it from the competition?
With what kind of experience do I want to provide my potential customers with?
Of course, these are examples of questions to ask while creating customer journey mapping. Your goal here is to define:
What you want to achieve
How your products/services make your customers' life easier
What your company's superpowers are
Make sure you give each of these a thorough thought and write down the answers. This is essential for the rest of the steps if you want to get it just right.
And when you already know what you want to achieve, we can move on to describing your buyer persona.
2. Describe your buyer personas and their goals
A buyer persona is a detailed description of someone representing your target audience. It's a semi-fictional character that has the characteristics of your average potential customer or group of customers.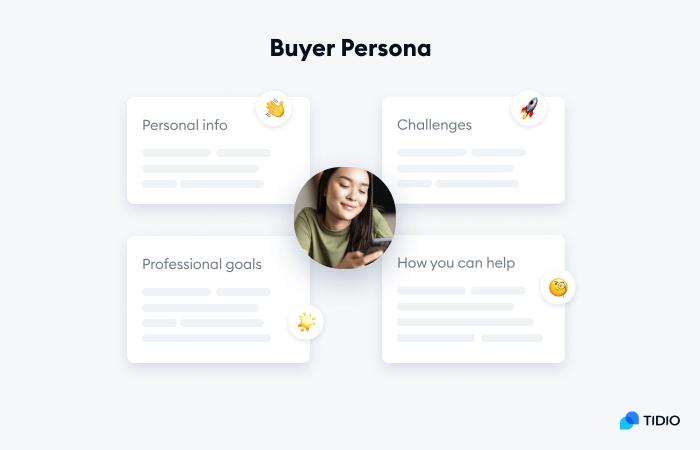 Although this persona is fictional, it has to be based on deep research of your actual and desired audience. By describing your buyer persona, you'll be able to get to know your current and potential customers better.
One of the best ways to delineate buyer personas and their goals is to reach out to your current clients and prospects for feedback. These people have already chosen your company, so their insights are a valuable source of information about your desired audience.
Remember to ask them questions related to the decision-making process. Here are some good examples:
How did you hear about our company?
What was the first touchpoint with our company?
What first attracted you to our website?
What made you choose our products/services?
Is our website easy to navigate?
Is our website content clear and understandable?
What problem are you trying to solve with our products/services?
Just like in the previous step, make sure to carefully read and understand your customers' feedback and write down the key information. You'll need them. When everything is done here, you can move to the next step.
3. Define the buyer personas you want to focus on the most
While describing your buyer personas, you surely have noticed that your customers and prospects are, in most cases, divided into several types having different interactions with your brand.

Now you should choose 2-3 of the most common customer types and focus your resources on them. That's because they are probably bringing you the most of your income.
Determining your most valuable clients will give you an opportunity to boost your revenue. It will also help you to focus on the best sources of your income, which is a great chance for increasing the efficiency of your marketing activities.
And don't worry about the ones you left behind. You can always go back and create a new map dedicated to these customers.
4. Make a list of all the touchpoints with your brand
According to SurveyMonkey's definition, a touchpoint is a moment when a customer "comes in contact with your brand — before, during, or after they buy something from you." A list of such touchpoints, prepared based on your customers' feedback, is a valuable source of information about their interactions with your company.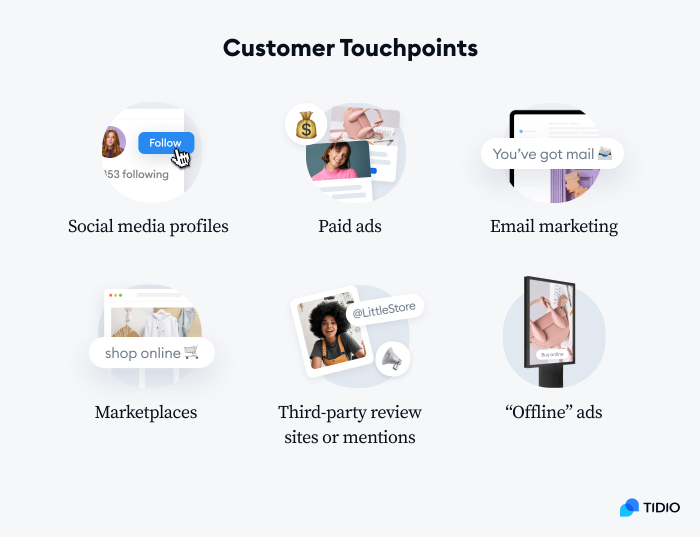 This list will show you exactly when, where, and how your customers are interacting with your brand. It will also present how many times they communicate with you before becoming your customers and which marketing channels are most effective.
Understanding the way people come across your brand is crucial when it comes to mapping your customer journey. That's because it shows you on which channels and experiences you should focus the most to create a connection with your prospects and clients.
Remember not to limit these touchpoints only to your website. You have to look at all the ways people can interact with your brand online and in reality. Besides your company's website, the list of touchpoints may include:
Social media profiles
Paid ads
Email marketing
Marketplaces
Third-party review sites or mentions
"Offline" ads—billboards, promoting events, etc.
Gathering all the channels people may come across your brand can be an overwhelming task. Consider using media monitoring tools like Brand24, Hootsuite, or Sprout Social that gather all the publicly available mentions of your brand in one place.
5. Describe the actions customers take while interacting with your brand
This step is about going a little bit deeper into your customer communication. When you have all the touchpoints listed, write down all the actions your customers perform at each stage of their journey.
These actions may be:
Finding your website in Google search results
Clicking on your ads
Social media activities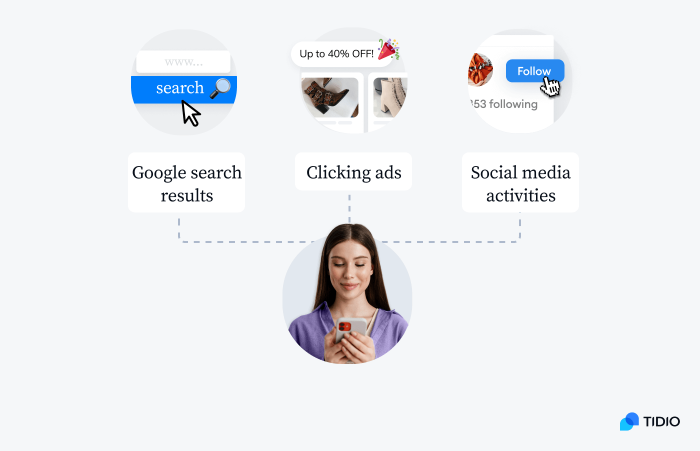 The important thing here is to keep your customer's path informative, but not too long or complicated. When people are expected to take too many steps to achieve their goal, they may give up. Try to reduce the number of these steps and make purchasing easy and smooth.
In addition, there are two extra steps you should take to better understand your desired audience motivations.
Firstly, define emotions that drive customers' actions. People usually make decisions driven by some kind of emotion, it's human nature. Pay attention to what people say about your brand in reviews and during interviews. Try to pick up their pain points, problems, and when they felt each emotion. This will help you provide them with the right content at the right time, which creates a bond between a customer and brand.
Secondly, find out what stops your potential customers from making decisions. Positive emotions are, in fact, extremely important while building a trustworthy brand. But you also need to be aware of the negative ones.
Listen closely to your customers when they are complaining about you, it will help you to spot the missing links and weaknesses. And who knows, maybe a small change will turn your "haters" into loyal clients?
6. Determine the resources you have and need
The customer journey touches nearly every department of your company, from the client acquisition teams, sales department to customer service, support, etc. Hence, it's important to verify if you're able to implement the new strategy in each of your teams.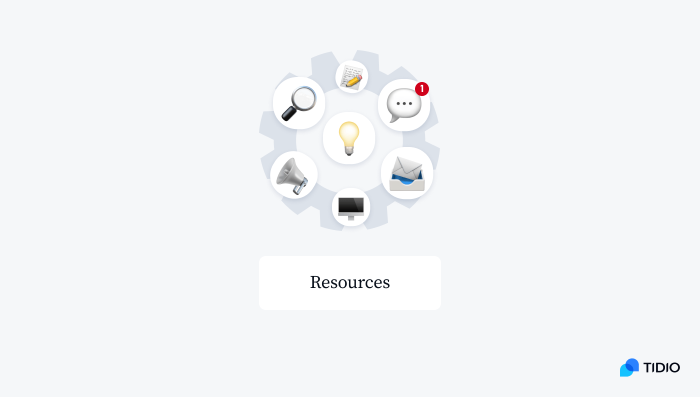 To find that out, you can proceed with an in-house audit that will determine what each of your teams has and needs to be able to work in line with the new customer journey.
For example, let's say that you want to provide your customer with an astonishing user experience and take care of them just a second after they visit your website. In this case, you'll need a live chat app to do it.
But is your team able to chat with every single visitor? If not, then you should consider building a chatbot to handle most of the common queries for them.
Knowing your strong and weak points at each path of your customer journey will help you to avoid expensive mistakes that you didn't even realize existed.
7. Put yourself in a customer's shoes and take the journey
The best-laid plans of mice and men go astray. Even the best plans need to be verified. Same as your customer journey. To be 100% sure that it has a chance to work, put yourself in your clients' position and go through all the steps you worked out.
Customer journey map: examples
Now let's take a closer look at three examples of successful customer journey maps for B2C business, Spotify, and B2B companies, Rewind and Hotjar.
Spotify B2C journey map
Spotify is one of the moguls of music streaming services, and it didn't happen by chance. While mapping their customer journey, the Spotify team focused on a feature which made their product so popular—the ability to share music and playlists by third-party apps.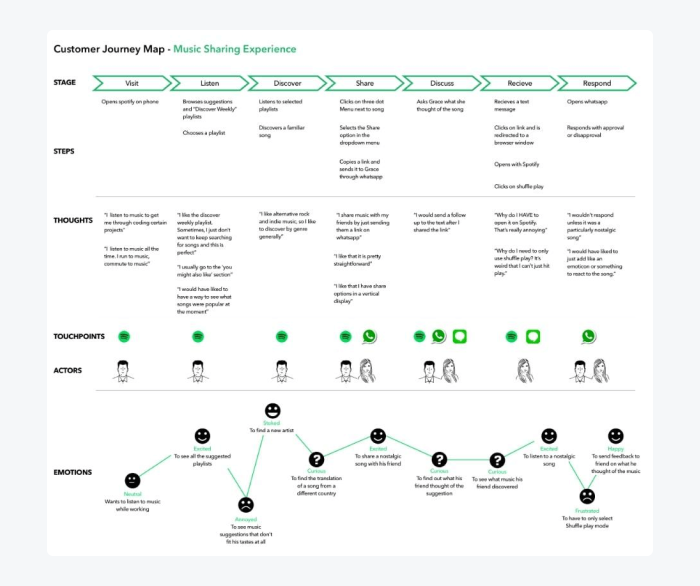 As you can see on the chart above, Spotify customer journey map clearly describes the user journey from opening the app on a mobile device to liking music shared by other users. What's important is that every stage of the journey describes the users' actions and the emotions that accompany them.
Mapping this journey revealed the customer's motivation (to share music) and also their pain points (such as fear of being judged for their music taste). Also, the Spotify team discovered that some of the users didn't know about the sharing functionality, which led them to improve the app's UI.
Rewind's SaaS customer journey map
After Spotify's B2C customer journey example, now let's talk about a B2B one, Rewind—a company that makes backup, restore and copy software for SaaS applications.
The Rewind team decided to take a closer look at their customer journey after the revenue decreased, and it became clear that their marketing activities did not bring the expected result.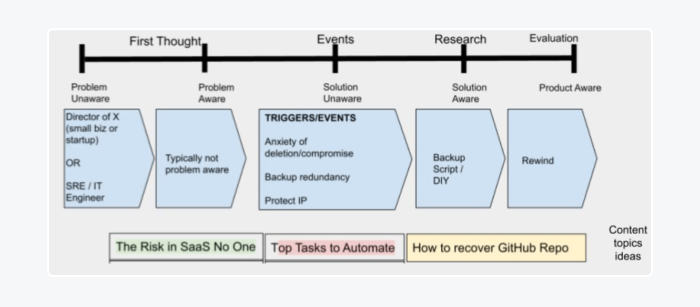 Before that, they were focused on sales calls and customer relationship management. But, after the revenue decreased, they realized that they missed one important thing in their acquisition strategy—what happens before the customer lands on their website.
They started their customer journey mapping process by defining their ideal customer profile. Then moved to customer interviews to understand their clients' buying motivations, triggers, and decision-making process.
Also, with the help of tools like Google Analytics and HubSpot, they gathered insights about their customers' interactions with Rewind's marketing materials.
This research pointed out important factors of their customers' journey, including people's motivations to start searching for Rewind's products and their emotions while getting aware of the data security problem. Also, the Rewind team discovered how their prospects are doing online research.
During the customer journey mapping process, the Rewind team came to another 2 interesting conclusions related to their sales strategy.
First—rather than speaking with sales or "getting a demo", their customers prefer to research the product by themselves and then evaluate if it satisfies their needs.
And the second—their customers first wanted to test the tool and pay if it's a good fit for them.
Having all that knowledge combined together, the Rewind team updated their go-to-market strategy, personas, product positioning and product marketing activities to address the missing points on their customer journey map.
As a result, they doubled the number of installations of their products and understood their ideal customers' needs, which significantly improved their marketing efficiency and allowed them to maximize their resources.
Hotjar's customer journey map
Hotjar is a must-know "marketing toolkit" for every digital marketer. It allows marketers and analysts to understand how users interact with websites and digital products. Let's take a closer look at their approach to customer journey mapping.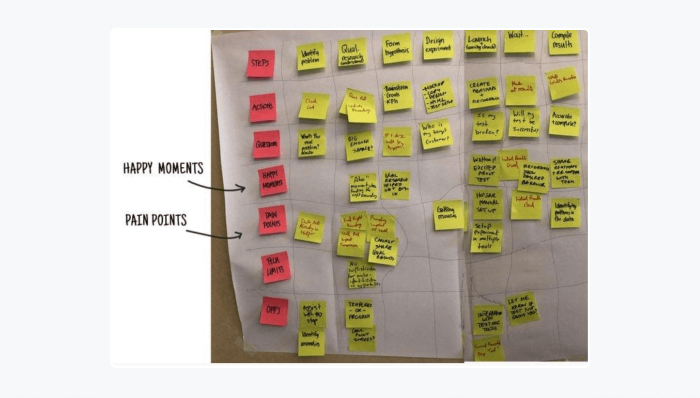 The Hotjar team decided to do the B2B customer journey map to understand what their customers want from the tool by tracking their interactions across key touchpoints.
They started from identifying one specific customer journey and, by using Google Analytics, Hotjar tools, and insights from customer interactions, tried to understand their users' actions, thoughts, and feelings.
They also asked their UX, developers, and customer success teams to fill out empathy maps before mapping the final customer journey.
What's worth mentioning—the Hotjar team included "pain points" and "happy moments" into their customer journey map to sympathize with their customers. This was to visualize the pain point of finding patterns in complex customer data, and the "a-ha moment" when users realized the value Hotjar brings to the table.
Thanks to this approach to customer journey mapping, the Hotjar team is able to align cross-functional teams and have a clear understanding of who owns each part of their customers' journey.
Customer journey mapping templates
As you can see, preparing a customer journey map can be a challenging task. So, to make your life easier, we've also prepared a short list of customer journey map templates which can be helpful while working on your own one. What's cool is that they are free to use, so you can check which one fits you best with no additional costs.
Our list of customer journey templates includes:
Figma's FigJam template, perfect for customer journey mapping
Customer journey map template from Nielsen Norman Group
Customer mapping template from Aerolab
Hubspot customer journey map template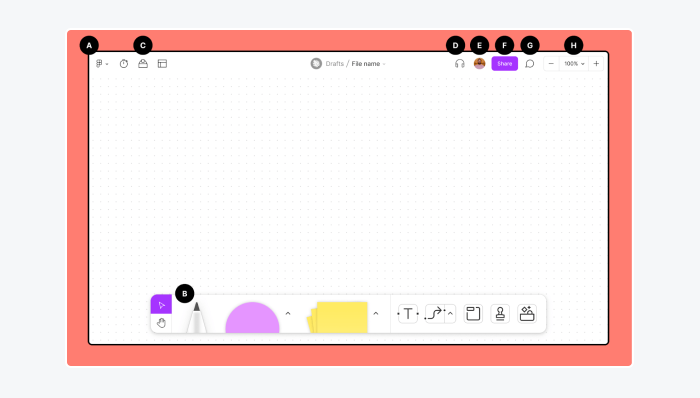 Figma is a collaborative web application for interface design, with additional offline features for desktop apps. It also offers FigJam—an online whiteboard to visualize your consumer journey from first to final touchpoints.
With FigJam you can:
Capture your customer personas by creating and importing tabular data on target audiences directly into your FigJam workspace
Visualize and document customer touchpoints by shapes and connectors to visually represent your buyers' current and future states
Organize, test, and iterate your customer journey by adding branches to map customer interactions along each stage of the journey map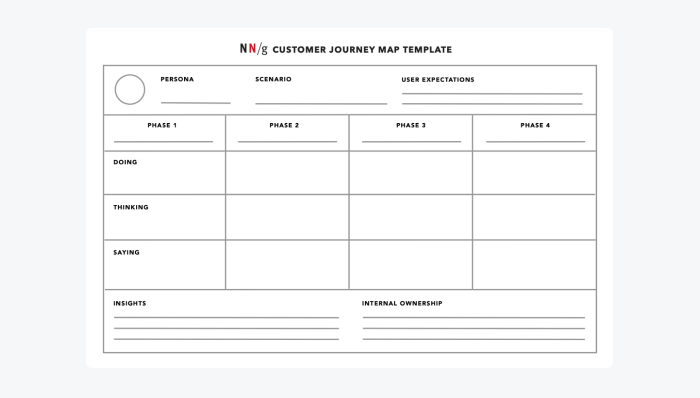 This simple template from Nielsen Norman Group allows you to shortly describe your target persona and define their expectations.
With Nielsen Norman's template, you can:
Describe the particular phases of your customer journey including your potential customers' emotions and thoughts
Capture insights about the target persona's journey
Assign the internal ownership of each stage of the journey
You can use Nielsen Norman Group customer journey template just by copying their file from their website.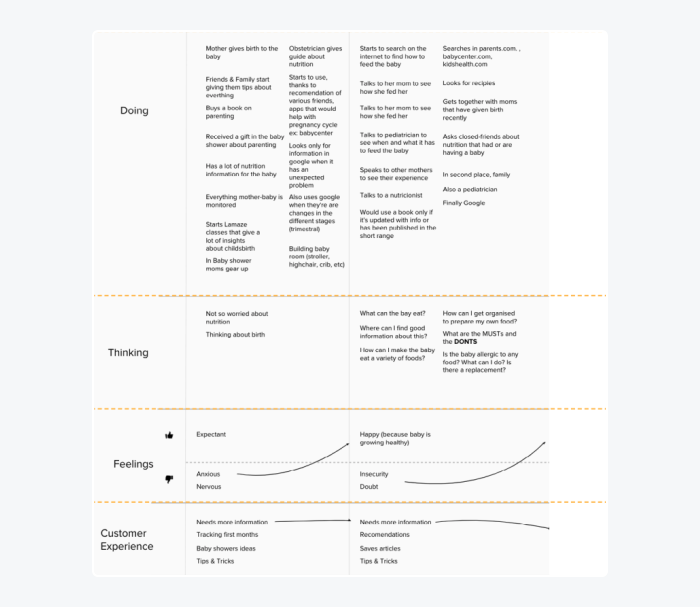 This customer journey example maps out the path people take before, during, and after using a particular service. It allows for
With Aerolab's template you can:
List out what users are doing, thinking and experiencing during each stage of the journey
Name and describe shoppers' emotions during each stage of the journey
And good news is, you can easily download Aerolab's customer journey map template from their website.
As HubSpot says, their buyer journey template allows companies to "understand customers' experiences."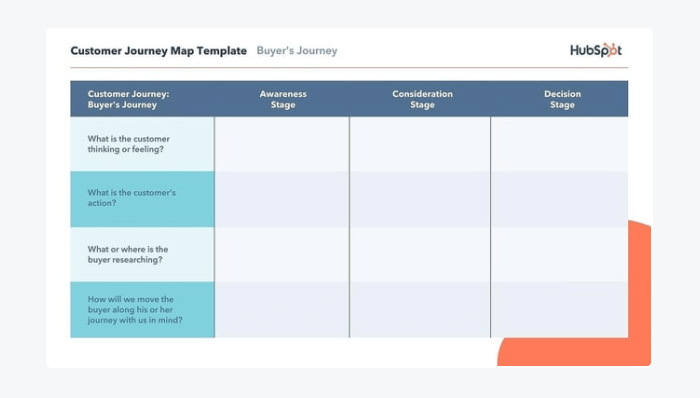 HubSpot's free and editable template enables marketers to describe stages of the journey in tiny details.
With HubSpot's template, you can:
List out the feelings and emotions of target personas
Write down all the customers' actions on each journey stage
Define what people are researching or where they do it
Ideas how to move the customer from one stage of the journey to another
You can download HubSpot customer journey template for free from their website.
Customer journey mapping tools
Moving forward, we've prepared a list of tools helpful in designing a customer journey map. These tools will support you at each part of the process – from gathering feedback from your customers to visualizing the whole strategy. What's great, most of these tools have free plans, so you won't have to spend tons of money on them.
Our list of useful customer journey mapping tools includes:
Tidio
Web whiteboard
Power Point
LucidChart
Reveall
Smaply
Let's go through them briefly.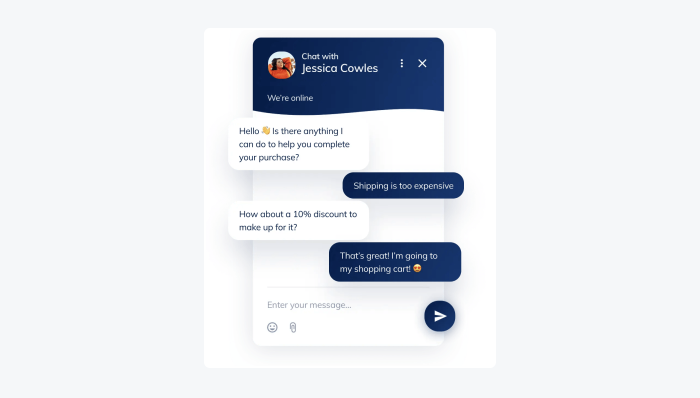 Tidio, as an all-in-one customer service tool, can help you in gathering feedback from your clients and creating buyer personas.
With the chatbot feature, you can easily design a chatbot that will ask your customers what they think about your products or services.
The live chat feature, on the other hand, can help you with the real-time communication with the website visitors, so you can ask them what brings them to your site and what kind of solutions they are looking for.
Also, thanks to the single inbox, you can collect all the customer information for an easier view of your target audience. That can be very helpful in creating your buyer personas.
All the features mentioned above—chatbot builder, live chat, and single inbox make Tidio a valuable player among other powerful customer journey mapping tools and your great ally while working on the first stages of your customer journey map.
Free plan available
Communicator—$19/mo
Chatbots—$39/mo
Tidio+—starting from $306/mo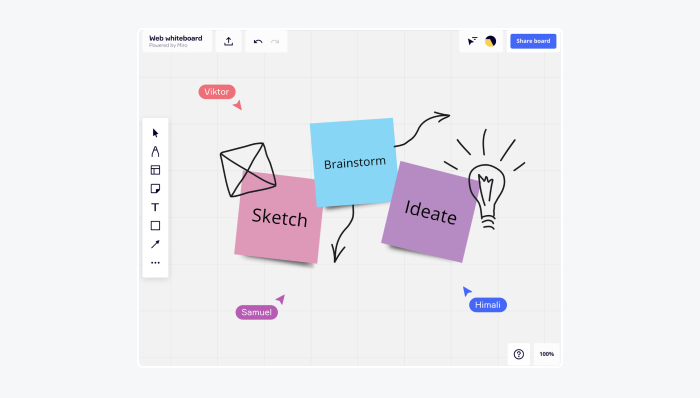 The Web whiteboard is, as the name suggests, an easy-to-use digital whiteboard tool to sketch ideas, brainstorm and visualize strategies in an organized form. And it makes it easy to share your ideas across your team.
Simply put, Web whiteboard is a quick customer journey mapping tool to design a visual model for any strategy, including your customer journey map.
Pricing: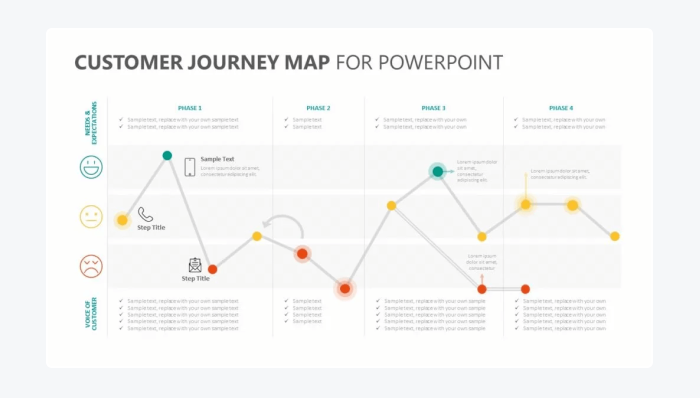 PowerPoint is a simple tool from Microsoft for visualizing your ideas and strategies by presenting them in a slide deck form. Thanks to its numerous templates, shapes, headings, transitions, etc., it can also be used for designing customer journey maps.
Although the tool is quite simple, it allows users to describe the basics of customers' interactions and their path through the touchpoints with your brand. It offers integrations with Digital Signage, Facebook, Google Analytics, Google Docs, and JSON, just to name a few.
Free online version
Download as a part of Microsoft 365—from $6.99/mo for up to 6 users
Download as a single app—$159.99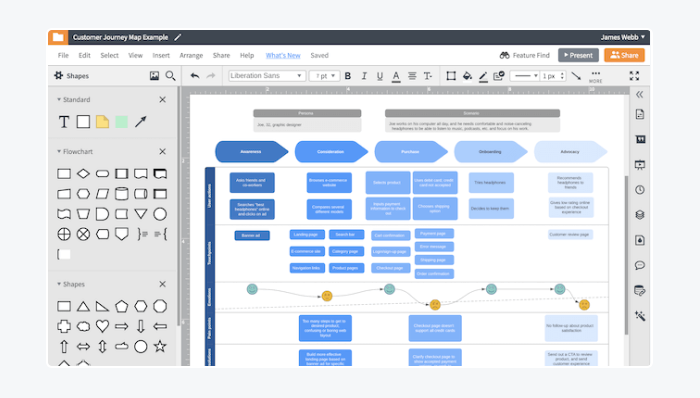 LucidChart is a tool usually used for visualizing customer journeys and user experience. With customizable templates and extensive formatting options on board, it can be a great ally in designing and sharing your customer acquisition strategies.
The tool allows you to easily create, present, and share your projects across other team members. This allows for better understanding of your strategies across the organization.
Free plan
Individual—$7,95/mo
Team—$9 user/mo
Enterprise—contact sales team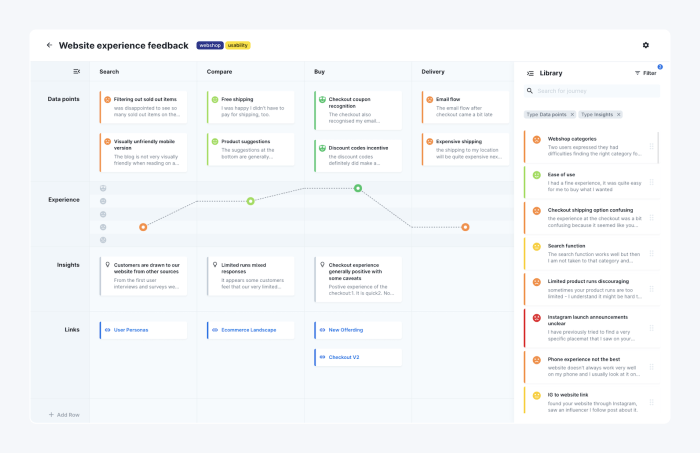 Reveall is a tool that lets you visualize customer journey maps with real data. The software allows marketers to bring user research, journey mapping, and product prioritization together. It also allows you to keep the data in one place, analyze findings, and plan your product roadmap.
Reveall also allows its users to import data from many sources thanks to various integrations, such as Slack, HubSpot, Google Drive, and many more. You can even transcribe customer interviews in multiple languages.
14-day free trial
Paid plan—starting from $199/mo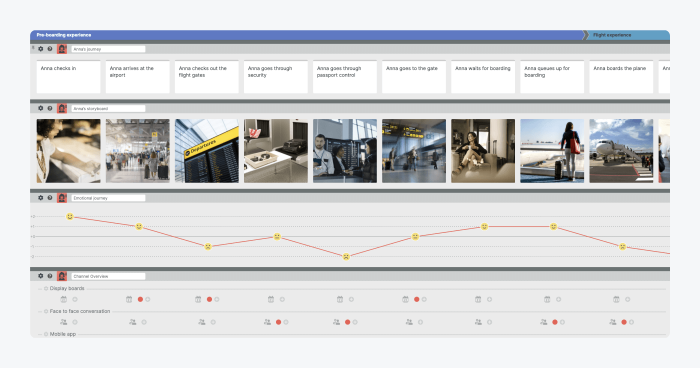 Smaply is a visual customer experience management software mostly used for customer journey mapping, visualizing buyer personas, and creating stakeholder maps. The tool consists of features like storyboards, persona editor, channels, live data for KPI monitoring, backstage processes, and many more.
Smaply allows its users to share projects across the team members who can leave comments or create multiple types of exports including PowerPoint.
Free forever
Basic—$20/mo
Pro—$31/mo
Enterprise—by request
Customer journey map: key outtakes
Creating a customer journey map is a difficult and complex process but, as you can see, when done properly, it can lift your organization to a different level.
To sum up, some of its benefits include increased sales, improved effectiveness of your marketing, and better customer experience efforts. A well-thought-out customer journey map will surely help you to:
Better understand your buyer persona,
Get valuable insights for inbound marketing strategies and create an advantage over your competitors
Create customer-centric thinking all across the company, which is crucial in today's world of constantly changing customers' behaviors
One of the best ways to stay close to them is to use chatbots and live chat tools. They will not only help you to build an image of a trustworthy brand, but also to gather valuable information, which is crucial in creating buyer personas and the whole customer journey mapping process.