Omnichannel customer service integrates various customer support channels to provide clients with a seamless shopping experience. It ensures that the shopper gets the best service possible and minimizes frustrations during their customer journey.
Remember that nowadays, people expect a seamless interaction with a business across all channels they use—and one of the most significant pain points is having to repeat their question multiple times.
So—
To gain a competitive edge and improve customer satisfaction with your brand, you should provide omnichannel support to your shoppers.
But how to do it?
Let's find out!
In this article:
Provide omnichannel customer support on all of your channels
Try Tidio 👋
Do you want to dive deeper into improving your customer service? Check out these articles:
First of all—
What's the difference between omnichannel and multichannel support?
Omnichannel vs multichannel customer service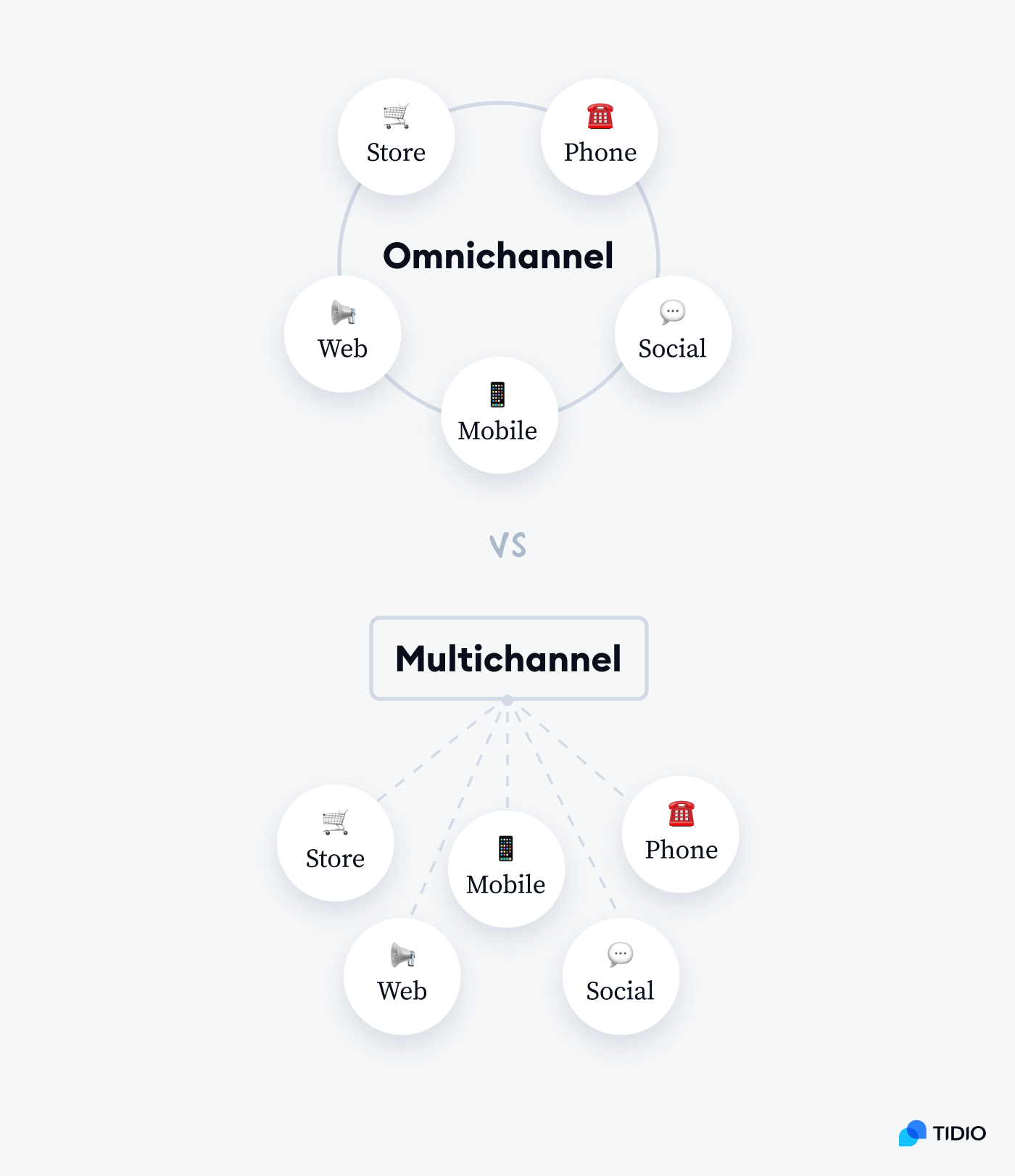 The main difference between multichannel and omnichannel support is the flow of interactions.
Multichannel customer service means that a company provides support to its shoppers across more than two channels. However, the interactions are treated individually.
As an example, let's say a customer first contacts your business about a product on social media and then moves on to the website or phones a call center for more information and support. This shopper will need to explain their situation all over again the moment they change the platform or go to a different support agent.
On the other hand, what is omnichannel communication?
Omnichannel customer service is all about the seamless support experience on multiple platforms that are integrated with each other. It involves connecting more than two channels including phone calls, web chat interactions, emails, social media conversations, and more.
Let's look at the example from the graphics above. A shopper starting a conversation with your brand on a social media channel goes onto your website to get more information and support. Omnichannel customer service enables your representatives to pick up the interaction where it was left off. And, at the same time, it means that the buyer doesn't need to repeat themselves which improves their overall experience and satisfaction with your brand.
Did you know that …
A study shows that having to repeat the information multiple times is one of the most frustrating aspects of customer service. Moreover, many shoppers say that this is what determines the company's customer service quality.
Now—
Why is omnichannel important?
Let's find out and include some omnichannel customer service statistics for a more data-oriented approach.
Benefits of omnichannel support
Omnichannel for customer service is not just a buzzword that gets thrown around in conference rooms and during meetings. When used correctly, it can help you improve customer satisfaction and increase your sales.
What else?
Well—five of the biggest omnichannel benefits include: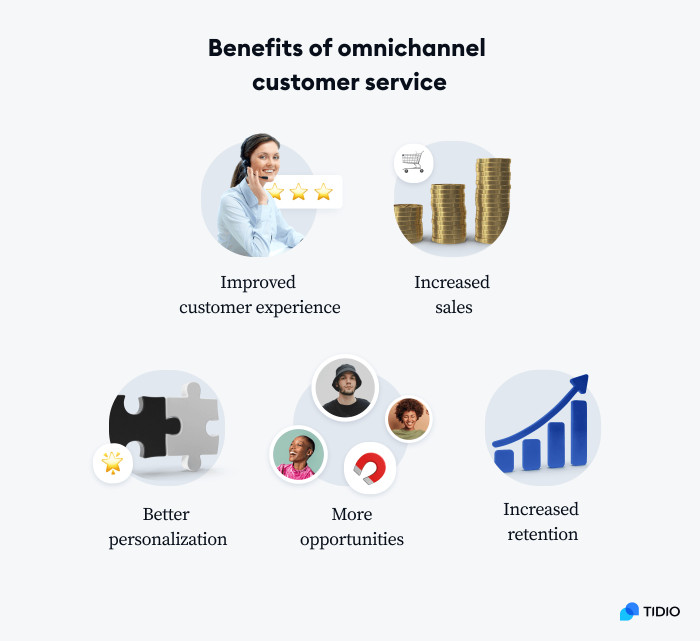 Improved customer experience
With the market nowadays, you need to offer a seamless shopping experience to your buyers. Otherwise, they'll just leave your ecommerce website for your competitor. There are many options for the customer to choose from, and it's up to you to encourage them to choose your brand.
For example, a combination of omnichannel call center, email, and an omnichannel chat tool can help you improve the customer experience with your brand and increase their satisfaction. These will also help you turn more of your visitors into loyal customers in the long run.
Keep in mind that over 88% of customers prefer email and about 80% of shoppers prefer phone as the channel for engaging with the brand. So, make sure to do your research and choose the right channels to communicate with your shoppers.
Increased sales
A study shows that customers who shop using multiple channels have a 10% higher lifetime value than those who use only one channel.
On top of that, companies that provide strong omnichannel customer experience have over 9% year-over-year annual revenue increase. In comparison, brands with weak omnichannel support only see about a 3% year-over-year increase in revenue.
This suggests that providing omnichannel customer support can bring your business additional sales and in turn help you grow your brand.
Better personalization
Shoppers love personalized experiences, offers, and products.
In fact—they expect it. Research shows that about 52% of buyers expect offers to be personalized. Moreover, as many as 35% of customers expect to be able to contact the same support representative on multiple channels.
This brings us to another point—offering omnichannel customer support ensures your clients can seamlessly communicate with your brand. This way, they'll be able to pick up the interaction where they left it off, get personalized recommendations, and contact the same support agent if they wanted to do so.
By implementing an omnichannel system, our customer service team is able to help individual customers according to their previous experiences with our business, giving them a much better experience and providing them with improved support.
More opportunities for lead generation and conversions
Think about it—the more channels you are present on, the more opportunities you have for generating leads and conversions. And if you offer an omnichannel contact center, you'll be able to track the potential customer's moves and convert them at the right time.
A study shows that over 73% of customers switch between about four different channels during their buying journey. And in order for their experience throughout the journey to be seamless, you should provide omnichannel support.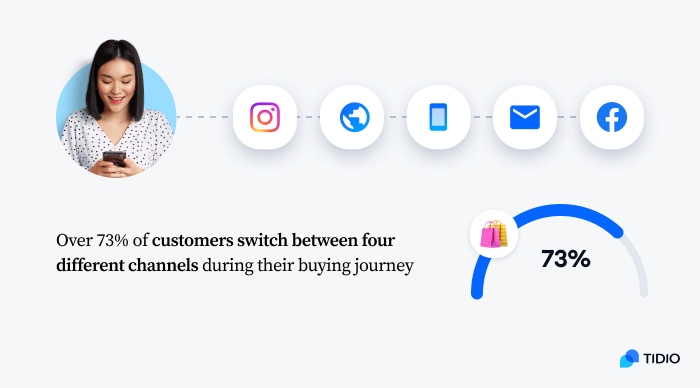 Increased retention
What do you think the difference between the retention rate for omnichannel versus single channel is?
About 90%! That's right. By proving omnichannel services, your company can have a 90% higher customer retention rate than if you provide single channel support. And keep in mind that it's much more costly to acquire a client than to retain one.
Okay.
On the flip side—what are some of the biggest challenges you'll face when implementing omnichannel customer support?
Challenges of omnichannel customer service
You're going to have to overcome some challenges when first creating your omnichannel customer communication. But once you implement it, it's all about continuous improvements to make the support as seamless as possible.
Let's start with some of the things you should be careful about. Three of the biggest challenges with omnichannel customer service are: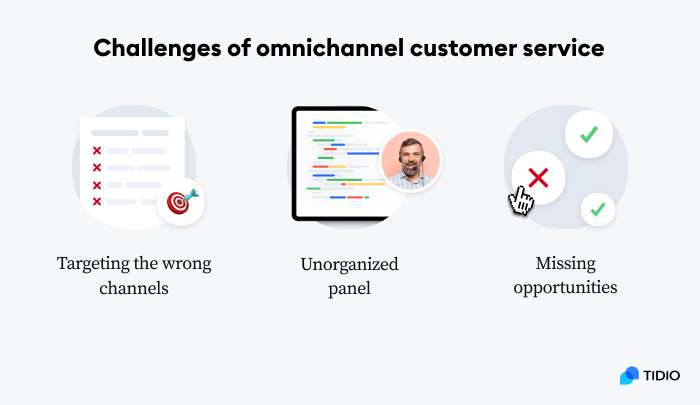 Targeting the wrong channels
If your brand is present on a variety of channels but still doesn't bring the effects you want, you should consider if you're using the right channels for your customer communications. In fact, using the wrong platforms can do more harm than good for your business.
Research shows that over 70% of shoppers have punished a business for contacting them on the wrong channels—about 41% of them unsubscribed and around 19% stopped doing business with the brand.
Unorganized customer service panel
If you provide multichannel customer service, but the panel for all the customer interactions is cluttered and unorganized, your support team will not reach the omnichannel level of support. This is because the conversations will be getting lost and different customer service agents will pick up the customer query each time.
Sometimes gathering leads might seem like a bit of a hit-or-miss game. But, you shouldn't miss warm leads and potential customers just because of targeting the wrong audience or not proving a seamless experience across different channels.
In reality, about 90% of shoppers nowadays expect a consistent brand experience across different platforms. And as many as 89% of buyers get frustrated when asked to repeat their issues multiple times.
These were the struggles you might encounter with omnichannel communications. Let's see how to overcome them and build an effective omnichannel customer service strategy. Shall we?
How to build omnichannel communication for customer service?
Here are some tips and best practices on how to improve your omnichannel customer service strategy for bigger gains and more efficiency:
1. Define your target customers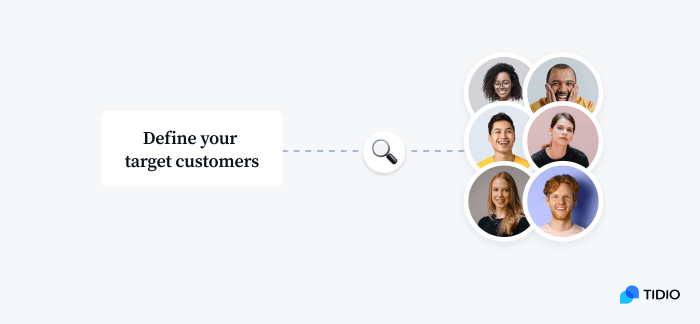 Your target customers are simply the group of people that will most likely turn to paying clients. They usually have some common characteristics, like demographics, values, or interests. These are the shoppers you want to reach with your messages and marketing campaigns.
So, who is your product made for? Answering this question is the easiest way to specify your target audience.
Keep in mind that the best way to do it is to collect and analyze customer data.
This brings us to the next point—
2. Research customer behaviors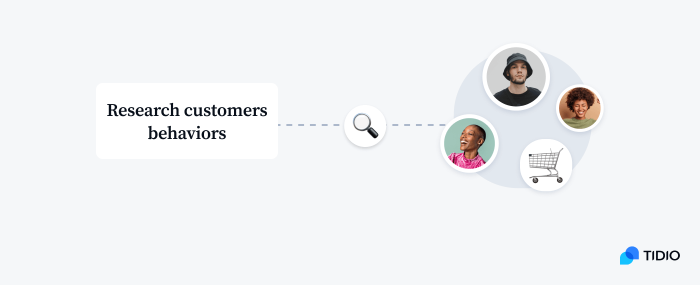 What's the best way to get to know your current customers and your target clients?
Research their behaviors throughout their lifecycle. This way, you will know the preferred channels they're using, how they would like to be contacted, what messages work best for them, and what are their pain points. Moreover, you'll be able to reach out on a number of communication channels and touchpoints to encourage customer loyalty to your business.
Think about it—let's say you're solemnly focused on in-person interactions and your ecommerce website. But your shoppers seem to prefer to receive app notifications on their mobile devices. In this case, you should adapt to their needs and think about introducing an app for your online store.
And once you know which digital channels they're using, you can start reaching out to them—
3. Reach customers where they are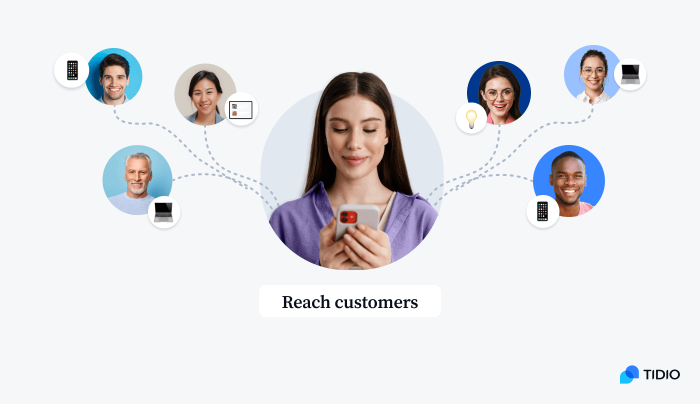 The first three steps will ensure that you're targeting the right channels and never missing any opportunities to turn visitors into customers. You already know where your shoppers are and how they like to be contacted.
This is the essential part where you can bring the other practices together—it's time you build an online presence on the same channels your target customers are on.
So, whether it's social media, professional sites, or email, you can turn your passive service into a proactive customer service that buyers will love. And after you join the right platforms, you should connect them for better organization and improved customer satisfaction.
Read more: Check out how a 124-year-old brand recreated in-store experience on their ecommerce website using a chat feature.
4. Integrate channels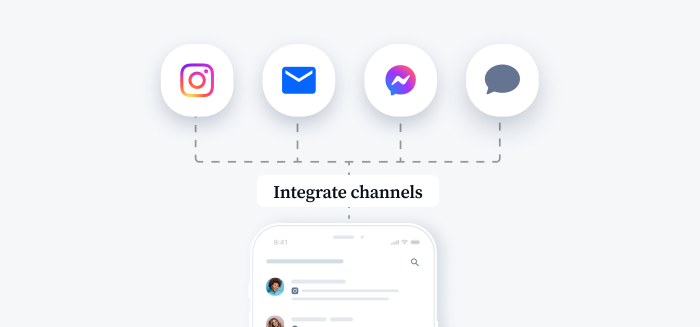 Connect all the channels for a seamless experience and more efficient customer support. Even when you're present on multiple platforms and offer services to your clients from them, the communication might still feel disconnected if you don't integrate your channels.
It's good to look for platforms and software that offer built-in integrations or APIs to make the process easier. This might take some tasks off your shoulders and enable your support team to offer high-quality services at each step of the customer journey.
5. Measure results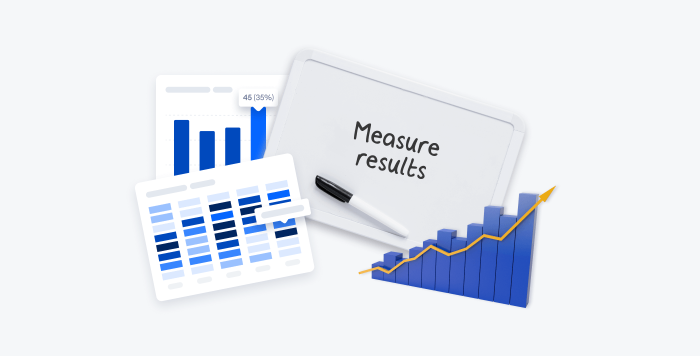 Once you measure your results, you can see what's going well and what needs improvement. It's important to continuously check your data and customer feedback to ensure you make the positive changes in a timely manner.
For example, you can have a great user experience on various channels and your clients might love the self-service options you offer. But you might get feedback about your response time being too slow, which will need to be addressed across all the service channels.
6. Automate some processes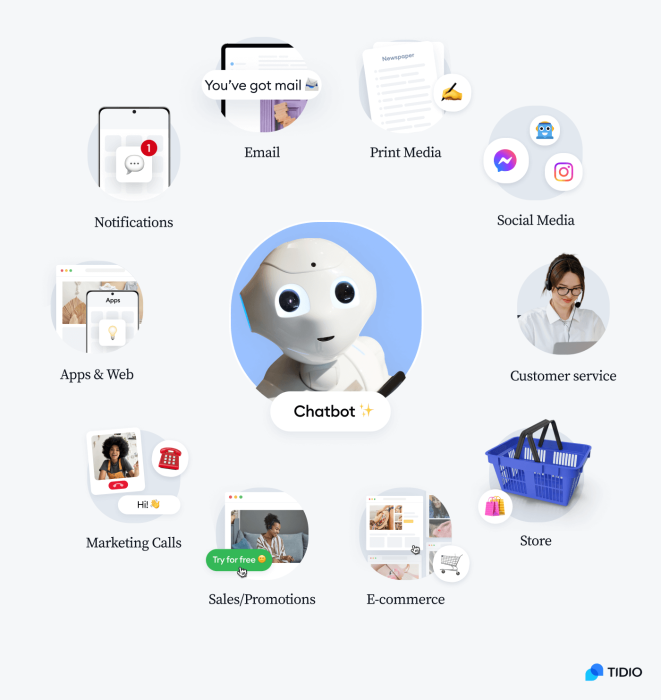 Once all the channels are connected, your team can look at previous interactions on a customer panel to get to know the full story and help the client quicker.
You can also use tools, such as Voyant, to discover the most common queries. With this software, your reps can create FAQs and other self-service features for real-time support and to decrease the number of service tickets.
Chatbots, ticketing systems, and canned responses are all automations that can help you to stay organized and improve the omnichannel experience for your shoppers.
Read more: Learn what is customer service automation, how to use it, and the best tools to utilize.
Let's look at some real-life examples of companies that meet customer needs with the omnichannel experience they offer.
Omnichannel customer service examples
Let's be honest here—some companies do it better than others. But, the good news is that you can learn from the champions that already know how to provide a seamless experience for their customer base.
Three of the best examples of companies that offer an omnichannel approach to customer service are—
Starbucks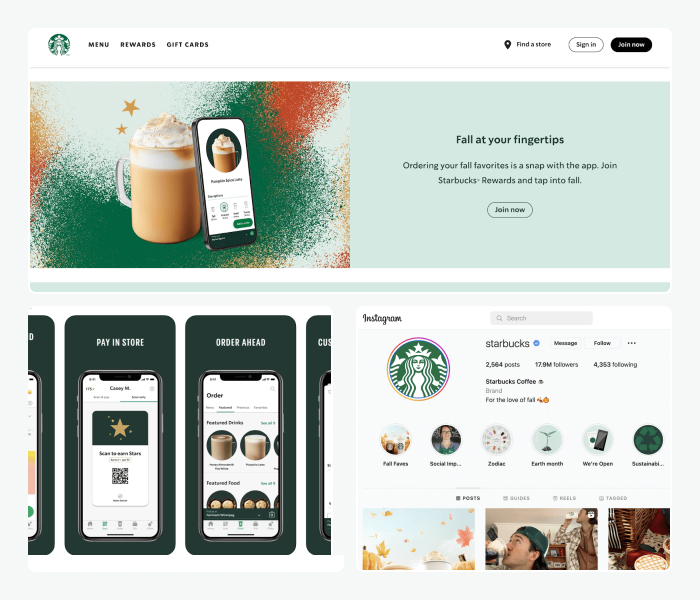 Starbucks is one of the top companies that provide omnichannel experiences for the customers. It starts from the loyalty program where buyers can collect rewards, order through the Starbucks card, and change any details they need straight from the app.
Then, Starbucks also offers an omnichannel customer service in its stores as well as online, through the website and social media channels. And the best part is that the brand voice and the customer experience is seamless no matter where the client is interacting with this company.
Disney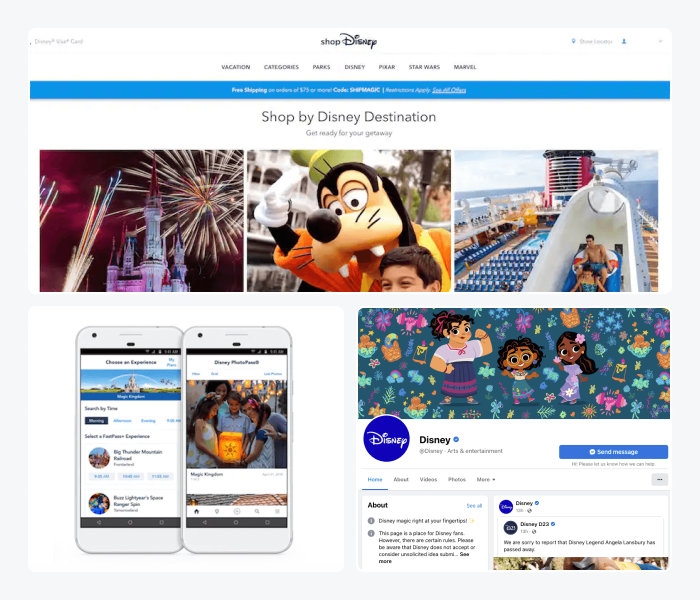 Disney is giving the visitors of Disneyland tools to plan the entire trip online and use the same platform once they get to the entertainment park. Through the My Disney Experience app, guests can pay for means, access their hotels, store their photos, and more.
Moreover, Disney provides omnichannel customer service throughout the entire time. Whether clients contact the business through their website, email, social media, or come up to one of the employees in the park, they will get the same brand experience full of positivity and joy—that's the Disney way after all.
Sephora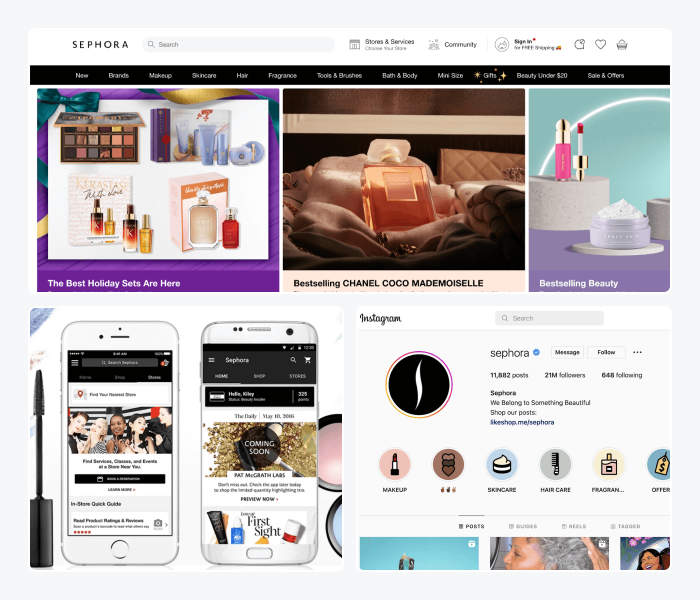 This is a great example of omnichannel communication for retail industry. Sephora connects online browsing to in-store visits for its shoppers. Customers can look up product details and try them on using virtual reality (VR) technology.
They can also connect to their Beauty Bag app on the tablets in the physical store to help narrow down their choices and keep track of their purchases. This way, Sephora offers an omnichannel customer service experience that's seamless across its digital and physical presence.
Best omnichannel customer service software
Omnichannel automation can help you gather customer data and increase agent productivity when dealing with support tickets. It can also aid you in providing a consistent experience and meeting your customer expectations, which in turn, will lower your churn rates and increase sales for your ecommerce store.
Three of the best omnichannel customer service platform are: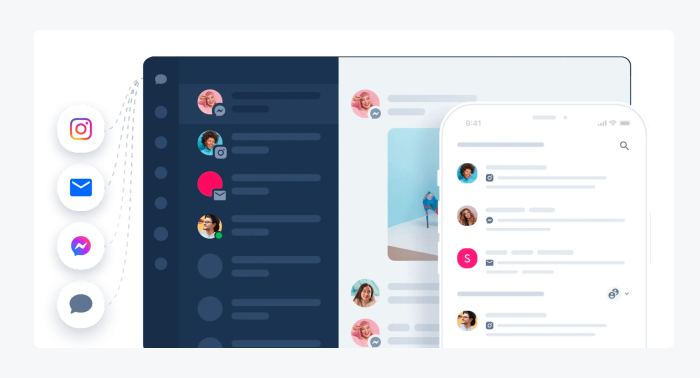 Tidio offers an all-in-one customer experience tool for your communication with shoppers and leads. It has a live chat feature, artificial intelligence (AI) bots, and a shared inbox to enable your business to provide omnichannel customer service for all of your buyers, regardless of channel they're coming to you from. It also easily integrates with major ecommerce platforms and other software. This way, you can increase sales and improve your customer engagement more efficiently.
Don't believe us because this is our blog?
Check out Tidio's user reviews on G2 and Capterra. Also, test our tool on a free plan to decide for yourself whether we deserve this spot on the list.
Main features:
Shared multichannel inbox for all customer communications
Variety of integrations, including Shopify, WordPress, Messenger, Instagram, and more
AI-powered chatbots with NLP technology
Mobile apps for iOS and Android available
A variety of 16 triggers for chatbots
Free version available
Communicator ($19/mo)
Chatbots ($39/mo)
Tidio+ ($289/mo)
Best for: ecommerce businesses
Use the best omnichannel customer service software to grow your business
Try Tidio 💬
Read more: Learn how to create omnichannel customer support with Tidio ticketing system.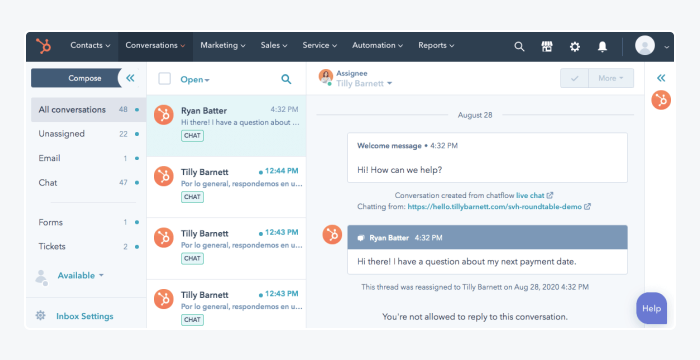 HubSpot is primarily an inbound marketing platform that also offers customer relationship management (CRM) functionalities for your business to provide omnichannel customer service. These features include live chat, chatbots, and a ticketing system. You can synchronize all of your customer databases across different HubSpot modules and third-party channels. This omnichannel CRM also provides a variety of analytics including customer satisfaction ratings, lengths of conversations, and the number of interactions.
Main features:
Custom workflows available
Shared inbox for customer communications
Variety of integrations including Gmail, Outlook, and Slack
Highly responsive calendar booking
Customizable chat widget
Free plan available
Starter ($50/mo)
Professional ($500/mo)
Enterprise ($1,200/mo)
Best for: marketing teams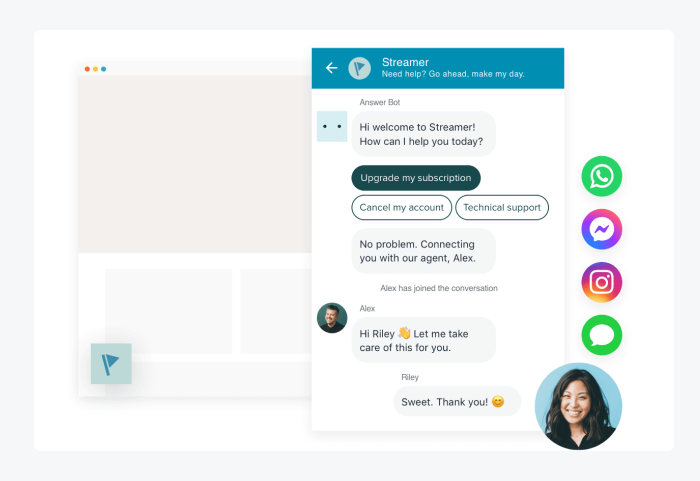 Zendesk is one of the largest customer service management with over 15% market share. It offers a robust help desk software, live chat, and chatbot features. You can offer an omnichannel support to your customers whether they're reaching out to you through social media, email, voice message, or web chat. Zendesk lets you use canned responses for common queries and build a community forum for your customers to resolve their issues on their own. You can also use the provided routing and intelligence to collect the details of the shoppers' issues and reduce data entries.
Main features:
Over 1,000 integrations including Telegram, Instagram, and Zapier
Issue tracking system built-in
Self-service knowledge base
Easy-to-use satisfaction score functionality
Ticketing system available
Suite Team ($49/agent/month)
Suite Growth ($79/agent/month)
Suite Professional ($99/agent/month)
Suite Enterprise ($150/agent/month)
It gets even more powerful ($215/agent/month)
Best for: large businesses to enterprises
In-house vs outsourcing omnichannel customer service
You have two options when it comes to omnichannel customer service. You can either outsource it, or you can offer in-house omnichannel support. Outsourcing your customer service means obtaining it from a supplier outside your company. Using in-house omnichannel support is, essentially, having your own team of customer service representatives.
Both options their own advantages and disadvantages, so it depends, first and foremost, on what's important for your business.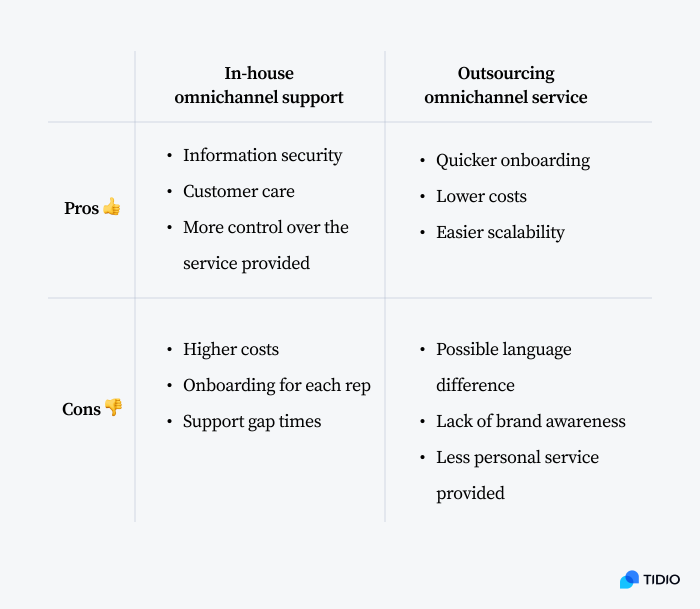 The choice is yours.
If you decide to stick with an in-house service team, then remember to train your customer service representatives to provide high-quality support for your clients.
But how to outsource omnichannel customer service?
To outsource omnichannel customer support that is of high quality, you should follow these six simple steps:
Research customer service outsourcing companies—look for what they provide, but also the user reviews
Check if these companies offer omnichannel support—search for omnichannel and multichannel customer support offers
Establish clear objectives—get in touch with your chosen companies and start discussions about your expectations and objectives
Integrate with a trustworthy company—make sure you can trust the company you use and the quality of service they offer
Set a brand voice for your customer support—ensure the outsourced company reflects your brand voice to create a truly omnichannel experience for your clients
Measure results and open discussions when needed—always measure results and keep the company accountable
If you'd rather outsource your omnichannel customer service, you should consider these companies:
Once you integrate with an outsourcing business, your customer communication is in their hands. Remember to choose your partner wisely.
Key takeaway: omnichannel customer service
Omnichannel customer service consists of integrating multiple platforms in order to provide seamless support for the client. It has many benefits for your business. It can boost your sales, improve customer satisfaction, increase retention, and improve personalization for your buyers.
And it removes one of the biggest frustrations that your customers have. Namely, the need to repeat the query multiple times because each new agent doesn't know anything about the issue.
To build an omnichannel customer engagement, you should:
Define your target customer
Research their behaviors
Reach your customers where they are
Integrate channels
Measure results
Automate some of the processes
You can use some tools to help you provide a seamless, real-time support for your shoppers on across various channels. Three of the best software solutions for omnichannel services are Tidio, HubSpot, and Zendesk.
FAQ
What is omnichannel customer service?
Omnichannel customer service provides customer support on a number of different channels and shoppers' touchpoints. It focuses on seamless experiences across various platforms and devices that consumers use. 
How to achieve omnichannel customer service?
To achieve omnichannel customer service, you should be present across various platforms and integrate the support you provide on each of them. This way, you will offer seamless communication on each touchpoint for your shoppers who contact you on different channels throughout their customer journey.
Why is omnichannel customer service important?
Omnichannel customer service is important because it can give you a competitive edge against your competitors. It can help you improve customer satisfaction and increase customer loyalty to your brand.
What is an omnichannel example?
An example of omnichannel support is a brand with which a shopper can start a support interaction on social media and move onto its ecommerce website to continue the conversation without repeating the issue to the representative.
What does omnichannel really mean?
Omnichannel means proving a seamless experience on multiple channels at the same time. It requires the platforms to be integrated with each other and all the gathered information to be available in a shared inbox.
What are the benefits of an omnichannel customer experience?
Some of the benefits of omnichannel customer experience include improved customer satisfaction, a boost in sales, better personalization, more opportunities for lead generation, and increased retention rates.
Is Amazon an omnichannel?
Yes, Amazon offers seamless omnichannel experiences as part of its mission to be one of the greatest customer-centric companies on the market.
What is the difference between omnichannel and multichannel?
The difference between multichannel and omnichannel is the focal point for each approach. Multichannel focuses on being present and providing support on various channels. Whereas omnichannel goes a step further and focuses on proving seamless experiences between the channels.