Looking for a free customer relationship management platform for your business but don't know where to start?
There are many options for CRMs out there.
But be careful—
The majority of them don't offer a free plan for their system.
So, if you don't have the budget to spend on that tool or just want to try something for free first, then stick around!
We'll go through the best free CRM software available online and show you their pros, cons, and pricing, so you can make an informed decision for your business.
In this article:
What customer relationship management software is
Comparison table of best CRM systems
In-depth reviews
Frequently Asked Questions
If you want to learn more about customer relations, retention, and setting up customer database management tools, check out these articles:
Let's start from the basics—
What is customer relationship management software?
Customer relationship management (CRM) software is a system to manage customer interactions and relations with existing and potential customers. This tool lets businesses identify sales opportunities, store customer contact information, and manage marketing campaigns. It also provides a unified platform for better organization of tasks, projects, and customer communication at a company.
Why bother with CRM software? Well, the three main reasons are:
CRM has a return on investment of an average of nearly $9 for every dollar spent
Contact management software can increase sales by up to 29% and can help to increase sales forecast accuracy by 42%
Around 64% of companies that use CRM tools say they are impactful
Okay—
Straight to the point now.
What is the best free CRM tool?
Let's have a quick look at a comparison table of the best free CRM software:
First off—
What CRM software is best for a small startup?
Best free CRM for small businesses
Are you a startup that wants to scale up your business? Maybe you have a small business that needs help with managing your customer relationships? Or maybe you're a freelancer that needs a free CRM tools for customer communication, so you can focus on your work? Do you want a helping hand to improve shopping experience, increase sales, and lower costs?
We have five best options just for you!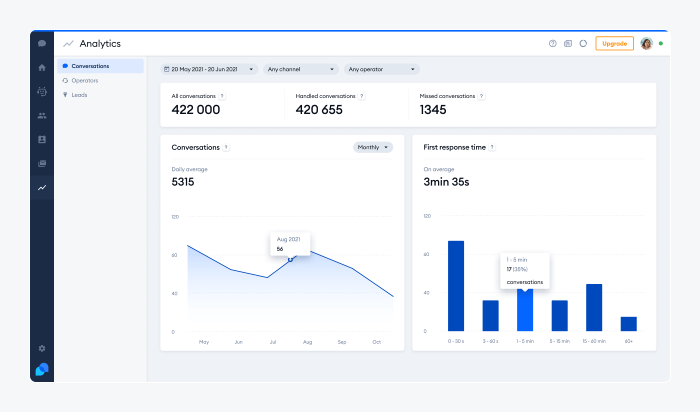 Ratings: 4.7/5 ⭐️ (1,080+ reviews)
This article is not the right place for us to promote ourselves as "the best free CRM software out there." So, we'll just encourage you to try our CRM software for free and see for yourself if we deserve the positive reviews we get on G2 and other third-party review websites.
Let's keep it simple here. Tidio is a system that offers tools for multichannel customer communication, AI chatbots, and a shared inbox for your team. It also provides pre-chat surveys and chat ratings to collect leads and get more feedback from your clients. You can import contact lists, tag customers, and manage your contacts with advanced filtering options to make client management easier for you.
Main features:
NLP (Natural Language Processing)
Shared inbox for teams
Live chat with live typing feature
Useful integrations, such as Zapier, Shopify, and MailChimp
Easy installation
Visitor profiles for client information
Live visitor list to see website visitors
Free plan available
Communicator ($19/mo/operator)
Chatbots ($49/mo)
Learn how to use contacts effectively with Tidio.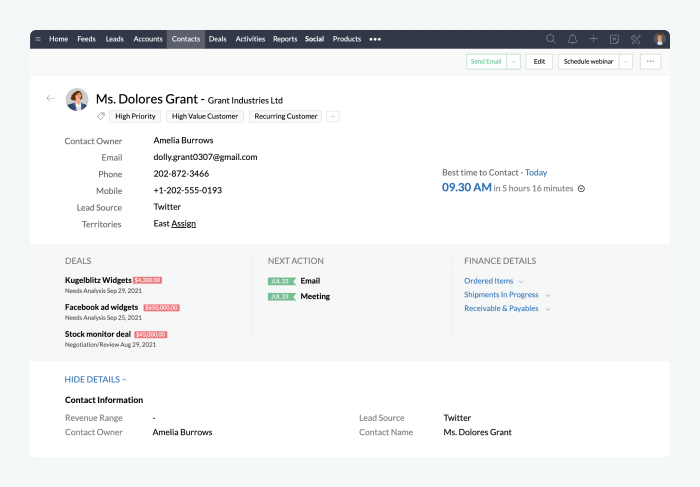 Ratings: 4/5 ⭐️ (2,095+ reviews)
Zoho CRM advertises itself as a 360º customer relationship lifecycle management solution. It offers CRM features such as sales funnels, inventory management, pipeline management, and audience segmentation. This free CRM software for small business also provides AI conversational assistant for better workflow automation. You can also find over 500 business apps to integrate with your system for additional functionality.
Pros:
Complete ecosystem
Advanced dashboards and reports
Customizable to the company's needs
Cons:
Complicated to use
Limited automation
Zoho CRM Free Edition available
Standard ($20/mo/agent)
Professional ($35/mo/agent)
Enterprise ($50/mo/agent)
Ultimate ($65/mo/agent)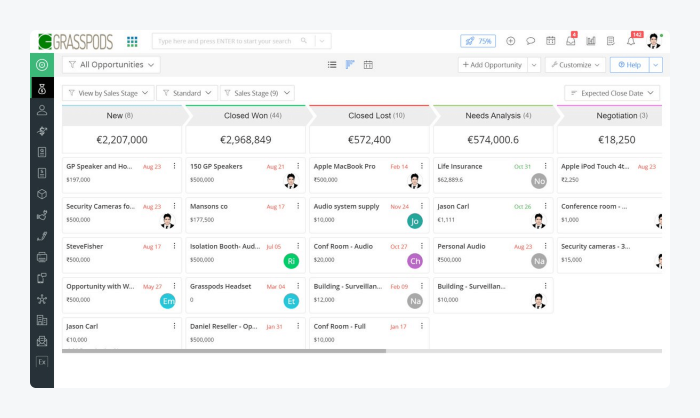 Ratings: 4.9/5 ⭐️ (390+ reviews)
This is one of the free small business CRMs that give you the ability to create fruitful customer relationships with your shoppers. It brings all your teams together and connects their goals for better results. Vtiger also helps you optimize sales, marketing, and support team with real-time insights and actions. It helps your customer-facing teams create a delightful customer experience across the buyer's journey.
Pros:
Easy grouping of organizations
Alert notifications
Intuitive design
Cons:
Limited customization
On-page categorization of elements not available
Free plan available
Professional Standard ($42/mo/agent)
Professional Single App ($28/mo/user)
Enterprise Standard ($58/mo/user)
Enterprise Single App ($42/mo/user)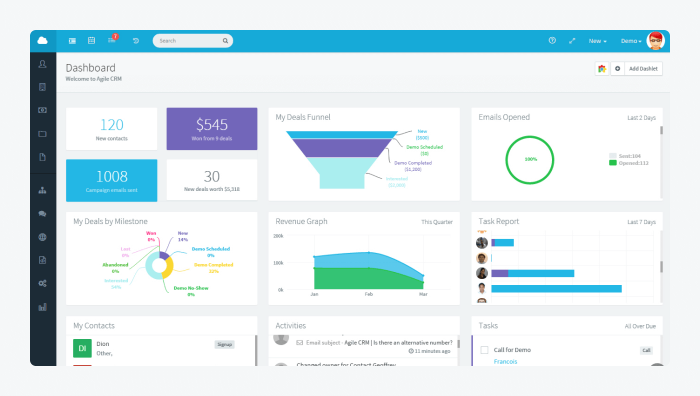 Ratings: 4/5 ⭐️ (310+ reviews)
Agile CRM is a cloud-based, fully integrated CRM with marketing automation, web analytics, and sales tracking. You can track, score, and nurture leads based on their web and email activity. This is one of the free CRM systems for small business owners that enables multichannel communication with buyers via phone, email and Twitter. It also monitors customer behaviors and sends real-time alerts about their activity, so you stay on track with your shoppers.
Pros:
Variety of free CRM templates available
Minimalist dashboard design
Over 500 apps available for additional functionality
Cons:
Better documentation and tutorials needed
Users state that occasionally, automatic messages don't work
Free plan available
Starter ($14.99/mo)
Regular ($49.99/mo)
Enterprise ($79.99/mo)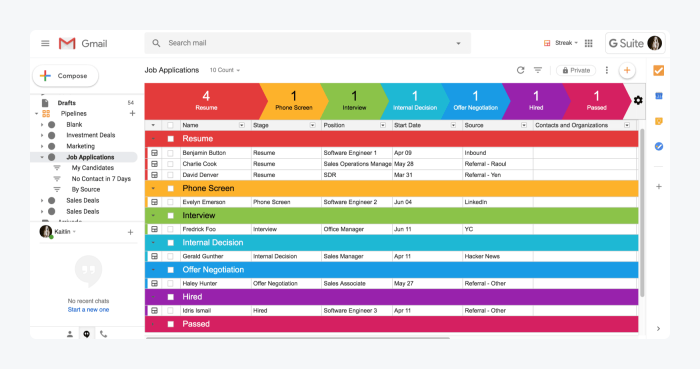 Ratings: 4.5/5 ⭐️ (165+ reviews)
Streak is the only CRM built entirely inside of Gmail, so it's a perfect choice if you need a simple customer relationship management system based on emails. You can set up processes for your sales team, support reps, and even the HR department all from your inbox. This free CRM app for small businesses offers features for searching, filtering, and grouping your data into custom fields and view for better organization.
Pros:
Seamless integration with Gmail
Simple-to-use administration
Categorization and monitoring of customers
Cons:
Bulk emails for a set of users not available
Timezones management can be difficult to use
Free plan available
Solo ($19/mo/user)
Pro ($59/mo/user)
Enterprise ($159/mo/user)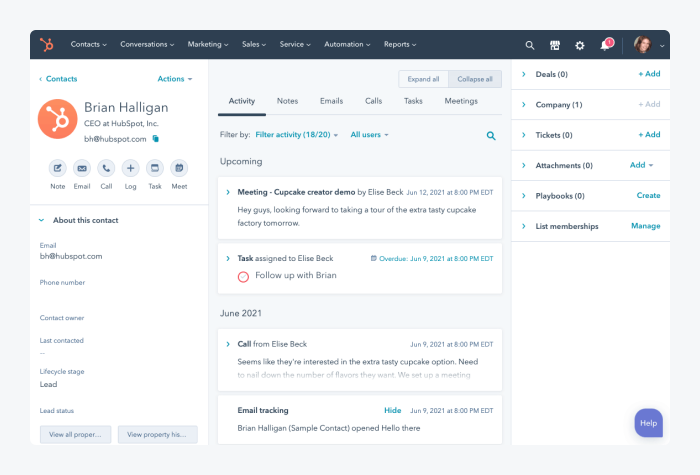 Ratings: 4.4/5 ⭐️ (8,230+ reviews)
HubSpot CRM is an easy-to-use, yet powerful platform. It offers tools you need to provide a personalized customer experience. This is a very robust system that offers a free customer management software for small businesses as well as a solution for enterprises. It can help you attract and convert the right clients at scale, and you will be prepared for a larger audience once your business grows. It can also help marketers keep data at the center of their activities and turn your business into a customer-centric, data-driven company.
Pros:
Drag-and-drop landing page builder available
Lead scoring feature
Analytics available for each task
Cons:
Users report that it is not possible to change rules for customer lifecycle stages
Only set color schemes available
Free plan available
Starter ($50/mo)
Professional ($890/mo)
Enterprise ($3,200/mo)
Free open-source CRM
Open source CRM software is a system that has a publicly accessible code that anyone can see and modify for their needs. If this is what your business requires, then let's see what are the best free options of an open source customer relationship management software.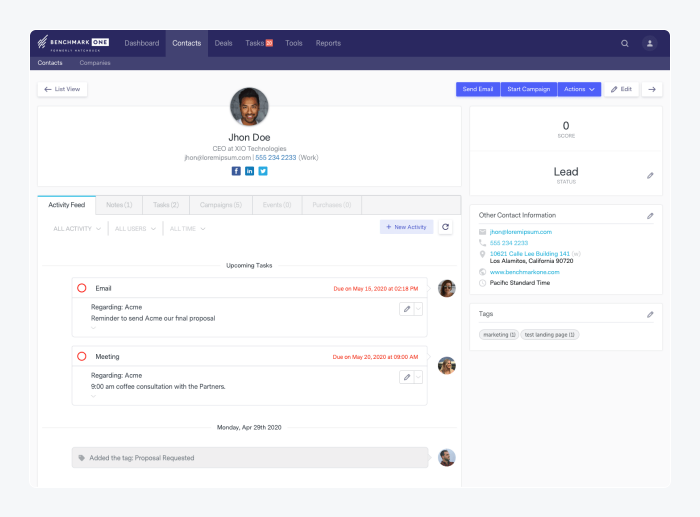 Ratings: 4.5/5 ⭐️ (180+ reviews)
BenchmarkONE might not be as well-known as HubSpot, but you shouldn't dismiss it just yet. It is one of the all-in-one marketing tools that include a sales platform that helps to turn website visitors into loyal customers. This is a free open-source CRM software for small business owners. It offers real-time client insights from a dashboard for a clarity in data. It also offers website tracking and lets you insert photos to your contacts for better personalization of the communication.
Pros:
Variety of flows for different contacts
Dashboard helps with email tracking and open rates reports
Online forms to collect new contacts
Cons:
Not possible to make ad-hoc reports
Some users found it frustrating that once you leave a contact's page, the system takes you back to the top of the contacts' page
Free version available
Lite (starts at $29/mo)
Pro ($179/mo)
Agencies → contact sales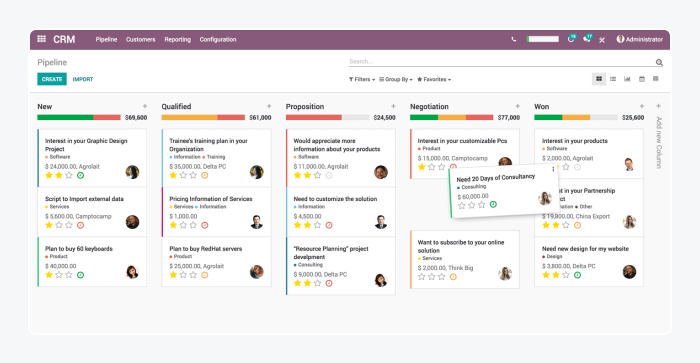 Ratings: 4/5 ⭐️ (70+ reviews)
This free open-source CRM provider lets you create marketing campaign automations, get insights from forecasts, and customize the sales cycle.
Odoo offers follow-ups on phone calls and meetings as well as quality analysis for lead management. This can help to speed up the decisions for your business and grow your contact list while increasing revenue. It also provides space for internal notes and a search feature for leads and opportunities based on the phone number.
Pros:
Consultation history
Powerful API to connect other software
Customer preferences settings
Cons:
Automation processes need improvement
Some users report that the user management role is complicated to create and manage
Free to use software
Add users ($15/mo/user)
Pricing also depends on the added apps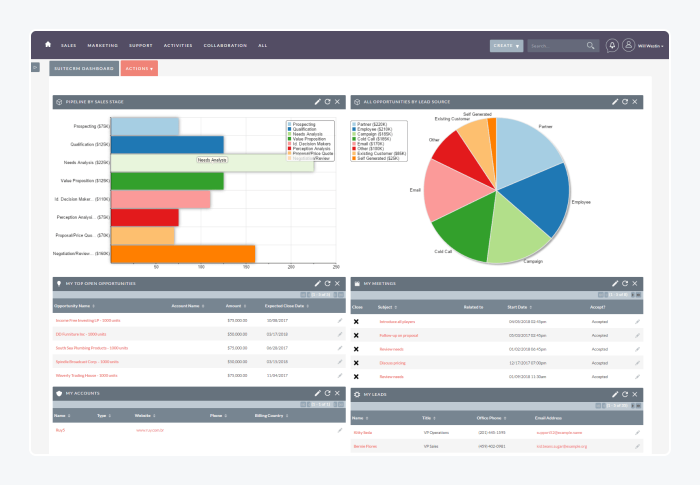 Ratings: 4.2/5 ⭐️ (80+ reviews)
No more spreadsheets!
SuiteCRM is a good option for big companies as it is enterprise-ready and scalable to suit any business requirements. It is fully customizable and provides a single view of customer engagements on a shared dashboard for all departments to keep track of. This free, open-source CRM offers hundreds of extensions and integrations for additional functionalities and better control over your system.
Pros:
Project tracking and metrics reporting
Task management and prioritization
Recording and automation of key touchpoints with your customers
Cons:
Users report outdated versions of PHP
Messy interface
Free plan available
Starter ($120/mo)
Business ($415/mo)
Premium ($595/mo)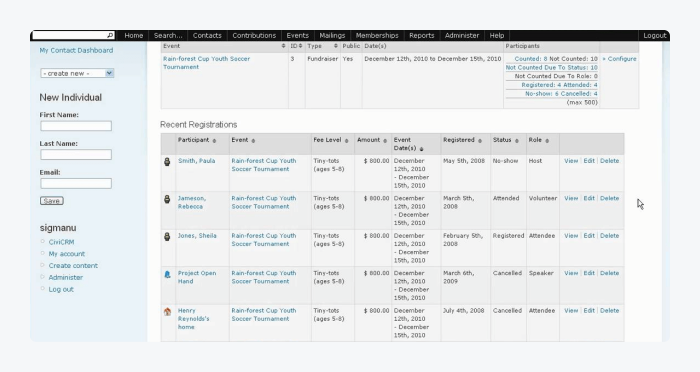 Ratings: 4/5 ⭐️ (80+ reviews)
This free open source CRM software was built with non-profit organizations in mind. So, if you're running a charity organization, this is a perfect choice for you. CiviCRM is fundraising, event management, and contact system. It helps you record and manage information about your constituents. It also provides a centralized constituent communication platform for all of your interactions and building your donor base.
Pros:
Choices on payment processors
Deep integration with Drupal, WordPress, and Joomla
Donor and membership management
Cons:
Not intuitive interface
No centralized support
Free CRM software for sales
Sales and marketing are two of the most important areas that many businesses target with their CRM systems. Do you work in a sales team and need a program to deliver better results? Or maybe you're a business owner that want a free CRM software for your sales team to use in their process? Either way, let's see what are your best choices—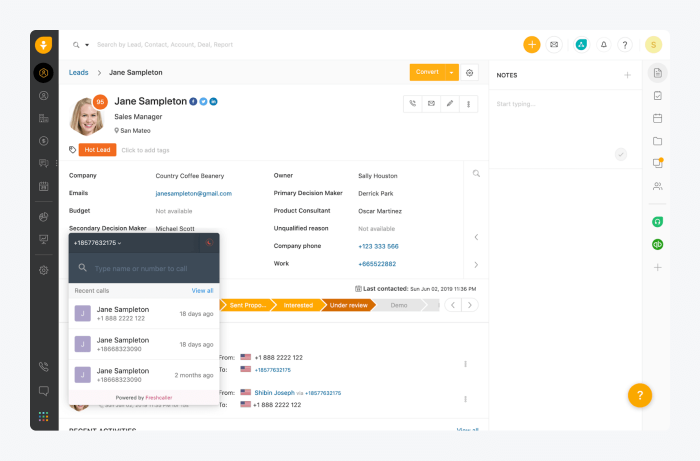 Ratings: 4.6/5 ⭐️ (9,700+ reviews)
Freshsales is a sales force automation that provides everything your sales team needs to scale up their efforts. It offers a built-in phone, email, and chat for increased efficiency and productivity of the sales process. This free sales CRM provides Freddy AI to give you insights into the best deals, actions, and revenue predictions with sales forecasting. You can also generate and share quotes hassle-free from the free CRM platform.
Pros:
Tags and lead stages for marketing
Well-structured calendar
Bulk email features
Cons:
Free plan available
Growth ($15/mo/agent)
Pro ($39/mo/agent)
Enterprise ($69/mo/agent)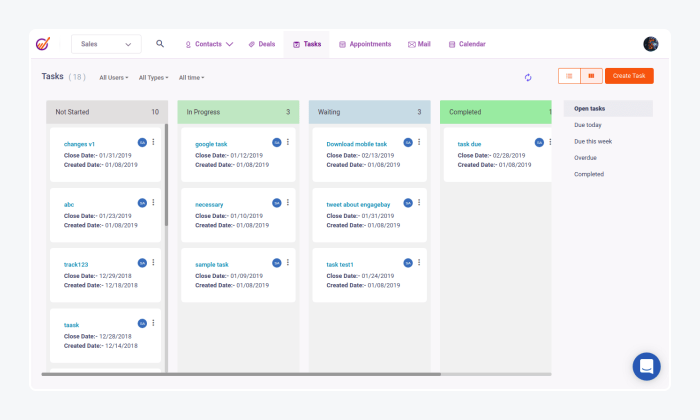 Ratings: 4.6/5 ⭐️ (135+ reviews)
This free sales CRM software helps you acquire, nurture, and engage website visitors to convert them into happy customers easier. It offers live chat, helpdesk software, and web forms to capture online leads. Engegabay also provides appointment scheduling software and deal management, so you can store unlimited number of contacts, keep track of your customer details and build strong relationships, all in one place.
Pros:
Targeted marketing feature
Responsive and knowledgeable customer support
Chrome plugin
Cons:
The email templates are a little dull for some users
Ad network integration with social media, like Facebook or Google Ads not available
Free plan available
All-in-One Basic ($14.99/mo/agent)
All-in-One Growth ($49.99/mo/agent)
All-in-One Pro ($99.99/mo/agent)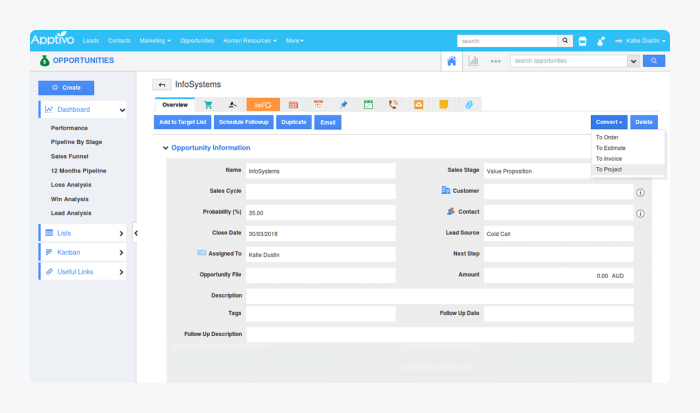 Ratings: 4.3/5 ⭐️ (120+ reviews)
Apptivo is a cloud platform that offers a variety of business apps in one system for sales, marketing, billing, and other company needs. The apps on this platform cover the entire customer lifetime cycle, from turning visitors into leads to keeping raving fans up to date. This is one of the top free CRM for sales management that helps you create targeted lists of contacts and manage project schedules via Gantt charts, time tracker, and milestones.
Pros:
Centralized project management
G Suite integration
Modular system
Cons:
Some reviewers report inconsistent fonts and layouts of the internal email platform
No Zapier integration
Forever free CRM plan available
Lite ($10/mo/user)
Premium ($15/mo/user)
Ultimate ($25/mo/user)
Enterprise → contact sales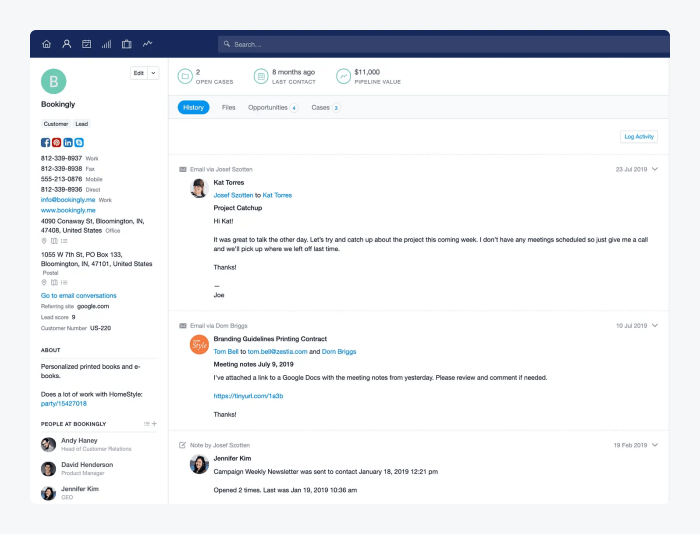 Ratings: 4.3/5 ⭐️ (80+ reviews)
This free CRM software for sales is a simple platform to build stronger customer relationships, increase sales, and save your team members' time. It offers a tailored pipeline to match your processes and spot the important deals. Capsule CRM helps you be more organized with your customer data and easily track conversations with prospects and loyal shoppers. It also helps you to make better informed business decisions with insightful reports.
Pros:
Two-factor authorization
Easy and intuitive to use
Sales pipeline dashboard
Cons:
Free plan available
Professional ($12/mo/user)
Team ($24/mo/user)
Enterprise ($36/mo/user)
Ratings: 4.1/5 ⭐️ (450+ reviews)
Bitrix24 is an online workspace with tools for tasks and project management to help you run your business more efficiently. It offers a website builder, video calls, and analytics to help you create and track customer success KPIs. This free sales CRM software packages all the important tools. It also seamlessly integrates the tools with each other for you to access via your browser, desktop or mobile app.
Pros:
Activity Stream intranet center for better communication within the team
AI chatbots available
Online storage provided
Cons:
Difficult to schedule automated notifications
Limited customization
Free plan available
Basic ($49/mo)
Standard ($99/mo)
Professional ($199/mo)
Free CRM for real estate
Real estate industry requires a lot of organization and clarity of processes. There are usually many different teams working on a project that need to stay organized in order to get the best results. You know that. So, to plan projects better and have a clear view of your team's progress and results, you need a free real estate CRM. To make the choice easier for you, we picked three top players for the job.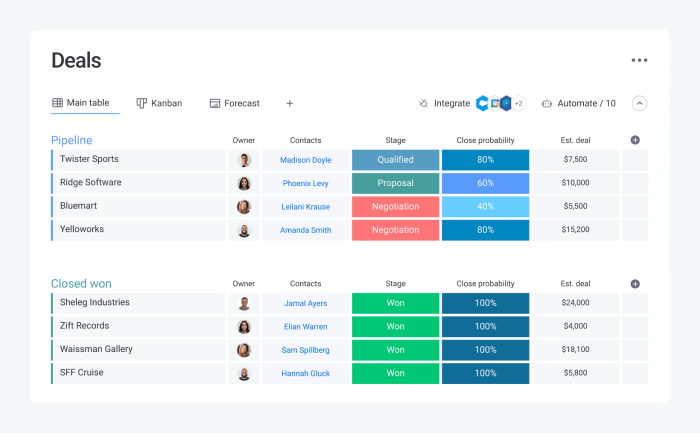 Ratings: 4.7/5 ⭐️ (5,650+ reviews)
This list of free CRM software wouldn't be complete without monday.com. It's an open platform with building blocks, like apps and integrations, to manage your relations with clients. Monday.com provides custom workflows and helps you boost your team's alignment with a single platform for all the projects. This is one of the best free CRM for real estate that lets you stay on top of your goals with customizable dashboards for an overview of your organization results.
Pros:
Adding notes
Automated reminders
Separate boards for projects
Cons:
Weekends counted as workdays in the calendar
Limited number of panels in the monitor panel
Free individual plan available
Basic ($10/mo/seat)
Standard ($12/mo/seat)
Pro ($20/mo/seat)
Enterprise → contact sales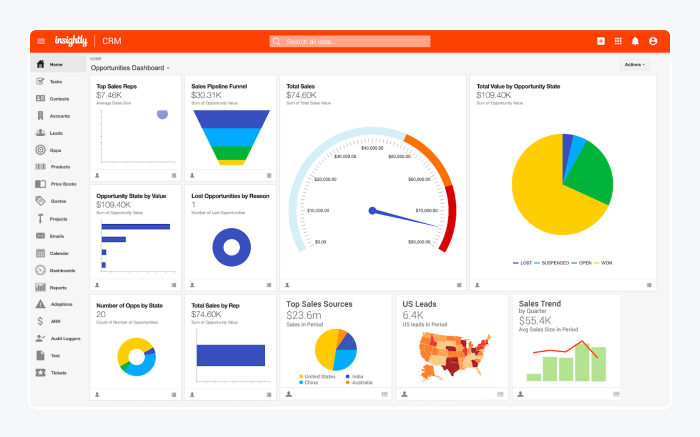 Ratings: 4.2/5 ⭐️ (710+ reviews)
Insightly advertises itself as a unified customer relationship management platform for Google and Office 365 users, as well as growing businesses. It offers a centralized system for managing customers and business data. This free real estate CRM helps you increase efficiency and transparency of your company. It lets you connect products and services to specific opportunities to avoid human errors and inconsistencies.
Pros:
Customizable opportunity pipeline
Variety of filters available
Single window with all contact information
Cons:
Not able to hide unused modules from the view
Lead photos cannot be imported
Free plan available
Plus ($29/mo/user)
Professional ($49/mo/user)
Enterprise ($99/mo/user)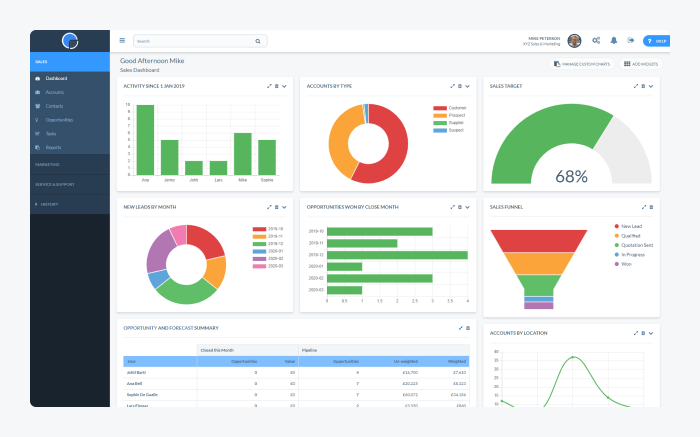 Ratings: 4.4/5 ⭐️ (140+ reviews)
This is an easy-to-use free CRM software for real estate agents to stay on track with their goals and effortlessly contact one another. Really Simple Systems streamlines processes and helps you stay organized on all the customer touchpoints. It offers great customer support to help you set the system and customize it to your needs. On top of that, you can use the self-service resources to enhance your support channels.
Pros:
Easy to create and move around homepage widgets
Outstanding & overdue tasks function
Built-in features for building and sending email marketing campaigns
Cons:
Only English version supported
Some reviewers say the reports are outdated
Free plan available
Starter ($12/mo/user)
Professional ($26/mo/user)
Enterprise ($41/mo/user)
Key takeaway
So, these are the best free CRM software out there. As a recap, these include:
Tidio—best for customer communications
Zoho CRM—best for complete ecosystem
Vtiger—best for alert notification
Agile CRM—best for additional apps
Streak—best for Gmail integration
HubSpot CRM—best for lead scoring
BenchmarkONE—best for variety of flows
Odoo CRM—best for forecasts
SuiteCRM—best for task prioritization
CiviCRM—free CRM software for nonprofits
Freshsales—best for tagging system
Engagebay—best for targeted marketing
Apptivo—best for module building system
Capsule CRM—best for sales pipelines
Bitrix24—best for video calls
Monday.com—best for team organization
Insightly CRM—best for variety of filters
Really Simple Systems—best for outstanding and overdue tasks functionality
The choice is yours.
If any of the platforms took your fancy, we recommend visiting their website and discovering more of the provided features. Just remember to check if it offers frequent updates, good customer support, and all the functionalities that are essential to your business needs.
FAQ
Is there a completely free CRM?
Yes. Many companies have a free forever plan for their CRM software. These include: Tidio, HubSpot, Zoho CRM, and Freshsales. Paid plans offer additional users and features, but the basics to operate are included in the free plan.
Does Microsoft have a CRM program?
Yes, Microsoft does have a CRM system. It is called "Dynamics 365 Sales" and companies can use it for organizational, marketing, and sales purposes.
What is the easiest CRM to use?
Three of the easiest CRMs to use include Tidio, Pipedrive, and Capsule CRM.
What are the 3 types of CRM?
The three main types of CRM are collaborative, operational, and analytical. Collaborative CRM focuses on integration between channels and departments of a company. Operational CRM systems help to streamline customer relationship processes and provide automation features. Analytical CRM centers around analyzing customer data and providing important insights.
Can you use HubSpot for free?
Yes. HubSpot has a free plan and some free tools that startup businesses can use.
Is Zoho CRM really free?
Zoho CRM offers a fully free plan that includes features for sales and marketing, integrations, and secure cloud storage.
Can you use MailChimp as a CRM?
Small businesses can use MailChimp as a CRM. It offers all the CRM tools marketers need to organize and manage a short list of contacts in one place.
Is there a free version of Salesforce?
No, Salesforce does not offer a free version of their system. The available plans start at $25 per month per user and go up to $300 per month per user.