Establishing a solid connection with clients is one of the most vital things you can do for your business.
Why?
It's simple—by building positive customer relations, you will also increase their loyalty and retention. And these only lead to increased revenue and a positive brand reputation in the long run.
Plus, by developing this area of your business, you'll take good care of all your new customers, as well as old and future ones.
But how do you do all that?
Stick around to find out.
In this article:
Do you want to learn more about how to improve customer experience and create strong connections with clients? Check out these articles:
Before we begin, let's start with the basics—
What is customer relations?
Simply put, customer relations represents different methods and strategies you can use to forge, improve, and manage all interactions with your clients. This includes providing momentary and long-term solutions to any obstacles they may face when interacting with your brand.
So, in short—
It's the process of maintaining positive relationships with customers by ensuring they have a great experience at all times.
Companies that develop a strong customer experience strategy form solid client relationships. In turn, this strengthens retention and promotes acquisition.
What's crucial here is that every stage of the customer journey will shape the relationship with clients. That's why everyone in the company should have customer relations in the back of their minds, no matter what positions they hold.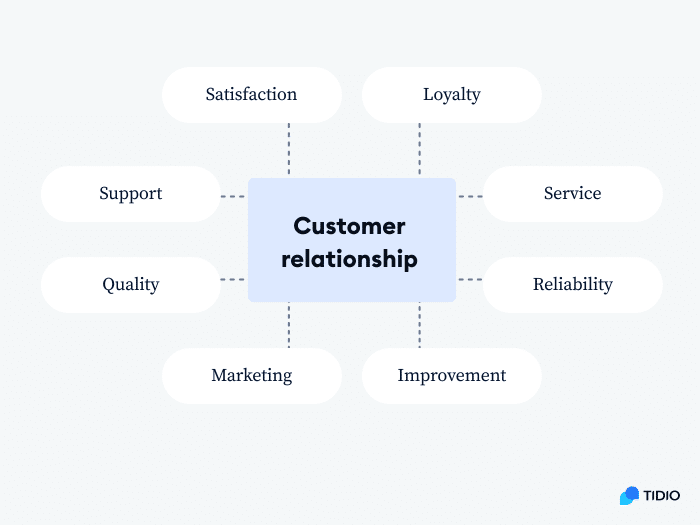 Activities related to customer relationships involve both reactive and proactive approaches by your customer service team. For example, a press release about your new product would be a proactive tactic geared toward customer success. Sending an apology letter to unsatisfied customers or solving their problems would be reactive.
But—
What is the exact role of customer service when it comes to customer relations? And how do the two terms differ?
Customer relations vs. customer service
You can think of customer relations as a more general concept that spans all interactions with a brand, while customer service is one such interaction. It's similar to the concept of jigsaw puzzles: your team and their work is one piece of the puzzle, while a successful customer relationship is a picture that you create.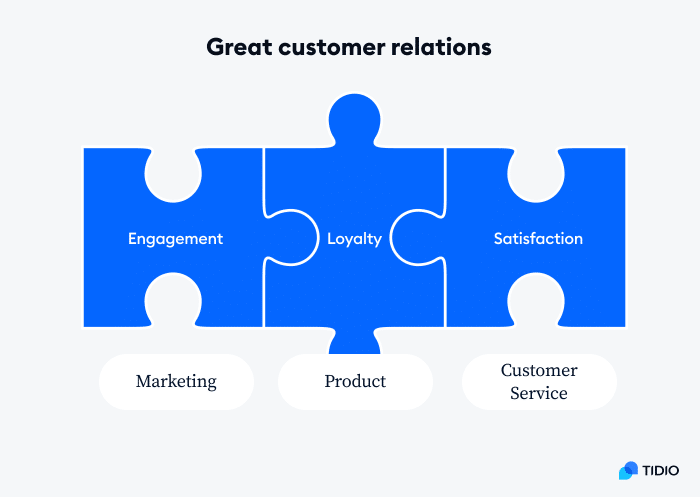 It's important to note that companies usually offer customer service to respond to a specific consumer action or request. On the other hand, customer relations include providing solutions to customers as well as taking a proactive approach by contacting them themselves. The latter means making any additional steps to engage them and ensure they have an overall great experience with your brand.
Read more: Learn all you need to know about proactive customer service, its benefits, and examples you can use for your own strategy.
Okay—
But just how important is it to have a good relationship with your customers?
The importance of good customer relations
It's safe to say that having solid client relations is what ultimately determines a successful business. It's quite simple—having good relations means happy customers. And happy customers lead to brand loyalty, and ultimately, more sales.
Nothing makes you stand out among your competition more than great customer relationships! When choosing between two similar products, clients will always go for the brand that has a proven track record of great customer experience.
And statistics only further prove the importance of good customer relations.
A study by Microsoft indicates that 55% of customers have higher customer service expectations every year. One of the key reasons why clients leave a brand is feeling unappreciated, while a whopping 80% of customers will engage with a company if they get a personalized experience.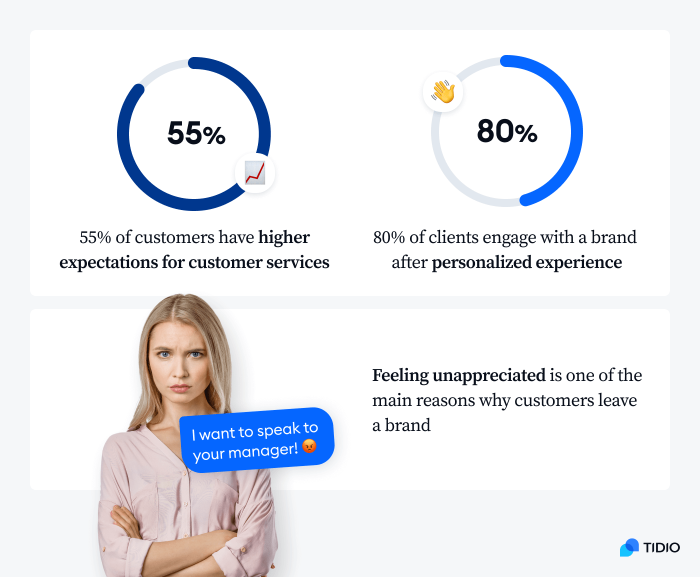 To achieve all these expectations, business owners are looking to improve the experience of their clients in every area where there's a possibility of interaction.
This is where having a well-developed relationship with clients in all areas comes in. Aside from the customer service department, customer success, support, and product development all contribute to creating and maintaining strong customer relationships.
Read more: Check out the essential customer service statistics to stay on top of your client experience game.
But let's dive a bit deeper and check out the benefits of positive customer relations.
The benefits of customer relations
If you focus on customer engagement and boosting client experience, you can expect wonderful things to happen. Here are some of the most important benefits of maintaining great consumer relationships.
Better customer retention (and boost in sales)
By making a positive customer experience through maintaining solid relationships, you can ensure that they are satisfied enough to return to your brand. On top of that, a study indicates that a 5% customer retention increase can result in a 25% boost in profit. So, it's a win-win scenario all around.
Increased customer satisfaction
Forming a lasting relationship with clients creates good conditions for asking them to provide honest feedback. This can only make them feel more appreciated and valued, which leads to increased customer satisfaction in the long run. Conversely, if their feedback is in your favor, your sales will likely reflect this as well.
When you manage to retain your customers, it's easier to get them to stay loyal to your brand. By ensuring that their experience with your company is positive, you give them a strong reason to remain loyal to you. Plus, recurring customers will more likely buy from you again than those that have yet to make their first purchase.
If you take a look at any customer journey map, closing a sale is not the end of the road. When you build consumer relationships, your loyal clients will turn into brand advocates and leave positive reviews. According to statistics, nearly half (46%) of consumers trust online reviews almost as much as personal recommendations. So, at some point, your customer base will start growing on its own.
Undoubtedly, the benefits that come from maintaining relations with clients sound great.
But how do you create a solid customer relationship strategy in the first place?
Let's find out.
Building a customer relations strategy: 9 tips
Customer relations management is an essential part of modern business. And there are various tactics you can implement to make this process easier to control.
The best strategies to improve the quality of your consumer relations involve:
Now—
Let's go through each of them.
1. Understand your customers' needs
You can't start building customer relationships if you don't know who your clients are. There are far too many companies that rely on intuition rather than data and feedback. And according to research, almost half of them don't collect customer feedback at all.
Getting to know your customers is not a simple task. But it is an essential part of increasing retention and revenue. There is, however, an easy technique you can try.
Start talking with your clients to identify their needs and get valuable context to start improving the way you communicate with them. You can do this by gathering feedback through some of the best customer service channels, like messenger apps and live chat software. And for more convenience, you can always integrate live chat with Messenger.
When interacting with companies, people expect low waiting times and convenience. In fact, as many as 41% of them admit they prefer live chatting over any other means of communication.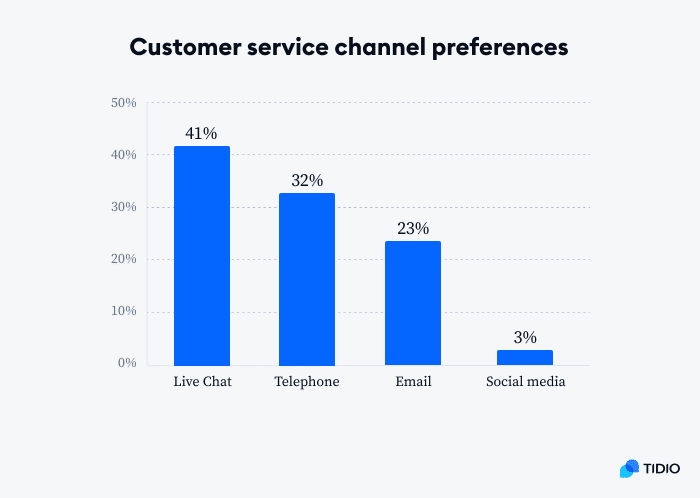 If you want, you can also get to know your clients less directly, and that's by monitoring who visits your site in Google Analytics.
This way, you'll be able to create accurate buyer personas and take your customer success metrics to the next level.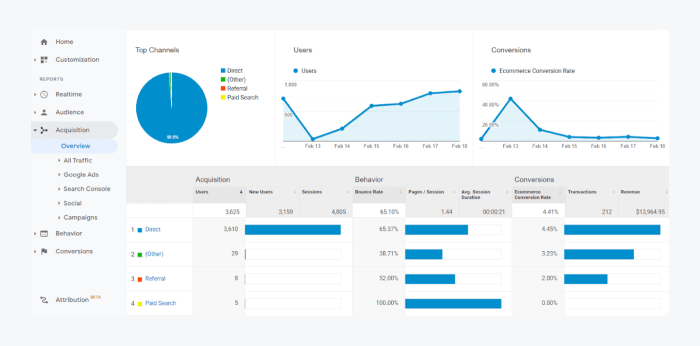 For example, the Acquisition tab in Google Analytics will show you which social media platforms, industry blogs, and forums your visitors come from. You will also be able to understand what led new and returning users to your site. This will help you with the right customer segmentation, in turn allowing you to approach your clients in a more personalized way.
Last but not least, you can always use the help of brand monitoring tools to observe your company's performance and find out what users think about your brand. This is important as it can help you analyze the sentiment around your products or services and get to know your customers better. You can use the tools like Brand24 and Brandwatch for this purpose.
2. Motivate your employees
The quality of your products is mandatory to establish a solid client experience. That being said, support reps responsible for managing customer expectations, questions, and concerns are almost equally important.
That's why it's crucial to have support employees who are extremely competent in helping your clients out, as well as determined to do so to the best of their ability.
It's natural to expect your service agents to have a set of skills for managing customers from the get-go. Still, you should invest in adequate and regular employee training. Help them polish their customer service skills, including problem-solving, active listening, troubleshooting, and their overall communication style.
This way, they'll be able to tackle even the most difficult customer interactions, address all their needs, and build positive connections by offering great customer service. And if people are happy with how you handle your relationship with them, they will let you know!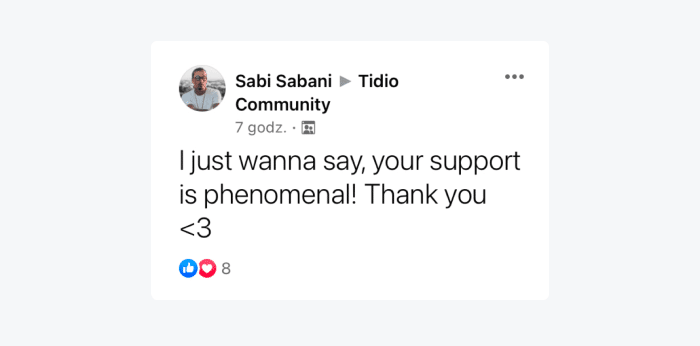 Remember—happy employees also mean motivated employees, which further means satisfied clients. As much as 93% of happy employees are willing to work extra hard to cater to their organization's customers. With unsatisfied ones, the figure drops to 69%.
Aside from providing regular training, you should allow your staff to be able to communicate their needs. Make them feel valued by listening to their ideas and concerns, and give them incentives to contribute to the team by encouraging their creativity.
Above all, don't forget to show your appreciation for the things they are doing well. Positive feedback goes a long way when it comes to motivating an employee to do their job even better.
Read more: Check out best practices you can implement to improve your customer service strategy.
3. Personalize your communication
Creating personalized communication can help you build healthy relationships with customers. In fact, about 80% of consumers are more likely to buy from a brand that provides value and personalized experiences.
So, no matter which channel you use to communicate with your customers, you must always treat them like humans, not like numbers.

Also, you should refrain from only reaching out to customers just with the means to sell. Instead, keep your audience engaged and continue working towards solving their problems.
You should:
Send them special offers they're actually interested in—hand-pick and share resources to educate them about your products or services
Call them by their names—getting on a first-name basis with customers will create a sense of familiarity and make visitors feel appreciated
Keep their order history—whether you had a chat with first-time visitors or your regular clients, you can track their order history and provide them with personalized offers
Always go the extra mile—if you want repeat customers, you need to show genuine interest in their needs. And you can do that by combining all of the above-mentioned points
Read more: Check out a case study to learn how the Italian fashion atelier boosted customer engagement using Tidio.
4. Create self-service opportunities
You don't have to be available for your customers 24/7 to be able to assist them properly.
The secret behind this?
Offering self-service to clients who want to find solutions on their own, without having to wait for the support reps to cater to them.
This can also help reduce the workload of your employees and allow them to focus on more pressing matters.
According to Gartner research, 70% of customers are using self-service to find solutions to their problems. This number shouldn't be taken lightly.
There are many different ways in which you can provide customer self-service opportunities to clients. For one, you can automate your conversations with the help of chatbots. These smart pieces of software are great as they help you proactively engage customers and assist them in need at the right time.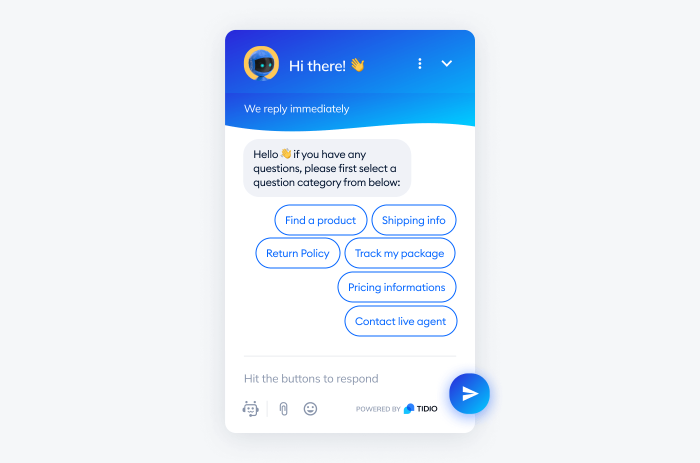 You can get your chatbots to automatically respond to the most commonly asked questions and engage customers in a conversation when they seem to be stuck on your page for a long time.
A knowledge base is another tried-and-true way of offering self-service to customers. It represents a section on your site that contains all the product and service-related information. In addition, it offers solutions to the most common product-related issues using step-by-step tutorials and tips. A knowledge base can also include answers to the most frequently asked questions, video guides, and other important company-related info.
Last but not least, you can also go the classic route and add the good old FAQ page to your site. This is the easiest way to provide answers to the inquiries customers are most often curious about.
Read more: Learn all about customer-self service, its benefits, and the most popular examples to find the right strategy for your needs.
5. Collect customer feedback
Feedback is all about figuring out what works for your business and what doesn't. And there's nobody who knows this better than your customers, so you should contact them directly for their valuable opinions.
Moreover, asking for feedback shows that you care and appreciate their opinion. When you capture the voice of the customer, you will know what your clients like, what they're missing, or what you could do better.
As many as 98% of consumers read online reviews before buying. If your company receives a lot of positive reviews, you can use them in your marketing efforts to attract more clients your way.
And while a single negative review can turn potential customers away, it can still help you learn what areas you can improve on. So, when a bad review happens, never leave it unresolved. Respond to it immediately and do whatever you can to fix customers' problems and make them happier.
Another great source of feedback is the customer satisfaction survey (CSAT survey). You can personalize and send surveys to customer segments of your choice. They can give you valuable insights into your customer base and help you improve brand perception.
In addition, you can easily implement your chat surveys using live chat and chatbots. For example, you can send them a survey right after interaction with a client, or after they've made purchase decisions.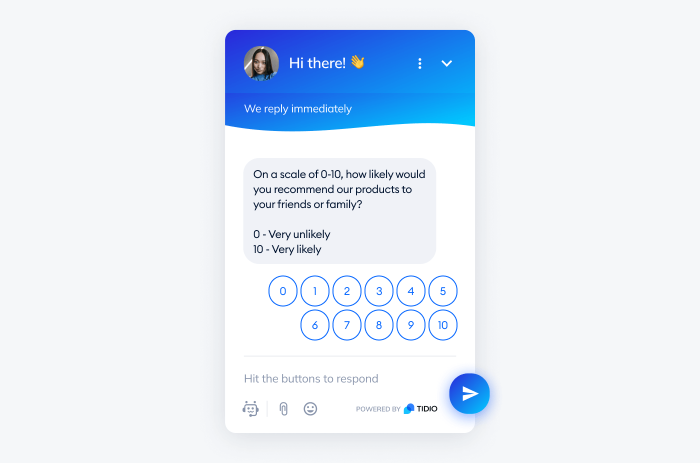 Apart from surveys, you can also allow customers to leave ratings and reviews on your site. There are platforms out there you can use to send automatic requests and easily collect feedback using email, SMS, and your website.
Judge.me is a great example of such a platform. It will allow you to add and customize review widgets on your pages in a user-friendly manner to convince customers to convert.
You can add consumer reviews to your website using several different forms, like testimonials and widgets.
Read more: Learn about different customer feedback strategies you can implement in your business. In addition, make sure to find out how you can collect customer feedback with Tidio.
6. Build trust by being transparent
Building trust is all about being direct and transparent. But this doesn't mean being upfront about positive news only—it applies to bad news as well. If you're honest with your customers and show that your business can fix a problem, you can expect to see benefits in the long run.
In fact, as many as 74% of people say they will forgive a company after making a mistake and resolving their issue.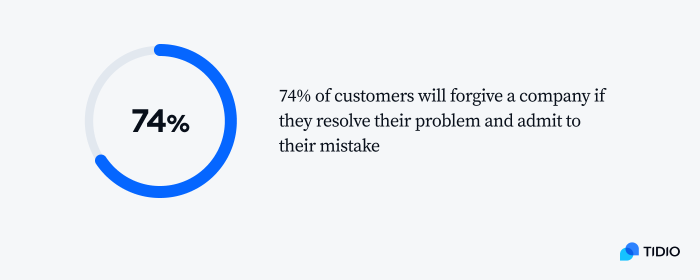 Obviously, this isn't about delivering bad customer service experiences on purpose only to save the day later. But when problems occur, there are several things you can do to make the best of them.

First of all, try to keep your customers informed. For example, if you know the order will not arrive on time, do let your customer know about it. Even if it turns out that this isn't an issue for them, the sheer act of being transparent will mean a lot.
Moreover, you should always take responsibility for any shortcomings. When anything unpleasant happens and a customer makes a complaint, don't play the blame game. It's not worth it—it can only lead you to lose clients and credibility.
Instead, make sure to remain calm, acknowledge a user's problem, and then conduct a solid plan so that clients know exactly what you will do to help them. This will make them feel like they can rely on you in the long run.
And remember—if you're honest about any mistakes or drawbacks, customers will respect you for it, leading to increased trust in the future.
I experienced first-hand how nurturing honest partnerships with your customers can save even a seemingly doomed situation. Being candid and transparent will go a long way, and it will keep the clients "sticky" even in bad times if they know you have their back.
Read more: Discover the best ways to deal with angry customers and learn how to turn them into happy clients instead.
7. Make your customers feel appreciated
Have you ever received a free dessert at your favorite restaurant? Or maybe the owner wanted your opinion on a new brand of wine?
A small token of appreciation to your clients can forge strong and positive customer relationships. It could be a physical item or a discount coupon—whichever you can afford that goes in line with your business.
Think of these tokens as an investment to help you build a loyal customer base. About 75% of consumers say they prefer companies that offer rewards—and you could be one of them.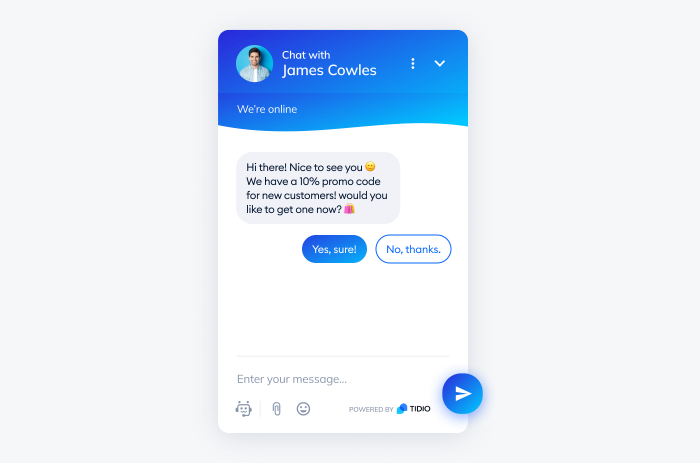 There are many ways in which you can show appreciation to your customers and increase their loyalty. Here are some ideas:
Create a customer loyalty program or a premium customer section on your website. You can allow clients to earn points after buying products which they can exchange for special offers or discounts later.

Set up a chatbot that gives discounts to returning customers. You can do this by using chat triggers that can make a bot send discounts or promo offers.

Aim to improve your first call resolution rate by assessing pain points and connecting with clients on a human level. Try to personalize conversations by relying on previous contact history—then, use those insights to your advantage.

Send personalized customer service emails with special offers for your most loyal clients. This can be because they were staying with you for a certain period or as a simple sign of gratitude.

Send them a free gift to show that you value that they're doing business with you. For example, if you have a clothing store, you can add an extra accessory once a customer spends a certain amount of money or buys specific products.
And remember—retention is way cheaper than acquisition, so you should always do your best.
Read more: Learn how to improve engagement and boost sales using customer service chatbots.
8. Respect your customers' time
As many as 67% of customers hang up the phone in frustration when they can't reach a customer support representative.
Well, no surprise here.
After all, nobody likes to waste their time in line, especially when several digital solutions can speed up the support process by a lot.
Live chats, chatbots, customer service software, self-service options, and other types of customer service make it easier to build consumer relations with each client who needs your help.
So, if your company is getting swamped with requests, and it takes a lot of time to answer all of them, don't let your customers wait and hope for the answer to arrive quickly. Instead, ease the situation professionally and lead clients through the waiting process by letting them know of the estimated wait time.
There are various chatbot templates that will help provide every client with an answer—even if you can't respond to their messages right away.

For example, you can use a "Handle missed conversations" chatbot template that activates once an operator doesn't respond to the user's message. This template can help you gain (and retain) your customers' trust while allowing you to make the most out of missed interactions.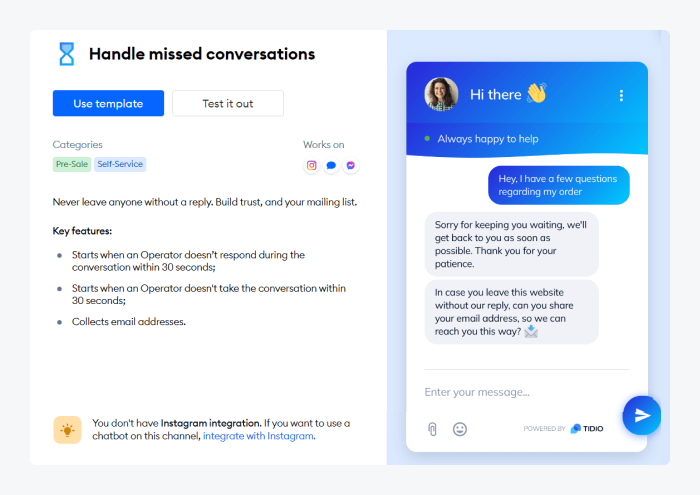 You can also help save time with canned responses. Otherwise known as quick responses, these are predefined replies that a support team rep can use to speed up the conversation.
They are also convenient for answering repetitive questions such as pricing info, shipping costs, and refunds. You can usually implement canned responses using email and live chat software.
9. Use the right CRM software
If you aren't looking to establish contact with clients, you'll never form long-term relationships with them. And one-time purchases don't foster customer loyalty.
What you could do to better manage all client's activities and interactions is deploy a CRM (Customer Relationship Management) tool.
This type of tool can help you track customer actions, analyze their behavior, and deliver solutions. In other words, it's a program that can help you take care of your clients in the most effective way possible. CRM platforms can also help with document sharing and progress updates between you and your clients.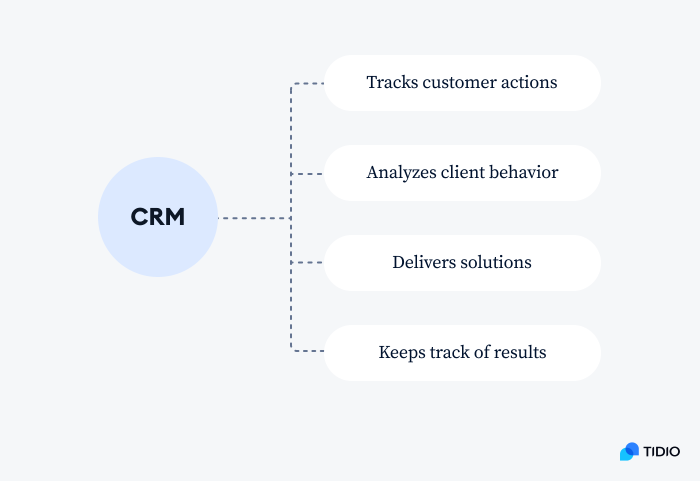 CRM software is currently the biggest software market in the world and continues to grow. It's one of the best technical solutions for creating personalized client interactions. Plus, it's expected to reach more than $80 billion in revenue by 2025.
With the right CRM tool, you can figure out different customer profiles based on their behavior, keep track of your results, and analyze how interactions with customers affect sales. You can check the quality of your leads, organize your workflow, and even monitor the performance of your customer support.
Small and medium companies usually use CRMs that are included in their customer service solutions. For example, Intercom is an all-in-one customer service platform that has some essential CRM tools, like automation features, targeted messaging, and proactive support.
Read more: If you're on a budget, you should check out the top free CRM solutions available on the market. Also, make sure to take a look at Intercom alternatives.
Customer relationship: summary
By investing in transparent and quality relationships with your clients, you can only increase their satisfaction, boost loyalty, and turn them into advocates of your brand.
To build and maintain strong customer relations, you should:
Get to know your customers better
Continue to improve your team's skills and expertise
Personalize your communication as much as you can
Create self-service options by using a knowledge base and chatbots
Ask customers for feedback directly
Gain your clients' trust by nurturing transparency
Appreciate your customers by offering discounts and special offers
Be respectful of their time and respond to them quicker
Use the help of the right CRM software
And remember—prioritize your customers' needs and put them first, no matter what. If you do that, you are bound to establish long-lasting connections that will contribute to the growth of your business.