Automate customer support on WhatsApp
Offer support on WhatsApp with AI-powered chatbots
Automate your WhatsApp communication to speed up your response times. Improve customer satisfaction and drive more sales with Tidio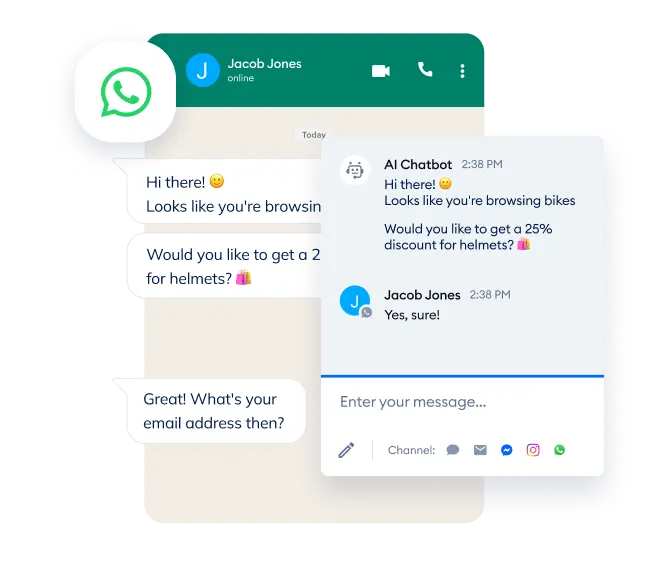 4.7 from 1716+ reviews
4.7 from 1411+ reviews
4.8 from 418+ reviews
Use WhatsApp chatbots to automate your support
Make WhatsApp your leading support channel
Instantly answer customer questions to eliminate conversion blockers.   Tidio chatbots automatically answer common questions about shipping, orders, returns, and more - allowing your support agents to focus on solving complex customer problems.  
Integrate WhatsApp with Tidio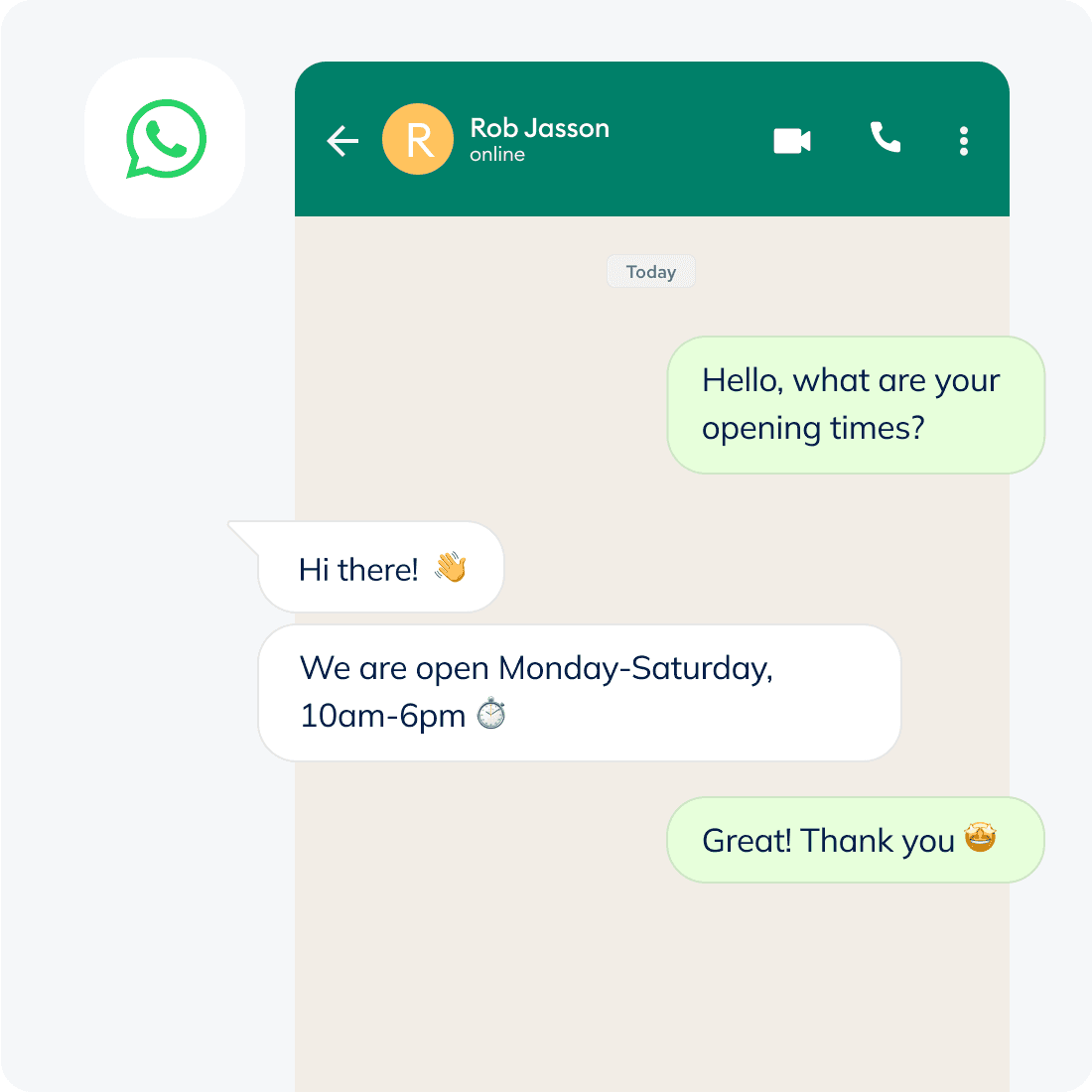 Simplify your lead generation process
Automatically collect your customers' contact details so your can target them with marketing communications.   Create customer profiles with names, emails, phone numbers, and addresses so you can tailor your communications.  
Integrate WhatsApp with Tidio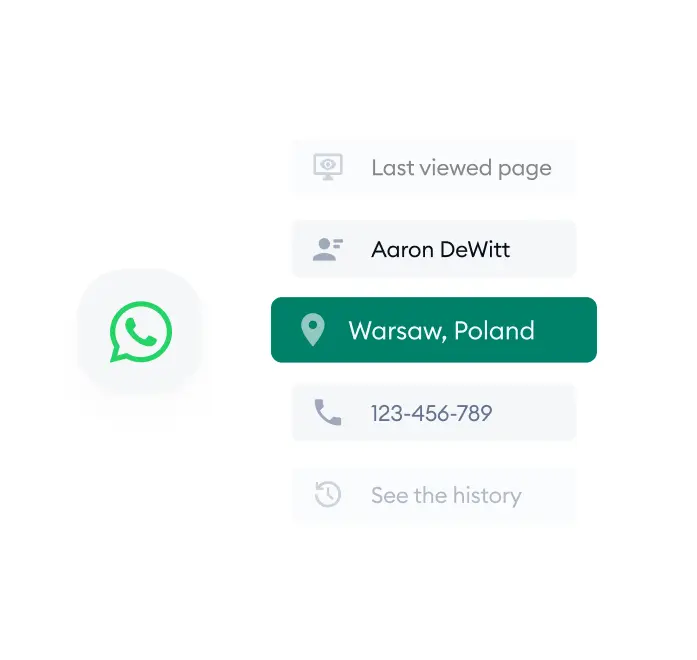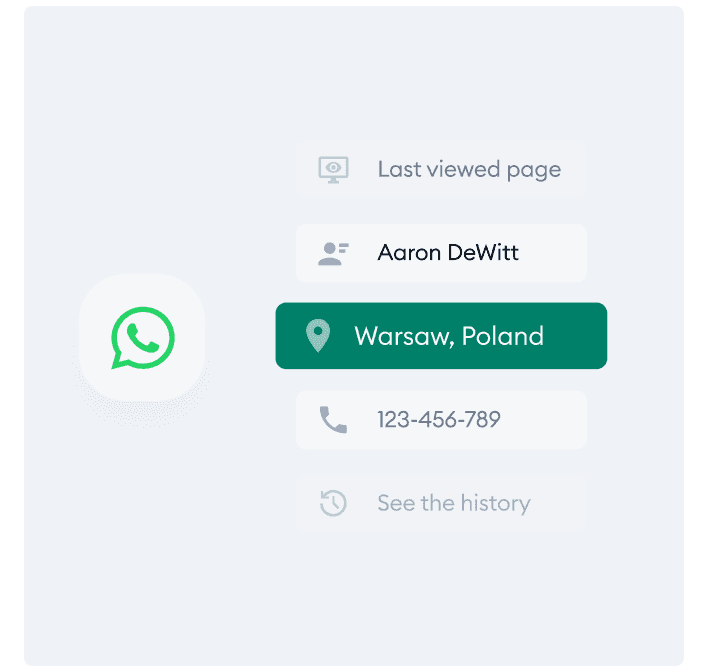 Offer personalized support to existing customers
Tidio detects existing customers based on their WhatsApp phone numbers and automatically shows you their existing data, so you can offer personalized support.   Tidio's WhatsApp integration allows multiple agents to offer support at the same time.  
Integrate WhatsApp with Tidio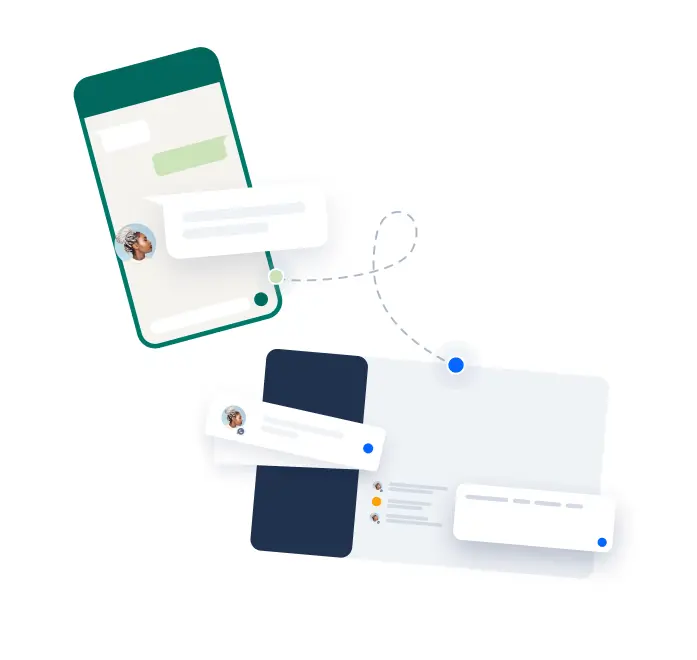 Improve your support process
Connect WhatsApp to Tidio Multichannel
Manage all your conversations with Tidio Multichannel
Connect your account to Tidio Multichannel and see all your WhatsApp, Messenger, Instagram, email, and live chat messages in one panel.
Manage all your communications with one tool, automate common questions, work in sync with your teammates, and improve your support efficiency with canned responses.
Discover Tidio Multichannel
The perfect solution for online businesses
Set up your live chat widget in 5 minutes
Get Tidio up and running in no time. Our short product tour will help you customize your live chat widget in just five minutes.
Manage multiple websites in one interface
Connect multiple websites to Tidio. Handle all your emails, Messenger, Instagram, WhatsApp and live chats with a single solution.
Get answers to all of your questions in minutes
Our team offers support, performance reviews, improvement suggestions, and more. We reply in a few minutes.
Don't take our word for it, check how Tidio helps users grow their business
Get more leads
GET THIS PROGRAM - it has already boosted my sales leads by 34% in a matter of hours. Don't waste your time, searching - Tidio does it all. I am very pleased how they helped get me started too.
Review on G2
Increase conversion rate
My conversion rate went from 1.4 to 4.8! This is amazing and makes me a lot of money automatically!
Review on Shopify
Generate more sales
Tidio helped me make over 60k in sales in just a few months. Customer retention rate is a lot higher and a benefit is the sales!
Review on G2
Increase satisfaction rate
Since having Tidio integrated into our website we have seen sales nearly double and positive reviews triple.
Review on G2
FAQ
WhatsApp integration:  Frequently asked questions
Is WhatsApp a good communication channel for support?
Over 2.24 billion people use WhatsApp as a communication channel, making it one of the most popular messaging applications in the world.   Using WhatsApp as a support channel makes it easier for your customers to reach out to you, allowing you to answer their questions and remove potential conversion blockers.
What is a WhatsApp chatbot?
A WhatsApp chatbot is software that can answer questions and perform simple tasks via WhatsApp messages. For example, you can use it to answer repetitive questions like checking customers' orders or shipping status.
Is the WhatsApp integration free?
Yes, it is. Tidio Multichannel is a free tool that enables you to manage all your email inboxes, Messenger, Instagram, WhatsApp, and live chat messages without charge.
How many people can access the WhatsApp integration?
All your users can access the WhatsApp integration and talk to your customers at the same time.
How can I access the WhatsApp integration?
Create a Tidio account and log into the platform. Click on "Settings" in the bottom left corner, then go to "Integrations" and scroll down until you see the WhatsApp integration or search for it with the search bar.
Increase customer satisfaction with live WhatsApp conversations
See how Tidio helps you grow your business with streamlined communications.