You want to know what chatbot templates are all about and how to choose the right ones for your business. But the search is too overwhelming?
Don't worry.
We'll keep the list short and concise to make it all clear and easy for you in no time.
Let's start by saying that you don't need hundreds of different bots to grow your business.
You only need a few. And we'll present you with the best bot templates, so you can make an informed decision and enjoy the results.
In this article:
If you want to learn more about chatbots, check these out:
Let's start from the beginning—
What are chatbot templates?
A chatbot template is a pre-built bot you can customize to launch a task-specific chatbot quickly and easily. It lets you use the pre-set designs and fill them in with your messages to clients. This way, you can launch an effective bot within minutes.
There are many types of chatbot templates available, so picking the right ones depends on your company's needs. Do you want them to help you with lead gen, sales, or client support? You can, of course, mix and match the messaging templates to get the best results.
So what are the different types of chatbot templates?
Five main types of bot templates:
Customer support
You can provide customer service through chatbot templates and let the bots answer the most common customer questions. This will help you free up some of your representatives' time, so they can focus on more complex queries and important tasks.
Ecommerce
You can use these to enable potential clients to order from within the bot, save abandoned carts, and upsell your products. It can substantially increase your sales and grow your online store.
Lead generation
With lead generation chatbot templates, you can collect visitors' emails and other contact information. If you need more subscribers and contacts for your email campaigns, this is a great way to get them. You can also use them for appointment bookings or ordering a call if the visitor provides a phone number.
Customer communication
These chatbot templates are for news, updates, and even invites for a webinar. You can use them to improve customer relationships and customer satisfaction with your brand. This way, your visitors will be kept up to date with the company's news, and you can quickly answer their most frequently asked questions.
Social media bots
You can gain subscribers, improve your brand's opinion on Facebook, and automatically respond to your Instagram stories' reactions. These bot templates can also help you grow your followers' base straight from the website. This way, visitors can check out your social media and write reviews about your brand online.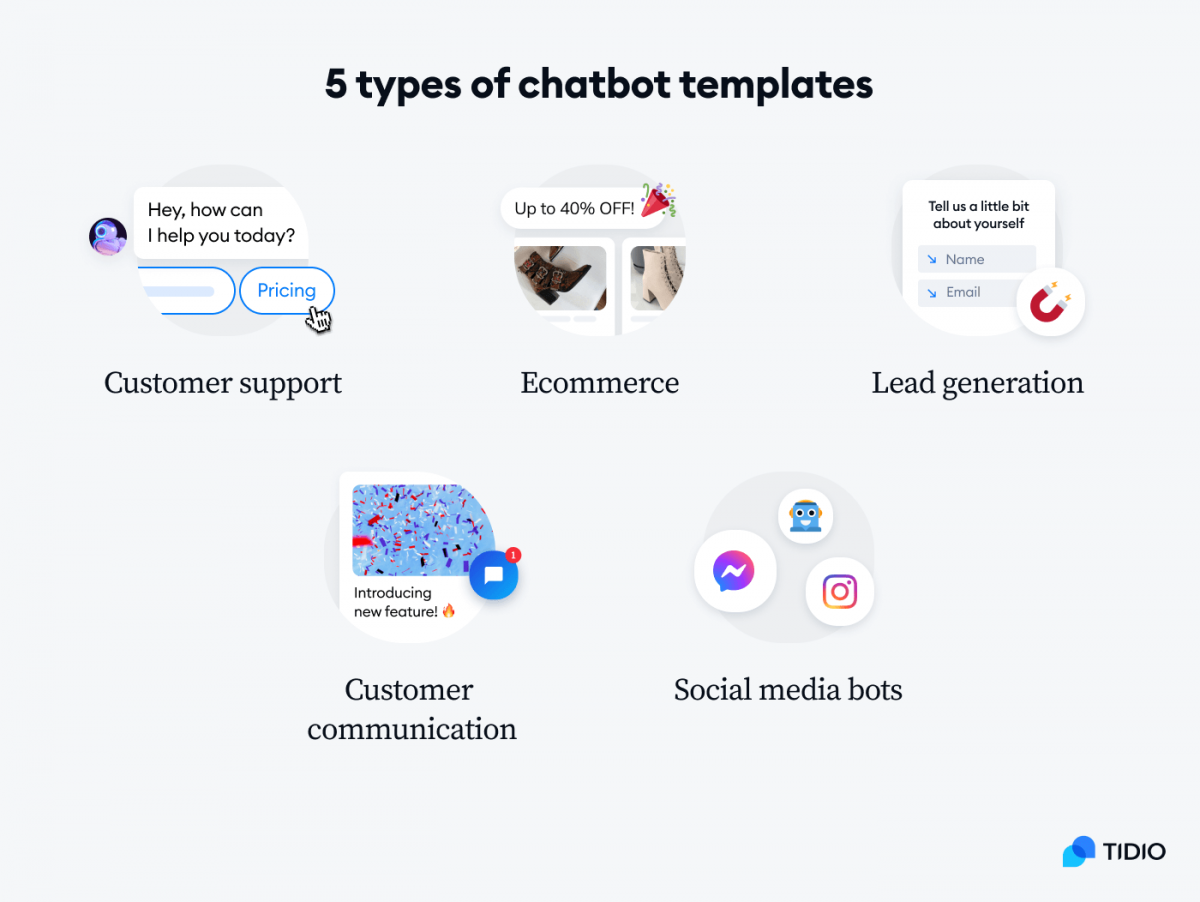 16 top chatbot templates
All you need is a few great chatbot templates to get you started with building and deploying bots. Let's check out the most popular chatbot templates for business and social media.
Free chatbot templates list
Let's look at each of the chatbot templates more in-depth, so you can decide which ones you want to use when adding bots to your site.
1. Welcome message chatbot template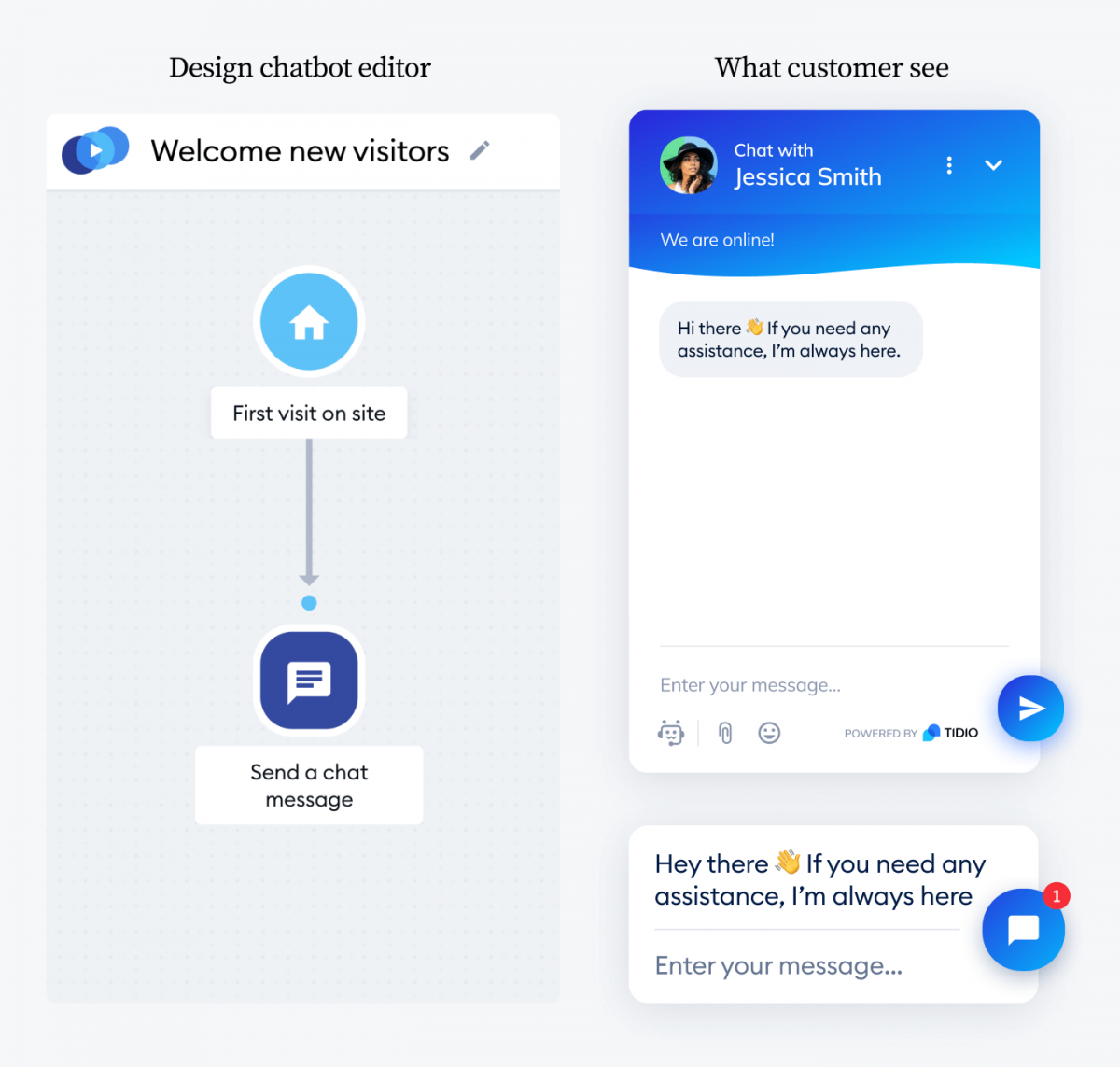 You can use this chatbot template to greet visitors coming to your website.
It's important because a nice greeting can set the tone of your relationship with the customer. It can also improve customer experience and reduce the bounce rate. On top of that, it can move the visitor down the sales funnel and start turning newcomers into brand ambassadors from their first visit.
Customize the welcome message to provide your visitors with a greeting that engages them and encourages them to browse your store. This is especially important since around 71% of consumers are frustrated if the shopping experience is impersonal. So, make sure it's not the case with your website.
You can even add some funny GIFs, insert photos, and use emojis: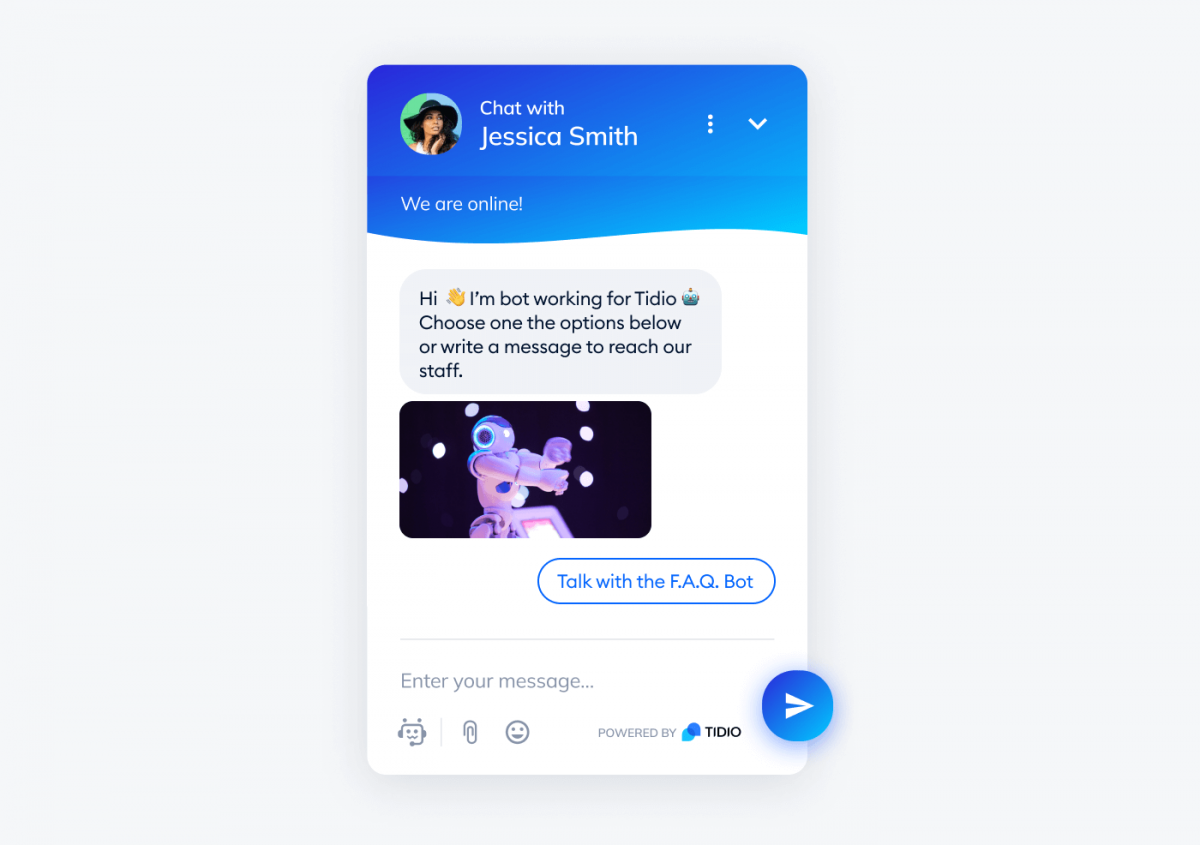 This is your chance to make a connection with the new customers. This way, they'll know your brand voice and if your style fits them.
2. FAQ bot template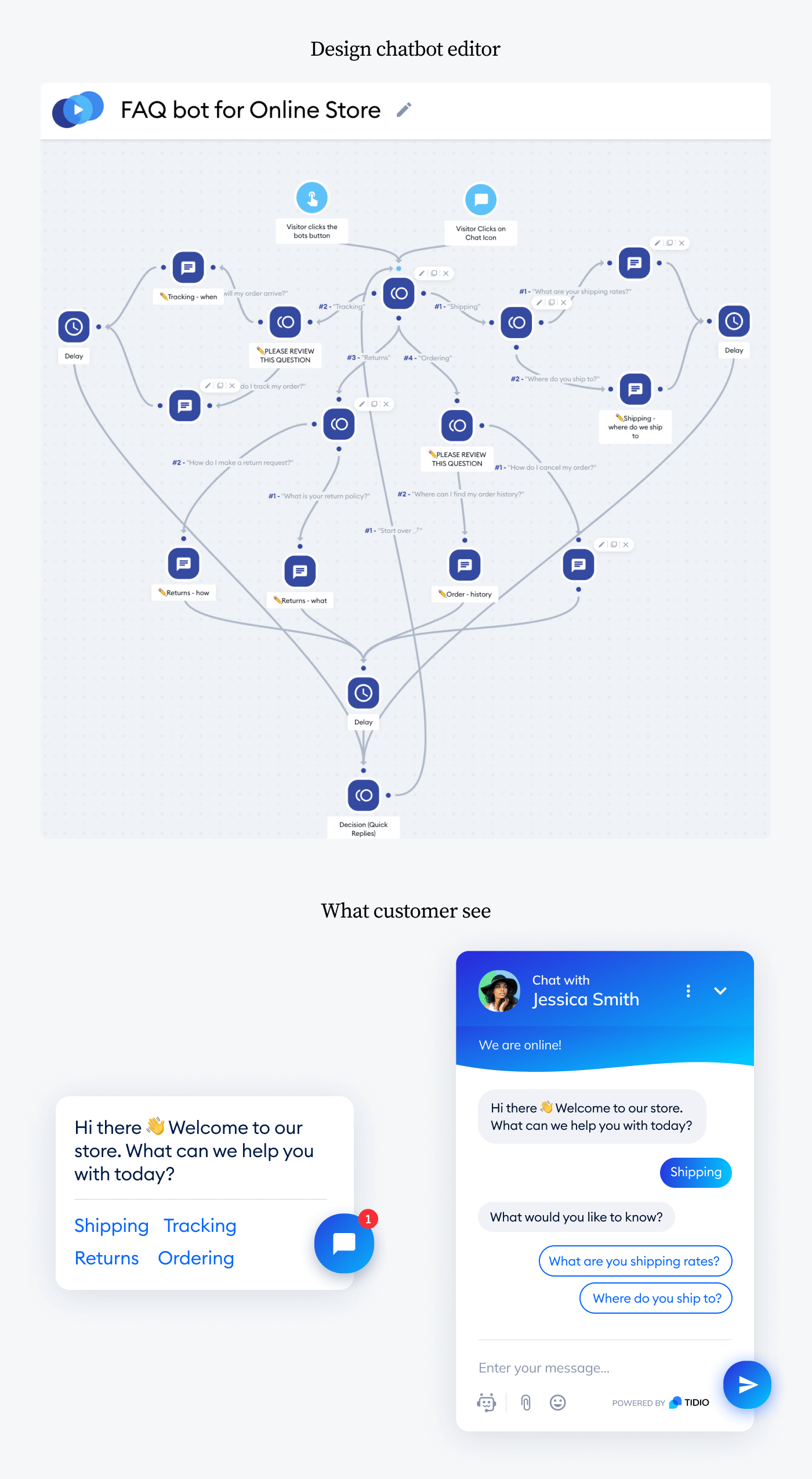 Okay—this chatbot flow template looks complex. But it's easy to set up, and it's probably the quickest, most effective way to answer your customers' frequently asked questions.
Your visitors don't have to wait in line to contact customer support or look through all of your pages to find what they need. This can improve customer satisfaction and save you from losing a potential client.
On top of that, website chatbots can successfully answer up to 87% of customers' queries. This takes a big chunk of repetitive tasks off your agents' shoulders, so they can focus on more complex jobs.
Suggested read
Check out how you can set up an FAQ chatbot and other bots on Facebook Messenger.
3. FAQ for restaurants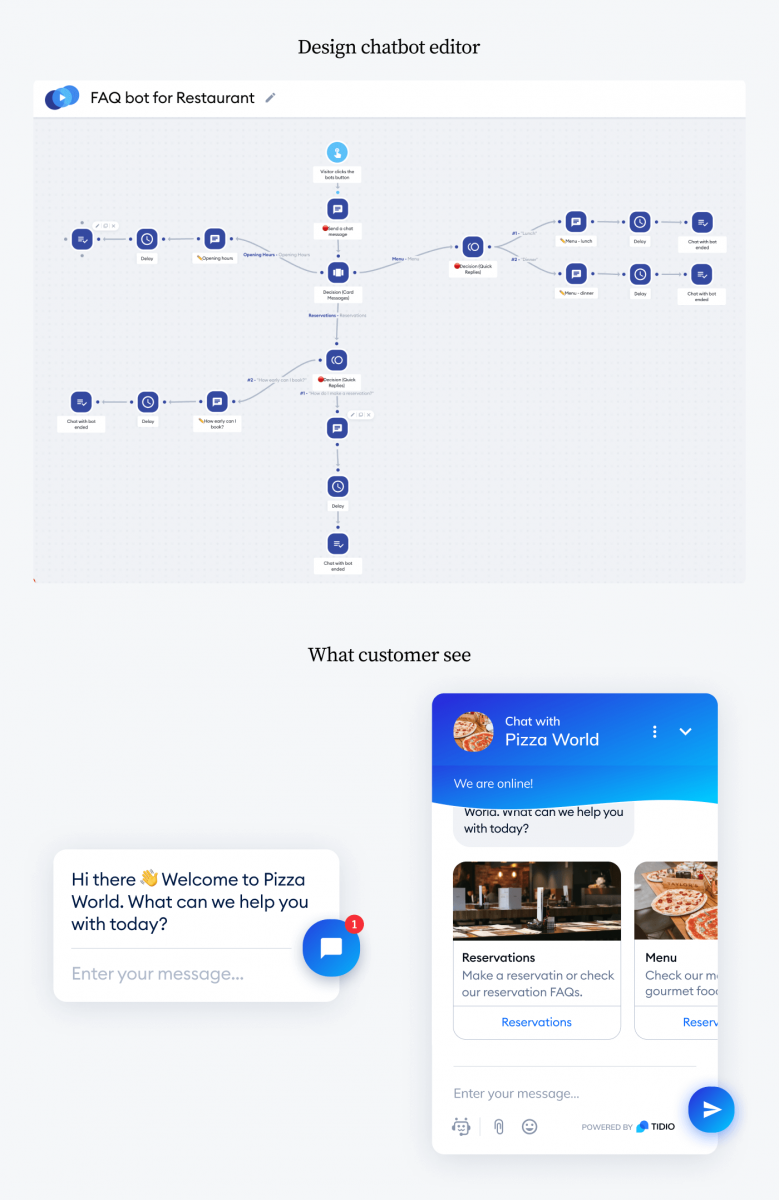 This free chatbot template is for hospitality businesses. So, if you own a restaurant, you can greatly benefit from adding it to your site.
You can let this bot answer the most common questions about the menu, reservations, and opening hours. Your agents won't need to spend time on these and clients can easily get their answers quickly and efficiently.
It is a visual bot template, so you can upload your own photos and change the text to match your site and style.
Suggested read
Learn how chatbots can help your restaurant improve customer loyalty and help to promote your business.
4. AI chatbot template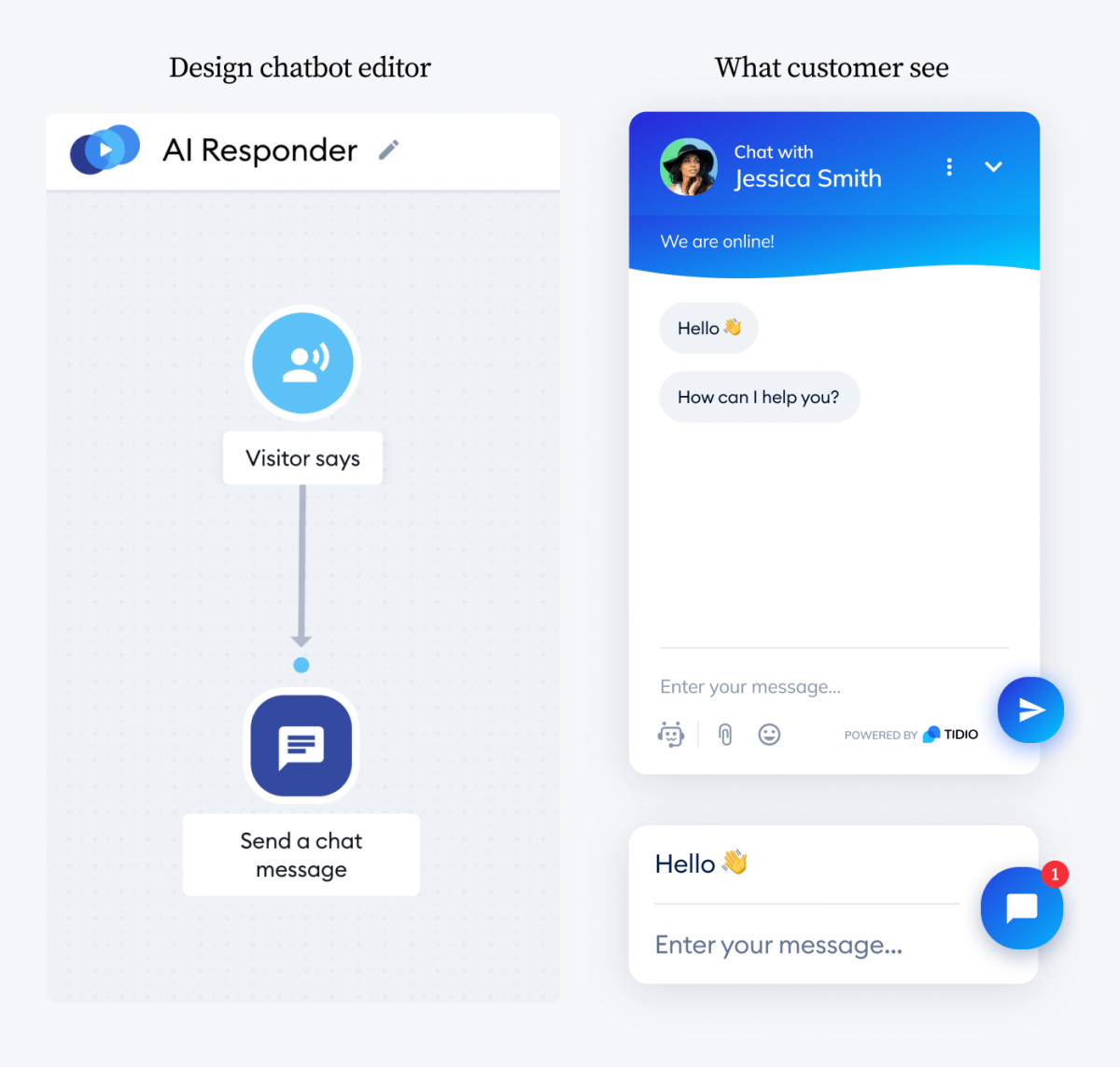 This is a great chatbot conversation flow template.
Okay—let's explain.
There are many ways a customer can ask for the same thing. Think about it. You can ask:
What is your pricing?
How much is your service?
What's the price of your service?
How much does your service cost?
But essentially you want the same thing: the pricing. So you can use several variants of the questions and AI will be able to guess other ways of phrasing it that a customer could use.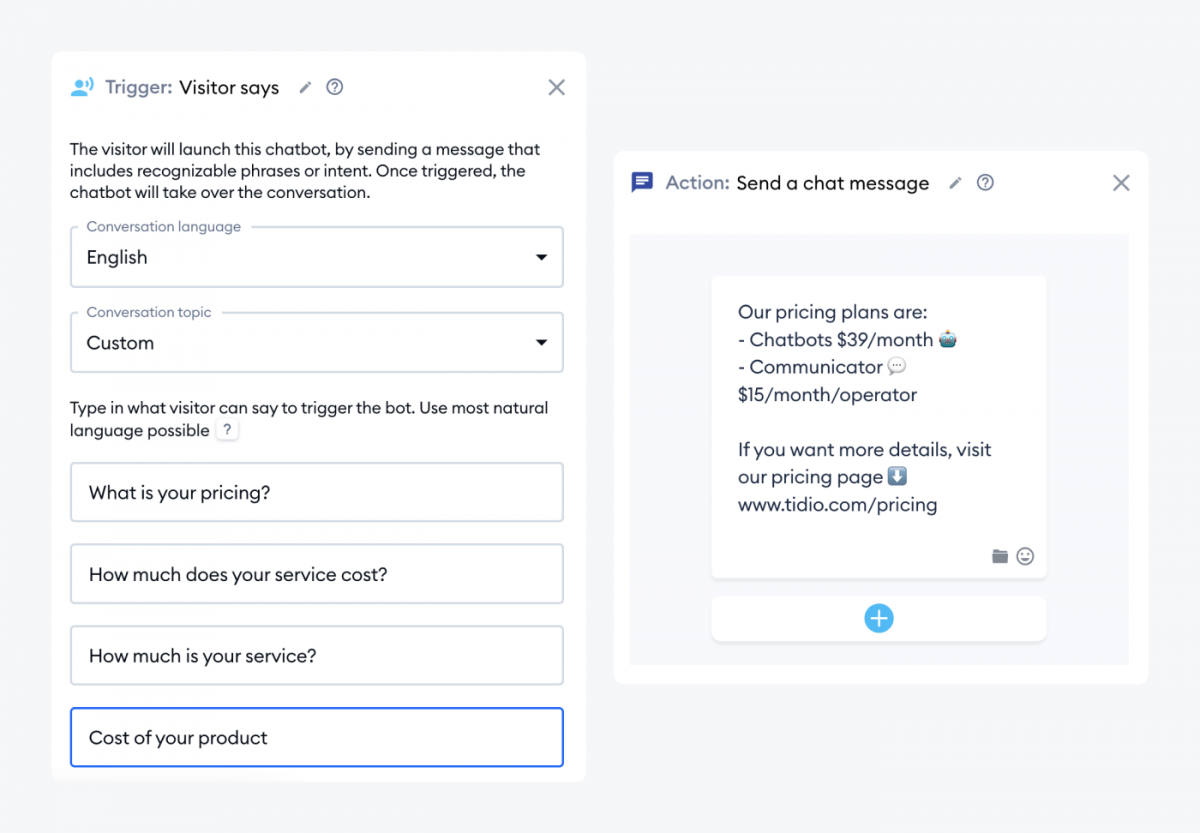 This will help the communication to feel more human-like. And, as our research on the future of chatbots shows, customers don't mind interacting with bots—about 90% of people state that they have neutral or satisfactory experiences with chatbots. So, you can use the conversational bot templates without the fear of worsening the customer experience.
5. Chatbot template with a subscription form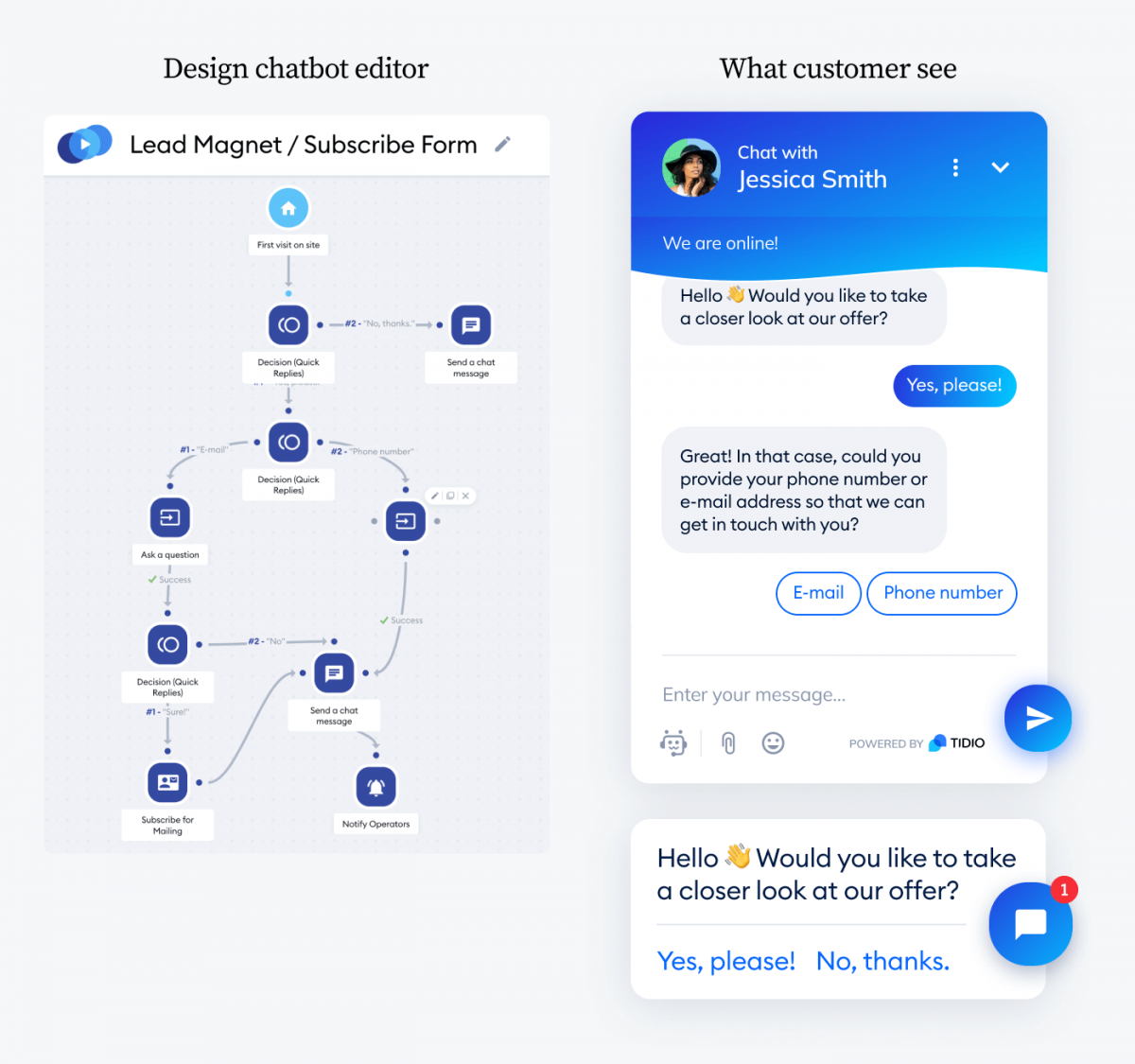 This is one of the lead generation bot templates, and we'd recommend you to put this chatbot on your landing page. This can help you get the highest quality leads and increase sales quicker.
It lets you automate the task of asking a visitor for their email address and any other relevant information. You can use these to send newsletters, updates on your company, personalized offers, or follow-ups.
By setting up this bot you increase your chances of collecting leads. It can also help you stay in touch with customers, gain trust, and increase conversion rates in the long run.
6. Measure customer satisfaction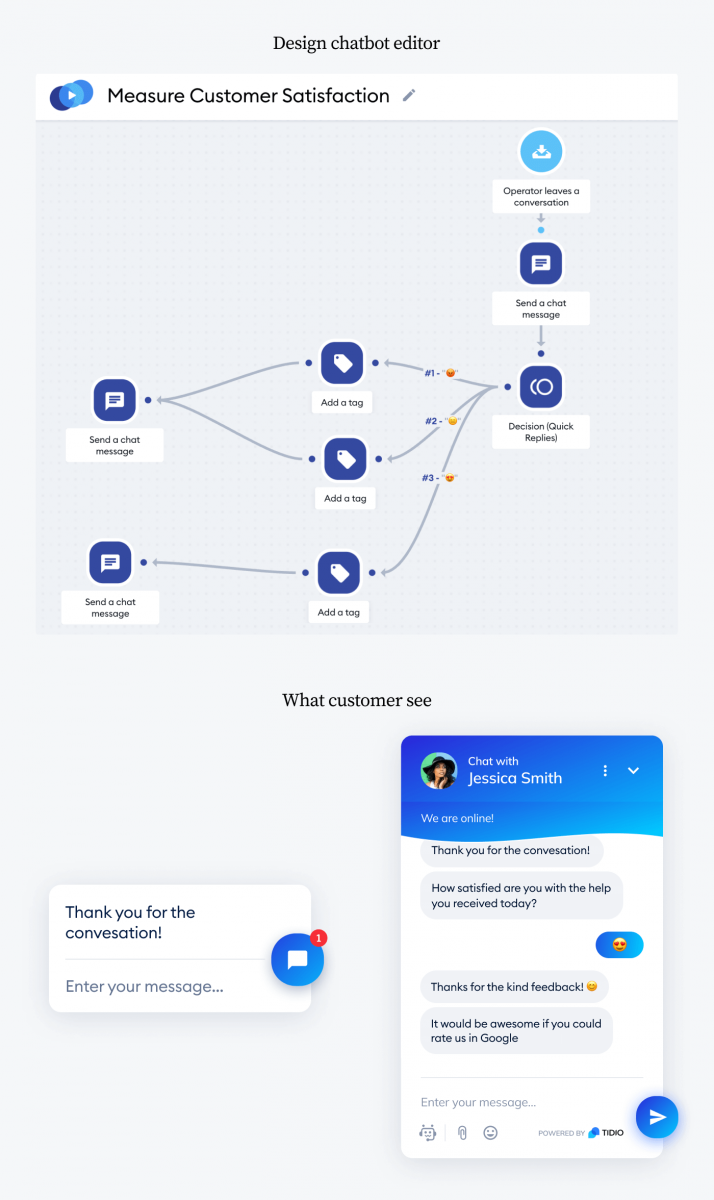 If you want to know how satisfied your clients are with your brand and your customer service, you should simply ask.
This chatbot decision tree template can help you with that. It can also keep track of how happy your customers are with the conversation they just had. You can use one simple question and collect feedback about the quality of your customer service or how likely your clients are to recommend your brand.
You can pop the survey straight after the conversation to get the best results. Let clients choose from a scale of 1-5 or emojis. You can also follow this up with another question, or you can encourage them to rate you on a third-party review platform and Google ratings.
Suggested read
Learn how to create a great customer satisfaction survey in a few easy steps.
7. News and updates bot template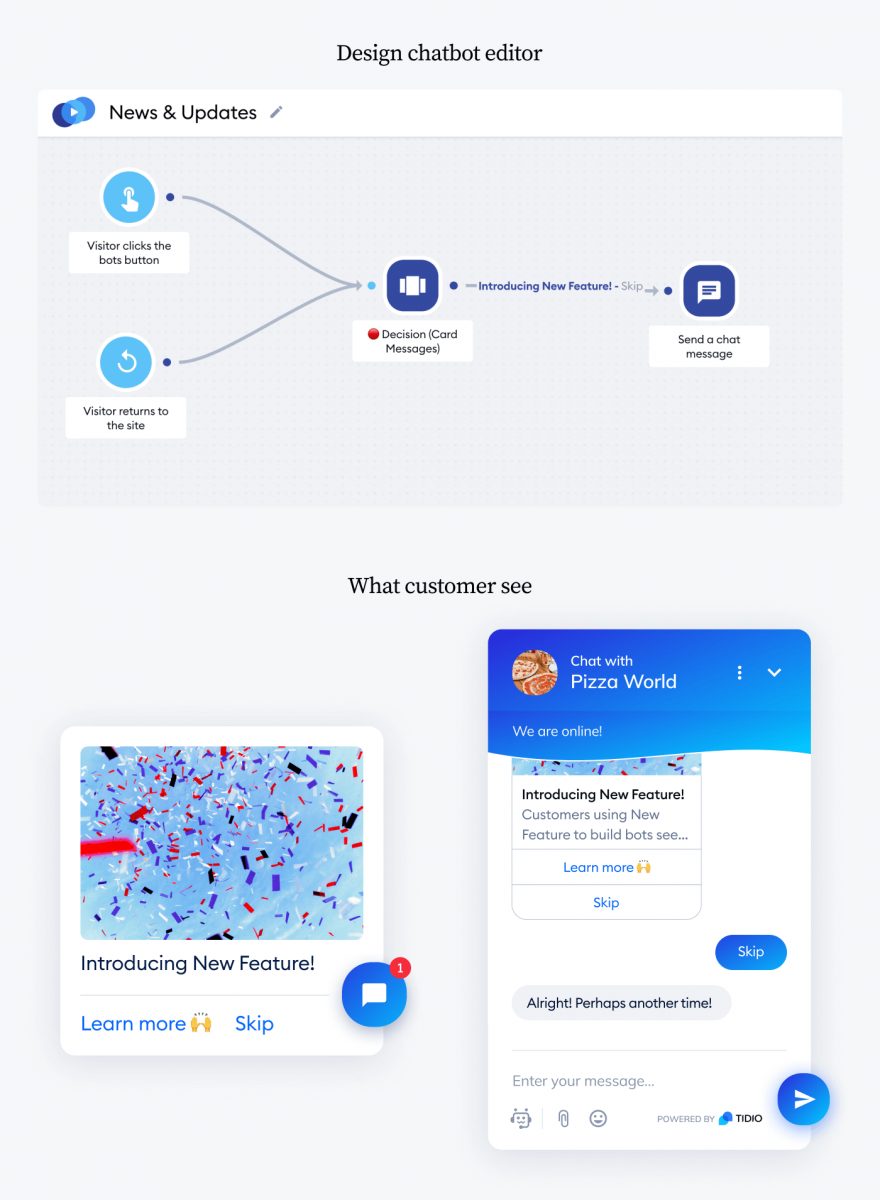 You can use this chatbot design template to keep your visitors, customers, and subscribers up to date with what's going on in your company. This could greatly improve your customer loyalty, so they come back to you again and again.
By clicking "learn more", the visitor will be redirected straight to the page with the news. Or you can change the trigger and show the most important information straight on the widget. It's up to you and what you think would work best for your clients.
This is a good way to build and maintain your customer relations. Your visitors and customers will feel more connected to your company, and they'll become a part of a community in no time.
8. Product recommendation ecommerce chatbot template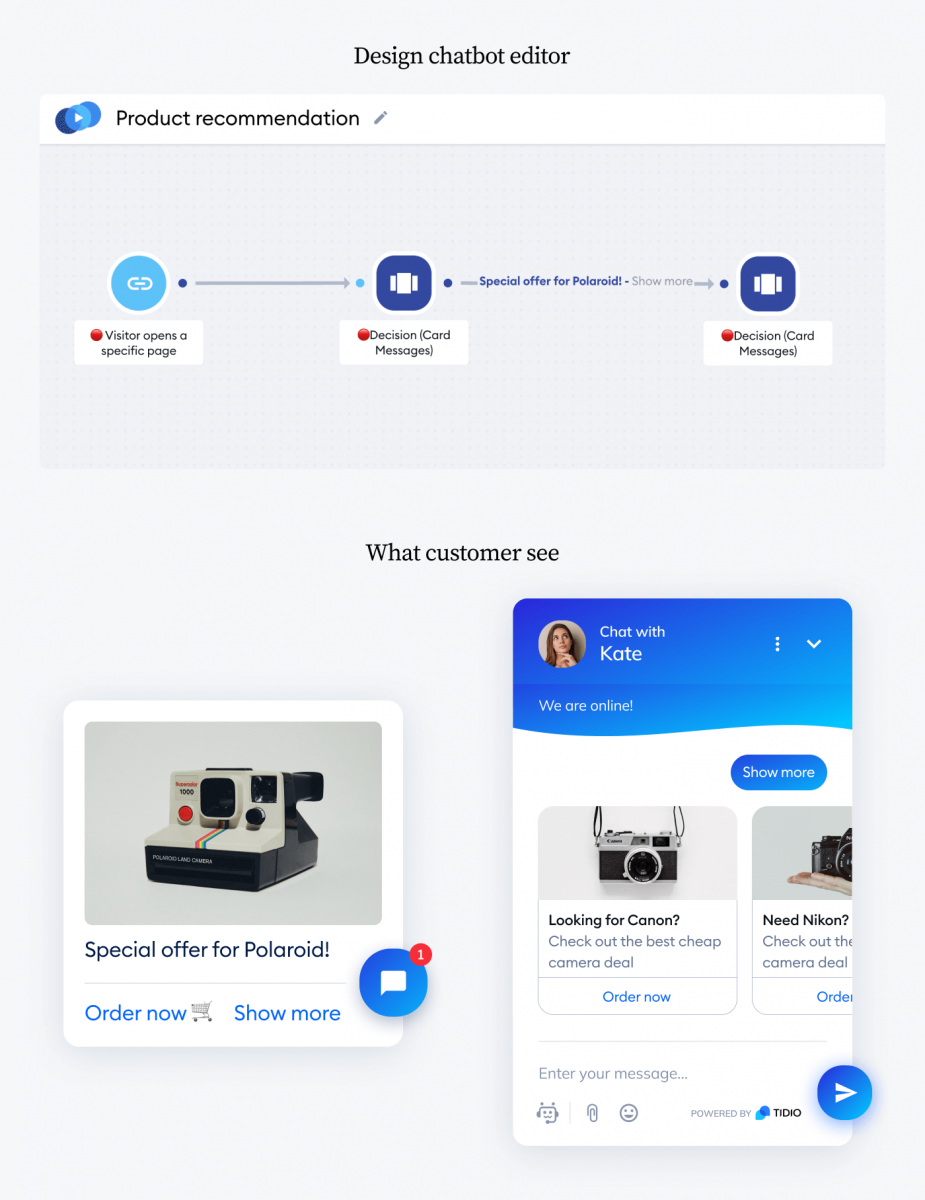 Tempt the potential customer with your products. Give them a personalized recommendation based on the pages they visited or the page they're on at the moment.
This can easily increase your sales, as about 49% of customers purchase a product they don't initially intend to buy after receiving a personalized recommendation from a brand. You can pick your top-selling products from each site and put them straight in front of visitors' eyes when they visit a specific page.
This chatbot template also adds an interactive touch for people to click through the recommended products on the chat. Visitors can scroll through the short list of hand-picked products which can help with the shopping experience on your ecommerce.
9. Cart saver bot template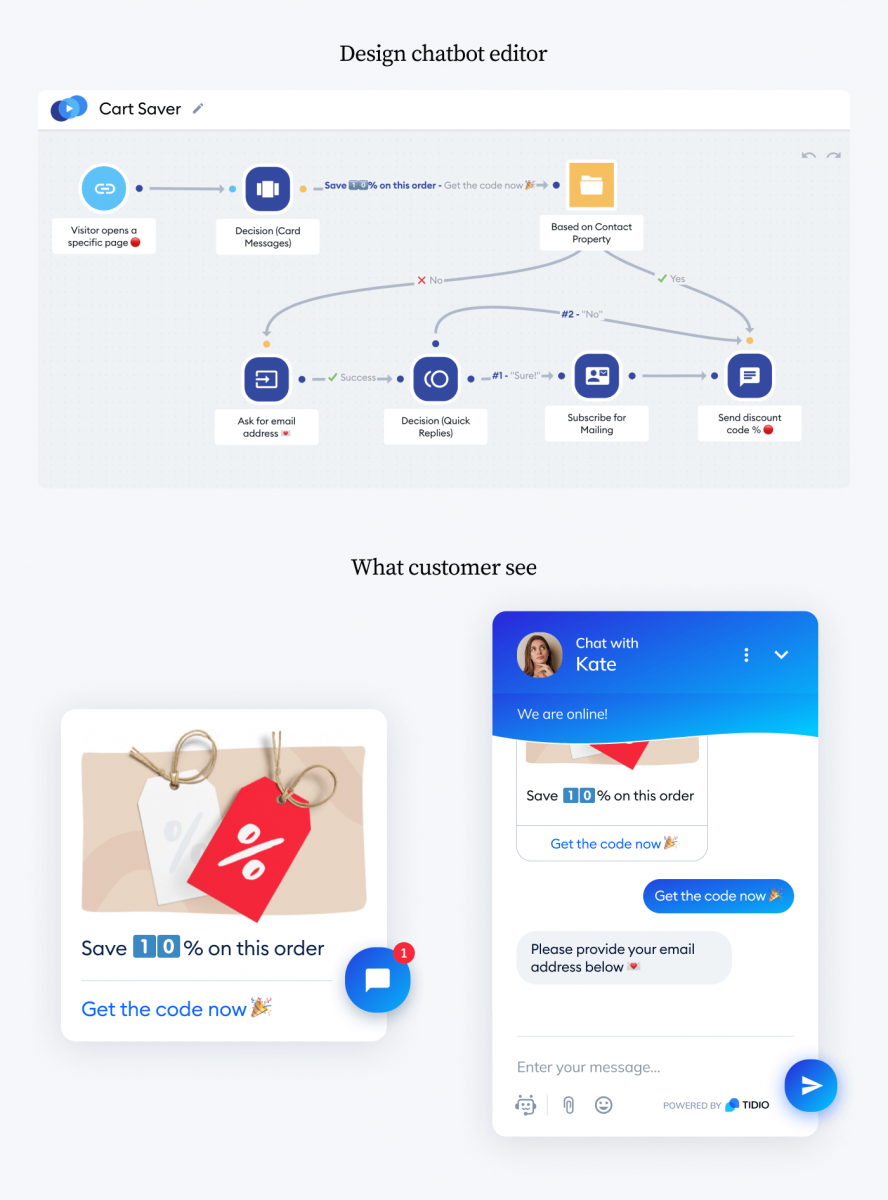 This is a great lead generation template for ecommerce businesses because it allows to recover the abandoned cart, collect users' emails, and make more sales. You know those moments when a potential customer adds your products into the shopping cart, but never actually checks out?
Never again!
With this bot template, you can set up a pop-up message with a discount or a special offer. The chatbot will display the message when a client is about to leave your site without completing the purchase. You can also do some testing with this template. Check if you can save more carts with a 15% or 10% discount. Or go even further and see how 30% works.
10. Discount chatbot template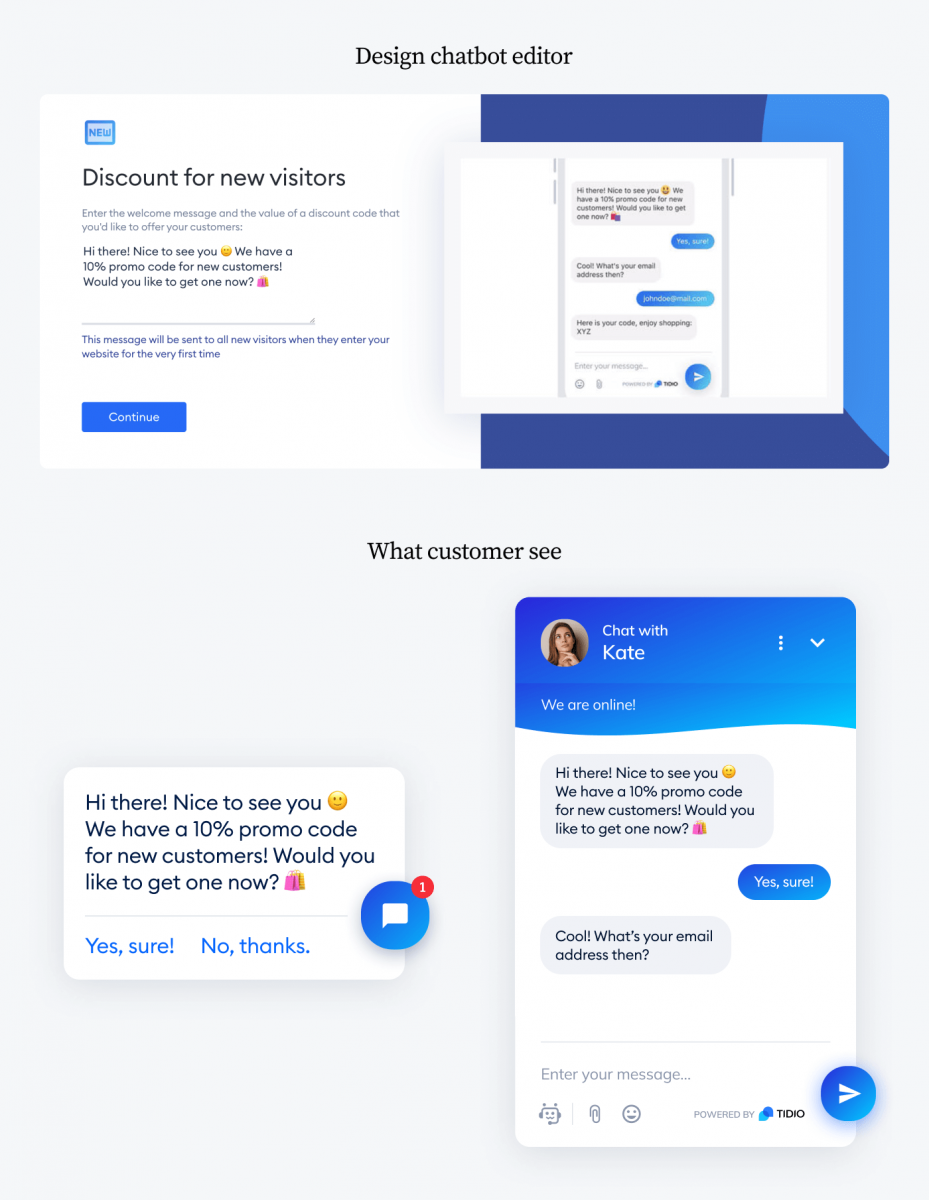 With this lead generation bot template, you can collect user information in exchange for a promo code. Or you can just give your newcomers a small offer to encourage them to buy something from your store.
Also, just like with the cart saver, you can see which discount is most appealing to the potential customers. You might be surprised by the results.
According to research, people find percentage discounts more appealing for products under $100. But when it comes to items over $100, clients prefer a discount of a specific amount of money. But you might see that this differs with your clients. So, test it out to be sure you're offering what attracts them most to click on your CTA.
11. Spinning wheel bot template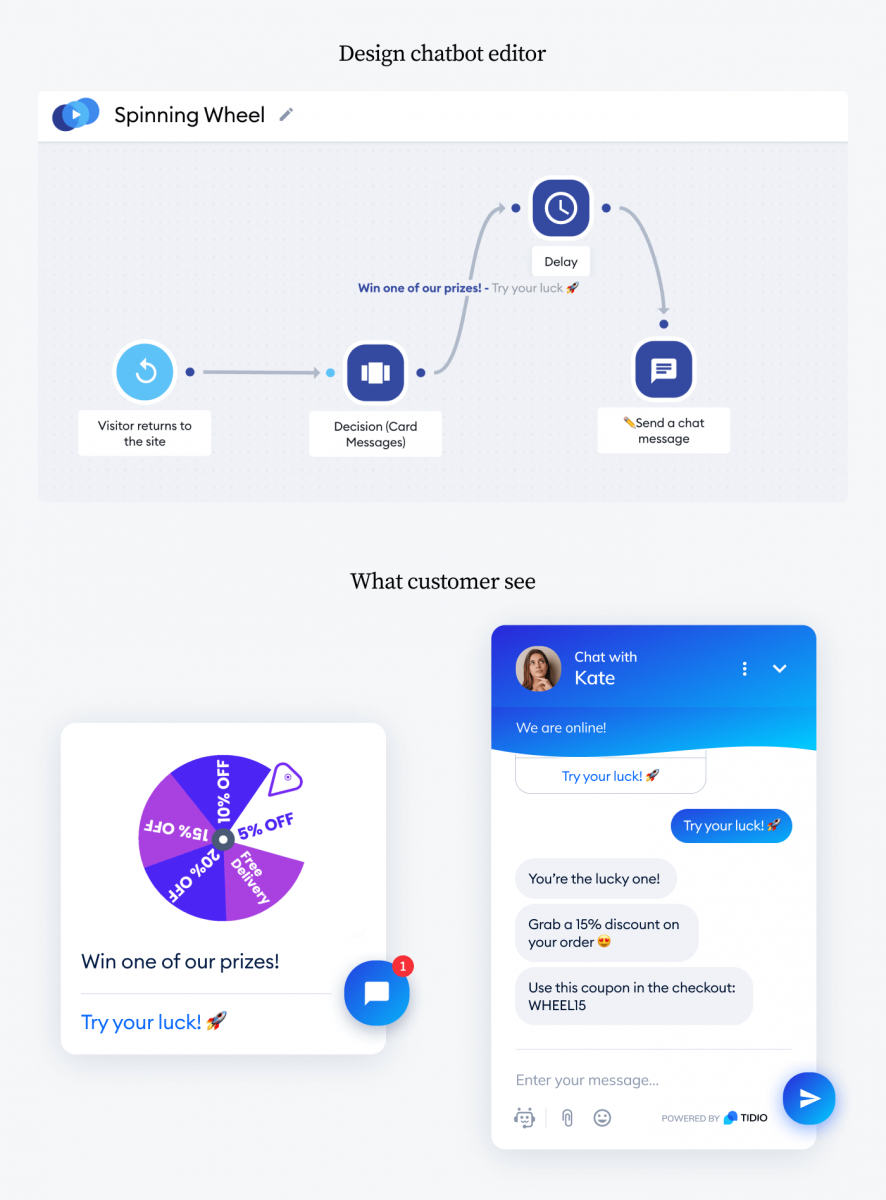 It's fun! And it adds an interactive element to your site.
This chatbot template offers your visitors to spin a wheel to get a prize. They will always get the "15% off" but it's more engaging to play the lottery than to just get the discount in a message.
You can set this up for returning or first-time visitors. You can also set it to trigger the bot with certain actions on your site. These actions include clicking the bot or visiting a specific page. You can also decide whether you'd like to send it once to a unique visitor, on each of their visits, or every 24 hours.
12. Order check bot template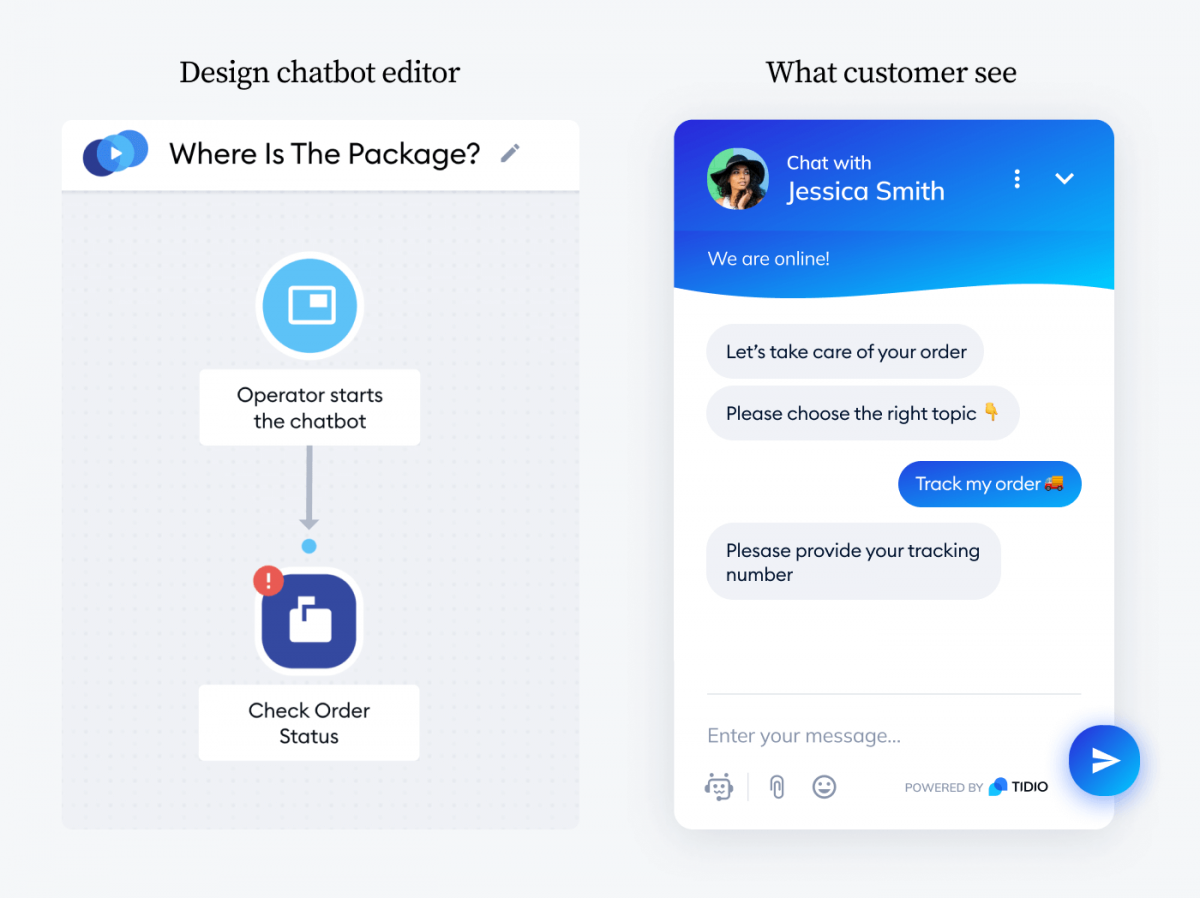 This chatbot template is only available for Shopify users. It allows your visitors to check their order status on the bot.
You need to connect the bot to your system to allow accurate tracking of a customer's order. This is a great solution to quickly answer this customer query, free up a lot of your agents' time, and improve the user experience on your site.
If you ask your agents how many messages they receive regarding clients' orders every day, you might be surprised by the large number. Imagine if even half of them were answered by the bot. Your reps would be able to focus on more complex issues and more important tasks at hand to help you grow your business.
13. Place an order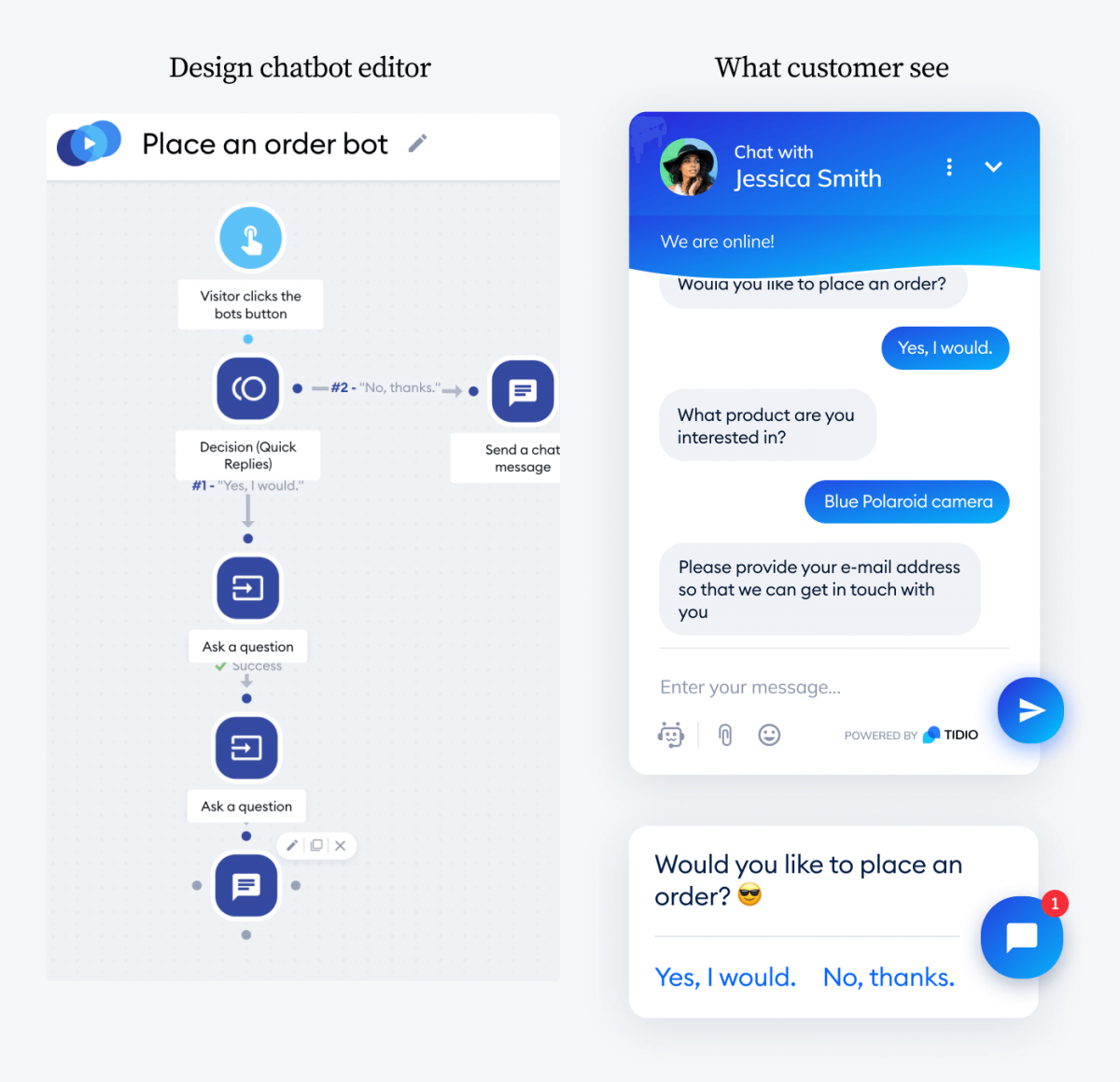 Let's say a potential client is searching through your website and finds the perfect dress design, but they'd prefer it in a different color or a little shorter.
That's when this ecommerce chatbot template comes in.
It lets your potential customers tell you exactly what they're looking for and provide an email address, so you can contact them. You will get a notification and an email with their preferences. You can then send the client some suggestions from your collection.
This can help you make a sale that would have otherwise been lost. And it's risk-free for the client since you're not asking for their credit card details, and they have nothing to lose.
14. Lead generation for real estate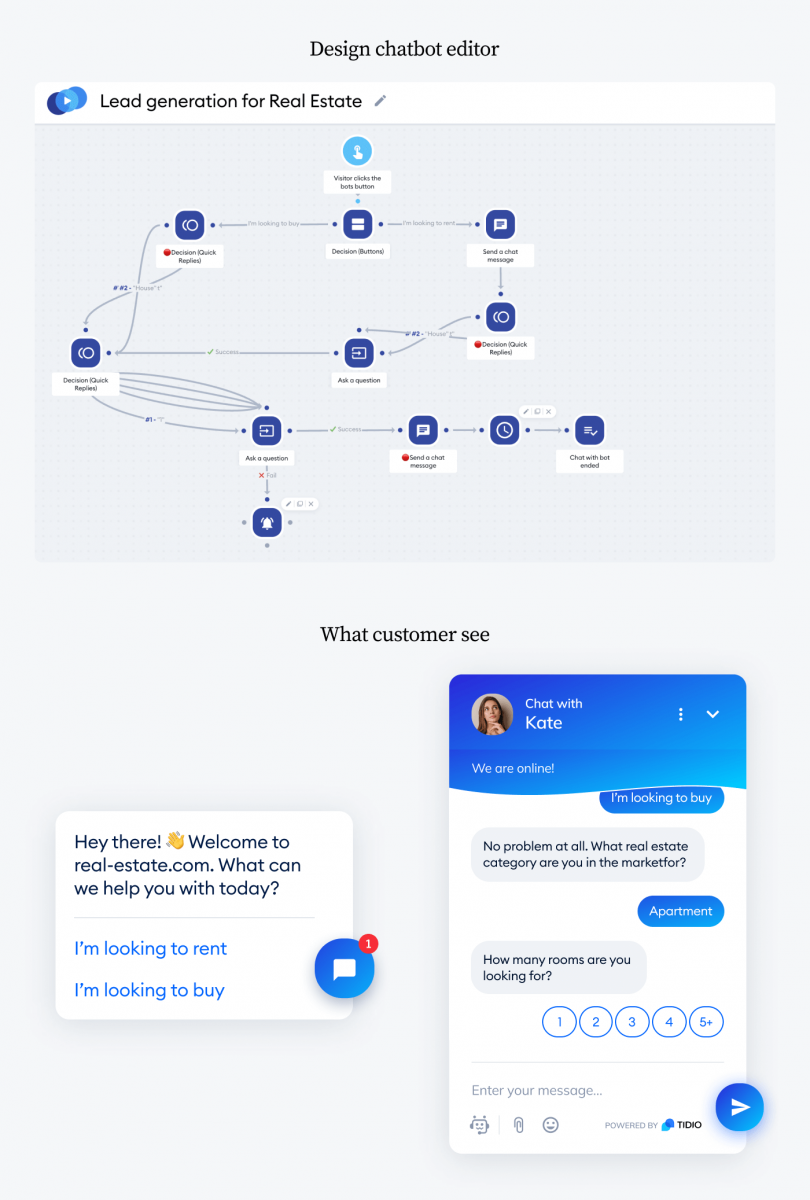 If you own a real estate business, this bot template is for you. It can generate qualified leads from your website without being too pushy.
This real estate chatbot template asks questions about what the visitor is searching for. It starts by identifying if they want a house or an apartment and then asks for specifications.
You can generate high-quality leads by asking the questions before the visitor provides their email. This way, you'll know exactly what they're looking for, so you can approach them with the right offers and increase your chances of making the sales.
15. Ask for opinion on social media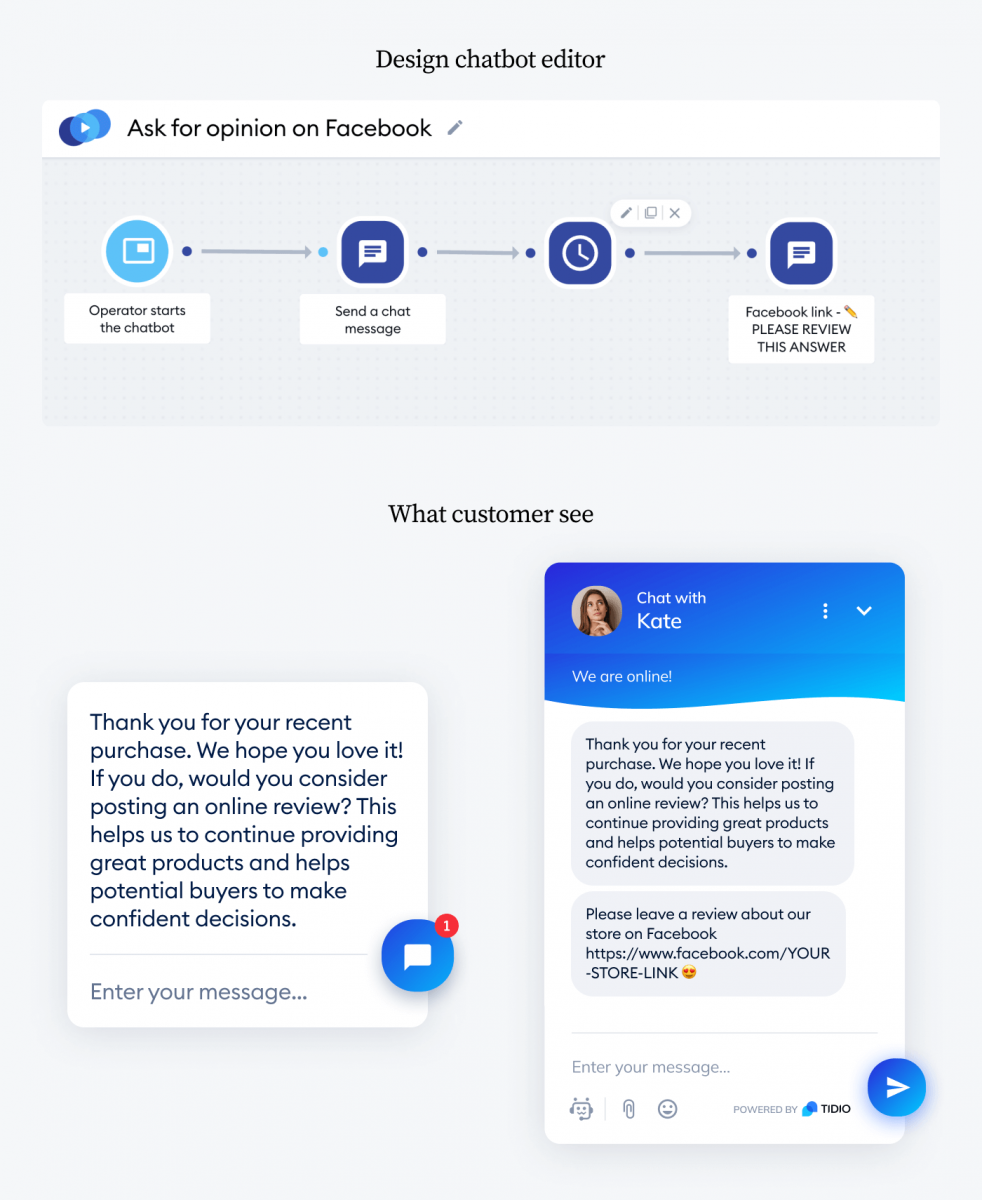 Let's say you have a beauty salon and its Facebook page could use a boost of trust through some opinions and likes.
This chatbot can ask your visitors for exactly that.
Through this bot template, you can ask for reviews and encourage people to visit your Facebook page. This can increase your followers and improve your social media marketing efforts. Since more people will be exposed to your content on Facebook, more of them might love what you stand for and become loyal customers.
16. Autoresponder for Instagram story replies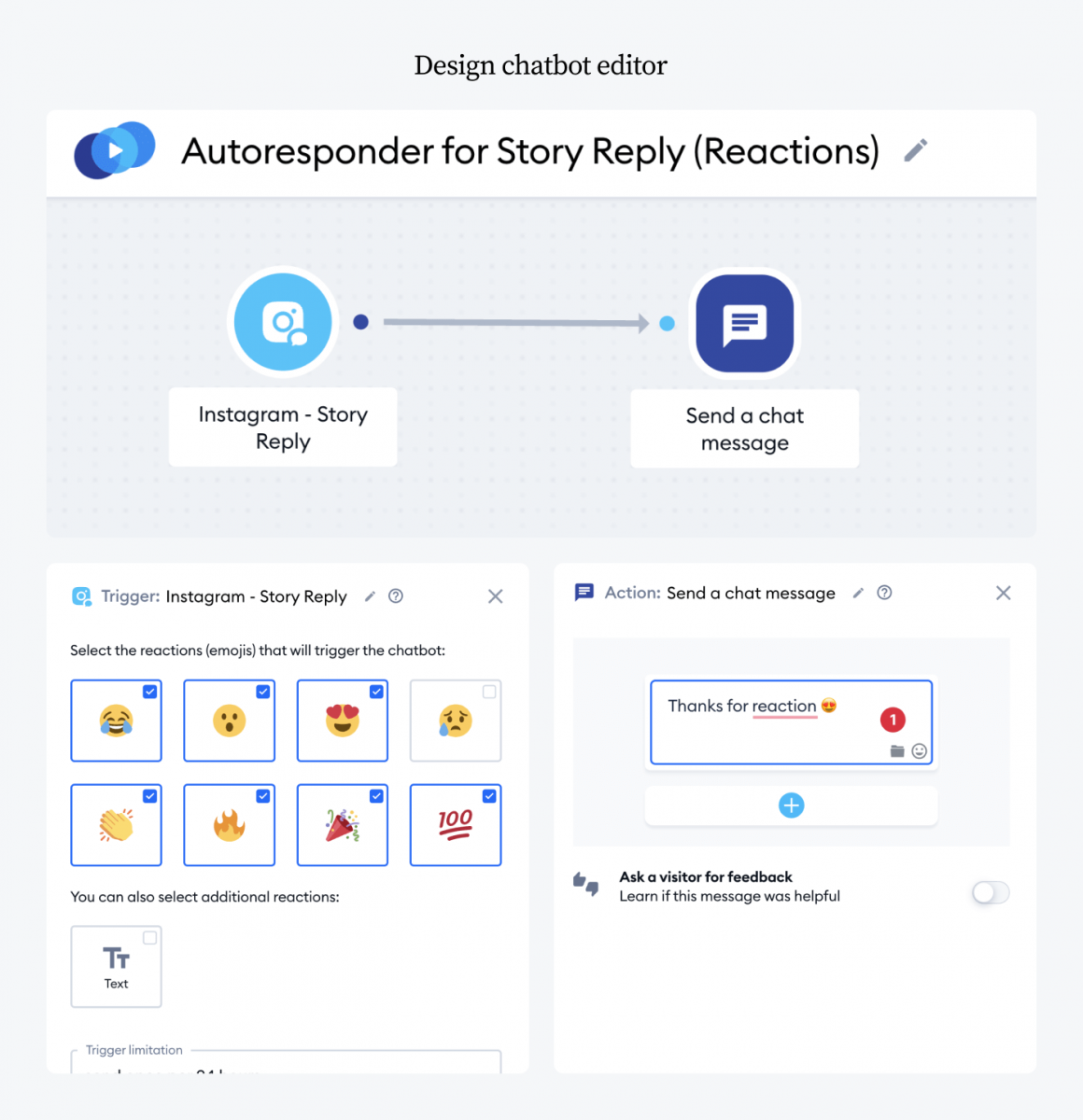 With this bot template, you won't ever let your followers down. This chatbot makes sure you always respond to their replies to your story. Even when you're busy with other tasks.
This can improve your interactions with the followers and show that you care. It's a nice touch and makes your relationship with clients more personal. They can see that you appreciate them and their support.
The bot, in this case, is the behind-the-scenes guy, and the communication with your client is happening through Instagram. So, in order for the two to work together, you need to connect them.
Okay—there are a lot of choices. And that's not even an exhaustive list. But let's move on and learn why you should even bother using the templates.
Why use a bot template?
There are four main reasons we can think of:
1. It's quicker than creating it from scratch.
You won't have to design your own flow, so getting your chatbot up and running will be much quicker and easier. You only need to insert your messages into the framework and you're done. This is even more important for small businesses that don't have much spare time or spare hands at play.
The biggest benefit of using chatbot templates is that you can automate customer support, lead generation, and some of the ecommerce actions within minutes to increase sales.
2. It's a learning opportunity.
You can experiment with different templates and see what works for you. Also, you can get a better understanding of how bots work and how they are organized in order to be effective. After using a few chatbot templates, you can try designing your own flow from scratch to put your knowledge into practice.
3. They are tried and tested.
The chatbot templates on the provider's app have been tested by other people— software providers themselves included. They were based on thousands of interactions with users and optimized for better response rates. So, you can be sure they are effective in lead generation, support, and other tasks.
4. They help you decide which chatbots fit your needs.
You can also change your mind as many times as you like as there are many different chat templates to choose from. So, you can test them until you find the one that fits your needs best, or use a few different bot templates to create a number of bots with a variety of purposes.
As you can see, there are many benefits of using chatbot templates. But how do you do that?
How to use chatbot templates?
You already know that using chatbot templates to build your bot is easier and quicker. And it's also a great opportunity to learn. So, even if you want to create your own chatbot from scratch, we would still recommend playing around with the templates first to practice and see what an effective bot looks like.
How to use chatbot templates? Just follow these simple steps:
Decide where do you need chatbots' assistance. As we said before, there are five main types of bot templates. Choose the area you want the bot's assistance in.
Pick a template. Each of the chatbot templates serves a specific purpose. Choose the right one for your needs.
Customize the text. The templates come with text already filled in. But make them more customized towards your brand by changing what the bot tells your site's visitors.
Add/Remove/Edit triggers. When do you want the bot to pop up? Is it when a visitor enters your website? Clicks on a specific page? Or maybe you want to only show it for newcomers? Edit what should trigger your bot to show up for your potential customers.
Test the chatbot. Make sure everything's working as it should before you deploy the bot to chat with your visitors. You can do it by testing the chatbot.
Save the bot. Once your conversation map is ready, click Save.
Learn how to use Tidio templates in a few easy steps, or discover how to create your own Tidio bot from scratch with this easy-to-follow guide.
Summary
Some of the key points you should take away from this article are:
Chatbot templates are pre-designed bots you can customize to put together task-specific bots in no time.
The five types of chatbot templates you should consider for your company: customer support, ecommerce, lead generation, customer communication, social media bots.
Your business needs only a few different bot templates to thrive. Scroll up and pick your favorites from the 16 best bots on our list.
You should consider using chatbot templates because they make bot building easier and quicker. You can also use them as a learning opportunity before trying from scratch. This way, you'll know how an effective bot looks and know what to aim for.
Some of the pre-built bots might have functions that prove to be useful to your business. Just remember to try different bot templates out before setting for the chosen few. You never know!