Digital-savvy businesses are increasingly using chatbots to deliver exceptional, personalized customer experiences that win new customers and convert more sales.
The restaurant industry is traditionally behind the curve of online marketing and has been slow to adopt new technology to attract customers. A lucky few restaurants can rely on incredible food and word of mouth to ensure tables are fully booked.
However, the reality is that the vast majority cannot. This is where chatbots can play a vital role in attracting new customers and increasing customer loyalty.

Before blindly deploying a chatbot on your website or social media channel, you first need to plan how you're going to use them. Think about the benefits you want them to deliver for your restaurant. The first step is to build out a restaurant marketing plan. It will help you put in place a framework to follow, as well as defining how a chatbot fits into your marketing and customer service strategy.
You also need to understand what chatbots are, what they can help you to achieve, and how to use them to enhance your restaurant's daily activity.
If you want to start using chatbots right away, check out: The Best Chatbot Templates for Restaurants.
And if you're interested in exploring what live chat options you have, read our article on The Comparison of Best Free Live Chat Software.
How Chatbots Can Help Your Restaurant
Chatbots are adept at building engagement with customers, be it online or in your restaurant. They can make recommendations, take orders, offer special deals, and answer any questions or concerns a customer has through a fun, conversational interface. There are many chatbot ideas you can try out. The process is quick, easy, and potentially reduces the risk of confrontation.
By the way, if you want to learn more about chatbots read our article: What Is a Chatbot? [Chatbot Benefits].
Here are eight examples of how using a chatbot can revolutionize your restaurant on a daily basis:
1. Revamp Reservations
Managing reservations and taking orders from customers can be a time-extensive task, especially as the rich choice of online takeaway choices making the process more complicated. Human error means orders can, and will, go wrong from time to time.
But with a chatbot deployed on your website, app, social media accounts, or a phone system, you'll be able to interact with customers quickly. Chatbots can perform these tedious tasks with the guarantee that orders will be 100% accurate. Minimizing human error will build customer trust and loyalty.
2. Simplify Table Service
It's highly likely you've been to a restaurant where your waiter or waitress seemingly forgot about you, giving you a long wait for your food. But with chatbots deployed that frustration can be eliminated, ensuring every customer gets a good experience and is served in a timely manner.
3. Promote Special Deals
A chatbot can take your email list that's been gathering dust and bring it to life. For example, it can engage customers that haven't visited you for a while with new deals and special offers. Chatbots are also able to recognize regular customers and encourage them to keep coming back for more by sending them special offers either via email, Facebook Messenger, or text message.
4. Personalize Food Recommendations
The art of knowing your customers is essential to building trust and loyalty. This is particularly true with younger generations, who expect brands to understand their preferences and aren't afraid to share their disapproval when these expectations aren't met.
Understanding a customer's food and drink preferences and using them to make personalized recommendations could, therefore, be a vital tool in delighting your customers. Chatbots can be a better solution than instructing your employees to learn your menu inside-out and gain a deep understanding of all your customers to make these recommendations. By using previous purchase information, a chatbot can advise customers of dishes they may not know about or advise them on the best drink to match their preferred meal. All of which builds their affinity with your restaurant.
5. Feedback Follow-Up
Reviews are crucial to the modern consumer, who will now make restaurant choices based on feedback that previous diners have left on sites like Yelp and TripAdvisor. Receiving positive listings on these sites is crucial, but manually following up with every customer to encourage them to do so is extremely time-consuming.
Chatbots can send automatic reminders to your customers to leave feedback. They will also help you obtain their permission to email them following their visit during the booking process. They provide an efficient method for taking reviews and gaining feedback from customers.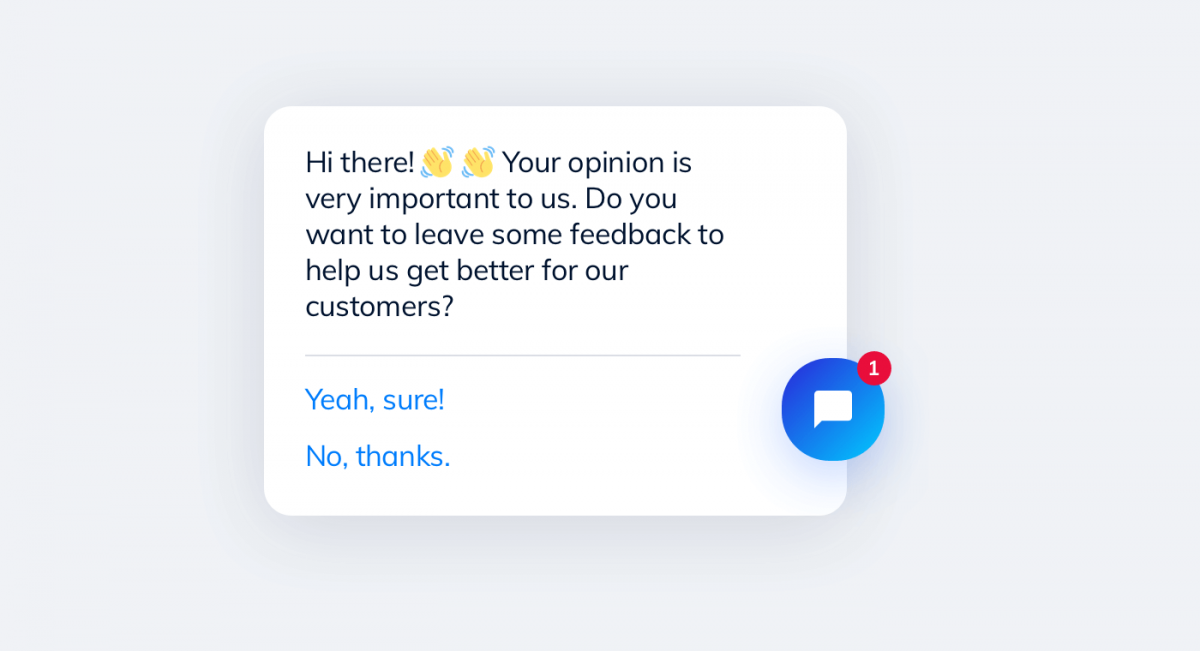 6. Simplify Delivery and Takeaway
Ordering takeaway can be a difficult process for customers. But with chatbots, the experience is quick and simple. They can make their order with your restaurant on Facebook or via your website's chat window while engaging in conversation with the chatbot. It is an excellent alternative to having to call you or move over to an app to make the order.
7. Save Time
Tidio's research finds that around one in nine customer queries is about the status of their delivery. If you're a restaurant running takeaway services, then using a chatbot can immediately answer these questions for customers. It can save your employees time. You can also remove any concerns by using a Delivery Tracking Chatbot, which provides customers with updated delivery information.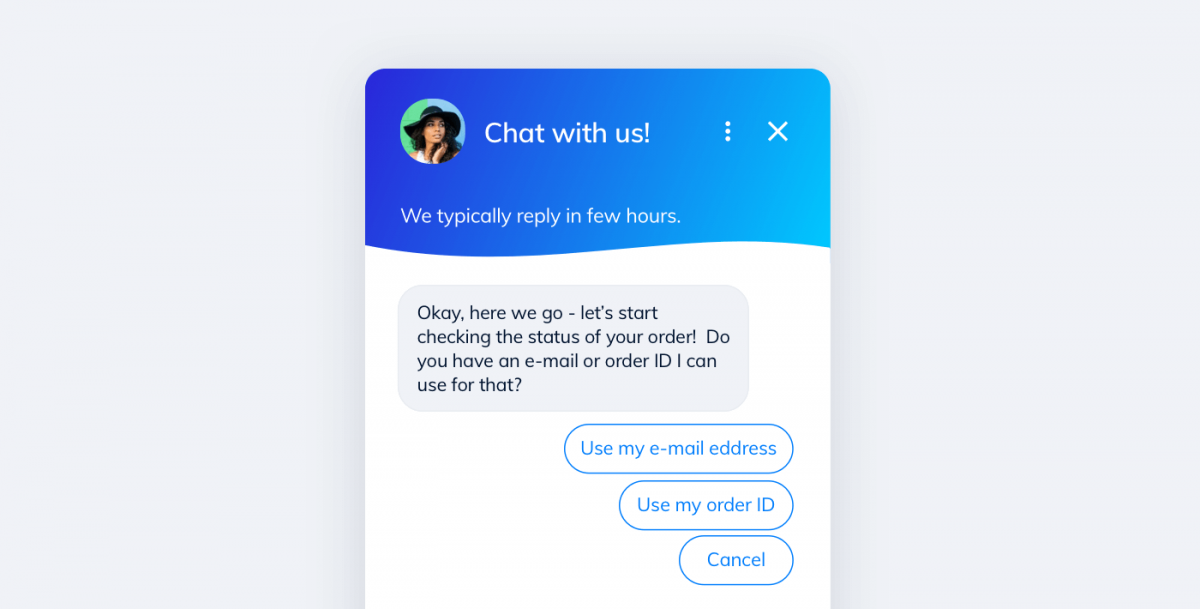 8. Nurture Customers
It's important to remember that not every person visiting your website or social media profile necessarily wants to buy from you. They may simply be checking for offers or comparing your menu to another restaurant. But this presents an opportunity for your chatbot to engage with them, provide assistance to guide their search, share your menu and pricing information, and collect their personal details. Providing a quick response, offering friendly communication, and quickly resolving their queries will help you create a good user experience. Consequently, it may build an affinity with that potential customer.
Ready and willing to set up a restaurant bot? Head straight to our guide on how to make a chatbot for a website.
Also, keep in mind that a chatbot works on any kind of website. For websites on WordPress, for example, there's a WordPress chatbot. The same applies to other types, so no worries about compatibility.
How to Use Your Chatbot
You can deploy a chatbot to accomplish many different actions. So, it's important to think about the role you want the chatbot to play in your business.
You may simply want to use it as a productivity tool that answers simple, but frequently asked questions such as "What are your opening hours on Sunday?" or "Do you have vegan options?". Or you may want it to play an active role in enhancing your marketing strategy. The important point is to map out what you want to achieve and monitor its success, which means creating objectives that are realistic and easy to track.
Maximize the Potential of Your Chatbot
Getting the best results from the deployment of a chatbot is reliant on synchronizing it with your marketing and other customer-facing efforts. While staff focus on preparing and serving food, the chatbot is busy engaging with consumers and accruing vital data that will deepen your understanding of your customers.
This makes the chatbot a vital intelligence-gathering tool. Armed with customer contact details, their previous ordering history, and preferred method of communication and payment, the chatbot can provide a more personalized experience and incentivize loyal customers. This will enhance the experience you offer to customers, increase loyalty and the chances of repeat business.
The use of chatbots can be critical, especially in the case of millennials, who often prefer not to speak to a person when dealing with a brand. Instead, they increasingly expect a seamless digital experience. Deploying a chatbot will show that your restaurant understands their needs and expectations.
Unleash the Power of Chatbots
Chatbots are not just the latest fad. They're a powerful tool that can deliver huge benefits for your restaurant. And you can build them with the help of free chatbot platforms.
Your customers will no longer have to call to book a table. They'll also never have to queue for a table or be frustrated by having to suffer long delays when ordering their food. Making reservations, ordering takeaway, and processing payments will become simpler and more efficient, while you'll be able to deliver exceptional customer service around the clock.
Taking your consumer engagement to the next level by using a chatbot will introduce you to a wide audience of tech-savvy consumers. They are increasingly loyal to businesses that meet their digital expectations. Embracing chatbot technology will be rewarded with outstanding customer experiences, higher repeat traffic, and more sales. Using it well will see your restaurant's tables fully booked and takeaway orders flying out of the door.
Provide 24/7 customer service even when you sleep.
Create unlimited chatbots for your website without coding to engage more visitors.
Learn About Chatbots