Do you want to make your restaurant website more efficient and improve the quality of your customer service?
Well—chatbots for restaurants can help you with that. You can use them to manage orders, increase sales, answer frequently asked questions, and much more.
So, why wait?
Stay with us and learn all about a restaurant chatbot, how to build it, and what can it help you with.
In this article:
If you want to find out more about chatbots, check these out:
Let's jump straight into this article and explain what chatbots for restaurants are.
What are restaurant chatbots?
A restaurant chatbot is a computer program that can make reservations, show the menu to potential customers, and take orders. Restaurants can also use this conversational software to answer frequently asked questions, ask for feedback, and show the delivery status of the client's order. A chatbot for restaurants can perform these tasks on a website as well as through a messaging platform, such as Facebook Messenger.
A chatbot for restaurants looks something like this: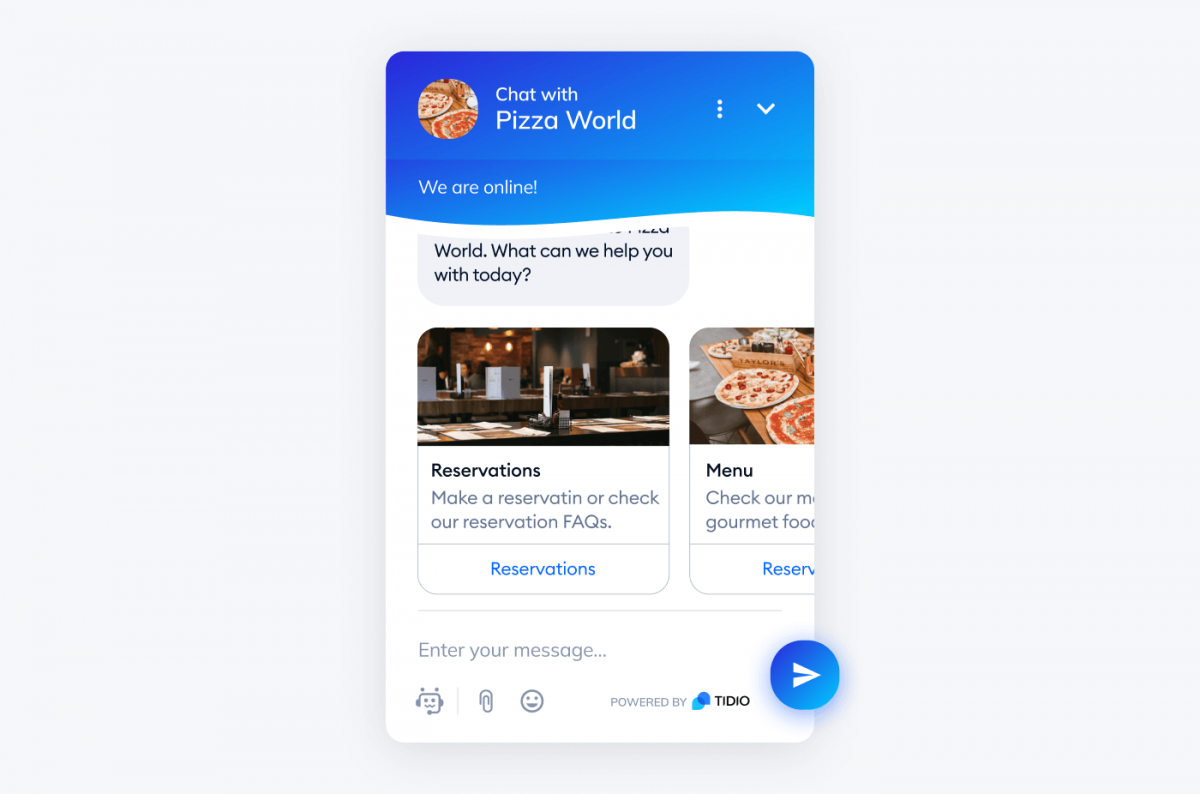 Chatbots can use machine learning and artificial intelligence to provide a more human-like experience and streamline customer support. They also provide analytics to help small businesses and restaurant owners track their performance.
Suggested reading
What can a chatbot be used for in a restaurant?
They can make recommendations, take orders, offer special deals, and address any question or concern that a customer has. And they do it through a fun, conversational interface. As a result, chatbots are great at building customer engagement and improving customer satisfaction.
Here are five examples of use cases for restaurant chatbots that can revolutionize your restaurant on a daily basis: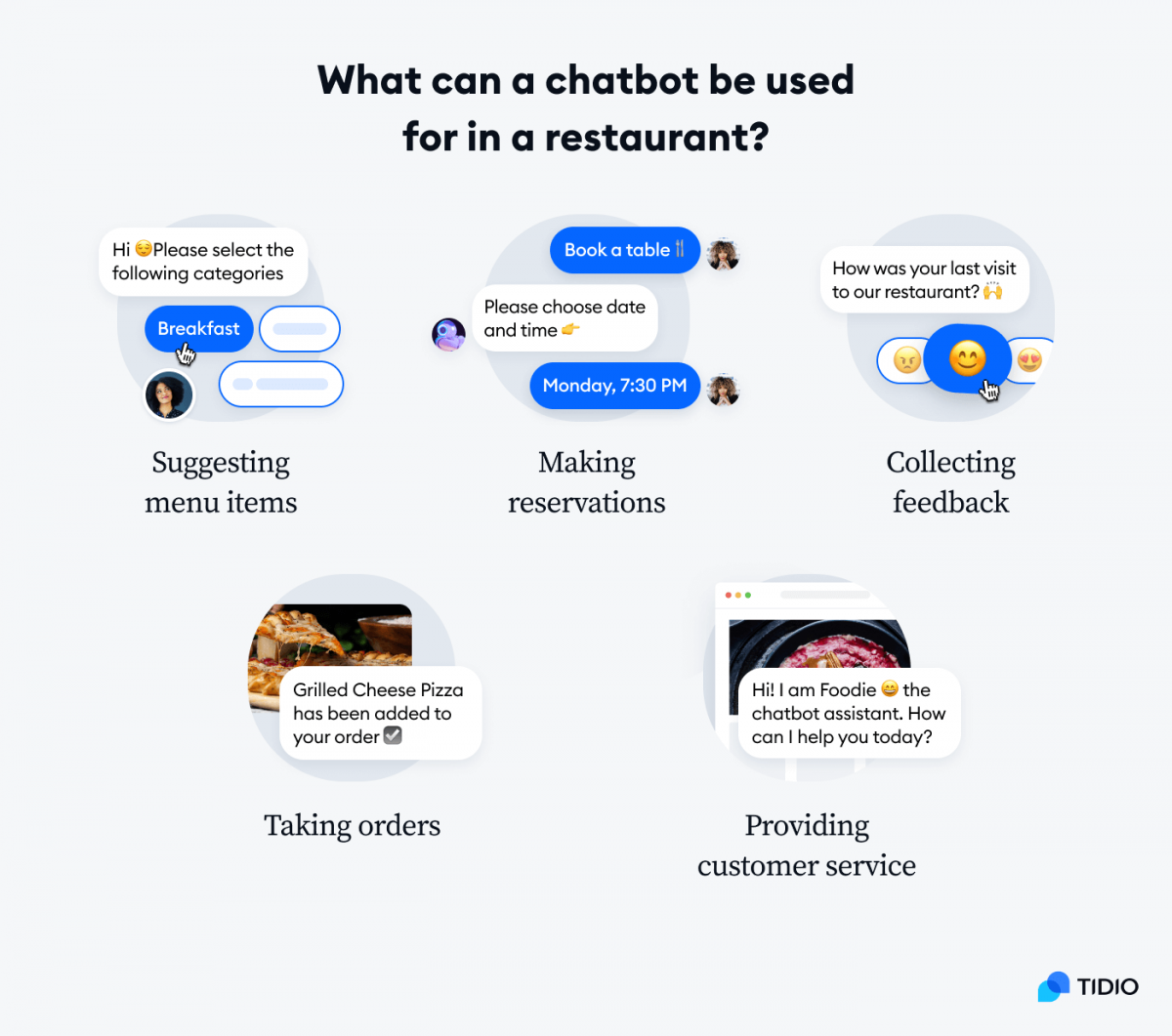 Suggesting menu items
Can a chatbot be used by a restaurant to take customer orders and make menu items suggestions?
Of course, it can!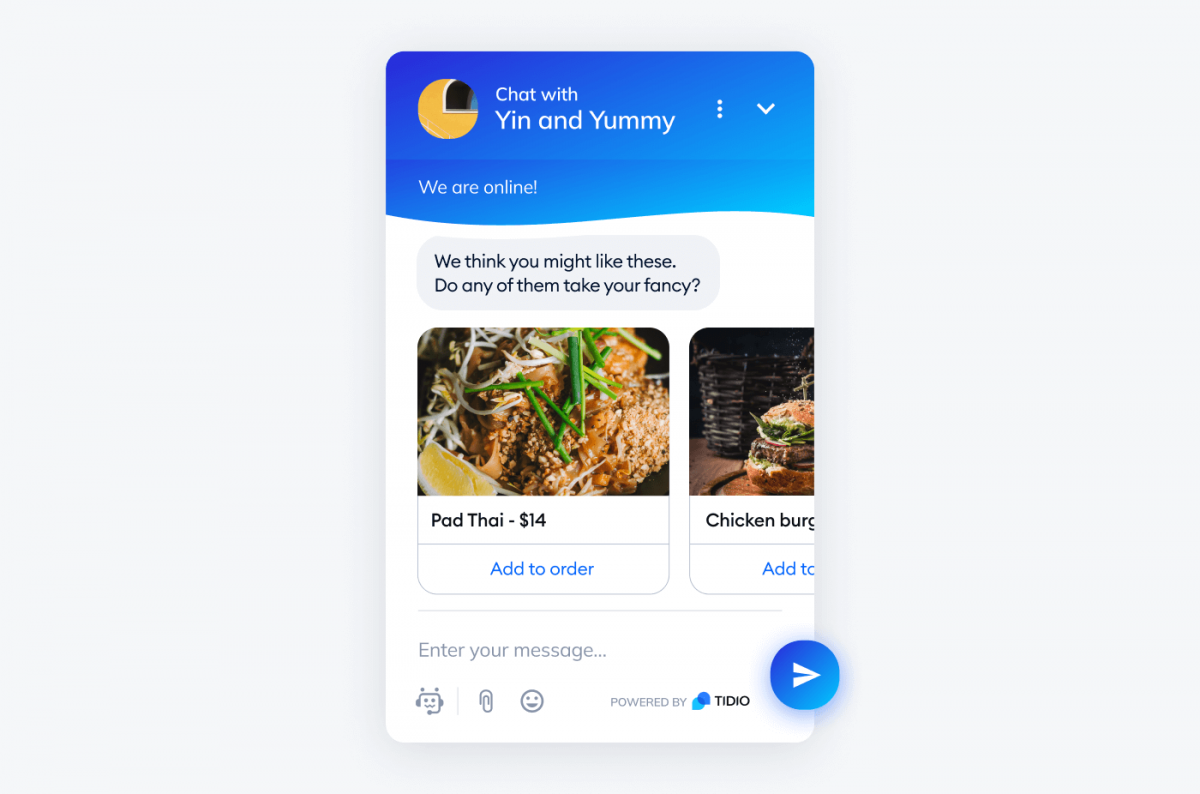 Let's say your visitor is browsing around your website for dinner. Then, a chatbot pops up asking if it could help them and showing some food recommendations from a menu card format. This way, the customer can pick and choose what they would like and order it straight from the bot.
Restaurant chatbots can also recognize returning customers and use previous purchase information to advise the visitor. A bot can suggest dishes a customer may not know about, or recommend the best drink to match their preferred meal. All of which can build their affinity with your restaurant.
In the long run, this can build trust in your website, delight clients, and gain customer loyalty to your restaurant.
Making reservations
A restaurant bot can make a reservation in just a few clicks. The website visitor can choose the date and time, provide some information for the booking, and—done! What's more, about 1/3 of your customers want to be able to use a chatbot when making reservations.

You can use a chatbot restaurant reservation system to make sure the bookings and orders are accurate. You can also deploy bots on your website, app, social media accounts, or phone system to interact with customers quickly. Restaurant bots can also perform tedious tasks and minimize human error in bookings and orders.
And the best thing about using chatbots to take reservations?
Your phone stops to be on fire every Thursday when people are trying to get a table for the weekend outing. The bot will take care of these requests and make sure you're not overbooked.
Collecting feedback
This one is important, especially because about 87% of clients look at online reviews and other customers' feedback before deciding to purchase anything from the local business.

Also, reviews are crucial to the modern consumer. They now make restaurant choices based on feedback that previous diners have left on sites like Yelp and TripAdvisor. So, make sure you get some positive ratings on different review sites as well as on your Google Business Profile.
A restaurant feedback chatbot can help you with that. It can send automatic reminders to your customers to leave feedback on third-party websites. It can also finish the chat with a client by sending a customer satisfaction survey to keep track of your service quality.
Your bot can also help you with lead generation and improve your restaurant marketing strategy. They can obtain email addresses during the booking process and gain permission to contact the customer. You can then collect feedback with your follow-up emails and make sure your restaurant gets high stars for effort and quality service.
Simplifying the order process
Food ordering automation is quick and simple. Customers can make their order with your restaurant on a Facebook page or via your website's chat window by engaging in conversation with the chatbot. It is an excellent alternative for your customers who don't want to call you or use an additional mobile app to make an order.
Plus, who doesn't like to check where is their food in real-time?
Chatbots can provide the status of delivery for clients, so they can keep track of when their meal will get to their table. You can implement a delivery tracking chatbot and provide customers with updated delivery information to remove any concerns. So, if you offer takeaway services, then a chatbot can immediately answer food delivery questions from your customers.
Our study found that over 71% of clients prefer using chatbots when checking their order status. Also, about 62% of Gen Z would prefer using restaurant bots to order food rather than speaking to a human agent.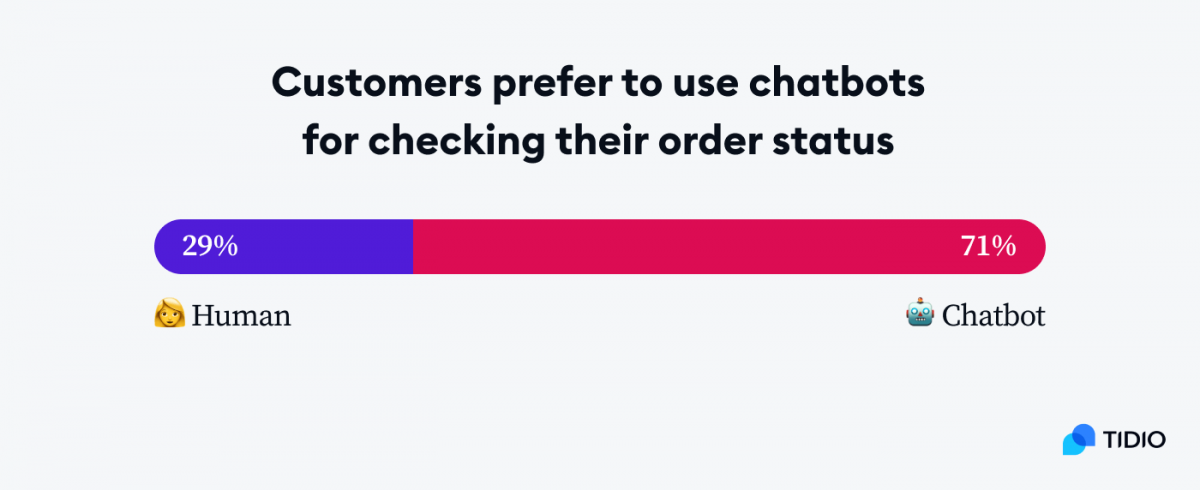 Chatbots for restaurants can also save time for your staff, so they can focus on the food and provide excellent customer service in-person.
Providing customer service
Did you know that 87% of customers say that chatbots are effective in resolving their queries?
You can prepare the customer service restaurant chatbot questions and answers your clients can choose. Like this, you have complete control over this interaction without being physically present there.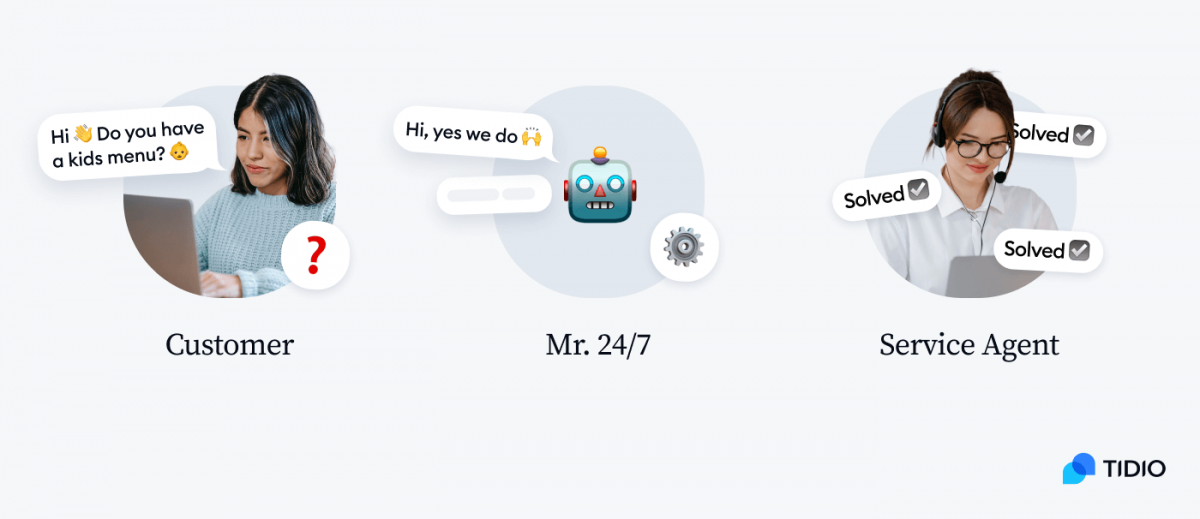 It's important to remember that not every person visiting your website or social media profile necessarily wants to buy from you. They may simply be checking for offers or comparing your menu to another restaurant.
But this presents an opportunity for your chatbot to engage with them and provide assistance to guide their search. The bot can also offer friendly communication and quickly resolve the visitor's queries, which can help you create a good user experience. Consequently, it may build a good relationship with that potential customer.
Check out how this restaurant business uses a bot with an autopilot as a waiter. Wouldn't you like to try that out?
Now—
Let's learn how to build a chatbot for your restaurant using a template.
Did you know that…
A recent study shows that nowadays around 76% of restaurants use three or more automated tools. And over 56% of restaurants have increased their revenue since starting to use automation tools
How to build a restaurant chatbot
The easiest way to build your first bot is to use a restaurant chatbot template. The flow is already created and all you need to do is customize it.
For the sake of this tutorial, we will use Tidio to customize one of the templates and create your first chatbot for a restaurant. So, open up your Tidio app, let's get started.
1. Go to the Chatbots tab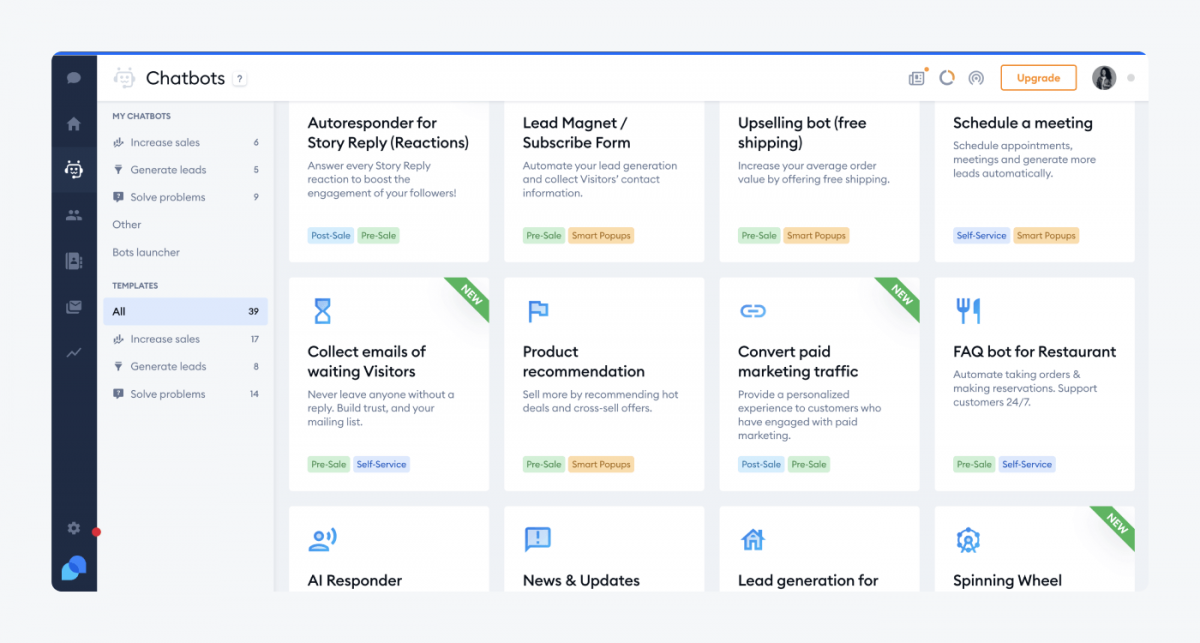 From your admin page click on the Chatbot tab. Scroll down until you see the FAQ bot for Restaurant. Click on Use Template to customize it and add a restaurant chatbot to your page.
2. Pick the FAQ chatbot for restaurant template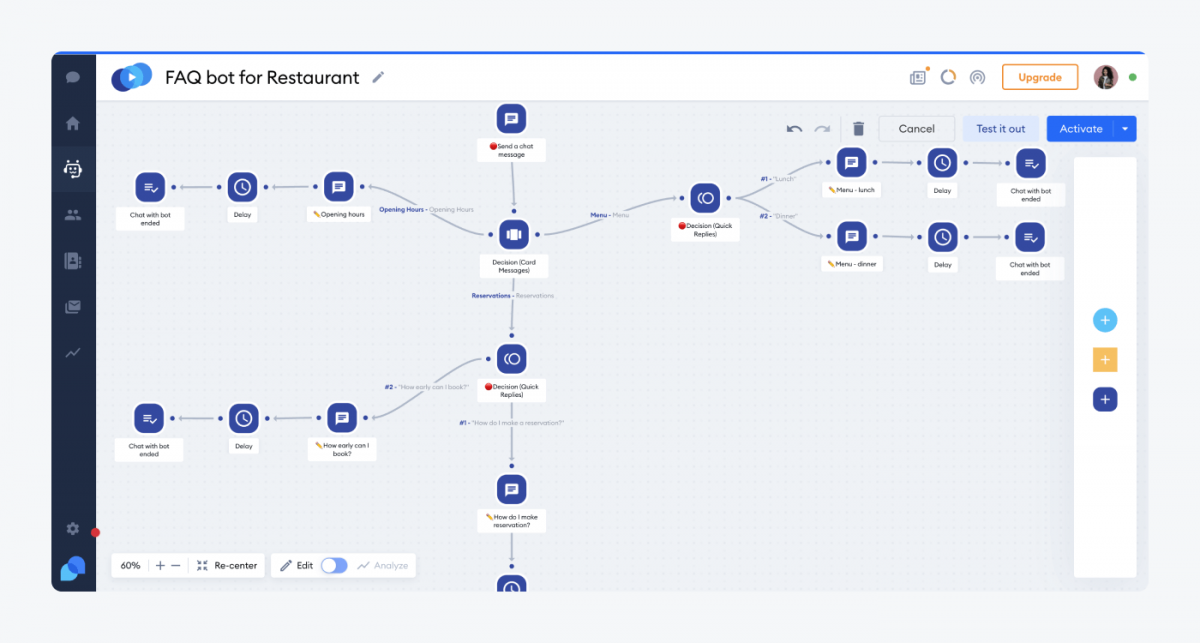 Once you click Use Template, you'll be redirected to the chatbot editor to customize your bot. It can look a little overwhelming at the start, but let's break it down to make it easier for you.
3. Edit trigger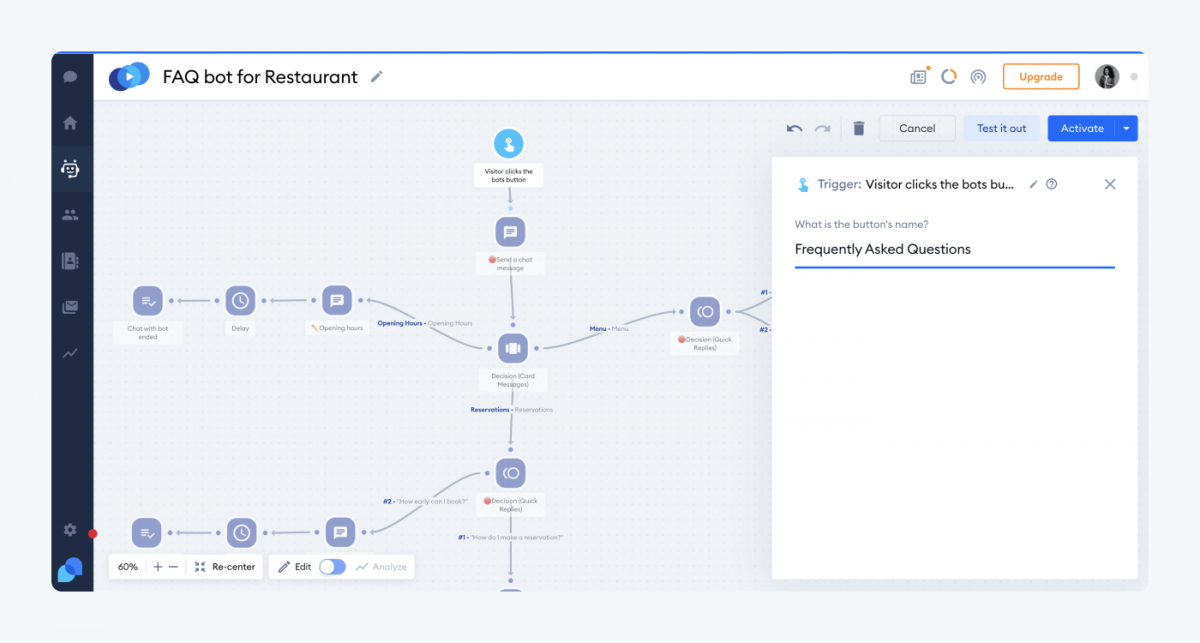 Click on the trigger icon to personalize it. Type which user action you want to trigger this bot. It can be the first visit, opening a specific page, or a certain day, amongst others.
4. Edit action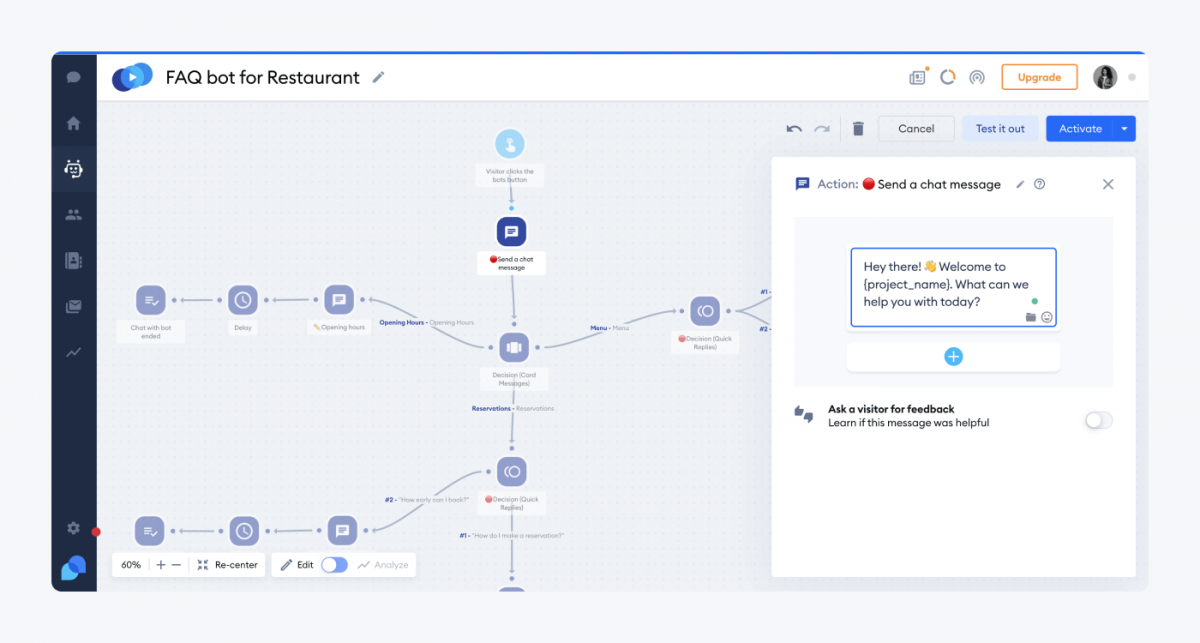 Next, click on the first action of the flow. Here, you can edit the message that the restaurant chatbot sends to your visitors. You can also change this action for a different one if you like. But we would recommend keeping it that way for the FAQ bot so that your potential customers can choose from the decision cards.
Speaking of which—
5. Customize the decision card messages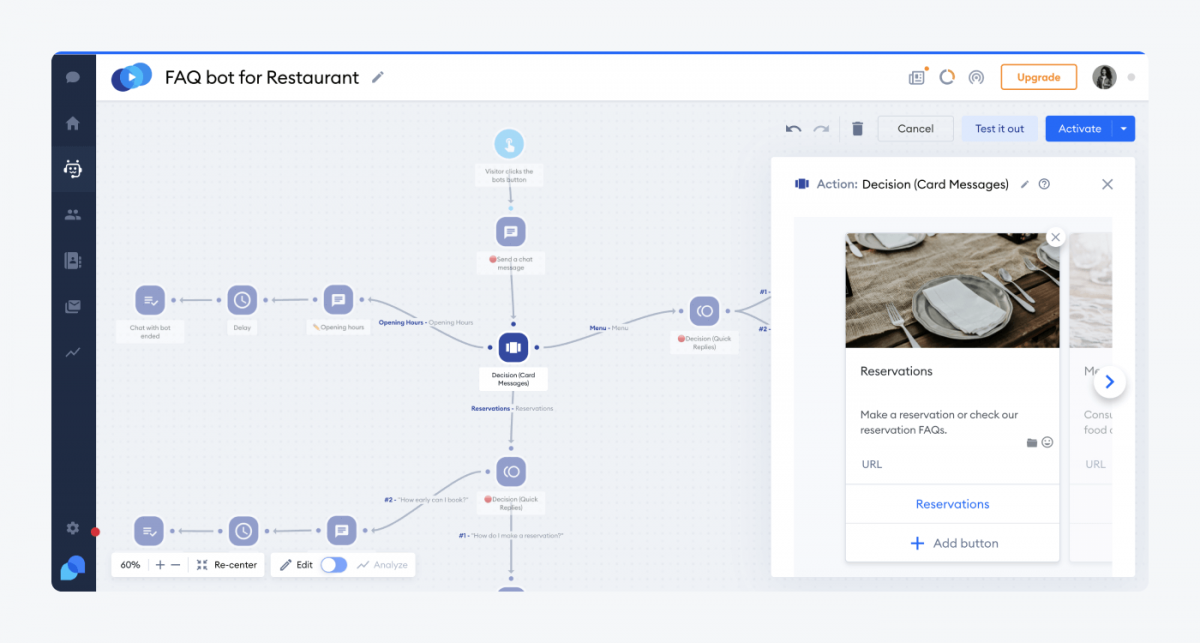 When you click on the next icon, you'll be able to personalize the cards on the decision card messages. You can change the titles, descriptions, images, and buttons of your cards. These will all depend on your restaurant and what are your frequently asked questions. Fill the cards with your photos and the common choices for each of them. Some of the most used categories are reservations, menus, and opening hours.
6. Edit the responses
Next up, go through each of the responses to the frequently asked questions' categories. Give the potential customers easy choices if the topic has more specific subtopics. For example, if the visitor chooses Menu, you can ask them whether they'll be dining lunch, dinner, or a holiday meal. Then, customize the replies to each of the questions. Remember that you can add and remove actions depending on your needs.
7. Design the end chat message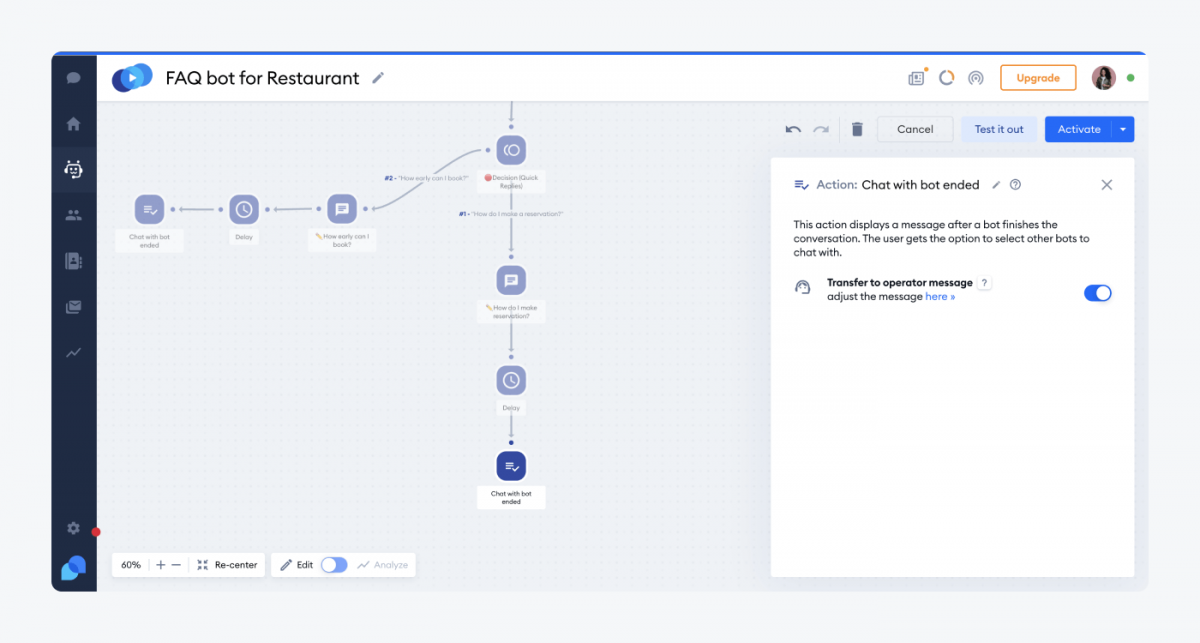 The last action, by default, is to end the chat with a message asking if there's anything else the bot can help your visitors with. The user can then choose a different question or a completely different category to get more information. They can also be transferred to your support agents by typing a question. You can change the last action to a subscription form, customer satisfaction survey, and more.
Okay—your restaurant bot should be ready now. Here's how it should look from the visitor's point of view once it's finished: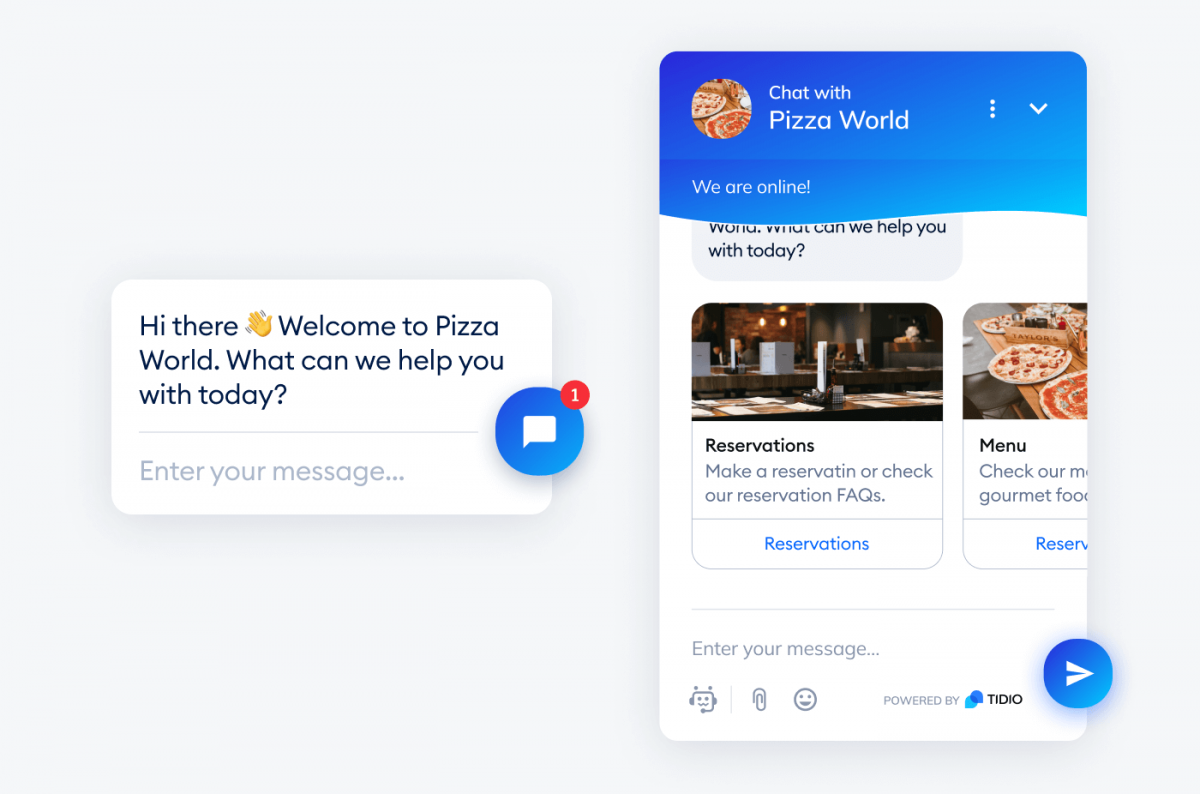 Suggested reading
Okay—let's see some examples of successful restaurant bots you can take inspiration from.
Restaurant chatbot examples
How do restaurants use chatbots, and what do these bots look like? Sometimes all you need is a little bit of inspiration and real-life examples, not just dry theory.
So, here are 5 restaurant chatbot examples that you can use them in making your own bot.
TGI Fridays use a restaurant bot to serve a variety of customer needs. These include placing an order, finding the nearest restaurant, and contacting the business. Visitors can click on the button that matches their interest the most. They'll then get more information on the chat window. This business ensures to make the interactions simple to improve the experience and increase the chances of a sale.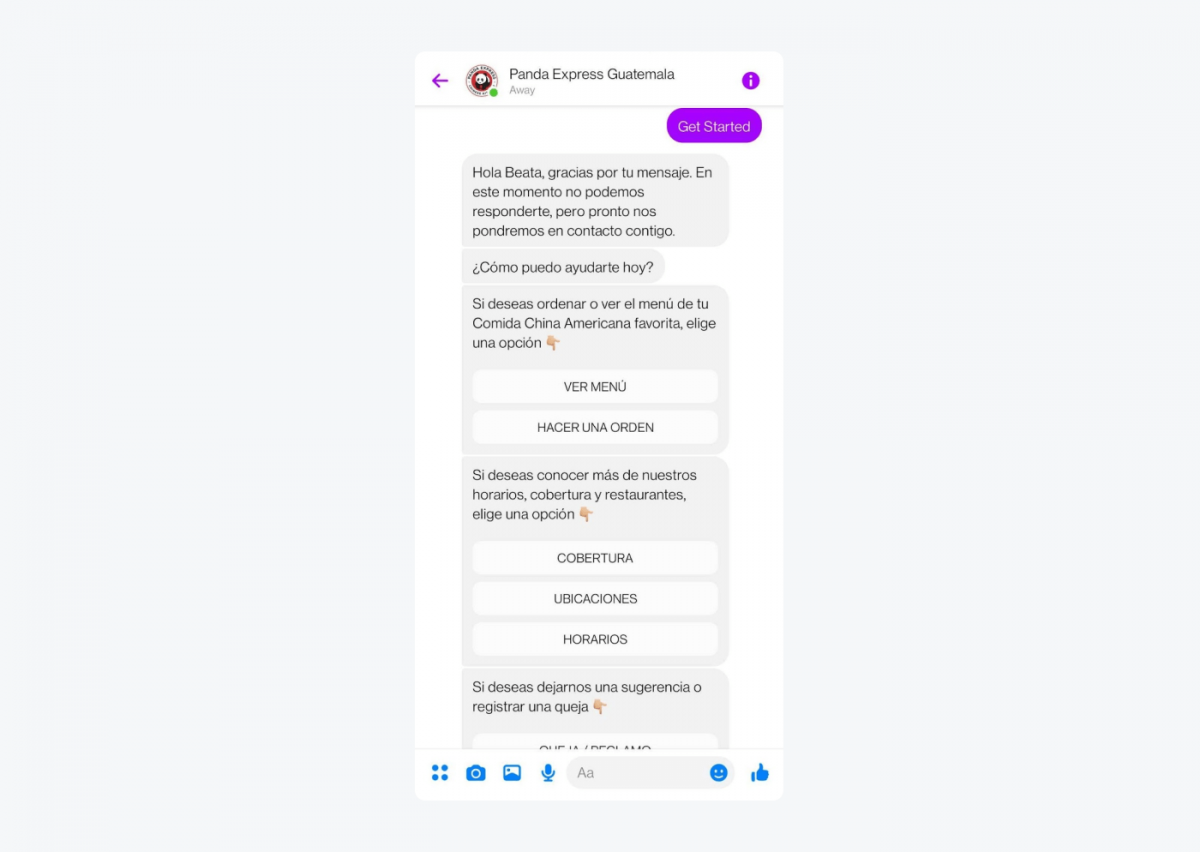 Panda Express uses a Messenger bot for restaurants to show their menu and enable placing an order straight through the chatbot. Customers can also view the fast food's location and opening times. Their restaurant bot is also present on their social media for easier communication with clients. This business allows clients to leave suggestions and complaints on the bot for quick customer feedback collection.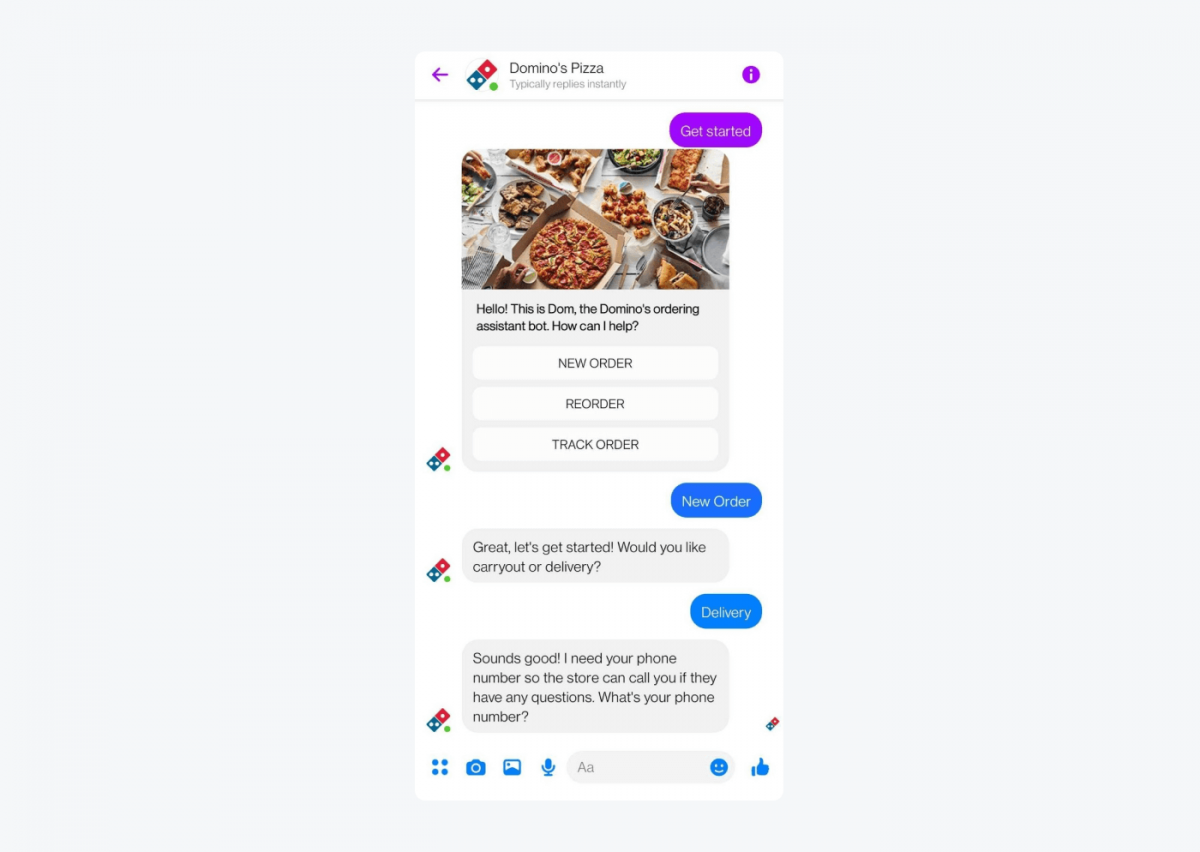 Domino's Pizza is another example of a restaurant bot. Customers can ask questions, place orders, and track their delivery directly through the bot. This comes in handy for the customers who don't like phoning the business, and it is a convenient way to get more sales. The bot is straightforward, it doesn't have many options to choose from to make it clear and simple for the client.
Check out this Twitter account that posts random photos from different restaurants around the world for additional inspiration on how to use bots on your social media.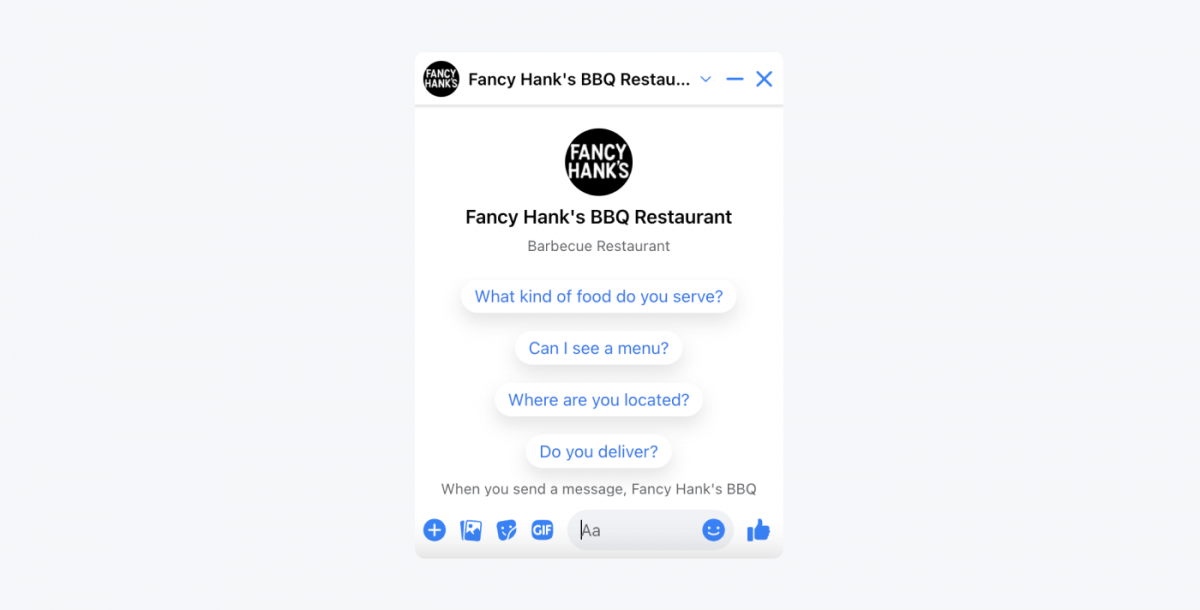 This restaurant chatbot asks four questions at the start, but they seem more human-like than the robotic options of "Menu", "Opening hours", etc. This makes the conversation a little more personal and the visitor might feel more understood by the business. You can choose from the options and get a quick reply, or wait for the chat agent to speak to.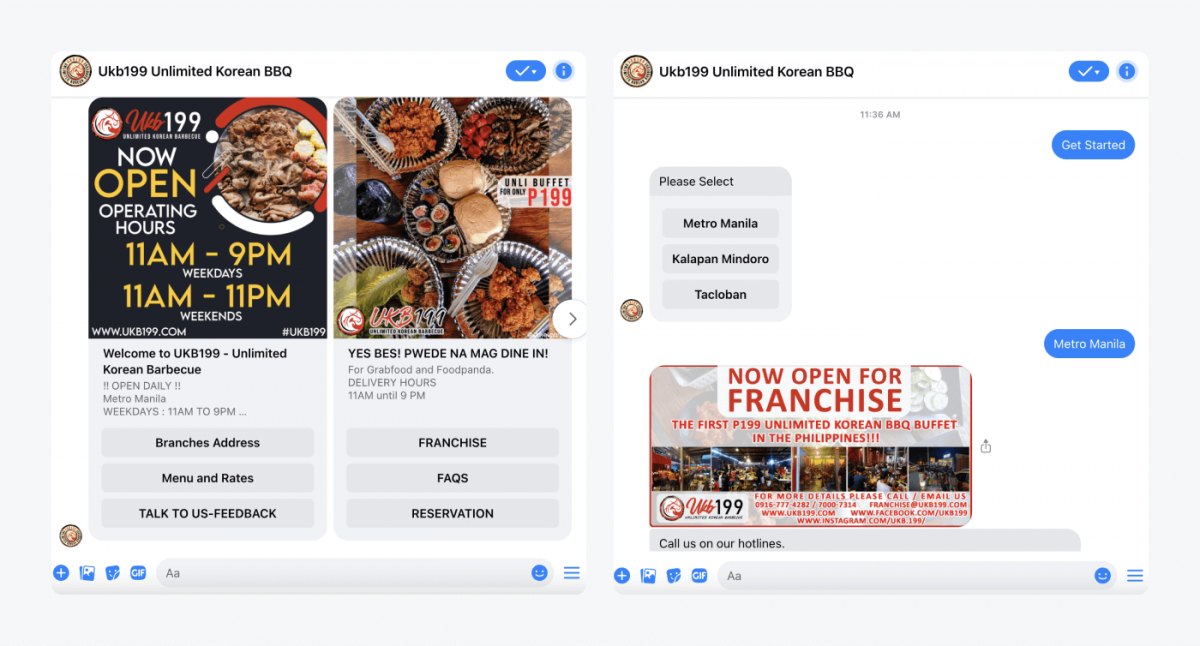 This restaurant uses the chatbot for marketing as well as for answering questions. The business placed many images on the chat window to enhance the customer experience and encourage the visitor to visit or order from the restaurant. UKB199 gives many questions you can choose from. These include their restaurant address, hotline number, rates, and reservations amongst others to ensure the visitor finds what they're looking for.
Check out this video presentation of a great restaurant chatbot example:
Restaurant chatbot: questions and answers
Chatbots for restaurants can be tricky to understand, and there are some common questions that often come up related to them. So, let's go through some of the quick answers and make it all clear for you.
Can chatbots be used by a restaurant?
Yes, chatbots can be used by the restaurant industry. They can show the menu to the potential customer, answer questions, and make reservations amongst other tasks to help the restaurant become more successful.
How do you make a chatbot for a restaurant?
To make a chatbot for a restaurant:

1. Go onto a chatbot provider, like Tidio, and sign up for a free account
2. Customize the look of your widget
3. Choose a template for a restaurant bot
4. Edit the actions and the messages to the visitor
5. Embed the chatbot on your website
Why do restaurants need to have their own chatbot in Messenger?
It's important for restaurants to have their own chatbot to be able to talk to customers anytime and anywhere. The bot can be used for customer service automation, making reservations, and showing the menu with pricing. They can assist both your website visitors on your site and your Facebook followers on the platform. They are also cost-effective and can chat with multiple people simultaneously.
Can a chatbot be used by a restaurant to take customer orders and make menu items suggestions?
Yes, chatbots can be used to take orders and suggest menu items. They can also show the restaurant opening hours, take reservations, and much more.
Restaurant chatbot: summary
To quickly recap the most important information, let's go through the key takeaways.
A restaurant chatbot is a software that helps businesses manage bookings, take orders, and provide customer service in real-time. Brands can implement a bot on their website, social media, and messaging platforms to be where the customer is for their convenience.
You can use a chatbot in a restaurant to:
The easiest way to build a restaurant bot is to use a template provided by your chatbot vendor. This way, you have the background pre-built, and you only need to customize it to add your diner's information.
And, remember to go through the examples and gain some insight into how successful restaurant bots look like when you're starting to make your own.