In 2021, chatbots were everywhere. And the numbers don't lie—they're growing in popularity, usage, and reach.
We know because we checked it.
Our study confirmed that about 88% of customers had at least one conversation with a chatbot within the past year.
But what does this mean for businesses? Especially those who haven't yet adopted chatbots into their marketing or customer service?
It is a perfect moment to explore the attitudes towards chatbots among companies and online shoppers. We surveyed 774 online business owners and 767 customers to find out what are the current chatbot trends.
In this study:
Up-to-date chatbot usage statistics and adoption rates
AI technology trends in ecommerce and customer service
Effectiveness of virtual assistants and artificial intelligence
Benefits of chatbots according to business owners
If you are interested in other studies about AI and chatbot technology, you can also check out:
Key chatbot statistics
One of the most apparent chatbot trends for 2022 is that their use will become even more widespread. In addition to customer service and data collection, chatbots will be used in other areas such as marketing, human resources, and operations. Their ability to handle a wide range of tasks makes them an attractive option for ecommerce stores, b2b companies, real estate, or even healthcare.
Our survey revealed that:
About 53% of respondents find waiting too long for replies the most frustrating part of interacting with businesses
Rude agents, having to describe the problem multiple times, and the necessity to ask for assistance repeatedly, don't make a great customer experience. But there's something that annoys consumers even more. Being put on hold or waiting for a reply was selected as extremely frustrating by 53% of our respondents.
If the alternative was to wait 15 minutes for an answer, 62% of consumers would rather talk to a chatbot than a human agent
There are some customers who always prefer human interaction. It is a good idea to provide this option as well. However, most online shoppers would prefer not to have this option and use a self-service chatbot instead of waiting.
Almost 9/10 customers had at least one conversation with a chatbot in 2021
It is no exaggeration to say that chatbots are a mainstream technology. A whopping 88% of web users chatted with chatbots in the previous year. What's more, 7 out of 10 find the experience positive. Most consumers think that more companies should take advantage of chatbots because 24h/7 support and fast replies are essential for modern businesses.
About 90% of customer queries are resolved in 10 messages or fewer
Most chatbot conversations are short and to the point. Almost all cases and scenarios are resolved within a few messages. This allows chatbot designers to control the user experience, conversation flow, and response rates for different message choices.
Chatbot market size and adoption rate
According to a report from Fortune Business Insights, in 2022 the chatbot market will grow to $721 million. With its current compound annual growth rate (CAGR) of about 22%, we can expect this number to reach 3 billion dollars by the end of this decade.
Currently, chatbots are widely adopted by smaller businesses. It is very easy to add a third-party customer service bot powered by one of the popular chatbot builders. On the other hand, larger businesses tend to take a more strategic approach. This forces them to tailor their own in-house solution and makes the development process much longer.
What percentage of businesses use chatbots?
Right now, chatbots are used by about 19% of businesses. But it is worth taking a closer look at the chatbot usage among companies of various sizes, too.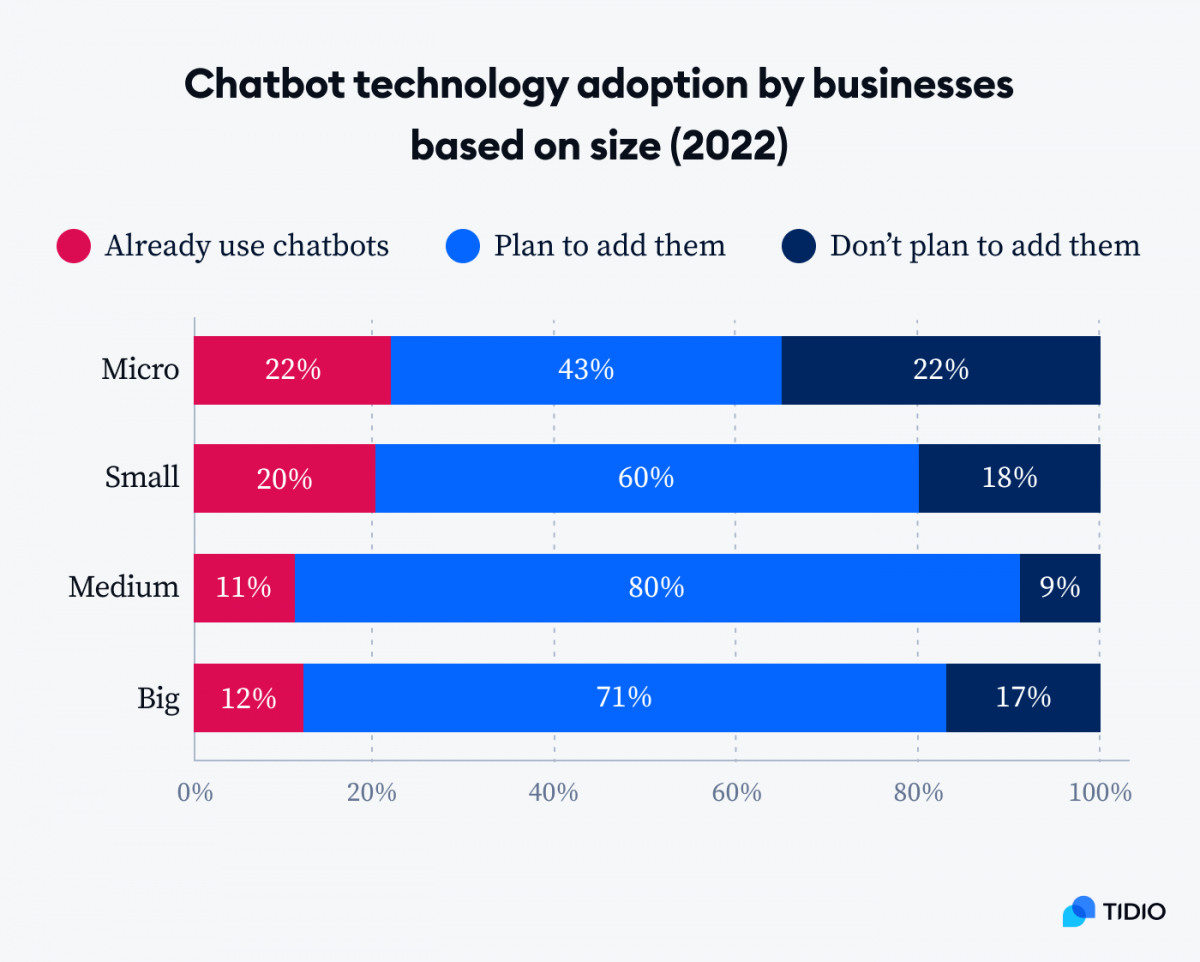 Businesses of all sizes can benefit from chatbot technology. But we found that small businesses are willing to embrace the technology at a faster rate than larger businesses. That's because they often have fewer resources and need to find more efficient ways to connect with their customers.
Are chatbots effective?
Businesses fell in love with chatbots precisely because they are incredibly efficient and can handle a large number of requests simultaneously.
According to projections from Juniper Research, the total cost savings from deploying chatbots will reach $11 billion by 2023.
If we look at this number from the perspective of the projected global chatbot market size of $0.8 billion (for 2023), it looks really promising. The average ROI for chatbots would be 1,275% (and that's just support cost savings).
But the chatbot industry itself is only the tip of the iceberg.
How much can chatbots help companies increase their sales?
Business Insider Intelligence report predicts that global retail consumer spending via chatbots will reach $142 billion by 2024. It's no surprise that so many companies want to join the bandwagon. And those who have decided to introduce chatbots are quite happy with the results.
So—
How effective are chatbots?
Our study shows that most businesses, especially in the ecommerce sector, are very satisfied with how chatbots have improved their customer service and marketing operations.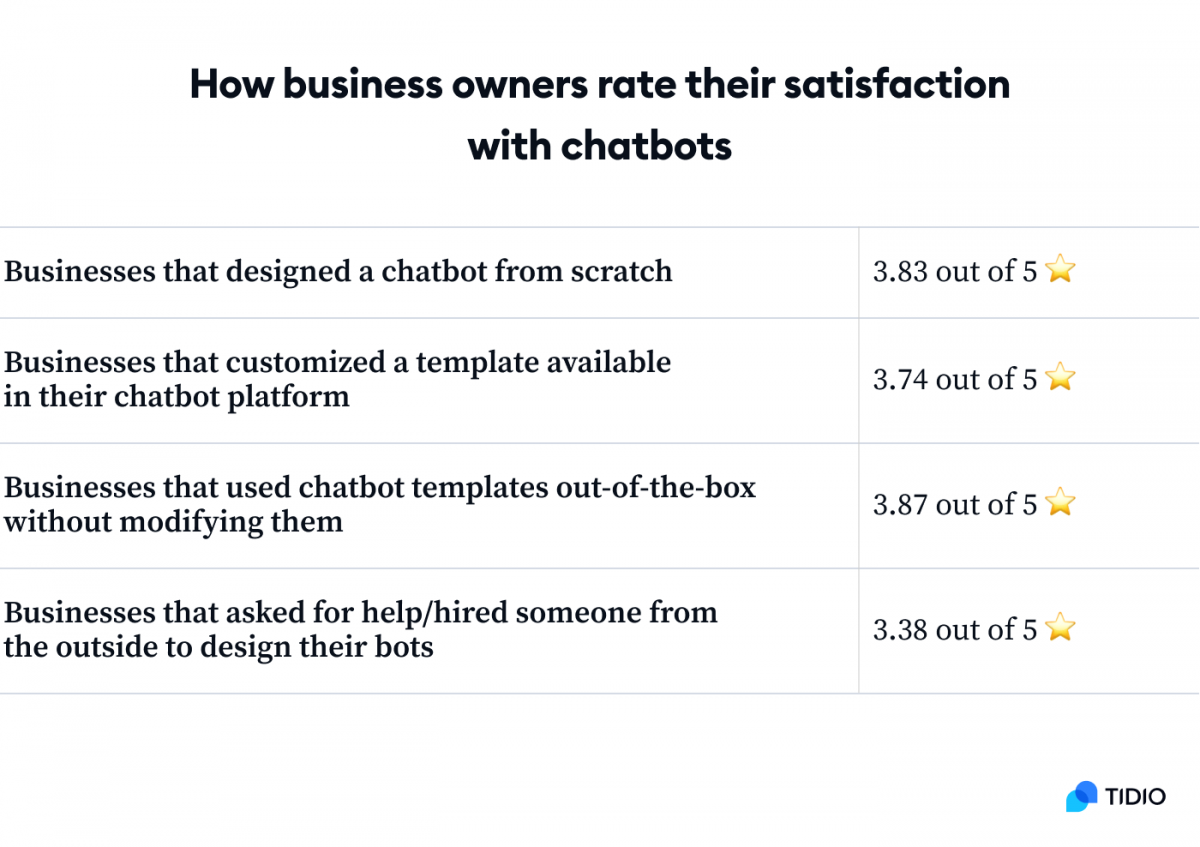 Interestingly, there is a clear correlation between satisfaction levels and the use of pre-made templates or drag-n-drop editors. Business owners, especially with micro and small businesses, perceived chatbots as more effective if they personally took part in designing them or choosing the right chatbot templates.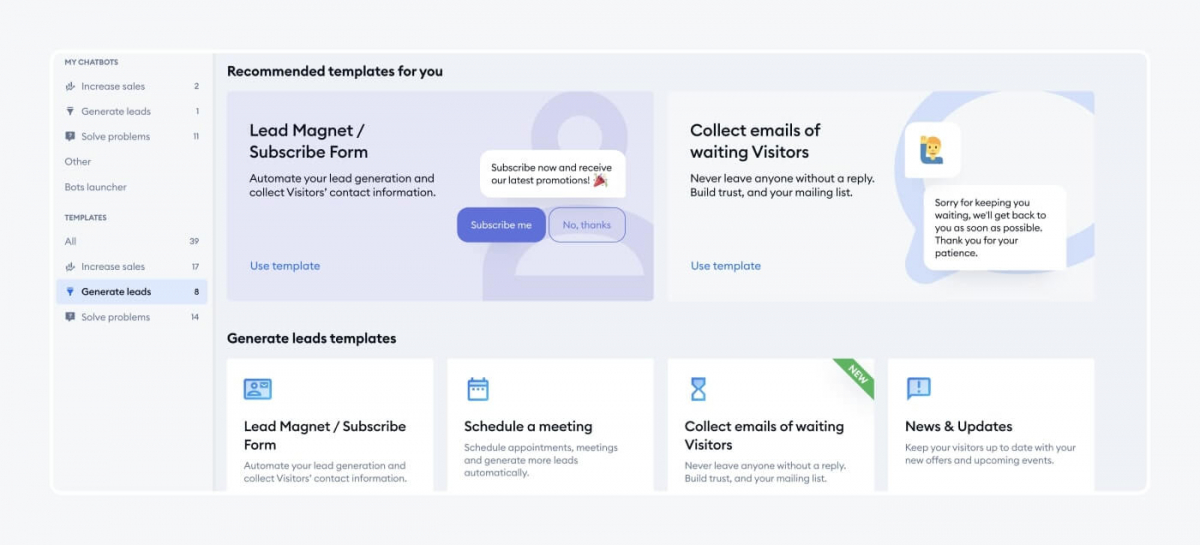 Use of chatbots: support or marketing?
People associate chatbots with online support and getting help. However, there are other applications of chatbots too. Using chatbot software on a website can improve your conversions and boost your marketing.
Chatbot conversion rates
Most of the information regarding how chatbots increase conversions is usually taken out of context. It is true that chatbots can increase sales conversions in some industries by 70%, but it is difficult to establish universal chatbot benchmarks. Some marketing statistics make such estimations and bold claims, but it is impossible to monitor all ecommerce transactions and connect them with chatbot usage.
Instead, it's best to discuss what the engagement rate is for each type of message sent by the chatbot. For example, if we implement chatbots that ask for a CSAT score, we can expect 6% of users to reply to their message or give a score. Here is a detailed list of chatbot stats connected with customer interactions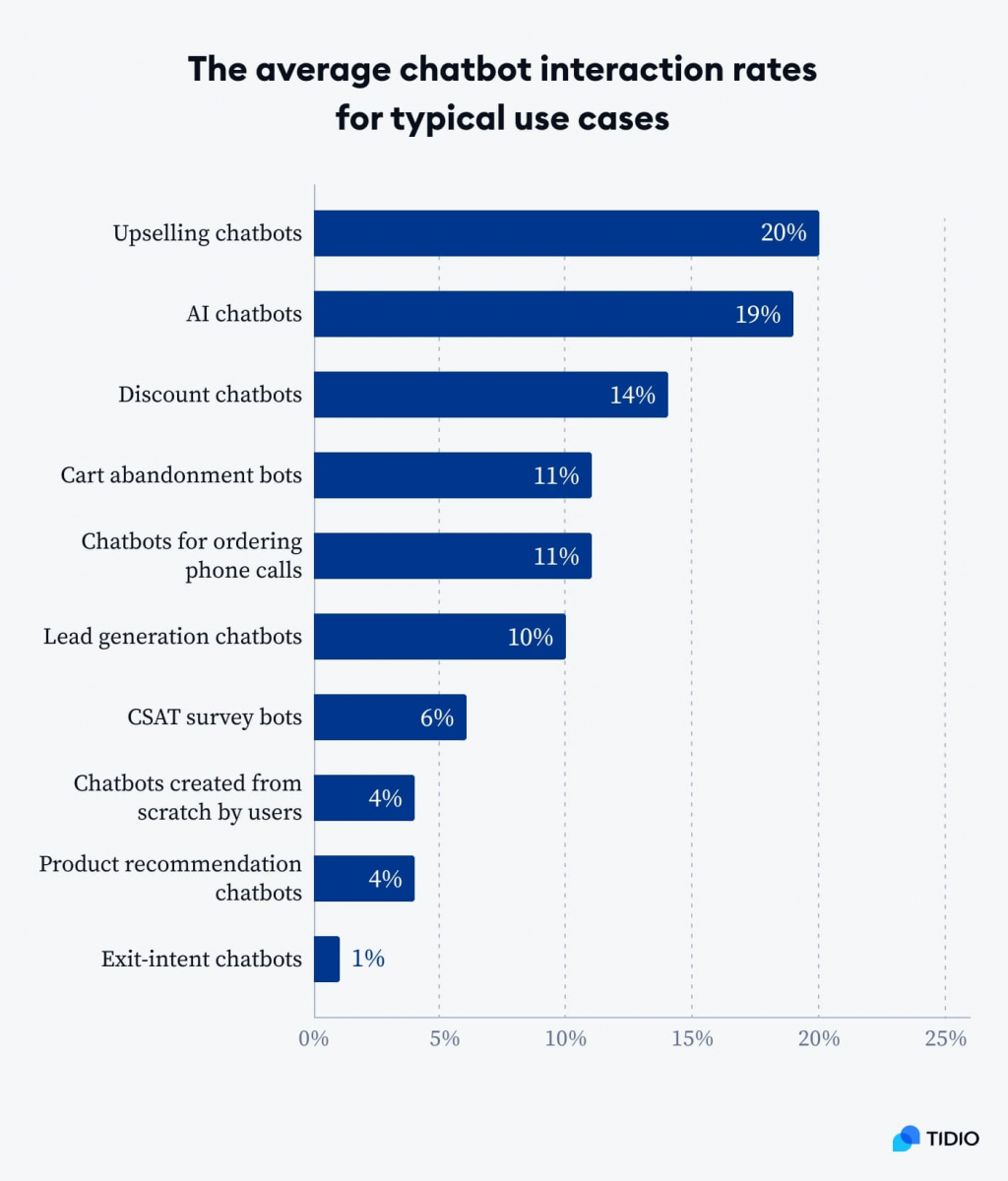 The more specific and contextual the messages are, the greater the amount of interaction from customers. This suggests that another trend for chatbots in 2022 is that they will become more specialized.
As chatbots become more widespread, businesses will need to ensure that they are providing an excellent customer experience. In order to do this, business chatbots will need to be able to handle more complex conversations and provide accurate information. Chatbots must be able to keep up with customer expectations.
What customers expect from chatbots
We asked users what they expect from chatbots. It turned out that response time is the most important issue for them. Interestingly, the results coincide perfectly with the business goals of companies that want to get a chatbot for their business websites.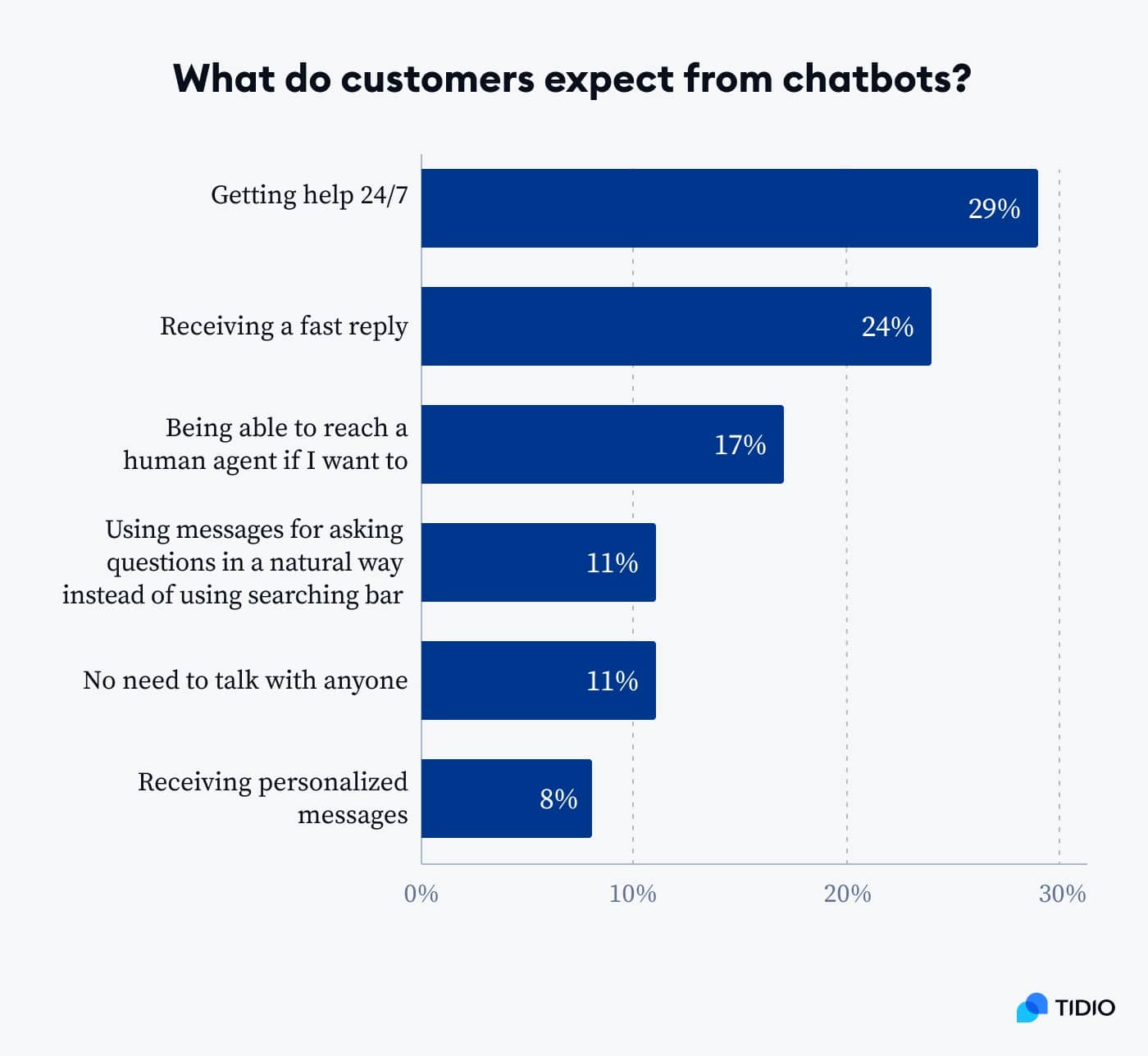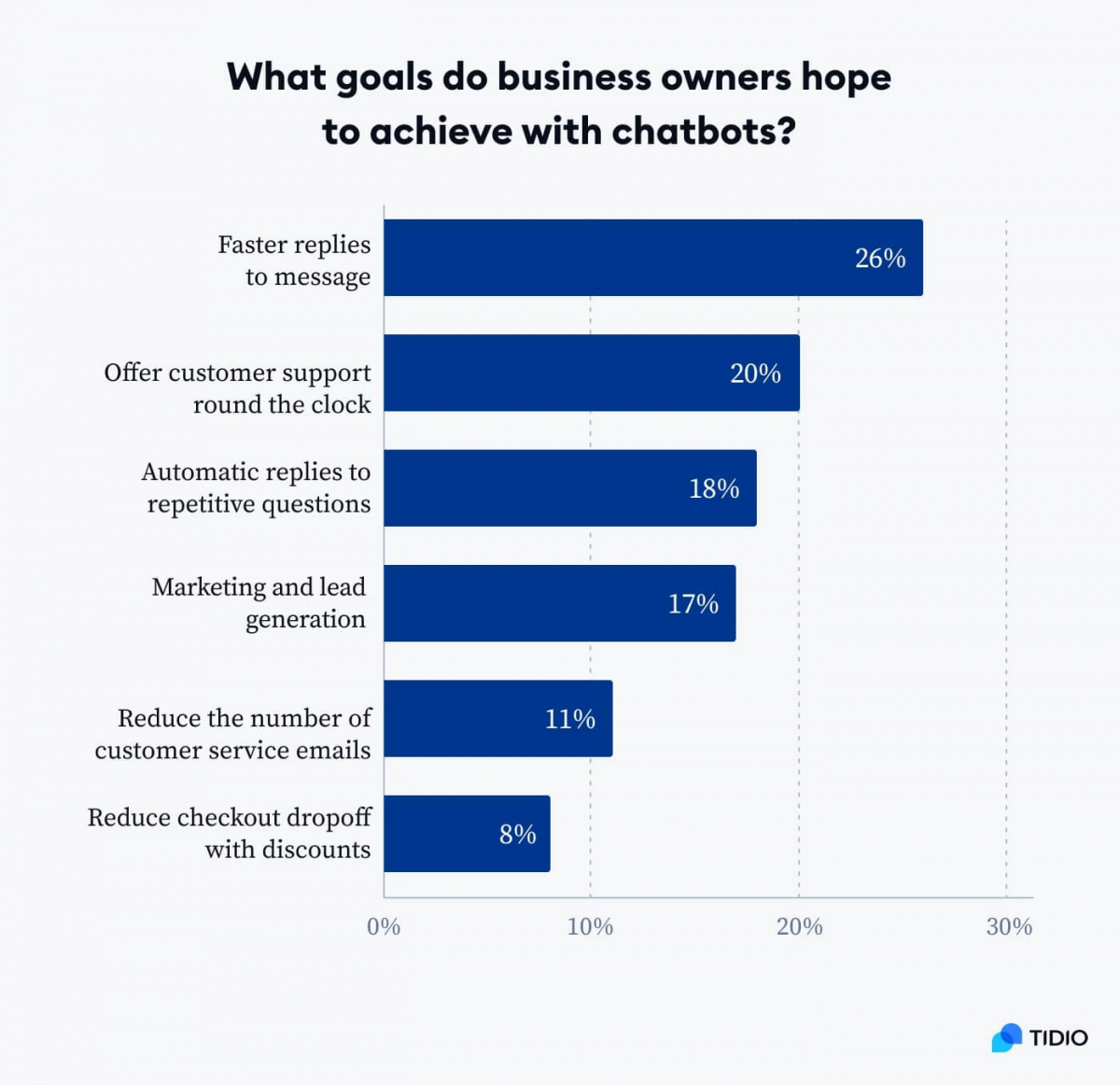 Our survey shows that customers expect:
Receiving a quick response any time, any day of the week
A means of contacting a human agent, especially if they want to share their negative experiences or have problems with a product or service
Some have very strong opinions about chatbots used in customer service:
I'm somebody who absolutely hates calling people but I still would a million times rather talk to a human than a poorly working AI that barely understands what you say and can't parse context or tone.
On the other hand, the majority of consumers are very impatient and declare that they would use a chatbot. A typical positive chatbot experience is all about receiving accurate answers to simple questions.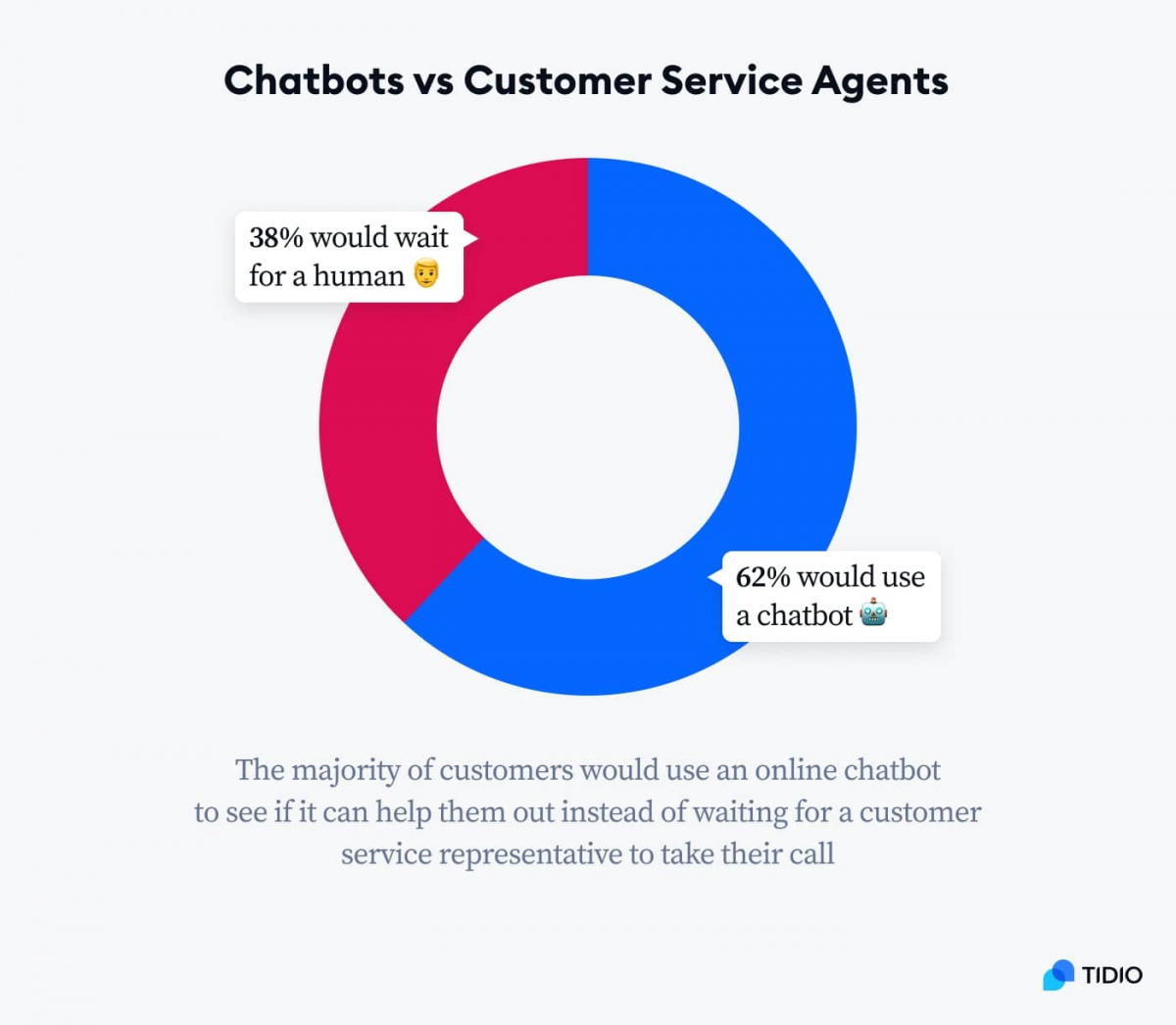 So, the two most important things turn out to be getting an instant reply at any time of the day and accurate recognition of customer problems. Finding the balance between meeting these two requirements turns out to be the key issue of modern customer service.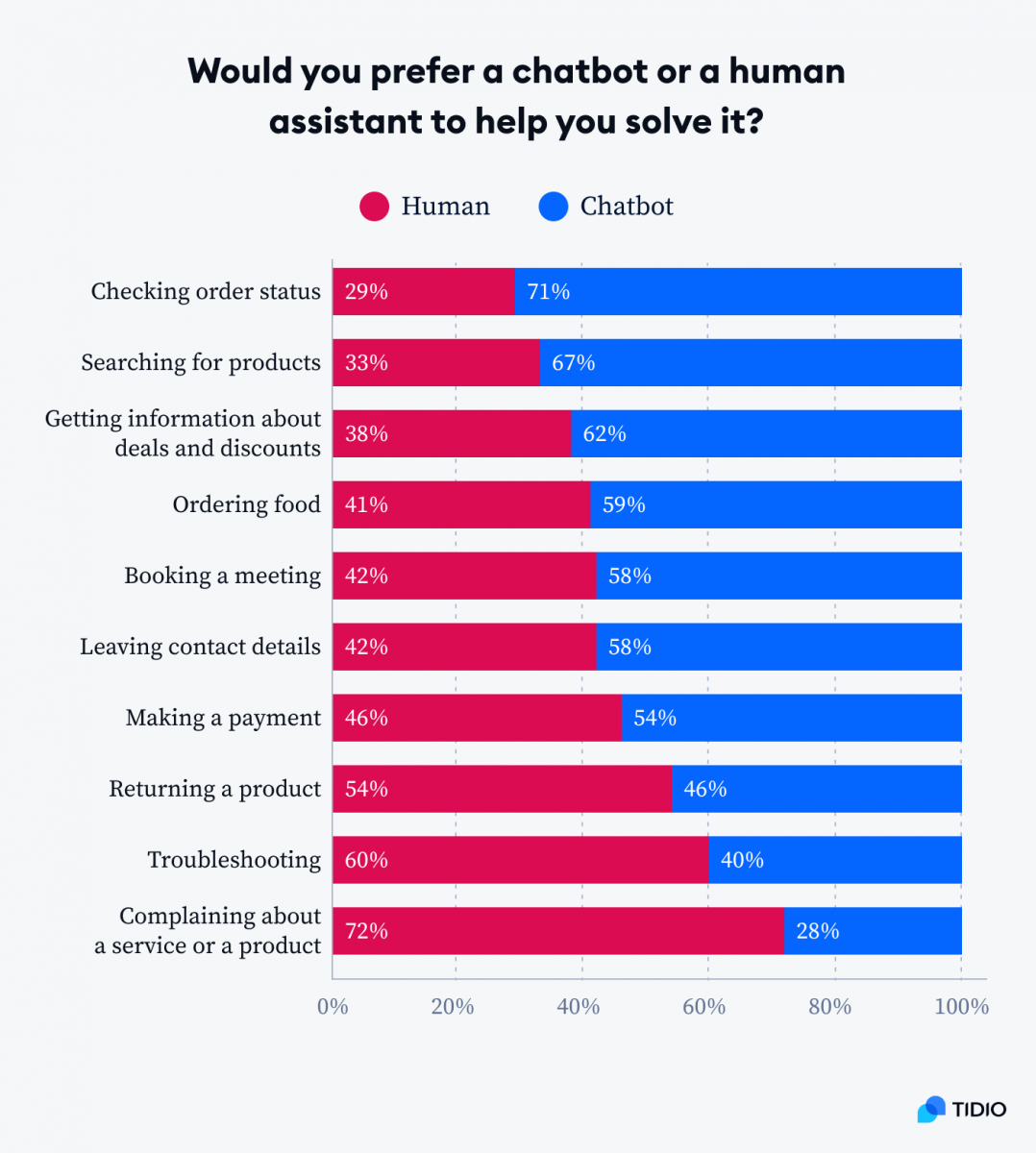 The best approach seems to be a combination of traditional human-operated live chat and chatbot automation. There are many situations where interaction with a chatbot is just fine.
Generation Z and chatbot trends
Many studies have tried to show that Millennials and Generation Z are extremely keen on new technologies and chatbots. However, these observations may prove to be a bit of an overreaching interpretation
It's true that Gen Zers spend more time online, on social media, and their messaging apps. But they are also quite skeptical of fully automated customer service.
While the youngest segment of consumers appreciates the convenience of instant messaging powered by AI, only 44% of Gen Z respondents believe that chatbots will make traditional customer support call centers obsolete. The new generation of online shoppers seems much more aware that different situations require different ways of communicating.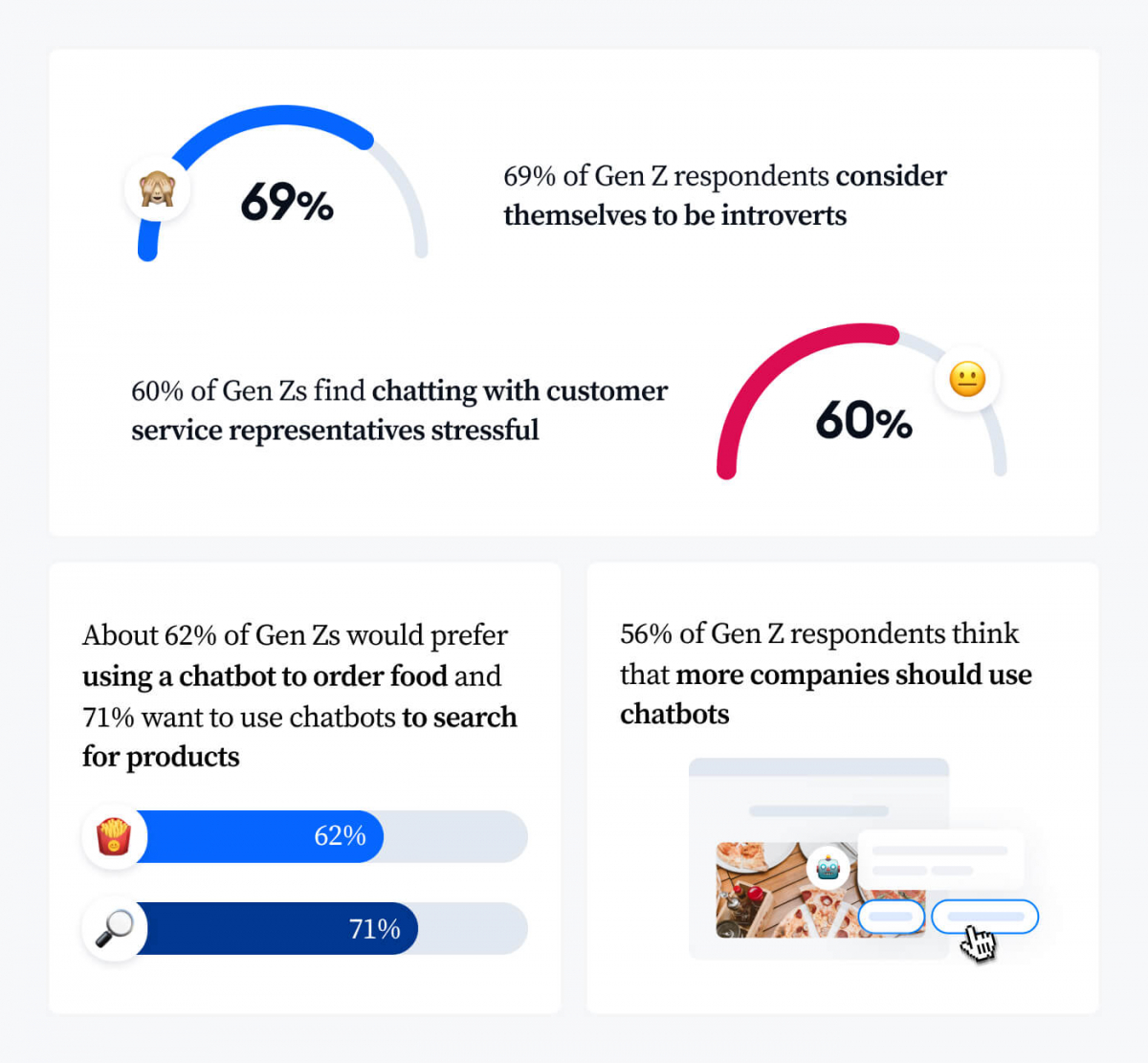 Businesses should try to meet their expectations and offer chatbots or direct human contact depending on which option is more convenient. They value both—quick answers from chatbots and real-time assistance from live chat agents when they need help.
Chatbot challenges and opportunities
Chatbots offer a variety of benefits for businesses. They can help increase customer engagement and loyalty, drive sales, and improve operational efficiency. Additionally, chatbots can provide businesses with valuable data insights that can help improve marketing efforts and product development.
On the other hand, chatbots are still a relatively new technology. There are some inherent pitfalls to them.
Challenges:
Nuances of human language. During a natural conversation, the context is constantly changing. An AI may have a hard time keeping up and understanding customer needs at a given moment. And the most important thing for any customer service environment is to have accurate recognition of problems. Chatbots still struggle with that.
Misuse of chatbot interfaces. Chatbots are supposed to be intuitive and understand natural language. Some customers overthink it and try to test chatbot functionalities and all variants of chat conversation flows. As a result, they focus on the interface and chatbot as a gimmick instead of a tool to solve their problems.
Development and implementation costs. Creating your own bot from scratch can be an expensive endeavor that requires time, expertise, and a lot of experimentation along the way. But there are many out-of-the-box chatbot services and brands to choose from too.
Nonetheless, chatbots are a 1:1 answer to the needs of today's consumers and business owners. Companies using chatbots have already discovered that they:
Provide instant responses around the clock
Deliver a consistent user experience to customers
Reduce customer support costs
It is difficult to miss the exact correspondence between what customers expect and what chatbots are able to deliver.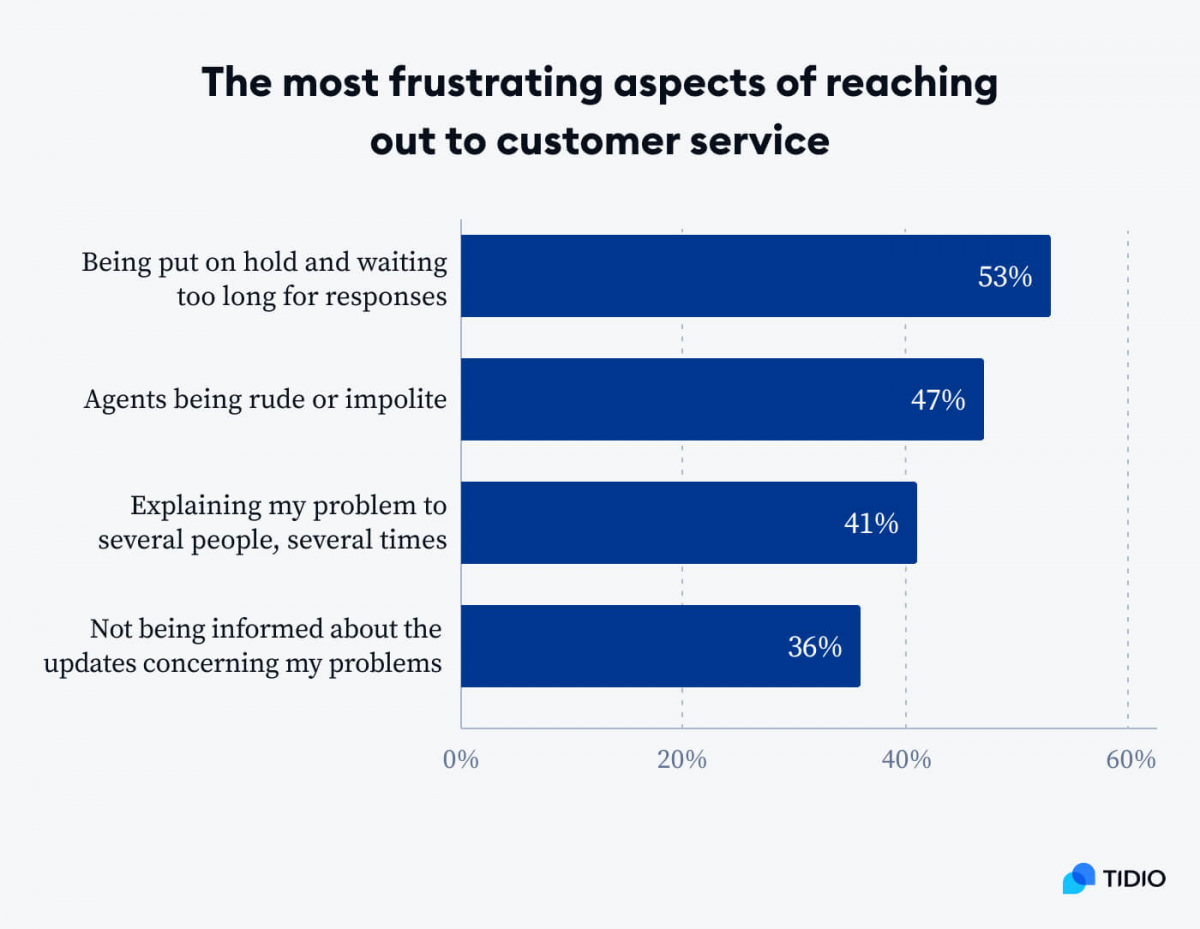 Ultimately, chatbots offer a cost-effective way for businesses to solve common customer service problems. And connect with customers in a more personal way and improve their overall customer experience.
Conclusion
There may be some murmurs of discontent regarding the fact that AI is dominating yet another aspect of our daily lives. However, at the end of the day, chatbots are perceived as a useful technology by consumers and businesses alike.
Are there too many companies that use chatbots?
Not according to our study. Only 17% of customers believe that companies overuse chatbots and make it too difficult to reach human agents. On the other hand, the majority of respondents find chatting with bots a positive experience that is convenient and efficient.
Oh, and if you would like to test the chatbots yourself, you can use our free tool.
Sources:
Methodology:
The research was carried out in January 2022. For this study about chatbot trends, we collected answers from 1,541 respondents. We used Amazon's Mechanical Turk, Reddit, and a survey displayed in the main panel of our dashboard.
Respondents from the consumer segment were 50.3% males and 49.6% females. The sample's average age was 38 with a standard deviation of 13. Over 95% of respondents were from the US. Considering such age and gender makeup, the study's findings can be extrapolated to the general US population.
Respondents had to answer about 20 questions the majority of which were scale-based or multiple choice. The survey had an attention check question.
Fair Use Statement:
Has our research helped you learn more about chatbots and current trends in conversational AI? Feel free to share chatbot statistics from this study. Just remember to mention the source and include a link to this page. Thank you!