Answering repetitive questions over and over again can become an irritating task for the customer support team. And when your business keeps growing, the amount of these questions can be overwhelming for your agents.
But—
What if there was a solution that allows companies to automate answering common queries with artificial intelligence and machine learning?
This solution exists and can benefit your support team, and overall customer experience.
It's called an FAQ chatbot.
What's great, you can easily get one, too! And we will help you understand how.
In this article:
If you want to read more about chatbots and how they can help you optimize customer experience or sales process, read these articles:
So, coming back to our today's topic, let's start by answering the question—
What is an FAQ Chatbot?
FAQ chatbots are bots designed to answer common questions people usually ask about a company's products or services. Usually, FAQ chatbots are used on websites, ecommerce stores, or customer service apps.
These bots, thanks to natural language processing, operate on the question-answer format which creates a real conversation vibe between the bot and the user, significantly improving the quality of customer service. Also, with their ability to automate, they can help companies save time, money, and effort spent on laborious tasks like responding to repeat questions.
Simply put, an FAQ chatbot is like an FAQ page, but driven by artificial intelligence.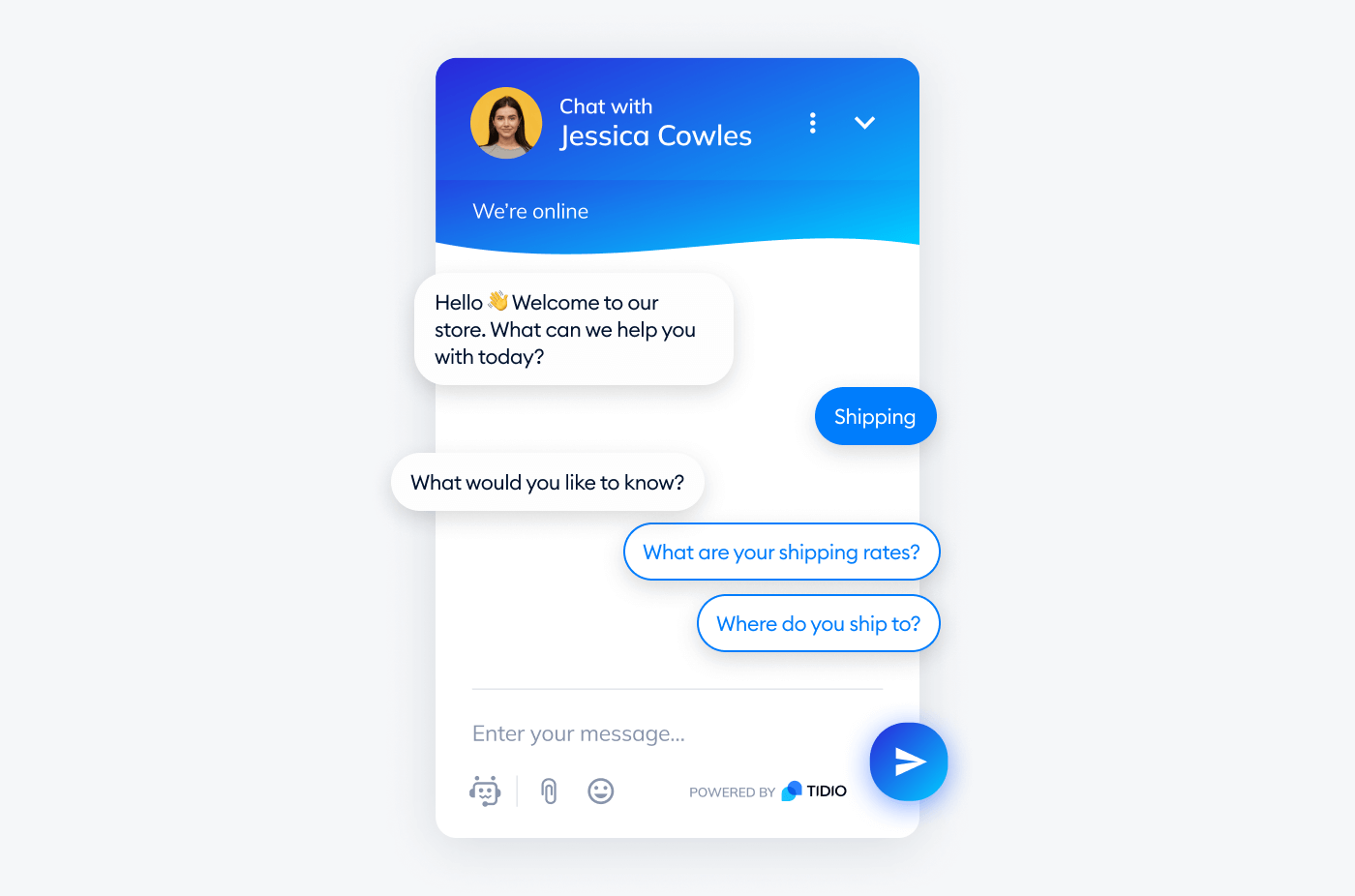 Read more: Want to learn more about chatbots? Then be sure to check out what is a chatbot and what they are used for.
Benefits of FAQ chatbot
An FAQ chatbot will be your great ally while providing great customer service automation. As the FAQ bots are based on artificial intelligence and natural language processing (NLP), it doesn't require any effort from your support team.
But here are four main benefits of getting an FAQ chatbot that will help you decide if it's worth it. Let's go through them briefly.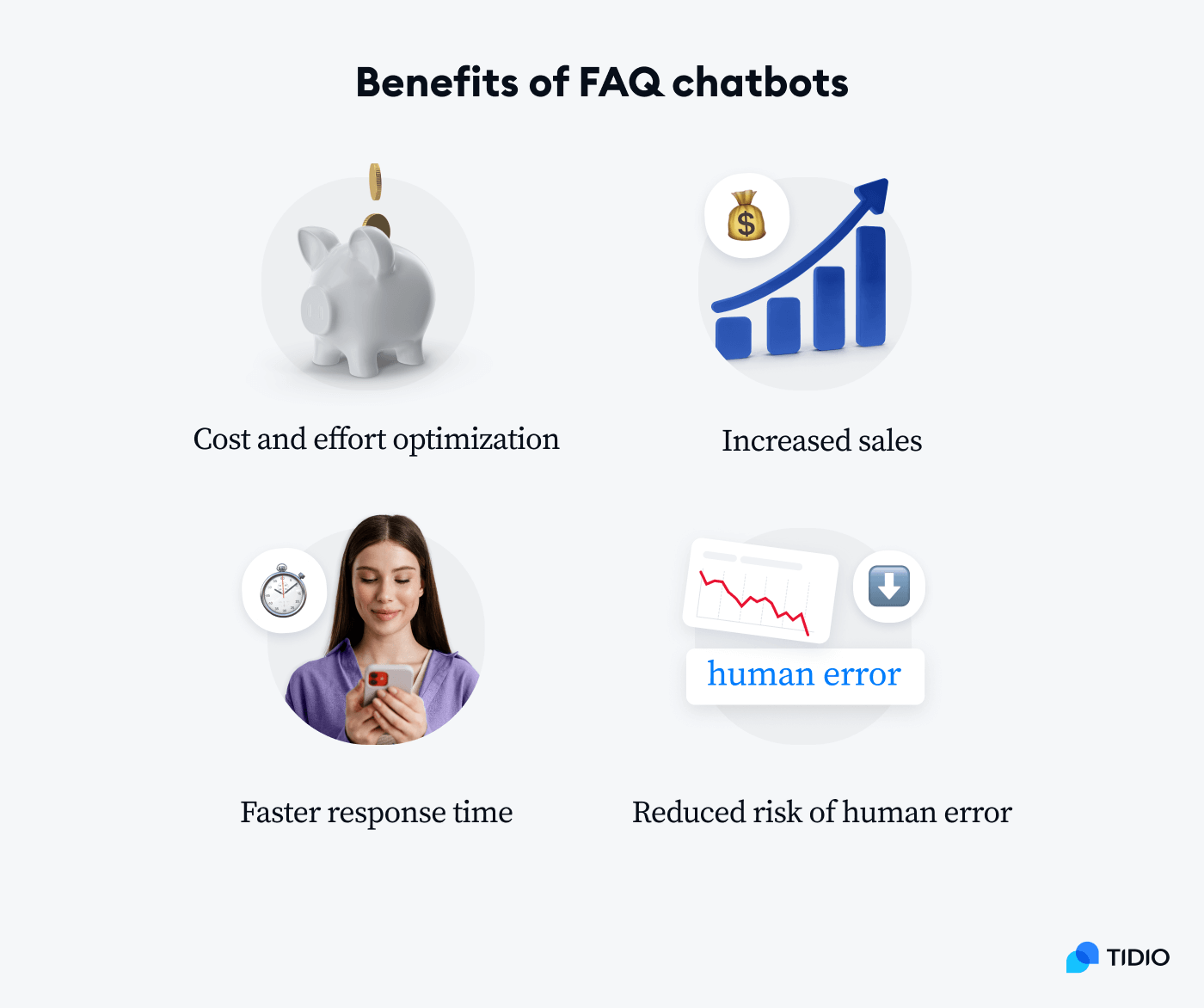 Cost and effort optimization
As it's a chatbot, the only effort you have to make is to set it up and launch it on your website. What's good is that designing a chatbot doesn't require any coding knowledge from you. Many AI chatbot platforms, including Tidio, offer an easy-to-use and intuitive drag-and-drop chatbot builder that makes the whole process a piece of cake.
As people are impatient while talking to brands, you are expected to respond fast to keep customer satisfaction high. According to HubSpot, 82% of consumers rate immediate response time as important or very important when they have sales or marketing questions.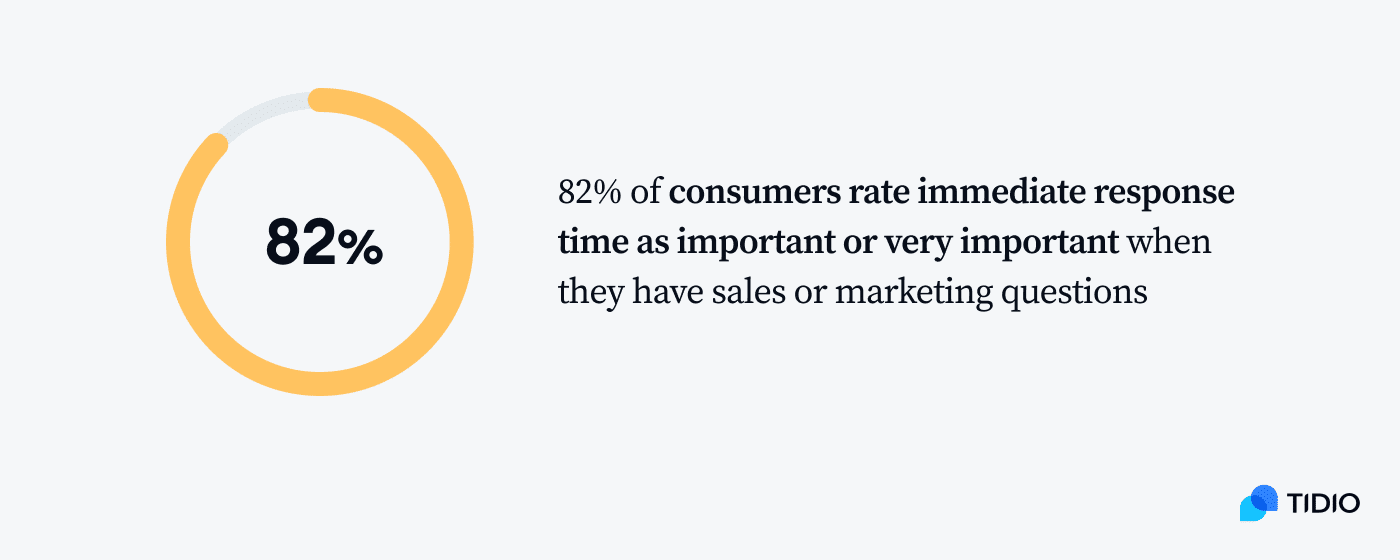 Luckily, fast response time is one of the chatbots' superpowers. Chatbot for FAQ will send answers to your clients within seconds and will be available for them 24/7.
Fast response time to sales and marketing queries combined with great customer service is a mixture that sets you on a highway to sales success. Statistics confirm this claim—according to Salesforce, 89% of consumers are more likely to make another purchase after a positive customer service experience.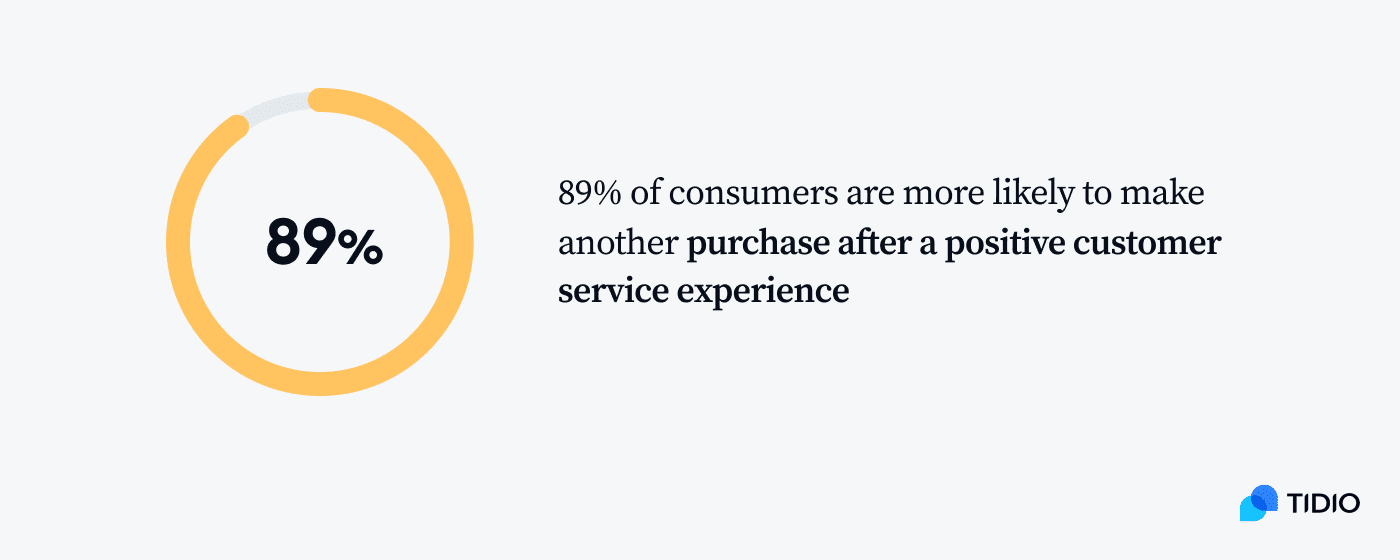 Reduced risk of human error
Chatbots, as their name suggests, are robots. They have no feelings, emotions, and can't be rude (unless you teach them to be) or get to work late. If you ask them the correct question, they'll come back with the correct answer. And even if clients make complaints, chatbots always remain calm and won't lash out at your clients.
Different kinds of FAQ chatbots
Based on the way FAQ chatbots operate, we can divide them into three main categories:
Rule-based chatbots
Independent (keyword) chatbots
Natural Language Processing (NLP) chatbots
Let's briefly describe each type, so it will be easier for you to understand the differences between them and choose the right one for your business.
Rule-based chatbots
This is the most basic FAQ chatbot on our list. Also called "button-based" or "menu-based", rule-based chatbots use a series of defined rules to identify and answer users' questions. These bots are also known as decision-tree bots because their conversations are guided by a decision tree. Users are given a set of predefined options which lead them to desired answers.
Remember that these bots have limitations. They won't answer any questions outside of the defined rules. So, if you want your bots to solve complex issues, you should consider more advanced options.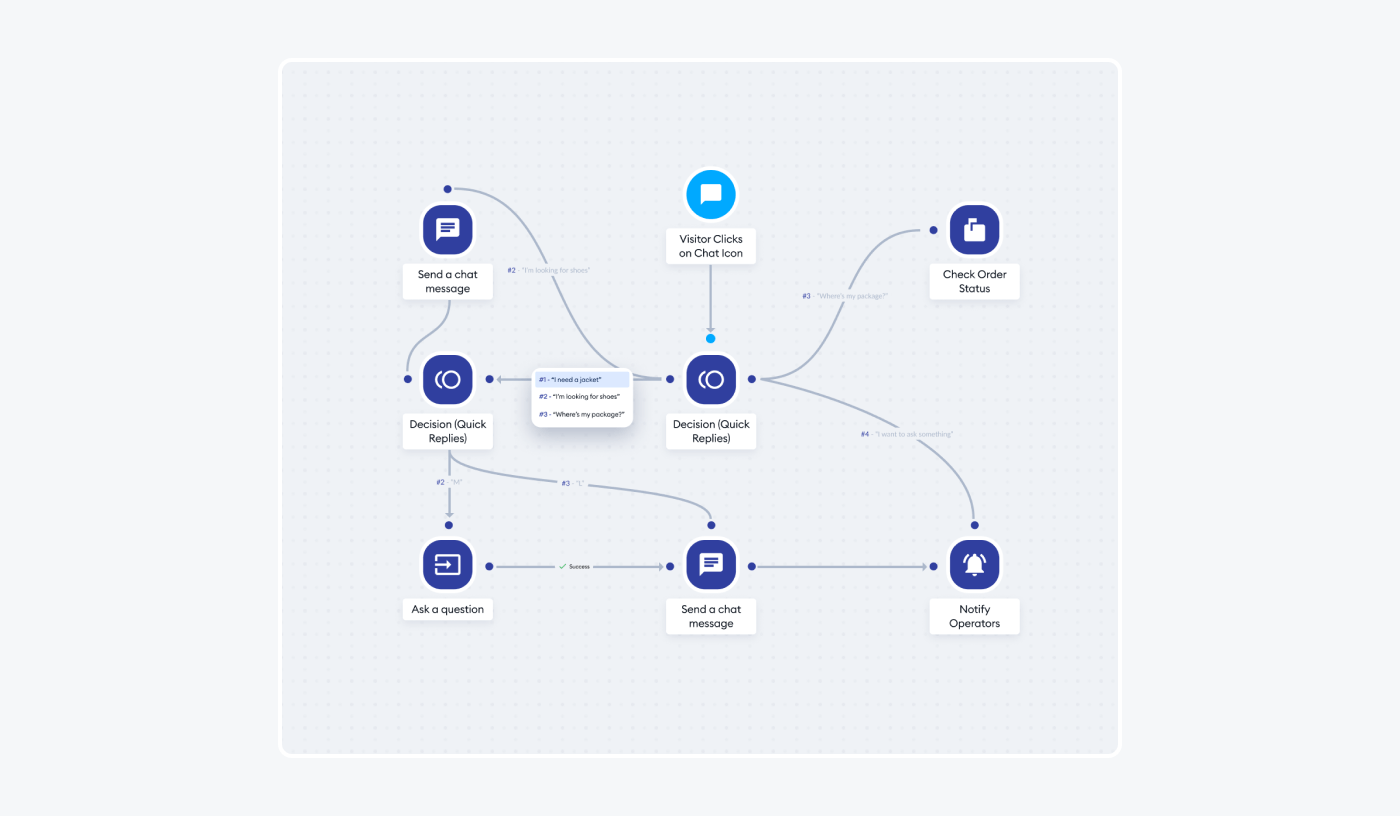 Independent (keyword) chatbots
These response chatbots use keywords to communicate with users. They deeply analyze your customers' queries and prepare the most appropriate answers. Independent bots are also called the "keyword" ones. That's because, when answering queries, these bots use exactly the same keywords as their users did. Thanks to that, response bots are able to find the best possible answers to users' queries.

Natural Language Processing (NLP) chatbots
NLP chatbots, also known as contextual chatbots, are one of the most technically advanced bots. Thanks to NLP and artificial intelligence, these bots can handle multiple requests from one user and simulate a human-like conversation.
Not only do these bots have the ability to learn on their own, but they are also able to understand language nuances and carry on conversations with your clients.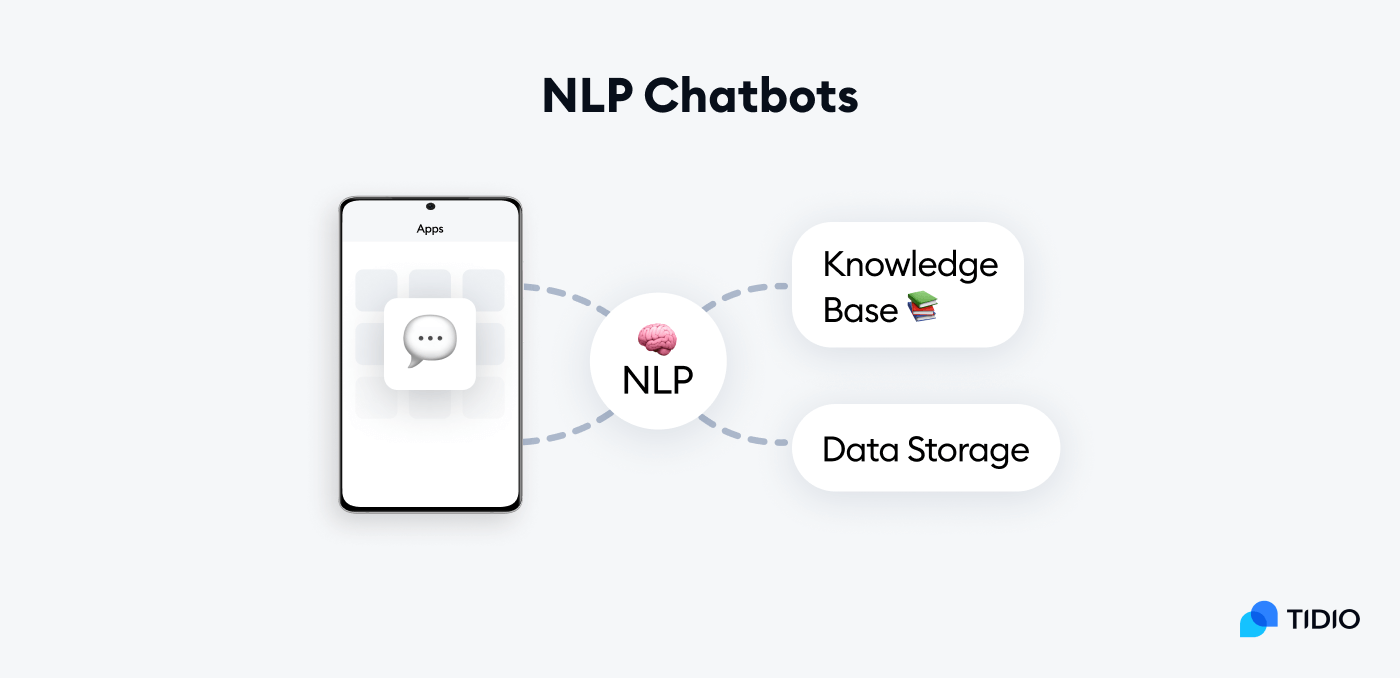 What to consider when choosing FAQ chatbot
If you're looking for a chatbot to answer frequently asked questions related to your business and automate some parts of your customer support, there are a few factors you should consider.
So, what are these factors?
Your business goals and capabilities
The industry you operate in
Your FAQ database
Integration channels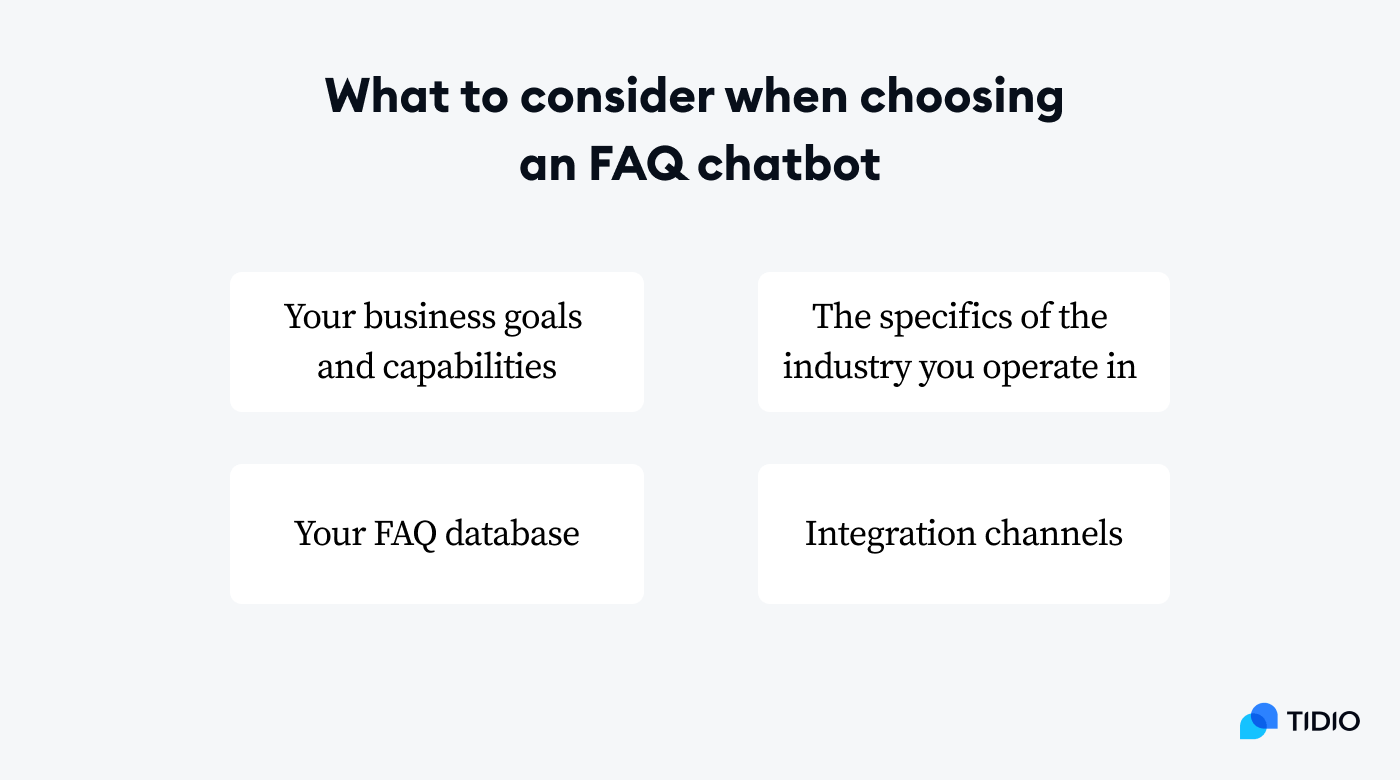 Now, let's dive into details and discover how these factors will help you make the most out of FAQ chatbot.
Business goals and capabilities
Choosing a chatbot is a business decision. And every business decision should be based on well-thought-out research. So, before buying a chatbot tool, figure out why you need one in the first place.
Is your support team overwhelmed with current tasks? Or maybe you want them to focus on more complex tasks and leave the "easy ones" to an AI live agent?
After that, another important factor is the pricing. Based on your actual needs, try to estimate how much you are willing to pay for a chatbot plugin. Do in-depth research on the best AI chatbot apps on the market and compare their subscription plans.
The industry you operate in
Every industry requires a different approach to customer support, help pages, etc. Let's take an ecommerce website, for example. If you have an online shop, your FAQ chatbot will have to deal with many queries related to your products, delivery time, complaints, and so on. That's why your bot should be designed in a way that can understand your shoppers' needs and emotions to better assist them in the shopping process.
Besides saving the time and effort of your support team, it will also help you deliver a great customer experience.
So, take a closer look at your industry, what kind of customer support your clients require, and then choose the tool that will perfectly satisfy both your and your clients' needs.
Your FAQ database
Another important factor when choosing your FAQ chatbot provider is your FAQ database, with its volume and complexity. Different types of bots require different training data to get better at providing answers that will satisfy your clients.
NLP chatbots, for example, have the complexity and ability to carry on human conversation. So, they need more data and training to perform at their best. On the other hand, rule-based chatbots will perform much better with a smaller database and will be easier to manage for your team.
It's up to you to decide which one will perfectly suit your needs. Just verify your FAQ database to determine which chatbot will deal with your base perfectly.
Integration channels
This factor is strongly associated with the communication channels your company uses to stay in touch with customers. It's crucial to check if the chatbot providers you're considering offer integrations with your communication channels.
Third-party integrations are important, especially when you use several communication platforms to provide omnichannel customer support. It helps you to avoid situations where some of your clients are excluded from the support just because of the way of communicating with your brand.
Also, integrating your chatbot with all the channels you are using helps you to synchronize and keep all the data in one place. But make sure to do careful research on chatbot providers and take a closer look at integrations they offer. It may take longer, but it will surely pay off.
Use cases of FAQ chatbot
We generally tend to think that FAQ, chatbots, building a knowledge base, etc., are beneficial for your customers specifically, but it's only partially true. Of course, these assets have a significant impact on user experience, but these customer self-service materials and FAQ chatbots can also bring benefits for your employees.
How?
Let's go through the two use cases of FAQ bots—for your customers and employees.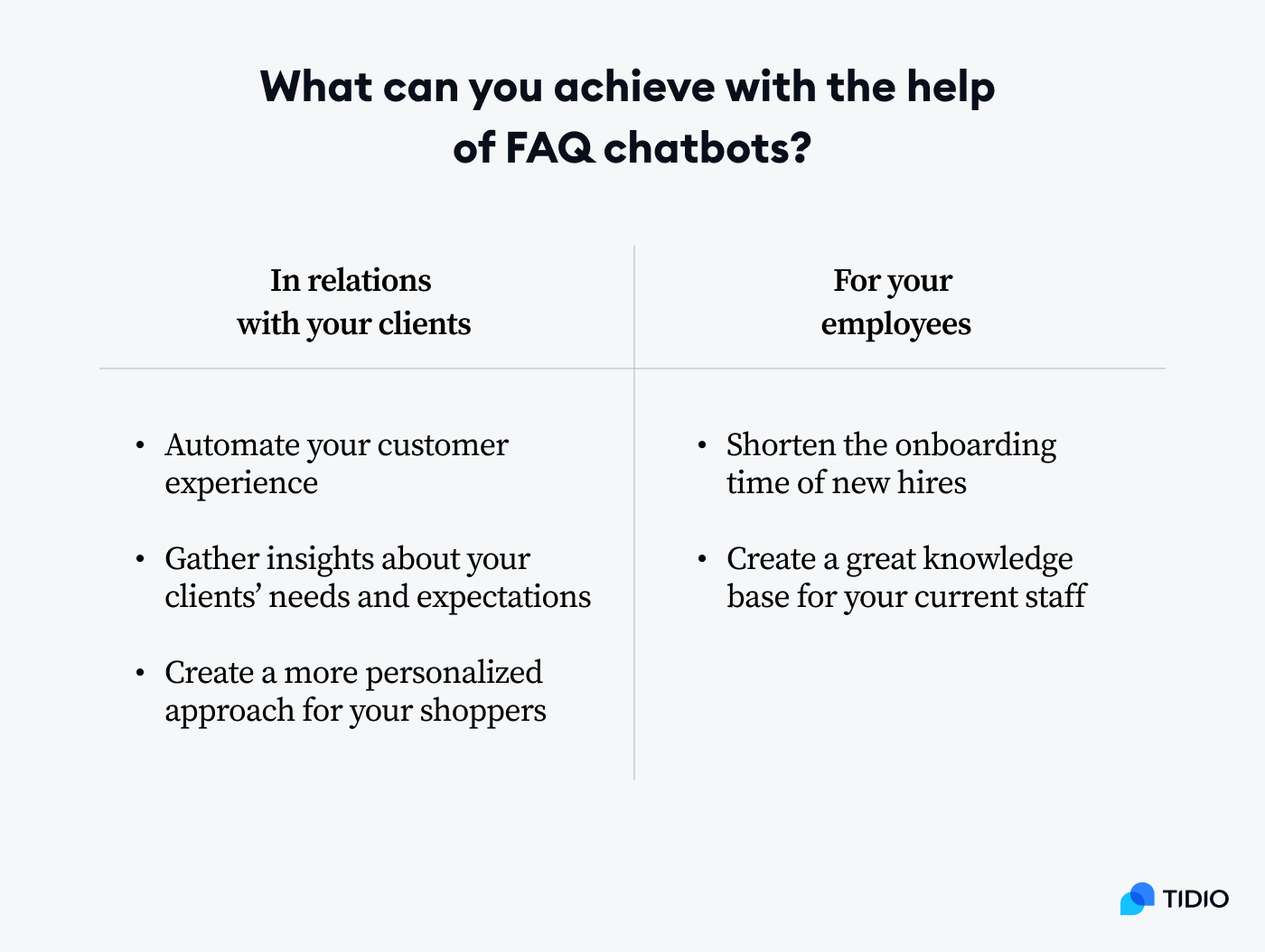 For customers
As mentioned above, having assets and materials like a help center and knowledge base puts your brand on a path to success when it comes to delivering great customer experience and increasing online sales. FAQ based chatbot can assist your customers on any step on their customer journey, respond in a manner of seconds, and serve multiple clients at the same time.
Also, chatbots can be a great ally in generating new leads and nurturing them. When talking to bots, people share their personal information, express their needs and expectations towards your products or services, and more. With these insights, your sales reps can send a more personalized messaging to your prospects including special offers or discounts.
Another great thing that FAQ chatbots can do for your revenue is their ability to learn from the past conversations. Based on that knowledge, they can suggest matching services or products to your prospects and drive cross-selling opportunities.
Read more: Learn about how customer service chatbot can help you improve clients' engagement on your website and how sales chatbots can boost your revenue.
For your employees
Besides being a great customer self-service asset, FAQ chatbots can also help you while onboarding new hires. These bots are a great source of knowledge about your company and its products or services. Thanks to that, you can save a lot of time on teaching new employees about your brand because most of the job can be done by the bots.
How to build FAQ chatbot
As mentioned in the previous sections, FAQ chatbots will save you and your team a lot of time and money. But, to get the most out of this solution, you need to put some effort at the beginning to make everything work smoothly.
Most of the chatbot providers offer a ready-to-use FAQ chatbot template, so creating your own one is easier than ever before.
We'll guide you through this process with the help of our own chatbot builder. If building a chatbot sounds like rocket science for you, don't worry. It's easy, intuitive and doesn't require any coding knowledge!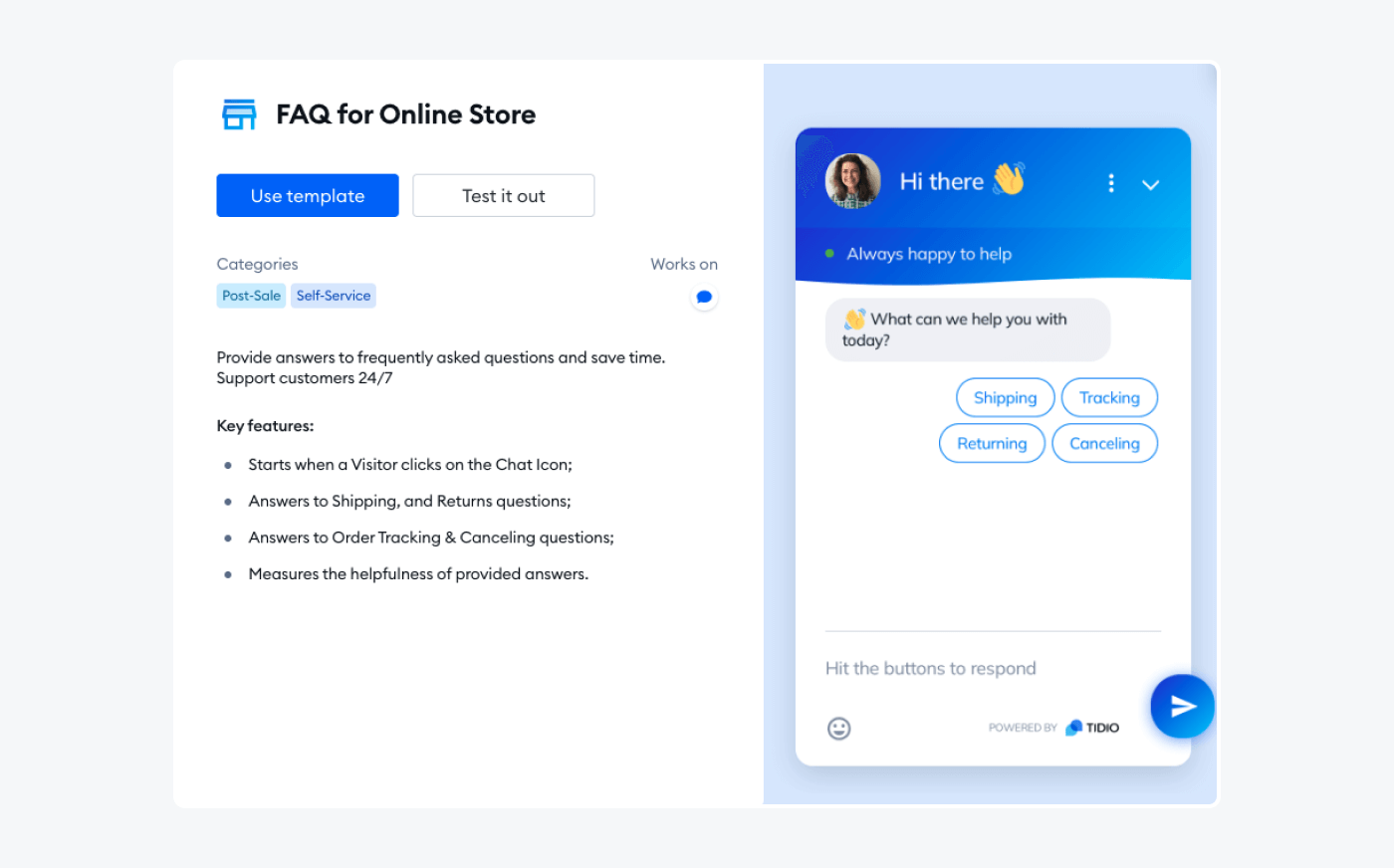 Step 1: Gather all the frequently asked questions
Chatbot is a great invention, but it requires training and some data to work properly. You need to teach your bot what your customers' questions are to make it able to return with the appropriate answers.
So, the first thing you need to do is to gather all the common questions your customers can ask. You'll find them in all the communication channels you use to talk to them. It can be your support team's inbox, your company's social media profiles, Slack channel (if you use one), WhatsApp, and so on.
Remember to collect questions that represent people' concerns about your products or services. Based on Tidio's knowledge base, we've listed out some queries that might be inspirational for you:
How to install/star using your product/service
Explanation of the basic and more advanced features
Customization guide
Billing and subscription plans details
List of all the available third-party integrations (if you offer, for ex., SaaS product)
Detailed description of the offered features
Etc.
Once you manage to collect the list of all these repetitive questions, you can move to the next point.
Step 2: Choose the trigger
The first thing you'll be asked to do when creating any type of chatbot is to choose a trigger.
But what is a trigger, exactly?
A trigger is an impulse that gives your bot a signal to start a conversation. In Tidio's chatbot builder, the triggers are divided into three groups:
By action customers make on the page
In this group, you have 8 triggers to choose from:
First visit on site—here your chatbot will be triggered once somebody will visit your website for the first time
Mouse leaves window—this one will trigger your bot once your visitors' mouse pointer will leave your website for at least 5 seconds
Form abandoned—in this case, chatbot will be triggered when the visitor fills on a form on your website, but won't submit
Visitor opens a specific page—this one will trigger your bot once visitor opens a particular page
Visitor returns to the site—as the name suggests, it will trigger your chatbot when a visitor returns to your website
New event—here, your chatbot will be triggered by an event defined by you
The visitor hasn't contacted you for some time—this will work when your visitor won't contact you for a specified amount of time. It works only for the visitors who gave you their email address
On certain days—chatbot will be triggered on certain days of the week.
2. By clicking or typing to the bot
In this group, you can choose between two triggers:
Visitor clicks on the button—as the name suggests, once a visitor clicks on the chatbot button on your website, the bot automatically starts the conversation
Visitor says—this one will trigger your chatbot once visitor will type something similar to a word or phrase inside the node
3. When chatbot starts the conversation—this group includes triggers that tell chatbot to proactively start the conversation with the customer. You can choose between:
Operator doesn't respond during the conversation—chatbot will be triggered when your operator won't respond to a new conversation. It works only for already assigned chats.
Operator doesn't take the conversation—it will work when your visitor doesn't open a new incoming chat. This trigger will work only for new, unassigned chats.
Operator starts the automation—as an operator, you'll be able to let automation hold the conversation. Once triggered, the chatbot will take over the conversation with your visitor.
As you can see, there are a lot of triggers available in Tidio chatbot builder. You may ask yourself now— which one should I choose?
To make your life easier, we recommend you to use the First visit on site trigger. Then, your chatbot will proactively approach your new visitors, offering them help and support from the first seconds of interaction with your brand.
Thanks to that, your visitors will feel valued and supported, which can increase your chances for turning them into your clients. Remember that 91% of customers are more likely to make a repeat purchase after a positive experience.
Read more: Be sure to read 200+ research-based customer service statistics to learn more about client's expectations and how customer service can make or break your business.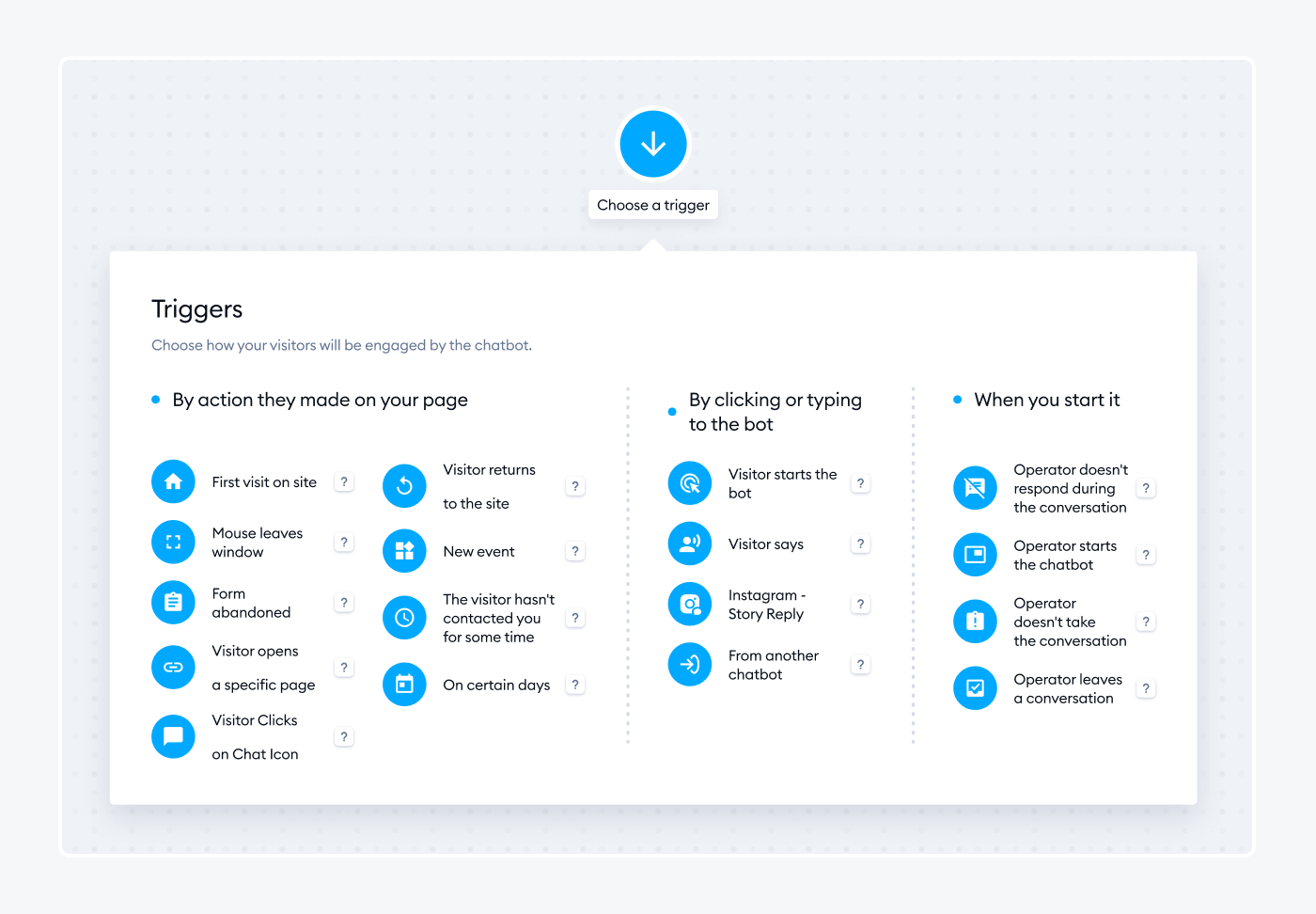 After that, it's time to move to the next step—adding your questions.
Step 3: Add frequently asked questions
In this step, you should start to create your conversational AI bot by "teaching" it the questions and how to answer them. To make it work properly, you implement all the gathered questions in the chatbot builder. Thanks to that, your bot will have all these questions in its database and will be able to automatically return with a proper answer.
How to do it?
When you have chosen your trigger, add the Decision action to display the question your bot will address and put it on the editing grid. Next, edit the content field of the Decision node.
In the editing window, type your question and check the Add quick reply option. As you can see on the screen below, there are two sections here.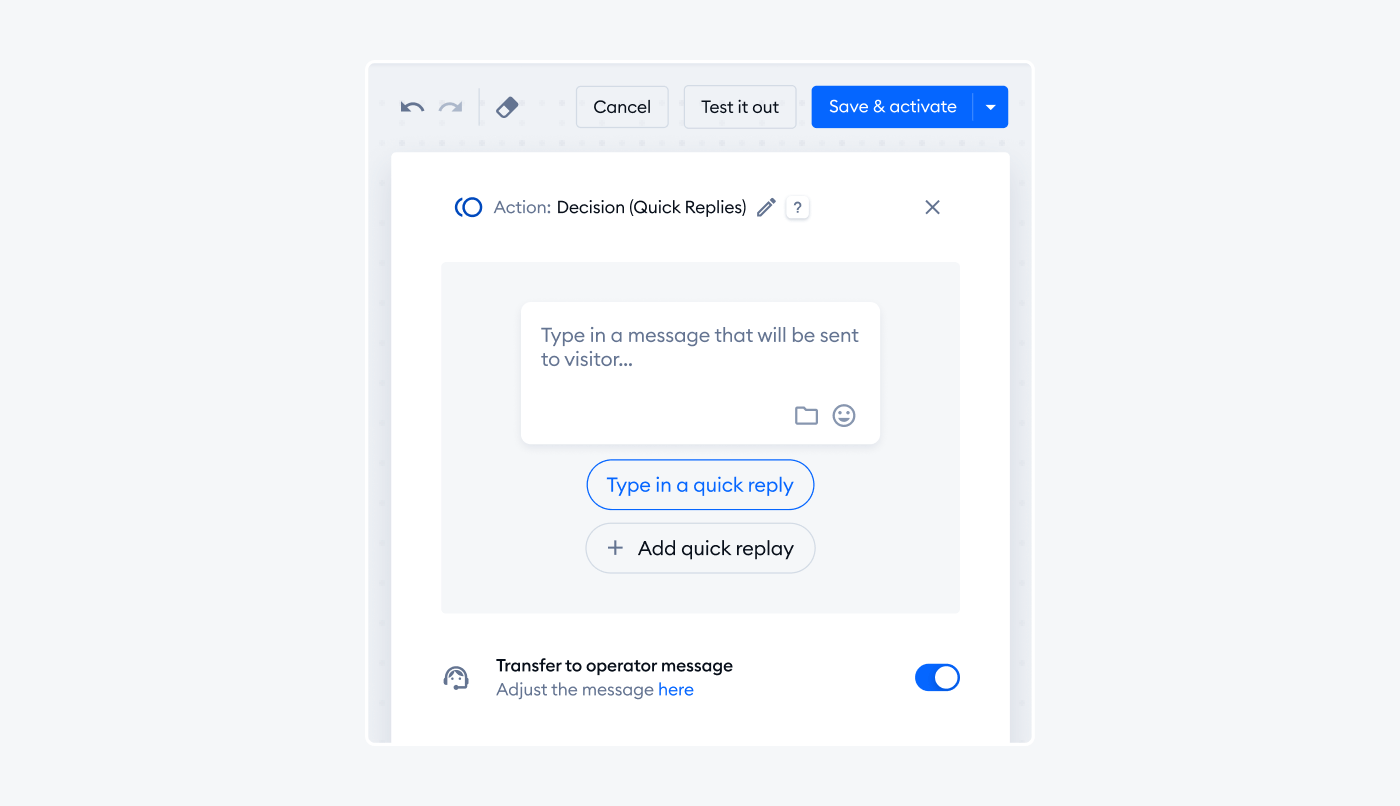 In the first section, type the message your customer will see before picking the conversation topic. In the second section, you'll be asked to add questions which your bot will answer. If you want to add more questions, just click on the +Add quick reply option.
When you have all your frequently asked questions added to your chatbot database, it's time to teach the bot how to answer them.
Step 4: Add answers
The final step to make your FAQ chatbot work smoothly is to add answers to your customers' questions and link them to the proper questions. Thanks to that, your bot will be able to immediately connect a question to the right answer and turn it back to your visitor.
To do that, close the Decision node and its editing window and drag as many Send a chat message nodes for as many questions you have.
When you're done, connect answers and questions with arrows, like we did in the GIF below:
After each one of the nodes has an assigned question, you can write the answers inside these nodes.
And that's it! Your FAQ chatbot is ready to use.
If you prefer to learn from videos, be sure to check out our video explaining how to create an FAQ chatbot for your online store:
FAQ chatbot: key takeaways
FAQ chatbots can bring a lot of benefits to your company—both for your clients and employees. They can help you to:
Significantly improve your customers' experience
Reduce costs spent on customer support
Minimize the risk of human error while communicating with your shoppers and prospects
Shorten your response time
And increase sales
These bots can also be a great source of knowledge about your business for your employees and new hires.
But, to choose the right chatbot provider, you need to take the following aspects into consideration:
Your business' goals and financial capabilities
The specifics of the industry you operate in
Which communication channels you use to talk with your clients
How big your FAQ database is
So, if you're thinking about automating your customer service with an FAQ bot, it's the right time to start exploring the fascinating world of chatbots! You won't be disappointed.