How are your email campaigns doing? Are you utilizing this type of marketing channel? Or maybe you have tried but failed?
Email marketing campaigns can boost sales, get you new customers, and assist you in their retention—if you execute them correctly, that is. However, not many new marketers or small business owners know how to do it. Therefore, they miss plenty of opportunities… and revenue.
If you are one of them and have nobody to learn from—then learn from the best.
In this article, we've collected plenty of examples and ideas for your next email campaigns. We hope not only to get you inspired but also to understand what makes some campaigns more suitable (and successful) than others.
To make the most of your emails, first, you need to know:
Next, you'll see a few great email campaign examples from the following companies:
So let's start from the beginning.
What Is an Email Campaign?
An email campaign is a sequence of emails sent to multiple recipients at once. Campaign emails should provide valuable content and relevant offers. Email campaigns build and develop relationships, convert prospects into customers, and turn first-time buyers into repeat customers.
An email campaign can be a sequence of emails or just a single email sent to many individuals.
One thing that you should really understand about email marketing, is that good email campaigns are methodical. They're not some random emails sent to random contacts from your list.
Best Email Campaigns—Checklist
Clear purpose. The emails you want to send should serve some purpose. This purpose must be clear to your recipient (e.g. great gifts ideas for Christmas) and you (drive more customers to your store).
Clear target. The emails you want to send should reach only the selected audience. Customers care a lot about personalized content. So do not send anything that would be irrelevant to their interests or needs.
Clear offer. Present your offer clearly and concisely. Adjust the visuals and graphic design to grab attention, as well as to fit the audience and mood.
Perfect timing. Send your campaign at the right time. Consider urgency (is it a flash sale or seasonal offer?), time zones (where are your recipients located?), or times when your audience is most likely to open your email (is it in the morning, afternoon, or evening?), etc.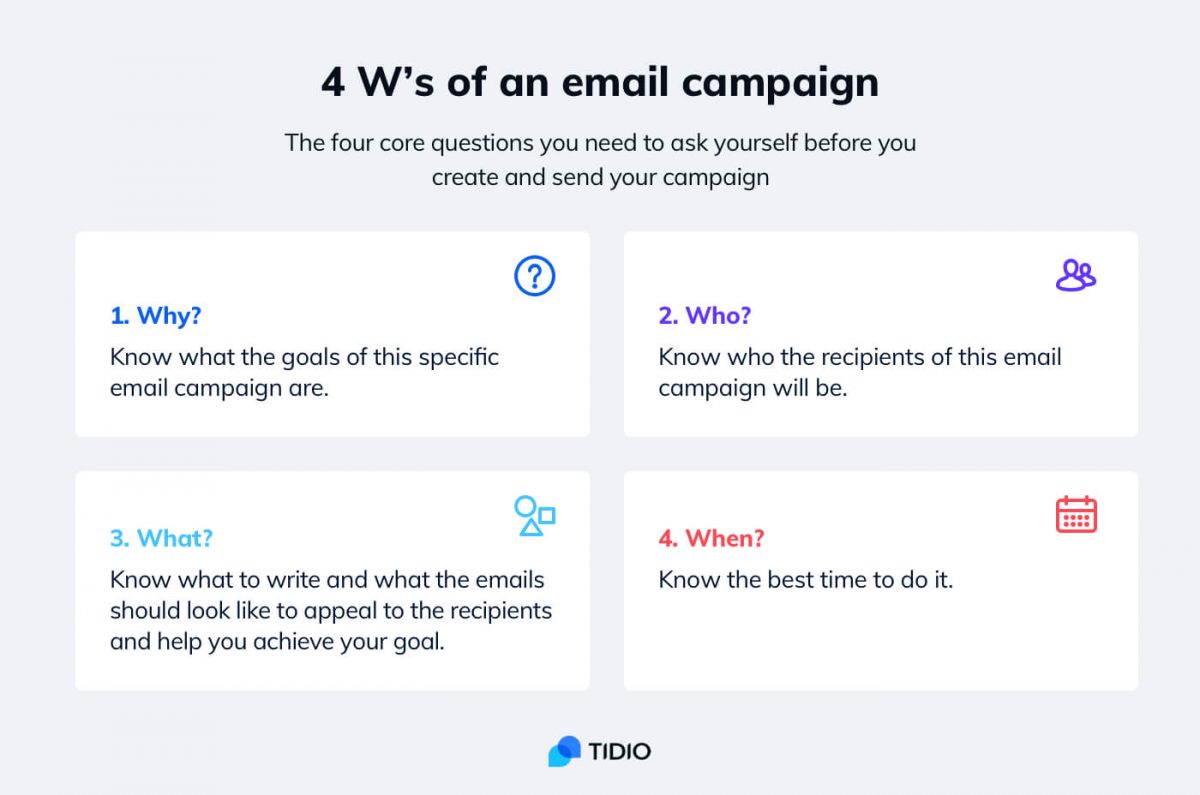 Here's a quick example to show you how these principles work in practice:

I want the people on my contact list (2) to buy more products from my online store (1). Therefore, I'll send an email campaign about my featured new arrivals (3) tomorrow (4).
That does sound like an email campaign. Care to give it a shot?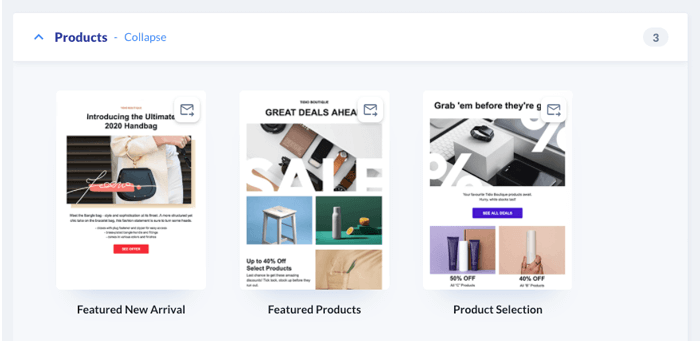 How to Create an Email Campaign in 5 Simple Steps
Email campaign tools available on the market strive to make the whole process of sending your emails as easy (and fast) as possible. Most of them are available as SaaS products, which means that you can access everything you need anytime and anywhere.
The first step to your successful email campaign is to create a free account so that you can use the email builder, select templates, and import your contacts. You register only once and use the service for as long as you wish.
Import your contacts. Tidio Email Marketing accepts .txt and .csv files.
Choose the template for your campaign or use the email builder to create your email from scratch.
Choose your audience, schedule the date, and launch!
Track your campaign results (open rates, click-through-rates, conversion, etc.)
That doesn't look complicated, does it?
Email Campaign Templates to Get You Inspired
Different occasions call for different email designs. But if you don't have a graphic designer on board or don't feel up to fiddling with visuals yourself, it may be a bit of a problem.
But it doesn't have to.
Explore our selection of beautiful and responsive email templates to suit your needs. You can use each template as it is or edit it to suit your campaign needs.
Tidio Email Template library is constantly growing. Currently, you can access templates from the following categories:
"Products" and "Discounts" eCommerce Email Campaign Templates
People love sales and getting discounts! So whenever you plan on clearing some of your goods or treating your audience, these templates will get the job done.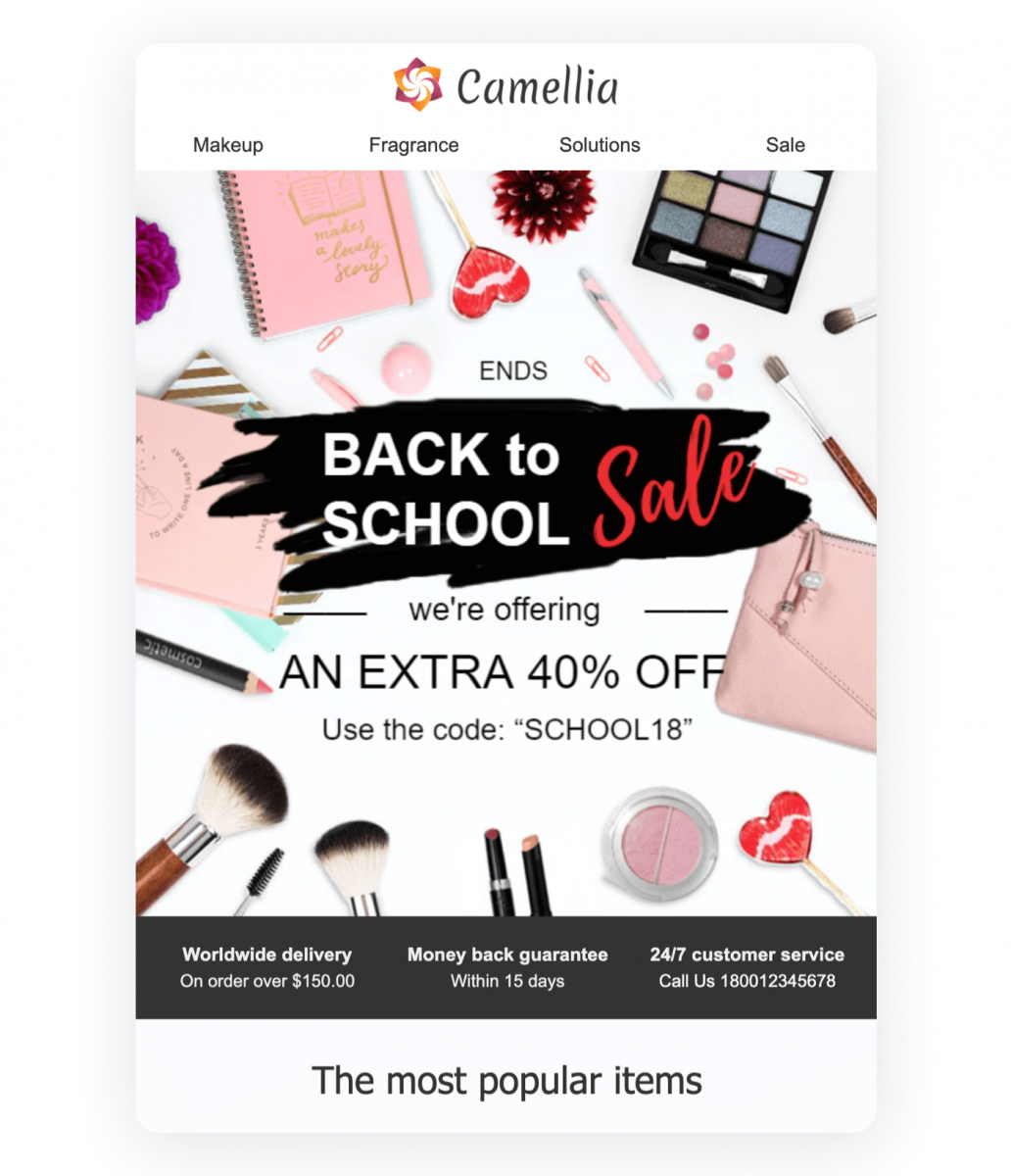 Those email campaign templates are designed to help you communicate the right message: what is being sold and what the discount rate is. Plenty of whitespace, no clutter. Clearly and concisely.
"Newsletters" Email Campaign Templates
No matter what kind of business you run, making newsletters is a great way to engage and nurture your audience. It's like keeping in touch with your friends. You let your recipients know about what has been happening at your company lately and what they can expect in the future.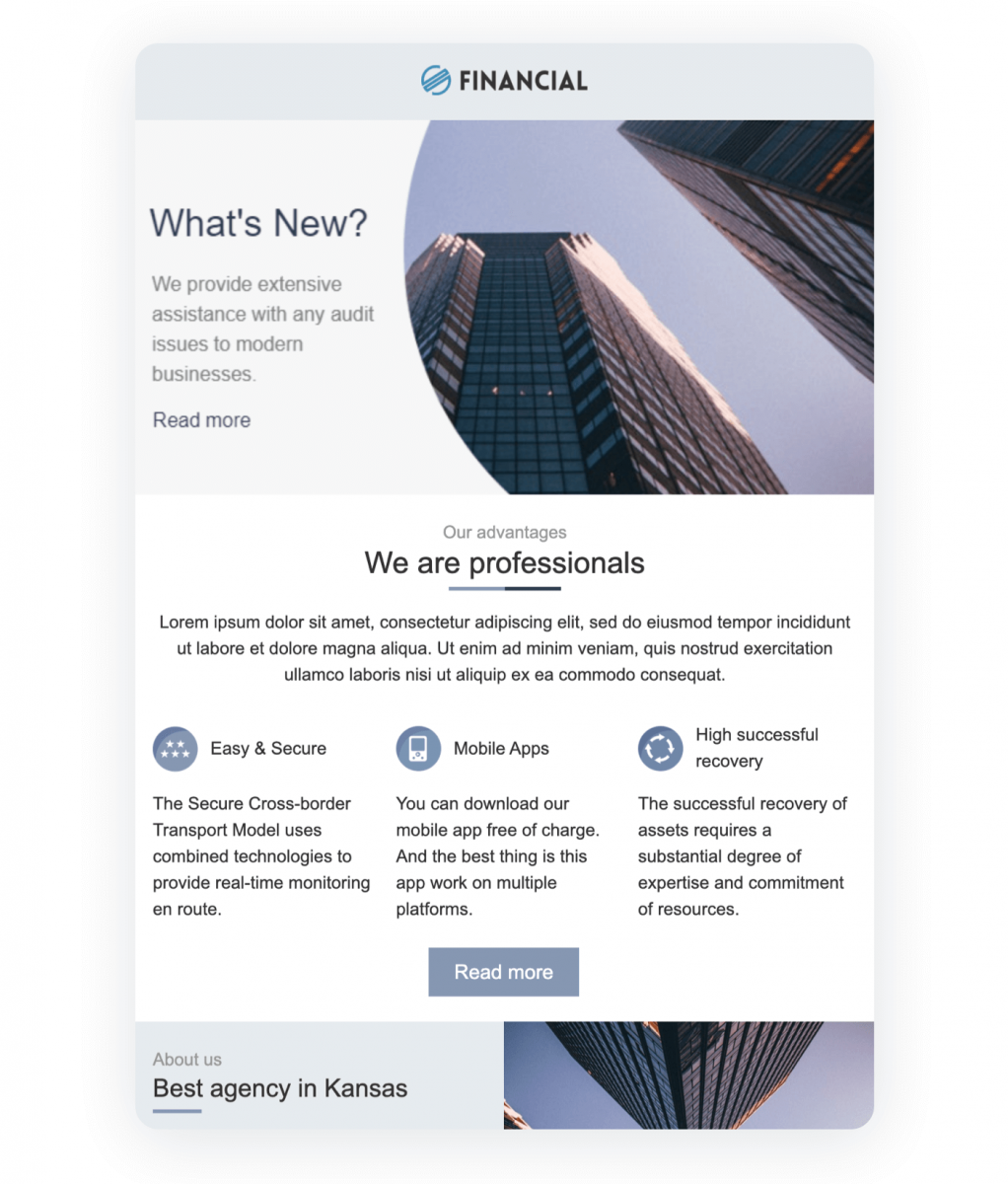 The newsletter templates are very diverse. You can go for a light, dark, or mixed theme. Whichever you feel will suit best your brand and the mood of the message. Each theme is captivating and uses rich high-quality visuals to give your email the premium look.
Email Campaign Templates for "Services"
Online business is not just eCommerce. Entrepreneurs offering various services will also find templates for their campaigns. Be it for sharing some important tips with their audience or informing them about special offers.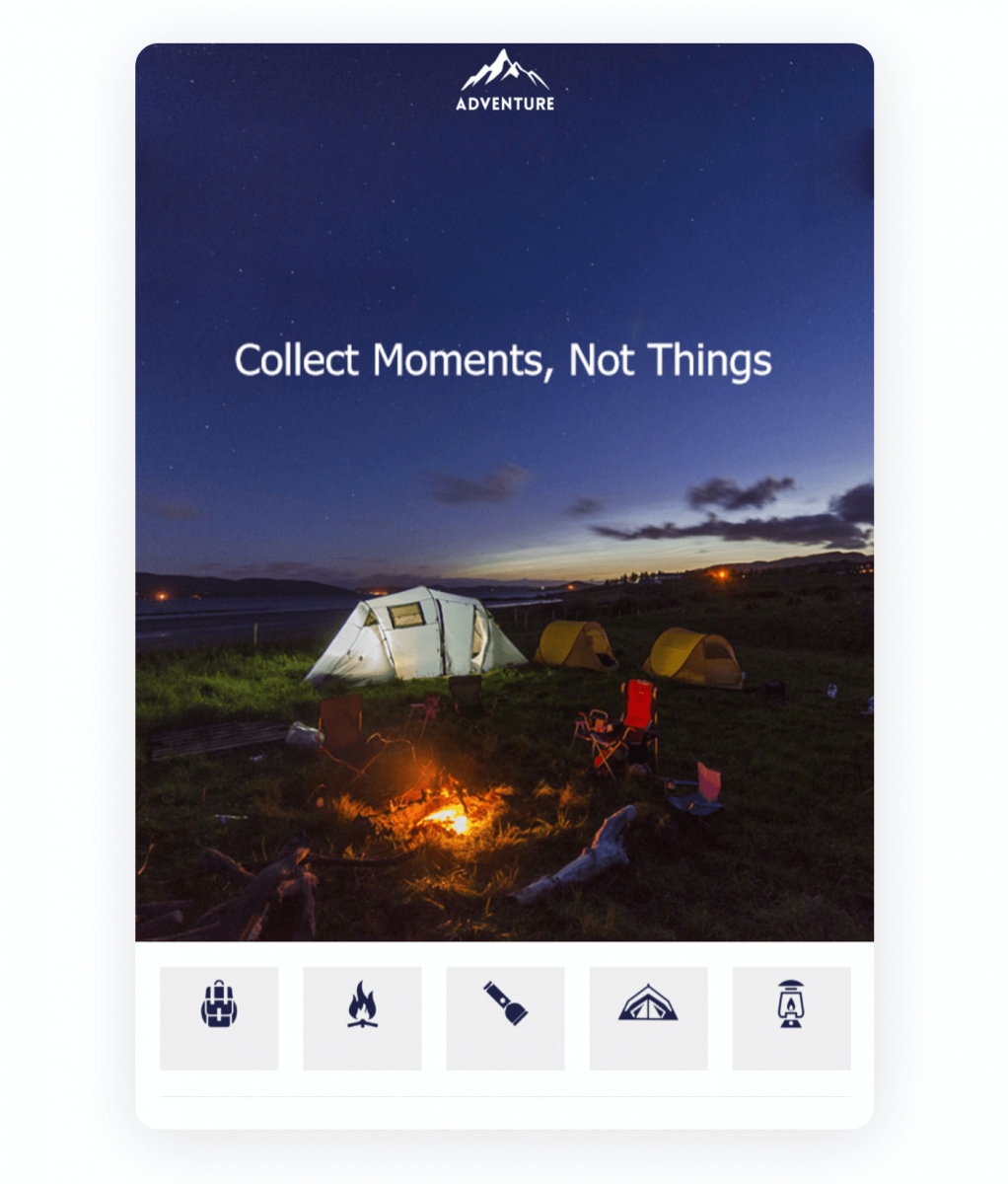 The templates available in this section are simple, thanks to which you can edit the text and visuals very easily. You can also upload your logo to make sure that your audience recognizes your brand. 
Read more: Check out the best email marketing services that will help take your email campaigns to the next level.
Seasonal Email Marketing Campaign Templates in the "Holidays" Section
Valentine's Day, Christmas, Mother's Day, you name it. Plenty of holidays going on all over the world give you plenty of opportunities to drive more customers to your store.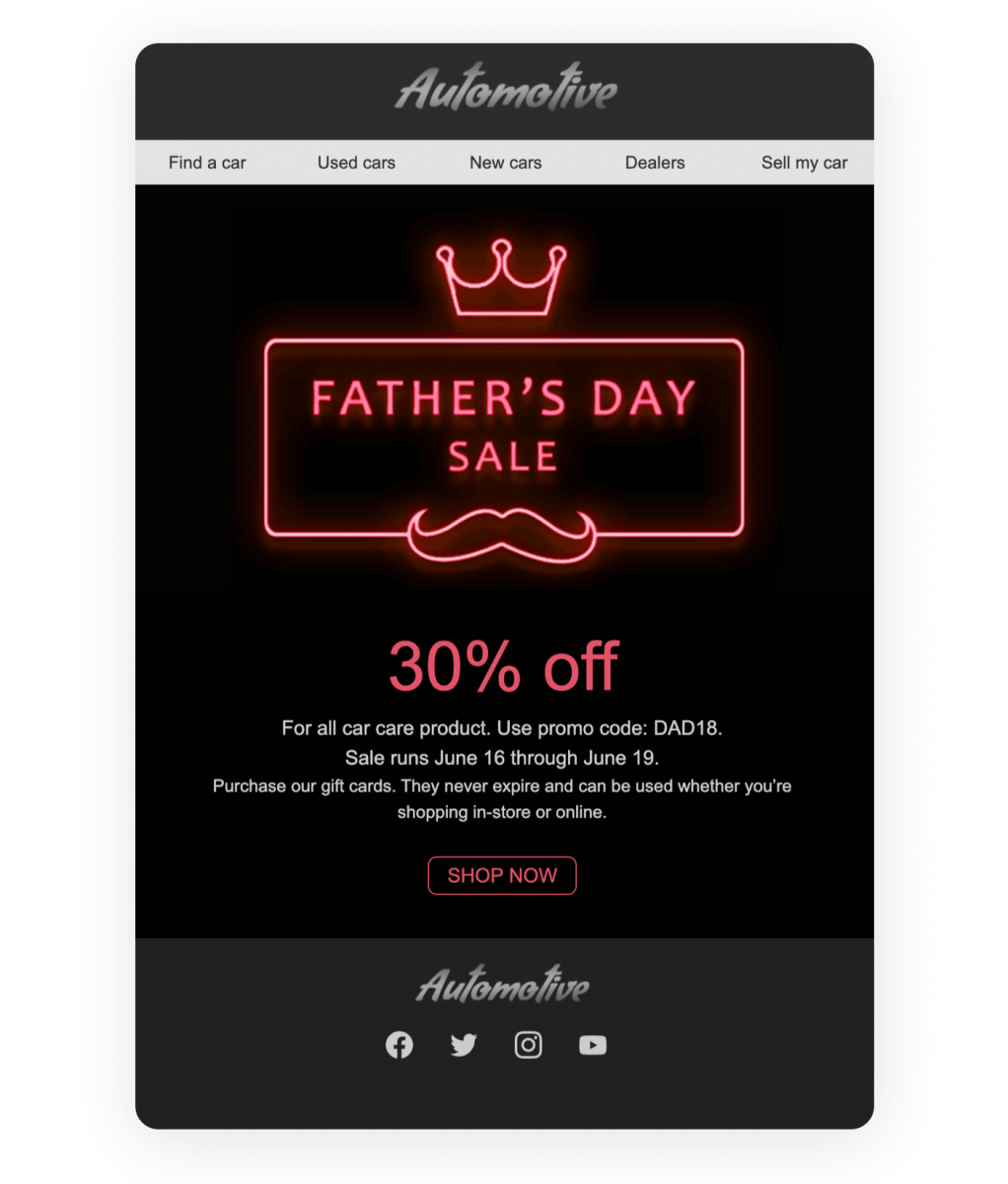 There are several templates for each occasion in the "Holidays" section. They are colorful, eye-catching, and look pleasant. If you prefer more customization options, use one of the generic seasonal templates and edit it effortlessly. Whichever email template you choose, you'll surely wow your recipient.
Read more: Check out some of the best ideas for your Christmas newsletter with examples and templates.
Types of Email Marketing Campaigns
So far we've established that email campaigns must be methodical and require a goal, audience, purpose, as well as good timing to reach their goals. We've also seen various email templates that were designed with a specific occasion in mind.
Now let's have a look at several types of email marketing campaigns. Each of them has its pros and cons. Not all of them must apply to your business but the list will give you a good idea of what types of campaigns you can include in your marketing strategy.
Seasonal Email Campaign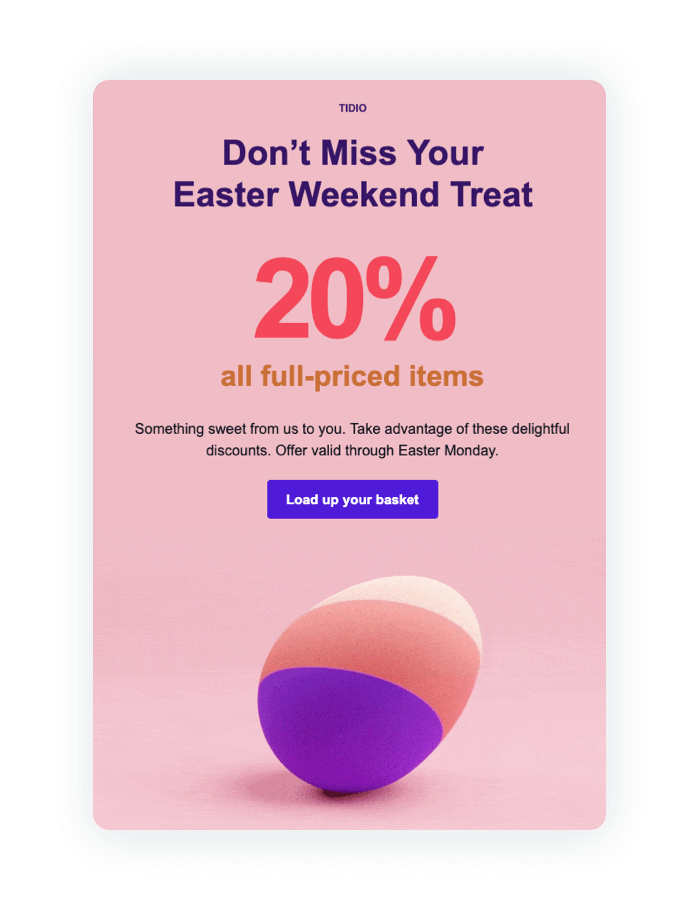 Why it is effective: The majority of holidays are associated with gift-giving. But many consumers find it hard to come up with an exciting gift a few times per year. Your email will help to persuade them that they should seek ideas and buy presents in your store.
Send it now
What businesses should try it: All businesses that can and want to capitalize on the temporary but increased interest in goods and services.
The holiday period is especially important for retail. Seasonal sales account for 20 percent of all retail sales. To make the most of it, prepare good copy and visuals ahead and send your first email at least a week before the main event. Also, be sure to address your campaign to the right customer segments. Using urgency in your seasonal emails may help as well.
| | |
| --- | --- |
| Pros: You can maximize ROI from this type of email marketing campaign by building up interest before the event. When the event is over, you can send a follow-up email. This way you have several opportunities to send an email related to the same holiday. | Cons: Seasonal campaigns are short-lived and each holiday happens only once per year. |
Lead Nurturing Email Campaign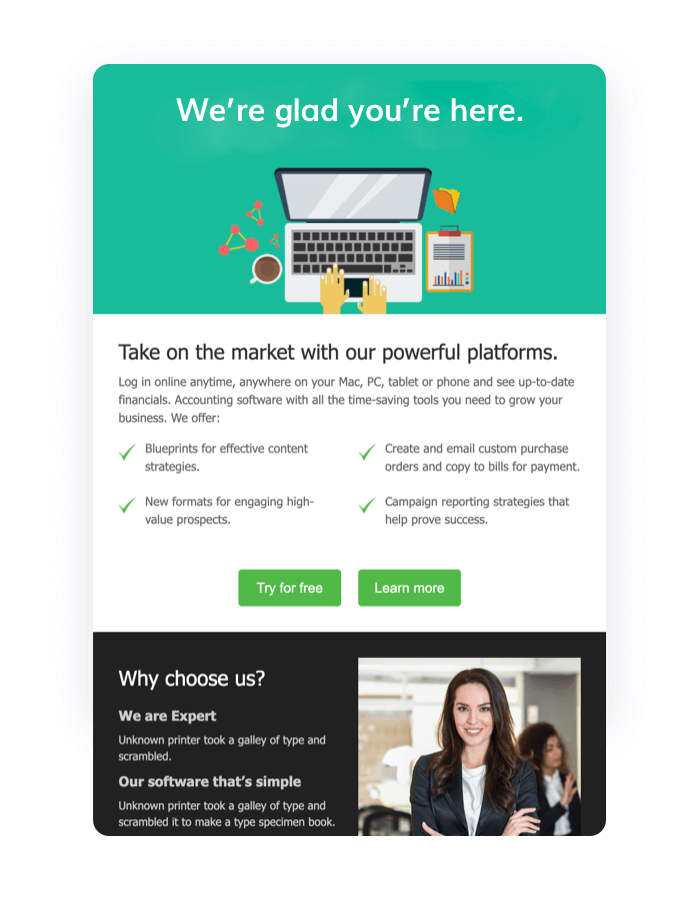 Why it is effective: Lead nurturing email campaign is a sequence of targeted and personalized emails. Personalization plays a huge role in the consumer-brand relationship. And emails are an effective and efficient way to make your customers feel like they're special to you.
Send it now
What businesses should try it: All businesses that generate leads and want to increase their conversions.
Lead nurturing takes place on each step of the sales funnel and aims to provide your potential buyers with all the information they need. This process consists of a sequence of emails, not just one. The goal is to establish good communication and to foster strong relationships between companies and their audiences.
| | |
| --- | --- |
| Pros: This is a multi-step campaign. Leads are nurtured at every stage of their buying journey. This gives you a lot of room for forming relationships and converting the lead. | Cons: Lead nurturing campaigns require some effort to prepare a solid email flow. You need to see the big picture and take into account customers falling into your sales funnel at different stages. |
Newsletter Email Campaign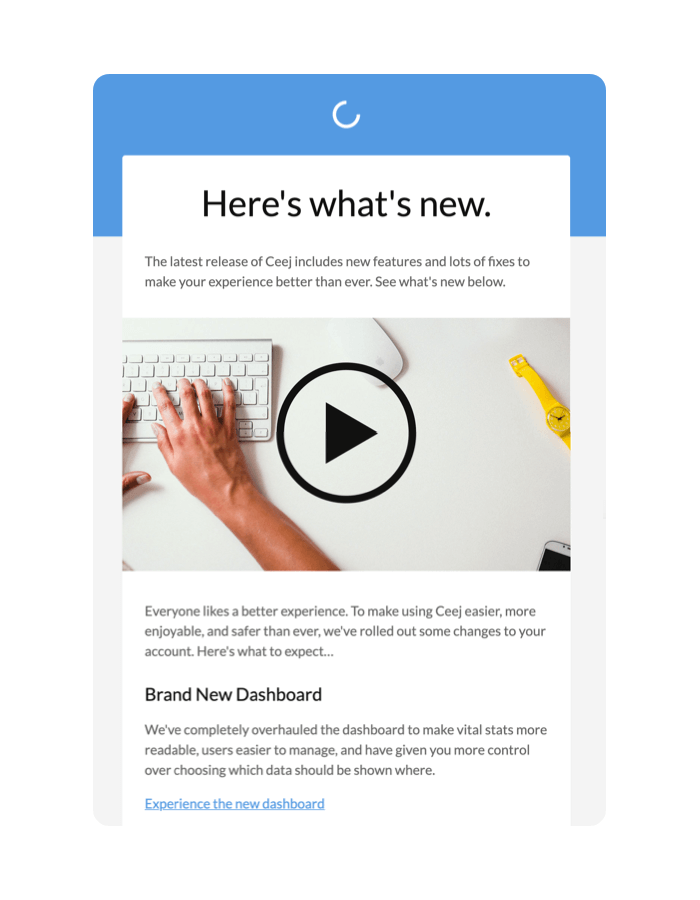 Why it is effective: You can send newsletters to a very broad audience. It could be your current customers and leads. Newsletters do not try to sell anything. They are informative and valuable to the recipient.
Send it now
What businesses should try it: All businesses that want to keep their audiences engaged or to increase their brand awareness.
Newsletters are not strictly email campaigns since they can be sent out as often and for as long as you decide. They are not about sales. The goal of newsletters is to keep your customers aware of your product updates and to educate them. You can send newsletters for pure entertainment, as well. They can be just about anything, as long as they are aligned with your brand voice, goals, and your customers' needs.
| | |
| --- | --- |
| Pros: Newsletters nurture relationships with your existing customers. Also, by providing valuable and share-worthy content, you can earn more potential customers. | Cons: Newsletters should go out on a regular basis. This requires some planning ahead to ensure that you deliver quality news and information to your recipients. Also, subscribers see only the newest emails. |
Cart Abandonment Email Campaign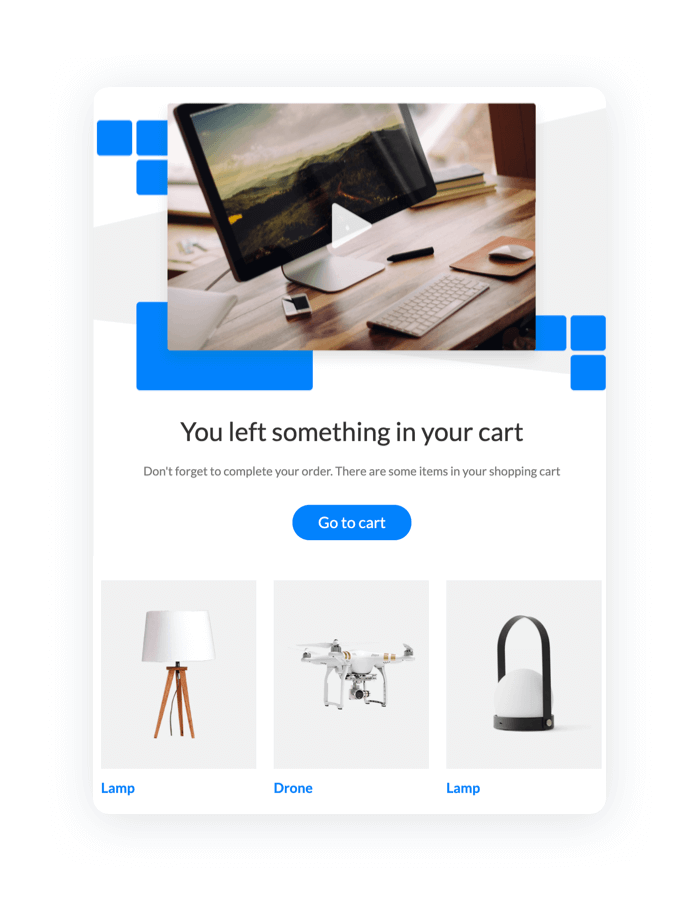 Why it is effective: This campaign is launched shortly after the customer abandons their cart. A series of emails don't let the customer forget about what they wanted to buy. Since the emails include direct links and CTA buttons, it is easy for the recipients to resume their shopping.
Send it now
What businesses should try it: All businesses selling goods online.
Cart abandonment campaign is quite unique in the sense that it's triggered by the customers' actions. Emails go out when customers leave the store without buying the items they put in the shopping cart. A series of good abandoned cart emails can increase conversions and rescue lost revenue.
| | |
| --- | --- |
| Pros: This type of email campaign can bring potential buyers back to the store. A sequence of at least three emails increases your chance of success. | Cons: You need to capture the address of the customer who abandoned their cart to send them cart recovery emails. |
Promotional Email Campaign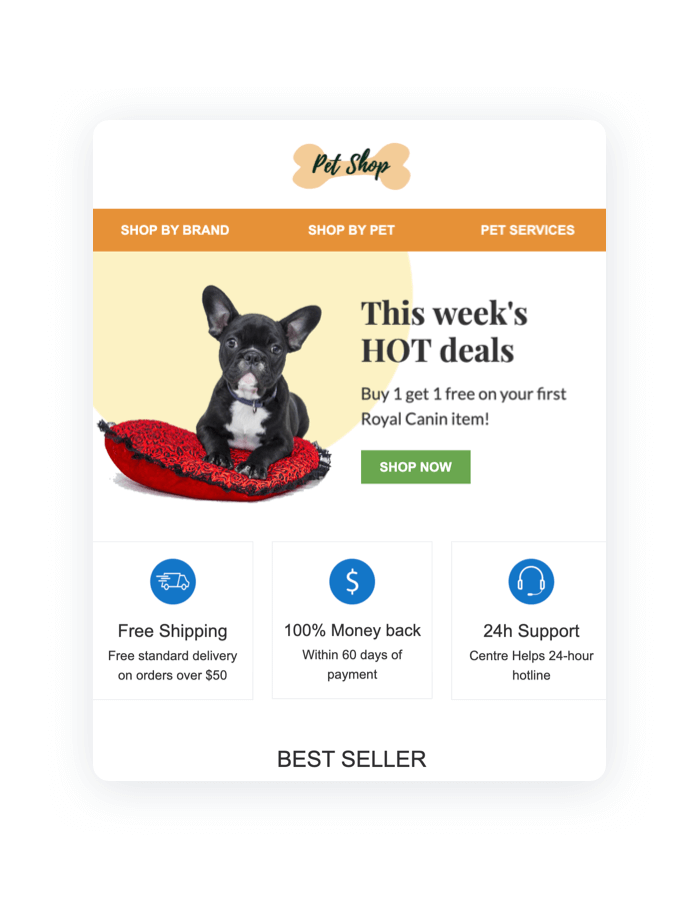 Why it is effective: Discounts, free stuff, sale, etc. Even though consumers are very used to all of it, the chance of getting some good deal or joining an "exclusive" event is still very appealing to many.
Send it now
What businesses should try it: All businesses that want to drive more traffic to their websites or stores. Or, businesses that want to keep their subscribers coming back and remember about their brand.
The purpose of the promotional email campaign is to make your potential customers aware of your products or services. And then, move them down the sales funnel to a conversion. Common email promotions include discounts, access to exclusive content, or an invitation to some event (e.g. a webinar).
| | |
| --- | --- |
| Pros: You can send it anytime you have anything attractive to offer. You do not need any special occasions or holidays to launch your campaign. | Cons: People receive lots of promotional emails from various companies so you'll need a good subject line and copy to stand out in the crowd. |
Email Drip Campaign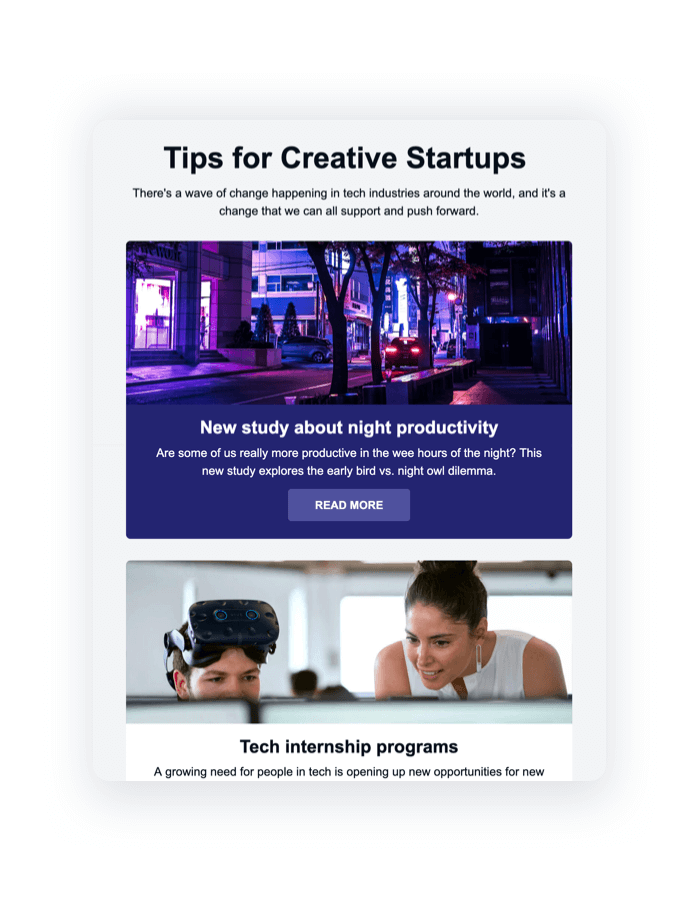 Why it is effective: Drip email campaigns give your subscribers the right information at the right time. Since they are highly targeted, relevant, and well-timed, recipients are more likely to click links or CTA buttons inside emails.
Send it now
What businesses should try it: All businesses that want to engage their leads, and customers to produce more revenue.
A drip campaign is a set of emails that go out based on specific timelines or subscriber's actions. Such campaigns enable you to stay in touch with your audience based on different events, such as when a customer signs up for an account, newsletter, or places an order.
| | |
| --- | --- |
| Pros: You define when the campaign should trigger and what emails go to which contact segments. The sequence of emails goes out automatically. | Cons: Drip marketing campaigns may seem daunting as you need to cover many scenarios and customer segments. |
Re-Engagement Email Campaign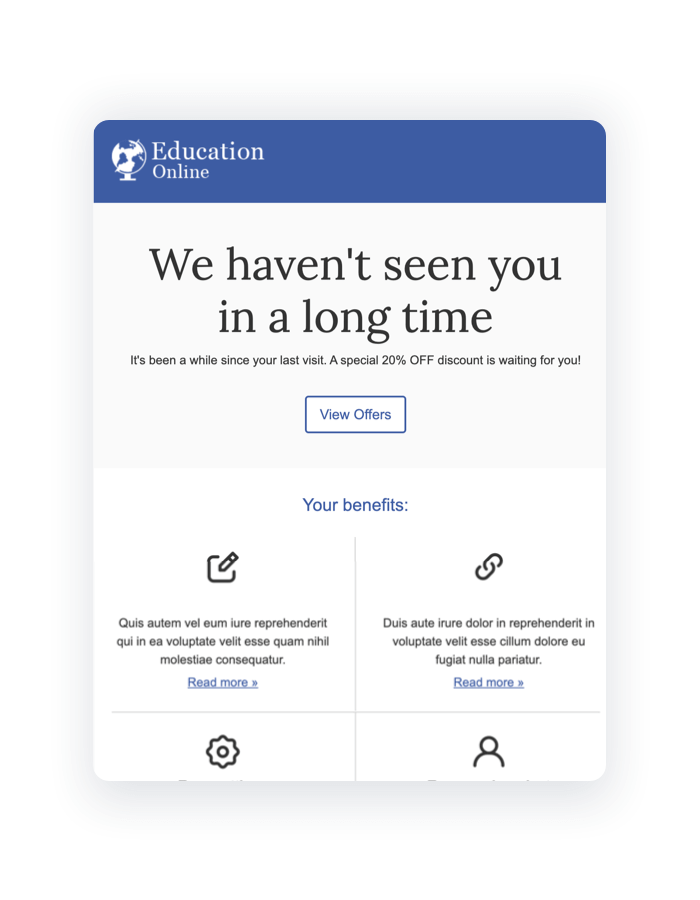 Why it is effective: You can ask explicitly whether your subscriber is still interested in hearing from you or offer them some gift. Sometimes just a gentle nudge is enough to remind your contacts to resume their engagement with your brand.
Send it now
The average subscriber churn rate is 25-30 percent per year. Re-engagement email campaigns aim to reduce that rate and reactivate the subscribers who've been inactive for a while. They will also help you determine which subscribers should be removed from your list (remember, that emails going to the spam folder or receiving very little engagement negatively affect the sender's reputation).
| | |
| --- | --- |
| Pros: Helps you activate inactive subscribers and clean your mailing list. | Cons: You need to carefully consider which subscribers you should really remove from your list and which ones can be still re-engaged. Each inactive subscriber type will require a different re-engagement email. |
Best Email Campaign Examples
Now that you're familiar with all the different types of email campaigns, let's have a look at how some recognized brands go about executing theirs.
Re-Engagement Email Campaign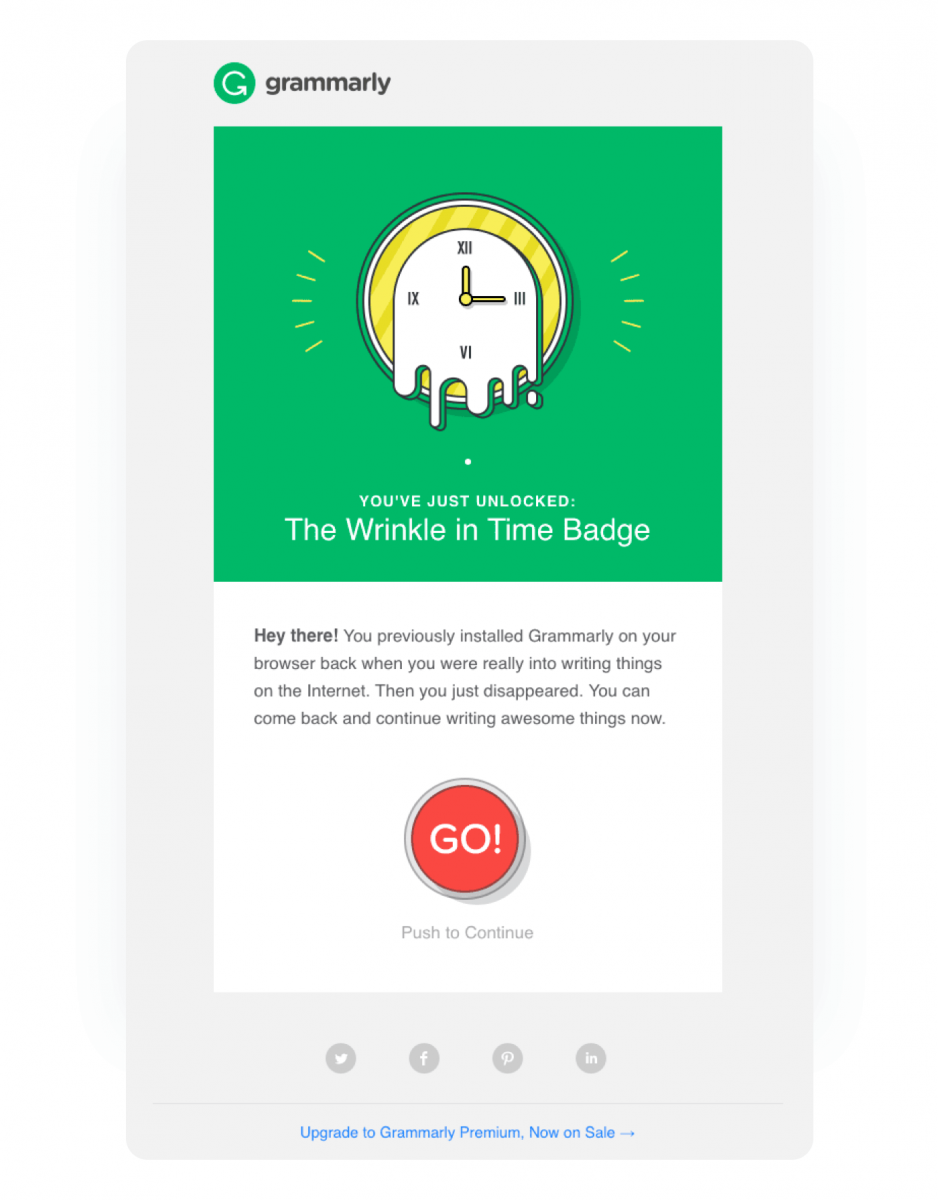 Company: Grammarly
Why this email campaign works: A smart use of gamification. Subscribers who went cold are "awarded" a badge. They are also encouraged to continue the game with the push of the big red button. A big red button that you are encouraged to press! Hats off to whoever manages to resist the temptation.
---
Promotional Email Campaign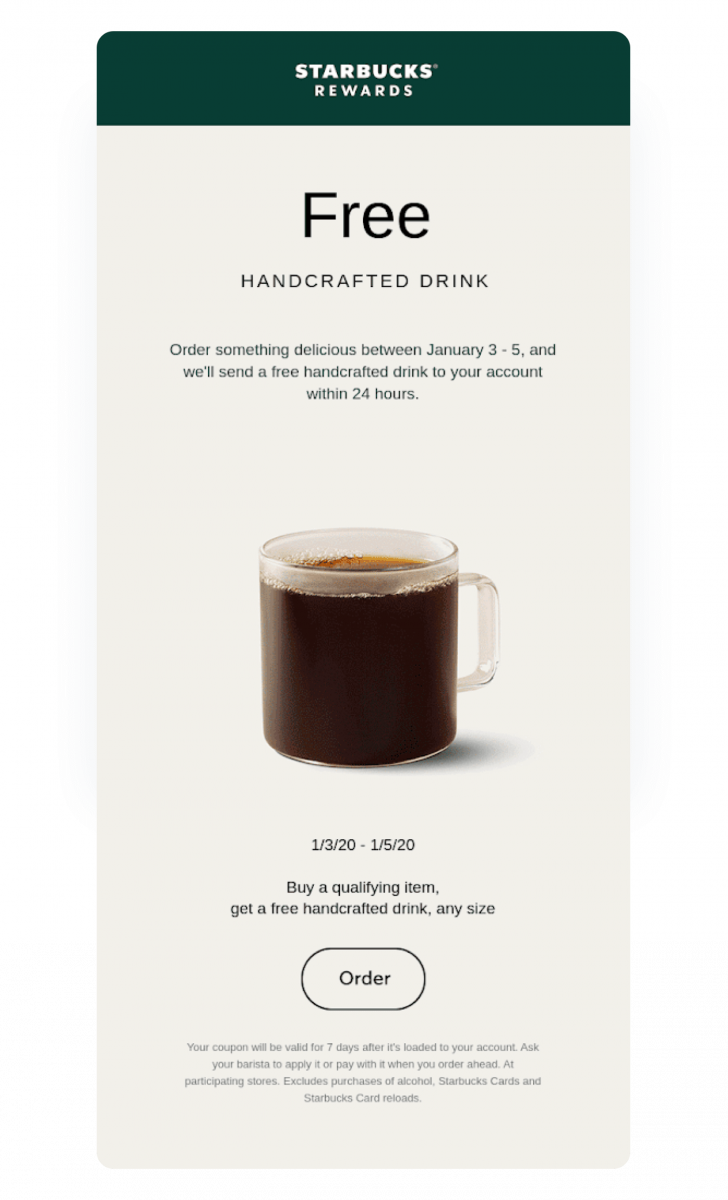 Company: Starbucks
Why this email campaign works: The copy and visuals are minimalistic so the entire email is very clean. This helps to distinguish three focal points in this email: the top "Free" word, the coffee image in the middle, and the CTA button in the lower section. The first two elements immediately draw attention and instantly form a "free coffee" message in the readers' minds. Free coffee? Big yes from all the caffeine fans!
---
Newsletter Email Campaign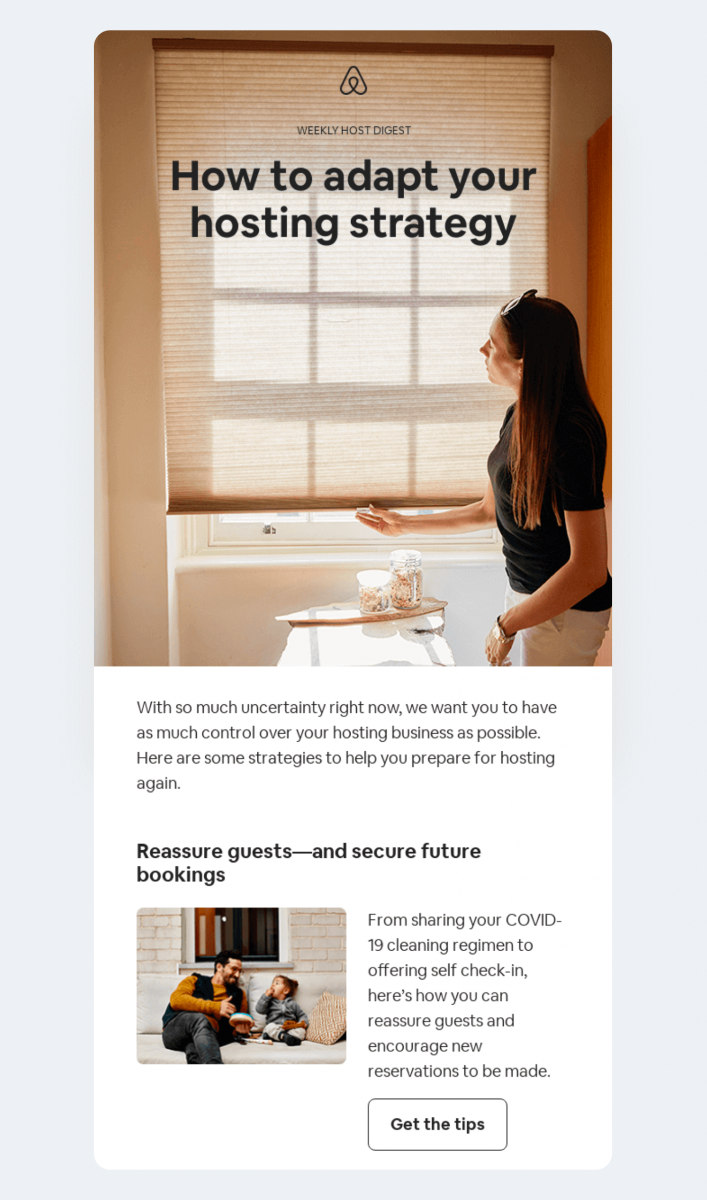 Company: Airbnb
Why this email campaign works: An email lists several articles whose headlines and excerpts promise useful information and tips to the hosts. Additionally, the subscribers are invited to join the live talk session with the company CEO. Bunch of useful content coupled with the Q'n'A session—always welcome, especially during the uncertain times. That's a good way to care about the customers.
---
Seasonal Email Campaign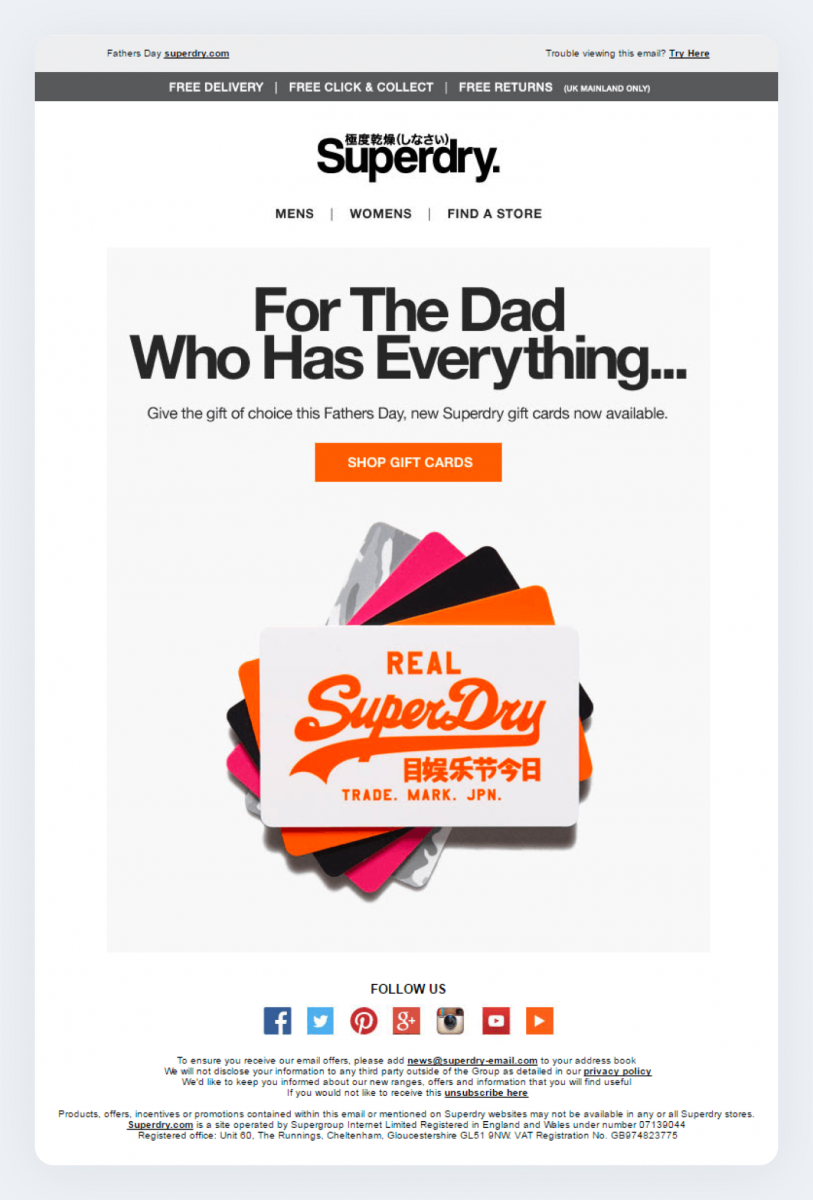 Company: Superdry
Why this email campaign works: Every year the same problem—what you should get for your family or friends. Especially to someone who's already got pretty much everything you could consider as a potential gift. Superdry understands its consumers' pains and offers a gift card as a solution. Simple but effective. Don't know what to buy? Let the gift recipient worry about that.
Email Marketing Campaign Ideas
We've listed templates for the campaigns you might need to launch in the future. You also saw a few examples of different types of email marketing campaigns. But neither of these lists is definite. In fact, we've barely scratched the surface. There are TONS of reasons and occasions for launching campaigns.
Below, a few more to inspire you:
Promote your limited edition or last items in stock
Inform about free shipping
Say "thank you" for completing a purchase
Give a sneak preview of new products
Celebrate an important anniversary or milestone
Announce that a product is back in stock
Inform about the opening of a new location
Send a letter from the business owner/CEO
Compile a list with top-selling or the most popular products of the month
Offer a free giveaway
Ask customers for feedback
Announce the launch of a new product
Invite for a webinar
Offer a free downloadable content
Announce winners (draw, lottery, competition)
Share a monthly recap
Present the people behind the company
Share insights into your company history
Update your customers with the newest arrivals or product features
Update about the recent improvements in your product or service based on customer feedback
Email Campaigns: Summary
All good email campaigns share common qualities. They are:
Helpful
Purposeful
Well-written
Beautifully designed
Responsive
Whatever your next email will be, remember to A/B test your emails. This will give a good overview of what works for your audience, and what doesn't.
But first, you need to build your campaign!
If you want to code and design your own emails, you are welcome to do so. Just remember that this requires a good bit of technical know-how and could be quite time-consuming.
If you value your time and seamless solutions, go for email templates. This way you do not have to worry about design, responsiveness, or to some extent, even a purpose.
There is no single reason for sending your next email marketing campaign. So even if you happen not to find the template you need, you can still craft a top-notch email with an easy email builder.
Try free Tidio Email Marketing and see how fast and easy email campaigns can be.
Build and Send Free Emails