There are two types of newsletter campaigns: effective and ineffective.
Effective newsletters retain and re-engage subscribers and help businesses grow. Ineffective newsletters waste time and money and bring zero ROI. They can also ruin a sender's reputation and cause customers to unsubscribe and forget about the business.
Which type of newsletter do you want to send?
You see, creating a newsletter is a process. There is a beginning, middle, and end. You move from one step to another until you reach a desirable result.
In other words, you can create effective newsletters, too.
Want to send beautiful newsletters, email marketing campaigns, and abandoned cart emails? Try our free email marketing software to design your emails, segment your contacts, and track email analytics.
Design & Send Emails Now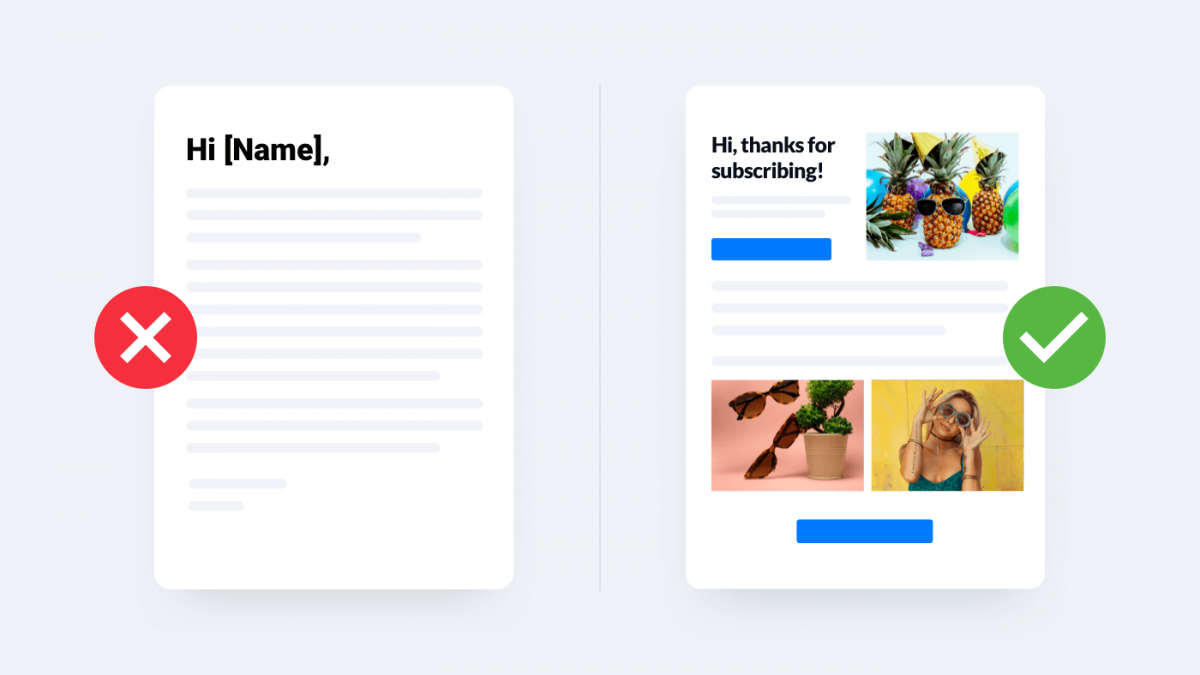 Discover 250+ templates—Design and automate your email campaigns.
One of our users, Kate, had this to say:
I'm not a technical person but I could use my contacts and send a bulk email campaign in no time.
And we'll guide you through all the steps you need to take to achieve that goal. Better yet. You're going to create a newsletter completely for free with no technical know-how with a visual email builder.
By the end of this article, you will know how to:
Sounds like a lot to do? Not at all!
It's a straightforward process. And when you're done, you'll reap all the benefits: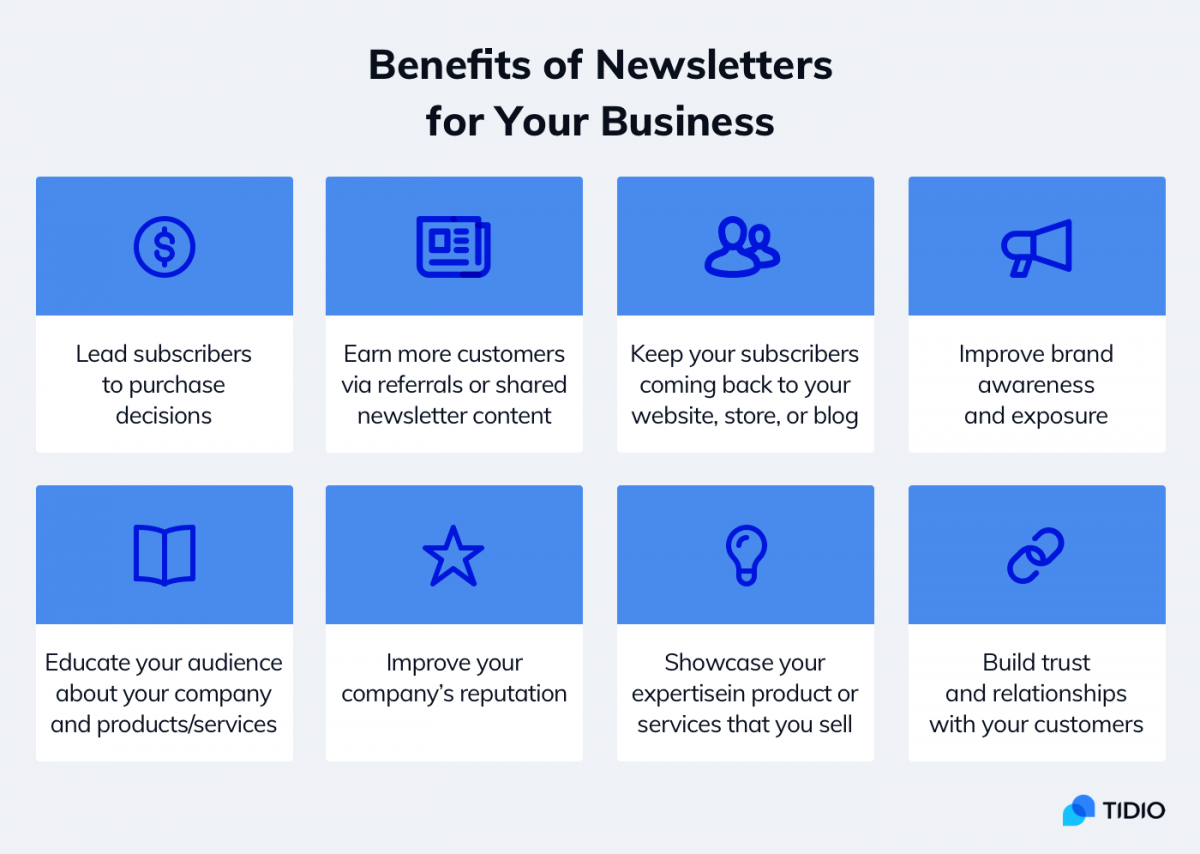 All right then. Time to create something awesome!
How to Plan a Newsletter Strategy
Newsletters are not generic messages. Sending messages for the sake of sending won't do any good.
You need to think of each campaign email as a curated experience that must resonate with your subscriber. An experience that will benefit your subscriber (and of course—you).
So before you even jump into the creative process of making a newsletter, plan for your success first and answer the following questions:
What is the goal of my newsletter?
Each action you take must lead to some results. Newsletters can serve different purposes and you need to establish what you want it to be. The email design and content will depend on your answer.
For example, your objective could be to:
Increase sales
Generate more traffic
Build and develop relationships with your audience
Moreover, setting goals helps you measure the performance of your efforts. After all, if you don't know what you wanted to achieve, you won't know whether your campaign worked or not.
When you decide on your goal, you need to determine the KPIs you want to track. If you're new to metrics, start with something popular:
Newsletter subscriptions
Open rates
Click rates
Spam and block rates
Unsubscribe rates
Important: The metrics alone should not be your newsletter campaign objective. They only show you how successful you were in reaching your goal.
Who is my newsletter audience?
Nowadays, people expect personalized content. They expect you to know what they might want or need. If you can correctly identify these, you will be able to provide value and send newsletters that appeal to your audience.
So you need to know who you want to reach with your newsletters. Try to be as specific as possible. Consider things like demographics, location, and interests. Customer segmentation can help you send more relevant emails.
How often should I send out a newsletter?
On average, the best frequency for newsletters is no more than twice a week, and at least once a month. Based on a recent study, 61 percent of consumers would like to hear from their favorite brands at least once a week.
You may also consider sending a survey to your contacts and ask them about their preferred frequency (and newsletter topics while they're at it).
What should be in a newsletter?
Planning the topic and content of your newsletter is closely related to the goals you have defined. Most importantly, your emails should be valuable to your subscribers. (And as mentioned earlier, relevant to your subscribers' needs and interests.)
Following that principle, here are a few ideas: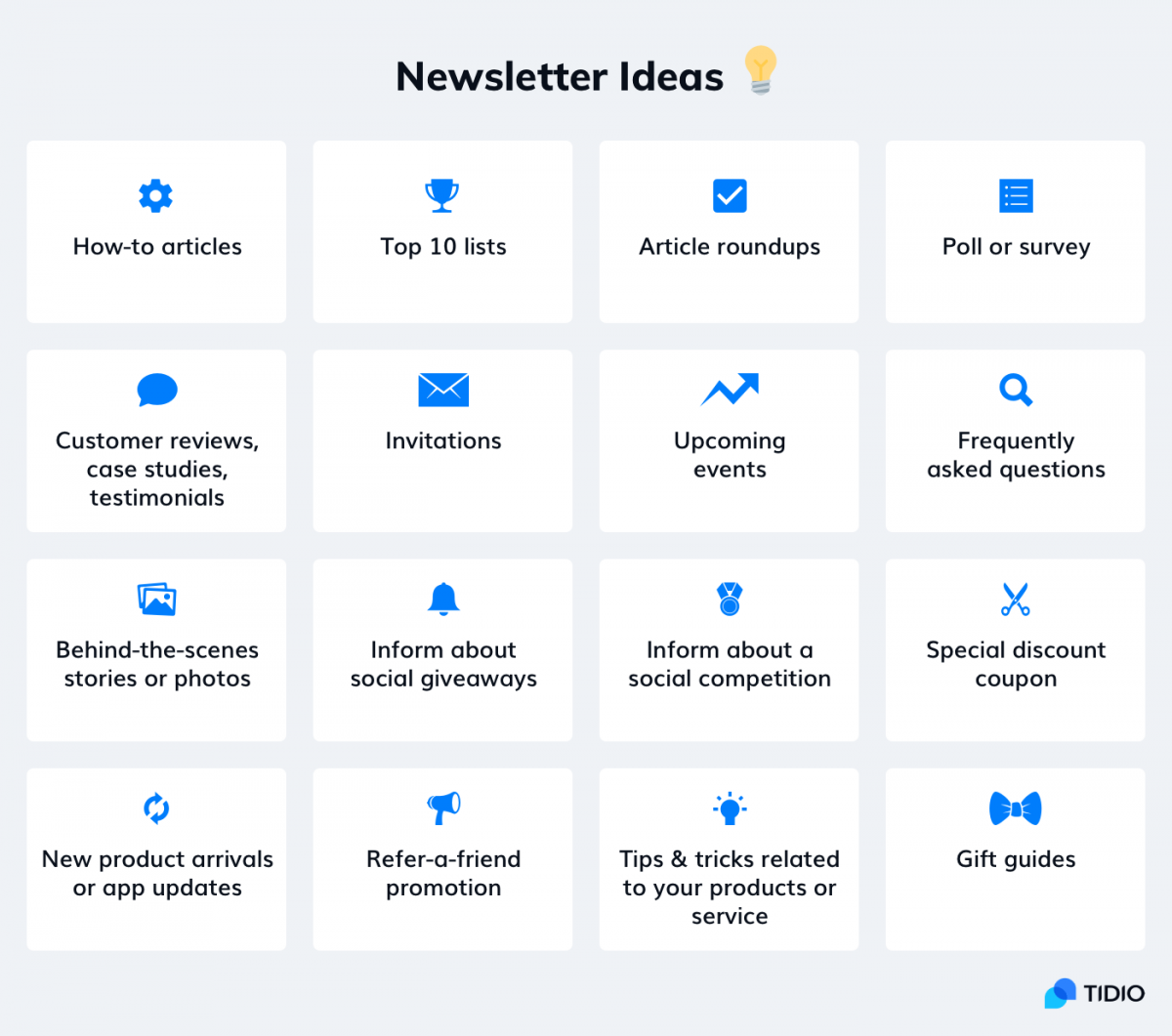 Another way to approach the ideas for your newsletter content is to analyze newsletters from other companies. They could be your direct competition or companies that you think are successful at email marketing.
How do I make an email?
Basically, there are two ways of creating any email (including a newsletter). You can:
Create it by coding its whole structure in HTML to make it responsive and adding CSS to style it. Then, you import it to the email client of your choice.
Make it with a simple visual email editor that takes all the coding part off your shoulders. Once you create an email, you do not need to import it anywhere. You can send it with the same tool you've used to build your email.
In the following parts of this article, we will show you how to create a newsletter with a visual editor. You'll find out that this way of creating an email is not only fast and easy, but you are also very flexible in terms of how you want your newsletter to look like.
Make a Newsletter With a Free Visual Email Editor
First things first—
With the help of a free visual email builder, you can create your newsletter campaigns from scratch. Or, you can pick a template, make necessary adjustments, and your newsletter campaign is good to go!
What makes visual builders such a good choice for sending email campaigns?
If you have never made an email newsletter before, it's a good idea to start off with a free tool to get the hang of it. One of such tools is our own Tidio Email Marketing app which allows you to send 500 emails per month for free. There are no daily sending limits so you are free to send all of them in one go.
All the application features are included in the free and premium plans so you do not need to pay anything to unlock any premium functionalities.
With this app, you will also be able to create and send any type of email campaign. That includes business emails, abandoned cart emails, customer onboarding emails, etc.
Create a Free Account
To get started with your newsletter campaigns, you will need to set up an account. Go to the registration site and choose how you would like to register.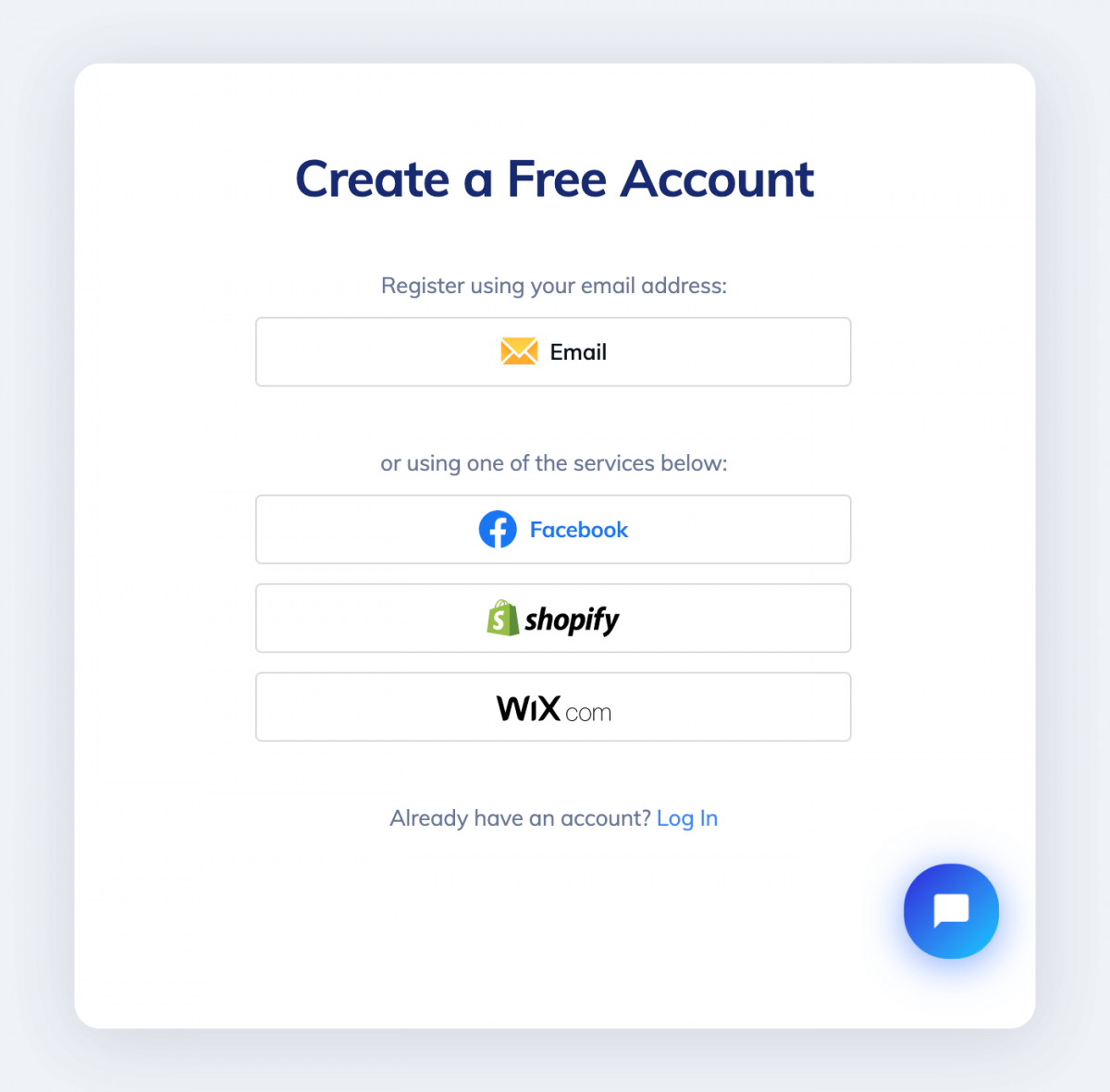 If you choose Shopify or Wix, you will be asked to log into the service of your choice. This way, you will be able to add the Tidio plugin to your Shopify store or Wix website straight away.
Tidio is a 3-in-1 service

When you register your account, you will gain access to live chat, chatbots, and email marketing tools (all of them are available for free).

If you intend to use just the email marketing tool, you don't need to add the Tidio plugin to your website/store. Simply use your email to sign up. You still will be able to integrate your website or store with the Tidio app if you decide to try live chat and/or chatbots later.
Fill in your details and click Create a Free Account to move on.
Complete a Short Product Set-Up Tour
The last thing left to do before getting into creating newsletters is to complete a short tour where you will make some app initial setups. Whatever you choose or type in can be later changed in settings.
How to Create a Newsletter in 3 Simple Steps
When you're done with the tour, you will be automatically logged into your admin panel. You are ready for the creative part. We're going to go through the following steps:
On the left-hand side, there's a menu. You're welcome to click through all the sections available. But the ones we're interested in most are Contacts, Settings, and Email Marketing. In that order.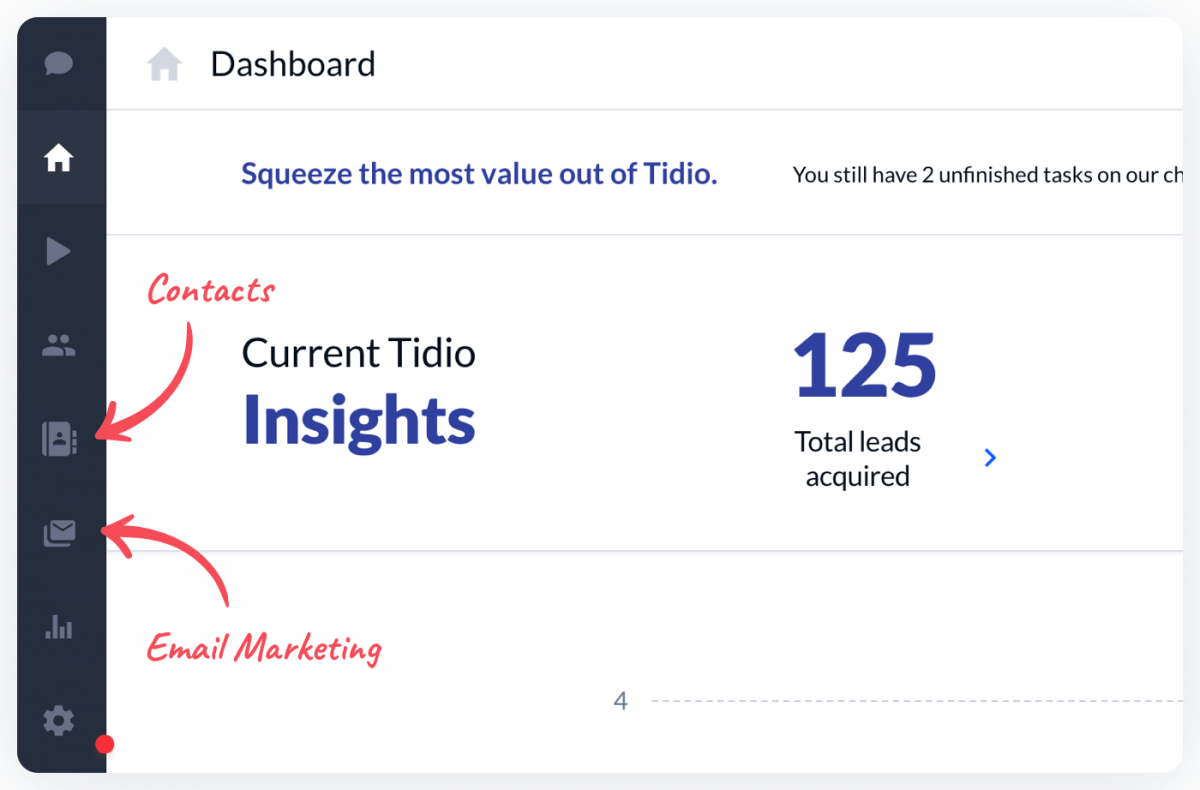 So let's go ahead and visit the Contacts section first. This is where you import, export, and organize your contacts.
Step 1: Import Your Contact List
You can add all the emails of your leads and customers you have collected to Tidio.
Go to the CRM or app where you store your contacts and export them to a csv or txt file.
To make this process easier, place every piece of information in a separate column in your file. It's also a good idea to add a header row and match each piece of data with the correct header.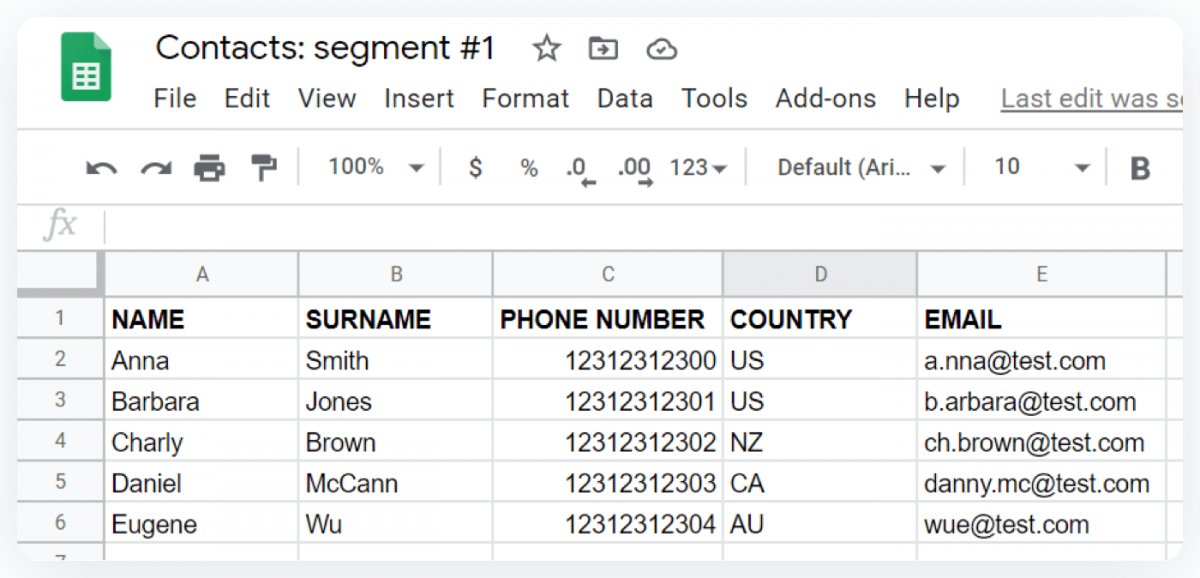 In the Contacts section, you can customize how you would like to have your contacts displayed. E.g. You may want to see your contacts' names and email addresses only. This is what those headers in the CSV or txt file will correspond to when you import your lists.
We have prepared a list of tutorials on exporting contact lists from the following services: Shopify, Mailer Lite, Mailchimp, Klaviyo, Sendinblue, Intercom, and HelpCrunch. Go ahead and visit How to Import Contacts From Other Mailing Providers to Tidio page if you need help with the contact export process.
Ok, you have your contacts neatly packed in a single file (or a few of them).
Click the Import from file button. Then, either locate the file on your hard drive or drag the file directly to the "Import your contact" window.
A new window will pop up. In this step, you match your data with the right attributes from the Contacts section. You will see the header row names on the left, your data in the middle, and the contact attribute (to which the data will be assigned to) on the right.
To match your data with the attributes, click on the drop-down menu under the CONTACT ATTRIBUTE column, and choose the correct attribute from the list.
Click on the Confirm mapping button.
While finalizing the import process, you can decide what to do with your existing contacts.
An existing contact means a contact that already has an email address assigned to it.
You have two options:
Import new contacts and update existing contacts. This option will import all of your new contacts and update the ones which already have emails in your Contacts list;
Import new contacts and skip existing contacts. This option will import all the new contacts without updating the ones you already have in your Contacts list.
You will also need to confirm that all imported contacts have given you their permission to email them.
All done! You can see all of your imported contacts in the Contacts section. Now that you have your subscribers' data settled, it's time to take care of your details.
Step 2: Fill in Your Company Details
This step is super important. As a sender, you are obliged to include, among other things, a physical address for your business in the email. This is a requirement of the anti-spam regulations being in force in most countries.
As a transparent and legitimate business, this is something you should not neglect.
You can provide your personal details in your account settings. Go to Settings > Project and Billing (under GENERAL) > Address and fill in your details.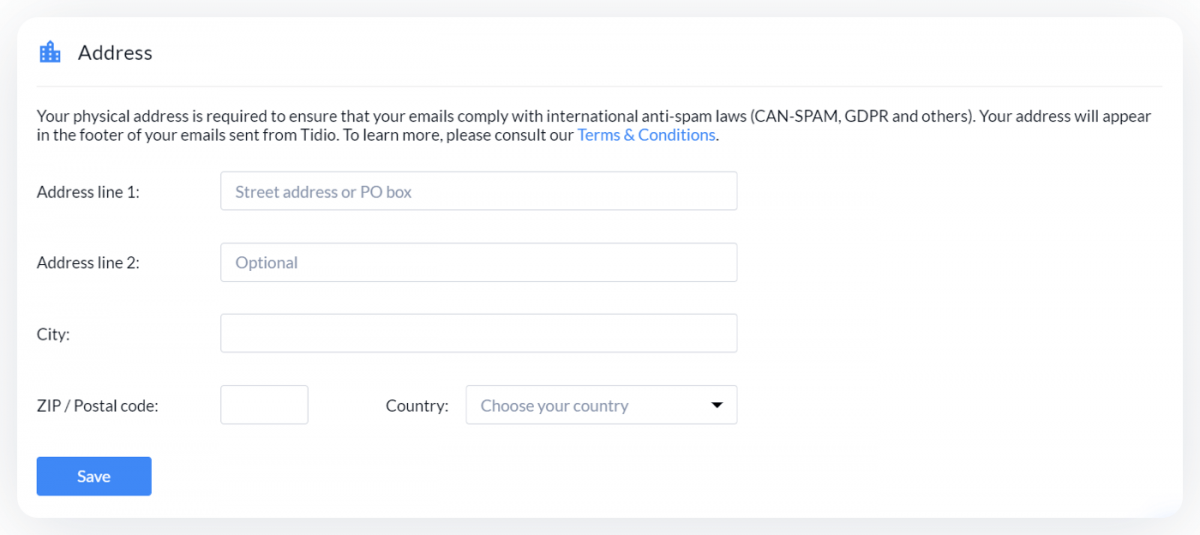 When you are done, click Save.
By now, you have uploaded your contacts list and provided your company address. You are ready to make a newsletter!
Step 3: Create a Newsletter
You can build your newsletter in two ways:
From scratch (you get a blank email to populate with content)
Using ready-made email templates (you can use them as they are or customize to your liking)
We're going to start with the first method.
Create Newsletter From Scratch
Go to the Email Marketing section and click Add from scratch.

An email editor will show up. The process of creating a newsletter will take only two steps (the third one on the screen is sending).
Settings
This is where you name your email marketing campaign, add a subject line, and recipients.
Content
You can add and customize each part of the email individually by adding or drag-and-dropping individual elements.
To edit any individual element, click on it, and the menu under the Content tab will appear.
From now on, you will be adding each bit individually, be it an image, video, buttons, or a text, etc., so that the final result resembles the newsletter you want to build.
Take your time to explore the editor and play around with different elements. Add some video, image, and text to get an idea of how the building process works.
Pro-tip
Want to take a look at some examples of superb newsletters? Read our article: Best Email Newsletter Templates.
Remember, that you can preview your newsletter on desktop and mobile devices anytime during the "putting-newsletter-together" process.
Send your campaign
You can schedule your campaign or send it right away.
Whichever you choose, it might be a good idea to send it to yourself first to see if everything's the way you want it. Being a little cautious won't hurt. You might notice small errors or places that need improvement if you view your own newsletter in your inbox first.
And finally, click Save as draft to be able to reuse or come back to it later. All your saved draft emails will be stored under the Drafts tab.
Create Newsletter From Templates
When it comes to email marketing, design can make or break your relationship with your subscribers. If you do not feel confident in designing an email yourself, email templates are the way to go. Newsletter templates will save you time and help you keep your brand visual identity consistent.
Let's give them a try.
With the draft of your newsletter saved, you can access the templates by clicking Create new campaign in the upper-right corner. Or, by selecting Templates from the menu on the left (under CREATE).
All the available templates are grouped into categories. Click on the Newsletters card and pick the newsletter template you would like to use.
The next steps are very similar to the ones you've taken when creating a newsletter from scratch. That means, selecting email elements and adding the content piece by piece.
If you skipped the part where we presented the email editor, go to "Create a newsletter from scratch."
Feel free to add, move, or even delete whatever you want!
When you are happy with the result, schedule or send your campaign.
Read more: 7 Best Email Newsletter Templates [& Newsletter Examples]
Starting a Newsletter Campaign Is Not That Difficult
If you have an audience and something valuable to share, then all you need is a simple email marketing tool. A tool that will help you reach your audience to engage, educate, nurture, and convert them.
Try Tidio Email Marketing and start a newsletter campaign in no time. No hassle. No strings attached. A forever free app with transparent and flexible premium plans.
Try it today and start sending amazing newsletters.