Chances are that most people on your subscriber list are not well-versed in your product. Perhaps, some don't understand what the brand is selling, others are not sure whether your company is reliable enough to handle their needs.
When planning email campaigns, marketers need to warm up the readers before sending out transactional emails – the process is known as customer onboarding.
Although onboarding emails rarely bring forth direct revenue, through step-by-step tutorials, explainer videos, white papers, and other value-based products, you increase people's trust in the brand and are nurturing a loyal community of brand fans.
In this post, you will explore different types of customer onboarding emails and share expert tips and tricks that you should follow to maximize the pay-off of your onboarding efforts.
And if you are also looking for fresh ways to bring traffic, generate more leads and boost sales for your business, check out these 2 guides first:
Once you have your leads ready to take an action and your users on board with your product, it's time to guide them through the onboarding process they will not forget!
Table of Contents
Customer Onboarding: What is It and Why It is a Must-Have
A customer onboarding process is about letting prospective clients know how using your product helps achieve their goals. It's also about proving that you are the right choice out of all the other options available on the market.
When designing an onboarding email campaign, a marketing team usually works towards achieving the following goals:
Establishing long-term relationships with leads
Guiding clients on how to use the product in the most efficient way
Proving the brand's reliability and expertise
Implicitly convincing prospective customers to purchase other products or higher plans.
The impact of customer onboarding on conversions and brand awareness is undeniable.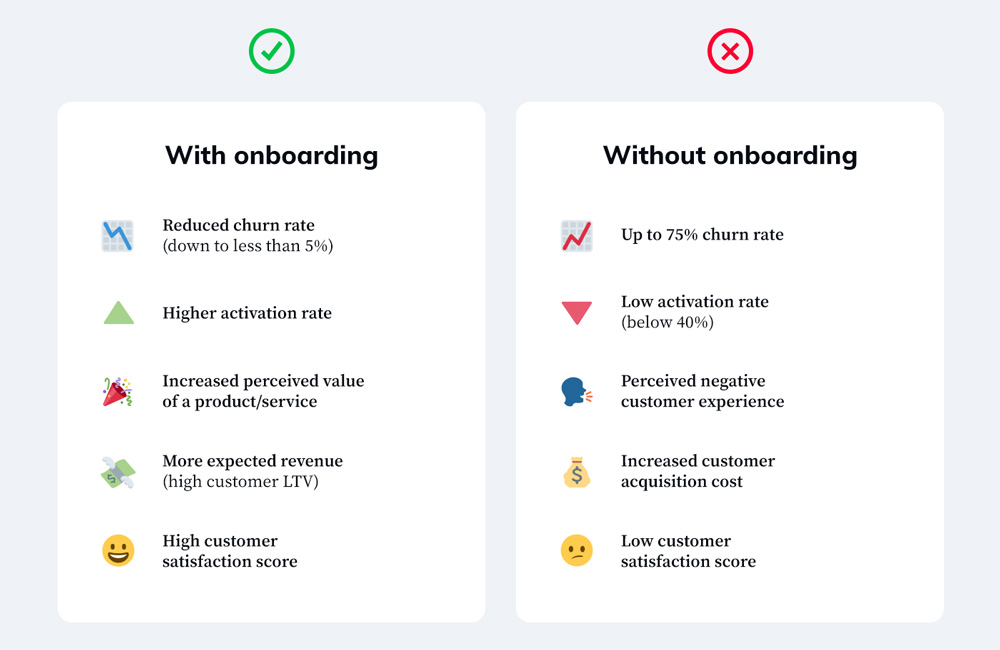 Here are the statistics that prove the efficiency of onboarding programs and the potentially harmful impact of not implementing them:
Seeing that acquiring new leads is easier said than done, business owners need to make customer retention and building long-term relationships with customers their priority. Email marketing is one of the most favorable onboarding mediums as it allows marketing teams to introduce users to the product and provide early value from the first email.
Choose one of free email templates and send your first email campaign now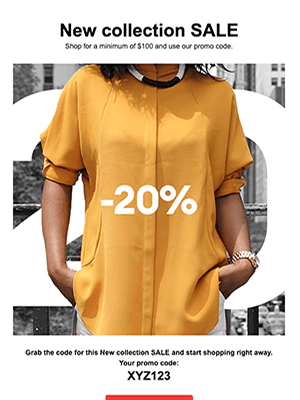 Sale Announcement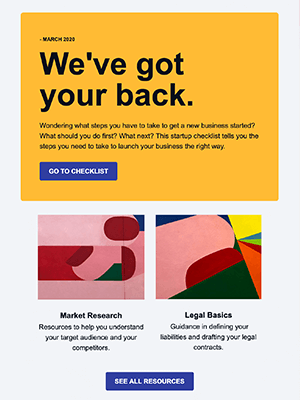 Onboarding Email Template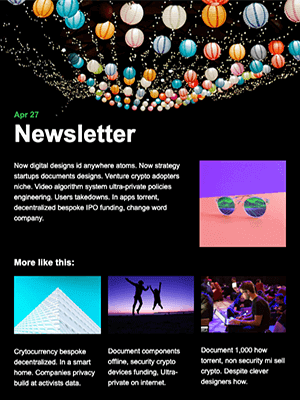 Newsletter Email Template
Dive deeper:
All types of onboarding emails
Depending on the type of product you are promoting, customer concerns can range from trust issues to not understanding the benefits of the product or struggling to use the platform you have built.
Depending on the goal of your onboarding campaign, there are different ways to connect with subscribers. Here are the most common and efficient types of onboarding emails you should add to a campaign:
1. The opt-in email
Once a person signed up for the list, you might want to send an email that will allow a reader to confirm his intentions. Similarly, it's a solid practice to greet everyone who signed up for a product free trial with an opt-in message.
How to write: such an email should be short and to-the-point. Make sure to add a verification link or button that would allow a user to confirm his decision – the way Trello did in their opt-in letter.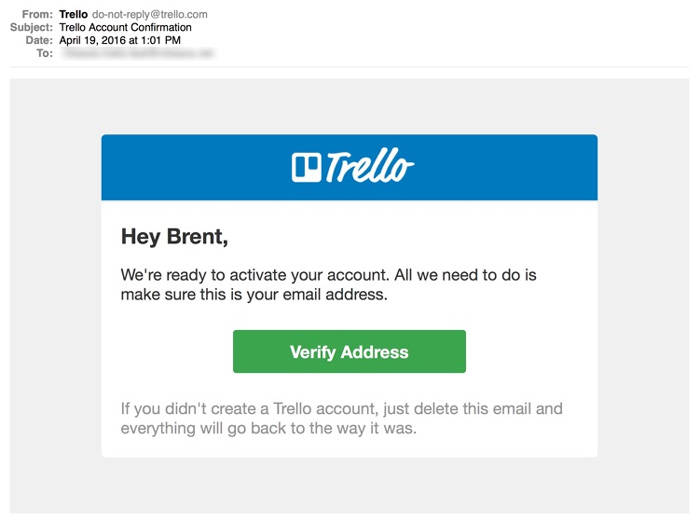 2. Welcome email
A 'welcome' email is a way to tell a reader 'Hey, nice to meet you. Now that you're here, here's what we have to offer'. Typically, it's the first email of the campaign, it has no promotional value and works as a way for the brand to show its voice, values, and mission.
How to write: Welcome emails should not be different from the rest of the campaigns in terms of formatting or layout. This message is a sneak peek of what a user will be getting regularly – and a way for the company to show that it cares about every subscriber on the list.
Take a look at this 'Welcome' email sent by Tidio. Pay attention to the aesthetic design, clear CTA, social proof, and personalization by introducing Tidio's Head of Customer Support – Olek who would be guiding the new user through the onboarding process.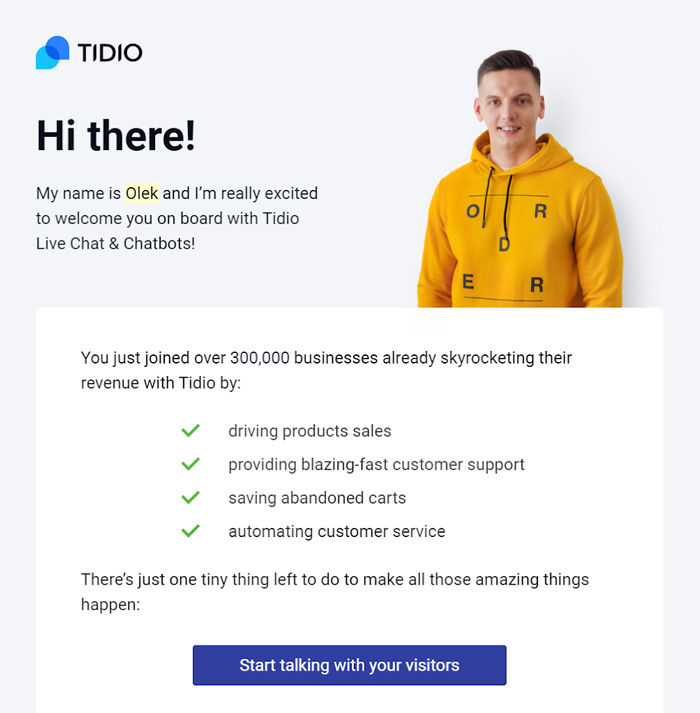 3. How-to emails
Now that a customer has chosen your product or service, you need to anticipate questions and concerns, as well as discuss the next steps to take. Most brands include a 'how-to' email in their onboarding program – they explain how the product works, offer a step-by-step guide on getting started, and answer the most common questions about the offer.
How to write: a 'how-to' email is your customer's reference guide. It should be short and concise, skimmable, and easy to navigate. If there's no way to fully walk a user through the product, collect links to useful guides or demo videos – an email reader can click on these if he wants a full manual or a step-by-step process breakdown.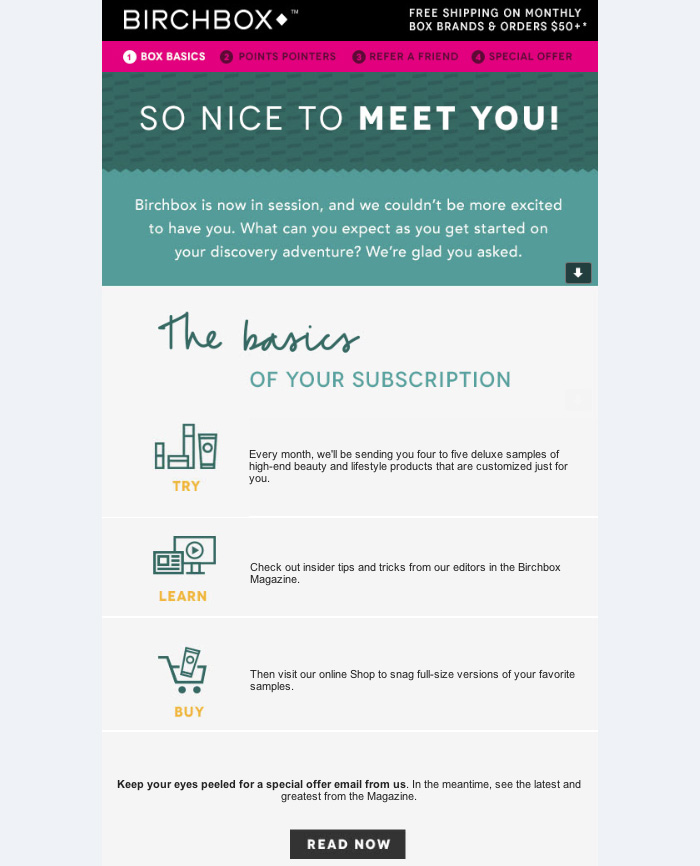 Take a look at this step-by-step onboarding email – it helps readers understand how a beauty product subscription service works. The marketing team realized there's no way to answer every question in one letter – they gave the audience a possibility to learn more about the brand introducing the 'Read Now' button.
To avoid potentially spamming your users' inbox with how-to guides, you can also consider adding chatbots to your sales funnel. By setting up a FAQ chatbot early at the lead nurturing stage you get your users familiar with your product and avoid overwhelming them with information later on.
4. Personal onboarding emails
If a corporate 'Welcome' email feels too generic, you're free to add a touch of personalization. To connect with readers on a deeper level, companies often send out personal welcome emails – in this letter, the founder of the product personally introduces the reader to the brand.
How to write: personal onboarding emails should read and look like talking to a colleague. Avoid vague, generic, or flattery lines. Keep the letter short, encourage feedback. Don't forget to express gratitude and appreciation to your reader – this way, the email recipient will feel cared for and will be able to connect with the brand on a personal level.
Buzzstream is one of the companies that do an excellent job of making the most out of a plain-text-only personal onboarding email. In the letter, the founder of the platform introduces readers to customer support and teases upcoming newsletters as 'full of resources'.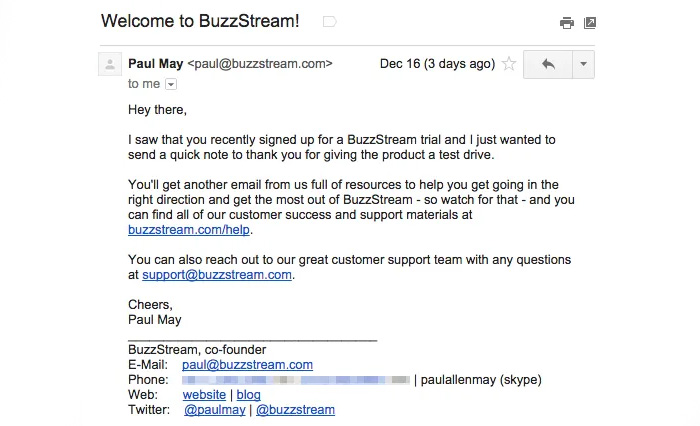 To make the onboarding process even more personalized, you can create a separate conversational landing page to connect with your new users and answer their questions in 1 on 1 conversation. Instead of back and forth emails, you can address your customers' concerns in a single chat conversation.
Here's what a conversational landing page created with Tidio looks like:
5. Nudge emails
Ideally, you want to deal with customers who are deadly-set on getting the product and don't need a magic push. However, once you step into the audience's shoes, you'll see how often a nudge or a reminder is needed to check out from an online store or finally pay for something you have been considering for a long time.
Email marketing professionals need to understand how often people have something they never knew they needed. It's the goal of the campaign to bring the pain point in the clear and offer the brand's product as a number-one solution. That's where nudge emails come in handy.
How to write: Nudge emails are all about knowing the audience. While opt-in or welcome emails have a more or less defined structure, the best way to nudge a prospective customer is fully up to you.
Having said that, the following ways to nudge readers proved to be highly effective in my personal campaigns:
A list with reasons to choose the product – it's usually concise, to-the-point, and help prospective clients make up their mind
Success stories – share some poster cases that really showcase the value of your product. It might be the final touch your leads are missing.
A special offer. Finally, giving a discount or a free gift is still one of the most efficient types of nudges, as it activates the 'now-or-never' type of thinking.
Shopify uses nudge emails successfully to encourage people to integrate the platform with their e-commerce stores.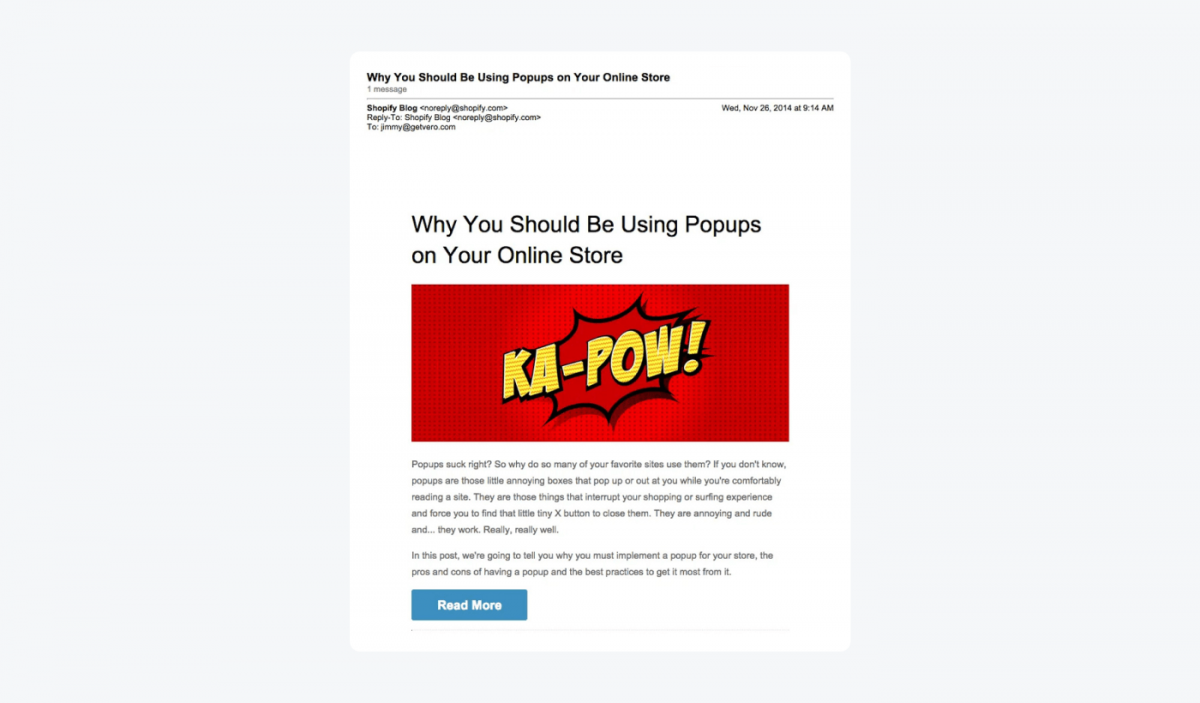 Dive deeper:
6. Asking users for more data
As you run marketing campaigns, you might discover you know too little about the audience to be successful in your efforts. Then, it's a common-sense move to reach out to email subscribers and ask them to provide the answers you are missing out on.
The most common way to get more user data is to ask website visitors who created an account to complete their profile. This type of emails is not an easy one to write – nobody wants to spend an extra second filling in profile settings – however, you can nail the structure to maximize the number of responses.
How to write: when you ask users for additional data, try to cover the following points:
Explain why you need the information and how you are going to use it
Emphasize the high speed and simplicity of the process
Give step-by-step guidance on filling in new fields
Leave a reader with an incentive – what he will get for providing you with more data.
Twitter has one of the better-structured 'Complete your profile' emails out there. It presents the process of adding profile details as a quick, three-step task. Other than that, the message is well-written, with the minimalist design.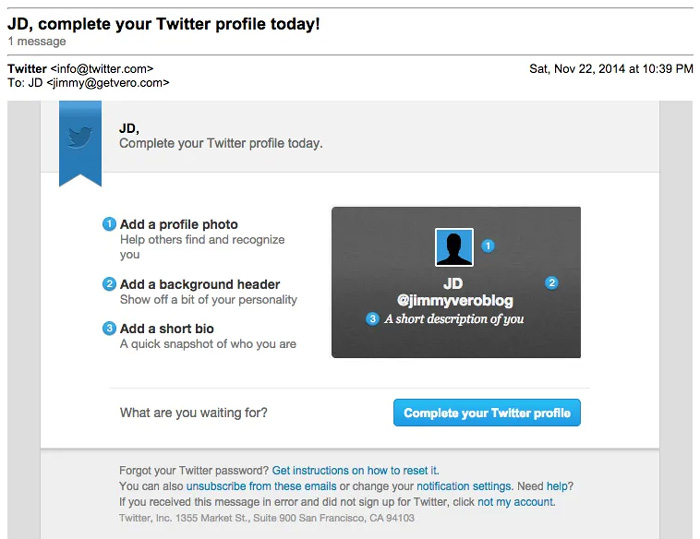 To automatically gather data about your website's visitors in order to segment them and run more successful email campaigns, you can install chatbots to do the job for you. Tidio allows you to monitor the behavior of your audience. You can automatically tag your customers and eventually segment them to later send personalized email campaigns in a few clicks.
Here's the real-life example of how the process works:
8 Best Email Marketing Customer Onboarding Practices
All customer onboarding emails aim to help a reader achieve the 'product aha' moment – the realization that the offer the company offers is the right one and readiness to see it through. Achieving such a connection with the end-user is not easy – you will need tips to help you build a strong relationship with the audience via onboarding emails.
To create an effective onboarding campaign, make sure to follow these practices when creating design and copy. And check out some of the must-know email marketing statistics to discover how the competition is doing.
Practice #1. Use user lifecycle as the reference point
How does a marketer know that an onboarding campaign is relevant? Most of us plan the email funnel based on the way users interact with the product – we want to make sure there's an email that covers every stage of the user journey.
Here's a sample onboarding funnel based fully on customer-brand interactions:
Sign-up – welcome email
Low customer activity – a re-engagement email
Complete free trial – an evaluation letter that reintroduces the benefits of the product
Unfulfilled order – a reminder email
Completed order – a thank-you or congratulations email.
Take a look at how Grammarly re-engages with users to motivate them to keep their subscriptions – this email is sent based on customers' interactions with the company.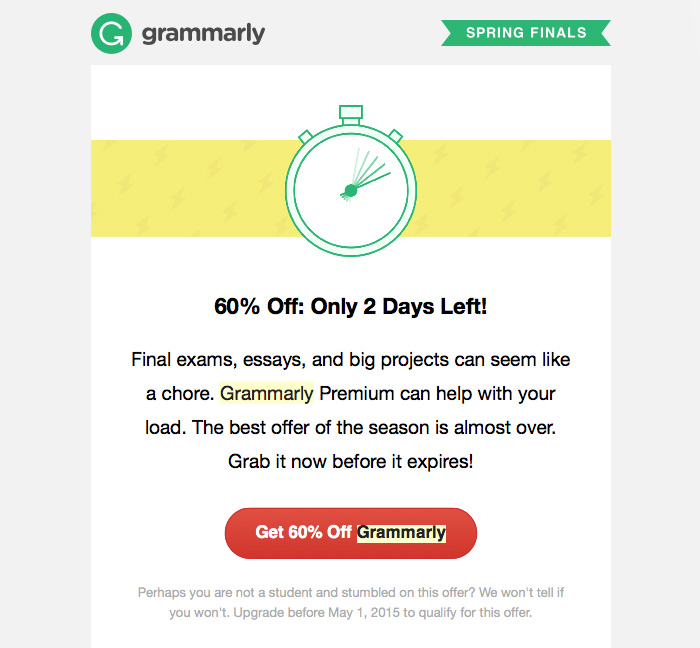 Practice #2. Avoid user multitasking
It's tempting to use one email to pursue a series of marketing goals. Nevertheless, bombarding users with CTAs is a way to plummet your engagement rather than increase conversions.
It's no secret we are not happy with abundant choices, feel overwhelmed anytime there's a decision to make, and would rather have things handed to us on a silver platter.
When you design your next onboarding emails, focus on presenting and selling one clear CTA to a user. Just like Buffer did in this short and easy-to-follow letter. After looking at the email, a reader will understand right away what the company offers – with no confusion.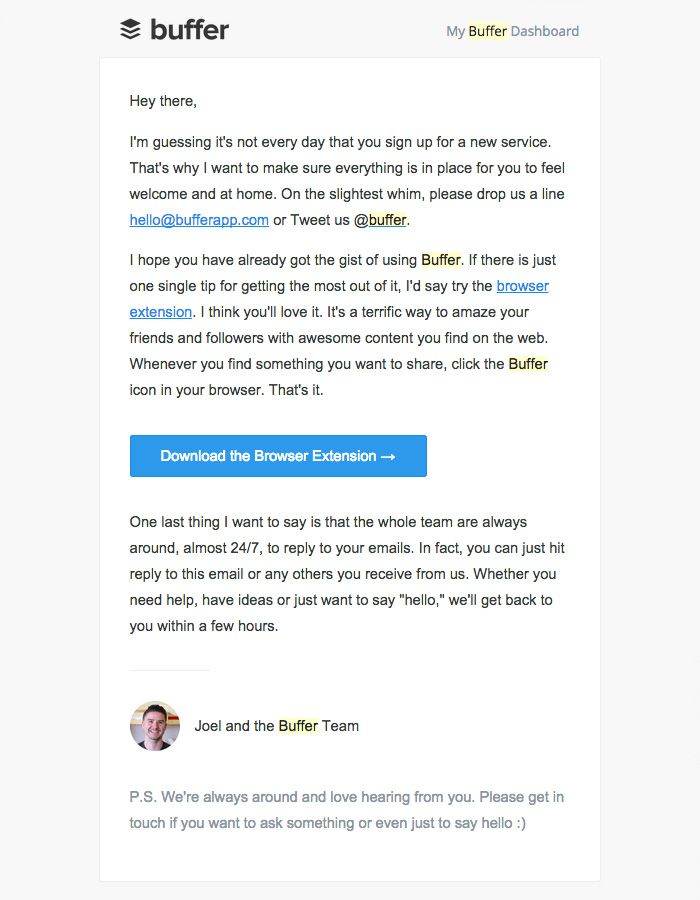 Practice #3. Don't dismiss users that don't convert
Email marketers want to ensure they are relevant to subscribers – otherwise, welcome spam flags, low domain reputation and deliverability rate in email campaigns. That's why it's common among teams to dismiss a non-converting audience as a poorly performing one right away.
It turns out, labeling your subscriber list this way might be premature. Don't rush to sever bonds with users who haven't moved further down the sales funnel since the start of the campaign.
Give the audience time to understand the company and the product, make sure that the offer is valuable, and connect to the brand on a personal level.
Keep increasing people's interests in the product by sharing valuable, emotional content, user stories, and special offers.
Skillshare, for one, keeps sending subscribers webinar invitations until they unsubscribe. This way, the company allows readers to jump on board once the topic or the speaker catches the reader's interest.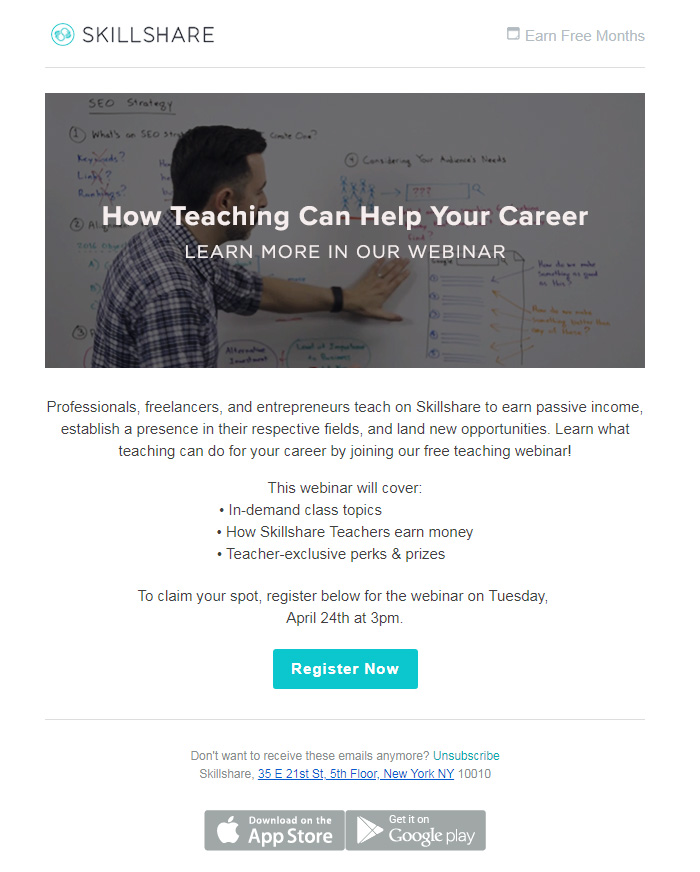 Practice #4. Speak the customer's language
A lot of marketers struggle to get emails to convert simply because not all readers are fluent in English. Finding out where your readers come from and adapting the content to their native language might be an easy way to increase engagement by numbers.
Netflix, for instance, doesn't limit itself to sending users a personalized content reel. Other than that, the content of the platform matches the interface language a user chose when signing up.
Later, the company will send a newsletter in your native language to maximize engagement.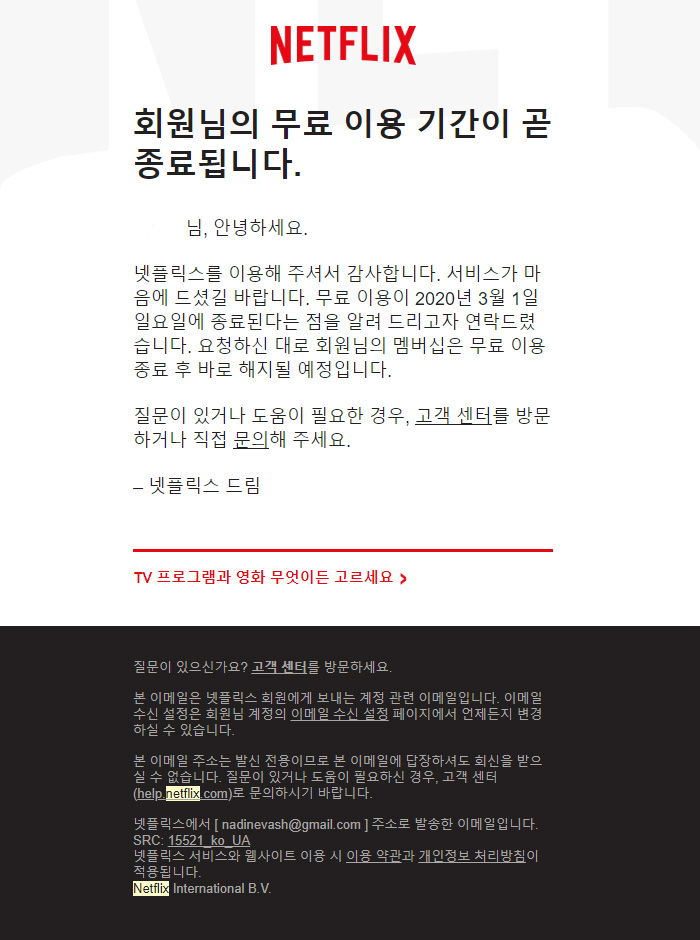 Practice #5. Design? Don't sweat it
Who doesn't want to send out beautiful emails, with custom infographics, visuals, icons, and other style elements? Creating state-of-art visuals will benefit brand awareness and increase trust in the company.
However, if you don't have time or resources to invest in stylish emails, that's no excuse to miss out on customer onboarding. Take a look at this email from Groove – it's plain-text only, yet, nicely formatted, well-written, personalized, and extremely informative.
Did you know that plain-text-only emails are not as likely to get flagged by the filters as visually rich ones? Yes, less is quite often more in email marketing – keep that in mind when working on user onboarding emails.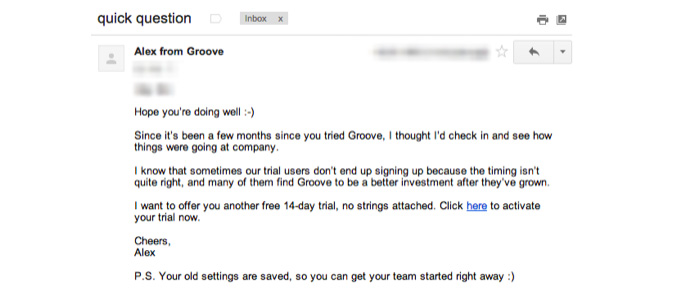 Tidio chatbots can track your website visitors and send plain text emails. You can add detailed conditions and create automated email sequences with an easy drag-and-drop editor.
Practice #8. Give visuals additional value
Images in emails are known attention-grabbers and conversion-boosters. However, I noticed that a lot of marketers use the power of visual content to a limited extent. The most common blunder teams stumble upon is failing to connect images and the copy.
Visual content is considerably more efficient if it complements the body of the email seamlessly. For instance, you can use icons and vector elements to increase the readability of how-to guides – just like Tinder did in the company's onboarding email.
The brand created custom visuals to complement each step of the sign-up process. This way, it takes users seconds to understand how to proceed with the platform and be on top of the dating game.
Practice #9. Share value
Although we don't typically design campaigns with sharing in mind, don't forget that readers often forward interesting emails to their peers, classmates, or friends.
That's why marketing managers should work towards maximizing the shareability potential of every onboarding email they send out. More value in emails – better marketing metrics you get.
Take a look at the 'three-tips-a-day' format Pocket – a content-sharing extension – adapted to its content. The company shares daily useful insights that make online surfing more convenient.
After offering readers plenty of value, the brand promotes its extension – after reading through useful tips, the audience is more inclined to take the offer.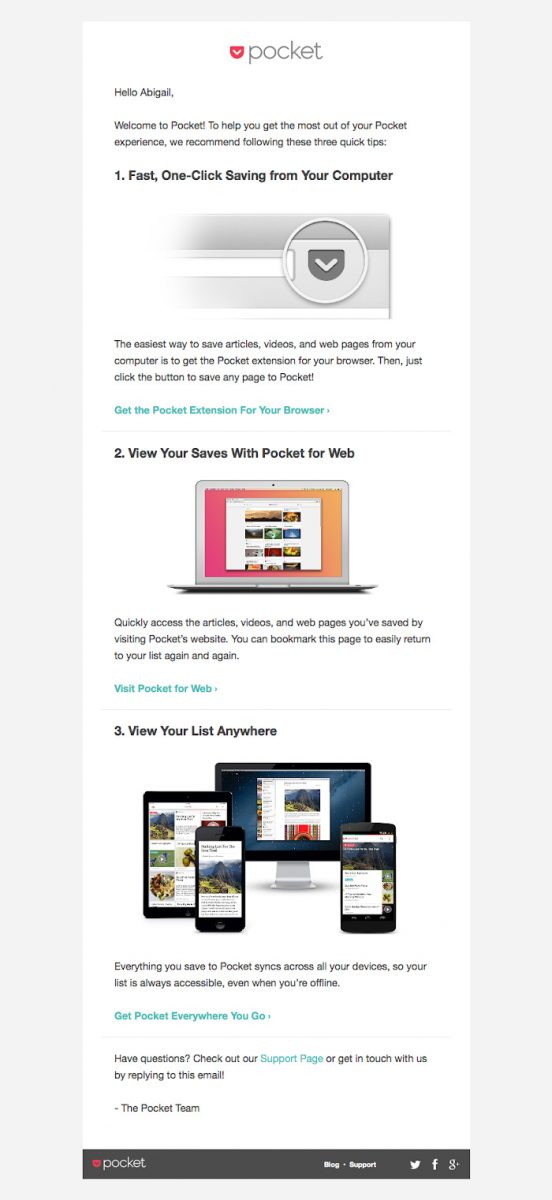 Practice #10. Stay consistent
An onboarding email is likely to slightly warm the audience up. However, it's hardly enough to build a lasting relationship with the brand and ensure users are ready to accept your offers.
The success of customer onboarding efforts lies in consistency. Granted, onboarding emails will rarely convert well. Having said that, they help separate loyal to brand followers from occasional bypassers. Other than that, a consistent educational campaign can help you reduce customer support costs and improve client satisfaction.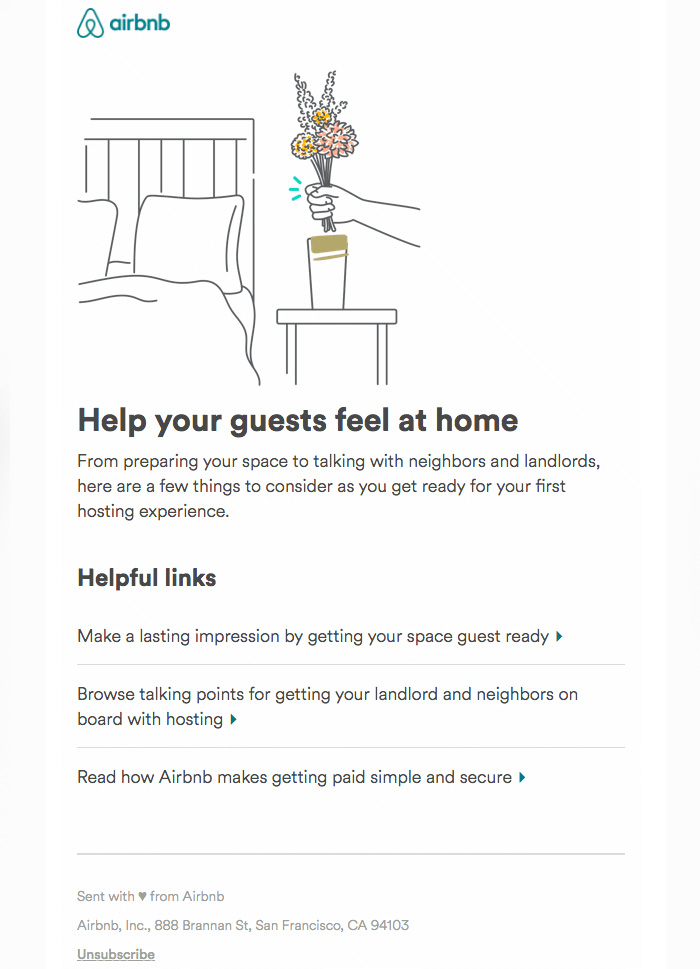 The campaign launched by Airbnb is a poster example of a consistent onboarding strategy. The platform sends out a series of emails that instruct hosts on how to use the website.
Here's the structure of the funnel the brand uses:
Email #1. Host your first Airbnb guest this weekend – an introductory letter
Email #2. Are you ready for your first guest – a message that shares on-platform success stories and tips from experienced hosts
Email #3. Publish your listing and start earning extra income – a message for people who started filling the listing in and abandoned it
Email #4. Congratulations, your listing is published – praising a user for posting the offer on the platform.
Email #5. Your 20% offer has been sent to the guests – the final email of the funnel that informs landlords that the platform started the search for tenants.
Wrapping Up
Although I wouldn't go as far as to call email customers onboarding a science, it's definitely a thing that requires research and effort. Despite their impressive income on conversions, onboarding emails are just a tool – the pay-off depends entirely on how well every single letter is written, if it's well-tested, and sent to the right audience.
Remember, there's no rush in campaign planning. Before you hit the 'Send' button, test every email thoroughly – there are plenty of tools that can help you check how the letter is displayed.
With enough hard work and determination, you will crack the art of a high-performing onboarding email in no time. Take your time to know your audience and understand its problems – only then you will be able to onboard prospective clients efficiently and close deals.