It's February and the number of emails already reached 15,044,292,876,436 for this year alone with over 306 billion emails sent every day. What's more, this number is projected to increase to 376 billion per day by 2025.
Now you're probably wondering—how to get on top of that stream with your marketing emails?
Which metrics are best to use when measuring your email automation? And what's a good open rate for emails?
We've got your back!
Here are current email marketing statistics and trends that will help you plan and measure the success of your email campaigns.
In this article:
If you want to discover more about this subject, check these out:
From the top—
What is email marketing?
Email marketing is a form of marketing that uses email to promote your company's products and services. You can also use it to increase brand awareness, customer engagement, and build a relationship with your clients. It is a good way to keep your audience informed on your latest offers or give them discounts for your services.
You can use third-party platforms for sending email campaigns, such as Mailchimp, or you can do it in-house. Whichever one you choose, you need to know the benchmarks and what results to expect from the campaign.
Here's the list of top email marketing stats that will help you with it.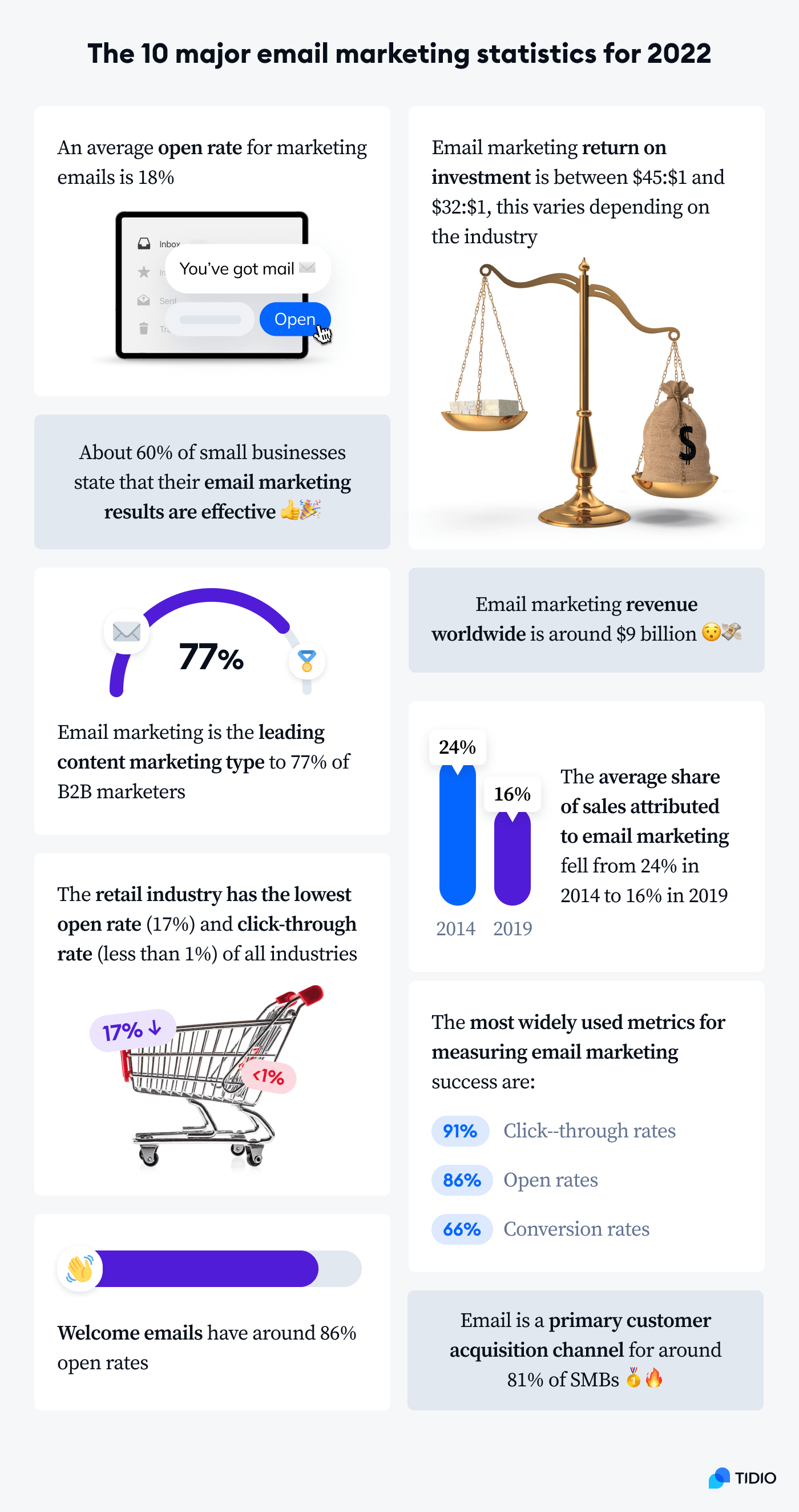 Let's start with answering the question "what's a good open rate for emails?"
1. Email marketing average open rate

The open rate for marketing emails averages at about 18% globally.
It's not enough to have high deliverability of your email campaigns, people need to start opening them. To gain higher open rates, make sure that you don't use emojis in your subject line, as they lower your open rates by 6% and increase unsubscribe rates by over 40%. Also, consider what the right time for sending your promotional emails is.
So, what is the average open rate for email marketing on different days and hours?
Open rates of marketing emails worldwide are the highest on Tuesday at 18.9% and the lowest on Saturday at 17.3%.
Also, a trend presents that the highest open rate occurs at 4 am (24%) and the lowest is at 1 am (14%). This shows us that early hours on Friday morning is the best day and time to send your correspondence to clients.
Suggested read
Learn more about the best time to send emails and get some tips and tricks to increase your open rates.
Opening an email is great—it improves your brand awareness and customer communication, which indirectly could lead to more sales. But it doesn't bring you any profit per se. Let's find out what is the average ROI for email marketing.
2. Email marketing ROI: statistics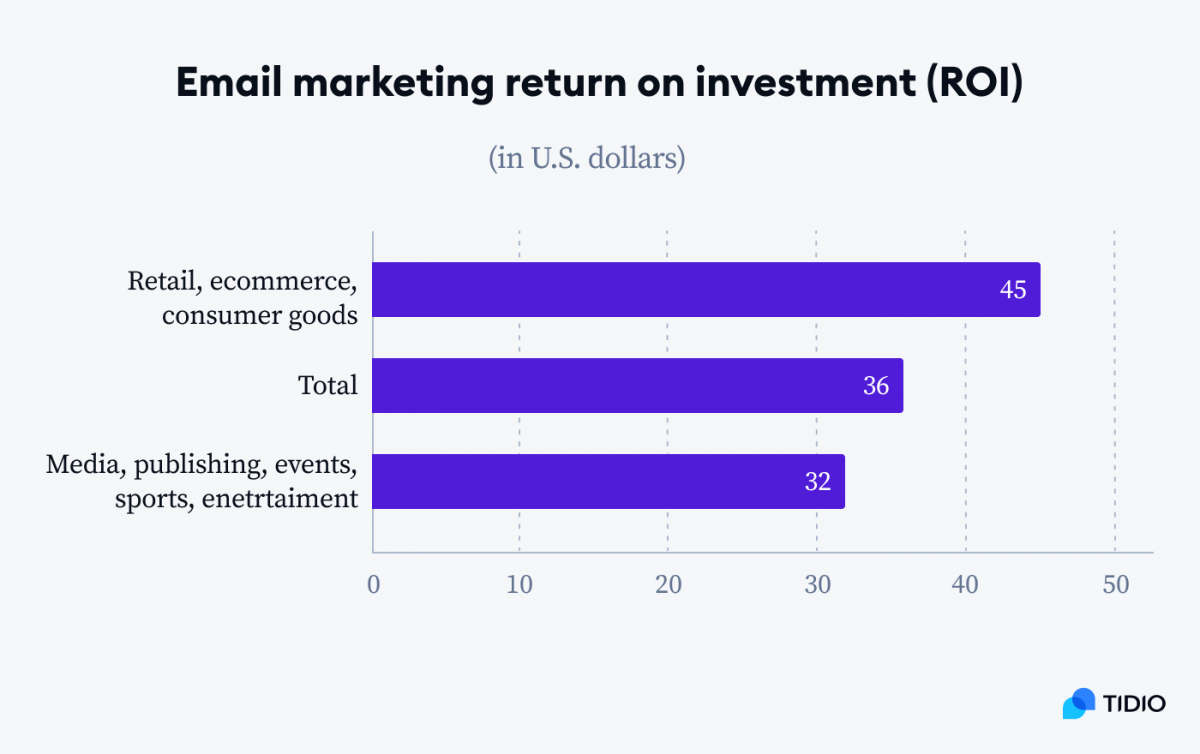 Email marketing ROI varies between $45:$1 and $32:$1, depending on the industry.
Retail and ecommerce companies enjoy the largest return on investment from their email marketing. For every $1 they spend, on average, they can expect to receive $45 in return. Also, you should be sending out personalized emails to increase your profits, since they generate around six times higher transactions than general newsletters.
But does email marketing have the highest ROI of all marketing channels?
Email marketing has one of the highest returns on investment of all digital marketing channels.
In comparison to the average $38:1 that you can expect from your email campaigns, businesses make about $2:$1 for Google Ads. Another channel worth looking at is SEO, which brings back about $12:$1.
It's important for your business to start email campaigns as early as possible to sway the customer's purchase decisions in your direction and increase sales. You can also consider organic search, direct marketing, and paid search since their ROI are also quite high.
Moving forward—how much money does email marketing bring to your business?
3. Email marketing revenue statistics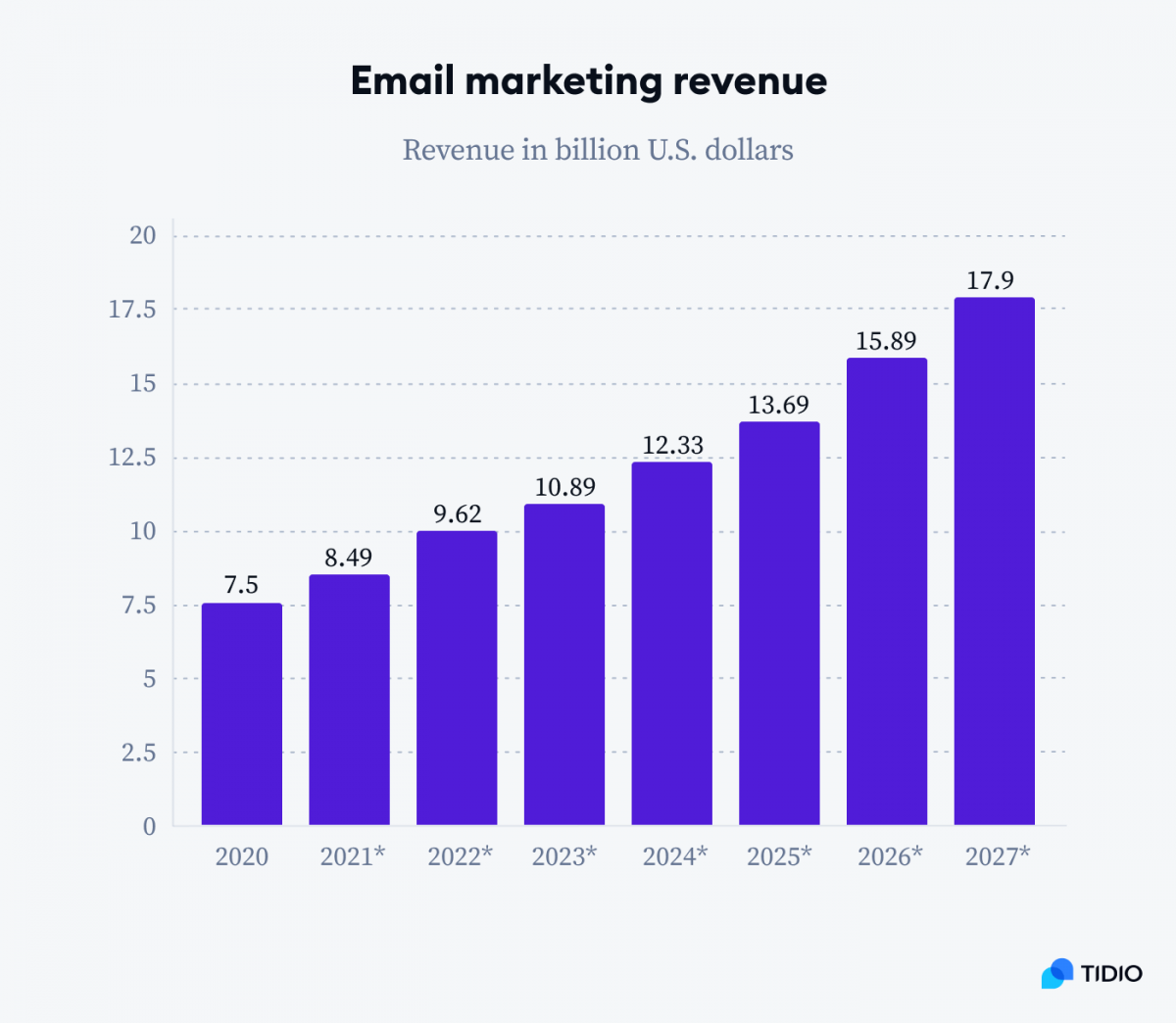 Email marketing revenue worldwide is predicted to grow from $7.5 billion in 2020 to $14 billion in 2025.
The number of email users is growing every year. Also, more companies are embracing email marketing tools and discovering the power of email campaigns, so it should come as no surprise that the revenue from this channel is increasing as well. The more people receive your newsletters, the more likely they are to click through to your store and purchase something.
Email marketing is a leading marketing channel influencing revenue growth according to 31% of B2B and 19% of B2C companies.
Email, SEO, and paid search are the three marketing channels that influence a company's revenue growth the most. When figuring out the best strategy for your business, think about the demographics you're trying to reach and what works best for them. Then, consider incorporating a few marketing channels for the best results.
Ok—there's a big revenue there, but you need a bigger picture to decide if it's worth the effort. So, is email marketing still effective? Or maybe it's a lost cause?
4. Effectiveness of email marketing: statistics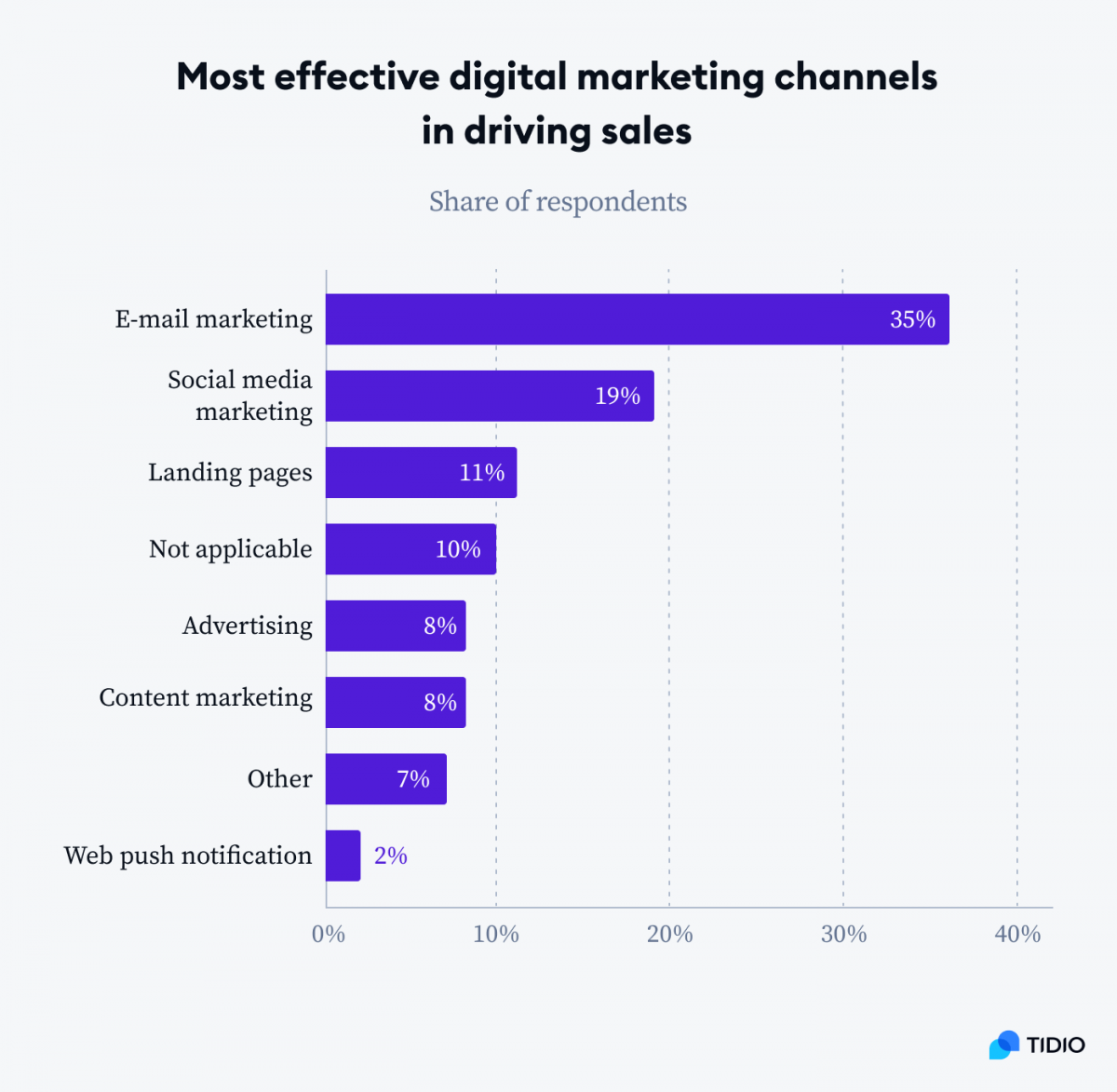 Over 60% of small businesses say their email marketing strategy is effective. And according to 77% of marketers, its effectiveness is either holding steady with the previous year or improving.
So, if you were wondering "is email marketing effective", then yes. Moreover, this data suggests that email is an essential part of a digital marketing strategy. This doesn't mean, though, that it's enough to use only one marketing channel. You should always consider adding more than one type of advertising into your tactics to increase their effectiveness.
Email marketing is the most effective digital marketing channel in driving sales, according to 36% of SMBs.
Social media marketing scores second highest at 19% effectiveness. However, consider that about 20% more Millennials prefer to receive updates and promotions from a company via email than social media. So, spread the company name on the social media platforms via posts and ads to collect leads and gain more email subscribers for your campaign automation. But keep the majority of your communication on email.
Suggested read
Learn how to create an effective email newsletter from scratch and use templates.
Okay—this looks like a win to email marketing! It has a high ROI, brings large revenue, and it's effective. But not so fast with the judgment! What are the challenges that marketers face when sending out emails and planning their next campaign?
5. Email marketing stats: challenges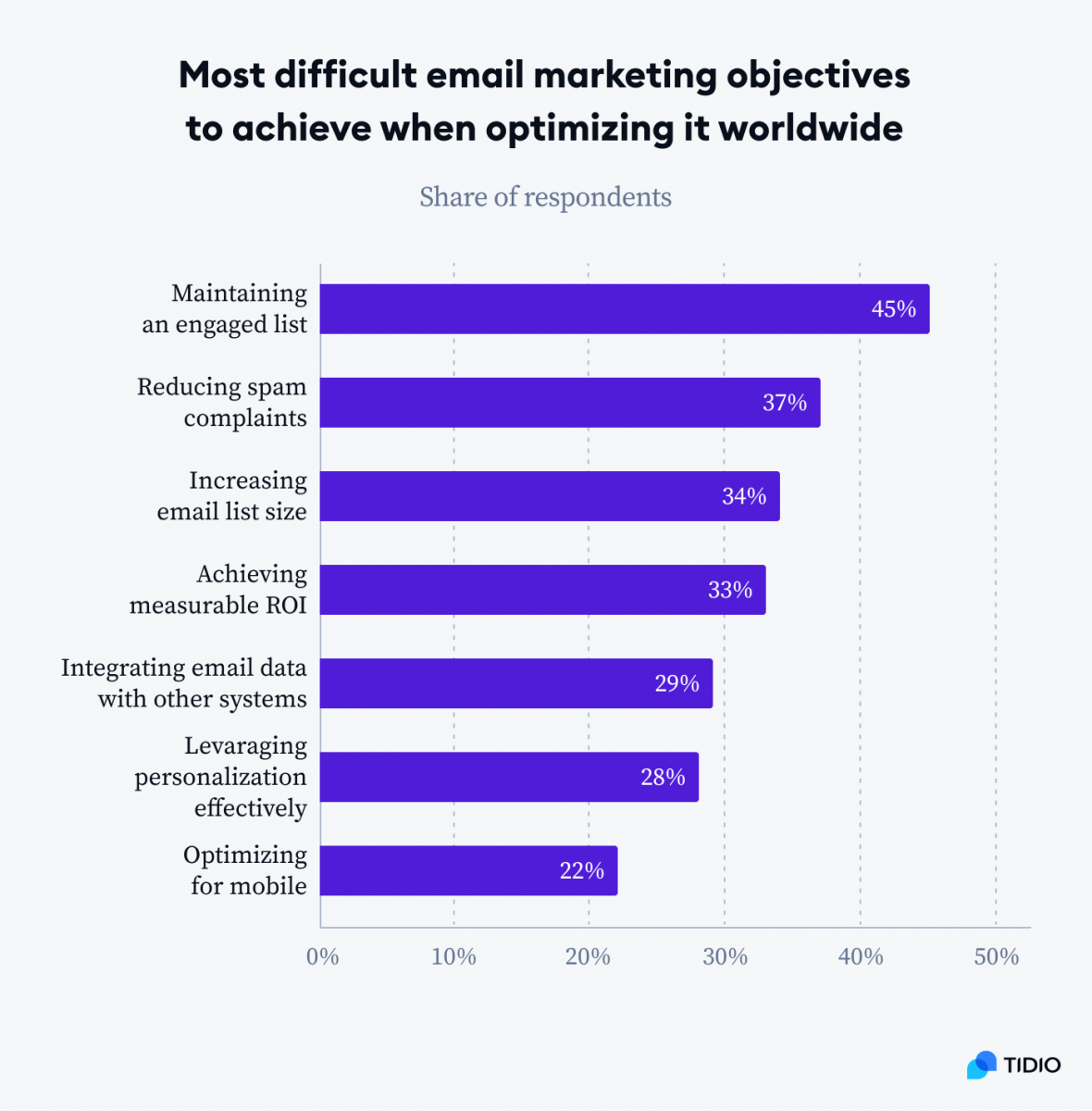 Maintaining an engaged email list is the most difficult objective to achieve when optimizing the email marketing strategy worldwide, according to 45% of marketers.
Reducing spam complaints (37%) and increasing the email list size (34%) take the second and third spot respectively. Only about 22% of marketers find optimizing for smartphones to be a difficult task.
Most marketers (66%) created a responsive email template as one of their efforts to optimize for mobile devices.
Other measures include adapting a simpler design and writing shorter email subject lines. All these efforts can decrease bounces and gain higher opens of your email campaigns. So, no matter if your subscriber uses a Gmail app, Outlook on their iPhone, or Yahoo on a laptop, they'll get the same great experience.
Now—let's say you overcome these challenges and send out your marketing emails to clients. What metrics should you use to measure the results of your efforts?
6. Metrics of email marketing: statistics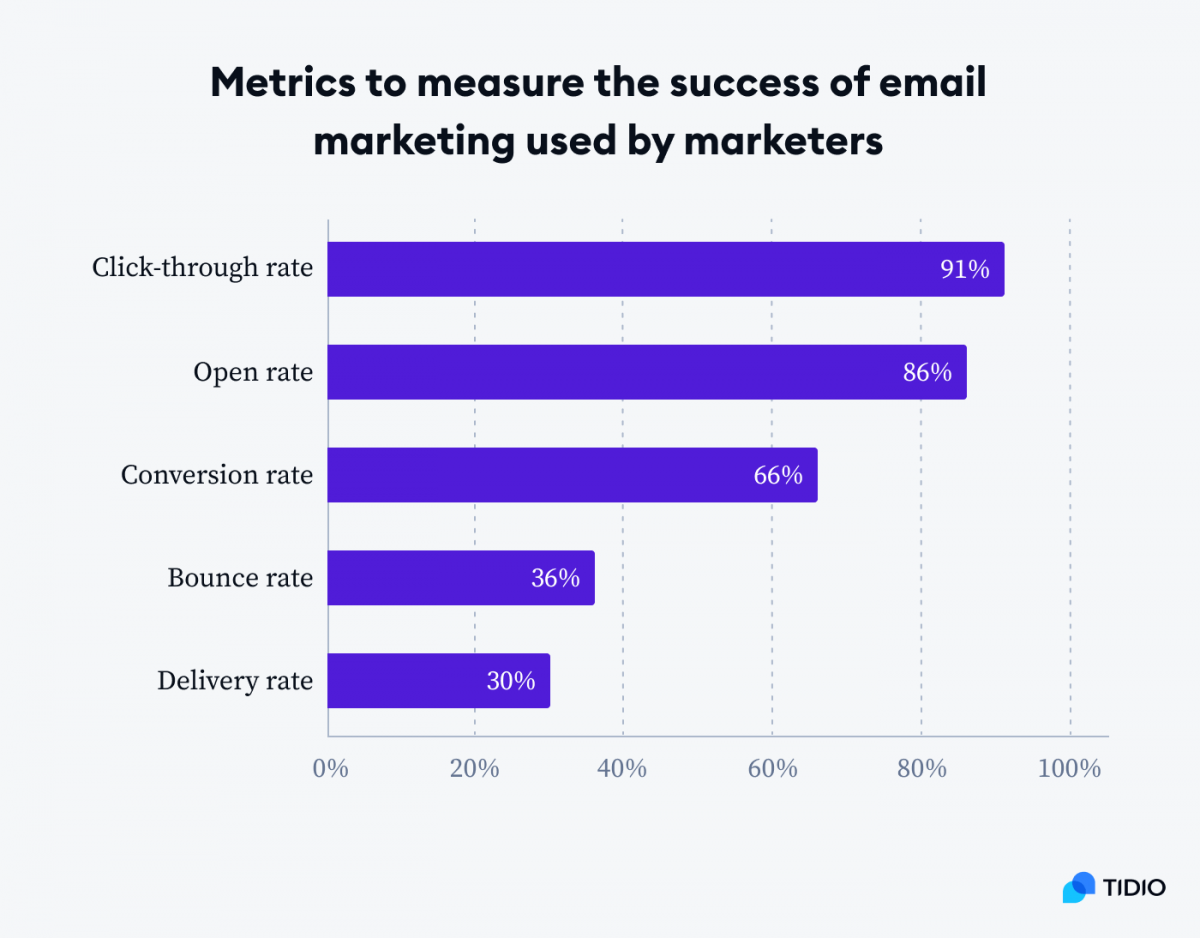 About 91% of agency marketers use email click-through rate (CTR), 86% use open rate, and 66% use conversion rate to measure the success of their email marketing.
These email campaign statistics suggest that it's best to use more than one metric to discover how successful your email marketing campaign was. The best metrics to keep track of are click-throughs, open rates, and conversions.
Around 58% of content marketers track email engagement and 34% measure email subscribers.
These two are also important for marketers worldwide to decide which content attracts and engages the audience the most. Knowing these metrics can help you with customer segmentation and ensure that you're targeting the right group of people. As a result, it can improve your marketing automation efforts.
These are the metrics you should consider. But what benchmarks should you utilize to see if your company is doing better or worse in comparison to the competition? Does email marketing bring better results in some industries than others? Let's find out!
7. Email marketing statistics by industry
The retail industry has the lowest open rate (17%) and click-through rate (less than 1%) of all industries. In comparison, the education sector has the highest open (28%) and click-throughs (4%) of all industries.
In addition to that, click-to-open rates of marketing emails are the highest in the publishing sector at 19%. This shows that different industries enjoy different email engagements with their audience. So before jumping to conclusions about your benchmarks, you should check what are the averages for your specific industry. The same goes for how many people read your mail.
The insurance industry has the highest read rates (83%) of all industries.
Overall, the average "read" rates are at 69%, and "skimmed" rates are at 19%. They differ between each industry, with insurance having the highest ones and hospitals scoring the lowest. But before deciding on anything, you should ask yourself which rates are important to your business.
Let's go a little bit more specific. Do you have a B2B type of company? What are some of the newsletter statistics specific to your business?
8. B2B email marketing statistics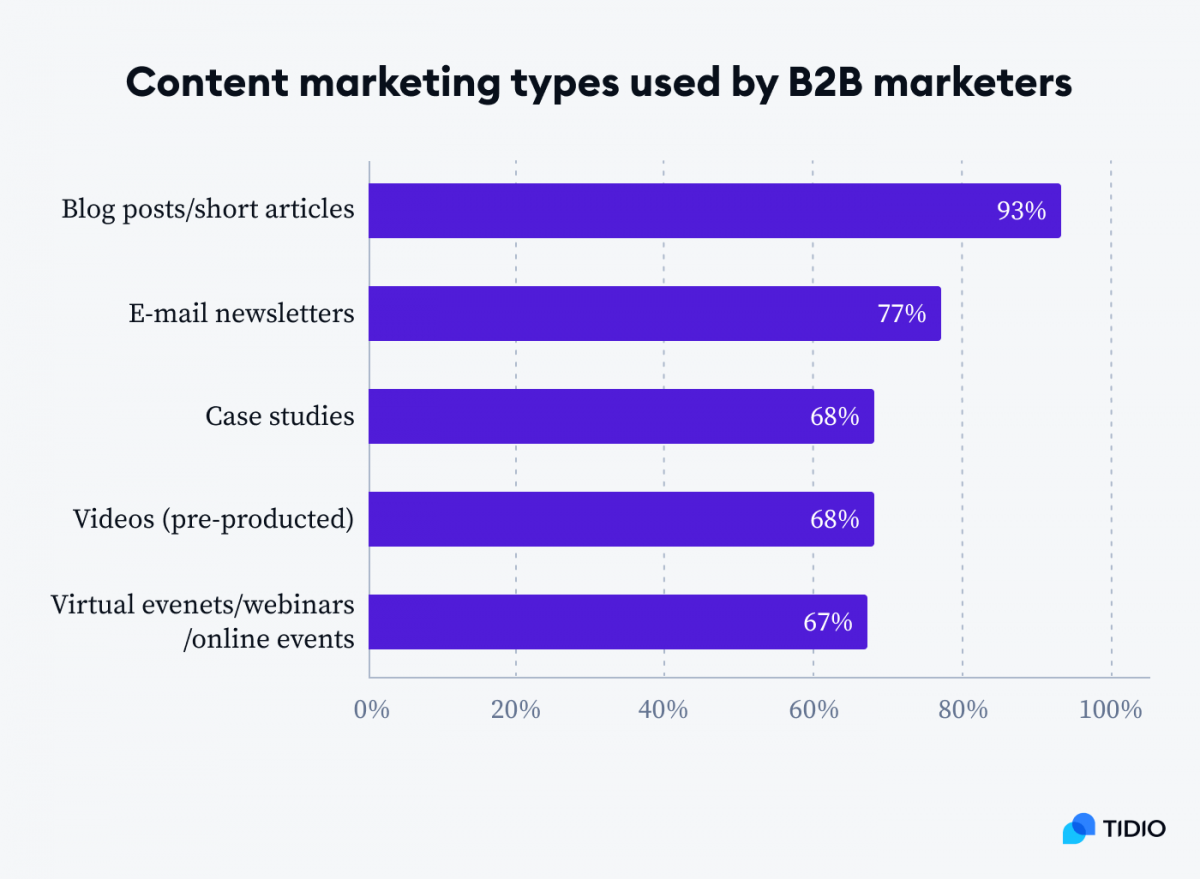 Email marketing is considered the most effective marketing channel in driving conversions by 48% of B2B marketers.
These stats about email marketing show that it is one of the most important promoting tactics for B2B marketers. In addition to that, the unique opens are at about 22% and an average click-through rate is about 6%. Not bad!
Email marketing is the leading content marketing type according to 77% B2B marketers.
It's important to consider what works for others when you're making your plan. According to marketers, email is the second most important type of content marketing, right after blog posts. So, after you consider setting up a blog on your website, you should start thinking about your next email campaign.
Which type of email gets the best results? Cart abandonment? Newsletter?
No—you'll actually get the highest open rates and conversions from a welcome email.
9. Welcome email statistics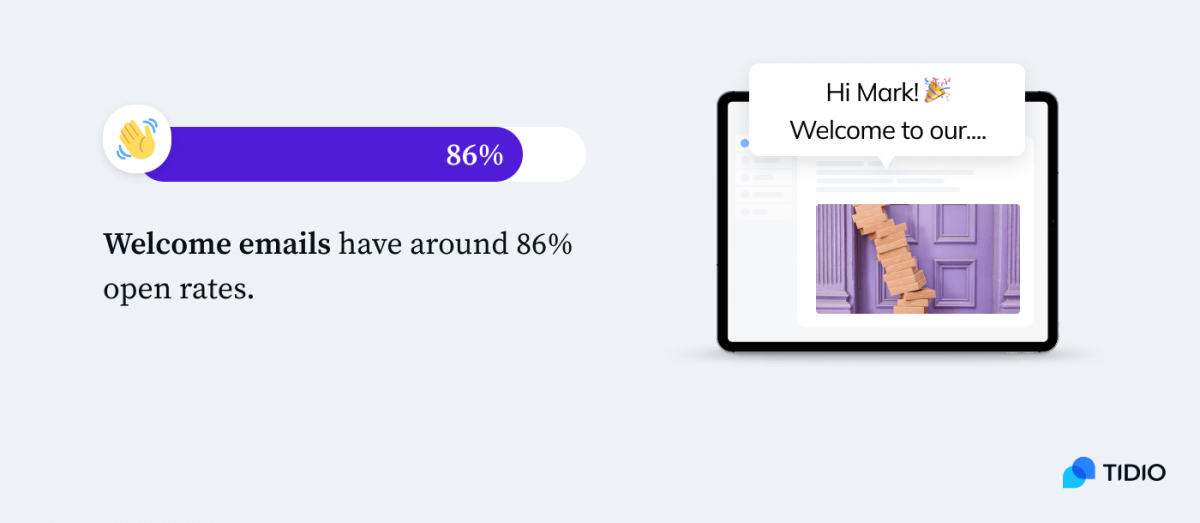 Welcome emails have around 86% open rates.
This is almost 70% higher than the overall email marketing average open rate. So, putting resources into your welcome messages can be a perfect opportunity for your business.
Conversion rates reach 52% when it comes to automated welcome emails.
In comparison, product abandonment emails only get about a 17% conversion rate. So, welcome emails are one of the best ways to increase your sales and get the customer back into your store.
Suggested read
Learn how to schedule your email marketing campaign with Tidio.
Overall—does email marketing help businesses grow?
10. Email helps to grow your business

Email is a primary customer acquisition channel for around 81% of SMBs. And around 80% of them rely on email marketing for retaining clients.
These statistics about email marketing show that the majority of small businesses rely on it for their growth and customer retention. And if you decide to use emails but also incorporate other types of digital marketing into your strategy, you might be better off than 8 out of 10 of your competitors.
By using abandoned cart emails, your business can save up to 6% of sales.
This might not seem like a lot, but in the long run, it could be.
Let's say that 100 of your potential customers leave without completing their checkout per month. Each of them has about $100 worth of your products in their virtual cart when exiting your ecommerce. When you manage to save 6 out of the 100 clients, and they complete the sale, that's an additional $600 on your account every month.
Summary
Here are the top 10 major email marketing statistics:
An average email open rate for marketing emails is 18%.
Email marketing return on investment is between $45:$1 and $32:$1, varying depending on the industry.
Email marketing revenue worldwide is around $9 billion.
About 60% of small businesses state that their email marketing strategy is effective.
About 45% of marketers struggle with maintaining an engaged email list when optimizing the email marketing strategy worldwide.
The most widely used metrics to measure how successful email marketing is are click-throughs (91% of agency marketers), open rates (86%), and conversions (66%).
The retail industry has the lowest open rate (17%) and click-through rate (less than 1%) of all industries.
Email marketing is the leading content marketing type to 77% of B2B marketers.
Welcome emails have around 86% open rates and an average of 52% conversions.
Email is a primary customer acquisition channel for around 81% of SMBs.
Sources: