Great-looking email marketing templates can make a world of difference to your campaigns.
They bring an air of professionalism, for one thing. They can boost the number of sales, for another.
And you don't have to spend hours on end designing them.
We put together a selection of top templates to take your email marketing efforts to the next level.
In this article:
What email marketing templates are and where to find the best
10 examples of top-performing templates for various occasions
How to create your own unique email marketing template in no time
Learn more about Tidio's chatbot features and benefits. Visit our page dedicated to chatbots.
Want to explore other email-related areas? Have a look at these articles:
Are you ready? Let's start from square one.
Email Marketing Template—What Is This?
Email marketing template is a customizable marketing email that you can edit. Instead of creating an email from scratch, you can pick a design and adjust it. For example, you can change messages and links, while keeping the original images.
Where to Find the Best Email Marketing Templates
Email marketing templates don't happen to roam in the wild.
The best way to access hundreds of them is to create a free account with one of the popular email platforms. Each of them usually comes packed with 100+ email marketing templates which you can browse by categories. An alternative for bigger companies is to create completely unique and personalized email templates by using a good agency or online service.
Here are the most popular email marketing platforms which offer free email templates:
Tidio Email Marketing
Zoho Campaigns
Constant Contact Templates
Zurb
Mailchimp Email Templates
Cakemail
Litmus
Mailjet
Moosend Email Editor
CoffeeCup
Let's have a closer look at each one of them.
If you are interested only in all-in-one email marketing solutions, check out this comparison: 10 Best Email Marketing Software [Free Email Platforms]
Tidio Email Marketing

Price: Free/$10 month for premium features (unlimited contacts)
Tidio is the favorite choice of online stores that need one powerful tool. It offers customer service live chat, chatbots, and email marketing. And you can connect them all together!
250+ email marketing templates available in Tidio include:
Newsletters
Welcome emails
Abandoned cart emails
Discount emails
Seasonal promo emails
Black Friday emails
Halloween emails
Valentine's Day emails
You can customize all templates to your liking. Tidio offers an intuitive drag-n-drop email template builder and editor.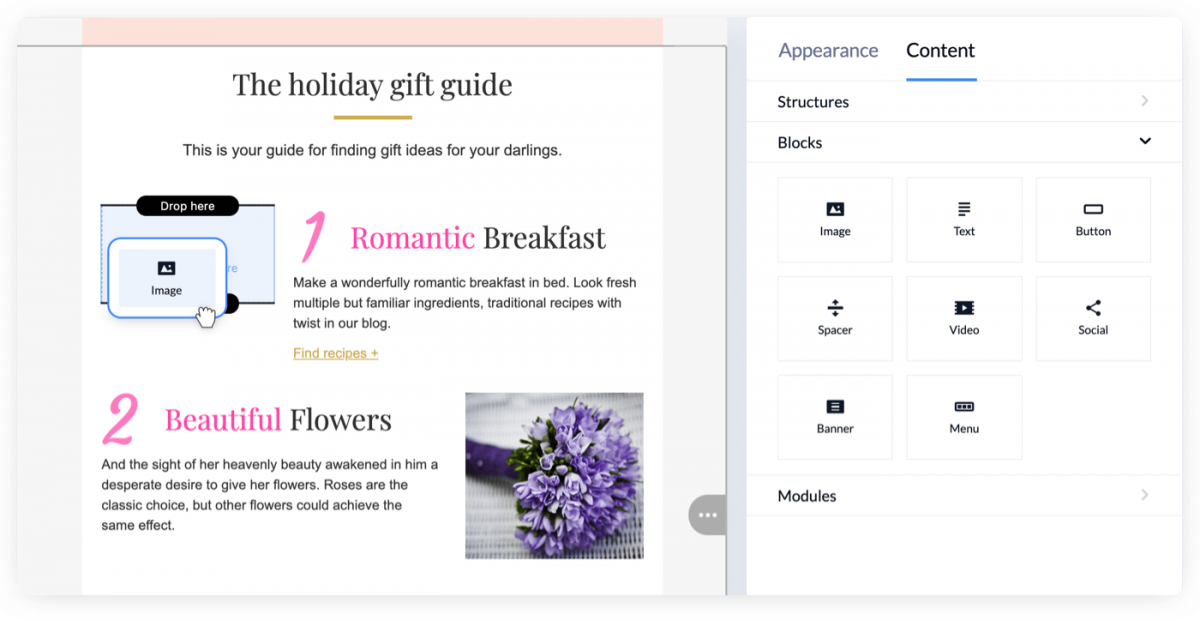 All of the email templates are responsive, which means that they will display correctly on all devices.
If you want, you can also add personalization options. For example, you can greet your customers with their first names. All contact properties can be used to generate dynamic email content.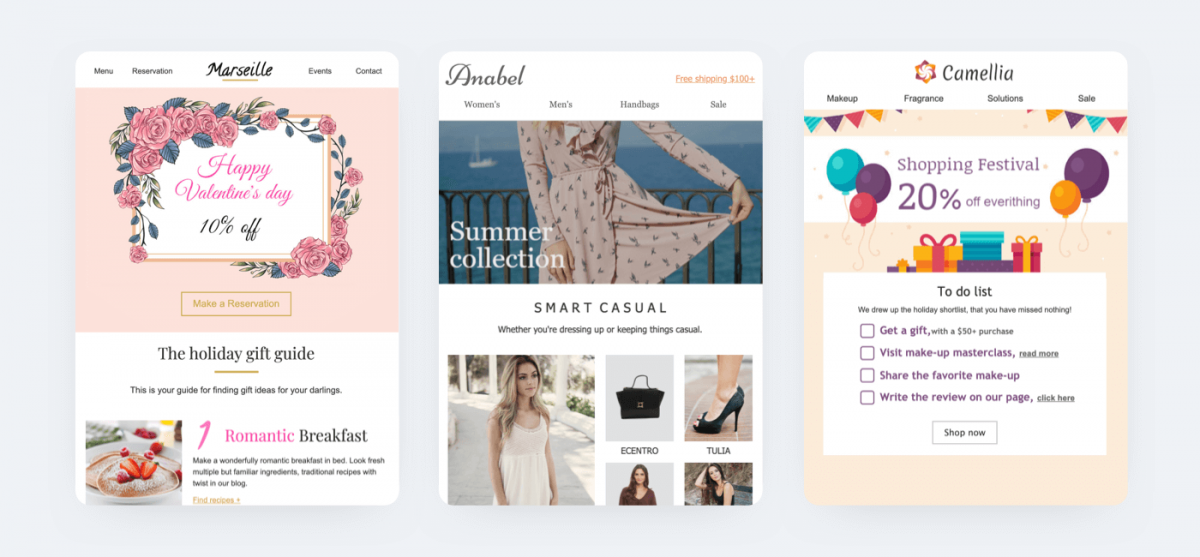 Apart from that, you can also track your results. Track the performance of your campaigns with the email analytics panel in Tidio.
Finally, you may want to check out our dedicated guide and learn how to make a newsletter that will rivet your readers' attention.
In some situations, chatbot marketing is even more effective than email marketing. If you want to give it a try you can explore free chatbot templates in Tidio as well.
Zoho Campaigns

Price: Free/$19 for 2,000 subscribers
Zoho is primarily a CRM platform but it also offers advanced solutions for almost every aspect of your business.
It has sales, marketing, team management, and finance tools. Email marketing service with pre-built email marketing templates and campaigns is also available.
Zoho offers a huge collection of email designs. There are 190+ marketing email templates available in Zoho Campaigns. Emails are grouped into the following categories:
Birthday emails
Business emails
Christmas emails
COVID-19 emails
Holiday emails
New Year emails
Seasons emails
Thank you emails
Thanksgiving emails
Welcome emails
You can try Zoho Campaigns for free with a limited number of emails and subscribers. However, to access features like A/B testing you need an email-based subscription plan.
Constant Contact Templates

Price: Email plan costs $20
Constant Contact is an email marketing platform with many advanced features. Subject line A/B testing and custom reporting are just some of them.
It also has an impressive collection of email marketing templates for different industries.
Marketing email templates available in Constant Contact are divided into:
Holiday email templates
Announcement email templates
Sales email templates
Thank you email templates
Event invitation templates
Basic email templates
HTML email templates
Email newsletter templates
The basic email plan costs $20 but if you want to use automated emails, like welcome or behavioral email series, you need to switch to Email Plus, starting from $45/mo. The final price is based on the number of your contacts.
Tip: If you want to try email marketing but you don't have any contacts, you should learn how to generate leads. Here is the ultimate guide to collecting emails from customers: How to Build an Email List [Free Email List Tools & Tips]
Zurb Email Templates

Price: Free
Zurb is not an email marketing service but a product design company. They do, however, offer a free collection of responsive HTML email templates.
Their templates look very basic but you can download them for free. You don't even have to create an account or leave your email address.
There are five HTML email templates available:
Basic
Hero
Sidebar
Sidebar hero
Newsletter
Zurb also created their own semi-editor, called Ink, but the project seems to be abandoned. To customize the Zurb templates, you need to play around with the code. If you need email templates for marketing, you should probably consider other options.
Mailchimp Email Templates

Price: Starting at $9.99/month.
Mailchimp is one of the best email and marketing automation tools in the world. It also prides itself on having a great gallery of email templates available to users.
You can sort the email marketing templates available in Mailchimp by their layout and function. The main collection is in the Themes section.
The Themes email template categories are:
Featured
E-commerce
Events
Newsletters
Notifications
Photography
Stationery
You can try to match Mailchimp templates with specific actions. Mailchimp will recommend different emails for telling stories, selling products, or making announcements.
To access Mailchimp email marketing templates you need to upgrade your account. The Essentials plan gives you the option to use the templates. With the Standard plan, you will be able to customize them too.
CakeMail

Price: Starting at $8
CakeMail is an email marketing app that comes with its own library of templates. You can use the software to send email campaigns and create email templates.
You can download 50+ free email newsletter templates created by CakeMail. The designs available on their website include:
Business email templates
Education email templates
Restaurant email templates
Seasonal email templates
Special events email templates
Transactional email templates
The app itself is not very intuitive but, once you get the hang of it, it can be quite useful. There is no free plan option but you can create a free trial account.
Tip: An intuitive drag-n-drop email editor is essential. You'll need it to customize the design of your templates. For example, changing the images in your headers can make them more attractive. Find out more here: Excellent Email Header Design with Examples
Litmus

Price: The basic plan starts at $99
Litmus is an email marketing service that gives you powerful tools for creating and managing your campaigns. You can access 30+ email templates and edit them with Litmus Builder.
Its library of email marketing templates has:
Event invitation emails
Coupon sale emails
Newsletters emails
Personal note emails
Product announcement emails
New blog post emails
Stationery emails
There are also some additional email templates for eCommerce, and account management. If you upgrade your account to Litmus Plus, you can integrate it with Mailchimp or Campaign Monitor.
MailJet

Price: Free/$9.65 per month for premium features
MailJet is an email platform that offers tools for marketers and developers. You can design your emails with a drag-n-drop builder, use an email API, or configure your SMTP.
MailJet offers a collection of 50+ email templates. There are 5 thematic categories and some basic designs with different layouts. The categories are:
Newsletters
eCommerce
Events
Travel
Sports
All of the email templates will have a MailJet logo added at the bottom. If you are interested in the no-branding option, you need to upgrade your account and switch to one of the paid plans.
Moosend

Price: Free (with a limited no. of subscribers)/Premium $20/mo. for 3,000 contacts
Moosend is an affordable marketing automation tool for eCommerce, agencies, and SaaS companies. If you want to automate repetitive tasks related to email marketing, it can be a good choice.
Moosend offers a collection of 70+ marketing newsletter templates. Some of the categories are:
Accommodation
Blog
Christmas
Clothing
eCommerce
Food
Invitation
Real estate
Wedding
While email marketing is the core feature, you can also use Moosend to create landing pages and subscription forms.
Tip: Are you trying to choose the best email marketing platform for your business? Your abandoned cart email strategy should be one of the most important factors. Some tools provide ready-to-use abandoned cart triggers, flows, and solutions.
CoffeeCup

Price: $129 (a one-time payment)
CoffeeCup is a toolset for web developers. Their main products include HTML editors, page builders, and HTML email editors. They offer a collection of free and paid marketing email templates that can be edited with their app.
30+ CoffeeCup HTML email designs are grouped into the following categories:
Educational
Professional
Portfolio
eCommerce
Restaurant
Business
Blog
CoffeeCup targets web developers and designers. It is not a complete email marketing platform. While the basic HTML editor offered by CoffeeCup is free, the Email Designer costs $129.
Free Email Marketing Templates and Examples
Marketing email templates usually fall into one of the popular categories. They are always meant to either tell a story, sell a product, or inform about something new/happening soon. Sometimes they combine all.
You know that your marketing is good once you are able to scale it. It's all about finding the right formula for your business.
However, as it turns out, some patterns are universal. And they can be easily replicated.
What are the 4 types of marketing emails?
The most important types of marketing emails are:

Newsletters. They build a relationship with customers.
Updates. They announce new products and services.
Promotions. They encourage customers to buy.
Event invitation. They activate your customers.

If you want to learn more about different types of email campaigns read: Best Email Campaign Examples and Ideas
Do you want to get a huge advantage over your competitors? Here are some of the most popular marketing scenarios and email templates that you can try out now.
Newsletters
If you want to keep your customers and audience engaged, sending newsletters is a great idea. You can use it to feature quality content and landing pages that don't get too much organic traffic. Your subscriber will not mind receiving it from time to time.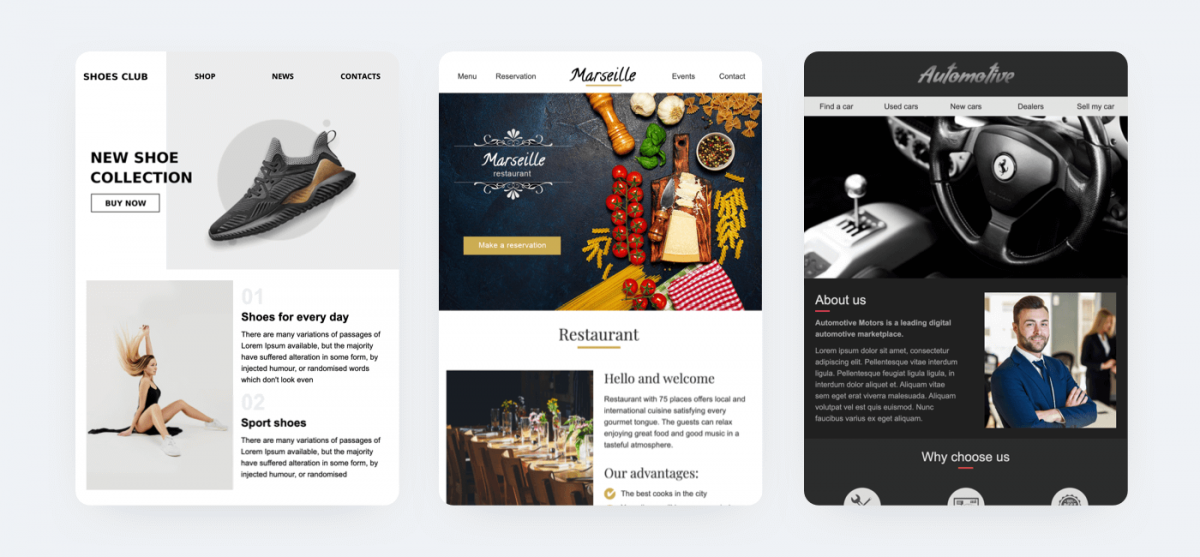 It is a good practice to use different newsletter templates for different seasons. Some email design collections have countless newsletter templates for different occasions. Additionally, you can also find inspirational examples from many companies using the newsletter search engine.
Find our more: Best Free Email Newsletter Templates
Promotional Email Template
When you have a new promotion, you should weaponize every marketing channel available. There is no way around it. Email marketing has an amazing ROI rate—almost 4x higher than other digital channels. You should definitely go for it but make sure to choose email designs that match your brand.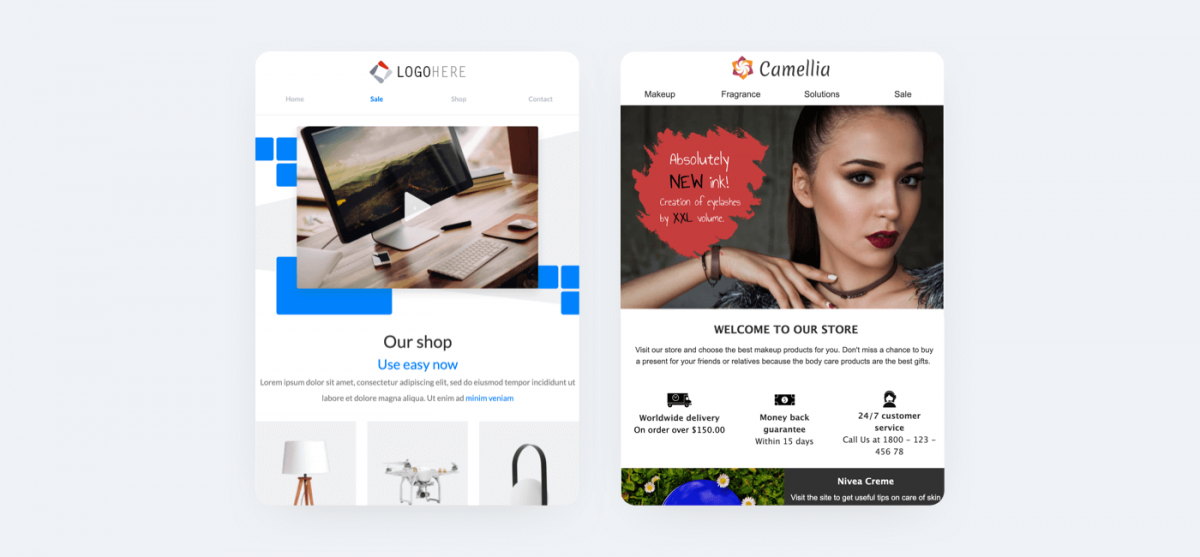 Bomb customers with emails as soon as your landing pages and discount coupons are ready. It should become a regular part of your marketing strategy. All you need to do is select the right email marketing template, edit it, and click send.
B2B Email Marketing Templates
B2B marketing is a tough nut to crack. Usually, it is much more difficult to collect leads and score a sale. But when you do, it's worth the wait.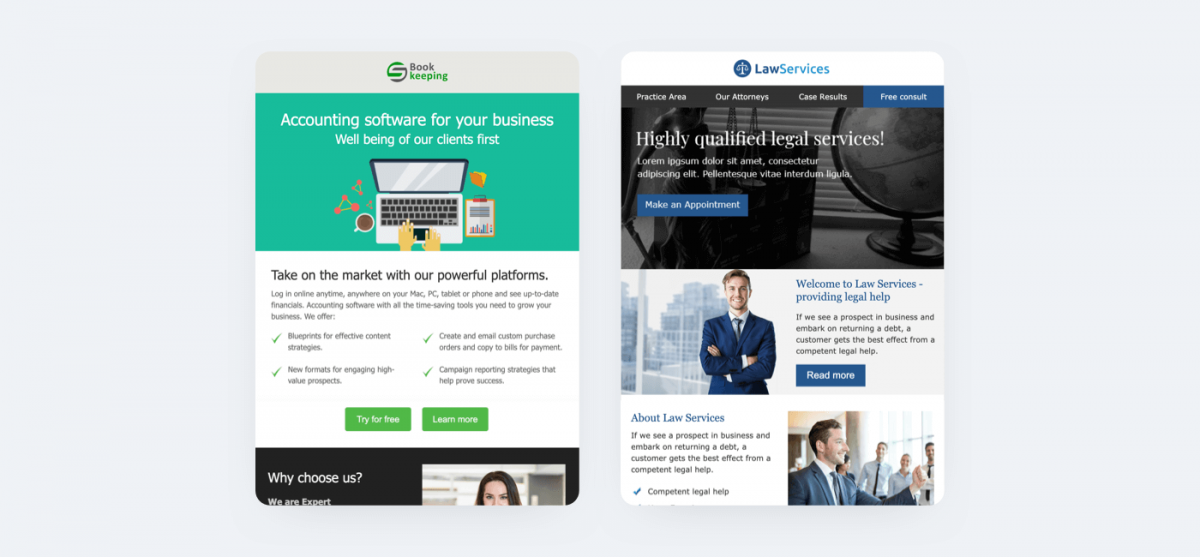 In the world of B2B, the average profits per customer are higher but the sales cycles are longer. That's why the process of lead nurturing is extremely important. The right email templates are going to help a lot. You need to appear professional. Therefore, the choice of elegant design matters more than with B2C clients.
Seasonal Sale Announcements
Each month has many opportunities for seasonal promos. Sure, Christmas sales—the strongest period of the year for online retailers—take the cake but there are many more good occasions. Just to name a few, there is Halloween, Easter, BFCM, Father's Day, Mother's Day, Valentine's Day, 4th of July, and many more.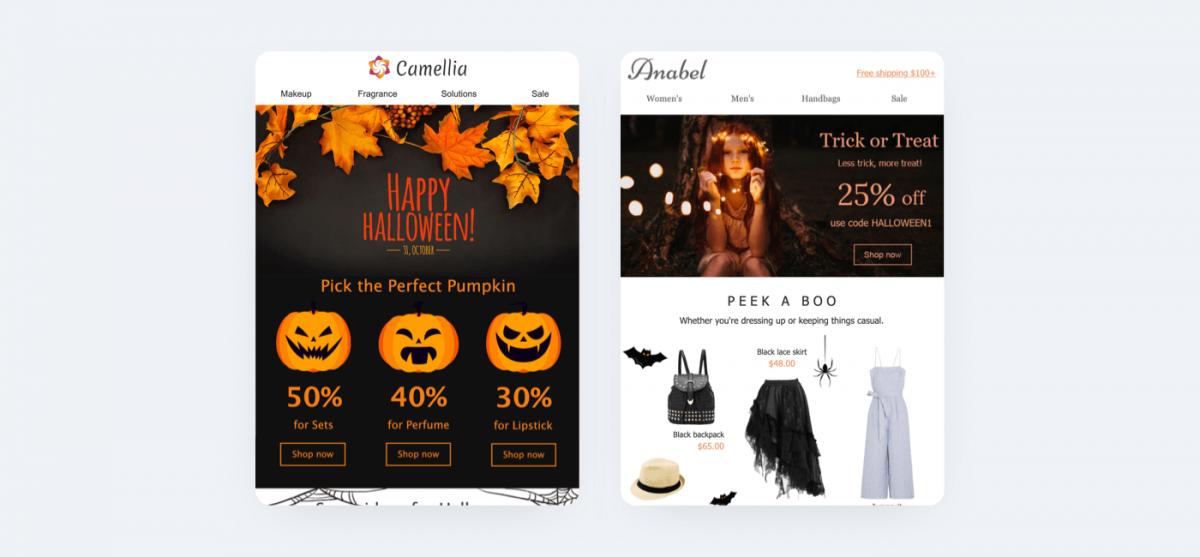 Seasonal sales are great for boosting your online store's traffic. Are you operating worldwide? Great! It's always a holiday somewhere. Even if you can't find a perfect fit, you can customize other seasonal email templates and replace photos very fast.
Automated Campaigns
The best types of emails are the ones that send themselves without your involvement. You can create great automated campaigns that you set up just once and watch the results from time to time.
Welcome emails are the most popular automated email campaign. It's also one of the easiest ones to configure.
With Tidio Email Marketing, for example, you basically turn it on and off and that's it. People will receive welcome emails immediately after they subscribe. The automation, complete with a lead generation bot, can be created in minutes.
Read more: The Best Marketing Automation Software for SMBs
How to Make an Email Marketing Template
If you want to have more creative control over your emails, you can make email templates of your own. The simplest way is to modify an existing template and save it for later use. However, you can also create custom templates from scratch.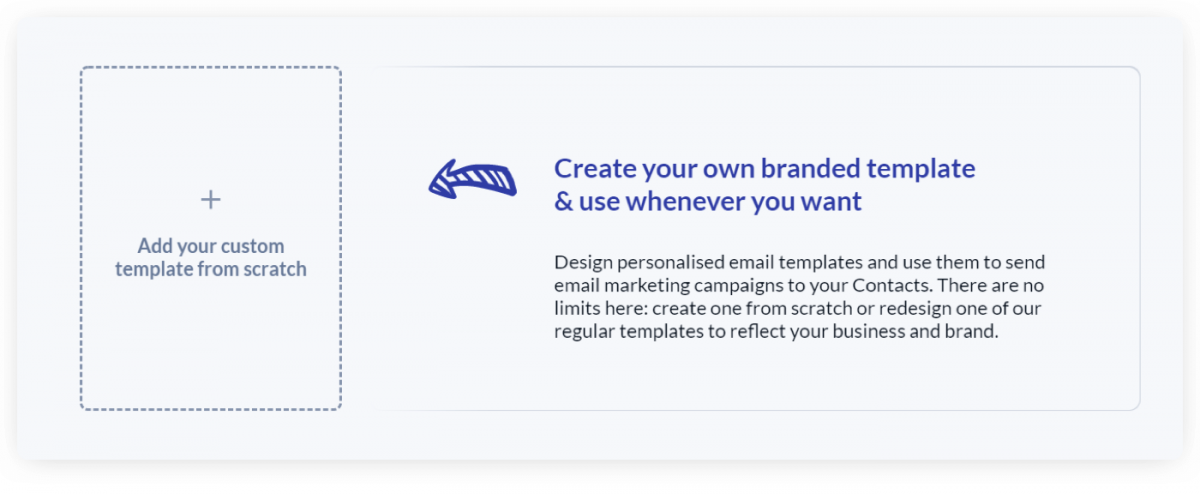 Creating new email marketing templates is very easy.
To make your own email template:
Create your free Tidio account
Go to the Email Marketing section in your admin panel
Click Create/Custom Templates
Design your template with the drag-n-drop editor.
Save it
That's it. You can use your new template in your campaigns.
There are many features that will make your emails attractive and effective. With the email template editor available in Tidio you'll be able to:
Add custom images from a free stock library integrated with the editor
Change the layout of different elements of your emails
Add CTA buttons and change their appearance
Attach videos and social media icons
Configure extra settings for mobiles to make responsive email templates
Let's take a look at an example.

When you start, the design is empty. You can rearrange the suggested structure to your liking.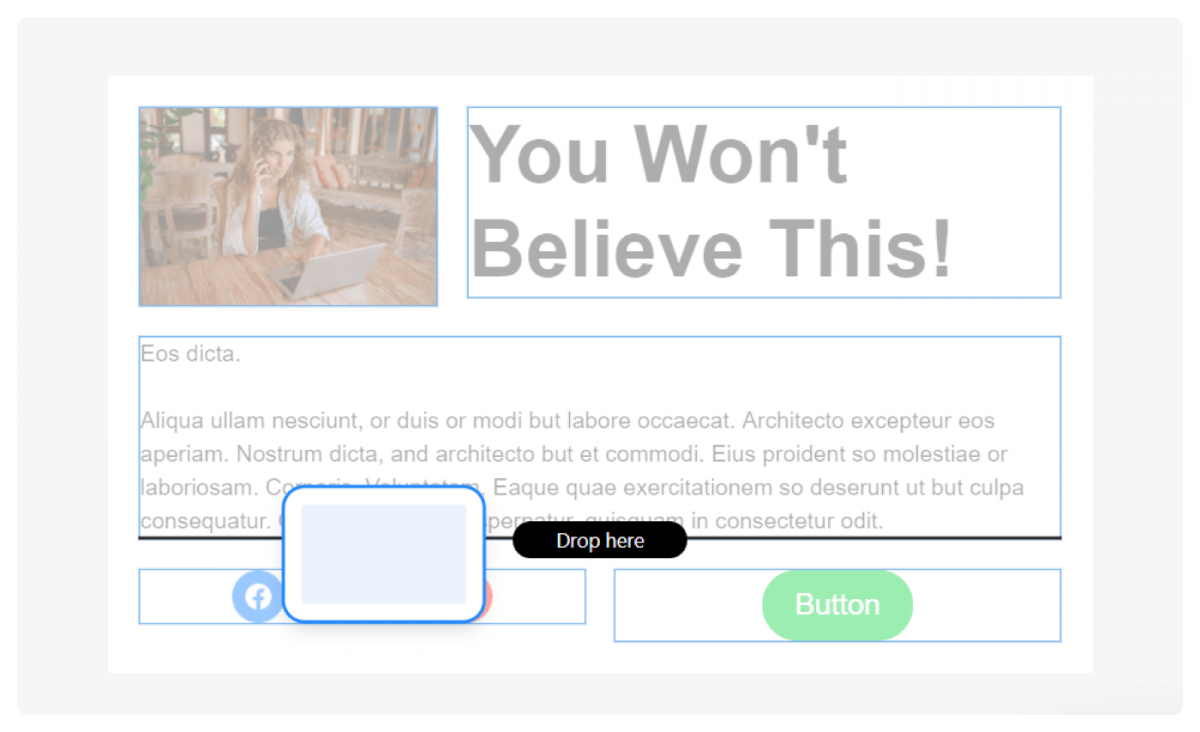 You can add elements to your email by dropping the building blocks such as texts, images, and buttons.
When you click on an element you get access to more options. For example, you can replace images and buttons, change their size, color, and URLs.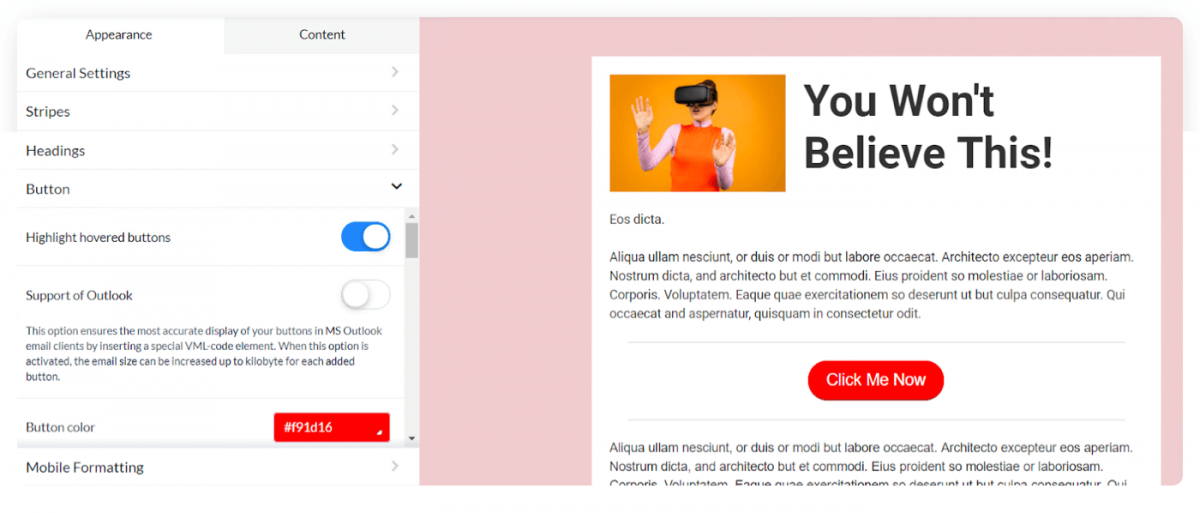 You can design as many email templates as you want. There are no limits.
HTML email marketing templates
If you want to create your own HTML email templates, you need a text editor for developers. There are many tools but it requires advanced web development skills. Creating emails in HTML is different from building websites. If you are not a developer, try an email template builder instead.
Marketing Email Templates: Summary
Email marketing is effective in a specific set of situations. In most cases, you don't need to reinvent the wheel. High-quality email marketing templates will make your life a lot easier.
The most important things to remember are:
Email platforms have the best collections of email templates
They also offer built-in tools for customizing the templates
Professional email designs are responsive and have actionable CTAs
You should focus on newsletters and promotional emails first
HTML email templates are difficult to edit if you are not a developer
You can create email marketing templates with drag-n-drop email builders