Email signatures are one of the most overlooked elements of brand building.
Imagine it was common that business cards would be regular, hand-cut pieces of copy paper with your contact details printed in Times New Roman. It would be cheap, bland, and unprofessional – which is precisely why people don't do it. Instead, they want to make their business cards as elegant, personalized, attractive, and memorable as they can.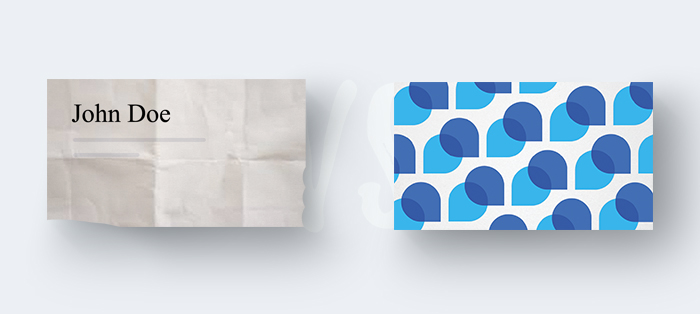 Email signatures are a way of presenting your contact information in a way that will grab people's attention. It is not the same as using e-signature software. So why then don't people treat their email signature as a kind of electronic business card? Well, some of them do and they use email signatures to their advantage.
Want to explore other email-related areas? Have a look at these articles:
What are the Benefits of Using a Professional Email Signature?
There are many benefits a nice-looking email signature can bring.
Email signatures:
Give a professional feel to emails
Increase your credibility
Help to make an immediate personal connection
Make it easier for email recipients to reach you or your company
Increase your website's traffic
Promote your social media channels
Increase brand recognition and promote your company
Possible email signature drawbacks:
There can be some problems with device compatibility
An email signature can look great in one email client app and encounter technical issues in another
A signature can distract from the content of your message
They need to be designed and created, which takes time and skill
💡 Did you know?
Most emails are never opened or read to the end. You should always focus on your subject lines and email opening lines before worrying about your signature. Check out some of these examples used by professional email marketers to find inspiration: Best Abandoned Cart Email Subject Lines.
How to Make Your Email Signature Look Professional?
Your professional email signature should include the following information:
Full name
Job title | Company
Phone number | Email address
Website
This signature format is the most popular, but you should choose which information you want to share.
Additional fields you can include in your email signature:
Mobile/Office phone number
Company's address/headquarters
Legal disclaimer
It is important to provide real contact details, but be careful. You can add a phone number to your signature and allow email recipients to contact you directly, but don't be surprised if your phone will keep ringing because you are the only person from the company who decided to share it.
Remember to use an email address that is hosted on your company's domain. Some people would frown upon an email address that ends with yahoo.com or another free email hosting service.
Email signature examples:
Jane Doe
CFO of Tidio
doe@tidio.com
Jane Doe | Tidio
m: +49-123-4567-890
e: j.doe@tidio.com
Jane Doe | Chief Financial Officer
Tidio
email: j.doe@tidio.com
website: www.tidio.com
As you can see from the email signature examples above, there is no one correct way and order in which you present the contact info.
Would you like to create your first email marketing campaign but you don't know how? You can try a free lead generation, customer service, and business messaging platform right now. Meet the small business owners' favorite all-in-one live chat and marketing automation tool. Create your free Tidio account now and get access to 20+ beautiful email templates and chatbots.
An email signature can be easily customized. It is possible to add a photo to your email signature, a logo, social media icons, or even your own CTA button.
Signatures can be set up in the settings panel of your email client, such as Mozilla Thunderbird or Gmail. Additionally, you can use an email signature generator, but they usually generate poor-quality code. To ensure the high quality of your email signatures, you should consider writing, designing, and setting them up manually.
How Do I Create a Signature in Outlook?
In Microsoft Outlook, go to File > Options and select Mail. Click on Signatures and create a new email signature. Replace the content with your custom signature.
Microsoft Outlook users can also create a new email message and click on the Signatures icon.
How Do I Create a Signature in Gmail?
In Gmail, click on the gear icon, choose Settings from the menu, then scroll down to the Signature section (click the checkbox to turn it on). You need to select a rendered HTML (you can use an HTML email signature generator) and copy/paste it into the available field. The users of Gmail cannot upload HTML email signatures directly, but they can try to copy some styling elements as well, by simply selecting a signature created with a different app/desktop software.

How Do I Create a Signature in Thunderbird?
Thunderbird is a great email app for users who want to have better control over their email signatures and don't want to use signature-generator solutions. In Mozilla Thunderbird, you need to click on the hamburger menu next to the search bar, choose Options/Account Setting, and configure the Signature text field. This one is the most powerful among the three clients because you can easily edit your email signature in HTML or upload an HTML file.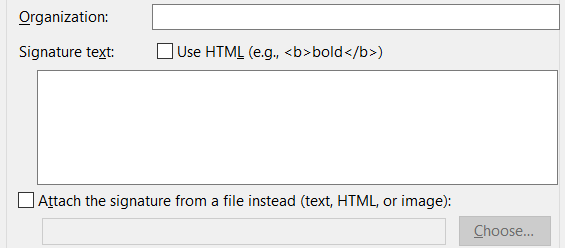 How to Add Photo to Email Signature
Some email clients, such as Gmail, allow adding photos into the signature field. The best and sometimes the only way is to upload the signature photo to a hosting service of your choice. For instance, it can be uploaded somewhere in the media library of your website (but don't put it where the website users can see the image). Then, you can place the image in your email client's signature editor or use the link to compose your own HTML signature.
Remember to resize your pictures before you upload them to your server or display them online. It is perfectly acceptable for an email signature photo to be somewhere around 120×120 or even 80×80 pixels. Don't upload high-resolution photos, because they take more time to load and can display incorrectly.
🚀 Read more: The Best Email Newsletter Templates [+ Email Newsletter Examples]
Why Should I Add Photo to Email Signature?
As soon as we meet somebody, we begin to form an attitude towards that person. Human beings are constructed this way – we connect with others when we see them face-to-face. Sending an image is the next best thing convenient enough to use in business correspondence. That's why adding a photo to your email signature can be very useful, especially if our email receivers don't know us personally.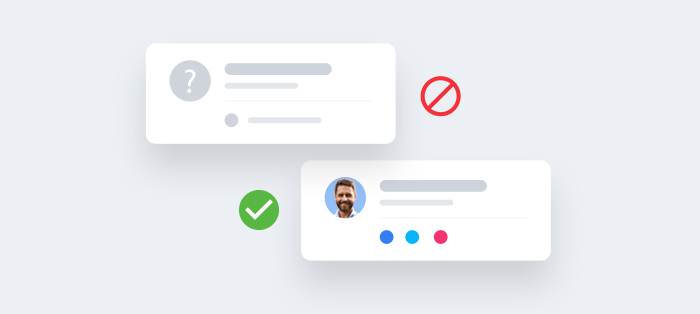 An email message is just that – a piece of writing which we can relate to or not. However, the face of a smiling person is something we can't simply ignore. Our emotional and social response is immediate. A good photo can capture some of the most important features and qualities of a person and it can give email recipients an impression of who we are.
Add Logo to Email Signature
Adding your company's logo to your signature is a smart move. If you send lots of emails, it is great for increasing your brand visibility. You can also make the logo clickable and use it to generate traffic to your website. A logo is just a regular image, so the same rules apply. However, you may need to convert it into a png or jpg file.
Add Social Media Icons to Email Signature
Another awesome thing you can do with email signatures is to place your social media icons and links inside them. Should your email recipients want to learn more about you, they can quickly take a glance at your social media profiles. Today, it is a good way of estimating how popular a business is online. Consequently, your social media presence is something that can boost your credibility. If that is the case, add social media icons to your email signature.
To add social media icons, you need to use an HTML email signature template, a signature generator, or create an HTML document of your own. Social media icons are also pictures (every icon is a small image) that are clickable and have links redirecting to your Facebook, LinkedIn, or YouTube account. These portals have billions of users and are excellent tools for building your professional network.
Add CTA to Email Signature
HTML email signatures can be used as a type of miniature web banner. If you decide to go full-on marketing, you can even add a Call To Action button. A heavily customized email signature can drive traffic to your website or even promote your products. This kind of advertising, disguised as regular business communication, can be highly effective.
Some of the most CTAs are "Visit our website", but be creative. You can squeeze into your email signature anything you want, so maybe a "Subscribe" button that will get people to subscribe to your newsletter is not a bad idea. Try out different CTA buttons and test how they perform. If your signature promotional banner boasts about the number of your product's users, a Call To Action like "Join 100 000 Happy Clients" is also a good choice.
To add a CTA button to your professional email signature you need to create an HTML/CSS signature design or use a static, picture-based banner with a mock button. The first of these options is better because you can easily make the elements interactive. Try clicking one of the designs below.
Best Tips on How to Design an Email Signature
Email signatures are difficult to design, because they need to be small and unobtrusive, and yet include many elements. However, you can find some great professional email signature examples and templates online and use them for inspiration. Some of the best tips for designing email signatures are:
Choose a format which can be displayed on small-screen devices
Use consistent typography and colors
Match the color palette with your brand's character and visual identity
If you include the logo of your company, consult your brand book
Use white space to let your signature design "breathe"
Use high-quality images or icons from any reliable photo library platform
Make the most relevant pieces of information bigger and put them in the top section of your signature
Monitor its KB size and keep it lightweight
Send it to your friend/different email account to test what your email signature looks like
Use Professional Email Signatures and Make Your Business Grow
A well-designed email signature, which contains all crucial contact details, is a signal to other professionals that you are a serious and organized person. By using email signatures, you introduce yourself as someone who pays attention to details and cares about recipients' convenience. An email signature is only a small part of how well your emails perform. To learn how to write a business email, read our guide on Tidio Blog. Install Tidio, and discover how to use it, not only as a live chat and chatbots solution but as a mailing tool as well!