The modern internet works just like subscription boxes. Instead of searching for particular things, you get them delivered to your email address, the Facebook news feed, or even your desktop (as notifications).
As an internet user, you receive a constant stream of nicely packed pieces of content you subscribed to, consciously or not.
Because of this subscription-based model, people don't surf the web the way they used to. They can subscribe to their favorite YouTube channels, like selected Facebook pages, and sign up for several newsletters to get fully set up.
With a dozen or so clicks on like/follow/subscribe buttons, one can get a lifetime's worth of web browsing. You should make sure that your website, Facebook page, or YouTube channel gets one of those clicks.
It all starts with a button.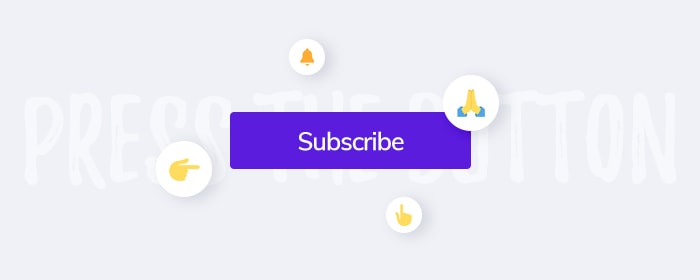 Tip: When talking about subscribers, people usually mean YouTube subscribers. If you want to get more subscribers on your website you should try using a lead generation platform that will automate the process of getting new subscribers.
Why Is It Important to Get Subscribers?
People regularly visit only a limited number of websites and use several apps to get everything they want. Therefore, getting subscribers is critical to building an audience for your brand. A subscriber (who, by definition, has already expressed an interest in your content/product) is worth far more than a random visitor.

As a website owner, you should know that building your audience is of key importance. You should use all available channels to make people subscribe to your newsletter, blog posts, and videos.
Social media sites are so powerful because they are a network of people, brands, organizations, and institutions that subscribe to each other. By following people on Facebook, Twitter, or Instagram, you are, in point of fact, subscribing to the content they post online.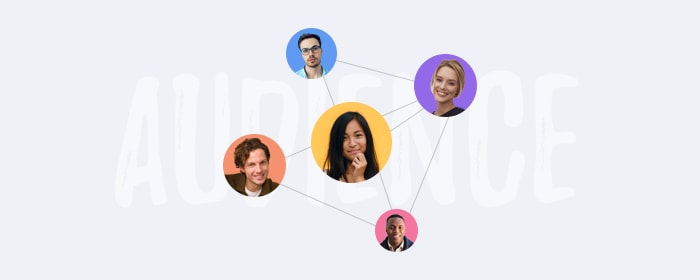 How to Get Subscribers?
To get subscribers, you should create posts, articles, graphics, and videos of good quality. However, don't be like the guy who prays to win a lottery and doesn't bother to buy a lottery ticket. To get more subscribers, first of all, take care of each and every subscribe button.
Subscribe buttons – their design, copy, and placing – can have a huge impact on how many subscribers you get. It is essential to make them visible and clickable. They should tempt your website's visitors.
Sometimes it may seem redundant. For example, what's the point of adding a subscribe button to a YouTube video if there is a big red subscribe button right below it? That's all fine and well when people watch it on your YouTube page. But what if that video was embedded on a website or shared on social media?
The devil is in the details, and you should make sure to have all bases covered.
YouTube Subscribe Button
A YouTube subscribe button can actually mean two things which should not be confused.
A subscribe button PNG (or a company's logo) on YouTube videos – it is a graphic, partially transparent watermark which is displayed in the corner of a video. By clicking on it viewers can subscribe to your YouTube channel.
A YouTube channel subscribe button which can be embedded on your website. It can display a subscriber count.
How to Add a Subscribe Button on YouTube Videos
Open the settings panel from the YouTube Studio dashboard
Choose Channel and navigate to Branding Tab
Add a subscribe picture in a PNG or GIF format as a video watermark.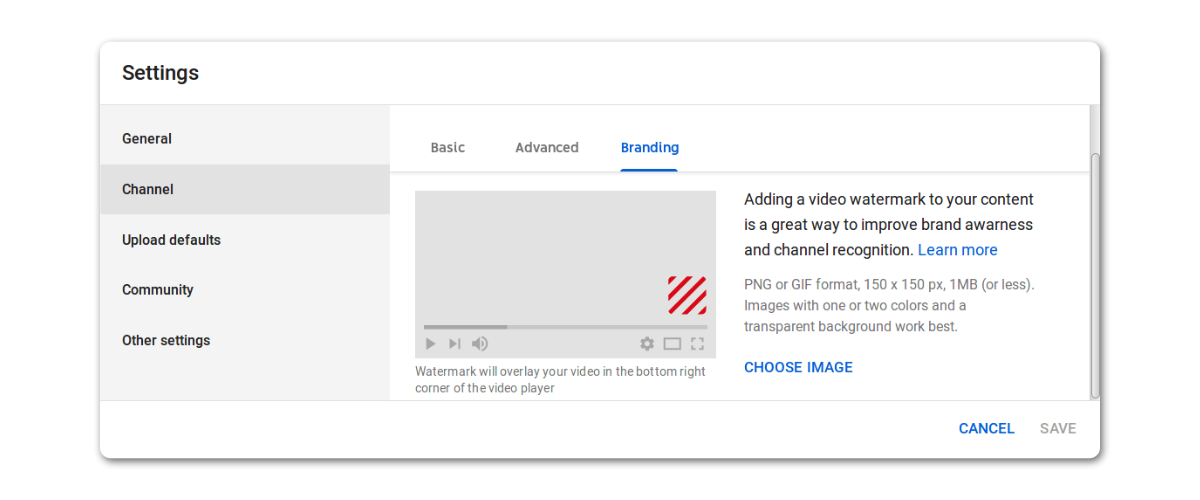 A regular JPG can't be used as a YouTube watermark because watermarks use RGBA (used by Portable Network Graphics and Graphics Interchange Format files) instead of RGB. You need that extra letter A (the alpha channel) to make parts of the picture transparent.
By doing so, you can make a subscribe button PNG that has irregular shapes. It is especially useful for logos, which otherwise would be displayed inside a white box, which looks unprofessional.
Here is a free subscribe button PNG you can use on your YouTube videos:
How to Add A YouTube Channel Subscribe Button on Websites
You can add your YouTube channel subscribe button anywhere you want by embedding an auto-generated code snippet. The minimalist version of a subscribe button can look like this:

You can also add a profile picture and subscriber count:

This subscription button can be configured with a Subscribe Button Tool provided by Google Developers.
Facebook Like Button
In Facebook's terminology, liking a page (don't confuse it with liking a single post!) is equal to subscribing to its future posts. Some time ago, Facebook pages were known as fan pages because, as opposed to personal profiles, they gathered fans instead of friends.
The Like button is quite similar to the Subscribe button on YouTube. By default, clicking it is equal to following new materials published on a brand's Facebook page.
These are the like/follow buttons available on Facebook:

When you like a Facebook page, you automatically become a follower/subscriber. You can see it in the picture below.

You can also follow a Facebook page incognito without actually liking it.
How to Add a Facebook LIKE Button to Your Website
You can add your Facebook page like button pretty much everywhere.
Here is the basic view of the Tidio's Facebook page like button:
You can customize the button according to your needs. For instance, you can show profile photos of visitors' friends who liked your Facebook page or even make the button larger.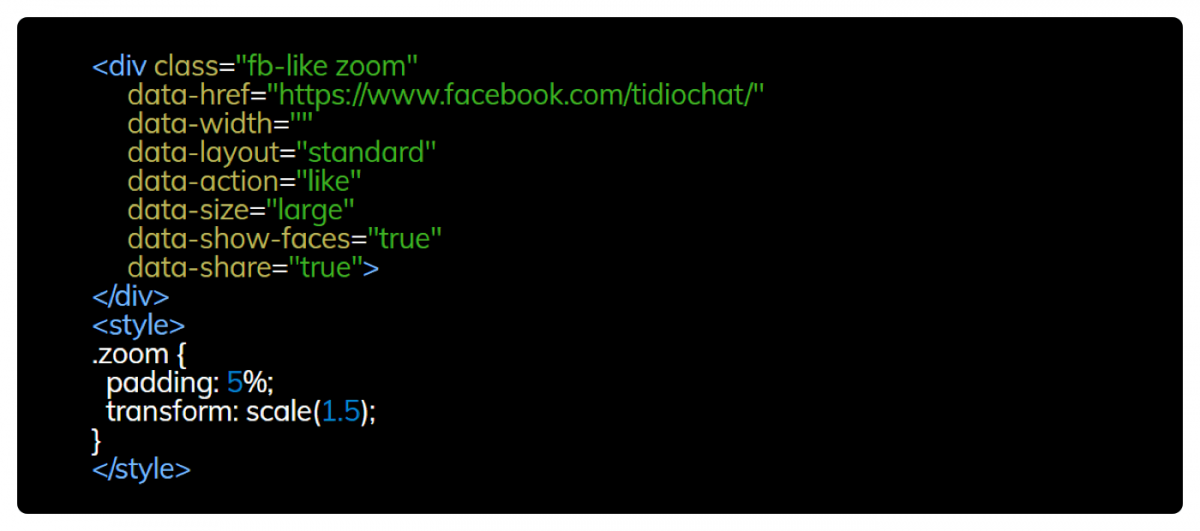 To configure your like button, visit the Like Button Configurator on Facebook for Developers website.
You can easily enlarge the like button with CSS by using the scale() function. By adding a transform: scale(3); you make it three times bigger. However, it is not recommended with the standard layout, because the friends' profile pictures will pixelate.
Like Us on Facebook Button
Instead of adding a simple working button, some prefer to redirect their visitors to a Facebook page first. It is also a viable option and is much easier. Instead of embedding a code snippet you can use a "fake" PNG button with a custom design.
There are many variants of these call-to-action buttons. Some of the most common include:
Find us on Facebook
Follow us on Facebook
Like us on Facebook
Visit us on Facebook
Join us on Facebook
Here are some sample designs which you can use for free:
Twitter Follow Button for Website
Twitter follow button works just like the Facebook like button and can be easily configured.
To add a Twitter Follow button:
Scroll down until you see Embedded Tweet, Embedded Timeline and Twitter Buttons options
Choose Twitter Buttons
Select Follow Buttons
Enter the Twitter name of your website with @
Copy the code and embed it on your website
Here is the result for Tidio's Twitter account:

Similar to Facebook, you can also try an alternative – a PNG button which redirects to your Twitter page and says something along the lines of Follow us on Twitter.
Here are free buttons for Twitter:
Newsletter Subscribe Button
With YouTube, Facebook, Twitter, Instagram, and other social media platforms, the subscribers and followers receive information about new content automatically as soon as you post it. However, when it comes to your website, getting people up to date may be tricky. But don't panic. That's what newsletter subscriptions are for!
There are three basic tools for getting subscribers:
All of them can be triggered by subscribe buttons. Let's look at them one by one.
Subscribe Button and Pop-up
Pop-up ads can be irritating, but pop-up widgets as such are handy, especially when they don't appear out of nowhere. Here is an example of a pop-up triggered with a subscription button.
Subscribe Button and Modal
Modal windows are quite similar to pop-ups, but they are even more imposing. When a modal appears, it dims and freezes the rest of a website. It requires visitors to take action, usually fill up a form, click a button, or close the modal window altogether. Only then can they return to browsing.
Subscribe Button and Chatbot
Please note: Subscription chatbots should not be confused with subscriber bots. A subscriber bot is a fake subscriber – some YouTubers and Instagramers use them to artificially increase the popularity of their channels and accounts.
Remember, that you should never buy subscribers! It will hurt you in the long run.
Chatbots used on your website, on the other hand, are great tools for getting new subscribers.
Here's why.
Imagine a situation in an office – a clerk throws a registration form at you and asks you to fill it up. It's boring and tedious.
Now, let's imagine a different situation – you enter a luxurious hotel and a kind receptionist asks for your personal details to book you in. You have a nice conversation, you take turns and exchange information.
That's how chatbots work. You can easily create a chatbot with a chatbot platform like Tidio. They take tedious tasks and turn them into a conversational experience that is fun and convenient.
Why not give it a try!
Click on the image below to start using your own bot!
Try Chatbots For Free
There are many chatbot examples you can look up online. Some of them have subscription or opt-in forms sneaked into their conversation flows.
Chatbots send messages through messaging apps such as Facebook Messenger or your website live chat box. If your website uses WordPress you can add a WordPress live chat plugin by clicking less than 10 times.
Pro-tip: Subscribe Buttons UX Copywriting
There is one funny thing about subscribe buttons – some of them work best when they are not labeled as subscription buttons at all. Instead, try to focus on the users and their goals. What can they achieve by subscribing? Maybe a subscribe button that says "Become a Tai-Chi Master" will get more clicks than "Subscribe to our Tai-Chi Newsletter". Do some tests and track your results. You can learn more about UX copywriting for buttons and chatbots on our blog.
Key Takeaways and Subscribe Button Secrets
There are many opportunities to get more subscribers if you use like, follow, and subscribe buttons consciously.
Add subscribe button watermarks to your YouTube videos
Configure Facebook (like), Twitter (follow), and YouTube (subscribe) buttons and embed them on your website
To redirect visitors to your Facebook, Twitter, YouTube, or Instagram pages use PNG "follow us on…" buttons (you can find some free subscribe buttons PNG files this article)
Use subscribe buttons which trigger subscription pop-ups, modal windows, or chatbots
Write different text labels for your newsletter subscribe buttons and see which of them gets more clicks
We highly recommend integrating chatbots with your subscription flow. You can try them for free by using Tidio.
Try Chatbots For Free