Let's start with some facts.
1997. Ethan Zuckerman comes up with an idea of a pop-up ad, which immediately rises in popularity among companies like the New York Times.
2004. Users start to get irritated by the omnipresent pop-up adverts.
2014. Ad blockers are downloaded and installed on a large scale. Zuckerman publicly apologizes for inventing "one of the most hated tools in the advertiser's toolkit."
2019. Chatbot marketing revolutionizes the eCommerce market with automated customer service. The number of sales increases and the list of satisfied clients grows.
Want to know more? Read the article to find out about pop-ups and chatbots, their strengths and weaknesses.
What is Pop up: Definition and Types
Pop-up is a small informational window that appears in the foreground of a website in various forms.
The most popular types of pop-ups are:
Entry pop-ups that appear within a few seconds upon entering the page and block the whole content. In this way, they call for greater engagement on the user's part as they have to either click the close button or type in personal data to dismiss the ad.
Exit pop-ups that appear when a visitor has decided to leave the page. They're recommended to websites with poor lead generation as they provide a last chance offer.
Scroll pop-ups appear once a visitor has seen a certain percentage of a website. People who stay longer on a page are more likely to leave their contact details as their user engagement indicates true interest in website's content.
Timed pop-ups that appear after a designated amount of time in order not to block the page and ruin one's browsing journey completely.
Click pop-ups that appear once a user has transitioned to a website through a link or phrase. Since it's user intention to enter the page, targeting them with coupon codes will rise their interest in a brand and encourage to explore store's assortiment a bit longer.
Content-based pop-ups appear only on designated website's pages to target particular customer groups with personalized offers.
When it comes to pop-up use cases, they're, first and foremost, used by eCommerce businesses to advertise their brand, encourage a purchase (through discounts, e.g. free delivery), and generate leads (e.g. by introducing sign-up forms).
But, mobile windows aren't the only form of advertisement capable of providing the above-mentioned services. Chatbots can do it too.
Chatbot: an Alternative to Pop up
A chatbot is a computer program that allows for quick interaction with website users, especially when providing customer service. It's a useful tool in reaching potential customers because they can:
answer FAQs,
provide additional information (e.g. about the product, company),
offer incentives to encourage a buy (e.g. discounts),
collect data (e.g. email addresses, names, shoe sizes)
send a welcome message to new visitors,
trigger follow-up messages to visitors who leave the website or stay on a page for a period of time.
The conversation with chatbots takes the form of a chat: the client types in an inquiry, two seconds later they get an answer. It's easy, it's quick, it flows.
Provide 24/7 customer service even when you sleep.
Create unlimited chatbots for your website without coding to engage more visitors.
Learn About Chatbots
The response time with Tidio chatbots is three seconds. Dare to send your first chatbot message?
Pop ups: Positive Sides
#1 Fast and Furious
Does this sound familiar? You take out your mobile, type in a phrase, go to a website, and… BAM! A huge banner appears on the phone screen and blocks the view. Surprised? You shouldn't be.
Pop-ups are every company's secret weapon to attract first-time website visitors and tempt them with discounts or giveaways. Consequently, they've no other choice, but to click on the ad and sign up for the company's newsletter. Clients are given freebies, companies get contact details. Clever, isn't it?
#2 Cheap as Chips
If you think that running an online ad campaign is pricey, you're wrong. Or at least that's not the case with pop-ups. They're cheap, very cheap especially for websites built on more popular platforms, like WordPress or Shopify, as they offer free pop-up plugins!
OptinMonster is a great standalone application that can be integrated with a number of online websites to build a successful email list. Some of its features include an audience targeting option and readymade design templates (download the app here: https://wordpress.org/plugins/optinmonster/)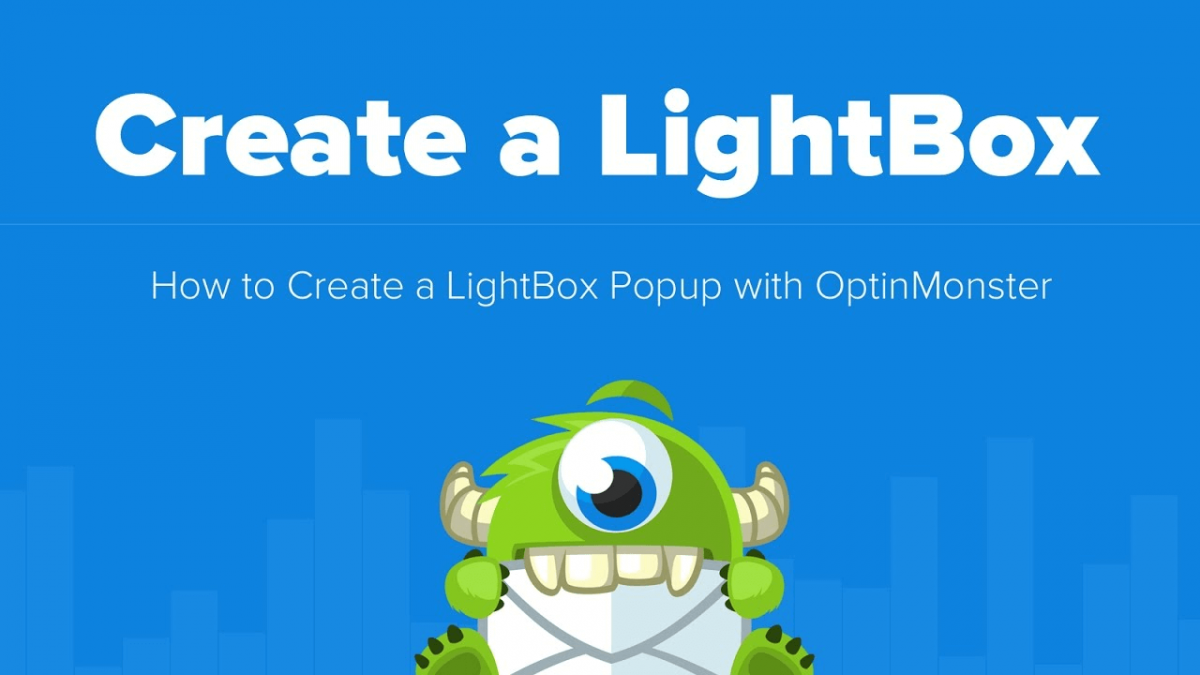 But, what if a website wasn't developed on any of those hosting platforms? Good question. Well, if you're good at programming, or at least know someone who has the brains, you could use tutorials and design a personalized ad with well-suited behavioral triggers yourself (you'll find a step-by-step guide here: https://www.w3schools.com/howto/howto_css_modals.asp).

#3 Lucrative Lead Generation
A perfectly crafted pop-up ad can do miracles. Here are three useful tips on how to create lead-generating click pop-ups:
Create good content. It should be short, concise and relevant to the user. Don't write the whole essay, two sentences are more than enough.
Set the time delay. Give your visitors time to look through your page and get familiar with the content/offer. Only after you see some form of engagement, you can send them a personalized message.
These three pillars can build a solid advertising strategy and call for greater user engagement. Still not convinced? Just look at the statistics.
Two companies, Visual Website Optimizer, and Enterpreneur.com experienced a significant increase in the email signup rate by 50% (VMO) and 82% thanks to pop-up subscription forms featured on the websites. In this way, they transformed pop-ups into an effective tool for collecting visitors' personal data.
Pop ups: Negative Sides
#1 Hamper User Experience
Wordstream's recent study has shown that 73% of consumers dislike pop-ups due to their intrusive nature, whereas 81% of users exit a webpage when they see one (ad). Have you ever wondered why?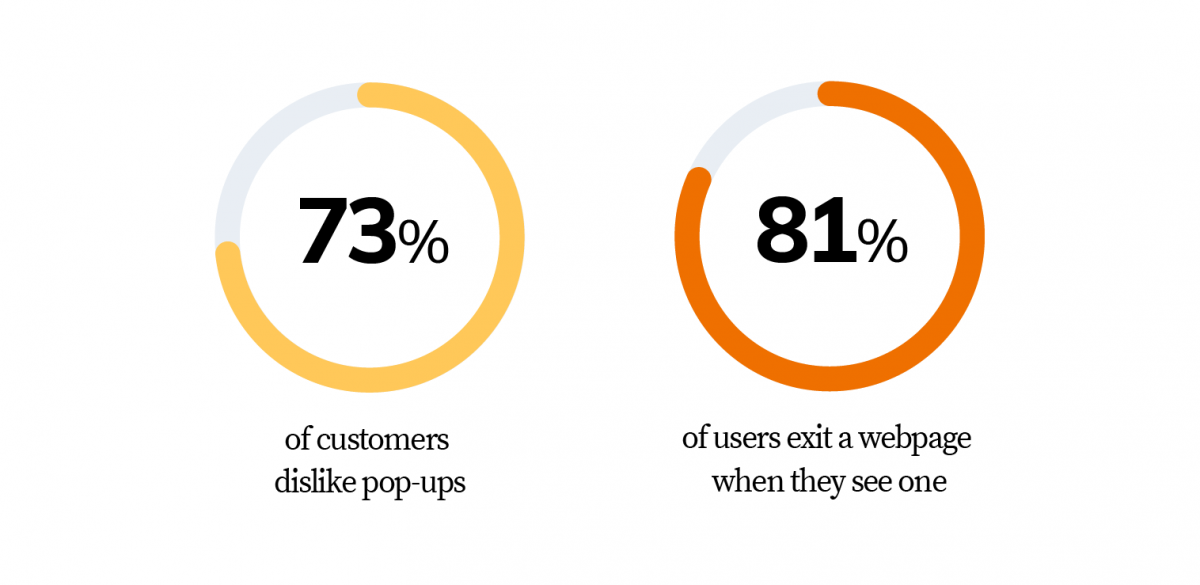 Hmm, probably because they appear within a few seconds and block the content. A frozen page is annoying, but looking for a close button? It's even worse. Even if they offer compelling sales promotions, how can anyone sign up for a newsletter or accept a free ebook if they haven't seen the page yet? That simply doesn't make sense.
#2 Damage Reputation
We all know what happens to emails that offer a great fortune or free holidays. They end up in a spam box where they sink into oblivion. The same can happen to your pop-up advertising if you won't stop spamming your customers.
Remember that dissatisfied clients (so-called detractors) don't come back and spread negative word-of-mouth to other friends. Why? Because this is how recommendations work. They either speak in your favor or damage your reputation permanently.
The worst thing to do then is to sit back and do nothing. The company's well-being is in your hands and the least you can do is to introduce NPS (Net Promoter Score) – a customer satisfaction measurement tool. Once you receive honest feedback, you can start thinking about ways to transform detractors into promoters (loyal clients).
#3 Stopped by Ad Blockers and Google's Pop up Penalty
One after another, after another, after another. No wonder people finally got bored of the never-ending pop-up cycle and invented ad blockers. After all, it's the best solution to stop advertisements from ruining the browsing experience and say goodbye to pop-ups once and for all.
However, individual units aren't the only ones to fight the pop-up battle. Three years ago, Google decided to downrank all mobile websites whose entry pop-up advertisements blocked the content after transitioning from the search engine.
The intrusive nature of mobile windows pushed John Mueller and Gary Illyes to develop a policy and improve the mobile search experience for more than two billion Internet users. On January 10, 2017, they confirmed the intrusive interstitial penalty began rolling out.
But, there are always some exceptions, right? Well, yes. Google has left an "intentional loophole" allowing all websites to trade huge pop-ups for smaller ads. This means eCommerce stores don't have to resign entirely from pop-up marketing if their new banners are small, easy to close, and positioned at the top of a website.
Chatbots: Negative Sides
#1 Not Visible Enough
To start an interaction with a chatbot, users have to find and click on the small-sized widget before a much bigger chat window appears. Then, there are two options.
The first one. A chatbot fails to deliver the offer as customers haven't spotted the user interface at the right time and left the page.
The second one. Chatbots target clients with readymade messages, catch their attention immediately and start a conversation in the bottom right corner of a website.
#2 Wide Price
It's true that customer service automated with chatbots provides users with a great experience and brings benefits to company owners. However, high-quality customer support comes at a certain price. Before you invest in chatbots, make sure you can squeeze another expense into your budget.
The overall cost of buying a chatbot will mainly depend on whether you wish to use a chatbot platform or build one yourself. If you're more interested in the second option, prepare yourself for expenses. Even though it's hard to say exactly how much it costs to build a chatbot, sometimes the price can go up to USD 15K. After all, personalized products require regular system upgrades and developer support.
If, however, you're a small business whose actions are dictated by a tight budget, go ahead and use one of the readymade chatbot templates. The same is true for bloggers who can use templates for WordPress chatbots.
Drift is one of the platforms that offer standard options (welcome message, live view, and database integration) for $50 a month whereas Tidio's "chatbots package" costs only $15 (plus there's a free trial).
Chatbots: Positive Sides
#1 Users Come First, Sales Comes Second
eCommerce chatbots prioritize high-quality customer service over a pure profit. Why? Because one-time buys bring temporary money and satisfied clients, on the other hand, visit the store more than once.
This is why chatbots patiently wait for a "cart abandonment" or "mouse leaves window" type of scenario to lend a helping hand and stop customers from leaving. First, they identify a problem and later try to resolve all of the doubts. Consequently, chatbots' impeccable service enhances user experience and encourages a buy.
#2 Customization
Chatbot's assistance isn't based on general assumptions but on a thorough analysis of a customer persona. While most websites target audience members with universal ads, chatbots make the effort of getting to know the clientele, their preferences, and tastes.
Verve Health Co, for example, has deployed chatbots to deliver a personalized workout routine to their clients.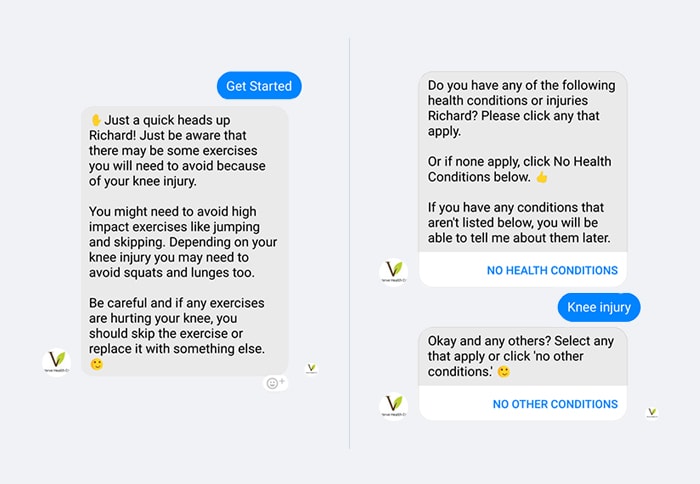 All pieces of information, that pop out throughout the conversation, are carefully collected and stored for future reference. Start gathering crucial information about customers with Tidio chatbots. Why? Because next time the customer visits a store's website, you can skip the formalities and get down to business.
#3 Nice Design and Human-like Approach
Chatbot's potential lies in the idea of customer service being provided by virtual assistants who respond in natural language and act in a friendly manner. It is possible due to machine learning processes that teach chatbots how to mimic real conversations between people.
As a consequence, they're capable of answering clients' inquiries in a humorous, informative, and brief form to shorten the distance and make the interaction sound less artificial. The conversation isn't similar to the one between a salesperson and customer, but the one between friends.
#4 Effective Lead Generation and High ROI
Chatbots have become an effective lead-generating tool for two reasons: they're fast and available 24/7. Why is it important? Well, because good chat handling skills generate leads. 
Did you know that a customer is more likely to leave your eCommerce store empty-handed unless they receive help within 10 minutes? Response speed determines whether first-time visitors will be interested in revisiting your eCommerce and making yet another purchase. Chatbots can successfully shorten the wait time by reaching out to customers.
Automated customer service, then, will help to generate leads, convert them into customers, improve the company's finances and deliver a high ROI of up to 1000%.
And the Winner is…
Well, it depends on what kind of marketing strategy matches your company's personality best – aggressive but effective pop-ups, or human-like but costly chat messages.
However. If you're tired of the same old-boring advertising campaigns, there is an alternative. And it's a good one. Chatbots.